Do you spend HOURS trying to plan your 5-day Iceland itinerary? Don't have much time on your hands to figure it out yourself? Horrible at trying to piece things together and rather leave it to someone else? We hear you!
We are here to hold your hand and help walk you through planning your dream 5-day Iceland itinerary, step by step!
We have taken all the guesswork out of planning your week in Iceland so that you can get inspiration and have a solid starting base from someone who loves Iceland and has been many times, in all seasons!
The best part? We know that a trip to Iceland isn't one size fits all! That is why this ebook offers THREE customized Iceland 5-day itinerary options! Choose what suits you and not what someone arbitrarily tells you is "the best."
This detailed 5 day Iceland itinerary ebook and planning databases are delivered immediately to your inbox without all of the extra spam! These are handwritten by us with our personal photos throughout for your inspiration and easy planning. You can also join our private Iceland Planning Facebook Group to ask more questions!
What Is Included In The 5 Days In Iceland Guide?
48 detailed pages
3 customized 5-day Iceland itineraries
Day-by-day instructions
Driving distances and times
Google map featuring all locations
Google Maps links for each stop
Daily schedules
Pro tips
Dining recommendations
Tried and tested tours and activities
200+ extra suggestions (broken down by region) so you can mix and match
Google sheets itinerary for easy printing
Transportation & lodging spreadsheet
Finance tracking spreadsheet
Voting options for lodging and attractions
Blank itinerary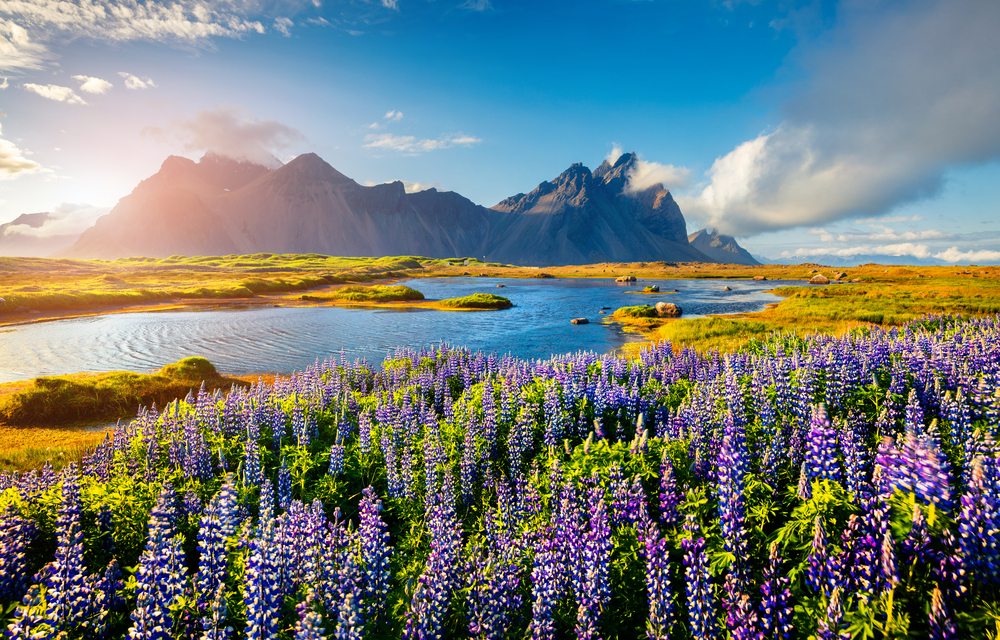 Here's A Preview Of The 5 Days In Iceland Guide: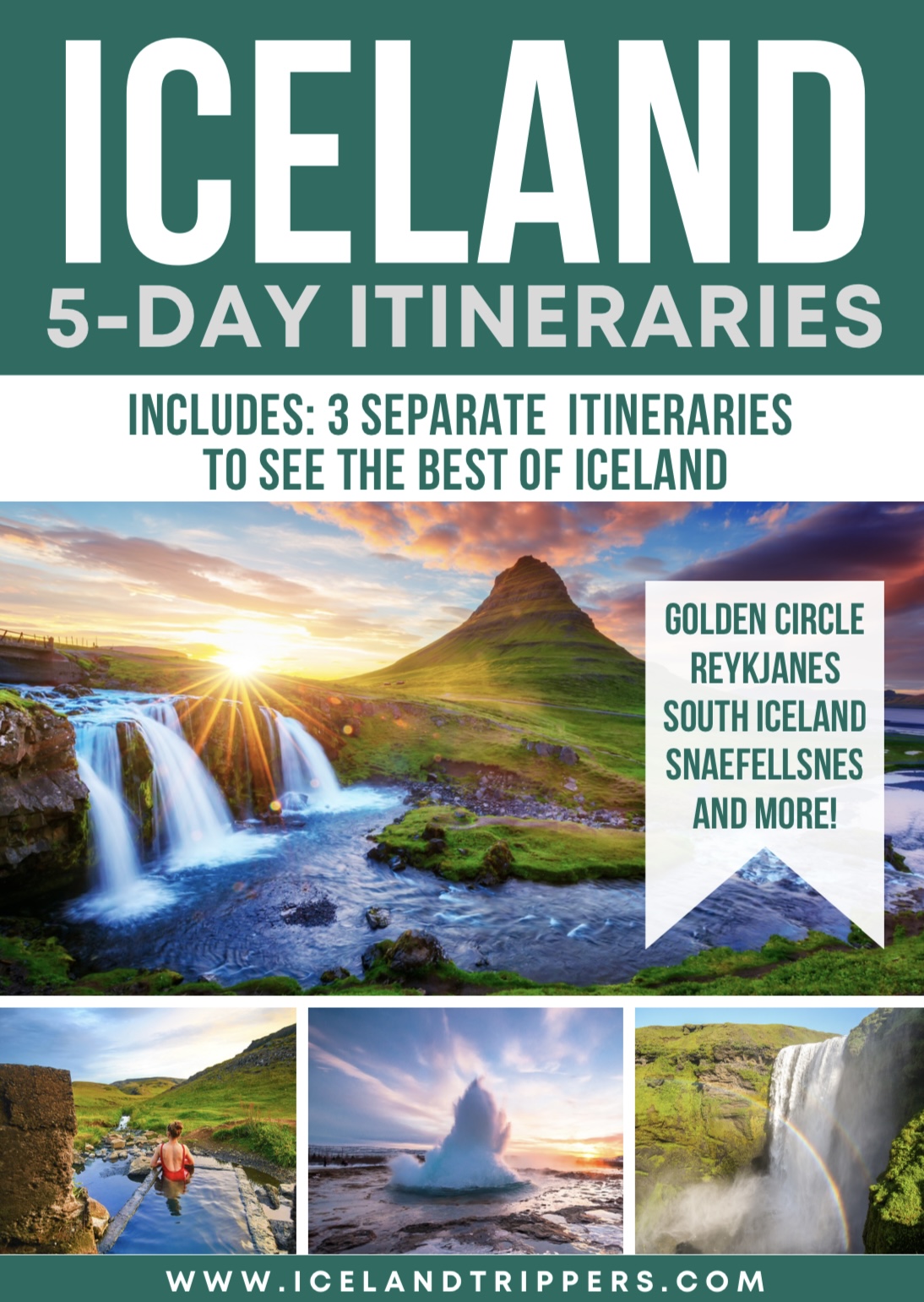 Three Customized Itineraries
In this downloadable E-book, you will find three hand-customized itineraries. There are three options because every traveler is different! If you have 5 days in Iceland, there are a multitude of ways to spend them! Do you love hiking and the backcountry? Prefer famous sites? We have you covered!
Itinerary 1 features your classic 5-day Iceland itinerary! This is the itinerary I would take my family on! You can also mix and match stops with other itineraries that interest you! This is perfect for travelers who want to see it all!
Itinerary 2 features the Golden Circle. This is for people who want to drive the Golden Circle and desire a blend of popular and lesser-known things to do! This itinerary does both.
Itinerary 3 features a blend of the "best of the best" along with the Snaefellsnes Peninsula which is a major hidden gem! Perfect for those who want to get off the beaten path!
The reason that this e-book and these guides have 3 separate customized 5 days in Iceland itineraries, is because we know that one size doesn't fit all and we want you to get the most bang for your buck!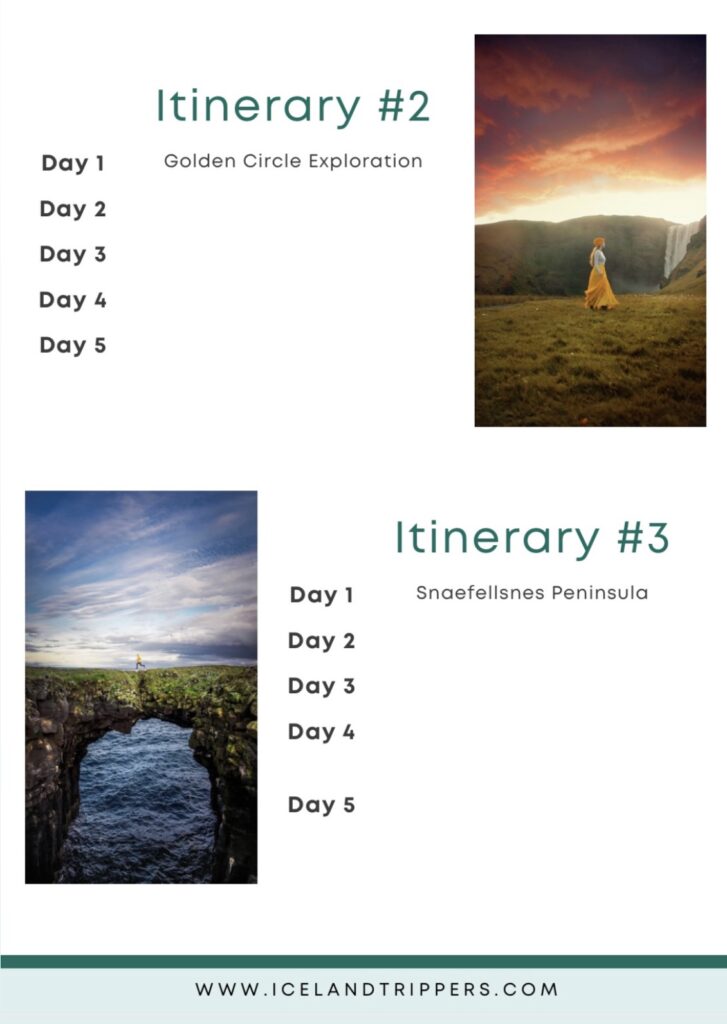 Detailed 5-Day Iceland Itinerary Database
Once you have had your three planned Iceland 5 day itineraries, you will also receive access to our detailed itinerary database. This database provides you with our recommendations for activities, accommodations, and restaurants, and links out to each place to stay or eat for your ease of planning.
The itinerary database allows you to see all of the suggestions in one place so you can pick and choose what works best for you. This way, you can swap out activities and meals as you choose. It also allows you to browse hotels and vacation rentals and choose where you want to stay each night!
This is broken down by region so that you can easily plan it all. We have a tab at the bottom for Reykjavik, South Iceland, Southeast Iceland, and Snaefellsness Peninsula!
This way, you can see alternatives right at your fingertips as well as our personal dining and accommodations suggestions to better help you plan your 5 days in Iceland itinerary!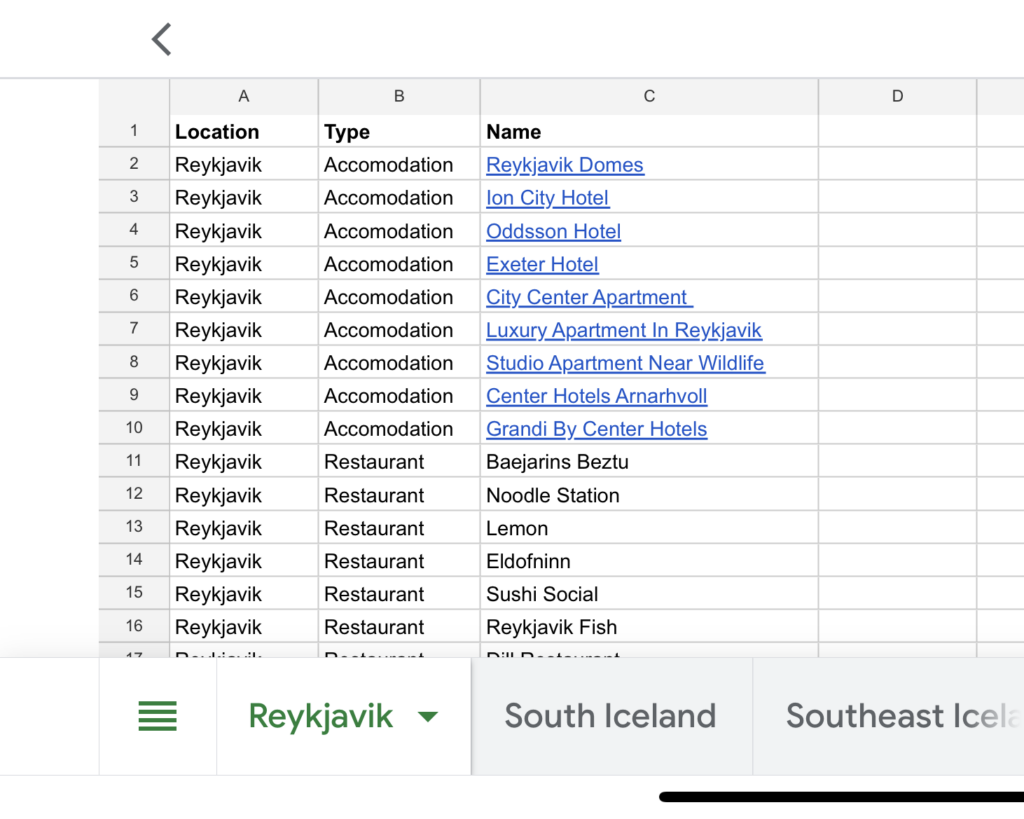 Are You Ready To Invest In Your Trip To Iceland?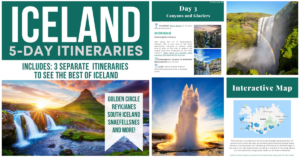 Get This Complete Bundle + Ebook For $14.99
Commercial use of any of the products purchased on this page is prohibited. Due to the digital nature of this product, there are no refunds, returns, or exchanges once purchased. Thank you for understanding!
Please note that due to the ever-changing nature of travel, some links may be broken. If you find a broken link, please Google the business and look for their website for the latest information. We do our best to update and this was last updated in 2023. Thank you for understanding!