Are you Iceland-bound and already dreaming about all of the amazing Iceland gifts you are going to buy on your trip? Or are you overthinking every purchase before even getting there? Look no further! We are compiling a list of the 15 best Iceland gifts and souvenirs to help narrow down your options.
Gifts can be expensive, and we don't want you to break the bank, but we also don't want you to skip the Iceland gifts altogether! Iceland has thousands of souvenir options, but we want to make sure you purchase the best Iceland gifts that will help you treasure and remember your trip forever!

15 Best Iceland Gifts and Souvenirs You Will Love
Icelandic Lava Salt
If you're a traveler who loves to cook, you definitely want to add Icelandic Lava Salt to your list of Iceland gifts! These salts are the perfect combination of Salverk's sustainable sea salts. It is the perfect gift for you or a foodie friend, as it is great for any type of cooking.
So consider adding this to your Iceland gifts list, as this lava salt is perfect as a finishing. Add it to any soup, salad, or steak, and bring Iceland home to you! This is the perfect way to season and spice up any food you want with a little taste of your travels.
If interested, you can get this gift box that includes pure salt and Lava salt: they are all-natural, gluten-free, great for grilling, Keto friendly, and more! So shop with your future kitchen in mind!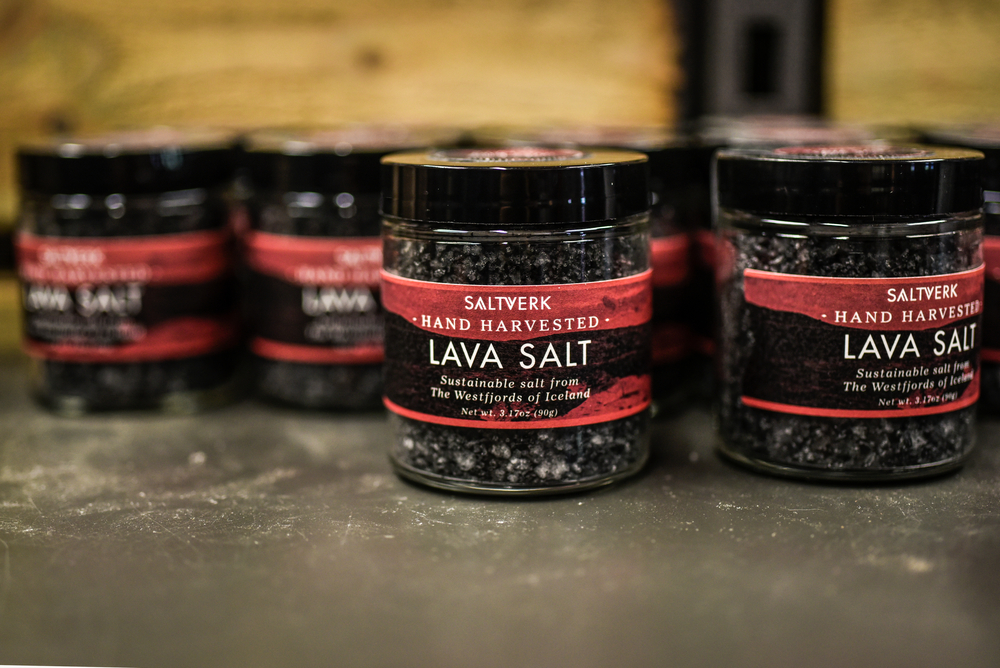 Lava Bracelet
Whether you are purchasing Iceland gifts for yourself or for others, who doesn't love to take home a handmade gift? Lava bracelets are one of the hottest gifts to bring back from your travels! typically, these bracelets are made of lava from Iceland, and Tibetan Silver.
Averaging about 6 mm, these bracelets are unique and feature center-themed pieces that cal attention back to Iceland's history and culture– like the Long Viking centerpiece in this example!
These lava bracelets are perfect for Iceland gifts because it features beautiful workmanship and wears wonderful. The great quality, and ability to wear it with any outfit, make it a perfect purchase for anyone! Add to your cart today!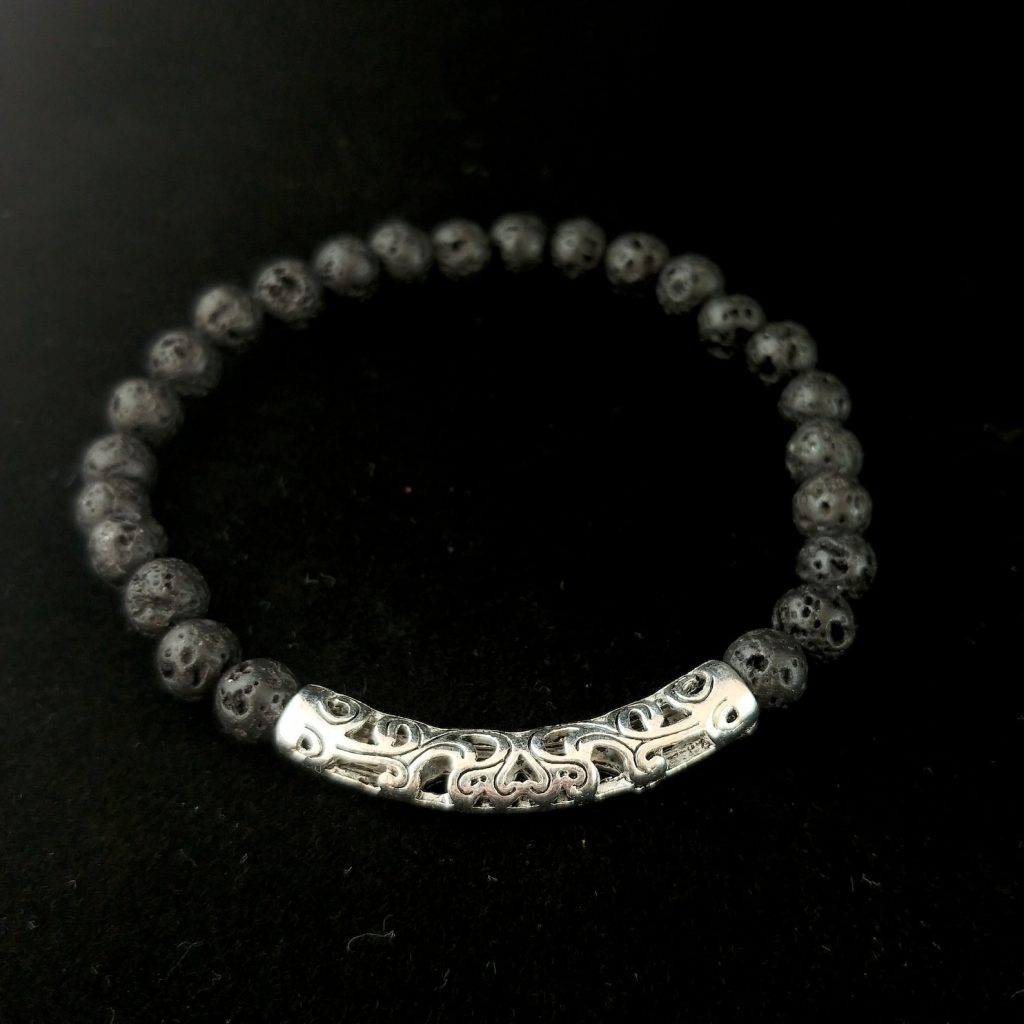 Map of Iceland
If you are a fan of more minimalist gifts, look no further than a minimalist elevation map to purchase This is one of the most perfect Iceland gifts as the 2D fine art prints means they are flat to the touch but offer shaded relief. This gives the map a digitally styled appearance that makes the landscape look illuminated!
This map is handmade and printed on fine art matte paper. It will last you forever, and you have the option to choose the prints in a variety of different sizes. You can even get it framed is that is something that interests you!
If you choose to frame this gorgeous map, the alder wood poster frame is lightweight and protected with acrylite to help keep your map nice and safe. But whether you frame this map or not, consider buying a map of Iceland as one of your Iceland gifts: the colors are stunning, it adds to any room, and the decor can be a constant reminder of your wonderful trip!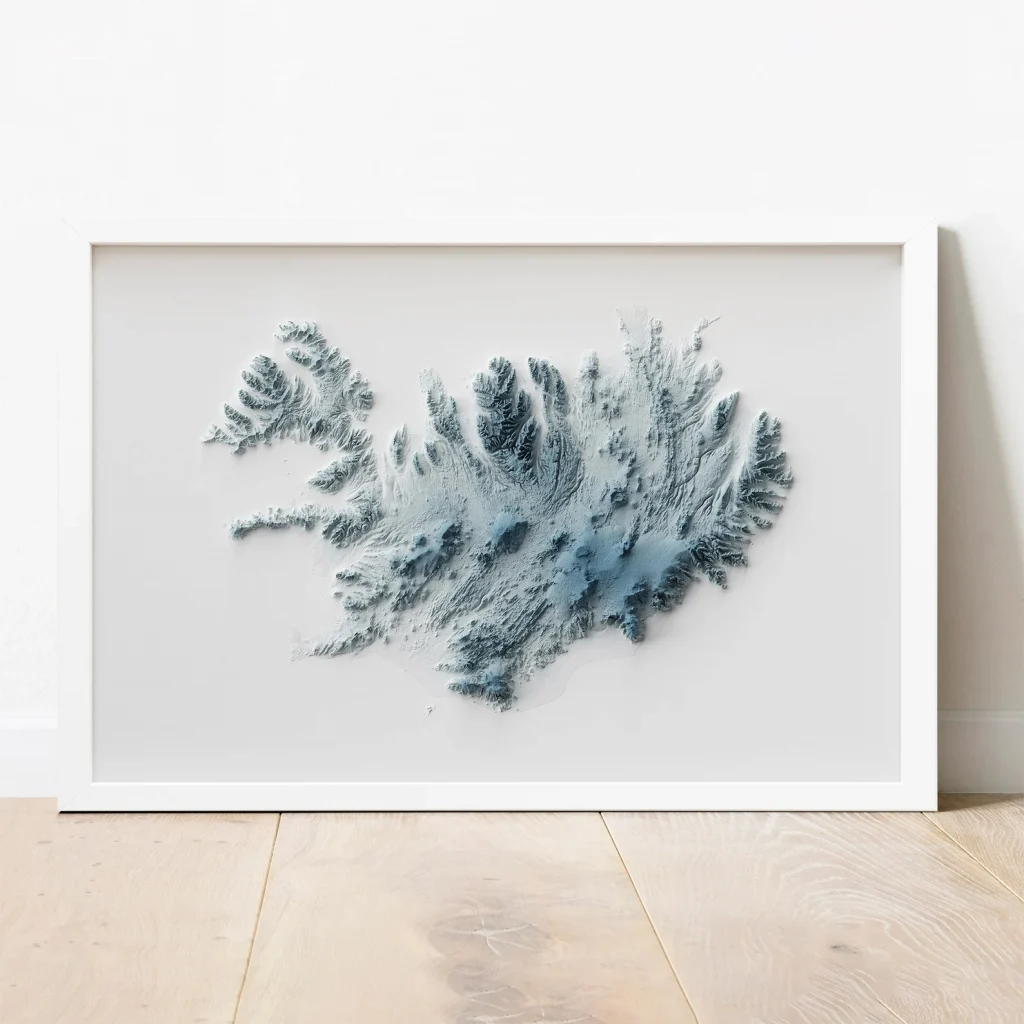 Iceland Christmas Ornament
Sometimes we love the display our travels around our home, especially during holiday seasons! Adding an Iceland ornament to your list of Iceland gifts is the perfect purchase for yourself or for others. This custom gift can be personalized, but even if you buy it plain, it is a unique decor or stocking stuffer!
Made of aluminum and twine, this laser cut ornament is hand made and all the more special. Better yet? It is wrapped in plastic free, sustainable packaging. Ringing in at about 2.5 inches in height and 4 inches in width, this is one of the best Iceland gifts to bring back home or oder for easy and small shipping.
But one of the coolest things about this ornament is that it can be customized! You can individualize your customization of stamps from 8-12 characters! So whether you want to add the year, some names, or anything in between, this is one of coolest Iceland gifts around!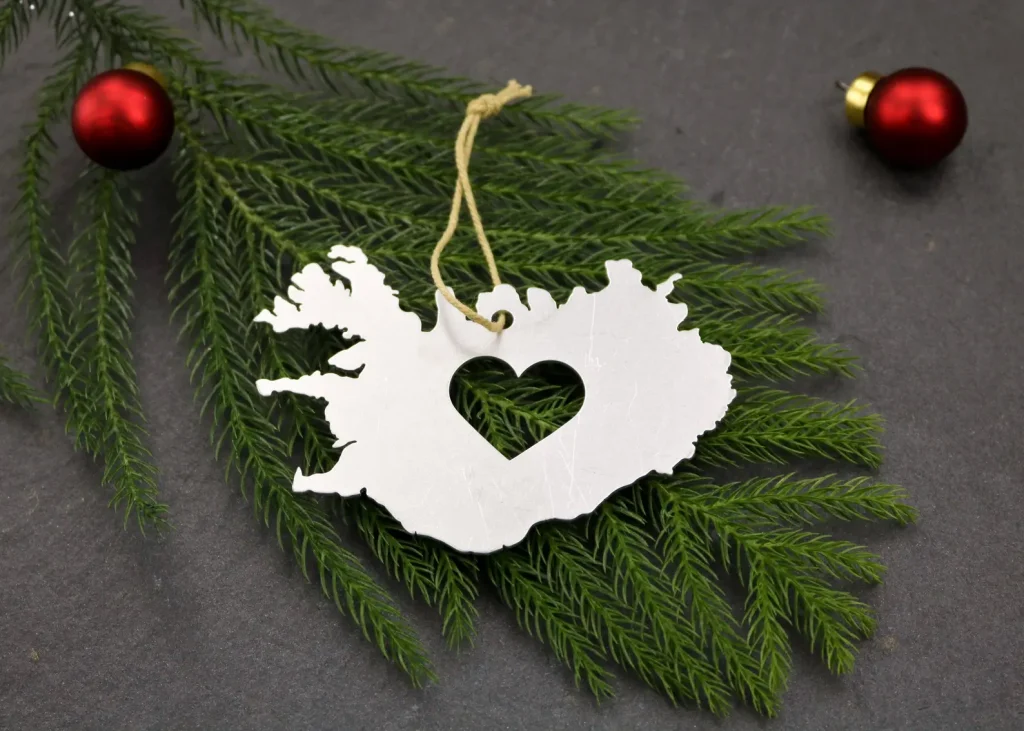 Iceland Candle
There are always countless of candles to choose from, but when deciding what candle to add to your Iceland gifts list, we recommend the Icelandic soy wax candle! This candle is homemade and features Rowan berries, Iceland moss and 2000 year old lava stones.
Every candle purchased represents a bit of Iceland's natural beauty. And each candle is unique: no two are the same! Each candle will last about 20 hours of burning time. Better yet? These candles are eco-friendly and 100% biodegradable because of their clean-burning nature and soy base.
When purchasing these you get two candles. It sets the perfect glow for any setting, so whether you purchase this for yourself or a friend, the warmth will gladly remind you of Iceland! So sit back and enjoy the light of Iceland gifts– and the smell! Who doesn't love the scent of apple cinnamon?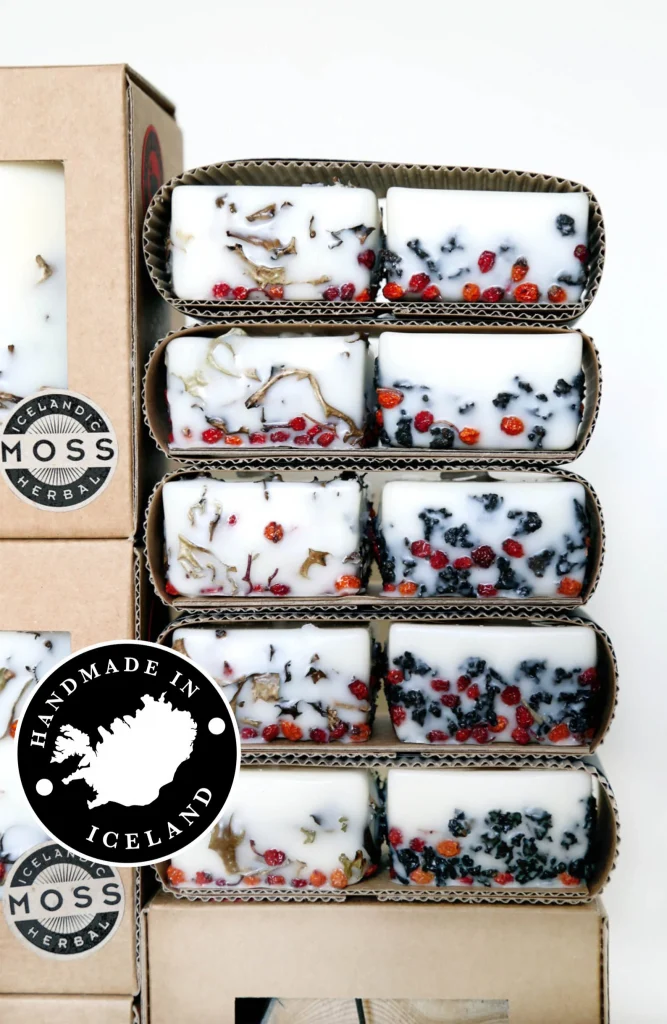 Iceland Skin Care
If you love gifting people with things they can use for self-care, add Iceland skin care to your list of potential Iceland gifts! This glacial face wash is creamy and foaming. It cleans to refresh, sooth and purify– especially if you have stressed skin!
So whether you are washing away dirt, oil or other impurities, this skin care will help you maintain a natural moisture and balance to avoid breakouts, bumps and irritation. It will also help increase hormone levels to even out oil production.
Overall, the natural products this Iceland gift uses helps restore your skins natural balance without making it dry or tight. Try it out today! Wash your face with a little love from Iceland!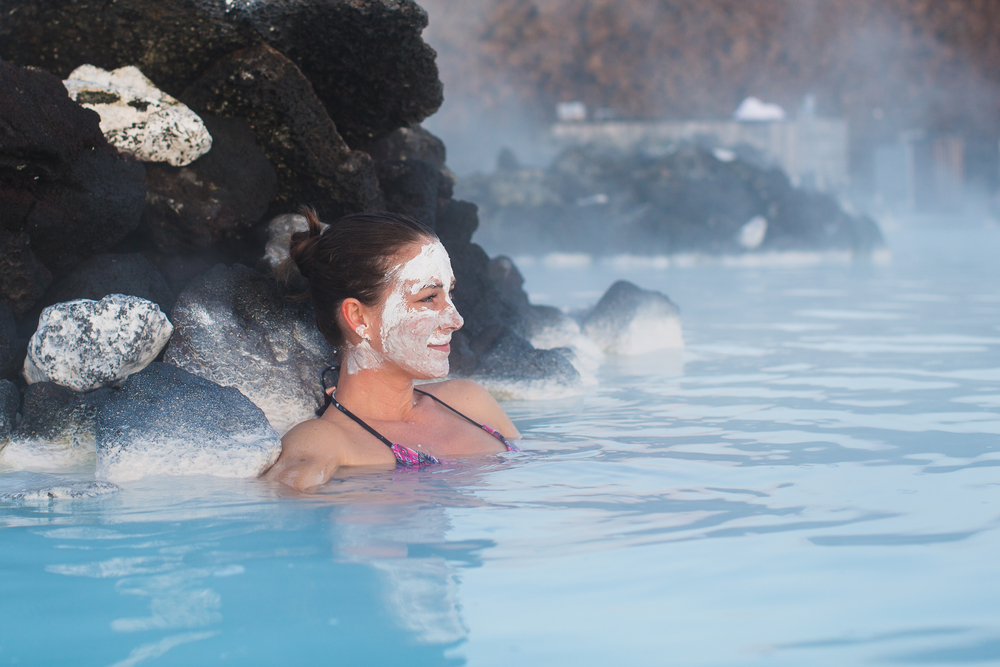 Icelandic Sign
We love some good wall decor, so of course we suggest checking out Icelandic signs as a form of Iceland gifts! This perfect keepsake is like a custom street sign that will forever mark your memories of your traveling days and Icelandic adventure.
Made from premium aluminum, this sign will withstand the test of time. It looks great in any room, den, office, or more. And better yet? It is customizable! So you can choose any street designation you would like in addition to having it printed on different colored aluminum! From black to yellow to orange and pink, it is your choice!
This sign is available to always remember your favorite destination. You can order it in three different sizes, and you can even order it so it is ready to mount– you don't have to do any of the work! Just go ahead and order one of your Icelandic gifts today to add the perfect finishing touch to your home decor. It is unique and fun!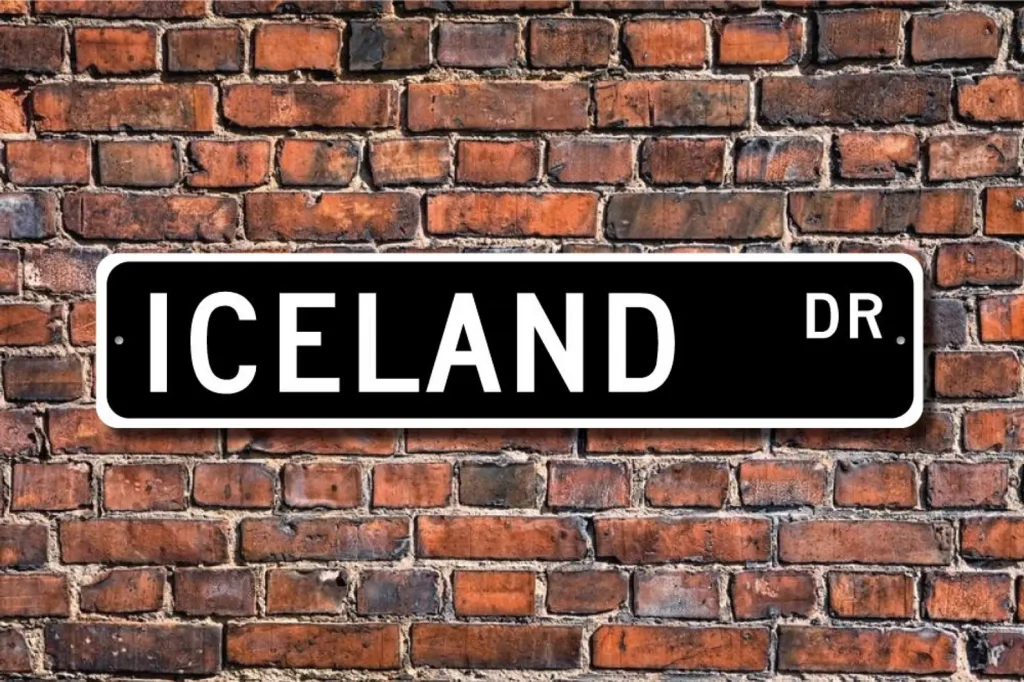 Hand Knit Icelandic Sweater
When you think of Iceland gifts, you have to think of a hand knit sweater! This wool piece of clothing is homemade and is perfect for a gift for yourself or others. Since it is a pullover, this article is a little oversized, but we promise it is warm!
This sweater features beautiful design and detailing and is just perfect for the skiing and snowboarding season. The wool is woven and soft. Most love the Nordic and Icelandic design on it, and they relish in the fact that this sweater was handmade with Icelandic tradition.
But make sure to read the fine print! These are the kind of Iceland gifts that can be a little pricey, but that they also require care. Only wash these sweaters by hand as it is composed of pure wool! You don't want to ruin such a perfect gift!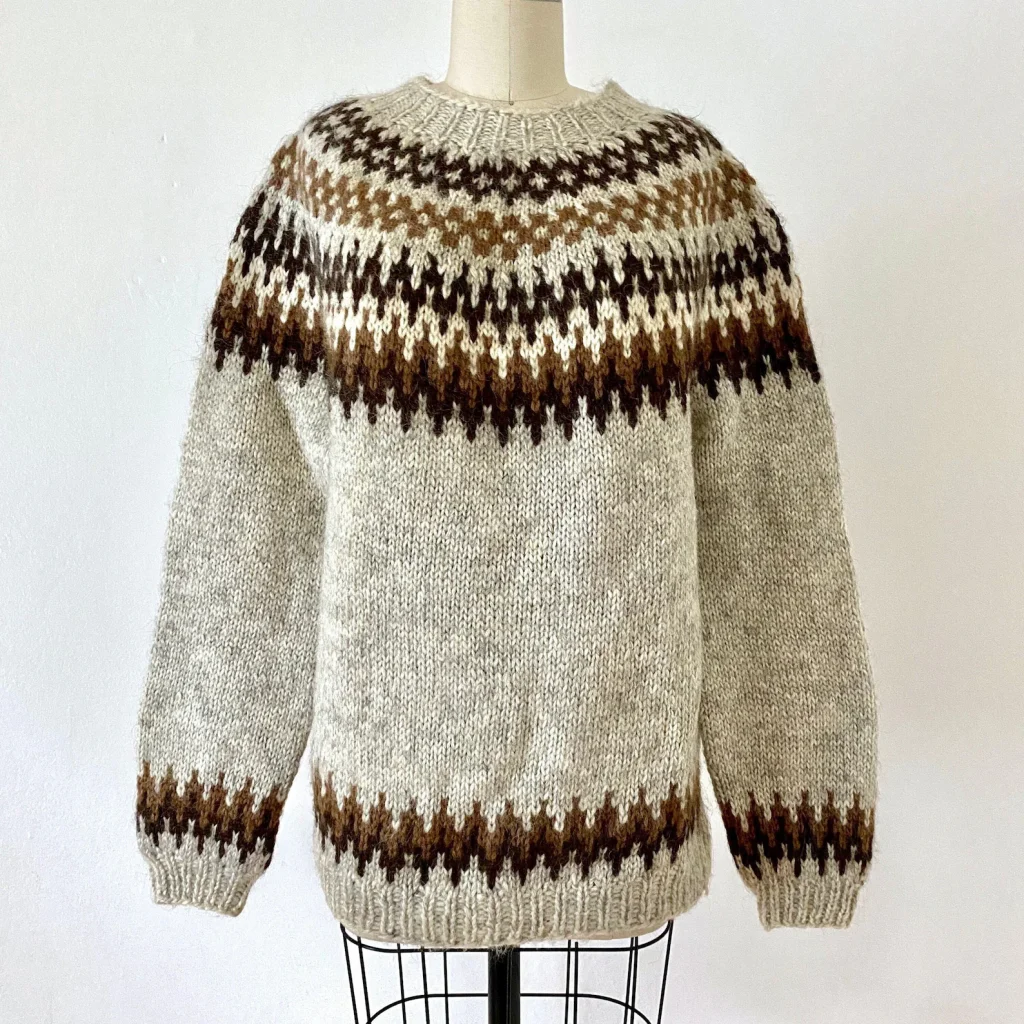 Icelandic Soap
We already mentioned skin care, but we want to also add soap to our suggestions of Iceland gifts! This soap is composed of sorbitol, coconut oil, water, and more. It also features Icelandic black sand and is fragrance free, meaning it is all natural!
This inspired winter soap is one of the best travel gifts. It is about 4 oz, are travel friendly, and smell like the fresh Icelandic breeze. People love to purchase a few bars for themselves or give some away, as the black sand helps their skin in addition to bringing a touch of those beaches home with you!
With notes of an icicle accord, this cool soap is perfect for exfoliation and to bring you back to those Southern coasts with just a hint of a musk smell. It is handmade, and perfect for your list of possible Icelandic gifts to purchase!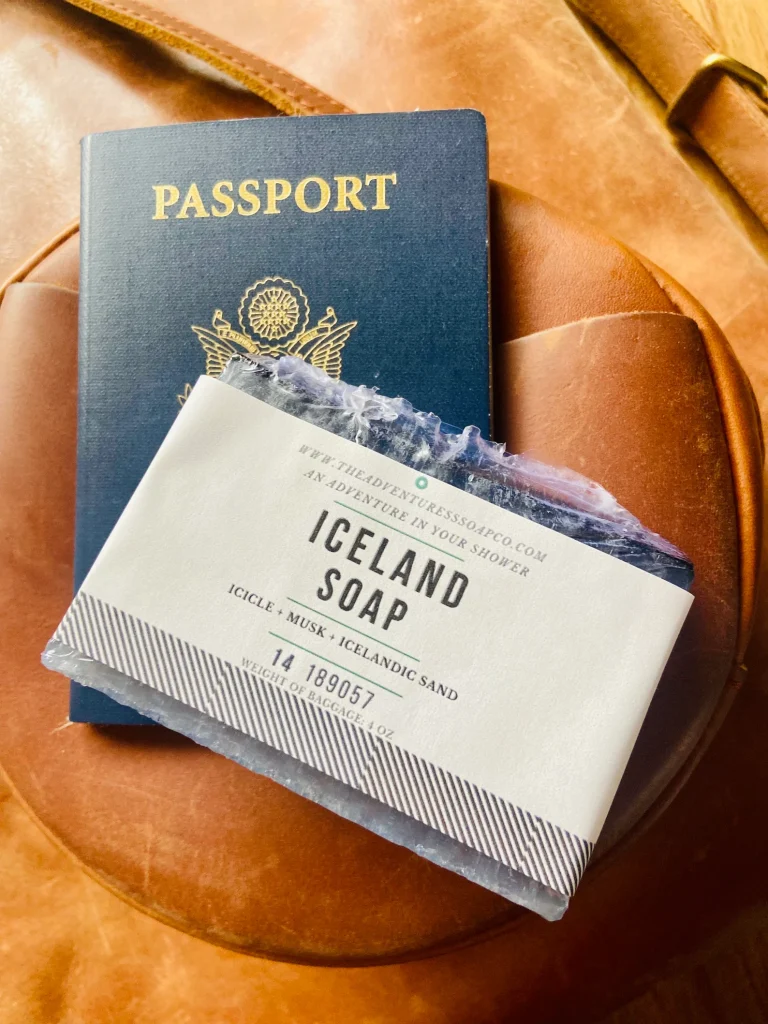 Icelandic Glasses
If you are one of those people who love to purchase gifts that can be used over and over again, look no further than Icelandic glasses! These gorgeous glasses feature a map of Iceland. The map is laser engraved and the glasses themselves are dishwasher safe.
Better yet? You have countless options to choose from! From stemless wine glasses, to pint glasses or even champagne flutes, you can purchase or gift a variety of different types of glasses! These are truly a simple, yet classic and elegant design.
No matter what design you purchase, the streamline appearance is easy to hold and popular. And when you order these, you can also change up the quantity, meaning you can always mix and match if your heart desires! Add these Icelandic map glasses to your list of Icelandic gifts today!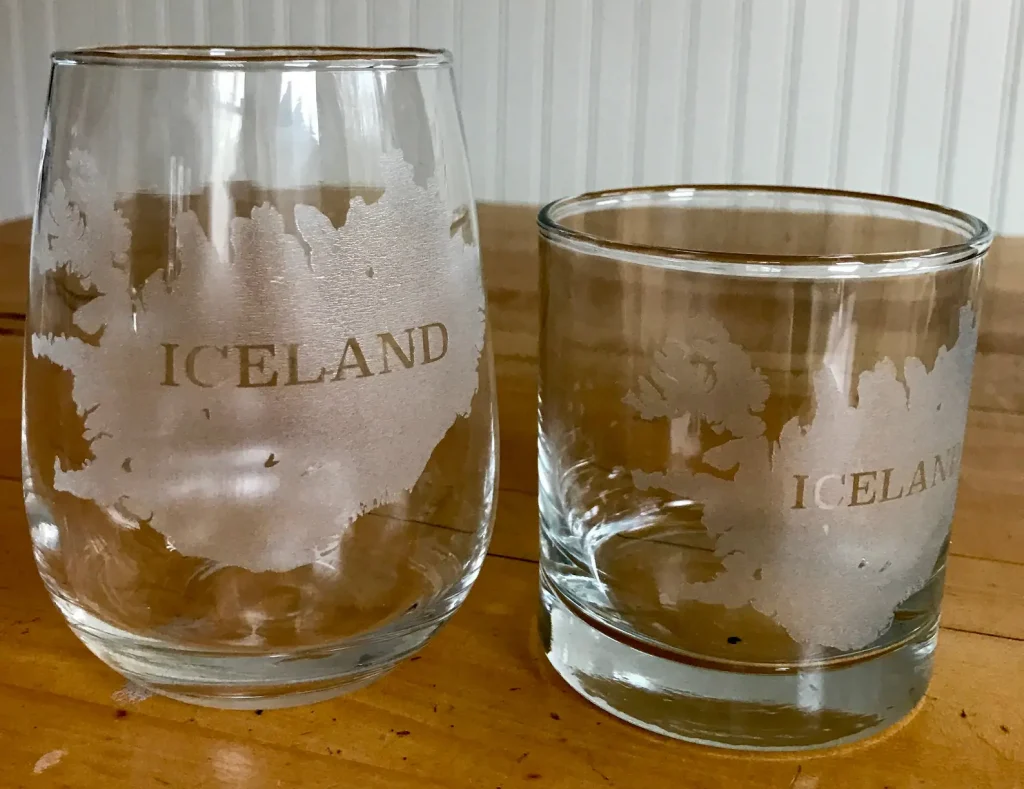 Iceland Poster(s)
While not everyone may want a map on their wall, there are other options for documenting your travels and favorite countries! Some of the coolest Iceland gifts come from fun poster designs. In fact, there are a variety retro styled travel posters. These vintage rustic designs are great for wall art!
And better yet, these unique designs add flare to any room! It is something different and not at all expected. So whether you frame them and hang them in your room, or send a copy to a friend, there are so many options you have!
Each of these posters are printed on high quality premium photo paper meaning the colors will stay vivid with sharp details. The design will last for years, and all items will be created and stamped for your pleasure. From a 6 by 9 inch poster to a 24 by 36 inch poster, you can't go wrong with bringing some retro design of your favorite place to your home! Add to your Iceland gifts today!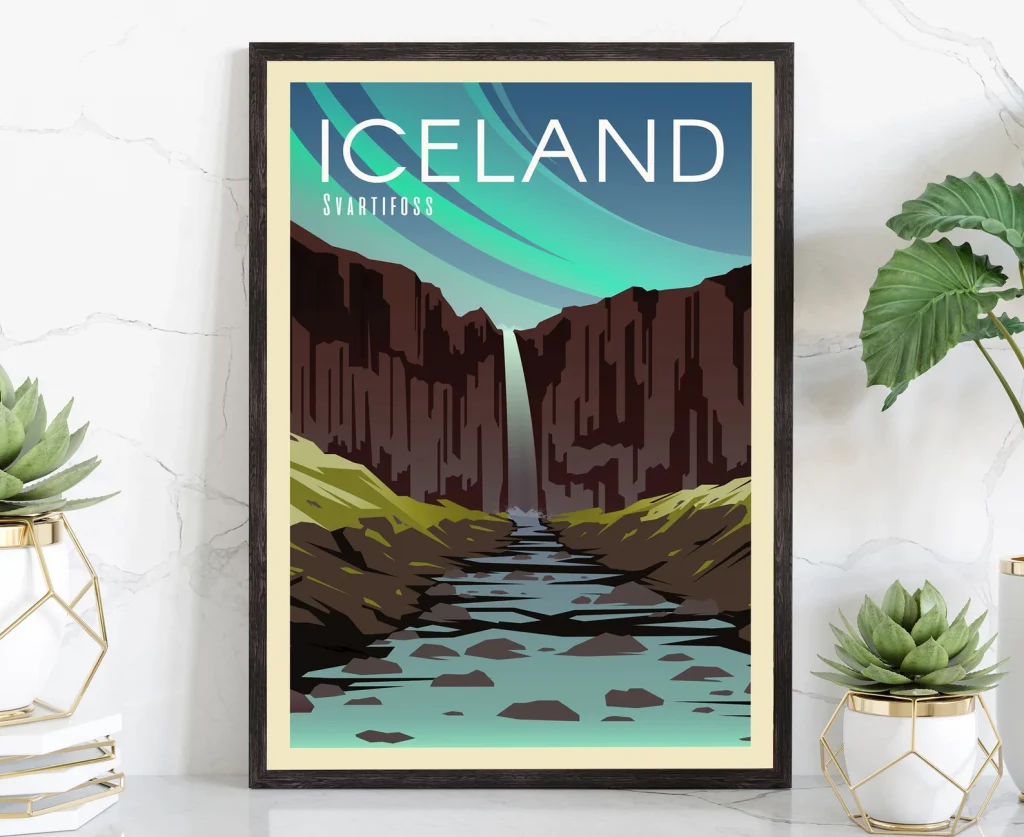 Iceland Black Sand in a Bottle
The souvenirs are always the one that take a bit of your travels home with you. This means that one of the best Iceland gifts you can bring back from that gorgeous country is Iceland Black Sand itself! In fact, you can purchase this black sand in a bottle!
These handmade gifts are tiny, perfect and portable. The sand typically comes from Reynisfjara Beach and/or Diamond Beach, Iceland. When you order this sand, the bottles will be labeled appropriately.
Take this beautiful sand home with you: it is a wonderful memory and can help you remember your travels. Who would think that this little vial could hold so much? Purchase this as one of your Iceland gifts today to make sure you always have a piece of Iceland with you.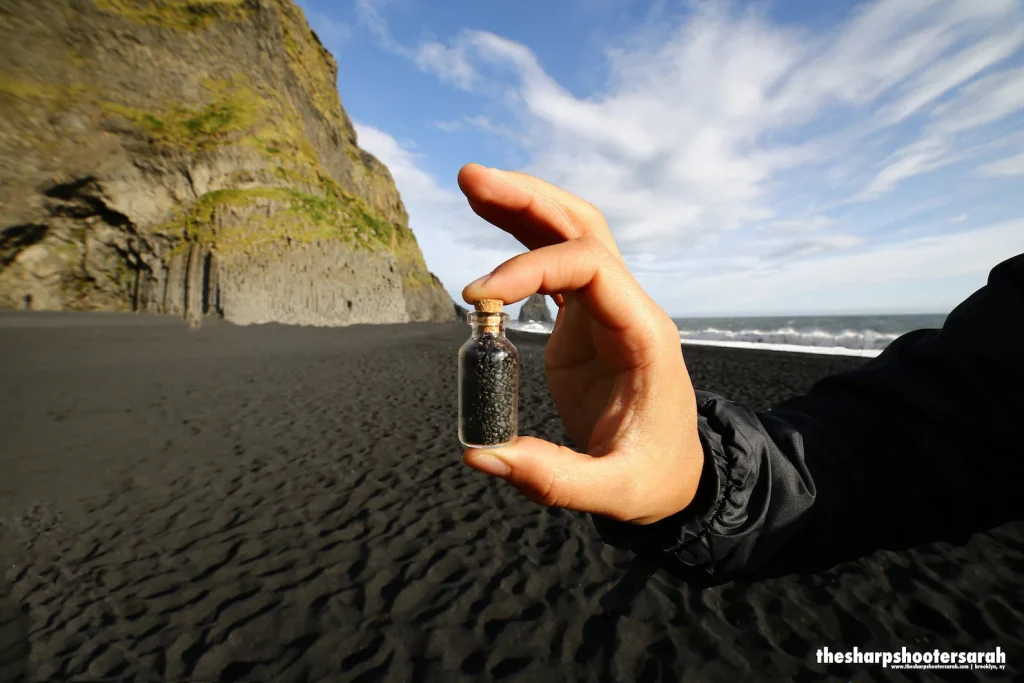 Iceland T-Shirt
There's no denying it, wool sweaters and winter outerwear are common Iceland gifts. However, what about t-shifts? When you trade in that cool weather of Iceland to return home, don't be afraid to purchase something comfortable for yourself! Get an Iceland t-shirt!
There are always countless t-shirts to buy from. They come in a variety of colors and designs– some being more humorous than others. With the high quality fabric and printing, these shirts can offer memories to your trip and help you show off your travels!
From v-necks to racer backs, tank tops and hoodies, printed shirts are always a nice gift to add to your Iceland gifts list. There are so many options, too many designs, and they are flattering and comfortable!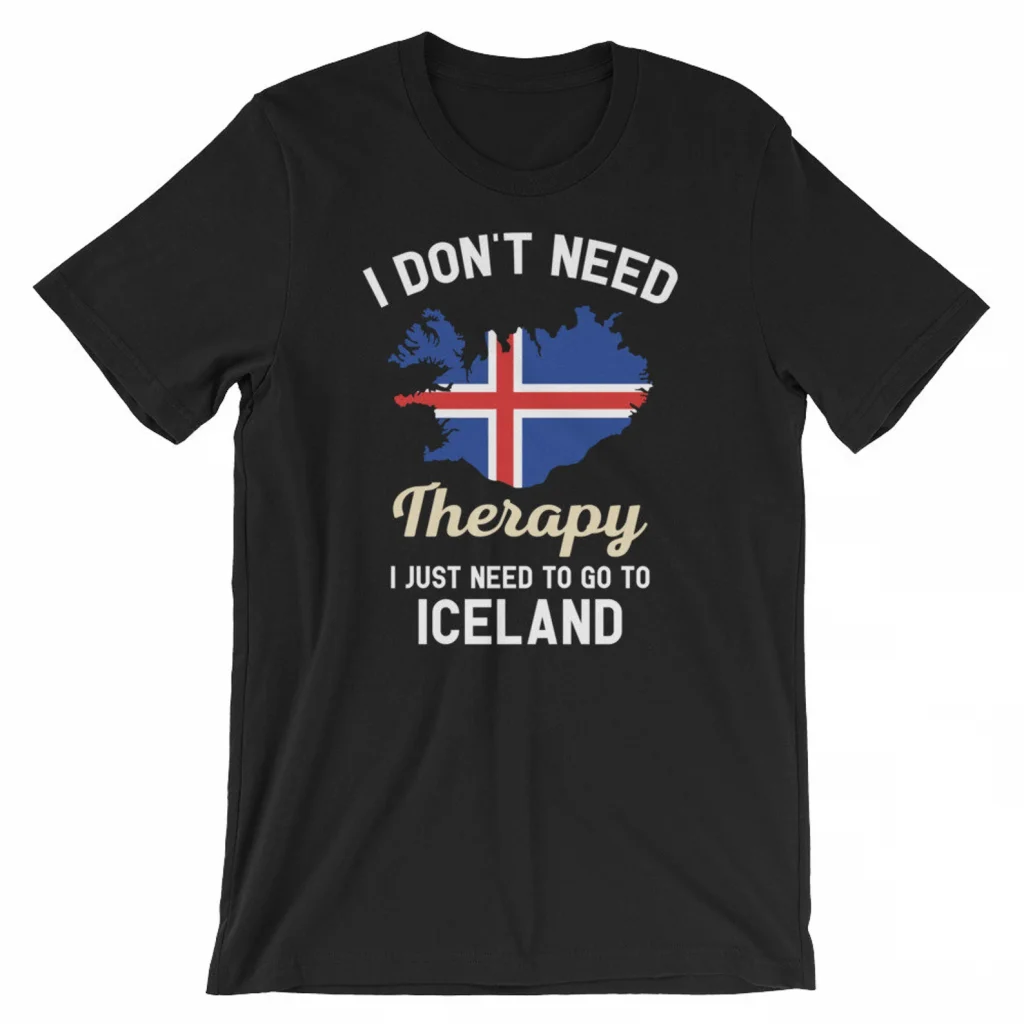 Iceland Stickers
Sometimes you just want something small to add to your Iceland gifts list– so look no further than stickers or decals! These gifts are perfect options: you can purchase multiple of them for a decent price, and pass them out to many people!
Decals and stickers are always fun because there are so many designs and options. You can order multiple of the same design, or change it up and get a variety pack that really exemplifies your trip! So whether you stick this decal to a notebook, laptop or even car, it is a permanent memory!
Many of these stickers average 3 inches in height, and most of them are waterproof. They are composed with a hard wearing premium ink to ensure perfect outer edges and border. This way your decal sticks out against surface you decide to place it on!
Icelandic Literature
One of the best things about traveling is experiencing different cultures, and that includes the history, lore and literature of the country! We love learning more about each place we go to, so taking what we hear and learn and transforming it into one of your Iceland gifts can be a fantastic option. Thus, consider stories from Iceland!
Nordic Tales, those folk tales of Iceland, that feature traditional tales and more can be a fantastic collection of stories for all ages and readers. They can range in tone from being magical to chilling, but in purchasing Icelandic literature, readers are welcome to relive their travels and are invited back into the world of mystical adventure.
These stories offer a great view into Nordic culture, highlight some contemporary art and just enthralls fans with what this country has to offer beyond physical gifts! Purchase a piece of literature and share the knowledge you learn with everyone– it is the gift that keeps on giving!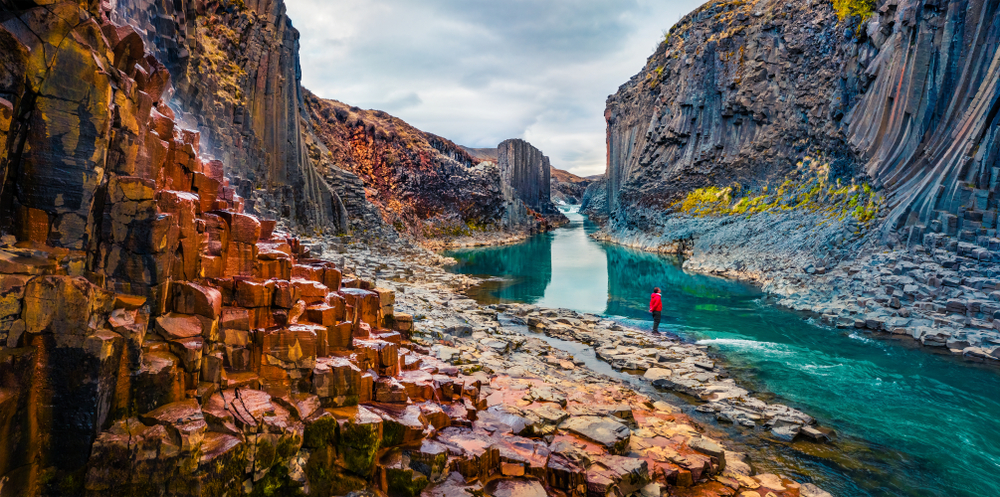 So there you have it, folks! 15 of the best Iceland gifts you can purchase for yourself or for others! These gifts can be bought while you travel, or even after you return! Just keep them in mind as you begin to navigate the process of taking these Iceland gifts and handing them out!