Are you looking for the best things to do in Iceland? This guide has some of the most amazing places to visit in Iceland.
When people think of the best activities in Iceland, they often think of hot springs, glaciers, and waterfalls. And while Iceland does have all of those amazing natural wonders, it has even more to offer!
This magical country also has stark black sand beaches, winding canyons, adorable churches, and gravity-defying rock formations. Basically, the list of interesting places in Iceland can go on and on!
Whether this is your first trip to Iceland or you have been many times in the past, we bet you will find something new and exciting to see in this amazing country!
We have broken this list down by region so you can easily use it to write your own Iceland itinerary.
No matter when you are planning to go to Iceland, there will be something epic to see!
Get a FREE printable "Hidden Gems In Iceland" E-book by joining our private Iceland Facebook Group and sharing your photos and asking for tips and tricks.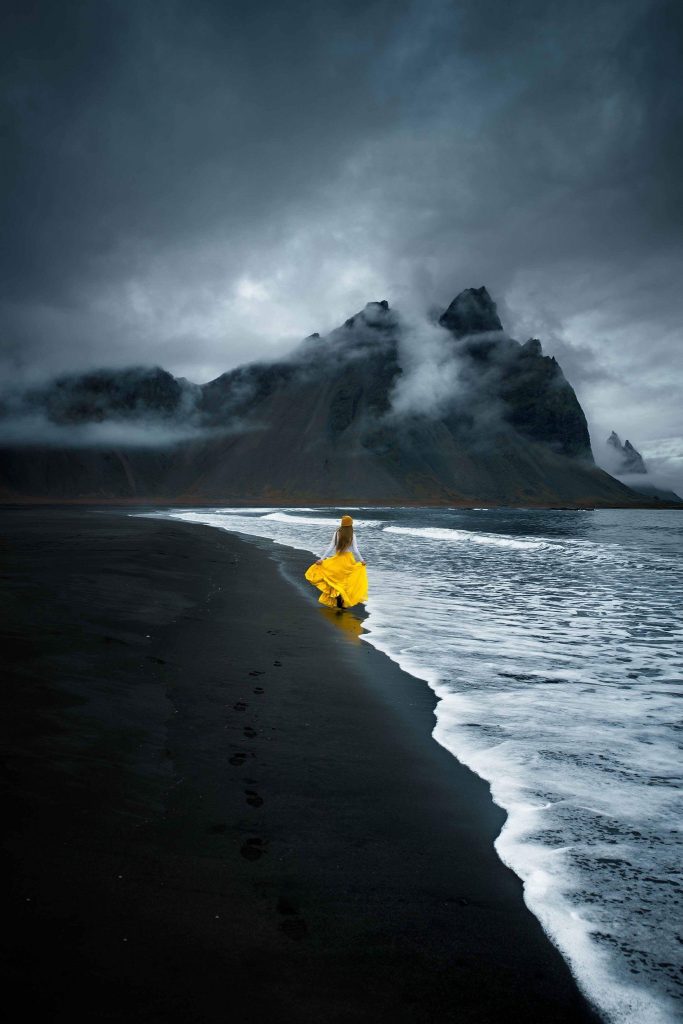 Best Things To Do In South Iceland
Soak In The Warmth Of The Blue Lagoon
If you are looking for what to do in Iceland, the Blue Lagoon is undeniably one of the most popular attractions in the Land of Fire and Ice!
There are a ton of hot springs in Iceland and the Blue Lagoon, found just outside of Reykjavik, is one of the most notable because of its iconic, milky blue color.
This color comes from a mix of algae, silica, and minerals. The minerals are great for your skin and the constant 102-degree Fahrenheit water will relax your muscles.
This is easily one of the best Reykjavik hot springs, but it can be a bit pricey. Check out our tips on traveling to Iceland on a budget.
Book Here: Blue Lagoon: Entry Ticket with Drink, Towel, and Mud Mask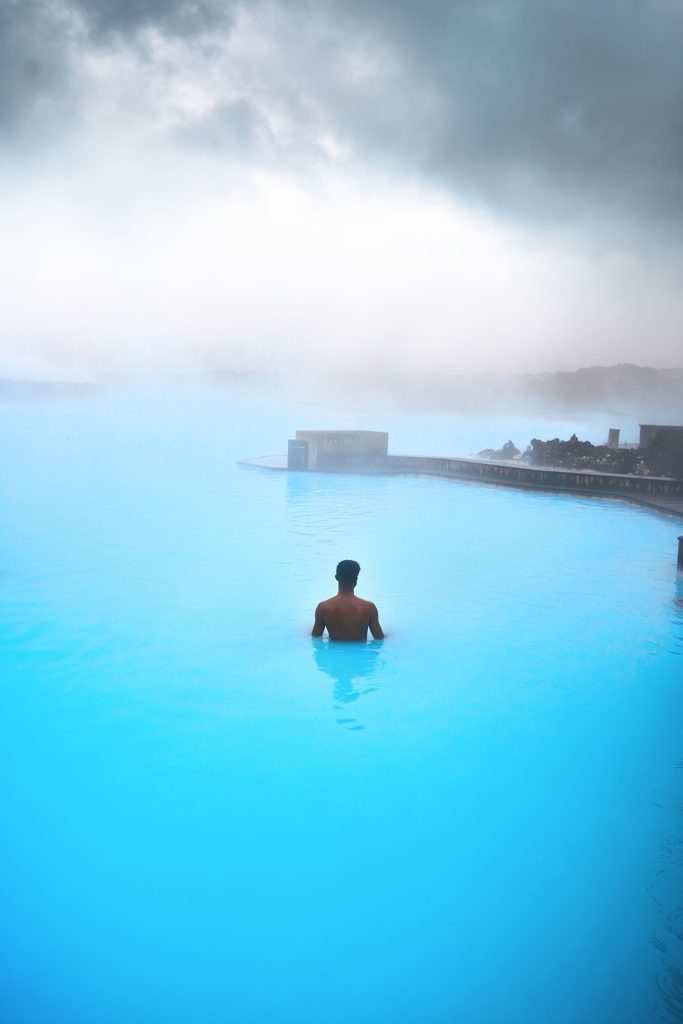 Hike To Bruarfoss Waterfall
There are so many stunning waterfalls in Iceland, and the Bruarfoss Waterfall is one of them!
While Bruarfoss Waterfall is quite small in comparison to the other Iceland waterfalls, it's the colors that make it stand out.
With its brilliant, turquoise water, this waterfall pops with dazzling hues. These colors actually make it one of the most popular stops of the Golden Circle.
The easy hike to the waterfall is about 2.2 miles and very scenic with two other waterfalls along the way.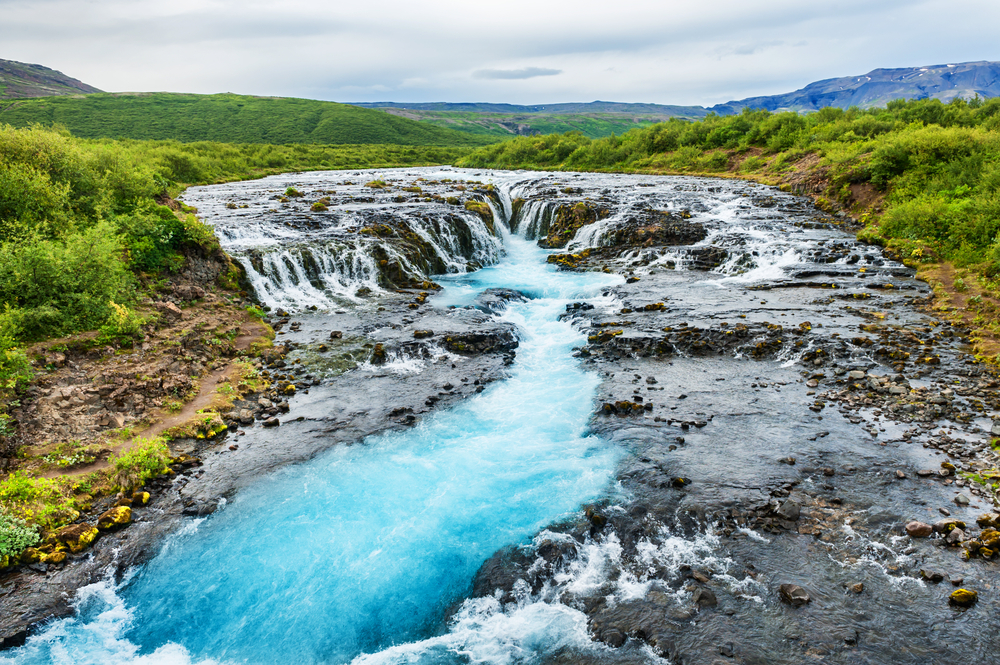 Watch the Eruption of Strokkur
Another Golden Circle attraction is Strokkur, an epic geyser in the Haukadalur Valley.
This geyser is very active, shooting into the sky every five to ten minutes. It usually reaches heights of about 50 to 60 feet but has been known to break 100 feet.
Interestingly, this geyser is found next to Geysir. This is where the word geyser comes from, however, it is no longer active.
This is one of the best day trips from Reykjavik. If you are traveling with your family, it is also one of the best things to do in Iceland with kids.
Book Here: Reykjavik: Golden Circle Full-Day Tour with Kerid Crater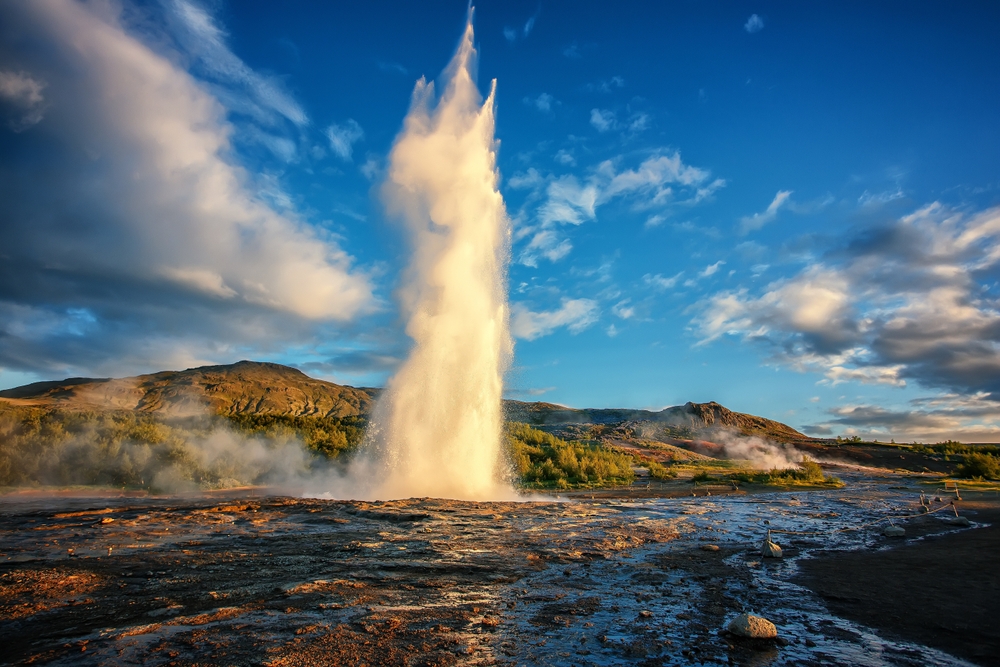 Hike Through Þakgil Valley
Þakgil, or Thakgil, Valley is filled with marvelous hikes through a greenery-laden canyon. The name means "Roof Canyon."
Just as Iceland is filled with so many different geographical features, Þakgil Valley is as well. While you can hike through canyons, you can also venture to glaciers and trek to waterfalls.
There is also one of the best campsites in Iceland here. Make sure to check out our complete guide on camping in Iceland!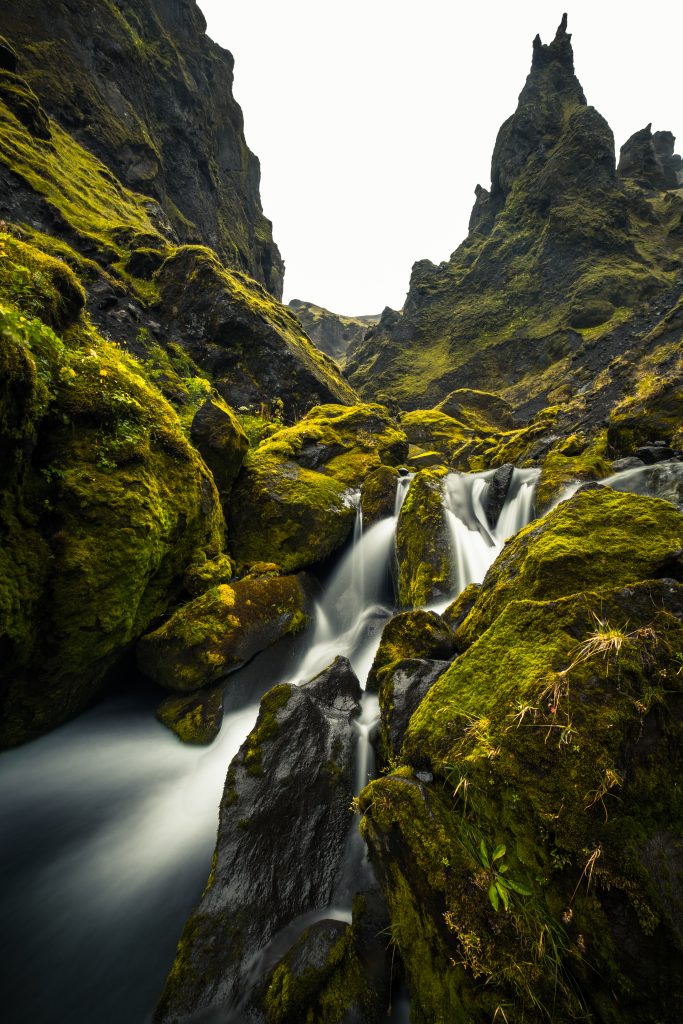 Feel The Spray Of The Gullfoss Waterfall
The Gullfoss Waterfall is one of the most powerful waterfalls in the country, making it one of the most fun things to do in Iceland. Its name means "Golden Falls."
It's so powerful you can feel the waterfall mist fleck your face. As a matter of fact, the mist of this 105-foot waterfall often creates a colorful rainbow during summer in Iceland, making a picture-perfect image.
If you want to see a waterfall that does not require a hike, Gullfoss is for you. It is only a short walk to the main viewpoint.
Book Here: Reykjavik: The Golden Circle Day Tour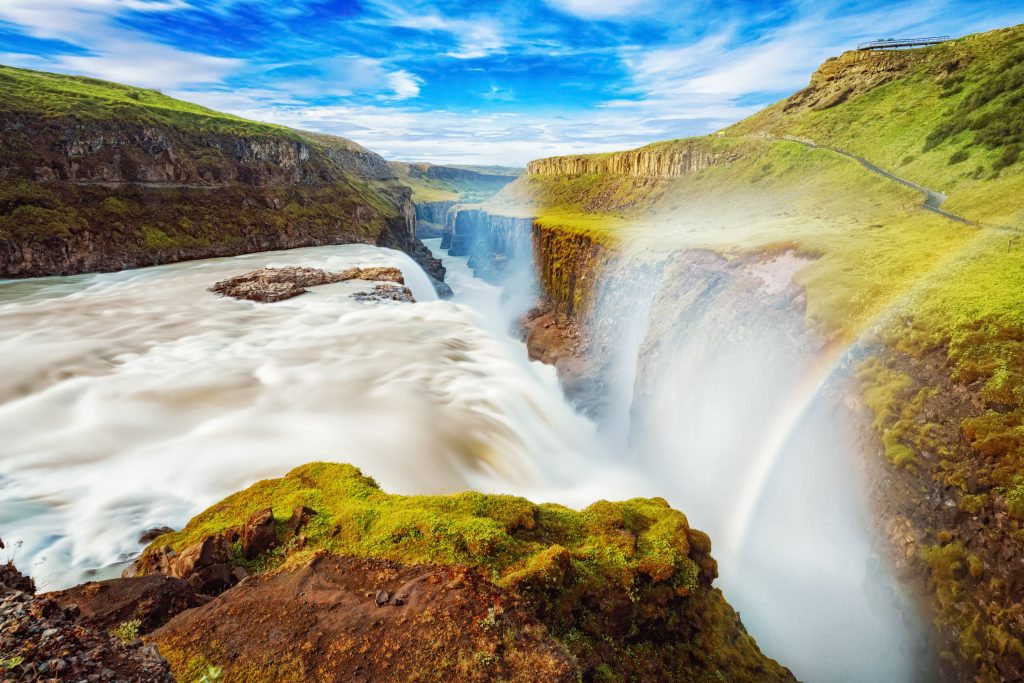 Take A Dip In The Reykjadalur Hot Springs
Reykjadalur Hot Springs is one of the coolest hot springs in Iceland!
Typically, when people think of a hot spring, they think of a warm, natural pool. Reykjadalur Hot Springs is a little different, in that it is a river rather than a pool.
To reach Reykjadalur Hot Springs, you will have to hike for about an hour and the trail is steep. The hike boasts a beauty of its own, including untouched waterfalls and grazing sheep.
Keep in mind that there are no changing rooms here, only partitions that provide a little privacy.
Even so , this is one of the cool things to do in Iceland for a great memory!
Book Here: Private Reykjadalur Hike & Hot River Geothermal Tour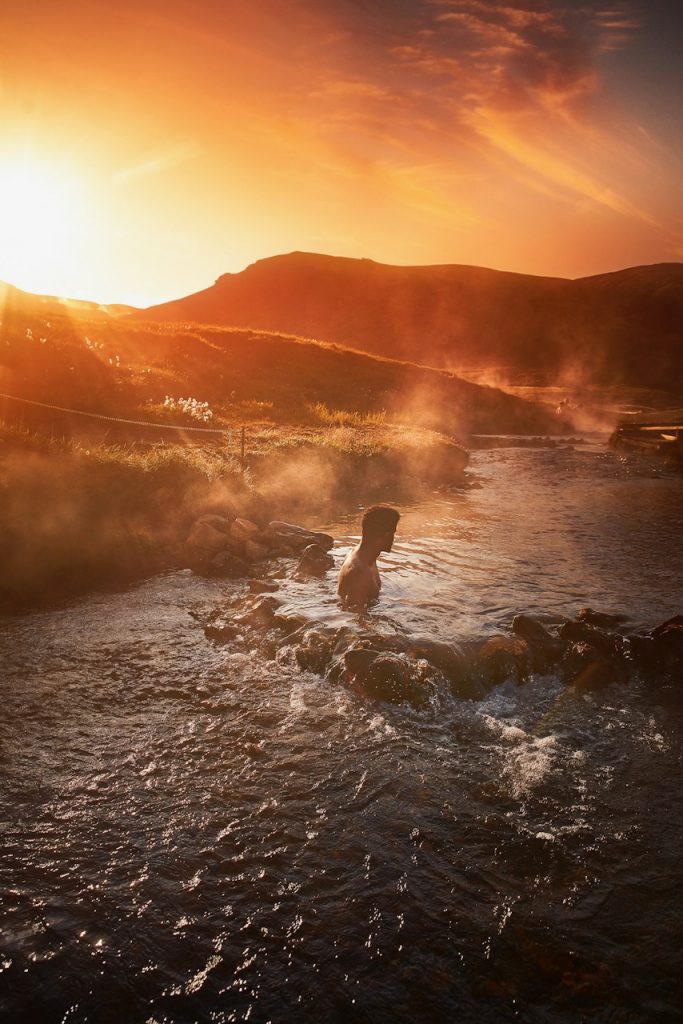 Peek Behind The Magic Of The Seljalandsfoss Waterfall
Typically, you can view waterfalls from in front or above. The Seljalandsfoss Waterfall provides an alternate viewing experience as you can venture behind this cascading 200-foot waterfall!
While you can visit the Seljalandsfoss Waterfall at any time of the year, do know that the path behind the waterfall may close temporarily in the winter for your safety.
The waterfall is only a short walk from the parking lot.
Book Here: From Reykjavik: South of Iceland Full-Day Trip
And Then Find The Gljufrabui Waterfall
While everyone goes to see the Seljalandsfoss Waterfall, most have no idea that the Gljufrabui Waterfall is not far away!
To reach the Gljufrabui Waterfall, head right from Seljalandsfoss and continue until you see a sign for the Gljufrabui Waterfall. You'll see a cavern with a river, and you'll have to hop through the river on the rocks (preferably in waterproof boots).
Then, when you finally reach the cavern, you'll find the Gljufrabui Waterfall. When you look up, you'll be standing at the base of a 130-foot waterfall and a natural skylight.
It truly feels like an otherworldly place and should be on any Iceland itinerary!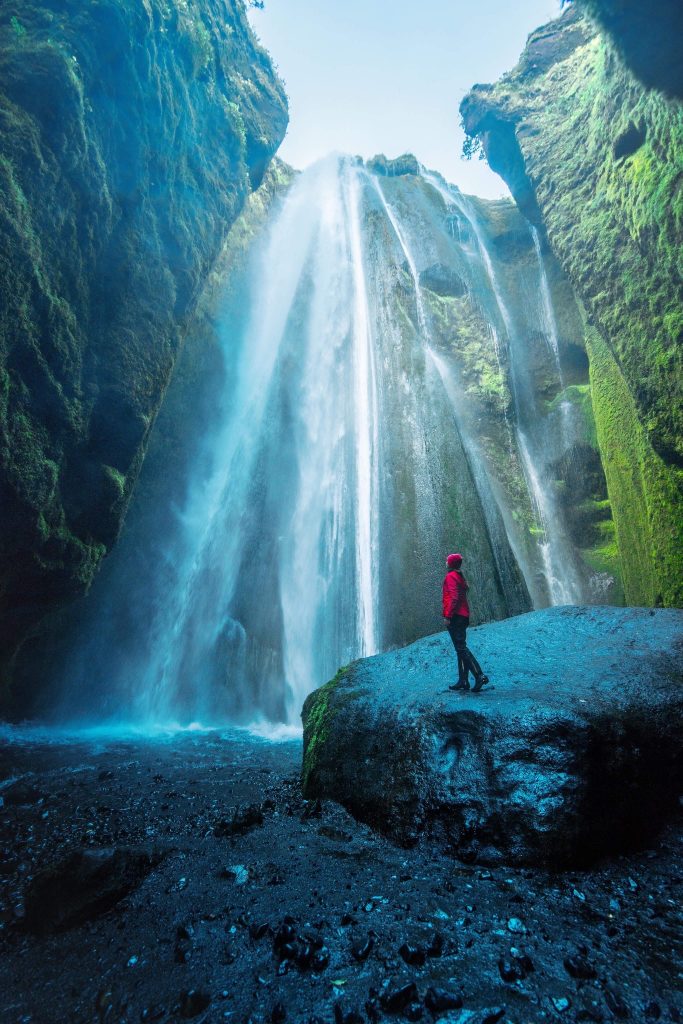 Peek At The Skogafoss Waterfall From Above
Many of the best things to do in Iceland are hopping from one waterfall to another. Why not add the Skogafoss Waterfall to your list?
This 200-foot waterfall can be viewed from both the base and from the top.
Both views are wonderful, but, if you're adventurous enough to climb the 500 steps to the top, you can continue your adventure with an extended hike along the Skoga River to hunt for a few more breathtaking Icelandic waterfalls.
Book Here: South Coast Classic: Full-Day Tour from Reykjavik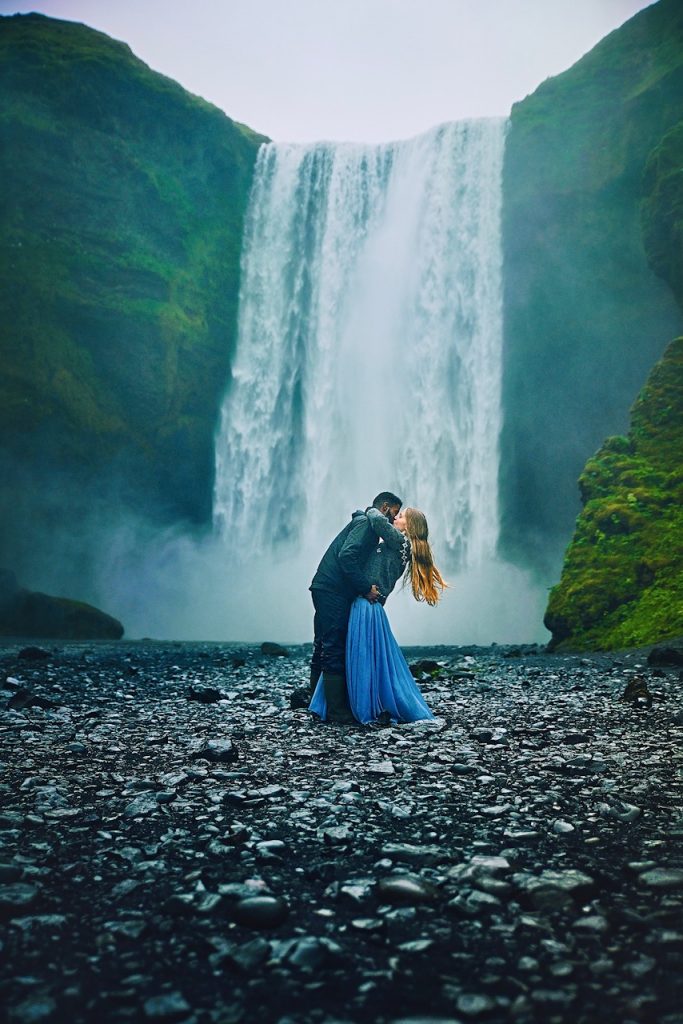 Explore The Solheimasandur Plane Wreck
Situated on the Solheimasandur black sand beach, the Solheimasandur Plane Wreck looks like it was swiped from a dystopian Hollywood movie set.
In 1973, this DC-3 US navy plane crash-landed on the beach. Mercifully, everyone onboard survived, but the wreckage has remained for nearly fifty years!
It is a moderate 4.6-mile hike to the plane. It is a must-see in Iceland!
Book Here: From Reykjavik: South Coast, Plane Wreck, & Beach ATV Tour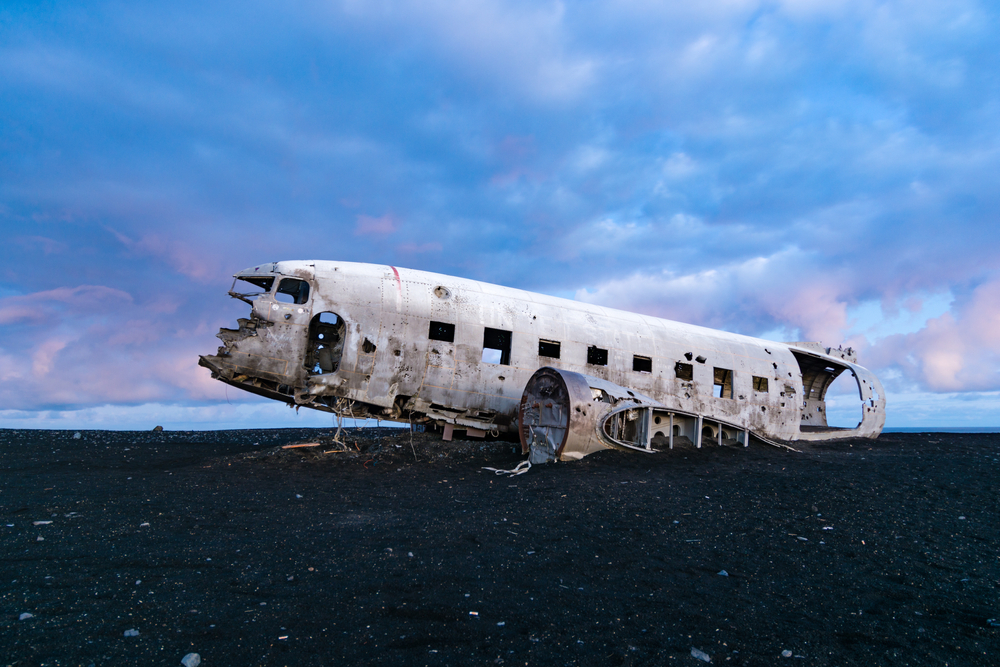 Enjoy The Natural Set-Up Of The Hrunalaug Hot Springs
Hrunalaug Hot Springs is one of the small gems of Iceland. There are three different pools of warm water (all of different temperatures), so you can find the one you like best.
This wonderful hot spring can only hold about ten people before it starts feeling crowded, so plan accordingly!
If you do choose to visit Hrunalaug Hot Spring, please be respectful! Many recent visitors have not treated the hot spring well, causing the owner to consider closing it down.
Please do your part to keep this wonderful Iceland gem preserved and open.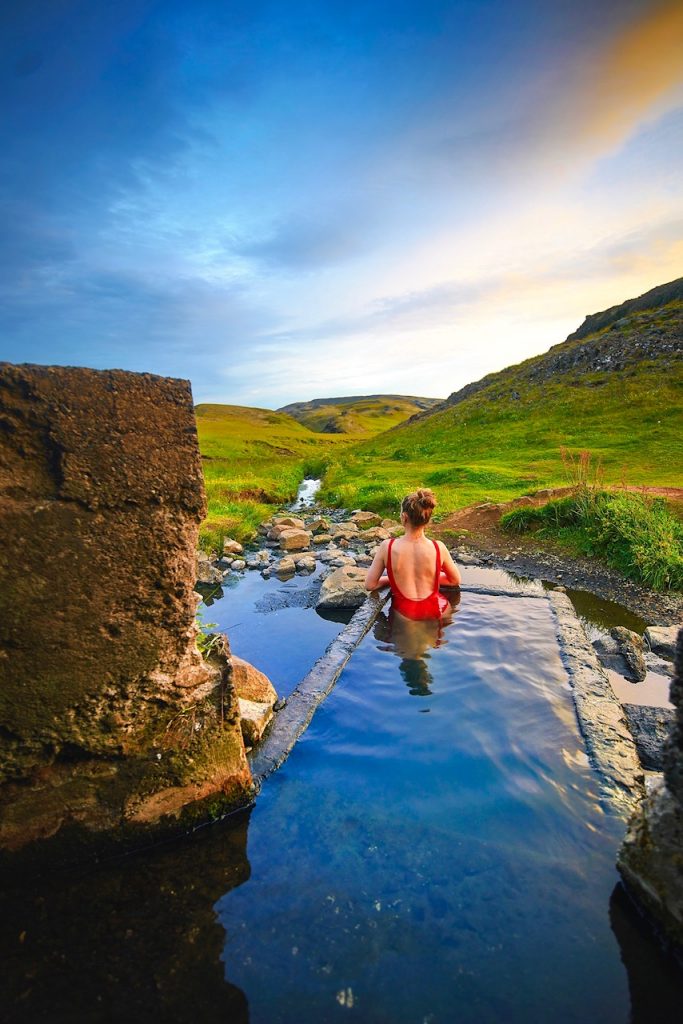 Stare In Awe At Haifoss Waterfall
At over 400 feet, Haifoss Waterfall is one of the tallest waterfalls in Iceland. It's accompanied by the just-as-tall Granni Waterfall, making this pair a force to be reckoned with.
You'd think this would be one of the busiest places to visit in Iceland, but that's not the case. You need a 4×4 in Iceland to reach these flowing waterfalls, and it's often closed off during the winter months.
All of that said, it's one of the best stops on the South Coast and a must-do in Iceland.
Book Here: From Reykjavik: Landmannalaugar & Háifoss Waterfall Tour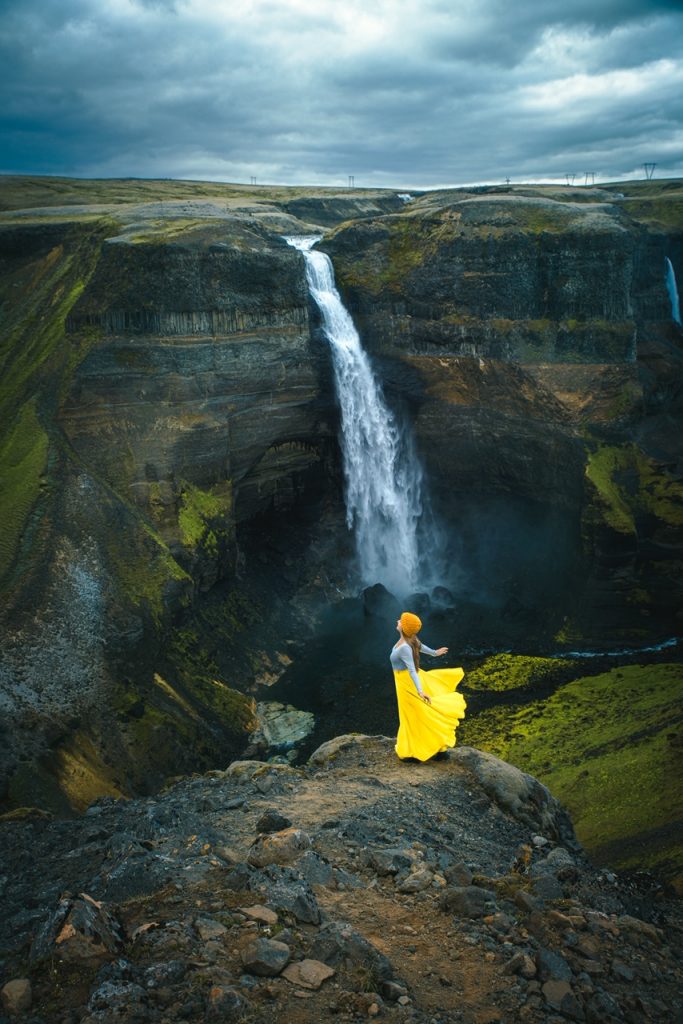 Catch A Stunning View of Reynisfjara Black Sand Beach From Dyrholaey
While you'll have to venture off the paved road for a little bit, Dyrholaey is definitely worth a stop, especially if you're tackling Iceland's Ring Road.
In addition to a natural stone arch, Dyrholaey also presents unparalleled views of Reynisfjara Black Sand Beach.
This is one of the best free things to do in Iceland if you love views!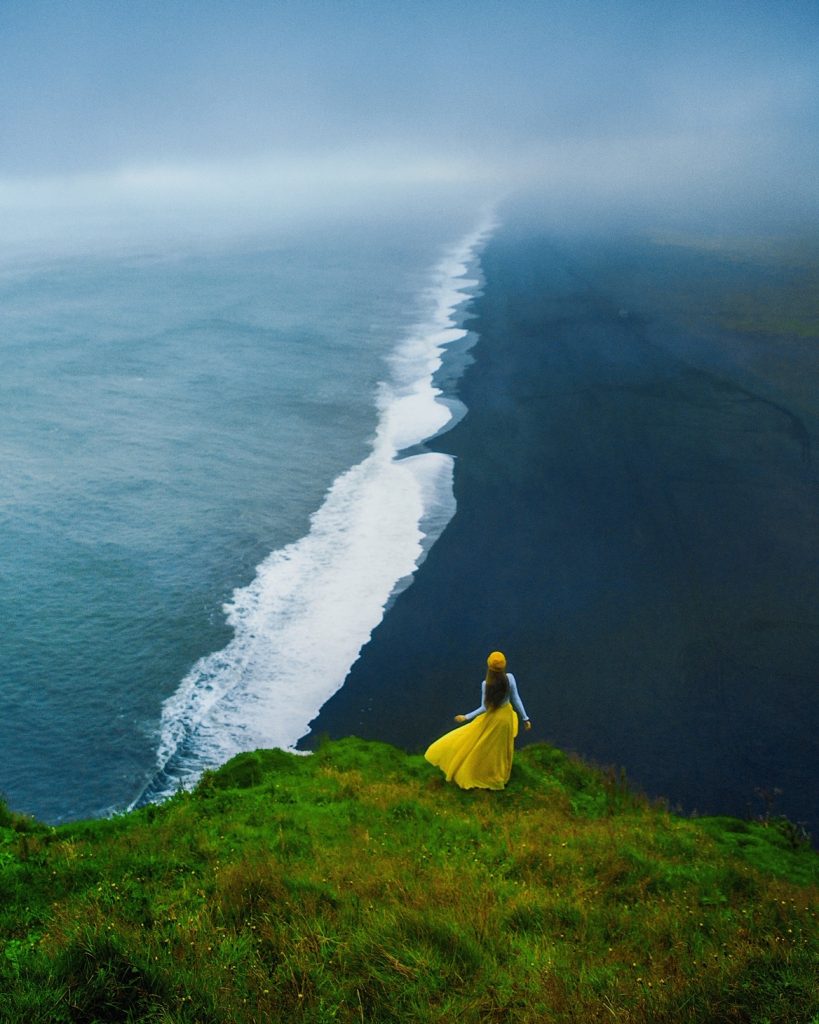 Visit Reynisfjara Black Sand Beach
Then, after you've seen Reynisfjara Black Sand Beach from above, head down to the beach itself to see the stark black sand close up.
Reynisfjara Black Sand Beach is one of the best black sand beaches in Iceland, due to its stark color, towering basalt columns, and roaring waves.
Make sure not to get close to the water and keep your eyes on the waves. The sneaker waves are dangerous and are known to take lives.
This beach is one of the best things to do in Vik!
Book Here: Iceland: Full-Day South Coast, Black Beach & Waterfalls Tour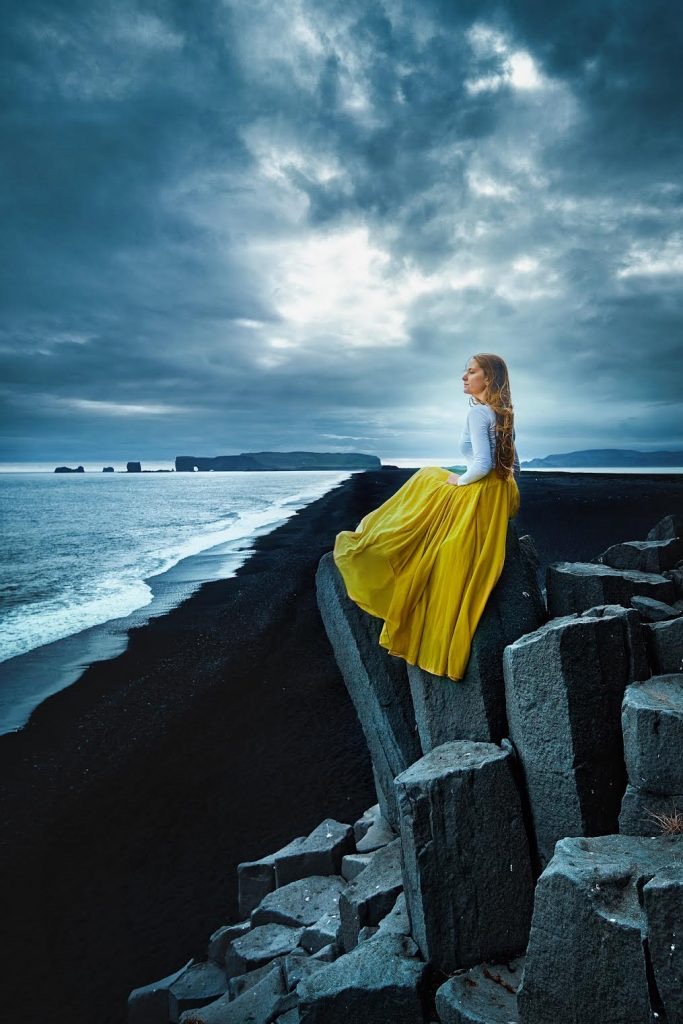 Discover the Northern Lights
Seeing the Northern Lights in Iceland is one of the best experiences you can have! This natural phenomenon is a sight to behold and is an Iceland bucket list activity.
The dancing lights can be spotted all over the country from September through March. There's even the chance to see the Northern Lights in Reykjavik if you are not able to venture far.
For the Northern Lights to be visible, the conditions have to be right. The sky needs to be dark and clear.
For the best chance to see the lights, consider booking a Northern Lights tour with experts who know where and when to look.
Check out our guide on photographing the Northern Lights too so you can capture some gorgeous photos while enjoying one of the top things to do in Iceland at night!
Book Here: Iceland: Northern Lights Bus Tour from Reykjavik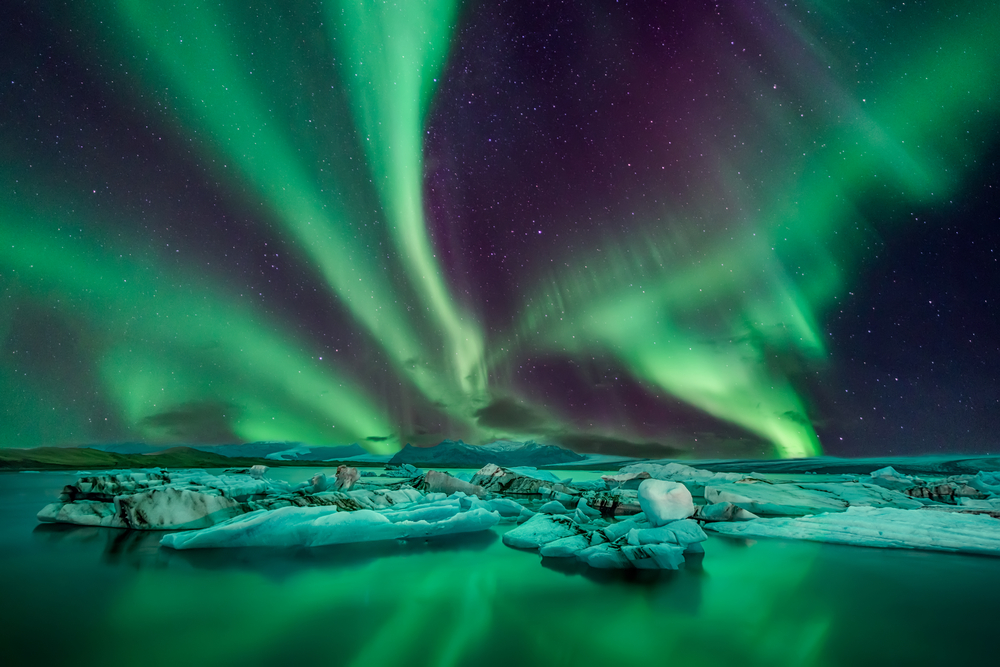 Take A Game of Thrones Tour
Most Game of Thrones fans know that the most of otherworldly landscapes of the show are actually in Iceland.
While the filming locations for Game of Thrones are all around the country, most of them are along Iceland's South Coast. So why not take a Game of Thrones tour during your time in Iceland?
You will see some of the most impressive landmarks in Iceland!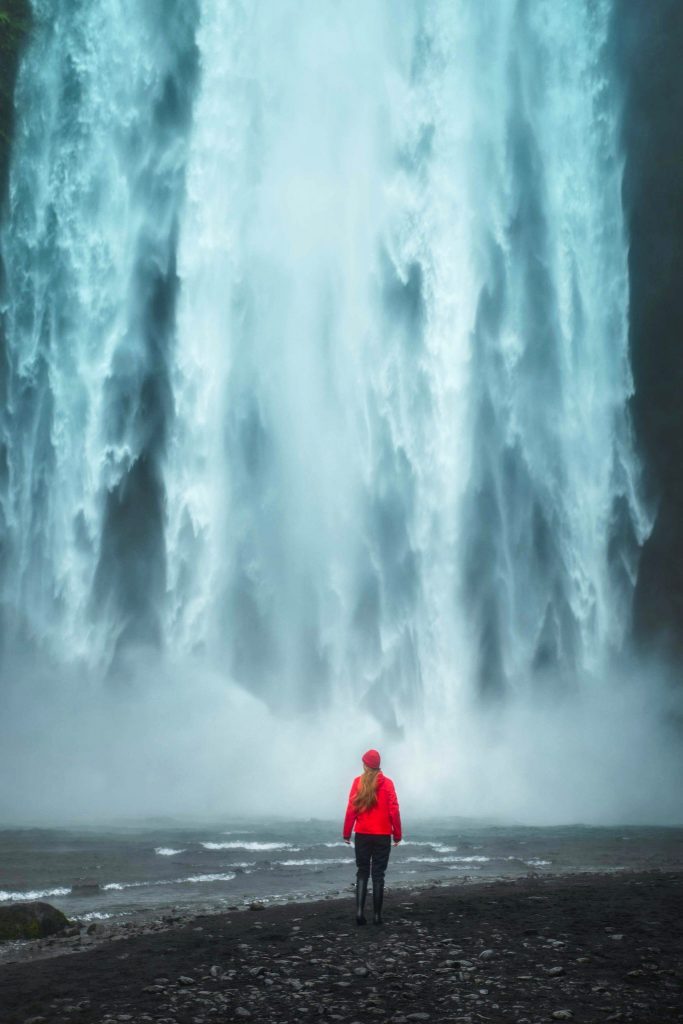 Best Things To Do In Southeast Iceland
Take In The Views Of Fjadrargljufur Canyon
Between the astounding depth and brilliant greenery, the beauty of Fjadrargljufur Canyon lives up to the rest of Iceland's attractions.
It is easily one of the best canyons in Iceland!
And in the winter, when snowflakes dust the canyon, it transforms it into a completely different landscape of wonder.
Recently, Fjadrargljufur Canyon has gained a lot of popularity. While lots of visitors can be great, many visitors have chosen to wander off the designated paths, consequently destroying some of the canyon's beauty.
If you do choose to visit, please be respectful of the canyon and its rules! Moss, especially, should not be touched or stepped on. This is one of our top Iceland travel tips.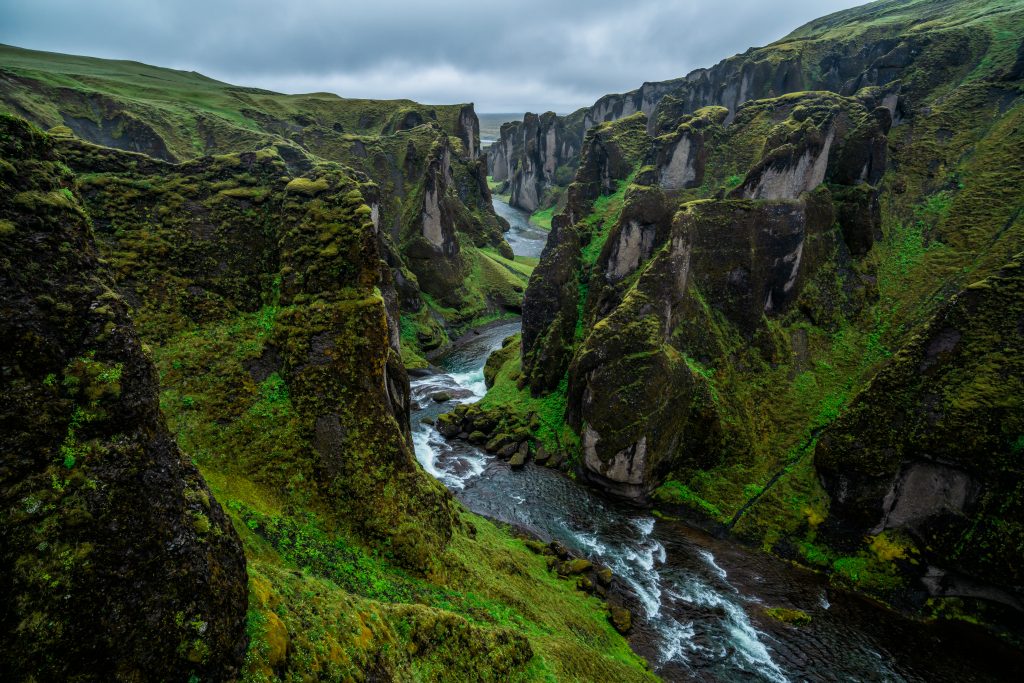 Get Your Fill Of Waterfalls In Mulagljufur Canyon
Mulagljufur Canyon rivals the depth and greenery of Fjadrargljufur Canyon while also boasting a couple of waterfalls.
Over the course of the 1.5-mile hike, you'll meander through muddy pathways and cross over rivers before reaching the 164-foot Mulafoss and 400-foot Hangandifoss.
Because Mulagljufur Canyon is rather well-hidden, there's a good chance you'll have this Iceland hidden gem all to yourself.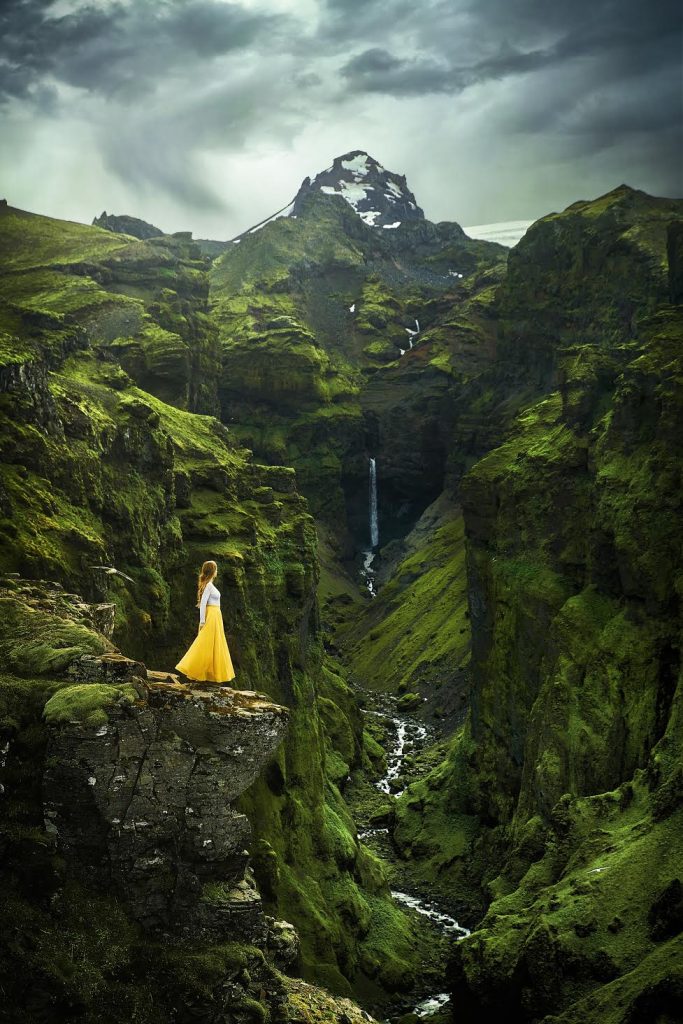 Gape At the Towering Basalt Columns Surrounding The Svartifoss Waterfall
While the 65-foot Svartifoss Waterfall isn't the tallest of Iceland's waterfalls, it is still special enough to make it onto this list of the best things to do in Iceland.
What it lacks in height, it makes up for in towering basalt columns. These black, octagonal columns surround the flow of water until it reaches its natural pool at the base.
If you do choose to visit the Svartifoss Waterfall in Skaftafell Nature Preserve, be sure to pay attention to the signs and stick to the designated areas.
The natural landscape around this waterfall is particularly fragile, so please do your part to try to preserve it!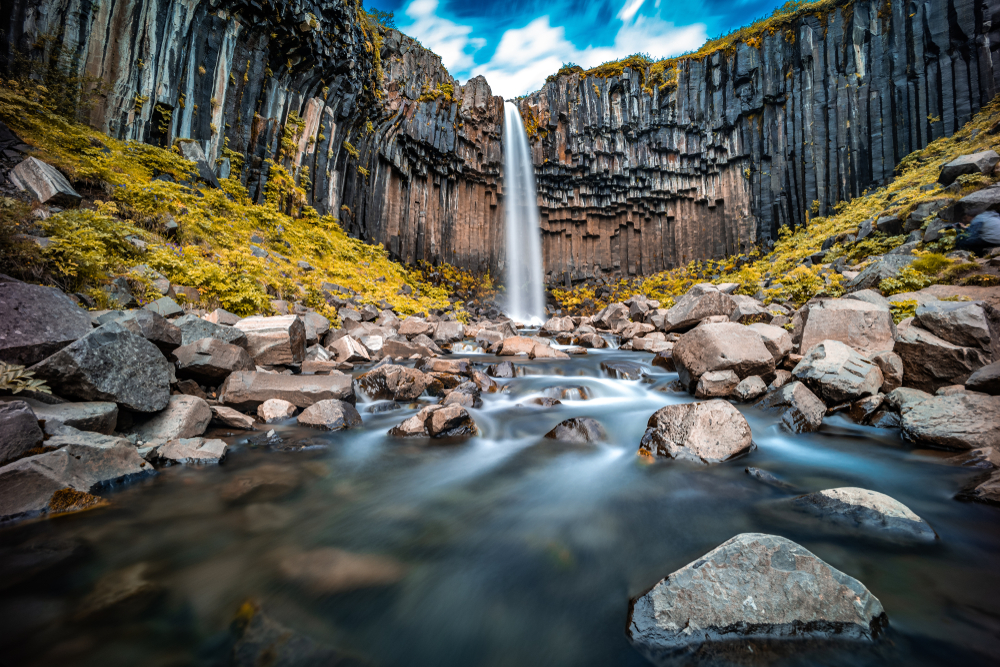 Take A Glacier Tour of Jokulsarlon Glacier Lagoon
Jokulsarlon Glacier Lagoon is a unique natural wonder. Once upon a time, it was a full-on glacier, but, over time, it has melted to become Iceland's largest lake (although it does still include large chunks of the glacier).
During the summer months, the ice continues to melt, and the waters teem with wildlife. During winter in Iceland, these same waters start to refreeze.
Basically, every time you visit Jokulsarlon Glacier Lagoon, it will look completely different.
The best way to immerse yourself in the wonder of Jokulsarlon Glacier Lagoon is by taking a glacier tour by boat.
Then, you'll be able to sail through all of the hidden iceberg nooks rather than simply seeing what is visible from the shore. This is one of the best Iceland activities!
Book Here: From Reykjavik: Jökulsárlón Glacier Lagoon and Diamond Beach
Adore The Glacier Chunks Gracing The Black Sand Of Diamond Beach
Arguably just as cool as a glacier tour of Jokulsarlon Glacier Lagoon is a visit to Diamond Beach.
Located just across the highway from Jokulsarlon Glacier Lagoon, Diamond Beach is littered with frozen glacier chunks!
When contrasted with the obsidian color of the sand, Diamond Beach makes for a truly one-of-a-kind landscape. It will also look different each time you visit.
Book Here: Reykjavik: South Coast Waterfall Tour with Diamond Beach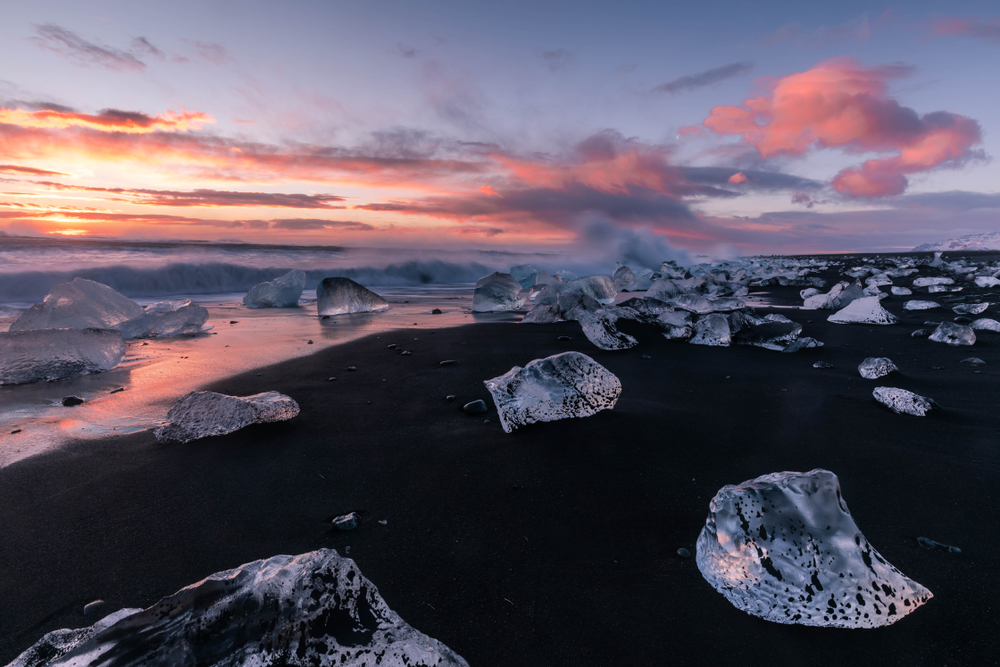 Best Things To Do In East Iceland
Stand In The Shadow Of The Towering Vestrahorn Mountain
Situated on the Stokksnes Peninsula, Vestrahorn Mountain is one of Iceland's most memorable mountains.
There's really no question of why this mountain made it onto this list of the best places to go in Iceland. The sharp gray peaks topped with a sprinkle of white snow contrast with the ebony-colored sand below.
As if this striking picture was not enough, you can also capture the coolest picture with Vestrahorn's reflection in the waves of the black sand beach.
Then, add the warm colors of a sunrise or sunset, and it's like pure magic. It is definitely one of the best Iceland photography locations!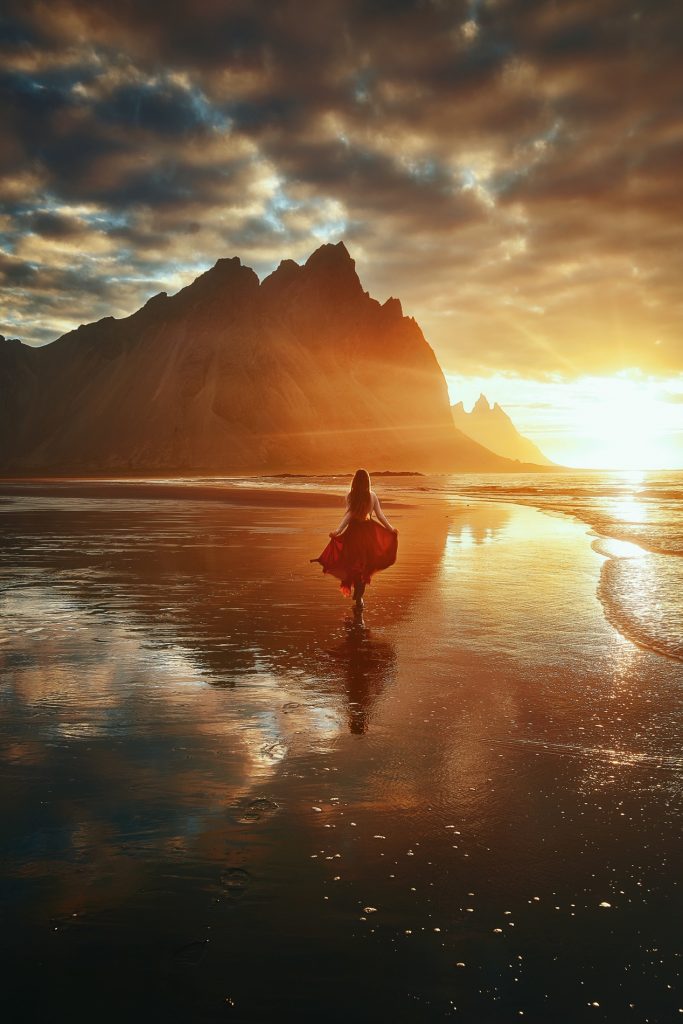 Skip Along The Rainbow Street To The Sky Blue Church
In the tiny town of Seydisfjordur is one of the most adorable churches in Iceland: the Seydisfjordurkirkja Church.
A rainbow pathway leads through the town's shops to this tiny powder-blue church. It's sure to put a smile on your face!
The drive to one of the cutest towns in Iceland is picture-perfect as well. You will cruise through the mountains before coming down into the fjord.
It is one of the best places to visit in Iceland!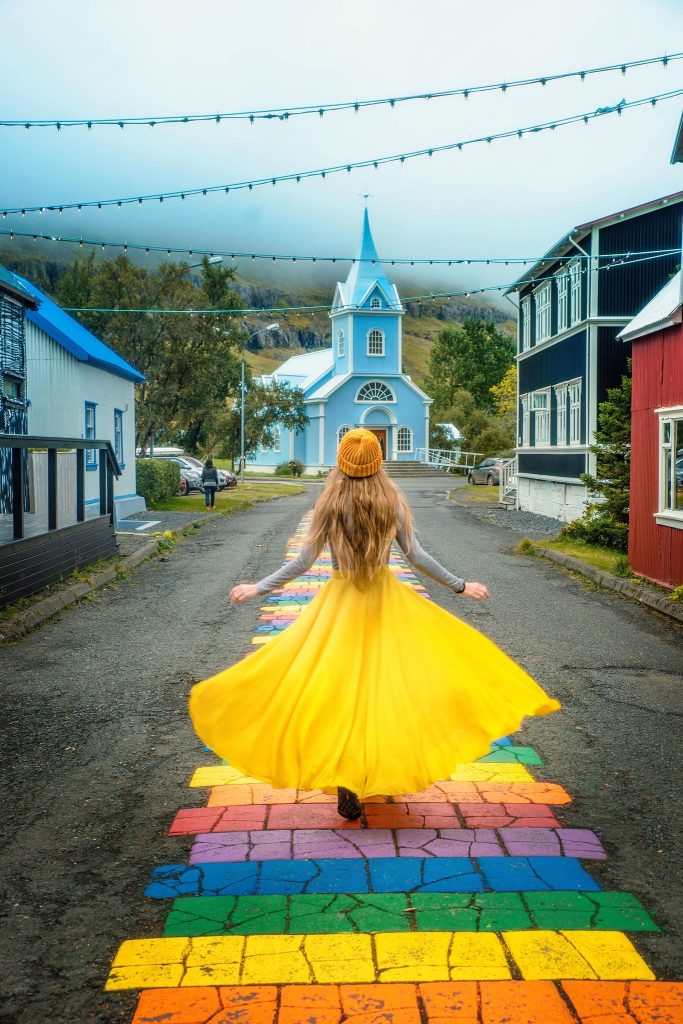 Tackle Two Hikes At Once To Hengifoss And Litlanesfoss
At a staggering 420 feet, Hengifoss is the third-highest waterfall in Iceland.
Unfortunately, it takes three miles of moderately difficult hiking to see it. Fortunately, your efforts will not go unrewarded as, in addition to Hengifoss, you'll also see the 100-foot Litlanesfoss about halfway through your journey.
In other words, you'll get to see two waterfalls for the effort of just one!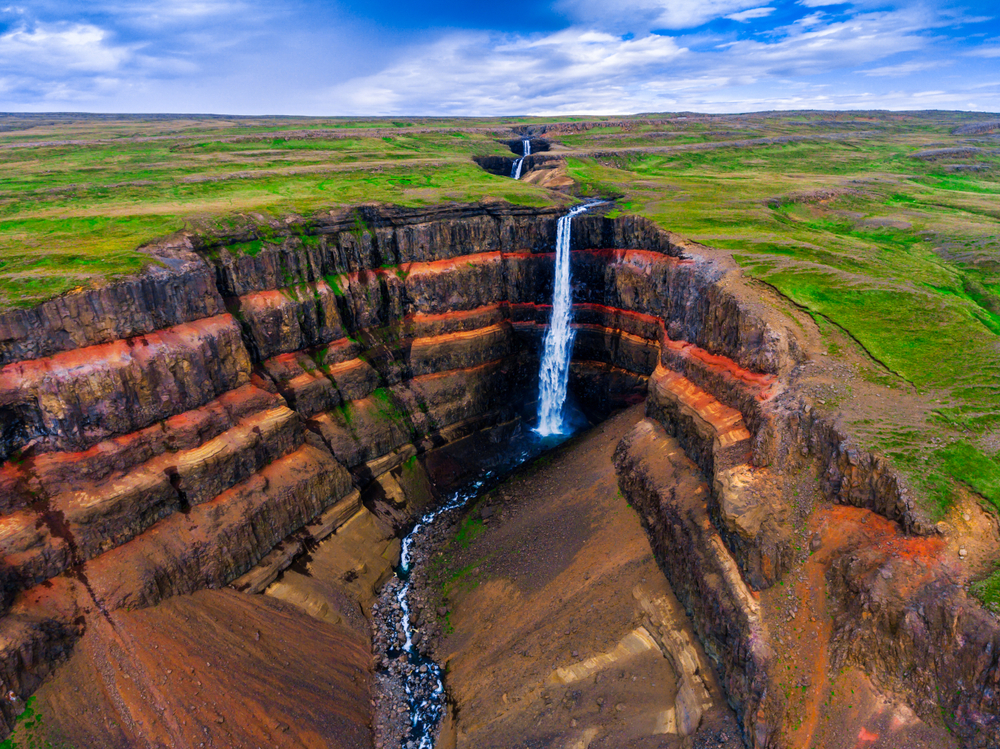 Bask In The Otherworldly Landscape of Studlagil Canyon
We often forget the world can change and shift, creating new, beautiful landscapes. Studlagil Canyon is one of those new creations.
In 2009, humans played a small role in the creation of Studlagil Canyon when the hydroelectric plant Karahnjukavirkjun was built.
This allowed the bright blue waters of the Jokla glacial river to lower, revealing the orange and gray basalt columns.
You do not want to miss one of the best things to do in East Iceland!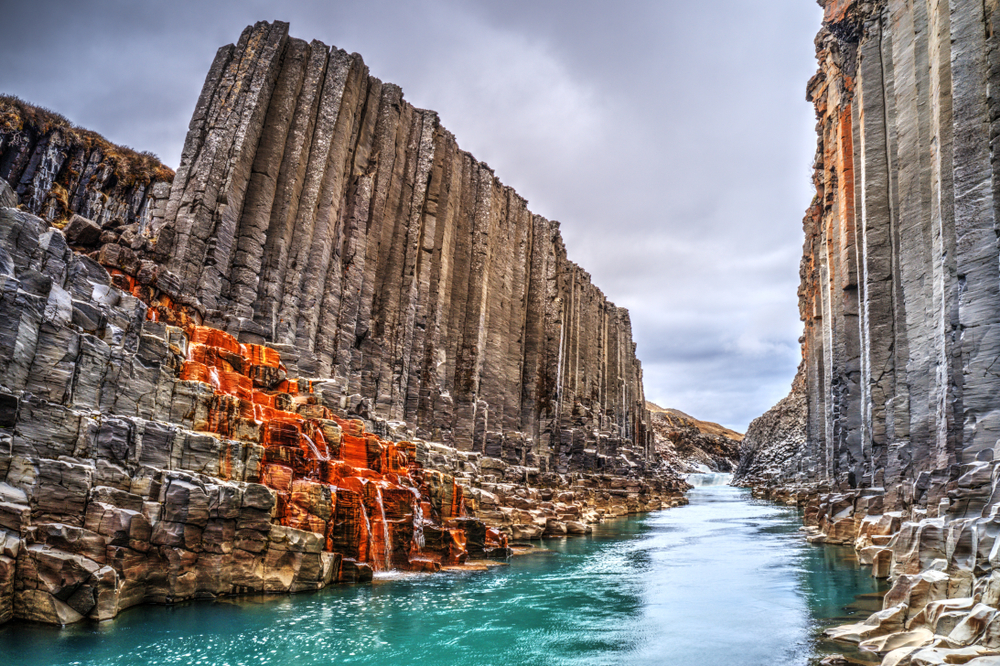 Best Things To Do in North Iceland
Soak In The Power of Dettifoss Waterfall
Dettifoss is one of the most powerful waterfalls in Iceland. As a matter of fact, it's been given the title of the most powerful waterfall in all of Europe!
As you stand alongside this rush of water, you'll feel dwarfed by its sheer massiveness – in the best way possible, of course.
There are two different viewpoints to see Dettifoss: The East and the West. While they are both lovely, I recommend choosing just one, because they are an hour apart.
Book Here: From Akureyri: Private Dettifoss Waterfall Jeep Tour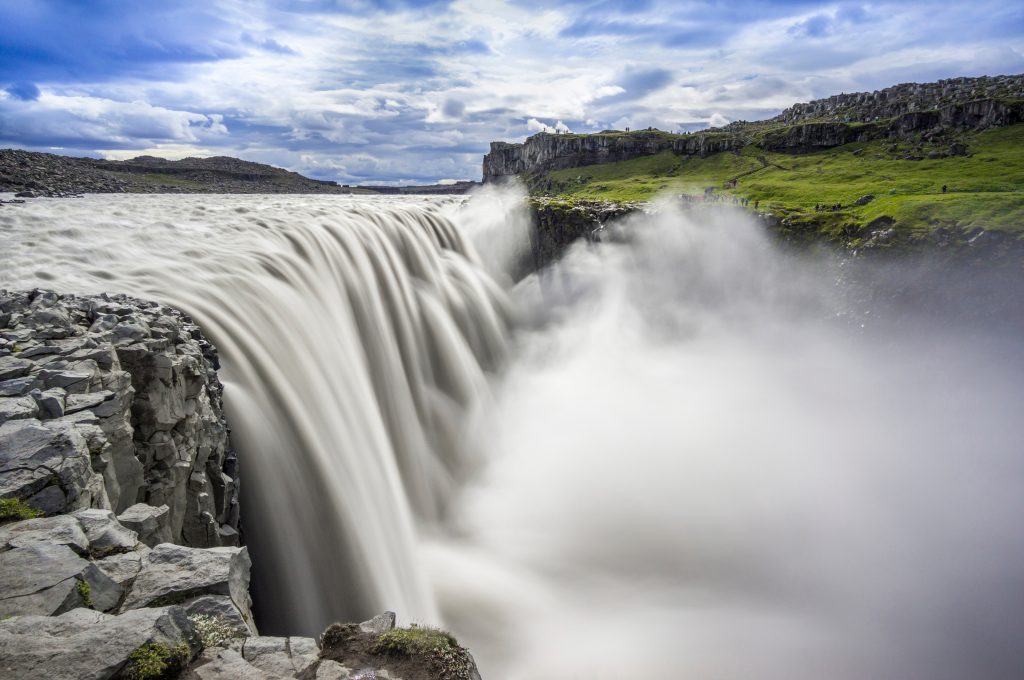 Take A Dip In The Myvatn Nature Baths
Often dubbed the Blue Lagoon of the North, the Myvatn Nature Baths are a perfect way to escape the cold Icelandic air.
The temperatures of the different pools hover between 97 degrees Fahrenheit and 104 degrees Fahrenheit, making it the perfect temperature for soaking.
This is one of the best things to do in Iceland for adults who want to relax.
Book Here: Mývatn: Myvatn Nature Baths Admission Ticket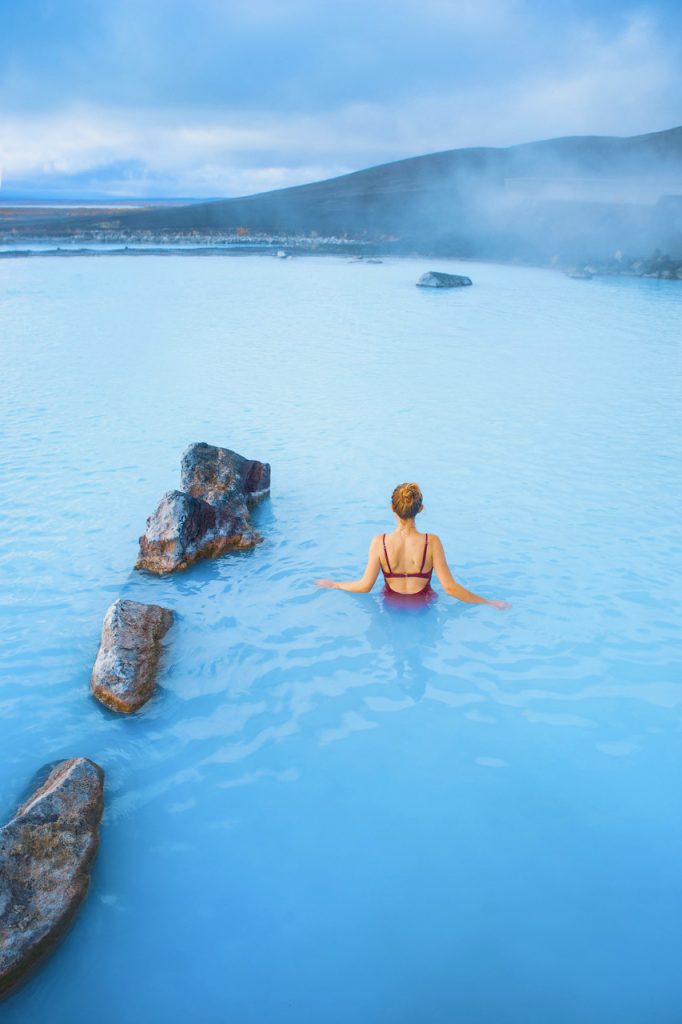 Watch Whales Breach In Husavik
Husavik is known as the whale capital of Iceland as these marvelous creatures often like to settle here during the summer months.
I recommend taking a whale-watching tour to get a better view of the whales, but you can also spot them at certain places along the shoreline, including the Geosea Spa.
This is one of the best places in North Iceland for a soak!
Book Here: Húsavík: Whale Watching Tour with Guide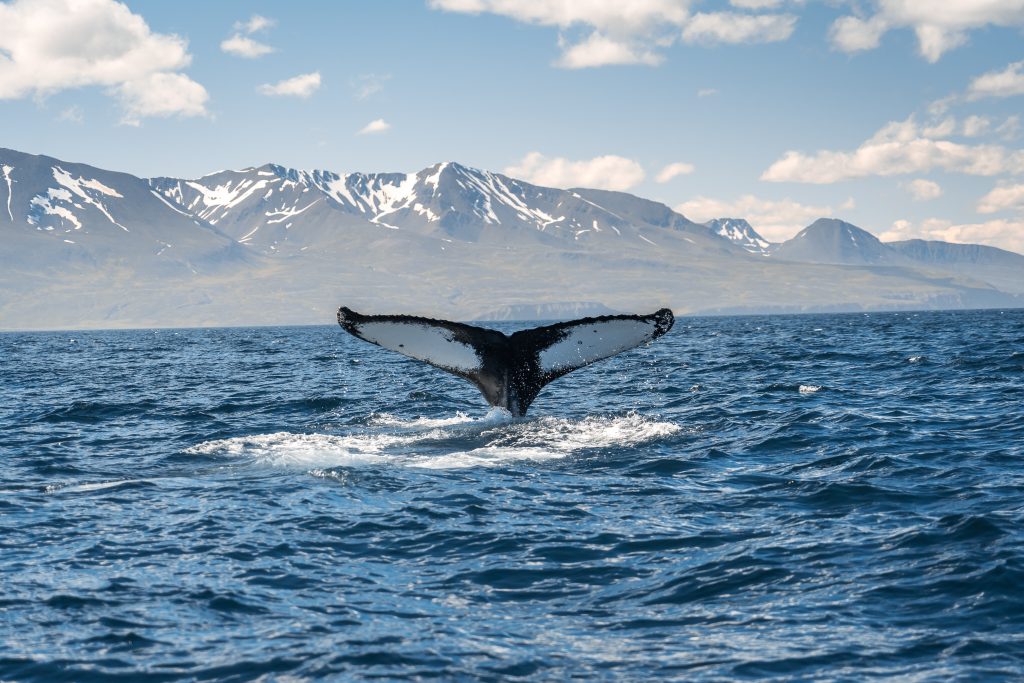 Take In The Beautiful Hvitserkur Rock Formation
Through the natural rise and fall of powerful waves, Iceland has become home to a myriad of fascinating rock formations, including the Hvitserkur Rock Formation.
With two arches carved through the base, many have decided the rock formation looks like an animal, although people haven't been able to agree on which one.
Some say an elephant, some say a rhino, and some say a dragon. I guess you'll just have to visit for yourself to decide!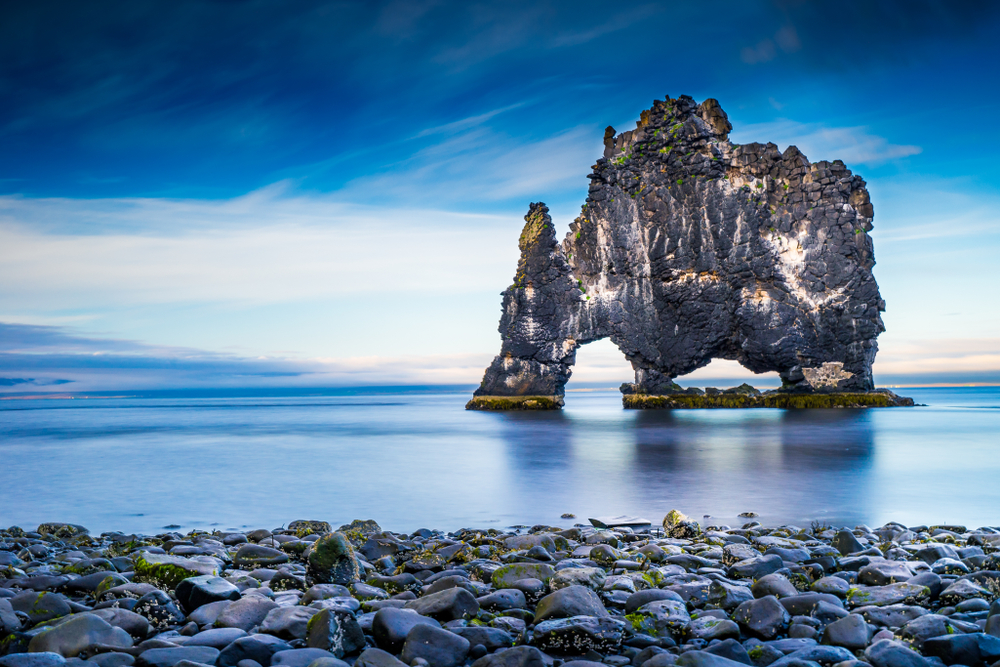 Beam In the Beauty Of Godafoss, The Waterfall Of The Gods
Hands down, one of the best things to do in Iceland is visiting Godafoss.
The name of this stunning semi-circle of cascading water actually means "Waterfall of the Gods," and this natural landmark certainly lives up to its name.
As if the waterfall wasn't beautiful enough on its own, it settles into an eye-catching turquoise pool at the base. The two-mile loop trail is so worth it!
This epic waterfall is also one of the best things to do in Iceland in winter. It looks amazing surrounded by snow.
Book Here: From Akureyri: Lake Mývatn & Goðafoss Waterfall Day Trip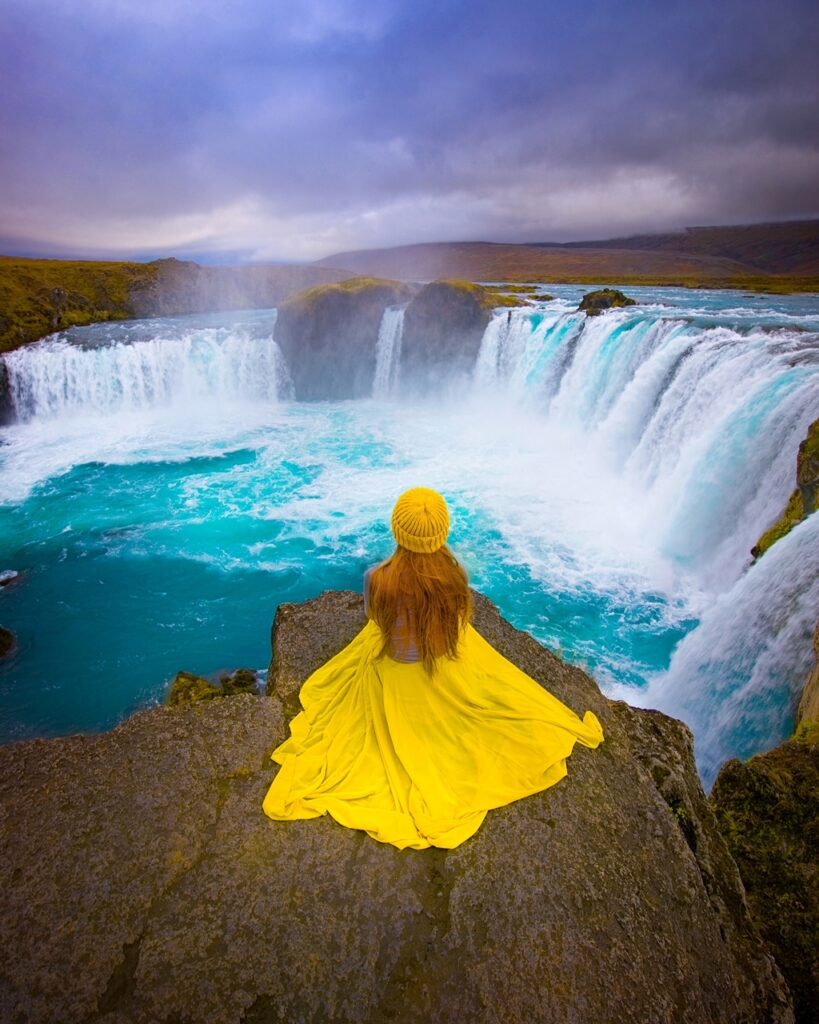 Head Off The Beaten Path To Aldeyjarfoss
Iceland has a lot of waterfalls and basalt columns. For another chance to see them together, visit Aldeyjarfoss.
Found on the Skjalfandafljot River, this 65-foot waterfall is one of the best places to visit in the highlands of Iceland.
From the parking lot, it is only a ten-minute walk to the viewpoint.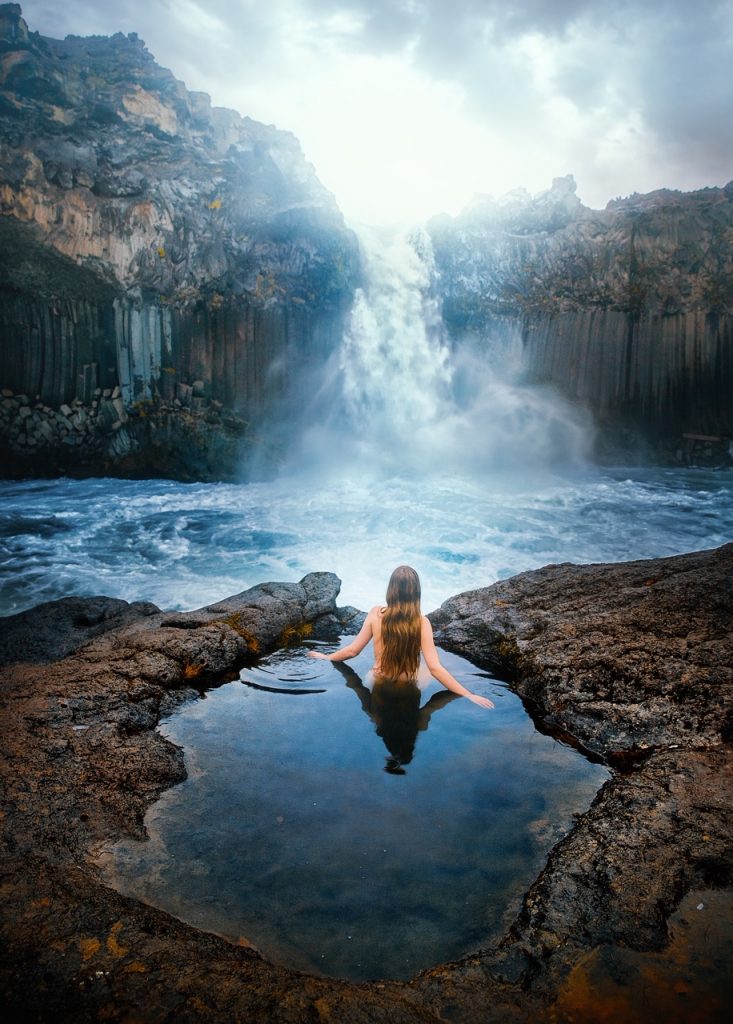 Best Things To Do In West Iceland
Veer Off The Ring Road To The Westfjords
When most people visit Iceland, they stick to the Ring Road. Little do they know, they're missing out on the Westfjords, which should definitely be added to everyone's Iceland itinerary!
Hands down, the best thing to see in the Westfjords is the Dynjandi Waterfall. This waterfall flows down a set of natural lava rock steps, creating an almost lace-like quality to it.
But if you're tired of Iceland's waterfalls, you can also venture to the Dragnes Hot Pots, spot the puffins at the Latrabjarg Cliffs, or gape at the red sand of Raudasandur Beach.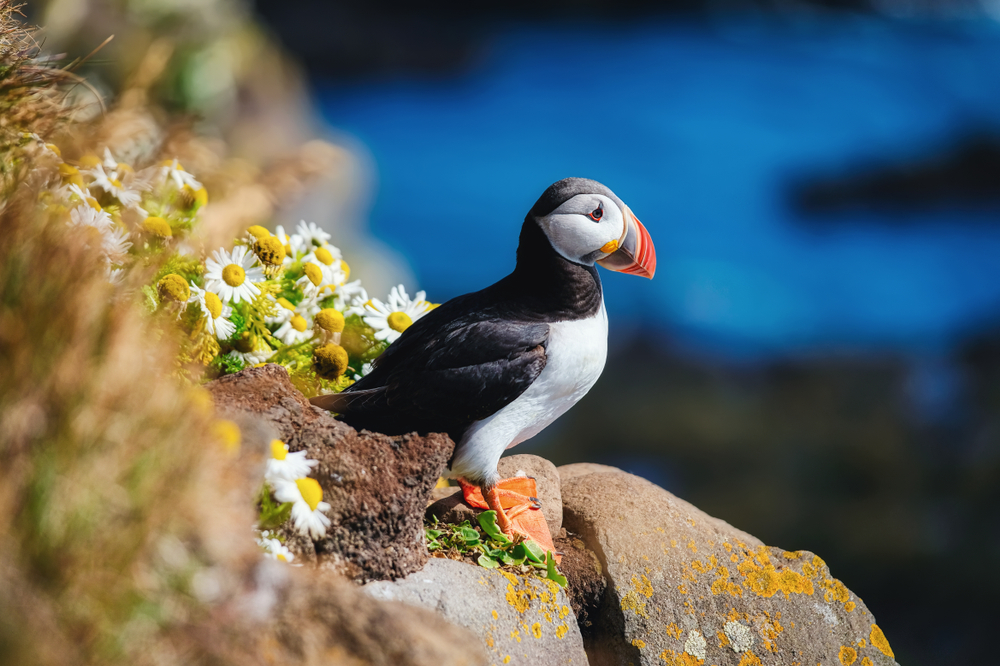 Test Your Balance As You Head Off On The Natural Bridge At Arnarstapi
Located on the Snaefellnes Peninsula, the little town of Arnarstapi rarely gets the recognition it deserves. The village is adorable, the fish and chips is delicious, and the people are kind.
If there's one stop you have to make in Arnarstapi though, it's the natural archway known as Gatklettur. If rock formations really pique your interest, take your time exploring the nearby area, because it's filled with them!
There is a natural stone bridge nearby perfect for a cool photo-op too!
Book Here: From Reykjavik: Snæfellsnes Peninsula Full-Day Tour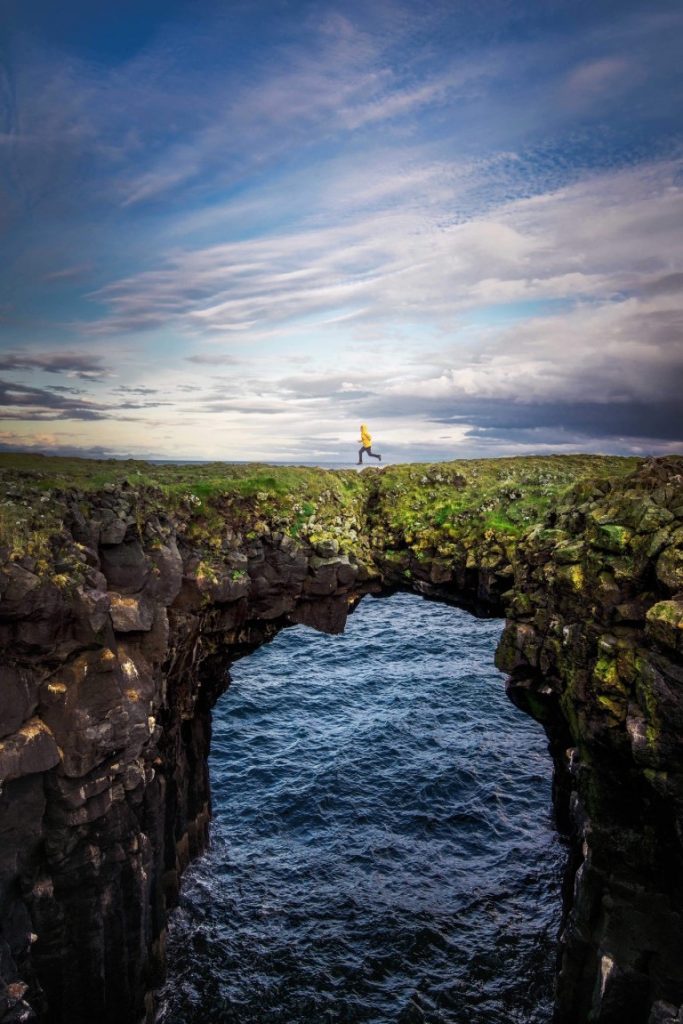 Photograph The Kirkjufell Mountain and Kirkjufellfoss Waterfall
The most photographed mountain in Iceland is Kirkjufell Mountain. If you're a Game of Thrones fan, you may know it as Arrowhead Mountain.
This soaring mountain is accompanied by the wonderful Kirkjufellfoss Waterfall, both of which look gorgeous no matter the time of year.
If you're really up for an adventure, you can hike to the top with the help of a guide, but most people just choose to take pictures from afar.
Book Here: Reykjavik: Snaefellsnes Peninsula and Kirkjufell Day Trip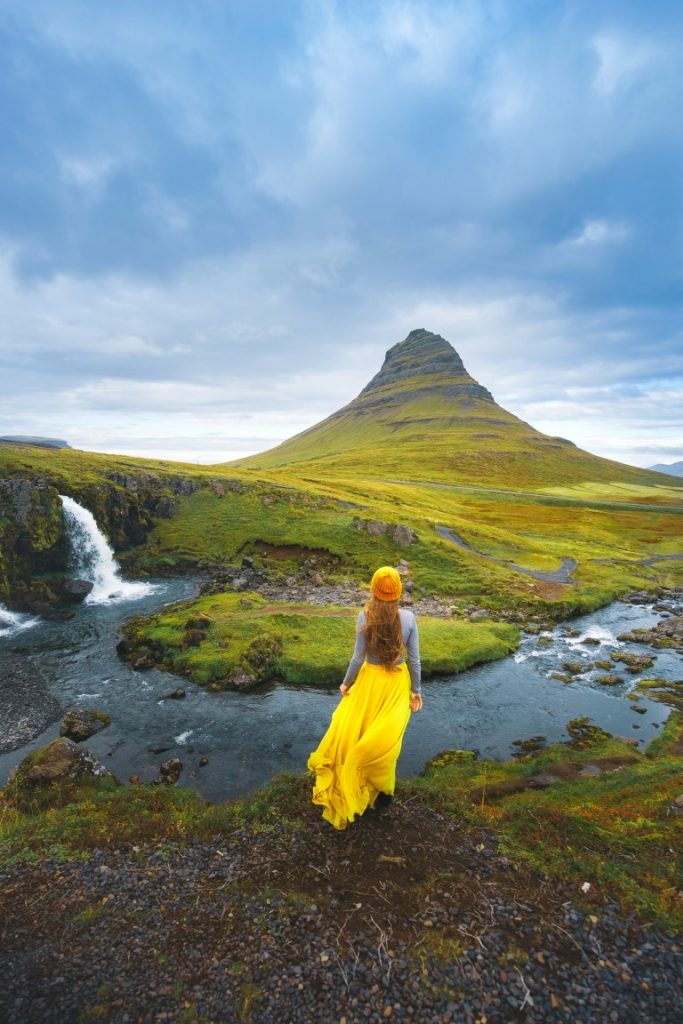 Check Out The Hraunfossar Waterfall And Barnafoss Waterfall
The Hraunfossar Waterfall and Barnafoss Waterfall are another pair of lovely Icelandic waterfalls.
Hraunfossar Waterfall cascades down a rugged obsidian terrain, creating an entrancing lacy effect with many small streams. The glacial water here is a gorgeous blue you will love.
Barnafoss Waterfall cascades powerfully through a rocky gorge, spaying light blue water.
Each waterfall is found on an easy boardwalk path. This is one of the best places in West Iceland!
Book Here: Reykjavik: Silver Circle, Canyon Baths, and Waterfalls Tour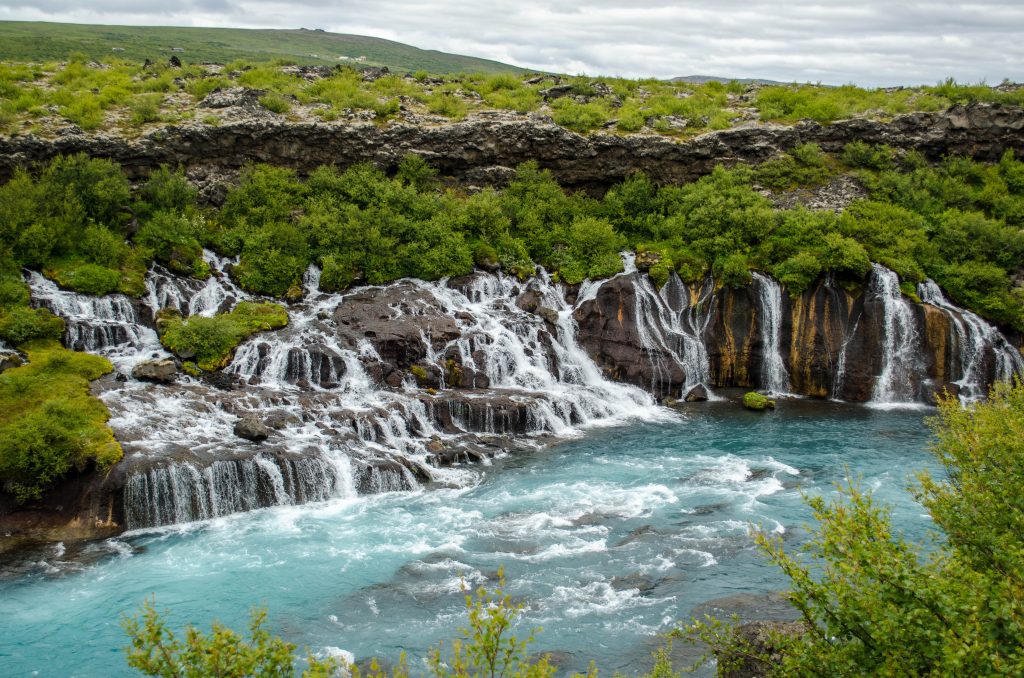 Tackle The Trail To The Glymur Waterfall
At a staggering 650 feet, Glymur Waterfall claims the title of Iceland's second-tallest waterfall, making it one of the best things to do in Iceland.
But the trail to Glymur Waterfall is not easy. With sections steep enough to warrant using ropes and a few river crossings, the 4.5-mile hike to the Glymur Waterfall is not for the faint of heart.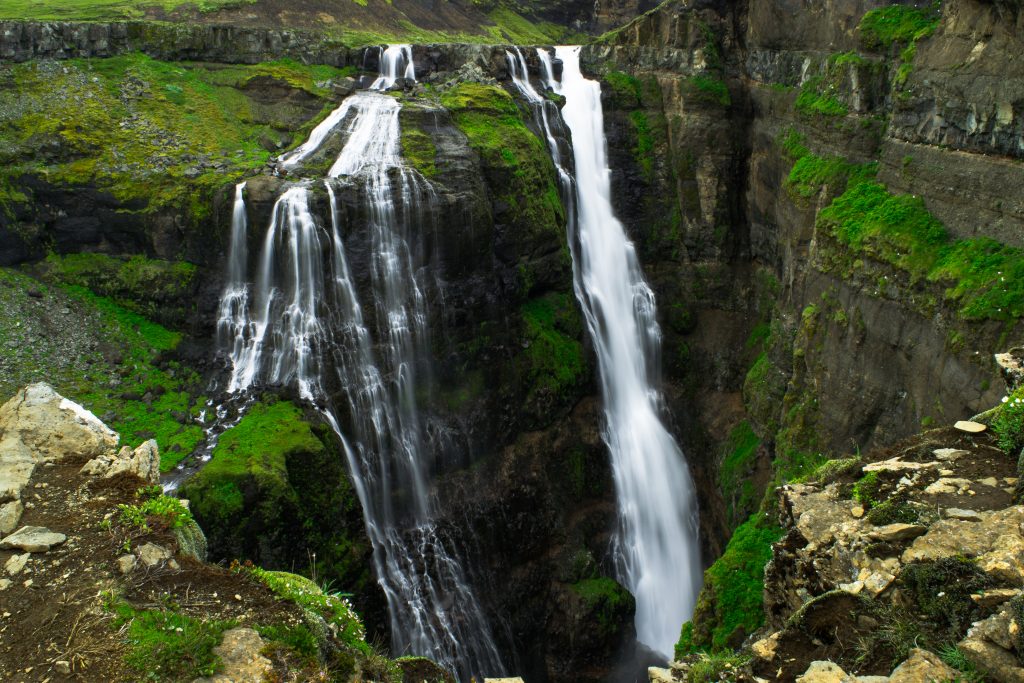 Watch The Waters Boil At Deildartunguhver Hot Springs
While you can enter most of Iceland's hot springs, you can't enter Deildartunguhver Hot Springs – but that doesn't mean it's not worth a visit.
With temperatures reaching nearly 400 degrees Fahrenheit, these hot springs are a tribute to the powerful geothermal activity reverberating throughout Iceland.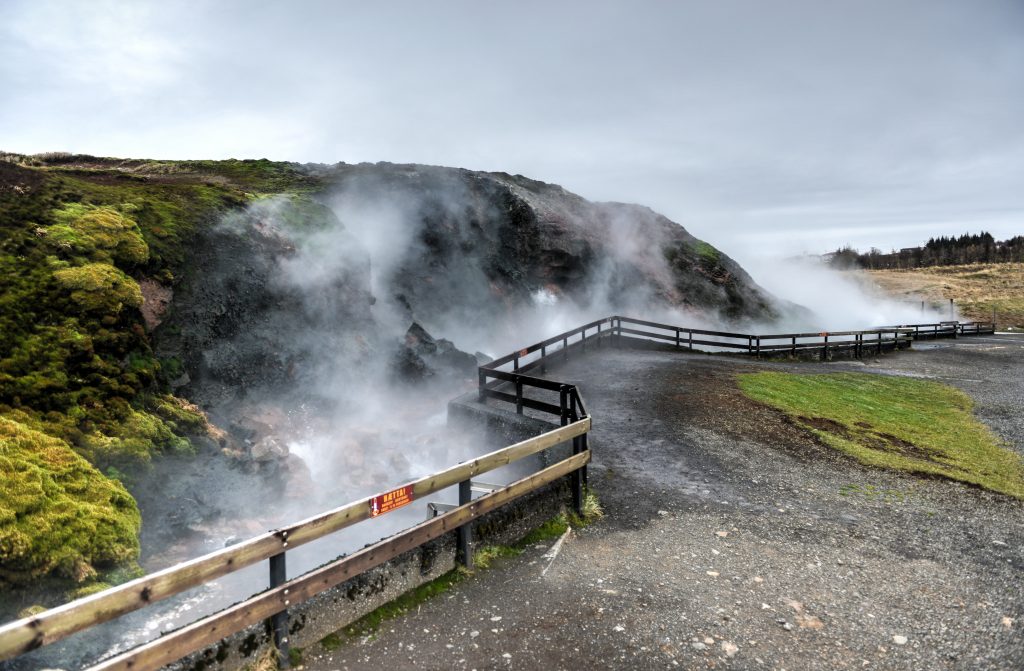 Best Things To Do In Reykjavik
Climb The Tower Of The Hallgrimskirkja Church
One of the most popular things to do in Reykjavik is to visit the Hallgrimskirkja Church. This iconic building towers over all of the others in the city, making quite a statement.
It is free to enter the church. There is a small fee to climb the tower, but it offers stunning views of the city, so it's worth it.
The church has a very modern design completely different than other churches in Iceland.
Make sure to check out our full Reykjavik itinerary!
Book Here: Reykjavik: Sightseeing Walking Tour with a Viking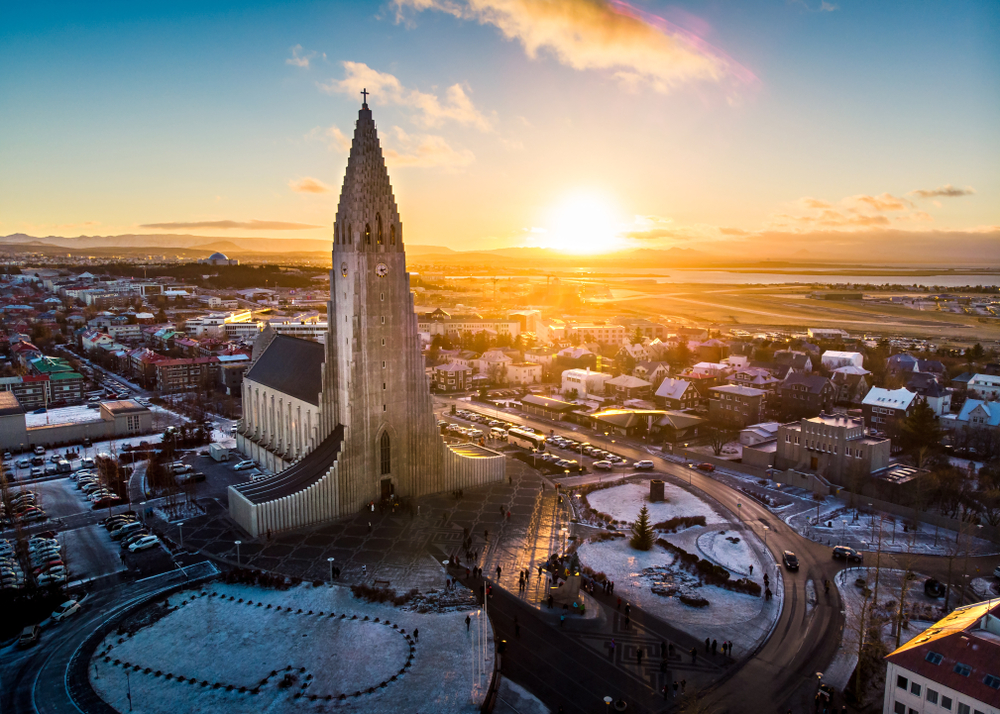 Marvel At The Sun Voyager Sculpture
The dream-like Sun Voyager sculpture was created by the artist Joe Gunnar.
Made of stainless steel, this boat-shaped structure glistens in the sunlight and looks particularly beautiful during sunrise and sunset.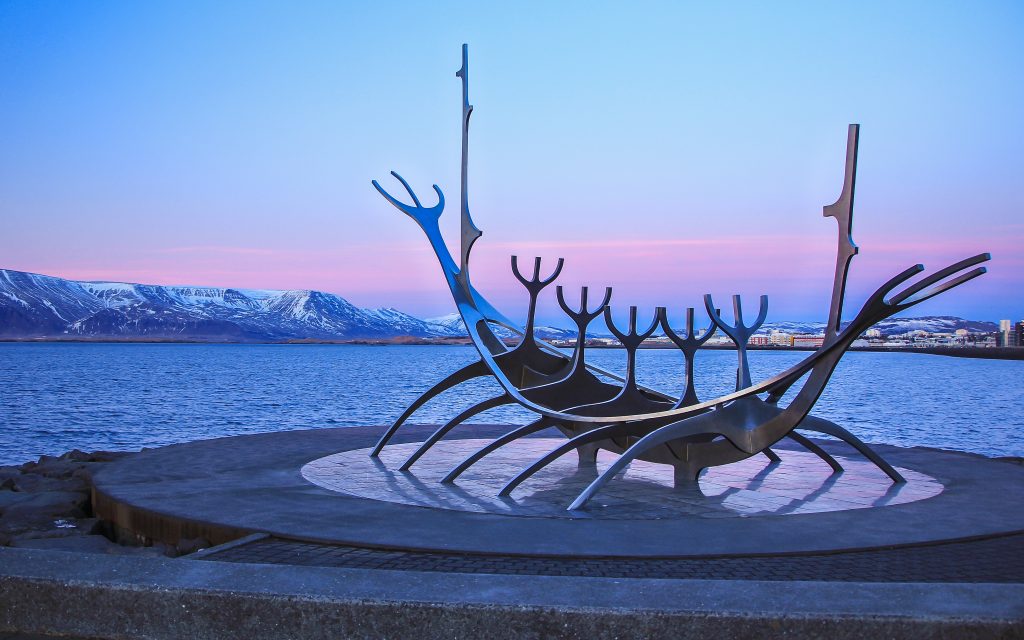 Trek Up Mount Esja
Mount Esja is often called the "city mountain," because it is located just 20 minutes outside of Reykjavik.
Once you reach the end of this five-mile hike, you'll be rewarded with stunning views of the city and beyond. It is one of the best hikes in Iceland!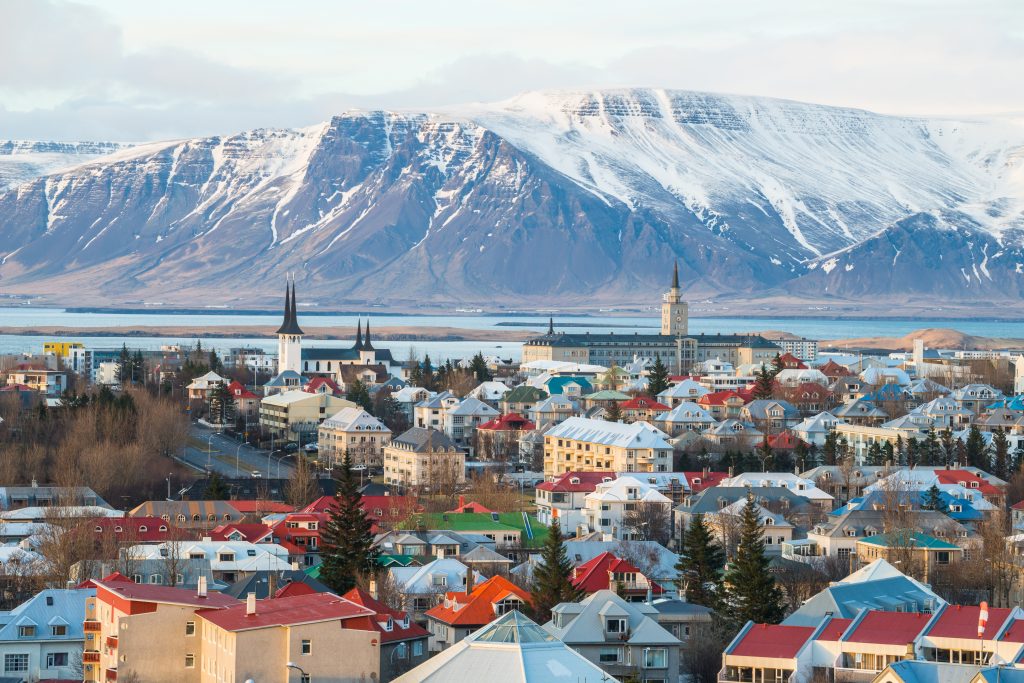 This list just scratches the surface of the best things to do in Iceland. There are just so many amazing attractions in Iceland
We're excited you're considering what to see in Iceland and where to go in Iceland. Please let us know in the comments section if you have any questions or just want to share what you think are some of the top things to do in Iceland.