There are so many amazing things to do in Iceland in winter, and you should not be intimidated to visit this beautiful country during this seemingly harsh season. If you are prepared, you can have a safe and once-in-a-lifetime trip.
In winter, Iceland becomes a magical, snowy wonderland. Though the daylight is shortened, the chance to see the Northern Lights dazzle across the night sky makes this a bucket list winter destination.
You can still easily see all of the classic South Iceland attractions in the winter as well as sites in other regions. However, driving might be more difficult since some roads are closed and you will need a 4×4 vehicle to bypass the snow and mud.
If you are brave enough to venture into Iceland in winter, then you can expect fewer crowds, cheaper rentals, and more dynamic, epic landscapes.
Get a FREE printable "Hidden Gems In Iceland" E-book by joining our private Iceland Facebook Group and share your photos and ask for tips and tricks.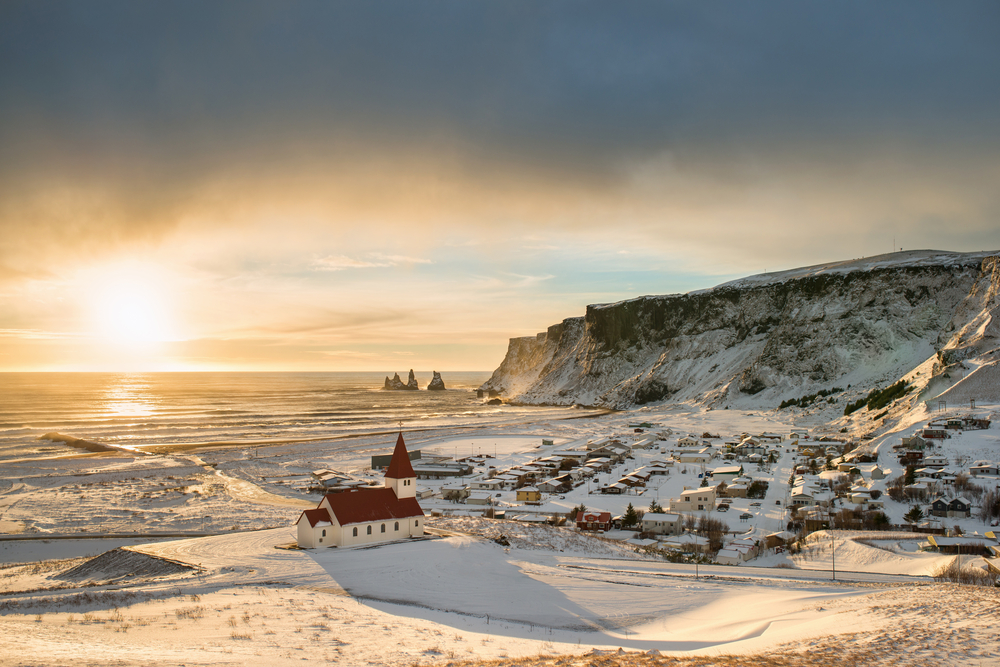 25 Bucket List Things To Do in Iceland in Winter
Search for the Northern Lights
One of the most popular things to do in Iceland in winter is view the incredible Northern Lights, or Aurora Borealis. Witnessing this natural phenomenon is on the top of many people's bucket lists. Luckily, Iceland is one of the best places to see the Northern Lights!
Even if you come to Iceland in winter, you are not 100% guaranteed to see the Northern Lights. You need the right conditions. First, you need to be in Iceland from late August to mid-April. March and September are known to be the best times.
Then, you need to start your search late at night, when it is the darkest, preferably from 9:30 p.m. to 1:00 a.m. Lastly, you need super clear skies for the lights to be visible. Usually, it is best to get out of town.
If you want an easier time experiencing the Northern Lights, consider booking a specialized tour. Here are some of our recommendations!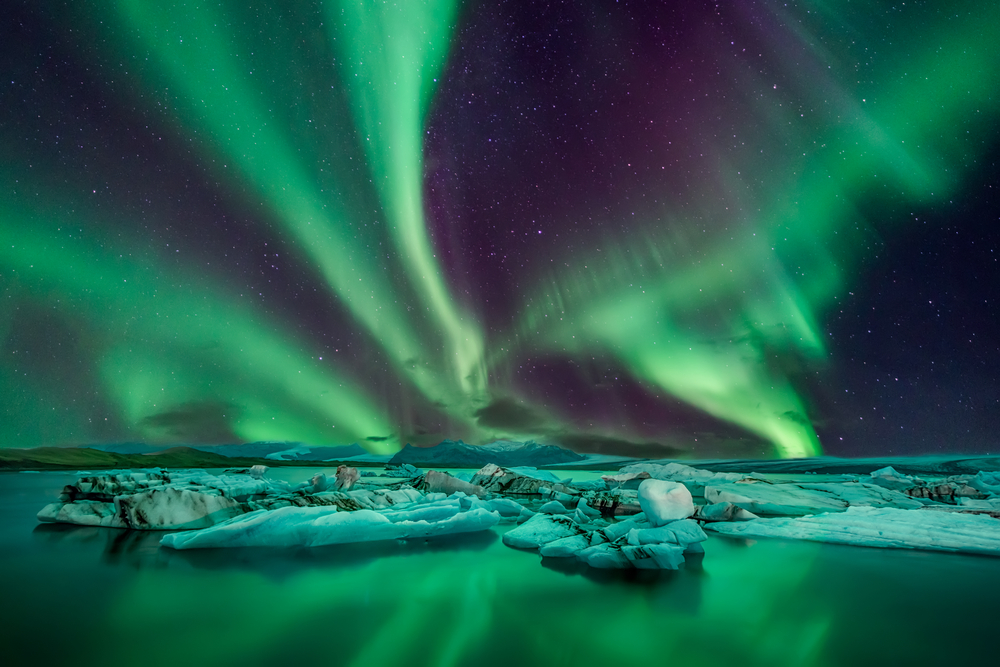 Warm Up in the Blue Lagoon
The Blue Lagoon is probably the most famous hot spring in Iceland since it is so big, beautiful, and near Reykjavik. The iconic, milky blue water is full of silica, which is great for your skin.
Come to the Blue Lagoon after a day of exploring Iceland in the cold winter weather so you can relax and warm up. The water is heated by an underground volcano which keeps the water at an awesome 102 degrees Fahrenheit year-round.
The Blue Lagoon is a great experience in winter since there will be fewer tourists and the hot water is more appreciated.
Make sure to check out our Detailed Winter In Iceland Travel Itinerary!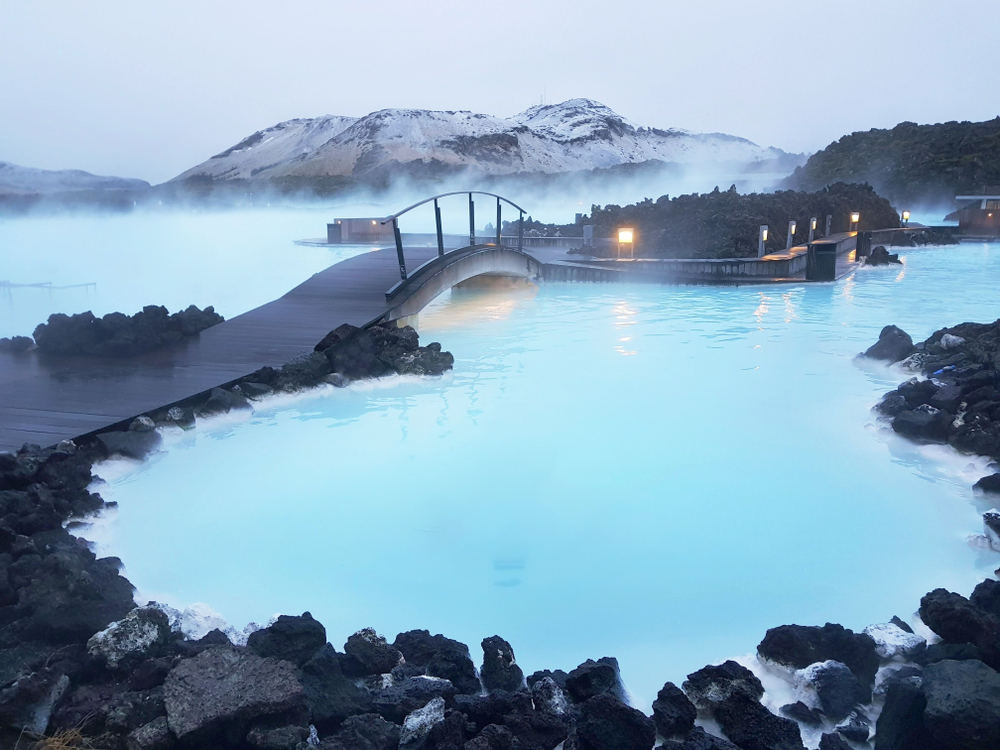 Photograph the Epic Godafoss Waterfall
Godafoss Waterfall is one of the best waterfalls in Iceland, and it is even more epic in the winter. It is found in North Iceland and will get covered in snow, but since it is so near the Ring Road, it is still usually accessible.
But, always check road closures before you head out, just in case of bad weather. Keep in mind that only one parking lot is open in the winter on the east side of the river.
Since this Iceland attraction is so popular, the main trail is cleared of snow to help tourists. Even so, you need to be careful not to slip on ice. You might want to bring spikes for your shoes. Hike the two-mile loop trail carefully to stay safe.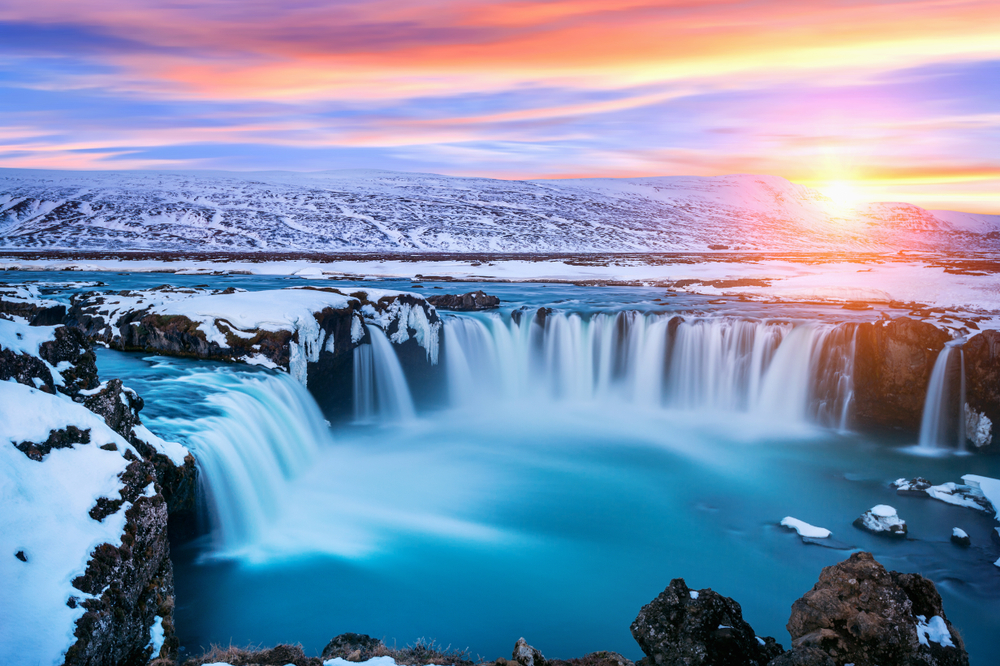 Find the Solheimasandur Plane Wreck
Visiting the Solheimasandur plane wreck has become immensely popular due to social media. It is a really unique thing to do in Iceland no matter the season. This famous site is found off the Ring Road on the south coast.
You can hike to the Solheimasandur plane wreck in winter, but it will be more difficult than in the summer. It is best to do this trip on a day where it is clear and the weather is good. Low visibility could mean losing track of the route. Make sure to dress warmly, since it will be very windy. Also, wear waterproof shoes.
The hike is about five miles roundtrip and will take a couple of hours to complete. Make sure you time your journey right so you do not get caught in the dark unless your goal is to find the Northern Lights hanging overhead.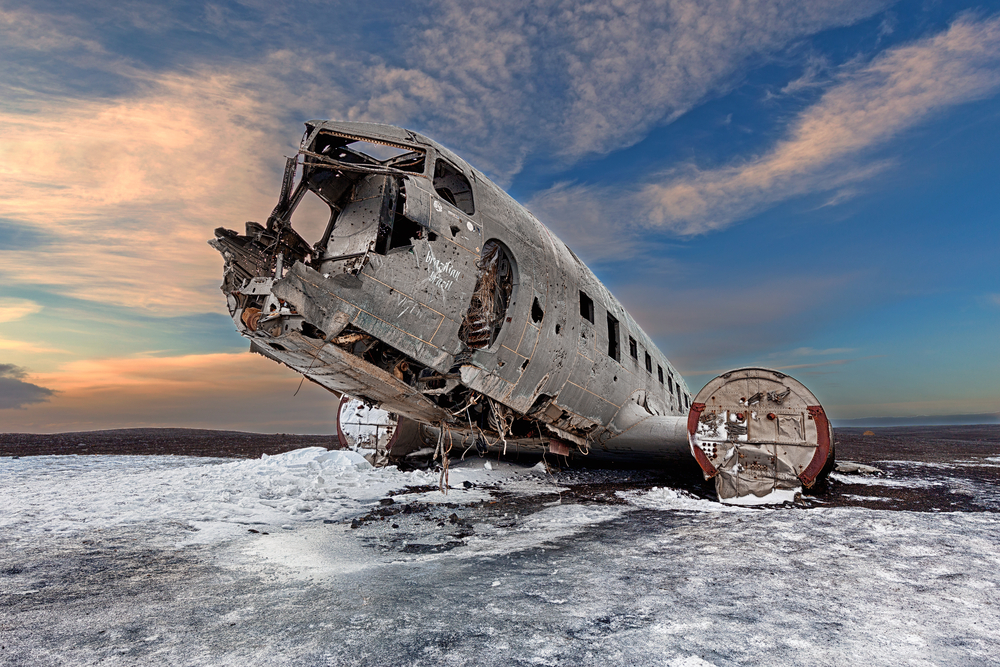 Take a Glacier Tour
You can't go to Iceland in winter and not take a glacier tour. This is one of the most unique hikes to do in Iceland in winter. You will find many epic glaciers in Iceland, including the largest in Europe, Vatnajokull.
It is impossible to set out onto the glaciers by yourself. You need to book a guided tour to be safe. Luckily, there are a ton of options with different prices and lengths. Here are some of our top choices.
Many of the tours include transportation from Reykjavik too so you do not need to worry about driving. Make sure you come prepared with warm clothes and proper shoes. Glaciers can be a dangerous place, but that only heightens the excitement and sense of adventure.
Book Here: Skaftafell: 5 Hour Glacier Hike Adventure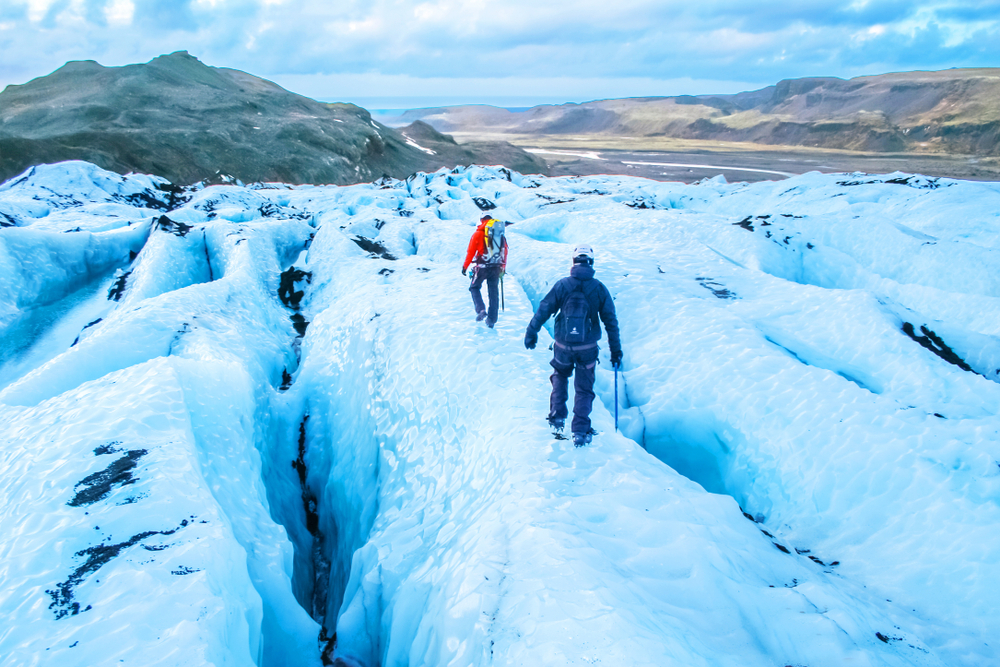 Go On a Snowmobile Adventure
If you do not feel like tiring yourself out on a glacier hike, then you can take a snowmobile tour instead. This is a thrilling way to see glaciers as well as other natural attractions.
Snowmobiling is a great group activity if you are traveling to Iceland with friends. You will all have fun zooming over the snow. Even if you have never snowmobiled before, your guide will give you a lesson before you start.
Come prepared by wearing a good, windproof coat and something to keep your hands warm. You do not want to get frostbite. The provided helmets will protect your face from the wind. Here are some of our winter packing suggestions.
Book Here: Glacier Snowmobiling on Langjokull Glacier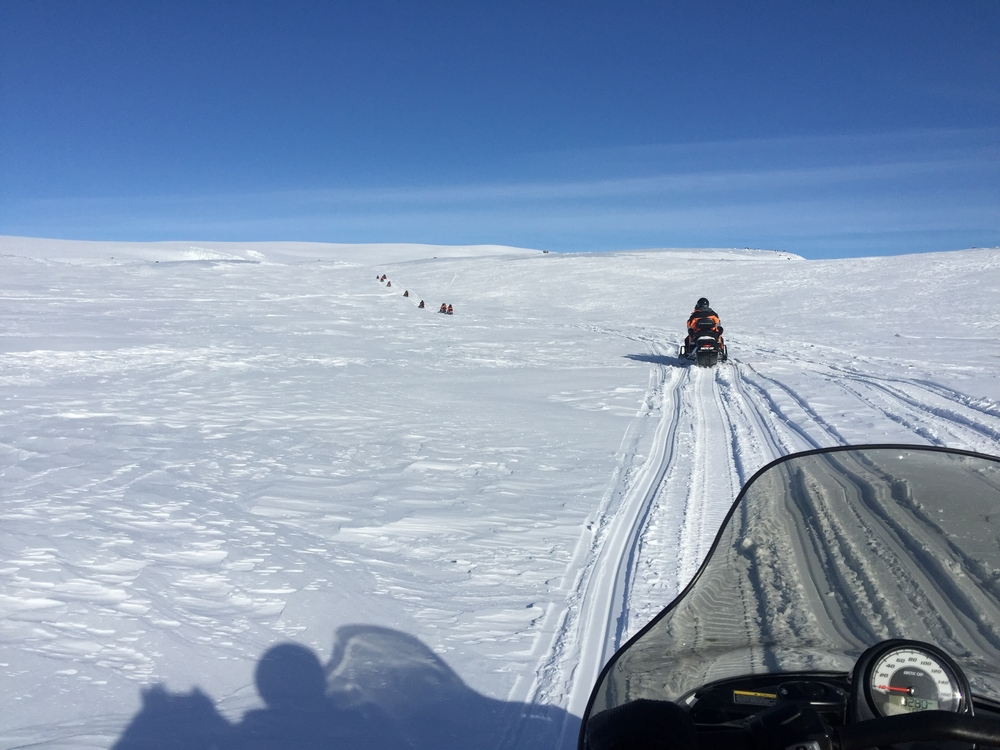 Hike To Svartifoss Waterfall
Svartifoss Waterfall in Vatnajokull National Park in the southeast is another awesome Iceland waterfall to check out in the winter. This 80-foot waterfall is surrounded by basalt columns that become coated with dangling icicles. The waterfall partially freezes as well, creating an amazing landscape.
To get to Svartifoss Waterfall, you need to hike about three miles roundtrip. The scenic hike will take you past three other, smaller waterfalls so this is really one of the best winter hikes in Iceland.
Again, the route might be slick, so bring spikes and be cautious. The snow might make you move slower and make the hike take longer, so wear layers and make sure to pack plenty of water to stay hydrated.
Try Ice Caving
Ice caves are another incredibly beautiful Iceland landscape you only get to enjoy in the winter. These caves can be explored from the end of October through to March. If you love breathtaking and magical nature, then you need to add this activity to your Iceland winter itinerary.
The ice caves are formed under glaciers and are usually a gorgeous blue. If you are a photographer, this is the type of place you dream about.
Like hiking on top of the glaciers, you will need to book a tour to see the inside of an ice cave. The caves break apart in the spring, so you need to make sure to see them in the winter when you can. This definitely tops the list of best things to do in Iceland in winter since it is so seasonal.
Book Here: Húsafell: Langjökulll Glacier Ice Cave Tour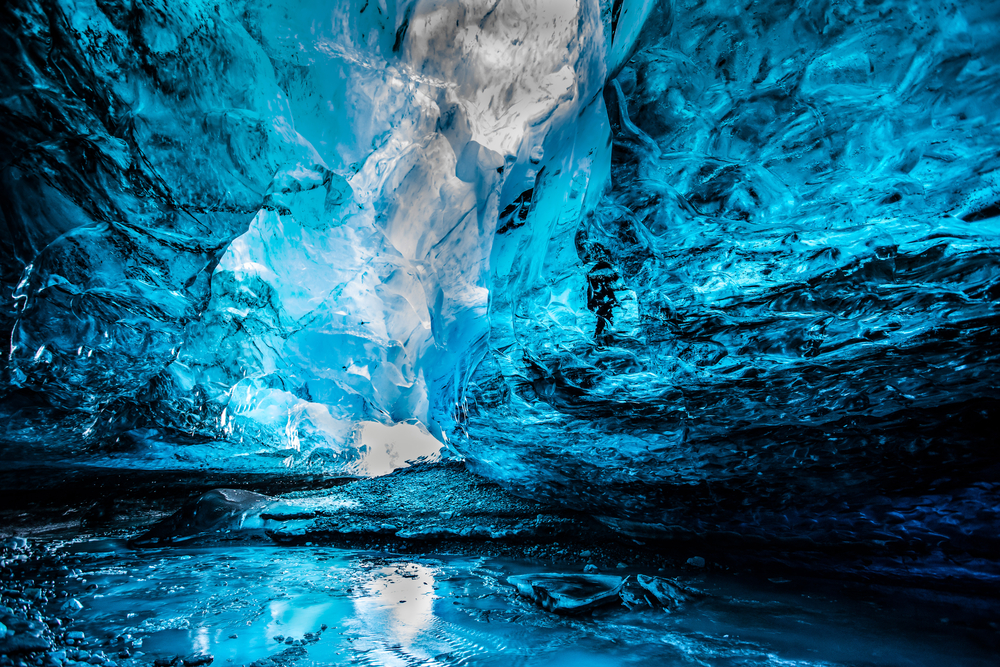 Discover Skogafoss Waterfall
Another waterfall to visit in Iceland in the winter is Skogafoss Waterfall. Found in the southern region of the country, this is one of the most famous waterfalls in Iceland.
This magnificent waterfall is located just off the Ring Road and is only a short walk from the parking lot. Because of this, it is one of the most accessible things to do in Iceland in winter. The area around it will be covered in snow and ice, but the powerful, 197-foot waterfall does not freeze.
Usually, you can walk right up to the base of the waterfall, and while you can still do this in the winter, you need to be extra careful since the fall's spray turns the ground to ice. If it happens to be sunny when you visit, you will catch sight of the waterfall's iconic rainbow.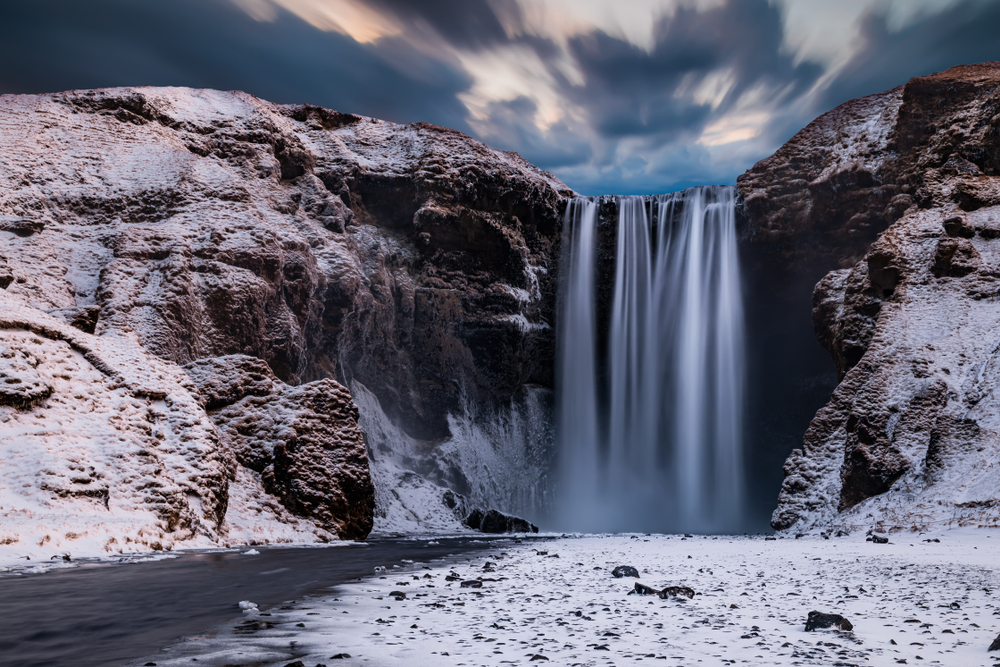 Hike Through Thingvellir National Park
Another activity to add to your winter Iceland itinerary is hiking in Thingvellir National Park. This is a UNESCO World Heritage site and one of the best national parks the country has to offer.
This area of Iceland is made up of mountains, lakes, and even forests. It will all look like a classic, winter wonderland when it is covered in snow. You can also find the ruins of historic buildings.
On an interesting geological note, this park is where the North American and European tectonic plates meet. You can go snorkeling between the plates, even in winter, though it will be much colder than in the summer.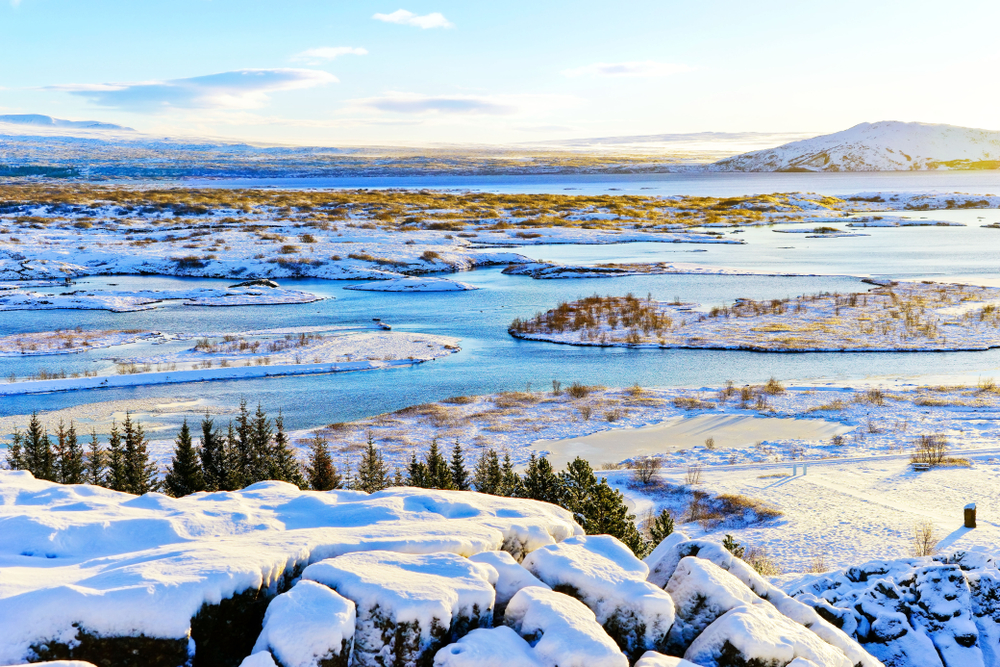 Walk Down Reynisfjara Beach
Reynisfjara Beach is one of the best black sand beaches in Iceland. When you visit in the winter, the sand becomes mixed with ice, making the beach shimmer.
This is a great place to witness the power of the ocean. The crashing waves are a sight to behold. Just be careful not to get too close. You do not want to swim, not just because of the cold, but because of the dangerous rip currents.
You can walk along this amazing beach and pose for pictures in front of the towering basalt columns. Make sure to dress warmly and be prepared for the wind.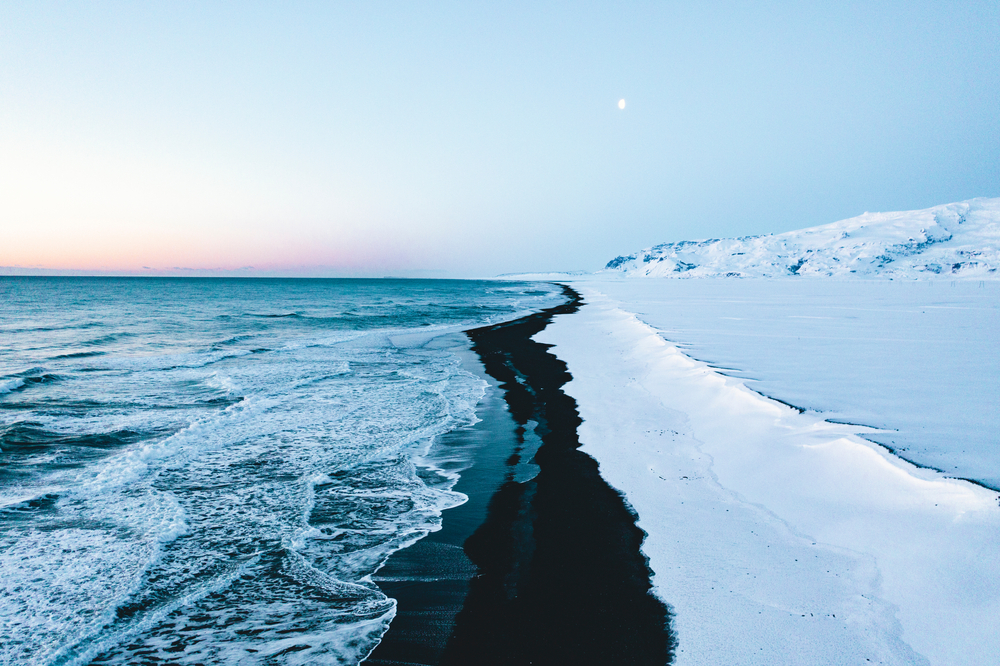 Spend the Night In Vik
Reynisfjara is right next to the small, charming town of Vik. You can explore the town during the day or even stay the night. This is one of the best towns on the south coast since it is so cute and near many cool landscapes.
When you visit Iceland in winter, Vik becomes coated in snow like a storybook village. It is so quaint and picturesque you will not believe your eyes.
The town is overlooked by the Víkurkirkja Church. In the evening, this snow-dusted church will look like a Thomas Kinkade painting with the town lit up below. You cannot get more idyllic than that!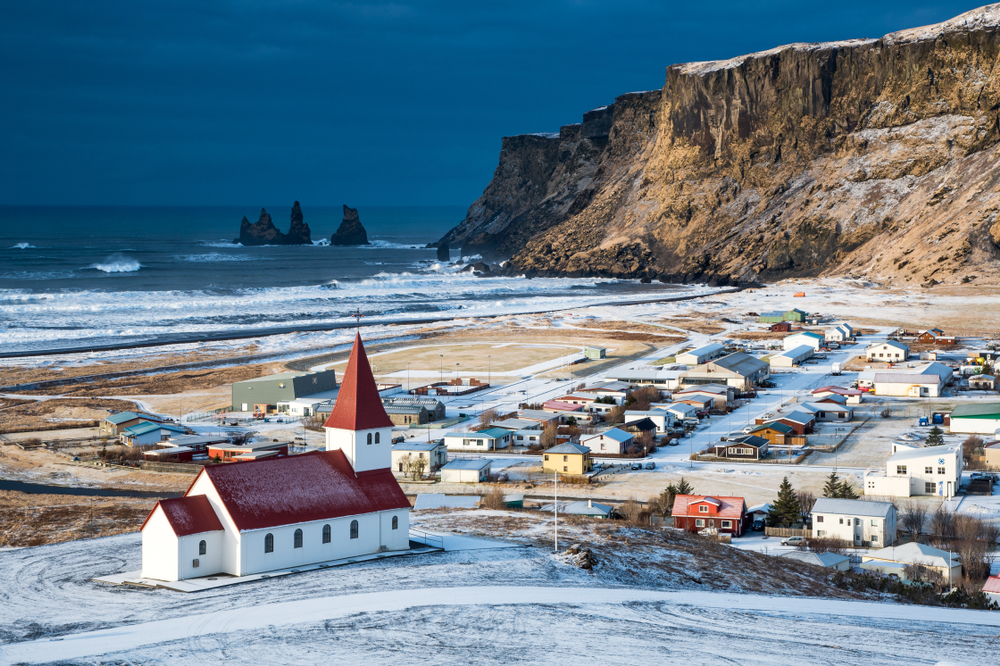 Soak in the Hrunalaug Hot Springs
Hrunalaug Hot Springs is another one of the best hot springs to visit in Iceland in winter. This is not your typical spring since there are three different options for soaking! There is a super hot pool, a medium pool, and a colder pool.
Please respect the landowner and pay the small fee as well as throw away your trash!
Visiting this hot spring in the winter means fewer crowds. You will have more privacy when you change, but be prepared for a chilly wind as you do so! Don't forget to check out our Tips For Hrunalaug Hot Springs!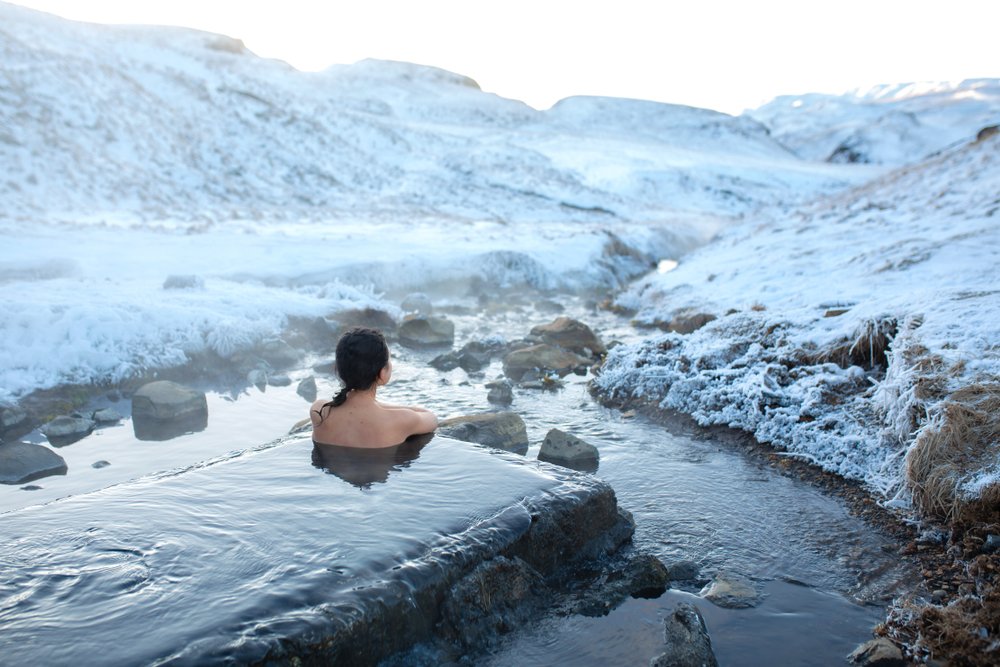 Be Awed by Gullfoss Waterfall
Gullfoss means "golden waterfall" but if you visit in the winter, it will be very white. This waterfall is one of the most popular stops on the Golden Circle route, especially since it is only about an hour and a half from Reykjavik.
The road to Gullfoss Waterfall is well maintained in the winter so you should have no trouble driving there. However, some of the viewpoints are closed during the winter. Keep this in mind because you might not get the views you were expecting.
You can still enjoy the view from the Gullfoss Visitor Center. There are also steps down to a lower viewpoint, but it can be icy. The air here is especially cold because of the spray from the falls so wear appropriate clothing.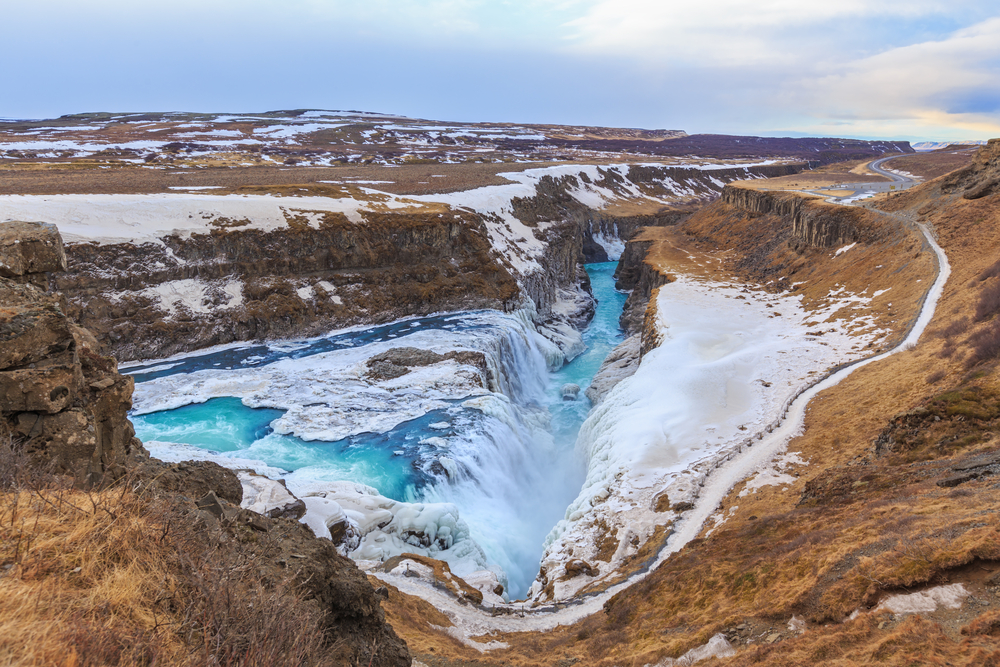 Watch Strokkur Blast Off
Strokkur is an awesome site to add to your Iceland winter itinerary. This gushing geothermal feature is found on the Golden Circle not far from Gullfoss Waterfall. This phenomenal geyser is so fun since you never know exactly when it will shoot off. Every four to ten minutes, Strokkur will erupt about fifty feet into the air.
After standing out in the cold to watch Strokkur erupt a couple of times, you can retreat to the Geysir Center to warm up with a meal at the restaurant, shop for souvenirs, or refill your snack supply. There is also a Geysir museum and hotel here.
Strokkur is also near Geysir, the oldest recorded geyser in the world and the source of the word "geyser." Unfortunately, Geysir is now inactive.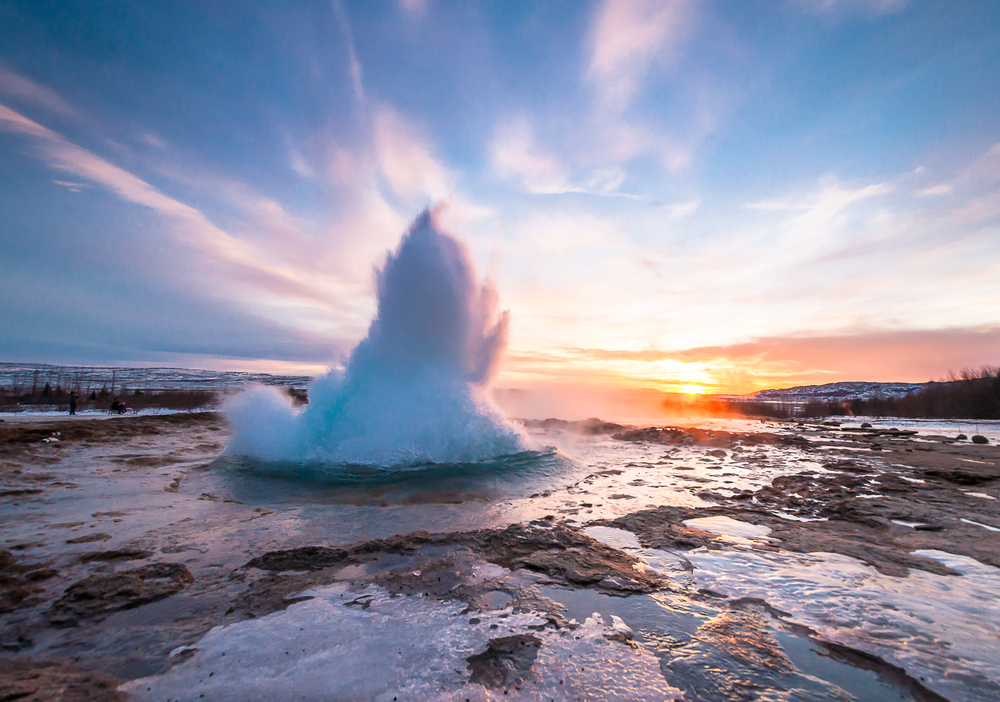 Pet Some Icelandic Horses
You cannot come to Iceland and not find yourself gushing over the cute Icelandic horses. These fuzzy creatures are super curious and friendly, so it is not hard to convince them to cuddle.
Don't forget to check out our list of the best horse riding tours in Iceland!
You can find these small horses roaming all over Iceland, even in the winter. You can bribe them to come closer with an apple or carrot, but don't climb fences to trespass on private property.
Depending on the month you visit and the weather, you can even go on a horse-backing riding tour with these beautiful animals. Or you can visit a stable and learn more about them.
Book Here: Reykjavik: Red Lava Horse Riding Tour
Book Here: Fridheimar: Icelandic Horse Stable Visit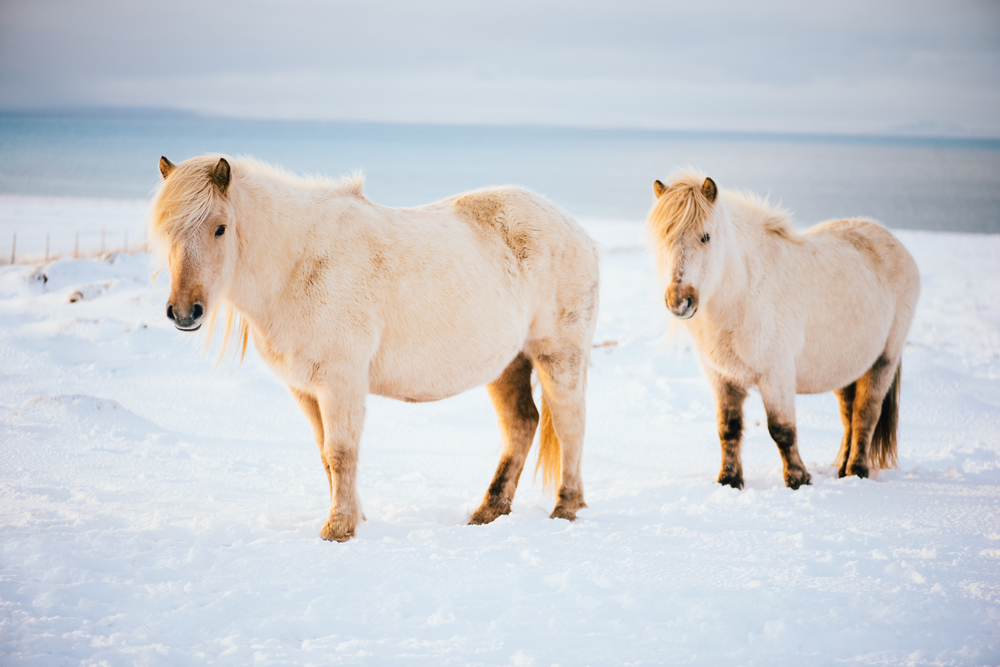 Find Awesome Ice Pieces at Diamond Beach
Another cool black sand beach to visit in Iceland in winter is Diamond Beach. This south coast attraction gets its name from the glittering chunks of ice found on its shore. In winter, there are usually more and larger pieces of ice.
This is such a unique place to walk around and take pictures. Come at sunrise or sunset to photograph the light and colors shining through glass-like ice.
Diamond Beach is the type of place people imagine when they think of Iceland. There are not many places in the world where you can find a beach like this, so take advantage of it when you can.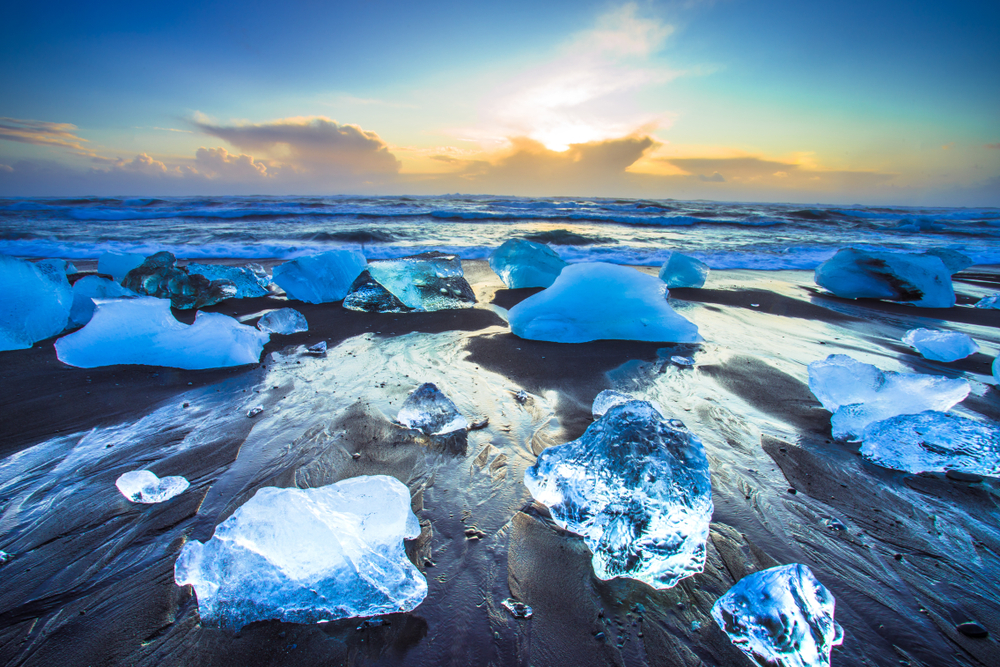 Watch Glaciers at Jokulsarlon
The ice pieces at Diamond Beach come from Jokulsarlon Glacier Lagoon which is right across the street. You can visit both on the same day. These are two of the best things to do in Iceland in winter and should not be skipped.
In winter, there are more icebergs dotting the water, creating a peaceful atmosphere that is only disrupted when they break. You can find seals basking in the sun. At night, it is possible to see the Northern Lights.
You will miss out on the summer boat tours, but you get the luxury of fewer tourists. You could possibly have the place to yourself. This is a great area to soak in nature and the raw beauty of glaciers.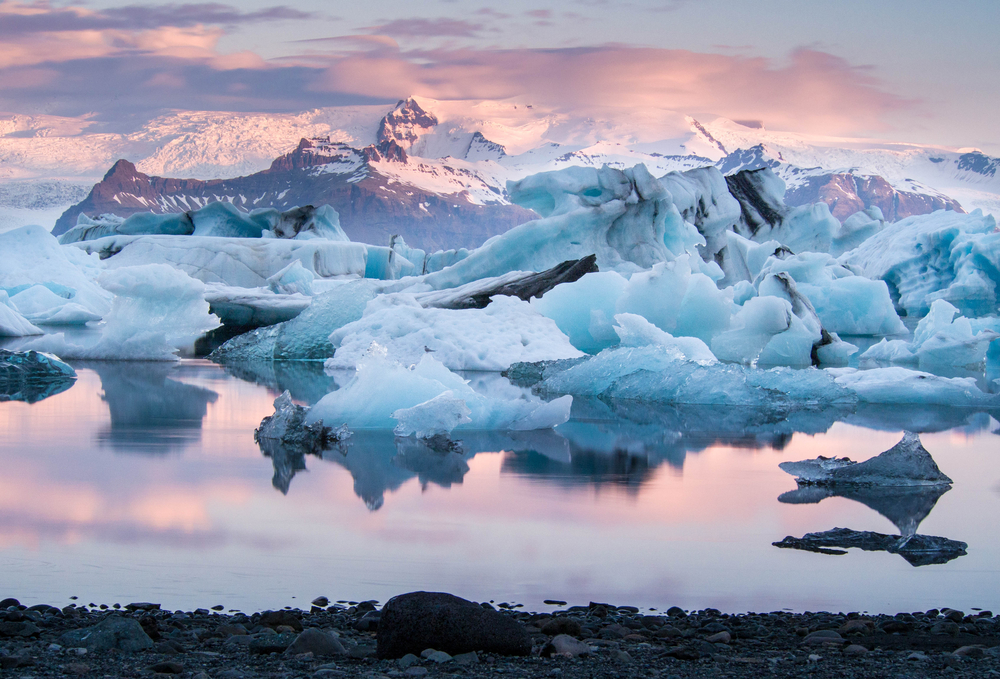 Explore Reykjavik
The capital city of Reykjavik is magical in winter when the neat rows of colorful houses are iced in white. There are so many things to do in Reykjavik in winter. Check out the restaurants, shops, and art and history museums.
Make sure to take a photo with the Sun Voyager Sculpture. Walk the streets to find cool wall murals.
Head to the top of the imposing Hallgrímskirkja Church to find amazing panoramic views of the city nestled along the ocean. This modern-looking church is also lit up at night, making a great foreground for a photo of the Northern Lights, which sometimes grace Reykjavik with its presence.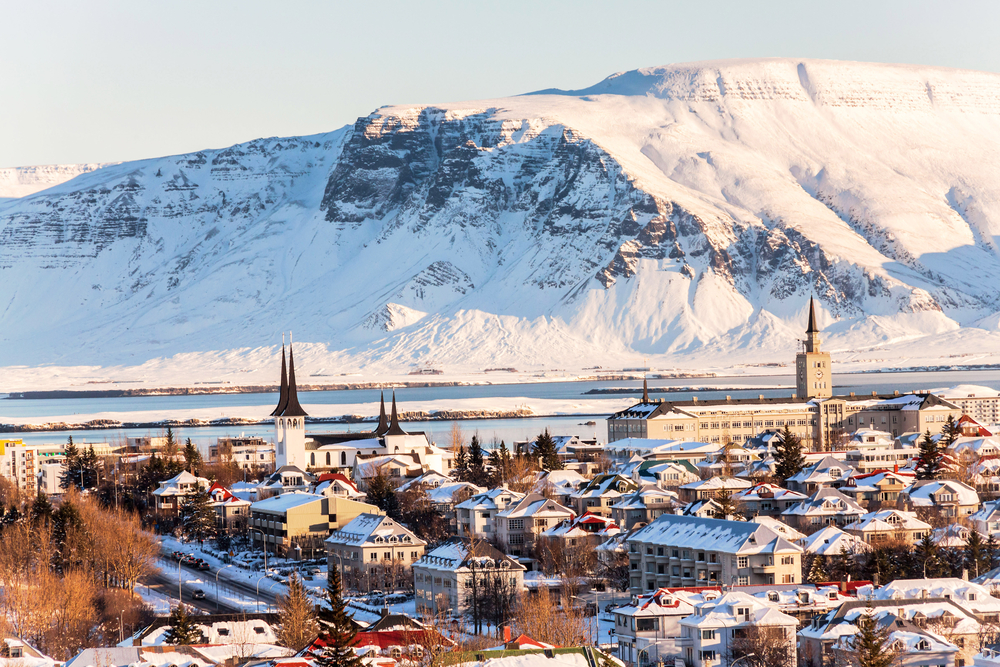 Enjoy the View of Bruarfoss Waterfall
Bruarfoss Waterfall is known for its vivid, blue color created by the Langjokull glacier which feds it. This Iceland attraction is only about twenty minutes from Gullfoss, so you can visit both waterfalls on the same day as you travel the Golden Circle. Make sure to put "Bruarfoss Waterfall official parking" into your GPS to find the right trailhead.
This natural wonder is still a bit of a hidden gem in Iceland so in winter especially you are likely to have the place all to yourself. The hike will take you about an hour each way, and it is fairly level and easy. In the winter, it can get muddy though.
Once you make it to Bruarfoss Waterfall, you will be amazed by the unearthly, blue water. The color will pop against the white snow.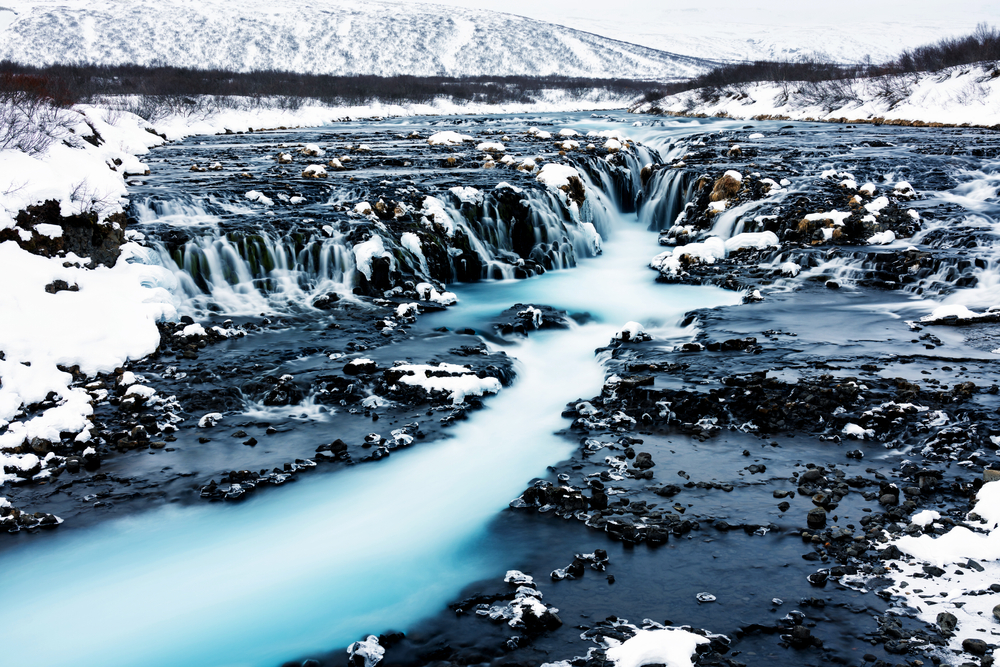 Admire Seljalandsfoss Waterfall
Seljalandsfoss Waterfall on the south coast is another of Iceland's most popular waterfalls. Since this eye-catching, 200-foot water feature is right off the Ring Road it is easy to get to even in the winter. From the parking lot, it is only a short walk to the falls.
Usually, you can walk behind this waterfall as well. But in the winter, this path is closed because it is too icy and there is the chance of ice falling from the cave above.
Even so, this is one of the best things to do in Iceland in winter. The waterfall is stunning in the colder months, surrounded by snow and dangling icicles. You will want to snap some photos posing in front of it.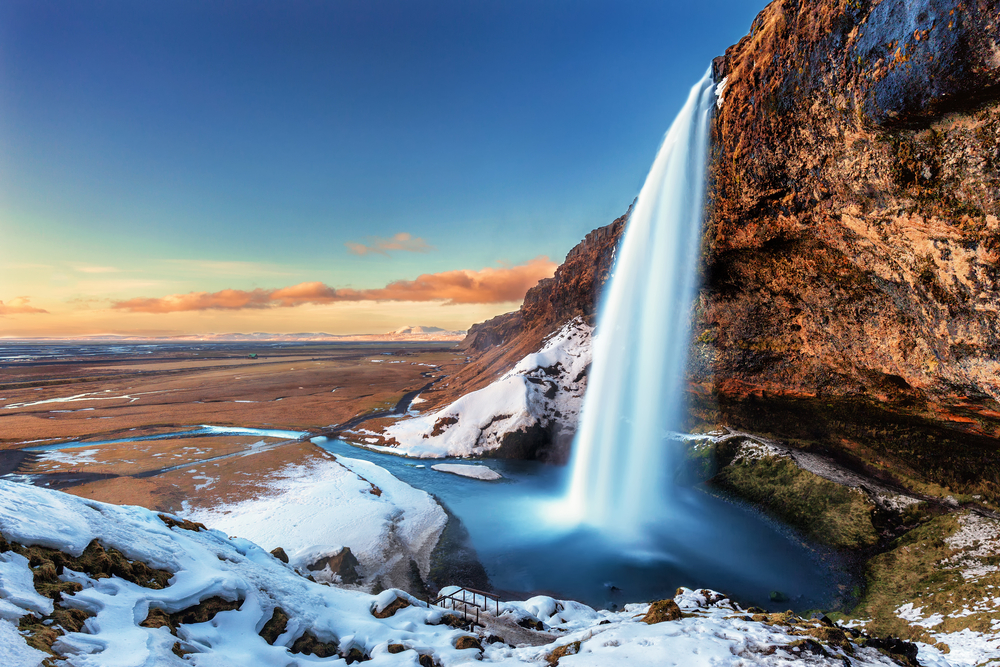 Photograph the Budir Church
Budakirkja, or Budir Church, is one of the prettiest churches in Iceland. This scenic building is surrounded by open fields on the Snaefellsness peninsula.
This is a great photography destination since it is so remote, and the church stands out so well against the sweeping landscape. In winter, the black color of the church adds amazing contrast against the pure, white snow.
Even if you are not a photographer, this is a beautiful place to visit in Iceland in the winter. It is a short drive from Route 54 near the ocean.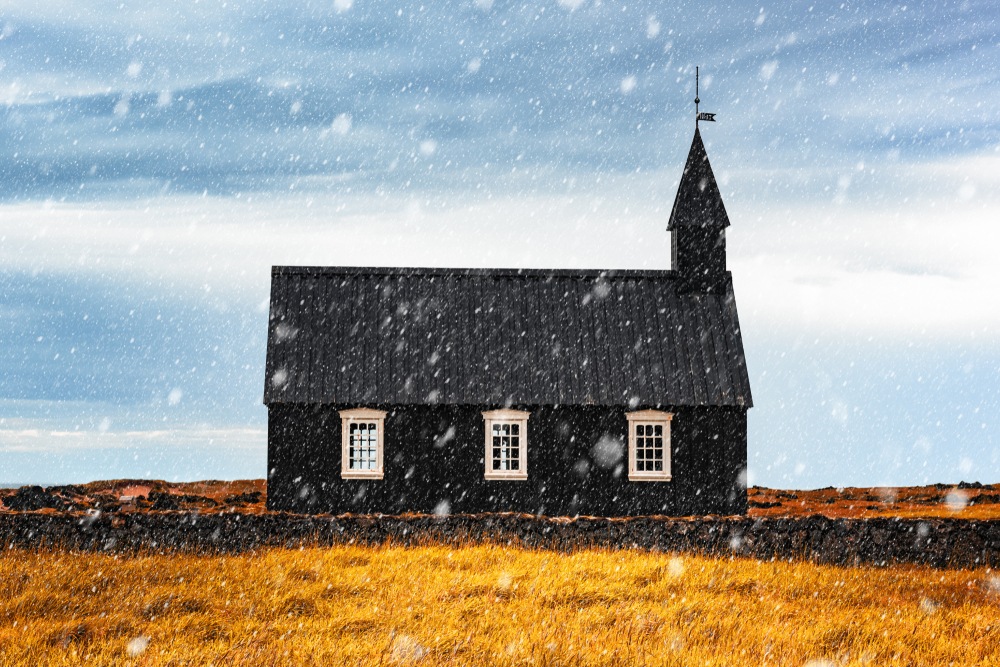 Fall in Love With Kirkjufellsfoss Waterfall
One of the most iconic, postcard-worthy images of Iceland involves Kirkjufellsfoss Waterfall with Mount Kirkjufell standing tall in the background. If you want to see this amazing sight in person, then you need to come to the Snaefellsnes Peninsula on the west coast.
You only need to walk about ten minutes to get to the viewpoint to see this incredible scene. In winter, there will be a great expanse of snow. Parts of the waterfall and river may freeze to create cool ice formations.
If you are able to visit this remote location at night, make sure to bring your tripod and multiple camera batteries because this is a great place to see the Northern Lights if the sky is clear. Can you imagine how beautiful that would be?!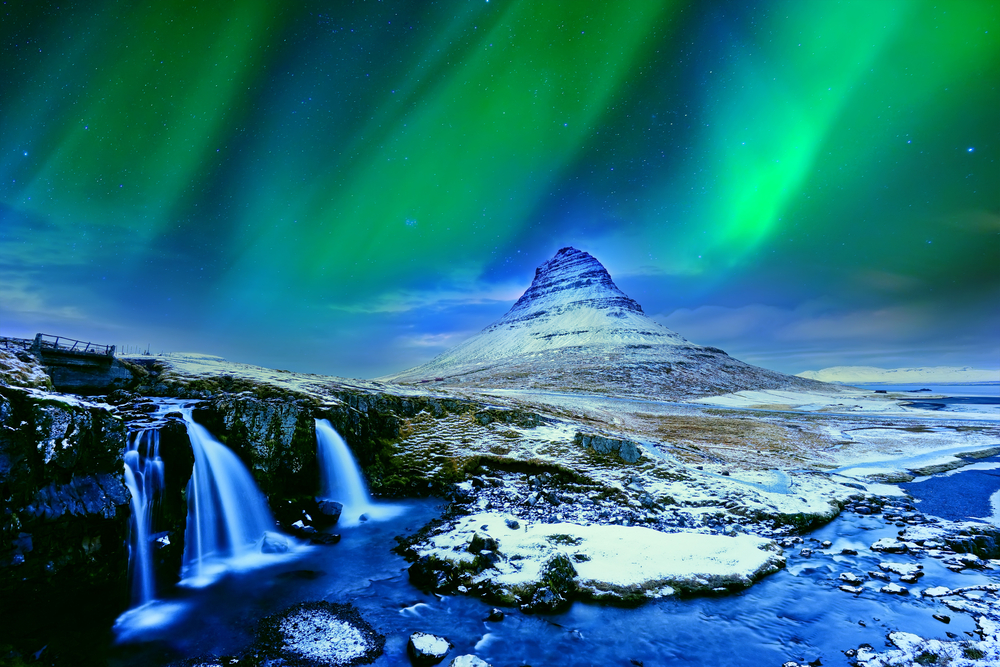 Wander Around the Stokksnes Peninsula
Another peninsula, this time on the east coast, you need to visit in the winter is Stokksnes Peninsula. To get onto Stokksnes Beach, you will need to pay a small fee since it is private land, but it is 100% worth it. This black sand beach is what Iceland dreams are made of!
From the beach, you can see the incredible Vestrahorn Mountain. In winter, it will be snowcapped and look like the setting of an epic fantasy movie.
This is another excellent place to see the Northern Lights too. This is where the mountains meet the sea, and it really can't get more photogenic than that.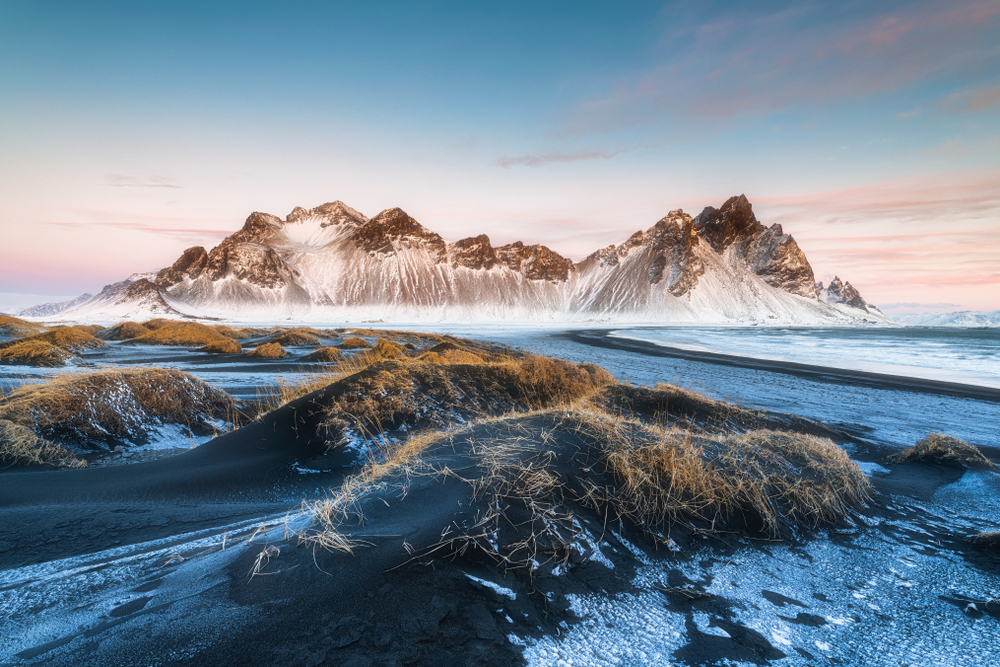 Find Yourself in Seydisfjordur
Seydisfjordur is an adorable town in the eastern region of Iceland. In winter, this small town is almost deserted of tourists, so you will feel as if you have the entire place to yourself. It will be a quiet and peaceful place to relax.
This fishing village is on a beautiful fjord. Though it is a little harder to get to in the winter, it is worth it to see its iconic, blue church decked out in the snow.
Make sure to visit pretty Gufufoss Waterfall just a few minutes from town. There is also a ski resort nearby if you want to spend some time on the slopes.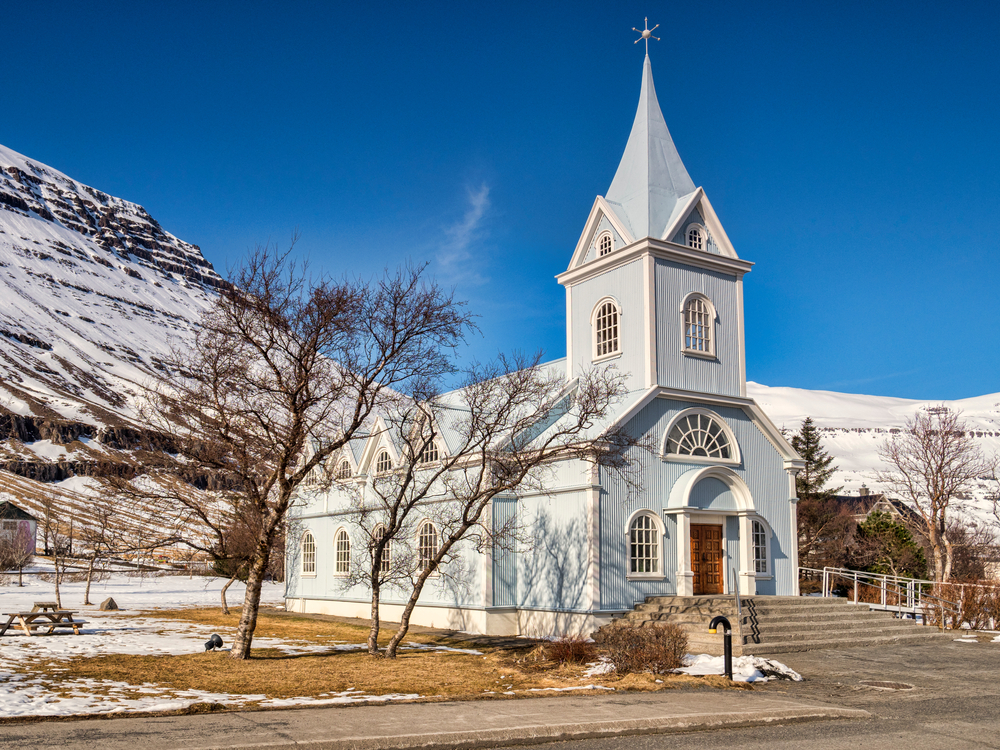 If you were not sure about visiting Iceland in winter before, you have hopefully changed your mind. Iceland offers beautiful and unique landscapes and activities no matter the time of year, but winter adds a level of adventure and magic. There are so many awesome things to do in Iceland in winter, you will not be disappointed.