If you are researching a trip to Iceland, you are sure to come across the term "Blue Lagoon Iceland." But what exactly is this and why is it so popular among tourists? Should you add it to your Iceland itinerary?
The Blue Lagoon is one of the 25 wonders of the world according to National Geographic. It is usually considered the number one tourist destination in Iceland and after reading this article, it will become clear why.
This in-depth article will walk you through everything you need to know about the world-renown Blue Lagoon so you can come prepared and have a great time! Take a break from your intense research and let us do the work for you! It is truly one of the Best Things To Do In Iceland!
Get a FREE printable "Hidden Gems In Iceland" E-book by joining our private Iceland Facebook Group and share your photos and ask for tips and tricks.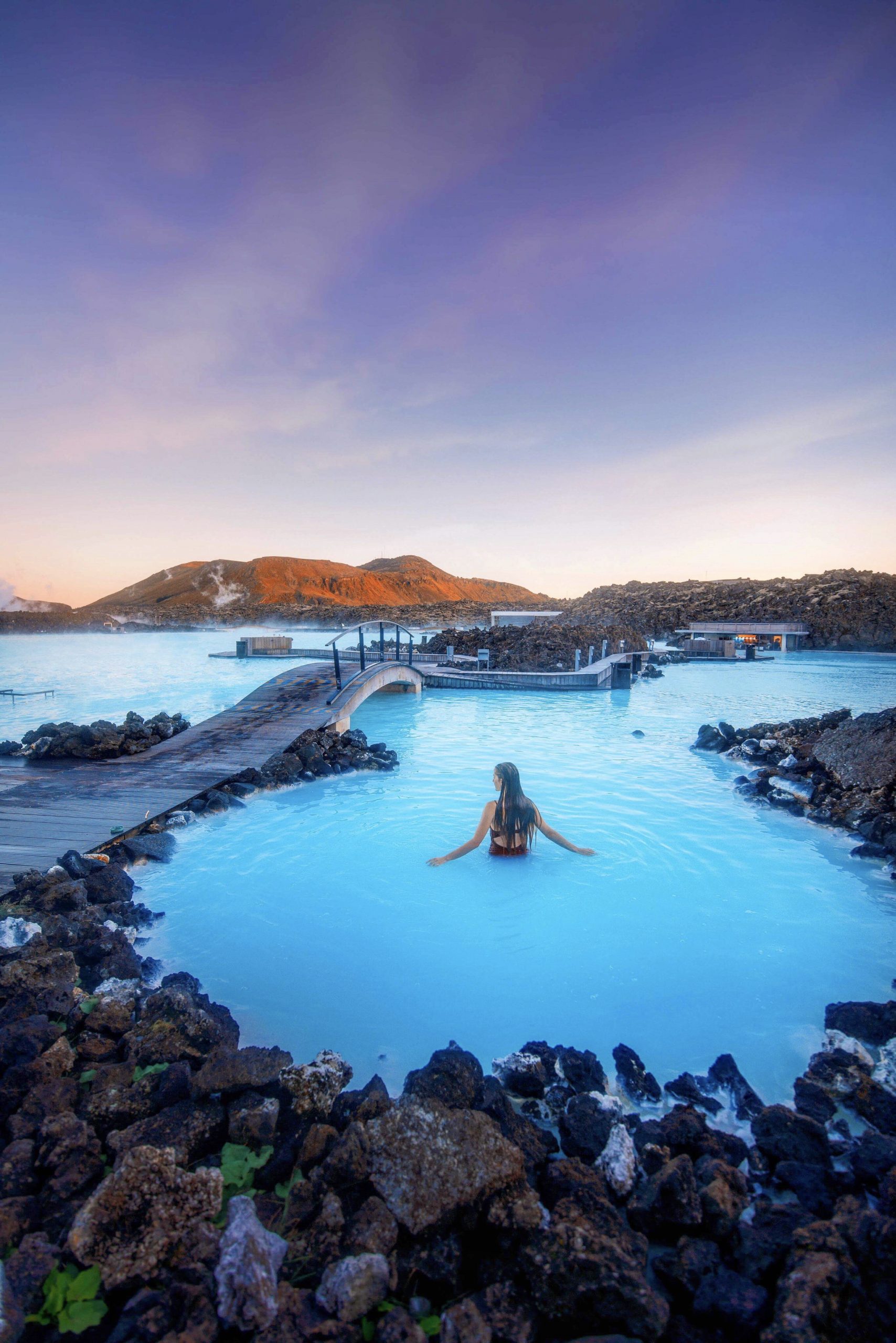 What Is The Blue Lagoon And Why Is It Blue?
The Blue Lagoon in Iceland is a famous natural hot spring and spa that draws tourists from around the world. With unique milky-blue water, a dreamy atmosphere, and mineral-rich water, you will be dreaming of its beauty and relaxation long after your visit.
The lagoon was actually created by accident in 1972 by the Svartsengi Power Plant. Since then, the geothermic area has been a popular day trip for many visitors to Iceland.
The blue color is created from a mix of algae, silica, and minerals, along with the addition of the sun. These minerals also cause the water to become a great, natural skin treatment. So go ahead and soak it all in!
What Does The Blue Lagoon Cost To Visit?
While there are many free Hot Springs In Iceland, this is not one of them!
The cost of the Blue Lagoon depends on the package you book and the extras you want to enjoy. This gives you a chance to get a more affordable package to fit your budget or you can go all out in luxurious style! Keep in mind that the cost varies on time of year as well. Keep reading for a more detailed breakdown of each package.
Make sure to check on the cost of the Blue Lagoon for different days and times during your trip to find the price that works best for you!
Buying Your Blue Lagoon Ticket Package
The cheapest tier is the Comfort Package, which starts at about $44 to $60+. This price includes entrance, a silica mud mask, a towel, and your first drink. We have used this package before and it is perfectly fine! You should not feel like you have to pay more if you don't want to!
The next tier up is the Premium Package. At about $66 to $100+, this package includes the same as the Comfort Package plus an extra face mask, slippers and bathrobe, and a reservation at the Lava Restaurant with a glass of sparkling wine with your meal. The restaurant is a really nice touch to this package.
The last package choice is for anyone who really craves relaxation! The Luxury Package is $584 to $621. It gives you four lovely hours at the Retreat Spa and a private changing room, plus unlimited access to the Retreat Lagoon and Blue Lagoon.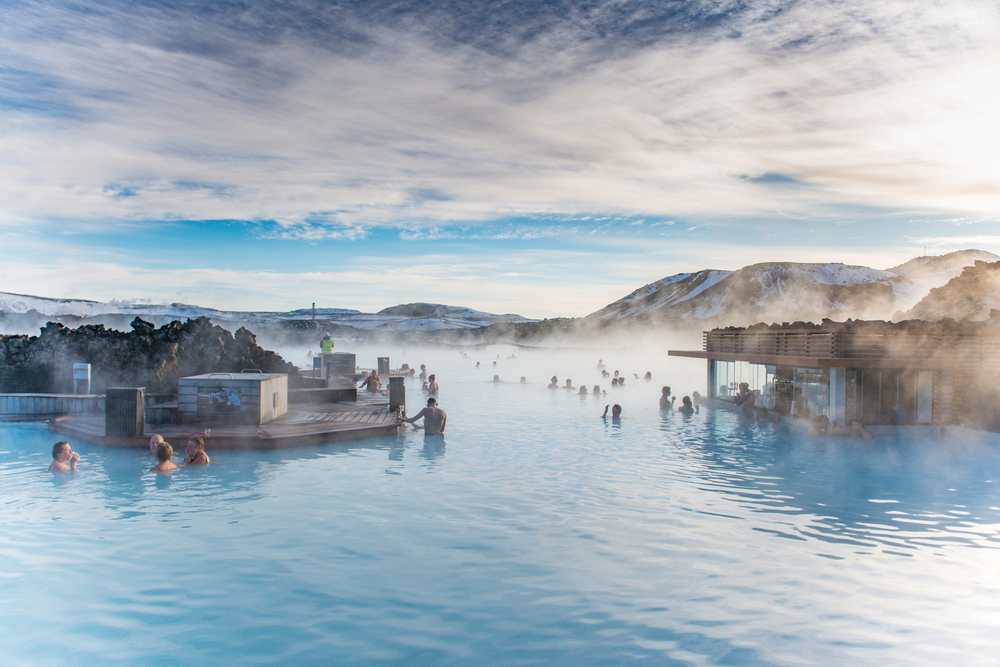 Are Children Allowed at The Blue Lagoon?
If you are traveling as a family, you will be happy to know that children two through thirteen get in free! Anyone older than fourteen pays adult prices. Children younger than two are NOT allowed in because of the sensitivity of the water.
Children younger than eight must wear floaties, which are available for free. Parents are expected to supervise their children. The accepted ratio of children to adult is two to one.
We see lots of children at the Blue Lagoon in Iceland. If you are worried, it doesn't feel like you are at a playground or water park with lots of kids running around. Every time we have gone, the kids have been well behaved and mainly older in age.
You Must Have A Reservation To Visit
If you want to get into the Blue Lagoon, you have to plan ahead and make sure to make a reservation. Available time slots fill up fast, so as soon as you know which day you want to go, get on the Blue Lagoon's official website, and book a reservation.
You are not going to want to show up at the Blue Lagoon without a reservation. Make sure to book in advance, one time we didn't get in until late at night and we had a very early flight the next day! Don't make our mistake and check the calendar in advance.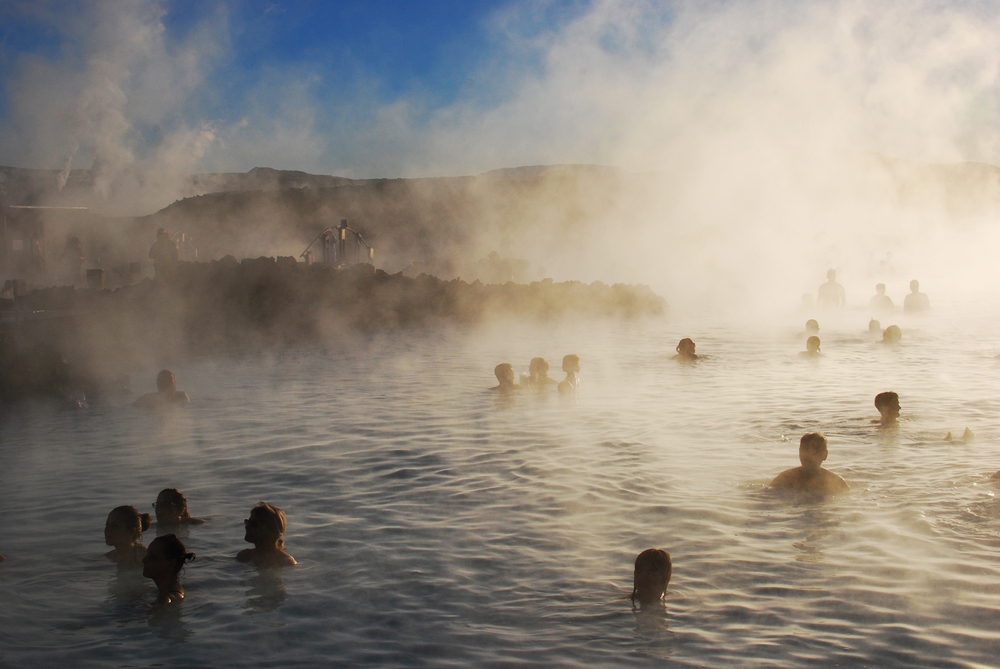 Best Tours That Include The Blue Lagoon
If you are looking for a good deal and a way to save you stress from having to plan your own trip, there are plenty of tours you can book that include entry to the Blue Lagoon. You can search for some on Get Your Guide, but we have found a couple good choices for you as well!
If you are staying in Reykjavik, you can book a tour out of the capital for easy access to some great sites. Book the Reykjavik: Golden Circle Tour with Blue Lagoon Visit & Entry to get a look at some of Iceland's natural wonders followed by a relaxing dip at the Blue Lagoon.
If you come to Iceland in the winter and want to see the Northern Lights, think about booking The Blue Lagoon & Northern Lights Tour with Admission Ticket. This tour starts at the Blue Lagoon before a bus ride in search of the Northern Lights.
A tour that includes the Blue Lagoon is a great way to go because you can see other things in addition to your soak!
What Are The Electronic Bracelets?
When you check-in at the Blue Lagoon in Iceland, you will receive an electronic bracelet that will come in handy for a couple of reasons. First, the bracelet acts as a key for your locker. Also, if you buy anything, such as drinks at the swim-up bar, you will use the bracelet to keep track of your purchases. You will then have to pay for your extras before checking out of the lagoon.
They are kind of bulky, so sometimes we put them on our ankles or tie them on our swimsuits so they do not have to be on our wrist!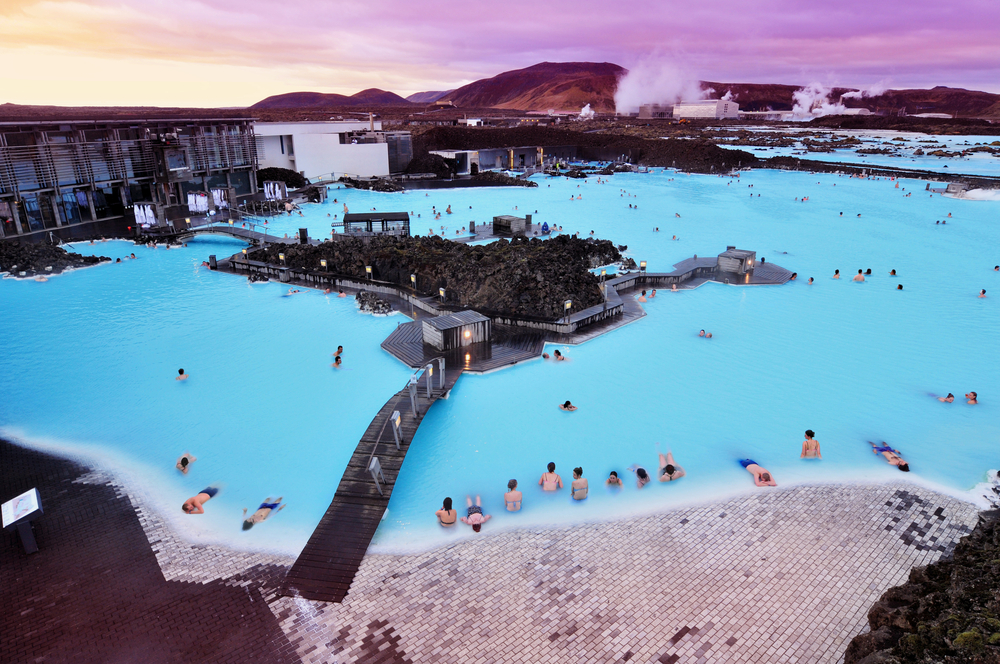 How Deep Is The Blue Lagoon?
The maximum depth of the lagoon is about 1.4 meters or 4.7 feet. At the shallowest end it is under a meter at 2.8 feet. This is perfect for lounging and walking around in the water. While you enter the lagoon at your own risk, there are lifeguards on duty. The floor is uneven, so be careful.
We don't really swim in the Blue Lagoon in Iceland, but we do love walking around and strolling through the warm water! Of course, you can swim, but we just love walking.
What Is The Temperature Of The Blue Lagoon?
The water of the lagoon is naturally heated from underwater volcanic aquifers and remains at a nice temperature of about 102 degrees Fahrenheit year-round. This is not too hot and will feel like laying in a comfortable, warm bath.
Best Weather To Visit The Blue Lagoon In Iceland
The weather in Iceland is unreliable at best and can change at a moment's notice. But, no matter the weather, a trip to the Blue Lagoon Iceland is worth it! Whether it is sunny and clear-skied or gloomy and rainy, the warm water will lull you into relaxation. Plus, bad weather can create a cool, foggy mood.
So, do not let poor weather turn you away or you will miss out on a great time! The weather at the Blue Lagoon does not change our experience at all! We have been in sun, rain, snow! To be completely honest, we liked it being sunny the least as relaxing in the snow and wind was quite the experience!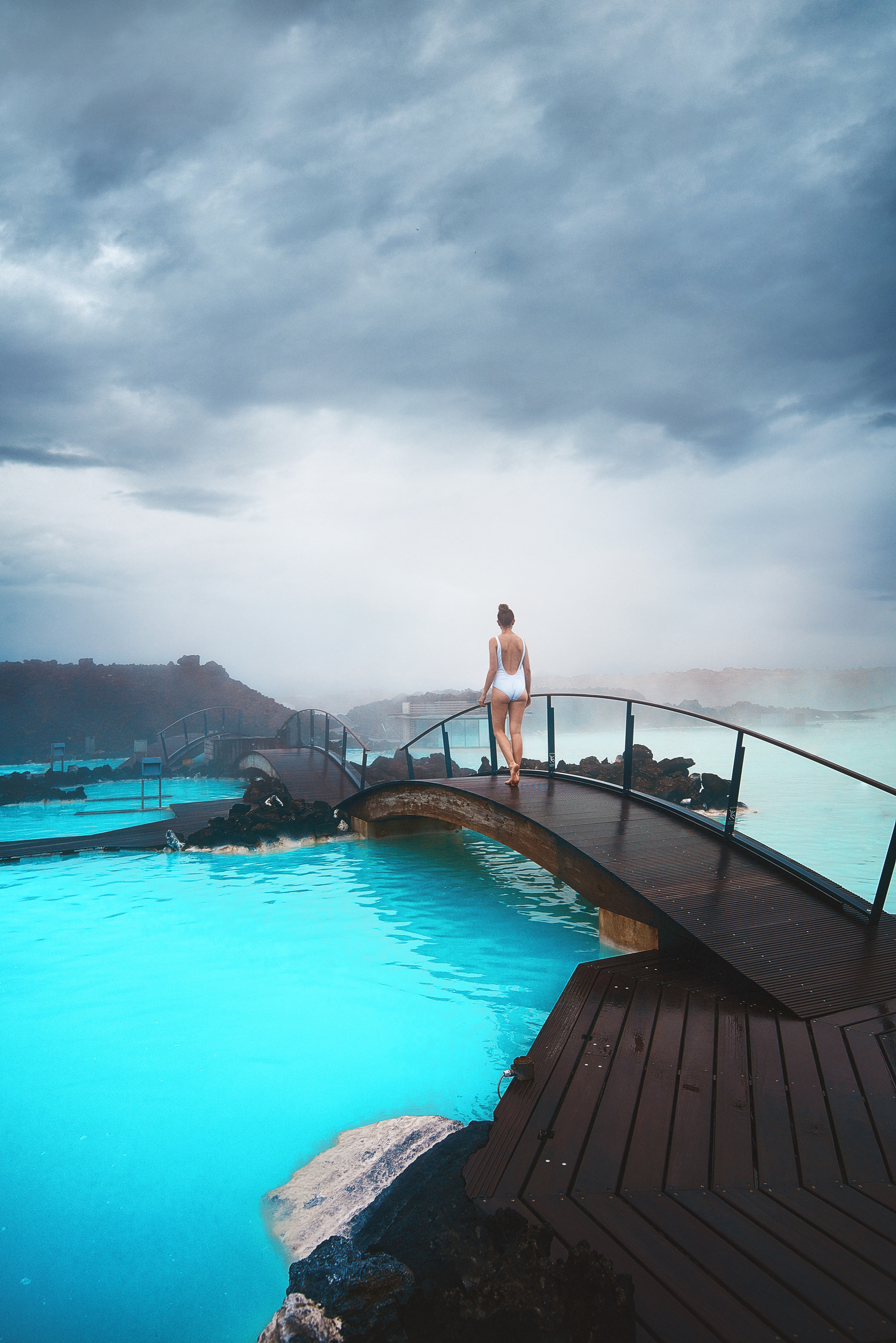 How Far From Reykjavik Is The Blue Lagoon Located?
The Blue Lagoon is about a 45-minute drive from Reykjavik, Iceland's capital. This close proximity makes the lagoon a perfect day trip from the city if that is where you are staying. If you are only in Iceland for a stop-over, the lagoon is only about 15 minutes from the Keflavik Airport.
If you are renting a car, it is an easy and fast drive. However, if you want to book transport, that is possible, too. Check out From Reykjavik or Keflavik: Blue Lagoon Transport to enjoy a scenic, round-trip bus ride to the lagoon for about $22.
It is very easy to drive from Reykjavik to the Blue Lagoon as you are mainly on one larger road the whole time. No matter how you choose to get there, the experience is fairly simple!
What Amenities Are At The Blue Lagoon?
The Blue Lagoon is a world-class hot spring and spa so there are plenty of amazing amenities to enjoy during your stay! Some of the relaxing and fun amenities include a mask bar, sauna, steam room, in-water bar, in-water massages, and a relaxation room. There is also a cafe, restaurant, two hotels, and a skincare shop.
Some of these amenities are included with your ticket and some must be paid for separately. Keep that in mind while budgeting for your trip to the lagoon. Though, it is possible you will want to splurge here.
Our favorite amenities are the sauna and steam room. The steam room is the best we have ever visited, and so hot you can barely stand it! We totally recommend a stop and it is included in your ticket price!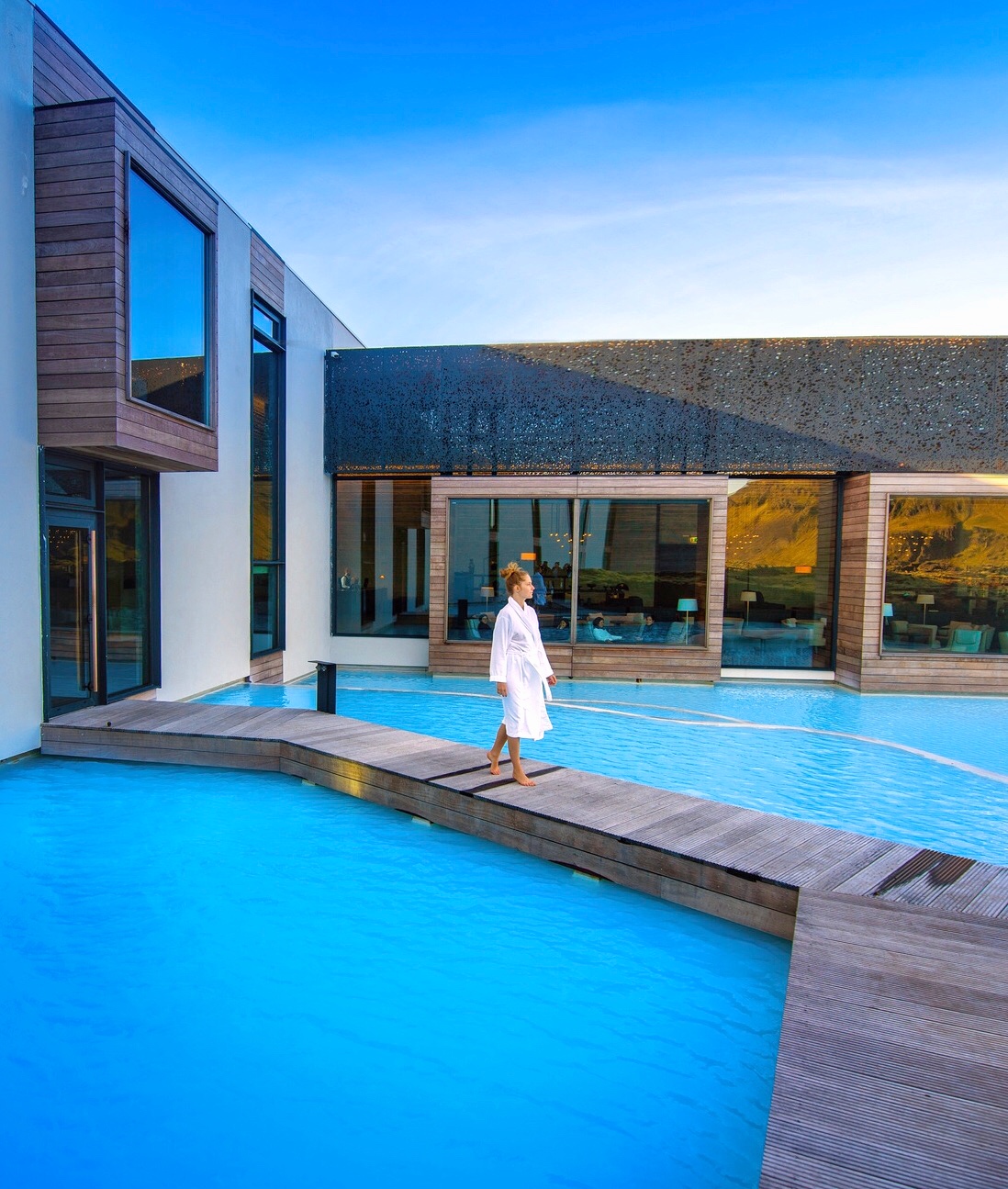 Showering Naked Before Entering
Yes, you have to shower naked before being allowed into the Blue Lagoon Iceland! While this might not sound idyllic to some, especially those not from Europe, there are some private showers available. And of course, the changing rooms are separated by gender.
This is meant to help keep the water clean and skin oils out of it. You must do this and there are people who check to ensure that you shower naked and without your swimsuit on! Again, there are private areas to do this!
Blue Lagoon Iceland Dress Code
Bathing suits are required at the Blue Lagoon, including in the sauna. It does not matter the type of suit you have as long as you have one! If you forgot to pack your own, the lagoon has suits you can rent. After your time in the lagoon, make sure to rinse the silica off before machine washing it to avoid damaging the material.
Burkinis are allowed as well as any other modest swimsuits you may want to wear, or you can choose a bikini. As long as your bits are covered, you can wear whatever swimsuit makes you feel comforable.
For the rest of the Blue Lagoon areas, such as the restaurants, a casual dress code is accepted. While the Lava Restaurant is fancy and is "relaxed fine dining" for dinner, you are allowed to dine in your robe during lunch until 4:00.
Avoid WETTING YOUR HAIR at all costs!
While the rest of your body will benefit from the amazing, mineral-rich water of the Blue Lagoon, you will regret dipping your hair in the water. Because of the amount of silica in the lagoon, the water here is NOT good for your hair and can make it stiff and brittle if you do not take precautions.
If you have long hair, make sure to tie it up well to avoid it getting wet. Also, make sure to lather leave-in conditioner into your hair when you shower beforehand. There is a complimentary conditioner available in the showers. When you leave the lagoon, make sure to rinse your hair as well!
Please heed this warning! We had visited the Blue Lagoon multiple times before we got our hair wet, and it was a huge mistake! We did it for photos, and we will never do it again! It takes many washes for your hair to go back to feeling like normal after the silica gets a hold of it!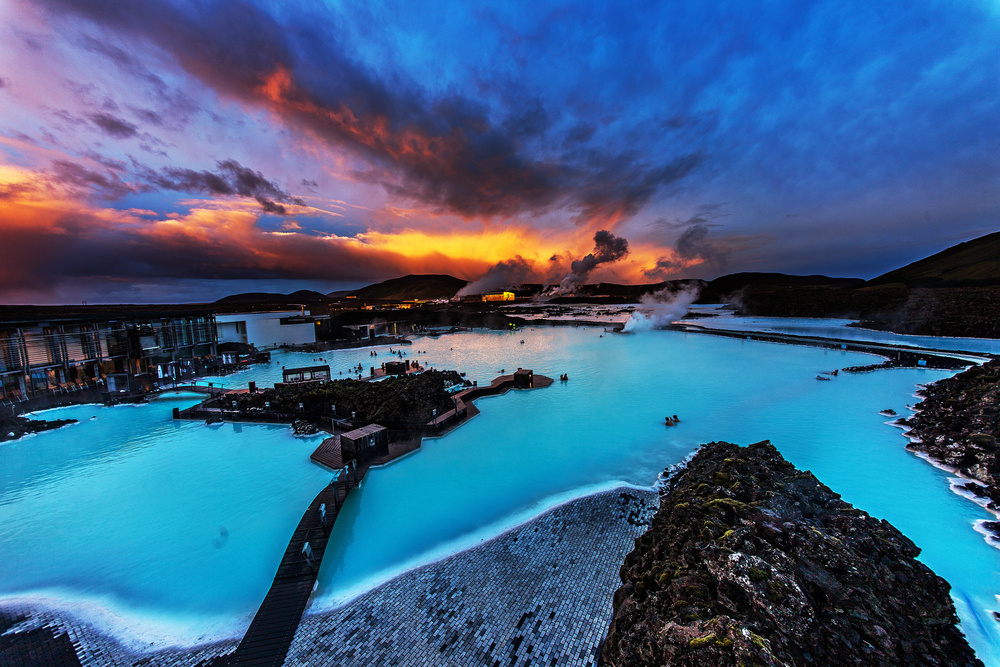 Drinking At The Blue Lagoon Iceland
There is a swim-up bar stationed in the lagoon where you can pick up the free drink included in your ticket or buy more drinks. Alcohol in Iceland can be expensive, so expect to pay $8 to $10 per drink. Keep in mind that there is a limit of three drinks per person while in the lagoon.
If you are not much of an alcohol person or don't want to drink at the time you are at the lagoon, there are non-alcoholic drinks available, including health smoothies. No matter what you drink, make sure to supplement with water so you stay hydrated!
Blue Lagoon Face Masks
The Blue Lagoon also has a swim-up mask bar which you can't miss out on. One silica face mask is included with both the Comfort and Premium tickets, plus you get an extra face mask of your choice with the Premium Package. Along with the silica mud mask, there is an algae mask.
Both masks are natural and great for your skin! They will leave your skin glowing, nourished, and moisturized. The algae mask especially is great for anti-aging. Leave the masks on for about five to ten minutes before rinsing them off.
We love getting the face masks that are included with our ticket! It makes your face feel great and makes for fun travel photos for your memories!
Staying At The Silica Hotel
If you would like to extend your relaxation and spa treatment, you can stay the night at one of two hotels by the Blue Lagoon Iceland. The first, and more affordable, choice is the Silica Hotel. The rooms here are in the $400 range.
This hotel is surrounded by an amazing landscape and offers a private lagoon only for hotel guests. The hotel is also adults-only so you will not have to deal with screaming kids as you chill.
This is the first resort on the Lagoon and is a total classic. You will not regret a night spent here.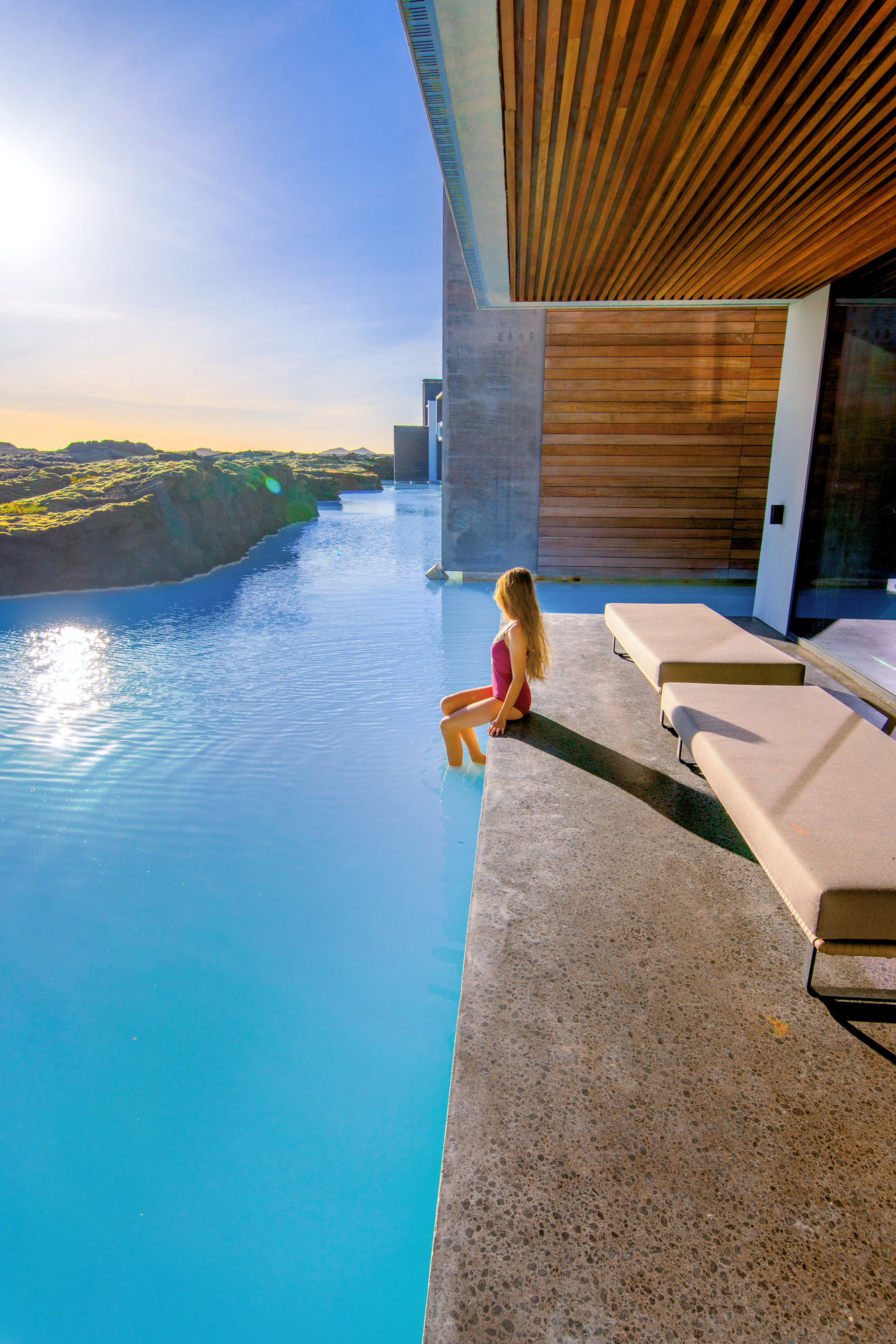 Staying At The Retreat At The Blue Lagoon Iceland
The next hotel choice is the Retreat At The Blue Lagoon Iceland. With rooms starting at around $1300 a night, this modern, luxurious, and award-winning retreat might be out of some people's price range. However, if you do stay here, you will not regret it because of the level of comfort.
Staying here gives you access to the incredible, world-class Retreat Spa and the Retreat Lagoon. There are daily, guided hikes and yoga sessions for guests, and you can enjoy an Icelandic coffee and snack in the lounge. Overall, you will feel as if you have died and gone to relaxation heaven!

Check Rates At Booking.com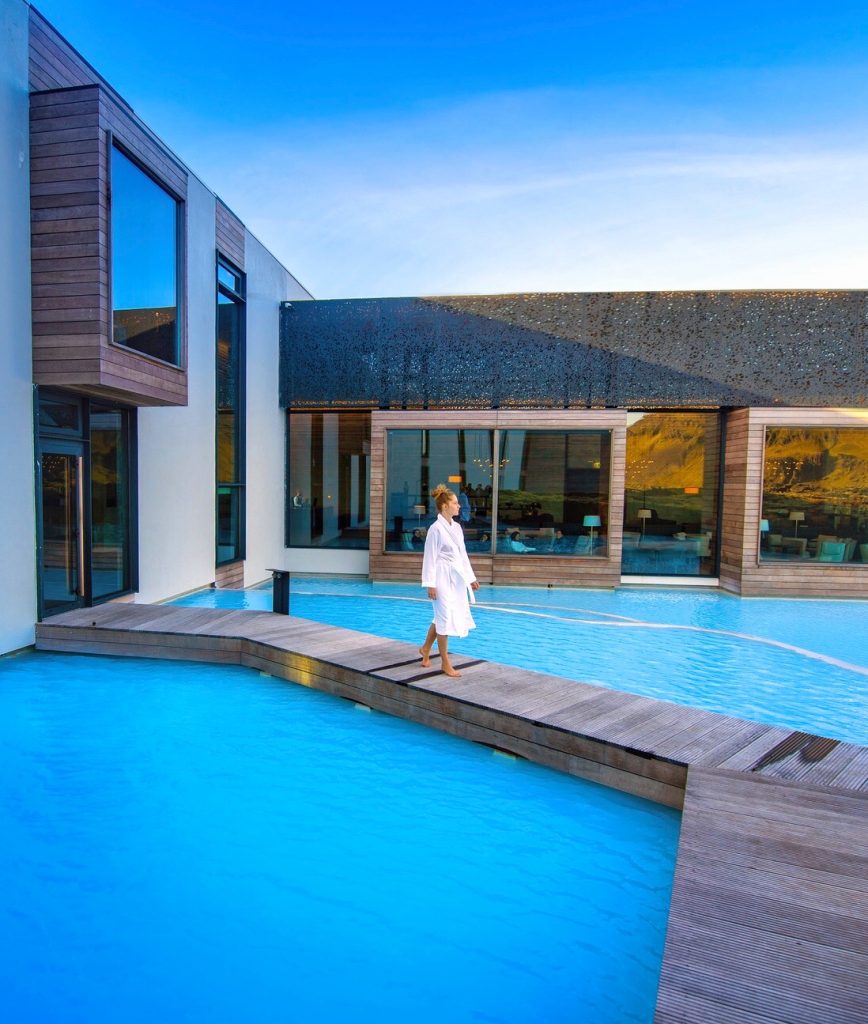 Eating At The Lava Restaurant
The upscale Lava Restaurant is the perfect place to stop for lunch or dinner. With gourmet food featuring Icelandic cuisine, your mouth will be watering just from reading the menu! There are to-die-for desserts as well, so make sure to arrive hungry!
While the meals are pricey, you will be dreaming of the food long after your stay at the lagoon. To save money, try going for lunch when the menu is cheaper. If you are vegan, don't worry! There are options for you as well.
The restaurant not only has good looking food, but amazing architecture and views as well. It is built into the side of an 800-year-old lave cliff with floor-to-ceiling windows that look out onto the steaming lagoon.
Our favorite part? You can lunch in your robe! After 4pm, there is a light dress code, but earlier than that, you can go in full relaxation mode!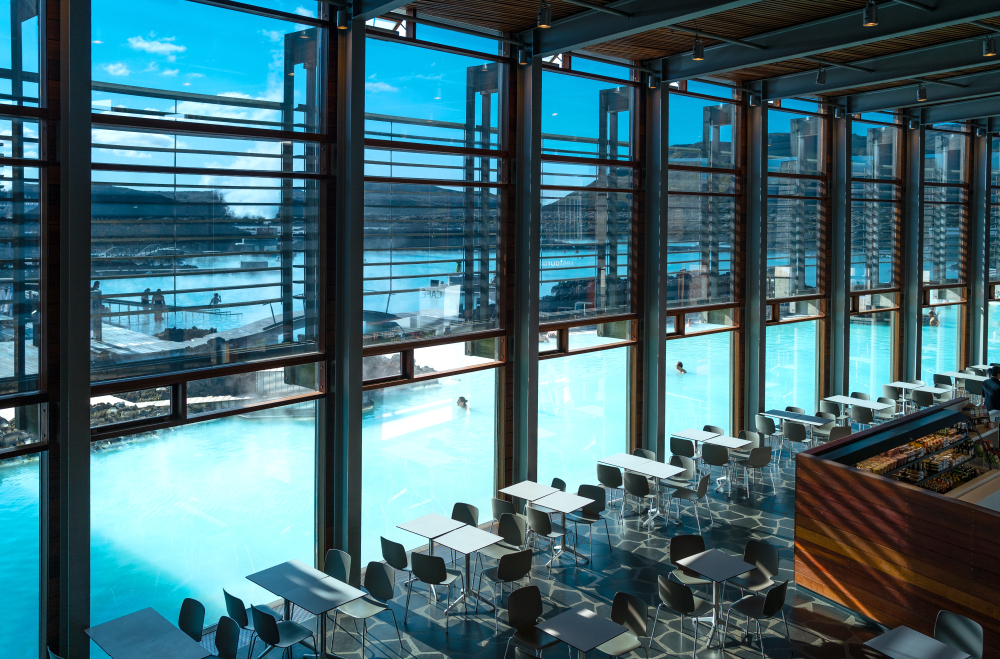 How Much Time To Spend At The Blue Lagoon
How much time to schedule for your trip to Iceland's Blue Lagoon depends on the package you buy, the amount of amenities you want to try out, and whether or not you eat there. If you are traveling solo or as a couple, you may need less time than if you are going in a large group.
Overall, about three to five hours should be a good amount of time to lounge in the water, get a massage, sit in the sauna, check out the Retreat Spa, or any of the other things you can enjoy at the lagoon. Visiting the Blue Lagoon should be a time to slow down and really relax, so you do not want to rush your time here. Instead, turn off your mind, erase any worry, and drift into ultimate relaxation mode.
When To Visit The Blue Lagoon On Your Iceland Itinerary
Since the Blue Lagoon is so close to the airport and Reykjavik, most people will either start or end their trip in the calming waters. We suggest you visit at the end of your trip if possible.
This will give you a chance to completely wind down after an exciting vacation that will most likely involve a lot of sitting in vehicles and hiking long trails. Maybe get a massage to loosen up all your muscles before boarding your airplane. You will be able to fly home refreshed after a dip in the magical waters of the Blue Lagoon Iceland.
We visit the Blue Lagoon almost every trip and it still hasn't gotten old. We love doing it at the end of the trip, the day before our flight leaves.
Can You See The Northern Lights From The Blue Lagoon?
Yes! If you are at the lagoon on a clear night during the winter, then there is a chance to see the Northern Lights, though it cannot be guaranteed. The Blue Lagoon Iceland is far enough away from Reykjavik that the light pollution of the city will not block the dazzling light show.
We have an entire post on Seeing The Northern Lights In Iceland and there is a whole section dedicated to the Blue Lagoon.
If you are visiting during the right time of year and visit later in the day, there is a chance you will see the Northern Lights at the Blue Lagoon.
If you happen to see this natural phenomenon while relaxing in the water, you should count yourself very lucky! It will be a moment you will remember for the rest of your life!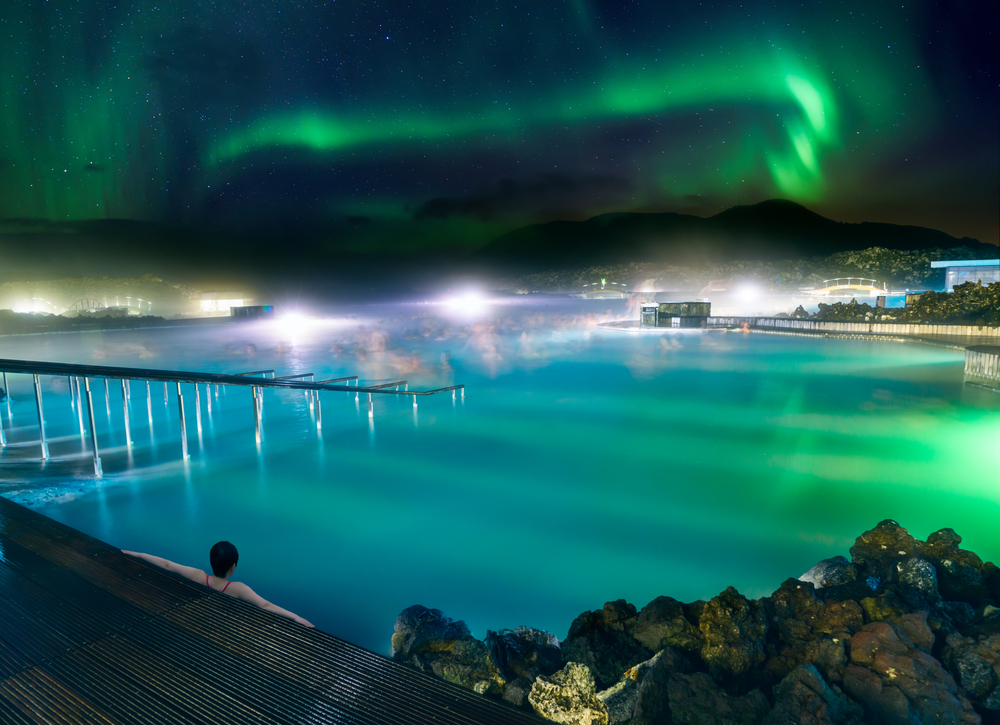 Taking Photos At The Blue Lagoon
Of course, you will want to take plenty of photos for memories and to show off to your friends what a great time you had! Cameras of any kind are allowed into the Blue Lagoon, including DSLRs. You will want to be careful to avoid water damage and do NOT leave expensive equipment lying around!
Instead, take your photos, then return the camera to your locker so you can relax and spend time in the water without worrying about it. If you bring your cell phone with you, we suggest you buy a waterproof case to protect it. This will be useful at the lagoon but also throughout Iceland, such as at the roaring waterfalls.
Taking photos here is one of our favorite things to do as the Blue Lagoon is just so photogenic and unique.
Now that you are informed about all things Blue Lagoon, you can make the decision whether or not to add it to your Iceland itinerary. Trust us, though, you will want to! You will not regret it! Just make sure to budget for it since it can add a reasonable amount to your Iceland bill depending on the package you buy and the number of people visiting.
The lagoon and all of its spa amenities is the perfect place to chill out and soak in all the good nutrients the water provides for your skin. By now, you must be dreaming of pure relaxation. Heavenly massages, unique face masks, steamy saunas, yummy drinks, and amazing food! What more could you ask for in a vacation hot spot?