Looking for the best hot springs in Iceland? You have come to the right place!
Visiting hot springs in Iceland is a totally memorable and magical experience that you won't forget. Iceland is home to a variety of hot springs, from hot pools found in the middle of nature to famous spas built around stunningly blue hot water.
When visiting hot springs in Iceland, you need to be sure you are visiting safe bodies of water, especially when stopping along the side of the road. Some hot pools in Iceland are so hot you will be scalded instantly, which is why having a handy list of the best hot springs in Iceland will help you to safely enjoy your dip!
No matter if you are taking an Iceland road trip, driving the whole Ring Road, or only spending a few days in Iceland, there will be a hot spring that is nearby and readily accessible for you to explore!
There are three different types of hot springs in Iceland. The first is man-made where people built a pool or hot tub around the hot area. The second type is the natural hot springs such as hot rivers that you can swim in.
The third type of hot spring in Iceland is the kind that you cannot swim in because they are so hot such as the Geysir found on the Golden Circle. This last type will not be recommended in this article as you will not be able to swim in them. But the first two types are hot springs in Iceland you must visit!
If you are driving in Iceland, you are going to want to make some of these amazing hot springs one of your stops around the Ring Road!
Get a FREE printable "Hidden Gems In Iceland" E-book by joining our private Iceland Facebook Group and sharing your photos and asking for tips and tricks.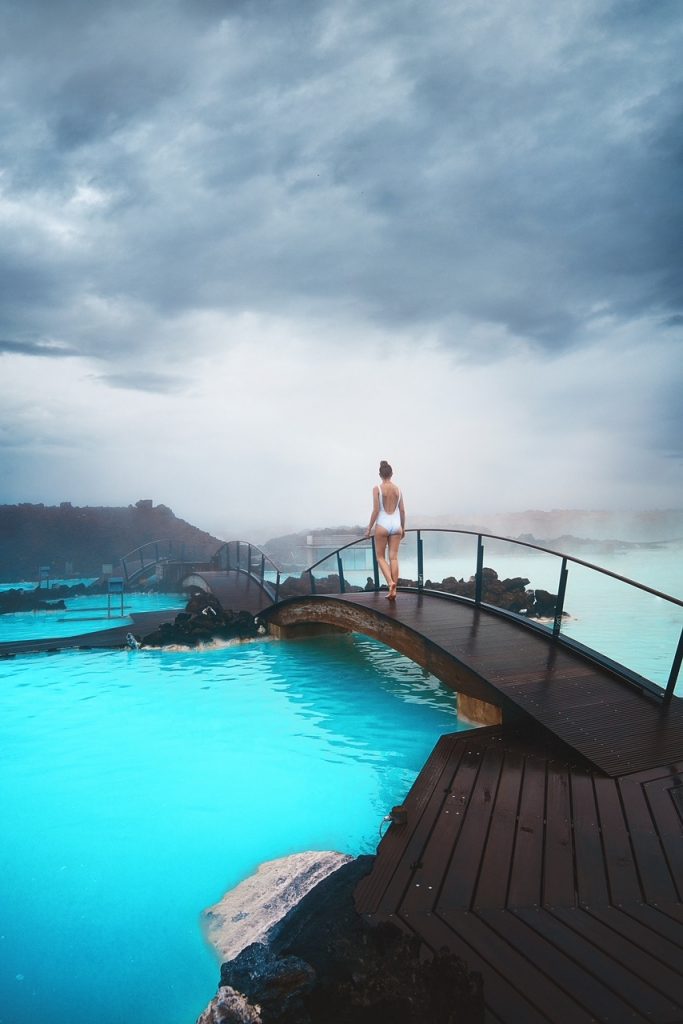 How To Respect Hot Springs In Iceland
We are sad to announce that many hot springs in Iceland are closing down mostly because of disrespectful tourists, plain and simple.
Icelandic hot springs see toilet paper, actual human feces, rotting wet clothes, trash, and more scattered around. Many hot springs are located on private land so instead of dealing with tourists, independent landowners decide to simply close the bathing pool for good.
This takes away an Icelandic hot spring from locals who have been going for decades.
When visiting these geothermal pools, always remember to leave no trace. This means that you don't leave a single thing behind. You pack out what you take in and you never leave anything, even feces.
If you must go to the bathroom, now is the time to leave one of the hot springs in Iceland in search of a bathroom.
If you "go" outdoors, make a 1-foot deep hole and then cover up your poop and bury it. TAKE YOUR TOILET PAPER WITH YOU in a plastic baggie. These are basic tips for camping and pooping outdoors. However, since so many people do it disrespectfully near hot springs in Iceland, we thought it begged to be mentioned.
Finally, if the hot spring is on private property, make sure to ask the landowner if you can visit before trespassing. If we all come together to be kind and respectful to the local hot springs in Iceland, they will be open for years to come!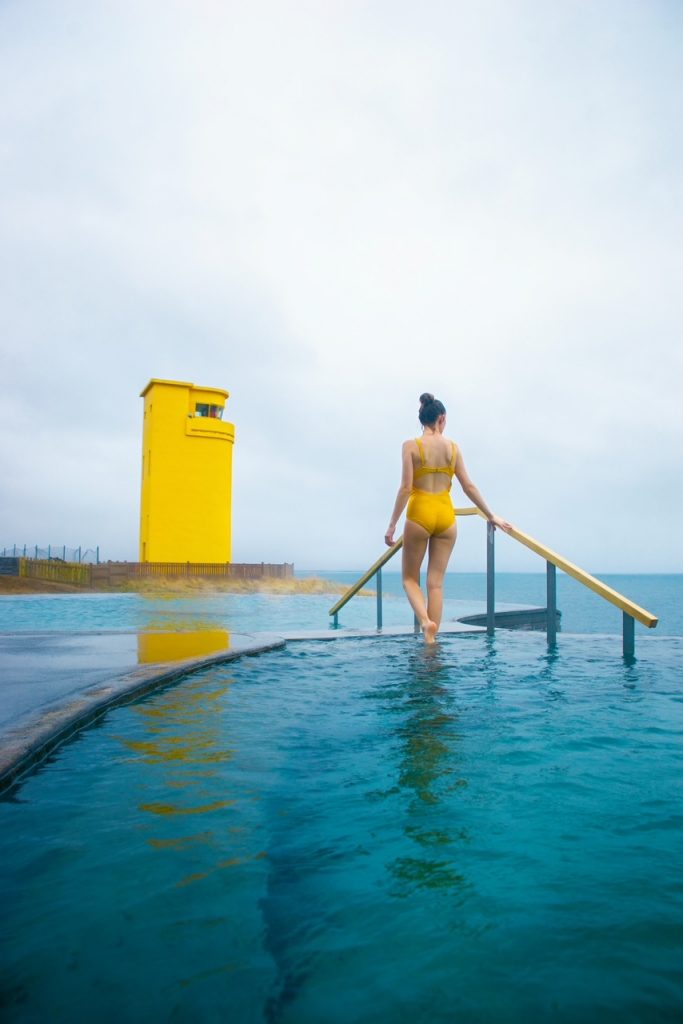 10 Best Hot Springs In Iceland You Must Visit
The Blue Lagoon
If you have heard about Iceland, chances are you have heard about the Blue Lagoon. The Blue Lagoon is the most well-known and popular of all of the hot springs in Iceland and it is easy to see why.
This hot spring is very touristy and on the more expensive side, but it is so worth a visit to enjoy one of the best hot springs in Iceland! The hype is true, and you should make sure to budget for this amazing spa.
The most iconic aspect of the Blue Lagoon is of course the milky blue color. This comes from the mix of algae, silica, and minerals in the water. This also makes it very good for your skin.
The Blue Lagoon has everything you need to chill, including a mask bar, sauna, steam room, in-water bar, in-water massages, and a relaxation room. There is also a cafe, restaurant, two hotels, and a skincare shop.
The Blue Lagoon is conveniently located about 20 minutes from the Keflavik Airport or about 45 minutes from Reykjavik. Many people visit either when they first enter Iceland or before they leave. We recommend making a reservation here before leaving since you can fully unwind after hiking and return home refreshed.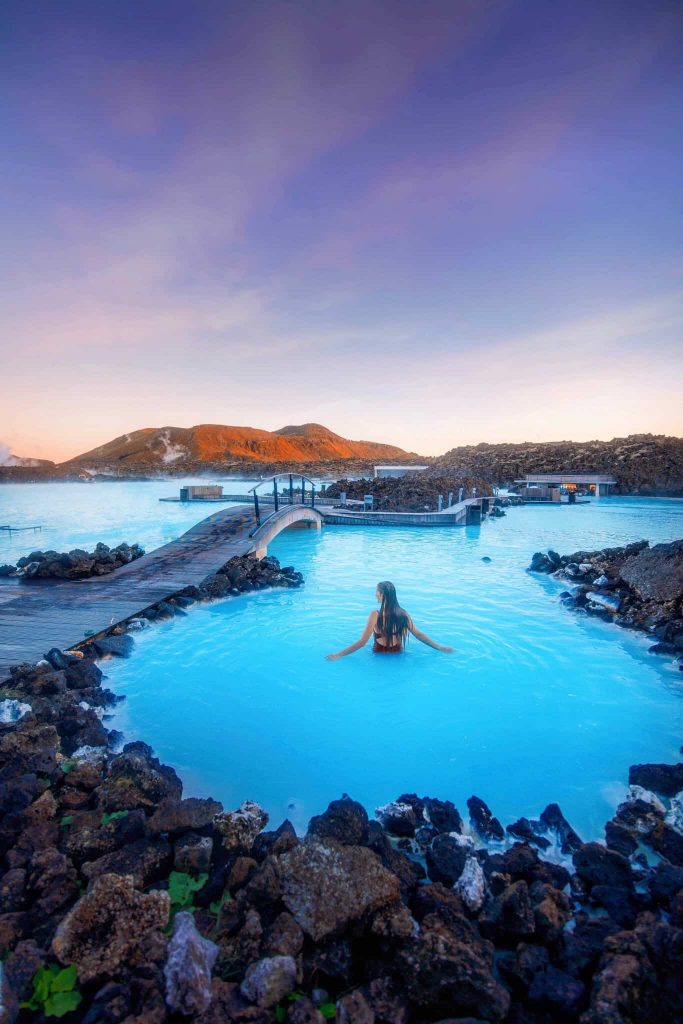 Geosea Sea Baths
Geosea Hot Springs is located in Husavik in North Iceland and is perched on a cliff overlooking the ocean. Husavik is a very popular place in Iceland for whale watching, and you might even see whales while relaxing in the Geosea pools!
Geosea Sea Baths also offer light food and a bar you can access from inside the hot spring! These hot springs in Iceland are laid out with multiple infinity pools and raised pools overlooking the ocean. They even have a small shallow pool for babies and young children. It is truly one of the best things to do in North Iceland!
This Icelandic hot spring looks like a bunker from the outside, but when you enter, it is a modern architectural wonder! The changing rooms are pristine and very fancy. The view of the fjords, mountains, and possibly whales really can't be beaten!
Geosea is one of the best hot springs in Iceland because it is very new, offers incredible views, is clean and stunning. It also provides something different and unique to the Iceland springs scene!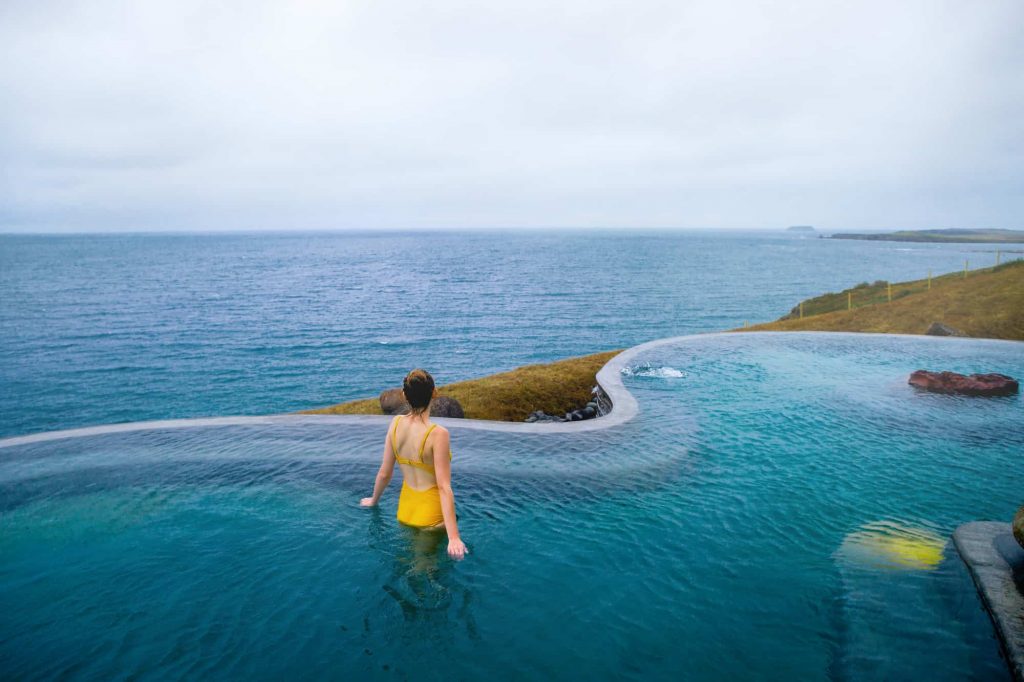 Seljavallalaug Hot Springs
Seljavallalaug Hot Springs is one of the more dreamy hot springs in Iceland due to its location. It is tucked away in the mountains of south Iceland and you must hike there to visit! Don't worry, the Seljavallalaug Hot Springs hike makes our list of the best easy hikes in Iceland so it is nothing strenuous.
From the parking lot, the walk to this mountain swimming pool is 20 minutes across the flat but rocky ground. The hike is easy, but understand you will have to cross a few small rivers so take that into account when choosing what shoes to wear when visiting these Icelandic hot springs.
Make sure to bring your own towel and a bathing suit as this is literally a hole in the ground with a small changing facility and not a fancy swimming pool with staff to attend to you. Seljavallalaug Hot Springs is open all year and the hot spring is accessible during the winter but very chilly as the water temperature cools down.
This pool is also the oldest man-made swimming pool in Iceland and but tourists have since trashed a beautiful location. This hot pool in Iceland was not at all what we expected when we visited.
Other than the incredible views, the water was warm at best [and we were chilly!], there are gobs of gross algae and gunk floating around, and the changing rooms are worse than you can imagine.
That being said, this is still one of the best hot springs in Iceland if you know what to expect. Understand that the water is not hot by any means so it is more of a heated swimming pool than a hot tub.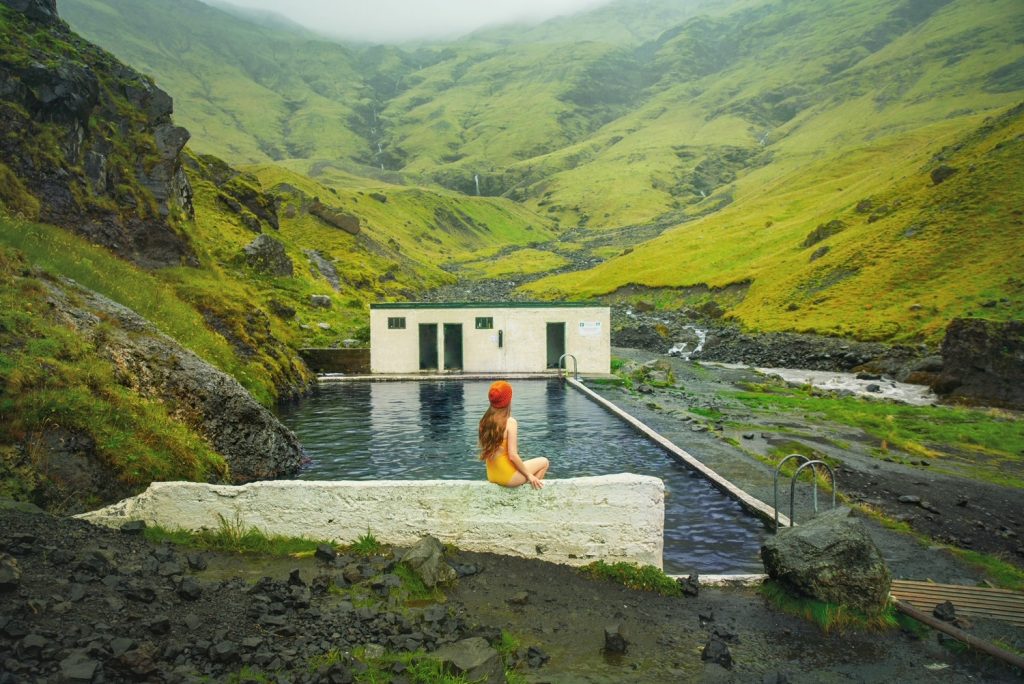 Reykjadalur Hot Springs
If you are looking to get into some real Icelandic nature, Reykjadalur Hot Springs is the perfect hot springs in Iceland for you!
Unlike other hot springs or thermal pools in Iceland that look like, well, a pool, Reykjadalur Hot Springs is literally just little rivers!
Reykjadalur Hot Springs, also known as the Reykjadalur Steam Valley, is a magical slice of Iceland because you can literally jump into a river and relax in the hot stream! There is also a 30-60 minute hike to get to this hot river in Iceland, so make sure to budget that time into your schedule when visiting!
Unlike other Icelandic hot springs, Reykjadalur Steam Valley is composed of little streams to sit in instead of pools. This adds to its allure and makes it a magical addition to your Iceland itinerary.
The sections of the river vary by temperature, so pay attention to the signs so you do not burn yourself. The bathing areas are found by the wood platforms, and you can find a little corner to claim for yourself.
This is also one of the coolest natural hot springs in Iceland for photography, especially if you are visiting Iceland in winter! The hot streams surrounded by snow are such a cool thing to see! There is even a nearby geyser that erupts every 10 minutes so be sure to check it out when visiting this unique hot river in Iceland! This is truly one of the best photography locations in Iceland!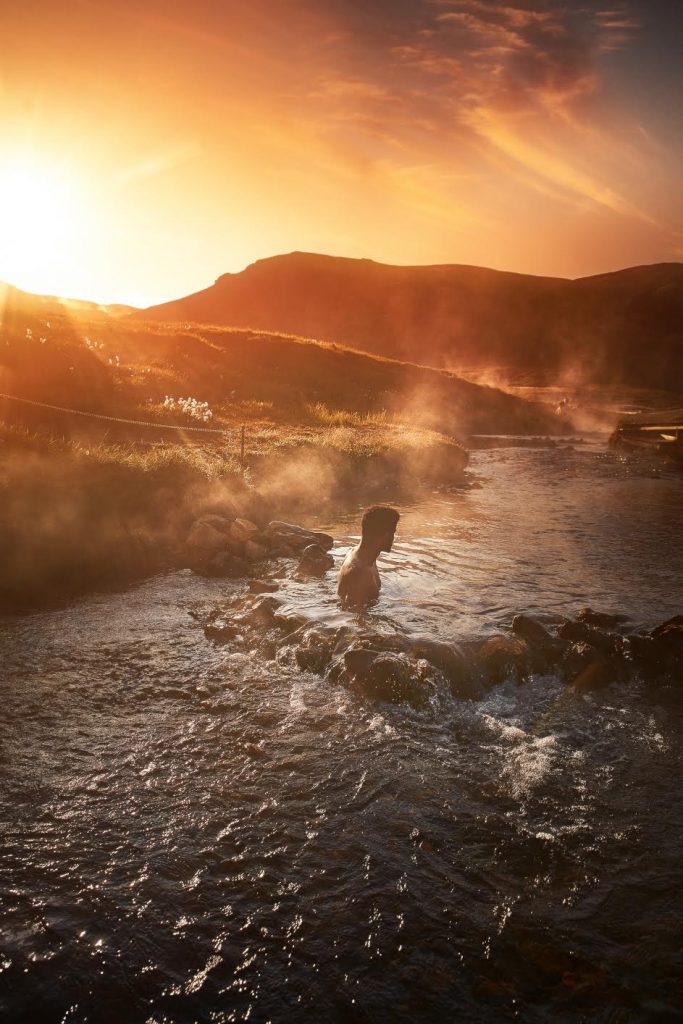 Sky Lagoon
If you are looking for a really luxurious hot spring experience, then the Sky Lagoon should be on your Iceland bucket list! Since it is just fifteen minutes from Reykjavik's city center, it is in a convenient location and is even closer to the city than the Blue Lagoon.
After opening in 2021, this high-end spa became the go-to for rest and relaxation. There are amazing amenities as well as jaw-dropping views, making this one of the best hot springs in Iceland. The Sky Lagoon's aesthetic is all about nature and Nordic culture while still being chic and modern.
The Sky Ritual is a seven-step spa experience that will leave you completely refreshed. Geothermal energy heats the infinity pool where you can find views of the ocean perfect for sunset or Northern Light viewing.
There is also a café and two bars, one of which is swim-up. This is another hot spring you might have to budget for since it is on the expensive end. But, it is so worth it to enjoy one of the best hot springs in Reykjavik! Don't forget to check out our Tips For Traveling Iceland On A Budget!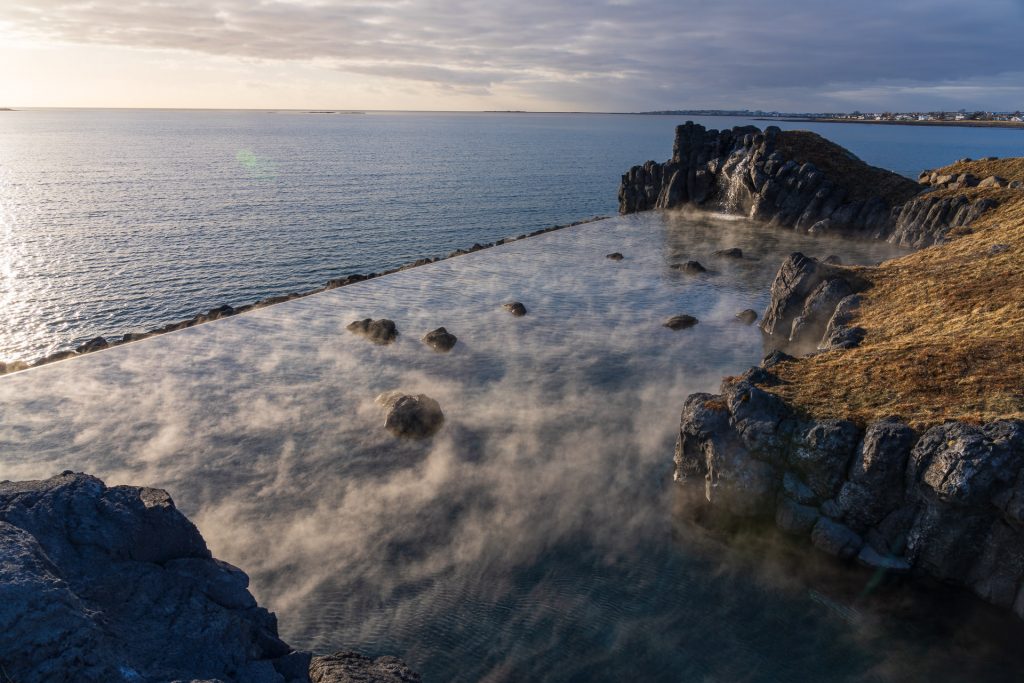 Landbrotalaug
Landbrotalaug Hot Springs is a hot pool located on the side of the road at the beginning of the Snaefellsnes Peninsula. Located about an hour and 45-minutes north of Reykjavik, these natural Iceland hot springs are a hidden gem and are secluded.
This hot spring is a small hole in the ground and only fits four people! There is a water pump and another larger pool nearby, but the smaller hot pot is a unique spot on the Snaefellsnes Peninsula.
The Landbrotalaug hot pot is located on an abandoned farm which makes it even more unique and alluring! If you can make time to visit, this far-flung geothermal pool in Iceland will not disappoint!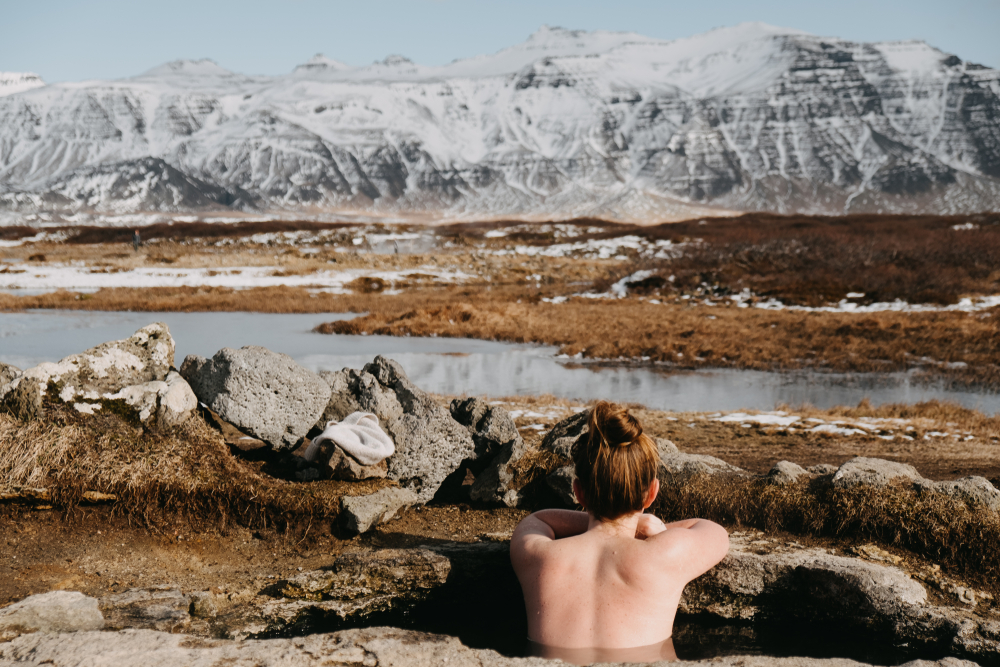 Mývatn Nature Baths
Did you know that Iceland has not one but two blue lagoon hot springs?
The Mývatn Nature Baths are located in north Iceland and are home to water just as blue and milky as the Blue Lagoon near Reykjavik! Mývatn Nature Baths are less expensive and less crowded making them a more magical option for photographers.
The reason Mývatn Nature Baths are one of the less popular Iceland hot springs when compared to the Blue Lagoon is simply due to their location. Mývatn Nature Baths are located in the high north of Iceland which means they are much less accessible than a hot spring that is just 20 minutes away from the international airport.
This does not mean that Mývatn Nature Baths are any less of a unique experience than the Blue Lagoon! We highly recommend paying a visit.
The water varies from 86°F to 104°F depending on where you stand in the pool. This is a great place to unwind after driving for a long time or hiking. Like the Blue Lagoon, the water is also mineral-rich.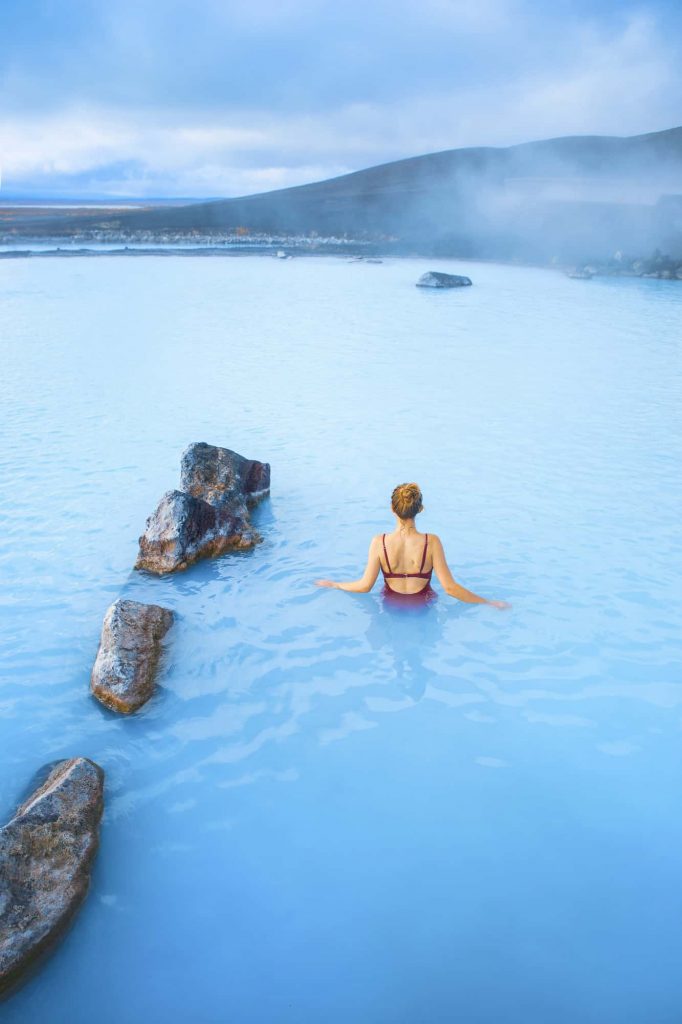 Hrunalaug Hot Springs
Hrunalaug Hot Springs is such a unique spot that you need to visit when planning your trip to see hot springs in Iceland!
This beautiful spring is found nestled in the mountains of south Iceland and offers a small and intimate atmosphere. This geothermal pool is home to a small changing hut and a bathing pool that looks like a bathtub perched on the edge of a cliff.
Hrunalaug Hot Springs can hold up to 15 people and is not as popular as other Iceland hot springs. You may have the whole place to yourself and if you don't, you just have to wait a little while for other bathers to finish and move on.
These hot springs in Iceland are more popular with locals than tourists. Locals will visit during the weekend to have a soak and take in the beautiful Icelandic views. It is located near the Golden Circle and is one of the best hot springs near Reykjavik!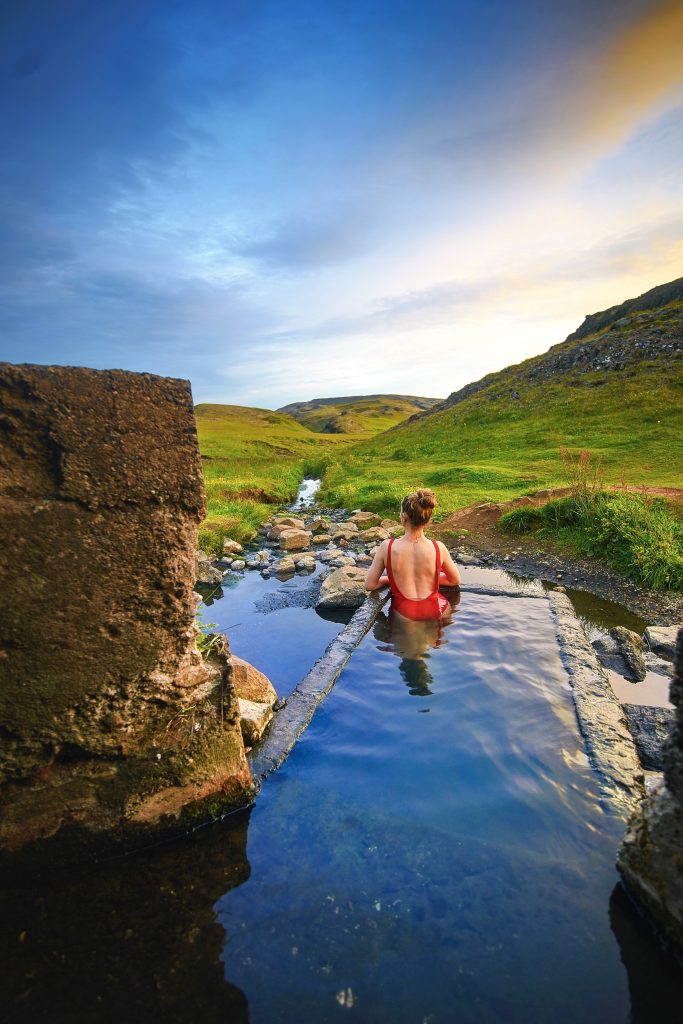 The Secret Lagoon
The Secret Lagoon is officially known as the oldest pool in Iceland. It is located near the Golden Circle drive so it is a great hot spring in Iceland to visit while completing this circuit.
People started to visit these secret hot springs in Iceland in 1891 and then it was lost for over 60 years! The pool was forgotten about until 2006 when it was rediscovered which is why it is now called Iceland's Secret Lagoon.
Nearby the Secret Lagoon is a geyser that erupts every few minutes and has stunning views. This swimming pool in Iceland is located near Hrunalaug Hot Springs listed above so you can easily visit both in one-stop! Make sure to have the appropriate hot spring plugged into your GPS so you don't get lost when finding either of these hot springs as they is nearby.
The Secret Lagoon has wonderful changing facilities that are clean and well-kept. Like Hrunalaug, this is one of the best hot springs near Reykjavik that are beautiful to visit but not the famous Blue Lagoon!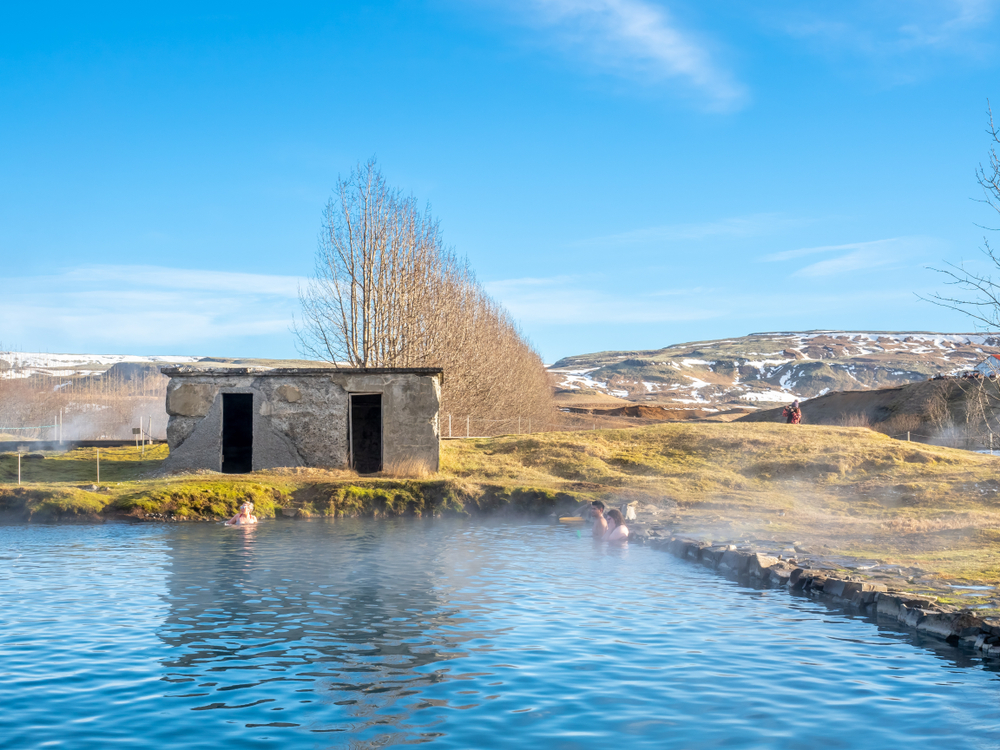 Grettislaug Hot Springs
Located along a fjord in the far reaches of north Iceland, this hot spring in Iceland has impressive views and rejuvenating waters.
Grettislaug Hot Springs and the nearby Jarlslaug Hot Springs are located across from one another with majestic views of the mountains, ocean, and nearby islands. Although located quite far away, they are worth the drive when completing the Ring Road or visiting North Iceland.
Grettislaug is a hot pool in Iceland surrounded by rocks making it into a natural hot tub. There is a nearby changing facility and an outdoor shower for those who want to wash off before and after exploring these beautiful remote hot springs in northern Iceland.
Note that these Icelandic hot springs are located on private property so treat the property with kindness and respect as you are guests.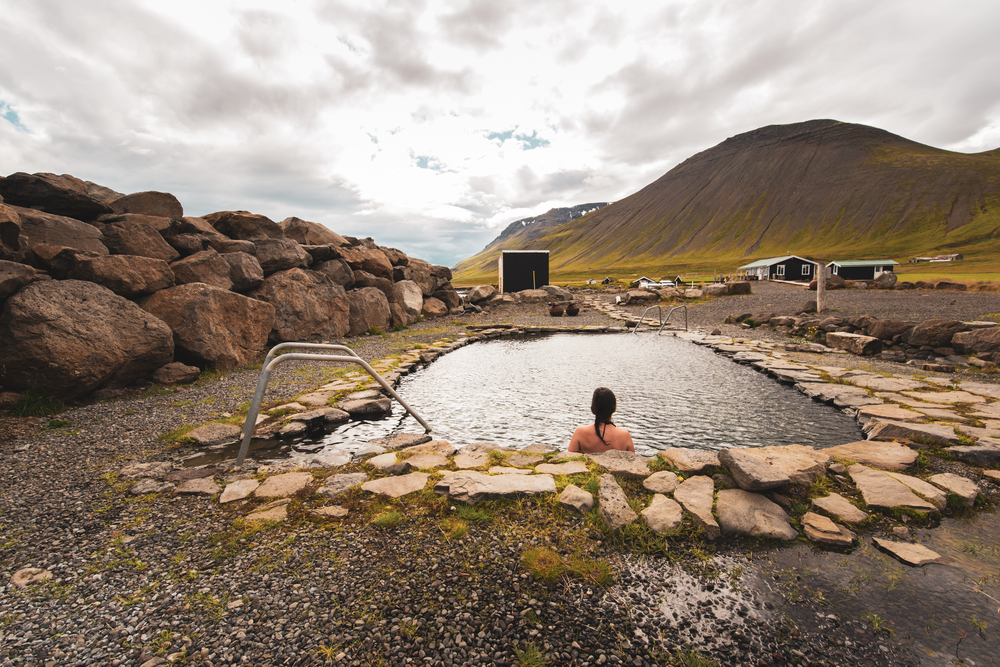 Vök Baths
The Vök Baths are beautiful and unique hot springs in Iceland found on Lake Urriðavatn on the eastern side of the country. There are multiple baths to chose from, including two infinity pools that float in the lake. How cool is that?
There are not many hot springs in the eastern region of the country, so if you are in the area, this is a great place to stop by any time of the year.
There are three different package options with different drinks and foods included. Each package includes an herbal tea brewed with the hot spring water.
These bathes take their environmental impact seriously. They avoid single-use plastics and use organic, recyclable packaging. Their wood was ethically and locally sourced. There are also no chemicals used in the water so it is completely natural geothermal water.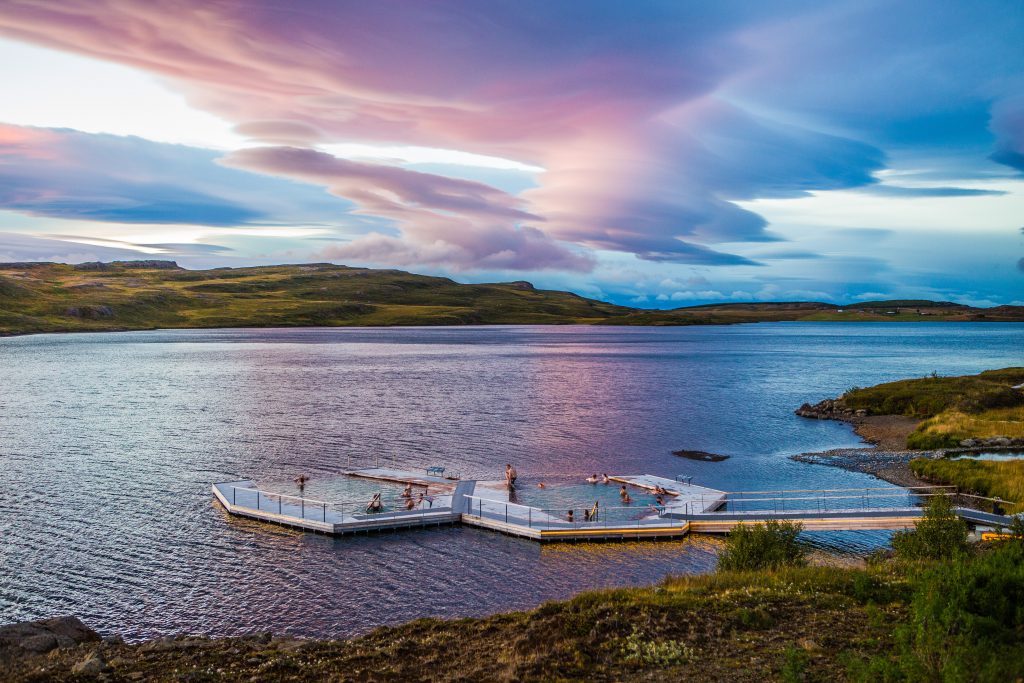 Hellulaug Pool
One of the best hot springs in the Westfjords is the Hellulaug Pool. This natural geothermal pool is found right on the beach, providing amazing views while you soak in this hidden gem.
This primitive hot spring has a parking lot but no changing facility or showers. There is no fee to use this pretty hot spring, but there is a donation box if you want to leave some krona to go towards maintenance and upkeep.
With water at about 100°F and two feet deep, it is a great place to sit and watch the sunset or the Northern Lights dancing in winter.
The small pool is hidden from the road and easily accessible. This is a great place for a romantic soak away from the business of the Ring Road.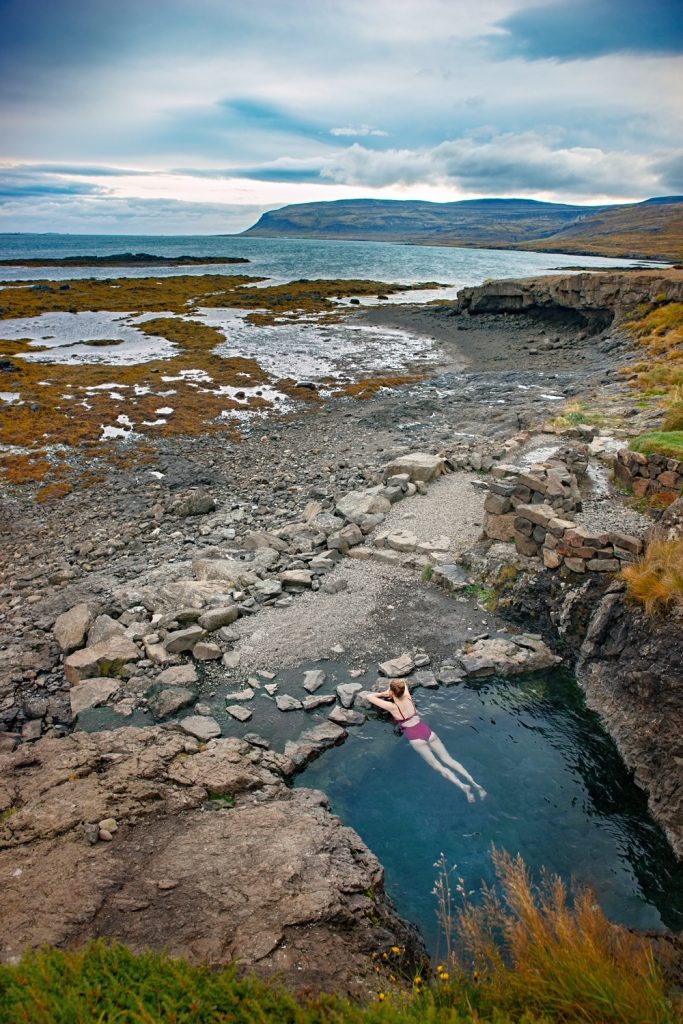 Hörgshlíðarlaug Hot Spring
Hörgshlíðarlaug Hot Spring is another amazing place for a soak in the Westfjords. The water here is about 104°F, so you will be nice and warm as you take in the gorgeous views of the ocean and mountains.
This hot spring is a concrete pool about 7 x 20 feet in perimeter and 2.5 feet deep. There is a small shed where you can change in private. Three hoses mix to create a consistent temperature.
This is another of the best free hot springs in Iceland. Though there is no charge to visit, you do have to get permission from the farmer to use it.
Do not be afraid to ask! Icelanders are super friendly and love to accommodate guests. As always, leave the place clean so the owner continues to welcome people to one of the best hot baths in Iceland.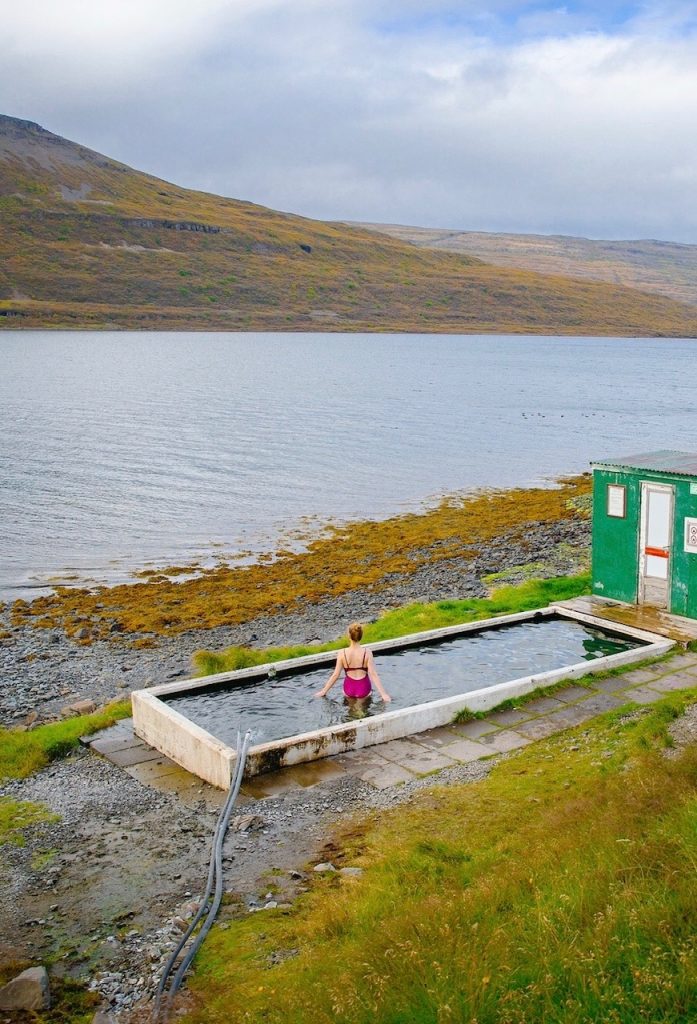 Krosslaug Hot Springs
Krosslaug Hot Springs is another simple and remote hot spring in the Westfjords region. Do not confuse this location with the Krosslaug Hot Pot which is closer to Reykjavik.
The Krosslaug Hot Springs is a round pool just feet from the ocean. On a clear day, you can see across the water to the Snaefellsnes Peninsula. Unwind in the 100°F water as you admire the view and look for birds.
The hot spring will comfortably fit a couple of people, but if you need more room, not to worry. Next to the round hot spring, there is also a 13 x 43-foot concrete pool with water that is just as hot.
This bigger pool was built in 1948 and was used by locals for swimming lessons. This is one of the best geothermal pools in Iceland to escape crowds and enjoy awesome views!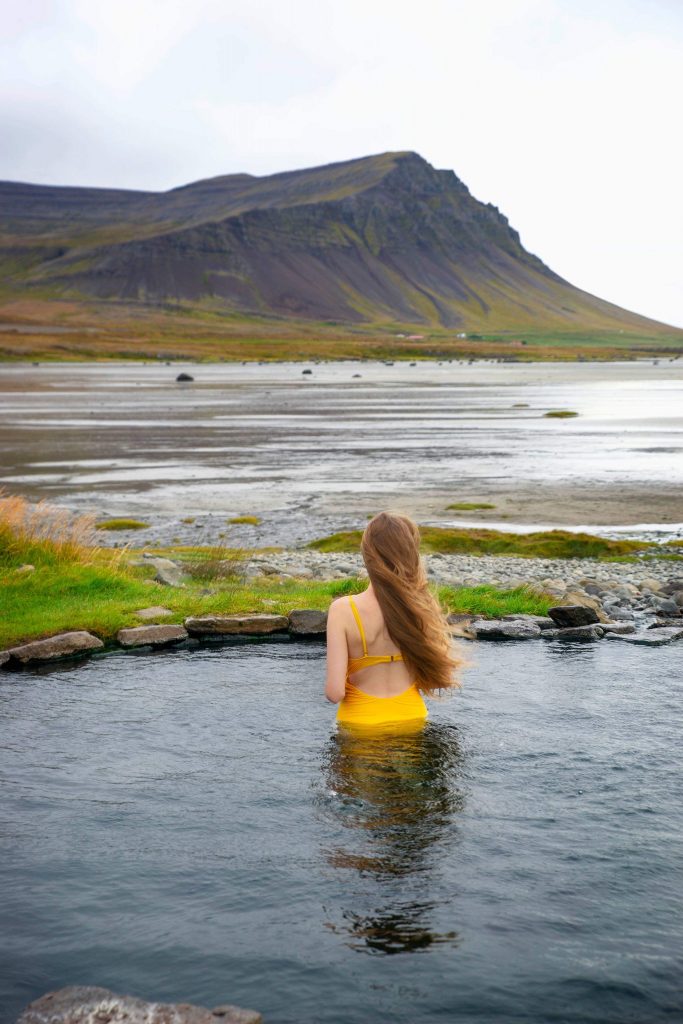 Laugavallalaug Hot Spring
Found in the eastern highlands, the Laugavallalaug Hot Spring is a beautiful hidden gem. It is remote and not the easiest to reach, which just means you are more likely to have it to yourself.
You will need a 4×4 vehicle to traverse an f-road for a few miles. Then it is just a short walk from the parking area to the spring.
This hot spring is completely natural and has a unique look. The spring is a small pond under a cliff where waterfalls flow down from a geothermal spring. The waterfalls make the perfect natural shower and add to the ambiance.
The water here can get up to 100°F, but it can be even hotter, so make sure to check before stepping in. Enjoy views of the rivers and mountains as you soak.
There is also a nearby campground if you are looking for a place to stay in the area.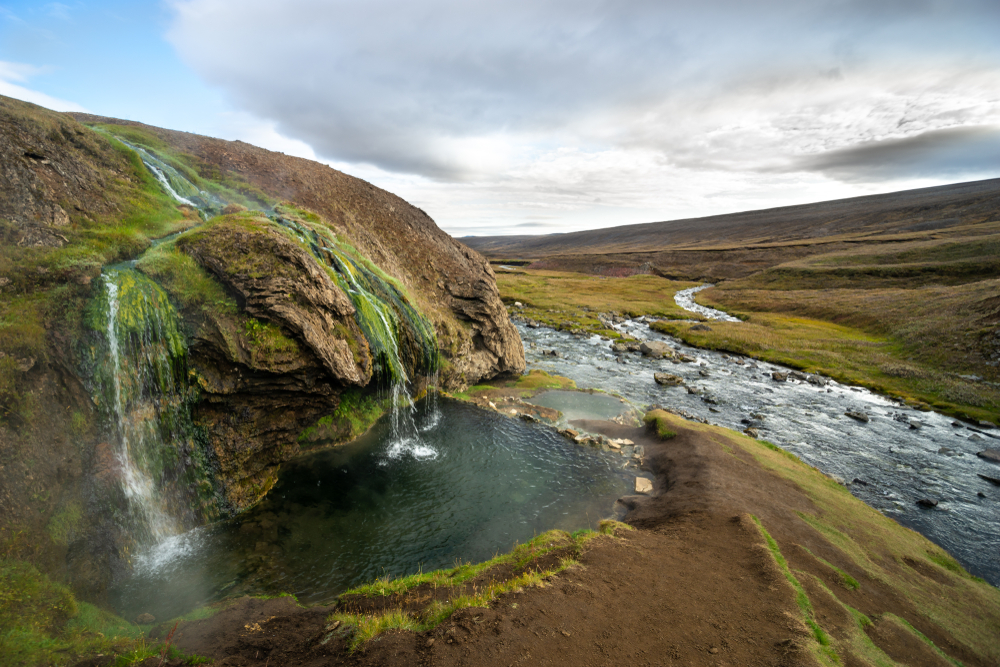 Best Time Of Year To Visit Hot Springs In Iceland
The best time of year for visiting hot springs in Iceland really depends on what you want to do! If you want to bathe under the midnight sun, then summer is the time for you! Looking to see the Northern Lights and hop in under the snow? Winter is perfect!
We think that summer or the early off-season is the best time to visit Iceland for hot springs so you can choose any hot spring you want and you won't be cold.
Many are simply "warm" and not "hot." Even when we went during the warmer months, we were a bit chilly in the water and have been told the water gets even colder during the winter as it can't keep up with the temperatures outside.
That being said, there are some very warm geothermal springs and these are perfect to visit during the winter months. If you plan on visiting Icelandic hot springs in the winter, just make sure to read up on the warmth and skip going to any outdoor pools!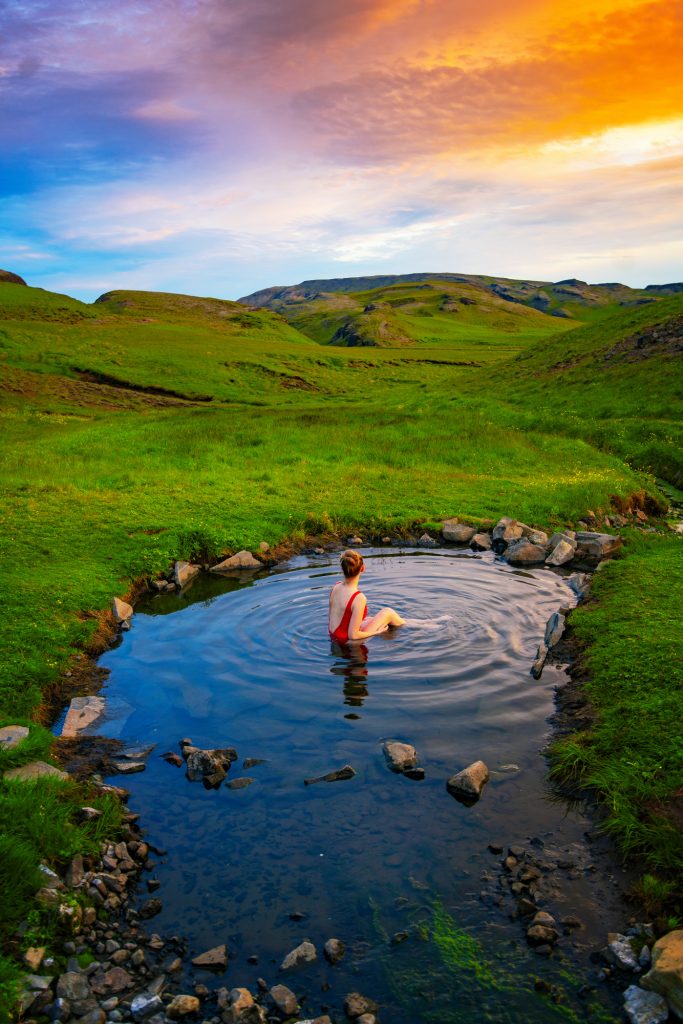 Average Iceland Hot Springs Temperatures
Believe it or not, many geothermal pools in Iceland aren't all that hot! You will see magical photos of people relaxing in what appears to be an amazing pool and then we go and visit and it is COLD! Okay, not freezing but not hot like a jacuzzi either! We are here to give you the facts straight up and tell you the average temperatures of hot springs in Iceland.
Hot swimming pools in Iceland such as Seljavallaug Hot Springs listed above are a cool 20° to 30°C or 68 to 86°F which is pretty chilly when it is freezing outside. If you see anything that looks like a swimming pool, think of it as a heated pool instead of a jacuzzi so you won't be disappointed.
Most hot springs in Iceland are around 34° to 40°C or 95° to 104°F. As Floridians, we are here to tell you that during the summer, our ocean water is about 95 degrees so that isn't all that warm to us, especially when it is cold out.
Some of the hotter hot springs in Iceland are around 44°C which is 111°F. For example, Myvatn Nature Baths have a hotter jacuzzi area for those of you that like your hot springs super hot!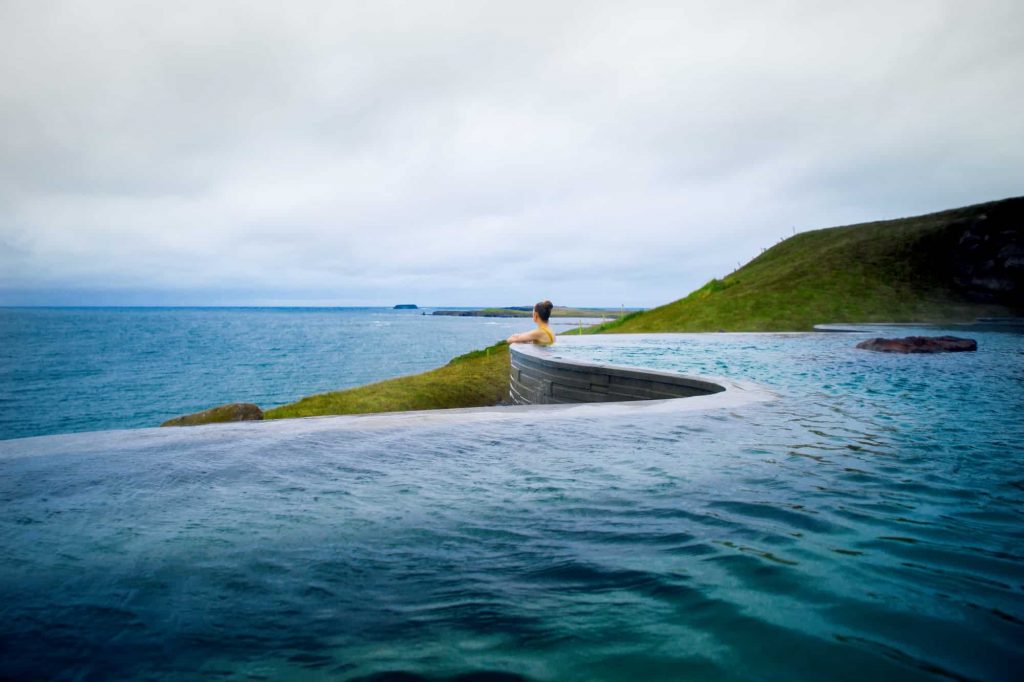 Now you have a great list of hot springs in Iceland to get you started planning your dream trip! Make sure to leave no trace when visiting Icelandic hot springs and this means not leaving your trash or walking on areas that are not a designated trail.
Some hot pots in Iceland have even been closed down because tourists have had no disregard for nature and private property which is a shame that people can't behave better. Please treat these hot springs with respect so others can enjoy them for years to come!