If you are planning a trip to the Land of Fire and Ice and are in search of the most magical hidden gems in Iceland, you have found the right place!
These days, it seems as if everyone is traveling to Iceland and while it is perfectly fine to join the droves of people in all the most well-known spots, it can be fun to see the country with a different perceptive. In order to gain a unique insight during your trip, you must discover Iceland off the beaten path.
Iceland is more than just Reykjavik, the Blue Lagoon, and Skogafoss. While these postcard-worthy locations are not to be missed, you should make sure to take time out of your trip to visit some secret places in Iceland as well.
Iceland is full of beautifully crafted churches, awe-inspiring canyons, secluded hot springs, and more enchanted places that are underappreciated only because they are unknown. Here, you can read all about these hidden gems in Iceland so you can add them to your perfect itinerary.
Get a FREE printable "Hidden Gems In Iceland" E-book by joining our private Iceland Facebook Group and share your photos and ask for tips and tricks.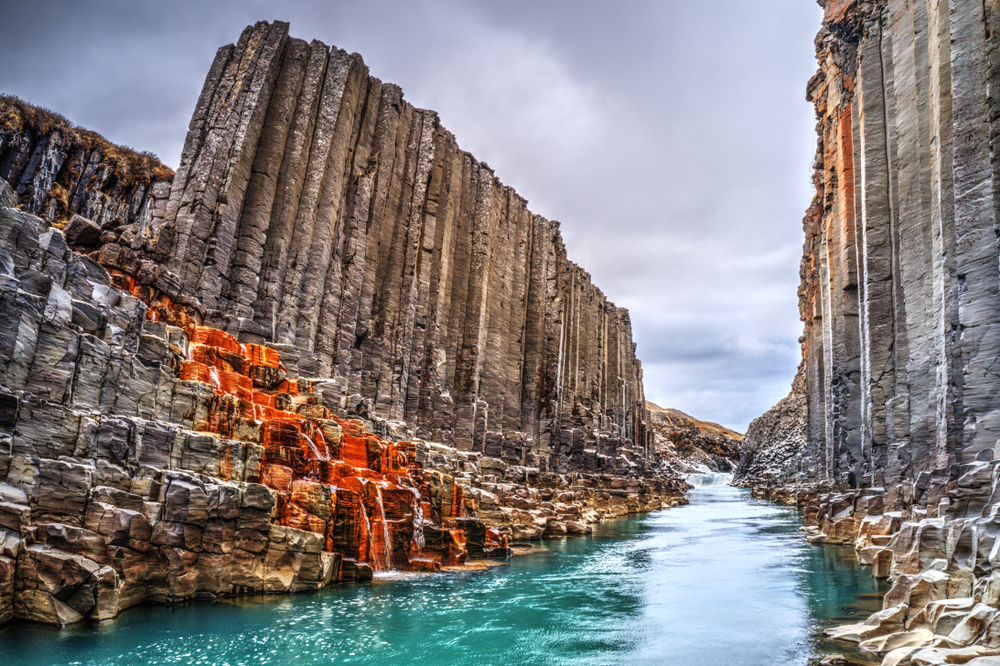 12 Magical Hidden Gems In Iceland
Fjallsarlon Glacier Lagoon
Only a short drive from the larger and more famous Jokulsarlon Glacier Lagoon is the glittering, iceberg-filled Fjallsarlon Glacier Lagoon. This nearly two square mile large lagoon is located just off the main Ring Road, so there is no excuse to drive past this site on an Iceland road trip.
As one of the hidden gems in Iceland, it hosts less tourists, so you will be allowed the chance to soak in the calm and stillness a natural wonder like this provides. Like many places in this wild country, Fjallsarlon lets visitors bask in the absolute power of nature as they listen to the icebergs dotting the water's surface crash and break.
If simply being one with nature is not appealing to you, do not brush off this secret place in Iceland. There are other things to do at this location as well. It is possible to take a boat tour, which will allow you to get up close and personal with the icebergs that glide through the calm water.
If you are planning on staying in the area, be sure to check out Fosshotel Glacier Lagoon. Located only 12 miles away from Fjallsarlon Glacier Lagoon and close to many other noteworthy sites, this hotel in Hnappavellir offers a variety of room choices.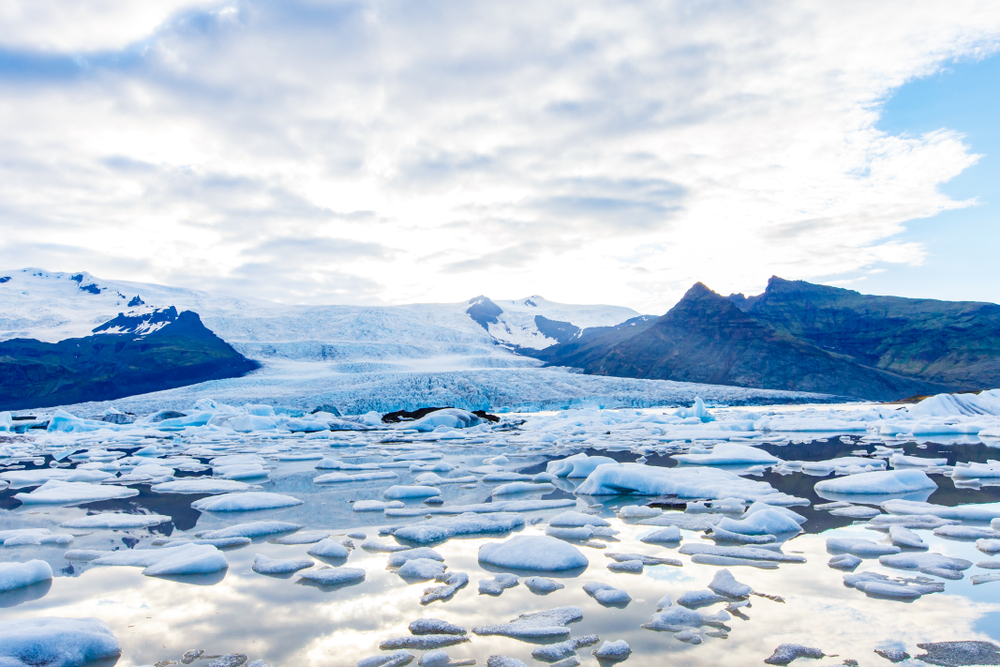 Studlagil Basalt Canyon
From one amazing natural wonder, we move on to another with this hidden gem in Iceland. Studlagil Canyon consists of towering basalt columns that will cause you to feel as if you have stepped into an epic fantasy novel. Looming, black, basalt rock columns are not an uncommon sight in Iceland, but Studlagil Canyon claims to have the most of abstractly geometric-looking stones, which can also be found at the famous Reynisfjara Beach.
Like Fjallsarlon Glacier Lagoon, this is a location that boasts the incredible power of the earth. Carved out over time by the glacial river Jokulsa a Dal in the eastern area of the country, this canyon is a secret place in Iceland you cannot afford to miss. You will lose yourself in the serene, vivid blue water that winds its way between the cliffs.
This is one of the best stops around Iceland's Ring Road. If you happen to be driving in Iceland, you will want to ensure that you make time to see it!
Stay the night in the nearby town of Egilsstadir where you can find the sleek and modern Icelandair Hotel Herad. You will crave a comfy bed to fall into after hiking along this wondrous canyon.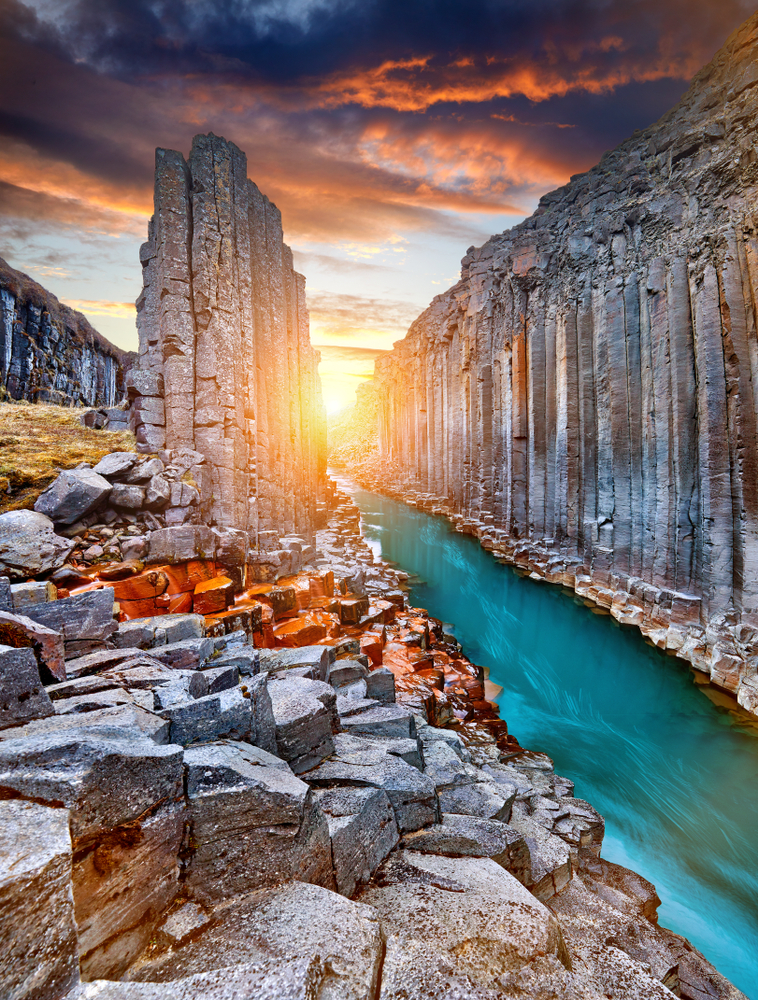 Heimaey Stave Church
Located in the northern part of Heimaey, one of the Westman Islands found off the south coast of Iceland's mainland, an intrepid traveler can find the Heimaey Stave Church. Constructed not long ago, in 2000, this church was built in the Nordic stave style and is the only completely black church in the country. Even if the coloring is a little too emo for you, you have to admit that it deserves to be called one of the prettiest churches in Iceland!
This beautiful church remains a hidden gem in Iceland only because of its location on a smaller island. Though it is only a ferry ride away, many tourists stick to the mainland and fail to add a photo of it to their Instagram feed. Luckily for you, though, there is a good chance you will get the church all to yourself when you visit.
While on Heimaey Island, look into staying at Guesthouse Hrafnabjörg, which will provide a homey feel and the opportunity to meet fellow travelers.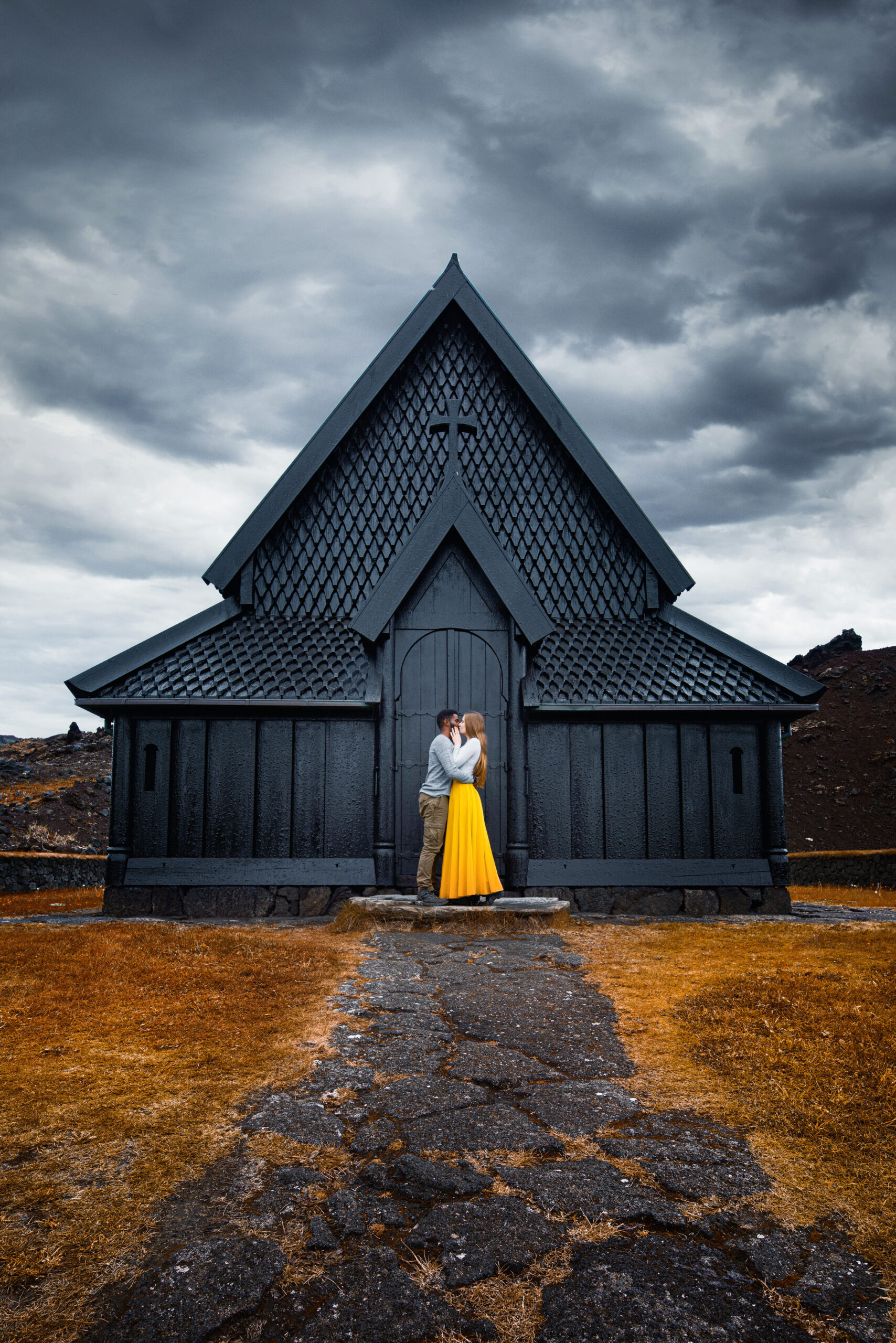 Mulagljufur Canyon
This next of the hidden gems in Iceland can also be included in the list of the best hikes in Iceland. Make sure you pack proper footwear and break in your hiking boots before your trip, because otherwise this just over three-mile round trip hike will be tough on your feet. Of course, like anything else on your Iceland itinerary, the hike will be worth it for the incredible views of Mulagljufur Canyon. With rugged cliffs, mountain vistas, and a streaming waterfall, this classical Icelandic landscape is certainly Iceland off the beaten path.
It is one of the prettiest canyons in Iceland and you really shouldn't miss this fantastic hike! It is moderate and not too difficult for beginners, but it is uphill for half the hike. I am not an avid hiker and I am able to do it so keep that in mind when considering this hike!
Mulagljufur Canyon is located just southwest of Fjallsarlon Glacier Lagoon, so with good timing, it is possible to check off both of these hidden places in Iceland in the same day. As with the lagoon, you can stay at Fosshotel Glacier Lagoon.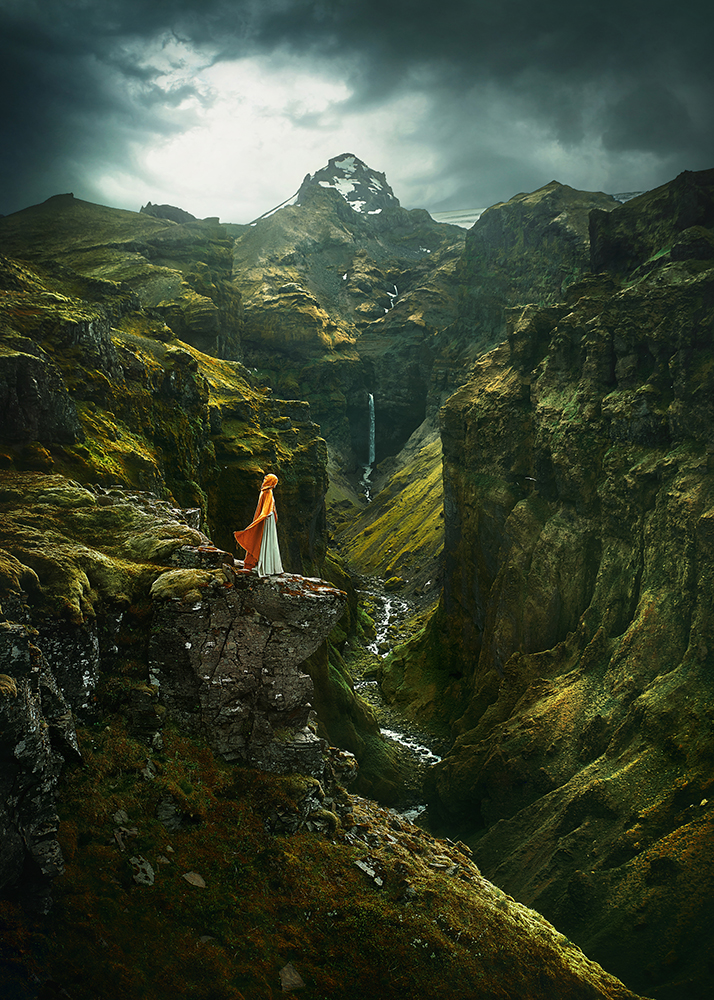 Nauthusagil Waterfall
Nauthusagil Waterfall is a magical hidden gem in Iceland that takes the word "hidden" seriously. Nestled in a rocky, moss coated ravine in the south of Iceland, this is not a waterfall you can easily spot from the road.
As arriving at this waterfall will take some time as well as scrambling over rocks, walking through water, and using ropes, you have to prepare yourself before committing to seeing this secret place in Iceland. As Nauthusagil Waterfall is beginning to get more popular, you may want to consider visiting soon to avoid too much foot traffic.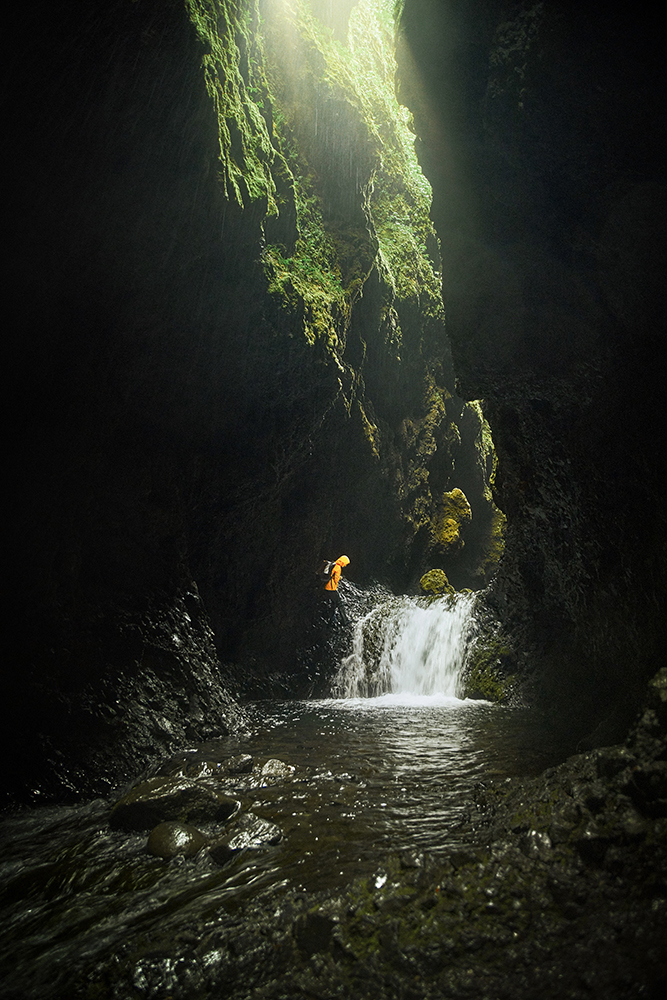 Nauthusagil Waterfall is located north of a fellow waterfall, Seljalandsfoss. Make sure to schedule at least an hour for hiking to and from the waterfall as well as additional time for posing for pictures in front of the mighty curtain of water.
Consider staying at one of the Brú Guesthouses. These atypical, square structures are lined up in a neat row in a field near Nauthusagil Waterfall.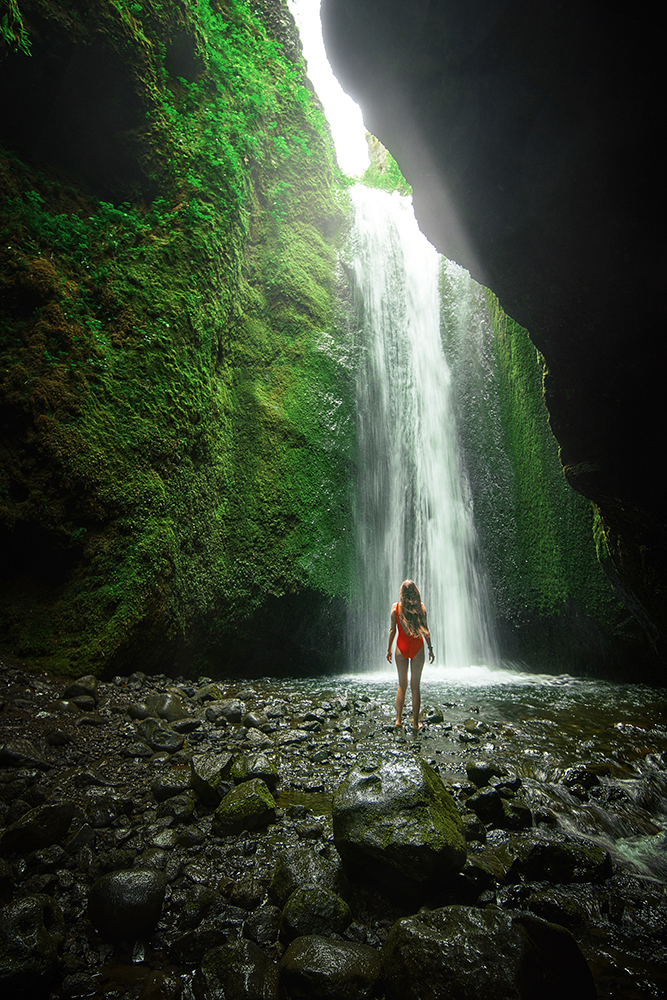 Hjorleifshofdi
Hjorleifshofdi is a large, standalone rock formation found just east of the town of Vik. With a height of about 220 meters, it is a secret place in Iceland hidden in plain sight as it is not far from the Ring Road.
While many tourists might drive by without a second thought, any Star Wars fan should take note that this is also the location of a cave known as "Yoda Cave". This nickname comes from the fact that right above the main entrance to the cave there is another opening that looks like the silhouette of a certain Jedi Master. The area around the rock was also used in the opening scenes of Star Wars: Rogue One from 2016.
Stay the night near one of the many hidden gems in Iceland as well as many other popular sites by choosing the Hotel Kria in Vik, which is a quaint town that can easily be described as one of the prettiest towns in Iceland.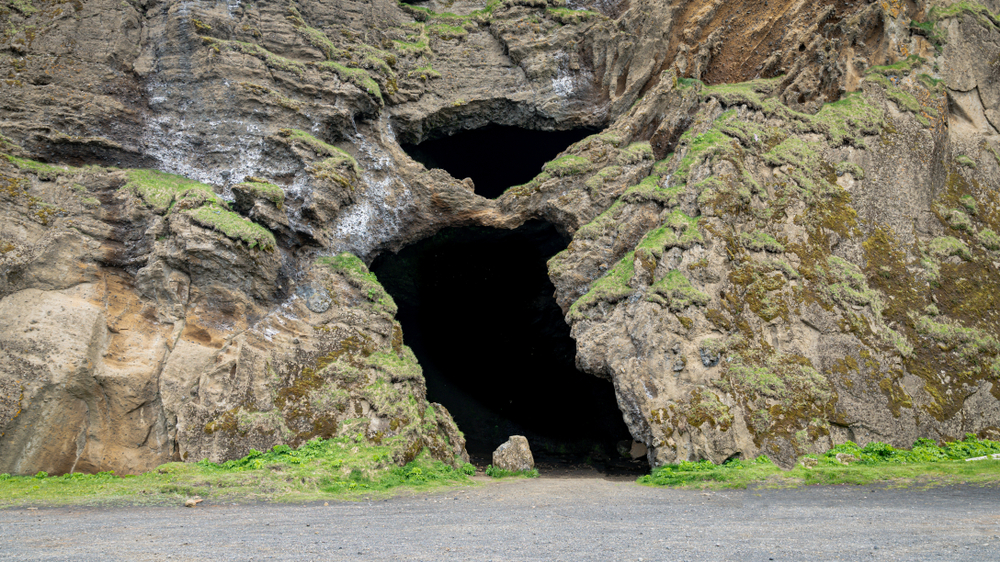 Aldeyjarfoss
Located a bit farther off the main trek than some of the other hidden gems in Iceland, it is a shame more people do not take the time to visit Aldeyjarfoss because it is truly gorgeous. This Iceland off the beaten path location is a mighty waterfall that flows into Lake Myvatn, which, like Studlagil Canyon, is surrounded by black basalt columns.
Getting to Aldeyjarfoss involves driving past the bigger and more well-known Godafoss, so it is possible to see both magnificent waterfalls in the same day. In order to get to the secret waterfall in Iceland, though, you must drive a bit farther past Godafoss onto Route 842. It is suggested you use a 4WD vehicle since the last couple of miles are an f-road. After parking in a nearby lot, you will then have a short walk to the waterfall.
Try staying in Guesthouse Hvítafell in nearby Laugar for a rest before or after conquering the two waterfalls.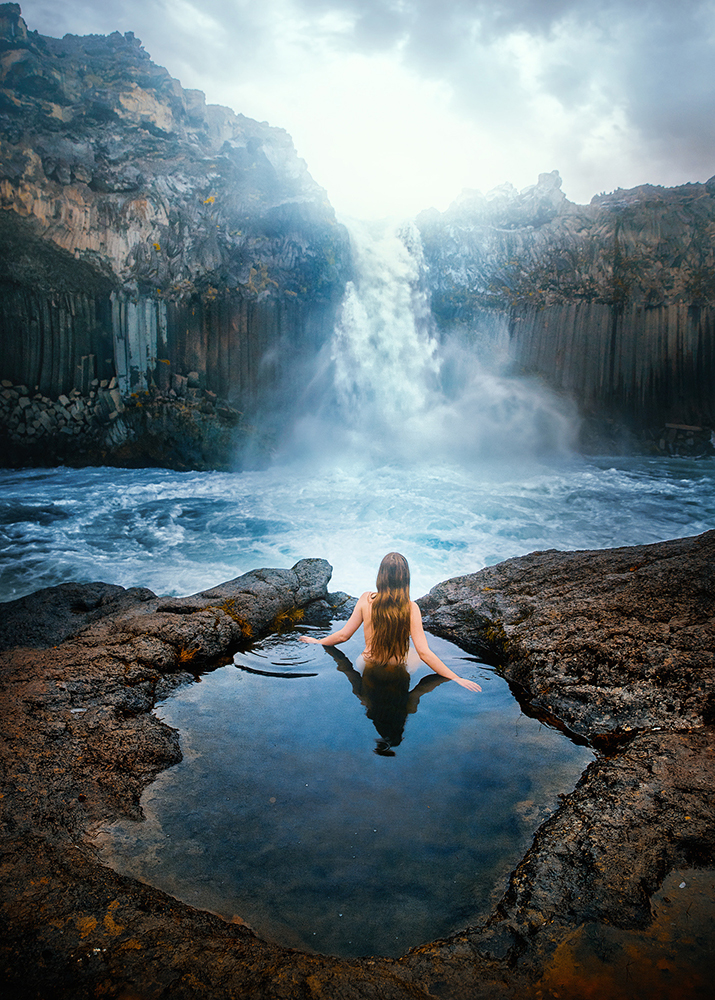 Hrunalaug Hot Spring
The next place on the list is not only one of the best-hidden gems in Iceland but is also one of the best hot springs in the country as well. If overcrowded hot springs are not your idea of relaxing than make sure to check out this secret spot in Iceland. While it won't fit a lot of people, this hot spring is perfect for couples looking for an intimate and secluded location.
Hrunalaug Hot Spring is only about an hour and a half-hour drive from Reykjavik, so it's great if you only have a few days in Iceland and don't plan on venturing too far. It is found off Route 30, south of a couple more popular areas, such as Gullfoss and the Strokkur Geyser. Try to add it to your itinerary on the same day you plan to visit these other sites.
Just around the corner from the hot spring is Icelandair Hotel Fludir if you are looking for a place to stay nearby.
Viking Village Film Set
Next up on our list of hidden gems in Iceland is an abandoned film set that was built in 2010 to resemble an old Viking village. A small fee will allow you to wander around the little, wooden, grass-topped buildings. With craggy, mountain peaks as a backdrop, this village has the potential of making a fantastic photoshoot location.
You can find this secret place in Iceland by driving east past Hofn on the Ring Road and then onto a gravel road that will lead you to the private property where this make-believe village can be found. Just south of the village, you can find Stokksnes Beach, a moody, black sand beach.
If you are really devoted to Vikings, you can even stay at the Vikingcafe. Or you can also backtrack to Hofn for a larger variety of places to stay.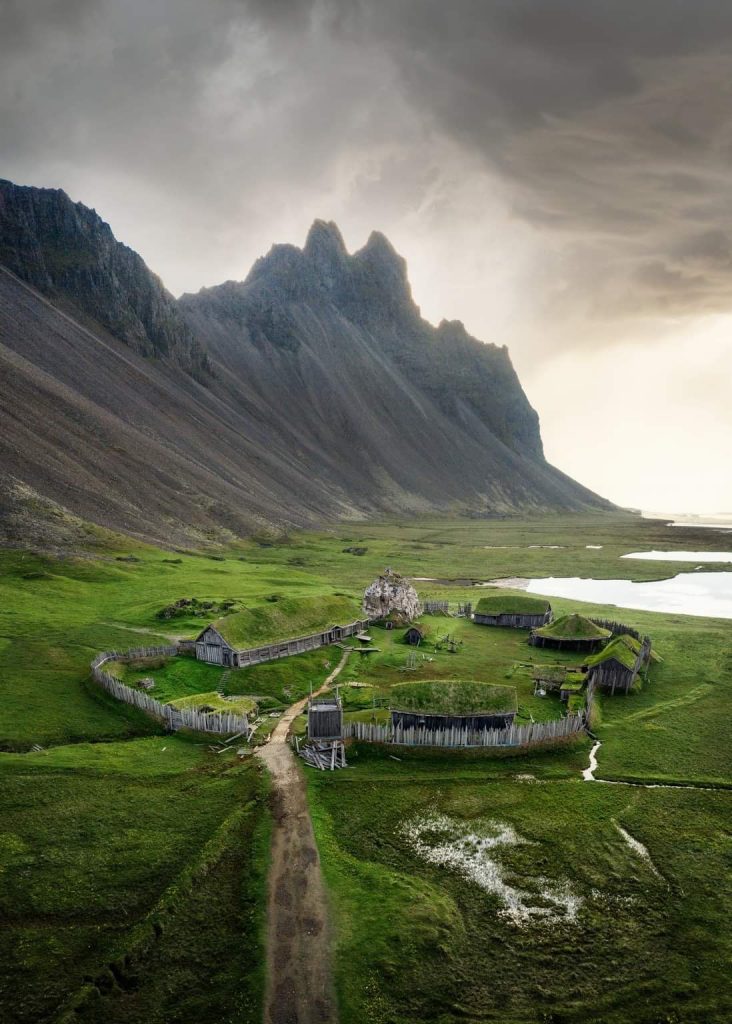 Seydisfjordur Church
In the adorable, fishing village Seydisfjordur, you will find another pretty church that makes a great hidden gem in Iceland. The pale blue church with a rainbow-painted path leading to it adds a pop of color to the town's otherwise moody scene. With mountains set behind it and trees all around, the church is simply picture perfect. The church is also open for visitors to venture inside during the summer months.
Found on the east coast of Iceland, this cute church is about 30+ minutes off the Ring Road and can be reached by driving Route 93. If time allows, you should make sure to add the Seydisfjordur Church to your Iceland itinerary. This is another sight that is seeing an upswing in visitors, so it may not remain a secret place in Iceland forever.
Even though Seydisfjordur is a small town, there are still plenty of places to stay, including Hótel Aldan, a pretty black and white building with mountain views. This stop is in a great area and actually on our list of Best Places To Stay In Iceland. In this post, we offer suggestions for where to stay around the Ring Road!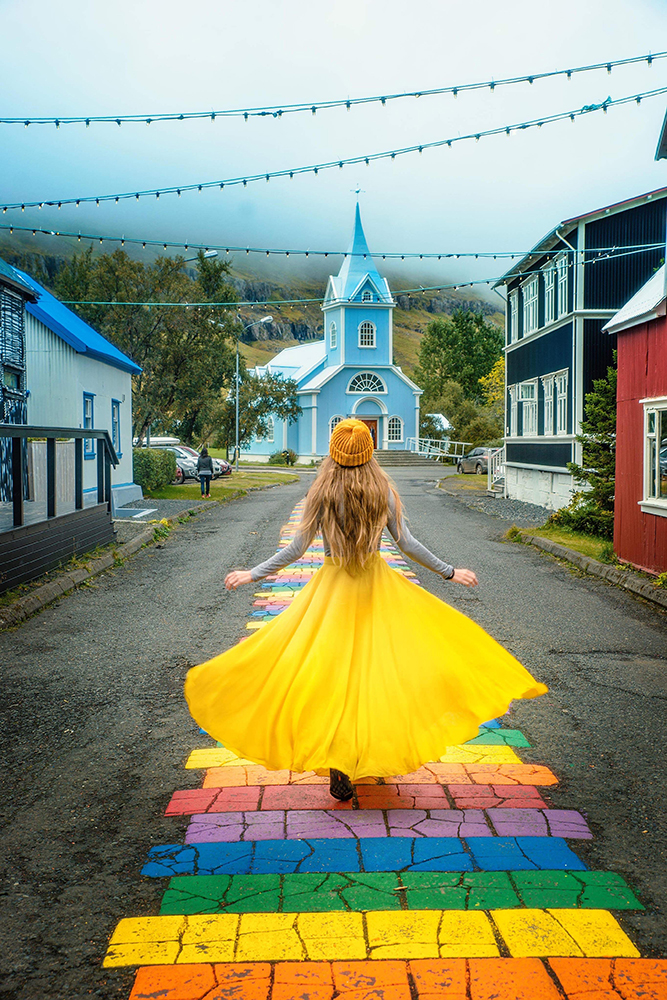 Reykjanesviti & Valahnukamol
On the southern point of the Reykjanes Peninsula are a couple more of the hidden gems in Iceland only about a 30 minute drive from Keflavik International Airport. First, there is the Reykjanesviti Lighthouse. This looming white and red building is the oldest lighthouse in Iceland and appears to be the only man-made structure as far as the eye can see.
Down by the dark, rocky shore the lighthouse warns of is the additional secret place of Valahnukamol. Here you will find dark rocks jutting out of the crashing waves of the ocean. As a perfect photo backdrop, you will not need to worry about intruding tourists as long as this beach stays one of the hidden gems in Iceland.
If you are staying in the area, think about booking the Mar Guesthouse in the town of Grindavik.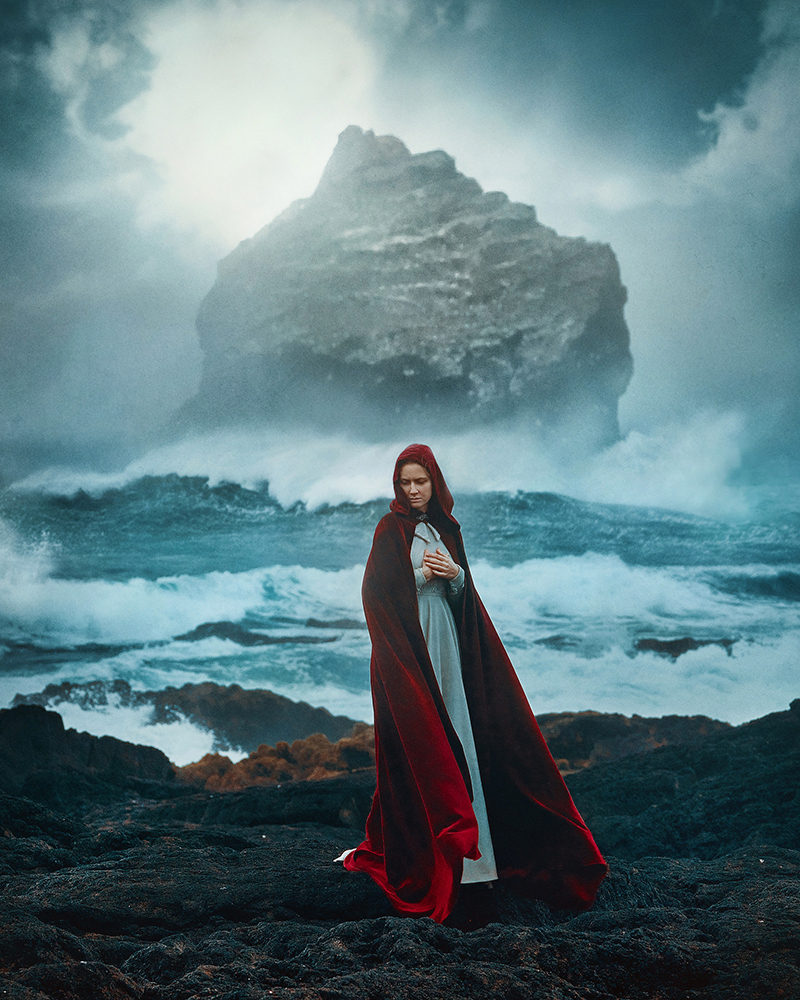 Hellulaug Hot Spring
Found in the Westfjords area of Iceland, the Hellulaug Hot Spring is another geothermal pool that makes it onto this list of hidden gems in Iceland. With a close view of the ocean, this hot spring is a great place to relax which you will need after the long drive to get there.
From the Ring Road, you will have to take Route 60, for about three hours. Once you get there, it is likely you will have the place to yourself since this Iceland off the beaten path locale is not known by many and too far out for many tourists to venture.
The Hellulaug Hot Spring is free to enjoy, though know there is no place to change. Since there is no fee or official upkeep, make sure to do your duty to leave no trace behind when you pack up after your soak so it is clean and ready for the next lucky visitor. This, of course, is something you should do at each of the locations you visit in Iceland.
After chilling in the hot water here for as long as you want, you can stay the night in Hotel West in Patreksfjordur on one of the many peninsulas that jut out into the Atlantic Ocean.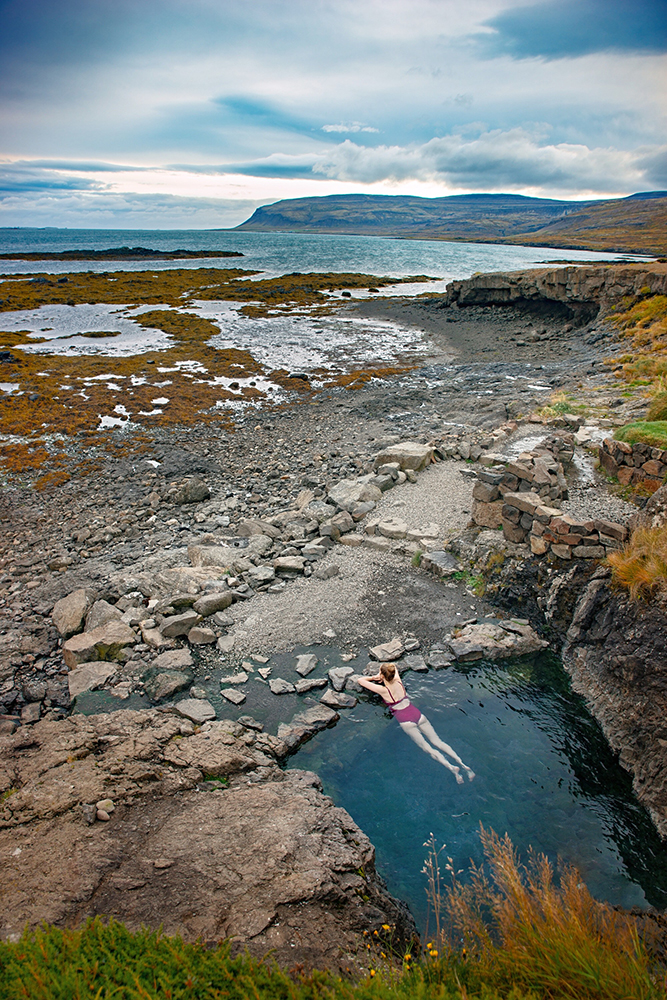 After reading these tips, we hope you have found a few unique and hidden gems in Iceland to add to your Iceland itinerary. Take time during your trip to visit Iceland off the beaten path and in the end gain a better insight into the country compared to the regular tourist. And have fun!