If you are looking to visit Hrunalaug hot springs, you are in for a real treat!
We love hot springs in Iceland and this is one of the best!
This spot is really magical and one of the prettier hot springs to add to your Iceland Ring Road itinerary!
A reason that we love Hrunalaug so much is that it is actually HOT! Many hot springs in Iceland are "warm" or not as hot as you like, this isn't the case with this lovely hot spring!
Our favorite time to visit Hrunalaug Hot Springs is during the evening after a long day of exploring!
You can watch the sun set and relax and enjoy the warmth of the water as it helps your tired legs and body!
Get a FREE printable "Hidden Gems In Iceland" E-book by joining our private Iceland Facebook Group and share your photos and ask for tips and tricks.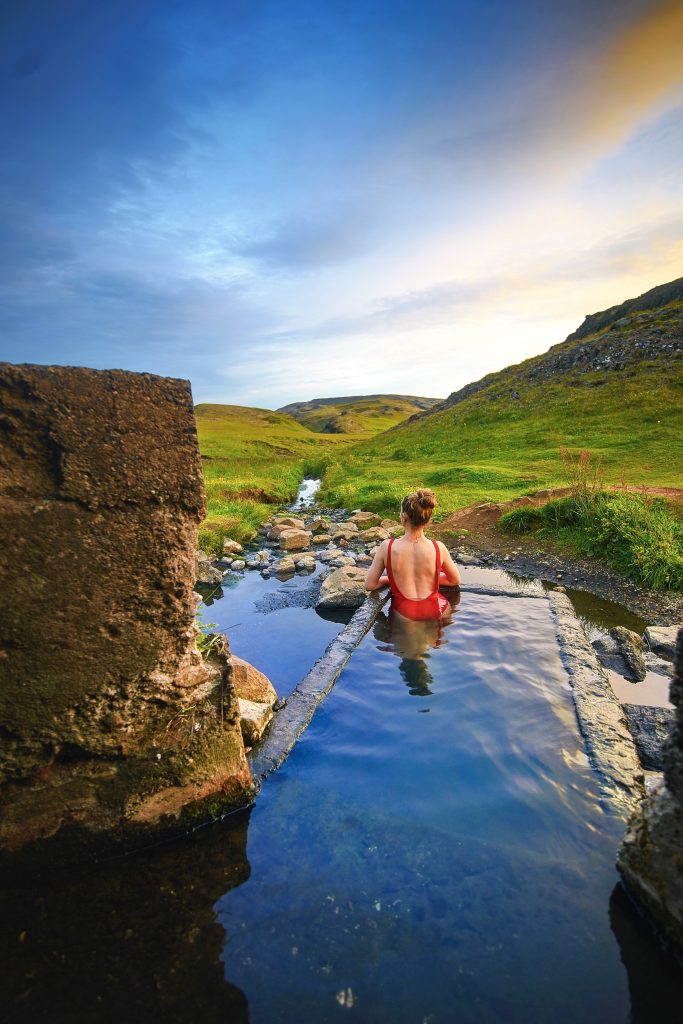 Where Is Hrunalaug Hot Springs?
Believe it or not, Hrunalaug Hot Springs is right off of the Golden Circle in South Iceland!
The Golden Circle follows Route 30 if you are driving and Hrunalaug Hot Springs is near the town of Fludir.
Just around the corner from the hot spring is Icelandair Hotel Fludir if you are looking for a place to stay nearby.
If you put Hrunalaug into Google Maps, you will see that it is literally less than 5 minutes off the Golden Circle so it is a quick yet fun detour!
It is located only an hour and a half drive from Reykjavik, so if you don't have much time you can still visit this beautiful hot spring!
Once you arrive at the parking lot, you hike for about 5 minutes to get to the spring. The hike is super easy and more of a walk so don't worry!
Click Here For Google Map Location Of Hrunalaug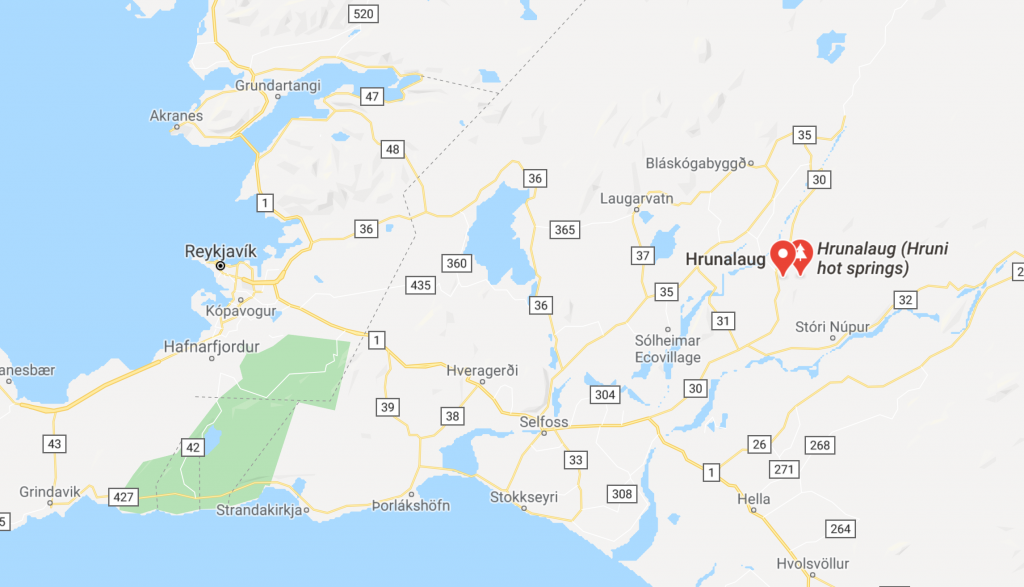 How Much Does It Cost To Visit?
Paying for your visit to Hrunalaug Hot Springs is completely on the honor system.
It is run by a local farmer who relies on the honor system fees to keep up the beautiful hot spring.
The cost of visiting Hrunalaug Hot Springs is 1000ISK or $7.50 USD.
This is a whole lot cheaper than the Blue Lagoon and instead of supporting a large business, you are supporting a local Icelandic farmer!
When you are visiting, please do NOT skip paying the fee. The fee must be paid in cash and is how the landowner keeps up the land.
If nobody pays, the landowner will have to use their own money to pay and they may close it if they don't have help taking care of this wonderful hidden gem in Iceland!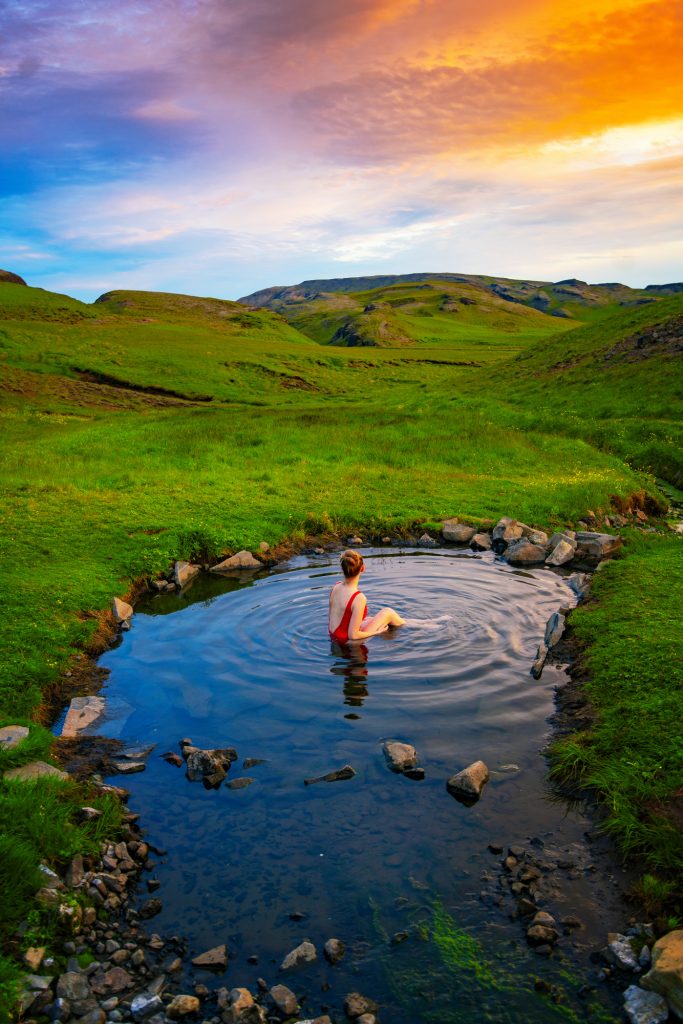 Pool Temperatures At Hrunalaug
The thing we love about Hrunalaug Hot Springs is that there are THREE different pools!
The first pool is the one you see below and it is actually an old watering trough for sheep!
This small concrete building with a turf roof also acts as your changing room. There is a small pool at the bottom with space for one person.
It is actually slightly chilly in temperature and probably around 90F which doesn't do much when it is so cold outside.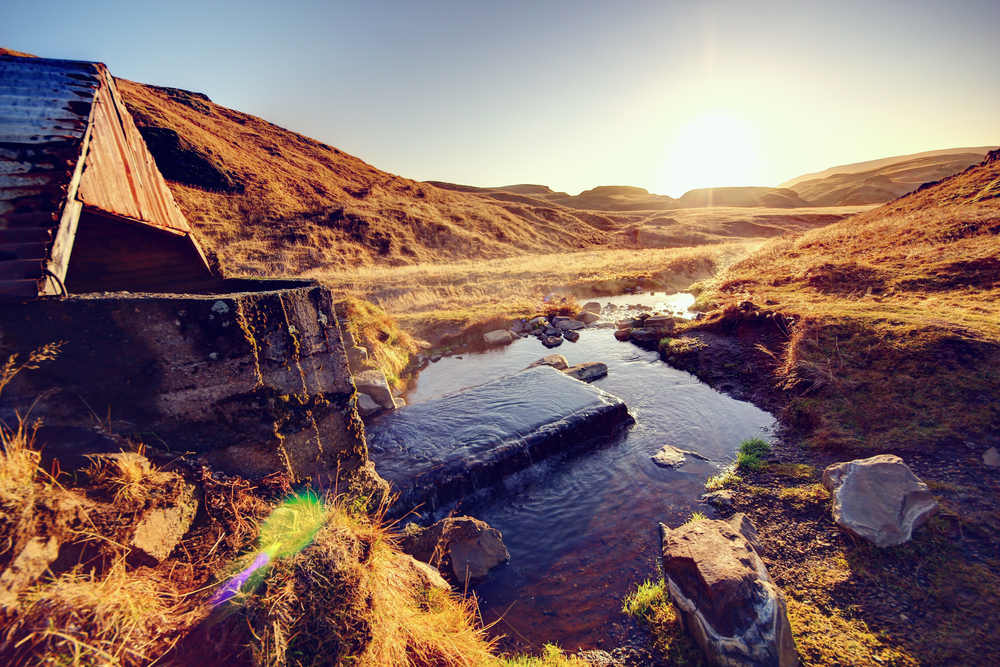 This is the pool you will most likely want to take your photo in!
Next, there is a large shallow pool filled with runoff. This is a great "warmer" pool that you can sit in or you can go into it if you need to cool off.
We do not know the temperature but this is the "mid" temperature pool. It isn't hot and it isn't cold.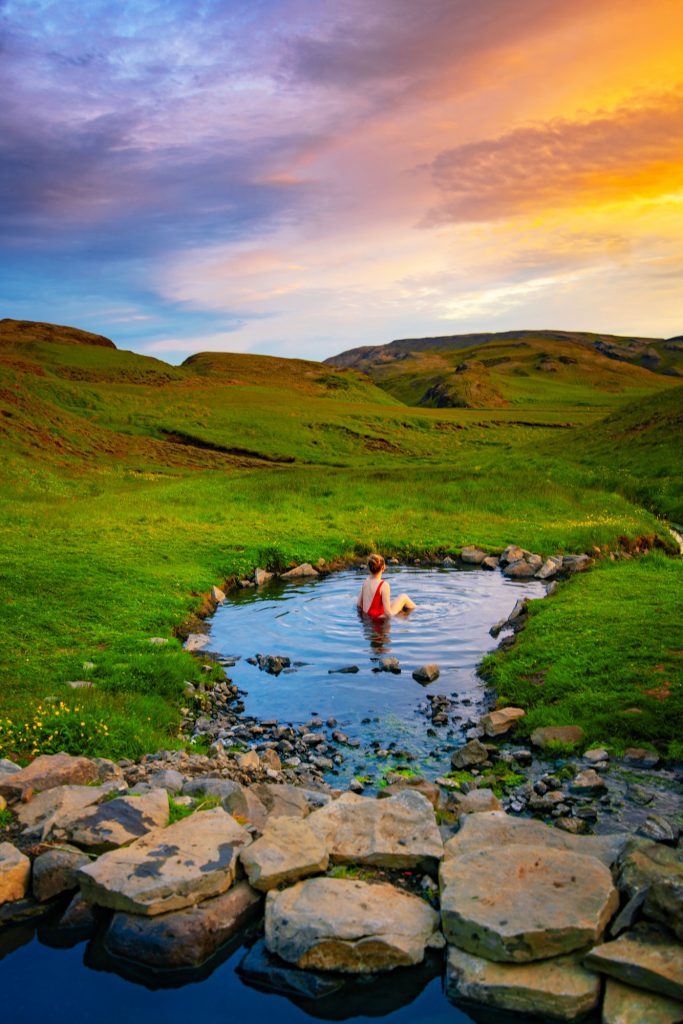 Finally, next to the building, there is a long rectangular pool. This is the best part of Hrunalaug Hot Springs!
It is 40C/104F and is the perfect temperature for soaking! It is hot enough to feel relaxed and comfortable without feeling too chilly in the Icelandic air.
This is the most popular pool at Hrunalaug Hot Springs for a good reason because it is the hottest!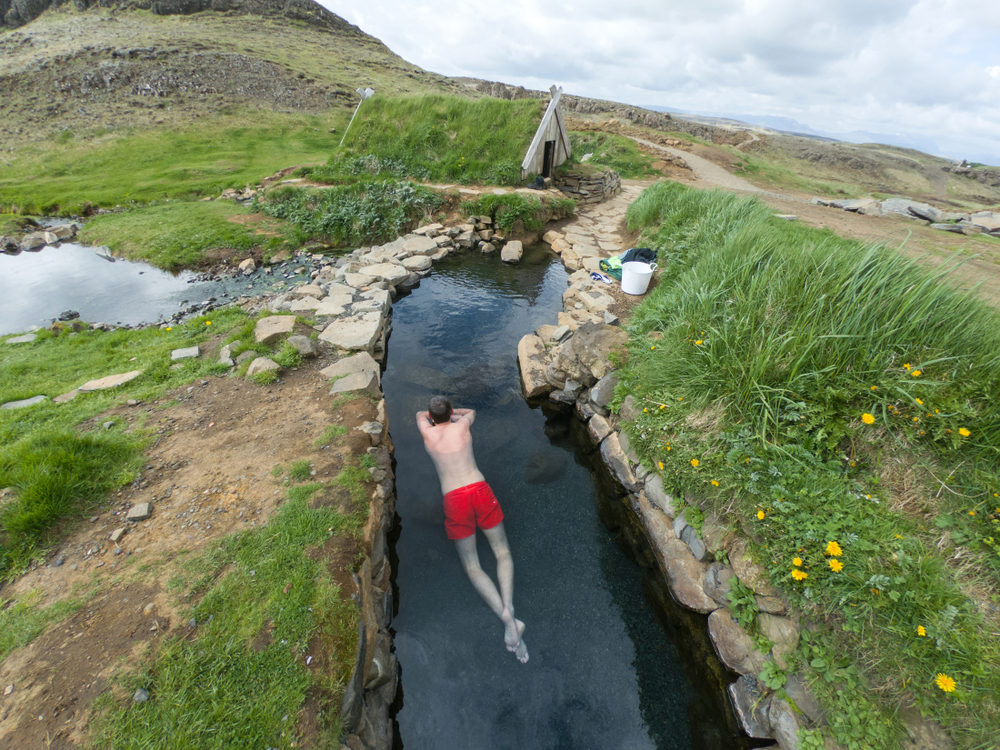 Is Hrunalaug Hot Springs Crowded?
Hrunalaug Hot Springs is located just 5 minutes off of the Golden Circle so it can be quite crowded.
It is a very small hot spring, so even 10 people will make it feel crowded.
That being said, it isn't nearly as popular as the nearby Secret Lagoon or the Blue Lagoon so if that is what you are comparing it to, you should be okay.
If you want there to be less people, go early in the morning or later at night when most people will have turned in for the night!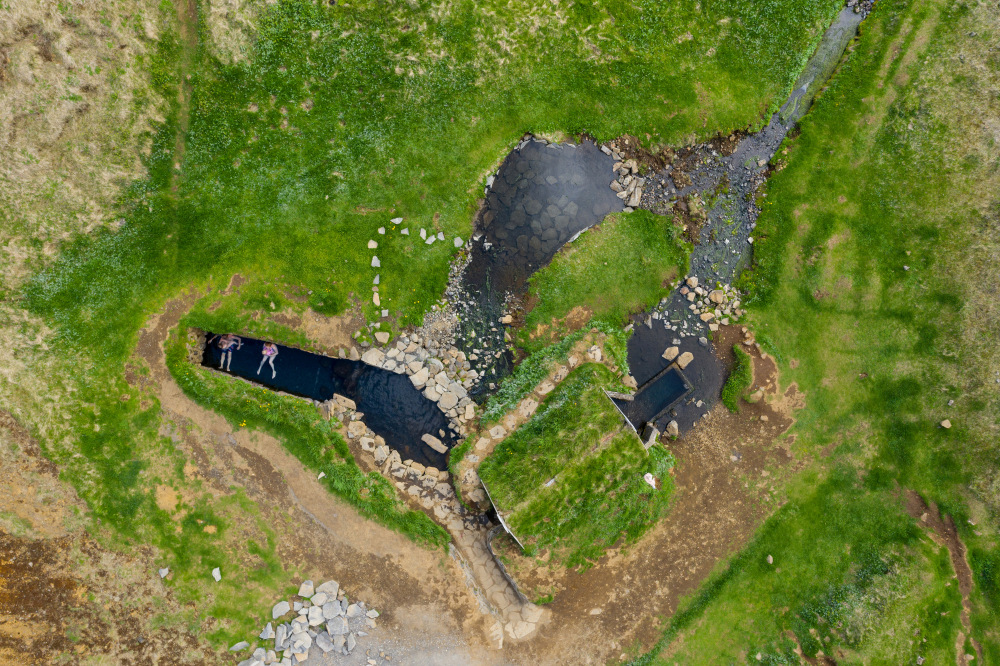 Changing Rooms At Hrunalaug
Like most hot springs in Iceland, there are no official changing rooms at Hrunalaug Hot Springs.
Your only option is the old sheep shed but even then there may be people swimming in the small pool that is attached to it.
The shed is slightly more private than many hot springs in Iceland, but it is quite musty and damp.
We recommend changing into your swimsuit in the car and then using your towel draped around you to quickly change inside the hut.
We do suggest keeping your belongings in eyesight outside of the hut so that they stay dry and safe!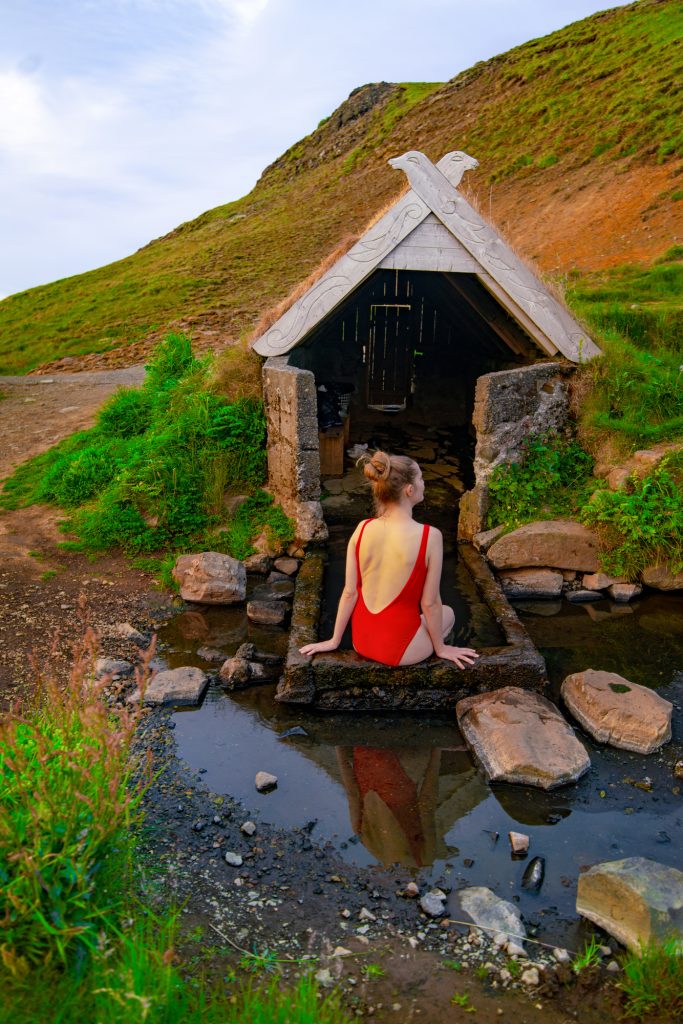 Best Practices For Visiting Hrunalaug Hot Springs
There are no trash cans or toilets at Hrunalaug Hot Springs so plan accordingly.
NEVER EVER leave your toilet paper lying around.
If you have to poop, dig a hole in the ground, go, wipe, and throw your toilet paper in a plastic bag and take it with you.
These are proper protocols for going to the bathroom outside.
Never in any circumstances should you just poop without burying it or leave your toilet paper flying about.
If possible, make sure that you go to the restroom in advance of visiting Hrunalaug Hot Springs.
There are no trash cans at the springs so be sure to pack all your trash out.
Finally, be respectful to your fellow tourists. Don't hog the hot springs for photos or play music.
If someone wants a quick photo, move out of the way out of respect, then you can go back.
Being kind to others and to the land owner goes a long way! It is one of the best places to see on your Iceland Itinerary!