South Iceland is a treasure trove of natural wonders. The South Coast makes for the perfect road trip because there are so many amazing things to see close together.
Your day can start with a soak in a hot river, and end surrounded by floating icebergs. Iceland's scenery is ever-changing and is equally impressive at all stops along the way.
From awe-inspiring waterfalls to beautiful, dramatic black sand beaches, you're in for a special taste of all the beauty Iceland's nature has to offer.
Road tripping through the south of Iceland is great for any time of year. Be sure to check the road conditions, but unlike more remote parts of Iceland, the roads along the South Coast tend to stay open almost all year long. With a few exceptions, the big tourist draws are just off the side of the road, making them easily accessible.
The southern part of the country is home to some of the best stops on the Ring Road In Iceland!
Because there is so much to see in South Iceland, we've put together a list of some of the best stops to help you plan your trip.
The list contains a combination of extremely popular tourist destinations and some lesser-known gems. Get ready to hop from one landscape to the next, eyes wide open and awestruck all the while.
To help you with your planning, we put together Where To Stay In Iceland where we break down all of the best lodging options around the Ring Road. We also have 3-Day Iceland Itinerary, 4-Day Iceland Itinerary, and 5-Day Iceland itinerary options to help you continue to plan your trip!
Now let's see where to go in South Iceland!
Get a FREE printable "Hidden Gems In Iceland" E-book by joining our private Iceland Facebook Group and sharing your photos and asking for tips and tricks.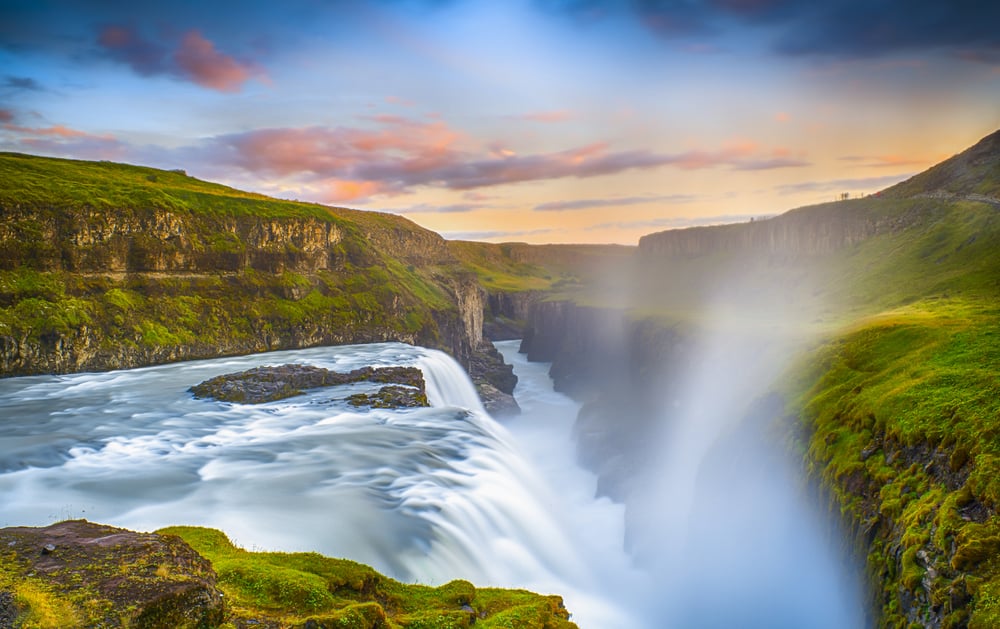 Best Iceland South Coast Tours
Unless you rent a car, the only way to really see South Iceland is by booking a tour. You can easily do a day tour from Reykjavik. This is a great way to get an introduction to this amazing region. If you need more time to explore, consider booking a multi-day tour. Letting a knowledgeable guide take over will reduce the stress of deciding what to do in South Iceland.
South Coast Classic: Full-Day Tour from Reykjavik
From Reykjavík: South Coast Day Trip with Glacier Hike
South Coast, Glacier Hike and Northern Lights Winter Tour
Iceland: 2 Day Trip Along South Coast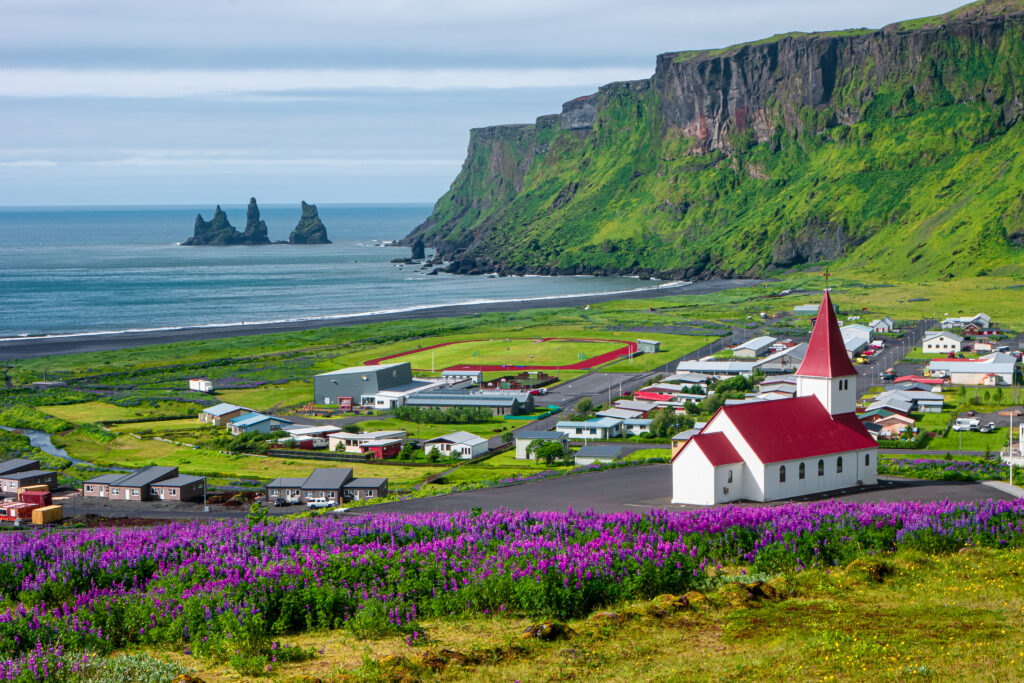 20 Best Things To Do In South Iceland You Shouldn't Miss
Seljalandsfoss
The 200-foot Seljalandsfoss waterfall is right off Route 1 (Ring Road) on the South Coast of Iceland. There is no hiking required to see this waterfall. It is just a short walk from the parking lot.
Though Iceland is graced with an endless display of stunning waterfalls, Seljalandsfoss' unique quality is it is possible to walk behind the waterfall.
A path leads from the parking lot to the front of the waterfall and then loops around the back so you get a view of the waterfall from every angle. We suggest wearing raingear, as you'll likely get a little wet, particularly on a windy day.
Seljalandsfoss is fed by the famed glacier-capped volcano Eyjafjallajokull, which erupted in 2010 disrupting air traffic across Europe. It is one of the best places to see on your Iceland itinerary!
In the summer, the area surrounding Seljalandsfoss is a brilliant green, and everything is dotted with yellow wildflowers. In the winter, when the snow turns to ice and the path is often partially closed off. The winter landscape is equally beautiful.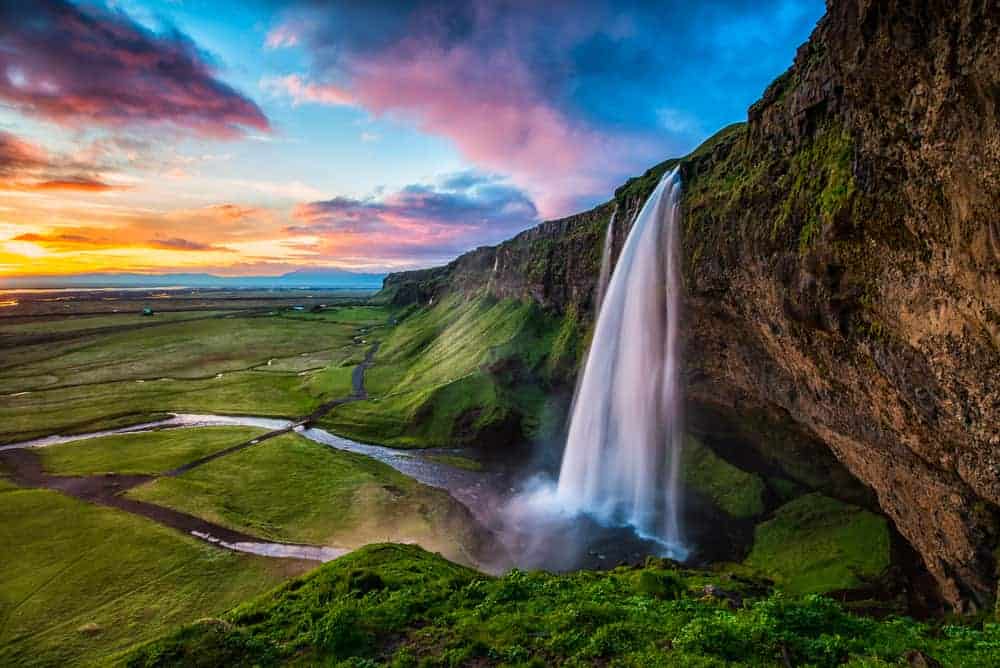 Gljufrabui
Gljufabui is often overlooked as it is slightly hidden and is smaller than its towering neighbor, Seljalandsfoss. But since Gljufrabui is within walking distance of Seljalandsfoss, you do not want to miss out on this South Coast hidden gem.
After Seljalandsfoss, head to the right (if you're facing the parking lot), and walk to the campgrounds until you see a sign for the waterfall and a cavern with a river. To get to the waterfall, you'll have to walk through the river, so be prepared with waterproof boots or a change of shoes.
Once inside, you'll be greeted with a beautiful waterfall that looks as if it's pouring through a skylight in nature's ceiling. There's a giant boulder in the middle of the cavern, which is easy to climb and perfect for taking pictures.
It's also possible to view the waterfall from above. The pathway up the hill is steep though. Particularly after it rains, the path also becomes muddy and slippery, so if you go this way, use caution.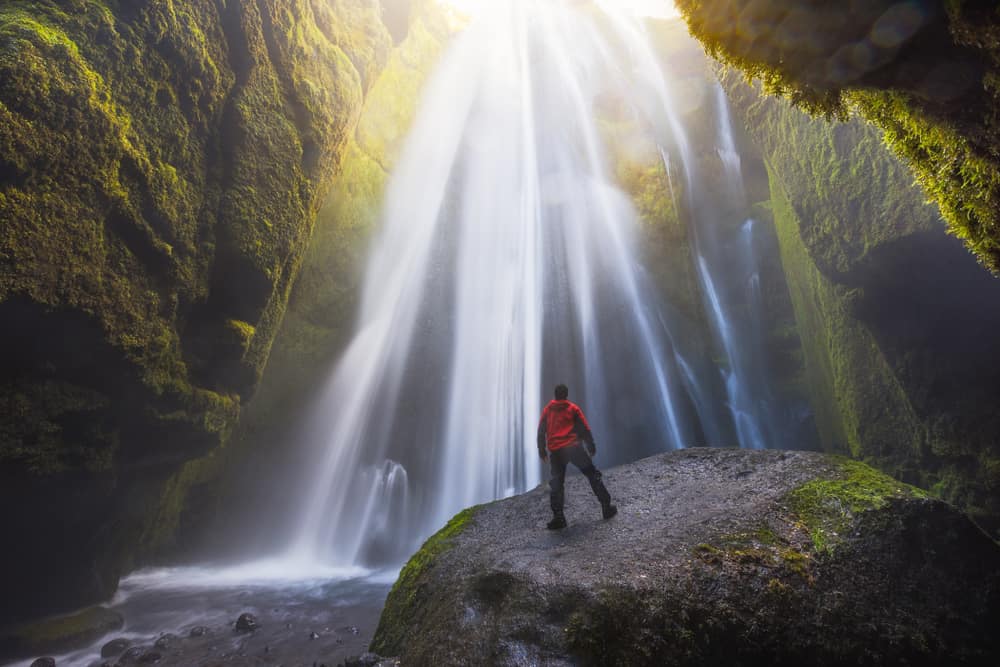 Skogafoss
Located in Southern Iceland a little further down the coast, Skogafoss is just a 25-minute drive from Seljalandsfoss and Gljufrabrui. It is also visible from the road and is easily accessible from the parking lot. At 197 feet, Skogafoss is roughly the same height as Seljalandsfoss but its width is an impressive 82 feet.
The Skoga River flows along a wide, pebbled path leading right up to the waterfall. The path is flat and easy to walk. The waterfall is forceful, and you will get unrelentingly sprayed as you approach it.
But the feeling of standing that close to such a powerful force of nature is incredible. You might even see a rainbow on a sunny day, adding its finish touch to an already stunning waterfall.
After you've spent some time appreciating the enormity of the waterfall from its base, you can climb the steps to view the waterfall from above. There are a little over 500 stairs to the top of the waterfall.
It is definitely a quad workout, but the view is worth it. From the viewing platform, you can see the Skoga River which flows to the top of the waterfall before plummeting over the edge.
After viewing the waterfall from above, most people head back down the staircase to the parking lot. However, there is a hiking trail that follows the Skoga River back into the valley, and it's filled with additional waterfalls if you're up for a long, extended day hike.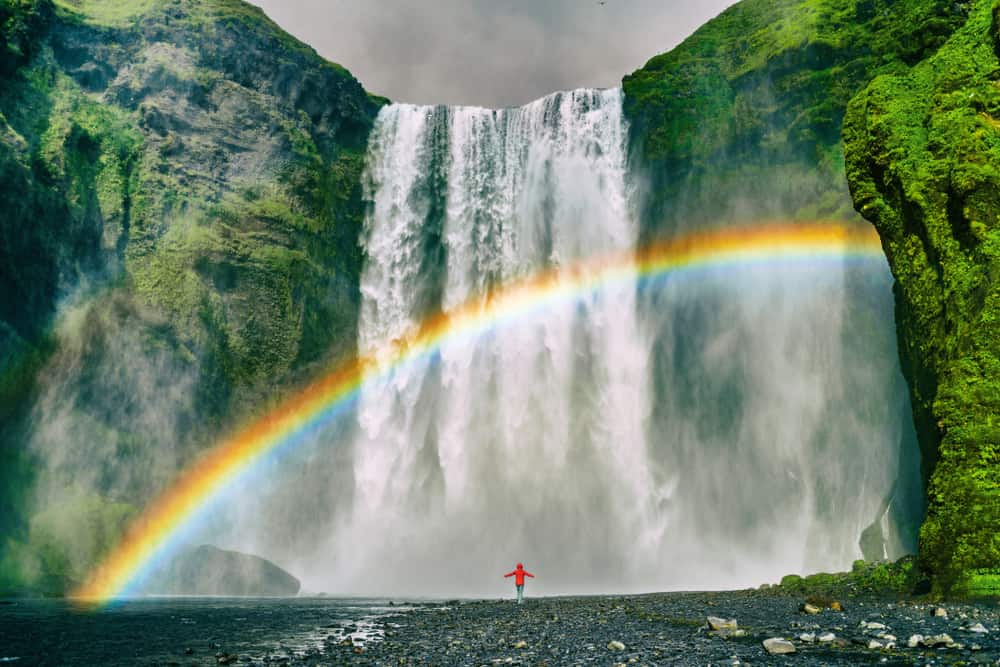 Kvernufoss
Right next door to Skogafoss is the waterfall Kvernufoss. This is one of South Iceland's less frequented gems. Fewer tourists know of its existence, but it's certainly not lacking in beauty.
To get to Kvernufoss, you'll take the same exit off the Ring Road for Skogafoss, but instead of following the signs to the left for Skogafoss, continue straight down Skogar to the end of the road and turn right.
You'll park near Hotel Edda and climb a short ladder over a fence into the valley. It takes about 10-15 minutes to reach the waterfall. The walk is comfortable, requiring very little in the way of elevation gain or rocky terrain.
The waterfall is similar in looks to its neighbor, Seljalandsfoss. Unlike Seljalandsfoss, it is not possible to walk all the way behind Kvernufoss, and at 98 feet, it is also much smaller. The path ends right up alongside the waterfall and provides you with plenty of excellent viewing spots.
Though the path is easily navigated in the summer months, in the winter, it is often covered in ice and can be dangerous. Bring crampons to stabilize your feet on the slippery ground and exercise caution.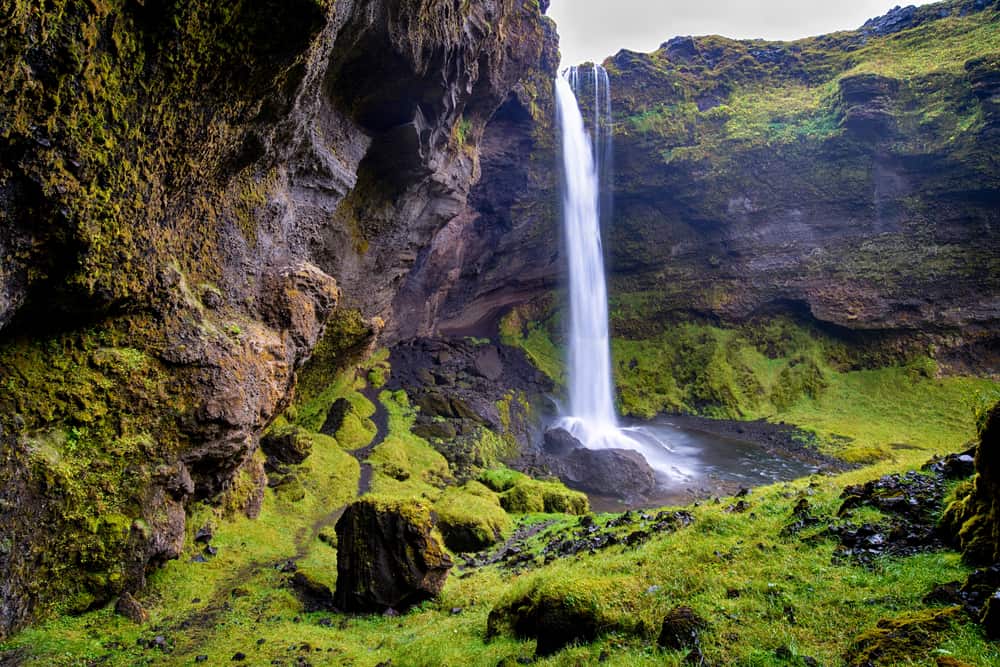 Haifoss
Right on the edge of the highlands in South Iceland sits Haifoss, an impressive 400-foot waterfall. It is one of the highest waterfalls in Iceland. Haifoss thunders down right next to its partner waterfall, Granni (which translates to neighbor).
Though Granni's flow is slightly less powerful, the two waterfalls side by side is a sight to behold. Haifoss itself eclipses most other waterfalls you'll see in your lifetime. The two waterfalls are located in a gorge created by the Fossa River.
It is possible to hike down to the falls if you have the time, but the view from the top is incredible, and easily accessible from the parking lot. You can walk along the edge of the gorge taking in the waterfalls from multiple viewing points.
In winter, Haifoss is usually inaccessible unless you are driving there in buses or jeeps designed for winter weather and icy gravel roads. Don't attempt the drive unless you are in an appropriate vehicle. Even in summer, the gravel roads are rocky and full of potholes and require slow driving.
Because of the distance from the more popular Golden Circle stops along the South Coast and the rockiness of the road, the gorge is never crowded, and there's always plenty of time and room to take pictures.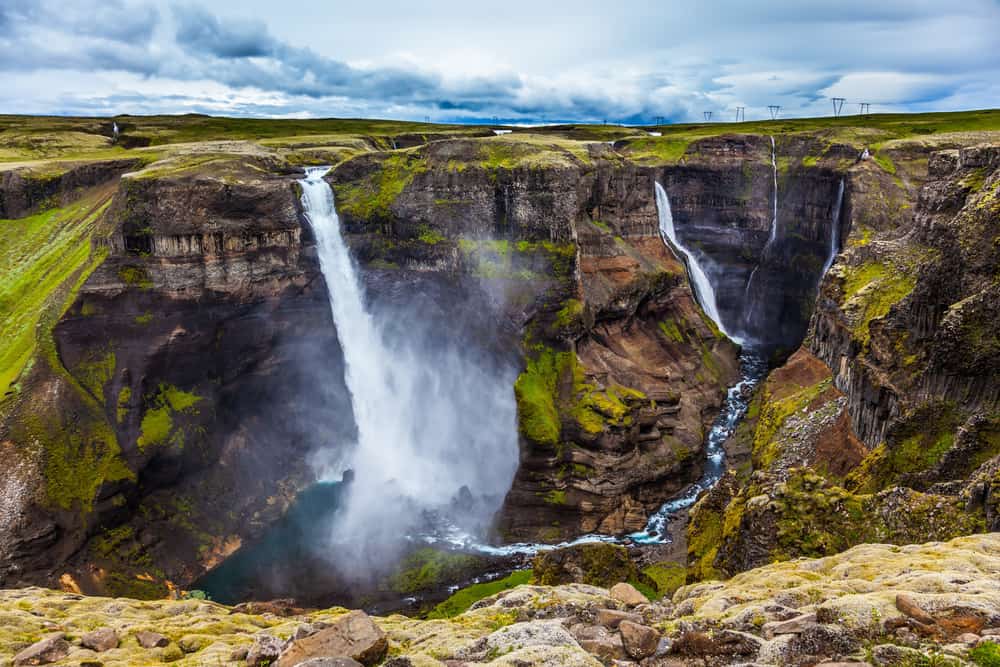 The Golden Circle
The Golden Circle is one of Iceland's most famous and heavily trafficked tourist routes, and for good reason.
This South Iceland road trip hits three major stops; Thingvellir National Park, Gullfoss Waterfall, and Strokkur geyser. Other stops such as Kerid crater and the Secret Lagoon can be added to your Golden Circle itinerary as well.
Unlike most of the other Southern Iceland recommendations, these major stops are not located along the coast. However, they are still easily accessible as part of a longer South Iceland road trip or visited by themselves as a day trip.
Thingvellir National Park is a UNESCO World Heritage Site where Iceland's first parliament was formed back in 930 AD. It is also the site of a giant rift valley that marks the meeting of the North American and Eurasian tectonic plates.
Between the impressive rift valley, unbelievably clear waters, and Oxararfoss Waterfall, Thingvellir National Park rightfully earns its spot among the best that South Iceland has to offer.
Strokkur is an amazing geyser that erupts at 5-7 minute intervals. Crowds of tourists gather around Strokkur in anticipation of its burst of water and steam shooting up into the air.
This South Iceland road trip is completed with a trip to Gullfoss Waterfall. In the summer months, it is common to see a rainbow arching over the waterfall, earning it the name Golden Waterfall.
Though Iceland spoils you with an abnormally large number of impressive waterfalls, Gullfoss is rightfully among the top. The waterfall has both upper and lower viewing platforms, and we suggest spending some time at both.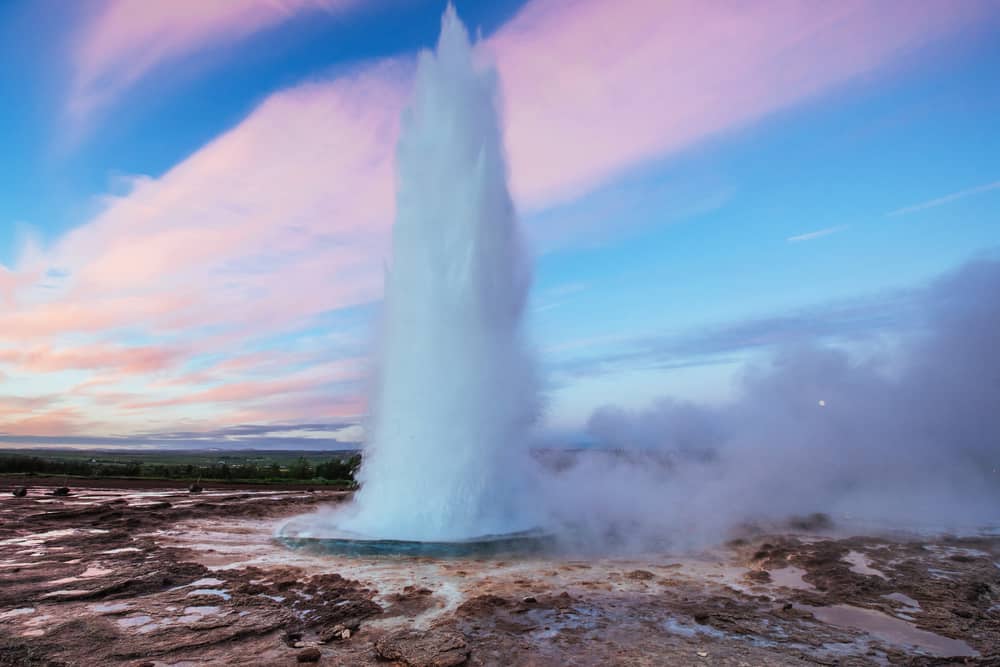 Reykjadalur Hot Springs
If you've ever wanted to bathe in a hot river right in the middle of nature, you should make Reykjadalur Hot Springs a part of your South Coast itinerary.
Just 45 minutes from Reykjavik, Reykjadalur Hot Springs is the perfect day trip from the capital. The well-maintained trail to the hot springs is roughly 45 minutes to an hour and is easy to moderate with steep sections.
As you approach the hot springs, you'll be greeted with the distinct smell of rotten eggs, which is attributed to the sulfur in the boiling water surrounding the hot springs.
When you reach the part of the river that is safe for bathing, you can change on a wooden platform with partitions. Privacy is lacking, so be aware.
Arrive in the early morning or late evening (when you can enjoy the midnight sun) to avoid the biggest crowds. There is nothing quite like bathing in a river surrounded by stunning nature, and you'll no doubt be glad you made this stop to kick off or end your South Iceland road trip.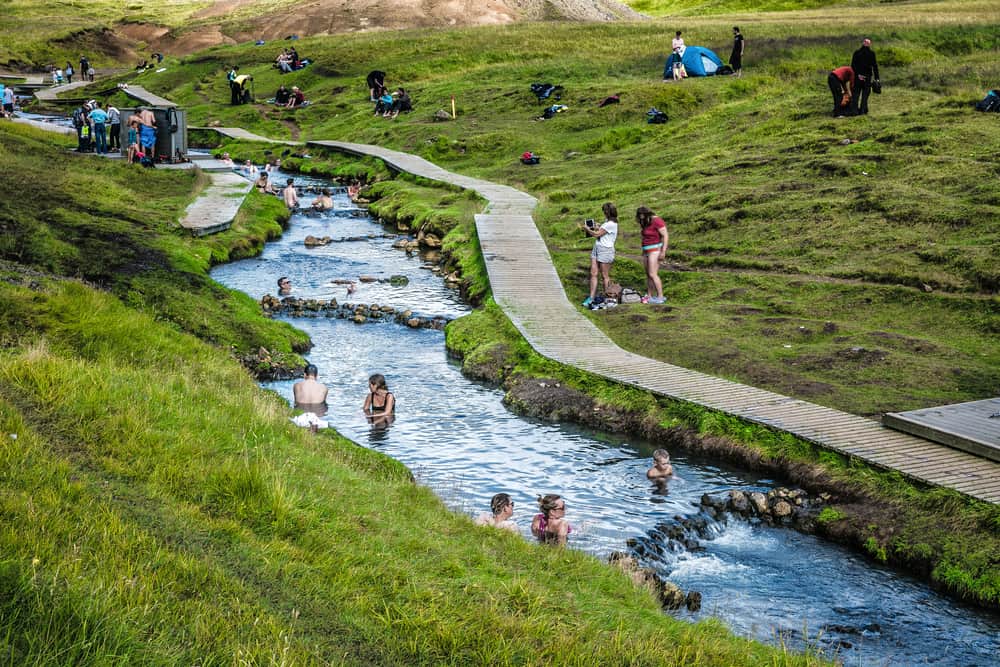 Reynisfjara Black Sand Beach
One of the more famous stops along Iceland's South Coast is Reynisfjara Beach, known for its signature black sand and towering basalt columns. This beach is among Iceland's most impressive black sand beaches and was even featured in the TV show Game of Thrones.
There are so many incredible spots along the beach to enjoy. However, you should be aware that the beach is developing a reputation for its large sleeper waves. Be aware and don't get too close to the water.
There is an impressive collection of rock formations, including the cliff of basalt columns that seem to rise out of the sand. This is a prime photography location, and you'll see many tourists climbing the uneven columns to pose for a picture.
When facing the roaring Atlantic Ocean, to the left are the Reynisdrangar rock formations. These pointy basalt pillars rise straight out of the ocean, like man-made sculptures in the water. To the right is the Dyrholaey rock formation, an arched bridge-like formation with a large hole in the bottom. This is truly one of the best things to do in Vik!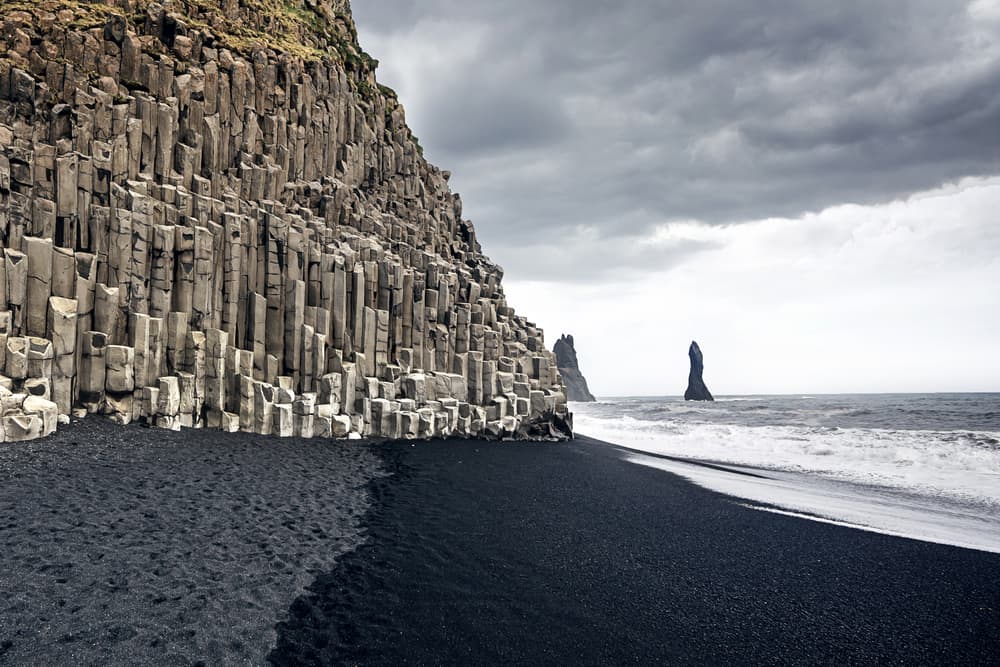 Jokulsarlon Glacier Lagoon
Though the Jokulsarlon Glacier Lagoon is a 5-hour drive from Reykjavik, it is well worth the trip. This Southeast Iceland stop is so vastly different from anything else you'll have seen along the rest of the coast. Located in the east part of South Iceland, Jorkulsarlon is a stunning lagoon filled with floating icebergs.
The lagoon is ever-changing as the surrounding glacier continues to melt, and new ice blocks fall. During the summer, you can take a boat tour through the lagoon and get an up-close view of the icebergs.
All year long you can view the lagoon from the shore, walking along its edge to see the icebergs from varying angles. The enormous glacier looms large in the background.
Across the street is a black sand beach called Diamond Beach. It sets itself apart from other black sand beaches like Reynisfjara Beach because the entire beach is covered in clear, sparkling ice.
Pieces of the icebergs floating in the glacier lagoon break off and wash ashore, scattering themselves around the beach. The contrast of the black sand against the clear ice is striking and makes for some powerful photographs.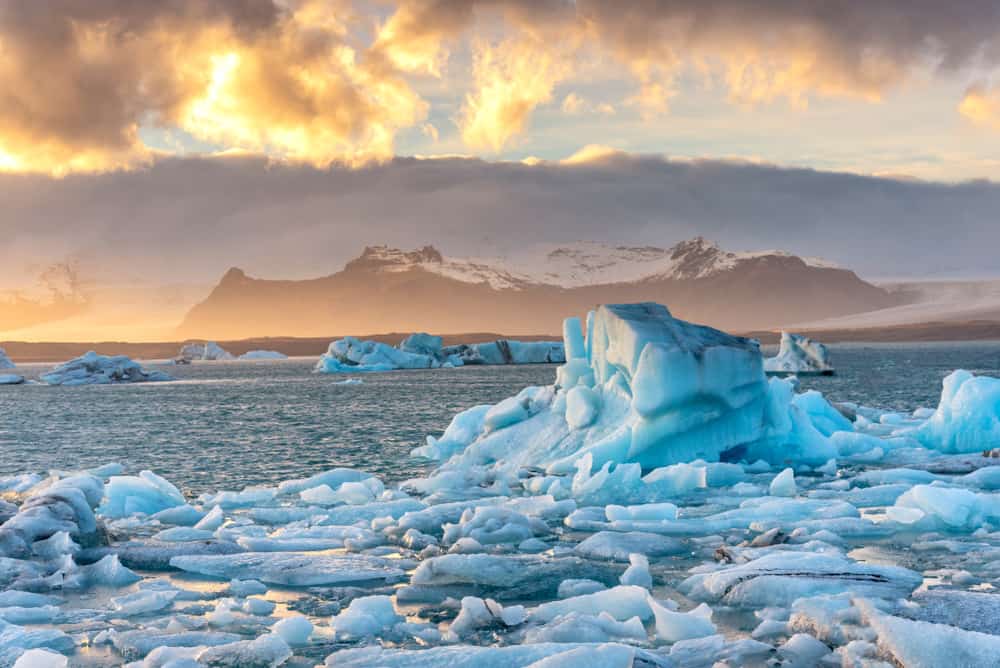 Solheimasandur Plane Wreck
This popular South Iceland tourist destination is the result of a DC-3 U.S. navy plane running out of fuel and crashing on Solheimasandur Beach in 1973.
Fortunately, everyone survived, but the body of the plane was abandoned, making it one of the best places to see in South Iceland. The parking lot to access the plane wreck is only 10-minutes down the South Coast Ring Road from Skogafoss Waterfall.
The white wreckage of the plane is in sharp contrast with the black sand of the beach, and together they make for hauntingly beautiful photographs.
On the Ring Road, you'll come across a large parking lot designed for visitors to the Solheimasandur Plane Wreck. Though at one time you could drive right up to the plane wreck, you now have to walk 2 miles from the parking lot.
The path is flat and relatively easy but will take you roughly 45 minutes to an hour each way. There is very little to see besides a vast expanse of rocks and black sand, and on a windy day, the walk can be particularly frustrating, as you have to fight the wind resistance as well.
The plane doesn't come into sight until the very end of your walk. Get your camera ready, and be prepared to photograph the wreckage. There are a lot of tourists and slim windows for getting pictures without other people in them.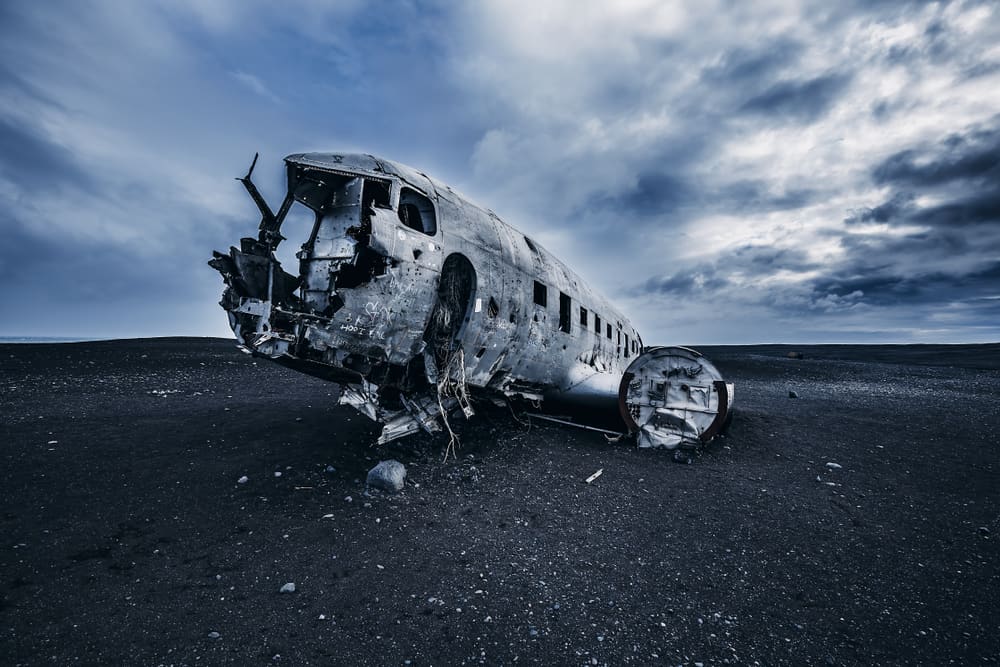 Sky Lagoon
If you are looking for a place to unwind and relax, look no farther than the Sky Lagoon. Found in Reykjavik in Southwest Iceland, this high-end hot spring is a rival to the iconic Blue Lagoon.
The seven-step Sky Ritual with take you through an amazing spa treatment that involves a sauna, a cleansing scrub, steam, and more. You will be so incredibly relaxed afterward.
The hot spring portion of your trip will be very memorable as well. The pool is a mix of nature and Nordic culture with large, rugged rocks surrounding the water and creating little nooks for privacy. There is even a waterfall!
The infinity pool brings you jaw-dropping views of the ocean. In the winter, you might even spot the Northern Lights. Another place to enjoy from the water is the swim-up bar where you can grab a drink. There is also a sit-down café and bar.
While this is one of the best things to do in South Iceland, it is also one of the more expensive attractions. However, if you are able to work it into your budget, you will not be disappointed. Don't forget to check out our Tips For Traveling Iceland On A Budget!
Book Here: Sky Lagoon: Sky Pass with 7-Step Spa Ritual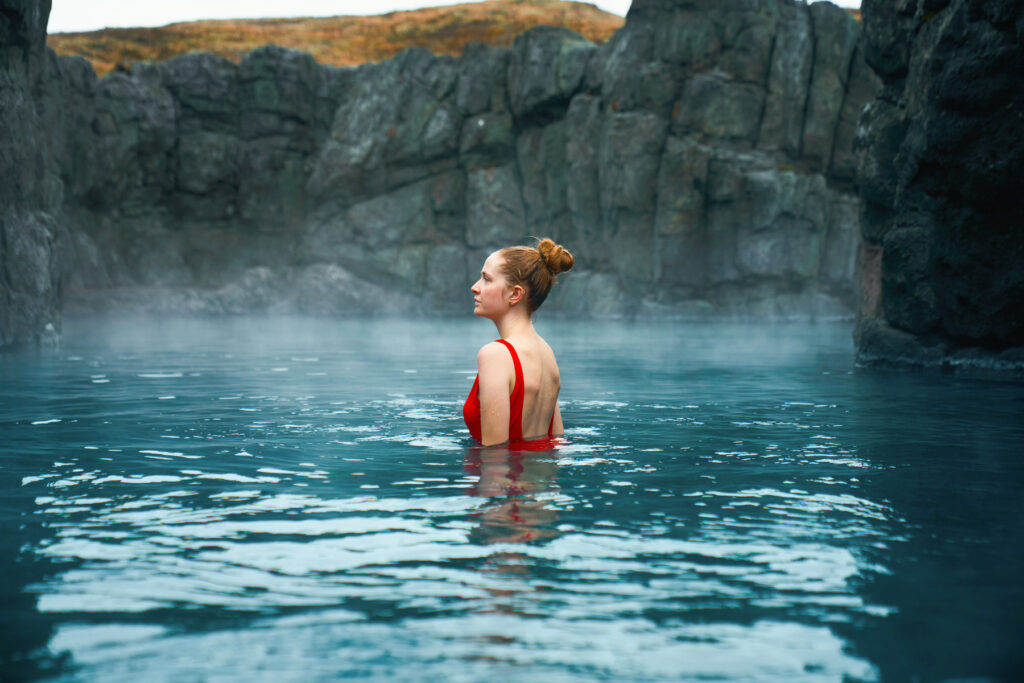 Seljavallalaug Swimming Pool
The Seljavallalaug Swimming Pool is another amazing hot spring on the South Coast, but it is farther from the city. It will take a two-hour drive and a twenty-minute hike to reach the oldest pool in Iceland.
While it is a famous and scenic hot spring in Iceland, it might not live up to your expectations. The pool is not the hottest at about 68 to 86°F and the changing rooms can be dirty. Do not be surprised to find algae in the water.
Even so, the pool is super photogenic and the historical aspect makes it interesting too. It was built in 1923 and was once where locals learned to swim.
Today, tourists take advantage of the free price to take a dip in a pool nestled among mountains. Make sure to leave no trace and pack out all your trash.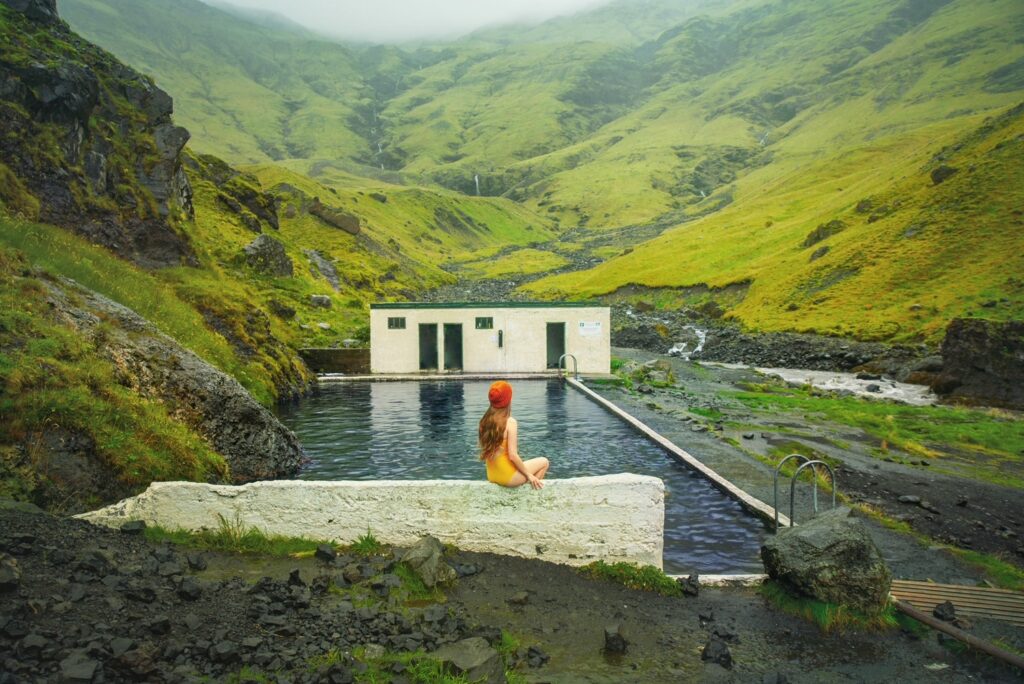 Solheimajokull Glacier
Solheimajokull Glacier is one of the best places to visit in South Iceland to see the raw power of nature up close. This natural wonder is easily accessible and is just a short drive from the Ring Road. Don't forget to check out our tips for Solheimajokull Glacier!
A short walk from the parking lot with lead you to gorgeous views of the glacier. If you want to get even closer, you can book a glacier hiking tour. You cannot go without a guide. Trained experts will provide the equipment you need and lead you safely across the ice.
This is an amazing and unique experience for your South Iceland trip. Try to go to the Solheimajokull Glacier as soon as you can since it is shrinking more and more each year due to climate change.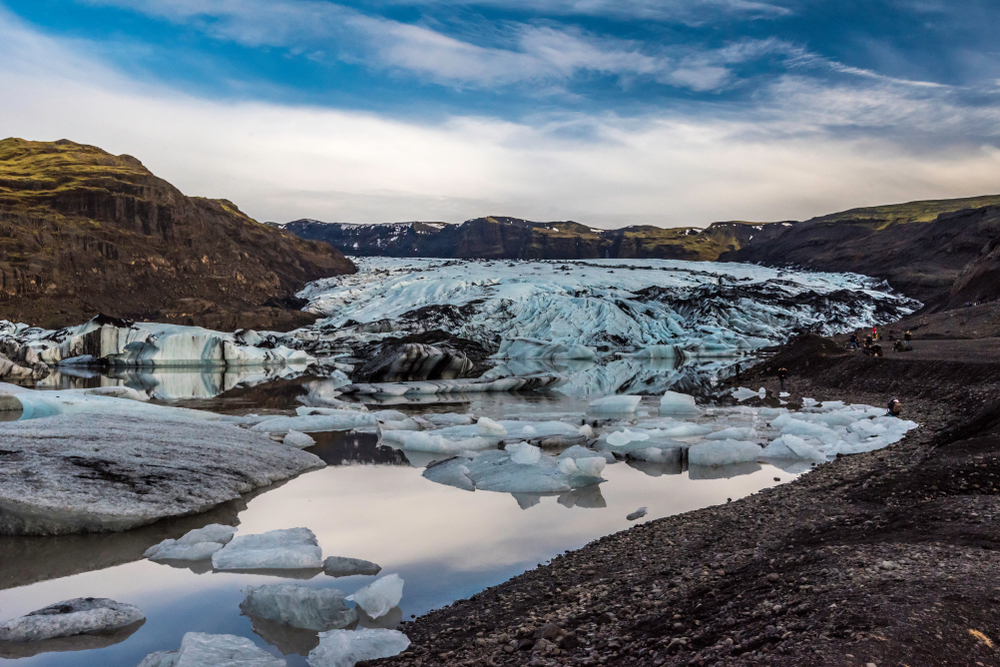 Dverghamrar
Dverghamrar, also known as the Dwarf Rocks, is a unique hidden gem on the South Coast. This is one of the places in Iceland that perfectly combines nature and local folklore.
Legend has it that dwarves live in the short basalt cliffs throughout the valley. You might even hear the dwarves singing from their homes. Isn't that interesting?
This is a beautiful area to explore, especially in summer when it is lush and green. There is also a waterfall nearby called Foss at Sída adding even more magic to the scenery.
Dverghamrar is just off the Ring Road near the small village of Kirkjubaejarklaustur. Even though it is just a couple of minutes' walk from the main tourist road, it is not a popular spot to stop, and you might get the landscape to yourself. This is perfect for a photoshoot!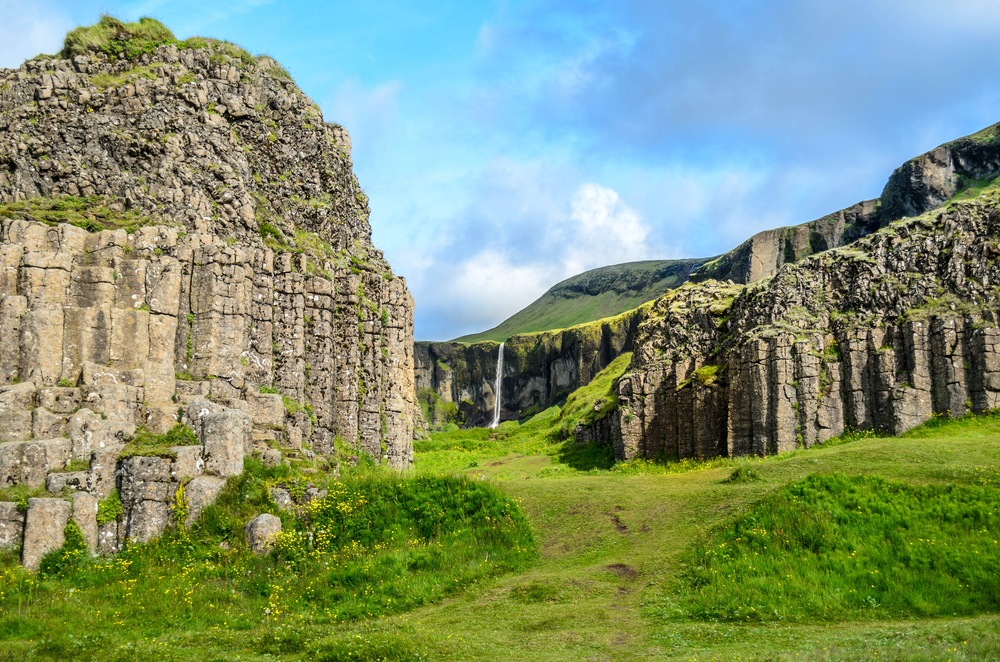 Dyrholaey
Dyrholaey is an interesting and photogenic sea arch next to the Reynisfjara Black Sand Beach. If you are looking for amazing, sweeping views, this is where you can find them.
To get to the peninsula's viewpoint, you'll have to drive a gravel road and a 4×4 is recommended, especially in winter. This open area is super windy, too, and it can get cold. Even so, it is a spectacular spot for photography with panoramic views.
If you love lighthouses, the blocky Dyrholaey Lighthouse stands nearby to protect ships and is great for a photo as well.
This is also a great place to spot sea birds. Puffins are especially popular and cute. Bring binoculars or a telephoto camera lens to see them close up on the cliffside.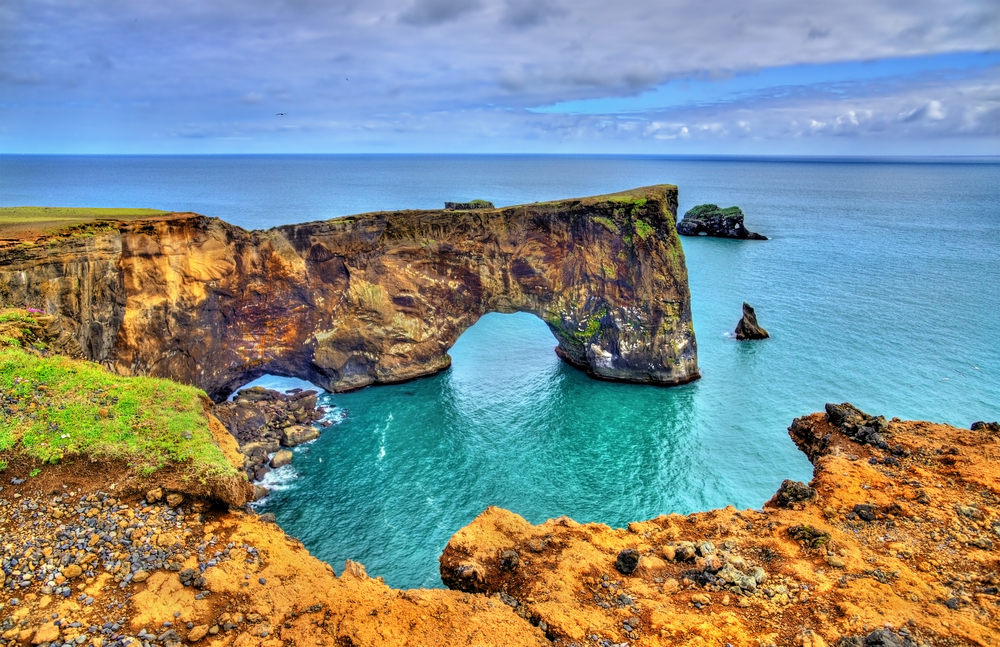 Þakgil
Þakgil, or Thakgil, translates to "Roof Canyon" and looks like a landscape out of Middle Earth. The craggy and lushly green earth is dotted with waterfalls and seems to be entwined with magic.
Hiking through this South Iceland attraction will give you views of mountains, valleys, volcanos, and glaciers. This is the perfect slice of Icelandic landscapes. Make sure your camera battery is charged because you will not be able to stop taking pictures.
As you explore the many miles of trails, it is likely you will find yourself alone in nature since not many people hike here. It is not as close to the Ring Road as other stops at about 7 miles but is so worth it.
There is also one of the best Iceland campgrounds here. It is a pretty spot with summer bringing greenery on all sides. A natural cave with picnic tables makes a unique place for a meal.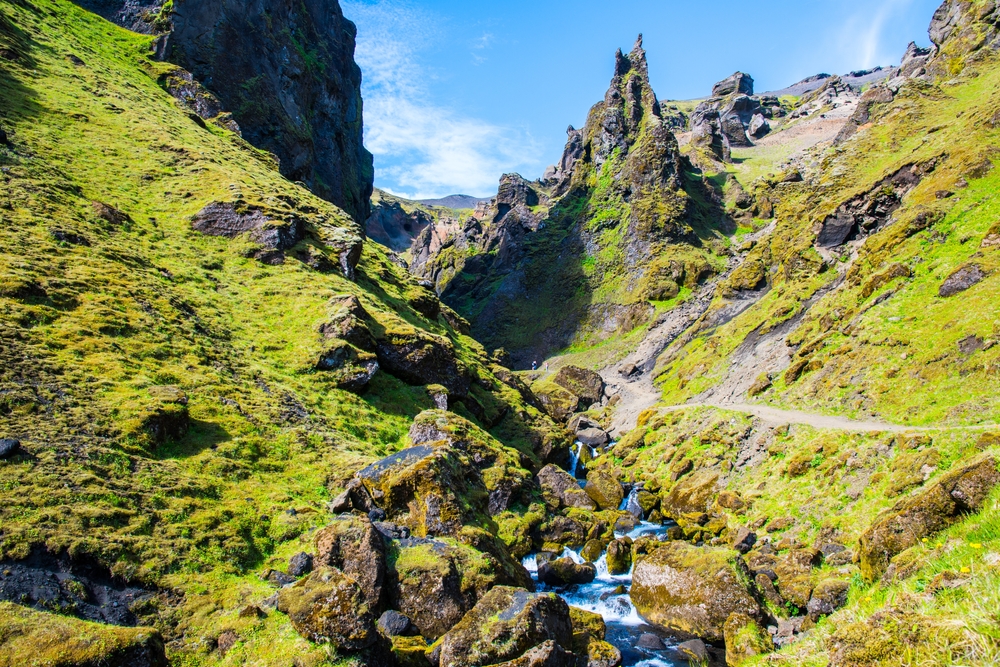 Vatnajokull National Park
There are some epic national parks in Iceland, and Vatnajokull National Park is one of them. In 2008, Jokulsargljufur and Skaftafell National Parks were combined to form the biggest national park in Europe.
At 5,459 square miles, this World Heritage Site has plenty to explore including the second-largest glacier in Europe which gives the park its name. Vatnajokull glacier is a sight to behold. This blue ice covers more than 8% of the country.
Make sure to book a guide if you want to hike the glacier or see the ice caves. You can also go snowmobiling here, which is a memorable South Iceland activity. Don't forget to check out our list of the best Ice caves in Iceland!
Since this is Iceland, there are of course a bunch of waterfalls here too. Svartifoss is one of the most iconic with towering black basalt columns surrounding it. The hike is about two miles roundtrip and is rated easy.
The park also encompasses the Jokulsarlon and Fjallsarlon glacier lagoons. No matter what you do here, you will have a great time!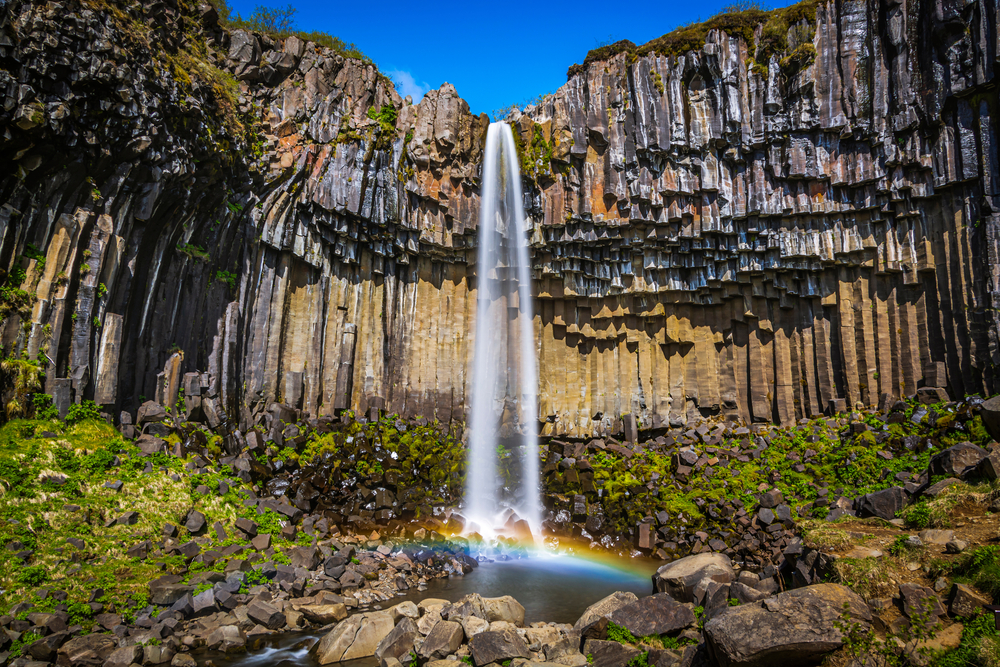 Gigjagja
More commonly known as the Yoda Cave, Gigjagja is gaining popularity among Star Wars fans and photographers. You will find the road to the cave just east of Vik. You'll drive for a few minutes from the Ring Road to reach the standalone Hjorleifshofdi rock formation that hosts the cave.
The cave has two big openings with the upper hole looking like a popular Jedi Master. The silhouette becomes even more obvious from the inside. There is a well-placed rock underneath Yoda's head perfect for a selfie.
Another cool fact about this area is that it was used as a filming location for the opening scenes of Star Wars: Rogue One. That is just an added bonus for any Star Wars lover.
If you want to explore more of one of the best south Iceland attractions, consider hiking to the top of Hjorleifshofdi where you will find the burial site of the Viking Hjorleifur. The hike is steep and will take a couple of hours, but there are awesome views.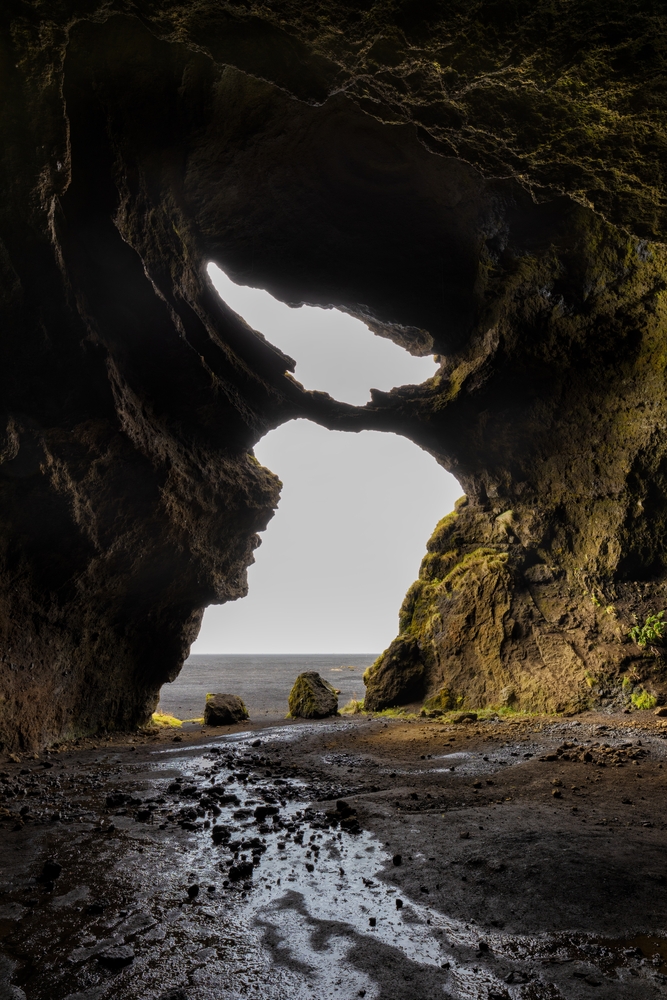 Mulagljufur Canyon
Mulagljufur Canyon is a rugged and quintessentially Icelandic landscape found just off the Ring Road near the Jokulsarlon Glacier Lagoon. This South Coast hidden gem is perfect for some hiking.
The moderate-rated hike is three miles roundtrip and has steep portions. Don't focus on the burn in your legs as you head uphill, instead enjoy the amazing views of the mossy cliffs and otherworldly beauty.
You will also love the ribbon of water that cuts through the canyon and the waterfall Mulafoss. This waterfall cascades down for about 328 feet, creating a beautiful scene.
This is easily one of the best canyons in Iceland and since it is less popular, it will be less crowded too. It is a great place for a moody photoshoot.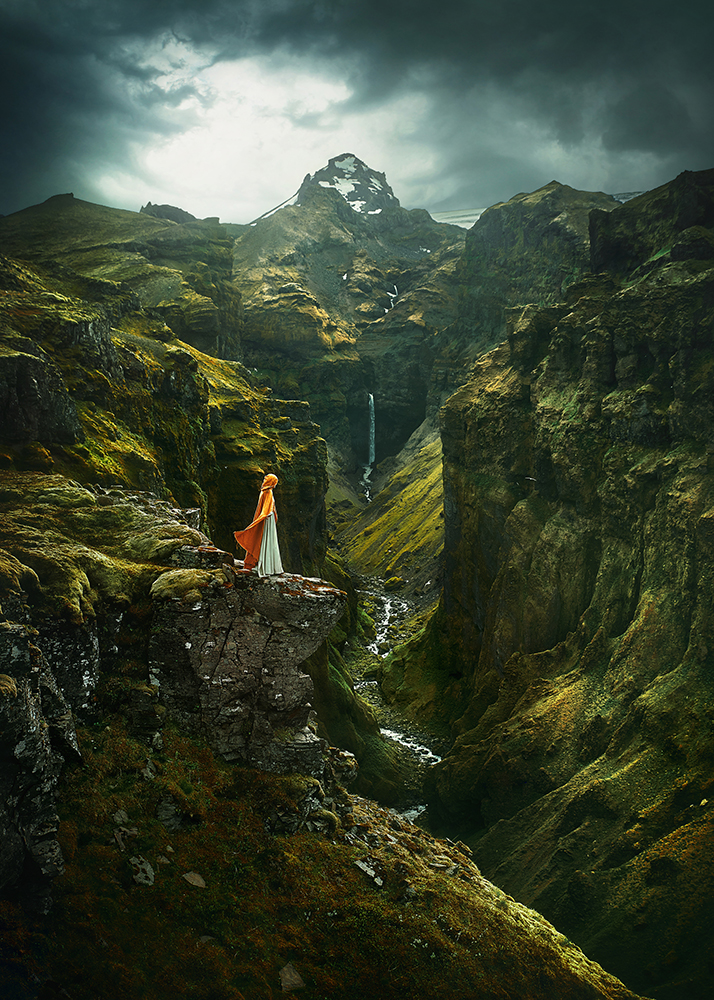 Hrunalaug Hot Spring
If you are looking for a remote and cheap hot spring in South Iceland, make time to drop by the Hrunalaug Hot Spring. Located near the Golden Circle, this small hot spring only costs about $7.50 which helps the landowner with the upkeep.
The pools only fit about ten people, and it can get crowded. Keep that in mind when planning on when you will visit. Off-season or late at night during the midnight sun might provide more alone time.
The hot spring is about a five-minute walk from the parking lot. There is a small shed you can use to change, but it does not provide much privacy. Changing into your swimsuit in your car might be better.
Depending on where you sit in the pools, the temperature ranges from about 90 to 105 degrees Fahrenheit. As you soak, you can admire the rolling hills that surround you.
As always, respect the land and pack out any trash you bring in. Leave the hot springs better than you found them so people can continue to enjoy this slice of beauty.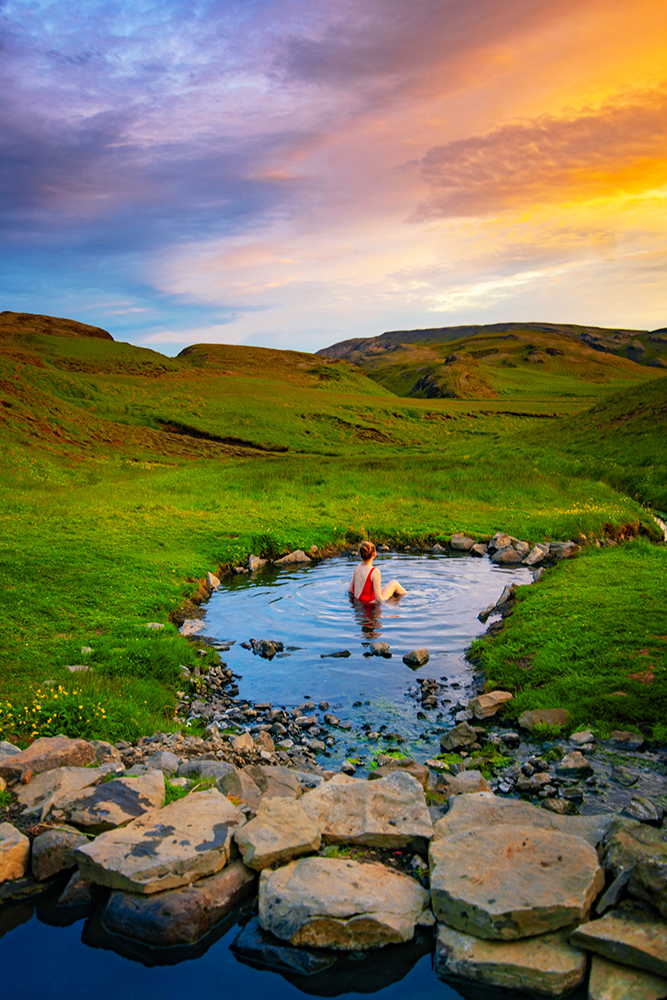 Best Places To Stay In South Iceland
Since it is such a popular area in Iceland, there are plenty of places to stay in South Iceland from hotels, guesthouses, and campgrounds. They all range in price and amenities. Here are some options to check out!
Affordable: Camp Boutique. Check Rates: Booking.com
Mid-Range: Brekkugerdi Guesthouse. Check Rates: Booking.com
Luxury: Magical Stay Near to Seljalandsfoss Waterfall. Check Rates: Vrbo.com
Luxury: Hótel Kría. Check Rates: Booking.com
It's hard to go wrong with a road trip to South Iceland. These ten suggestions make up only a handful of all that this region of the country has to offer.
Driving through Iceland's nature is a unique experience in and of itself, and taking time at each of these impressive stops is icing on the cake!
We hope these get you excited about planning your South Iceland road trip. Please let us know in the comments if you have any thoughts or questions.