If you are planning your Iceland trip and are wondering what are the best things to do in Thingvellir National Park, then you've come to the right place. Thingvellir National Park is a very popular destination for those looking to experience the natural beauty of Iceland. You can easily find Thingvellir along the Golden Circle.
The Golden Circle is the most popular tourist route in Iceland, and along the route, you'll see some of the country's most iconic sites. It starts in Iceland's capital city, Reykjavik, and covers approximately 190 miles. When you take the Golden Circle, Thingvellir National Park is just 25 miles outside of Reykjavik. Its close proximity to Reykjavik along with its stunning landscapes is part of what makes it such a popular stop on the Golden Circle.
This guide to Thingvellir National Park is full of some of our favorite sites within the park. This is one of the biggest attractions in Iceland and there are so many cool things to do and see while you explore. It's also a famous filming spot and shows like Game of Thrones have filmed many, many scenes within the park. So, let's take a look at 9 things to do in Thingvellir National Park.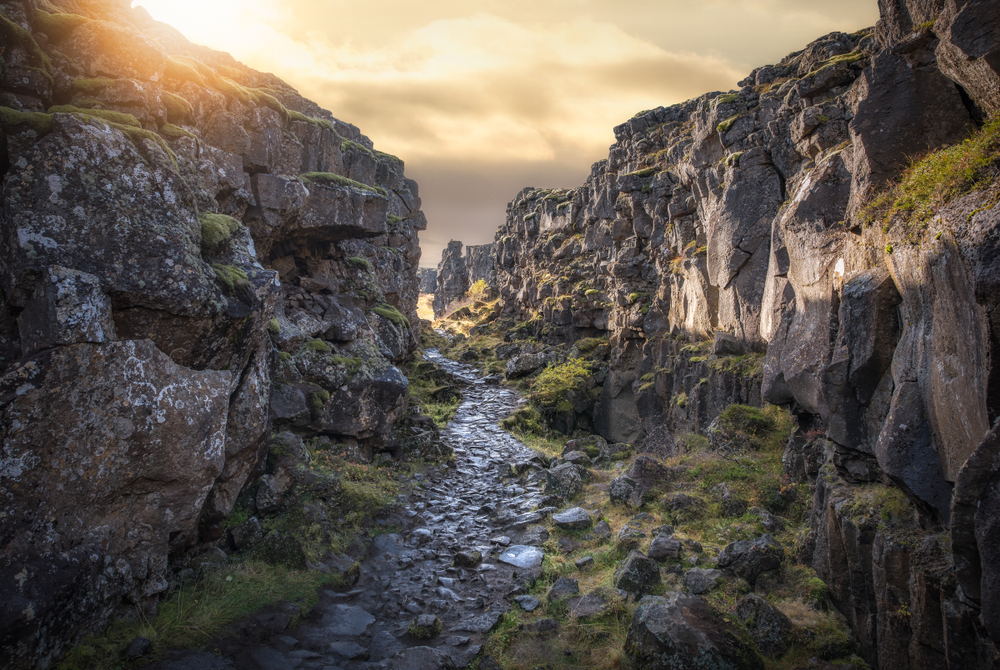 Best Time To Visit Thingvellir National Park
There really is no bad time to visit Thingvellir. However, the weather in the area can pretty quickly change. So make sure to pack some rain gear just in case. We always suggest wearing layers when you're traveling through Iceland. As long as you keep those things in mind, you'll enjoy Thingvellir all year long.
If you are hoping to experience Thingvellir National Park without a large crowd, you may want to avoid visiting in the summer months. The best times to go where the crowds aren't too bad and the weather isn't freezing, try going in April, May, September, or October.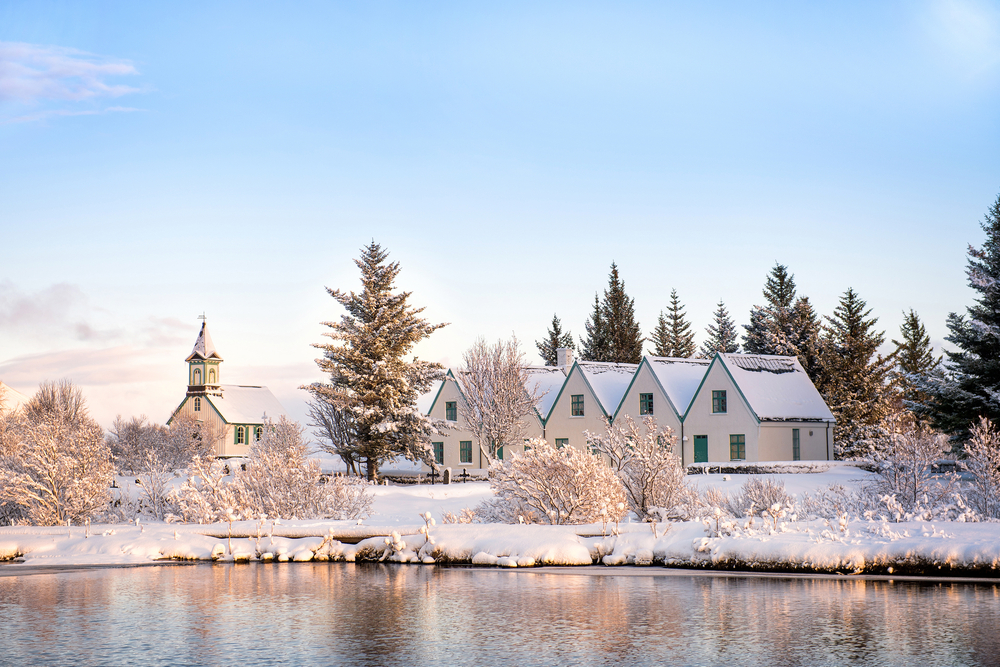 Getting Around Thingvellir National Park
There are two main options for getting around Thingvellir. The first is renting a car and driving there yourself. If you plan on renting a car, make sure to check out our tips for avoiding mistakes in the process. You can easily drive the Golden Circle and take your time exploring Thingvellir and the surrounding area.
If you aren't up for driving in a foreign country, that's fine, you can still see the national park. There are several tour companies that take you along the Golden Circle. You can choose a tour that just goes to the park or even ones that take several days to drive the entire Golden Circle.
THIS is the best Thingvellir National Park Tour!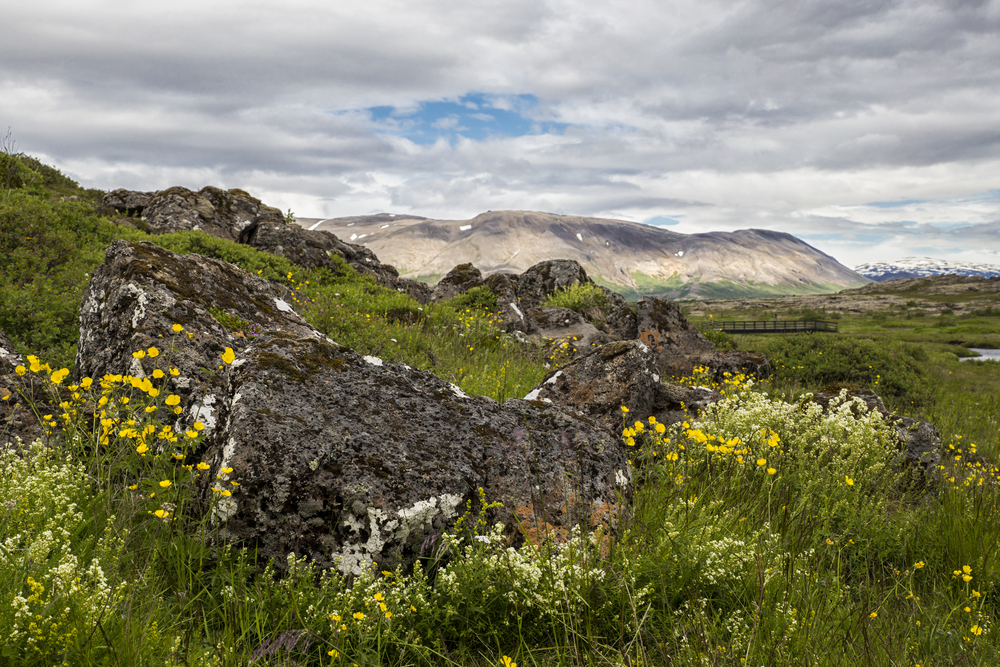 How Much Does It Cost To Visit Thingvellir National Park
There is no entrance fee to explore Thingvellir National Park. But it's not completely free. If you are driving yourself, you'll need to pay a small parking fee. The parking pass is good for the whole day and at any of the parking areas around the park. If you decide to take a guided tour of Thingvellir through another company, they will have their own fees. There are also a few specialty tours you can take in the park, like snorkeling and horseback riding, that have their own fees.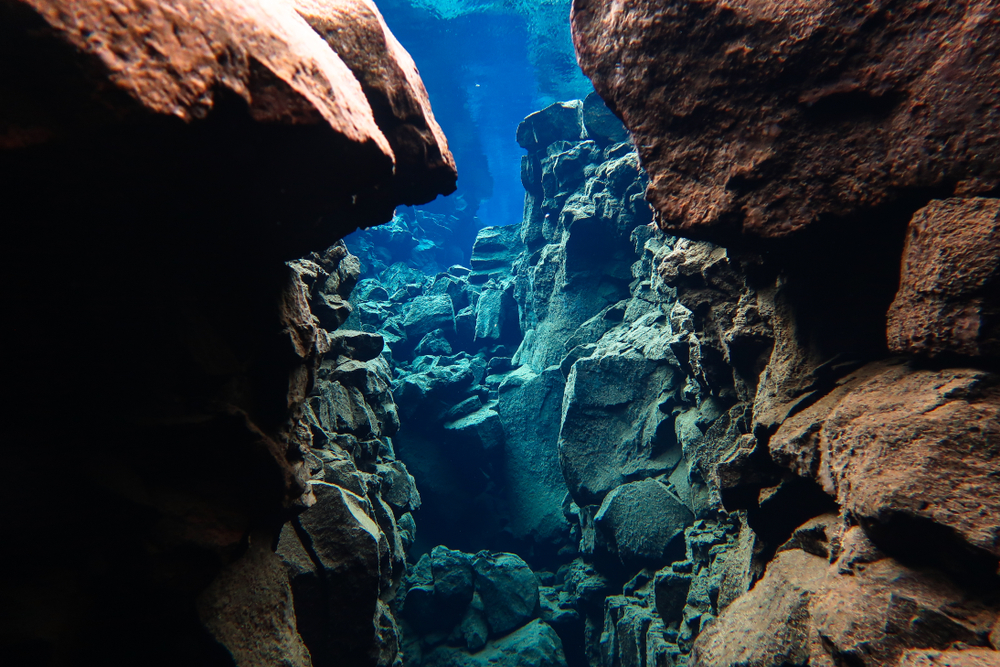 9 Best Things To Do In Thingvellir National Park
Walk Between The Tectonic Plates At Almannagja
One of the coolest things to do in Thingvellir National Park is to walk between the tectonic plates in Iceland. The Almannagja gorge marks the end of the North American tectonic plate and on the other side of the gorge is the Eurasian tectonic plate. Depending on where you are in the gorge, you can see both tectonic plates as they stick out of the Icelandic landscape.
Through most Almannagja there is a paved path where you can walk between the continental tectonic plates. It's one of the few places in the world where you can actually see the tectonic plates sticking out of the Earth's crust. Walking between the tectonic plates is something everyone should do in Thingvellir and it's one of the coolest attractions in Iceland.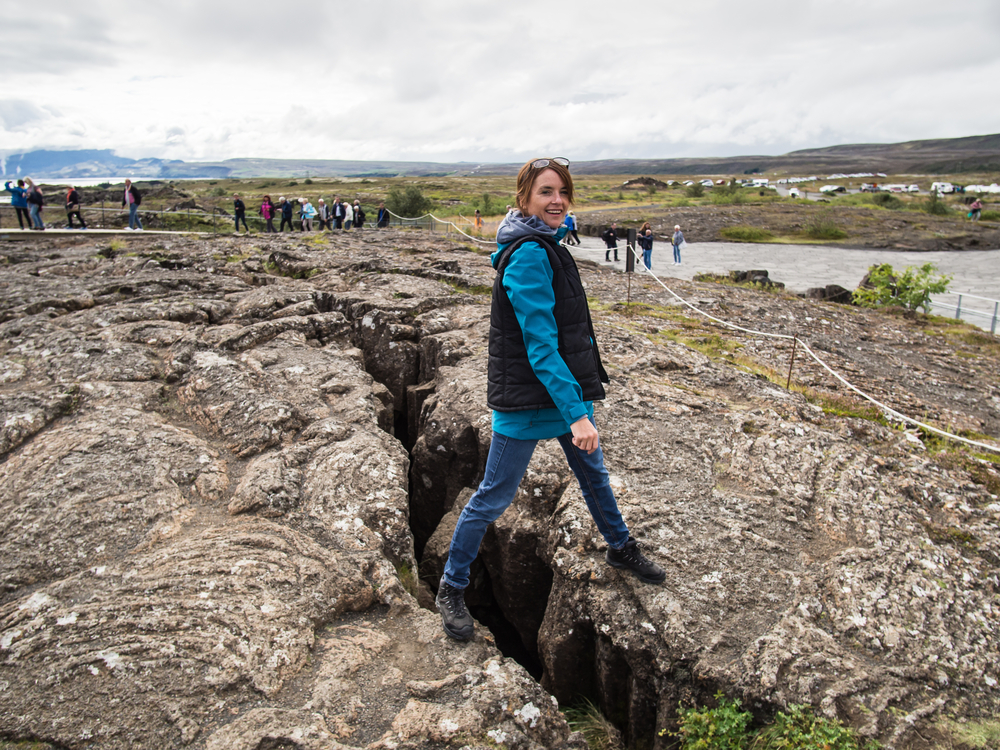 The Hakid Visitor Center
If you're wondering what to do in Thingvellir National Park first, we suggest stopping at the Hakid Visitor Center. You can find the visitor center near the main viewpoint in the park, right near the footpath for Almannagja. One thing to keep in mind is that the Hakid Visitor Center has different opening hours depending on the season. It is typically open longer during the summer as that is the most popular time of year for tourists to see the park.
At different times throughout the year, the center is host to different interactive exhibits as well. They usually have something to do with the history of Thingvellir and the people of Iceland. The center also has information about the park, a cafeteria, and a souvenir shop you peruse. You'll also find a guide to Thingvellir National Park that you can use to explore the park.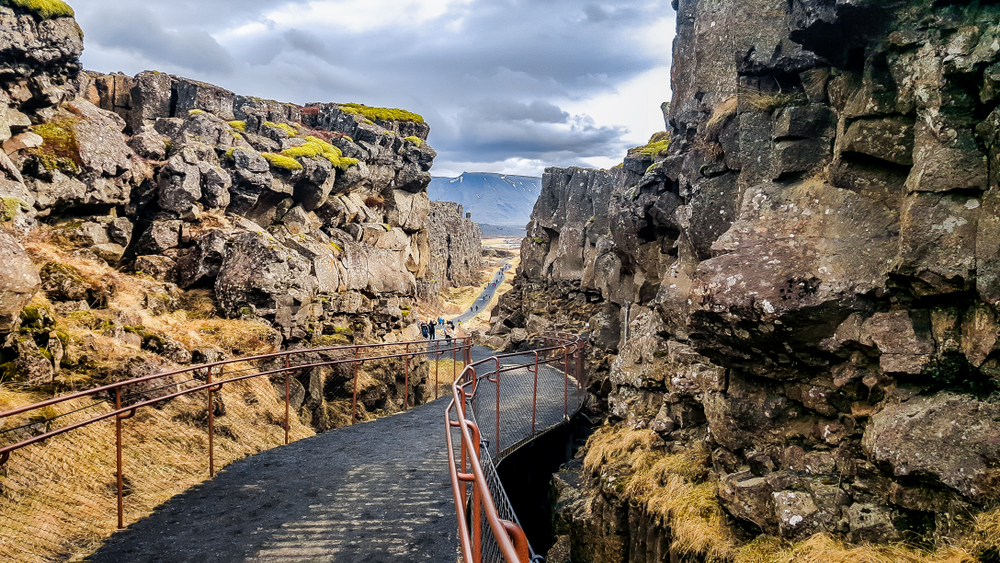 Snorkel Or Scuba Dive Silfra Fissure
Going snorkeling or scuba diving in the Silfra Fissure is one of the most popular things to do in Thingvellir National Park. It's definitely something that is perfect for the more adventurous travelers. The Silfra Fissure was created around 1789 after a massive earthquake along the tectonic plates. It is the clearest water on Earth and when you dive into its depths, you'll be diving between two continental tectonic plates. So it's definitely something you can only do in Thingvellir.
It is filled with glacial spring water, so the water is very very cold. It's definitely not like snorkeling or scuba diving in the tropics, so make sure you are prepared for the cold water before you dive in. You can't do this particular activity without a guide of some kind. Because it is a fissure that's geography is constantly changing, even if only minimally, it's best navigated with a professional who knows the area well. It's one of the most unique attractions in Iceland.
Book Here: Silfra Fissure Snorkel or Scuba Diving Tour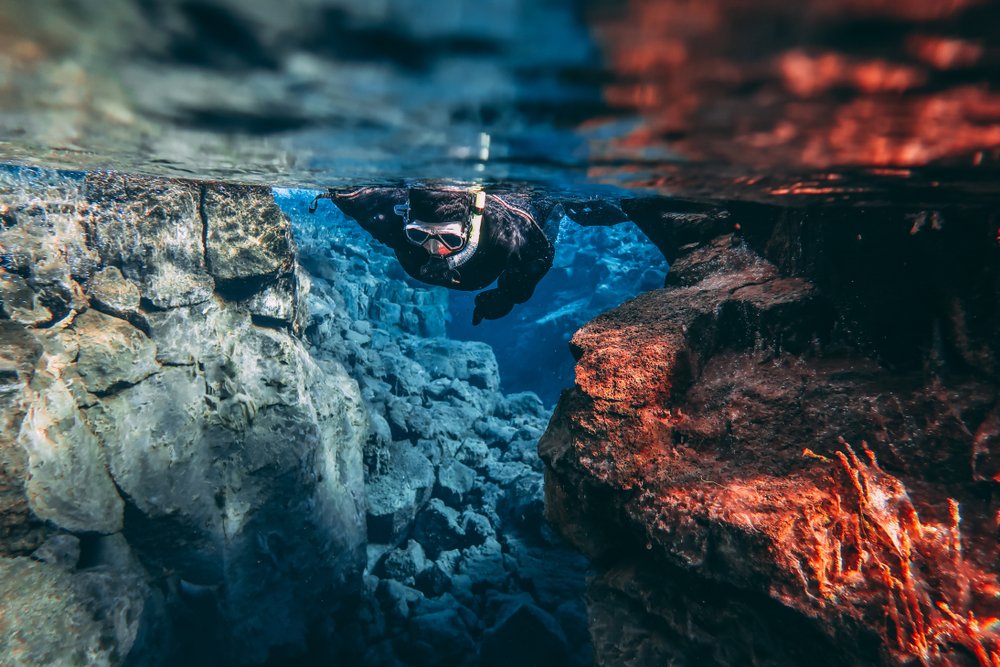 Go Horseback Riding
There are two trails in Thingvellir National Park that are designated for horseback riding through the park. Thingvellir was a resting point for centuries for those traveling across Iceland on horseback, so the paths themselves are pretty old. If you want to feel like you're a character in Game of Thrones, take a horseback riding tour through the park.
Don't forget to check out our list of the best horse riding tours in Iceland!
You can only go horseback riding on those two trails, but they are both full of some amazing and downright epic scenery. The park itself doesn't offer horseback riding, so if this is something you want to try, you'll need to do it through a tour company. There are a few different options, and some of them even include a morning of horseback riding in the park followed by an afternoon exploring more spots along the Golden Circle.
Book Here: Full Day Horse Riding and Golden Circle Tour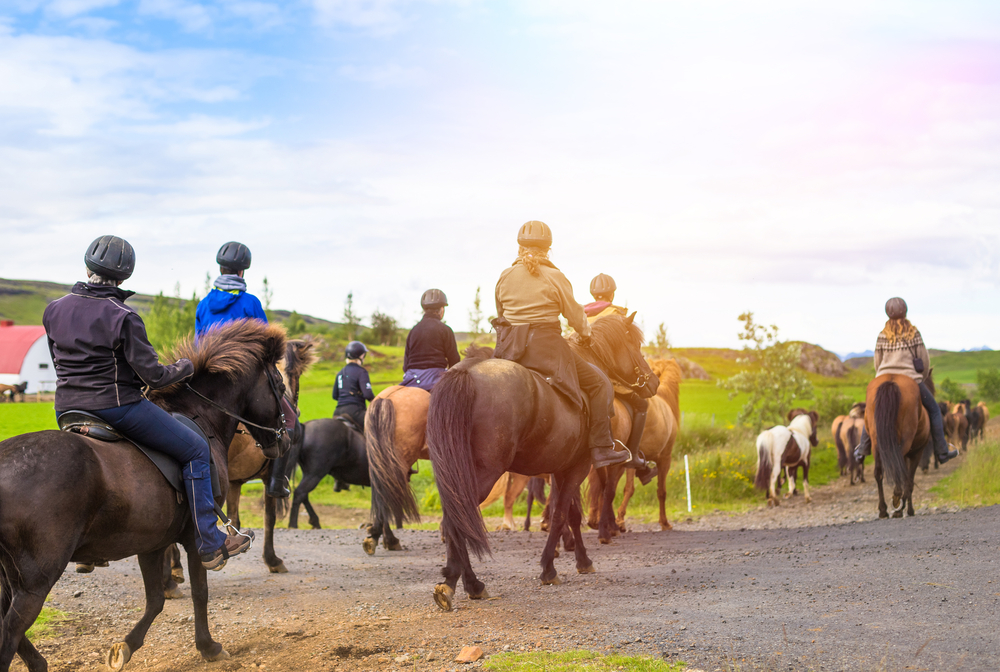 Oxarafoss Waterfall
One of our favorite Iceland waterfalls is in Thingvellir, the Oxarafoss waterfall. It's one of the most popular attractions in Iceland and it's easy to see why. It's really easy to get to from one of the car parks in the park via a fairly easy 10-minute walk. The waterfall is actually pretty small, especially compared to other waterfalls in Iceland. It's also one that is actually man-made.
While it is small, it is very pretty and very photogenic. No matter what time of year you visit, Oxarafoss is beautiful. In the spring and summer, you can see lush green grass and moss growing on the rocks and all around the falls. In the winter it is surrounded by piles of snow and parts of it ice over. You can walk right up to it, but be careful, the rocks around it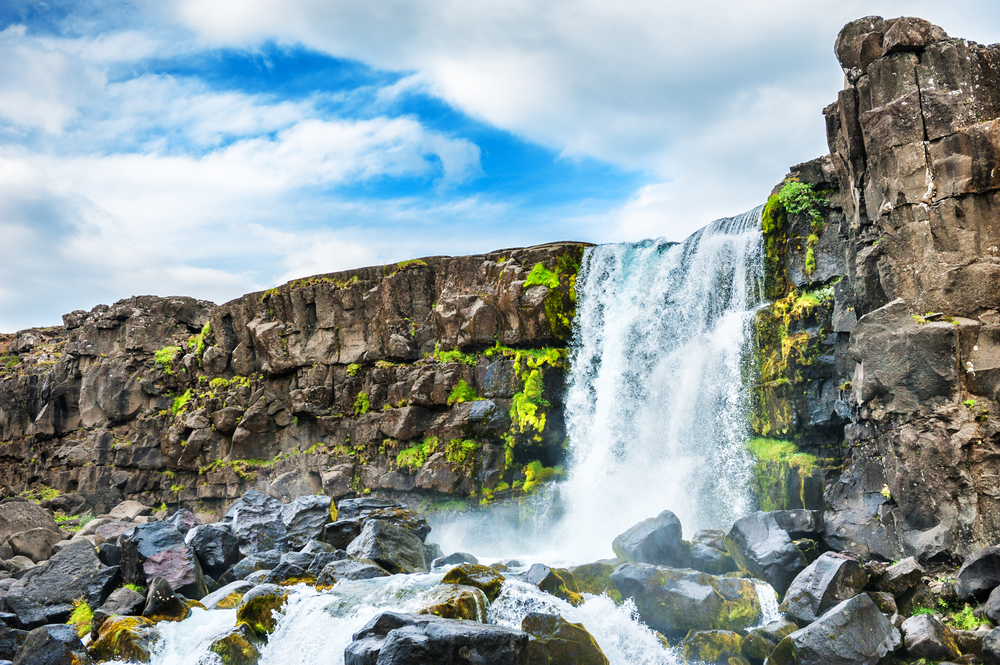 Thingvellir Church
You may not think of seeing a church when you are wondering what to do in Thingvellir National Park. But, the Thingvellir Church is something we definitely suggest seeing while you are there. It's one of the prettiest churches in Iceland, and it's also one of the oldest. It was originally consecrated in the 11th century and it's held up surprisingly well.
Typically, the church is closed for tours, however, you can contact the park ahead of time and see if it will be open at any point during your visit. Even if you can't tour the inside, which is very small, you can at least see it from the outside. It is a charming white church with green trim and nearby there is also a historic cemetery that you can explore.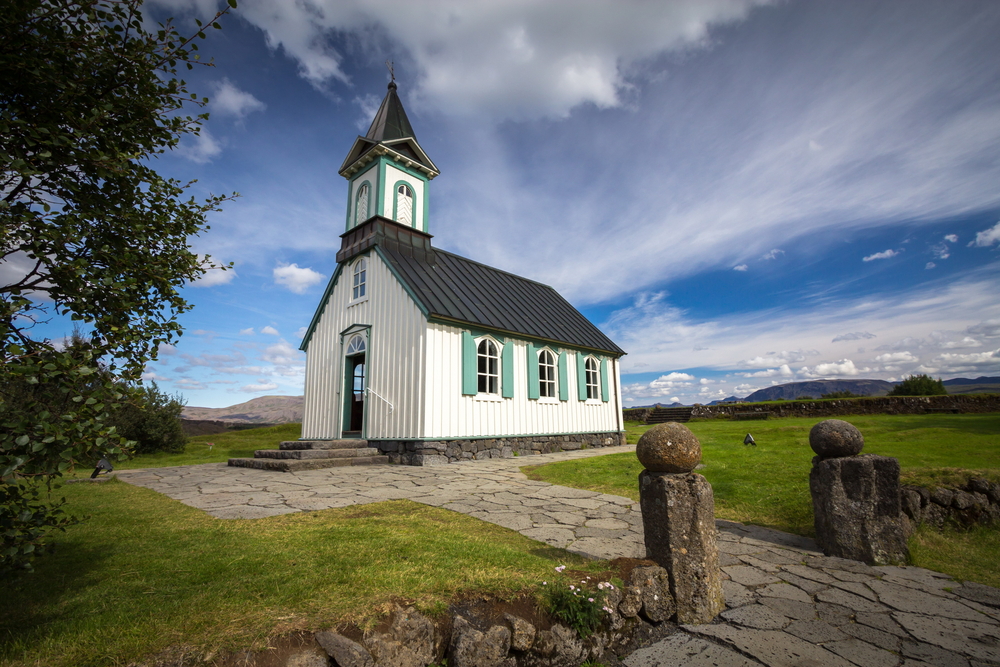 Althing
History buffs will love this stop at Thingvellir National Park. The Althing in Thingvellir is the site of the first parliament in the world, and one of the most unique attractions in Iceland. At the spot in the park where the original Althing met you'll find stone remnants of the 50 booths that were built of stone and turf. There is also evidence of agricultural work that took place in the 18th and 19th centuries near the meeting spot.
The Althing meeting spot was originally designated in 930AD and the people representing Iceland continued to meet there until 1798. Then the Althing was moved to a permanent stone building in Reykjavic. They would form parliament over two weeks during the year and decide on laws and plans for the country. It is one of the coolest things to do in Thingvellir National Park and even Iceland as a whole.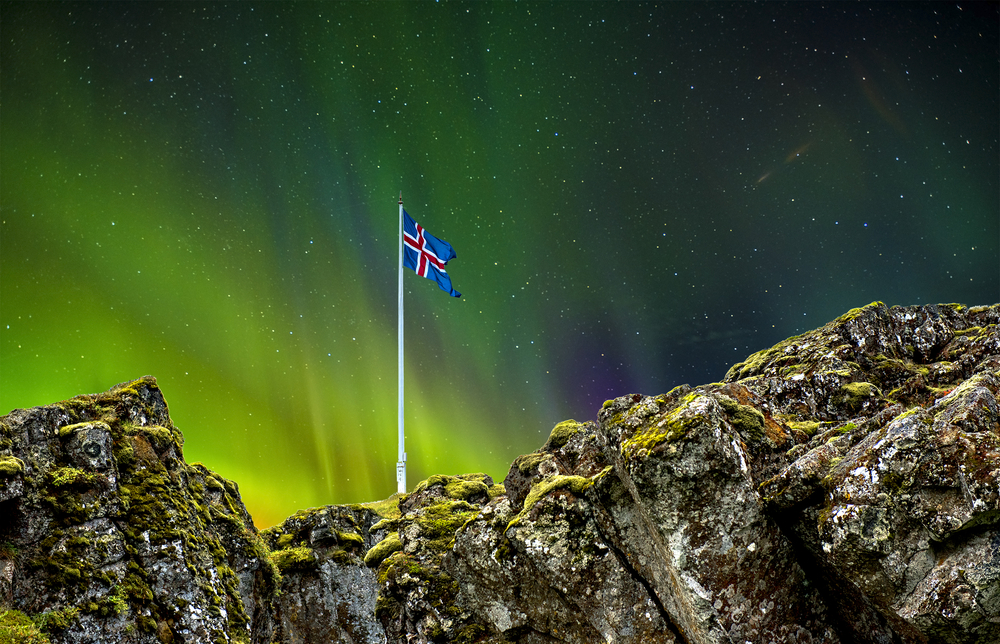 Go For A Hike
Spend some time exploring Thingvellir by going on a hike. There are several hiking trails throughout the park and most of them are either at an easy or moderate level. So you won't have to go on any super strenuous hikes to enjoy the scenery. The two most popular trails are the Oxarafoss Trail and the Lögberg – Drekkingarhylur Trail.
The Oxarafoss Trail takes you to the Oxarafoss Waterfall and is about 2.5 miles long. It's a fairly easy trail that you can access all year and typically takes a little over an hour to hike completely. The Lögberg – Drekkingarhylur Trail is another easy trail that is about a mile long and takes less than an hour to hike completely. It takes you around the Law Rock and the Althing meeting spot as well as the Drekkingarhylur area where the Drowning Pool is located.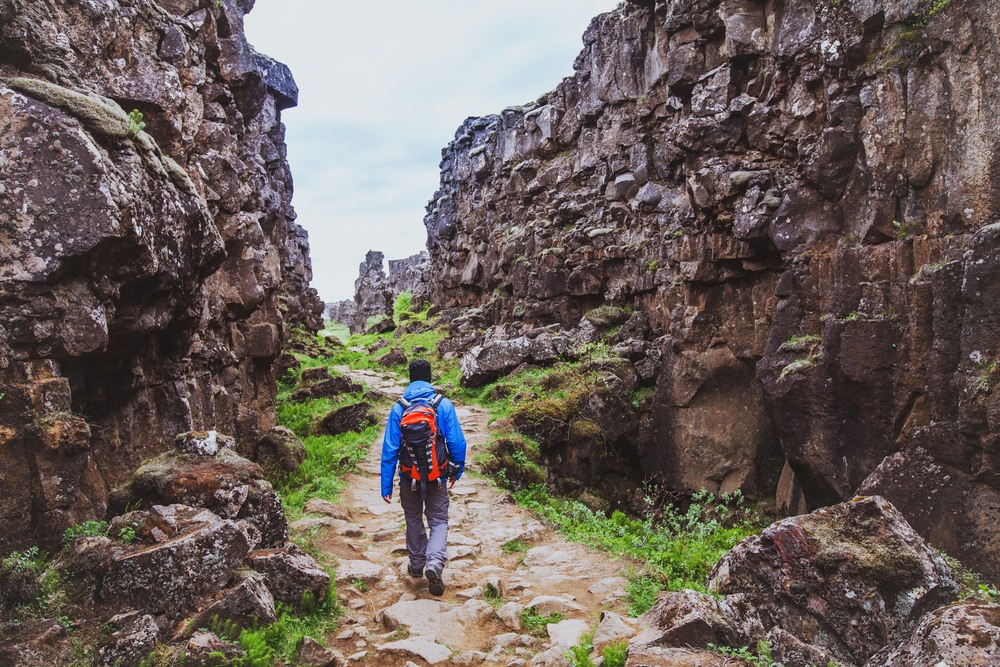 Explore Lake Thingvallavatn
Lake Thingvallavatn is actually home to a very diverse ecosystem. The combination of the young lava rock and water has created a very nutrient-rich environment for plants and invertebrates. In Lake Thingvallavatn there are over 50 different types of invertebrates and 150 different types of plants.
It's also the largest natural lake and the second largest lake in Iceland at 32 square miles and at its deepest point measures 374 feet deep. The water is very cold, so there isn't really any swimming. But it is a very popular destination for Angling, which is a type of fishing. The lake is full of four separate kinds of Arctic Char, which are a unique fresh-water fish species that draws in anglers from around the world.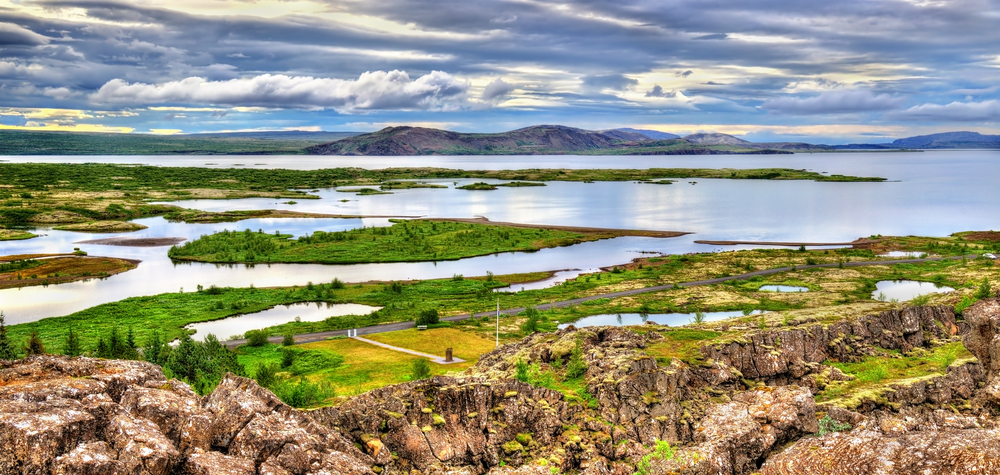 Where To Stay Near Thingvellir
Beautiful House Overlooking Lake Thingvallavatn
The Beautiful House Overlooking Lake Thingvallavatn is great for a smaller group who want to spend some time around Thingvellir. There are two bedrooms, two bathrooms, a cozy living room, a fully equipped kitchen, and a great terrace that overlooks the lake in Thingvellir National Park. It's also very close to Thingvellir which is just a little over 3 miles away. This beautiful home is one of the best places to stay and is also one of the closest places to the park.
Check Rates Here: VRBO.com
The Borealis Hotel
There are some really charming hotel options near Thingvellir National Park as well if you prefer that style of travel. The Borealis Hotel is about a ten-minute drive from the park and a thirteen-minute drive from the town of Selfoss. They have several guest rooms and each has a private bathroom, a sitting area, and you can choose between the number of beds you need. The hotel also has an onsite restaurant and a nine-hole lakeside golf course.
Check Rates Here: Booking.com
10 Bedroom Luxury Lodge
If you are traveling around Iceland with a large group of friends or family and need a ton of space, consider staying at the 10 Bedroom Luxury Lodge. With 10 bedrooms, 9 bathrooms, a living room, a game room, a fully equipped kitchen, and more, this is a luxury vacation rental in Iceland. The house also has a spa, a sauna, a gym, and outside there is a hot tub with some spectacular views. It is about 13 miles away from Thingvellir National Park and comes with a price tag that fits the large luxurious space, but it is a great option for a big group traveling together.
Check Rates Here: VRBO.com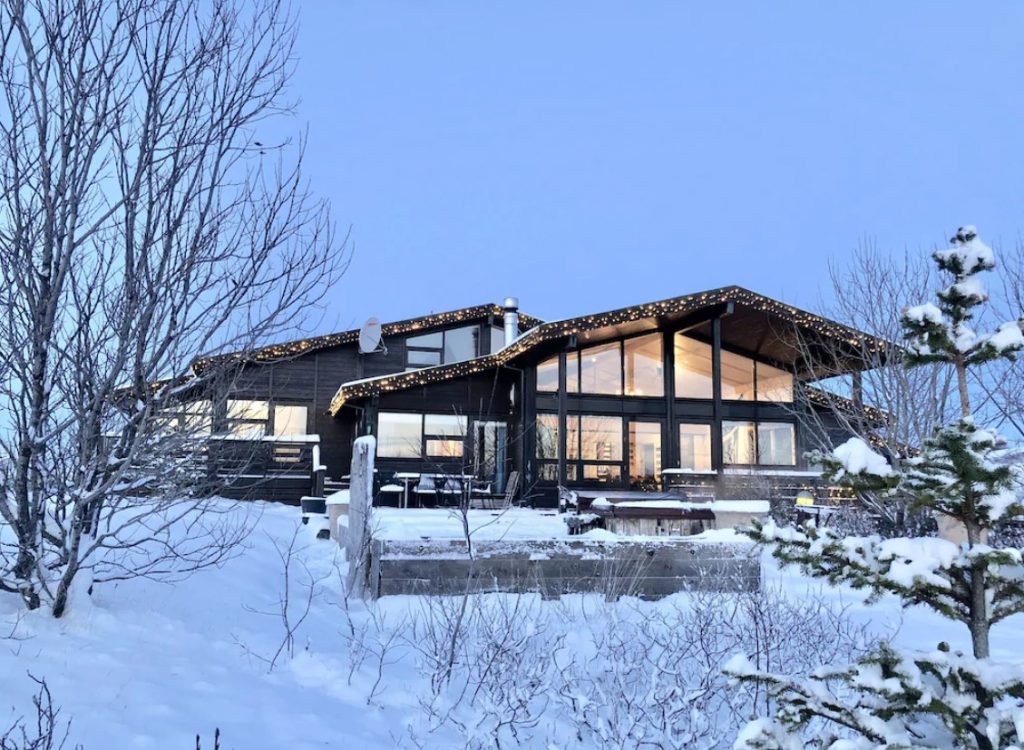 How Long To Spend In Thingvellir National Park
You can stay as long as you want at Thingvellir National Park. We suggest planning to be there for at least 2 to 3 hours to at least see the highlights. However, depending on how much you want to do and see, or if you want to opt-in for some guided tour experiences, you could easily plan to spend a day or two in the area. No matter what you do, we suggest taking your time and seeing everything you really want to see while you explore Thingvellir.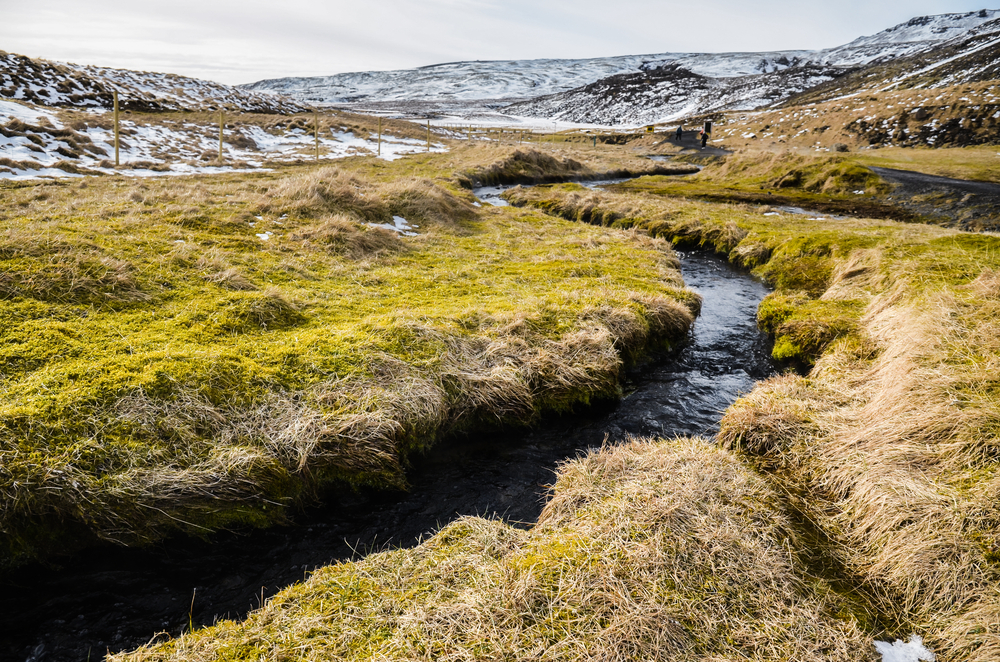 There's no denying that there are so many unique things to do in Thingvellir National Park. Many of them are some of the most iconic attractions in Iceland. If you are planning your next trip to Iceland, we absolutely suggest adding Thingvellir to your Iceland itinerary.