Are you searching for the best horse riding tours in Iceland? Let us help! We have found the best horse farms in Iceland so you can spend your vacation roaming the land of fire and ice on horseback.
If you have started planning a trip to Iceland, then you probably have already seen an Icelandic horse. These small, long-haired horses are one of the few animals that live in Iceland. In fact, their long coats help them to survive the cold, harsh winters of the arctic island.
Icelandic horse tours are a perfect way to experience Iceland as a viking. On the best horse riding tours in Iceland, you can ride your noble steed gallantly across the lupine meadows of the countryside, or catch the wind in your hair riding by the sea.
We have so many great Icelandic horse riding tours to share with you, each one a little different. We'll review the Icelandic horse riding weight limit, whether or not the Icelandic horses tour is a good idea for beginners, and all the places that you can go for the most memorable ride of your life. And if your dream is to see the highlands of Iceland from horseback, we have some options for multi-day tours too.
So let us get down to it. Here are the best horseback riding in Iceland.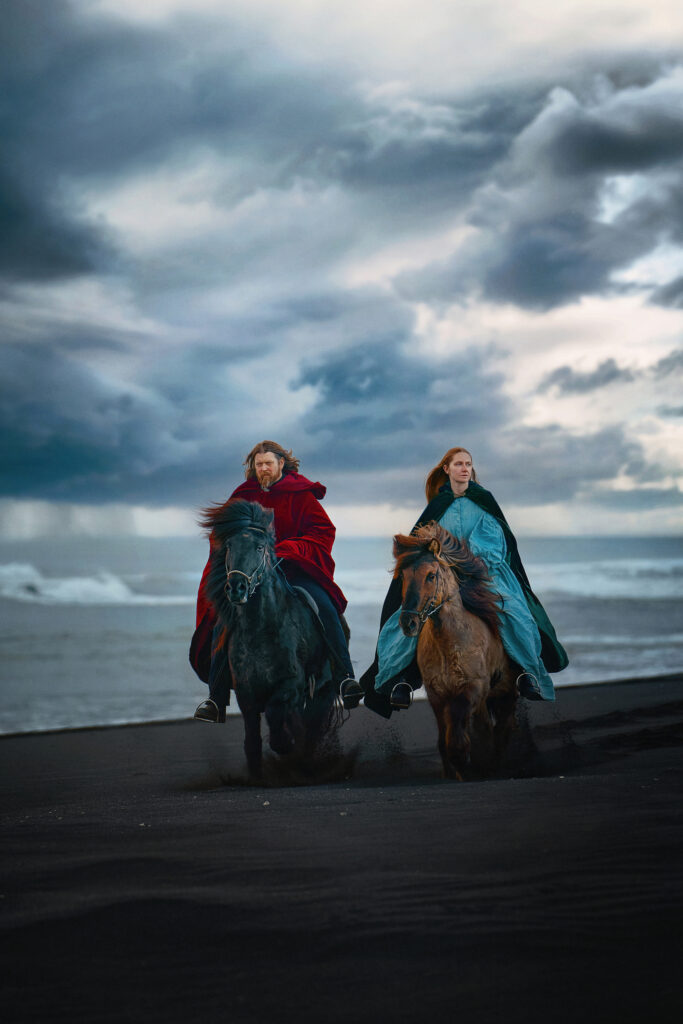 Can You Ride Icelandic Horses?
Yes, and you should. These small and adorable horses have a long history in Iceland and are part of the Icelandic culture. Their origins date back to 1,000 years ago when the Vikings first came to Iceland. Today, you can see many horse farms in Iceland, especially throughout the countryside.
You can see these friendly horses as you travel Iceland, especially as you travel to see the best sights along the Ring Road, or Route 1. Feel free to stop and take photos with them, or give their fluffy manes a pet, but do not feed them. Feeding horses can cause them to get sick, so it is best to let their owners stick to regulating their diets.
So don't miss out on getting to know these incredible horses. A good tip for when you go on a Icelandic horse tour is to bring a rain jacket since the weather can be unpredictable in Iceland! Don't forget to pack the camera too for awesome Iceland horse riding tour pictures.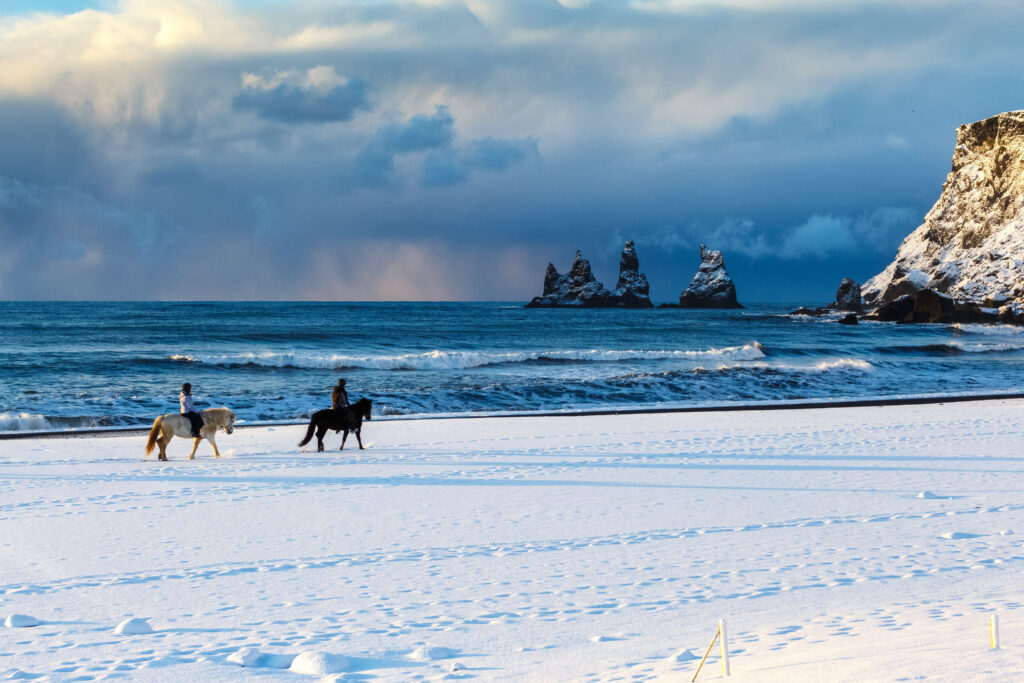 How Much Weight Can Icelandic Horses Carry?
While the Icelandic horse looks more like the size of a pony, this incredible breed should not be underestimated.
Horseback riding tours in Iceland have become increasingly popular due to the amazing ability these little horses have. Built short, stocky, and hardy enough to thrive in the arctic climate, the Icelandic horses are extremely capable.
You would think that due to their small frame, the Icelandic horse riding weight limit would be a concern. However, rider weight is generally not a problem for the Icelandic horse as they can carry max 35% of their own weight. In fact, Icelandic horses are the strongest breed of horse in the world, pound for pound.
So then, what are the load limits for these mighty horses? Well, most Icelandic horse tours have a weight limit of 110 kg, or around 242 pounds, in order to accommodate the horses' carrying capacity. Although, there are a few Icelandic horse riding tours that breed a bit stockier horses than can carry about 10 kg (20 lbs.) more weight.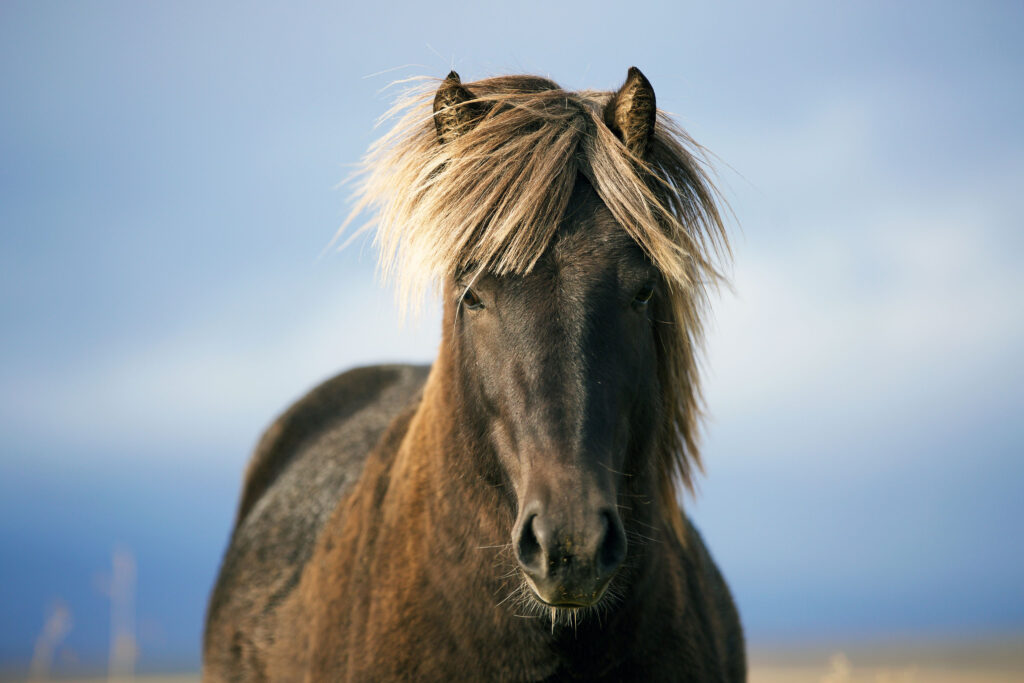 Are Icelandic Horse Riding Tours Good for Beginners?
Yes, Icelandic horse riding tours are great for beginners! In fact, Icelandic horses are generally easier to ride for beginners than most other types of horses. These docile horses seem to have a willingness to be patient with their riders, even beginners. Also, the warm nature of the horse's temperament makes Iceland horse tours great for beginners to go on.
Another reason Iceland horse riding tours are great for beginners is their natural stocky build. As silly as that may sound, the build of Icelandic horses helps to stabilize their rider. Even more, the Iceland horse actually has a special gait, or stride, that makes riding them smooth and easy. This special gait is called a tölt. The tölt also helps the horses to easily navigate the rocky and uneven volcanic landscapes with ease.
We love horse riding tours in Iceland for this reason. It is the smoothest horseback ride you will ever go on.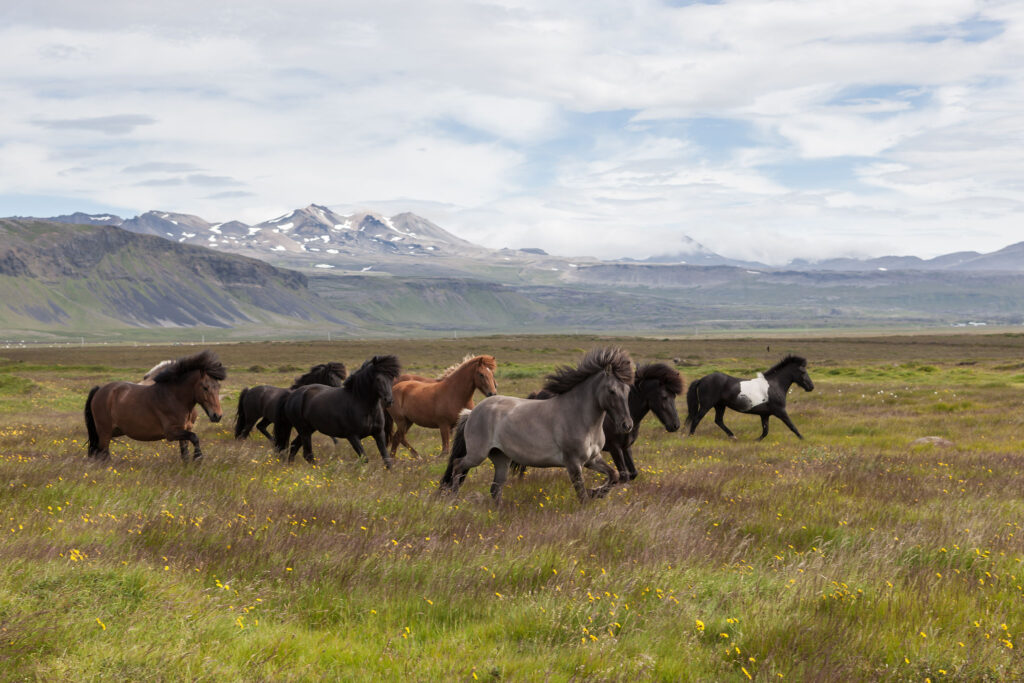 Best Horse Riding Tours in Iceland
So then, what are the best horseback riding tours in Iceland? Horse riding tours in Iceland are usually chosen according to rider experience, or the time you want to commit to the tour.
There are many to choose from and we will help you choose the right one for your Iceland itinerary. We will show you options for horseback riding near Vik, some Icelandic horse tours near Reykjavik, as well as some multi-day tours through the Iceland highlands.
Whether you are looking for a half-day tour so you can leave more time to explore the local area, or you are an advanced rider looking for the experience of a lifetime, we will help you find your best tour.
Solhestar Horse Rental
Solhestar Horse Rental is one of the great Icelandic horse tours near Reykjavik. In fact, Solhestar Horse Rental makes it easy for you and offers free pickup from Reykjavik hotels. And if you are traveling to Iceland with kids, you'll love to know that this is a family-friendly Iceland horse riding tour.
Solhestar Horse Rental is a great horseback riding tour for those of varying levels of experience, and they can adapt the tour to the rider. Beginner riders will get the chance to ride along the smooth-riding path of the Redhills of South Iceland, whereas more advanced riders can choose between routes within the area.
From start to stop, the Solhestar horse tour will last 2.5 hours. This Iceland horse tour offers between 1.5- 2 hours of riding through beautiful Icelandic scenery. This tour won't take the whole day either, allowing plenty of time to check out all the things to do in Reykjavik Iceland, including relaxing in one of the Reykjavik hot springs.
To Book, Click here: Solhestar Horse Rental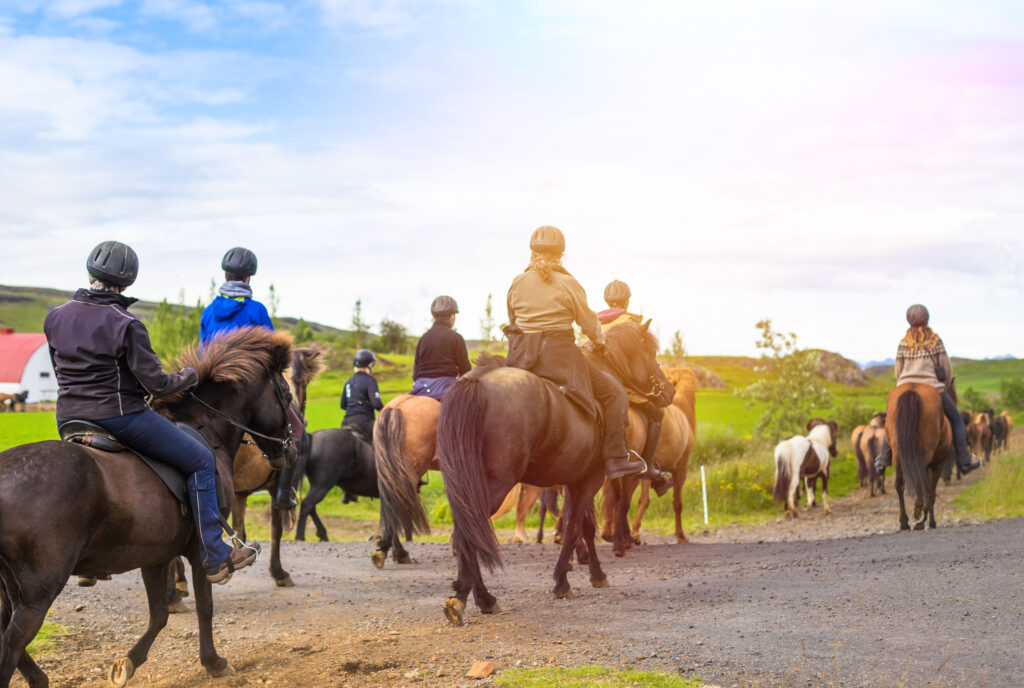 Gray Line Iceland
Gray Line Iceland gives one of the best Iceland horse riding tours as it comes with an exploration of the Golden Circle. Get the most out of booking an Iceland horse tour by getting to visit Iceland's incredible sightseeing too.
Spend a day playing amongst the idyllic Icelandic countryside. To begin the day, you'll set off on an hour-long Icelandic horse riding tour in Laxnes, which lies just outside of Reykjavik. Next, the tour takes you to Iceland's gorgeous Thingvellir National Park. Then, you'll witness one of Iceland's best waterfalls, Gullfoss glacial falls. Finishing the tour with a bang, you'll get to see the spouting geysers of Strokkur.
This all day tour lasts a total of 9 hours and is perfect for those who are staying in Reykjavik. We also highly recommend this tour for anyone who does not intend to rent a car in Iceland, as this tour offers pickup from Reykjavik hotels.
Click here to Book: Gray Line Iceland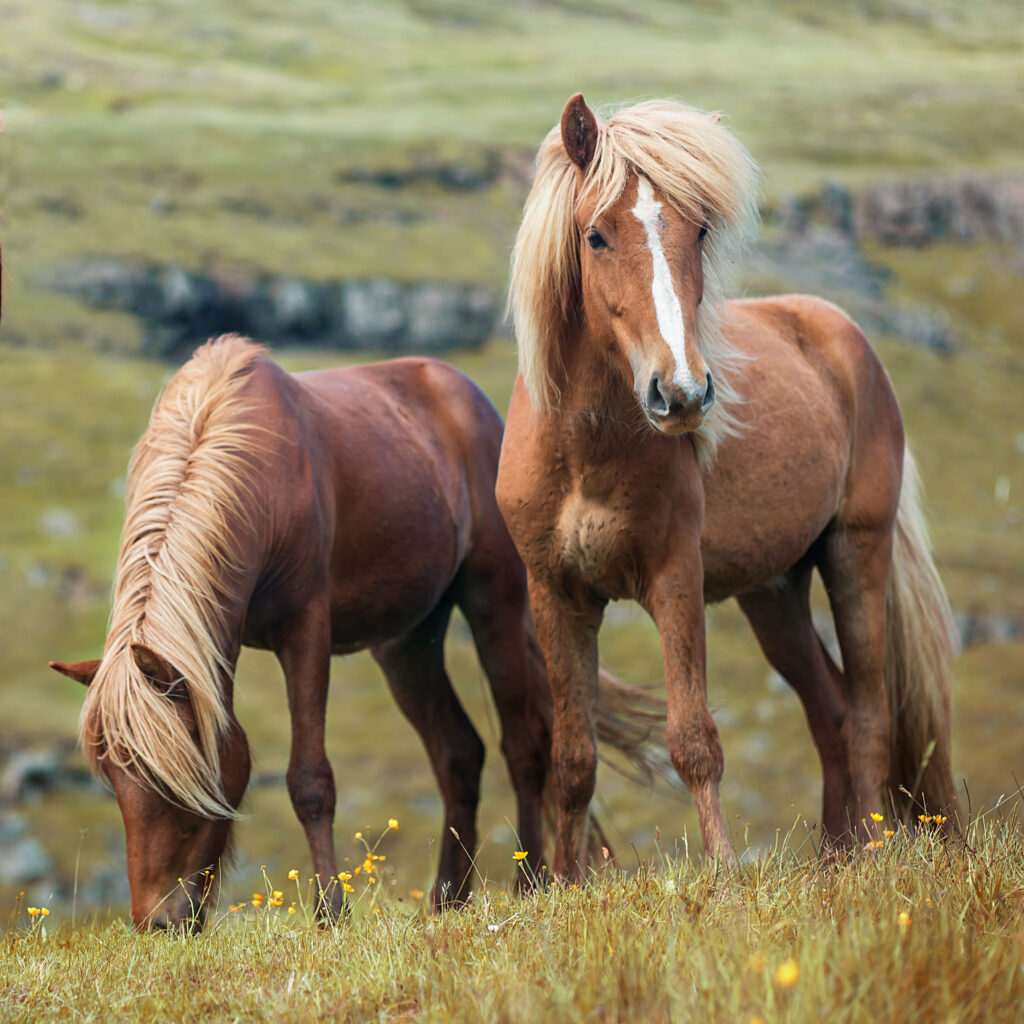 Polar Hestar's Akureyri Horseback Riding Tours
For North Iceland tours, the best Akureyri horseback riding is Polar Hestar is tours. With impressive mountains and the clear waters of the Atlantic at your side, this is bound to be one of the most beautiful tours in Iceland.
This tour is a lush paradise for riders. With towering green moss-covered mountains and lupine-filled meadows, the Akureyri horseback riding tours will make you feel the magic of Iceland. Experience the legendary elves found amongst the Northern fjords on this tour. Your tour guide will even take you to their homes on the hills, telling stories of their magic along the way.
While there are one-hour tour options, you can also choose to experience a long Akureyri horseback riding on a multi-day tour through the charming hills and rivers of Akureyri. With a multi-day tour, you'll see some of the best parts of North Iceland, including lake Myvatn, Godafoss, and the Laufas turf houses. Some of Polar Hestar's long horse riding tours in Iceland even include a whale watching tour on Eyjafjordur!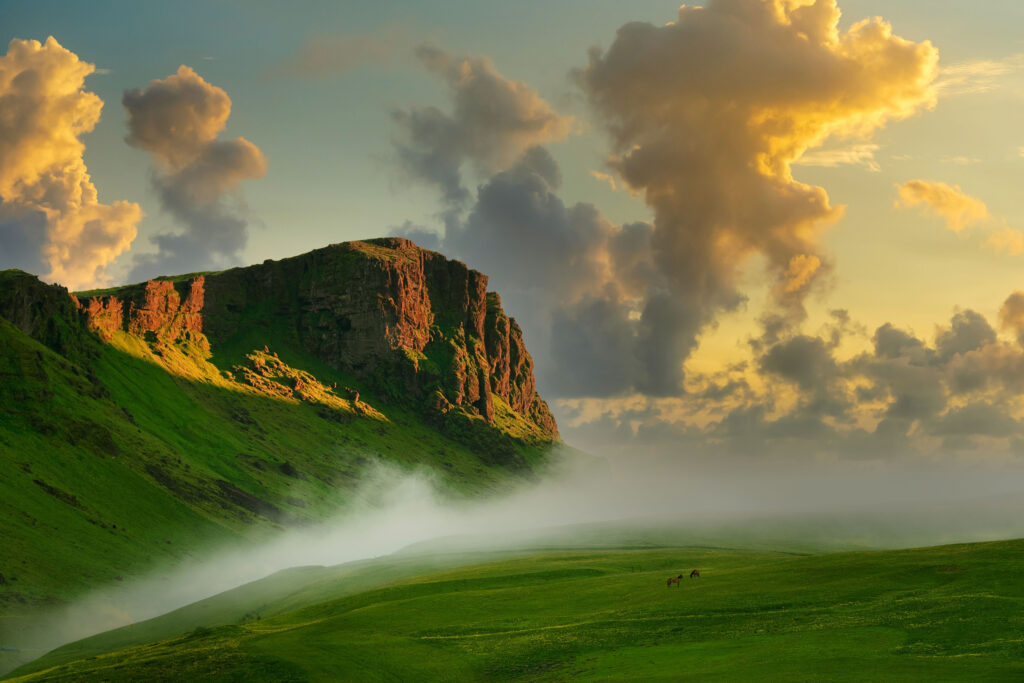 Vik Horse Adventure
If you are looking for horse riding near Vik, Iceland, book a tour with Vik Horse adventure. They offer one of the most scenic and romantic Iceland horse riding tours of all time along the beaches of Vik.
Experience from horseback, the gleaming black sand beaches of Vik with the sea stacks of Reynisdragnar on the horizon, and the sound of roaring waves from the Atlantic at your side. This one-hour-long horseback riding tour in Vik Iceland is one you won't want to miss. After all, this horse riding tour is literally at one of the best photography locations in Iceland.
If you plan to do an epic road trip along Ring Road, then check our other blog post for other awesome things to do near Vik. We can also help with campgrounds for anyone camping in Iceland too.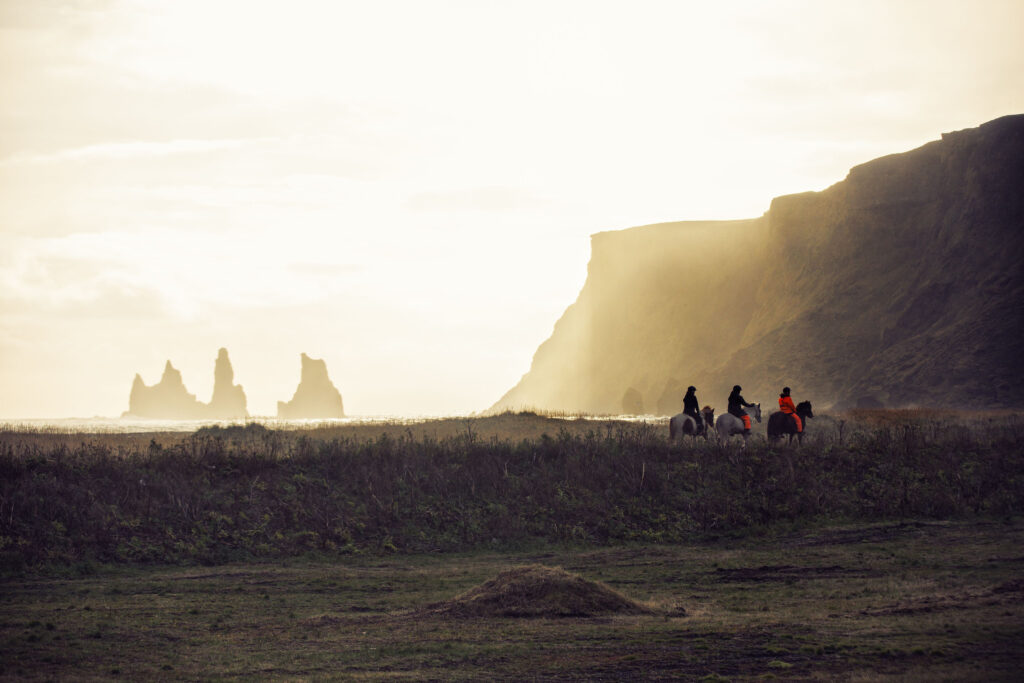 Nups Hestar Riding Tours
Another one of the best horse riding tours in Iceland has to be Nups Hestar Riding Tours. Although you will have to veer off the Ring Road, this tour will be sure to allow you to experience real countryside from the saddle.
Nups Hester Riding Tours are tucked away in Selfoss and because most people stick to convenience, this high-quality tour has the advantage of being less touristy. This means smaller groups and more intimate experiences. Another thing Nups Hester Riding Tours has that other tours don't offer is the option for custom rides.
Short rides are offered between 1-3 hours. You can also choose to do a 6-hour day tour if you wish. If you are looking for an even bigger experience, you can also choose one of their multi-day horse tours like the 5-day ride through to geothermal areas of Landmannalaugar.
If you are traveling to Iceland in September, you can even book a one-of-a-kind Iceland horseback riding tour with Nups Hester. They invite you to participate in the annual lamb round-up traditions of Rettir to close out the summer, as the real Icelandic Vikings do, returning the roaming lambs to their homes before the incoming winter.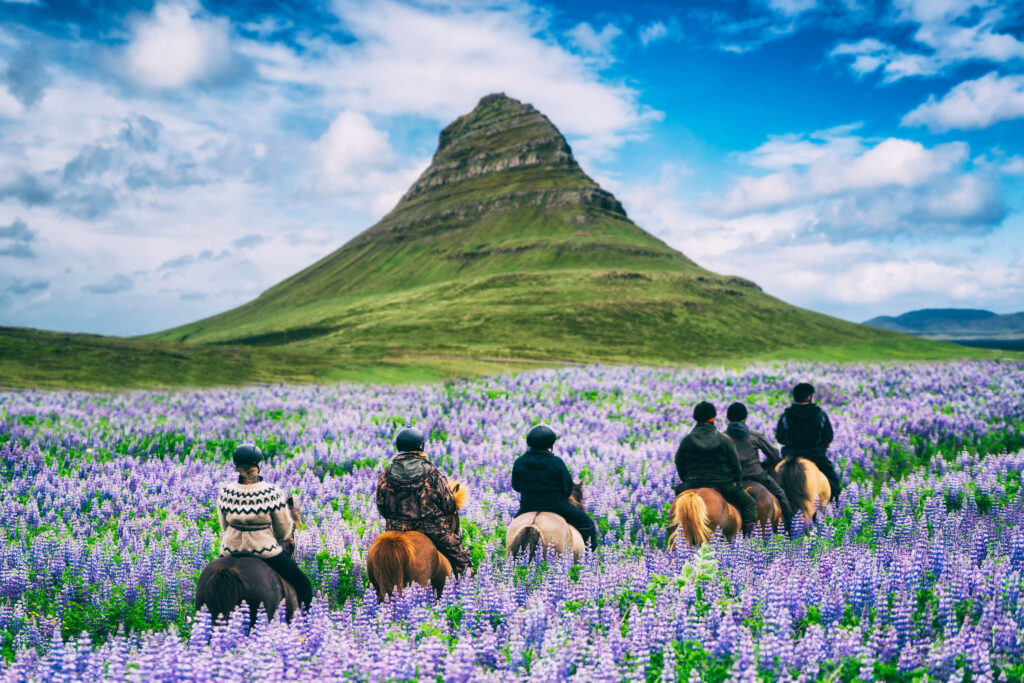 Mr. Iceland Horseback Riding Tours
Mr. Iceland hands down has one of the best horseback riding tours in South Iceland. With awesome hosts leading the way, you'll experience these horse riding tours in Iceland the same way as the Vikings did. Following a 1,000-year-old path of Vikings from millennials past, you'll ride past idyllic Icelandic waterfalls and black sand beaches. In fact, Mr. Iceland's horse tours trace a path that his ancestors rode, traced all the way back to 37 generations!
We love that with Mr.Iceland's Icelandic horse riding tours, you actually have time to get to know the friendly horses before you ride. The Icelandic horses at Mr. Iceland's farm are kind and gentle, taking easily to instruction. And, because Mr. Iceland's horses are some of the strongest in all of Iceland, they can handle a heavier horseback riding weight limit than other horse farms in Iceland. Some of his horses can actually handle up to 128 kg (282 lbs).
One of my favorite parts of Mr. Iceland's tour is the closing of the tour because the tour goes out with a delicious finale. At the end of the ride, you get the chance to have a wonderfully tasty and locally sourced meal prepared for you back on the homestead, one of the oldest horse farms in Iceland.
Mr. Iceland's horseback riding tours in South Iceland are unique, well-planned, and remarkably authentic. We highly recommend giving them a try if you seek to experience horseback riding near Vik, Iceland.
You can also book them for one of the most romantic honeymoon getaways. Mr. Iceland's horse farms have gorgeous overnight lodging accommodations, yoga, morning breakfast, and access to their onsite natural hot spring.
To Book: Mr. Iceland's Horseback Riding Tours