Are you planning a vacation and wondering what it's like to travel to Iceland with kids? Well, you are in the right place. In this article, we will tell you everything you need to know about traveling to Iceland with kids, and help you plan your family trip to Iceland. 
There is no doubt that Iceland is an incredible place to visit. It has beautiful locations, spectacular waterfalls, dramatic views, and once-in-a-lifetime experiences.
Iceland is also a place shrouded by myth, magic, and majesty that is bound to excite any young adventurer. The landscape is used in countless films and the land has so many tales. It's this myth and magic that make an Iceland vacation with kids so amazing.
Now taking kids to Iceland takes a lot of planning and there is a lot you will need to consider. How old your children are, how much energy they have, how adventurous they are, how they are with traveling, and what they like doing should all be taken into consideration.
Certain experiences, of course, do have minimum age limits but on the flip side, many attractions offer free or discounted admission for younger children. You might be surprised how great Iceland for families really is.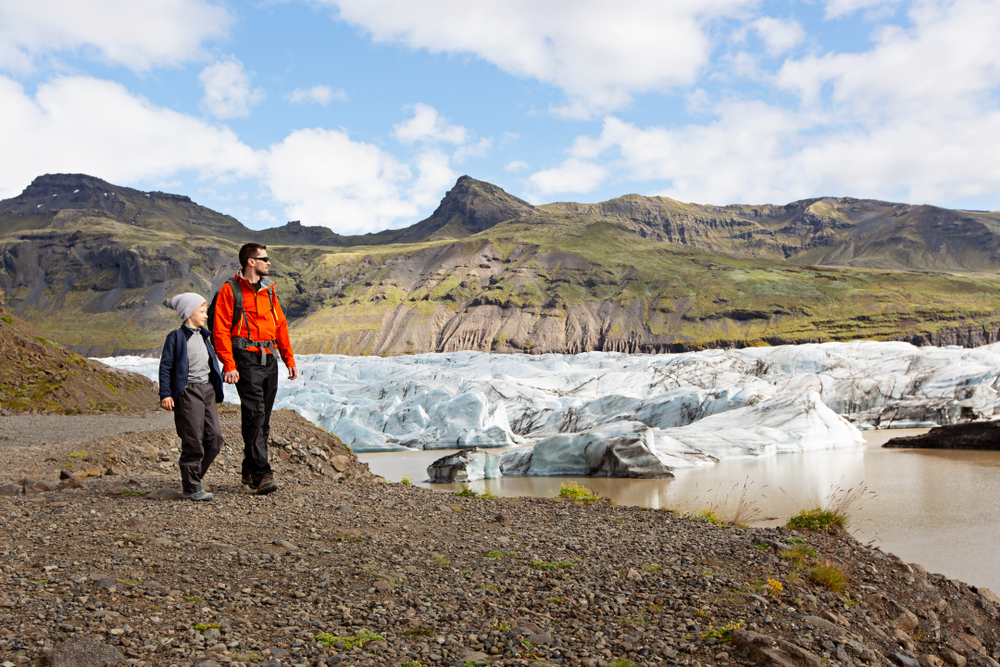 Is Iceland Kid-friendly?
As a travel destination, Iceland is a really family-friendly place to visit if you plan accordingly. The crime rate is low and Iceland has topped the Global Peace Index (GPI) report ten consecutive years in a row. There is a feeling of security and safety here which affords children independence and freedom. Children in Iceland are treated really well.
Iceland has also consistently rated in the top 5 on the World Happiness Report and anyone who knows anything about Nordic parenting styles will know how much they value children and their contribution.
As well as a safe and happy place Iceland is also the least polluted country in the world. An Iceland vacation with kids really is special.
The landscapes here are wide open, the roads are great, and the people are friendly. Mix all that with lots of magical history and some incredible animals such as puffins and whales it all makes for a pretty incredible experience.
And also despite what you may believe there isn't a lot of walking involved many of the main sights are just a short walk from the main touring roads. Whether you are visiting Iceland with toddlers or teens you will have a great time. Kids in Iceland are catered for really well.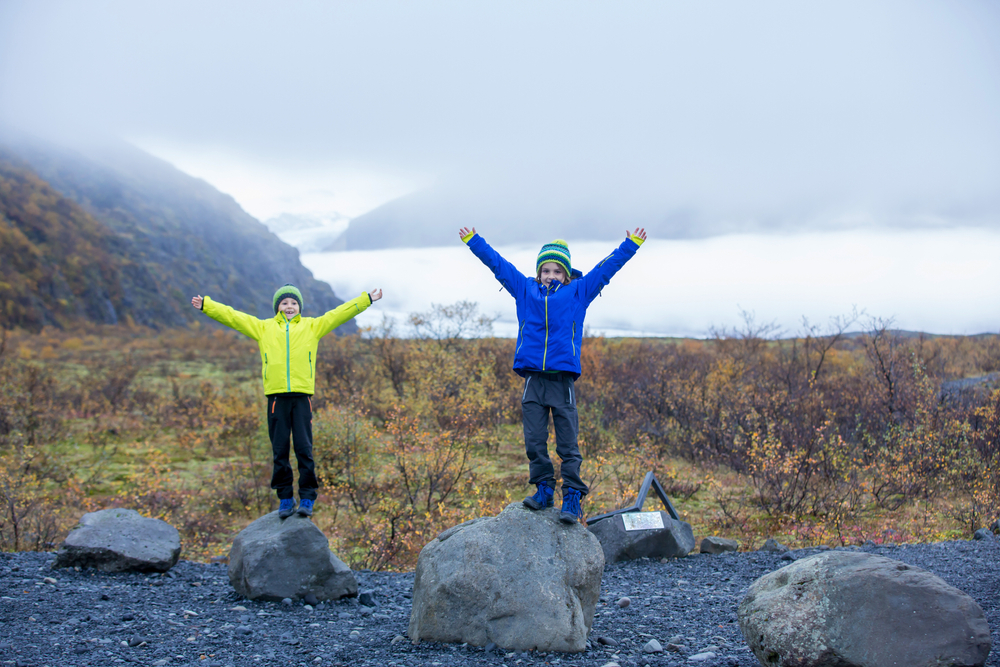 Getting your kids prepared for Iceland
Now obviously getting your child prepared for Iceland will depend on their age, interests, and sensibilities. With a pre-teen or teenagers, we would definitely recommend getting them involved in planning the itinerary. Also, consider perhaps giving them a budget to plan all the events.
Speak with your child at all stages of planning. Where you should stay, what you should bring, what clothes you need what you are most excited about. The more involved your children are in this process the better they will enjoy the experience.
Watch documentaries together on Iceland or youtube videos. Show them pictures and videos from your favorite Iceland creators so they can get a feel for this place.
So many famous films have used Iceland as a backdrop. Watch some of these with your child, obviously age-appropriate. For example, the horse water scene in Frozen 2 is believed to be inspired by the black sand beach of Reynisfjara. Jökulsárlón glacier lake was featured in two James Bond movies, and Lara Croft, Tomb Raider.
Game Of Thrones also used many Icelandic locations including Lake Mývatn also where scenes from Star Wars: Rogue One were filmed. Svínafellsjökull glacier was featured in Batman Begins. And Marvel Fans will love Skógafoss waterfall as the setting for the Marvel movie, Thor, The Dark World.
I'm sure you will find something that will captivate your child about this incredible place. Whether you are traveling to Iceland with kids in winter or summer you will always find a part of this country that interests them.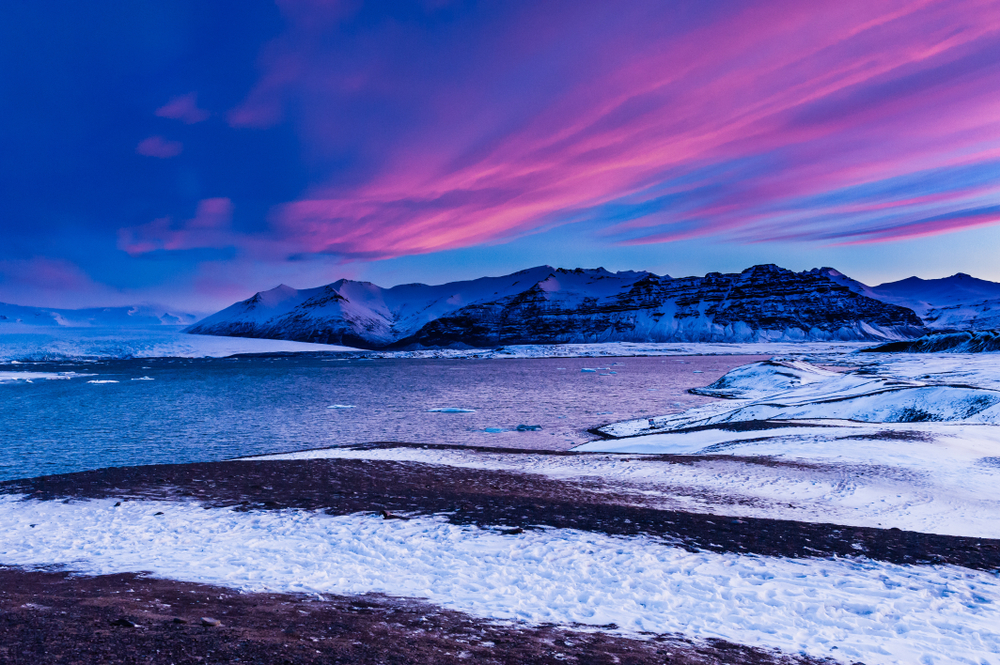 Where To Stay On A Family Trip To Iceland
Now it depends on how big your family is to what might be the best place for you to stay. Most hotels allow a maximum of four people per room. Iceland vacations with kids are always easier we believe when you stay in a vacation rental or a local homestay.
These places often allow for more people and most importantly will have kitchens so you can prepare your own food. Eating out in Iceland is costly and with children can be even more so. You will want to find somewhere you can prepare your own food. Taking kids to Iceland is much easier when you can cook for yourself.
Inni Boutique Apartments in Hveragerði and The Garage apartments in Varmahlíð are excellent options we have stayed in The Garage apartment many times. For Reykjavik try the Old Charm Reykjavik Apartments.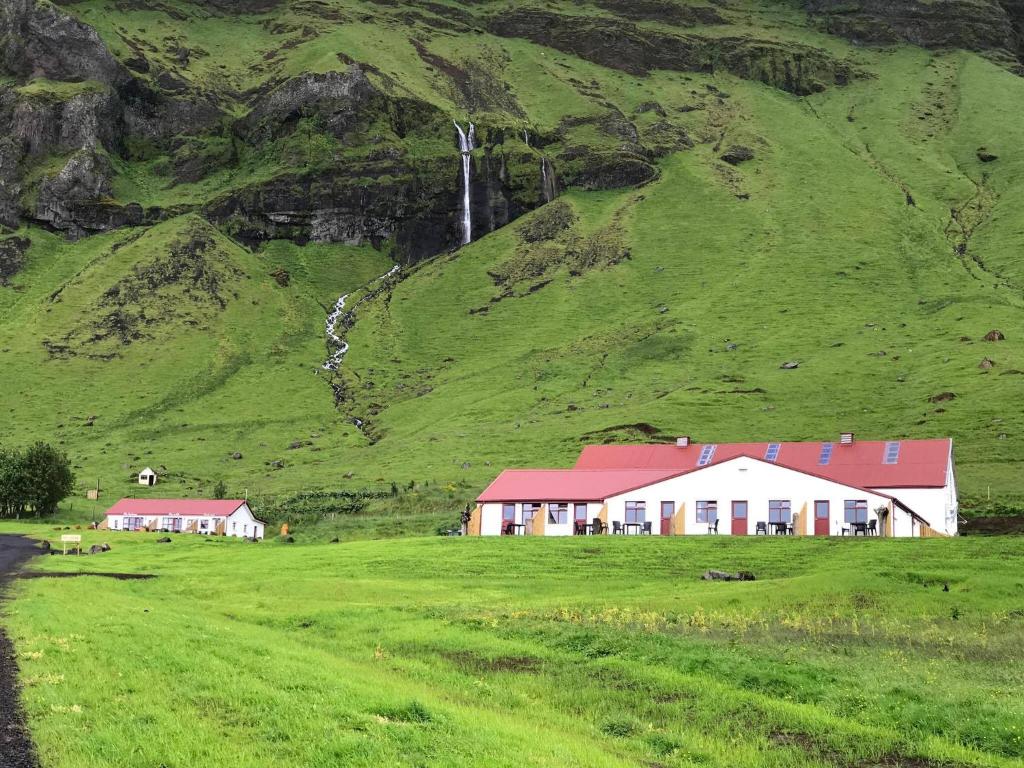 Consider Less Driving In Iceland With Kids
One thing that may make traveling with children in Iceland easier is to drive less. One mistake families can make is spending too long in the car especially if their children are not good at traveling.
Driving the whole of the Iceland ring road can be a lot with fractious children. Consider spending your time in only one area like the south coast and seeing everything there. Or book accommodation you can stay in that means you drive less. Staying in Reykjavik and taking day trips out is also a way you can keep the amount of time in the car down to a minimum.
Dining In Iceland With Kids
Taking a family trip to Iceland and dining out is a personal choice and depends a lot on your budget. Don't forget to check out our Tips For Traveling Iceland On A Budget! However, dining out with kids in Iceland is very expensive. For example, a burger will cost anywhere between $16-$25.
If that is good with you then knock your socks off the restaurants in Iceland are great. However, for the majority of us spending $156 approx on a meal for a family of four is a little too much.
What we recommend is getting accommodation with cooking facilities and cooking at the accommodation. Grocery shopping is relatively easy and much cheaper than eating out. If you travel to Iceland with kids cooking for your family is highly recommended.
Are There Family-Friendly Hikes In Iceland?
I think most of us think when we are traveling to Iceland that it will involve a lot of walking and that simply isn't true. Going to Iceland with toddlers is extremely possible as often you don't have to walk very far.
Many of the famous attractions such as Gullfoss, Skogafoss, and the black beaches are off the main road. It is simply a case of a short walk to them.
A confident walker could easily make the journey. Or consider having a child in a backpack or carrier the short distances makes this very doable on most walks.
Some of the family-friendly hikes are included further down in this article. There are also so many things to do in Iceland with kids that don't involve walking.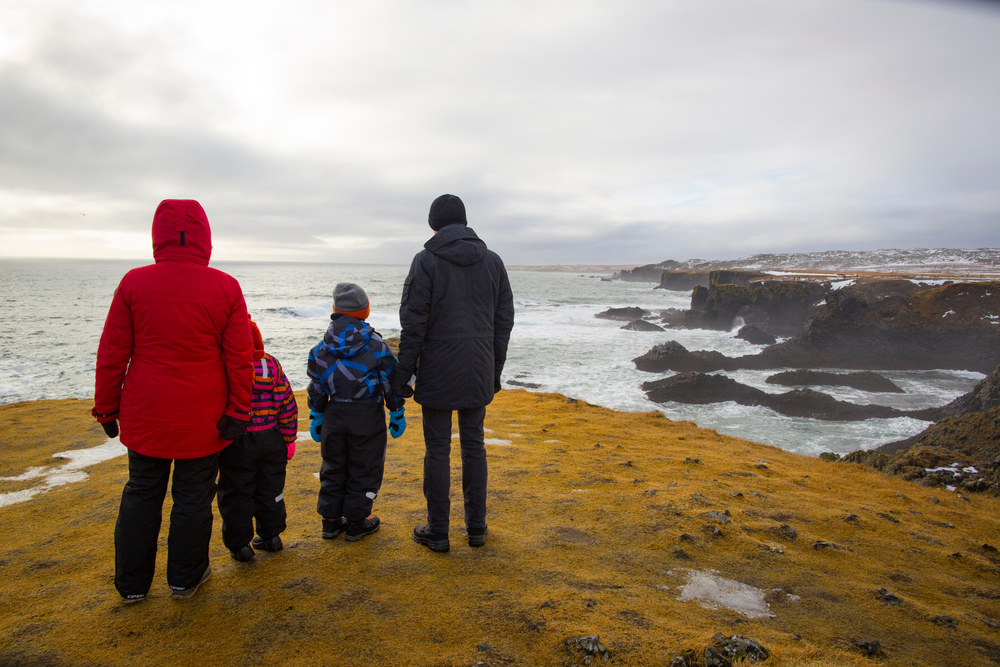 Best Things To Do In Iceland With Kids
Visit Swimming Pools In Iceland
If the weather isn't great and you want something that will be great for children of all ages why not visit one of the swimming pools in Iceland? Of all the things to do in Iceland with kids, this is by far one of the easiest. They tend to cost around $10 per adult and many have slides, splash pools, and hot tubs.
Lagafellslaug in Reykjavik has hot tubs and three giant slides for example. Swimming is popular in Iceland and Reykjavik alone has over 18 pools. Laugardalslaug pool is right in the center of Reykjavik and has two outdoor pools and one indoor, seven hot tubs (one filled with saltwater), a sauna, water slides, and a beach volleyball court.
The pools tend to be filled with geothermal water and are less chlorinated than what you may be used to. This means that before entering you are expected to shower fully so take that into account.
Wherever you are in Iceland you are probably close to a swimming pool. This is definitely one of the things to do in Reykjavik with kids.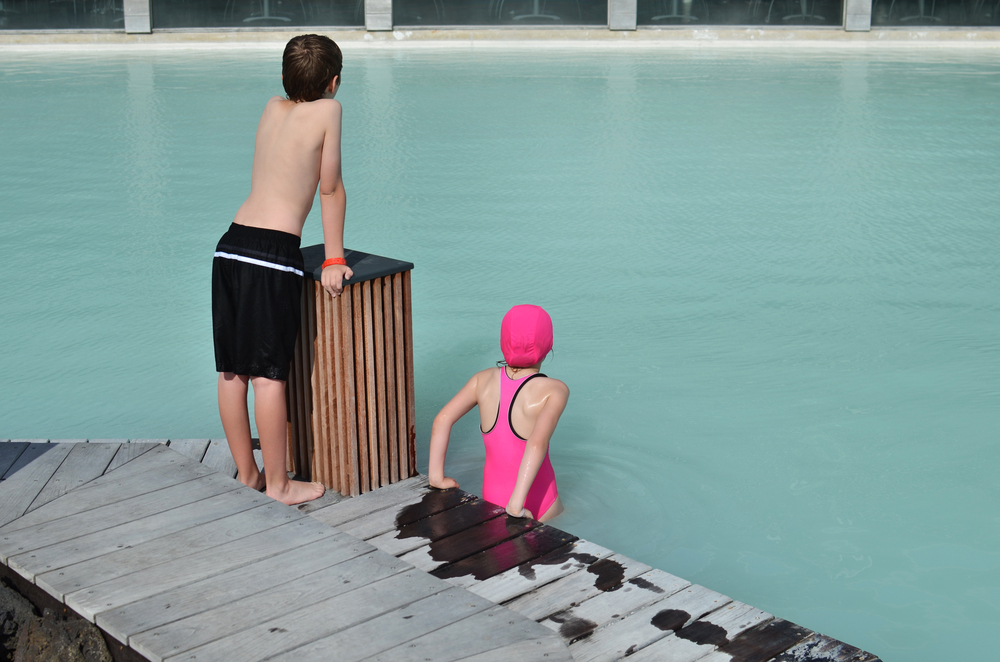 Go Whale Watching
If your child is an animal lover then Iceland has a lot to offer them And what could be more epic than watching whales in their natural habitat.
These magnificent creatures are enough to brighten up the day of even the most sullen and apathetic child.
Most whale watching tours have no age limit if they take place on traditional vessels. There are some more fast-paced tours if you have an older more thrill-seeling teens. However, we feel it's best to go when your child can really appreciate what they see so maybe 4 upwards is the best age.
Also, you will be on a boat so make sure your child is OK with that and isn't the sort to get seasick or the like. Also, make sure you dress your child appropriately as they may get wet.
If this is your family's kind of thing then watching the whales that inhabit the Icelandic shores is a real treat. Also, look out for dolphins too. In the summer you may also be lucky to see puffins too but your child will need to be over ten to go on a tour that includes the puffins.
Iceland tours with kids really are a great way to see more of this incredible country.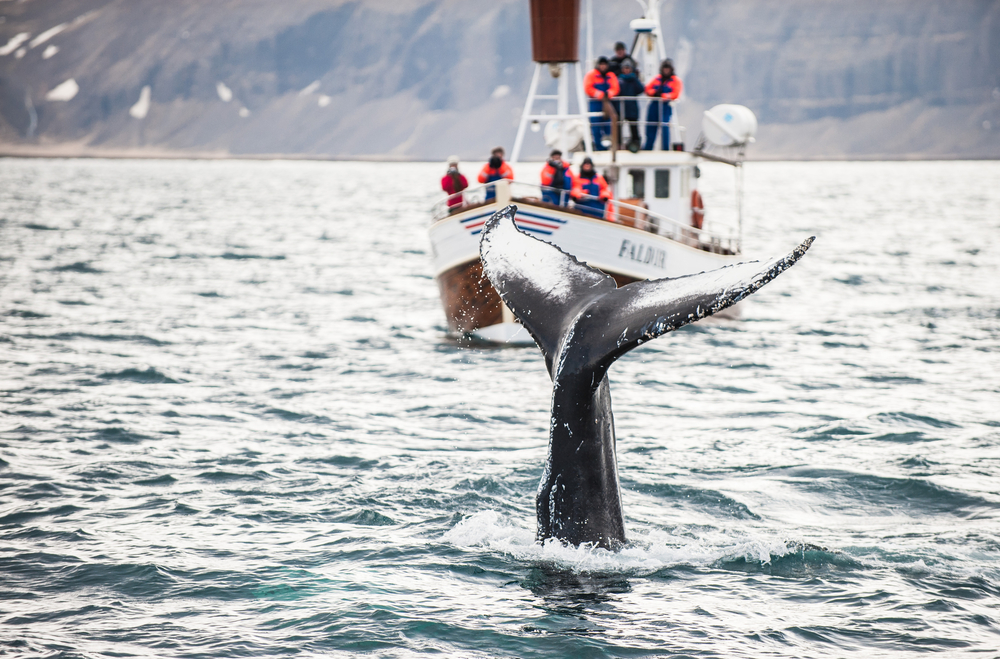 Visit The Blue Lagoon
Really wanting to visit The Blue Lagoon on your trip and thinking your child may put a spanner in the works think again. Any child over two can enter The Blue Lagoon and they are free up until 13. Any child under 8 is required to wear floaties.
The Blue Lagoon is a great and relaxing day out and children of all ages tend to love this place. However, depending on what kind of parent you are it can be a bit of a challenge getting your children to shower naked and get undressed and dressed again. It would be preferable, we feel, to wait until your child can dress themselves easily.
Also, check with any pre-teens or teens that are comfortable showering naked in the changing room it is a requirement. You will pay extra for towels unless your packages include them.
When the weather is awful you can still visit the lagoon and most prefer this time as it tends to be quieter however we feel for some children this might be a bit too much obviously the waters only keep you so warm and don't cover the whole of you. You know your child best but we feel if you are going to Iceland with kids in winter and they are really young you might want to give this a miss.
Explore The South Coast
The south coast of Iceland has a lot to offer and it's a great place for a road trip if that is what your family enjoys.
The sights are pretty close together and most of the big attractions are just off the road. Dramatic waterfalls, black beaches, and epic landscapes await you in the south.
The stops we recommend are Seljalandsfoss, Skogafoss, and the Reynisfjara. These are really easy to get to from the road. Kvernufoss is also worth a visit but you will need to hike for about 20 minutes.
Make sure when you get out of the car you have sturdy walking shoes and layers, even if it seems close the terrain changes all the time and it can get very windy. Teenagers and pre-teens will really enjoy these epic locations.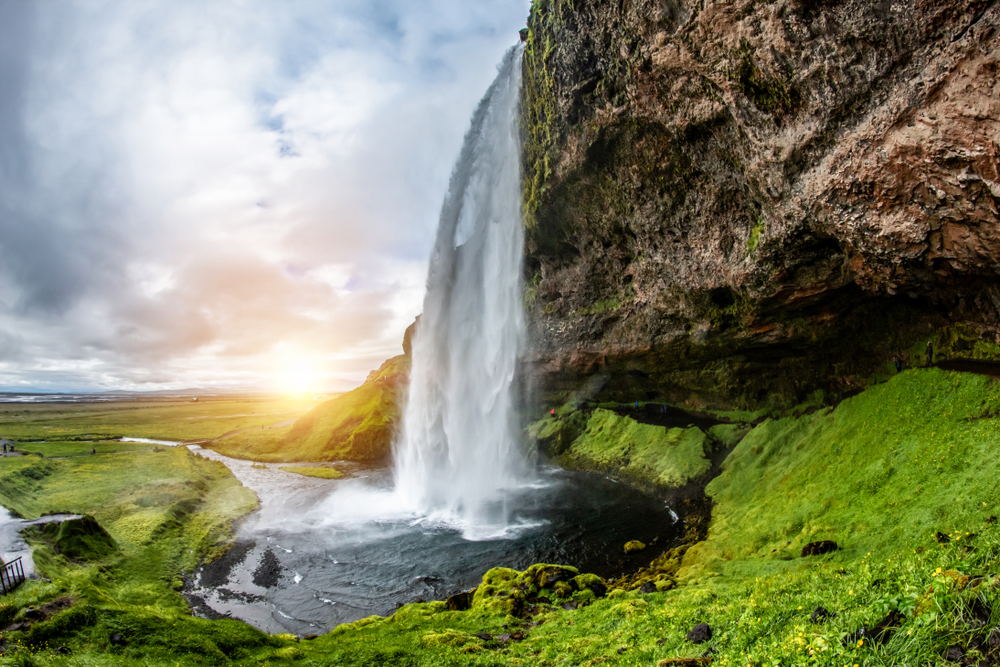 Drive The Golden Circle
One of the best ways to experience most of what Iceland has to offer is to drive the Golden Circle. If you self-drive you are in full control of the pace of your journey and where to visit. Or you can sit back and let someone else do the driving on a sightseeing tour. With children though it feels like self-driving is a much better option.
The Golden Circle is Iceland's best sightseeing route and is a 140-mile circular route. Most people feel this is easily manageable in a day but only you know how comfortable your children are getting in and out of the car all day long.
Sites to see along the way are Thingvellir, Geysier, Gullfoss waterfall, and Hrunalaug Hot Springs. All are pretty epic and awe-inspiring locations, and some of the locations are brimmed with Viking history.
Of all the Iceland tours with kids, this is probably one that is best to do with teenagers.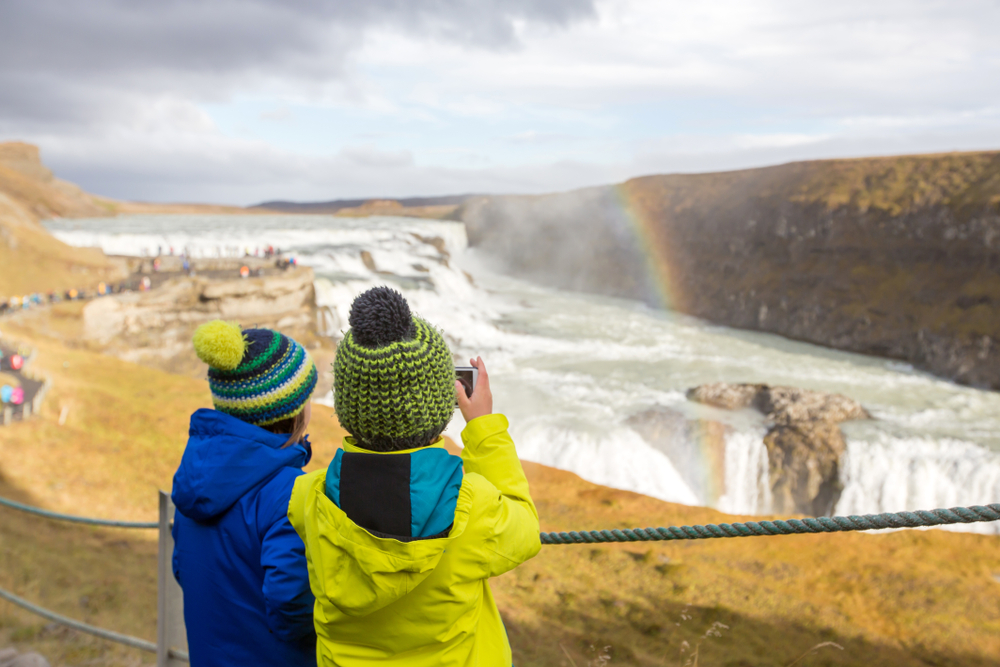 Go On A Horseback Riding Tour
Horseback riding in Iceland is definitely one of those bucket list things but it won't be for every family. Being on horseback you get incredibly close to nature seeing Iceland's fields, valleys, and forests like never before.
You know your child and you know how much this will fit with what kind of person they are. If you have a smaller child who just loves horses and has an adventurous spirit then most of the horseriding tours have a minimum age of 5 -7 depending on the tour.
However, we do feel these are the perfect activity for teenagers and late pre-teens. We feel they will get the most of it.
Two of the tours, we recommend, are the Fridheimar Farm: Stable Visit and the Red Lava Horse Riding Tour.
They both are suitable for all levels including beginners and really give you that Viking warrior or goddess vibes.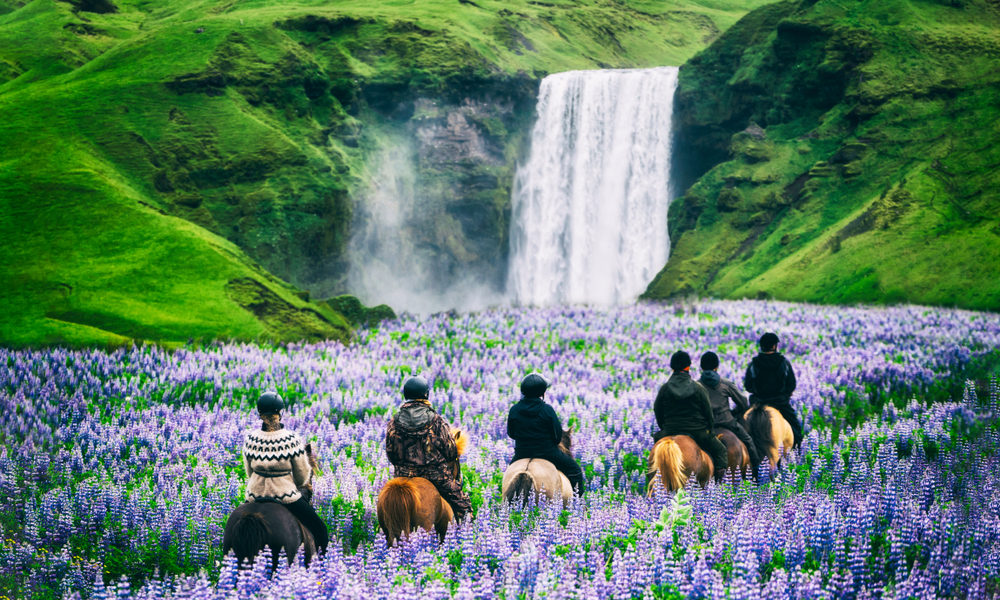 Visit Some Fun Museums
When it comes to museums in Iceland there are a lot of options, Whatever your child likes there will probably be a museum that caters to it.
If your child loves myth and legends The Saga Museum in Reykjavik is a must. To learn more about Iceland the Reykjavik City Museum settlement exhibition all about Vikings is for them.
For animal lovers, the Whale Museum is the place to go. Here there are features 24 life-sized models of various water creatures. If you are going to Iceland with toddlers they will love this place.
The Perlan is we feel the museum that most children will enjoy particular from 7 upwards. Apart from being Reykjavik's most striking building, the interactive exhibits are just out of this world.
Children can feel the force of a volcano, walk through an ice cave and experience the northern lights. These are all great if your child is either too young to visit some of the things. This is definitely one of the things to do in Reykjavik with kids.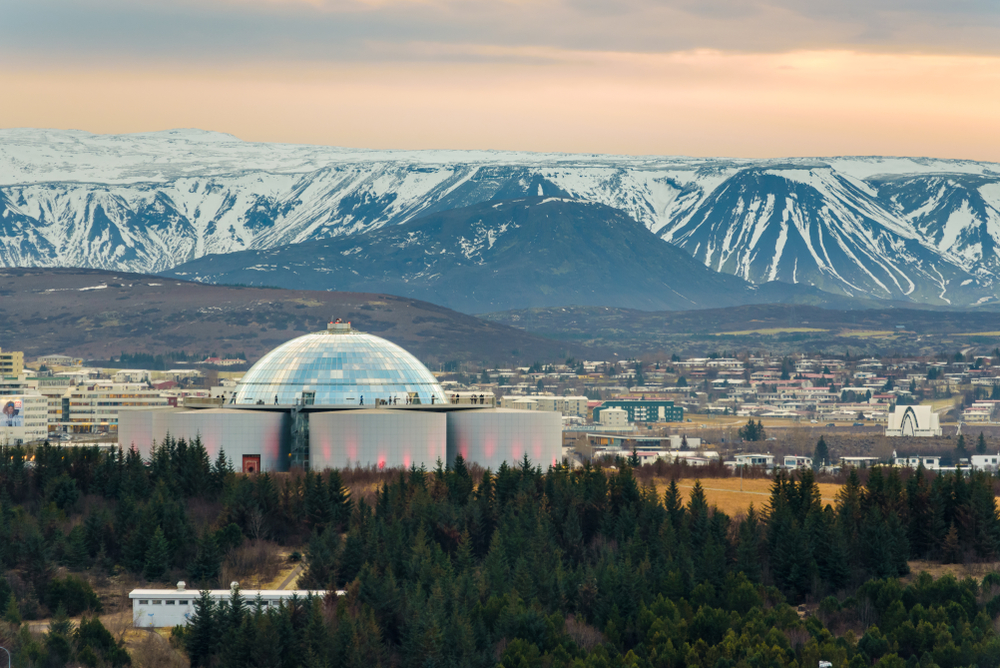 Go Searching For Hot Springs
Iceland has a myriad of natural hot springs and pools some like the blue lagoon are luxurious and some are a bit more basic and require a hike.
There is no age limit on the Fontana Geothermal Baths in Laugarvatn and this and Mývatn Nature Baths in North Iceland allow children under 13 for free. The Secret Lagoon at Flúðir Village also lets children under 14 in for free.
On the Golden Circle, you can stop at valley Reykjadalur by Hveragerði and hike up to the natural hot springs or walk to the Seljavallalaug Hot Spring which is about a 20-minute hike, we have written more about this below.
The hot springs are perfect for children and toddlers to play in and young children tend to love them.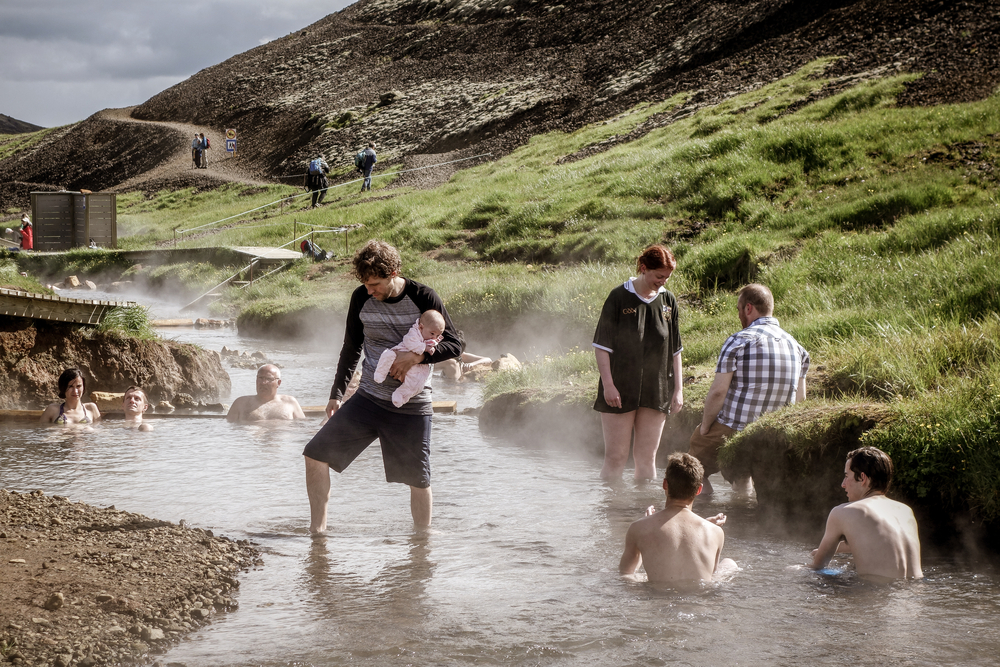 Go On A Family Friendly Hike
Now obviously hiking is not for everyone and while none of these hikes are difficult we recommend that generally, kids over 10 tend to prefer hiking best. Obviously, if your child is small and you are happily carrying them in a hiking backpack then that is great too.
One thing for sure is that any hike in Iceland will have incredible epic views and whatever you are hiking to will be well worth the journey.
The Skaftafellsjokull Hike In Iceland gets you up close and personal with a glacier and what could be cooler than that. This hike starts right at the visitors center and is just under 2 ½ miles there and back. It's pretty flat so suitable for all levels.
Seljavallalaug Hot Springs is just a 20-minute hike from the parking lot and the hot spring at the end of it is Instagram-worthy. Make sure you bring your towel, and swimming costume.
The hike isn't completely flat so we recommend sturdy walking shoes and flip-flops in your bag for the springs.
For something a little bit longer there is a day hike that takes you to the Laugahraun lava fields and Mount Brennisteinsalda.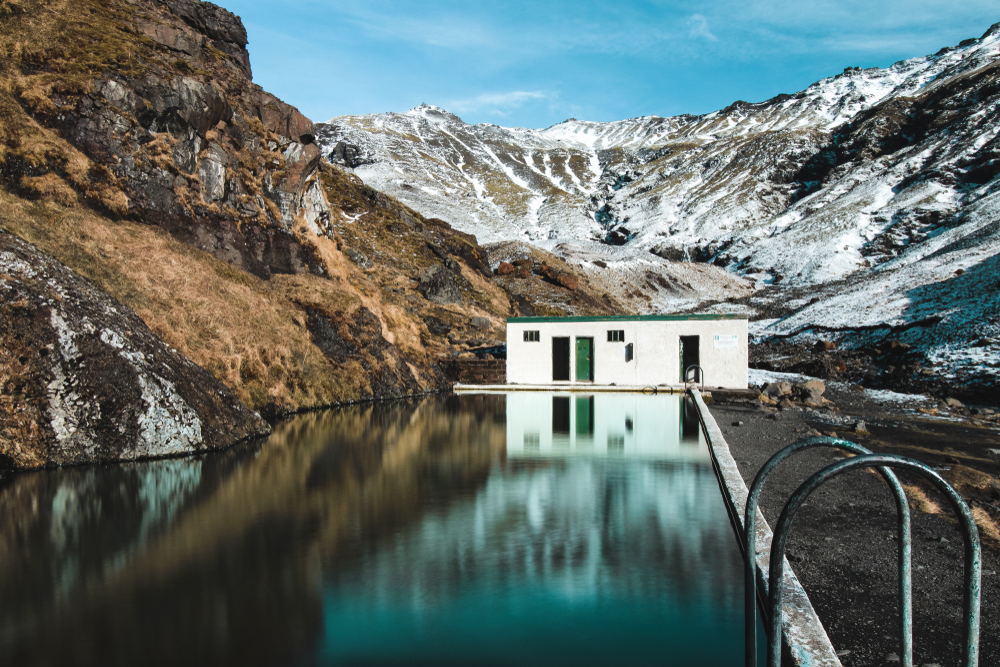 Explore Reykjavik With Kids
Reykjavik is a perfect place for children whatever their age. It's a compact city so easy to get around and has a lot of children-friendly attractions and locations. It seems to capture the small town harbor vibe with big-city excitement.
There are so many things to do in Reykjavik with kids so make sure you get a Reykjavik City Card. The card gives you discounts at most major attractions and you will have free access to the Reykjavik Zoo and Family Park, all of Reykjavik's geothermal pools, and many museums.
If your children are older a bike tour of the city is really fun. Or get a ticket for the hop-on-hop-off bus which takes you to many of the main sites.
A lot of the great things to do in Reykjavik are free like exploring downtown, and spending time in one of the parks or the city pond where small children can feed the ducks and swans only in winter and only lettuce, corn, or peas.
Looking for street art, eating Icelandic hot dogs, getting ice cream, and walking along the waterfront are all great activities in Iceland for families.
The 3D map in the city hall is also a really great way of getting children involved in the planning of the day. Reykjavík Botanical Gardens is also a great place to let the children run a bit more wild. , And the Kolaportid Flea Market can be a really fun idea for those children who love a bit of treasure hunting.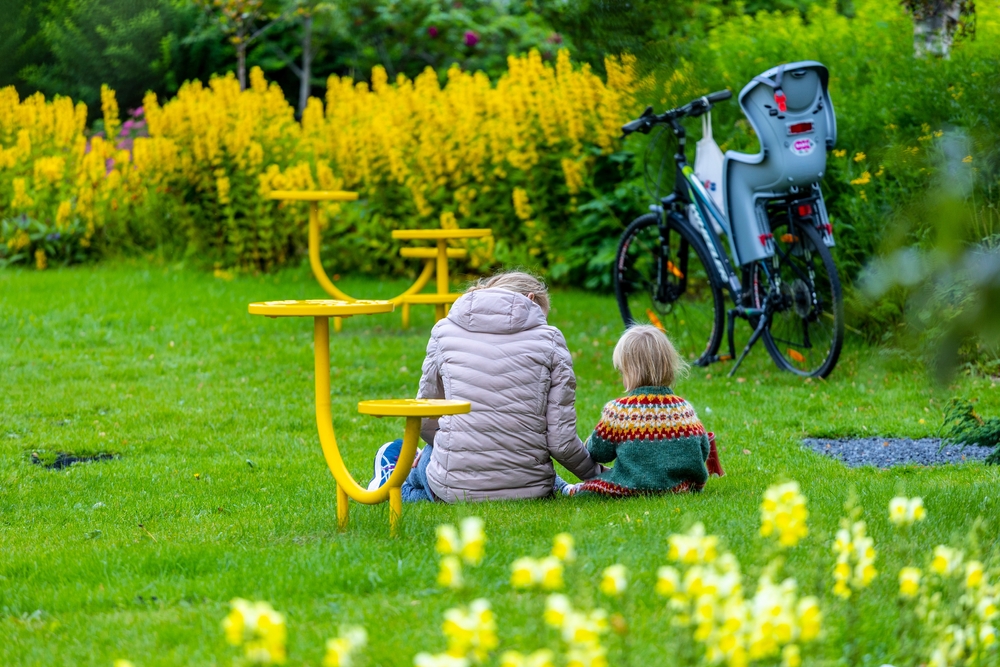 As you can see when it comes to things to do in Iceland with kids there are so many things to choose from. Whether you Iceland with kids in winter or other months you will never run short of family-friendly activities.
Traveling to Iceland with kids is much easier than you think and you might be actually surprised at how easy and effortless it is. Whatever you decide to do we hope your family trip to Iceland is a great adventure and please come back and tell us all about it.