If you're planning a trip to Iceland, then you'll want to make sure you add a trip to Seljalandsfoss waterfall to your itinerary. Seljalandsfoss waterfall is one of our favorite waterfalls in Iceland to visit. So, we wanted to answer some of the most commonly asked questions about visiting Seljalandsfoss!
Seljalandsfoss Iceland is actually a pretty popular south Iceland waterfall. In fact, you've probably seen it in a variety of pop culture settings. It was a waypoint during the first leg of the sixth season of The Amazing Race. The Seljalandsfoss waterfall in Iceland has also been in several music videos and movies. Bjork, who is from Iceland, has featured it in a number of the movies she's worked on. Justin Beiber was seen standing around it, and several glaciers in Iceland, in his "I'll Show You" music video. That's just to name a few!
In recent years, thanks in part to its usage in media, Seljalandsfoss waterfall has become a popular south Iceland waterfall to visit. In this list of tips, you'll learn everything you need to know about planning a trip to the Seljalandsfoss waterfall. We've been lucky enough to visit it a few times, at several different times throughout the year. So we've got all the details on when to visit, what to wear, and everything in between.
By the time you're done reading this, we're confident you'll be itching to visit this amazing south Iceland waterfall! You'll also be able to go with the knowledge that you are well prepared. With all that in mind, let's get into it and answer all the questions you probably have about visiting Seljalandsfoss waterfall!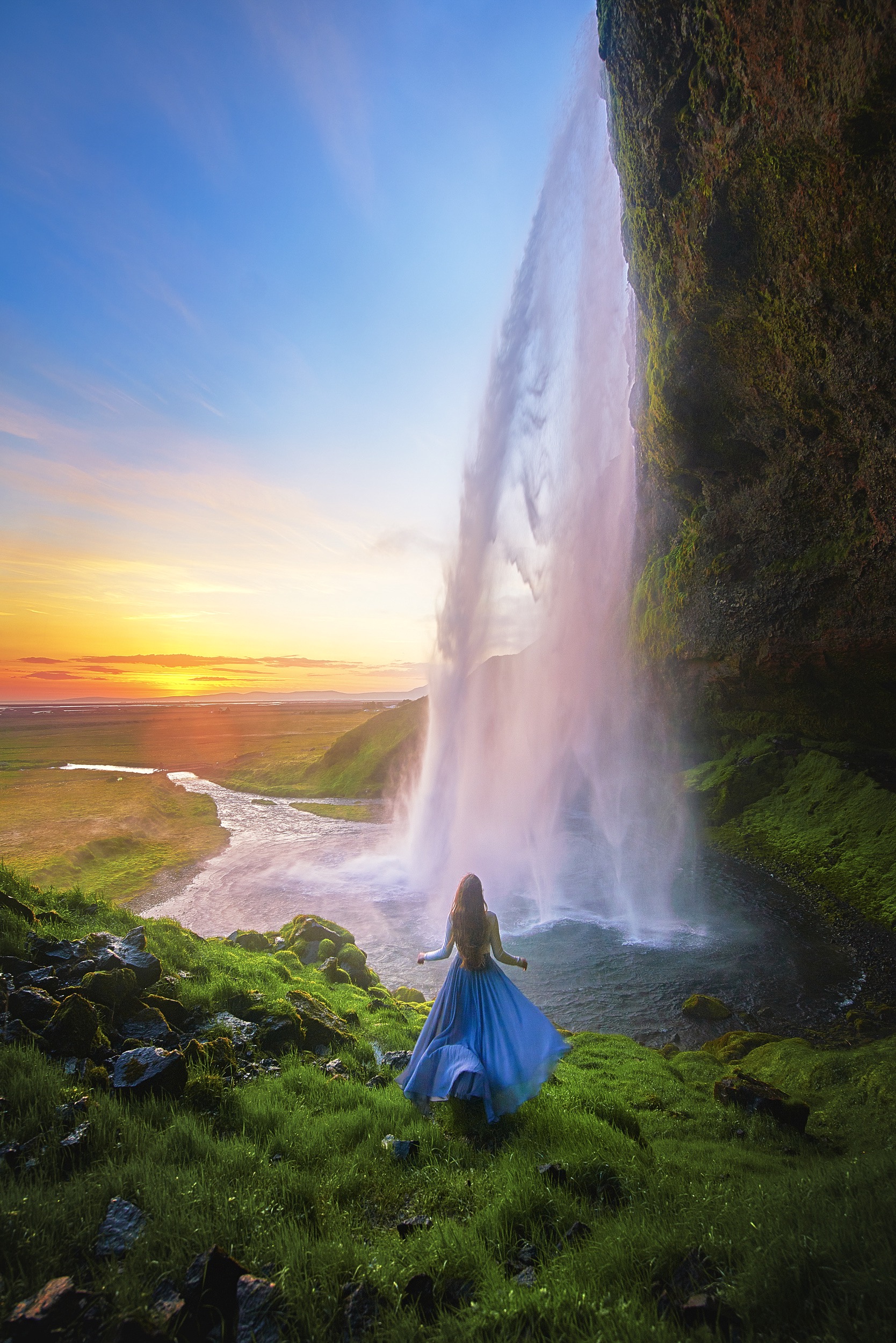 What Does Seljalandsfoss Mean?
Fun fact: foss actually means 'waterfall' in Icelandic. So when we say Seljalandsfoss waterfall we're actually just saying waterfall twice! In English, it would look like Seljalands waterfall. As for the 'Seljalands' part, it has a pretty interesting meaning. The translation from Icelandic to English loosely means 'selling the land'. If you add on the 'foss', it means 'selling the land of waterfalls'.
There isn't a definite reason as to why Seljalandsfoss waterfall's name has to do with 'selling the land'. It has been theorized that perhaps tradesmen once lived in the area, and that's how it got the name. Scientists have also noted that the area around the waterfall was once a dense birch forest.
Historians theorize that maybe the act of chopping down the birch forest and selling it off is how the waterfall got its name. But for now, all we can really do is theorize about how Seljalandsfoss falls got its name.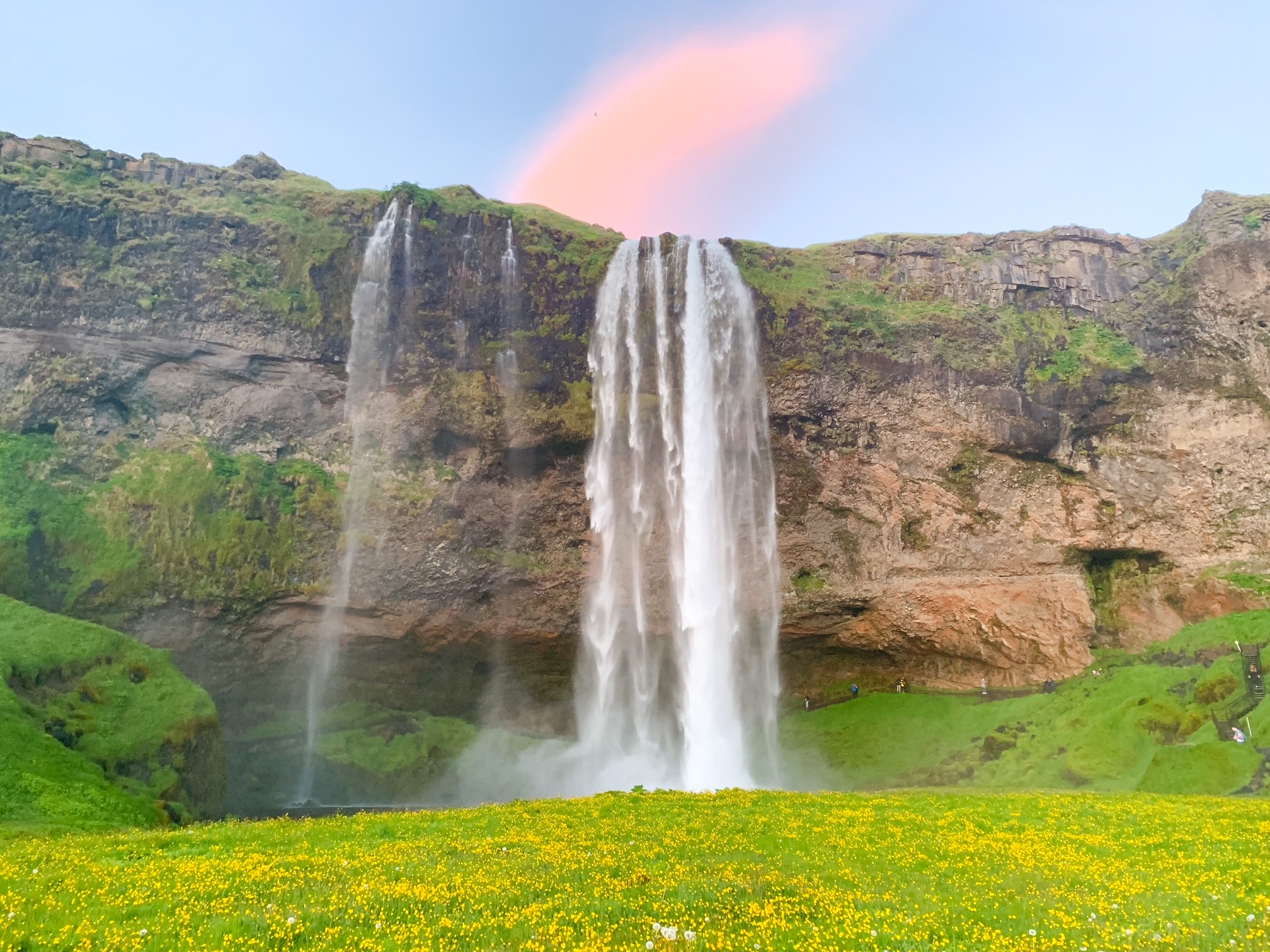 Where Is Seljalandsfoss Waterfall Located?
You'll find Seljalandsfoss falls in south Iceland, just off of Route 1. Route 1 is probably best known as the Ring Road. The Ring Road connects much of Iceland since it wraps around the entire island and follows the coastline. There are attractions in Iceland just off of the Ring Road where you'll have to exit off to reach them.
To get to Seljalandsfoss, you'll need to exit off of Route 1, or the Ring Road. The exit you'll want to take is for the road that leads to Þórsmörk Road 249. You'll come across signs for the parking area for visiting Seljalandsfoss waterfall. It's easily one of the best things to see when you're traveling through south Iceland, and it's become a popular Ring Road stopping point.
Because it is off of the Ring Road and still fairly close to Reykjavik, there are many Seljalandsfoss tours that leave from out of the city. So, you won't have to drive yourself there if you don't really want to. To find one of the Seljalandsfoss tours, you can just ask the concierge at your hotel for help planning a tour or book one ahead of time.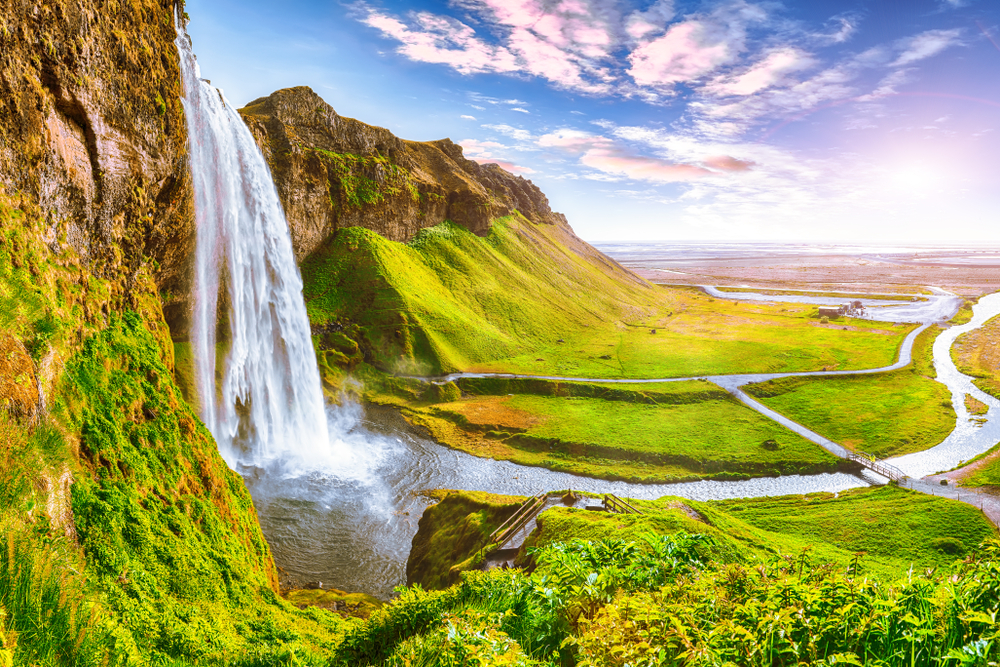 Can You Walk Behind Seljalandsfoss?
Seljalandsfoss waterfall is one of the few waterfalls in Iceland that you can actually walk behind. There is a path that leads you from the front of the waterfall around to the back. However, to walk behind it, you'll need to make sure you're visiting at the right time of the year.
The path behind Seljalandsfoss waterfall in winter is typically closed. It is a very active waterfall that sprays water all around it. That means that in the winter months, the area around the waterfall can be pretty icy. That is especially true for back behind the waterfall.
Where you walk behind Seljalandsfoss there is a cave-like rocky overhang where you can see through the waterfall to the front side. That cave-like spot in the winter can be extremely dangerous to traverse. However, if you visit pretty much any other time of the year you'll get to enjoy a one-of-a-kind experience. There aren't many waterfalls in Iceland that you can walk behind, and Seljalandsfoss falls is one of the best.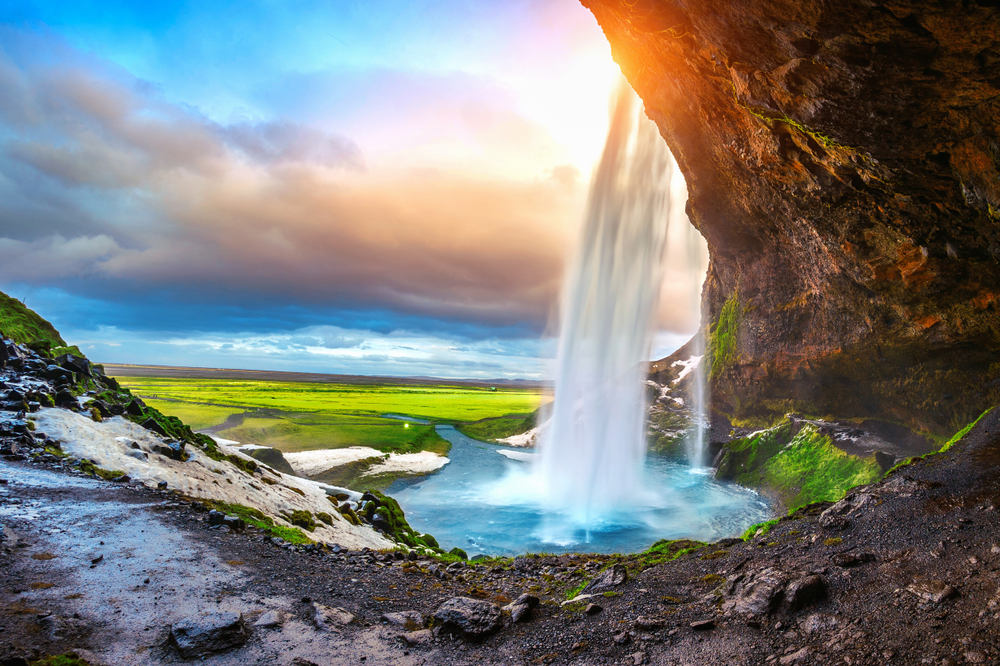 Is There A Hike To Get To Seljalandsfoss?
To get to Seljalandsfoss waterfall you'll park in an easily accessible parking lot off of the Ring Road. From the parking lot, you'll walk a trail to get to the falls. You'll even be able to see Seljalandsfoss from the parking area. There is no real Seljalandsfoss hike though.
Instead, it's more of a casual walk. There is a path that leads you to a viewpoint of the front of the falls. The path then continues to some steps that you'll need to climb. Those steps lead to the pathway that loops behind the actual Seljalandsfoss waterfall. So, while you may see people referring to the path as the Seljalandsfoss hike, please don't let that worry you. It's a fairly easy and accessible trail, not a traditional hike.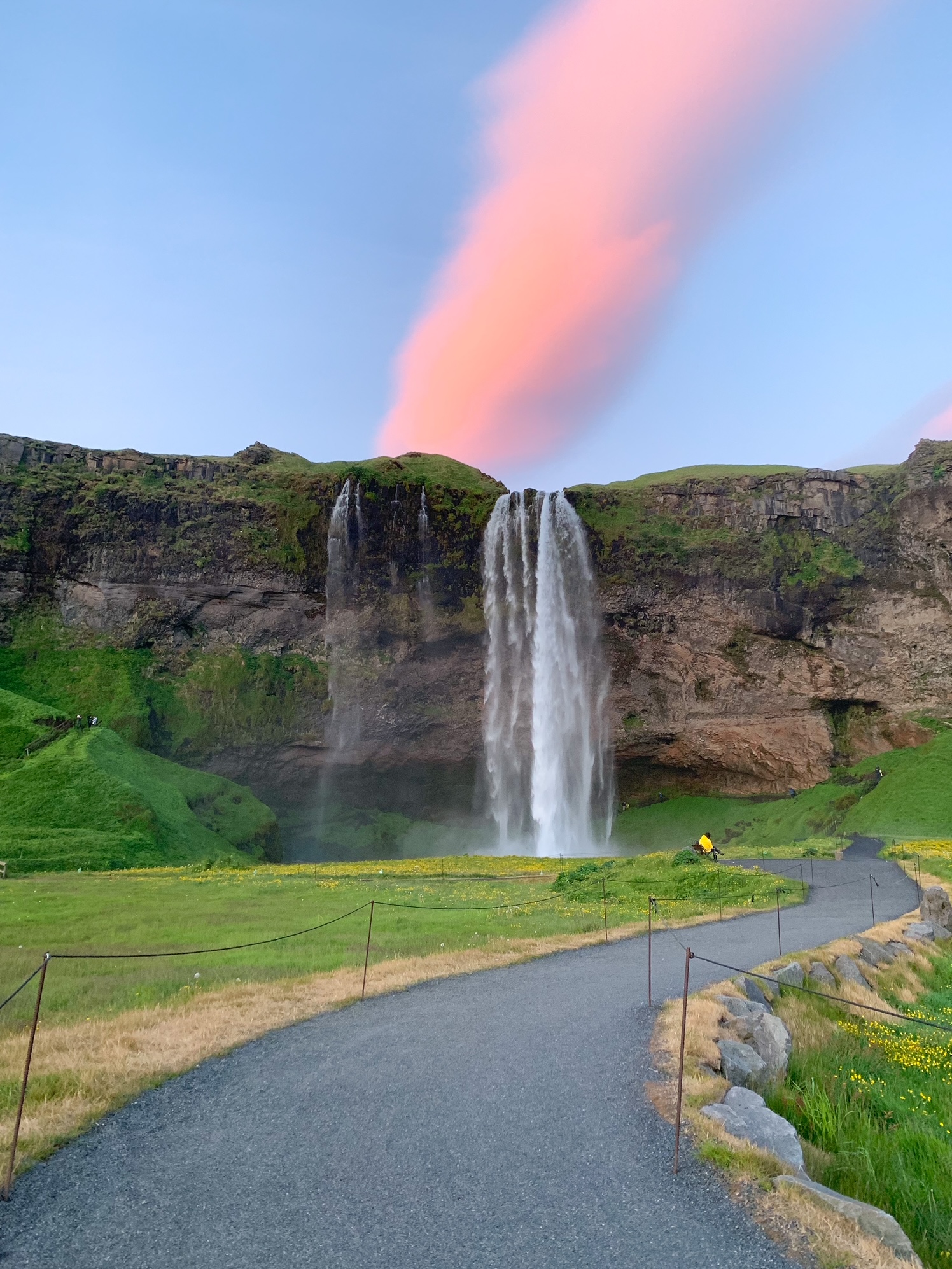 Amenities At Seljalandsfoss
Recently, in 2017, there has been some controversy about the amenities at Seljalandsfoss. At the time, there were plans for a visitors center to be constructed near the falls. However, many of the landowners around the falls were opposed. There were concerns that having something so close to the falls like a large visitors center would detract from the view. Right now, the plans for the visitors center are still in limbo.
While you won't find a large visitors center, there are a few amenities near the Seljalandsfoss waterfall in Iceland. Around the waterfall there are a few food carts, so you can grab something to eat after you explore Seljalandsfoss falls. There are also some bathrooms. They are a bit rustic, but they are heated, and free to use. A tip for those who haven't traveled to Iceland yet is that free heated bathrooms are a bit of a luxury. So we suggest taking advantage of them while you're there.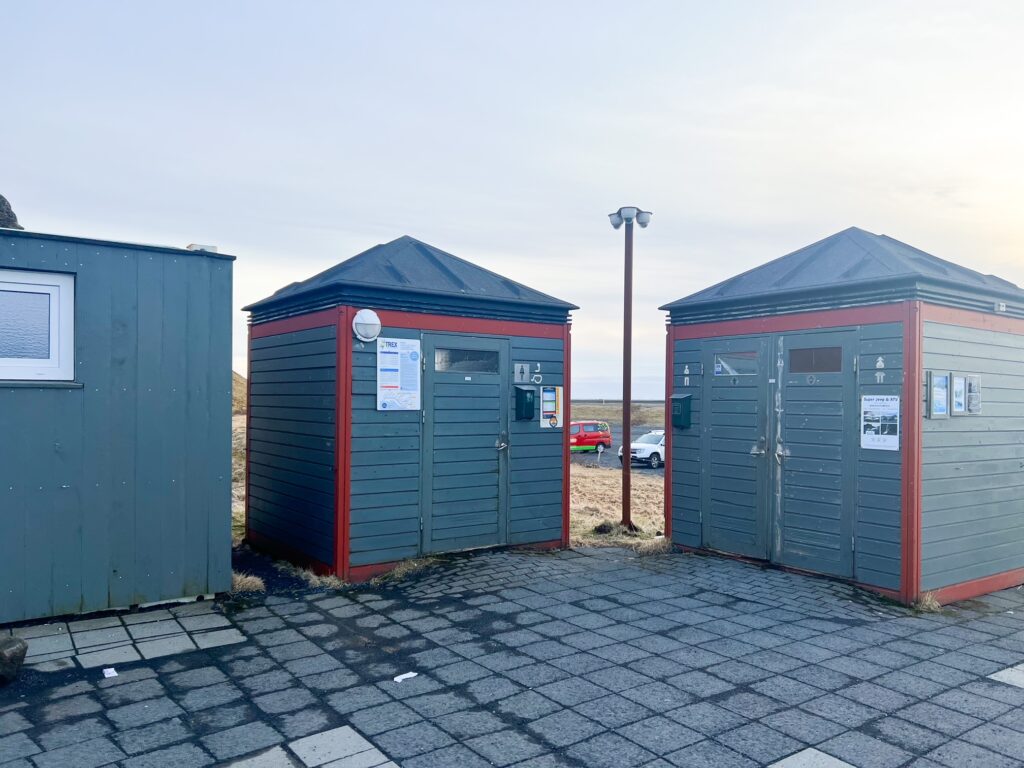 What To Wear At Seljalandsfoss
This is probably one of the most important questions that we get asked. We can't stress enough that you should absolutely wear all waterproof everything if you are planning to visit Seljalandsfoss waterfall in Iceland. In general, we typically think it's a good idea to wear waterproof clothes the entire time you are traveling in Iceland. But, it's especially important when visiting a south Iceland waterfall, like Seljalandsfoss.
If you don't heed our advice on this one, you'll probably not have a good day. We're being totally serious when we say that. Like any waterfall, Seljalandsfoss is constantly spitting out water all around it. When you add in the fact that you'll also be going behind the waterfall, you can bet that you will be getting pretty wet. But, if you come prepared, you'll stay relatively dry and ready for your next Iceland itinerary stop!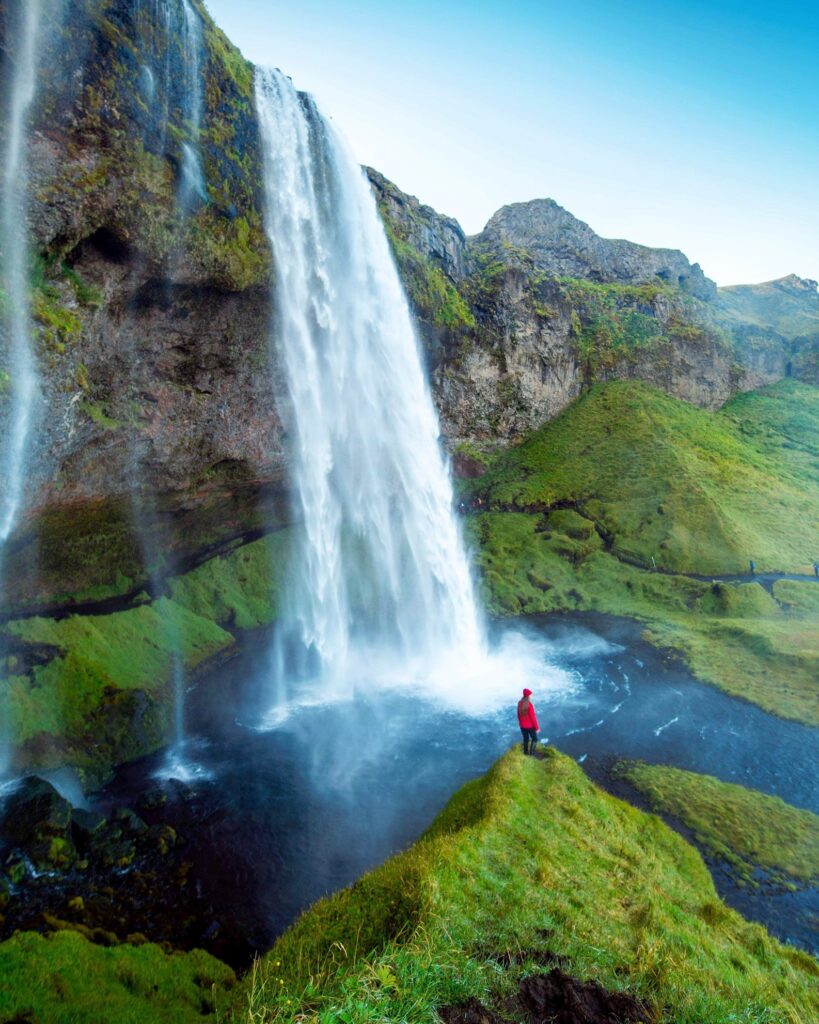 Walking Behind Seljalandsfoss Waterfall
The main drawl of visiting Seljalandsfoss waterfall is the fact that you can walk behind it. So if you're visiting during a time of year when the trail behind it is open, it's a must! There are a few things to keep in mind though if you do walk behind Seljalandsfoss. The biggest thing to keep in mind, besides the all waterproof everything, is your footwear. Again, we'd suggest a sturdy waterproof shoe.
We often wear good quality rainboots almost the entire time we are walking around in the natural areas of Iceland. They keep your feet dry, and with plenty of socks, your feet will stay relatively warm too. you can even find lined rain boots or waterproof winter boots. Both are great options. You won't want to be walking behind the waterfall in anything even remotely flimsy. So leave the Converse sneakers at home for this one.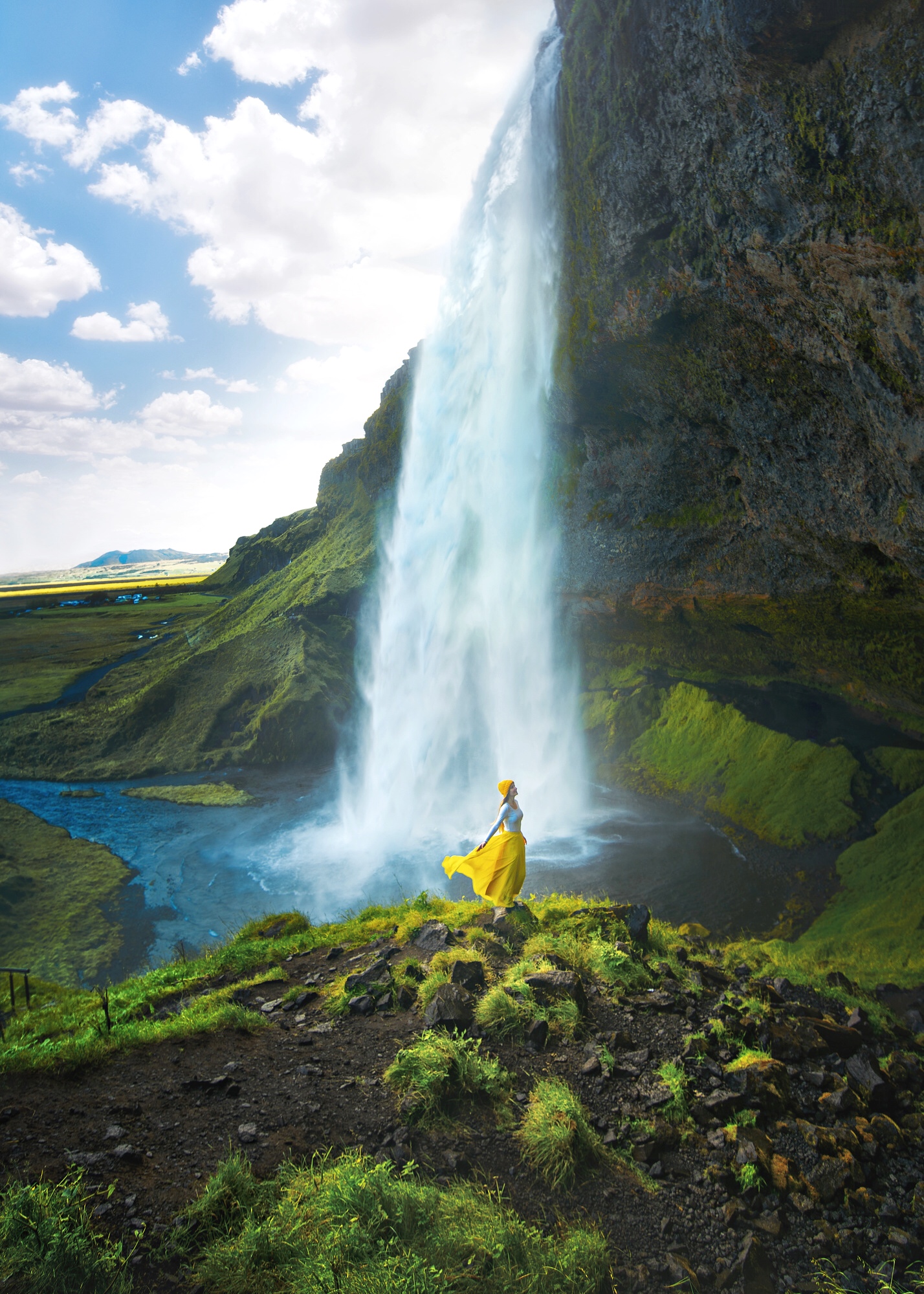 Visiting Seljalandsfoss In Winter
There really isn't a bad time to visit the beautiful Seljalandsfoss Iceland waterfall. However, if your main goal of visiting is to walk behind the fall, then the Seljalandsfoss waterfall in winter might be a bit disappointing. You'll still get to admire the stunning waterfall from the front. But because the area around Seljalandsfoss falls in the winter can get pretty icy, the trail that leads to the back of the falls is typically closed.
If it's not a big deal to you to walk behind Seljalandsfoss waterfall, then you'll still really enjoy visiting in the winter. You'll be able to view the front of the waterfall without any problems. Depending on the weather, sometimes that back trail is open during the winter. Either way, we suggest visiting Seljalandsfoss waterfall in Iceland any time of the year.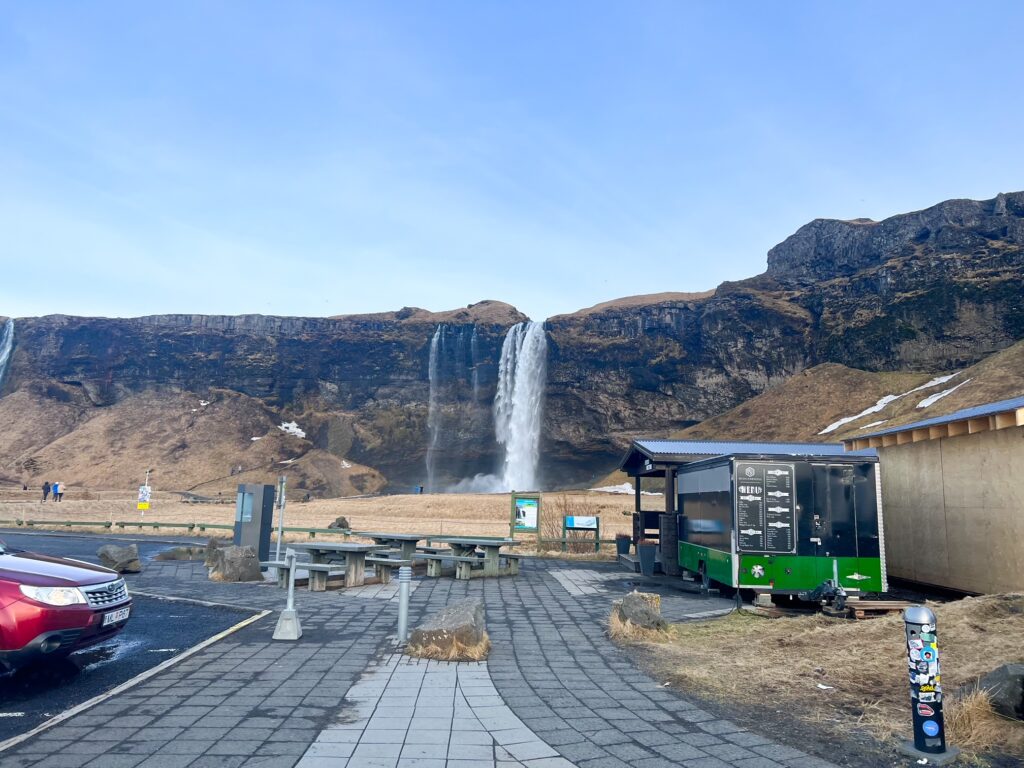 How Long To Spend At Seljalandsfoss Waterfall
While Seljalandsfoss waterfall in Iceland is beautiful, you really don't need to spend a ton of time there. When we visit, we typically spend 30 minutes to an hour there. If you just want to get there, take a look at the falls, and then leave, you really don't need to spend more than 30 minutes there.
However, if you're like us, and you like to take tons of photos, you can expect to spend a bit more time there. That being said, we typically don't see a need to be there more than an hour. You can easily explore Seljalandsfoss falls, take pictures, and head back to your car within an hour.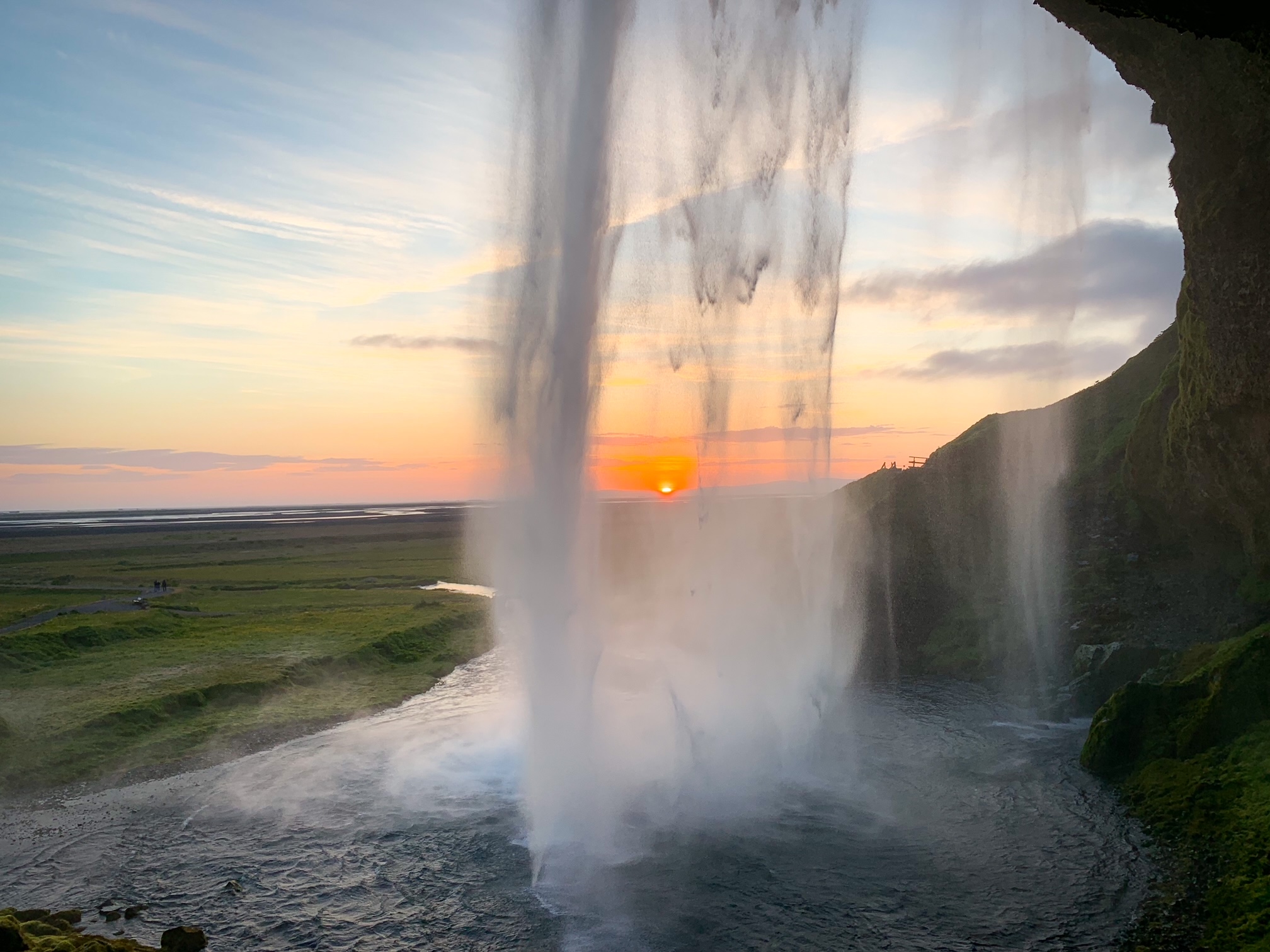 Seljalandsfoss waterfall is an epic south Iceland waterfall that is always worth a visit. No matter what time of year or how long you stay, we guarantee you'll enjoy exploring the area around Seljalandsfoss Iceland. Hopefully, these tips have made you feel prepared to visit and you've added Seljalandsfoss waterfall to your Iceland itinerary!