Looking to experience summer in Iceland? Can't wait to experience longer hours of daylight, warmer weather, tons of greenery and a variety of activities? Visiting Iceland in summer will let you do that!
But before you begin to plan this trip, there are some things you need to know about summer in Iceland. This place is truly a sight to see: with glaciers meeting pitch black volcanic sand on beaches, and even colorful villages, there are tons to do in Iceland! But better yet? When you visit during summer, you can do even more!
So before you begin your trip, here are some tips on what you should know before enjoying summer in Iceland. Happy travels!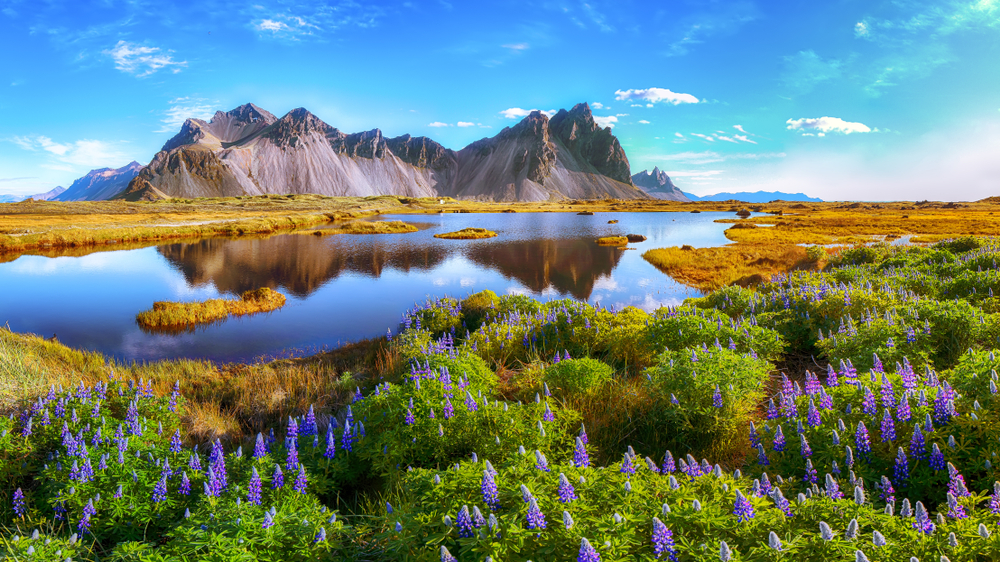 1. There is a lot of Time to Explore in Iceland in Summer Because of the Midnight Sun
If you have never heard of midnight sun, just know that it means more daylight! Summer in Iceland means that you will have longer hours of light to explore. During the summer solstice, which typically occurs around June 21, you can experience the brightness of the midnight sun. Check out some things to know before visiting in June!
But if you are not visiting in June, no wires! The typical evening hours of the midnight sun can be found from May to August. The sun during this time typically sets before midnight (hence the name!). Because of such, you not only have more time to explore, but you can worry about less crowds!
When you are traveling to Iceland in summer, those late nights and extended hours help slim the typically packed crowds. Would you really see someone at the beach at 10 pm? No! So visit later in the evening to avoid business. The additional hours of light is just a bonus!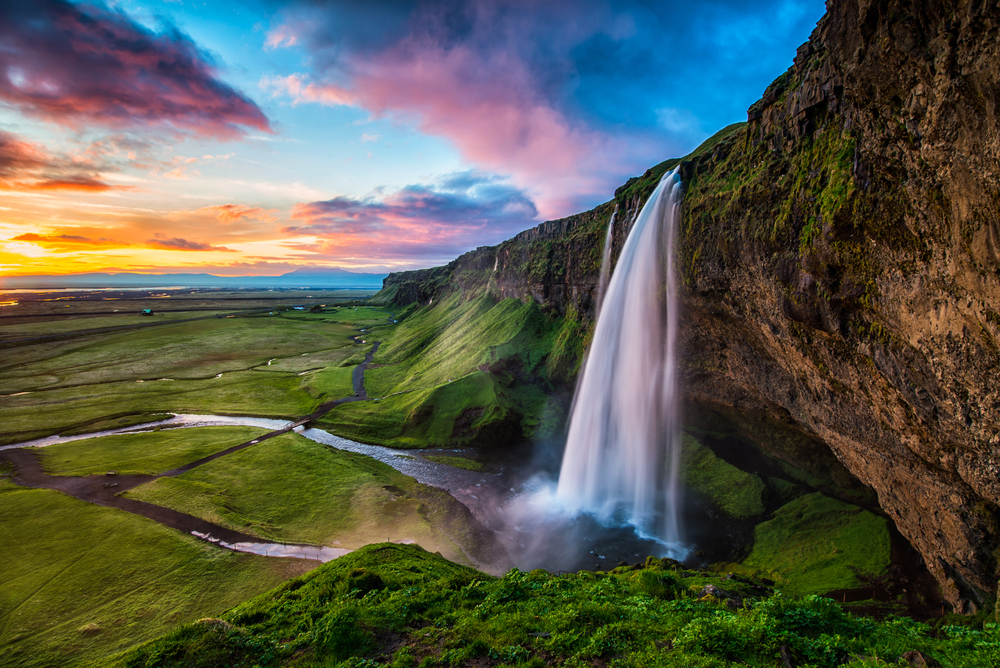 2. You Cannot See the Northern Lights in Iceland in Summer
If seeing the Northern Lights is on your bucket list for summer in Iceland, we are sad to say this is not possible. Try visiting during a different season, instead.
Although the aurora is active year-round, there just aren't enough hours of true darkness for the lights to be seen in those summer months. This is, of course, thanks to Earth's axial tilt and the midnight sun. And as mentioned, if you visit during a different month, you'll be able to see those stunning lights then!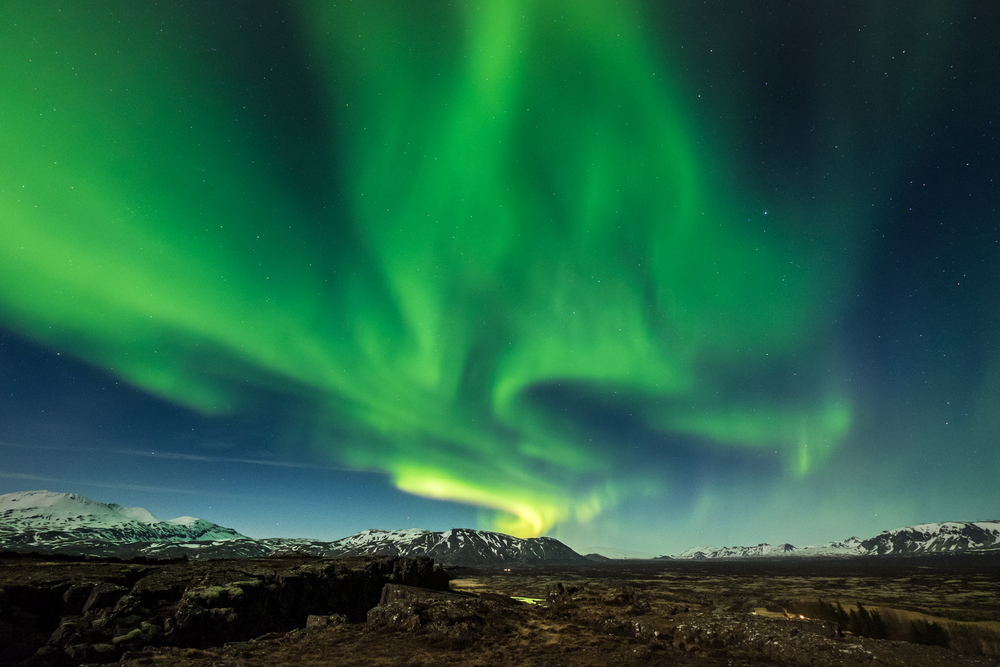 3. Summer Temperatures in Iceland are not all that Cold
Iceland in summer is actually fairly warm! People don't assume this, as the country's name is literally ICEland, however, summer in Iceland has warmer temperatures. With these temperatures, we suggest checking out what to pack for your summer visit.
If you are looking for the hottest month, definitely visit in July. The average temperature for summer in Iceland during July is between 50-59 degrees Fahrenheit. This month brings about 18 hours of daylight too!
If you are visiting in the other summer months, do not fret! It is still warm! Iceland's temperatures in the summer cab be as low as 41 degrees Fahrenheit, but they can get up to 77 degrees on those super warm days. Most summer months average between 50-58 degrees, however. And we also want to note that summer in Iceland is not as wet as spring. But it does rain occasionally, so pack a raincoat just incase!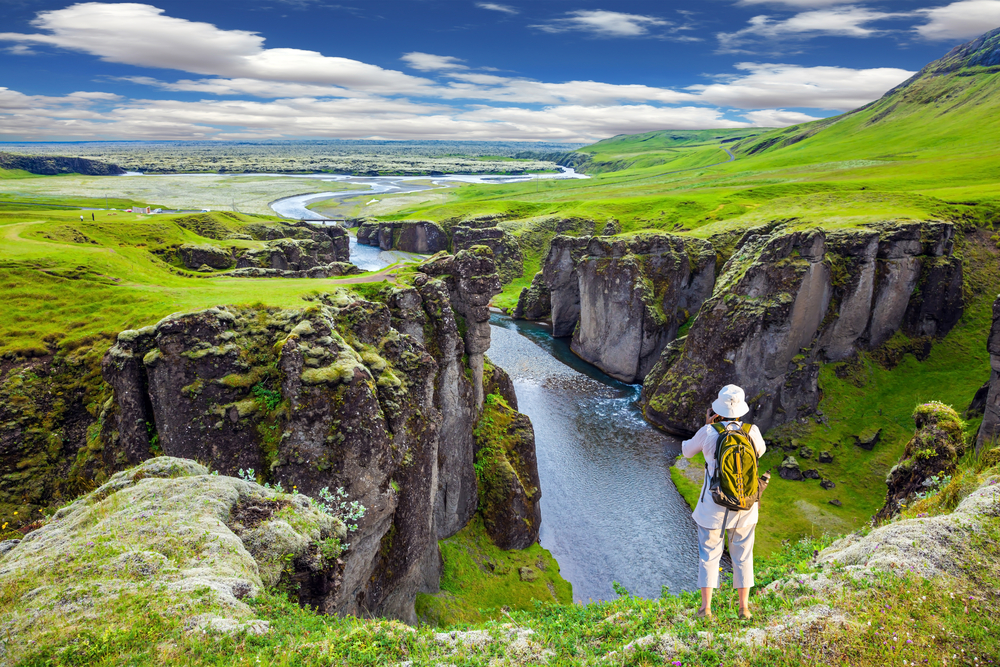 4. Prepare for Iceland Summer to be Windy
Iceland in general has strong winds. So what happens during summer in Iceland? It gets windier! The average summer wind speed is about 9.3 miles per hour. This can be enough to get you chilly, and to spray some of that gorgeous coastal waters and waterfalls toward you. So make sure to pack a waterproof jacket or a windbreaker to protect you!
For context, it is not as windy as it is in winter. Iceland's strongest winds are between October and March, with the wind speeds averaging 70% more in strength. That means winds can pick up to 14.2 miles per hour! So if you don't like wind, make sure to go to Iceland in summer!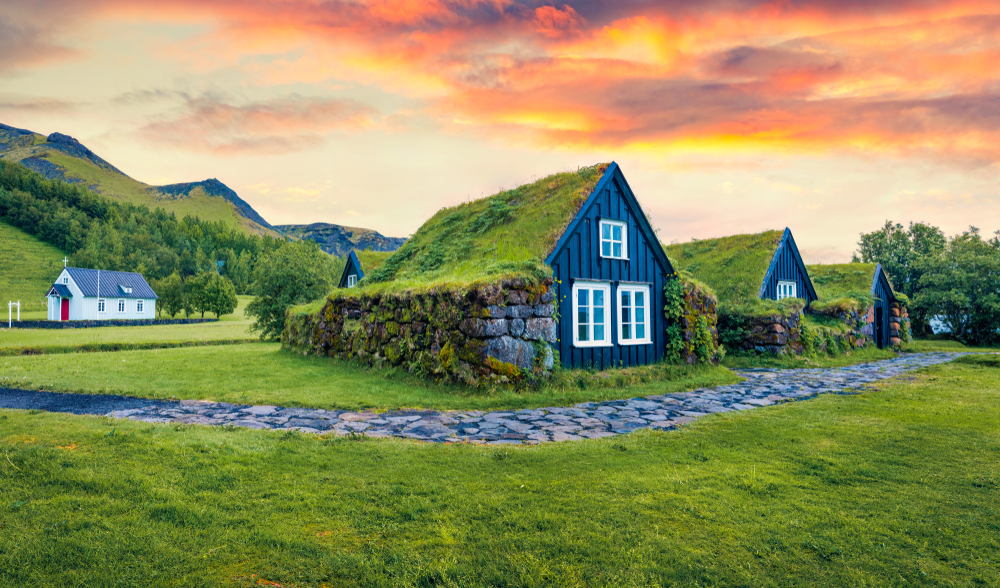 5. Lupine Flowers are Everywhere and you CAN Trample Them!
Lupine flowers are FAMOUS in Iceland. But not for the right reason. First, you can typically tell it is summer in Iceland when you see these tall, purple flowers blooming. And they bloom everywhere!
With green fields turning purple, these flowers are found along roads, near waterfalls, and by lakes. When we say these fields are turning purple– we really mean it. This plant is not native to Iceland!
Because these flowers are not native, it is actually totally okay for you to trample them! So when you admire the flowers sprawling over mountainsides, don't be afraid to step on a few. Their wild spread can be stopped! And who wouldn't love jumping in a field of flowers during summer in Iceland?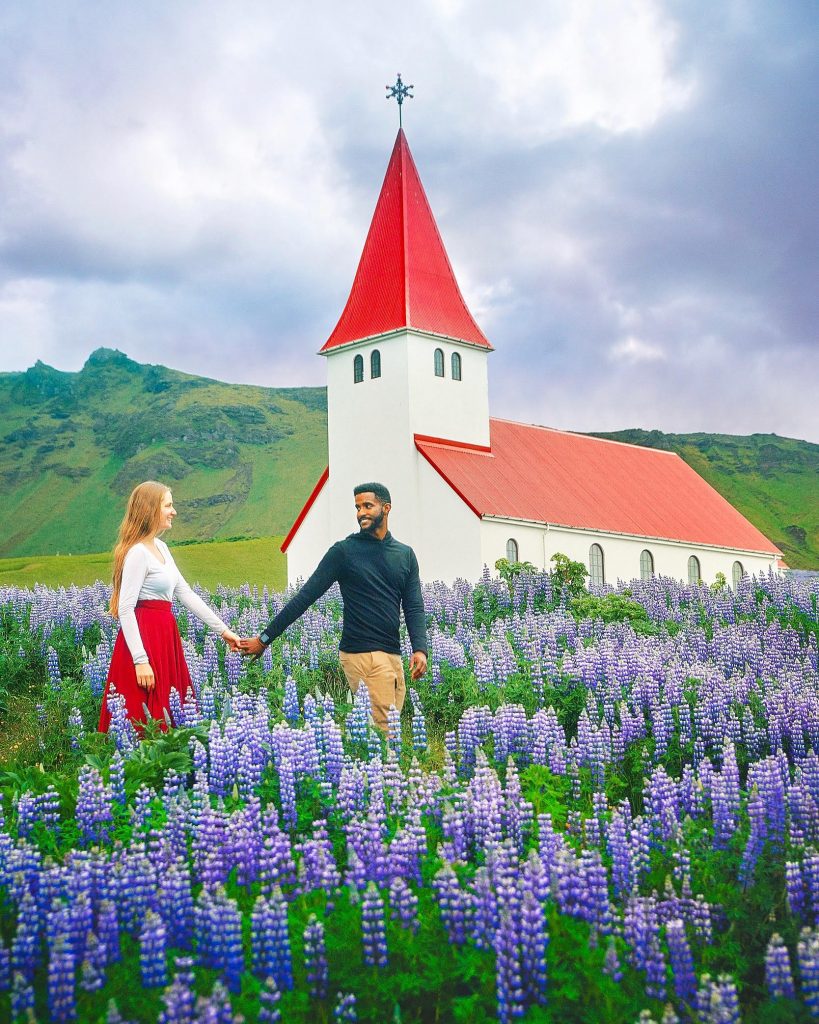 6. Spend Some Time at Swimming Pools in Iceland
We've already talked about temperatures, so what happens when it gets warmer for summer in Iceland? Visit a pool, of course! With those longer hours of daylight and warmer weather, tourists and locals adore relaxing at the pool.
There are over 120 pools around Iceland. Swimming pools have a HUGE cultural value, and you really should not miss out on visiting some. In fact, most cities have pools. And better yet? The usually only cost about $10 to get in! They are the PERFECT place to relax. Especially during summer!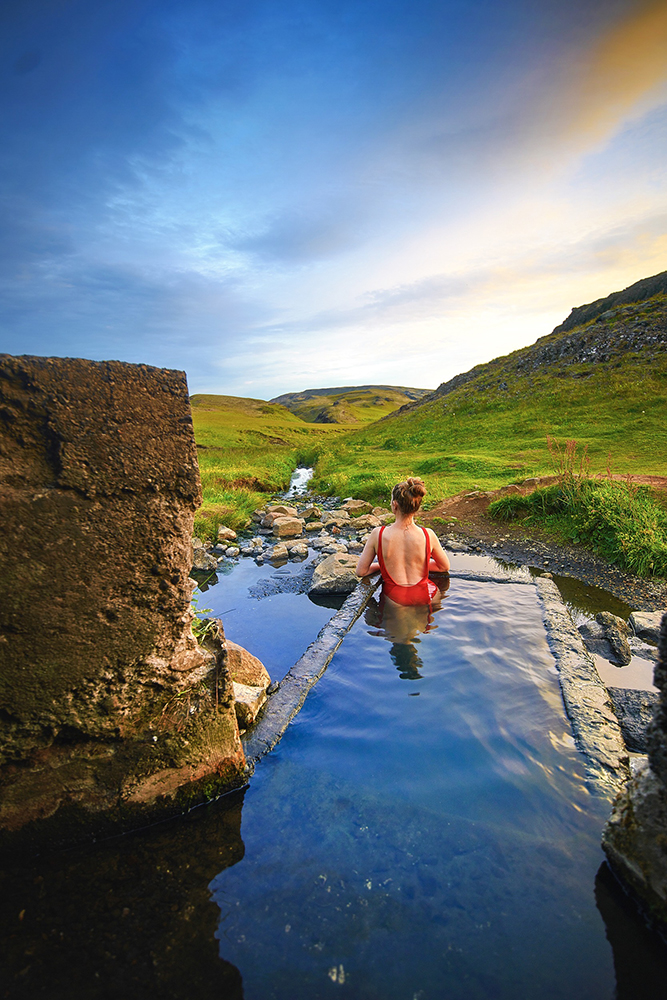 7. Consider Visiting the Highlands in Summer
If visiting the Highlands are also on your bucket Iceland list, you must go during summer! During the winter, the F-roads, which take you to the Highlands, are closed due to bad weather. Your only other option then is to take a tour if you are trying to visit during winter.
All of this considered, it is probably best to visit the highlands during summer in Iceland! During summer the Highlands are open to visitors. Witness some of Iceland's most extraordinary and unforgiving landscapes: from tall mountains to glaciers, to volcanos and more. Take advantage of those open roads during summer and visit!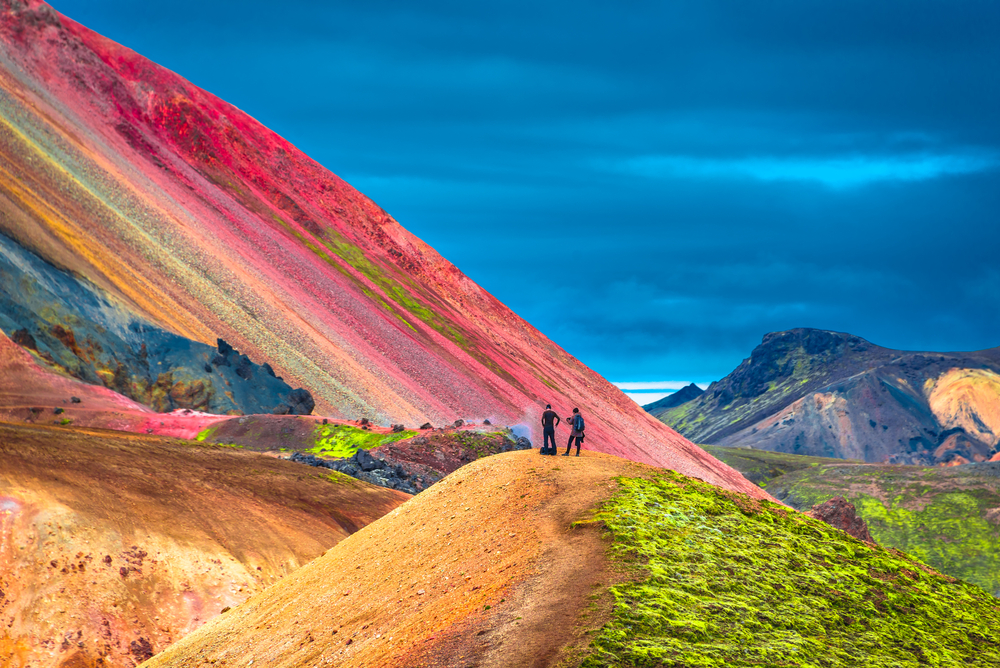 8. Make sure to Grocery Shop in Advance
If you are shopping and purchasing groceries during your trip to Iceland, there is one thing you should really remember: stores close early! And by early we mean 7 pm! Thus, if you are doing summer in Iceland, the midnight sun may help you lose track of time.
If you are out exploring, look to your watch and suddenly realize it is 9 PM, chances are you missed your dinner. When you are going to spend a lot of time hiking or exploring in the midnight sun, you want to make sure to stop and shop BEFORE you explore. This way you have snacks and food later on!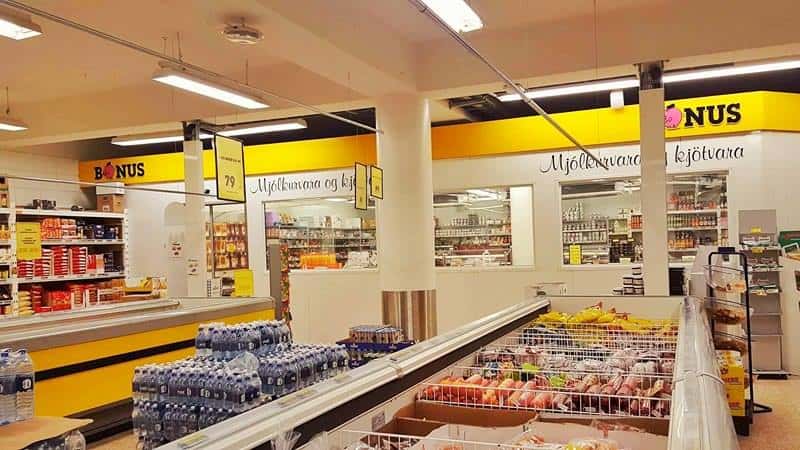 And there you have it folks: some of the best tips to consider when doing summer in Iceland. Dive into the land of fire and ice, but do so carefully. Take our advice and pack those raincoats, go shopping early, stay out late, and visit the highlands! It is important to take advantage of the time you have during summer. Enjoy it!