If you're planning a trip to the land of fire and ice, bring your bathing suit because you won't want to miss out on the relaxing bathing experiences to be had at the Reykjavik hot springs both in the heart of the city and nearby.
Planning your trip to Reykjavik last minute?
Make sure to book ahead! Hotels and tours often sell out the closer you get to your trip. Here are our top picks for Reykjavik!
Top Experiences And Tours In Reykjavik:
Top Hotels In Reykjavik:
Reykjavik geothermal pools haven't always been around. Every town has at least one public pool complex with hot tubs of varying temperatures but the majority of the country's geothermal hot pots and lagoons are found outside of the city. Many of those within reasonable driving distance have still made our list, but as the years go by the options close to the city are expanding.
Being a country of immense geothermal activity, Iceland has always had a strong bathing culture. What better way to relax, spend time with others, bathe, swim, or just escape the cold Icelandic air than to take advantage of any one of the numerous natural hot springs around the country.
Now is your chance to continue this time-honored tradition. With the help of our list of the best hot springs near Reykjavik, you can enjoy these warm, healing waters too.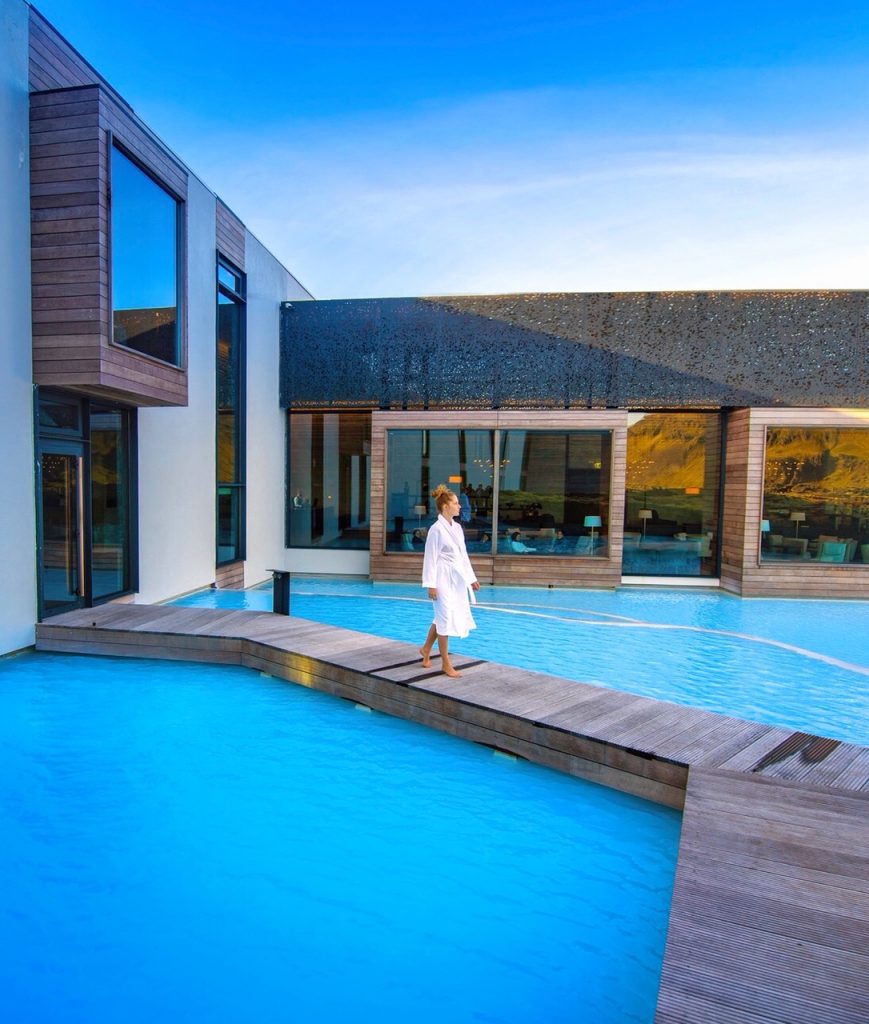 9 Best Reykjavik Hot Springs You Must Visit
Sky Lagoon
Luxury Reykjavik hot springs just 10 minutes from downtown…yes please!
A 2021 addition to the Reykjavik geothermal pools scene, the Sky Lagoon gives you the amenities and ambiance of a high-end hot spring experience while also affording you the convenience of not having to leave the city.
This stunning lagoon merges traditional and modern by pairing the Icelandic turf walls with infinity pool edges and dramatic, but simplistic lava rock walls. You're in for a magical (albeit) expensive bathing experience complete with carefully thought-out amenities to help you relax and rejuvenate.
While visiting the lagoon, you're encouraged to participate in a 7 step ritual that takes you from the lagoon to the cold pool, followed by the sauna, a walk through a cold mist, an application of body scrub, and a visit to the steam room before returning to the lagoon. With a swim-up bar and gorgeous ocean views, you'll never want to leave.
Having access to thermal pools in Reykjavik (that aren't part of a public pool complex) is a rare treat, so take advantage of its proximity to the heart of the city and spend the day leaving your worries behind at the Sky Lagoon.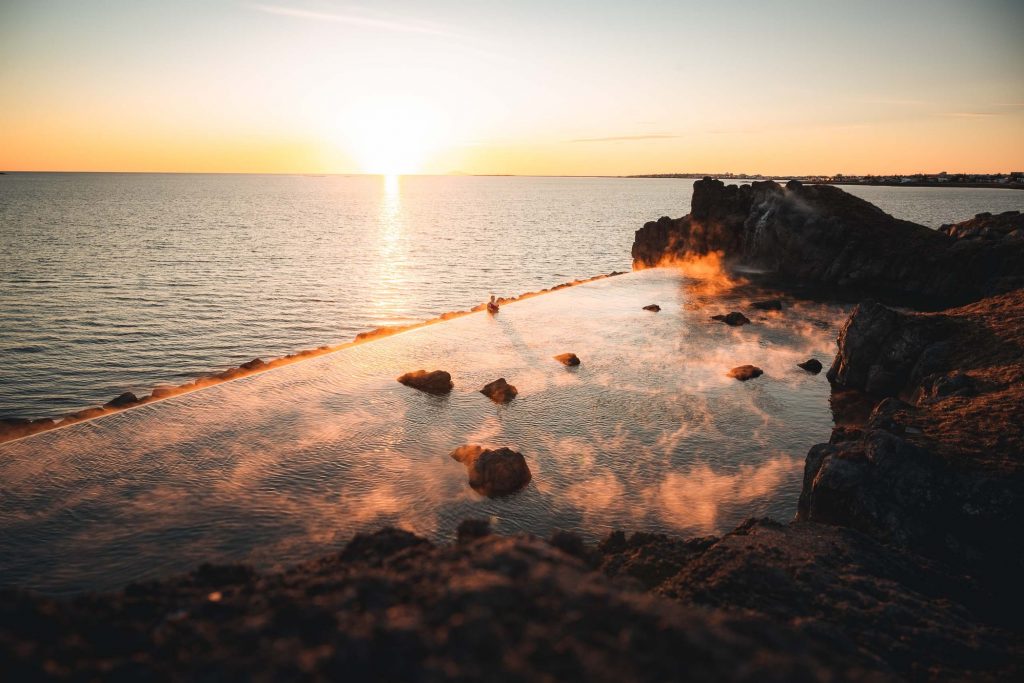 Blue Lagoon
If you're looking for hot springs near Reykjavik, there's nothing more iconic than the Blue Lagoon, one of Iceland's top tourist attractions. Soaking in the mineral-rich, blue waters of the lagoon is expensive, but it's an experience you won't want to miss.
The Blue Lagoon is located near the Keflavik International Airport making it an ideal first stop when you arrive in Iceland or a final stop on your way out. Its history as a build-up of discarded water from a nearby geothermal power plant is less than glamorous, but its transformation into the luxury lagoon it is today is remarkable.
The lagoon features a swim-up bar as well as restaurants and hotels you can indulge in while you're on the property. All the while you'll be surrounded by vast fields of lava rocks while you relax and thaw out from the crisp Icelandic air.
This popular attraction books up quickly so be sure to book well in advance to secure your spot in this beautiful lagoon.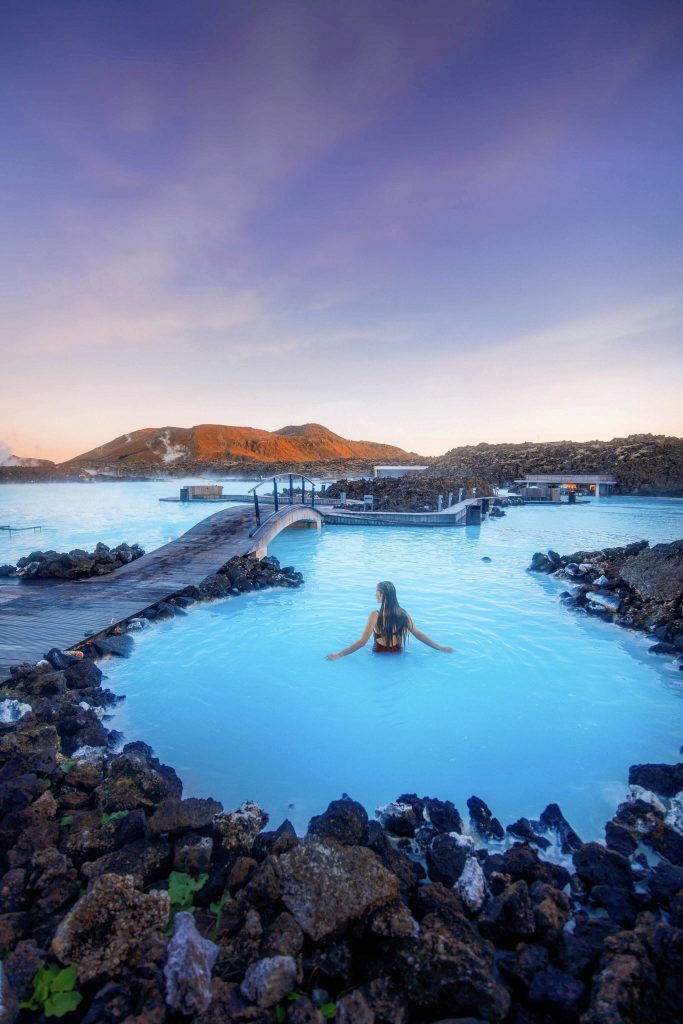 Hrunalaug
Just a 5-minute detour off the Golden Circle route you'll find the Hrunalaug hot springs, one of the best natural hot springs near Reykjavik. Hrunalaug is located roughly one and a half hours from the heart of the capital but is a convenient and welcome stop for relaxing en route to other major tourist attractions.
Hrunalaug consists of one two-person bathtub-sized hot pot along with a slightly larger 8-10 person hot pot. A small changing hut sits behind the smaller tub so you can change in and out of your bathing suit on-site.
These hot springs are becoming increasingly popular thanks to the ideal water temperature and the surrounding natural beauty. The site has hovered on the brink of shutting down due to tourist crowds exceeding the capacity of the pools and overrunning the area, but for now, the hot springs remain open for all to enjoy.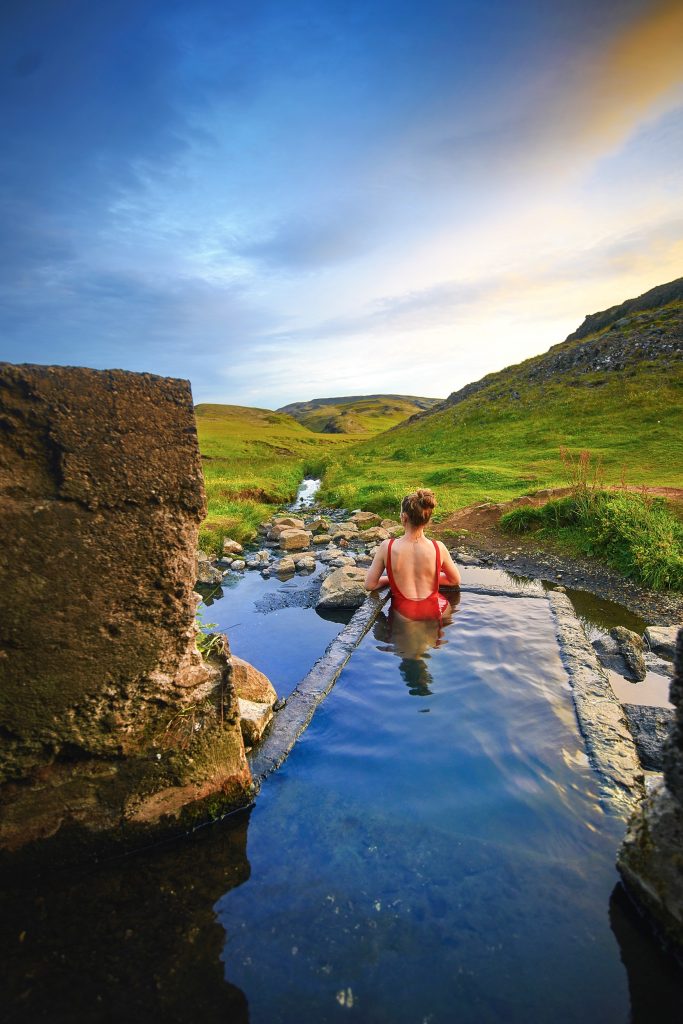 Reykjadalur Hot Springs
Rise and shine early to get a prime spot in one of the most popular hot springs near Reykjavik, the Reykjadalur Hot Springs.
Just 45 minutes outside of downtown Reykjavik is a beautiful hike through a geothermally active, steam-filled valley. After 45 minutes of moderately difficult hiking, you'll come across a section of river where cold and hot water meet to make the perfect bathing temperature.
Wood partitions line the river so you can change into your bathing suit, and short rock piles create deeper pockets of water where you can sit and enjoy the mid-hike lounge among the grassy hills and sunbathing sheep.
When you're done soaking, you'll hike back the same way you came past bubbling water, cascading waterfalls, grazing sheep, rising steam, and lush green landscapes. If you're visiting in the summer, this is also the perfect spot to spend a late evening under the midnight sun.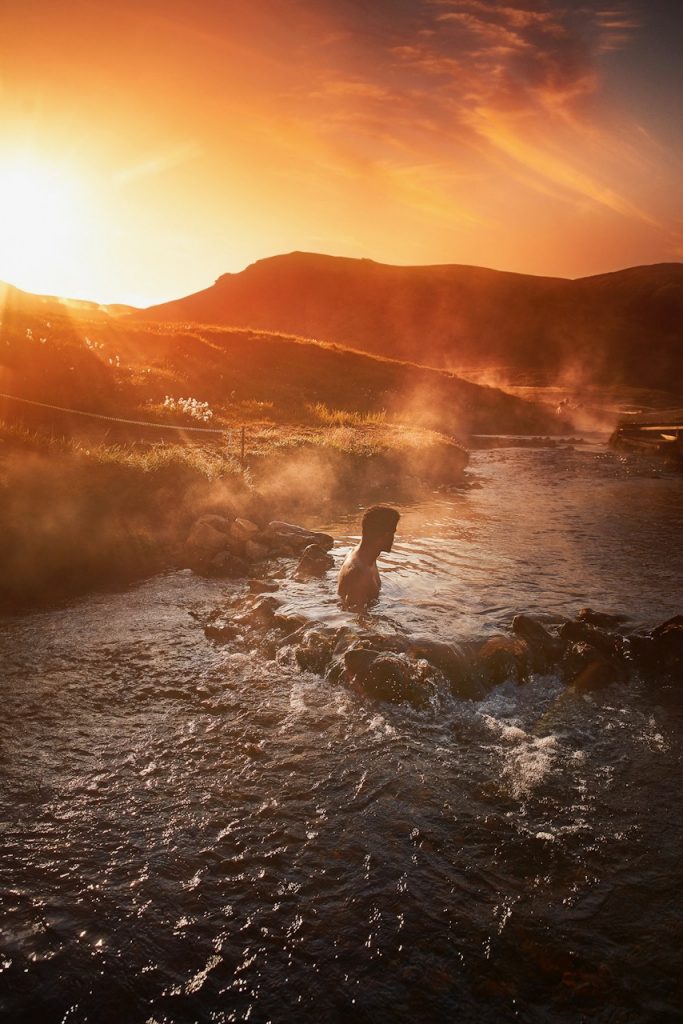 Secret Lagoon
Just minutes away from the Hrunalaug Hot Springs is its man-made neighbor, the Secret Lagoon.
The Secret Lagoon is one of the best hot springs near Reykjavik and unsurprisingly lies in an area of high geothermal activity near Fludir, just an hour and a half drive from the capital. Despite the pool itself being man-made and built to accommodate the ever-growing tourist swarms, the water it's filled with is fed by natural hot springs.
This is Iceland's oldest swimming pool and after considerable restoration, it has become a treasured hang-out spot for locals and tourists alike. Grab a pool noodle and float with your friends as you recount the day's adventures.
This special spot isn't glamorous, but it's everything you need to relax and enjoy life. So scout out the spot in the pool with the ideal water temperature and embrace the warmth because it's the kind of place you'll have to dig deep to find the will to leave.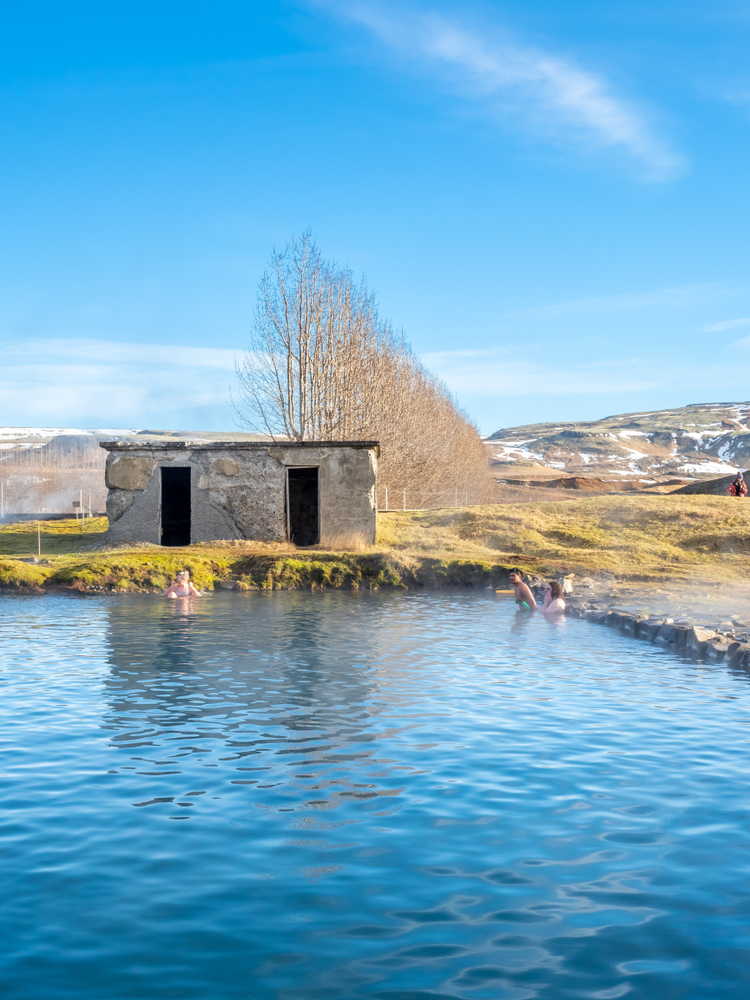 Seljavallalaug Swimming Pool
Seljavallalaug is one of the most popular hot pools near Reykjavik, though hot might be a generous term when describing its average temperature which hovers between 20-30 C. Despite it being on the colder end of the hot pot spectrum, it draws visitors from around the world.
A casual 20-minute hike back into the mountains leads you to the swimming pool, a hidden treasure that has stood the test of time. Since 1923 this pool has been a magical swim spot nestled in the lush green of the mountains with small waterfalls cascading in the distance.
Despite the undeniable beauty of the area, the pool tends to deter those with sensitive immune systems as the pool is known for its algae growth which makes the surfaces of the pool slippery, and is only cleaned once a year.
Knowing the pool conditions, if you're up for the adventure, Seljavallalaug makes for a wonderful short dip among the striking hills and mountains of Iceland. Though it lies roughly 2 hours from Reykjavik, it's an easy stop on your south coast adventures.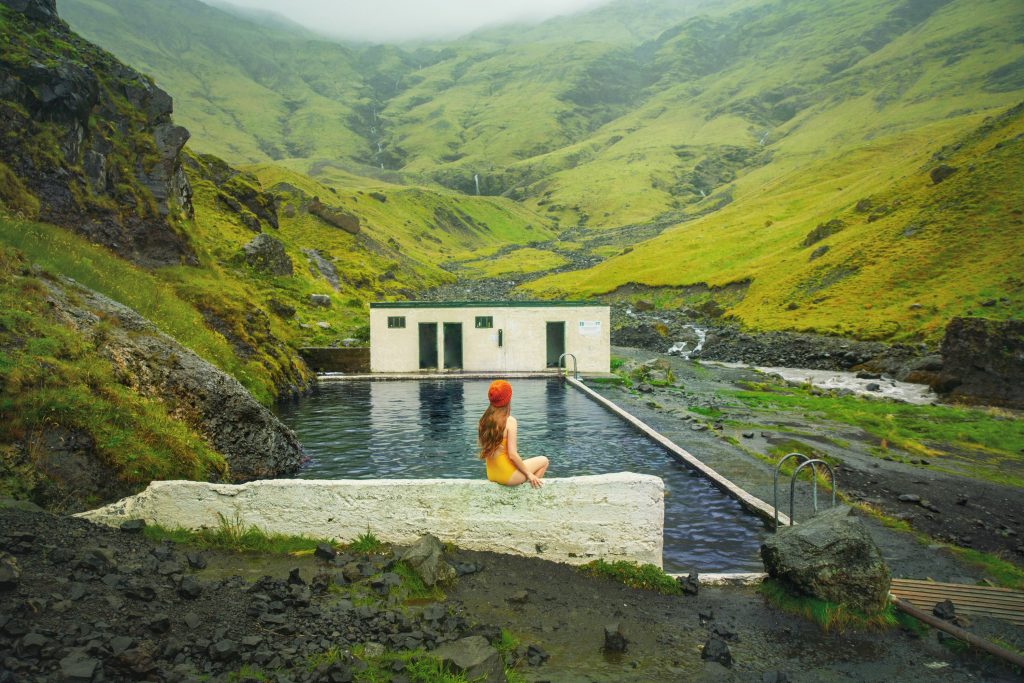 Kvika Foot Bath
The Kvika Foot Bath is so small it could easily be passed over, but for those who know it exists, it provides an ideal place to watch the sunset, hear the waves lap up against the rocks, look out at the Grotta lighthouse, or watch the sea birds float on the thermals.
This small circular foot bath is an art installation designed by Ólöf Nordal. It accommodates no more than a few people making it a quiet, intimate spot just a stone's throw from the city's most notable attractions.
When you return to the city after a long day of adventures, Reykjavik hot springs are a welcome opportunity to wind down. So kick off your shoes because this charming little hot spring awaits.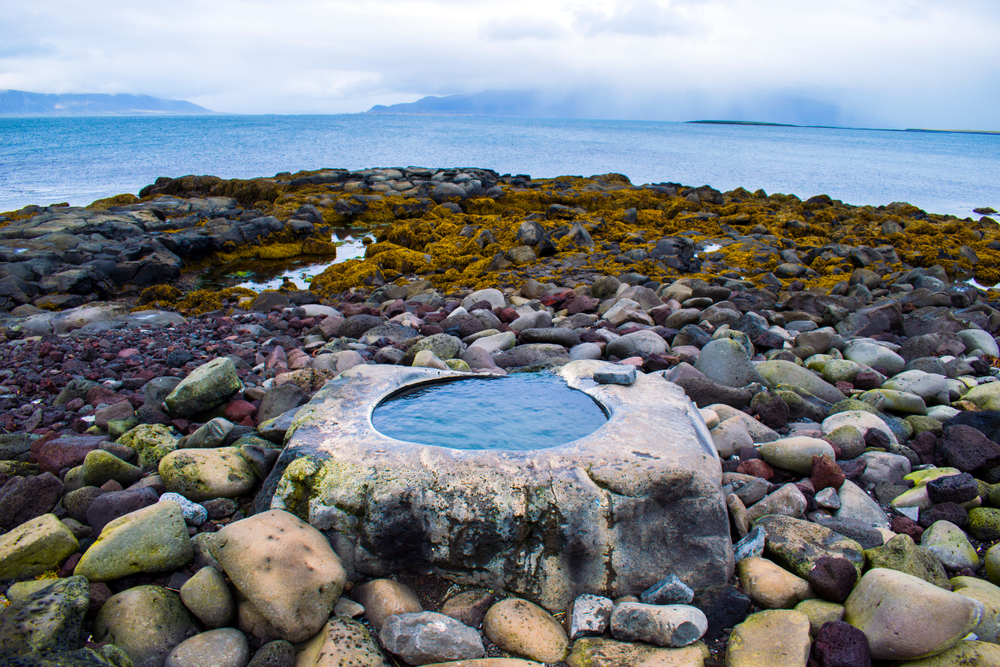 Laugarvatn Fontana
If you're on the lookout for thermal baths in Reykjavik, you'll find an ideal collection of geothermal baths at Laugarvatn Fontana just over an hour outside of downtown Reykjavik along the Golden Circle route. The spa borders a very cold lake, so for those in the mood for contrast bathing you can alternate between the two.
For those just hoping to relax and find an escape from the chilly Icelandic temperatures, you have three different mineral pools of varying temperatures to choose from. While the pool affords you the benefit of enjoying the lake views, steam baths and a Finnish-style sauna are offered as well.
You can even pay for a geothermal bakery tour and watch how they bake fresh rye bread in pots underground for 24 hours with an opportunity to taste freshly baked bread that was set to bake the day before.
Though this isn't one of the free Reykjavik hot springs like others on this list, it's less expensive than luxury experiences such as the Blue Lagoon and is an ideal way to rejuvenate yourself in a beautiful setting with comfortable amenities.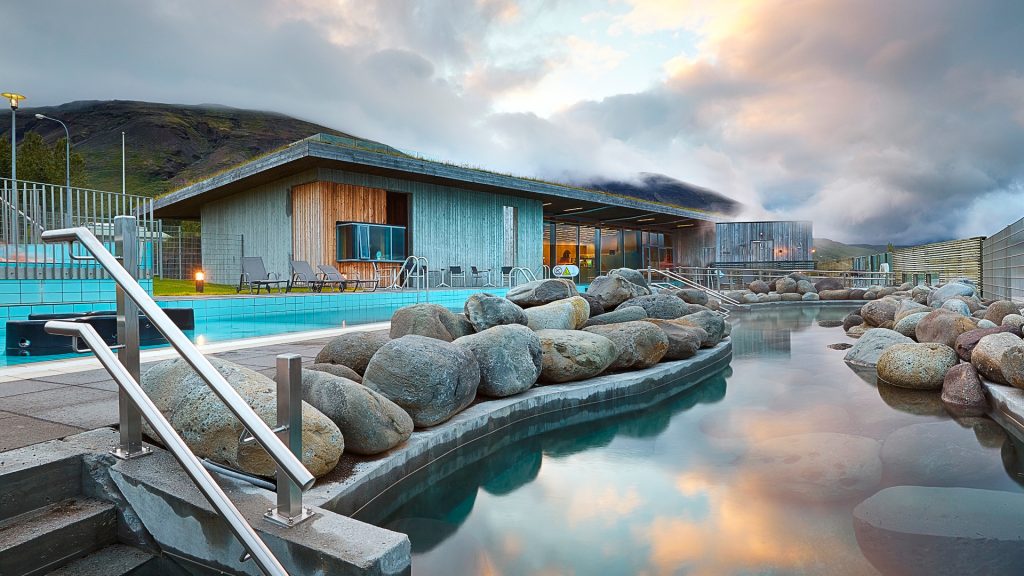 Krauma Geothermal Baths
The Krauma Geothermal Baths rank among the best hot pools near Reykjavik due to their relationship with Deildartunguhver, Europe's most powerful hot spring. A quick visit to Deildartunguhver takes you face to face with the rapid, boiling hot flow of water that heats many Icelandic homes.
This fascinating hot spring can also be experienced through a soak in the Krauma Geothermal Baths next door where the hot spring water mixes with glacier water to create an ideal temperature for bathing. Your entrance ticket allows you to enjoy five hot pools and one cold pool in a relaxing environment.
You might consider grabbing a bite to eat at the restaurant too when you're done. Though these geothermal baths are roughly an hour and a half outside of Reykjavik, they pair nicely with other Iceland adventures along the way.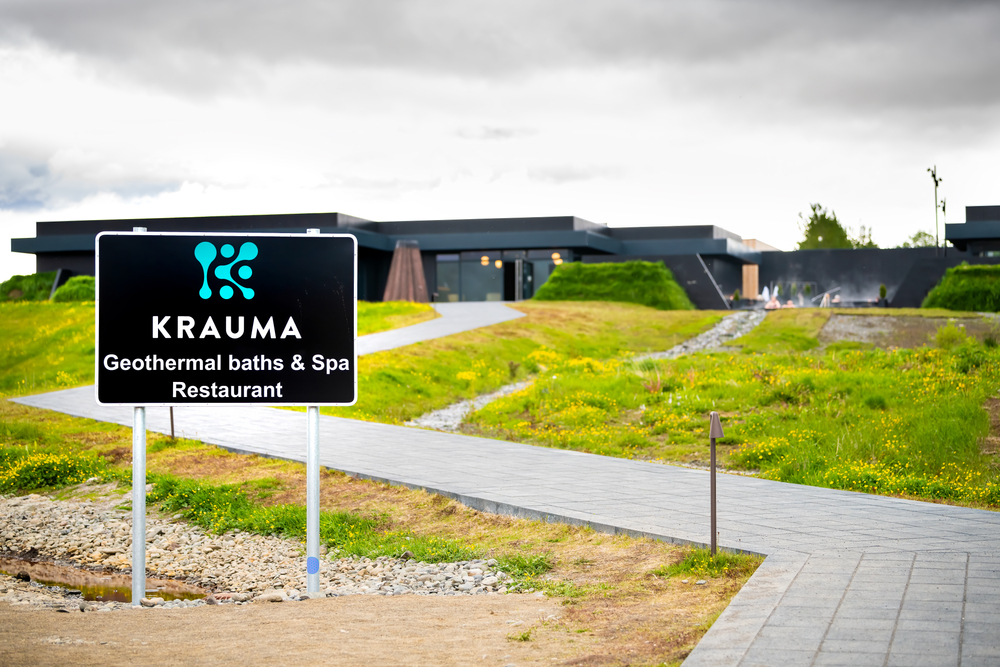 It's no surprise you're on the lookout for the best hot springs in Reykjavik. A trip to Iceland isn't complete without a soak in a natural hot pot, a relaxing lagoon, or a luxurious thermal spa in Reykjavik.
Iceland is an outdoor wonderland and its hot springs certainly contribute to its natural beauty and appeal. As you go about choosing which of the best Reykjavik hot pools you'd like to visit, feel free to let us know if you have any questions.