If you are looking for the best things to do in Reykjavik, you have come to the right place!
Reykjavik is a blossoming city destination with many unique things to do. Tourism to Iceland has exploded in recent years, partly from its exposure in films and television and partly from word of mouth.
Planning your trip to Reykjavik last minute?
Make sure to book ahead! Hotels and tours often sell out the closer you get to your trip. Here are our top picks for Reykjavik!
Top Experiences And Tours In Reykjavik:
Top Hotels In Reykjavik:
To put it plainly, everyone who visits this awe-inspiring island cannot contain how much they love it! It's fast filling the number one spot on many travelers' bucket lists.
Whether you're looking to connect with Viking culture or on a venture to see majestic landscapes and natural wonders, Reykjavik offers something for you.
It has a vibrant cultural scene with a plethora of exciting adventure tours, thriving nightlife, world-class restaurants, art galleries, museums, shops, etc. to explore throughout your stay.
While Iceland's capital city is known to be a terrific base from which to immerse yourself in some of the island's breathtaking wonders, such as the famous Blue Lagoon geothermic spa, or to watch the Northern Lights, fewer people know of some of the more unique things to do.
Don't forget to check out Where To Stay In Reykjavik if you plan on making the capital your home base for exploring!
These things are no less entertaining and certainly worth a visit! Here are unique things to do in Reykjavik, Iceland.
Get a FREE printable "Hidden Gems In Iceland" E-book by joining our private Iceland Facebook Group and sharing your photos and asking for tips and tricks.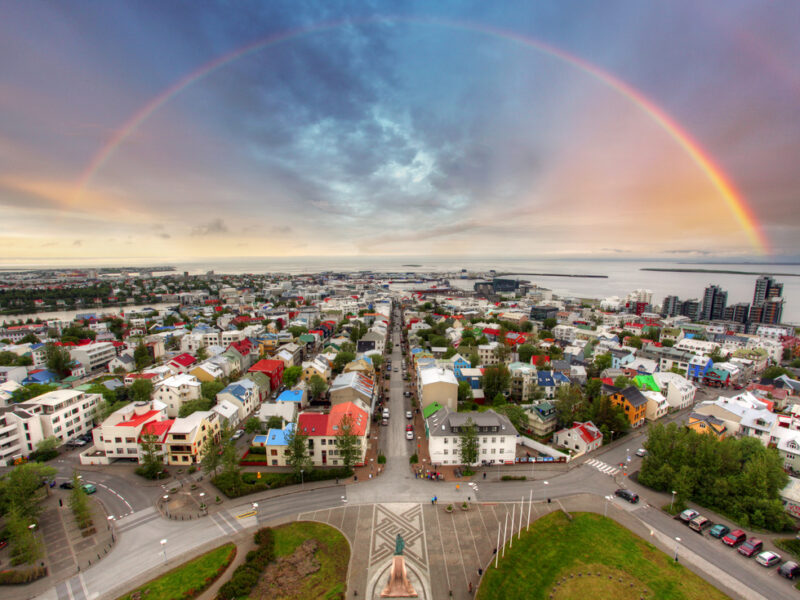 20 Best Things To Do In Reykjavik, Iceland, You Shouldn't Miss
Visit the Phallological Museum
The Phallological Museum is unquestionably one of the weirdest (and oddly amusing) unique things to do in Reykjavik. The collection began as a passion project by Sigurdur Hjartarson who started collecting specimens of animal penises as a kid.
It includes blue whales, dolphins, reindeer, and foxes which are preserved in formaldehyde. Over time, the collection expanded to include animals that aren't native to Iceland. Ever wonder what an elephant penis looks like? Well, now you know.
The museum is interesting, funny, and maybe a bit gross, but definitely one of the best Reykjavik attractions. It's both a nod to science and to humor. Open from 10 am to 6 pm a visit to the museum costs about 1700 ISK.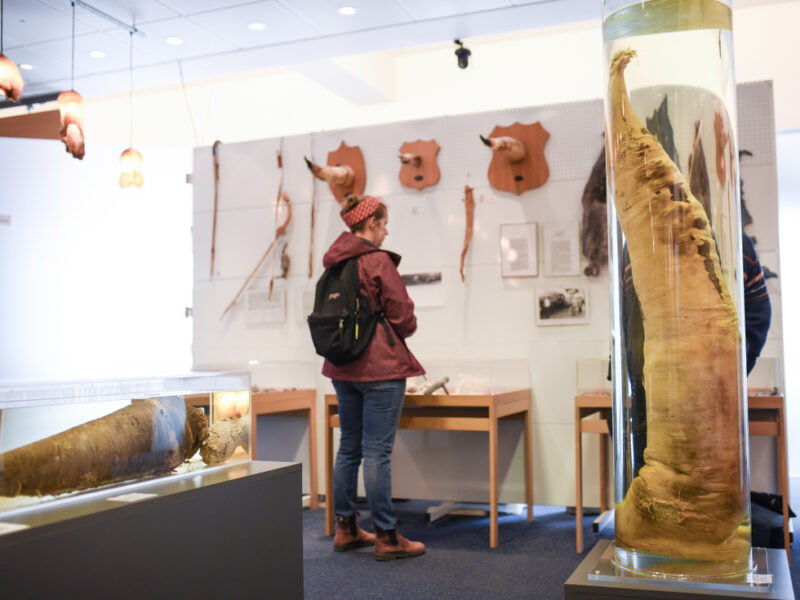 Find Street Art
Reykjavik is a city where street art is evolving from the graffiti phase into more of a statement piece. It is art that is more, shall we say, "artful" than just your typical tagging.
You can find both pop-ups and commissioned pieces along Laugavegur and Grettisgata (on the main downtown drag) as well as near the harbor district (south of the Maritime Museum).
Many of the murals you will find are part of a project called Wall Poetry. It was organized about five years ago by the musical festival, Iceland Airwaves, and the German Art Institution, Urban Nation.
Additionally, every year the main road in downtown Reykjavik is transformed into a rainbow road to celebrate diversity. These colorful walls (or roads) are perfect for an impromptu photoshoot!
Book Here: Reykjavik City Walking Tour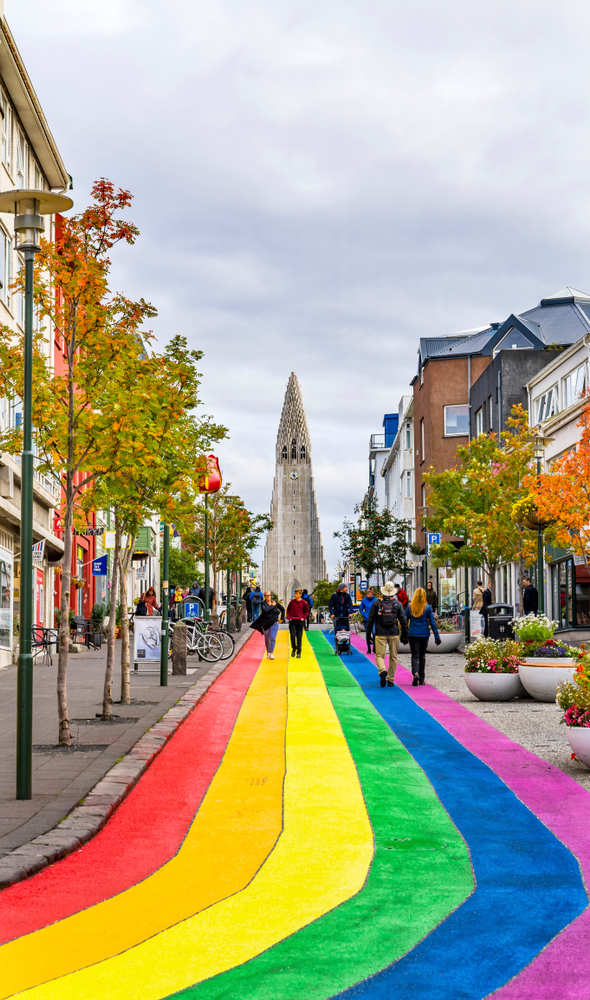 Explore The Harpa Concert Center
A fantastical addition to the Icelandic cultural scene is the Harpa. It is THE go-to Reykjavik Concert Hall and Conference Center. Harpa is one of Reykjavik's greatest landmarks. It is at the heart of the city and features views of the mountains and the North Atlantic Ocean. Harpa is a unique thing to do and see in Reykjavik because of its interesting glass and geometric architecture.
Not only does the concert hall host musical concerts or conferences it also features stand-up comedy, art exhibits, and musicals. At one point, the building even acted as a screen on which to play the computer game Pong! Harpa is definitely made to adapt to whatever event it hosts. It is not to be missed!
This stop is in a great area and is actually on our list of Best Places To Stay In Iceland. In this post, we offer suggestions for where to stay around the Ring Road!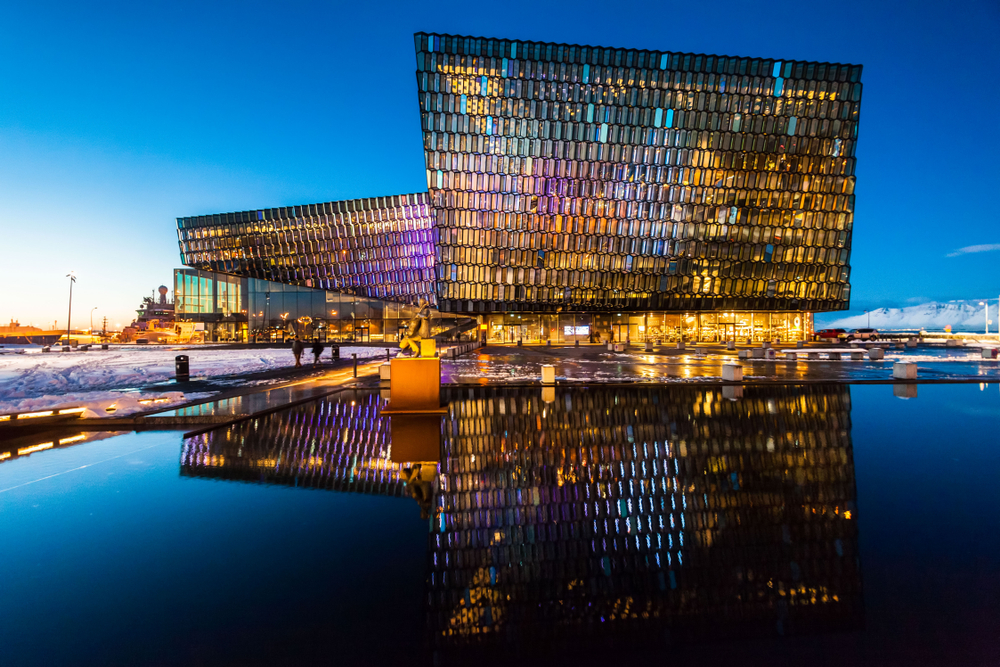 Walk Along The Seltjarnarnes Peninsula
The picturesque stretch of land known as the Seltjarnarnes Peninsula is a popular place for birdwatchers, visitors to the lighthouse, and runners or walkers. You will love the 7.4 km (4.6 miles) loop around the seaside path that is available. It connects easily to the Sculpture and Shore Walk.
To run only the peninsula, start out near the intersection of Nordurstrond and Sudurstrond. Facing the ocean, find the paved Gongustigur Path and head north. At the end of the point, you'll be face to face with views of the Grotta Lighthouse.
This is one of the great things to see in Reykjavik as a way to escape the city and see some nature!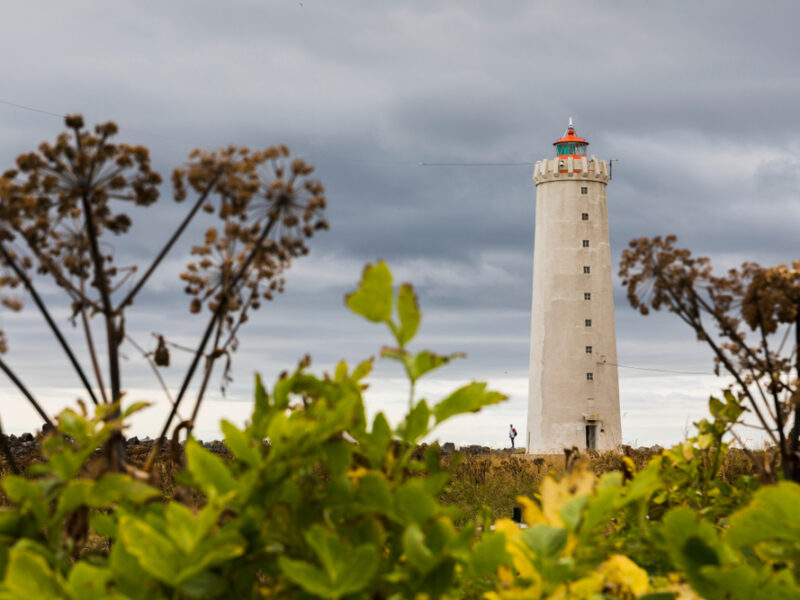 Try Hot Dogs
You might think that there's nothing special about a hot dog… Well, the hot dogs in Iceland are no regular dog… This place is famous for its hot dogs!
Baejarins Beztu is the name of the most iconic chain. It's been open rain or shine any day of the year for almost 80 years!
The ingredient of the hot dog is what makes it stand out. While most hot dogs are made out of pork or beef, the hot dogs here in Reykjavik are made from lamb meat. Foodies, do not miss this opportunity!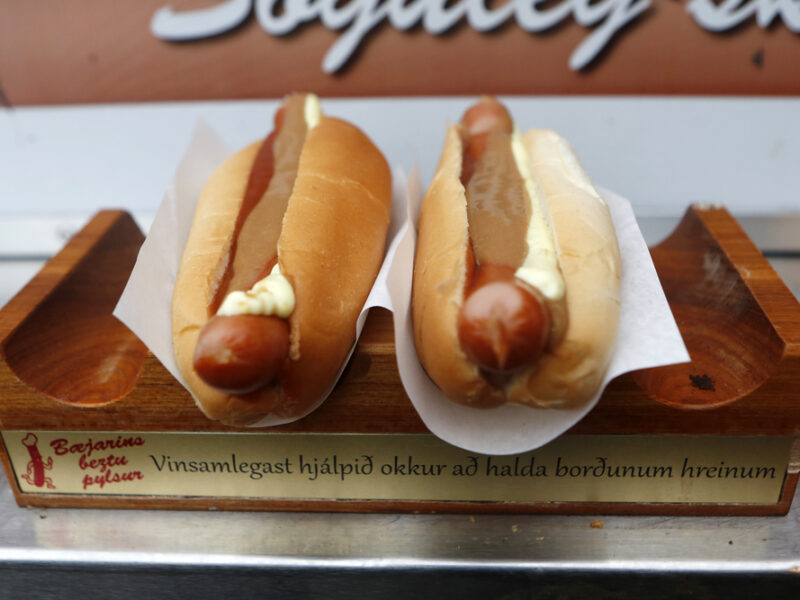 Enjoy the Views from Hallgrimskirkja Church
Hallgrimskirkja is an astounding piece of architecture located in the capital city of Iceland as well as the tallest building in downtown Reykjavik.
It is likely the most popular attraction in Reykjavik or at least the most visited in Iceland. It is one of the best places to see on your Iceland itinerary!
As the highest structure in downtown, the church makes a statement-making it one of the most photographed locations in the city. It acts as a sort of hub to the rest of the city since the most popular spots are all near the church.
A visit to the church is free but there is a small fee to visit the tower. There you will find the most beautiful panoramic view of Reykjavik.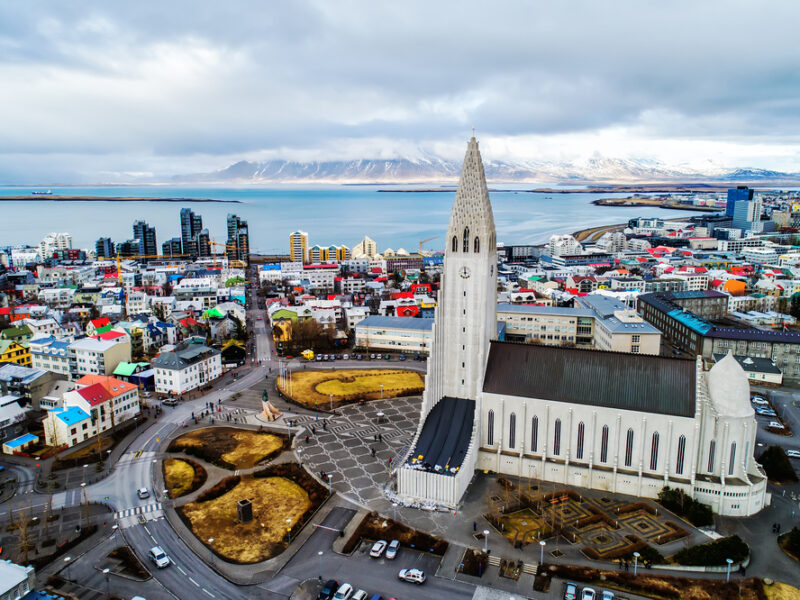 Hike Mount Esja
The most popular Reykjavik hiking trail by far is at Mount Esja. Often called the "city-mountain" it takes up most of the skyline to the north of Reykjavik. The trail starts from a place called Mogilsa which is about a twenty-minute drive from the city It has a big parking lot and a cafe.
This is one of the best stops around Iceland's Ring Road. If you happen to be driving in Iceland, you will want to ensure that you make time to see it!
The view from the top is absolutely noteworthy. On clear days you will see the scenic fjord and the blue ocean bay, Reykjavik city, and the numerous mountains around. You can sign the guestbook that they have available to show that you were there.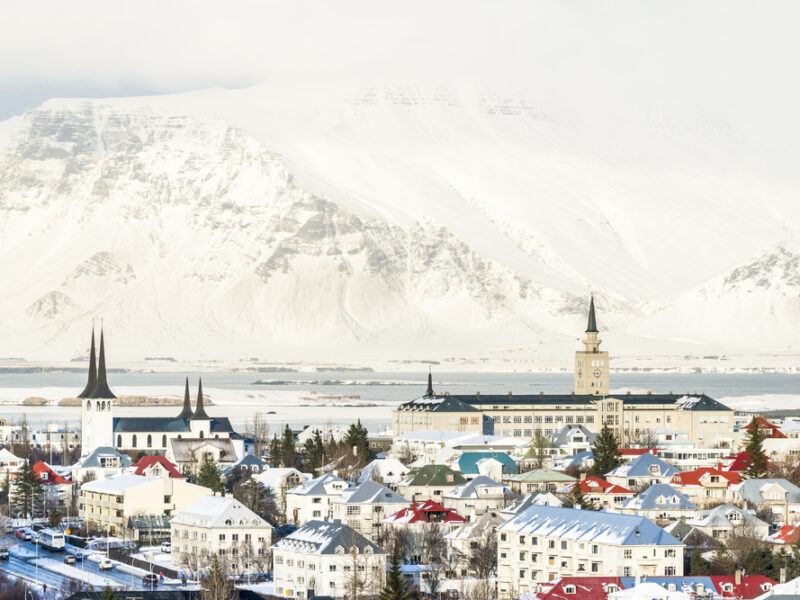 Photograph the Sun Voyager Sculpture
The Sun Voyager is a well-known statue displayed along the seaside of Reykjavik. Designed by artist Jon Gunnar, the statue is the artist's depiction of a dreamboat. It is an ode to the sun and something that inspires dreams and imagination, symbolizing light and hope.
Fun fact: Some people think it looks like a Viking ship when in reality it is not. The statue is a wonderful photo opportunity, especially at sunset!
This is one of the best free things to do in Reykjavik if you love public art paired with great views.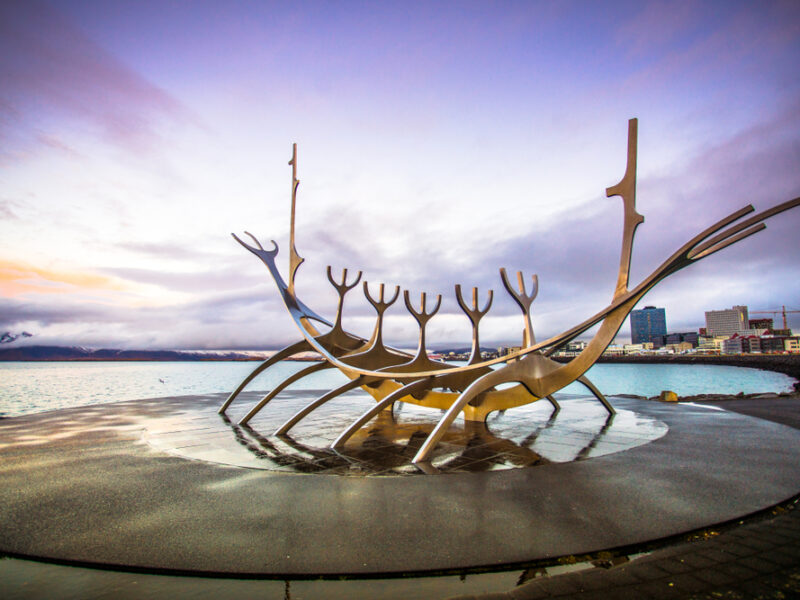 Visit The Reykjavik Punk Museum
Head to the Punk Museum to see Icelandic punk rock pieced together onto the white tiles of a former underground public toilet. The country's music history is documented from the early days of punk to the new wave revolution. It features beloved artists such as Bjork and Sigur Ros.
The exhibition is tiny and the displays are a bit unorganized, but what do you expect from punk rock? Chances are you've never seen anything like it. Probably the most fun you will ever have in a bathroom…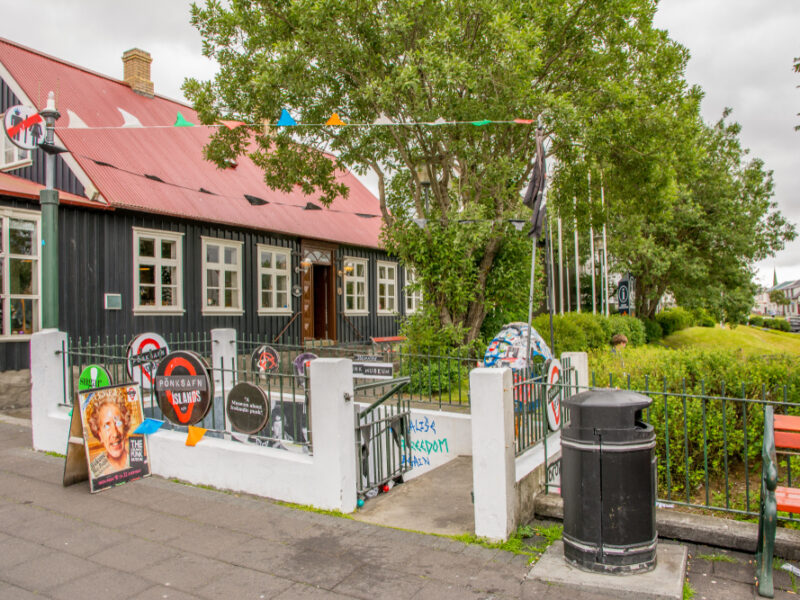 Find Deals At Kolaportid Flea Market
One of the best places to visit in Reykjavik to experience the local side of the city is the Kolaportid Flea Market located close to the city's old harbor. Open on weekends only, you can find anything from wool apparel, fish, and candies, plus plenty of books and collectibles.
This is definitely the perfect place to people watch as well as browse what the market has to offer. Shop local as you pick out your Iceland souvenirs.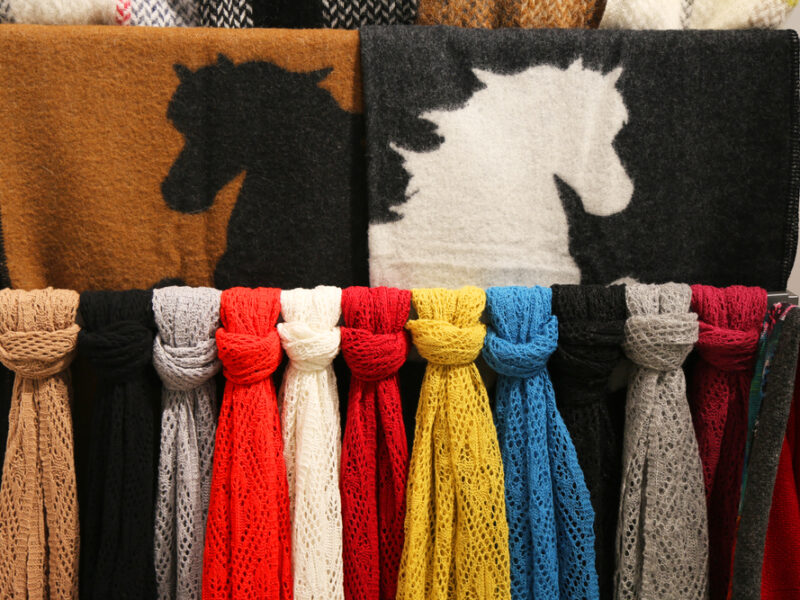 Eat Ice Cream
The most popular place to get ice cream in Reykjavik is very likely Valdis. Located in the up-and-coming foodie district Valdis offers gelato-style ice cream in creative flavors like carrot cake or salted licorice.
Another place that's fun to visit is Isbud Vesturbaejar. They are known for their soft serve dipped in a chocolate shell. You might not immediately associate Iceland with ice cream but trust us when we say it's worth sampling.
Book Here: Reykjavik: Half-Day Food Tasting Tour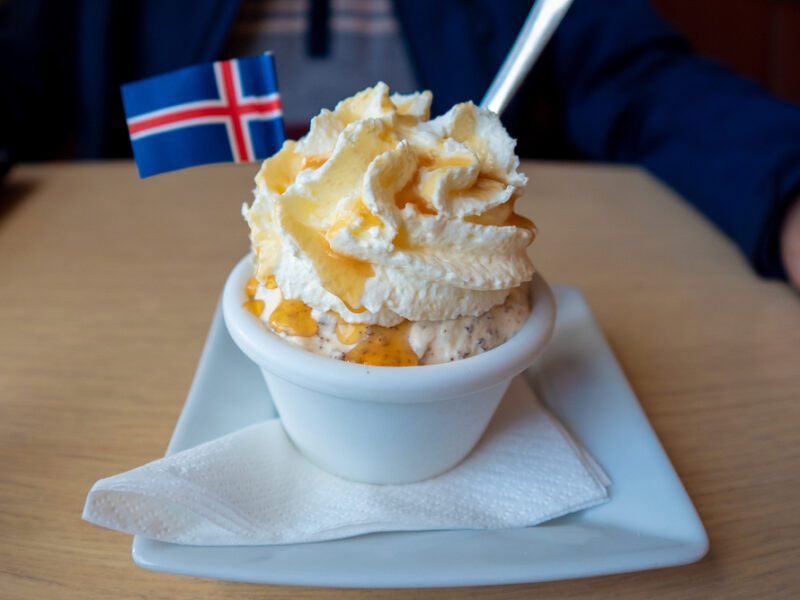 Experience Reykjavik Nightlife
More recently Reykjavik has become recognized for its fast-paced nightlife. It has been featured in travel magazines from all over the world. Many tourists are surprised by the variety of entertainment venues, bars, and restaurants that are available.
Reykjavik hosts a great variety of clubs too and an atmosphere to suit every inclination. This is one of the best things to do in Reykjavik for adults who want to spend a night in the town!
Whether you're looking to relax with a beer in Iceland or hit the dance floor, Reykjavik has your back!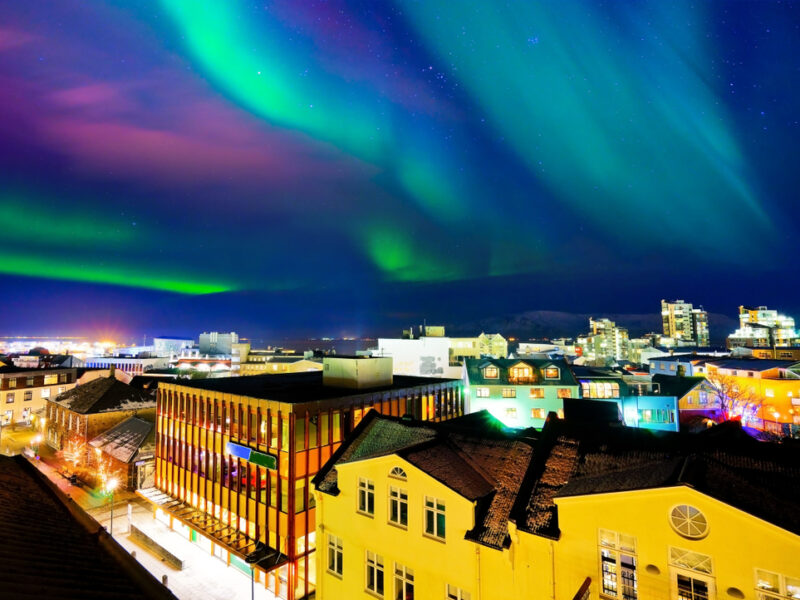 Visit The National Museum
The National Museum of Iceland offers captivating exhibits and one permanent display that presents the story of Iceland's past, from the days of Vikings to the current culture. The main exhibit has over 2,000 artifacts discovered in various parts of Iceland.
This is an idea of what to do in Reykjavik if you want to learn more about Iceland's rich history.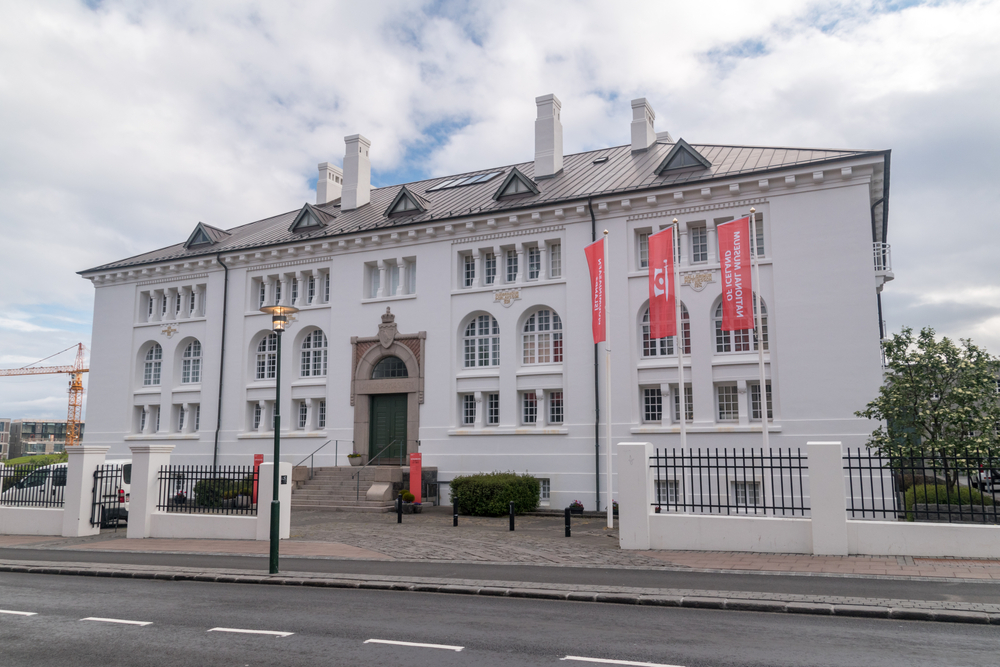 See Nautholsvik Beach
Nautholsvik is a geothermal beach that attracts about 530,000 visitors each year. It is a diverse outdoor recreational space that is great for sunbathing, sailing, or swimming.
Have you ever gone to the beach and never touched the water simply because it's too dang cold? Well, here you won't have that problem. Hot water is pumped into a man-made lagoon to make the swimmers comfortable.
This is one of the more hidden gem Reykjavik tourist attractions so there may not be huge crowds, and you can enjoy the peaceful location.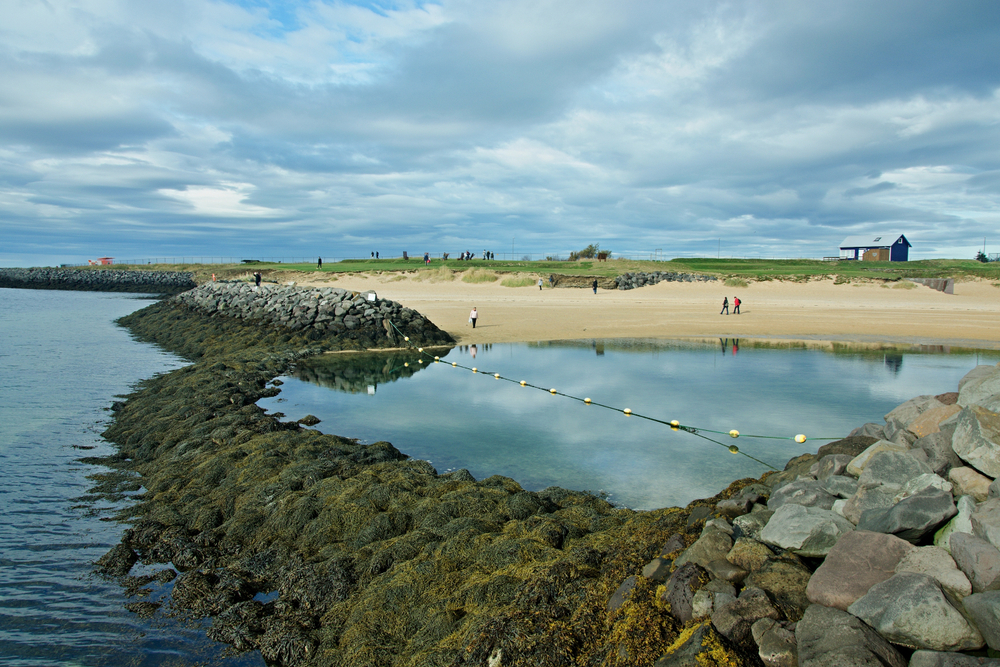 Watch The Northern Lights
If you visit Reykjavik in late fall or winter, then seeing the Northern Lights is probably high on your bucket list. There are a few great places to see this natural phenomenon in Reykjavik.
Grotta Lighthouse at the north-westernmost point of Reykjavik is a great place to watch the Northern Lights over the water. Since it is away from the city center, you can avoid ambient light.
Klambratun Park is a location in the middle of the city where you can spot the Northern Lights if the conditions are right. It is a convenient location, and you do not have to travel far.
You can also take a boat tour to see the lights as well. The views from the harbor are unobstructed and amazing. Overall, Northern Lights viewing is one of the top things to do in Reykjavik in winter.
Book Here: Northern Lights by Boat in Reykjavik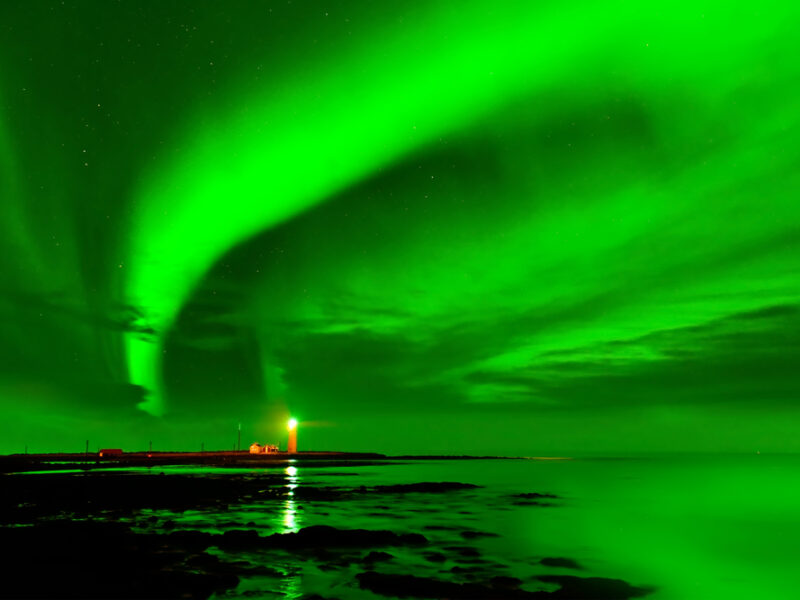 Take A Whale Watching Tour
Whales are arguably the most fascinating creature to watch in the wild. There is just something magical about seeing them in their natural habitat, and Iceland has wonderful tours to do just that.
If getting a good look at earth's largest mammals is on your list of things to do, get on it here in Reykjavik. You can spot whales here from April through early October. Summer is the peak time to see more and the most species.
Along with whales, these boat tours are great for Reykjavik sightseeing from the water. You can see the skyline as well as the surrounding mountains. This is one of the best things to do in Reykjavik in summer when the weather is better and there is less wind.
Book Here: Reykjavík: Scenic Whale Watching Tour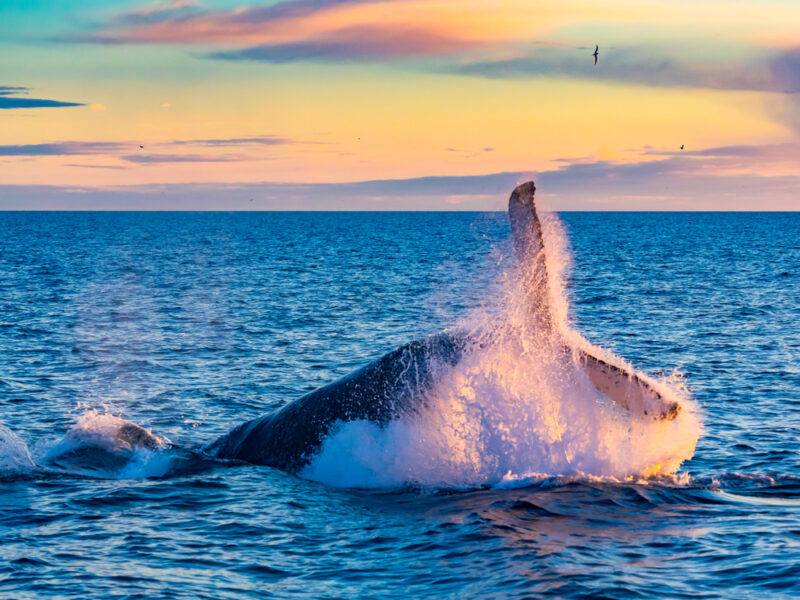 Soak Your Troubles Away at the Sky Lagoon
If you are looking for a luxurious hot spring experience, look no further than the Sky Lagoon. Since it is just fifteen minutes from Reykjavik's city center, it is a convenient location and even closer than the Blue Lagoon.
This high-end spa opened in 2021 and is all about rest and relaxation. Amazing amenities paired with jaw-dropping views make this one of the best hot springs in Iceland. Sky Lagoon shows off its love of nature and Nordic culture while still being chic and modern.
The Sky Ritual is a seven-step spa experience that will leave you completely refreshed. Geothermal energy heats the infinity pool where you can find views of the ocean perfect for sunset or Northern Light viewing.
There is also a café and two bars, one of which is swim-up. Packages range from $56 to $111 depending on what you want to be included. This is one of the top things to do in Reykjavik year-round!
Book Here: Reykjavik: Sky Lagoon Admission Including Transfer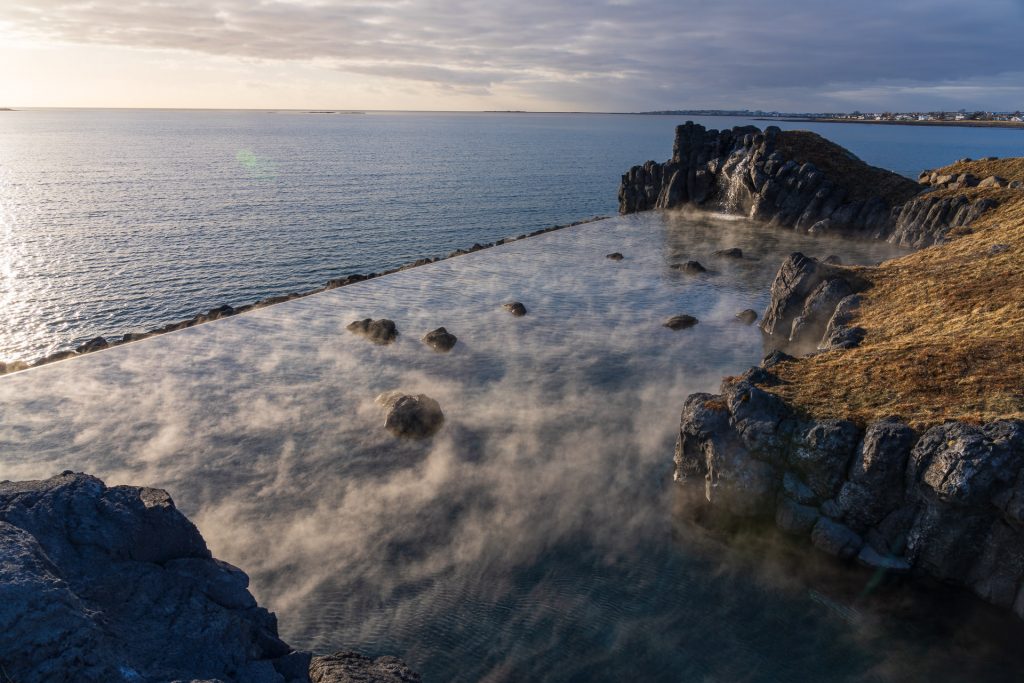 Become Awed at the Perlan Museum
The Perlan Museum is one of the top attractions in Reykjavik for good reason! This museum is dedicated to the "Wonders of Iceland" and will teach you all about things like glaciers, the Northern Lights, volcanoes, and more.
You can experience all Iceland has to offer without even leaving Reykjavik or having to visit the country during every season. You can walk through a man-made ice cave, meet puffins through virtual reality, and feel the power of an erupting volcano.
With interactive and hands-on exhibits, this is one of the best things to do in Reykjavik with kids. It is definitely a great place to see a Northern Lights show with your kids without facing the winter weather.
Don't forget to check out the observation deck with amazing, 360-degree views of the city. There is also a restaurant where you can grab a meal or an ice cream.
Don't forget to add this to your itinerary to enjoy one of the most fun things to do in Reykjavik!
Book Here: Perlan – Wonders of Iceland Tour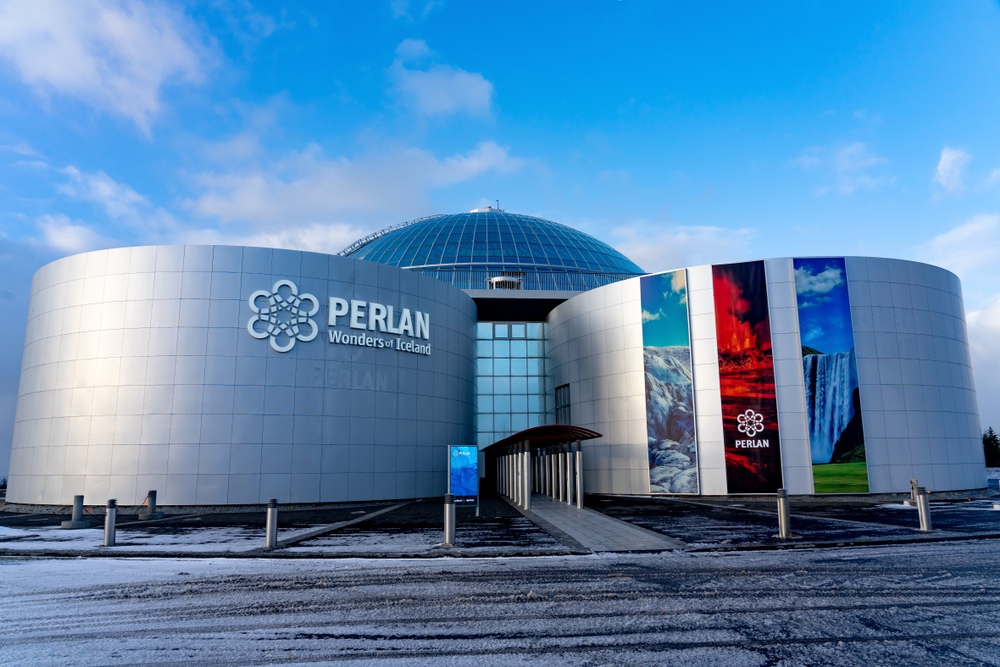 Step Back in Time at the Arbaer Open Air Museum
If you want a chance to learn about Icelandic history and see what it would have been like to live and work here in the 1800s, then you should visit the Arbaer Open Air Museum. This museum was established in 1957 as a way to preserve history and has become one of the best activities in Reykjavik.
The museum is a collection of historic buildings that have been relocated from throughout the country to form a village on the outskirts of Reykjavik. There are twenty buildings including farmhouses with turf roofs and a church. The insides are restored and look like a picture of the past.
There are different events here throughout the year as well as domestic animals during the summer. This is one of the best things to do near Reykjavik if you want to get out of the city and enjoy some fresh air.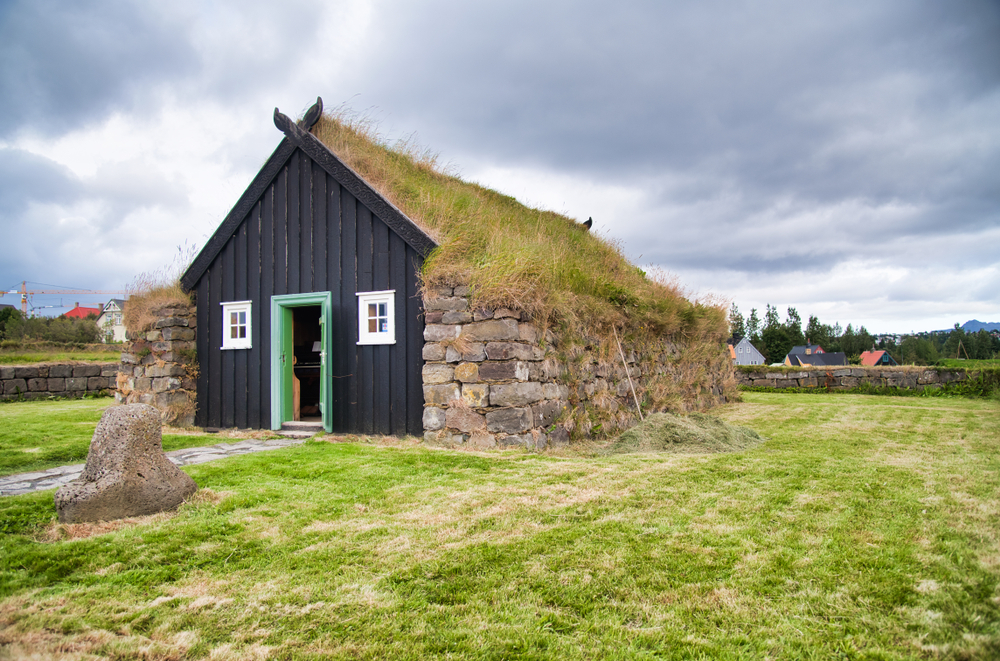 Best Day Trips From Reykjavik
If you want to spend some time outside of the city, there are a ton of awesome day trips from Reykjavik you can book. These guided tours will take you into the rugged countryside to see attractions along the Ring Road, Golden Circle, and beyond.
From Reykjavik: Golden Circle Full Day Tour
If you want to see the otherworldly attractions on the famous Golden Circle, then book this 7-hour tour. The bus ride will lead you to Thingvellir National Park, Gullfoss Waterfall, and Strokkur Geysir.
You will be amazed by the power of nature on this trip and learn so much from the experienced guide. There is free wifi on the bus, so you will instantly be able to share photos to make your friends back home jealous.
Book Here: From Reykjavik: Golden Circle Full Day Tour
South Coast Classic: Full-Day Tour from Reykjavik
Iceland's south coast is where you will find many of the most iconic sights in the country. If you want to see them easily with a knowledgeable guide, book this 10.5-hour tour dedicated to the highlights of the south coast.
You will see the photogenic Seljalandsfoss and Skogafoss waterfalls, the black sand Reynisfjara Beach, and the cute town of Vik. On the bus, there is an audio guide in multiple languages so you can learn along the way.
Book Here: South Coast Classic: Full-Day Tour from Reykjavik
From Reykjavik: Snæfellsnes Peninsula Full-Day Tour
The Snæfellsnes Peninsula is a gorgeous region of Iceland north of Reykjavik. The landscapes here are postcard-worthy and are a must-see while in the Land of Fire and Ice.
This 11-hour tour allows you plenty of time to see each attraction. You will make stops at Kirkjufell, Kirkjufellfoss Waterfall, Djúpalónssandur Beach, fishing villages, and more! You will return to the city with unforgettable memories.
Book Here: From Reykjavik: Snæfellsnes Peninsula Full-Day Tour
From Reykjavik: Blue Lagoon Admission with Transfers
The Blue Lagoon is another amazing hot spring in Iceland perfect for relaxing after a crazy hike. Soak in the pretty, milky blue water that is rich with silica minerals. Your skin will thank you later!
Cover your face with a mud mask and sip on a drink from the swim-up bar for full health and serenity. There is also a spa and multiple restaurants to check out.
Book Here: From Reykjavik: Blue Lagoon Admission with Transfers
Snorkeling in Silfra Fissure – Small Group Adventure
If you are looking for one of the most unique day trips from Reykjavik, then you should go snorkeling at the Silfra Fissure. You might not think of Iceland as a place for snorkeling, but this is one of the best places to do so in the world. There are not many other places you can snorkel between continental plates.
This snorkeling tour provides all the gear you need and a certified guide. The water is cold since it is glacier melt, but it is super clear. There is visibility of up to 300 feet.
Book Here: Snorkeling in Silfra Fissure – Small Group Adventure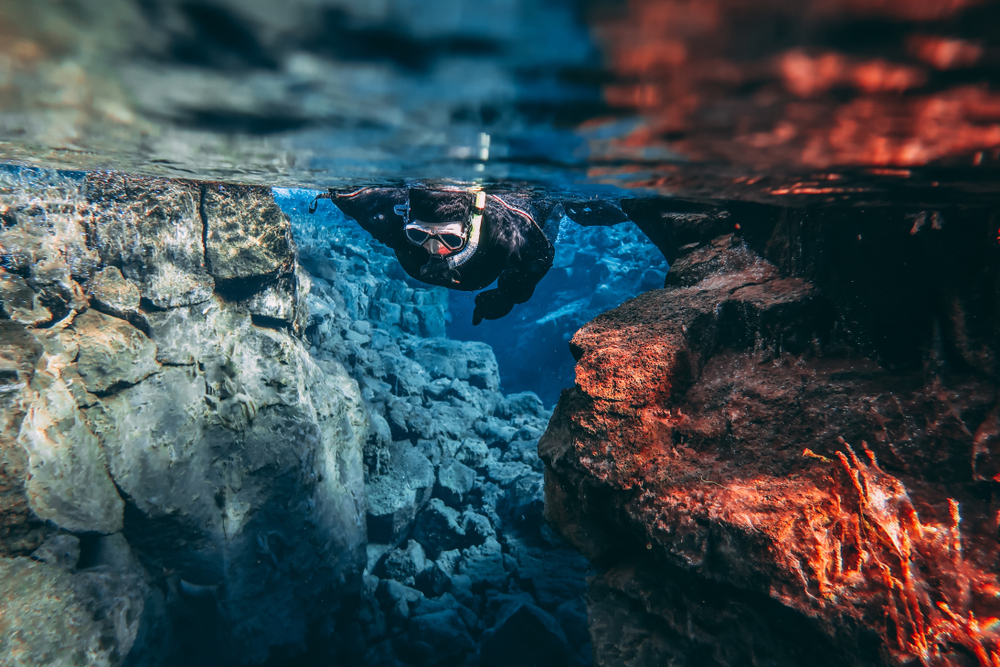 Iceland will always be one of our top destinations…if not our very favorite! These Reykjavik things to do should be on your list. This gorgeous city has just the right amount of metropolitan but with a constant emphasis on the natural surroundings. Visit Reykjavik! As soon as you can, step into the wonder that is Iceland.