Looking for the best day trips from Reykjavik? Look no further! This guide has every day trip from Reykjavik that is worth your time. If you have already done all of the best things to do in Reykjavik, this is what you are going to want to be looking for!
Planning your trip to Reykjavik last minute?
Make sure to book ahead! Hotels and tours often sell out the closer you get to your trip. Here are our top picks for Reykjavik!
Top Experiences And Tours In Reykjavik:
Top Hotels In Reykjavik:
As the capital city of Iceland, Reykjavik is usually where visitors to this island set up their home base. Luckily, there are tons of amazing day trips from Reykjavik within just a couple of hours of driving. Don't forget to check out Where To Stay In Reykjavik if you plan on making it your home base!
You can explore breathtaking glaciers, waterfalls, hot springs, and national parks without having to venture too far or book multiple accommodations.
Because public transportation in Iceland doesn't extend very far, you'll need to either take tours that include transportation or rent a car in Iceland. Be aware that driving in Iceland can be a little bit of a tricky task at times, so be sure to know what mistakes to avoid while driving in Iceland.
Get a FREE printable "Hidden Gems In Iceland" E-book by joining our private Iceland Facebook Group and share your photos and ask for tips and tricks.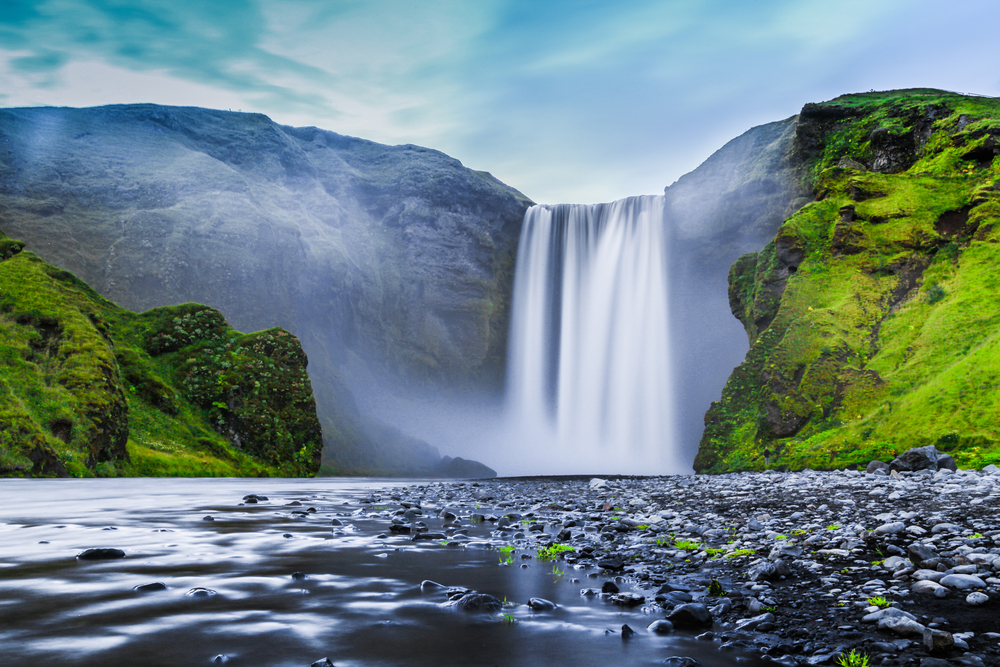 26 Best Day Trips From Reykjavik Worth The Effort
Best 9 Reykjavik Day Trips Within 1 Hour
Blue Lagoon
The Blue Lagoon is one of the most popular destinations in Iceland. This hot spring was actually created by accident in 1976 by the Svartsengi Power Plant next door. The water is heated by natural geothermal activity and stays around 100 degrees Fahrenheit.
The unique, milky hue is a result of a mixture of algae, silica, and minerals. As a matter of fact, the water is actually chalky white in color, but, somehow, the sun makes it look blue.
This stop is in a great area and is actually on our list of Best Places To Stay In Iceland. In this post, we offer suggestions for where to stay around the Ring Road!
If you plan on visiting the Blue Lagoon, be sure to pre-book your entry into this amazing attraction! It'll save you a lot of time and effort. To get to the Blue Lagoon from Reykjavik, you'll either have to drive about 45 minutes or take a tour that includes transportation.
Book Here: Blue Lagoon Entry Day Trip From Reykjavik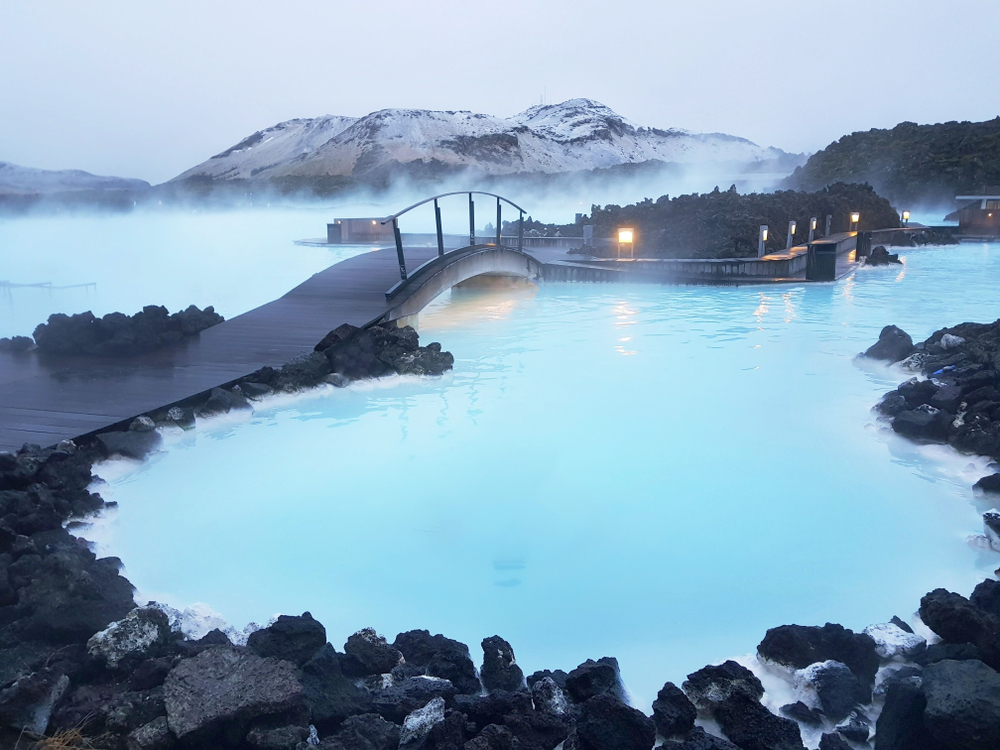 Valahnukamol
To get to Valahnukamol from Reykjavik, you'll have to drive for about an hour southeast to the coast. Here, you will find awesome, jagged rock formations sticking out of the wild sea like monster teeth.
If you like unique coastal views or are looking for an amazing and eerie photography background, this is the place for you! Valahnukamol remains one of Iceland's hidden gems even though it is so close to Reykjavik and even closer to the Keflavik International Airport.
Valahnukamol is not too far past the Blue Lagoon, so it is possible to combine these day trips into one and visit them on the same day to save time. You can also visit the nearby Reykjanes Lighthouse or the Gunnuhver hot spring.
This is one of the best stops around Iceland's Ring Road. If you happen to be driving in Iceland, you will want to ensure that you make time to see it!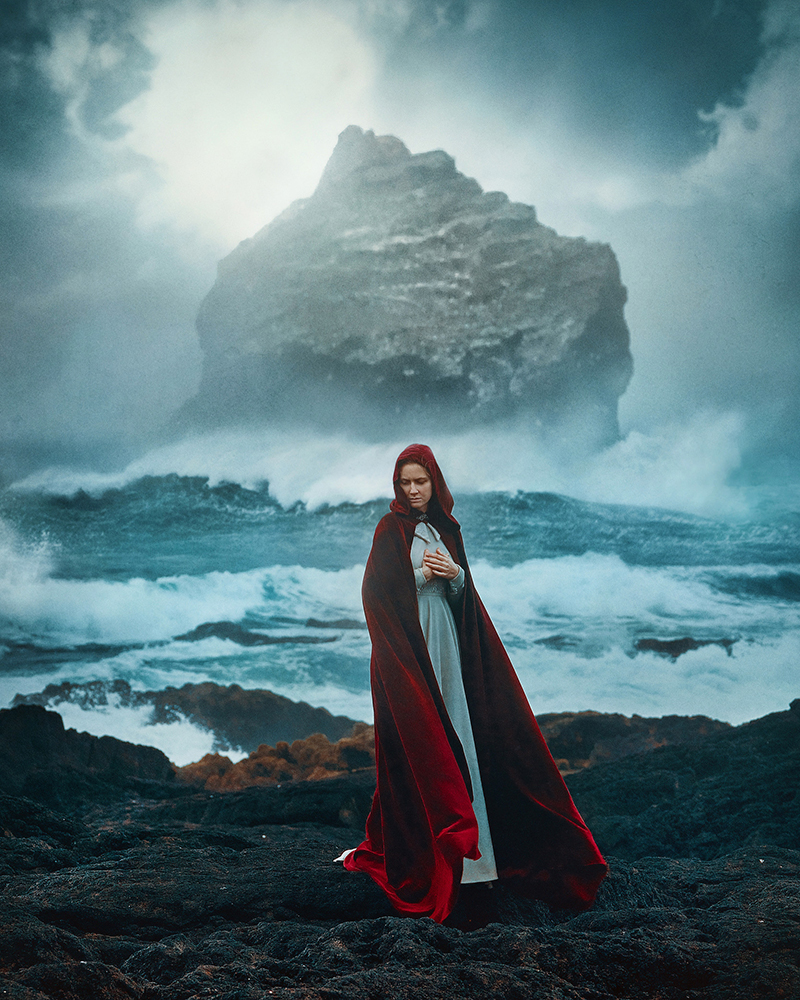 Reykjadalur Hot Springs
Reykjadalur Hot Springs is one of the best day trips from Reykjavik and is just under an hour's drive. It combines an active hike through Iceland's beautiful nature and time for relaxation in one of the country's best hot springs.
Unlike other hot springs in Iceland that look like a pool, Reykjadalur Hot Springs are completely natural and are just small flowing rivers! The perks of this hot spring don't end there. You may also catch a glimpse of roaming herds of sheep or even a few of those famous Icelandic horses.
It would be helpful at times to have a tour guide on your trip to this relaxing location, as there are certain things you should know before visiting these Reykjadalur Hot Springs.
For example, there are certain pools that aren't suitable for bathing, and the best pools to bathe in vary depending on what time of year you visit. It is one of the best places to see on your Iceland Itinerary!
Book Here: Reykjadalur Hot Springs Hike From Reykjavik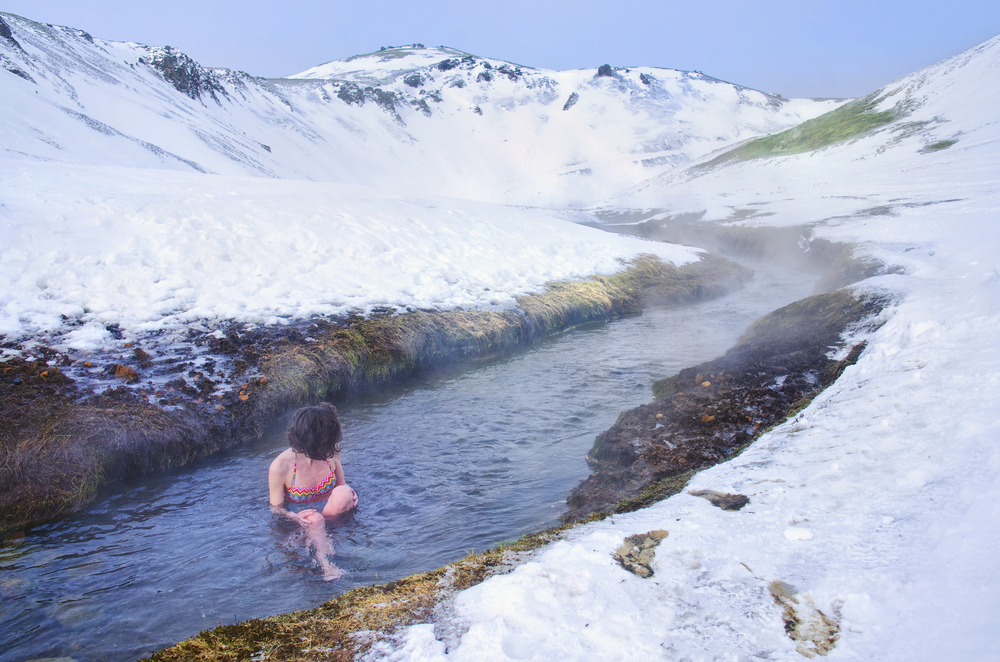 Thingvellir National Park
To get to Thingvellir National Park from Reykjavik, it takes about 45 minutes by car. This relatively short journey is worth it for the amazing views you will be granted in this park. As far as the eye can see, you will find roaring rivers, cascading waterfalls, and rugged, alien landscapes. During winter, the area is transformed into a snowy wasteland where the Northern Lights can be viewed.
It is clear why Thingvellir National Park is one of the best day trips from Reykjavik as well as being one of the most popular destinations in Iceland in general.
The park draws people in who want to hike the twisting trails, photograph unique landscapes, fish for trout, go horseback riding, or enjoy any of the other outdoor activities popular here. Thingvellir National Park is also part of the Golden Circle and is usually the first stop on this Iceland road trip.
Book Here: Golden Circle Day Tour From Reykjavik (Including Thingvellir National Park)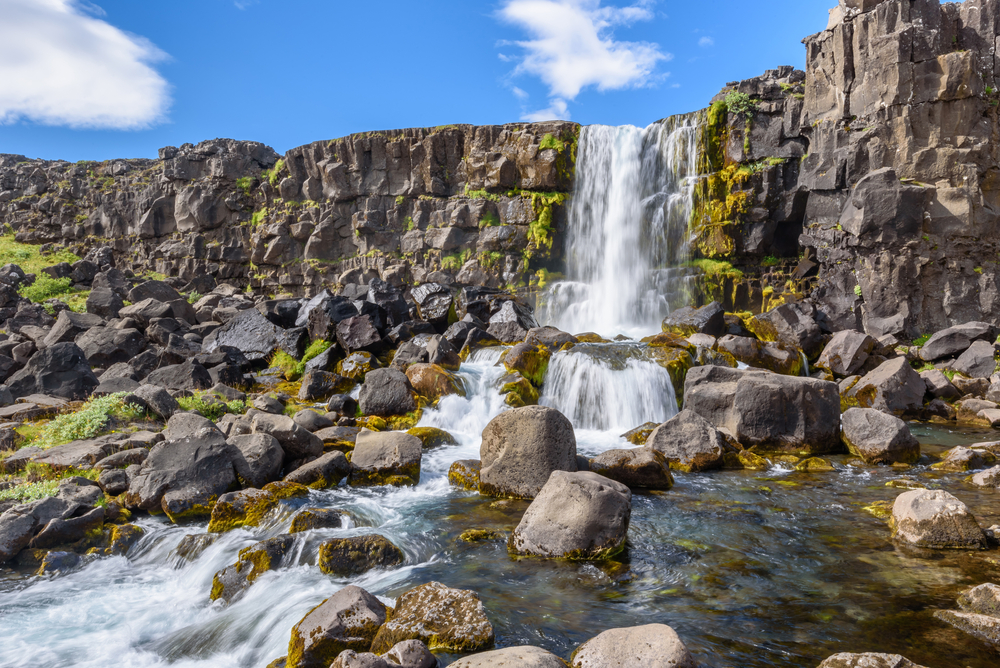 Silfra Snorkeling
Snorkeling might not be the first thing that comes to mind when you think of Iceland, but it is one of the noteworthy activities you can do in Thingvellir National Park. This location is one of the most popular places to go snorkeling in the entire world and with good reason.
At the Silfra rift, you can swim between the North American and Eurasian tectonic plates and even touch both at the same time! The outstandingly clear, vibrant blue water paired with the prehistoric-looking geology will make for a dreamy and breath-taking swim.
You cannot dive here without a guide, so book a tour in order to get the proper training and equipment before enjoying this beautiful water and having a once in a lifetime experience!
Book Here: Silfra Snorkeling Tour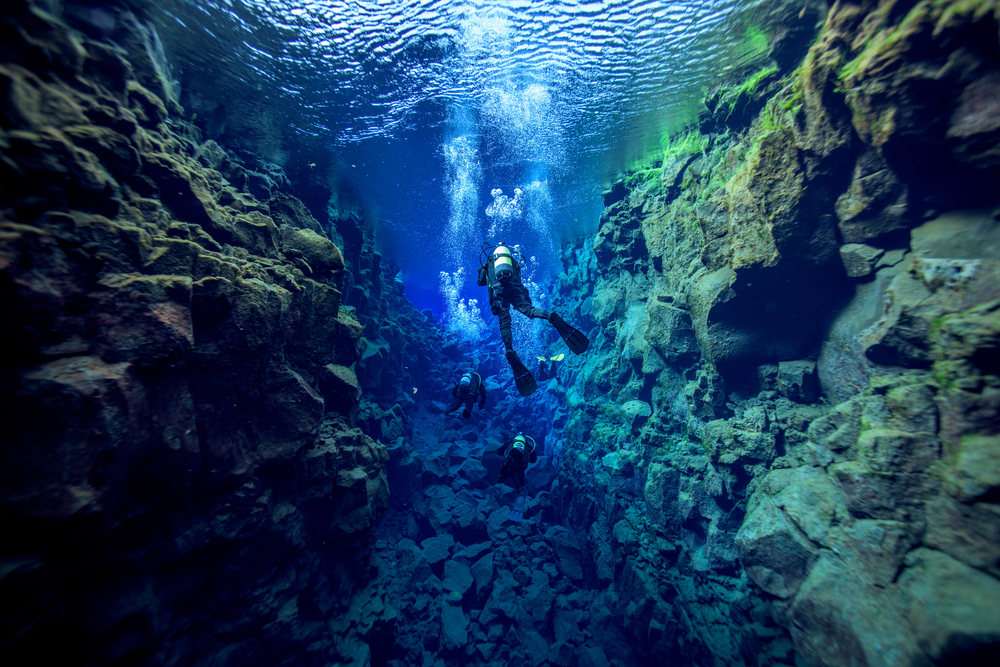 Game Of Thrones Tour
Iceland has a landscape that easily could have been pulled from the pages of a fantasy novel. Because of this, it is no wonder those in charge of location scouting for the Game of Thrones TV show choose to film in so many places on the island.
As you travel around the country, you are guaranteed to see at least some sights that you might have seen on screen. If you are a huge fan of the show, consider taking a tour dedicated to Game of Thrones. You can do your own self-guided tour or if you want to avoid the research and stress, book a tour with a knowledgeable guide.
Book Here: Game Of Thrones Tour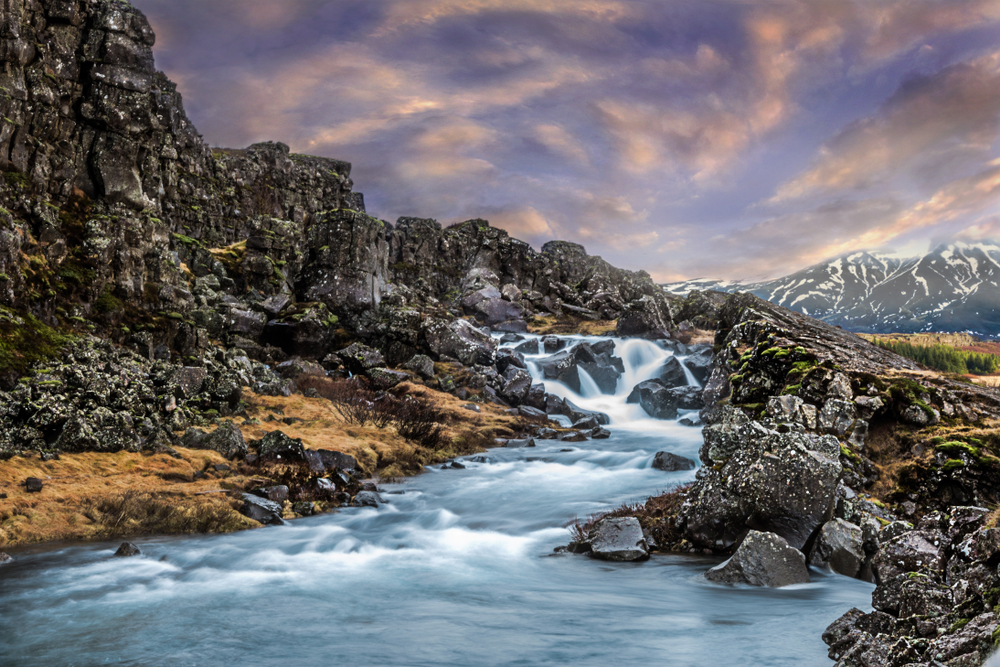 Kerid Crater
Kerid Crater is just under an hour from Reykjavik and is really a must-visit location for anyone searching out the best landscapes in Iceland. This 170-meter wide crater lake is created by the top of a volcano in Iceland's typical fashion of making everything just a bit more epic. The bright blue-green color of the lake's water pops in colorful contrast against the red volcanic rock and green moss that creates the rim of land around the water.
There is a very small fee to visit the area, but you won't mind handing over the few dollars in order to stand in awe along the Kerid Crater's rim. This location is part of the Golden Circle and can be visited as part of a Golded Circle tour if you don't drive yourself.
Book Here: Golden Circle Day Tour From Reykjavik (Including Kerid Crater)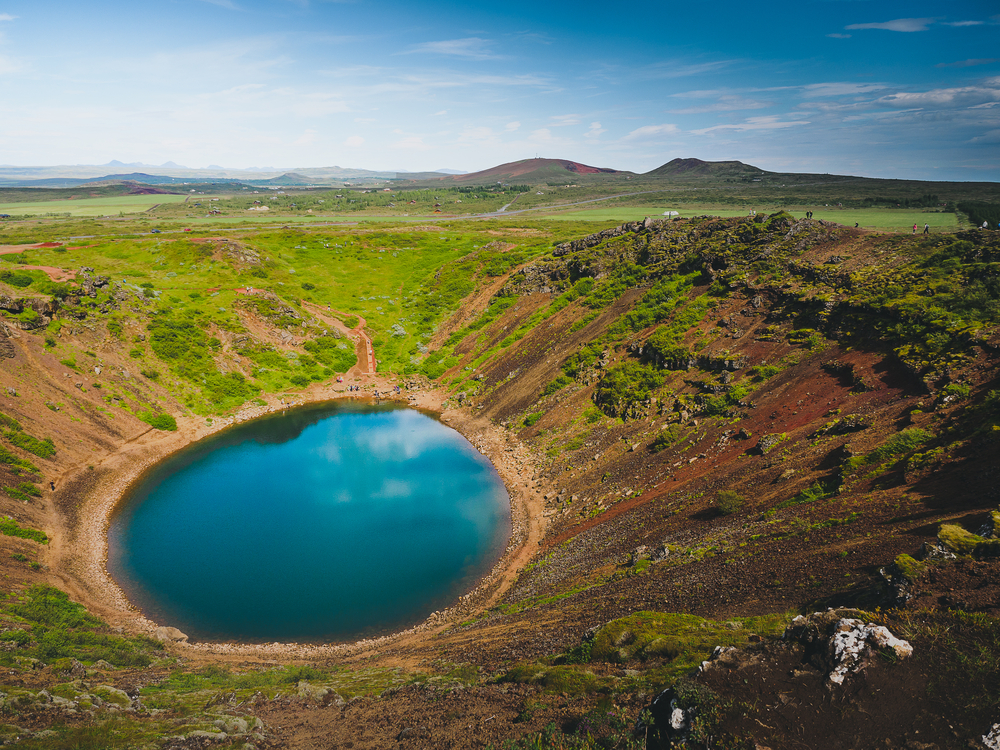 Whale Watching
Iceland is one of the best places for whale watching and you can book a tour right out of Reykjavik, so you do not need to travel far for this day trip. The ocean off the coast of Iceland is the perfect feeding ground for whales and draws in many species.
You can embark on a whale watching tour throughout the year, but the season does determine the number of whales and species you are likely to see. Consider going in the summer months to increase your chances of witnessing whales breaking the surface as well as for fairer weather and calmer seas.
While out on your boat, you can look forward to seeing minke whales, the most common in the area, as well as humpbacks and possibly a sperm whale. Along with whales, you might be able to spot orcas, harbor porpoises, white-beaked dolphins, and a number of sea birds.
Book Here: Whale Watching Tour From Reykjavik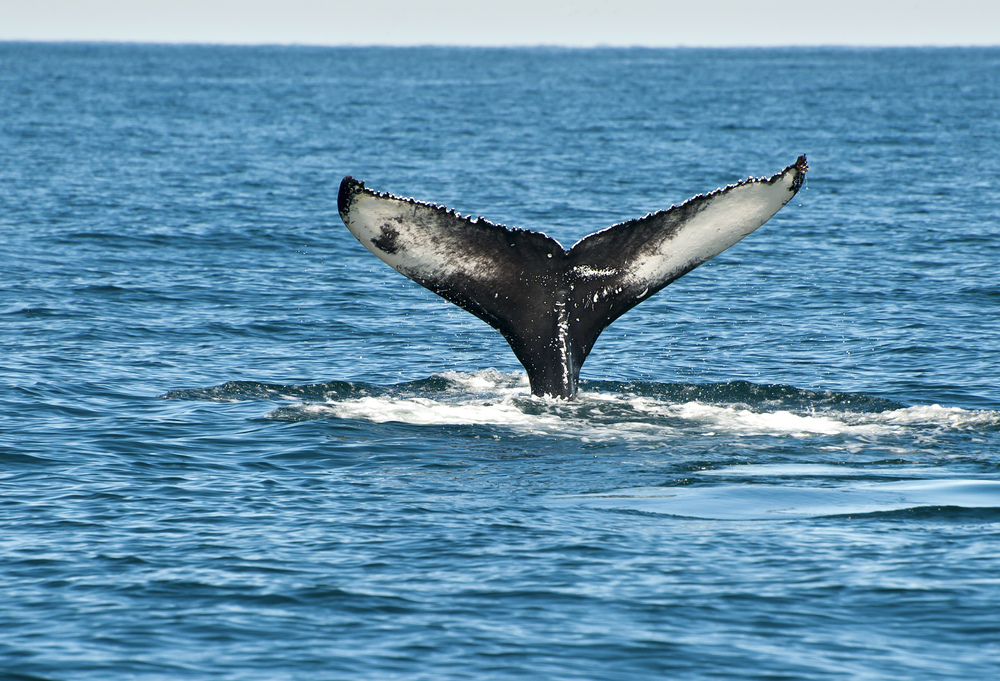 Raufarholshellir
The Raufarholshellir lava cave will leave you gasping from its beauty. Whether geology is your passion or you just love drop-dead gorgeous sights, this is a day trip from Reykjavik you need to take! With only a 40-minute drive to get to the cave, there is no excuse to not take a tour of this natural wonder.
The cave was formed over 5,000 years ago and is the fourth largest lava cave in Iceland at just under a mile long and ceilings that reach 10 meters. The tunnel is full of amazing pink and purple magma-formed walls and even giant ice crystals during certain times. Book a tour to get a guide and the proper safety equipment to explore the cave.
Book Here: Raufarholshellir Lava Tunnel Day Trip From Reykjavik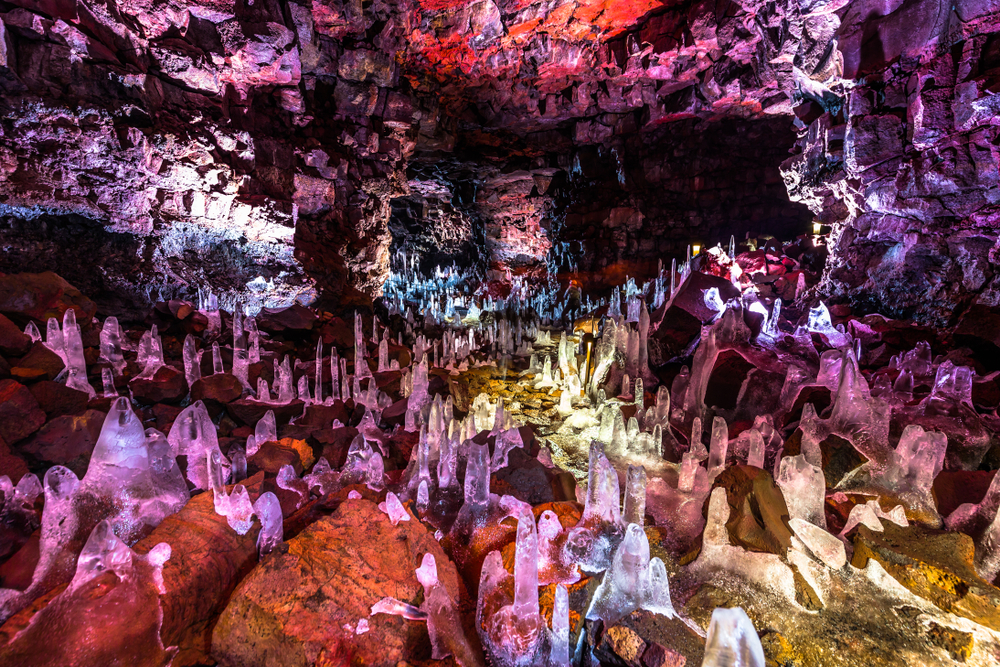 Best 7 Reykjavik Day Trips Under 2 Hours
Strokkur and Geysir
To get to Strokkur and Geysir from Reykjavik, you will have to drive for about an hour and forty minutes. If that drive is too long for your liking, you can also take a tour that includes transportation. However you get there, you will find a geyser ready to blast!
The Great Geysir is known as the first geyser described in modern literature and is where the name for geysers originated. The word comes from the Icelandic "geysa", meaning "to gush." While this old geyser almost never erupts anymore, it is still an interesting site due to its history.
A short walk from Geysir is Strokkur, which will not disappoint. This is the most active geyser in Iceland and will explode up to 20 feet into the sky every 4 to 10 minutes. Make this day trip from Reykjavik in order to watch this amazing natural wonder put on a show.
Book Here: Golden Circle Day Trip From Reykjavik (Including Strokkur and Geysir)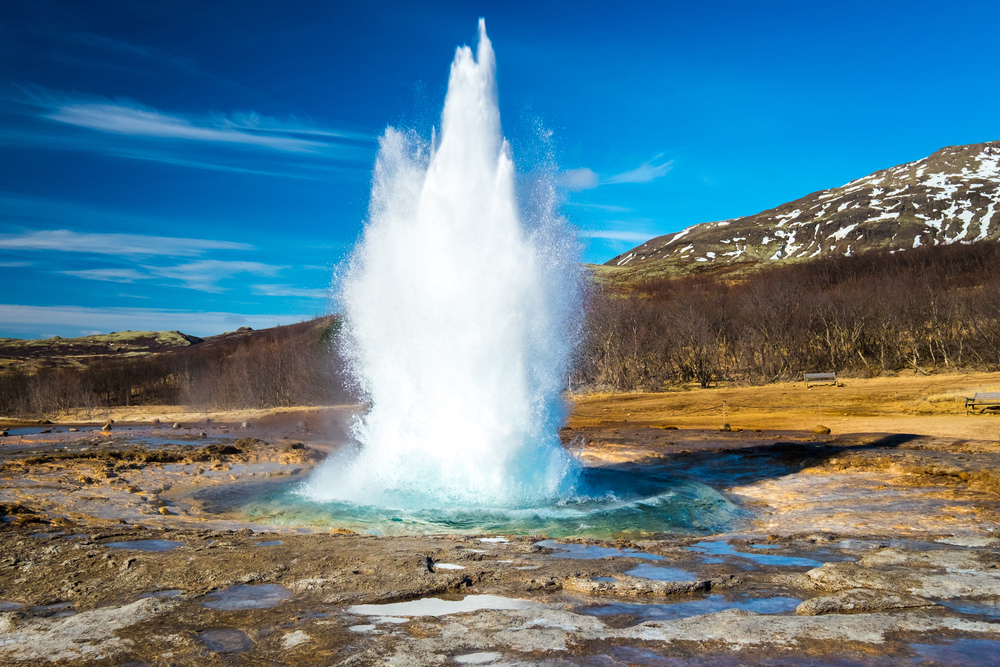 Gullfoss Falls
Gullfoss Falls is not far from Strokkur and Geysir, so it is possible to visit all three in the same day. This magnificent waterfall is found on the Hvita River and is one of the best waterfalls in Iceland.
With a name that translates to "Golden Falls," it is perfect that it is found on the Golden Circle route. Unlike many Iceland waterfalls, you will be able to view Gullfoss from the cliffs above it and watch as it cascades 105 feet down and over two tiers into a gorge.
With trails around it and multiple viewpoints, you will be able to see the 575-feet wide falls from many angles. You simply have to take the time to visit Gullfoss if you want to see the might of nature in Iceland and snap some amazing photographs.
Book Here: Golden Circle Day Tour From Reykjavik (Including Gullfoss Waterfall)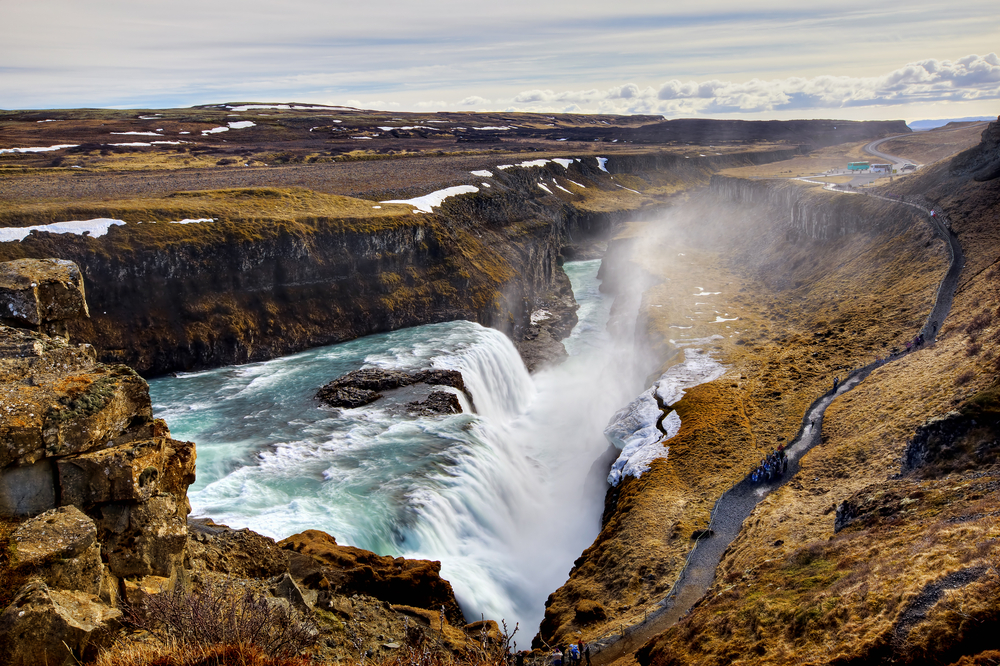 Hrunalaug Hot Spring
Hrunalaug Hot Spring is one of the hidden gems in Iceland as well as one of the best hot springs in the country, making it the perfect hot spring if you want to avoid huge crowds and find time for yourself to relax.
The spring is about an hour and a half from Reykjavik and after the long drive, you can look forward to laying back in the hot water with views of the rolling hills that surround it.
The pool is small, which is perfect for couples who want to soak together in an intimate setting and feel as if they are the only people in the world. A small donation for upkeep is appreciated but do your part as well by cleaning up after yourself.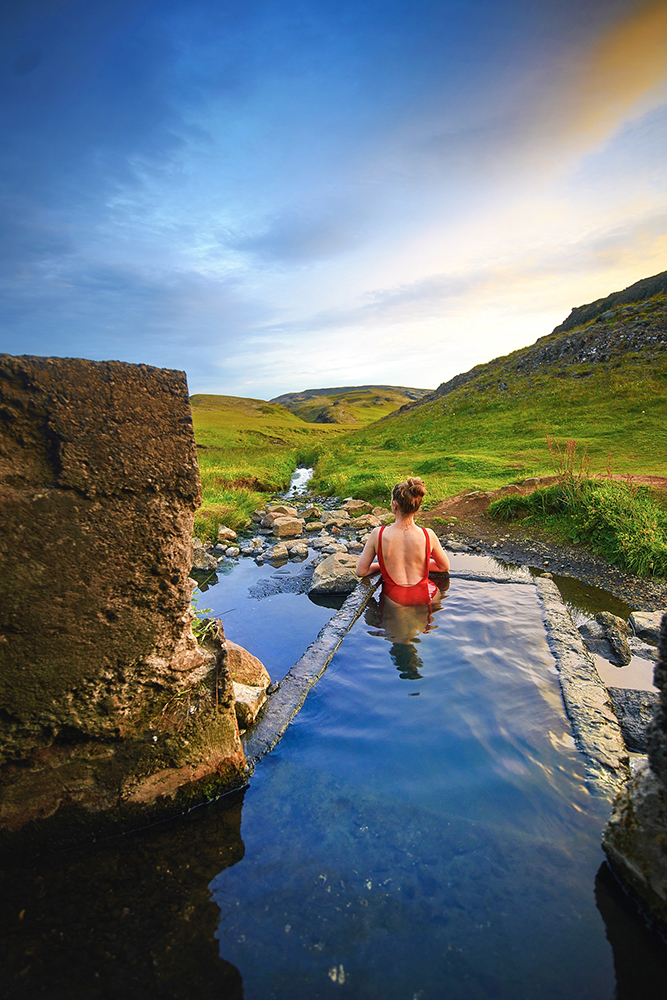 Secret Lagoon Hot Spring
This hot spring is located just around the corner from Hrunalaug Hot Spring and despite the word secret being in its name, this spring is larger and more well known. It is also the oldest hot spring in Iceland and dates back to 1891. Unlike many of Iceland's other hot springs, this one is big enough to swim in and offers modern facilities.
A couple of restaurants can be found right next door and there is a small geyser nearby as well. If you are really craving a spa day, you can easily visit both the Secret Lagoon and Hrunalaug on the same day. The entrance fee to the Secret Lagoon is $25.
Book Here: Secret Lagoon Tour From Reykjavik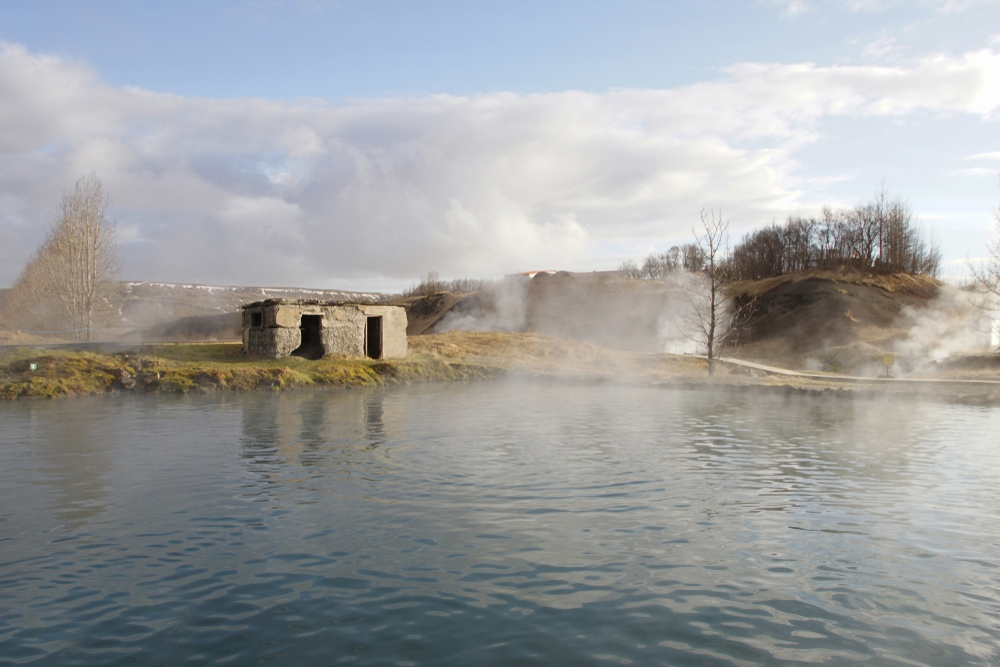 Glymur Waterfall
Glymur Waterfall is just over an hour north of Reykjavik and is found in one of Iceland's stunning canyons, Glymur Canyon. Make sure you wear your hiking boots because this area is a hiker's dream. From the nearby parking lot, you will have a good four-hour round trip hike to conquer to get the best views of the 198-meter waterfall.
Beware that this is not a super easy hike, so go into it prepared. Not only is it lengthy, but you will also be required to wade through a river, climb through a cave, and walk along dangerous, mountain paths.
Sign markers will keep you from getting lost as you make your way along the unpaved trail. Once you reach the climax of the hike, you will be rewarded with gorgeous views, so do not hesitate to embark on this thrilling hike.
Book Here: Glymur Mountain Hike Day Trip From Reykjavik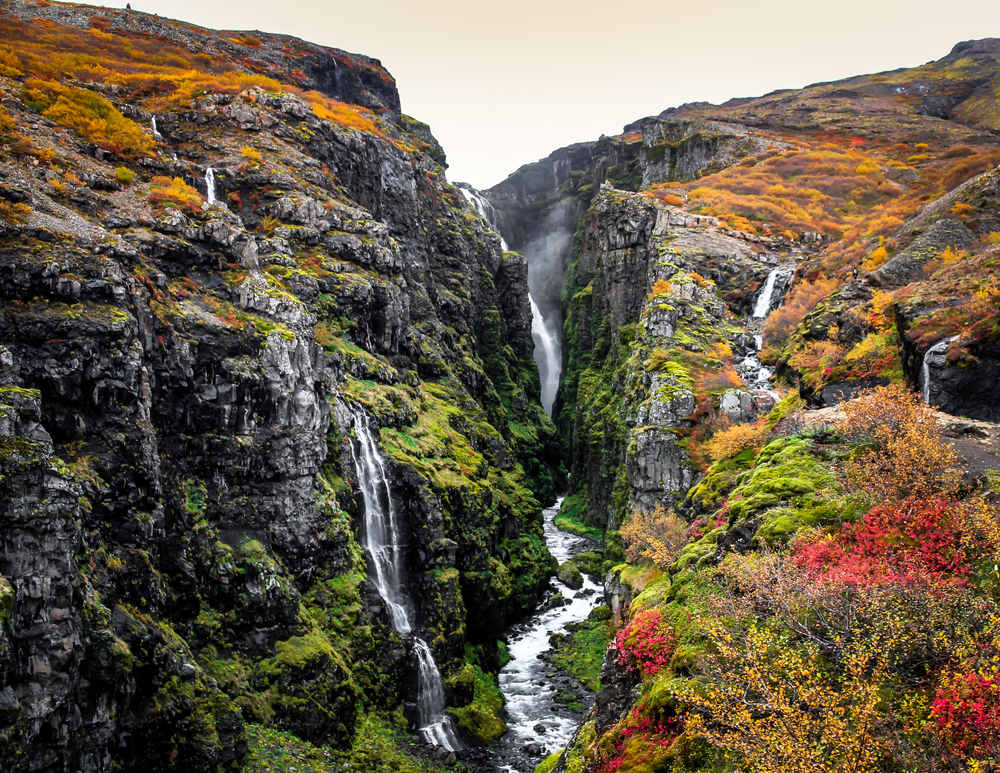 Seljalandsfoss Waterfall
It will take you about an hour and forty-five minutes from Reykjavik to reach Seljalandsfoss, one of the most iconic and swoon-worthy waterfalls in Iceland. The waterfall is found just off of the Ring Road in the south of Iceland and is hard to miss since it can be spotted from the road. This nearly 200-foot waterfall is a mighty force to be reckoned with and will leave you in awe.
The water tumbles over the cliffside in a way that allows you to walk behind the powerful stream for spectacular views. If you are traveling in the summer, you will find the land around the falls lush with greenery and blooming flowers.
Do not be surprised to find many tourists at Seljalandsfoss when you visit, but do not let that turn you off, because this waterfall should be at the top of your list of places to see in Iceland.
Book Here: South Of Iceland Day Trip From Reykjavik (Including Seljalandsfoss Waterfall)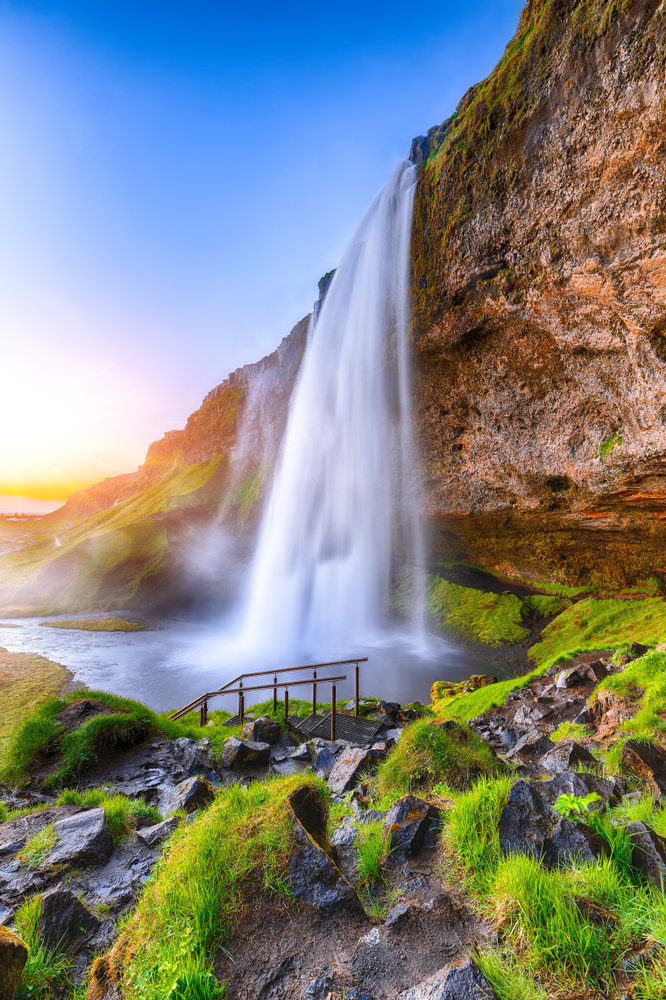 Best 7 Reykjavik Day Trips Over 2 Hours
Iceland South Coast
South Iceland has a great collection of beautiful sights close together, making it one of the most perfect day trips from Reykjavik if you want to see multiple things in one day.
Many of the locations can be found not far from Route 1, or the Ring Road, so finding them is not hard. If you drive as far as Vik, it will be about a 5-hour round trip of just driving, not including the time taken to see each place. Because of this, try leaving Reykjavik early in the morning and timing yourself appropriately.
Along the coast, you will find a multitude of waterfalls, such as Seljalandsfos and Skogafoss. Once you reach Vik, you will be greeted by a cute village adorned with a pretty church. Near Vik, you can find the Reynisfjara black sand beach and the picturesque Dyrholaey peninsula. There are also many hidden gems in the area if you have time to search them out.
Book Here: South Of Iceland Day Trip From Reykjavik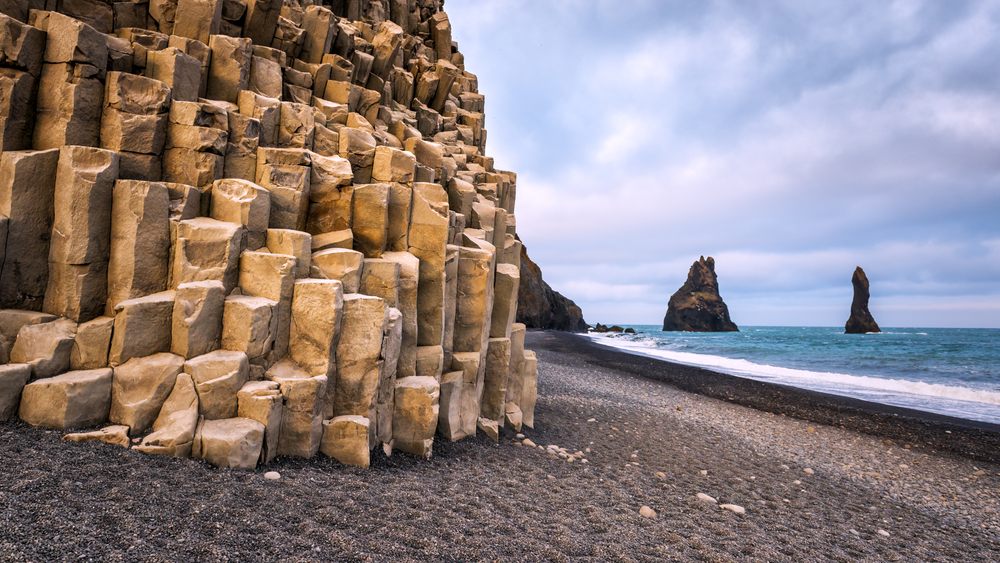 Thorsmork
Thorsmork, or Thor's Valley, named for the Norse god of thunder, is a two and a half-hour drive from Reykjavik, but because the route there passes by many other popular stops, you can knock off multiple locations on your way.
The entrance to the nature reserve is near the Seljalandsfoss Waterfall. If you are driving yourself, make sure to rent a 4×4 vehicle suitable for the f-roads, and you may want to read up on some tips for driving in Iceland. The best way to get around Thorsmork is to book a tour with a guide driving a super jeep, which will ensure you get through the rivers and offroad trails that crisscross the area.
If you want to enjoy your time at Thorsmork on foot, you can leave your car at the entrance to the valley and hike from there. One of the best trails in the area is the Valahnukur Hike.
This trek will take you about two hours to complete and will give you amazing views of the mountains sprawling in every direction. In the end, you will not regret embarking on this day tour from Reykjavik.
Book Here: Thorsmork Hike And Super Jeep Tour From Reykjavik
Haifoss Waterfall
Yet another amazing waterfall in Iceland is Haifoss, a more secluded waterfall that crashes into a gorge in the Fossardalur valley. Haifoss is just over two hours from Reykjavik and is well worth the drive. If you drive yourself, you will need a 4×4 vehicle. The falls can easily be included in a four day Iceland itinerary as well if you are interested in doing more than a Reykjavik day trip.
At 400 feet, Haifoss is Iceland's third-largest waterfall. Nearby is another smaller waterfall named Granni, which appropriately translates to "neighbor." As you hike along the top of the gorge, you will have great viewpoints of both waterfalls at the same time.
From this location, you can also spot the "Gates of Hell" volcano Hekla. These waterfalls could be called Iceland off the beaten path as most tourists do not go out of their way to visit. Because of this, you can expect to find time for yourself with nature.
Book Here: Landmannalaugar Super-Jeep Tour From Reykjavik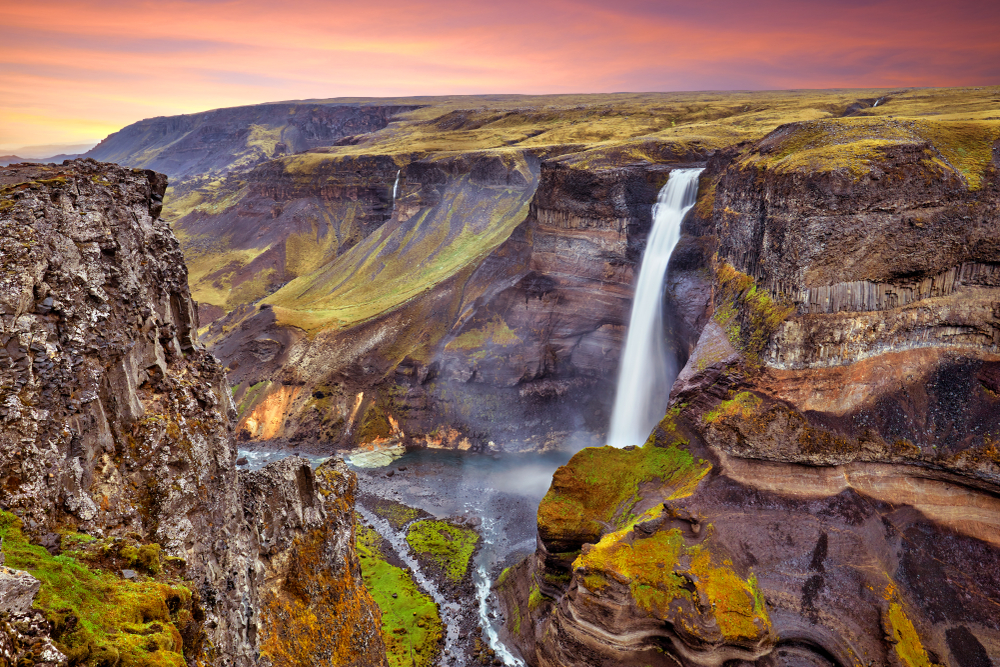 Westman Islands
The Westman Islands are another hidden gem in Iceland. Though they are only just under a three-hour journey from Reykjavik, including a ferry ride, most tourists do not know or care to visit. Like the rest of Iceland, these small islands are full of rugged, jaw-dropping landscapes and wildlife. The largest island is Heimaey, which is home to a population of about 4,300 locals.
The other islands are significantly smaller and are mostly uninhabited except for the occasional hunting cabin. While visiting the Westman Islands can be done as a day trip from Reykjavik, you might want to consider staying at least one night there in order to have time to fully explore.
Your time on the island of Heimaey will be far from boring since there are plenty of fun and adventurous activities to fill your time. In the south of the island in Storhofdi you will find one of the largest puffin colonies in Iceland with close to 700,000 birds nesting there in the summer.
You can also hike a few different trails, including the Eldfell volcano crater. Also, make sure to check out the pretty Heimaey Stave Chuch, the only completely black church in Iceland.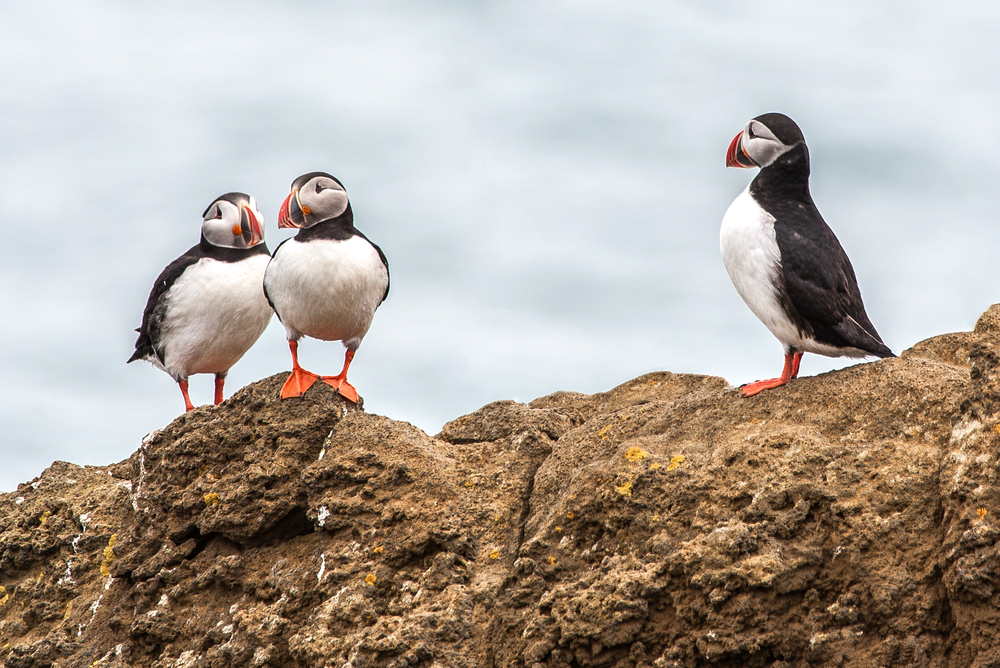 Skogafoss Waterfall
Skogafoss is yet another really iconic waterfall in Iceland and at just over two hours from Reykjavik, it makes for a perfect day trip along the Ring Road. It is also not far from Thorsmork and Seljalandsfoss, so all three could be checked off your list on the same day. These locations could be part of your Iceland South Coast day trip.
Skogafoss is a mighty waterfall that will leave you breathless. The falls cascade straight down for 60 meters and the curtain of water is 25 meters across.
With so much mist generated by the falls, a rainbow is often formed if the light is right and can be photographed shooting out of the water for a magical memory. The position of this waterfall allows you to walk right up to it, but be prepared to get very, very wet! You can also hike to the top of the falls for a more unique angle.
Book Here: South Coast and Northern Lights Tour (Including Skogafoss Waterfall)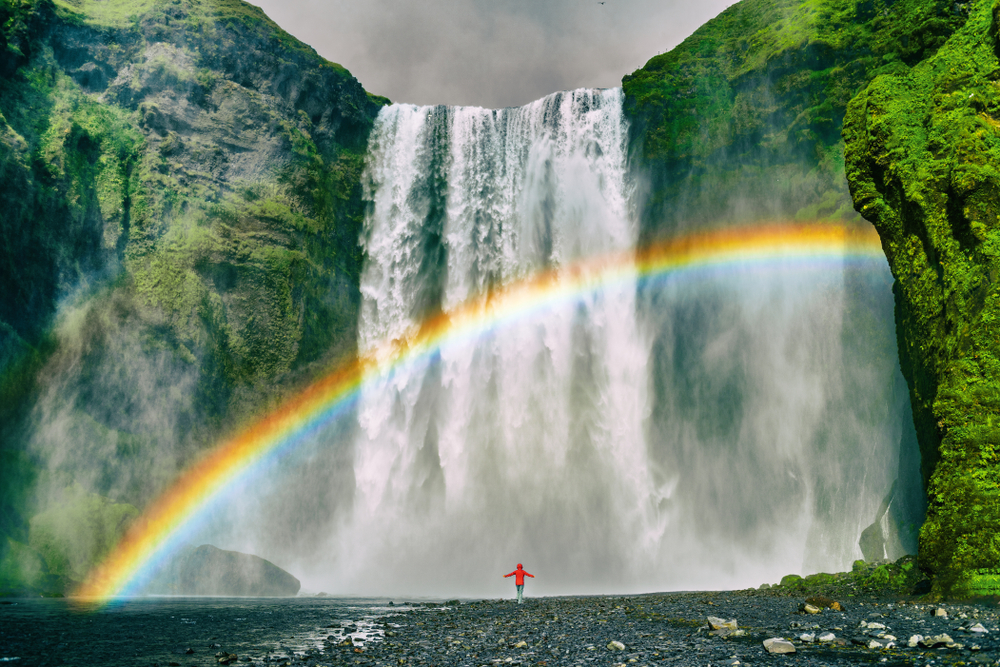 Snaefellsnes Peninsula
To get to Snaefellsnes Peninsula, you will have to drive two hours, but with so many of Iceland's top destinations, you cannot ignore this day trip from Reykjavik. This beautiful peninsula is north of Reykjavik and juts 55 miles into the ocean.
If you are able to stay in the area for more than a day you can really explore in-depth and spend more time at each location. But, if you do only have a day, try to prioritize what you want to see the most.
On the Snaefellsnes Peninsula, you will discover the Kirkjufell mountain and the Kirkjufellafoss waterfall nearby. These two landscape features combine to create the classic postcard photo of Iceland and are an extremely popular shot for photographers. Kirkjufell translates to "Church Mountain" because of its shape and is just over 1,500 feet tall.
At the tip of the peninsula, there is the Snaefellsjokull National Park, where you can hike a glacier-topped mountain, explore the Vatnshellir Lava Cave, or walk along rugged beaches.
The peninsula is also home to several cute fishing villages, churches, and lighthouses to check out. No matter your interests, there is a ton of fun and epic activities to do on the Snaefellsnes Peninsula!
Book Here: Snaefellsnes Peninsula Day Trip From Reykjavik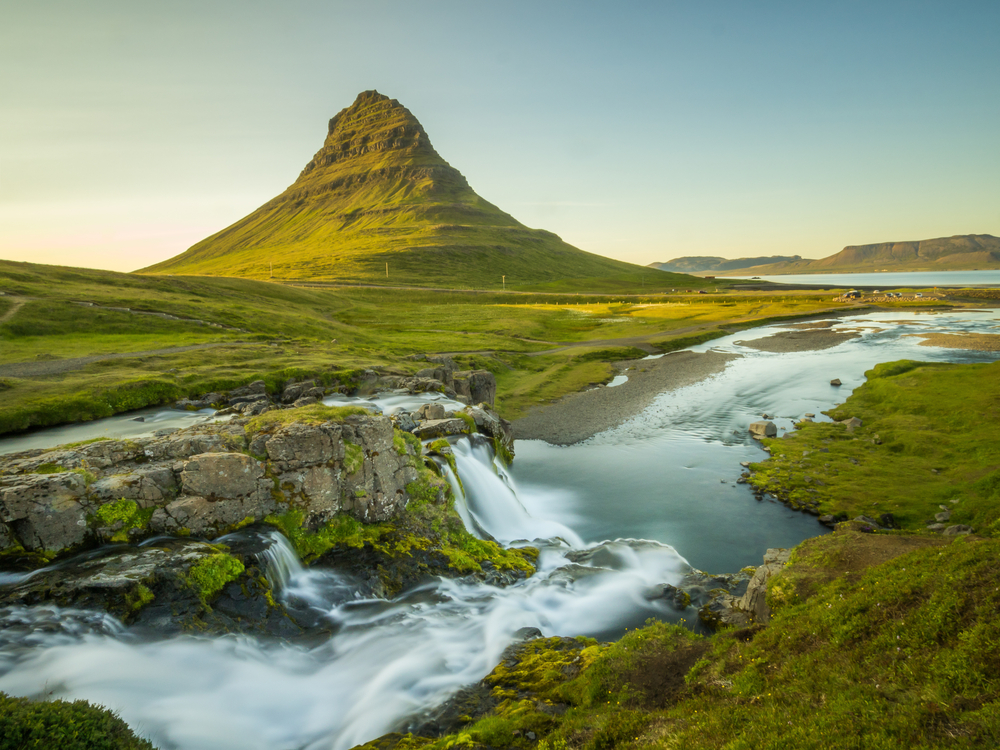 Solheimasandur Plane Wreck
With help from social media, the Solheimasandur plane wreck has become a hotspot for tourists, and it is no wonder why! This haunted-looking, skeleton of an airplane is so photogenic you will be drawn to it like a moth to a flame.
Unfortunately, you will not be the only person drawn to it, and you should not expect to have the site to yourself, especially in peak season. Either way, the plane is worth a look at and make sure to snap a photo while you are there, even if you have to edit out the other onlookers. Make sure to enjoy the sight of the plane from the ground since climbing on it is not allowed.
To find the plane wreck, drive on the Ring Road towards Vik for just over two hours, until you reach Solheimasandur Beach. From there, you will have to walk about two and a half miles to the site. Alternatively, you can book an ATV tour that will get you there faster and without tiring your feet.
Book Here: South Iceland ATV Adventure (Including Solheimasandur Plane Crash)
3 Optional Longer Reykjavik Day Trips
Langjokull Glacier
Visiting the Langjokull Glacier is one glacier tour in Iceland you should consider doing if you want to make a great memory! You must book a tour to get up and personal with this glacier. The tour will include the special transportation and equipment you will need.
There are manmade tunnels carved into the snow and ice of Langjokull that will allow you to descend directly into the glacier, which is not something you get to do every day! You will love exploring the twisting tunnels and their stark blue coloration.
You will want to take plenty of pictures to document your journey or your friends and family back home might not believe you did this crazy, awesome tour!
Book Here: From Reykjavik: Langj0kull Glacier Ice Cave Tour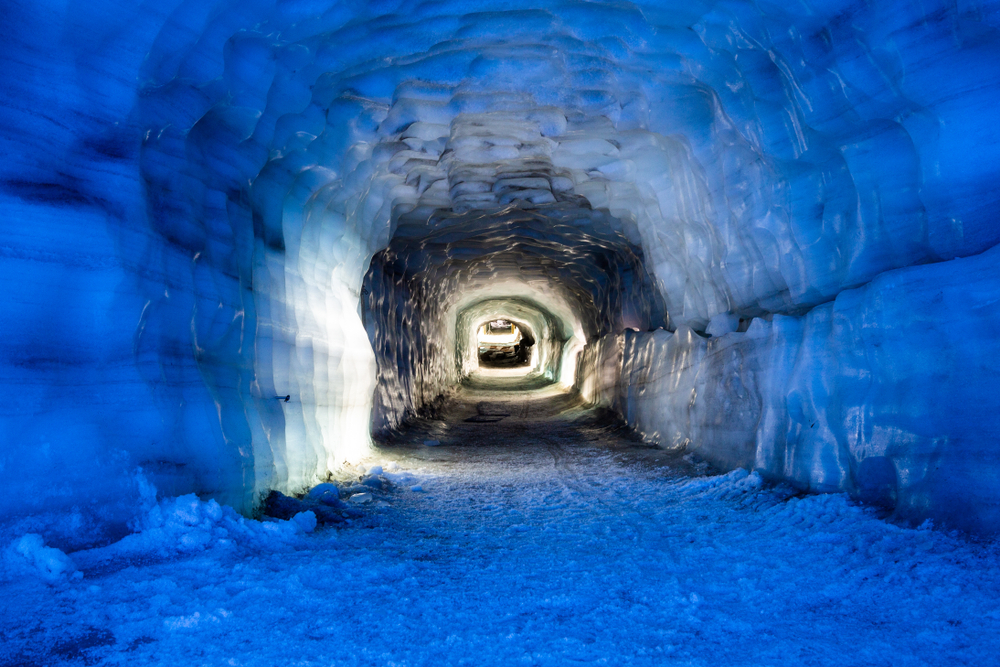 Jokulsarlon Glacier Lagoon
Getting to Jokulsarlon Glacier Lagoon requires a bit of a drive – five hours to be exact! It might be best to book a tour out of Reykjavik if you are not up to driving so far.
However you decide to get there, you will find the long car ride totally worth it! Jokulsarlon Glacier Lagoon is one of the most visited locations in Iceland, and as soon as you step foot on the beach, you will understand why.
This gorgeous lagoon is full of drifting icebergs and the beach will often have glassy ice waiting to be photographed. Of course, the amount of ice depends on the season you visit, but there will always be something to look forward to when you come here.
If you want, you can take a boat tour out onto the lagoon to get even closer to the cracking icebergs. If you come in the winter, you might glimpse seals on the ice or the Northern Lights dancing in the sky.
Book Here: Jokulsarlon Glacier Lagoon Day Trip From Reykjavik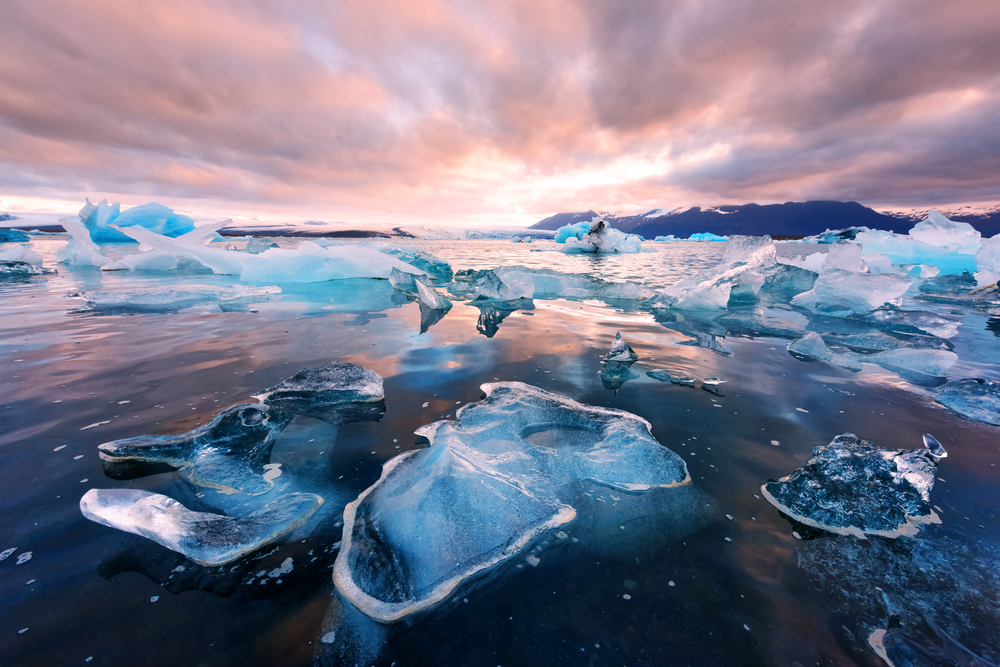 Vatnajokull Ice Caves
Want your breath taken away? Then, visit the Vatnajokull Ice Caves! This is another fascinating Iceland glacier to visit if you love chilling in nature, and it is the largest glacier in Europe so you will want to say you've been there.
The only downside to visiting Vatnajokull is the five-hour drive to get there making it one of the longer day trip options. You will have to book a tour for the ice caves to go inside safely, but most likely, the tour will not include transportation from Reykjavik. Even so, this is clearly one of the best Reykjavik day trips worth the effort!
The ice caves here are a natural wonder you can't find in most places, and you will not want to pass it up. In any of the many caves at Vatnajokull, you will be able to immerse yourself in a frozen, jewel-like world. These caves can only be accessed during the winter, so do not add them to your itinerary if you are in Iceland in the summer.
Book Here: Ice Cave Tour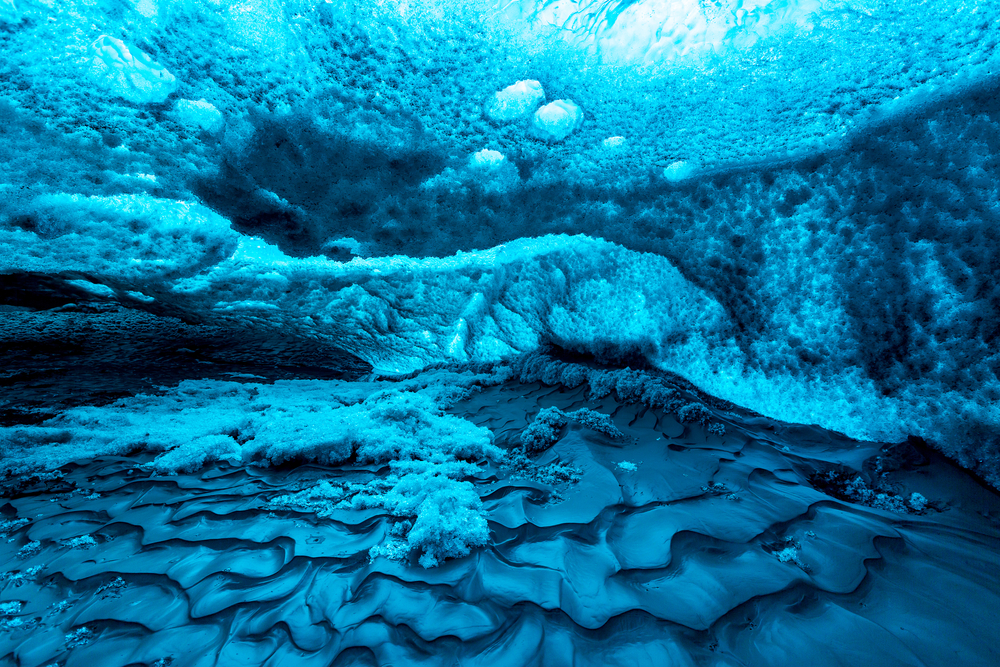 Whether you are only in Iceland for a long layover or like the idea of keeping things simple with a home base in Reykjavik, there are plenty of day trips you can take from the Iceland capital.
Book a few of the many day tours from Reykjavik for an easy, stress-free time or rent a car to get to these amazing sights. If you love nature, adventure, or relaxing, there are a handful of day trips from Reykjavik perfect for you!