While 5 days in Iceland might not seem like enough time to fully enjoy this amazing country, we are here to walk you through the perfect itinerary to make the most of this limited time.
You could explore Iceland for months and never see it all, but if you can only visit Iceland for 5 days, that is still plenty of time to see the main sites, plus some hidden gems.
Iceland is a truly wonderful country and every travel fan dreams of visiting it at least once in their lives. Of course, Iceland can be a more expensive country to visit. Because of this, an Iceland 5 day itinerary could save you money.
This itinerary can be adapted to any season. Feel free to skip some stops or spend longer in others to make this 5-day trip to Iceland better for your needs.
Get a FREE printable "Hidden Gems In Iceland" E-book by joining our private Iceland Facebook Group and sharing your photos and asking for tips and tricks.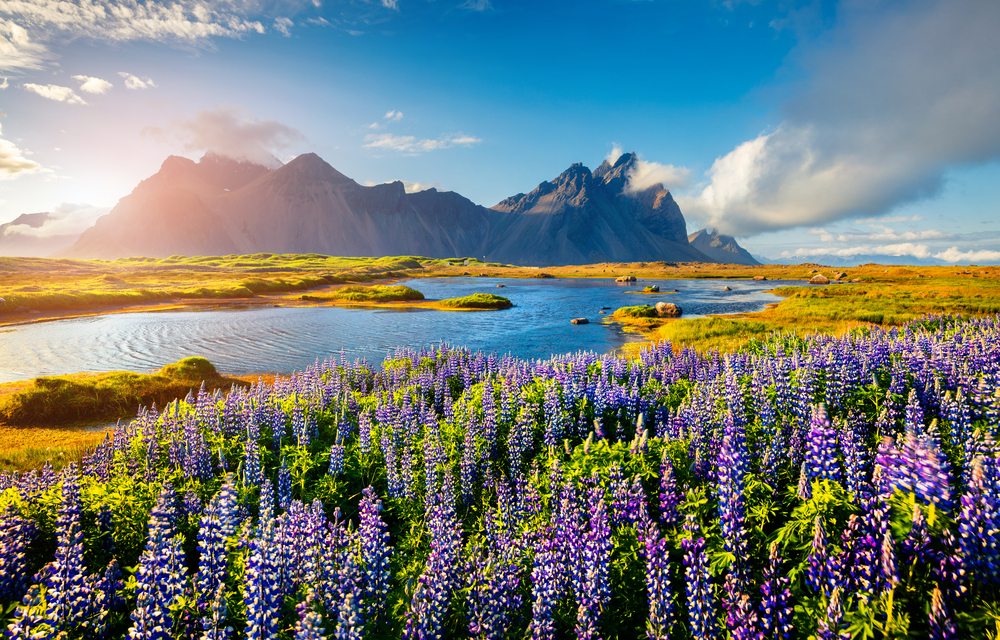 Is 5 Days Enough In Iceland?
Yes, Iceland in 5 days can be enough time, but only if you dedicate yourself to it. This may not be the itinerary for you if you like to travel at a very leisurely pace and rest between activities. The itinerary we layout here is very go, go, go! If you suffer from the Fear Of Missing Out and have no problem squeezing a lot into each day, then this trip will be great for you.
The Golden Circle And Why It Is Left Off
As you do research for your Iceland trip, you will come across the term "The Golden Circle." This is a popular route many tourists embark on when they visit Iceland. This loop hits places such as Thingvellir National Park, Gullfoss Waterfall, and Strokkur Geyser. There are many tours that will take you along the Golden Circle.
Even though the Golden Circle is popular, we have decided to leave it off this 5 days in Iceland itinerary for a couple of reasons. Mostly, the Golden Circle is overrun with tourists. Our route will allow you to see some more quiet and isolated places. Also, the Golden Circle leaves off the Southern Coast, which would be a shame to miss!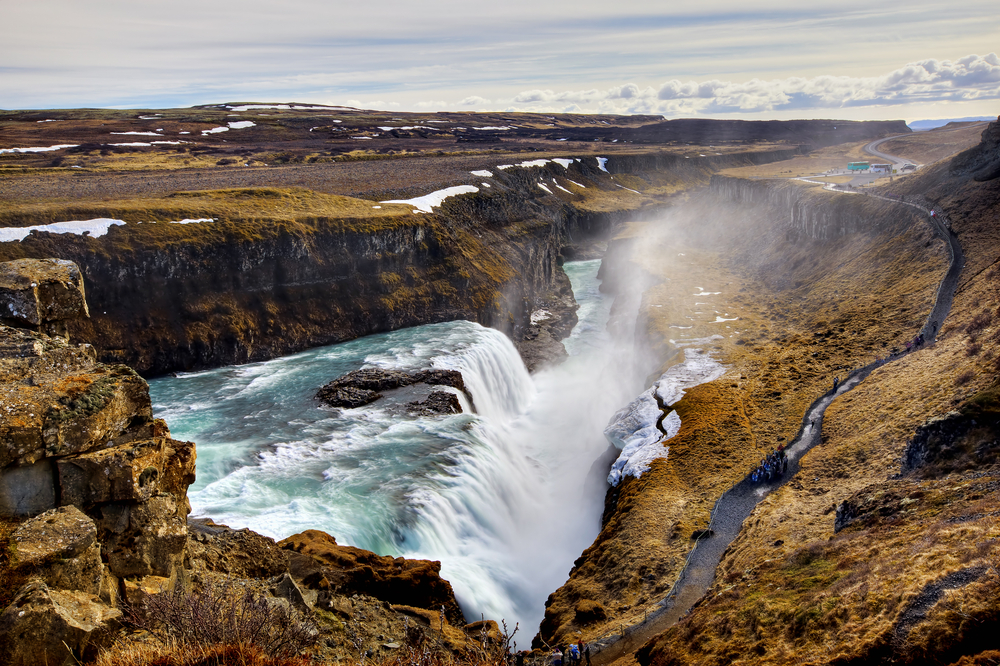 Do I Have To Drive in Iceland?
Iceland is a country where you can get away with not driving, but only if you book tours. However, the 5 days in Iceland itinerary we provide in this article is written as a self-driving road trip. To follow our plan exactly, you will need to rent a vehicle, drive yourself from place to place, and stay in a different hotel each night.
If you are nervous about driving in Iceland, don't be! As long as you take usual driving precautions, account for the weather, and drive safely, you will be fine. The roads are well-maintained and easy to navigate so you should have no problem completing your 5-day self-drive itinerary for Iceland.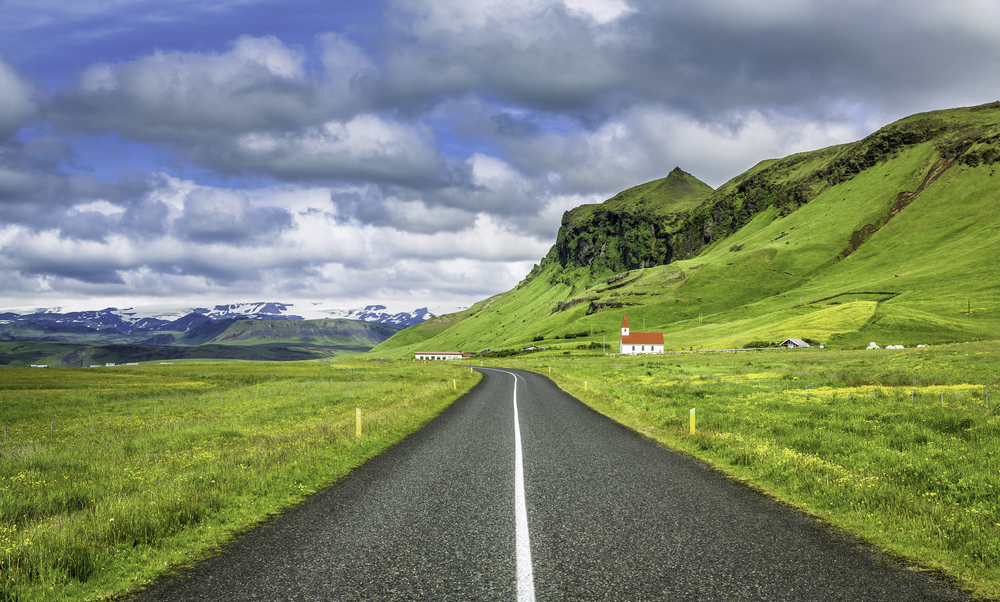 The Ultimate 5 Days In Iceland Itinerary (Road Trip Guide + Hidden Gems!)
Day 1: South Coast Hidden Gems
After landing at the Keflavík International Airport and renting your vehicle, it is time to start your Iceland road trip in 5 days! The first day of your trip will consist of seeing some of the hidden gems along the South Coast of the island.
Total Driving Time for Day 1: Approximately 6 hours
Stop 1: Check Out Reykjanesviti & Valahnukamol
From the airport, drive about 30 minutes to the southern tip of the Reykjanes Peninsula where you will find a couple of Iceland's hidden gems. The first is Reykjanesviti Lighthouse.
This red and white building stands out starkly against the open landscape. This is the oldest lighthouse in Iceland and an interesting stop on your 5 days in Iceland itinerary.
Past the lighthouse, you will find a beautiful and dramatic shoreline. Here the giant rocks of Valahnukamol create an amazing backdrop for moody photographs. There will not be a ton of tourists here since it is off the beaten path, and it will give you a great introduction to the mighty nature of Iceland.
The peninsula has many other attractions including churches and museums such as the Reykjanes Art Museum, Viking World, and the Icelandic Museum of Rock 'n' Roll. For some more nature, check out the Reykjanesfólkvangur nature preserve. Here you can find crater lakes, lava formations, and plenty of wildlife.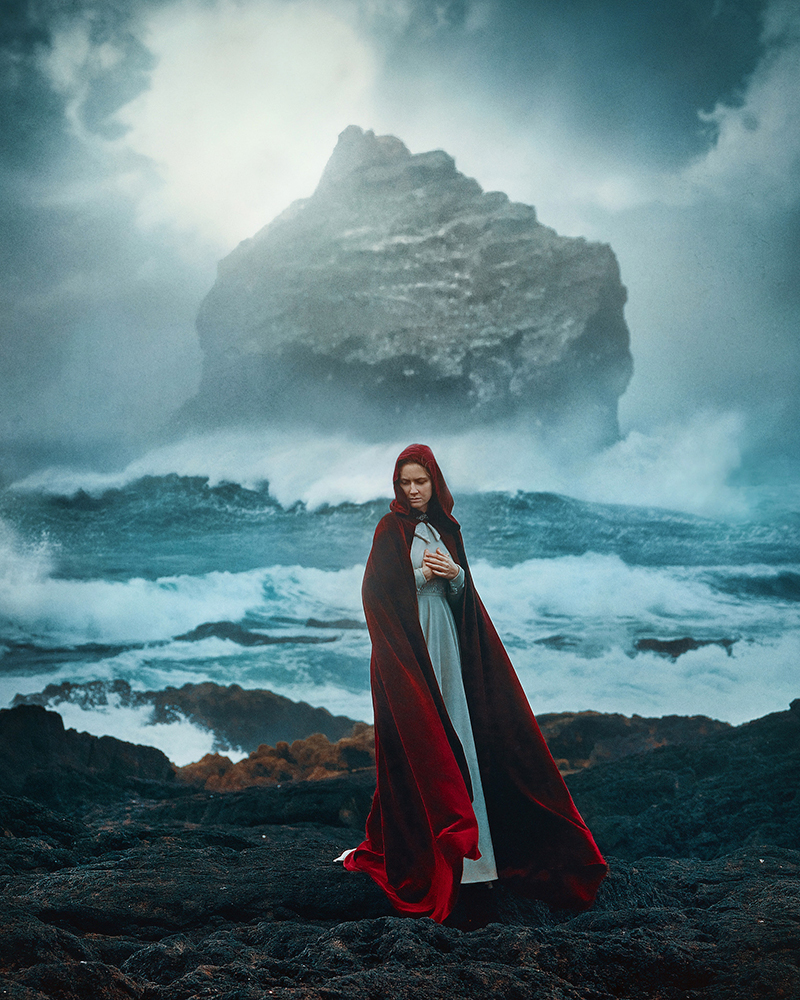 Stop 2: Hike to Reykjadalur Hot Springs
Keep driving east on Route 427 for about 1.5 hours until you reach the incredible Reykjadalur Hot Spring Thermal River. This is not a traditional hot spring pool. Instead, it is a whole geothermal river. This gives you more room to spread out and find a private spot to soak and relax.
To reach these hot springs, you will have to hike for about 45 minutes to an hour. The path is well-maintained and clearly marked. While it is a relatively easy hike, there are some steep sections.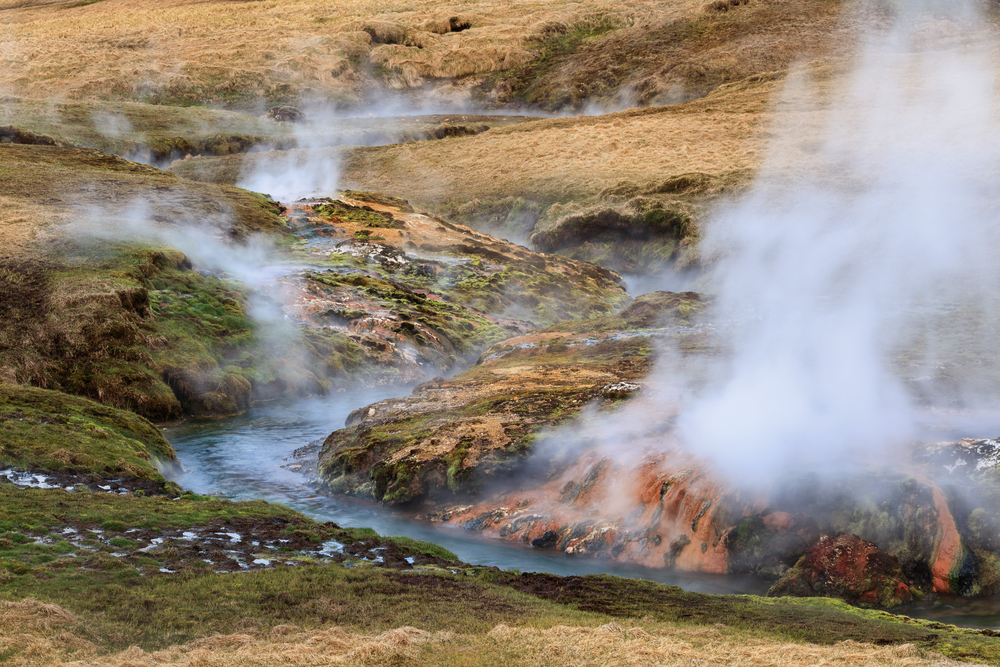 Stop 3: Take a Soak in Hrunalaug Hot Spring
From one hot spring to another, drive about an hour on Route 30 to reach the Hrunalaug Hot Spring outside of the town of Flúðir. While it is near the Secret Lagoon Hot Spring, the Hrunalaug Hot Spring is more of a secret and offers a secluded area to relax.
This spring is not very big, so it provides a perfect private getaway. Only about ten people max can enjoy this water at a time. Make sure you leave the place as you found it and clean up after yourselves so the next visitors can enjoy it.
This is one of the easier and more affordable hot springs on this 5 days in Iceland itinerary so make sure to put it on your list and be respectful to the landowners!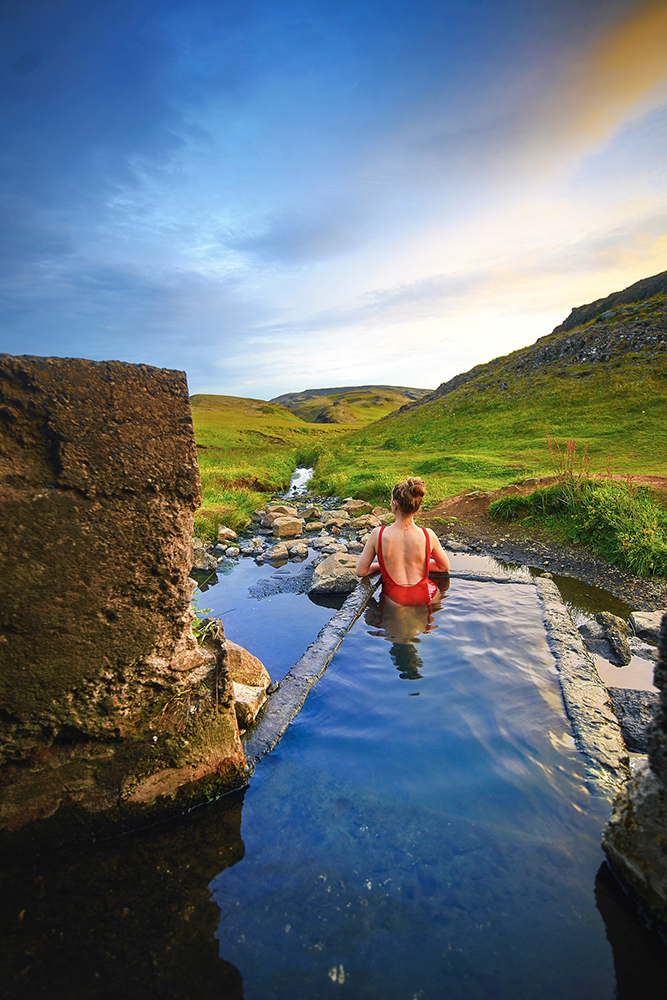 Stop 4: Discover the Þjóðveldisbærinn Saga-Age Farm
Keep driving east for about 35 minutes to find the fascinating Þjóðveldisbærinn, or Reconstructed Farm, which is a replica of the real Saga-age farm called Stöng. You can imagine what it was like to live as an ancient Viking while enjoying the view of the quaint buildings, including a moss-covered farmhouse and church.
It costs about $7 to visit Þjóðveldisbærinn and the museum, but it is worth it! There is a senior discount and children under 16 are free! You will definitely want to snap a picture of this beautiful location during your 5 day Iceland road trip.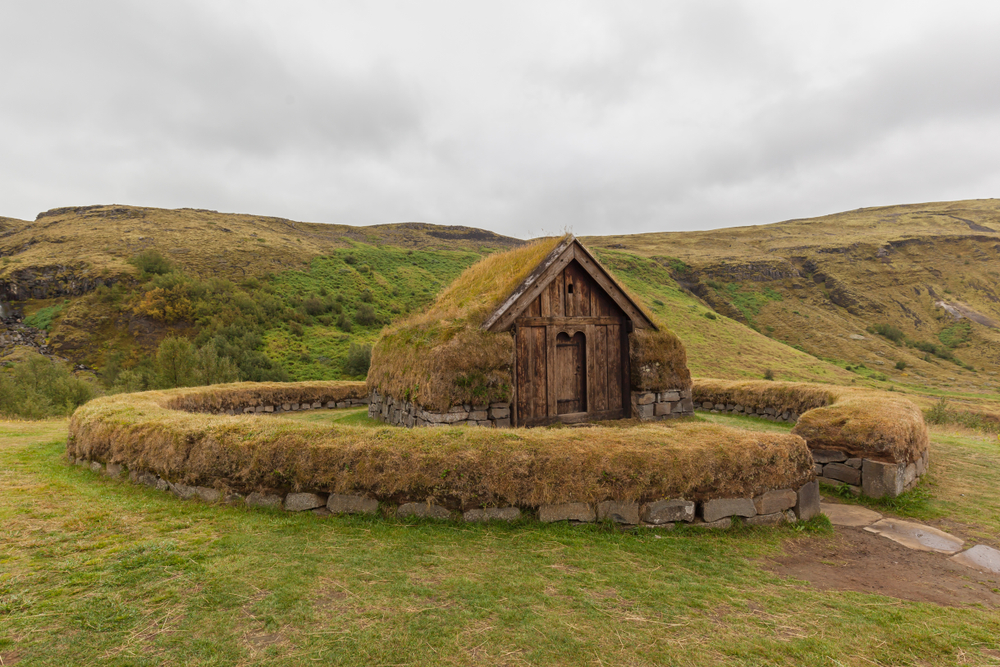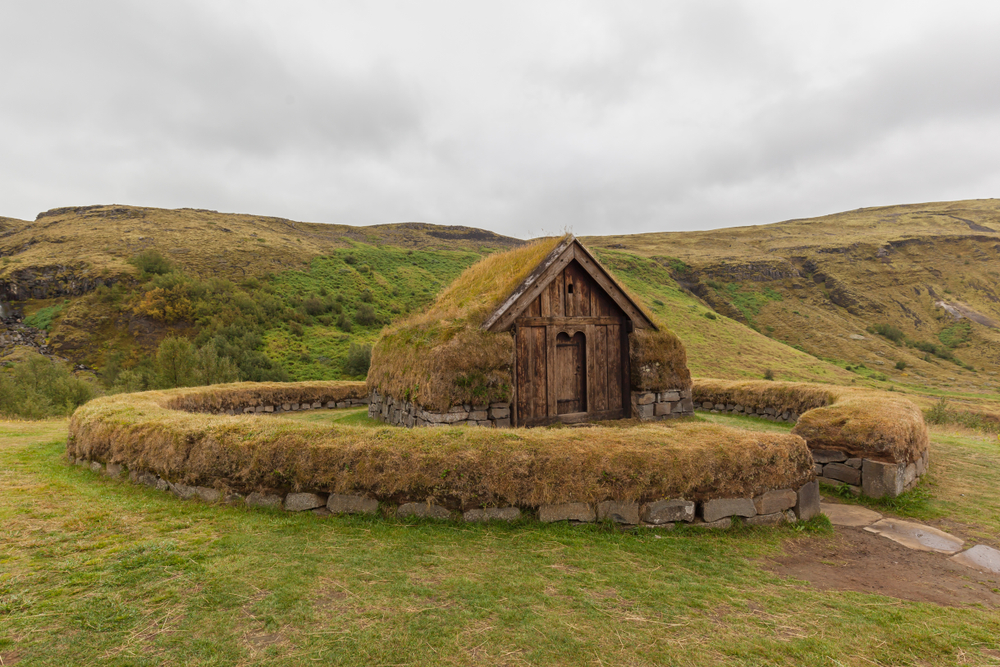 Stop 5: Relax at Gjain Valley
About 25 minutes more on Route 327 will take you to the Gjain Valley. Make sure to rent a 4×4 vehicle, especially if you visit in the winter, so you can arrive in one piece on the rough roads. This is also a good place to get away from the tourist crowds.
This area is a great place to hike and relax. The landscape is full of waterfalls and amazing volcano views. If you come in the summer, expect to find layers of beautiful greenery and flowers. This will be one of your favorite stops during your 5 days in Iceland.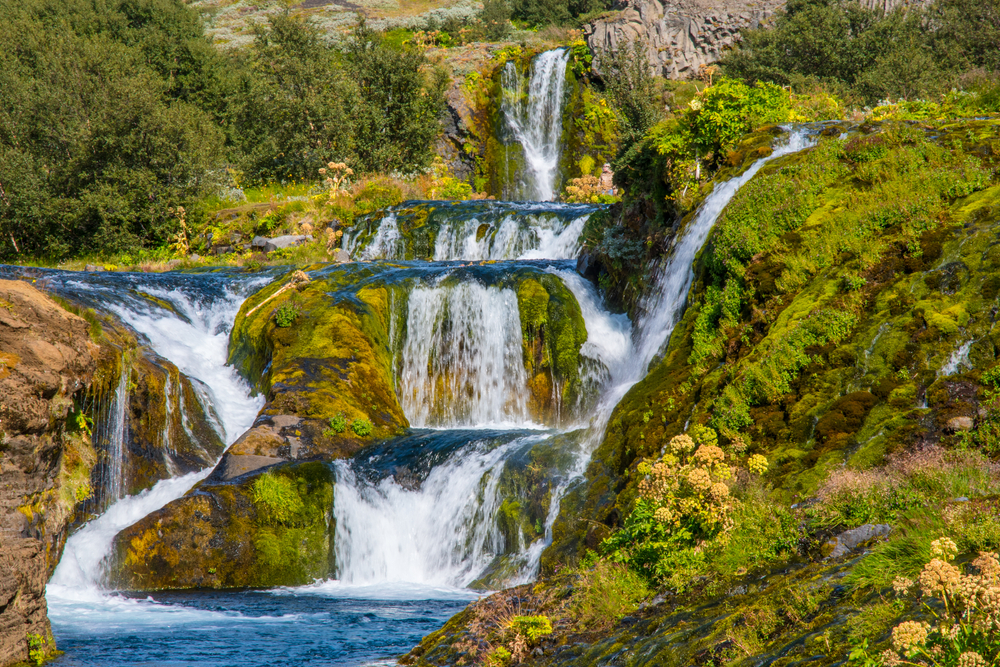 Stop 6: Become Awed by Haifoss Waterfall
Keep driving on the same road for about 30 minutes to get to the first of many magnificent waterfalls on this Iceland itinerary in 5 days. Haifoss is one of the top five tallest waterfalls in Iceland at 400 feet, and it will not disappoint.
Walk from the parking lot along the gorge to get amazing views of Haifoss and another nearby waterfall called Granni. If you want a different perspective of these waterfalls, you can also hike down into the gorge.
Almost all waterfalls are free to see in Iceland, so they are perfect stops if you are doing 5 days in Iceland on a budget.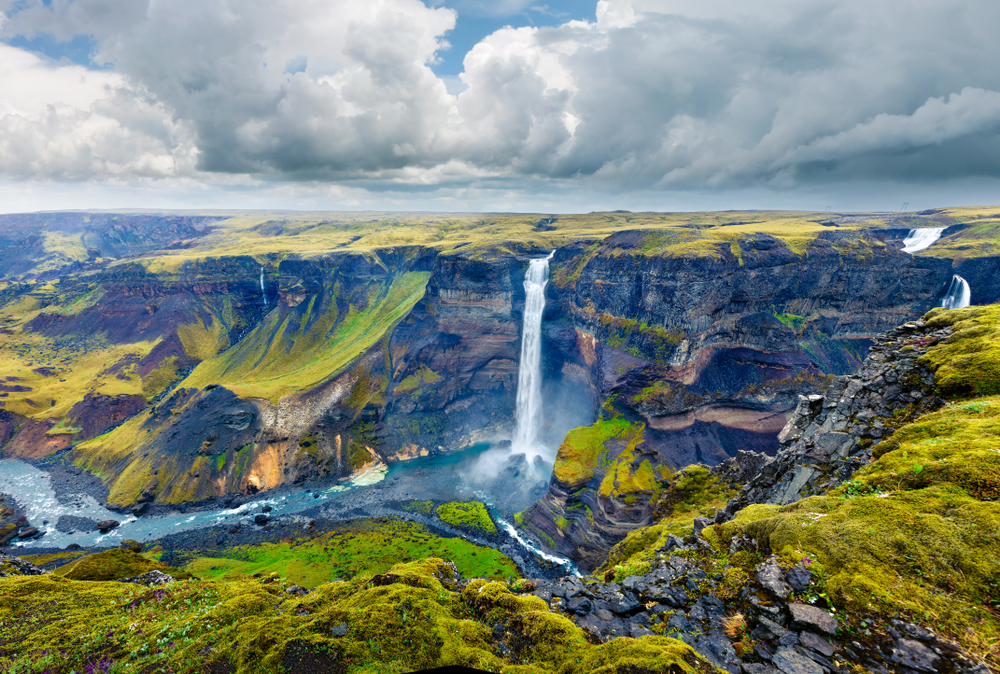 Overnight in Hella or in Selfoss
For your first night in Iceland, you have a couple of choices of where you can book your accommodation. Each of these towns is about an hour and a half south of Haifoss.
Places to Stay in/near Hella:
Affordable: Loa's Nest. Check Rates: Booking.com
Mid-Range: Hekla Cabin 2 Volcano and Glacier View. Check Rates: Vrbo.com
Mid-range: Hótel Lækur. Check Rates: Booking.com
Luxury: Stracta Hotel Hella. Check Rates: Booking.com
Places to Stay in/near Selfoss:
Affordable: Guesthouse Bitra B&B. Check Rates: Booking.com
Mid-range: Hotel South Coast. Check Rates: Booking.com
Luxury: House on the Golden Circle, close to Flúðir. Check Rates: Vrbo.com
Luxury: Vörðufell. Check Rates: Booking.com
Day 2: South Coast Highlights
Day two of your 5-day trip to Iceland will bring you to some of the more popular must-see locations along the South Coast. Make sure your camera batteries are charged because you will be taking a ton of photos!
Total Driving Time for Day 2: Approximately 3 hours
Stop 1: Fall In Love With Seljalandsfoss Waterfall
From your hotel, it should be about 30 minutes to an hour to get to Seljalandsfoss depending on which town you overnight in. When you arrive, you will be greeted by one of the most iconic waterfalls in Iceland.
Cascading 200 feet over a cliff, Seljalandsfoss Waterfall is a sight to behold. One unique thing about this waterfall is the cave that is hidden behind it where you can hike for really cool views and photo ops. Bring a poncho or something similar to protect you from the spray!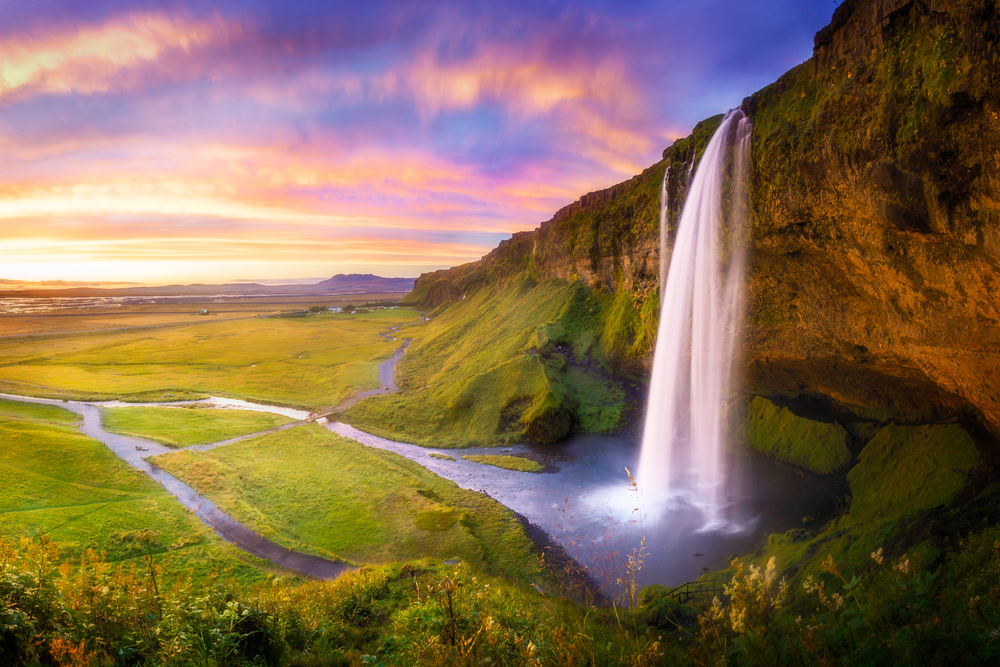 Stop 2: Discover the Hidden Gljufrabui Waterfall
Just about a ten-minute walk north of Seljalandsfoss, you will find a canyon worth exploring. Wear water-proof shoes because the path does involve wading through a river. When you get to the prize at the end of the canyon, though, you will not mind getting wet.
The Gljufrabui Waterfall is about 130-feet tall and almost seems to fall from the sky into the dark canyon. To get the most Instagram-worthy photo of yourself in front of this waterfall, climb onto the boulder that lays before it.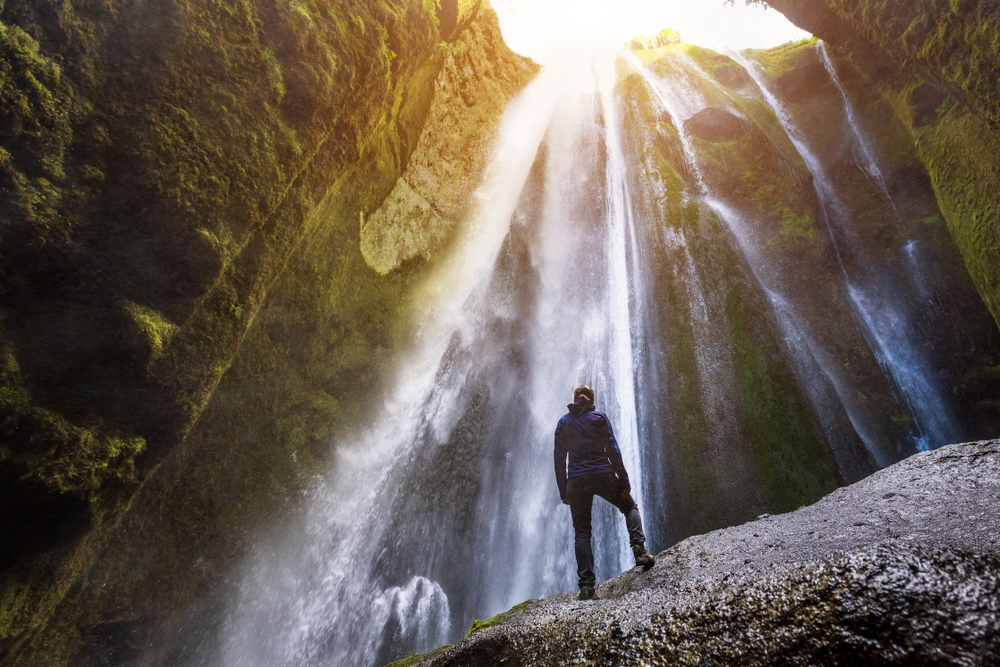 Stop 3: Hike Through Nauthusagil Canyon
For the next stop on your Iceland itinerary, drive about 15 minutes north to find another canyon-trapped waterfall in the mossy Nauthusagil Canyon. You will need a 4×4 vehicle to reach this spot since it involves traversing an f-road.
Again, make sure you wear waterproof shoes when you embark into this hidden gem of Iceland. The Nauthusagil Waterfall can be a bit hard to reach, so come prepared. You will have to scramble over rocks, walk through water, and even use ropes to climb. Once you reach the end of the hike, though, you will be amazed by the view.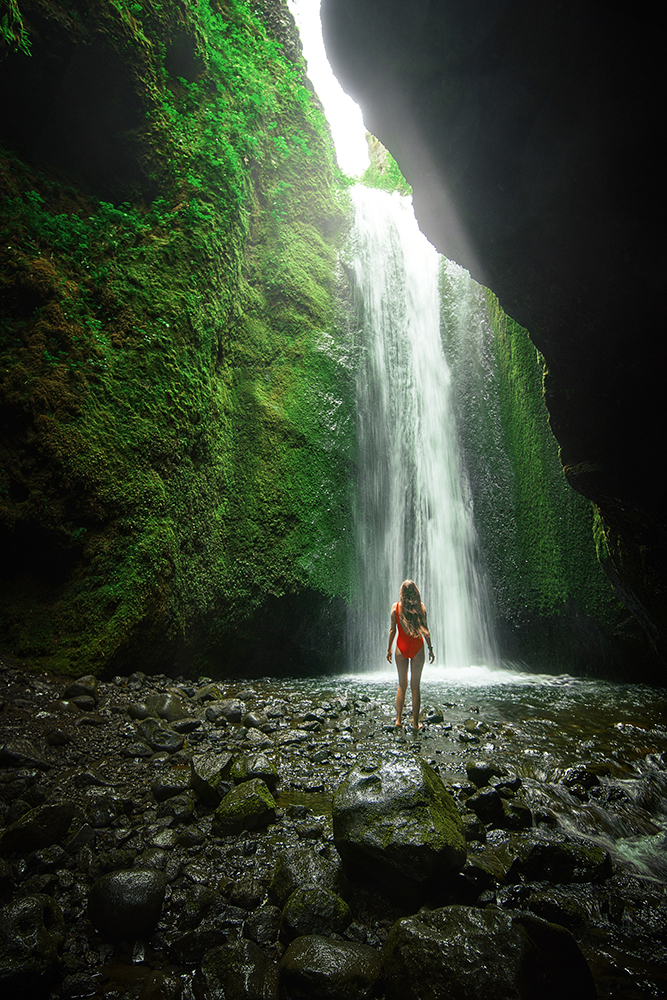 Stop 4: Take a Dip in the Seljavallalaug Swimming Pool
After exploring the canyon, hop back in the car for 30 minutes until you get to the picturesque Seljavallalaug Swimming Pool. This scenic pool is tucked into the mountains and was built in 1928. Though it is man-made, it is fed by a natural hot spring. However, the temperature is much cooler than a true spring.
To reach the pool, hike for about twenty minutes from the parking lot. The path is unmarked but easy to follow and mostly flat. Plus, the views along it are amazing! This Iceland trip itinerary in 5 days includes many hot springs and this is one of the most scenic.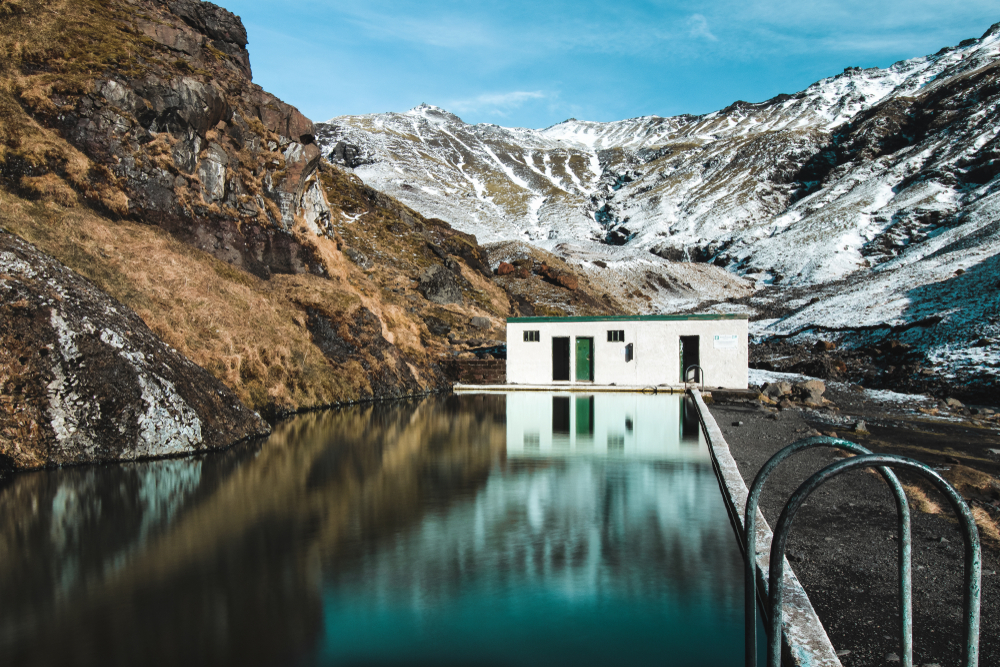 Stop 5: Chase Rainbows at Skogafoss Waterfall
Skogafoss Waterfall is truly magical and is only about 15 minutes from the last stop. This powerful waterfall is just under 200 feet tall and is 82 feet wide. Depending on the lighting conditions, you may find a rainbow stretching across the torrent of water.
This is another location where you should don your poncho or risk getting soaked if you walk close to the waterfall. You can also climb to the top of the waterfall for a different perspective of this South Coast Iceland star.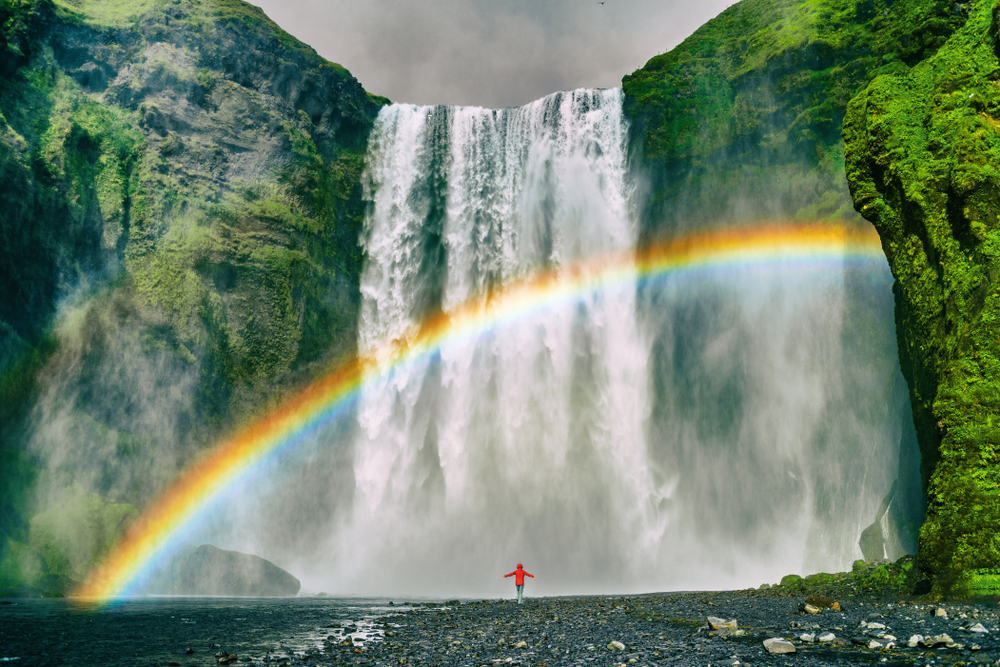 Stop 6: Check Out Kvernufoss Waterfall
Even though Kvernufoss Waterfall is only a couple of minutes from Skogafoss, not as many tourists visit it. This is a shame because it is really not to be missed! The walk to the waterfall from the parking lot is about 10 to fifteen minutes.
This 98-foot natural wonder is set into a canyon that is very green in the summer. A rocky path leads behind the falls so you can see it from either side.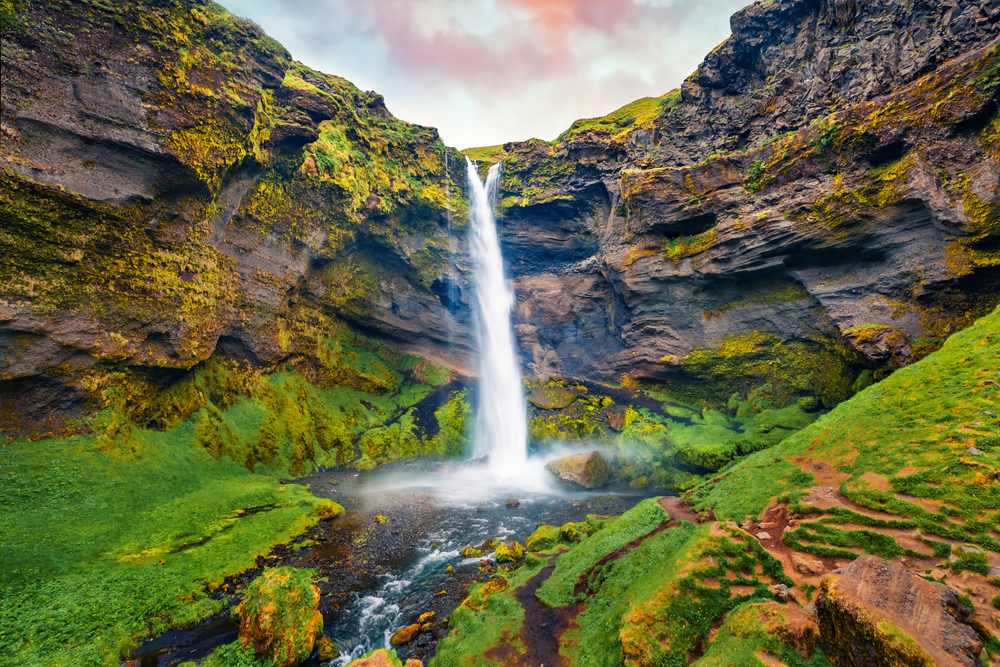 Stop 7: Visit Solheimajokull Glacier
You will be in the car for another 20 minutes before you park in the lot for Solheimajokull Glacier. From there, hike about 15 to 20 minutes to make it to the ice. Then, just stare in awe! Don't forget to check out our tips for Solheimajokull Glacier!
This crazy type of landscape is one reason to visit Iceland, and you should definitely check it out on your 5 days here. To see the glacier properly and learn something as well, make sure to book a tour. Do not go on the glacier without a guide to keep you safe.
Book Here: Sólheimajökull: Guided Glacier Hike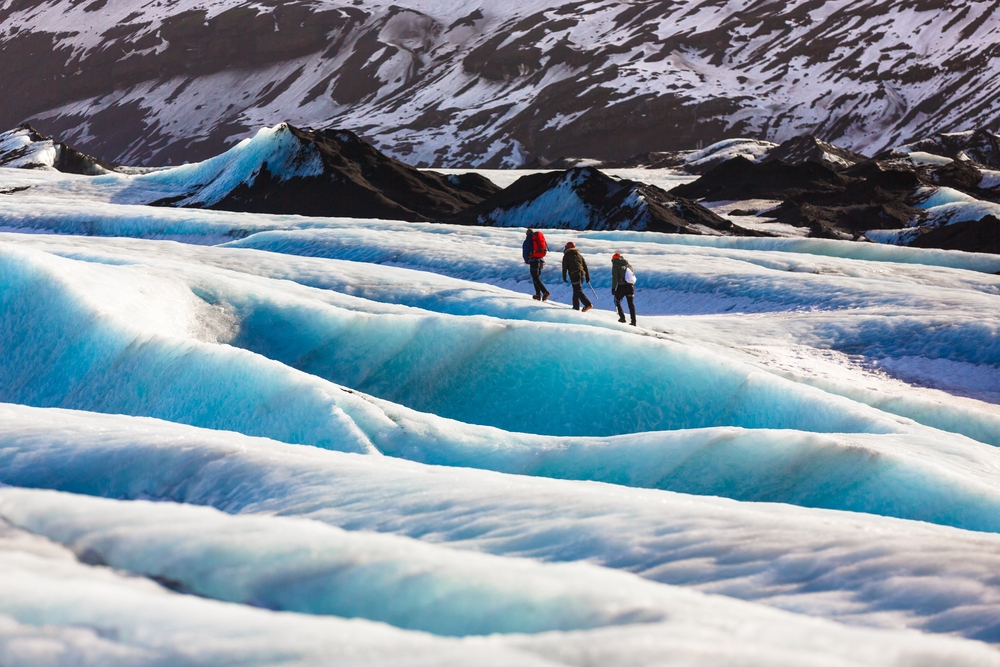 Stop 8 OPTIONAL: See the Solheimasandur Plane Wreck
This next stop is really only optional in our opinion. Over the last few years, it has become so overcrowded by tourists it has almost lost its wonder. However, if you do choose to visit, the well-known Solheimasandur Plane Wreck is about a 15-minute drive from the Solheimajokull Glacier. While the drive is short, you will then have to walk an hour each way to reach the plane.
The Solheimasandur Plane Wreck gained popularity through social media and is great for moody, haunted photos, but only if you are lucky enough to be there without any other people. The plane is of U.S. origin and has sat abandoned on the black sand beach since 1973.
If you do your 5 days in Iceland in winter, you might even see the Northern Lights here, which adds magic to the scene.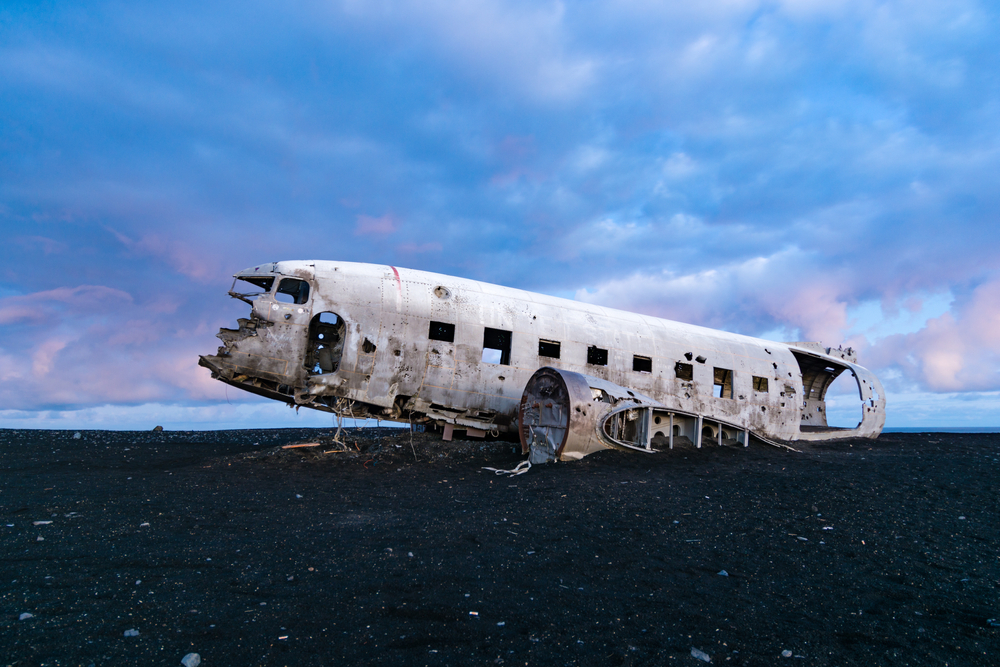 Stop 9: Find Awesome Views at Dyrholaey
Keep driving on the Ring Road for 30 minutes to get to Dyrholaey. This arched peninsula is amazing on its own and also offers drop-dead-gorgeous views of the Reynisfjara Black Sand Beach below.
It can get really windy up here, so be prepared to push through it to get to the best viewpoints. If you are lucky, you may even spot some puffins in this area. This is truly one of the best things to do in Vik!
Stop 10: Visit Loftsalahellir Cave
Loftsalahellir Cave is only a few minutes from Dyrholaey and is located on the same road. After you park, you will have a short walk up a steep hill. This will be a quick stop on your Iceland itinerary but worth it since it is on the way. Take some time to enjoy the view from the cave, looking back down at Dyrholaey and the coast.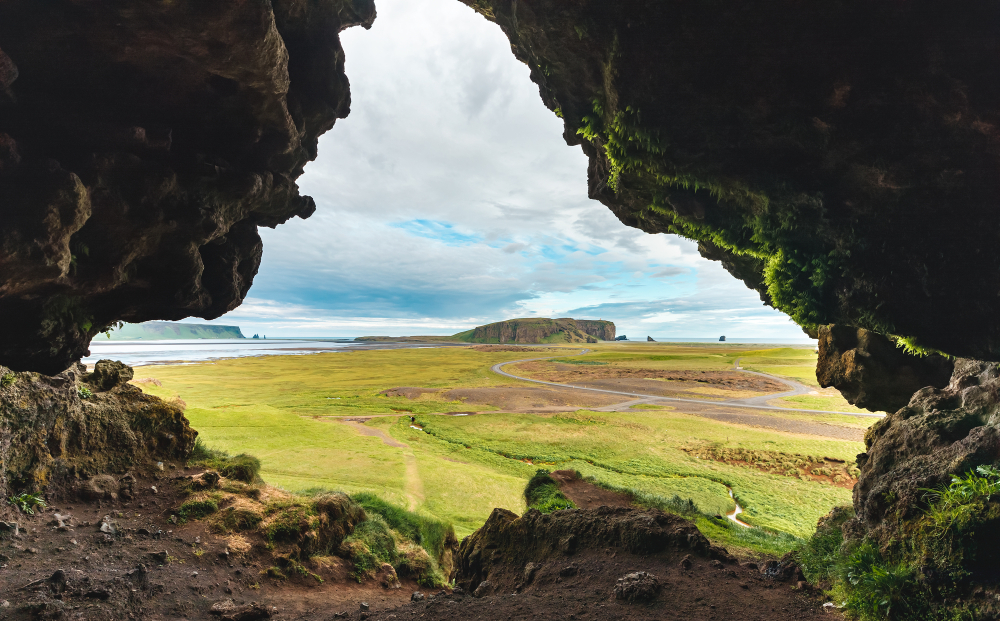 Stop 11: Enjoy Reynisfjara Black Sand Beach
Return to the Ring Road and drive for about 20 minutes to reach the final stop of day two. You already saw Reynisfjara Black Sand Beach from Dyrholaey, but now it is time to explore it on ground level.
Along with the black sand, this beach is known for its towering black basalt columns and craggy rocks sticking out of the sea. If it is foggy when you are there, you will love the overall mood. The ocean waves can get big as well, so watch out. Under no circumstances should you swim here!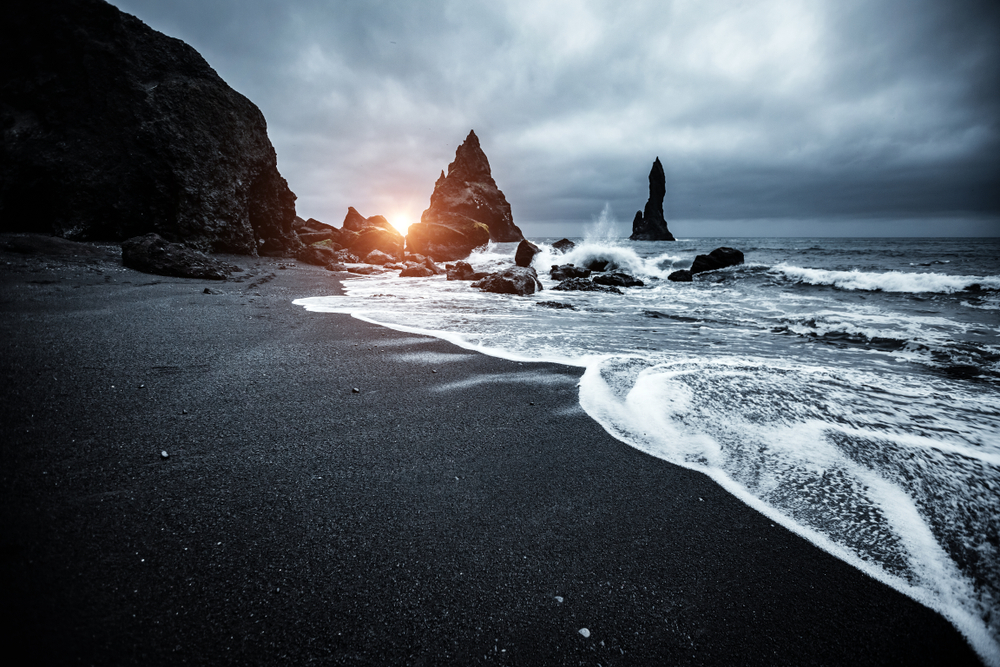 Overnight In Vik
Vik is an adorable small town right next to Reynisfjara, so you will not have to travel far from your last stop. This idyllic town is topped with a quaint church and there are lupine flowers if you do 5 days in Iceland in summer. There are plenty of places to stay in Vik.
Places to Stay in/near Vík:
Affordable/Mid-range: Þakgil Campground. Check Rates: thakgil.is
Mid-range: The Garage Apartments. Check Rates: Booking.com
Luxury: Hotel Kria. Check Rates: Booking.com
Day 3: Southeast National Parks And Glaciers
Iceland has its share of amazing National Parks, and you will be exploring some today. You will also witness some of the icier sides of the Land of Fire and Ice. Strap on your hiking boots and hop back into your car!
Total Driving Time for Day 3: Approximately 4 hours
Stop 1: Geek Out at Hjorleifshofdi Promontory And Yoda Cave
You will not have to drive far for your first stop of the day. Hjorleifshofdi is only about 17 minutes down the Ring Road, and you can see it looming up from the surrounding flat land long before you arrive. This rock formation is about 220 feet high, and it is possible to hike to the top.
If you are a Star Wars fan or just like cool caves, there is one here known as the "Yoda Cave" because a hole above the entrance is shaped like the Jedi Master's head. Interestingly, the area around the rock was also used for some of the opening scenes for the movie Star Wars: Rogue One. This is truly one of the best photography locations in Iceland!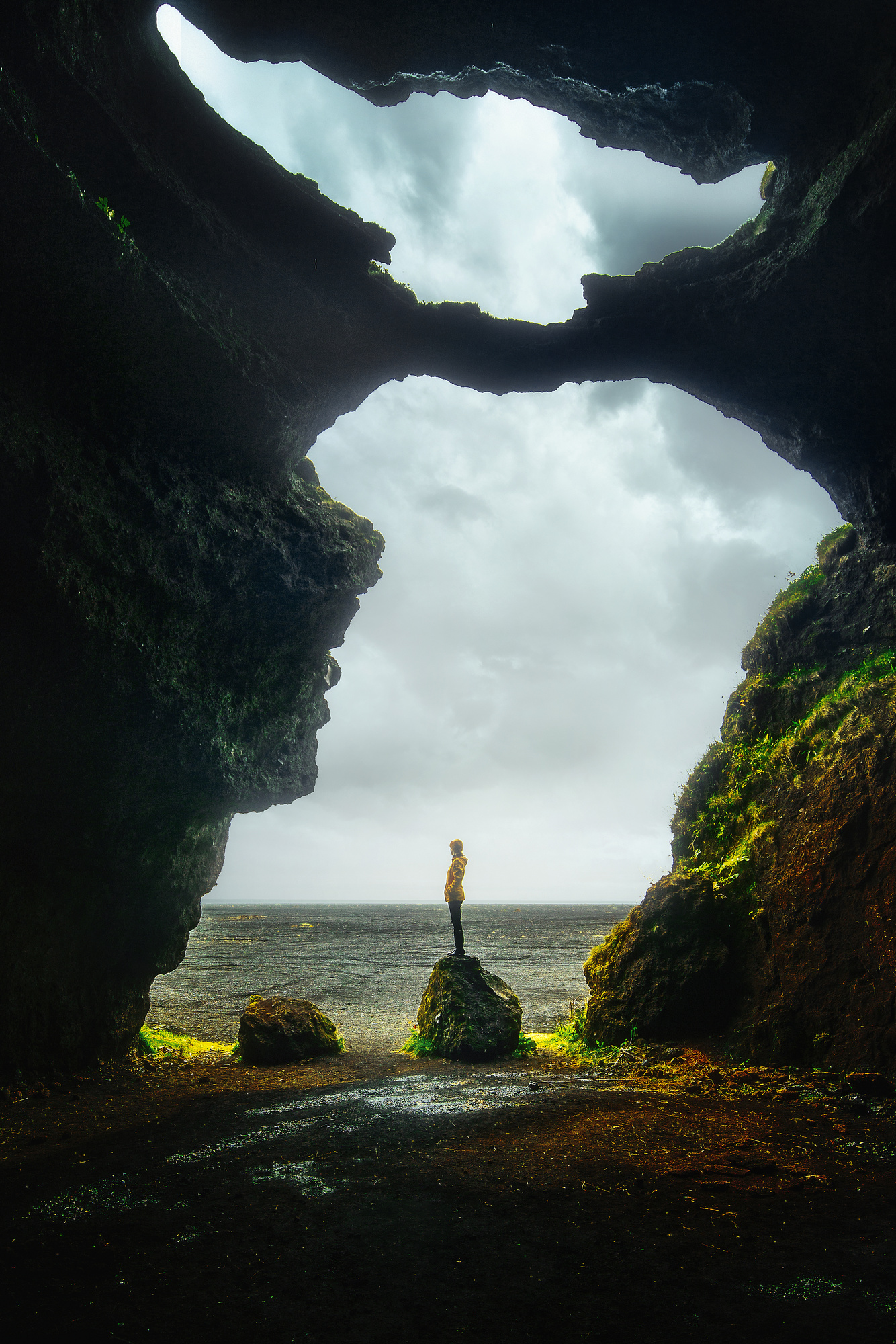 Stop 4: Explore Skaftafell National Park
Keep driving on the Ring Road for just under 2 hours until you arrive at Skaftafell National Park, one of the best National Parks in Iceland. This scenic area will give you the opportunity to become one with nature. There is plenty to do here, so you will probably spend at least a couple of hours at this park.
First of all, you MUST see Svartifoss Waterfall! This 65-foot wonder is surrounded by black basalt pillars and is just too pretty to miss. To get here, you will need to hike about 3.5 miles round-trip from the visitor's center.
While in the park, you can also hike to some of the many glaciers here, including Iceland's largest glacier, Vatnajökull. Or you can book an ice cave tour. Crystal Ice Cave is especially stunning if you do your 5 days in Iceland in winter.
Book Here: Skaftafell: Ice Cave Tour & Glacier Hike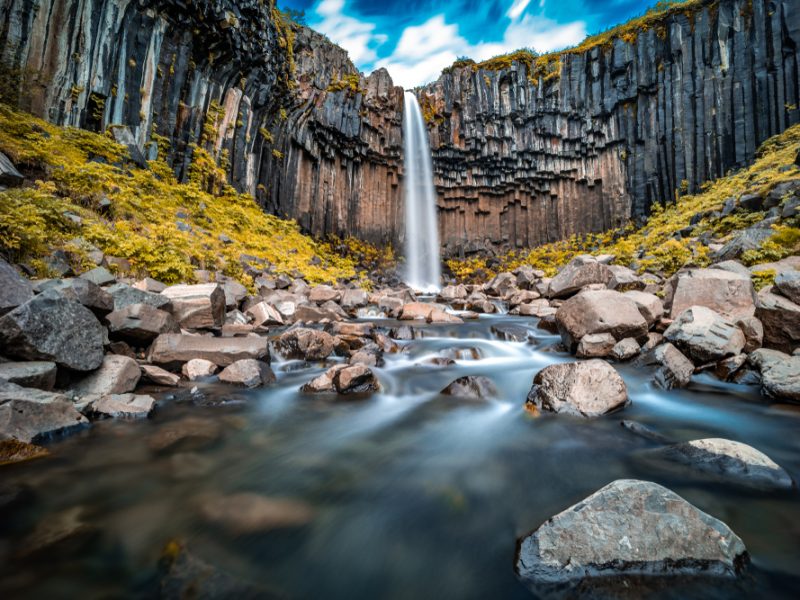 Stop 3: Photograph the Pretty Turf-Roof Hofskirkja Church
Back on the Ring Road, drive 20 minutes to the small town of Hof. Iceland has its share of super cute churches, and Hofskirkja is high on the list of best ones! With a natural turf-covered roof, this church looks like it was pulled from a fairy tale.
Though you cannot go inside this church, you will want to snap some photos of it. If you complete 5 days in Iceland in summer, the church and surrounding area is very lush and green, adding to the overall storybook feel.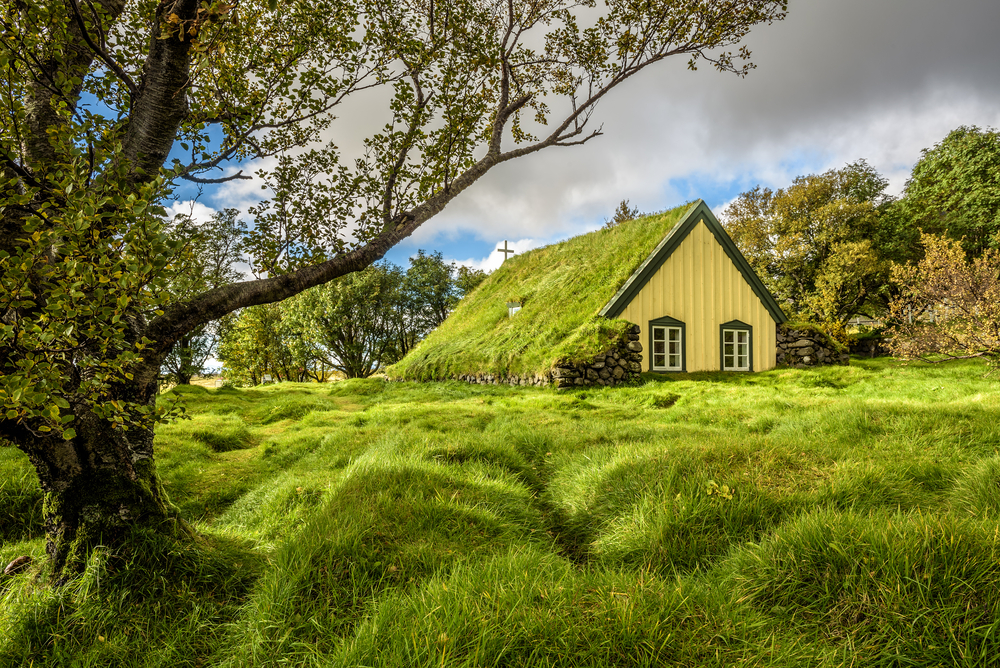 Stop 4: Feel the Calm Atmosphere at Fjallsarlon Glacier Lagoon
After 25 minutes on the Ring Road, you will find the Fjallsarlon Glacier Lagoon. If we had to choose one glacier lagoon in Iceland as our favorite, this would be it! Though it is smaller than the nearby and more visited Jokulsarlon, you should NOT pass up Fjallsarlon. With fewer tourists, you will have this icy landscape more to yourself.
Here is your chance to really take in the majesty of Iceland. From the lagoon's shore, you can listen to the icebergs crack and break. If you want to get closer to them, though, you can take a boat tour out into the water.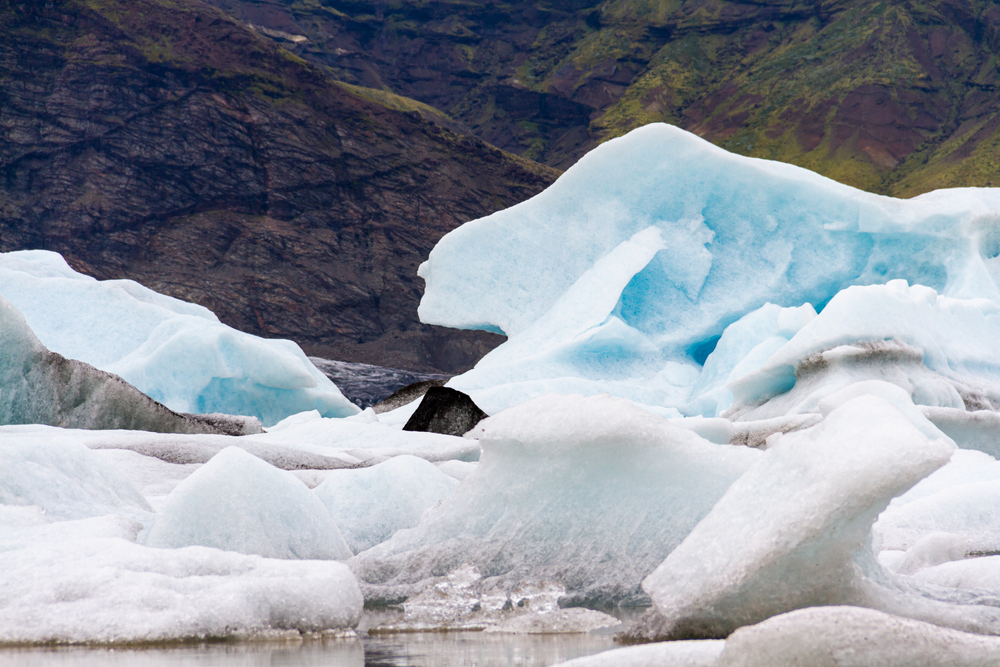 Stop 5: Check Out Jokulsarlon Glacier Lagoon
Just 15 minutes from Fjallsarlon is the Jokulsarlon Glacier Lagoon. This lagoon is larger than the last and is a popular stop for tour buses, so do not expect to have this place to yourself.
Walk along the beach and take in the sight of giant icebergs floating serenely across the water. In the summer months, it is possible to join the 'bergs by boarding a tour boat. No matter the season, though, make sure to bundle up because it gets cold down by the water.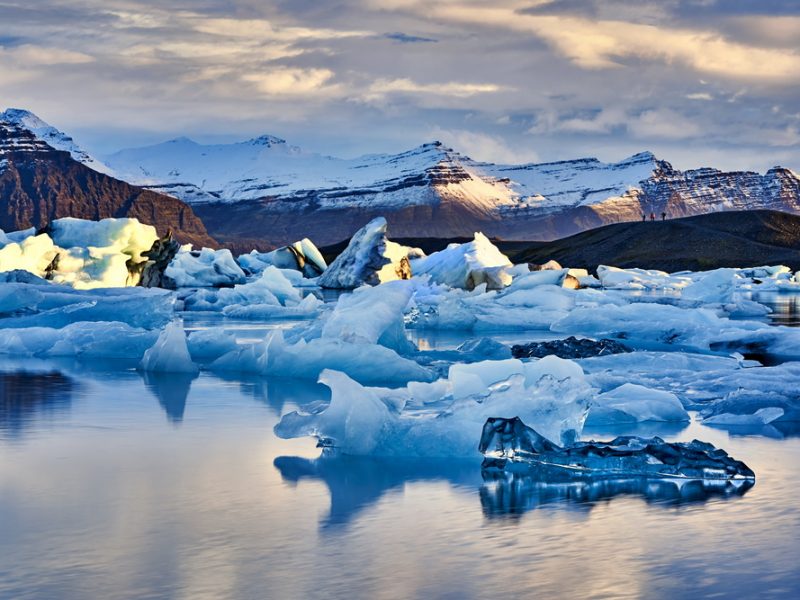 Stop 6: Walk Along Diamond Beach
Diamond Beach is just across the road from Jokulsarlon Glacier Lagoon, so it only takes a couple of minutes to get there. This law-dropping black sand beach is named after the chunks of ice that sparkle along the shoreline. If you can time it right, come at sunset for the best photo opportunities.
While there is ice dotting the sand here all year long, there will be more in the winter. Make sure to snap a photo of yourself standing next to some of the bigger pieces of ice to show just how big they are.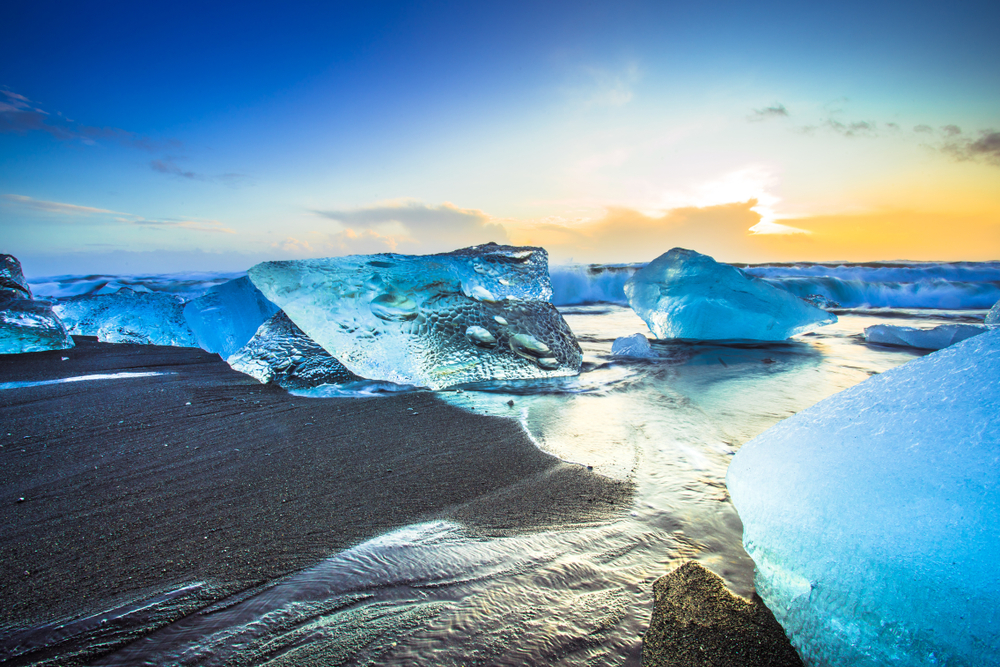 Overnight In Hofn
Hofn is just over an hour from Diamond Beach and makes the perfect place to spend the night before you continue your 5 days in Iceland. There are great places to stay in Hofn.
Places to Stay in/near Hofn:
Affordable/Mid-range: Old Airline Guesthouse. Check Rates: Booking.com
Mid-range: Glacier World-Hoffell Guesthouse. Check Rates: Booking.com
Mid-Range: Lambhus Glacier View Cabins. Check Rates: Vrbo.com
Mid-range/Luxury: Dima Studio Apartments. Check Rates: Booking.com
Day 4: South East Coast Hidden Gems
The first stop of the day will be the farthest east you go on your 5 days in Iceland trip. From there, you will turn around and hit more hidden gems as you backtrack in the direction of Reykjavik. This will give you a chance to stop by any of the sites you may have missed the day before or were not able to photograph properly because of bad weather or light.
Total Driving Time for Day 4: Approximately 5.5 hours
Stop 1: Stand in Awe at Stokksnes
Where the mountains meet the sea, you will find Stokksnes, just a 20-minute drive from Hofn. To get to the private beach, you will have to pay a fee of about $6 per person. This might seem high, but it is worth it if you plan to spend at least an hour here taking in the gorgeous view.
Try to wake up early and come for sunrise for the best light and colorful sky. From the black sand beach, you can photograph Vestrahorn Mountain and the other rugged peaks surrounding it. Keep an eye on the waves, so you don't get drenched.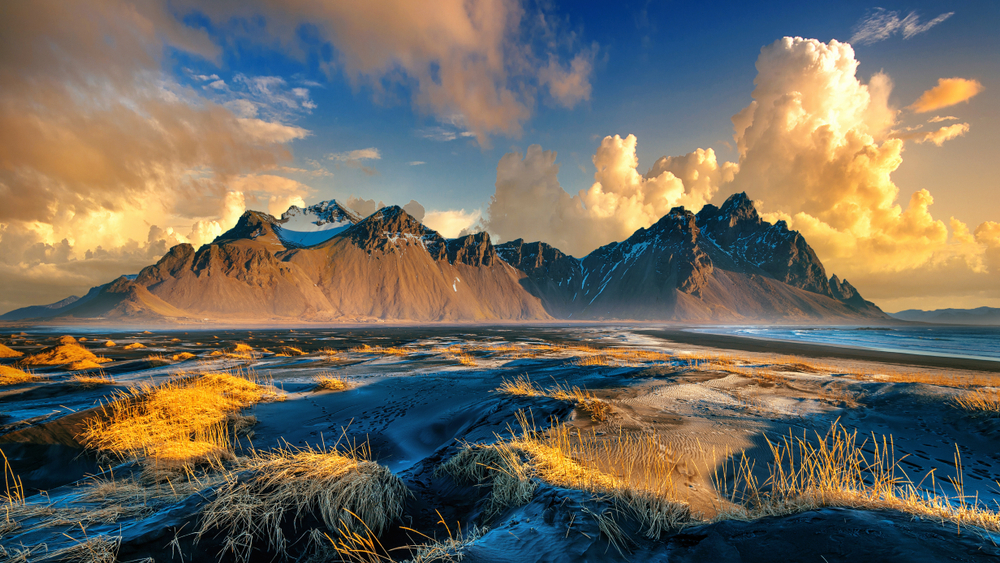 Stop 2: Soak in the Hoffell Hot Tubs
Drive west on the Ring Road for about 30 minutes to get to the Hoffell Hot Tubs. Set into the rocky ground with amazing views of the mountains, these four man-made hot tubs provide the perfect place to lounge.
There is a small fee to use the hot tubs, and you must take a quick shower before you dip into the water. There usually are not a ton of people here, so this is your last chance to soak in relative solitude.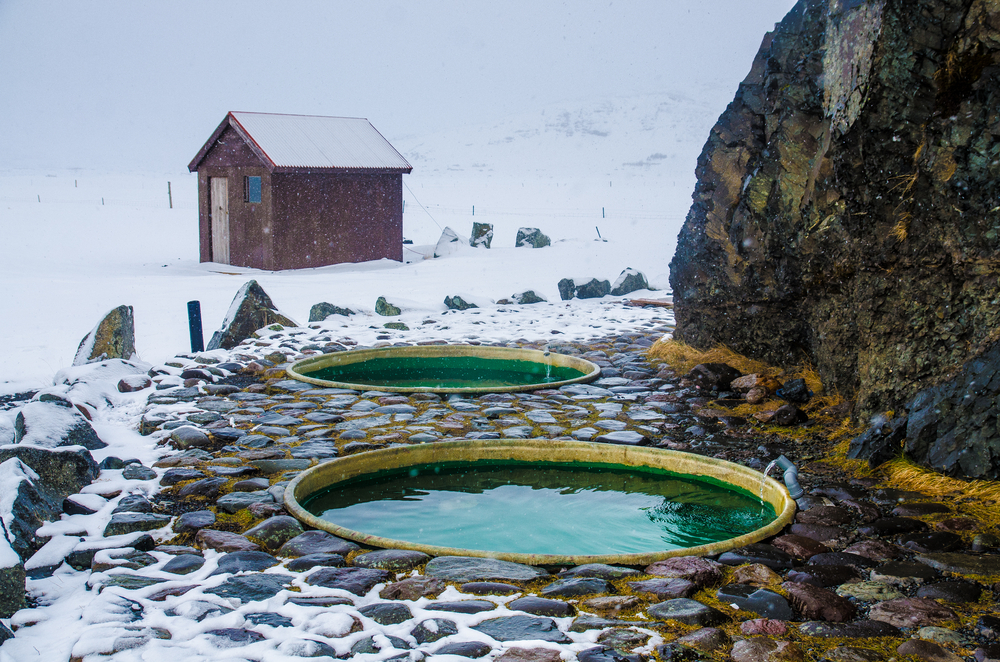 Stop 3: Hike Mulagljufur Canyon
After relaxing, it is time for some adventure! Drive for an hour to reach the Mulagljufur Canyon. This Iceland hidden gem is a great place for an incredibly scenic hike. You will be able to enjoy rugged cliff views and discover amazing waterfalls.
The Hangandifoss and Mulafoss Waterfalls here are worth the 1.5-mile hike to see them. Flowing over the ridges of the lush, green canyon, the sight of the waterfalls will make you will feel as if you are walking in a painting.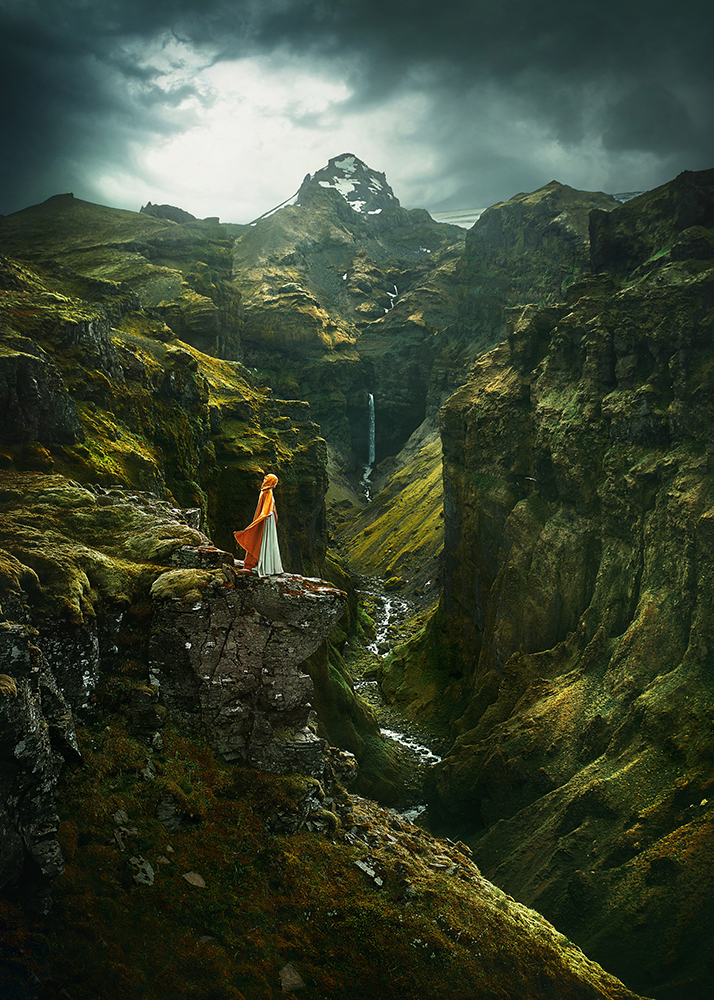 Stop 4: Take Photos at Lomagnupur Mountain
From one imposing landscape to another, keep driving for an hour to find Lomagnupur Mountain. Though you will see this looming behemoth long before you reach it as it stands at 700 meters. It is interesting to note that this mountain is said to be home to a giant according to Icelandic myth.
Do not be one of the many people who simply drive on by this great landscape. Instead, you will want to stop and take some photos. If you have a drone, make sure to fly it here to get some scale.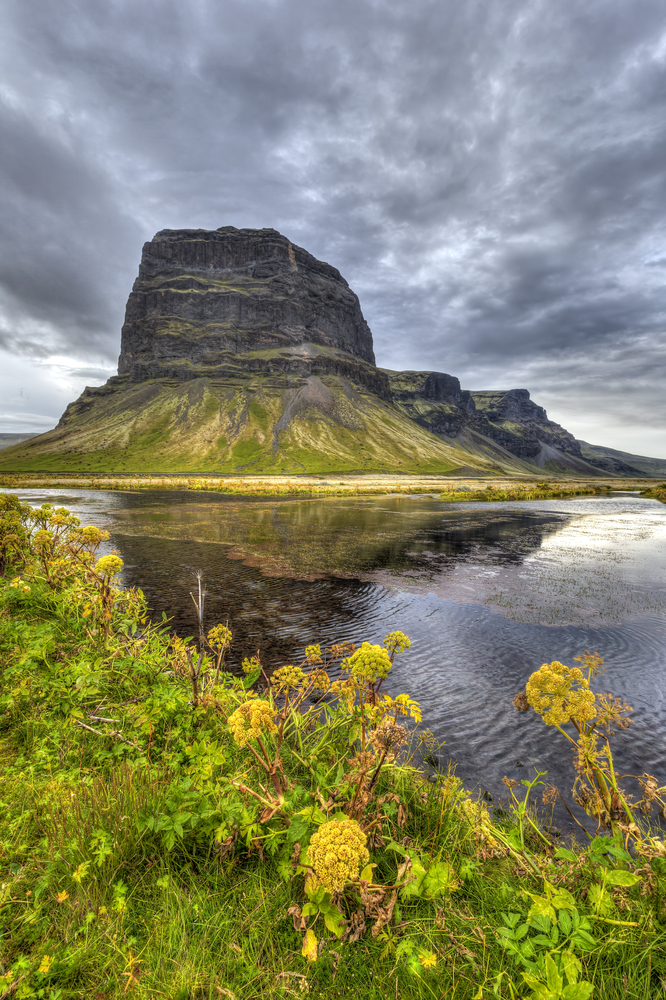 Stop 5: Find Magic at Fjadrargljufur Canyon
The next stop is about 40 minutes away and features another epic canyon. In the summer, Fjadrargljufur Canyon is full of lush greenery and flowers. In winter, it is a snowy wonderland pulled from some high fantasy novel.
With a river rushing through the bottom and many viewpoints along the top ridges, you are bound to take a ton of photographs here as you hike. Please make sure to stay on the marked paths. This will protect both yourself and the delicate ecosystem.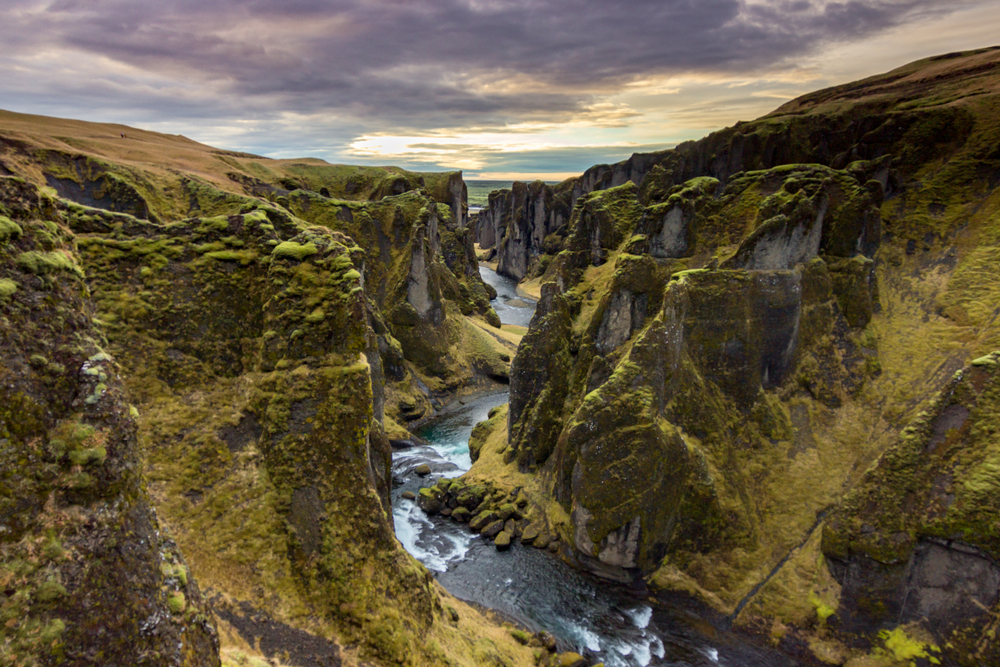 Stop 6: Discover Þakgil Canyon
Drive the Ring Road for just under 1.5 hours until you get to Þakgil, or Thakgil, Canyon. This is another hidden gem in Iceland waiting to be discovered. There are a ton of nature-filled hiking trails here to explore. While hiking, try to find the perfect view of the Kotlujokull Glacier.
There is also a great campground at Þakgil if you want to spend the night roughing it. You could not choose a more beautiful place to set up your tent. There is even a natural cave with picnic tables.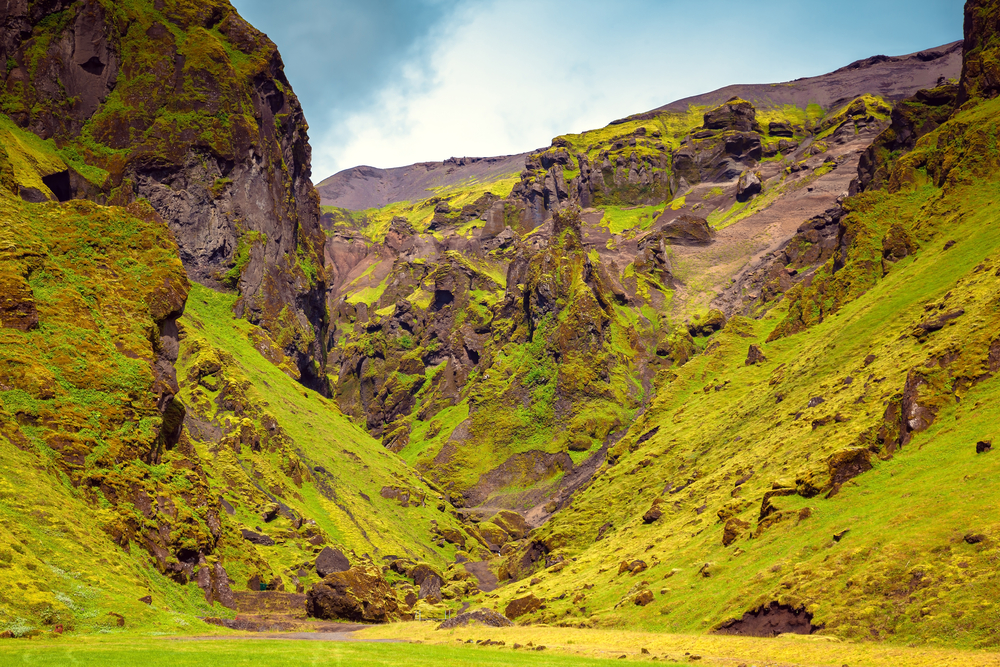 Overnight In Vik
You will spend another night in the picture-perfect town of Vik. If you have anything you weren't able to see the first time through or want to spend more time somewhere special, now's your chance. Remember, Vik is right next to Reynisfjara Black Sand Beach.
Where to stay in/near Vík:
Affordable/Mid-range: Þakgil Campground. Check rates: thakgil.is
Mid-range: The Garage Apartments. Check rates: Booking.com
Luxury: Hotel Kria. Check rates: Booking.com
Day 5: Anything You Missed and Optional Locations
Day five will lead you back to Reykjavik before you fly home. As you drive the 2.5 hours to Reykjavik from Vik, you will have the opportunity to see any of the stops you might have missed on day two. Or you can check out some optional areas.
Stop 1: Hit Any Remaining South Coast Stops You Missed
Since day two of your itinerary was so busy and full to the brim with things to do and see, there is a chance you ran out of time to do it all. Luckily for you, we took this into account and left time today for you to amend that. For instance, if you choose to skip the Solheimasandur Plane Wreck, you can see it now.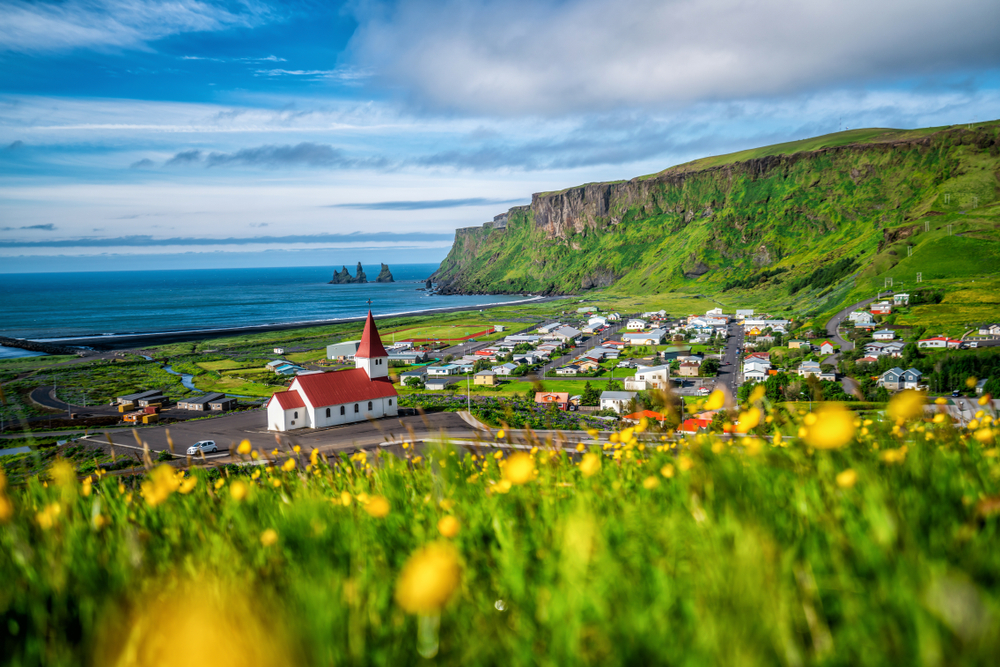 Stop 2: Explore Reykjavik If Desired
Reykjavik is the capital and largest city in Iceland so there are plenty of things to do here to fill your time. Reykjavik is a cute, modern city with colorful houses and a ton of cafes, restaurants, shops, and museums.
You will want to stop by the iconic Hallgrimskirkja Church to witness its unique architecture. It is also the tallest building in the city and about $7 will get you to the top for awesome views.
If you want to learn more about Icelandic life and history, make sure to check out some of the museums, including the National Museum of Iceland, the Perlan Wonders of Iceland museum, the Reykjavik Maritime Museum, the Settlement Exhibition, and the Arbær Open Air Museum.
If you want to get out of the city and see some nature, take time to schedule a whale watching tour. The ocean around Reykjavik is known for having a diverse amount of whale species and other sea creatures.
Book Here: Reykjavik: Whale Watching Excursion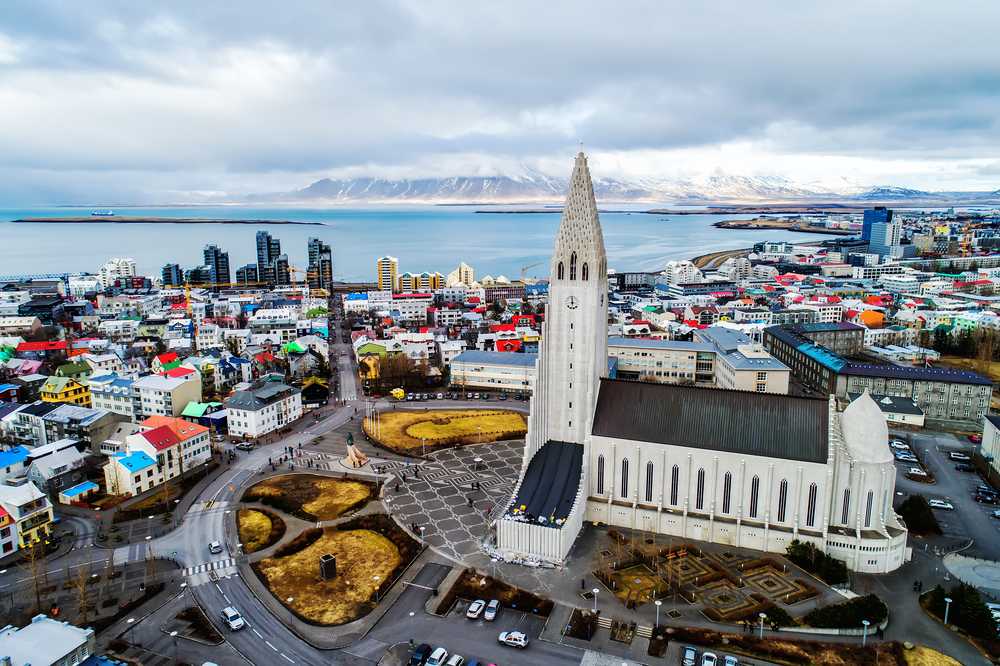 Stop 3: Relax in the Blue Lagoon
The Blue Lagoon is the most well-known hot spring in Iceland. With gorgeous milky blue and mineral-rich water, soaking here is good for the body and soul. Plus, there is a world-class spa retreat if you really feel like treating yourself!
There are different spa packages to choose from, and it can get a bit pricey, so budget for this if you plan on visiting. It is great to come here right before you fly home because it will give you a chance to fully unwind after your busy and sometimes tedious 5 days in Iceland itinerary.
Book Here: From Reykjavik: Blue Lagoon Admission with Transfers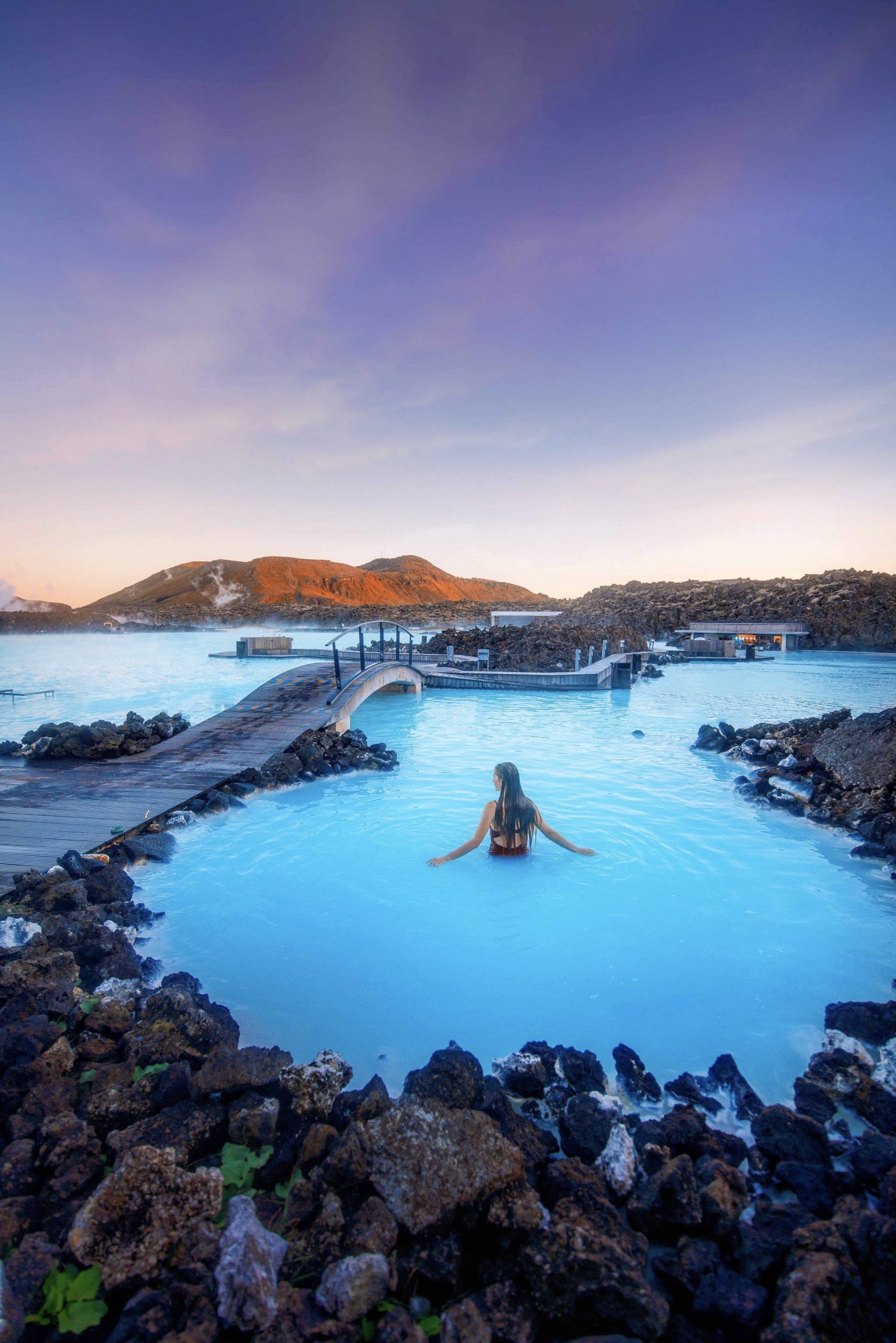 Overnight near Keflavik Airport or in Reykjavik
For your last night in Iceland, you will want to stay near the airport so you don't have far to travel the next day. Alternatively, you can stay in Reykjavik, which is only a 45-minute drive from the airport. There are tons of places to stay in Reykjavik for any budget.
Places to Stay in/near Reykjavik:
Affordable: Hotel Klettur Check Rates: Booking.com
Mid-Range: Downtown Penthouse Apartment. Check Rates: Vrbo.com
Mid-range: Fosshotel Reykjavik Check Rates: Booking.com
Luxury: Keflavik Luxury Apartments. Check Rates: Vrbo.com
Luxury: Hotel Borg Check Rates: Booking.com
Optional Day 5 Ideas
If you are looking for even more options for your last day in Iceland, we have you covered. These two choices are farther away from the Reykjavik area but are worth the travel time to enjoy during your five days in Iceland.
Explore Snaefellsness Peninsula
Snaefellsness Peninsula is two hours north of Reykjavik and features some of the best-known landscapes in Iceland. Here you will find the postcard-worthy Kirkjufellsfoss Waterfall with Kirkjufell Mountain as a backdrop. Kirkjufell translates to "Church Mountain" and is a common image result if you google Iceland. You will want to see it in real life!
There are also a couple more cute churches on this peninsula, including Ingjaldshólskirkja and Búðakirkja. After photographing these buildings, drive to the Snæfellsjökull volcano near the tip of the peninsula for a scenic hike.
Book Here: From Reykjavik: Snæfellsnes Peninsula Full-Day Tour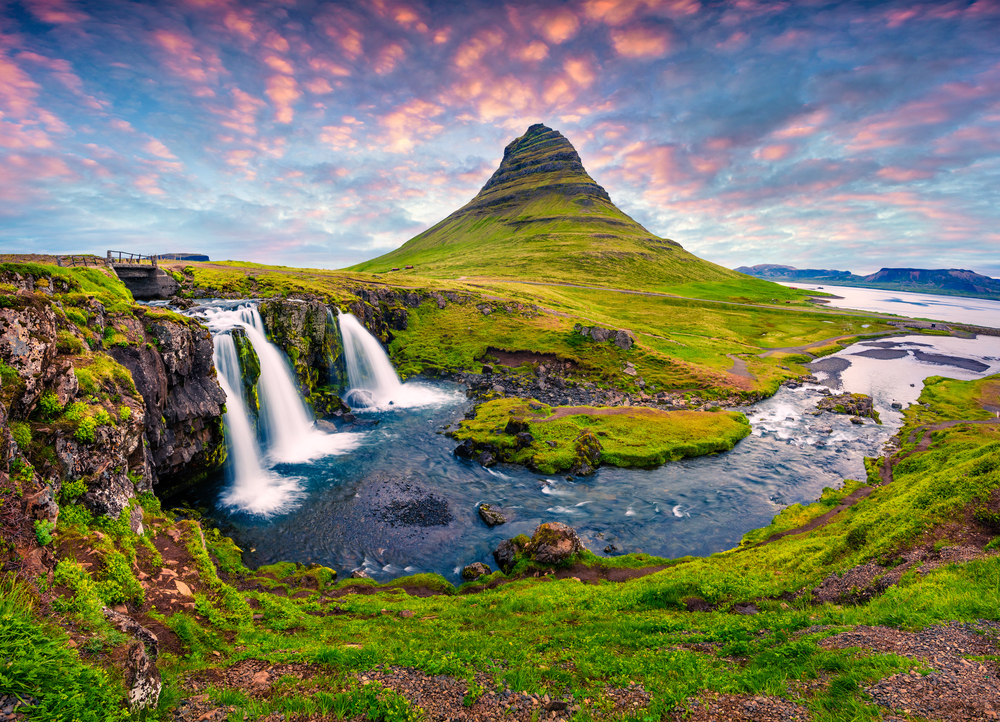 Explore Westman Islands
You can visit the Westman Islands on your way to Reykjavik from Vik as they are off the south coast, not far from Seljalandsfoss Waterfall and the Ring Road. You will need to take a 45-minute ferry ride to reach the largest island, Heimaey.
While on the island, make sure to find the only 100% black church in Iceland, the Heimaey Stave Church, which is super photogenic. You can also search for puffins along the sea cliffs or hike to the top of the Eldfell Crater.
Multi-Day Group Tours in Iceland
If you do not want to deal with the logistics of planning your own trip or would rather someone else does the driving, you can always book a multi-day group tour for your five days in Iceland (or more or fewer days if you want!).
Your experienced guide will make sure you get where you need to be and will answer any questions you have along the way. Booking a 5-day tour of Iceland is a great way to have a seamless and relaxing time.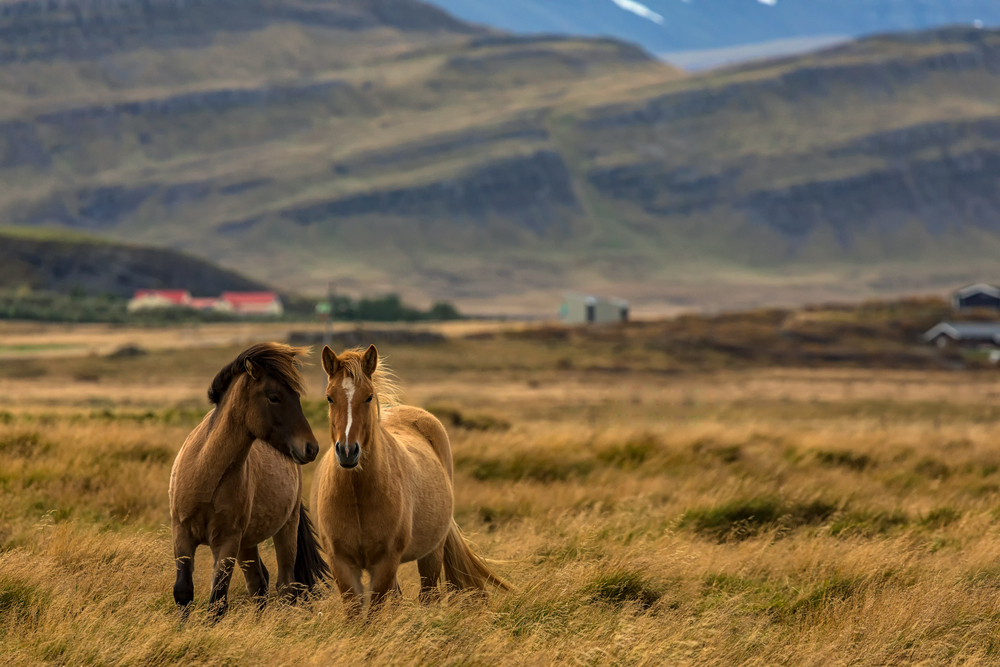 Now you have reached the end of your amazing itinerary for Iceland for 5 days. Hopefully, you had a trip full of amazing experiences and made memories to last a lifetime!
Iceland is a country full of unique, wild landscapes and a ton of history. You will be bragging to your friends and family about how much fun you had for a long time. Maybe you can even convince them to come with you on your next Iceland adventure!