So You are looking for the prettiest islands in Iceland? Well, you have come to the right place! We think that Iceland is one of the most beautiful places in the world, and the same thing can be said for the islands of Iceland. There's many different kinds, from inhabited islands that you can go and visit and even stay on, and completely uninhabited islands that are better left alone or observed from afar to protect the puffins.
Whatever island you fancy seeing or visiting in Iceland, you will find something on this list to suit your needs!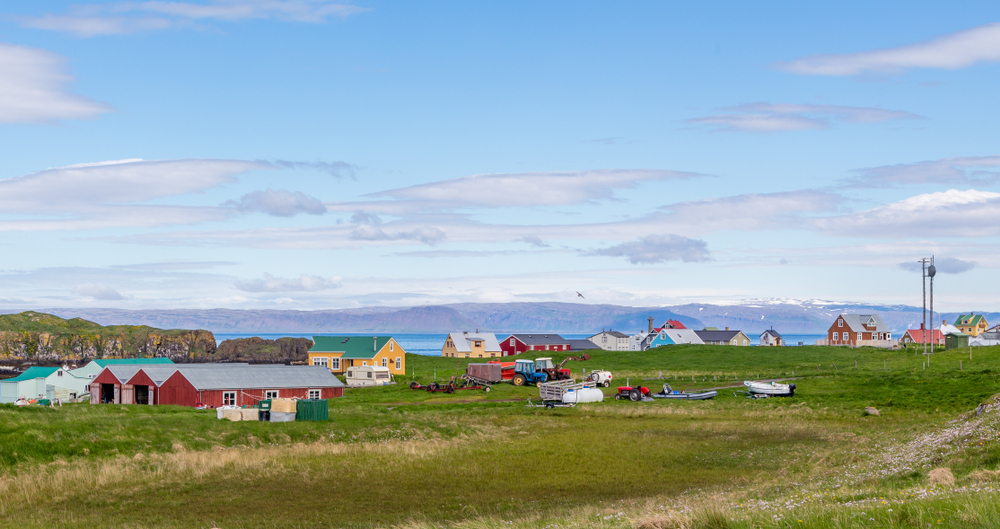 How Many Islands are there in Iceland?
There is a lot more to Iceland than the main island! There are actually about 30 minor islands. Some are lightly populated like Grimsey, whilst others are completely desolate such as Suðurey Island are completely desolate.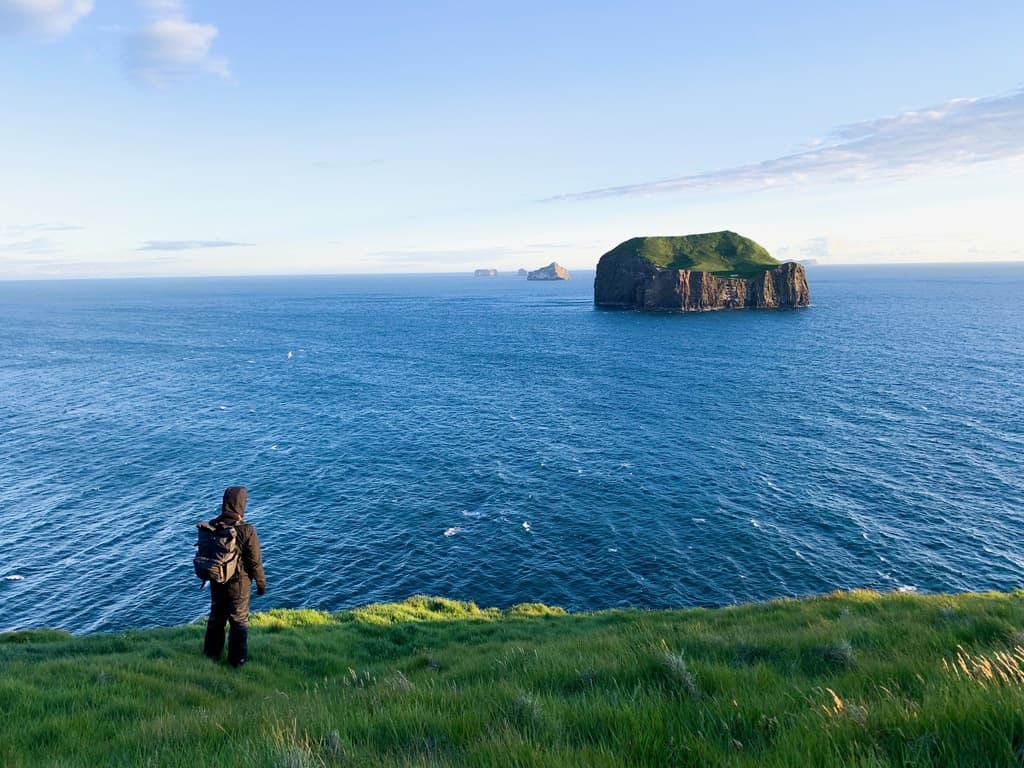 Ellidaey island
Ellidaey Island has made for a name for itself for being the island in Iceland that is home to the loneliest house in the world.
Even though this island in Iceland is only 0.45 kilometres squared, it is actually the third largest island in the archipelago. Despite there being one cabin on the island, there is no permanent population and there actually is not a lot of wildlife there, apart from the puffins of course!
There has been a lot of rumours about the loneliest house in the world. There was once a rumour that the house was home to singer Bjork, but that has since been debunked. The reality is far less spectacular.
The cabin is actually a hunting lodge built by the Elliðaey Hunting Association in the 1950s as a base for those who hunt puffins to make trips to the island easier. It is still maintained, but doesn't have any electricity, running water, or plumbing. But it does have it's own sauna!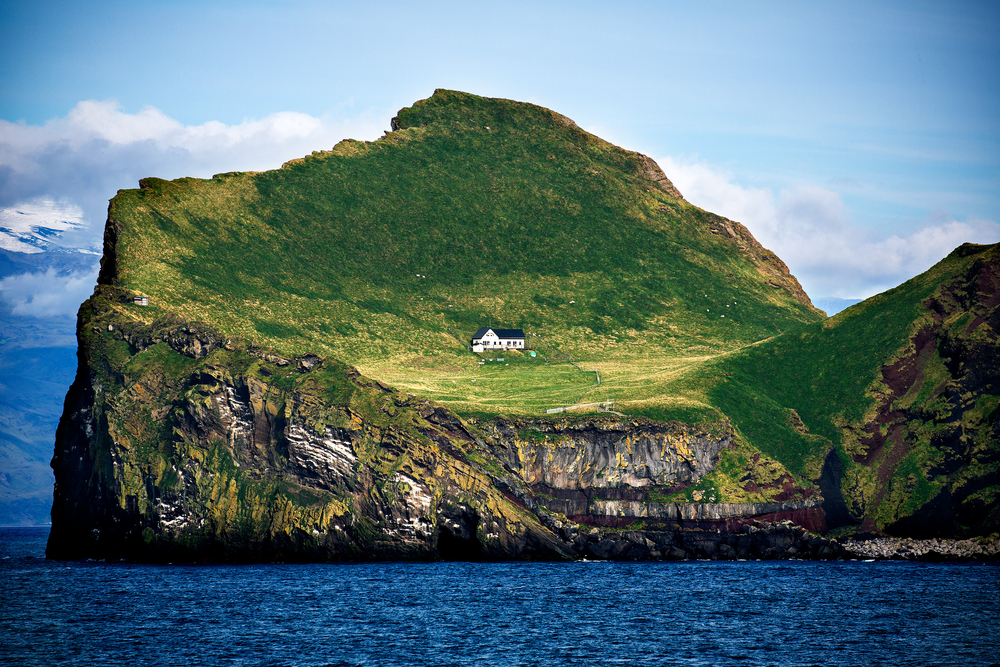 Surtsey Island
Surtsey Island is named after the norse fire god Surtur and is actually one of newest islands in Iceland. In was formed in 1963 after a volcanic eruption heaved it up out of the waters. Surtsey Island is the southernmost point of Iceland , 11 miles southwest of Heimaey.
The 'birth' of the island took about four years as there were so many eruptions. Ash could actually been seen as far as Reykjavík when it was first being formed. Now, the island stands at around 150m above sea level and covers an area of around 2 square miles.
Surtsey is not only one of the most studied islands in Iceland, but in the whole word! Because it is such a new island, scientists, botanists, and biologists have been able to study it since its creation.
The island is free from human interference and people are not allowed to visit it. You will have to make do with the Surtsey Visitor Centre in Heimaey instead. But the lack of human interference has totally been worth it as it provides scientists with unique, long term information on how new land gets colonised by plant and animal life.
Since the island began being studied in 1964, scientists have observed seeds carried by ocean currents and the appearance of moulds, bacteria and fungai. By 2008, they recorded 60 of the island's first vascular plant. 89 species of birds have been recorded on Surtsey, with 57 of which breed elsewhere in Iceland.
It's definitely fascinated to what how this islands changes and develops over the years!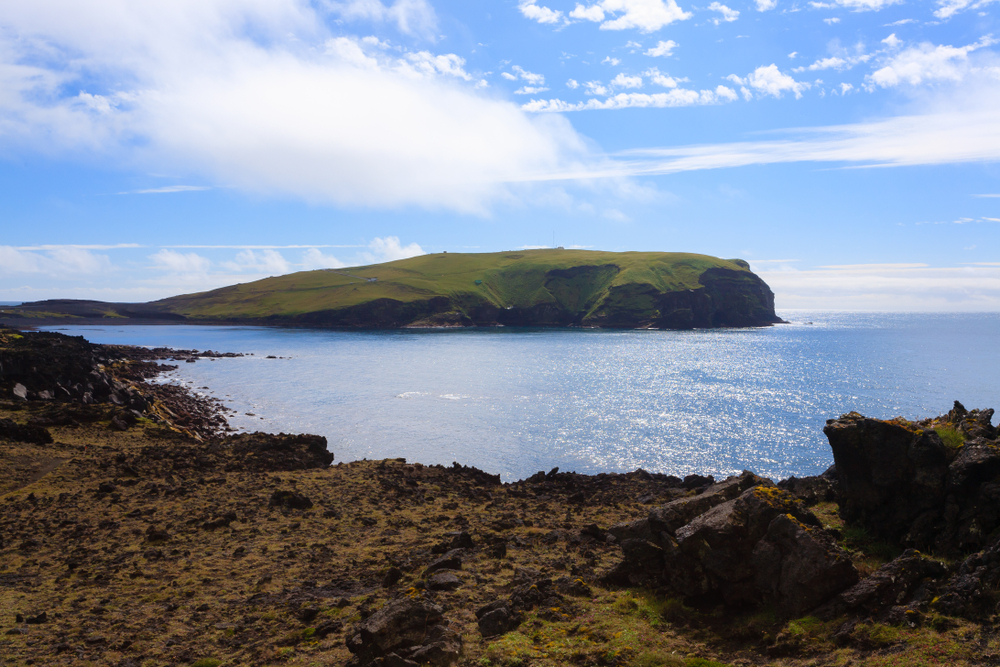 Grimsey Island
Grimsey Island is probably one of the more well known of the islands in Iceland, and has been dubbed the Gem of the Arctic Circle.
Grimsey Island is special as it is the only part if Iceland that is truly in the Arctic, meaning is it popular with visitors as many come to just have their passports stamped in recognition!
Grimsey is located just 40 km off the north coast of Iceland and is about 5 square km in size. It is home to approximately 85-100 people and one million seabirds.
The island's only village is Sandvík which is located in the harbour area. Many of the town resident's are fishermen as this island in Iceland is known for having a huge population of fish. The seabirds nest high up on the cliffs, and many travellers come to see the Atlantic Puffins during May and September. Their numbers are so high because there are no mice, mink, or rats on the island which means the birds can play their eggs in the long grass without the risk of predators.
Despite being such such a small island there are actually two different ways to get to Grimsey Island. You can either take the Sæfari ferry, which sails from Dalvík three days a week year-round, or you can catch a flight with Air Iceland from Akureyri. It takes off three times a week in winter and every day in summer.
there are guesthouses, cafes, and a community centre on the island so you will definitely feel more than comfortable here!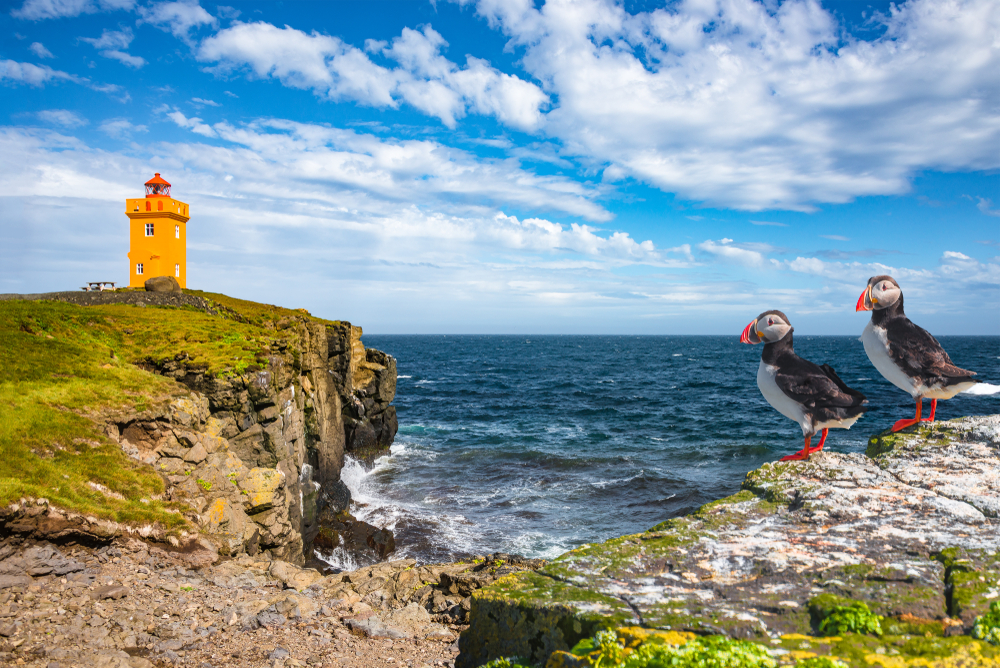 Heimaey Island
Heimaey Island is actually the capital of the Westman Islands and is the largest if the West Islands in Iceland. It is also the only one that is inhabited with a population of 4,000. Heimaey also has a pretty dark, but fascinating history to it too.
The first people known to make landfall on Heimaey were two escaped Irish slaves who fled to the island after killing their master. However, the body was found before they could make a clean escape and their boats were spotted heading towards the island. They were followed and hunted down, both were killed.
However, it is possible that there were settlers on the island even before the slaves reached it as archeologists have dug up homes dating back to 800 AD!
By 1627, the population of Heimaey Island was growing steadily but pirates eventually found the island and captured 237 people. Only 100 returned and the rest were sold into the slave trade. The events were written about by a priest who survived the ordeal.
Heimaey Island would remain peaceful until 1973 when an eruption would tear through the town, destroying over 400 homes. However, all 5,300 residents were taken to the mainland to safety and it is thought only one person died as a result of the eruption.
Today, Heimaey Island is one of the most lively and vibrant of all of the islands in Iceland. It's a very popular destination in the summer months due to the puffins. They can been seen on boat tours (The Westman Islands are thought to be the best place to see Orcas and Finn wales on these tours!) and also are spotted inland. The puffins sometimes get confused by the town lights thinking it is the sea and wonder into the town. It is tradition for the children to find them and safely return them to the sea. How cute!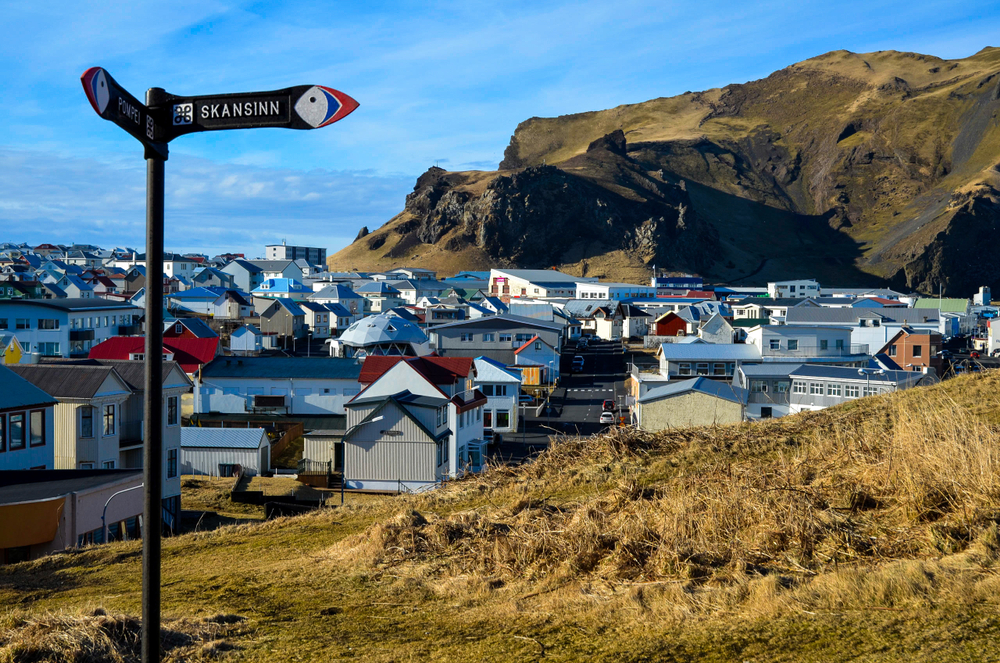 Videy Island
We think that Videy Island is one of the most stunning Islands in Iceland. With gorgeous, panoramic views, historic ruins, and contemporary art pieces, Videy Island is truly something special.
Videy Island is the largest island of the Kollafjörður Bay, located close to Reykjavík. It's a popular destination and is most notably known for the Imagine Peace Tower. It was designed by Yoko Ono as a tribute to her late husband John Lennon of The Beatles and their shared vision of a world without war.
You will only find it lit up on certain occasions such as John Lennon's birthday and other significant events.
one of the few remaiing buildings on Videy Island is that of Skuli Magnusson, 'the father of Reykjavík'. The house, known as Videyjarstofa, and displays many different paintings of renowned Icelandic artists.
Getting to Videy Island is super easy. Boats to Videy Island run throughout the year, leaving from Skarfabakki pier at Sundahöfn harbour. The journey only takes around twenty minutes. you are free to explore the island on your own accord through the extensive network of trails and can be explored by foot or by bike. Videy Island definitely feels like another world, even though you can still see views of the mainland and the Snæfellsnes Peninsula. You will never know peace and tranquility quite like it until you visit Videy Island.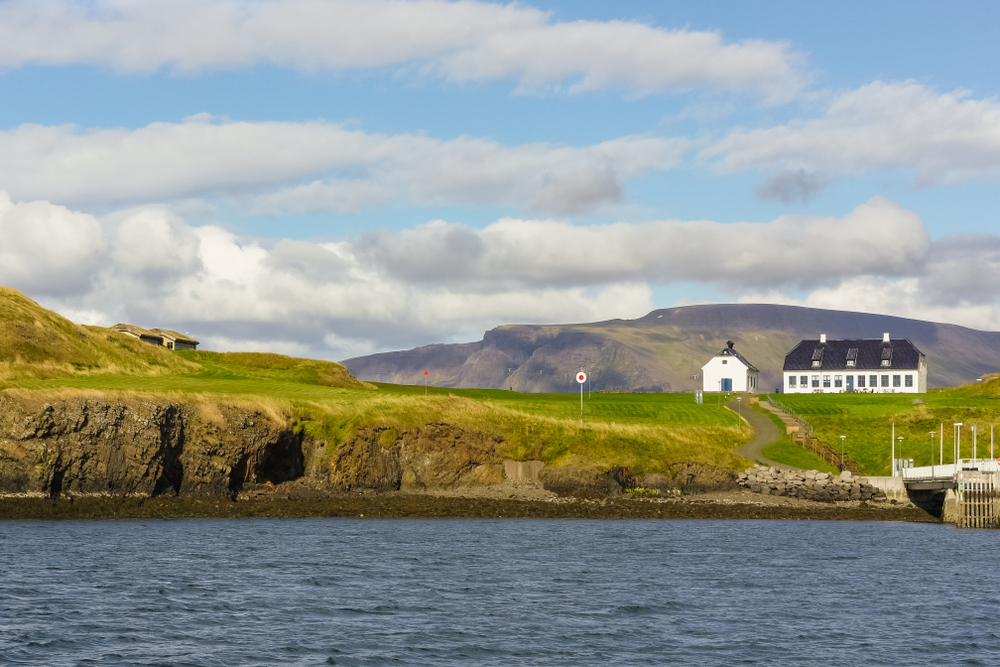 Flatey Island
Flatey Island is one of the most flat islands in Iceland. It's located in Breidafjordur bay on the northwestern part of Iceland. It actually make the list of the Best Islands in the World in 2020.
Flatey Island is a pretty unusual place! The total population is just six, and only two farmers live their all year round. The houses have been standing for over a hundred years and are still beautifully preserved. There are also no cars allowed on the island, but don't worry it's only 2km long and 1km wide.
Flatey Island can be reached by ferry and is quite popular during the summer months due to the birds. The rare red phalarope has been spotted on the island. And of course, you're bound to see a lot of puffins here!
Whilst most people just spend a day at Flatey Island and take the ferry from Stykkishólmur and Brjánslækur, you can stay overnight at the hotel's only hotel; Hotely Flatey.
It's like stepping back in time at Flatey island!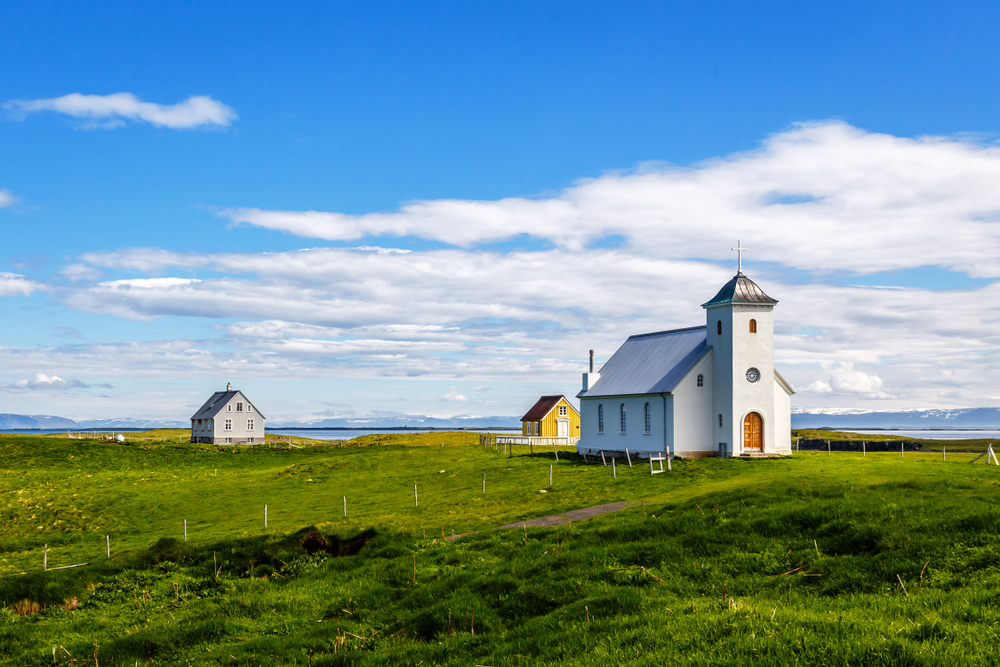 Drangey Island
Drangey Island island in the Skagafjörður fjord in northern Iceland. It is the remnant of a 700,000‑year‑old volcano, and is a essentially a massive rock fortress!
The more creative explanation for this island in Iceland comes from Icelandic folklore that states two trolls and their cow were turned to stone after being caught by the sunlight while crossing the fjord. Drangey Island is the cow, whereas the female troll is to the right and the male troll has since been lost to the elements.
Drangey Island is a bird watchers paradise. Thousands of different birds flock to the island for nesting season, and you can observe them from a man made trail on the face of the cliffs. You'll be able to spot puffins, guillemots, gannets, kittiwakes, fulmars, and shearwaters, ravens, and gyrfalcons.
There are a few boat tours you can go on too when visiting this island in Iceland. In the summer months, sailing is also a popular activity.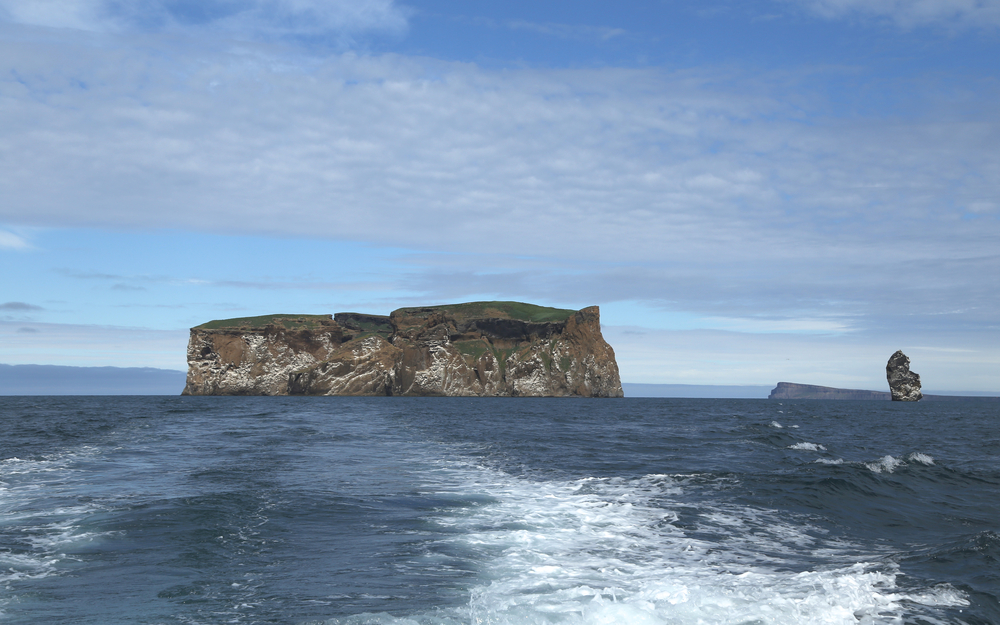 Suðurey Island
Suðurey Island is located in the Westman Islands just south of Iceland. Not much is known about Suðurey Island as it remains largely uninhabited which makes it one of the most prettiest islands in Iceland.
It is only accessible by your own boat and only had one building on the island that is powered by solar power.
Because it is so isolated, it is a perfect nesting place for puffins that frequent the island.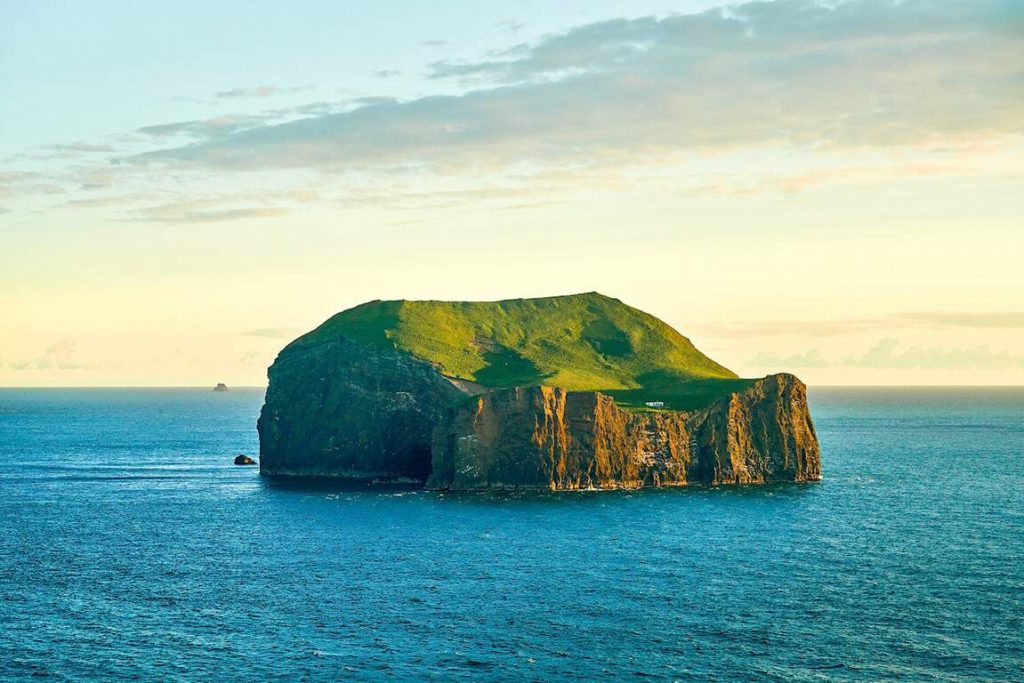 And that is our list of the prettiest islands in Iceland! We hope you enjoyed the blog post and have found a unique island for you to visit. Iceland is such a beautiful place, we know that you will love wherever you decide to visit.