You have probably landed on this page because you are considering planning a trip to the Westman Islands in Iceland. We are here to tell you to 100% go for it as they are some of the prettiest islands in Iceland!
The Westman Islands are such a unique and incredible place in Iceland and surprisingly, not very many people go or consider. They are located near very popular sites in south Iceland and they are very easy to visit and get around.
We have been to Iceland many times and each time we would drive Iceland's south coast we would see the Westman Islands bathed in a spectacular light and shrouded in mist. There they sat, right off the coast but so mystical and untouchable.
We talked about them every trip but thought they were unattainable and not possible. We knew that one day we wanted to visit to see what all the fuss was about. And that day finally came and we are here to say the Westman Islands are worth the trip and may just end up being your favorite place in Iceland!
This guide is going to break down exactly how to plan your trip to the Westman Islands including helpful information about the Ferry and some of the best things to see and do. We are happy to answer any questions in the comments!
Get a FREE printable "Hidden Gems In Iceland" E-book by joining our private Iceland Facebook Group and share your photos and ask for tips and tricks.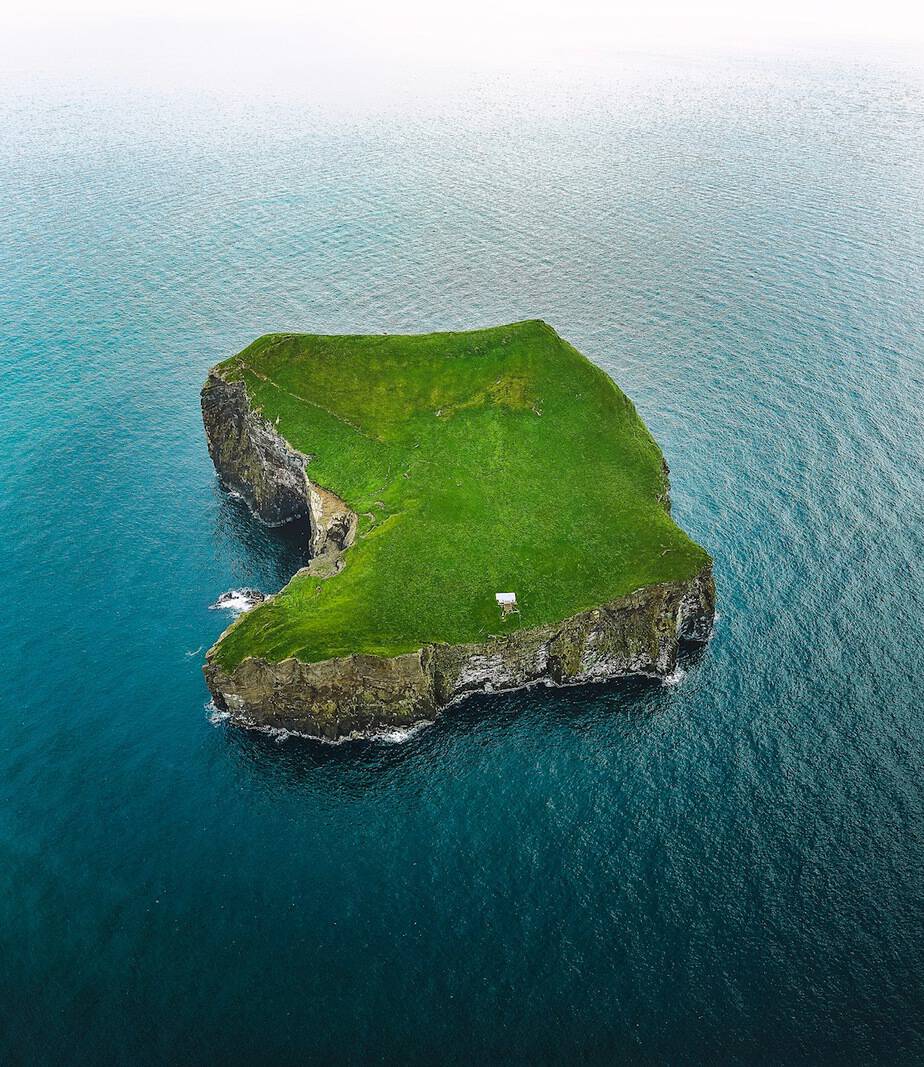 The Complete Guide To Visiting The Westman Islands
What Are The Westman Islands?
The Westman Islands are the best-kept secret in Iceland! They are a group of 16 islands located roughly 4 miles off the south coast of Iceland. Compared to other popular towns along the south coast and in Iceland in general, the population here is actually quite huge at 4200 people!
The main island on the Westman Islands where everyone lives and where you will visit is called Heimaey in English. This is the largest island and also one of the ones you can easily see from the mainland. They are also called Vestmannaeyjar in Icelandic if you would prefer to use that translation instead.
They are located very near the mainland but feel so far away! The views are incredible and let you see mainland Iceland from a different perspective.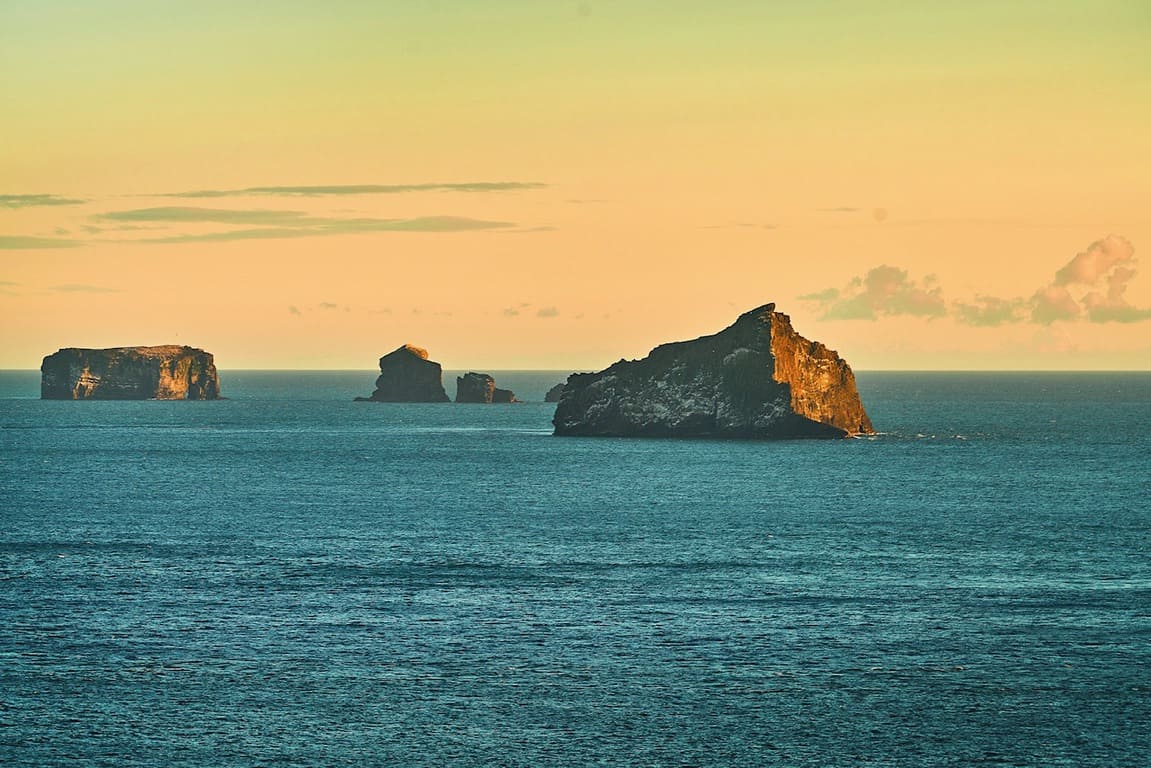 Taking The Westman Islands Ferry
There are two ways to get to the Westman Islands. The first is to fly which is expensive and prohibits the amount of luggage you can take due to weight restrictions. We do not recommend flying. The second is taking the Westman Islands Ferry. This is what we did and it cost us $90 USD for two people and a car.
There are two places you can pick up the Westman Islands Ferry. One is from the Reykjavik area Thorlakshofn [in winter] and the other is along the south coast near Selejendafoss Waterfall called Landeyjahöfn [in summer].
We chose the ferry from the south coast as it is a much shorter crossing and we were already on the south coast as it was! This was a fantastic decision and the crossing only took about 30 minutes.
The two mainland ports for the Westman Islands Ferry are known as Landeyjahöfn [on the south coast] and Thorlakshofn is near Reykjavik and operates during the wintertime [current as of 2019].
The crossing from Thorlakshofn takes around 3-3.5 hours while the crossing from Landeyjahöfn only takes 30-40 minutes depending on the weather. After all, the Westman Islands Ferry only has to cross a 4-mile span of land to get from the mainland to the islands so it doesn't take that long at all!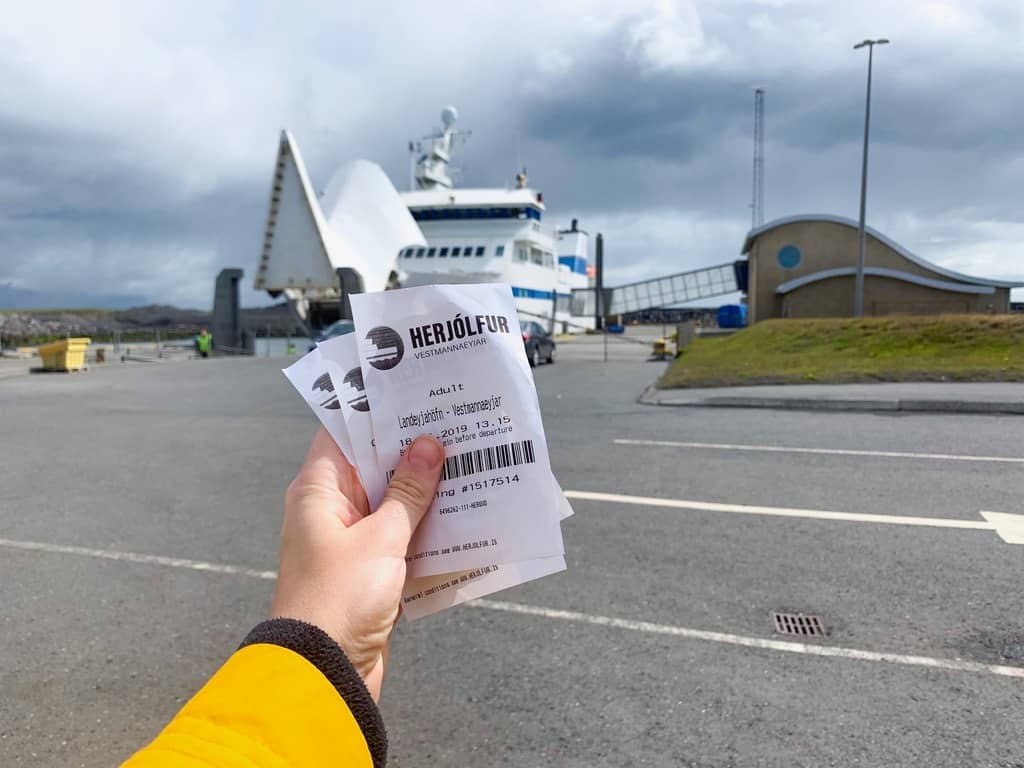 When we were planning our trip, we thought we could get away without bringing a car since bringing a car on the ferry is more expensive. We did a little research in some Iceland groups on Facebook and ultimately ended up taking a car.
IT WAS SUCH A GOOD CALL! Unless you just want to get off the ferry and walk around the town and shops, it is essential to bring a car. That being said, if you want to explore the island by bike you can rent bikes or bring your own from the mainland.
We would NOT recommend walking on Heimaey if you want to visit every place listed on this guide. It was well worth the price to have a car.
When booking the Westman Islands Ferry, we highly highly recommend booking as far in advance as you are able, especially if you are bringing a car. The ferry to the Westman Islands is used to ship goods as well and it fills up quite quickly. We booked a few weeks out and were glad we did.
You can go to the Westman Islands Website and Book Your Ferry Here! This is the exact site and booking engine we used for our trip and as we said above, it cost around $90USD.
Once you book your ticket, it is recommended to be at the ferry site 30 minutes in advance. We are never anywhere on time but we made it a point to get to the Westman Islands Ferry on time and it was a good decision.
You want to get in line while they load up the cars and then get situated on the ferry itself. Keep in mind that only one person is allowed in the car when driving it onto the ferry so all passengers must board the ferry by foot.
While dated, the Westman Islands ferry was quite nice. There were loads of bathrooms onboard, a galley/kitchen that served drinks and food for a price, lots of areas for kids to play and sit, and even a little movie theatre room that was playing the show "Friends." Like the majority of passengers, we spent most of the time on the viewing decks on the top of the ship.
If you are taking the Westman Islands ferry, we highly recommend being on the viewing deck as you come into the islands and the port. You pass by a few islands pretty close.
The whole process of booking and boarding the Westman Islands ferry is quite easy and affordable. Believe it or not, people cross to/from the islands every day so they aren't as mystical or unreachable as we once thought. On the contrary, they are quite easy to visit and the amazing things you will see is well worth the visit.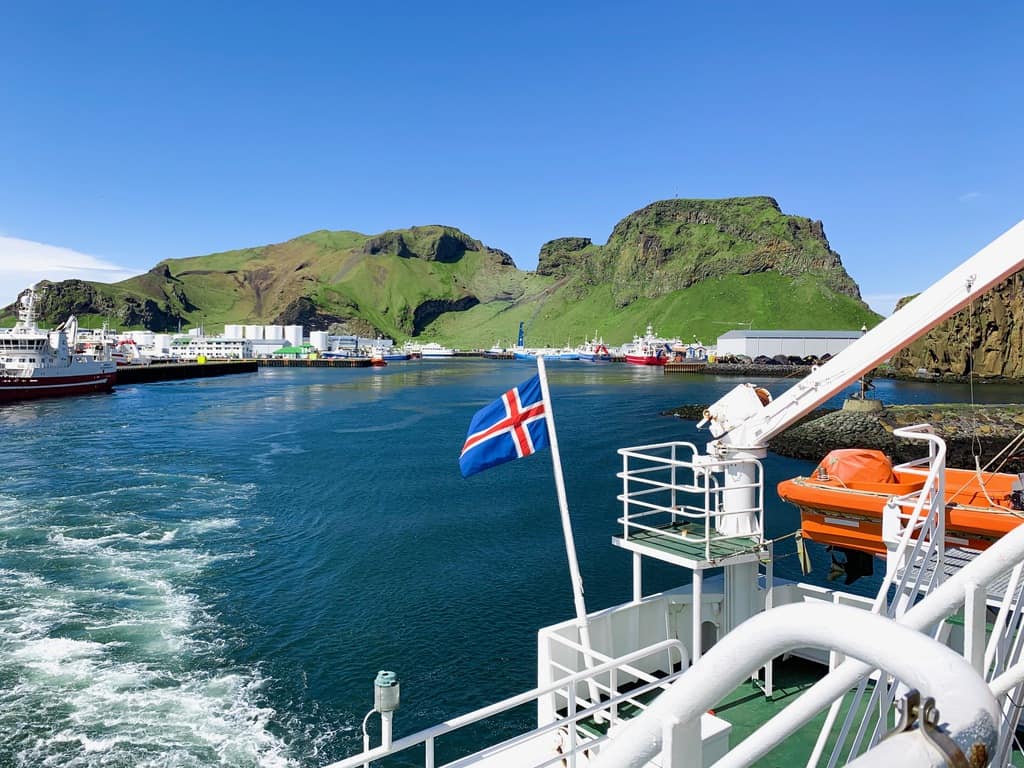 How Long To Spend On The Westman Islands?
When we were planning our trip, we heard people recommend spending more than a day there. The main options are to visit the Westman Islands as a day trip [arrive and leave the same day], to visit for one night, or to visit for two nights. Of course, you can visit for as long as you like, but these are the most popular time frames for a visit.
Since we like to slow travel, we decided to visit for two nights. That gave us the day we arrived and another full day. We also visited in summer so the midnight sun was in full force which allowed us plenty of time for activities. We got the majority of things done on the day we arrived, but we both agreed we would have felt very rushed if we had to leave the next morning.
We do NOT think you should skip the Westman Islands on your trip if you don't have two days to give. Many locals including some of our hosts on the south coast suggest it as a day trip which we can agree you can feasibly do, especially with a car. Just take the earliest ferry to the Westman Islands and leave at the latest.
That being said, people in some Iceland groups on Facebook said they regretted not spending two days. For us, by the second day, we started to feel like we were on a small island. We had pretty much visited every inch of the Westman Islands and there was nothing left to do. Not that we would have been upset to sit and do nothing and enjoy the amazing views and weather!
How long you spend on the Westman Islands depends on your travel schedule and how much time you have. These islands feel far-flung and offer so much all while being easily and affordably accessible from the mainland. We are happy to answer any questions in the comments if you want our thoughts on how long you should stay!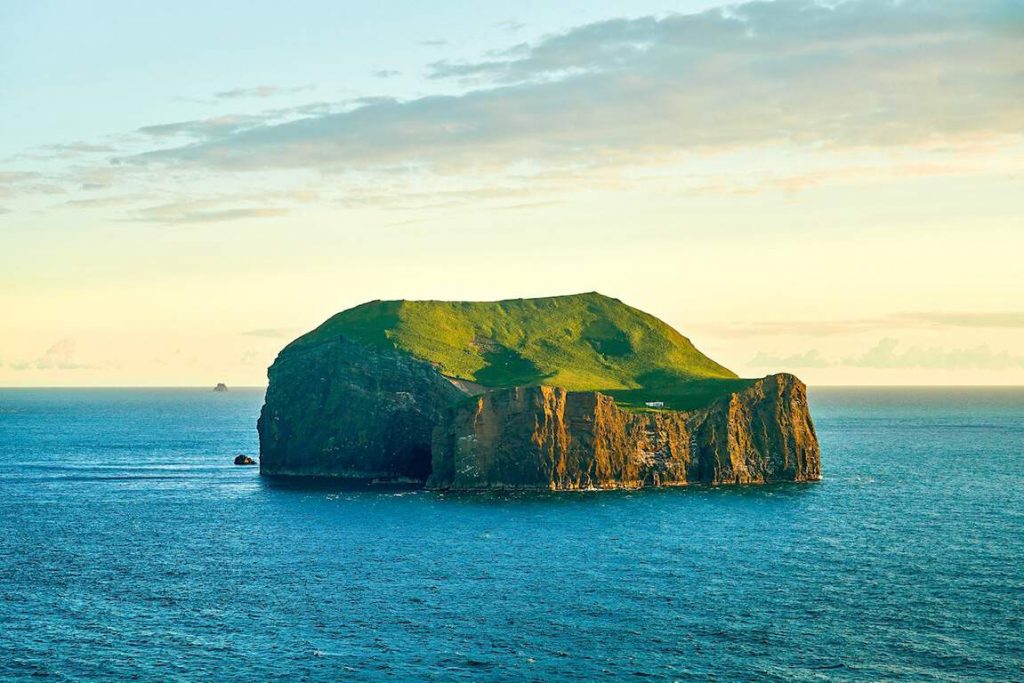 Best Things To Do On The Westman Islands
During our two days on the Westman Islands, we visited every stretch of the island! There are plenty of museums and such that we did not visit that you could if you wanted.
We were more interested in the nature and hiking, but the Westman Islands offer something for everyone. Here is what we recommend to see and do while you are on Heimaey.
Heimaey Stave Church
This was easily one of our top things to do on the Westman Islands and we went back each day! The Heimaey Stave Church is the only stave church in Iceland and it is incredible to see. It also made our list of the top churches in Iceland because it is that unique. Many people head to the Budir church to see a black church in Iceland, but that one has white features so it isn't totally black!
The Heimaey Stave church is 100% jet black and built in the Nordic stave church style. The Heimaey Stave Church was a gift to Iceland from Norway to commemorate 1000 years of Christianity being in Iceland. All of the materials it took to built the church were gathered from around Norway.
Visiting the Heimaey Stave Church is a great thing to do if you are visiting the Westman Islands on foot or by bike as it is located near the downtown and the ferry port. You can put the name in your GPS and after you walk up a road that has a steep hill you will come down on the other side and you will see the Heimaey Stave Church right on the waterfront.
This is one of the best stops just off Iceland's Ring Road. If you happen to be Renting A Car In Iceland you will want to ensure that you make time to see it!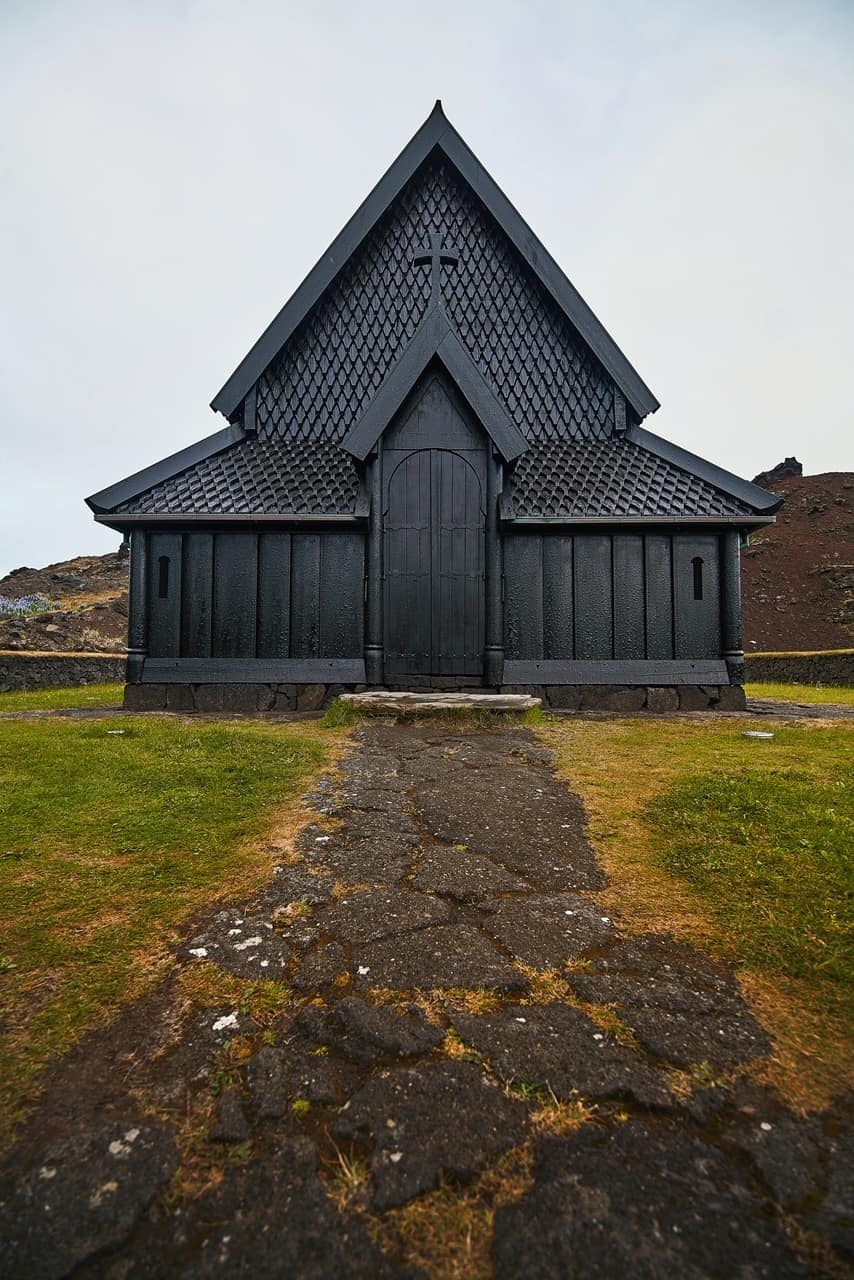 Stórhöfði – The Windiest Point In Europe
We highly recommend a visit to Stórhöfði which is the southernmost point in Iceland and the windiest point in Europe. It is a pretty incredible and diverse place to visit.
The strongest winds ever recorded in the Northern Hemisphere were recorded here and it is rivaled only by Antarctica. Isn't that just so insane?
This is one of the places on the Westman Islands that we highly recommend you have a car to access. Although the island is small, there are a variety of uphills and downhills to get here and it would take a long while to walk here [or so it felt to us!] You can arrive here from downtown in literally 5-8 minutes driving.
Once you are at Stórhöfði you can park your car and take a walk around the perimeter of the peninsula. This cliff walk provides lovely views of other islands in the chain as well as spectacular views of Hemaiey and the mainland.
It is higher than much of the main island so it provides wonderful views. The cliff walk isn't anything strenuous and you can see some pretty incredible views all around!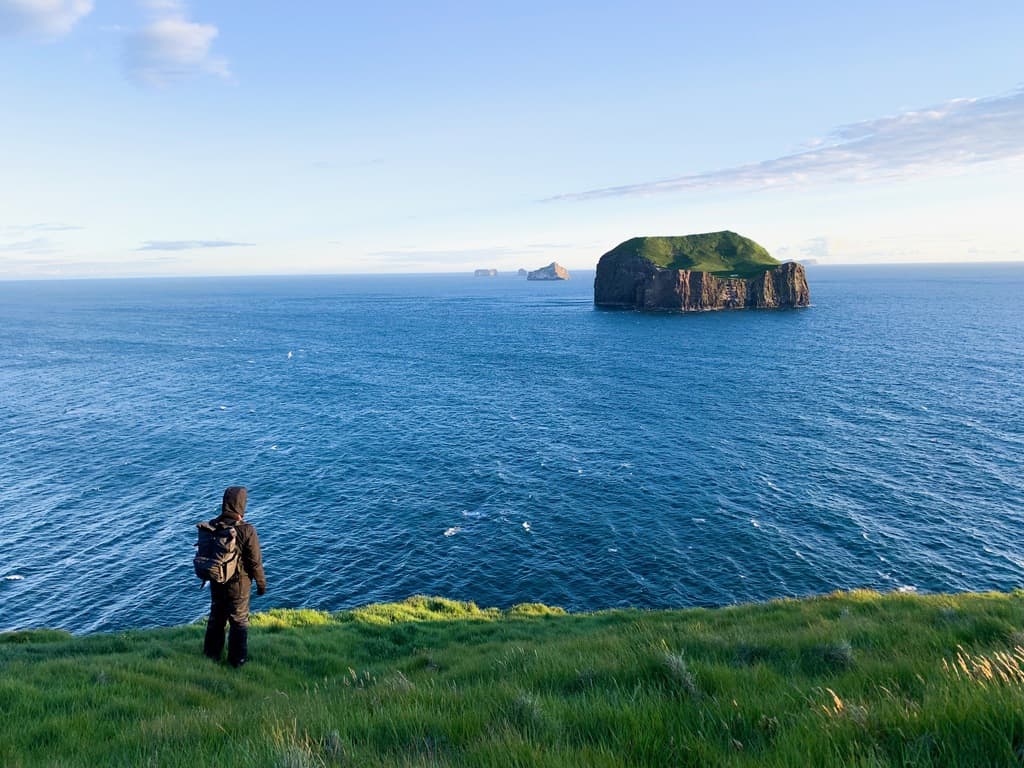 View Puffins On Stórhöfði
While you are on Stórhöfði, you may as well stay and view the puffins. The Westman Islands and Stórhöfði are home to over 700,000 puffins during the warmer months/summer when puffins are in Iceland nesting. If you want to visit Stórhöfði when the puffins are not there, don't worry, there are still thousands upon thousands of seabirds that frequent the area.
When searching for puffins on Stórhöfði, make sure to go early in the morning or later at night so you can see them before or after they head out to fish on the seas for the day.
When viewing puffins on Stórhöfði make sure to be very careful of the edge of the cliff and to stay on the paths. The puffins nest in the grass so you don't want to step on their precious eggs. There are plenty of paths already worn for walking so you can see all the best views!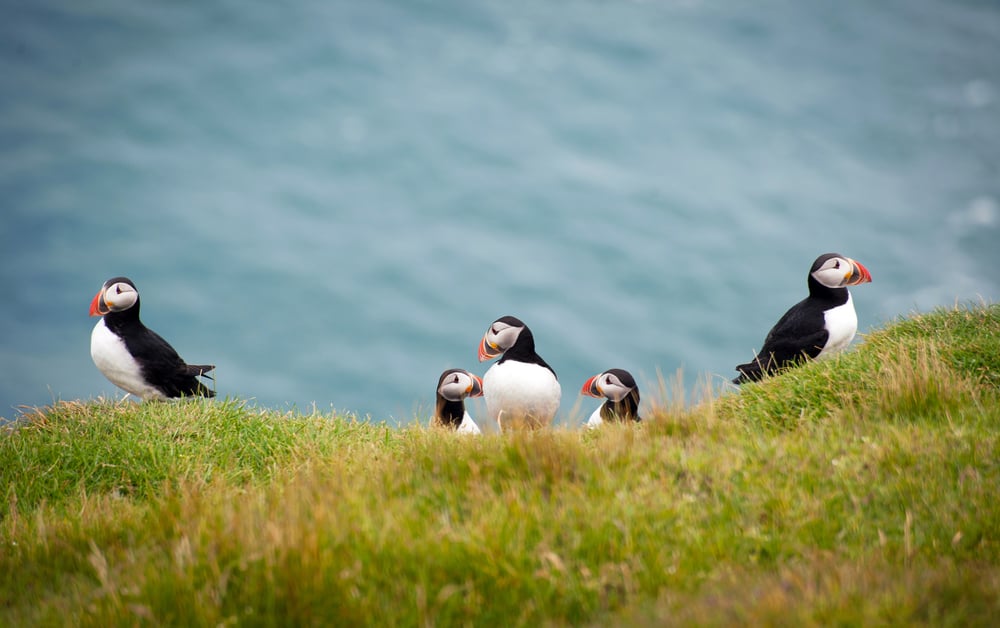 Hike To Heimaklettur
We saw a viewpoint from Heimaklettur on Google Maps that we really wanted to see but we had no idea what we were getting into. Heimaklettur is the highest point on the Westman Islands and you can go to the very tippy top.
The hike to get there is strenuous and you have to climb ladders up the edge of the cliff and then walk a path the rest of the way. Once you arrive at the top, you will see some of the most incredible views you have ever seen in your entire life.
This is a very remote and lesser-known thing to do in Iceland and we 10/10 recommend it. We are NOT hikers and we do not hike for long distances, but we really wanted to see these amazing sweeping views of the Westman Islands. Nobody told us what to expect so we went in totally blind!
We are here to tell you that although difficult, the views along the way are incredible. As you ascend Heimaklettur you will see epic views over the harbor, the stave church, the volcanos on the island, the surrounding islands, the mainland, and more. It was the highlight of our trip and the experience was just amazing.
We also didn't pass a single other person while hiking so if you are worried that Iceland is getting too busy, we highly recommend hiking Heimaklettur and visiting the Westman Islands.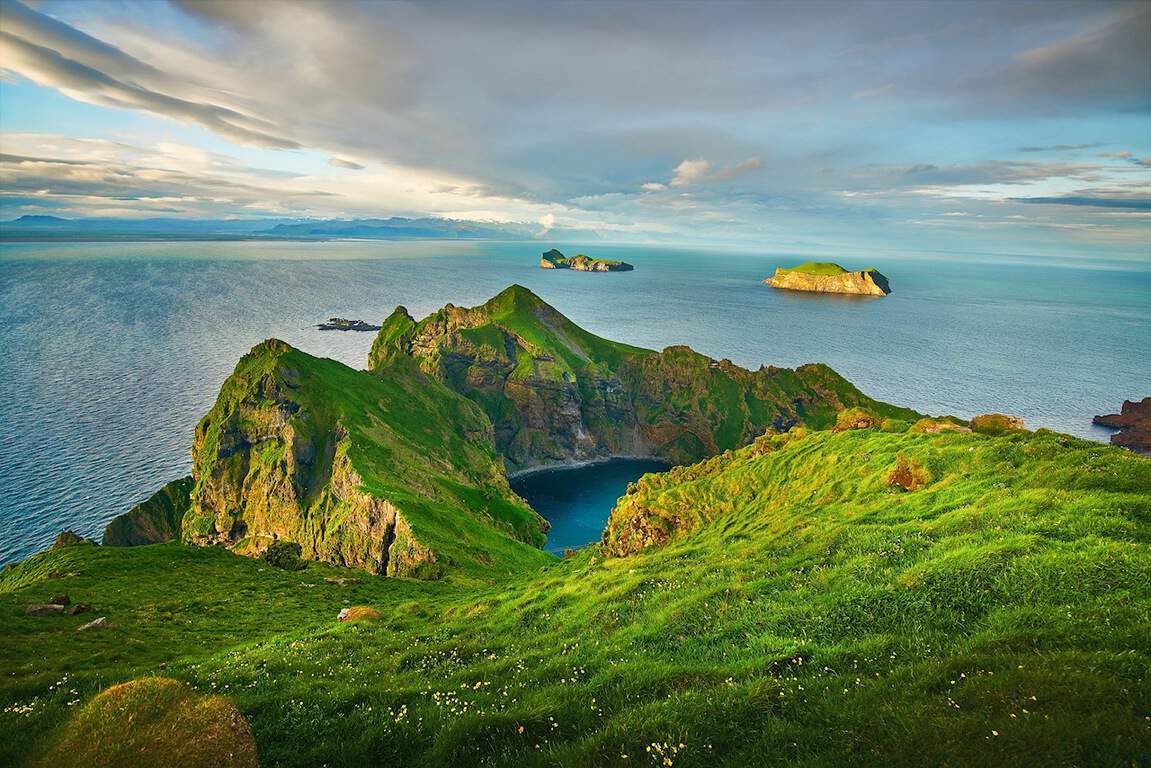 Go Golfing And See Elephant Rock
If you are into golfing, the Westman Islands golf course is a must! It is ranked one of the top 200 in Europe and we did find it very odd that here of all places there would be a golf course.
As soon as we drove by it, we knew why! The views were beyond incredible and the greens were in pristine condition. People were out playing golf under the midnight sun and it was just incredible.
While you are golfing [or driving past the golf course] you will be able to see the famous Elephant Rock. The Elephant Rock is right by the golf course so you can see while you are playing or passing by. It is a really neat rock formation that looks just like the face and trunk of an elephant!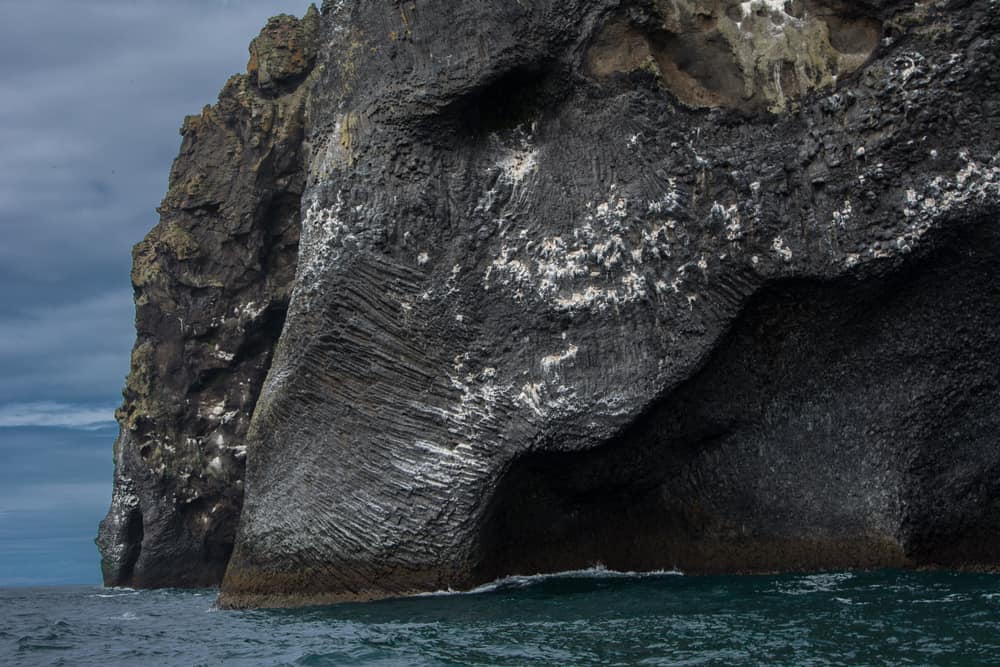 Hike Eldfell Crater
In the 1970's there was an eruption on the Westman Islands which changed the face and landscape of parts of the island. Luckily, only one man died which is fortunate as the eruption lasted months!
Now, Eldfell Crater is left behind and towers over the Westman Islands. You can hike the 200 meters to the top of the crater for some fantastic views and a lovely experience!
When you look at the Westman Islands from the mainland you can see the Eldfell Crater but you really don't realize it is an actual volcano until you arrive on the island!
Eldfell Crater is easily accessible by car from the downtown area and if you dig into the ground a bit the ground is still hot enough to bake bread! Isn't that just such a cool fact?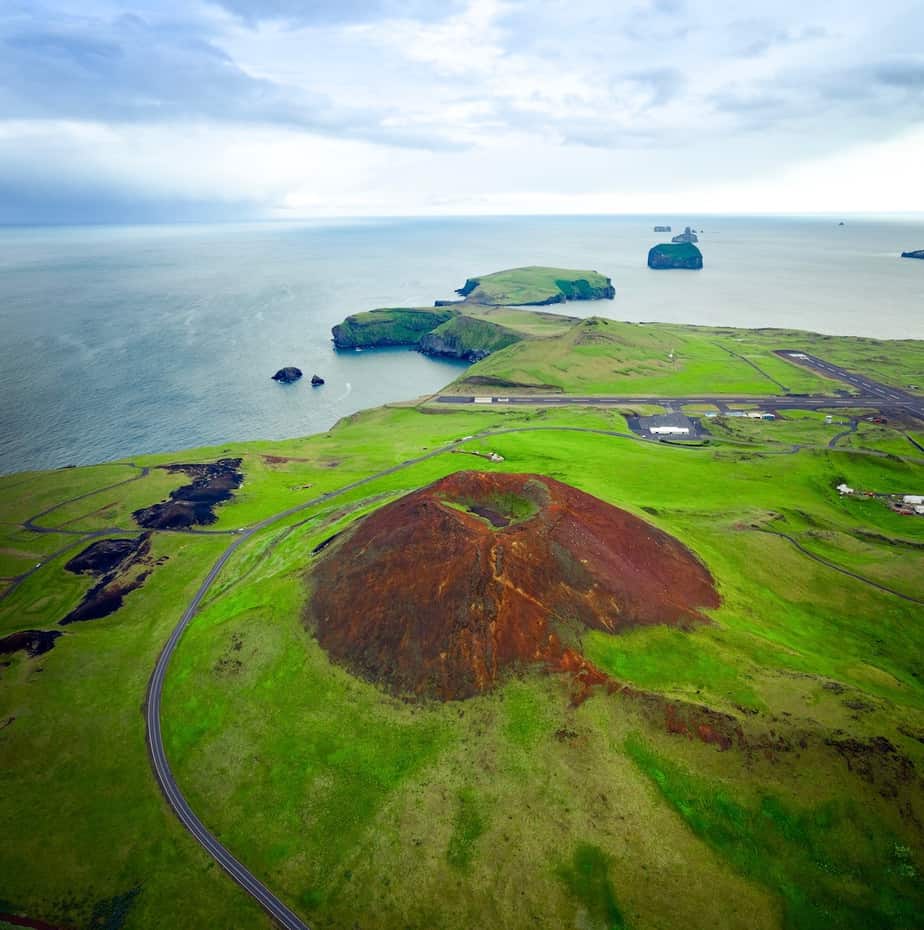 Visit The Westman Islands Swimming Pool
Swimming pools are big culture in Iceland. We know you didn't head to the Westman Islands or Iceland to swim…..but you should. First, it is part of the Icelandic culture, and what better way to experience it than by swimming with the locals? Second, it is a fantastic way to relax a bit. Third, it is VERY affordable.
The Westman Islands swimming pool is BEYOND nice and offers SO MANY things to see and do for a very cheap price. There is an indoor heated pool with toys and diving boards.
There are multiple outdoor pools and multiple slides including a super fun slide with a trampoline at the end [yes it was really as fun as it sounds!] and there are kids' play areas as well as multiple hot tubs in different temperatures and a steam room too.
We are very picky when it comes to spa experiences and we had no clue the Westman Islands pool would feel like a super affordable spa. We loved the outdoor slides and heated pools as well as the hot tub and sauna and of course the very affordable price. This is one of the best pools in Iceland and the only pool with a trampoline slide. We 10/10 recommend!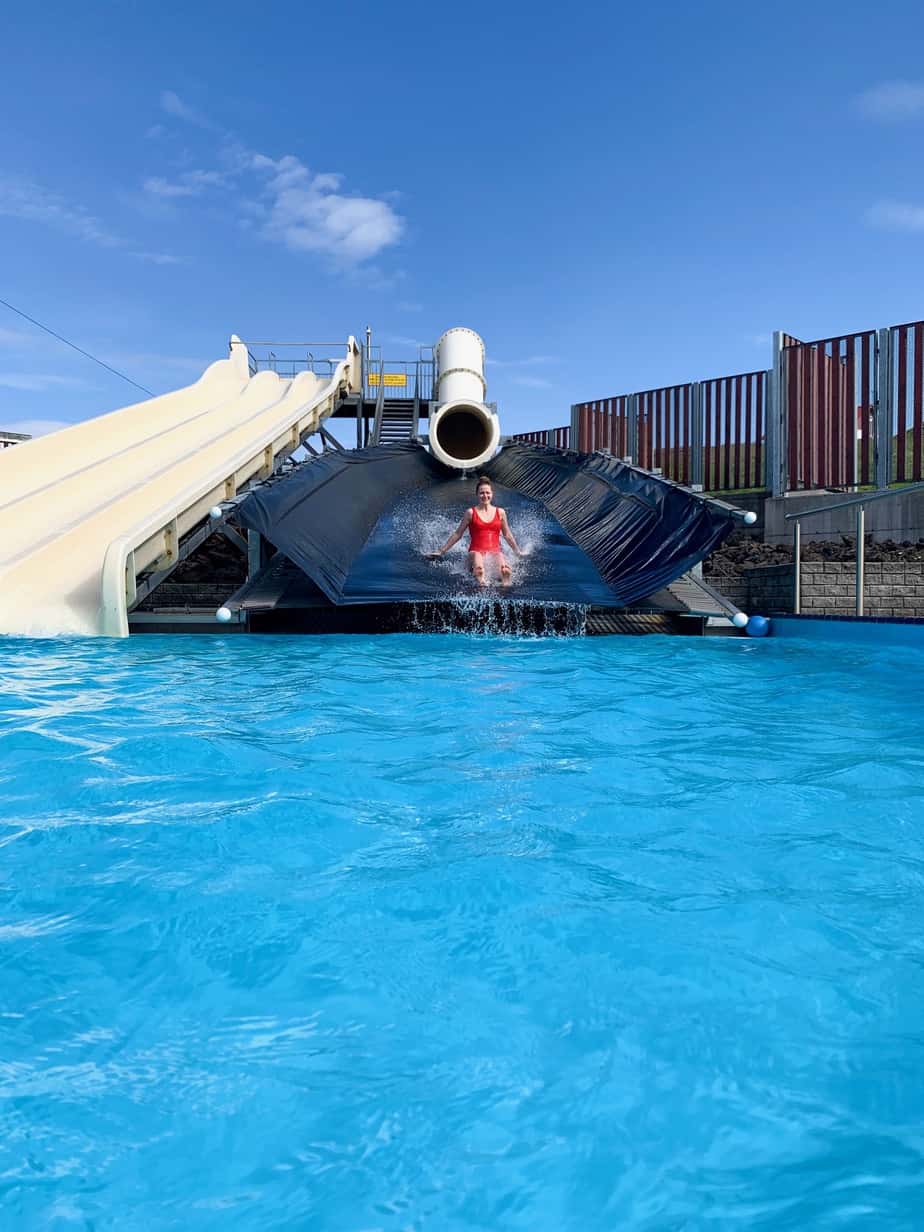 Take A Boat Tour Of The Westman Islands
What better way to experience the Westman Islands than with a boat tour? You can purchase tickets from the downtown area near the ferry port and there are plenty of options. You can take a rib boat safari that is faster and wetter or you can choose a slower and simpler tour if you don't want all the crazy.
A boat tour of the Westman Islands allows you to get up close and personal with the far-flung islands in the chain and takes you into sea caves and along the rocky cliffs.
If you want to take a boat tour, make sure to pick one that is something you are interested in as they are quite pricey. We have to be honest and say we did not take a boat tour and we did not feel like we missed out on anything after doing all the activities listed above!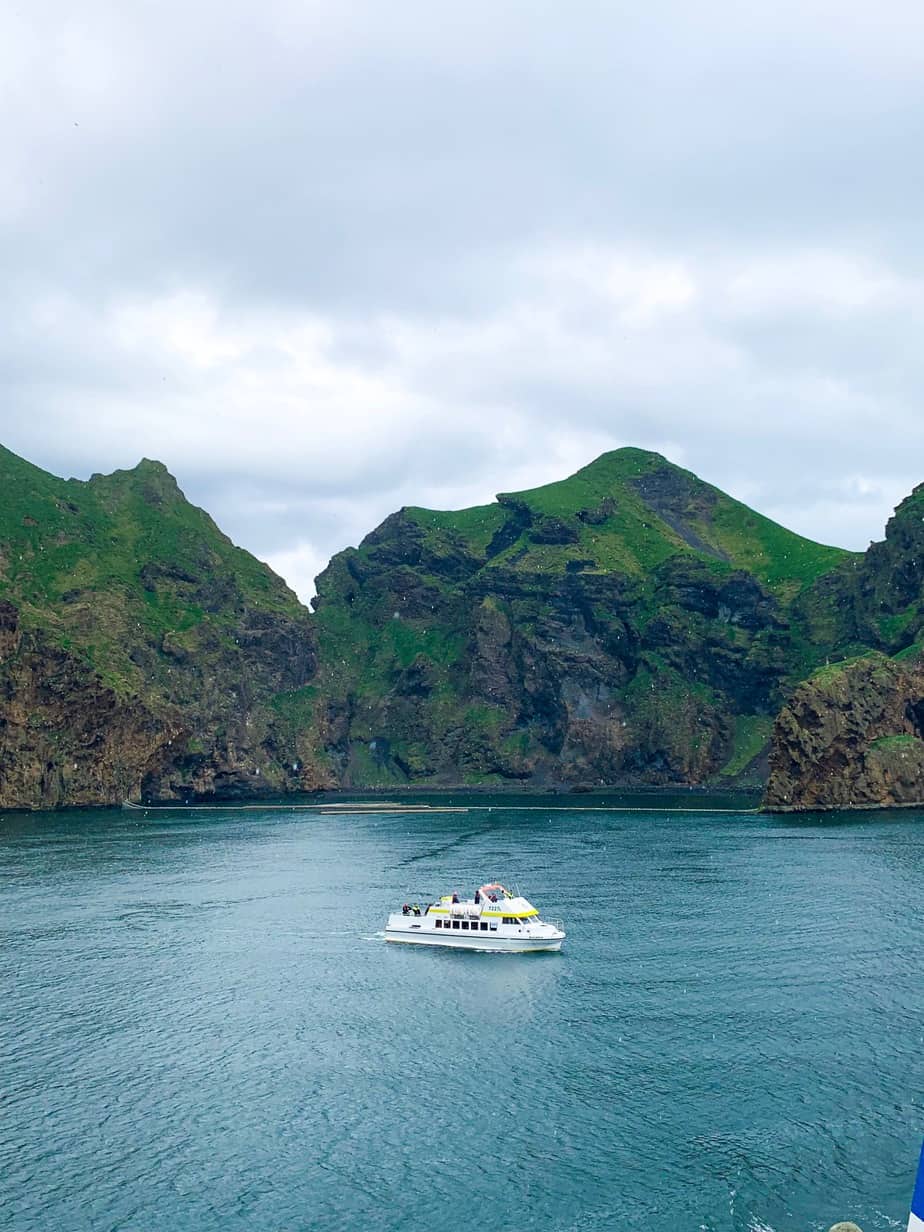 Where To Stay On The Westman Islands
The best part about visiting the Westman Islands is that there truly is no bad place to stay! The main island is quite small so you can get around everywhere by car in around 5-10 minutes tops! Even for the island being so small, there is a distinct "city" feel and a more "natural" feel.
The city feel is in the downtown area near all the other homes. The "country" feel is nearby the tiny airport on the island. Although it isn't any more than 2 minutes away from the "downtown" area it still feels different. Below are some suggestions for where to stay on Heimaey.
This stop is in a great area and is actually on our list of Best Places To Stay In Iceland. In this post, we offer suggestions for where to stay around the Ring Road!
Hotel Eyjar-Walkable From Ferry
Hotel Eyjar is walkable from the Westman Islands ferry. It is only a 5-minute walk so if you want to visit the Westman Islands but don't want to bring a car or bike, then Hotel Eyjar is a great place to stay. It offers free wifi, tea, and coffee, a wonderful location, and both room and apartment-style lodging options. It is perfect for a couple or family who are visiting the Westman Islands.
Check Rates: Booking.com
Puffin Nest Capsule Hotel-Very Affordable
The famous capsule hotels have made it to the Westman Islands! The Puffin Nest Capsule Hotel is a fantastic way to visit Heimaey without breaking the bank. All of the capsules in the hotel come with their own private TV so if you want to rest after a long day of exploring in privacy you can. There is a shared bathroom and cooking area so you can save even more money by cooking your meals at your lodging.
Check Rates: Booking.com
Glamping And Camping-Very Unique And Fun
If you are looking for a super unique experience on the Westman Islands, choose to stay at Glamping and Camping! You get to stay in little barrell style hotel rooms and the setting is just wonderful! All units include a private seating area and offer views of the surrounding mountains. Glamping and Camping is located 3000 feet from the city center and books up quickly so if you want to stay here you need to act fast!
Check Rates: Booking.com
Ofanleiti Guesthouse-Out In The Countryside
Although only 0.7 miles away from the center, Ofanleiti Guesthouse is located in the "countryside" of the Westman Islands. The feel once you leave the downtown area is different and more remote. This is the area that we stayed in and we loved it! You felt like you were all alone and it didn't feel like there were 4000+ people right over the hill behind you! All rooms come with a coffee machine and you can wander the garden and enjoy the sweeping 360 views!
Check Rates: Booking.com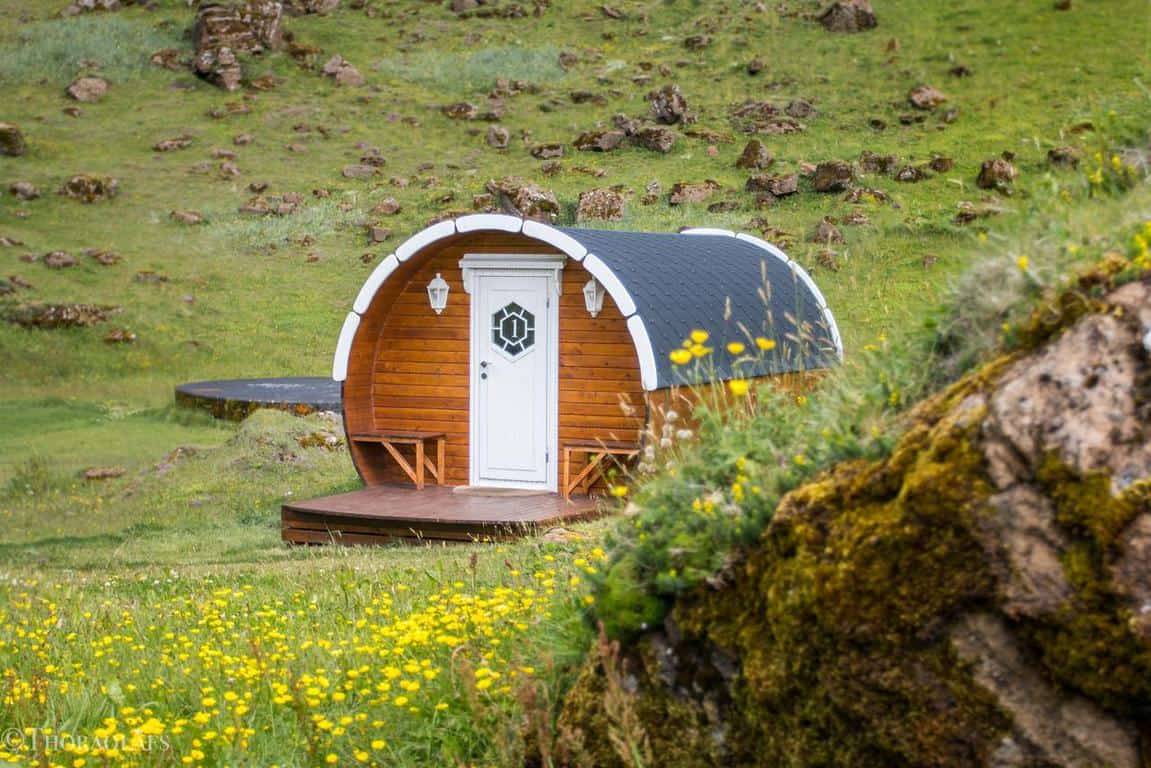 Do I Need A Car To Visit The Westman Islands?
In short, no, you do not need a car to visit the Westman Islands. You can take the Westman Islands ferry for cheaper if you do not have a car. We were actually going to do this but at the end of the day, we decided that we should bring out car after seeing information in a group on Facebook about how people were glad they brought their car.
We are here to tell you that we 10/10 recommend paying a little extra and bringing your car if at all possible. It will allow you to easily get to all of the top things to do on the island with ease. That being said, if you can't afford it or don't want to bring your car or if the Westman Islands ferry is already full for vehicles, then come anyway!
You will still be able to have plenty of lodging options, you can rent bikes in town to explore, you can visit the stave church, visit the golf course with a short walk, and even hike to the highest point as the hike begins right in the downtown area. You do NOT need a car to visit the Westman Islands but if you are road tripping Iceland, we recommend considering bringing one for ease!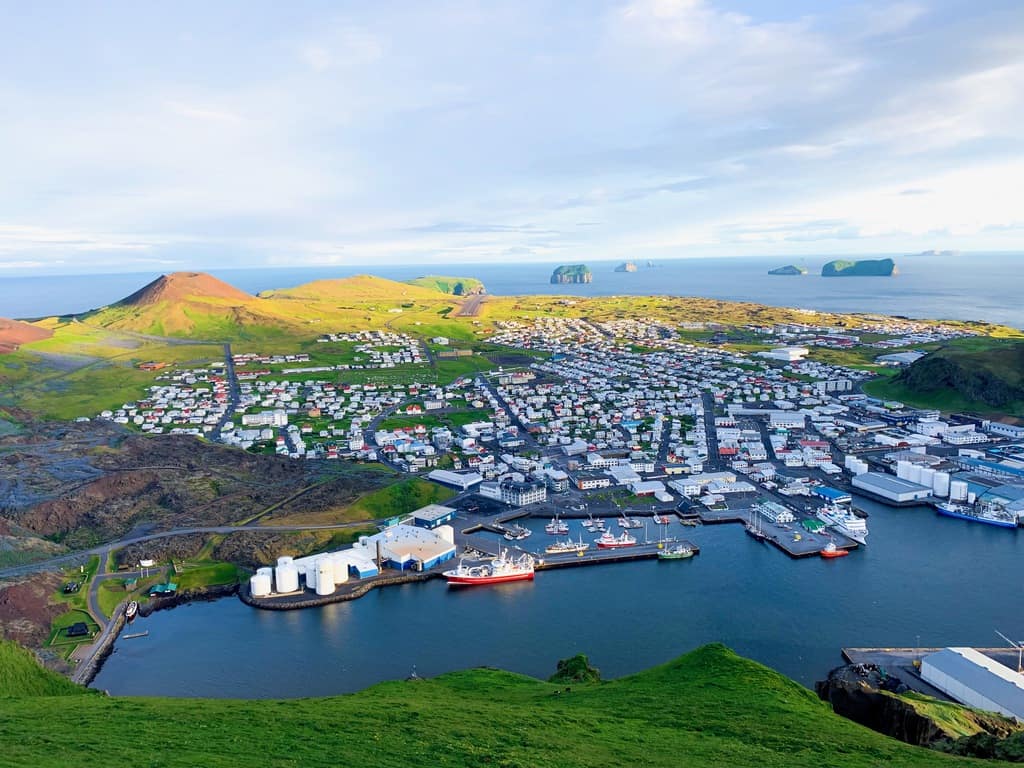 We hope that this guide helped you jumpstart planning your trip to the amazing Westman Islands. We hope that you have a wonderful time and fall in love with these islands as much as we did. If you have any questions about planning your trip or what to expect, please let us know and we are happy to answer in the comments or via email! Thanks for reading and for being here!