You've booked your plane flights to the land of fire and ice and now you're wondering where to stay in Iceland? First of all, get excited because you're in for the trip of a lifetime.
Second, we're here to help. In Iceland, there are an abundance of activities to do and sights to see that will leave you hungry for more. The island is essentially one stunning natural wonder after the next.
Even the drive between locations will have your jaw-dropping. Every region of Iceland is worth a visit for different reasons.
We've dissected the country by area and picked out select hotels to help you decide where to stay in Iceland during your trip. In addition to a handful of hotel options, we've explained the tourist draws of each area and why that area of Iceland deserves a portion of your time.
Iceland in the summer can be a spectacular place to tent camp or rent a campervan, but sometimes staying in a hotel or hostel is the best option, and we hope our guide will be helpful to you as you plan your trip.
Don't forget that we have 3-Day Iceland Itinerary, 4-Day Iceland Itinerary, and 5-Day Iceland itinerary options to help you continue to plan your trip!
Get a FREE printable "Hidden Gems In Iceland" E-book by joining our private Iceland Facebook Group and share your photos and ask for tips and tricks.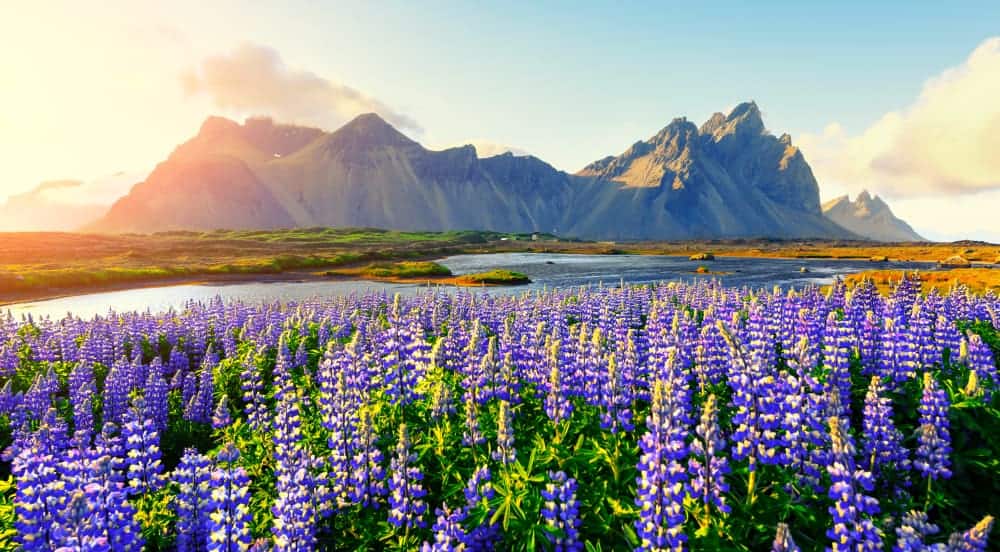 Where To Stay In Iceland: Best Iceland Hotels By Area
Reykjavik Is Where To Stay In Iceland For A Taste Of City Life
When planning where to stay in Iceland, Reykjavik will likely act as the start and endpoint to your trip. It is Iceland's capital and the largest city and has plenty to offer in terms of culture, views, and delicious food.
Downtown Reykjavik, including the main street, Laugavegur, is the perfect place to go for shopping, bars and nightlife, restaurants, and museums. There are so many things to do in Reykjavik so you can keep busy for a while!
You can pick up a sturdy rain jacket at 66 degrees North, learn about the Cod Wars and the life of Icelandic fishermen at the Maritime Museum, and warm your belly with noodle soup at Krua Thai. In the winter, downtown Reykjavik also has its own outdoor skating rink complete with twinkle lights and skates for rent.
Two of the biggest points of interest in downtown Reykjavik include Hallgrimskirkja, Iceland's largest church, and Harpa Concert Hall. Hallgrimskirkja is not only the largest church in the country but is also one of the tallest buildings in Iceland.
The architecture of the church was designed to resemble the basalt columns so often seen in nature all around the country, and an iconic statue of native son Leif Erikson stands guard out front.
For roughly $8 you can take an elevator to the top of the church and have a magnificent view over all of Reykjavik and beyond. Harpa Concert Hall is famous for its architecture, featuring glass panels in crystalline formations that light up in brilliant colors at night.
It's a wonderful spectacle and a great place to enjoy music and the arts. You'll no doubt enjoy your time in Reykjavik, and there's no shortage of hotels in the area to spend the night.
The capital is also a great place to set up base as there are many wonderful day trips from Reykjavik that you can take!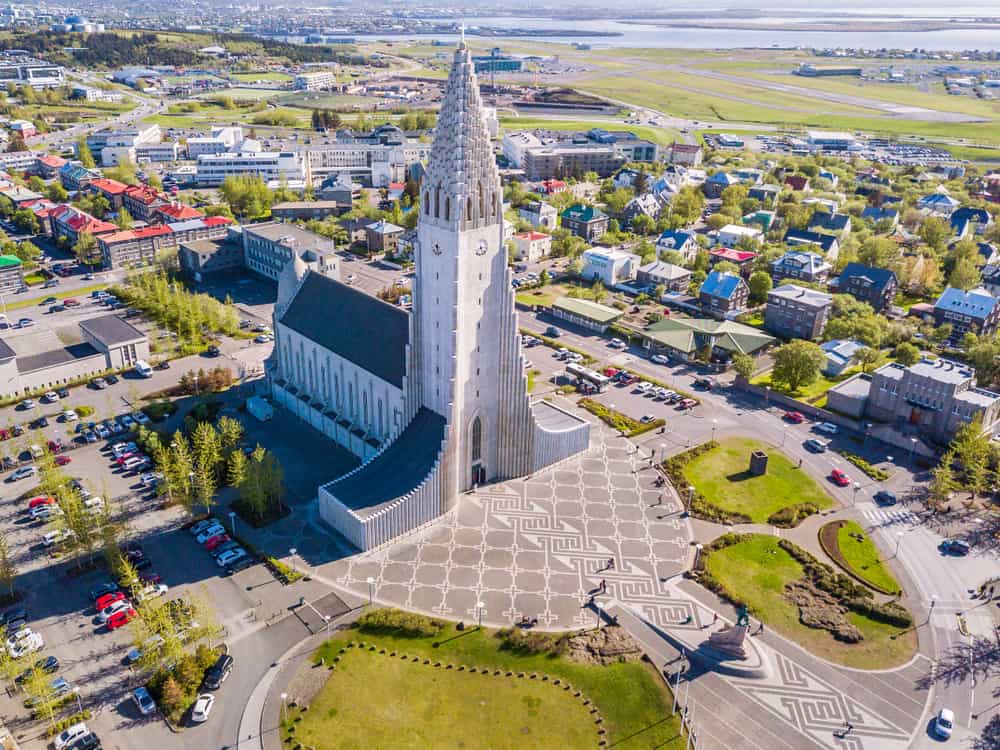 Best Iceland Hotels In Reykjavik
Affordable: Hotel Klettur
Though there are a number of decent, affordable hostel options in Downtown Reykjavik (Reykjavik Downtown Hostel, Reykjavik Loft Hostel, and Kex Hostel Reykjavik to name a few), Hotel Klettur is a nicer hotel with an affordable option.
Though many of Hotel Klettur's rooms are pricier, they offer a budget twin room option for those looking to save a little money. Hotel staff is available to help you book tours and plan activities, and a continental breakfast is included each day in your room price.
The hotel is located right next to the main Laugavegur shopping street and gives you easy access to great restaurants and cafes as well.
Check rates: Booking.com
Mid-range: Fosshotel Reykjavik
Fosshotel Reykjavik is a modern-style hotel located just outside the center of the city, but still close enough to all the action. The hotel is roughly one mile from both the Harpa Concert Hall and Hallgrimskirkja church.
It's also right next to the number 12 bus stop which is extremely convenient for getting picked up for tours. The hotel offers standard double rooms at a mid-range price, but if you're looking for a tower view room or suite, family room, or deluxe double room, the prices are much higher.
With a stylish design, great views of the city, accommodating staff, and comfortable rooms, the Fosshotel Reykjavik is where to stay in Iceland when planning a trip to the capital.
Check rates: Booking.com
Luxury: Hotel Borg
If you're looking for luxury, you'll find it in this beautiful art deco-style hotel in the heart of Reykjavik. Hotel Borg is right next to Althingi, the Icelandic parliament, and the Reykjavik Cathedral.
It is within walking distance from the Reykjavik Art Museum, The Settlement Exhibition and of course the famous, prominent Hallgrimskirkja church. The hotel is also surrounded by an endless selection of excellent restaurants and cafes.
The staff members of the hotel are incredibly friendly and are more than happy to suggest activities for you to do or answer any questions. From Hotel Borg you can experience the culture, shopping and food that Reykjavik has to offer while relaxing in luxury in between.
Check rates: Booking.com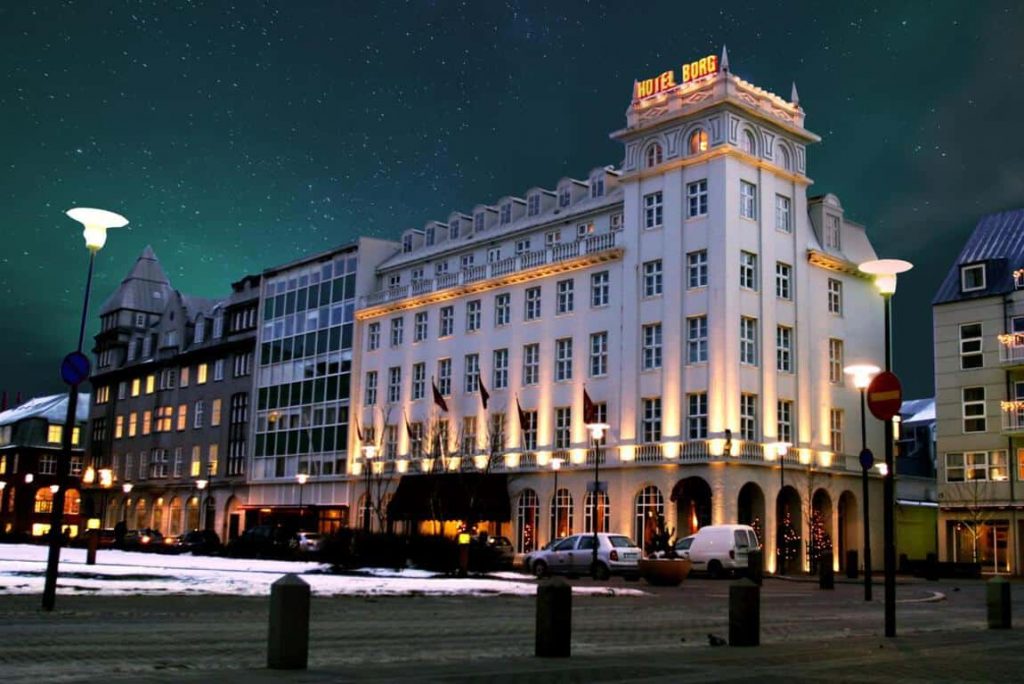 The Golden Circle Is Where To Stay In Iceland for Access To The Island's Biggest Tourist Attractions
The Golden Circle is famous in Iceland and is home to many incredible tourist attractions including three of the most popular attractions in the country. It is one of the best places to see on your Iceland Itinerary!
These stops include Gullfoss, the two-tiered golden waterfall, Geysir, the geothermal hot spot, home to the erupting geyser Strokkur, and Thingvellir National Park, the UNESCO World Heritage Site which is the ancient birthplace of Iceland's parliament. For many first-timers in Iceland, this route is their first adventure outside of the city, and for good reason.
This route provides a great introduction to Iceland's unique and stunning natural wonders and all of them are easily accessible.
The Golden Circle can range anywhere from a half to full-day trip depending on how many steps you take along the way. If you're looking to explore on your own timetable, the Golden Circle is easily driven by rental car, but if you're looking for a guided tour, there's no shortage of options.
If you decide to make a full-day trip out of the Golden Circle you might try expanding your adventures beyond the three major tourist attractions.
Some other worthwhile stops include Kerid Crater, a volcanic crater with a lake at the bottom, Reykjadalur Hot Springs where you can bathe in a hot river, and Laugarvatn Fontana which includes spas and geothermal baths along the lake.
This is one of the best stops along the Ring Road in Iceland and you really shouldn't miss it!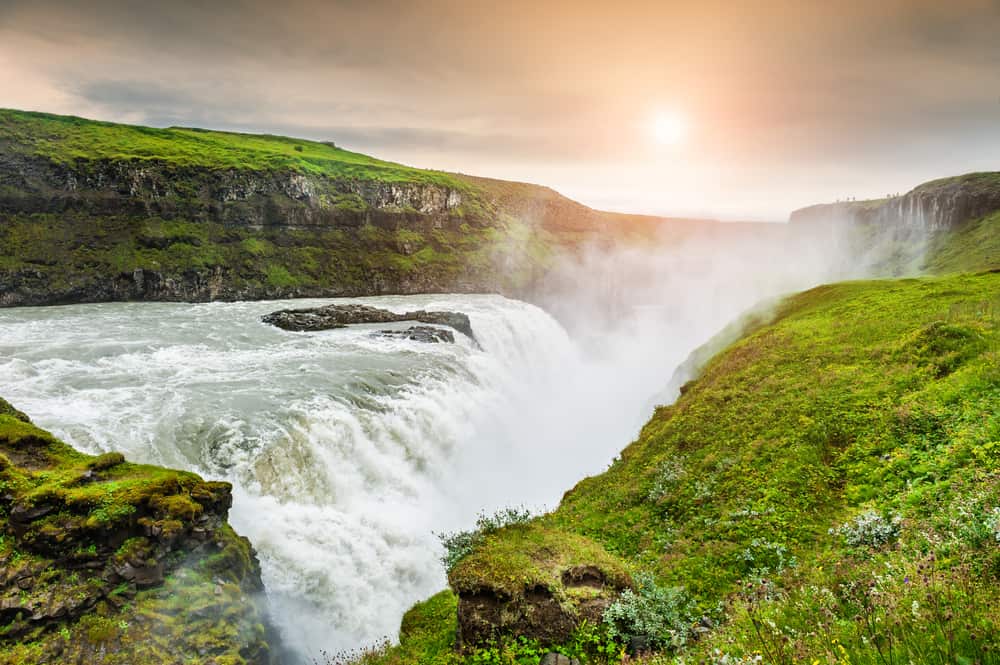 Best Iceland Hotels On The Golden Circle
Affordable: Selfoss Hostel
If you're deciding where to stay in Iceland along the Golden Circle, you should check out the Selfoss Hostel. This budget-friendly accommodation is conveniently located right off the side of the Ring Road.
The hostel is also located near one of the city's swimming pools with easy access to grocery stores, restaurants, coffee shops, and more. Though it's still a 45-minute drive to Thingvellir National Park and just under an hour to Geysir and Gullfoss, Selfoss is part of the Golden Circle loop and helps tie all three locations together for an easy day trip.
Check rates: Booking.com
Mid-Range: Icelandair Hotel Fludir
For a mid-range hotel near the Golden Circle, you'll want to consider the Icelandair Hotel Fludir. With hot tubs for guest use and patios connected to each room, you're sure to have a wonderful stay here.
Though Fludir is slightly off of the main Golden Circle Loop, it is only 20-30 minutes from Gullfoss and Geysir so you'll have easy access to these major tourist attractions.
Check rates: Booking.com
Luxury: Ion Adventure Hotel
The Ion Adventure Hotel might be for you if you're looking to relax in style when exploring the Golden Circle. This hotel is located on Mount Hengill with an outdoor hot tub and stunning views.
Some of the rooms even look out onto Lake Thingvallavatn. Just 13.5 miles from Thingvellir National Park this luxury hotel is a perfect home base for your Golden Circle adventures.
Check rates: Booking.com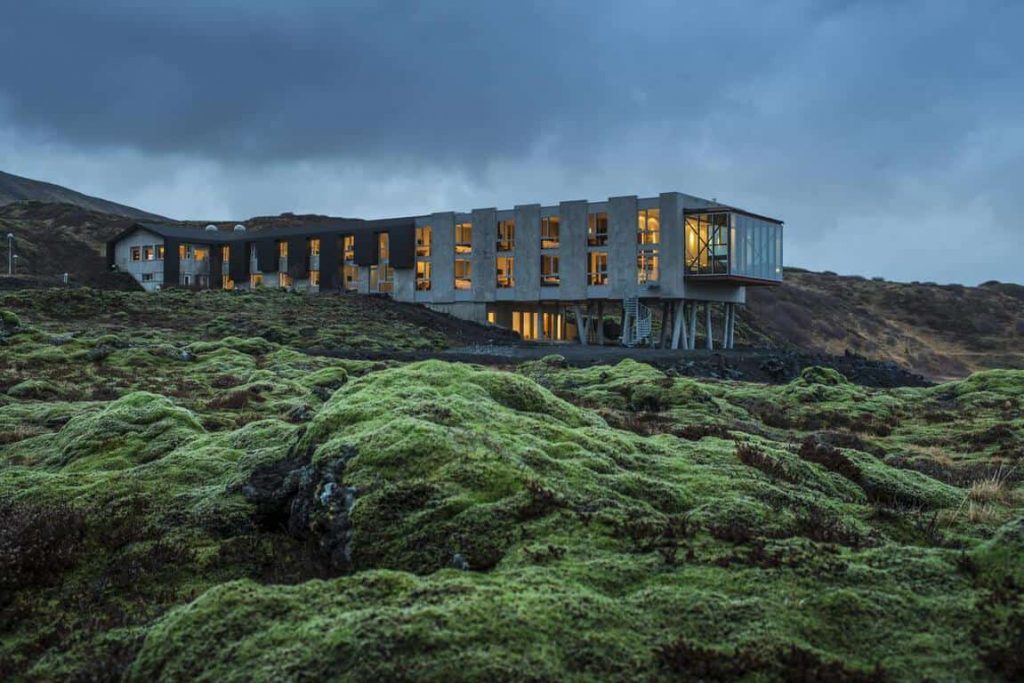 Stay Along Iceland's South Coast For Easy Access To Stunning Waterfalls and Black Sand Beaches
South Iceland is a treasure trove of natural wonders. The South Coast makes for the perfect road trip because you are spoiled for choice as to what to see along the way.
Your day can start with a soak in a hot river, and end with standing at the base of an abandoned DC-3 airplane wreck. The scenery along Iceland's Route 1 (Ring Road) is ever-changing and is equally impressive at all stops along the way.
From thundering waterfalls to beautiful, dramatic black sand beaches, you're in for a special taste of all the beauty that Iceland's nature has to offer.
Road tripping through South Iceland is doable at any time of year. Be sure to check the road conditions, but unlike more remote parts of Iceland, the roads along the South Coast tend to stay open almost all year long.
With a few exceptions, the big tourist draws in South Iceland are just off the side of the road, making them easily accessible. You'll also stay on one road (Route 1) the whole way, so directions are fairly simple. Get ready to hop from one landscape to the next, eyes wide open and awestruck all the while.
We have an entire article about Where To Stay In Vik Iceland so if you are searching, this is the place to check out even more detailed suggestions!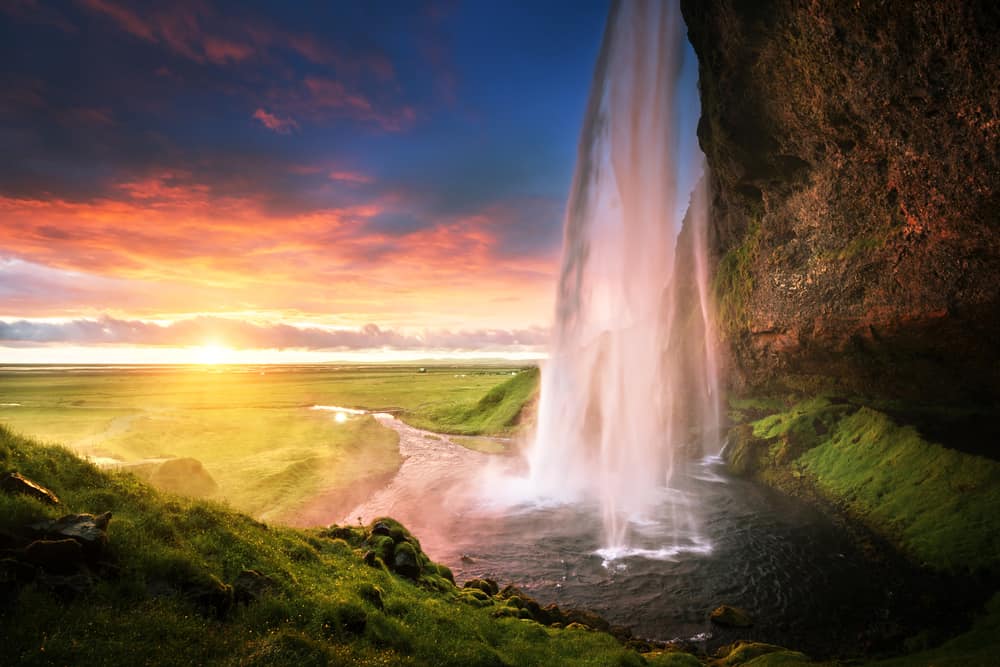 Best Iceland Hotels Along The South Coast
Affordable: Hotel Ork
Hotel Ork is a great affordable hotel option because of its location right next to the Reykjadalur Hot Springs. It's a short 2.5 miles from the hotel to the start of the trailhead.
The hotel is also 28 miles from Reykjavik and 8 miles from Selfoss and is the perfect place to start a South Coast road trip. With an outdoor pool and slide, a bar, restaurant, and game room, you're sure to enjoy your stay at Hotel Ork.
Check rates: Booking.com
Mid-range: The Garage Apartments
You can't go wrong staying at The Garage Apartments. The scenery doesn't get much better than the beautiful mountains and waterfalls behind the apartments. It is perfectly located directly in between the stunning waterfalls Skogafoss and Seljalandsfoss and is just down the road from the famous Eyjafjallajokull volcano that erupted in 2010 affecting air traffic throughout Europe.
We absolutely loved our stay here at the cozy Garage Apartments, and very much appreciated the kindness and attentiveness of the host Anna. If you're looking for a picturesque location in the middle of nature that is still conveniently close to the major tourist attractions, we cannot recommend The Garage Apartments enough.
Check rates: Booking.com
Luxury: Hotel Kría
Staying at Hotel Kría is a real treat. The hotel opened in Vík in the summer of 2018, and has been a real hit ever since with its outstanding breakfast (included in the room rate), stunning mountain views and modern design. The hotel is perfectly situated for seeing some of the most spectacular gems of the South Coast.
It's located 7.5 miles from the Reynisfjara Black Sand Beach, 14 miles from the Solheimasandur Plane Wreck, and 21.5 miles from the Skogafoss waterfall. Vík is very centrally located on the South Coast and it's easy to reach tourist attractions on either side. It is one of the best hotels in Vik so you can't go wrong with this choice!
Check rates: Booking.com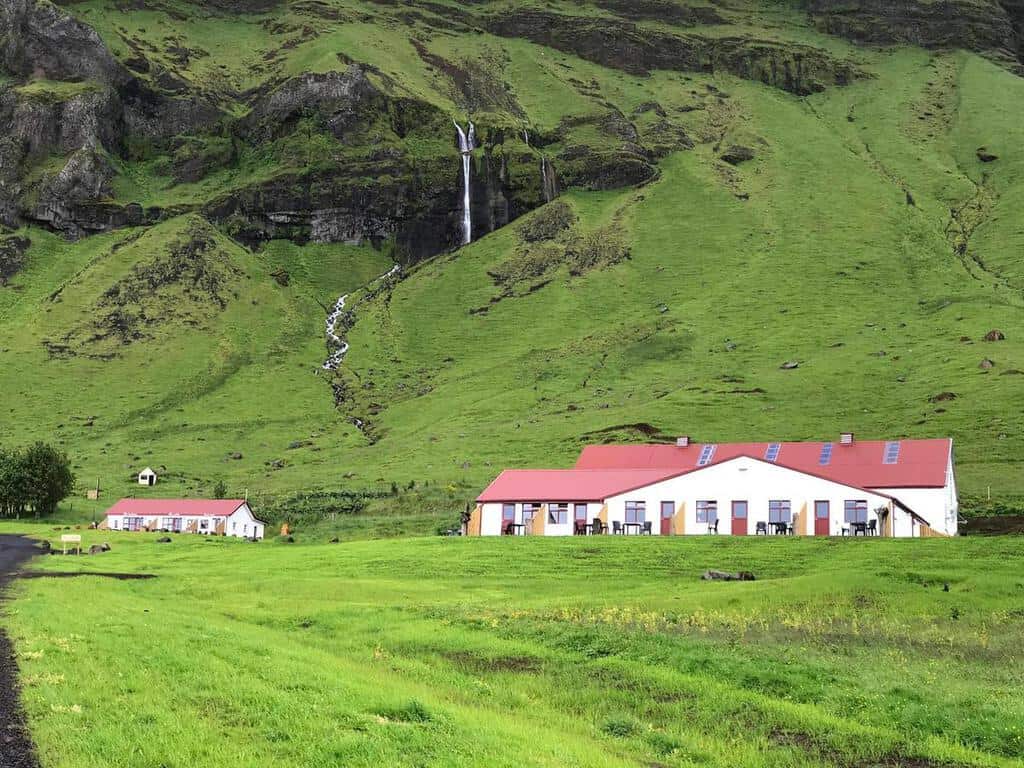 The East Coast Is Where To Stay In Iceland For Quiet Exploration
Iceland's East Coast (Austurland) is perhaps the most underrated region of Iceland. Though not as heavily trafficked by tourists as the popular South Coast, it has its own stunning collection of natural wonders.
Though it's farther from Reykjavik and therefore not always as easy for tourists to reach, the East Coast is definitely worth the stop. The beauty of its distance from the capital city is that you escape the crazy tourist hustle and bustle that comes with the major tourist attractions in other parts of the country.
If you're looking for quieter but uniquely stunning views, this part of Iceland might just be the place for you.
The Jokulsarlon Glacier Lagoon and its glittering Diamond Beach across the street, are located on the easternmost side of Iceland's South Coast and can easily be included in either a South Coast or East Coast road trip.
Also towards the east of Iceland's South Coast is the Skaftafell wilderness area and the fascinating Svartifoss waterfall with its organ pipe-like basalt columns.
As you continue east, you'll hit the majestic mountains of Vestrahorn, the Borgarfjördur region great for avid hikers, and Mjoifjordur, the fjord that might just bring you to tears with its stunning views.
The beauty of the East Coast is not just limited to its natural wonders but extends to the charm of the fishing towns in the area. One such town is Seydisfjordur, an art-rich town known for its beautiful and often-photographed rainbow street backed by a small but picturesque blue church.
You're sure to be inspired when visiting this welcoming little town. So if you're looking for where to stay in Iceland while searching for tranquility among the fjords of the east, we've laid out a few hotel options below to make your planning process easier.
We have an entire post on the Best Hotels And Hostels In Hofn as it is the most popular area to stay in the east!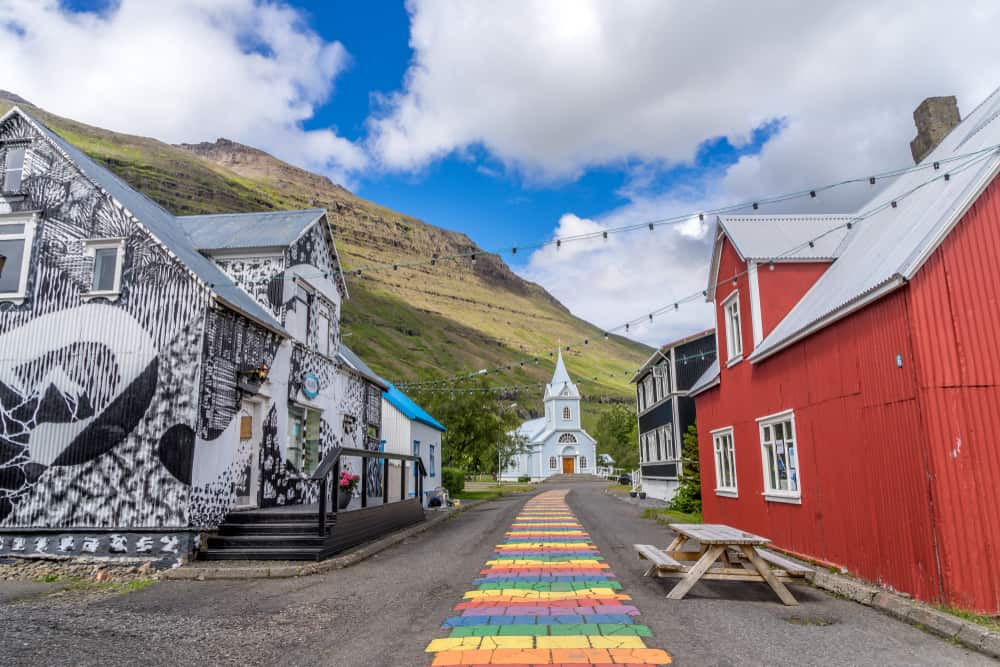 Best Iceland Hotels On The East Coast
Affordable: Blabjorg Guesthouse
Blabjorg Guesthouse is a great affordable option when exploring the East Coast, however, it also has mid-range and expensive options as well. The guesthouse offers both guestrooms with shared bathrooms, as well as apartments (the more expensive option).
The outdoor sauna, hot tub, and whirlpool are perfect for relaxing after a long day of adventure. Blabjorg Guesthouse is located in the fishing town called Borgafjordur Eystri which is known for its great hiking and for the ability to view puffins and many other bird species up close in the summer.
Check rates: Booking.com
Mid-range Faskrudsfjordur: Fosshotel Eastfjords
If you're looking for places to stay in Iceland with gorgeous fjord views, Fosshotel Eastfjords might just be the best choice. The hotel has an option for breakfast included in the room rate, and an option for a room with views of the fjord.
The landscape surrounding this waterfront hotel is stunning. Fosshotel Eastfjords is located in Faskrudsfjordur just 27 miles from Oddsskard, one of Iceland's top ski areas. The ski area also has views of the fjords and offers ski and snowboard rentals.
Check rates: Booking.com
Mid-range Hoffell: Glacier World
You guessed it! Glacier World-Hoffell Guesthouse has views of Vatnajökull Glacier. There are also hiking trails nearby with access to the glacier tongue. A delicious breakfast is offered in the room rate as well as access to five geothermal hot tubs.
Your hotel needs are sure to be met here at Glacier World. The guesthouse is conveniently located near the town of Höfn and is just 17 miles from the majestic Vestrahorn Mountain. If you drive west from the hotel for about 1-1.5 hours you'll hit both the Jokulsarlon Glacier Lagoon and the Skaftafell Wilderness Area.
Check rates: Booking.com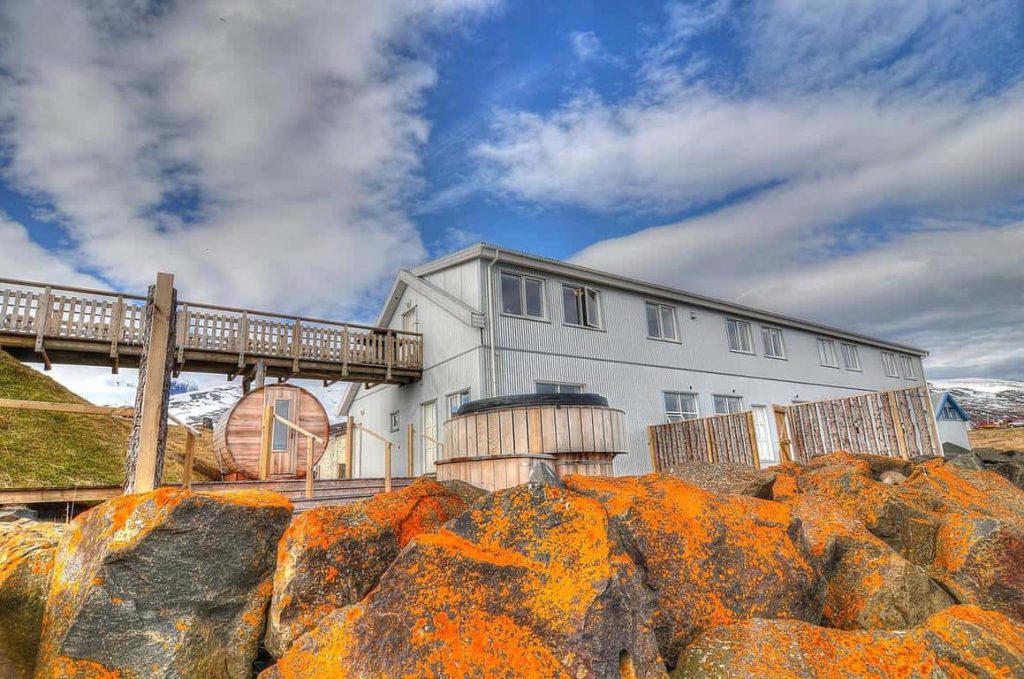 The North Is Where To Stay in Iceland To Experience A Little Bit Of Everything
There's very little you can't see or do in North Iceland. This region of the country offers some of everything, from the best whale watching tours and impressive waterfalls to bathing in perfectly warm hot springs and Game of Throne locations.
Akureyri, nicknamed the capital of the North, is located in North Iceland and is the largest city in Iceland outside of Reykjavik. The city offers many of the same things as Reykjavik including shopping, museums and a large selection of restaurants. It even has its own distinctive church, Akureyrarkirkja.
Another draw of North Iceland is the Blue Lagoon's northern equivalent, The Myvatn Nature Baths. Though these nature baths are smaller than the Blue Lagoon Complex, they are equally as relaxing if not more so because the crowds are smaller.
The north also boasts the most powerful waterfall in Europe in Dettifoss, as well as the Waterfall of The Gods, Godafoss. You can walk on top of the basalt columns in Hofsos, bathe in the Grettislaug hot pot across the water from Hofsos, and go whale watching in Husavik.
This only touches the surface of all there is to do in the north. We'll help you figure out where to stay in Iceland to experience the wonders of the northern region.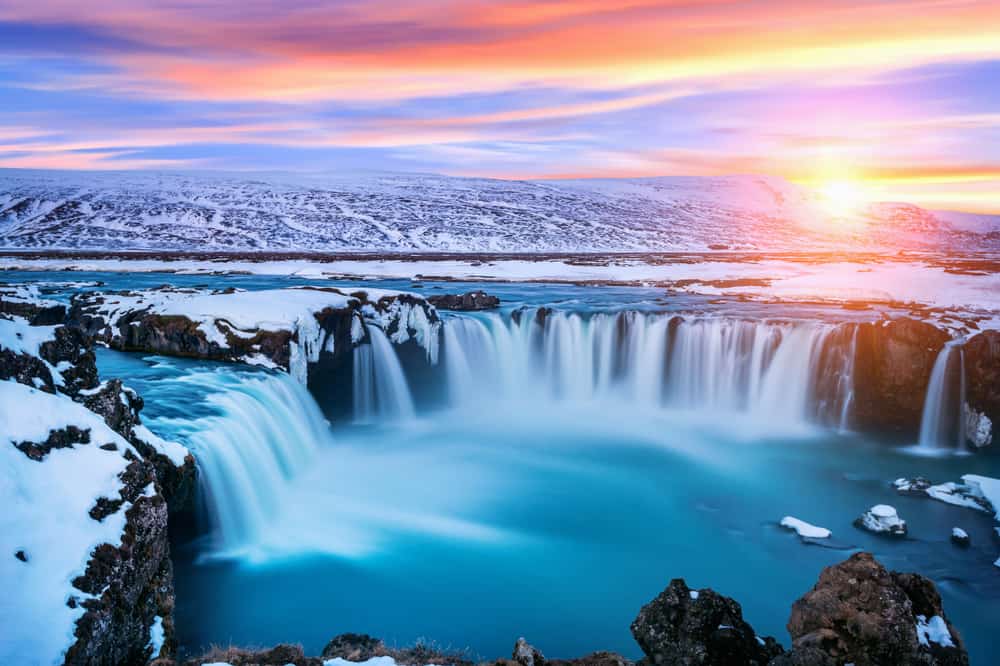 Best Iceland Hotels In The North
Affordable: Icelandair Hotel Akureyri
Akureyri is a great place to stay while exploring North Iceland. There are many Hotels In Akureyri and we even have a whole post about finding the one that is best for you!
As the "Capital of the North", it has everything you'll need from grocery stores and cafes to whale watching and Christmas stores. Icelandair Hotel Akureyri is a great option for affordable and mid-range accommodations.
The Akureyri Swimming Pool is just a couple minutes walk from the hotel if you're looking to relax in the hot tubs after a day of adventure. In addition to being conveniently located near the center of town, the hotel has beautiful mountain views, a great restaurant (breakfast is only included in some of the room rates), and is known for having a friendly staff.
Check rates: Booking.com
Mid-range: Hotel Laxa
Hotel Laxa is located in Myvatn, an ideal spot for being able to see all that the north has to offer. Many of you will have heard of the Myvatn Nature Baths, which are sometimes referred to as the Blue Lagoon of the North.
The nature baths are beautiful and relaxing and only 13 miles from the hotel. Hotel Laxa is also 22 miles from Godafoss, 46.5 miles from Aldeyjarfoss, 53.5 miles from Dettifoss, and 38.5 miles from the town of Husavik.
This modern hotel offers both standard rooms and lake view rooms. With comfortable minimalistic rooms and delicious breakfast included, Hotel Laxa is sure to meet your needs for a satisfying stay in the Myvatn area.
Check rates: Booking.com
Luxury: Siglo Hotel
Have you ever wanted to relax in a hotel hot tub while enjoying stunning views of the harbor, ships, and snow-capped mountains? We might have just found the luxury hotel for you.
Taking in the scenery surrounding this beautifully constructed hotel will have you feeling like you're in a fairytale. An outstanding breakfast is also included in the room rate, and the staff is friendly and helpful. Siglo Hotel, located in Siglufjördur, is centrally located between Akureyri and Hofsos and is a great base location for exploring the north of Iceland.
Check rates: Booking.com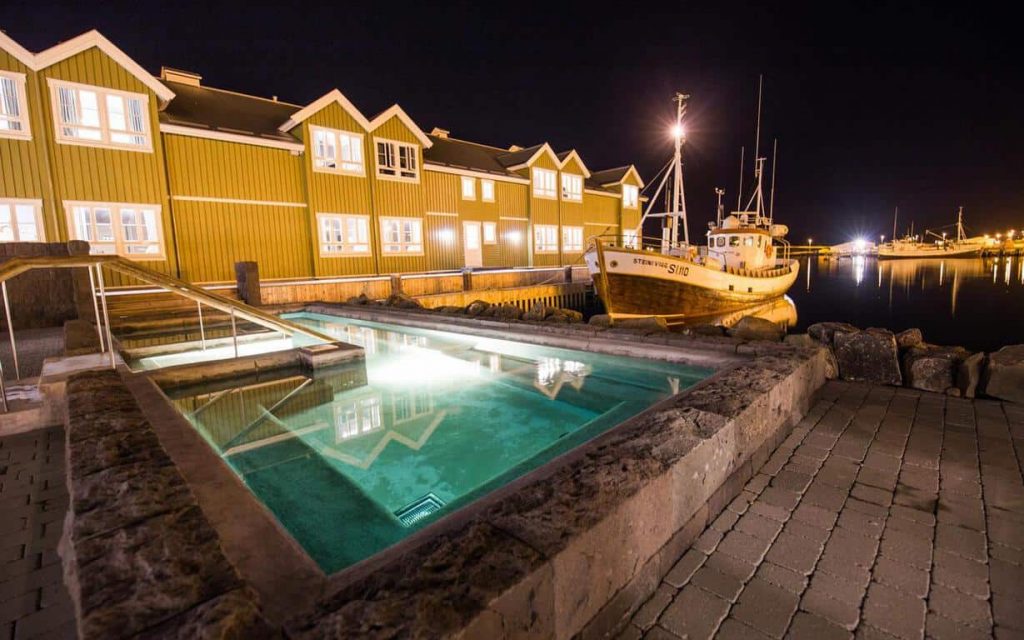 Stay In The Westfjords For Beautiful Drives That Prove Just As Enjoyable As The Tourist Stops
The Westfjords is another region of Iceland that is less visited by tourists but is without a doubt deserving of your time and attention. When visiting the Westfjords, be prepared to drive a lot, be wowed by your surroundings, and see so many stunning waterfalls that you'll start to ignore the smaller ones and become a waterfall snob.
The Westfjords are home to one of the most jaw-dropping multi-tiered waterfalls in all of Iceland, Dynjandi, as well as Raudasandur, a beautiful red sand beach. If you're interested in seeing puffins up close, you should visit Latrabjarg, the westernmost point in Iceland.
You'll see more seabirds than you can possibly count including puffins with their orange beaks announcing their presence.
Unfortunately, the Westfjords are only really accessible from May-October. Poor weather conditions tend to block the road the rest of the year. Since the Westfjords are sparsely populated compared to much of Iceland, the roads are not as well maintained as they would be in the areas closer to the capital.
The Westfjords are well worth the drive in the summer though, and as you sit in a local pool staring out at the ocean beyond, you'll wish you had escaped to this peaceful wonderland sooner. When planning where to stay in Iceland while visiting the Westfjords, you'll want to look to two of the area's major fjord towns as your home base.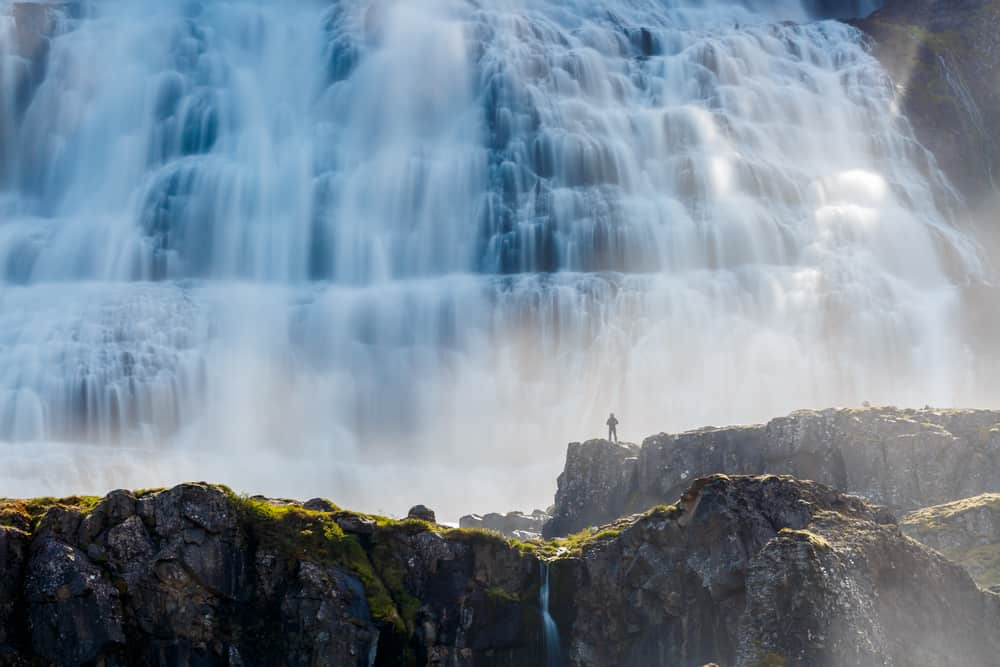 Best Iceland Hotels In The Westfjords
Affordable: Radagerdi Guesthouse
This modern Scandinavian-style guesthouse has everything you need to have a comfortable stay in the Westfjords. The breakfast included in the room rate is excellent, and the host and staff are friendly and helpful (though you might have to call to get ahold of them if they are next door).
The scenery around Radagerdi Guesthouse is idyllic with beautiful views of the fjord. The guesthouse is centrally located for all of the best Westfjord attractions. It's 37 miles to the Latrabjorg puffin cliffs, 20.5 miles to the Raudisandur beach, and 60 miles to the Dynjandi waterfall.
Check rates: Booking.com
Mid-range Patreskfjordur: Fosshotel Westfjords
Fosshotel Westfjords is also located in the small fishing town of Patreksfjordur. The hotel is just down the street from the public pool Iþrottamidstodin Brattahlid where you can relax while looking out onto the ocean and mountains beyond.
You'll have similar views of the ocean and mountains from the hotel as well. Like the Radagerdi Guesthouse (which is half a mile down the road from Fosshotel Westfjords), the hotel is centrally located to give you a good base point for reaching the best tourist attractions in either direction. This clean and comfortable hotel is sure to meet your needs for a wonderful stay in the Patreskfjordur area.
Check rates: Booking.com
Mid-range Isafjordur: Hotel Horn
If you're looking for where to stay in Iceland while visiting Isafjordur, the largest town in the Westfjords, you'll want to check out Hotel Horn. The comfortable rooms are brightly decorated with vibrant colors, and include breakfast in the room rate.
The hotel is conveniently located down the street from the Isafjordur swimming pool, and has easy access to grocery stores, restaurants and wonderful bakeries such as Gamla Bakariid. It is also 50 miles from the stunning Dynjandi waterfall. Isafjordur is a great little town to stop in and explore on your Westfjords road trip, and Hotel Horn is sure to make your stay all the more enjoyable.
Check rates: Booking.com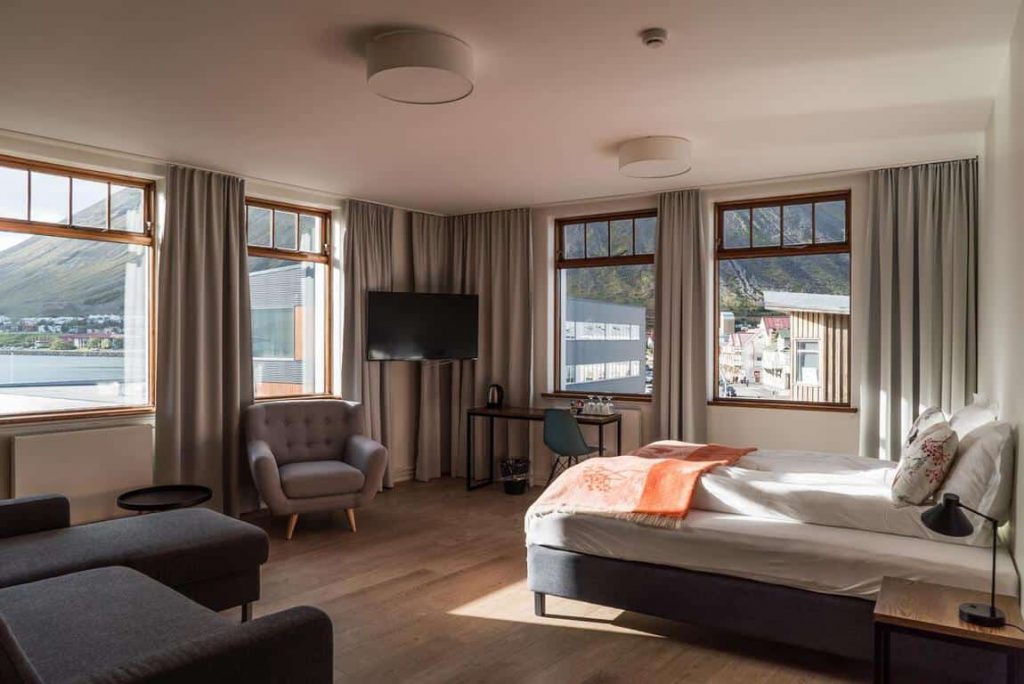 Stay Along The Snaefellsness Peninsula To Experience A Vast Array Of Dramatic Landscapes
As you drive the Snaefellsness Peninsula, the landscape is constantly changing. One minute you'll be looking at a volcanic crater, the next you'll be gaping at a deep gorge with a hidden waterfall. The Snaefellsnes Peninsula is dotted with fishing villages.
By the Snaefellsjokill glacier lies Olafsvik, Iceland's oldest trading town and home to a population of over a thousand. When searching for where to stay in Iceland while driving the peninsula, Olafsvik is sure to come through with a quality hotel or at least a good warm meal as a stop on your road trip.
There's no shortage of unique landscapes to view along the Snaefellsness Peninsula, but perhaps most prominent among them all is Kirkjufell and Kirkjufellsfoss.
The mountain and its accompanying waterfalls are one of the most photographed locations in the country. You're sure to see it on a postcard at one of your many tourist stops.
Kirkjufell (Church mountain) is an amazingly symmetrical mountain and a beauty to look at. Game of Thrones fans might recognize it as appearing in Season 7 as Arrowhead Mountain. Also along the Snaefellsness Peninsula is the small, black Budir Church, the Gerduberg Cliffs, the Londrangar Basalt Cliffs, and the rock bridge at Arnarstapi. Every stop is entirely unique and completely worthwhile.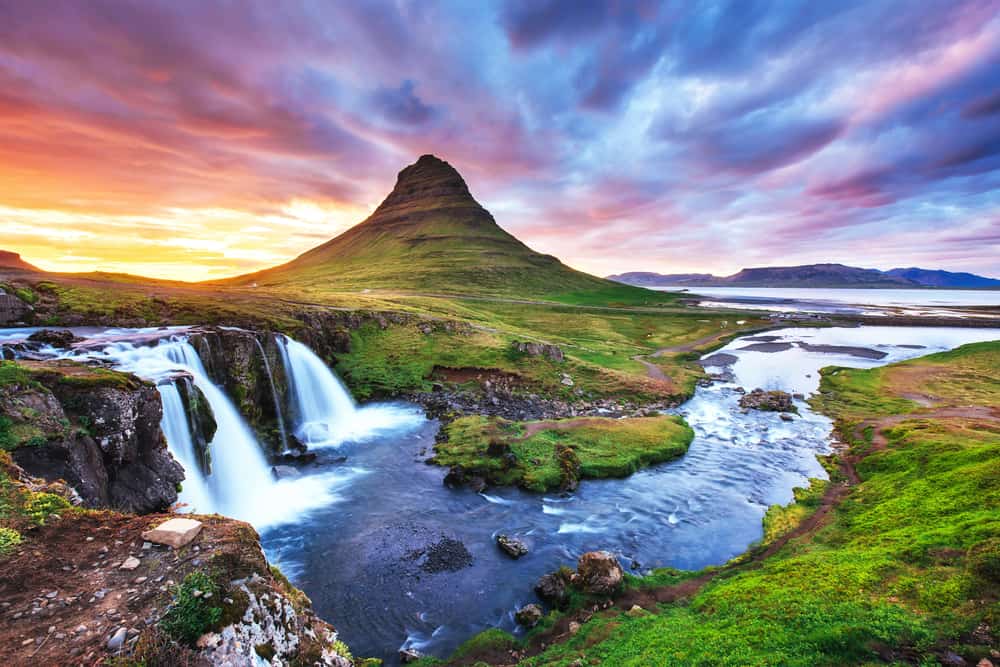 Best Iceland Hotels On The Snaefellsness Peninsula
Affordable: Harbour Hostel
When determining where to stay in Iceland, check out Harbour Hostel for a great cozy and affordable option when traveling along the Snaefellsness Peninsula. This hostel is in Stykkisholmur right by the harbor, and as far as hostels go, this one is top-notch.
Many of the rooms have views of the ocean and mountain, and the staff is particularly welcoming and helpful. The hostel is within walking distance from the Stykkishólmur Swimming Pool and the Bonús grocery store which will likely be the least expensive option for buying groceries while in town.
It is also located between 45 minutes to an hour from many of the major tourist attractions making it relatively easy to see everything while using Stykkisholmur as a home base.
Check rates: Booking.com
Mid-Range: Hotel Fransiskus Stykkisholmi
If staying in a historic building is a factor you'd like to consider when choosing where to stay in Iceland, be sure to check out Hotel Fransiskus. Located by the harbor in Stykkisholmur, this hotel was built in the 1930s as a Catholic monastery.
Though the building has now been converted into a hotel, it still has a functioning chapel open to the public. The interior of Hotel Fransiskus is beautifully constructed with excellent views over the harbor, the town, and the fjord Breidafjordur.
Just a one-minute drive from Harbour Hostel, Hotel Fransiskus offers all the same conveniences of a nearby grocery store, public swimming pool, and painless drive to all the major attractions.
Check rates: Booking.com
Luxury: Hotel Budir
Have you ever wanted to stay in a hotel right by Iceland's famous Budir black church? Here's your chance. This remote luxury hotel has stunning views of the glacier, ocean, lava fields, mountains, and of course the church.
It has an excellent restaurant that uses local ingredients and is a great location for viewing the northern lights in the winter because it is away from the bright city lights (the hotel will give you a wake-up call when the lights are visible).
Hotel Budir is just 21 miles from Kirkjufell mountain and Snaefellsjokull National Park, 15.5 miles from the Londrangar Basalt Cliffs, and 12 miles from Arnarstapi.
If you're willing to dish out the extra money, it doesn't get much better than this hotel and location.
Check rates: Booking.com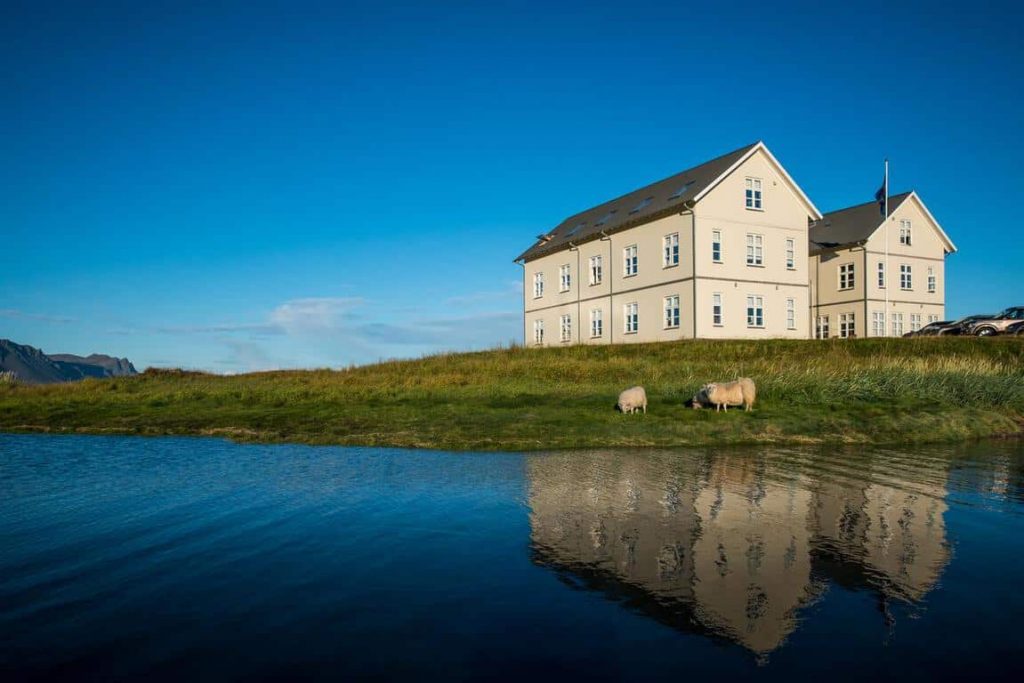 Stay In Vestmannaeyjar (Westman Islands) For Puffin Viewing And A Look At Recent Volcanic Activity
Vestmannaeyjar (Westman Islands) is technically an archipelago off the coast of South Iceland, but of the 15 islands only Heimaey is inhabited. There's a ferry that runs from the Landeyjahöfn harbor to Vestmannaeyjar.
It's spectacular to stand on the outside deck of the ferry to watch the birds flying overhead and the mossy green cliffs of the island come into view. The beauty of the island is undeniable. The island also plays host to Iceland's biggest music festival (Þjóðhátið) each year in August.
Vestmannaeyjar is known for its volcanic activity. Most recently, in 1973, the volcano Eldfell erupted, burying large parts of the island in lava and forcing many Icelanders to relocate to the mainland. Seawater was pumped onto the lava to cool it down and slow its spread.
This technique succeeded in saving the harbor and preserving the island's economy. The effects of the eruption though are still very prominent today as you gaze upon fields of black volcanic rock. In addition to the volcanic rock (you can also hike the Eldfell volcano), the island is home to a huge puffin population.
The birds can be seen streaking through the sky on your way into the island on the ferry, and along the cliffs where they nest. Vestmannaeyjar is where to stay in Iceland for a little slice of nature heaven away from the main tourist crowds.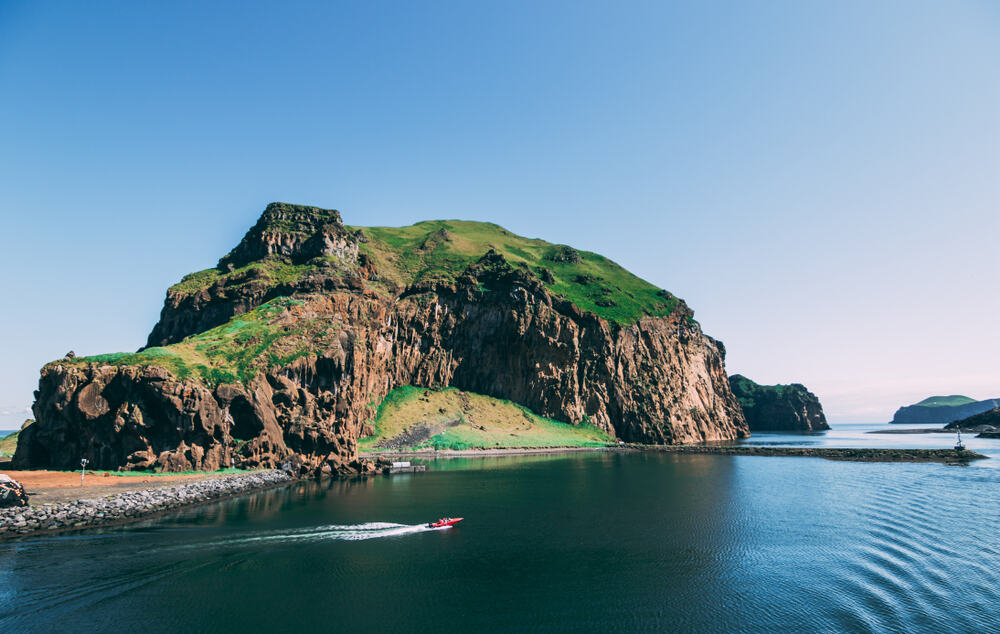 Best Iceland Hotels In Vestmannaeyjar
Affordable: Glamping & Camping
Glamping and Camping is an excellent affordable option when staying in Vestmannaeyjar. It offers a number of accommodations including a bungalow, cottage with a mountain view, and deluxe cottage with a mountain view, all with 2 single beds.
This is the perfect option for those not wanting to tent camp, but who wish to experience the same feeling of being surrounded by nature. Everything is kept very clean, the campsite staff is friendly, and the cabins are surprisingly spacious and comfortable. The campsite is just a mile from the ferry and is right next to the Vestmannaeyjar golf course.
Check rates: Booking.com
Mid-range: Guesthouse Arny
When choosing where to stay in Iceland, check out Guesthouse Arny for both affordable and mid-range accommodations in Vestmannaeyjar. The most affordable rooms are double or twin rooms, triple rooms, or quadruple rooms all with shared bathrooms.
The guesthouse also offers two-bedroom apartments at a higher cost. With a friendly host, great facilities, and nicely decorated rooms, Guesthouse Arny is sure to meet your needs for a pleasant stay on the island.
The guesthouse is also within walking distance from the Saeheimar Aquarium, the Museum of Natural History, and the Sundhöll Vestmannaeyjar public pool, and is a short few minute drive to the Vestmannaeyjar golf course.
Check rates: Booking.com
Luxury: Hotel Vestmannaeyjar
This renovated 43-room hotel ranges from mid-range to luxury accommodations and offers single rooms, double rooms, and deluxe double rooms. This hotel is in a great location if you are looking to explore the island by foot.
It is within walking distance from the harbor, has great hiking and bird watching locations, and the Heimaey Black Stave church. Hotel Vestmannaeyjar has beautifully designed modern rooms, solid breakfast options, and helpful staff members. Guests also have access to a spa and Jacuzzi. You're sure to have a relaxing stay at Hotel Vestmannaeyjar.
Check rates: Booking.com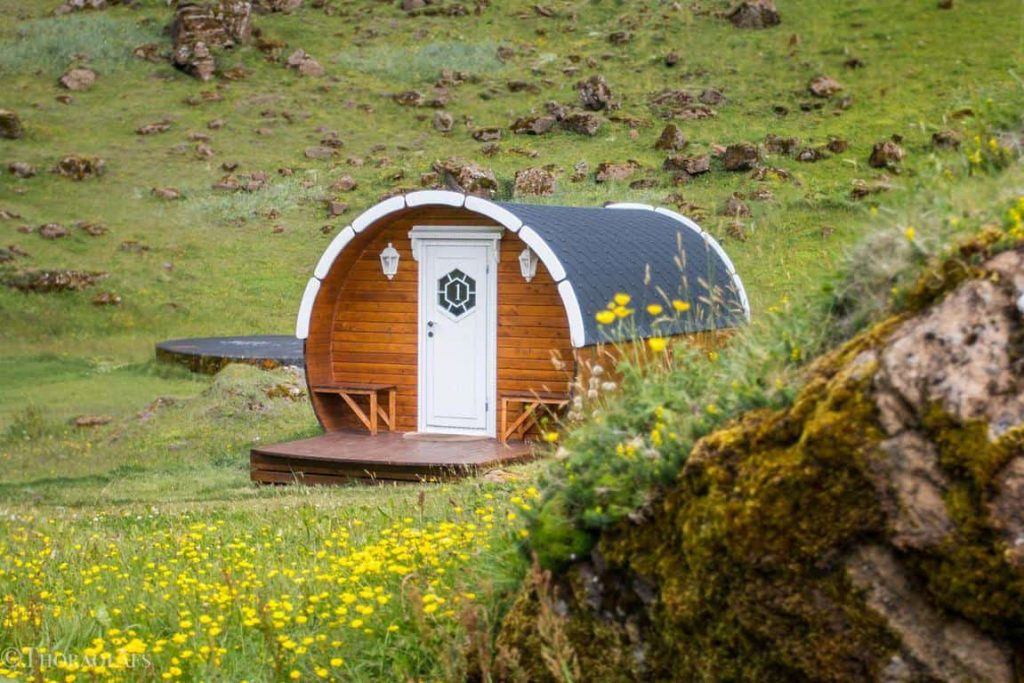 Every region of Iceland is unique and stunning in its own right. Though Iceland hotels have the tendency to be more expensive than what you might expect in the US, there are still options available in every price range. As you begin to contemplate where to stay in Iceland while exploring the beautiful country, we hope this guide will be of help.
We'd love to hear about your own experiences or answer any questions you might have. We have no doubt you'll have a wonderful time soaking in all the natural beauty that Iceland has to offer!