We are so excited to share the 10 best hotels in Vik Iceland with you! Iceland is one of our all-time favorite places to visit, so we just love when we get to gush about it! Between the majestic waterfalls, lush mountains, and black sand beaches you really cannot help but fall in love with Vik Iceland. 
Vik is our most suggested stop on each and every one of our Iceland Itinerary Options! If you are visiting this region, you won't regret it!
No need to stress about your accommodations in Vik as we will detail the most incredible properties. Although it is a tiny small town on the South Coast Of Iceland, there are many options for Where to Stay In Vik!
You will have a hard time picking a favorite, so a fun thing to do is select a few different hotels in Vik and stay at all of them. What better way to get to know a place then to move around a bit, right?!
The hotels in Vik feature some of the most amazing views, attentive hospitality, and modern design perfectly mixed with cozy warmth.
When you stay in Vik you are only a little over 100 miles from Reykjavik; the capital of Iceland. There are plenty of sightseeing opportunities and activities to do in Vik, but you also have the convenience of being able to take a quick day trip to explore Reykjavik.
We suggest that you pack light coats or even better a waterproof jacket and boots. The weather tends to be rainy pretty often, so packing accordingly will ensure that you have a great time. Wearing boots can really help when hiking or walking around the rocky parts of the terrain.
If you are looking for Where To Stay In Iceland along the South Coast, look no further!
Get a FREE printable "Hidden Gems In Iceland" E-book by joining our private Iceland Facebook Group and share your photos and ask for tips and tricks.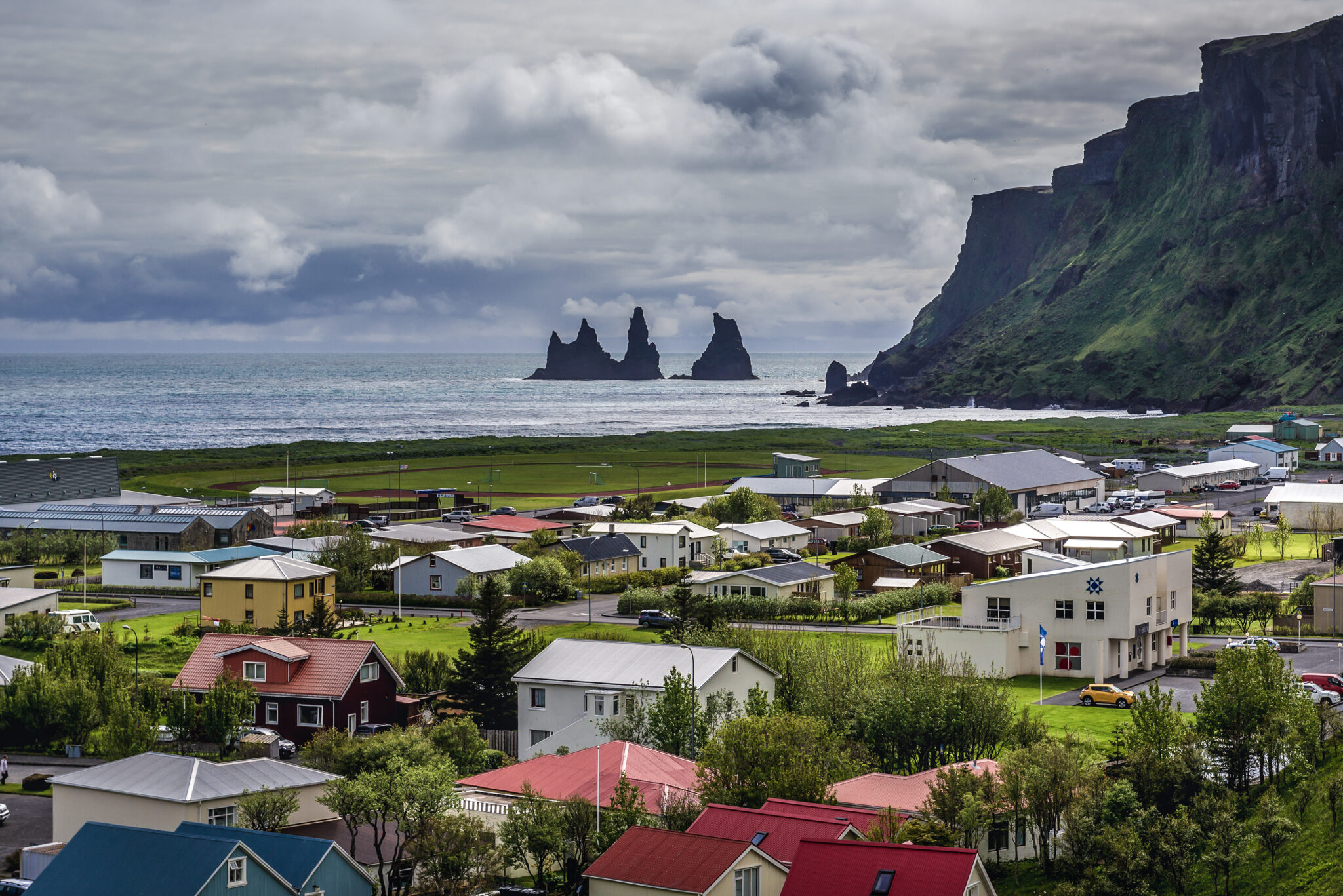 10 Best Hotels In Vik Iceland
Volcano Hotel
Volcano Hotel is a very modern and crisp hotel located just 14 miles from the stunning Skógafoss Waterfall. It is also conveniently only a 10 minute drive to reach Vik village. Staying at Volcano Hotel will place you in a prime location for viewing the Northern Lights, which is just another reason why it is one of the best hotels in Vik!
All guest rooms include toiletries, private bathrooms, and Netflix. Some of the rooms offer beautiful views of the sea. The rooms are spacious and have a soothing decor that is mostly gray and white with small pops of red.
A continental breakfast with vegetarian, gluten-free, and kosher options is included with your stay. So, this is a really great place to stay if you have dietary restrictions.
Check Rates: Booking.com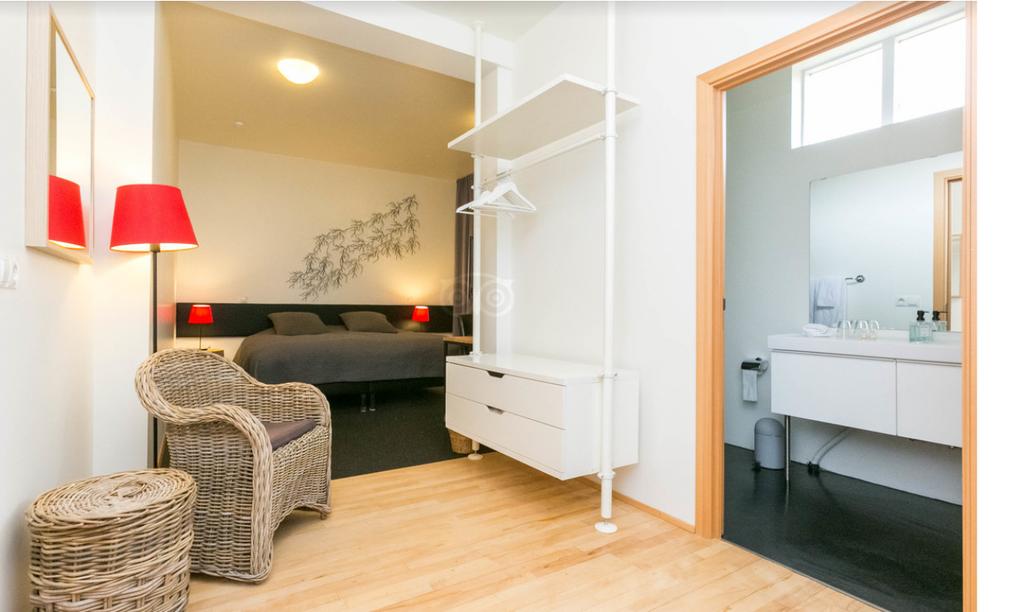 Black Beach Suites
Talk about classic clean elegance!! Black Beach Suites is a stunning property with views that are absolutely breathtaking. There is a serene and meditative vibe throughout this property that is sure to recharge your mind and body.
The rooms are apartment suites that give you a home away from home comfort. Each suite features a private veranda that is perfect for morning reflection.
All units include a kitchen, microwave, toaster and refrigerator. Some units even feature dining areas. There are both ocean and mountain views available at Black Beach Suites making this one of the very special hotels in Vik.
Check Rates: Booking.com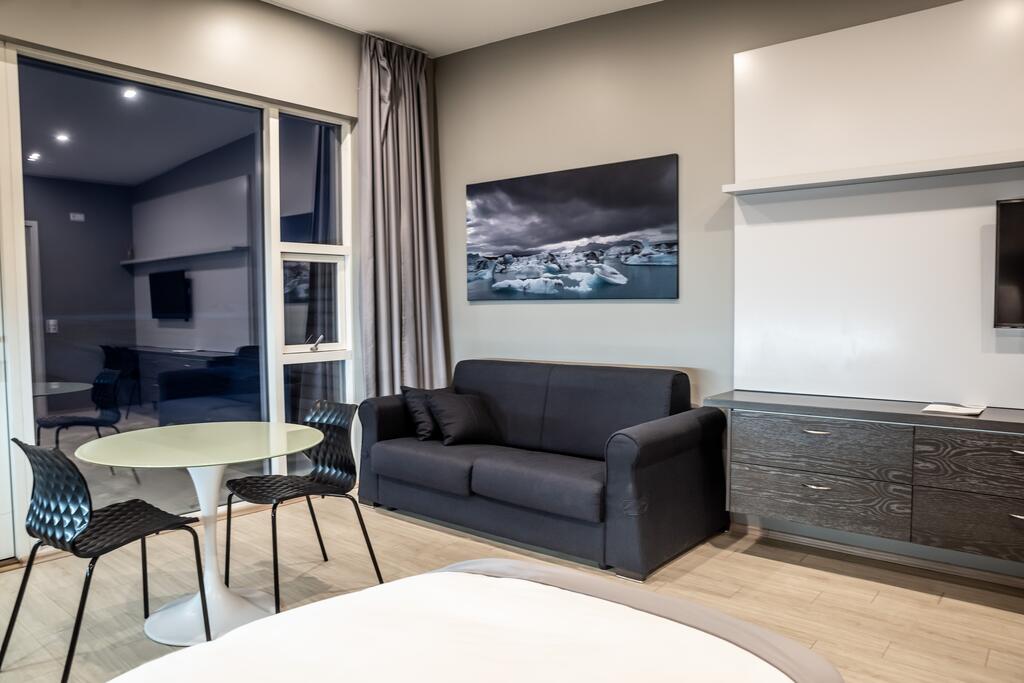 Hotel Kria
Hotel Kria is another one of the amazing hotels in Vik because not only does it include a delicious breakfast, but they also have a fantastic on-site restaurant! The restaurant focuses on using local fresh ingredients to provide culinary greatness.
Some of the popular menu items include fried cod, braised lamb, and avocado chocolate pudding. The restaurant will make special meals for kids upon request.
The rooms have a modern design with clean lines and luxurious linens. Other amenities include a cocktail bar, garden, and a banquet room. Black sand beaches are only a 5 minute walk from Hotel Kria.
Check Rates: Booking.com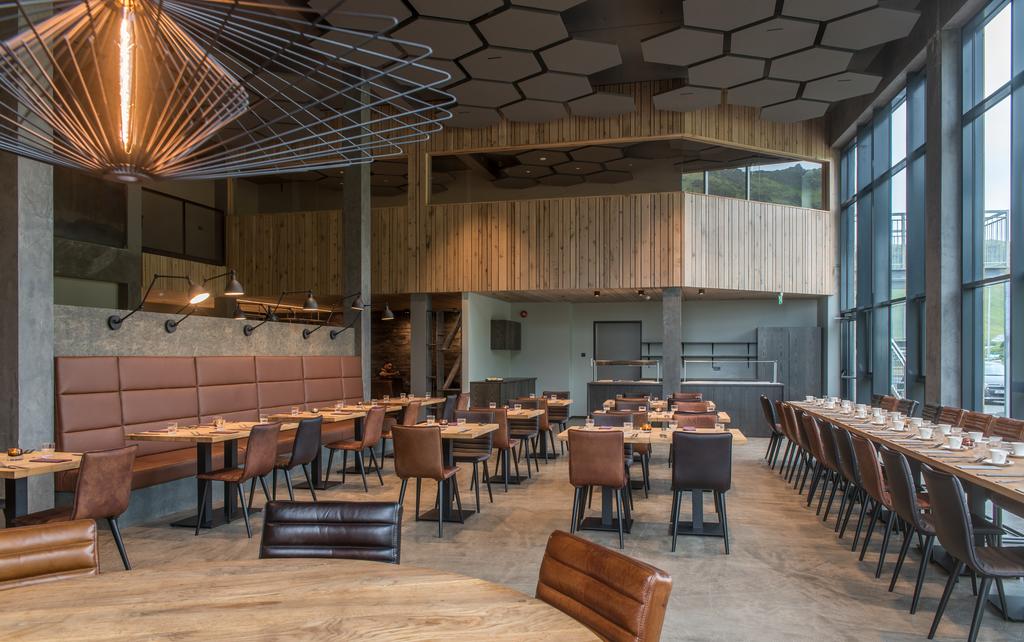 Hotel Vik i Myrdal
Hotel Vik i Myrdal is conveniently located only 5 minutes from Black Sand Beach and just under 2 miles from Reynisfjara Beach. It is a fantastic hotel that is known for excellent guest relations as well as chic rooms.
The rooms are very spacious, inviting, and beautifully decorated. Your stay includes continental breakfast daily. Amenities include an on-site restaurant and fitness center.
The on-site restaurant offers vegan and plant-based diet options. Popular menu items include fresh hummus, scallops, and salmon.
Check Rates: Booking.com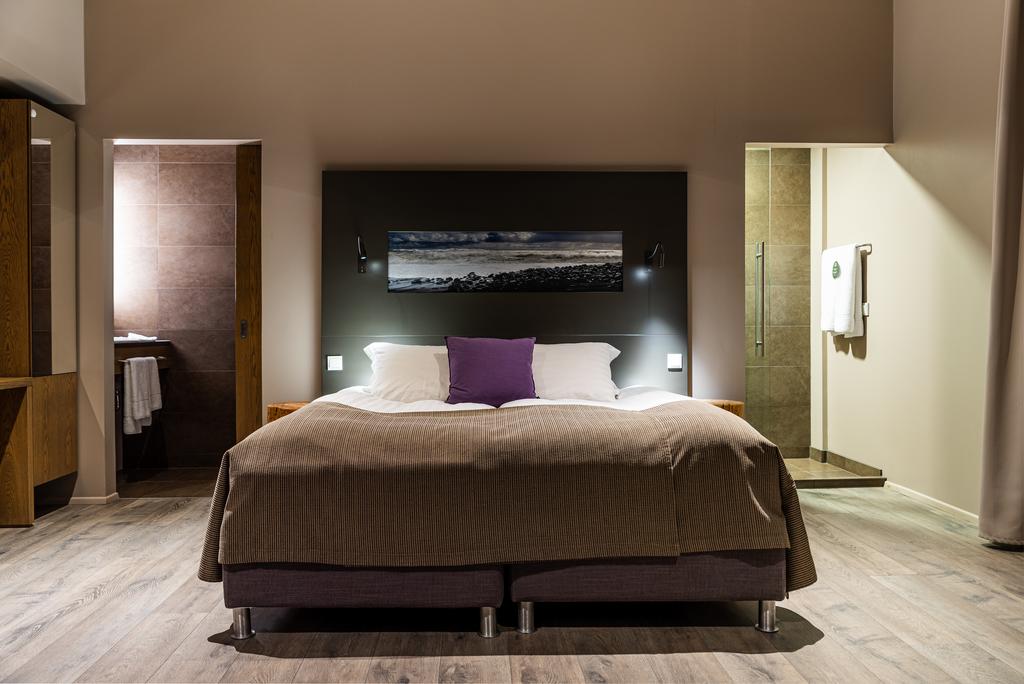 Vik Cottages
Vik Cottages is one of the best hotels in Vik for a quaint and cozy stay. The cottages provide a very secluded and private feel with remarkable mountain views. You also have access to the main property for breakfast and dining at the on-site restaurant.
You really get the best of both worlds when you stay at Vik cottages; privacy and seclusion with the convenience of nearby amenities. Rooms include a seating area, private bathroom, and patio.
We feel like this is an ideal hotel in Vik for couples. Sometimes there is nothing better than being snuggled up to your partner in a peaceful little cottage. After a nice day of relaxing just the two of you, then you can head over to the on-site restaurant for a romantic dinner together.
Check Rates: Booking.com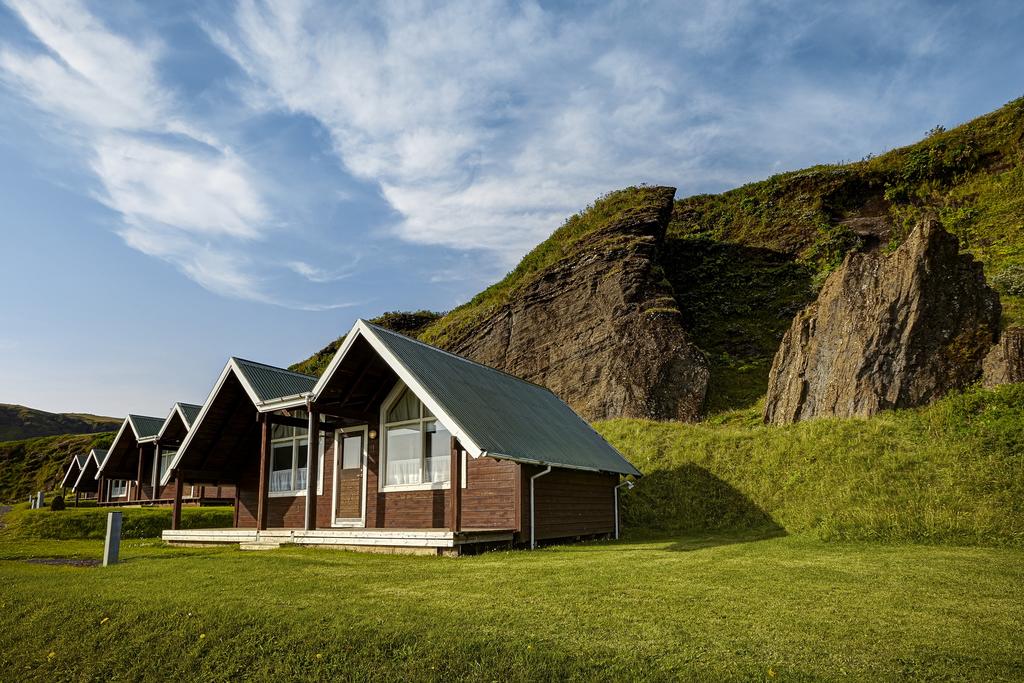 Hotel Katla By Keahotels
Hotel Katla is one of the really unique hotels in Vik as guests have access to geothermal hot tubs. Talk about a really fun experience! Guests will also enjoy stellar views of Mýrdalsjökull Glacier.
It is not very often that you get to stay somewhere with a view of a glacier, so we highly recommended reserving one of these rooms for a one in a lifetime experience. The windows are particular large panes allowing for a fantastic unobstructed view.
Amenities include a fitness center, sauna, on-site restaurant, and a cocktail bar. Staff are available to arrange horseback riding, snowmobiling, and guided tours. The on-site restaurant host evening buffets that are quite elaborate.
Check Rates: Booking.com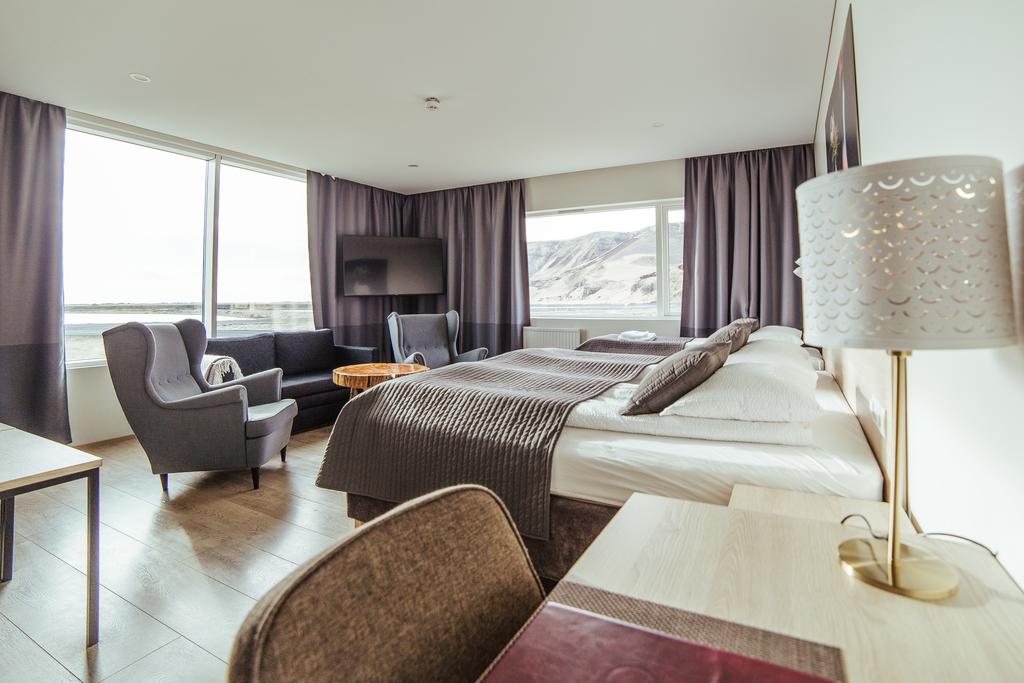 Norour Vik
Norour Vik is a wonderful bed and breakfast that provides a real country-side vibe. Want to truly unplug and reconnect with nature? Then, you'll adore this super cozy property!
The individual cabins offer simple furnishing with lots of charm and warmth. They also feature a really cute attic-style loft with a mountain view. Breakfast is available for purchase and there is an on-site restaurant.
Check Rates: Booking.com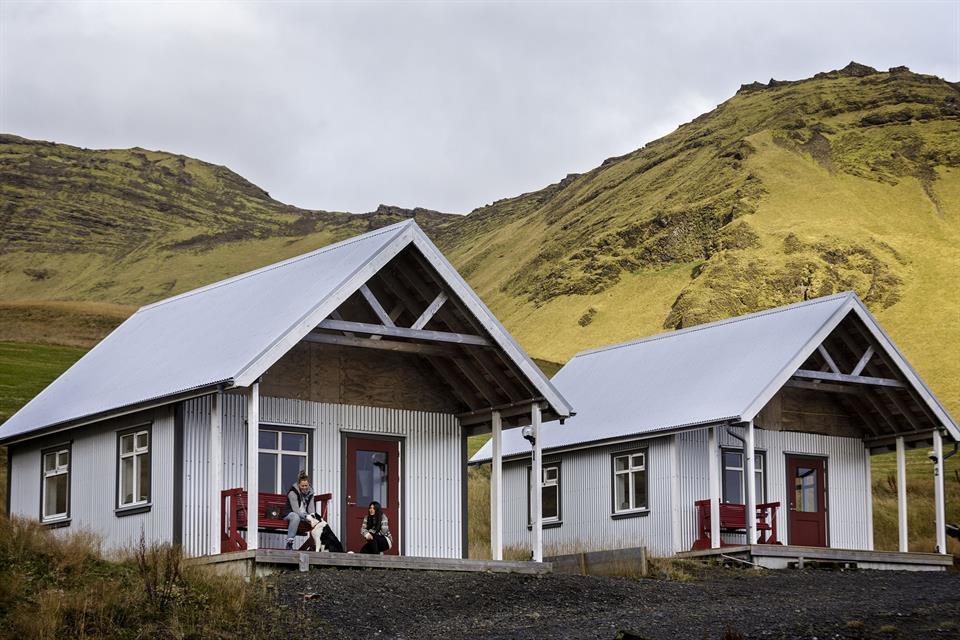 Guesthouse Carina
Guesthouse Carina is a perfect hotel in Vik for those looking to socialize with other guests. There is a shared lounge and TV area that is great for mingling with other travelers. The rooms are private, but the bathrooms and showers are shared.
Some rooms are available with sea and mountain views. A varied breakfast is available daily for purchase with several options including homemade freshly baked breads.
Activities that are close by include horseback riding and golfing. You can also take a relaxing stroll on the serene and striking black sand beach.
Check Rates: Booking.com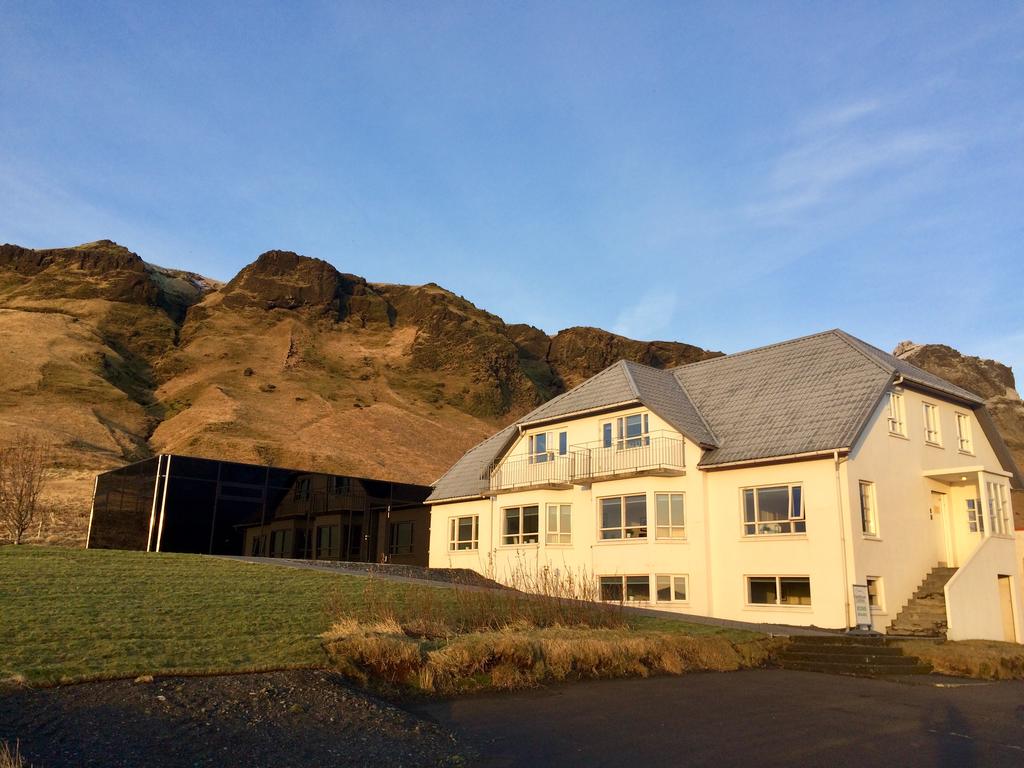 Puffin Hotel Vik
Puffin Hotel Vik is a simple hotel with a very friendly staff that excels in making your stay comfortable. Guest rooms are modest with private bathrooms. A buffet breakfast is included with your stay and known for having fluffy waffles.
When you stay at Puffin Hotel Vik, you can take a short 10-minute walk to swim in an outdoor swimming pool with a beautiful mountain backdrop. Staff are available 24hrs a day and are happy to arrange jeep tours or horseback riding.
Packed lunches are even available for you to take with you on excursions! Puffin Hotel is a very family-friendly hotel that provides board games and movies as an added bonus.
Check Rates: Booking.com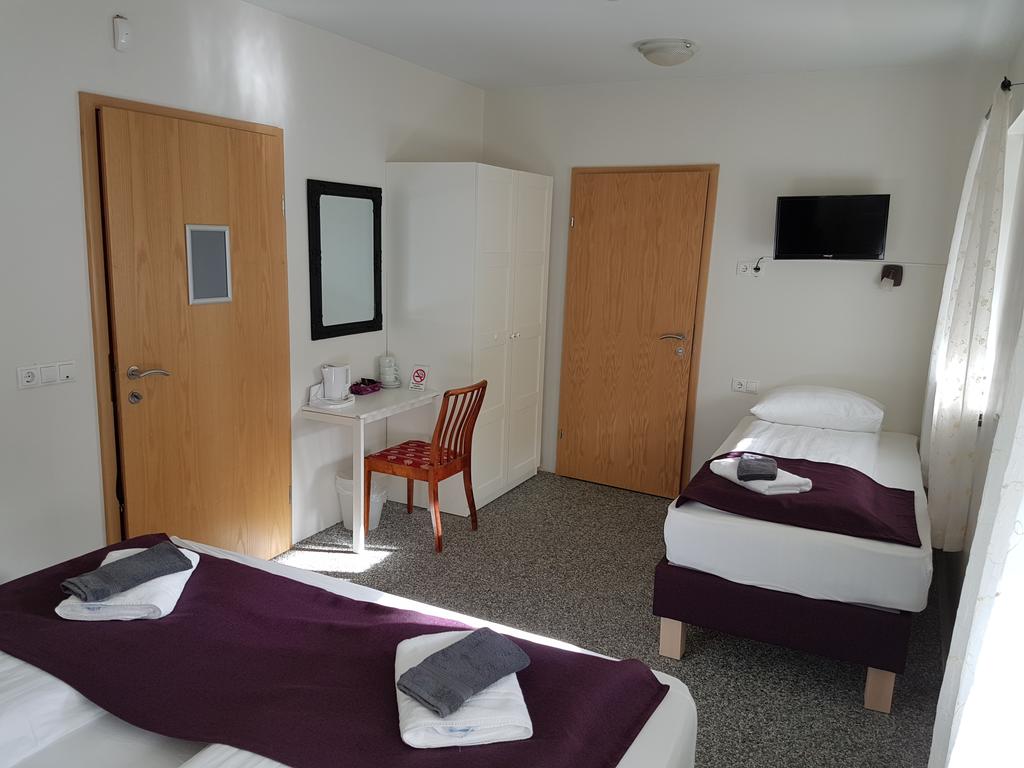 Dream Guesthouse Vik
Dream Guesthouse Vik is a delightful bed and breakfast that features a terrace with garden views. Guest rooms have that amazing home-like feel that you hope to find at a bed and breakfast.
Breakfast is included and you are given a choice of a large buffet or a full English/Irish breakfast. Amenities include a well-equipped shared kitchen, shared lounge, and laundry services.
Check Rates: Booking.com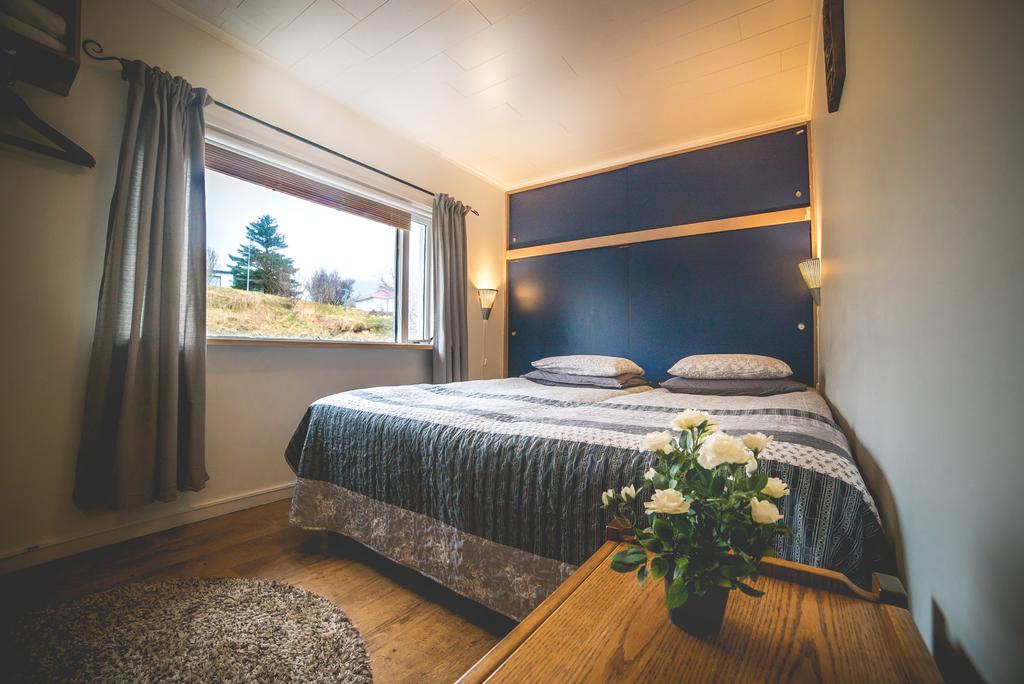 Well, we hope that you will thoroughly enjoy your trip and find the best accommodations at any of these terrific hotels in Vik. Get ready to be enchanted by all of the natural beauty that Vik has to offer, you might even consider extending your trip to explore more of Iceland!
As you can see, you can find so many different types of hotels in Vik. Plenty of options for that small town vibe with privacy and simplicity. Also, several other options that are more posh with edgy architecture and upscale restaurants with highly curated menus. The best part is that warm hospitality is woven throughout this special town and can be found at all of these wonderful hotels in Vik, so you really can't go wrong!
Don't forget to pack your camera so you can capture the stark contrast of the black sand beaches, the massively powerful waterfalls, and the adorable native Puffins. We cannot wait to hear all about your adventures and we hope that Iceland becomes one of your top favorite destinations too!