Planning a trip to see the Iceland waterfalls? We've got you covered with this extensive itinerary that covers all the best waterfalls in Iceland including an Iceland waterfalls map and waterfalls near Reykjavik.
Iceland is a country full of impressive waterfalls, possibly over a thousand, due to its mountainous landscape, glaciers, and lots of rain and snow.
It can be overwhelming to know which waterfalls in Iceland are worth spending your time to visit, although we would argue all are impressive. In this article, we have listed the top 30 Iceland waterfalls for you to add to your Ring Road Itinerary!
From the impressive Svartifoss and Skogafoss to the smaller and lesser-known Nauthusagil and Gufufoss we bring you the Iceland waterfalls that have something for everyone.
Get a FREE printable "Hidden Gems In Iceland" E-book by joining our private Iceland Facebook Group and share your photos and ask for tips and tricks.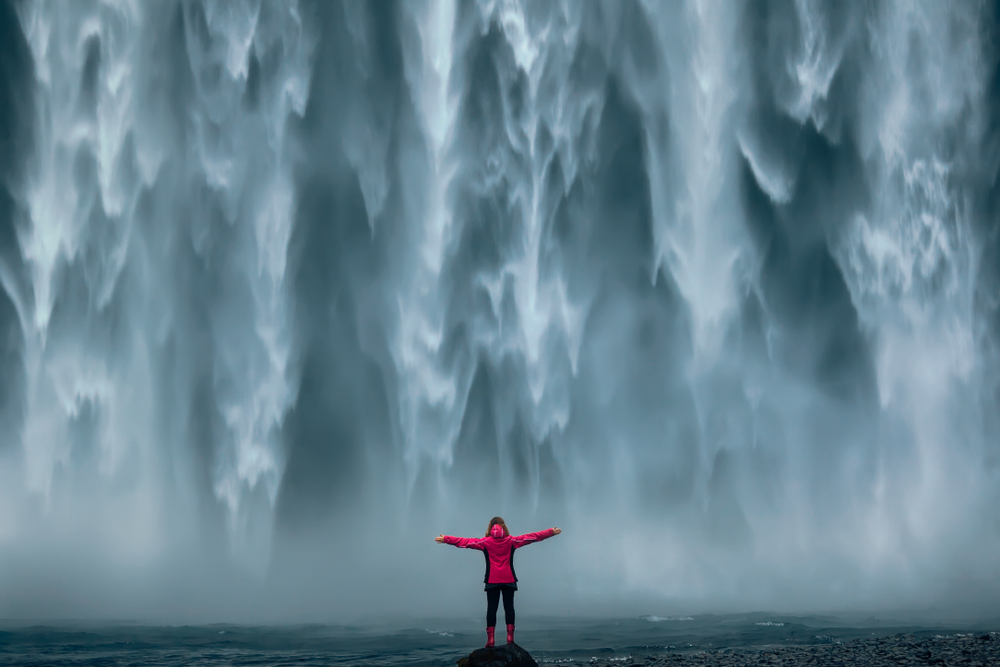 Best Iceland Waterfalls In The South
Gullfoss Waterfall
Of all the Iceland waterfalls Gullfoss is one of the most impressive and most famous. Gullfoss means The Golden Waterfall and is a highlight of the Golden Circle, it's also one of the waterfalls near Reykjavik, about 70 miles away so it's an easy day trip.
Gullfoss is unique because you view it from above and look down on the two tiers that tumble into the gorge below. There are several viewing platforms and the upper viewing platform offers the best outlook as it allows you to take it the sheer scale of these falls.
There are walkways to view the falls but be careful as they can get very slippy and we suggest you visit in the warmer months where all paths are open and the conditions are easier. There is a visitor center here and the paths are clearly marked. To learn more take a peek at 5 Things To Know Before Visiting Gullfoss Waterfall Iceland.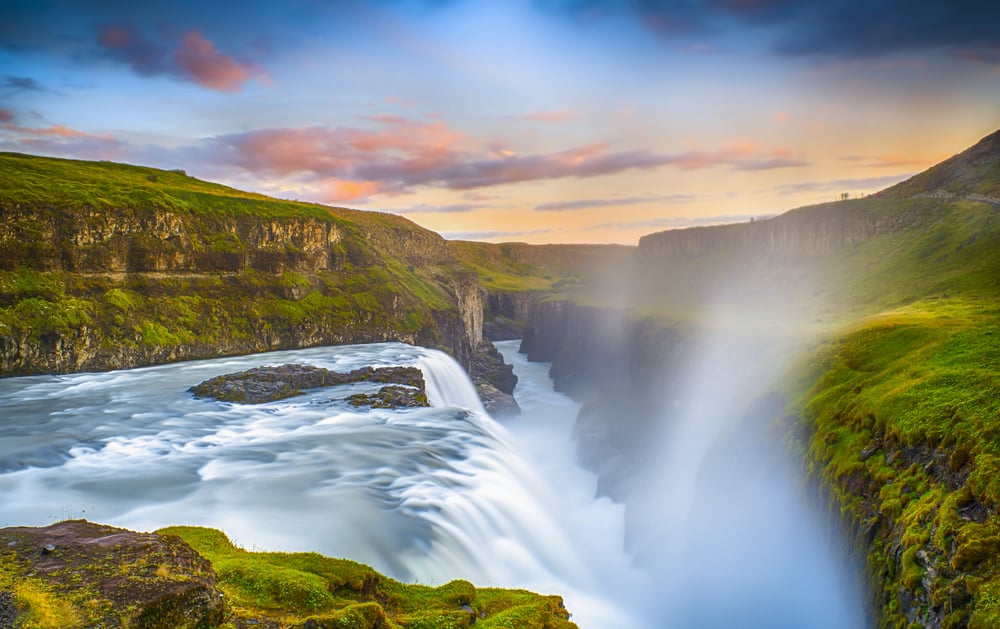 Oxarafoss Waterfall
Oxarafoss lies in one of Iceland's most popular attractions Thingvellir National Park and if you like your Iceland waterfalls easy to reach then this one is for you as it's an easy 10-minute walk from the car park.
It's a small waterfall and is man-made due to water diversion. Legend says the water turns to wine on New Year's eve but we have never visited then so we can't confirm this.
This waterfall is pretty and photogenic especially in winter with the snow and ice forming around it but be careful as the rocks near can get very slippery.
Although small it certainly deserves a place on any list of best waterfalls in Iceland.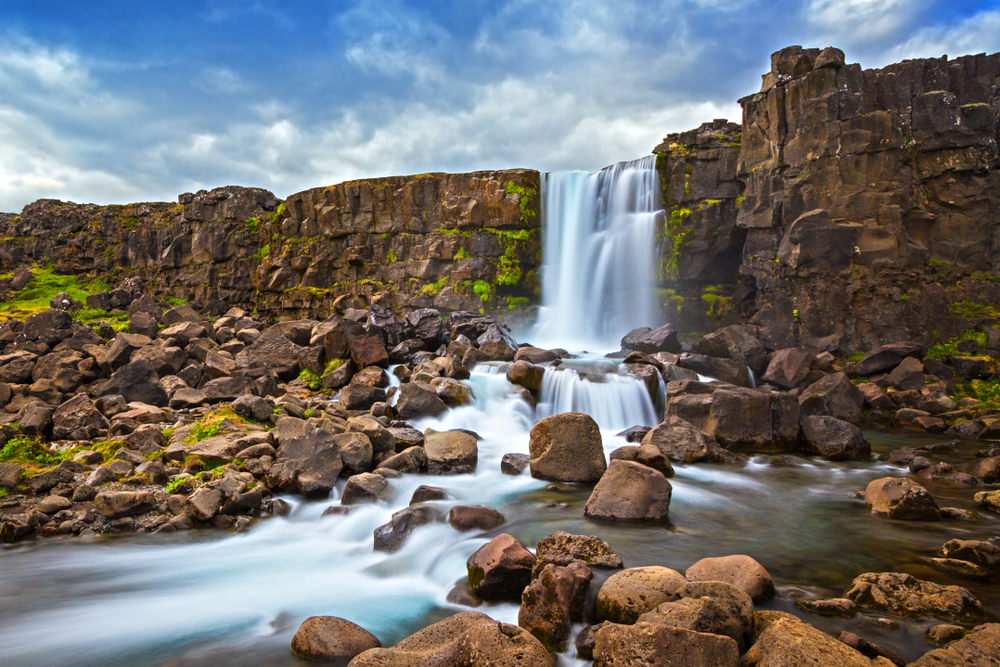 Porufoss Waterfall
Porufoss or Thorufoss is one of the waterfalls near Reykjavik, just half an hour's drive, in fact, it also appeared in one episode of Game of Thrones. If you like your Iceland Waterfalls a little off the beaten track and great for photographs then Porufoss is the one for you.
This waterfall isn't well signposted and sits along a pretty raw landscape but you can see it from the road from where it is a two-minute walk, or just follow the roar. It's a little off the beaten track but well worth a visit. To get below the waterfall you will have to scramble over rocks which might be a bit adventurous for some but the view from the top is also wonderful.
We have marked the location of this on the Iceland waterfalls map so it should be easier to find.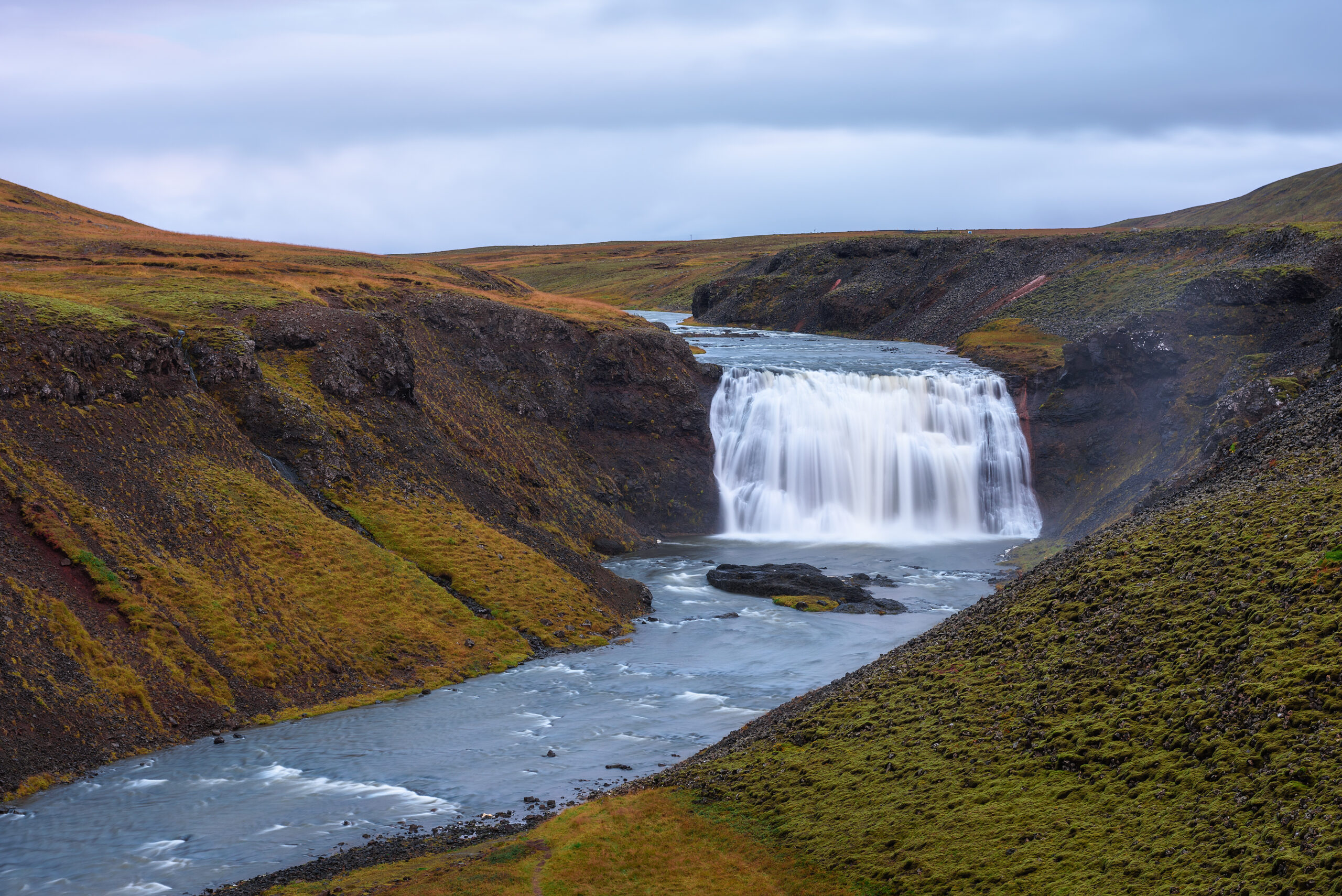 Faxafoss Waterfall
If you like your Iceland waterfalls serene and pretty then Faxifoss is for you. You might also see these falls referred to as Faxi Falls and Vatnsleysufoss. it is on the Golden Circle though much less busy than Gullfoss. It is often missed but for us, it's such a great photographic location we had to include it.
Faxafoss Is about 80 meters wide with a 7-meter drop and you can get close to this waterfall without much danger. There is a car park close by and picnic tables if you fancy staying a while.
One of the tamer and beautiful Iceland waterfalls that we feel is well worth a short diversion.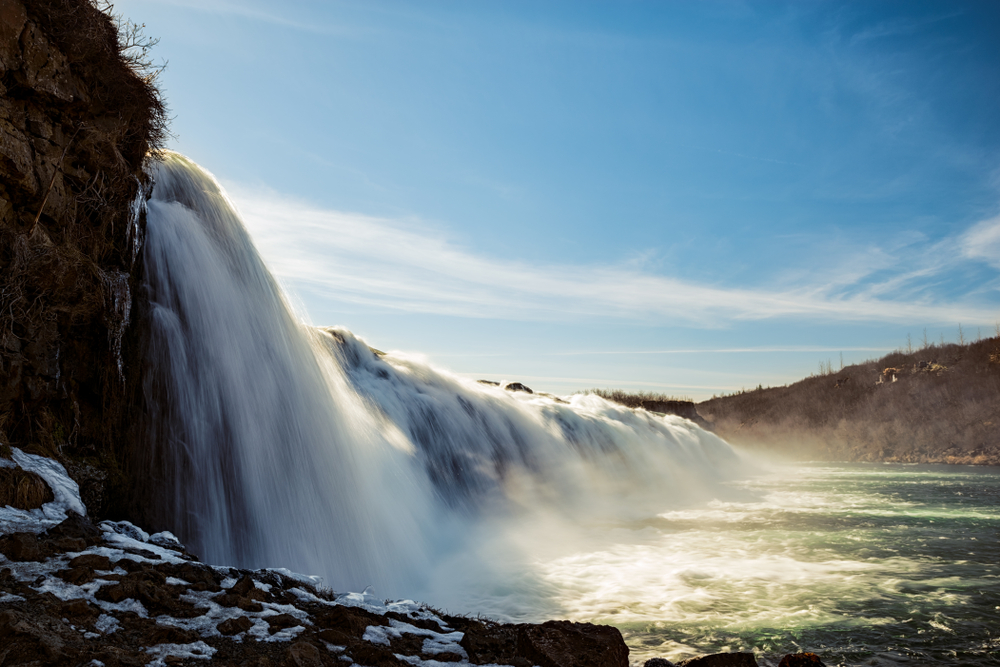 Bruarfoss Waterfalls
Bruarfoss (Bridge Falls) is a relatively small Iceland waterfall compared to its' counterparts, however, don't let that stop you from visiting as it is truly spectacular.
This is one of the best stops around Iceland's Ring Road. If you happen to be driving in Iceland, you will want to ensure that you make time to see it!
Its' bright blue water makes it one of the best waterfalls in Iceland and it really is a hidden gem.
About one hour and 20 minutes east of Reykjavik makes it popular but you won't find it overrun with tourists as its a little more challenging to get to.
We have detailed how to get to Bruarfoss in this article.
If you are looking for waterfalls near Reykjavik we think this one is worth the trouble just to see the bluest waterfall in Iceland.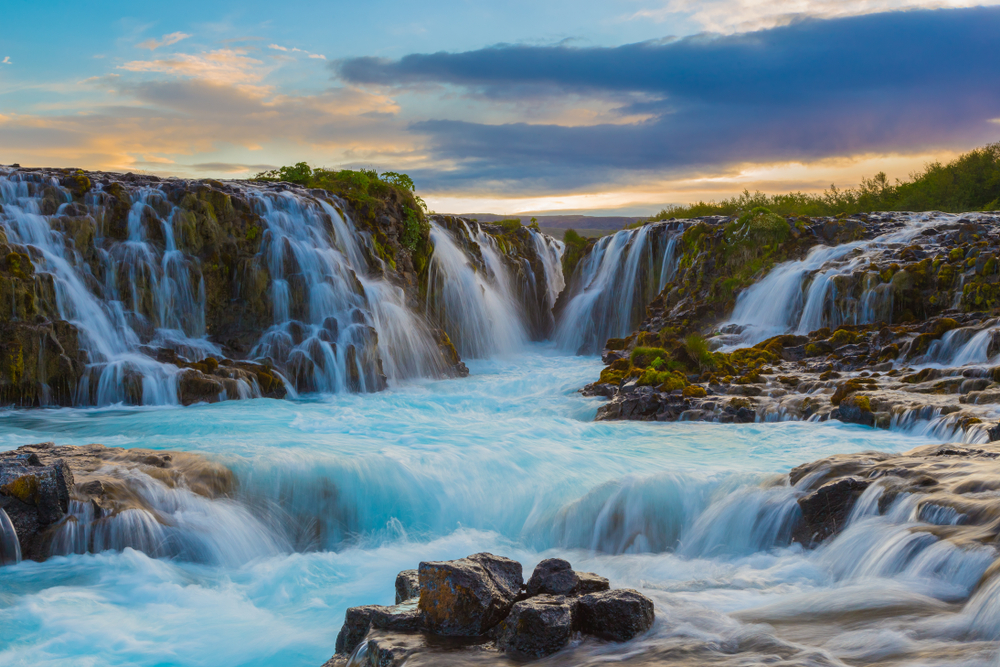 Hjalparfoss Waterfall
Hjalparfoss is one of Iceland's waterfalls that is situated in the lava fields of stratovolcano Hekla. Hjalparfoss is two waterfalls where the rivers Fossá and Þjórsá meet. What's most impressive about these falls are the rock formations around them. The landscape is stark and dramatic and these falls plunge into a serene pool below.
Hjalparfoss is a bit off the main tourist route but it isn't hard to get to and is worth a stop on your best waterfalls in Iceland itinerary if only to marvel at the surrounding rocks.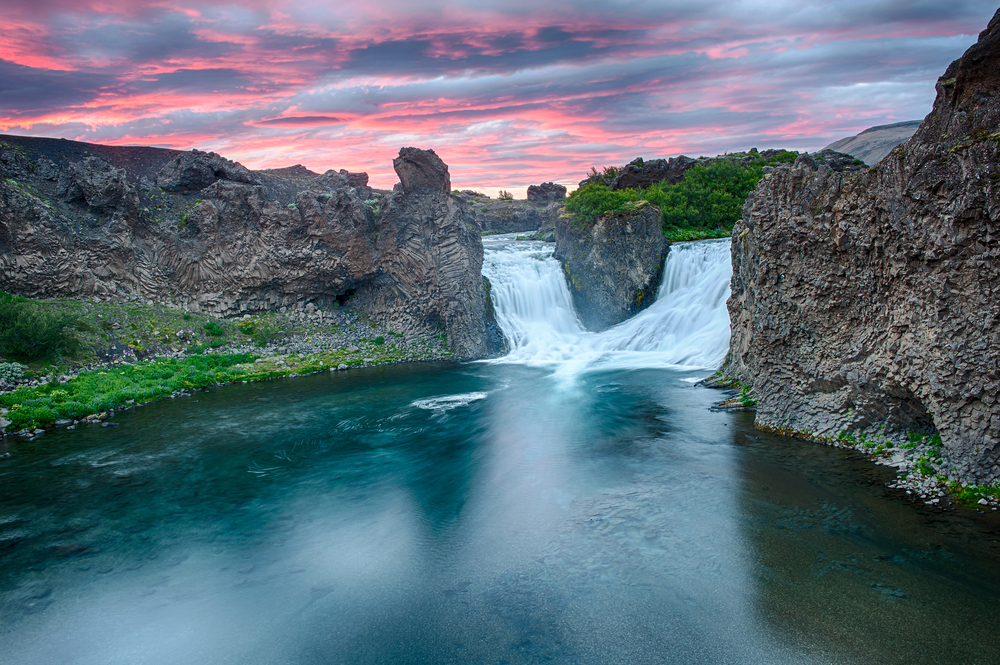 Haifoss Waterfall
Haifoss has to make it onto your Iceland waterfalls itinerary as it and its' less powerful neighbor waterfall, Granni are a sight to behold. The water from the Fossa River thunders down the gorge with an impressive 400 ft drop.
The view from the top is incredible and easily accessible but if you want to spend more time and are feeling a little more adventurous you can hike down to the bottom or just walk along the gorge taking in the waterfalls from multiple viewing points.
Haifoss is hardly ever crowded it is usually inaccessible, unless you have a 4×4, as the roads are potholed and bumpy so only the more intrepid travelers make the trip.
However, we think the trip is worth it as this would make our list of best waterfalls in Iceland. It is one of the best places to see on your Iceland Itinerary!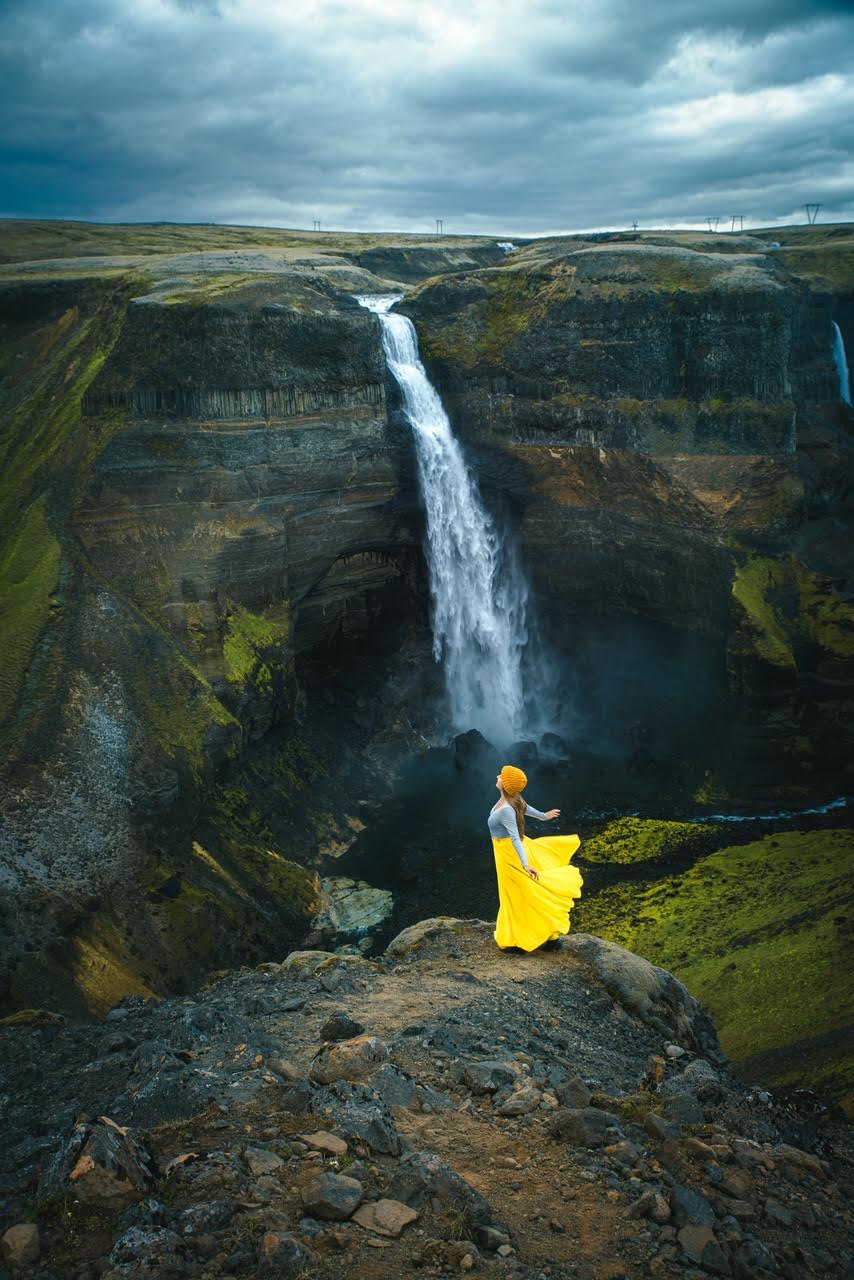 Gluggafoss Waterfall
Gluggafoss (sometimes also called Merkjárfoss), is one of the best waterfalls in Iceland. A cascade fall that changes in appearance quite often. When it comes to Iceland waterfalls this one is unique, as its shape is formed as the water cuts through soft stone and volcanic ash forming windows or arches through which the water tumbles before falling into a grotto below.
Gluggafoss is a picturesque waterfall that lies off the beaten track and often you will find yourself alone to explore and walk behind it if conditions permit. It's also really easy to get to just laying off the road surrounded by farmland. It's quite a magical sight that you can often experience in solitude.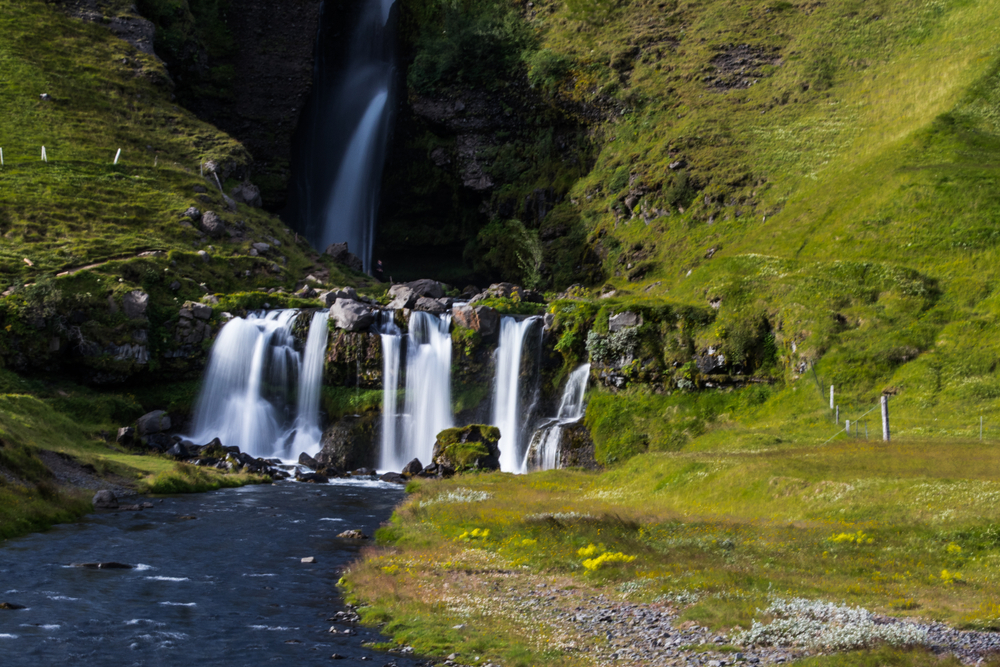 Sigoldugljufur Waterfall
A hidden treasure and a photographer's dream this waterfall rewards you if you are persistent enough to make the journey.
Also, know as the Valley of Tears Sigoldugljufur is a canyon in the Icelandic Highlands brimming with waterfalls. With vividly blue water and lush vegetation, these incredible surroundings will make you feel like you have stepped into another world. It's a little oasis that is well worth a visit.
It's not near other attractions and also involves a bumpy mountain road so you tend to find yourself away from the tourist crowds that you may find at other Iceland waterfalls.
It's well worth putting on your best waterfalls in Iceland itinerary.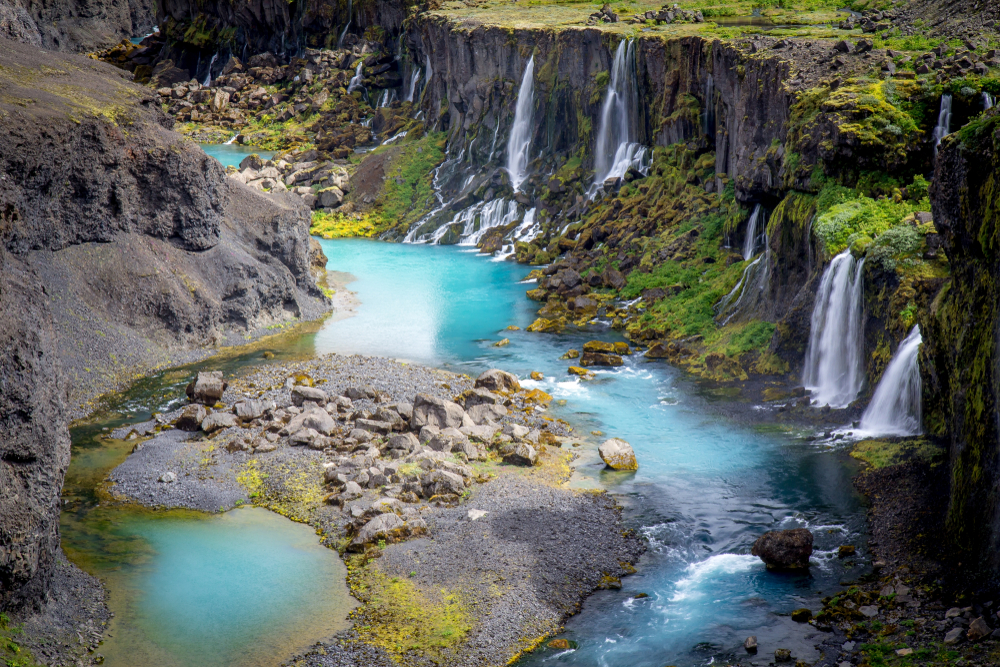 Seljalandsfoss Waterfall
Seljalandsfoss is a narrow and mighty waterfall and is one of the few Iceland waterfalls that you can walk behind. In summer it's surrounded by cliffs that are brilliant green dotted with yellow flowers.
The waterfall is right off Iceland ring road and is a very popular tourist spot but well worth your time. Walking behind these falls is a great experience but you will get very wet so dress appropriately.
A path leads from the parking lot up to the front of the waterfall and then loops around the sides and back so you get a view of the waterfall from every angle. The path can get very slippery and is often inaccessible in the winter months.
Don't let its popularity turn you off as it is a sight to see.
Gljufrabui Waterfall
A beautiful waterfall that is hidden in a canyon, your Iceland waterfalls don't get much better than this. This is one of the waterfalls in Iceland often overlooked for its more popular neighbor Seljalandsfoss. It's a 10-minute walk from Seljalandsfoss and you will find yourself walking on rocks and wading in a small river so prepare for this.
Your efforts will be rewarded though as you look up and see the waterfall pouring from above into the mossy green sparkling water cavern below. There is a giant boulder in the middle of the canyon and its quite easy to climb and really gives you the feeling of being inside the falls and also makes a great picture spot.
You can also view the waterfall from above but the pathway is steep and can get very muddy and slippery.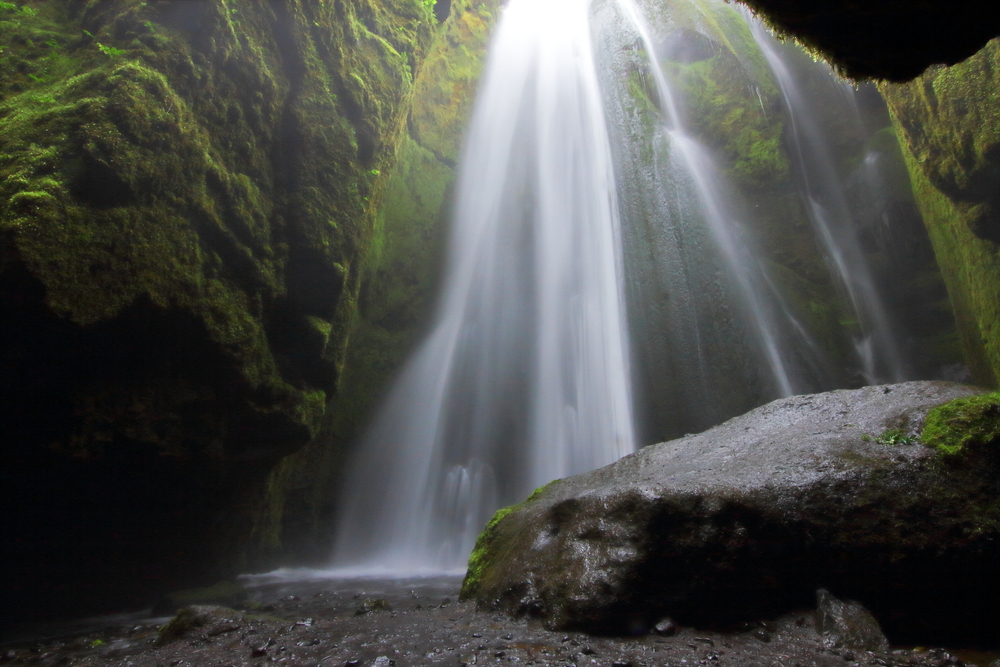 Nauthusagil Waterfall
Nauthusagil is a hidden gem. It's similar to Gljufrabui but lesser-known, it has that secluded charm and is a magical ravine. This is one of Iceland's waterfalls that is well worth a visit.
Sometimes this waterfall is shaded above by the rowan trees which almost form a see-through roof adding to the charm and mystical beauty of this location.
You will need to be prepared to get wet and do a bit of scrambling over rocks, however, if you are up for the adventure you will be rewarded with a place that looks untouched by human hands. We have marked it on our Iceland waterfalls map as we do think this is one of the best waterfalls in Iceland.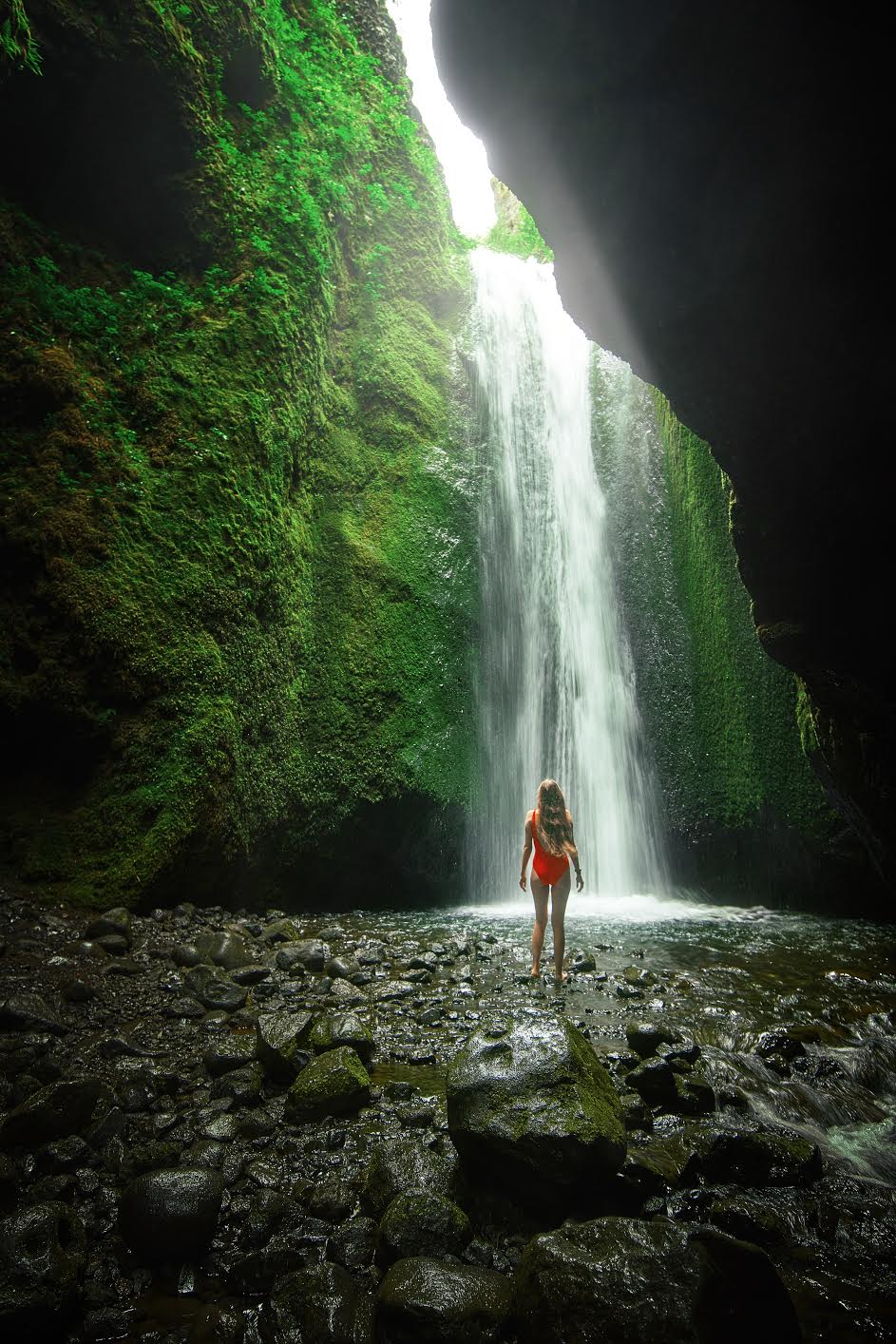 Skogafoss Waterfall
One of the most impressive of all Iceland waterfalls with a high drop and a wide base Skogafoss really is an incredible sight.
This stop is in a great area and is actually on our list of Best Places To Stay In Iceland. In this post, we offer suggestions for where to stay around the Ring Road!
A forceful thundering waterfall that lets you known its presence by spraying you unrelentingly, you have been warned.
There are two main viewing points, the base and an upper viewing platform which is reached by roughly 500 stairs so you will get a nice quad workout too.
This beautiful sprawling powerful waterfall has to make it on your list of must-sees waterfalls in Iceland. It is popular though so if you want that photo opportunity, be prepared to wait or come at none peak times.
Find out more about one of the best waterfalls in Iceland by visiting 5 Things To Know About Skogafoss Waterfall Iceland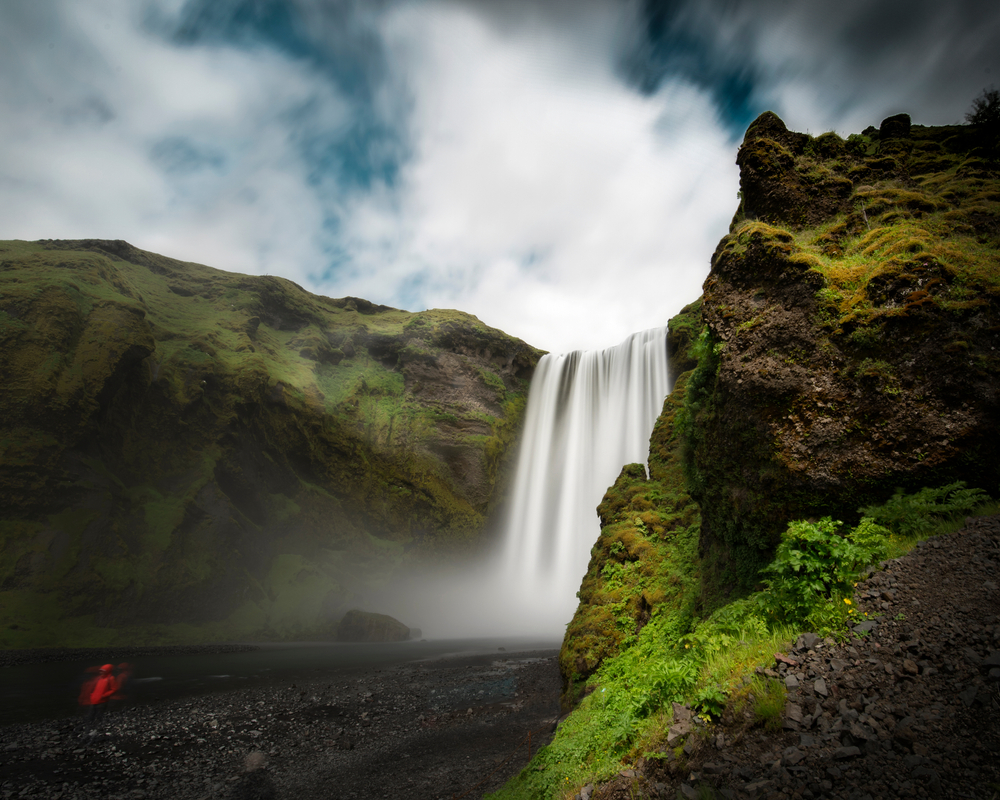 Kvernufoss Waterfall
Very close to Skogafoss, Kvernufoss Waterall is not well signposted or well known. The walk to the falls can take between 10-20 minutes depending on the conditions and the walk isn't challenging. If you are lucky you may find yourself alone in this beautiful spot.
Please make sure that you stick to the paths even if they are muddy so as not to cause harm to the somewhat fragile environment around these falls.
Kvernufoss is much smaller than its well-known neighbor but is just as beautiful. Lush in the summer and sparkling in the winter. Make sure you take a look at our Iceland waterfalls map for the location!
Read next: Tips For Visiting Kevrnufoss Waterfall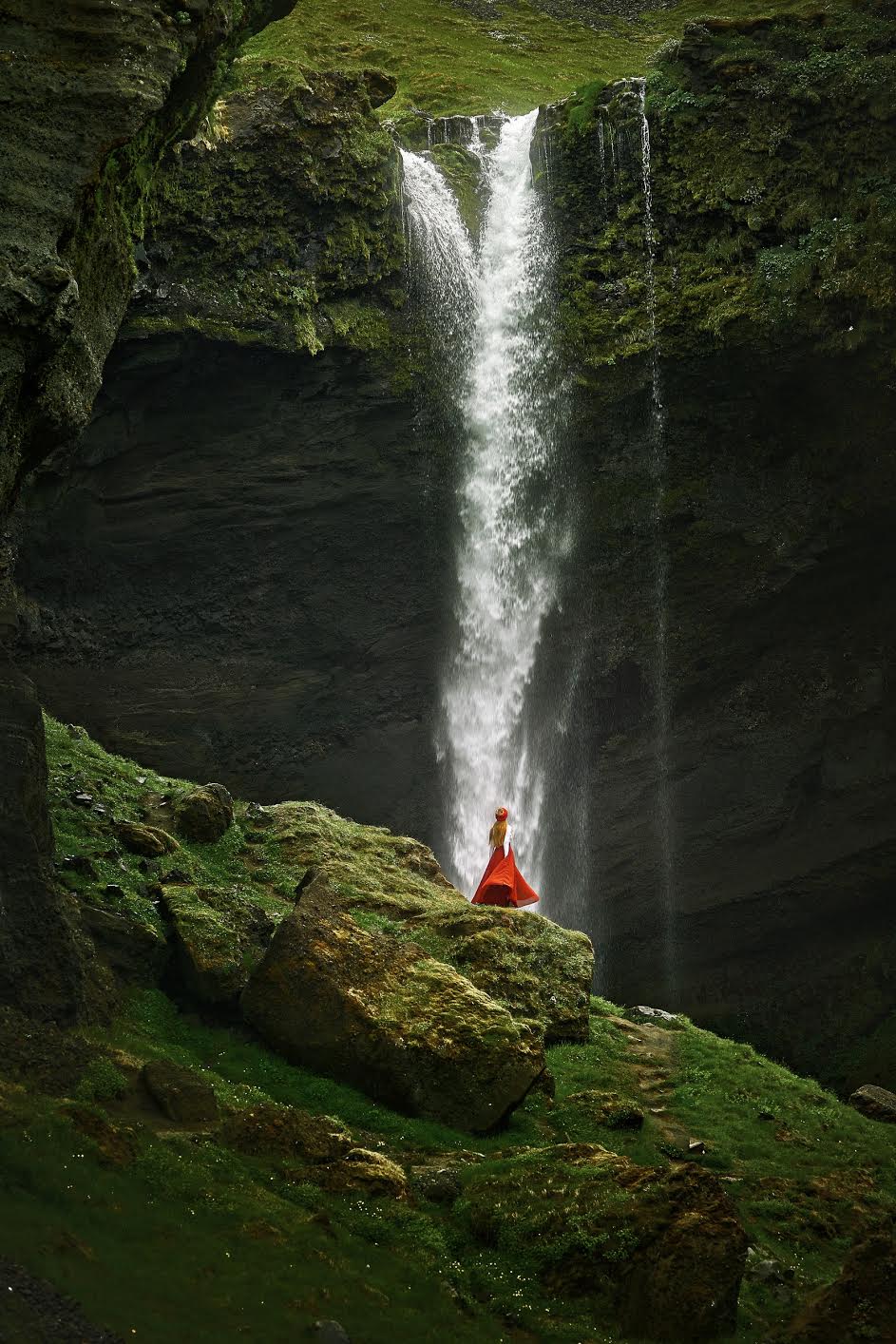 Best Iceland Waterfalls In The Southeast
Svartifoss Waterfall
Svartifoss is a waterfall in Skaftafell Vatnajökull National Park. Sometimes called The Black Falls this is one of a few Iceland waterfalls surrounded by dark lava columns which give it an otherworldly feeling. It's definitely a must-see because of its uniqueness.
It's an uphill hike to get there but nothing too difficult. It's one of the best waterfalls in Iceland and has a certain elegance unlike nothing, we have seen before.
You can walk close to the waterfall to get a good look, some parts have been fenced off for protection but you can still get within enough distance to feel its power and get a perfect picture.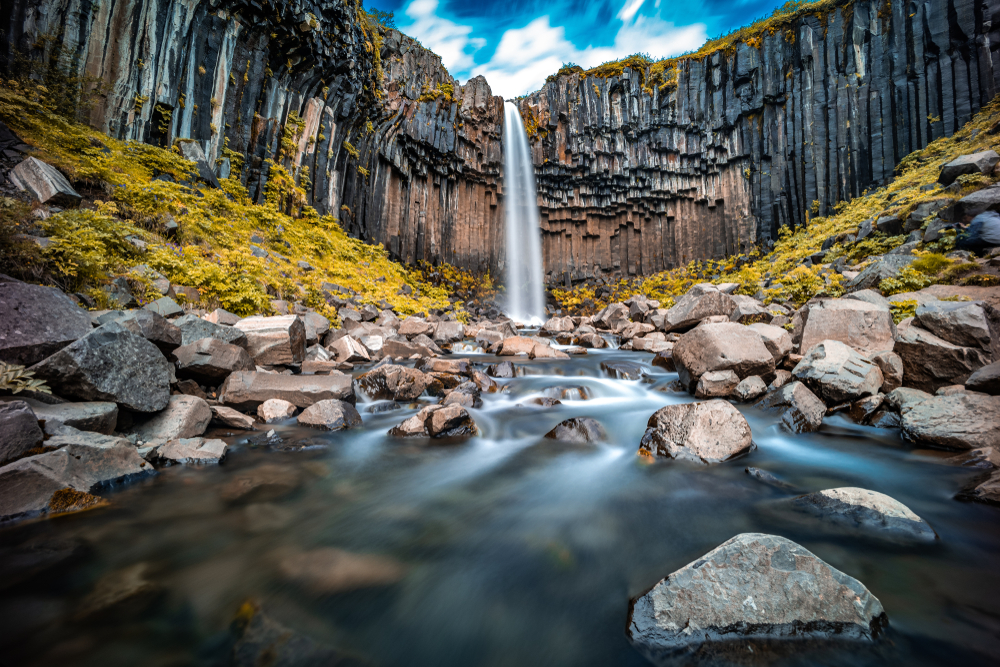 Mulagljufur Canyon
Mulagljufur Canyon is one of those places that offers everything Iceland is famous for. From a canyon river, volcanoes, and a breathtaking view over one of the best waterfalls in Iceland this place will not disappoint.
One of Iceland's lesser-known places possibly due to the moderately difficult 1.5-mile hike from the parking area, but it is worth it. Be warned you will get wet crossing rivers and squelching through mud, but in the end, you get to marvel at what Nature can create.
The canyon offers two waterfalls Hangandifoss and Mulafoss and while Mulafoss is beautiful Hangandifos is a very impressive 123 meters thundering between the canyon walls making it quite spectacular. It's one of Iceland's waterfalls that you don't want to miss.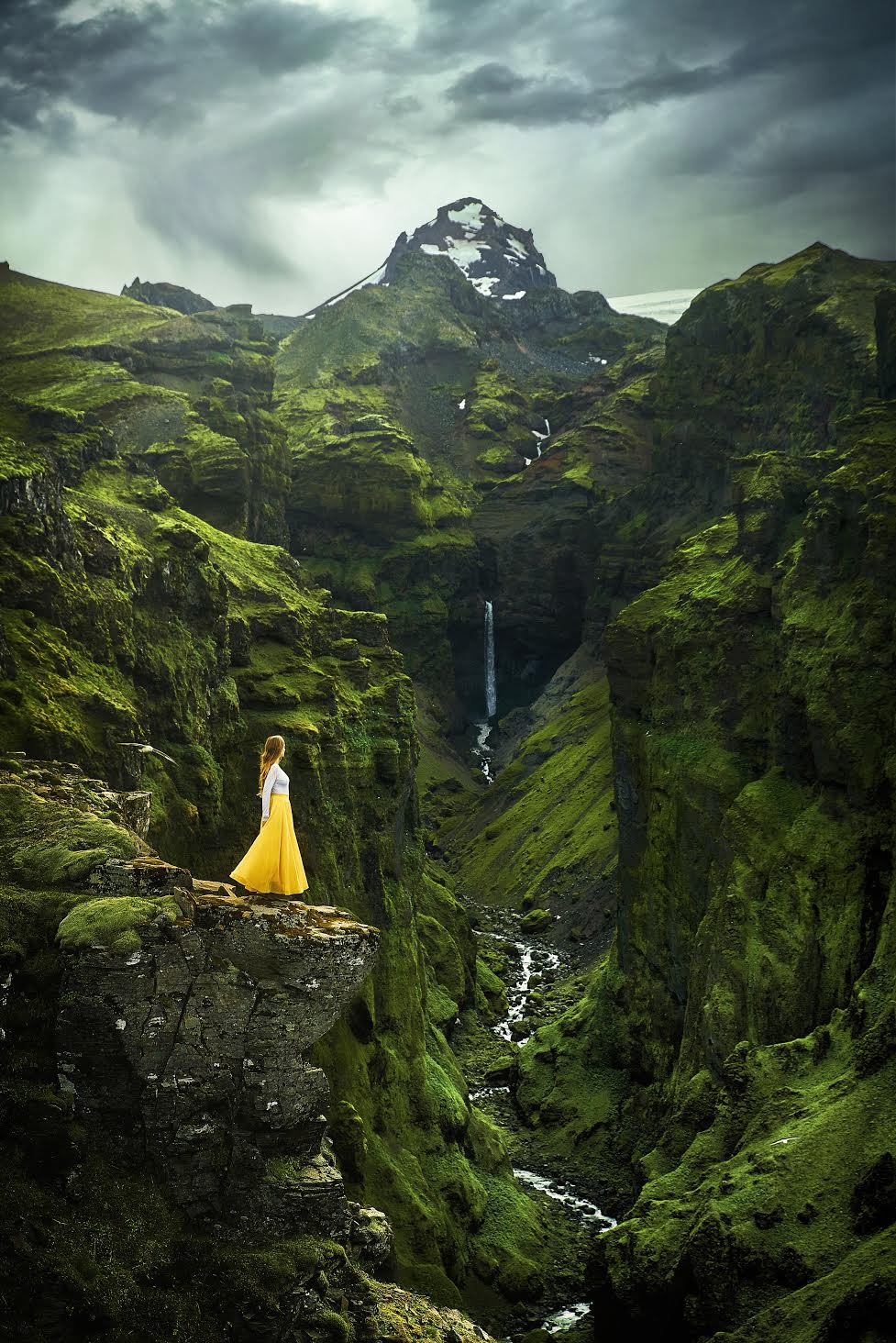 Systrafoss Waterfall
Systrafoss or Sister Falls is a low-volume waterfall right behind the town of Kirkjubæjarklaustur. These side-by-side Iceland waterfalls do not flow consistently throughout the year and are seen at their best after periods of prolonged rain.
When in full flow they look like two small rivers running down the mountainside and are quite mesmerizing. In the winter Systrafoss gets frozen somehow adding to the charm.
If you are there when this waterfall is flowing it is well worth taking a look as it's so beautiful and unique.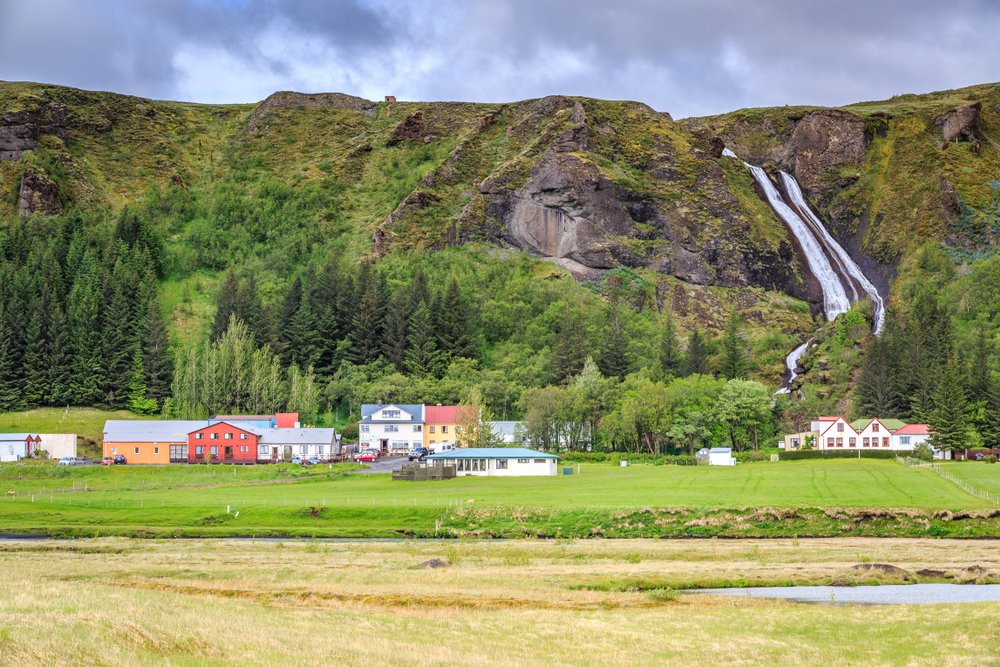 Fagrifoss Waterfalls
One of the highest Iceland waterfalls Farifoss makes you work to take in its beauty. It's towards the remote interior highlands of Iceland and takes a 4 wheel drive adventure to get there. This rough drive means that this impressive sight is not a mainstream tourist attraction but we feel the scenic allure of this waterfall is well worth the effort.
The best view of the falls is from the east side and although it's a bit of a hike it is the best spot to enjoy this wonder this waterfall has to offer.
We have marked the location on our Iceland waterfalls map.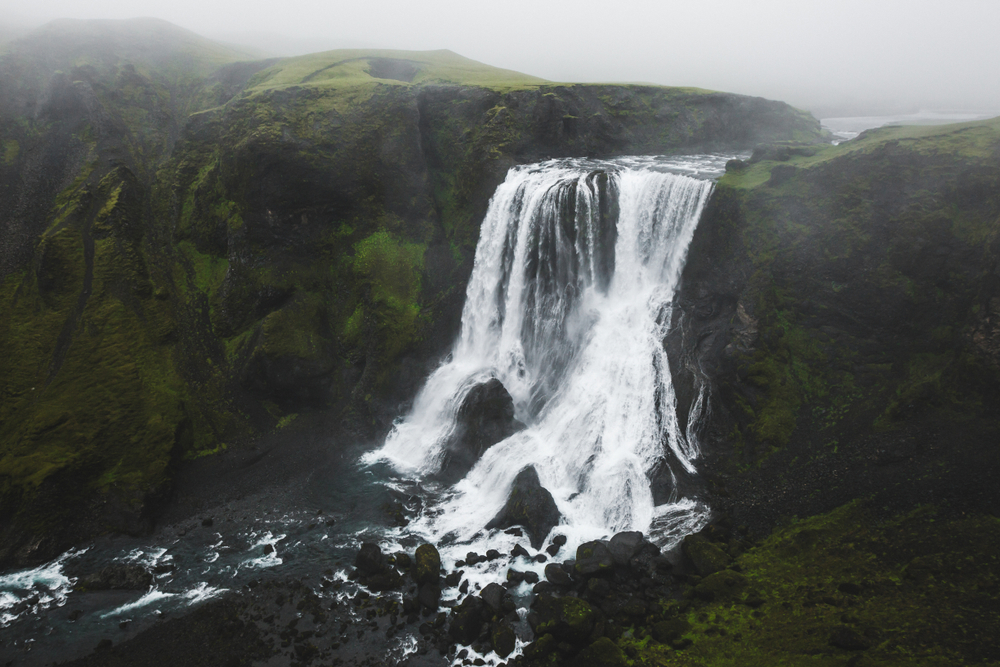 Best Iceland Waterfalls In The East
Hengifoss
Hengifoss is one of the best waterfalls in Iceland, standing at 128 meters high it's the third-highest in Iceland.
You will have a 3-mile round hike to see this waterfall but it's well worth and you will also be rewarded with Litlanesfoss Waterfall about 1.3 miles into the hike.
Like other Iceland waterfalls, Hengifoss is surrounded by basalt columns intermingled with strips of red clay, creating a unique and beautiful backdrop to an impressive waterfall.
You will spot the waterfall easily on your hike and the trail continues along for a closer view. You can get to the base of the falls however, the track often gets washed away here so it's not always possible.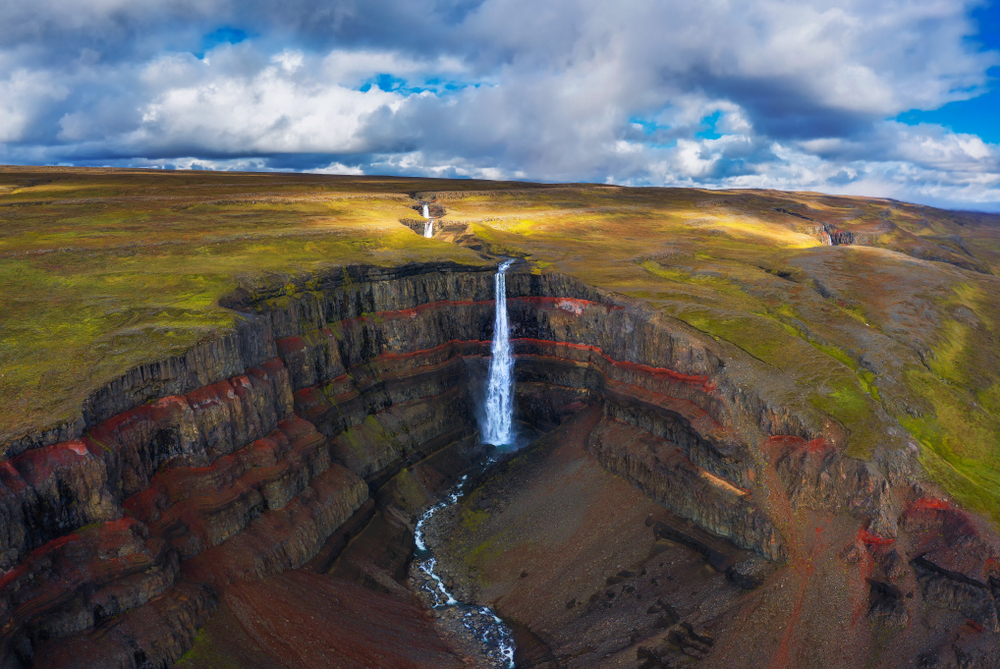 Litlanesfoss
Often overlooked for the impressive Hengifoss, Litlanesfoss also called Stuðlabergsfossis is well worth stopping on your walk for a while. You encounter it about 1.3miles into the hike to Hengifoss and we feel it's so beautiful it deserves its own mention when it comes to Iceland waterfalls.
Litlanesfoss is also flanked by basalt columns of which some are 15-20 meters high making them Iceland's longest basalt columns. It's a magnificent waterfall in Fljótsdalur valley, it's a two-step waterfall that cascades 30 meters into the pool below. Some visitors are so impressed with Litlanesfoss that they think it's Hengifoss and turn back, that's how beautiful it is.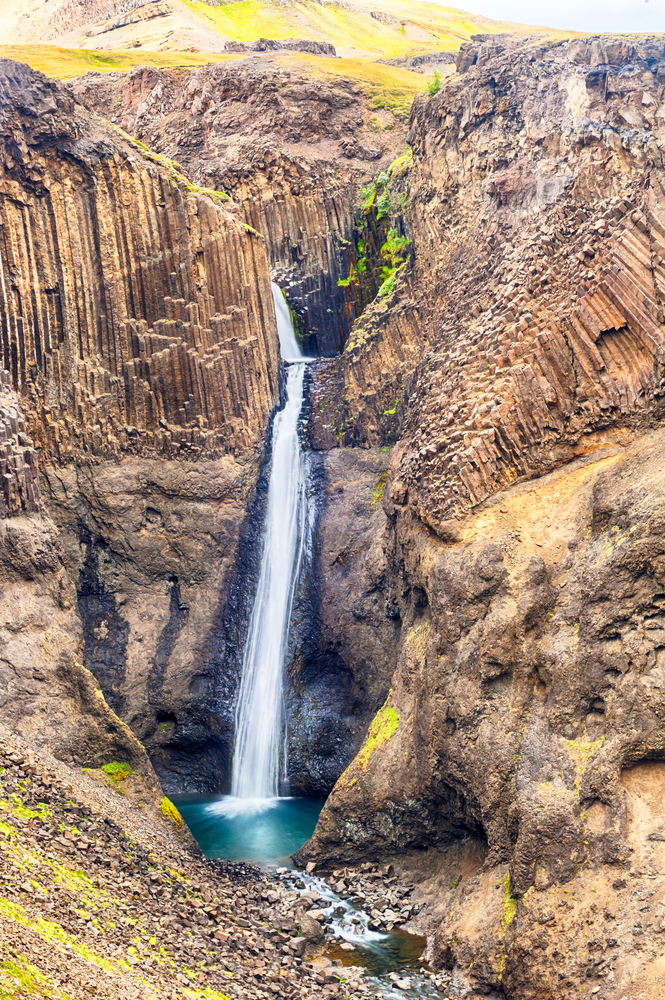 Gufufoss
Gufufoss is very similar in look and feels to Skogafoss, the only real difference being that is lesser-known and therefore less crowded. So if want to photograph the Iceland waterfalls this one should be on your list. It lies in the Eastern fjords of Iceland and is a wide Fall ending in a rocky river
The trail to get to Gufufoss is easy and you will get to the falls after two minutes of walking. The scenery in the East Fjords area is absolutely stunning which all adds to the beauty.
The best viewing spot we feel is from the rim of the gorge where you will also get the best photographs, but you can scramble down into the canyons if you want to get photos in front of the falls.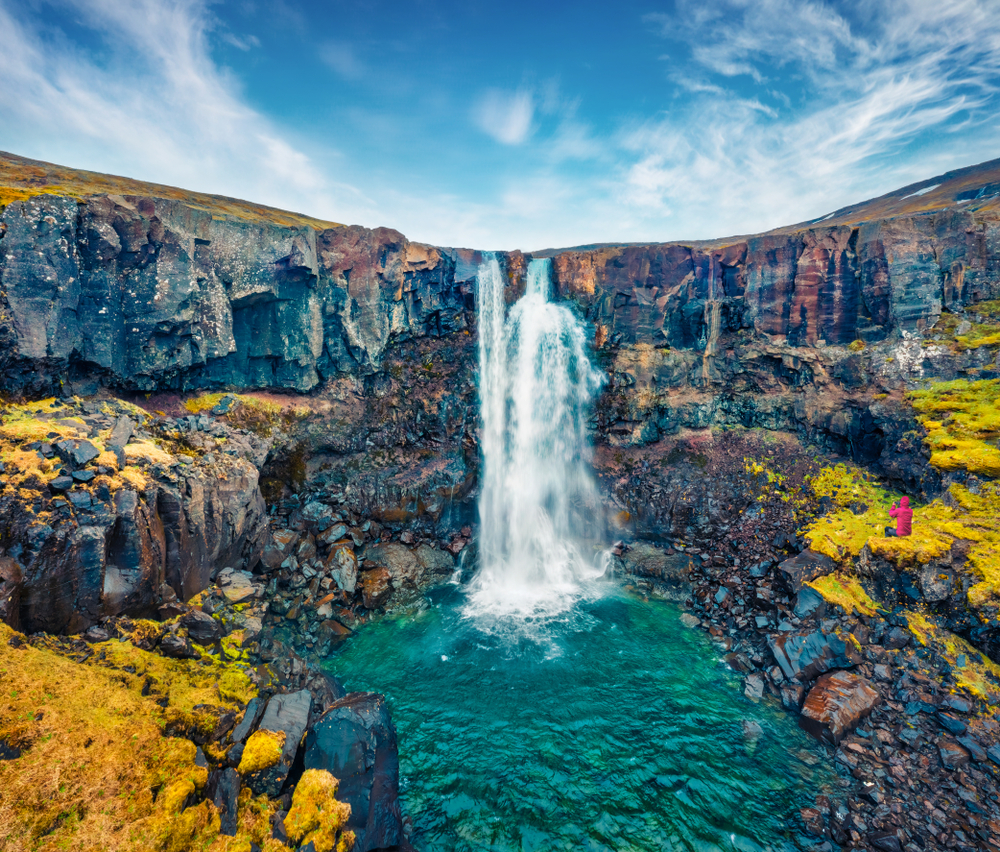 Best Iceland Waterfalls In The North
Dettifoss Waterfalls
If you like your Icelands waterfalls to be all sheer power then Dettifoss is for you. This waterfall has the highest volume of water going over it in Europe and makes an amazing sight. Standing before Dettifoss you feel the power of nature as the water thunders over.
You can visit both the west and east side and both are equally magnificent though you can get closer on the east. On the west, you get slightly better views of the whole waterfall. The parking spots for each side are an hour's drive away so just choose a side and stick with it. In both areas, you will have a short walk
Due to the massive amount of spray, you will get wet so be prepared and if you are traveling in the winter the road around this area can get very challenging. This is one of the best waterfalls in Iceland.
Selfoss Waterfall
A half a mile walk from Dettifoss you will find Selfoss, a beautiful cascading waterfall with far less power but just as much beauty. In the Jokulsargljufur Canyon Selfoss is a horseshoe-shaped Falls and is much wider than it is tall and is best viewed from the east side as you get a better view of the fall of the water.
You park in the same spot as you do for its bigger sister Dettifoss so while you are there it is worth just taking some extra time to visit this waterfall. You can get close and of course, if you do you will get wet but you can get great photos of these falls without having to go too close.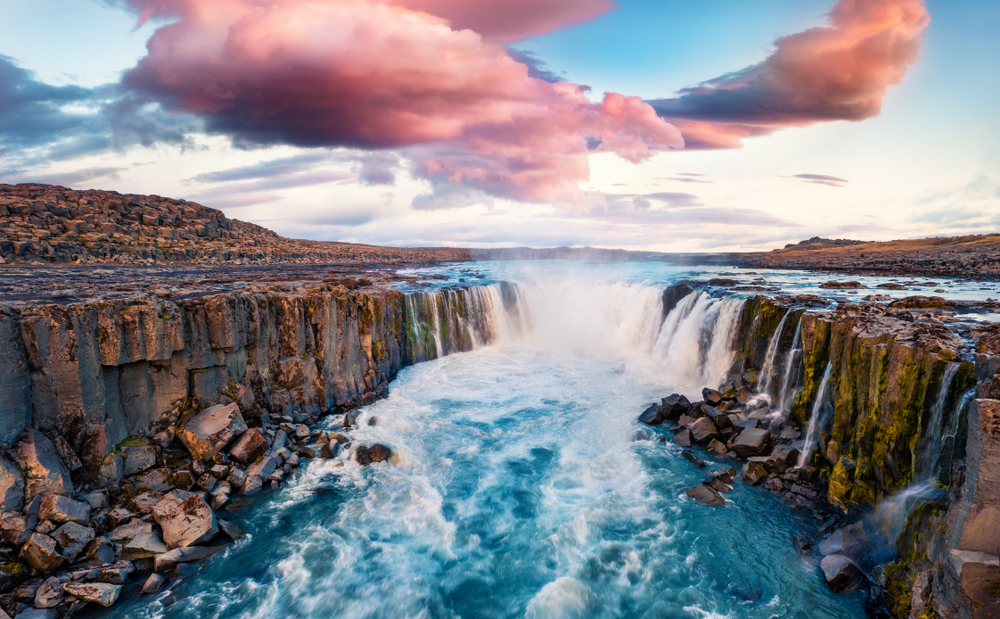 Godafoss Waterfall
If we tell you Godafoss means waterfall of the Gods then you know why you have to visit this stunning Iceland waterfall. This impressive waterfall stretches before you in a half-circle with the two impressive sides almost cut in half by rocks into which a smaller fall cascades.
The base of this waterfall in a brilliant green-blue and because it's so large there are many places to view this beauty. It is one of the well-visited Iceland waterfalls as it's easy to get to just off the Ring Road.
In nice weather, it's a great place to get lost for a while visiting both viewing platforms and walking along the canyon's edge. We feel the best view is from the east side and this is where the cafe and gift shop are located.
It can get slippery especially in winter so be careful. A must-see on your best waterfalls in Iceland itinerary.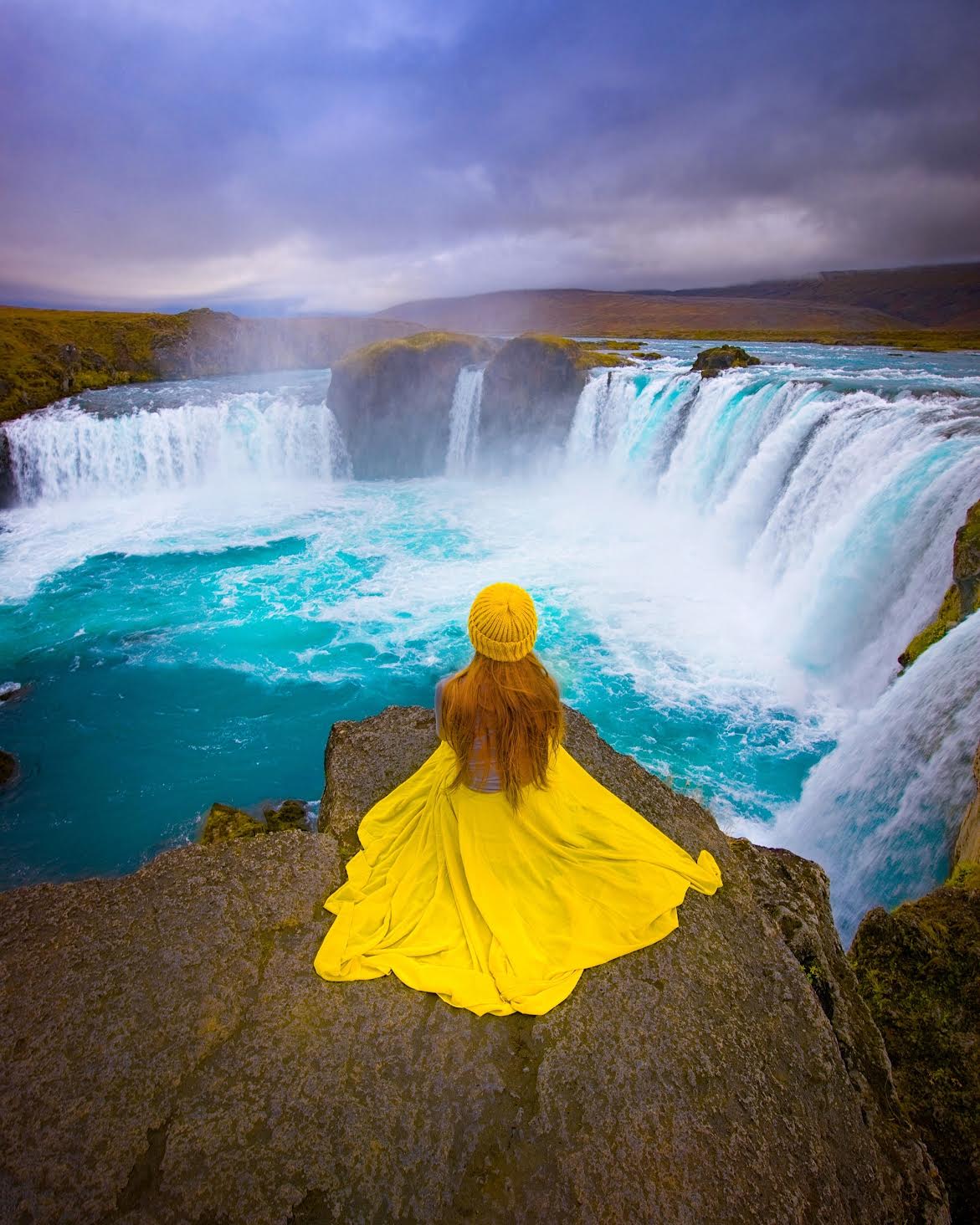 Aldeyjarfoss Waterfall
Another one of the Iceland waterfalls that are located in a remote location and requires a 4 x 4. You might find yourself alone at this peaceful spot and if you are brave you can take a plunge in one of the icy colds pools around the edge. Another Basalt column waterfall that has lovely symmetry for the photographers among you.
In the Summer it is possible to drive all the way up to the waterfall but in winter you will need to park and walk the remaining 40 minutes.
This waterfall is beautiful in both summer and winter and is worth the extra effort.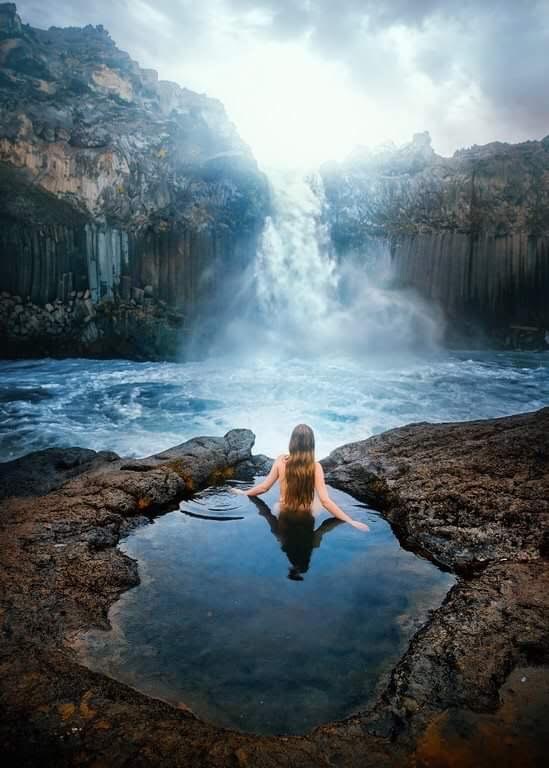 Best Iceland Waterfalls In The West
Kolugljufur waterfall
Kolugljufur waterfall is in Kolugljufur gorge and the waterfall is spectacular and often you will be alone here. The gorge is named after the Giantess Kol who according to legend lived in the gorge and shaped it.
It is one of the best waterfalls in Iceland and is a breathtaking sight as you watch the calm waters turn into leaping, tumbling falls. Be careful around the gorge edge though and don't get too close as it can be very dangerous and slippy and the Iceland tourist board considers it in the top 10 of dangerous places so don't risk going close to the edge.
There is a small space to park and then you will cross a bridge and follow the gorge to find the falls.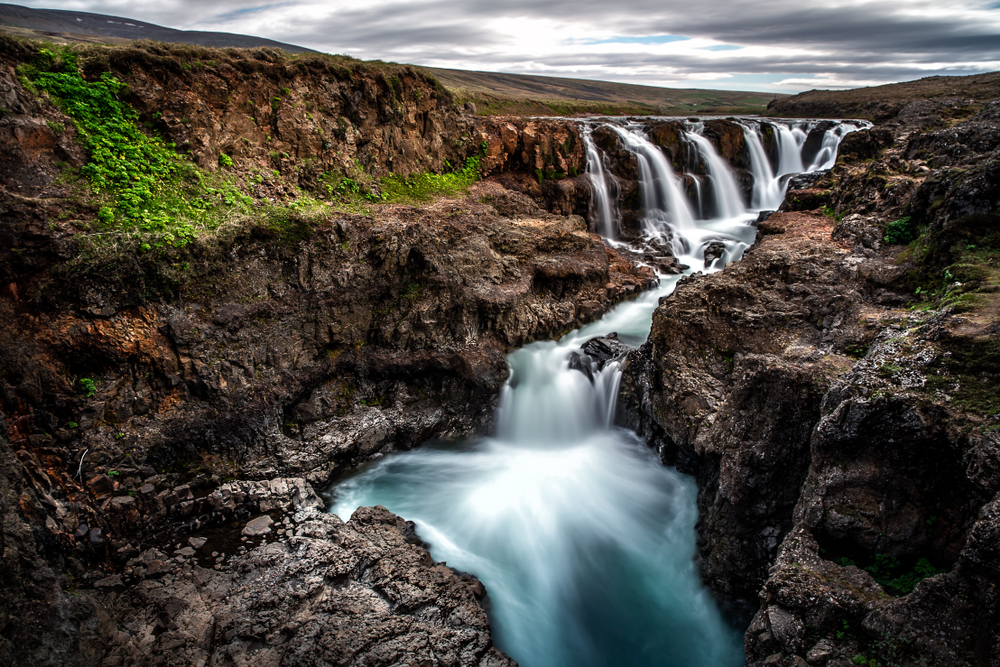 Dynjandi Waterfall
Dynjandi means thunderous or resounding so I guess that gives you an idea of how epic this waterfall is. Many say it as one of the best waterfalls in Iceland and it is easy to see why when you visit it.
It is found deep in the remote Westfjords a place somewhat untouched by tourism. The landscapes are beautiful and remote and some of the oldest in geographical terms.
Dynjandi looks like a bridal veil tumbling down the hile in cascades. You can view it from the car parking area but the hike, about 15-30 minutes, is worth it as you will pass another six smaller falls on the way.
Dynjandi is 100 meters high and 30 meters at the top spreading to 60 meters at the bottom. This is one of Iceland's waterfalls that you won't want to miss.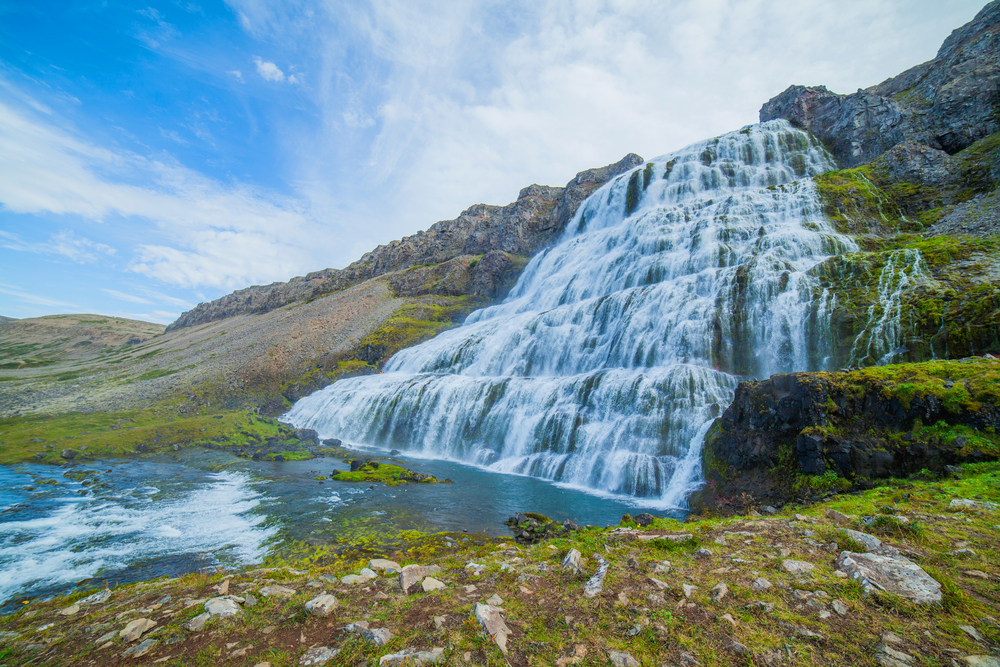 Kirkjufellsfoss Waterfall
Kirkjufellsfoss is one of the waterfalls near Reykjavik and is one of the most photographed Iceland waterfalls, not necessarily because it is unique or spectacular but in that, it makes a lovely foreground to the impressive Kirkjufel a pointed mountain on the Snæfellsnes peninsula.
It's a beautiful place to visit, in summer the mountain is strikingly green and in the winter it is covered in a layer of white with icicles on the waterfall. It's a great place whatever time of the year. We suggest you go in every season to see the difference if you can.
The walk from the parking lot is a relatively easy 10 minutes just be careful in the winter as it can get slippery. The fall is a three-tier fall with the perfect view of Kirkjufell in the background so get your camera ready.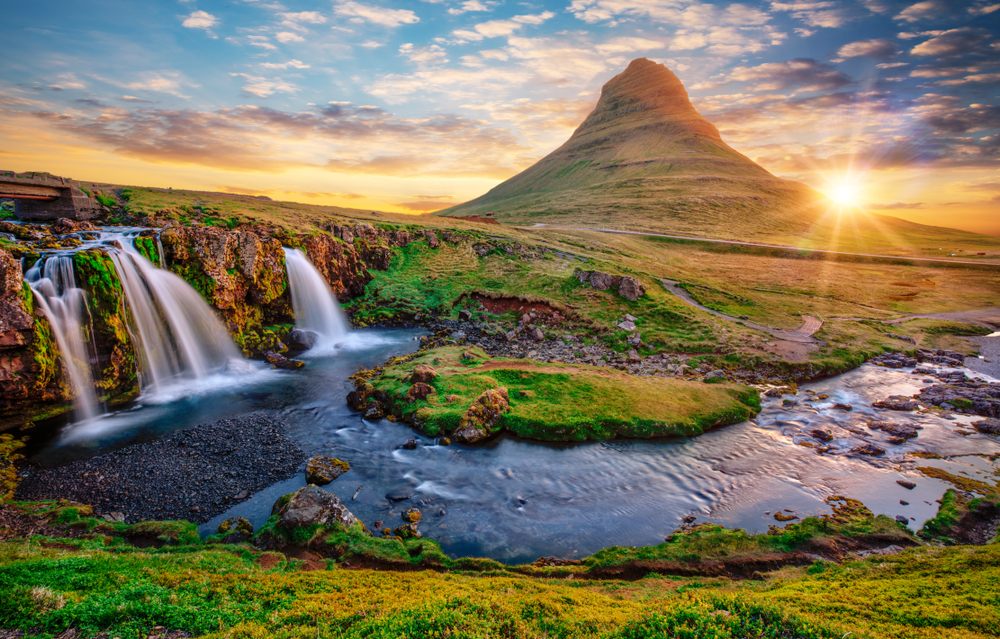 Glymur Waterfall
Out of all the Iceland waterfalls the 650-foot Glymur Waterfall, the second-highest in Iceland just has to be on your Iceland waterfall itinerary. It's a little challenging to get to and involves grabbing onto chains for assistance in steep sections, and river crossings. You will have to hike for about an hour until you get to see this waterfall but when you do it won't disappoint.
In the summer you can cross the first river by a log bridge but this is removed in winter. The other river crossing requires you to wade through very cold water with a rocky bottom. This waterfall makes you work for the view and it's worth it as Glymur appears falling into a moss-covered canyon. The view and the climb will take your breath away.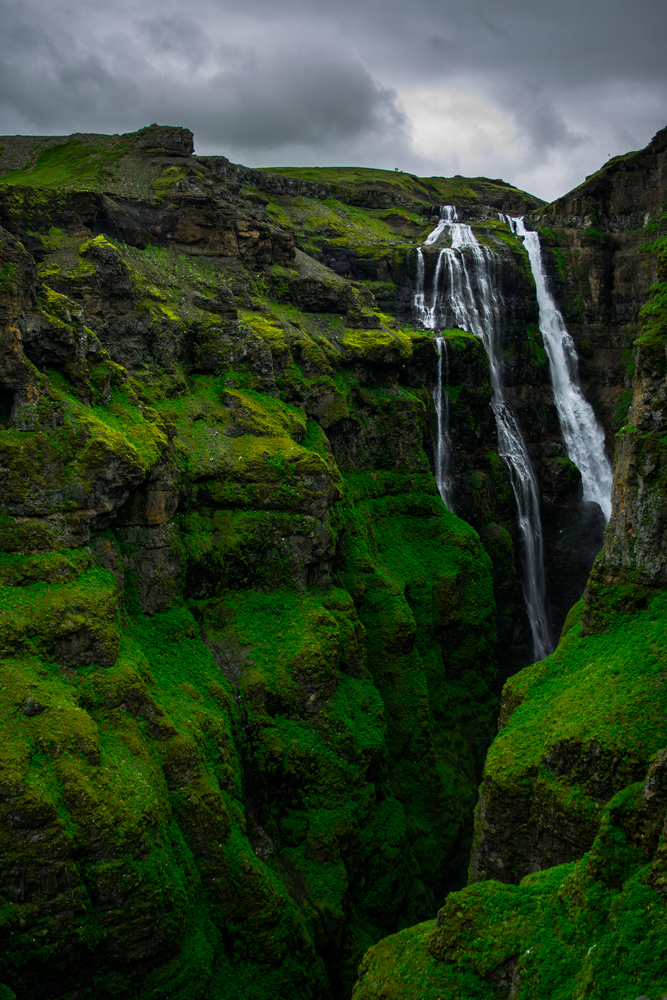 Barnafoss and Hraunfossar Waterfalls
There are many variations of Iceland waterfalls and just when you think you have seen every kind up steps Hraunfossar (Lava Falls).
Barnafoss is a little fall bursting out of a channel and small archway and we suggest visiting this first. Of all the waterfalls in Iceland Hraunfossar is one of the widest spanning just over half a mile.
The water seems to appear from nowhere before forming lacy, magical sections over an expanse of lava. It is beautiful from all angles and looks wonderful at any time of year, in the winter the snow makes the water look an amazing shade of blue, in fall the plants turn a wonderful autumnal shade, and in summer it is lush and green.
There is a decent-sized parking lot, a wonderful cafe, and a bathroom (there's a small fee) and a pathway will lead you to the observation decks for both these falls.
These waterfalls make our list of the best waterfalls in Iceland.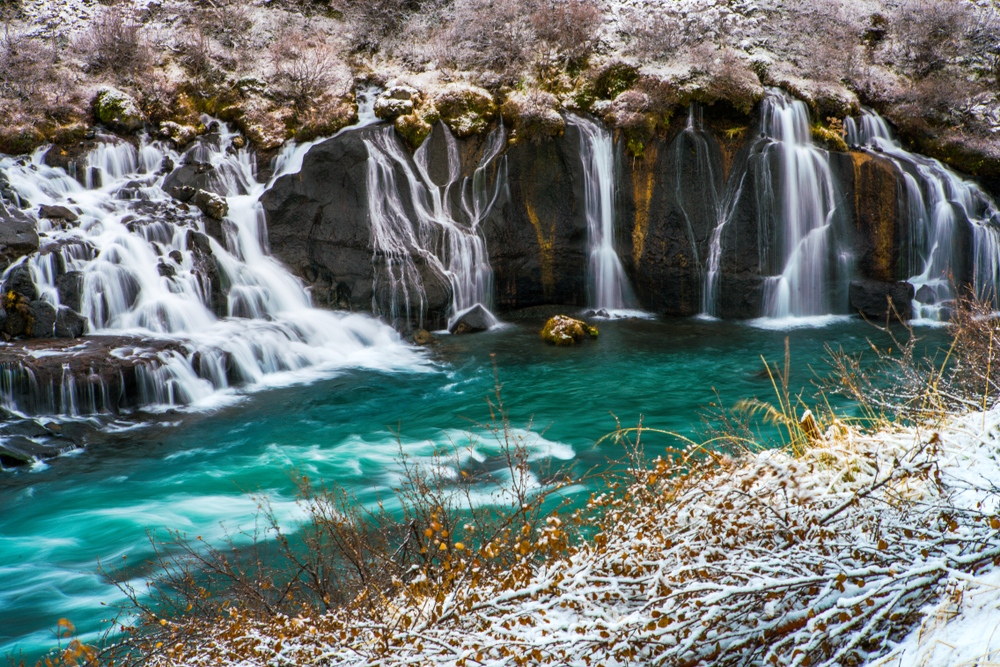 Map Of The Best Waterfalls In Iceland
We put together this map of the best waterfalls in Iceland so that you can easily and visually see where they are located!
No matter where you are traveling in Iceland, you can see that there are waterfalls you can easily visit.
We know some of you are visual learners so looking at this map will help you with your Iceland planning.
If you want, you can even use the Google Maps app to download the map offline to use during your trip!
Click Here For Map Of Waterfalls In Iceland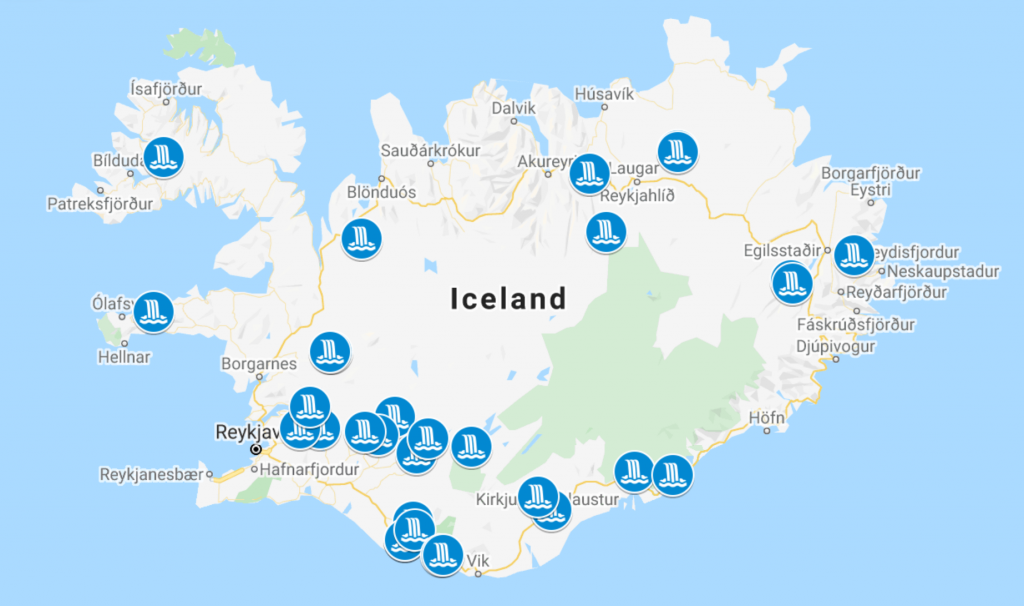 As you can see when it comes to Iceland waterfalls there are so many to choose. From the large to the small, from the isolated to the popular we believe there is something for everyone.
Whether you are looking for waterfalls near Reykjavik or some of the best waterfalls in Iceland that are further afield we have included them all. Add your favorites to your waterfalls in Iceland itinerary and let us know which ones you fell in love with.