Kvernufoss Waterfall is one of our favorite waterfalls in Iceland!
Sadly, we visited Iceland MANY times before we even knew it existed, despite it being off the same road as the more famous Skogafoss Waterfall!
Kvernufoss Waterfall is one of the most unique waterfalls in Iceland for a few reasons.
First, you can walk behind it! How cool is that? There really is nothing like walking behind a waterfall and this is the place to do it!
Second, it is less crowded than other spots nearby so if you are looking to escape the tour buses, this is the place for you!
Finally, there is a nice short hike to get to Kvernufoss Waterfall so if you are looking for some peaceful but easy hiking in Iceland, this is the place for you!
Get a FREE printable "Hidden Gems In Iceland" E-book by joining our private Iceland Facebook Group and share your photos and ask for tips and tricks.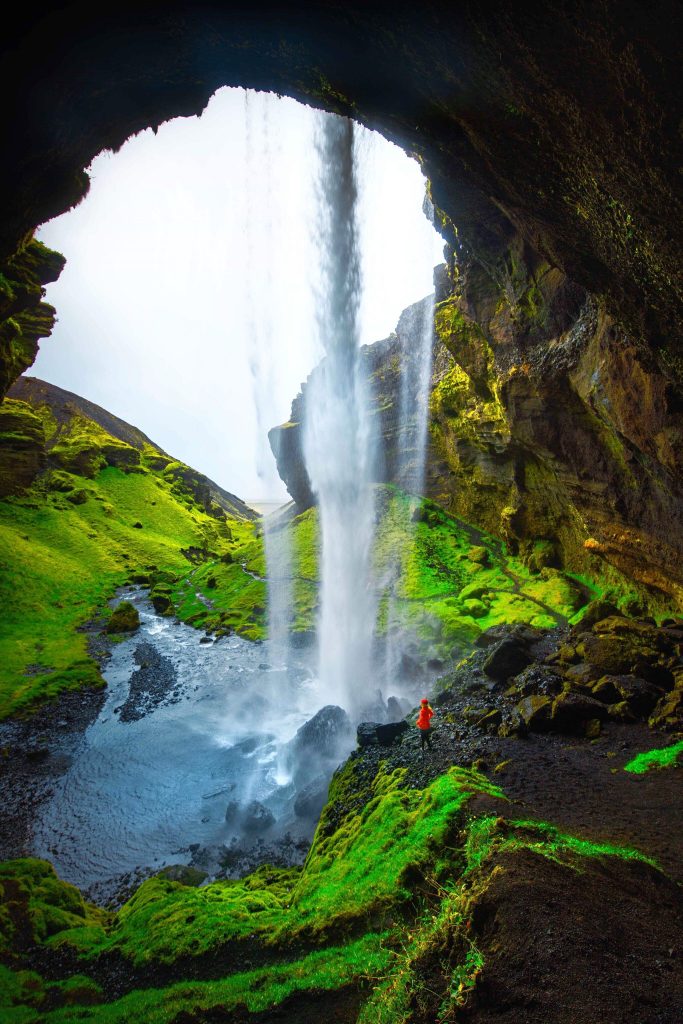 Where Is Kvernufoss Waterfall?
Kvernufoss Waterfall is located off the same road as Skogafoss Waterfall in the South Coast of Iceland!
If you look carefully, you can see the gorge and waterfall from the Ring Road, but most people miss it!
As we said, we missed Kvernufoss for 3 trips to Iceland before we even knew it existed, despite visiting Skogafoss every time!
To get to Kvernufoss Waterfall, you are going to put Skogar Museum in your GPS.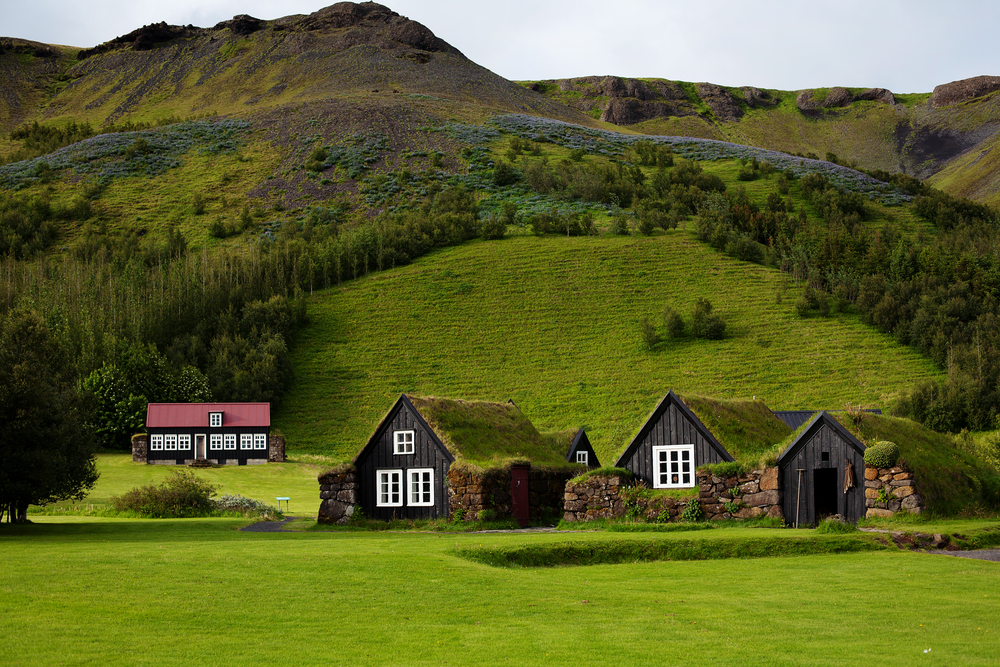 Parking at Skogar Museum used to be free, but now it costs money and you must go inside to pay if the museum is open. One time we visited and the museum was not open so we were not able to pay and didn't see a fee box.
The hike starts behind the building next to the Skogar Museum that looks like a huge garage. Simple go around the right side and you will see tractors and various items.
There is a fence and a small ladder to get over it. This is the beginning of the hike to Kvernufoss Waterfall!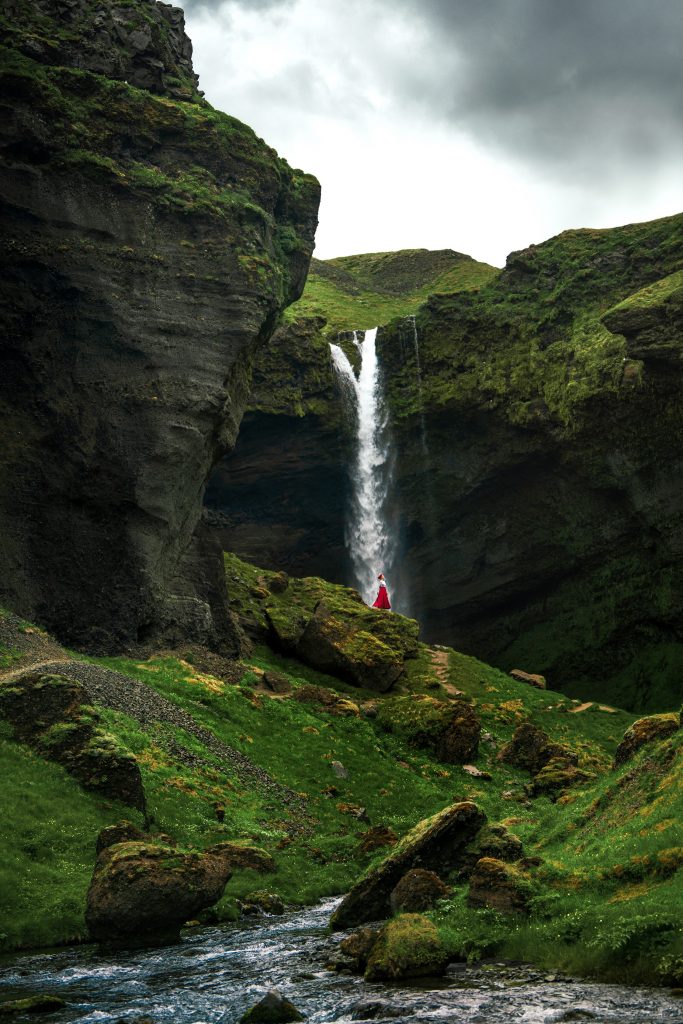 How Long Does It Take To Hike To Kvernufoss Waterfall?
The hike to Kvernufoss Waterfall takes about 20 minutes one way.
It is pretty easy and the views are beautiful as you walk along the river!
Simply follow the river into the gorge for about 20 minutes and you will reach the waterfall in no time.
The hike starts flat and easy. In the summer or if it is rainy, it may be very slippery and muddy.
We always recommend good hiking shoes or rain boots which is what we prefer to wear!
Then, you will reach a section where you are going to have to walk/climb up a small and steep hill along the side of the gorge. Don't worry, it isn't that hard.
Once you are on top of this area, you have arrived in what looks like a scene from Lord Of The Rings and you can see Kvernufoss Waterfall in the distance!
Once you make it to the top of the small hill, you just walk for a few more minutes until you reach the base of Kvernufoss Waterfall!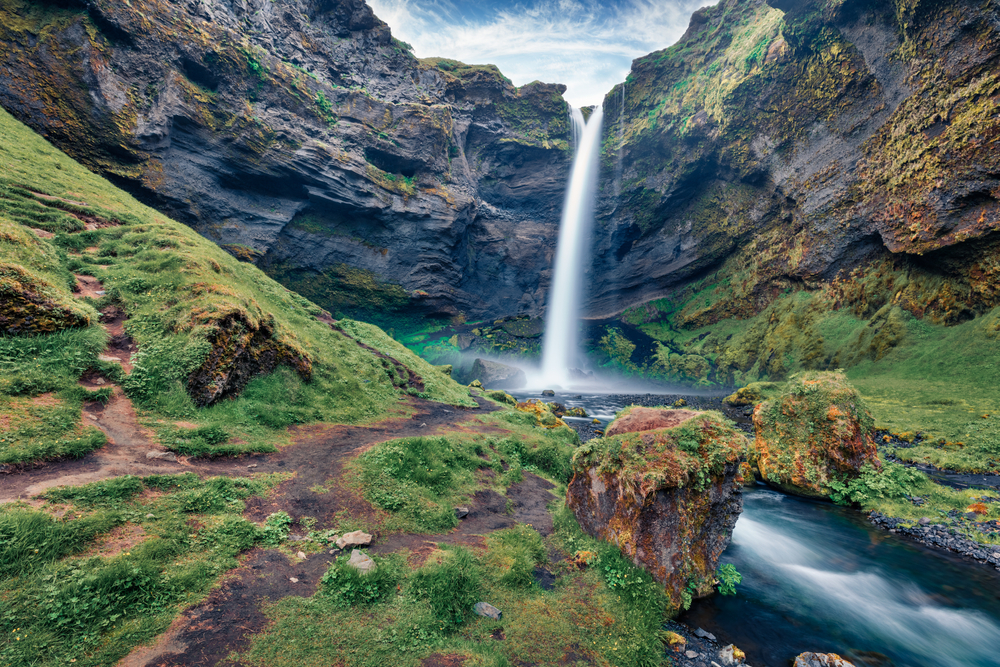 Walking Behind Kvernufoss Waterfall
Walking behind Kvernufoss Waterfall is super easy! Just follow the trail around the waterfall and you will arrive quickly and easily!
When you are behind the waterfall, you will not get wet! Unlike Seljalandsfoss, Kvernufoss is a smaller waterfall and you stand further back!
When you walk behind the waterfall, make sure that you are wearing good hiking shoes and not something like Converse or track shoes!
If you are visiting Iceland in winter, you will NOT want to try to walk behind Kvernufoss Waterfall!
You can see the waterfall, but walking behind it is slippery and dangerous and basically impossible.
If you walk behind Kvernufoss in winter, you are risking possible injury or death from an icicle falling on your head. They are quite large and dangerous.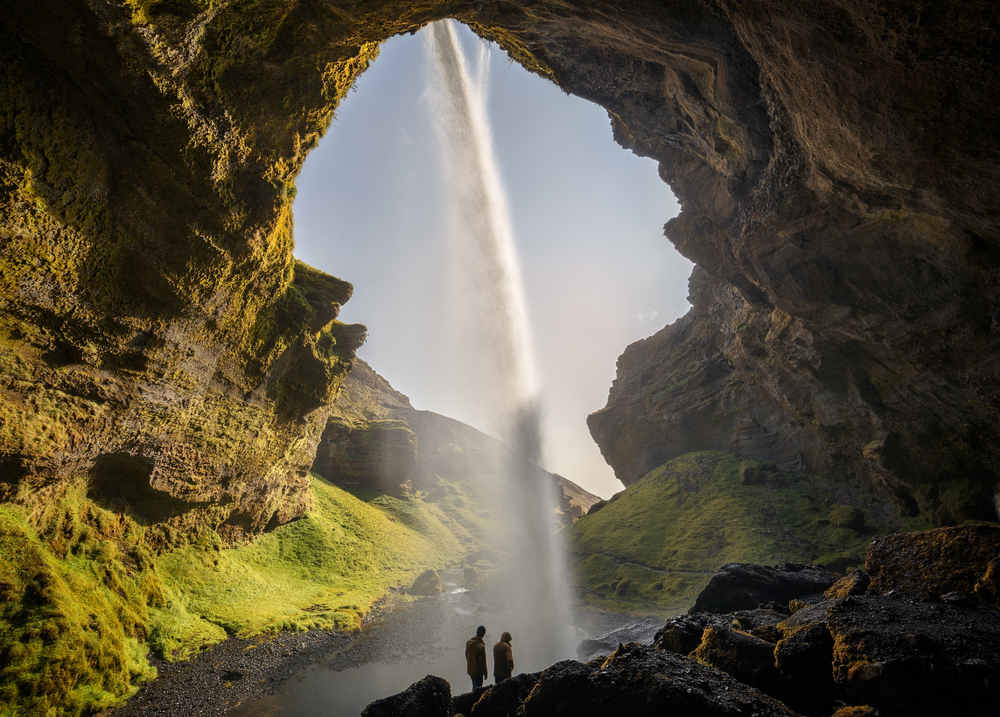 How Long To Spend At Kvernufoss Waterfall
How long to spend exploring Kvernufoss Waterfall depends on you personally!
We have spent 3 hours here as we are photographers and just enjoy spending a long time at locations!
Most people we see hike the 20 minute hike in, spend about 10-20 minutes enjoying the waterfall, and then hike the 20 minute back out.
So with those calculations, plan on spending about an hour exploring and enjoying Kvernufoss Waterfall!
Of course, if you are a photographer or just want to enjoy the nature, you may want to spend longer! It is one of the best places to see on your Iceland Itinerary!
Tips For Photographing Kvernufoss
If you are looking to photograph Kvernufoss, there are a few angles you are going to want to capture!
If you want to take photos from behind the waterfall, you are going to want a SUPER wide angle lens!
We are talking like a 15-30mm or a gopro! A cell phone camera will work okay and an ultrawide phone camera works even better.
You can still take lovely photos of your visit to Kvernufoss Waterfall even if you don't have a lot of fancy gear!
Our second favorite spot for photography is from standing on top of the little hill during the hike on the side of the mountain and using a zoom lens to bring the waterfall in closer with compression!
We love a 24-70mm or a 70-200mm for these shots!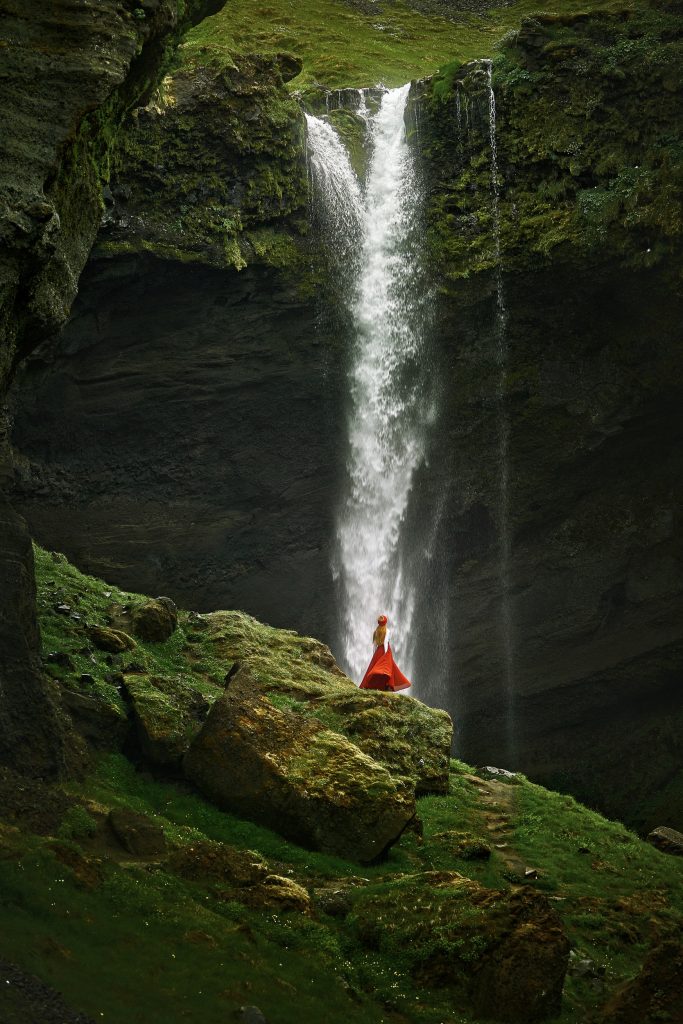 Finally, we love a wider angle shot on a 24-70mm with the foreground of the river and the waterfall further in the back!
Basically, there are no bad ways to photograph Kvernufoss Waterfall as it is beautiful and one of the prettiest waterfalls in Iceland!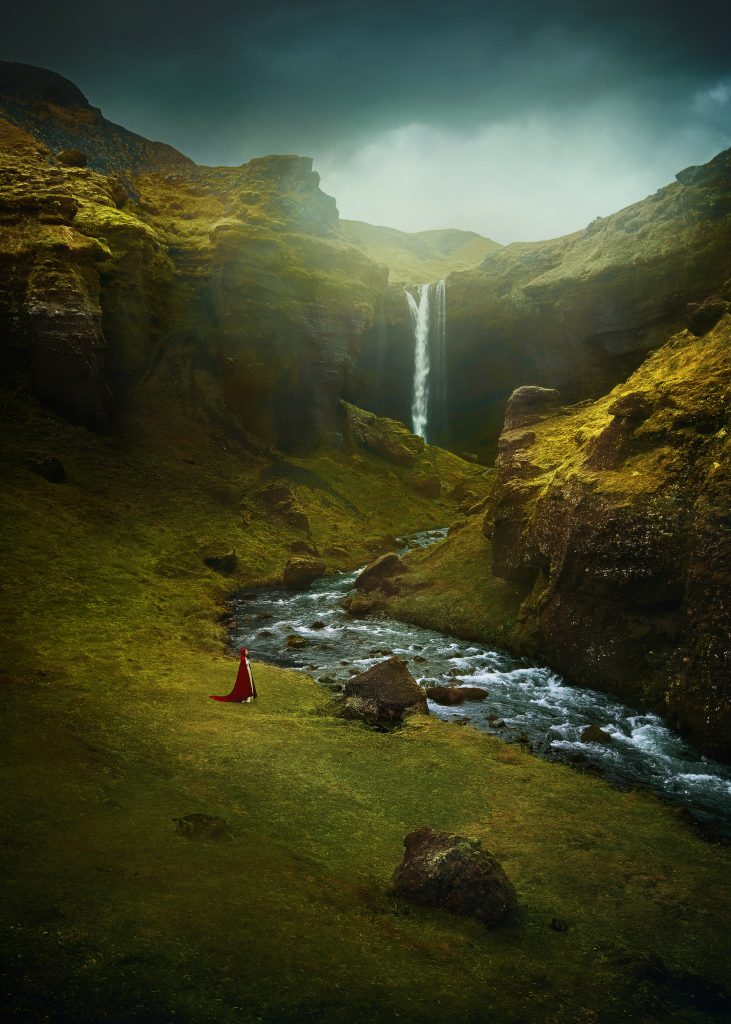 Be Kind To The Land At Kvernufoss
When visiting Kvernufoss Waterfall, be kind to the land!
There are no bathrooms and no trash cans.
If you need to use the bathroom or trash can, you can use them at Skofar Museum at the start of your hike!
NEVER leave your trash along the trail and never poop along the side of the mountain and leave your toilet paper flying about. YES this happens and yes we have seen it.
It really isn't that hard to respect the land in Iceland!
Finally, make sure to stick to the trails that are already made in the side of the canyon!
Have fun and be safe when enjoying Kvernufoss Waterfall! We want to make sure that this stunning waterfall stays beautiful for the next visitor and for Icelandic locals!