Looking to explore Gullfoss Waterfall in Iceland? Gullfoss Iceland is one of the country's signature waterfalls and it is no surprise to see why!
The waterfall is beautiful, unique, and in a good location so if you get a chance to visit, you should take it! Gullfoss brings something to the table that you don't normally see which is what makes it so special. Before you visit Gullfoss Iceland, there are a few things you should know to have a safe and enjoyable experience.
Gullfoss Waterfall is probably one of the first waterfalls you will visit in Iceland. For us, we arrived into Reykjavik and the next day we drove the Golden Circle and saw Gullfoss for the first time. Gullfoss Waterfall is such a fantastic introductory waterfall to see in Iceland because it is so unique and beautiful. It will not disappoint and you are really going to enjoy seeing this beautiful waterfall!
Get a FREE printable "Hidden Gems In Iceland" E-book by joining our private Iceland Facebook Group and share your photos and ask for tips and tricks.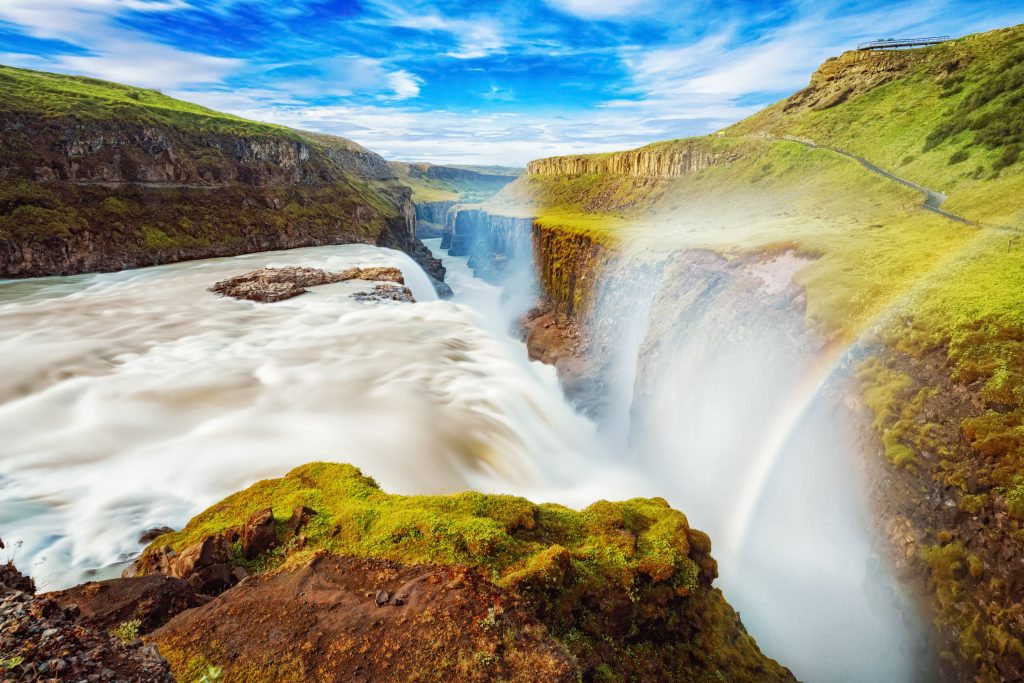 5 Things To Know Before Visiting Gullfoss Waterfall Iceland
#1. Gullfoss Waterfall Is Only 1.5 Hours From Reykjavik On The Golden Circle
If you are staying in Reykjavik and only have a little time, Gullfoss Waterfall Iceland is a great choice to visit because it is relatively close to town and very memorable. Gullfoss is located on Iceland's Golden Circle Drive which is a circle drive that begins and ends right outside Reykjavik.
Gullfoss Waterfall is located smack dab in the middle of the drive and is about 1 hour and 31 minutes from Reykjavik. The drive to Gullfoss on the Golden Circle is easy, well kept, and beautiful! To see Iceland's Gullfoss Waterfall, budget at least four hours of time to get to the waterfall, explore, and then drive back. We promise you are going to also want to stop at all the beautiful viewpoints along the drive to Gullfoss too!
A visit to Gullfoss Waterfall makes a wonderful day trip from Reykjavik. You can easily drive yourself or you can choose to take a tour. Either way, the experience is memorable and the drive is easy. If you aren't familiar with driving on the "right" side of the road or if you are visiting Iceland in winter and you aren't used to driving in snow and ice, make sure to drive slowly and cautiously.
The roads in Iceland that lead to Gullfoss Waterfall are in very good condition, especially for an Arctic location. They are smooth and kept up, with no potholes and sketchy cliffs.
We are happy to report that a self-drive day trip to see Gullfoss Waterfall is easy and attainable for most people to visit on their own. This is one of the best stops along the Ring Road in Iceland and you really shouldn't miss it!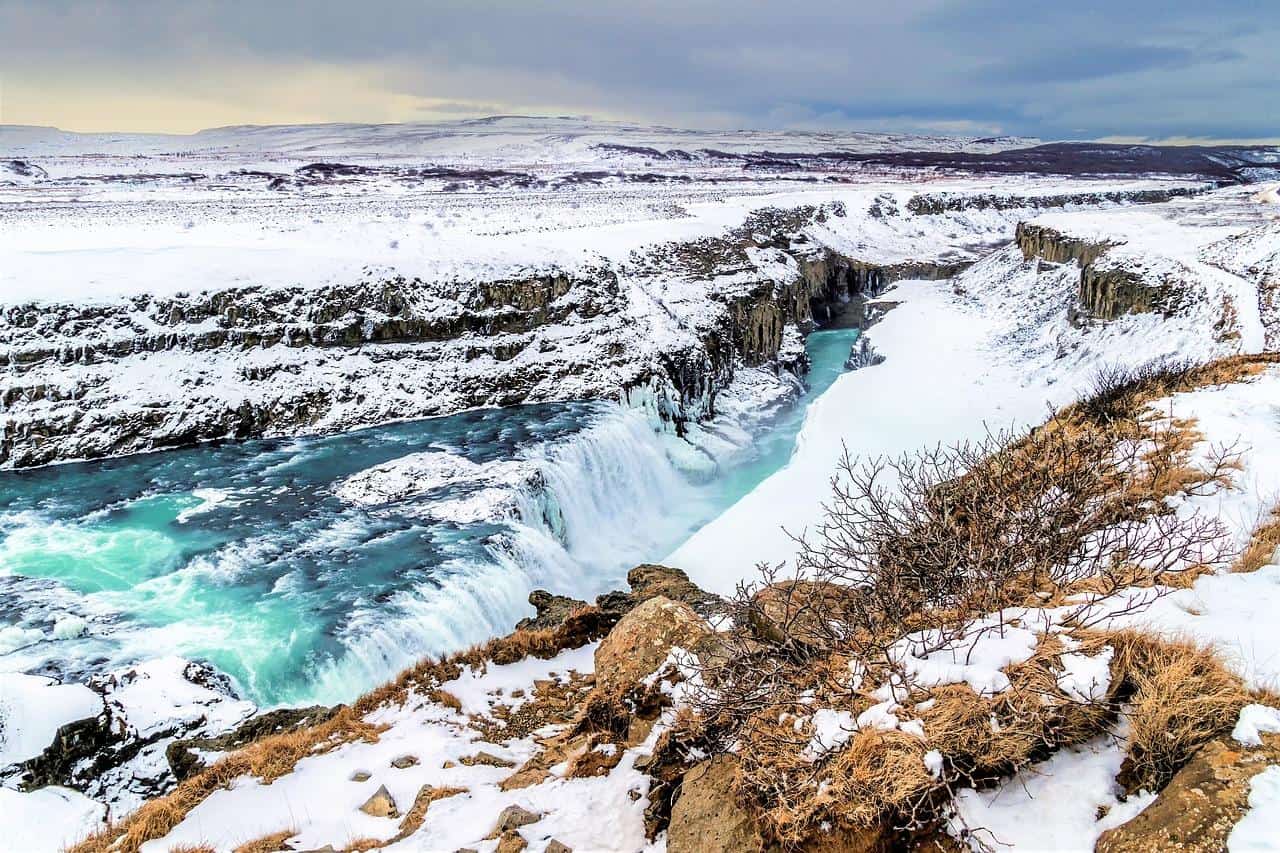 #2. Visiting Gullfoss Is Unique Because You View The Waterfall From Above Instead Of Below
Think of any waterfall you have been to. Chances are pretty high that you viewed that waterfall from the bottom! Gullfoss Waterfall is one of the natural wonders of Iceland and it is unique because you view the falls from above and it appears that the Iceland waterfall is actually going underground!
It is a very interesting perspective making Gullfoss one of Iceland's most famous waterfalls. If this is one of the first waterfalls you see in Iceland, you will certainly remember it because it is one of the only waterfalls in Iceland with such a unique formation.
Gullfoss plunges into a gorge of foaming water so there is no way you could possibly even view it from the bottom. There are multiple angles that you can view Gullfoss from above and each offers a stunning perspective of the powerful waterfall crashing into the river below.
Seeing a waterfall seemingly disappear into the earth is a very memorable experience! Whether you love photography or just want some great travel photos for your vacation scrapbook, Gullfoss Waterfall will not disappoint.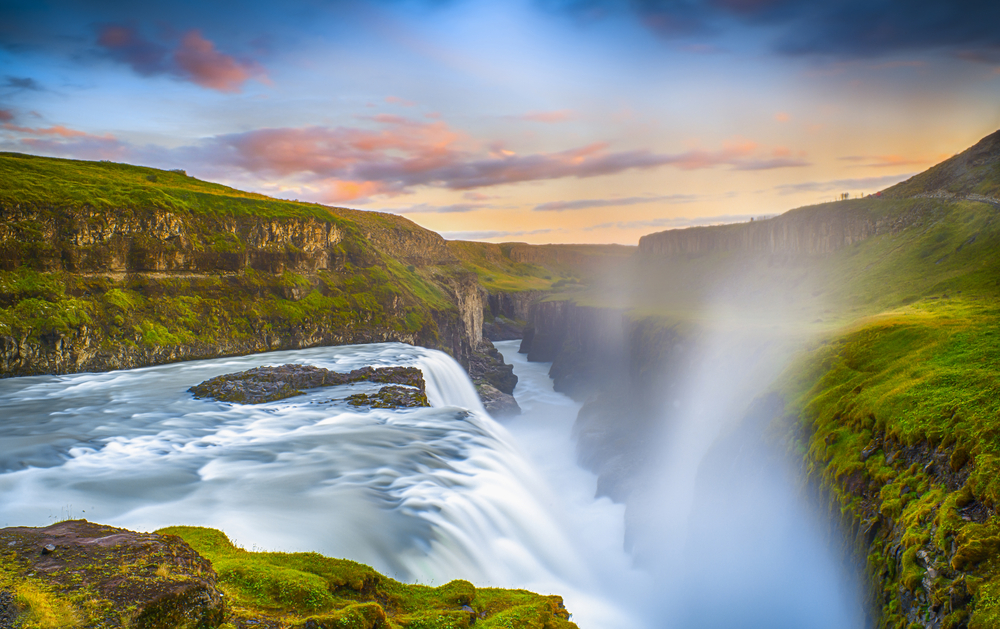 #3. Gullfoss Iceland Is Open Year Round, But Some Viewpoints Aren't Always Accessible
If you are visiting Iceland in winter, it is still very doable and easy to visit Gullfoss Waterfall. As we said above, the roads in Iceland and especially the roads that lead to Gullfoss are very well kept up. We have driven this route in the dead of winter and the roads were always in great condition. That being said, you will not have access to the same range of viewpoints as you may when you visit in summer or visit during another part of Iceland's off-season.
The viewpoint from the Gullfoss Visitor Center is safe and well maintained and open year-round. There are also steps down to a lower viewpoint of Gullfoss that are open during winter too but they can become quite icey. Wear crampons if you have them and plan to explore in winter.
How do we know? Because we have visited Gullfoss in winter and have slipped and fallen on the stairs and onto our butts. Not only did it hurt but it is also potentially very dangerous! We were wearing snow boots with good grip, but it was still no match for the ice all around the viewpoints!
There is a trail that leads down to an overlook that is directly on top of Gullfoss Waterfall that is open during the warmer months but now closed during the winter. If you are looking to see the waterfall from this view, understand that you may have to visit during a warmer time of the year. Visiting Gullfoss in the snow isn't a bad experience at all and the ice all around the waterfall makes it look dreamy and unique!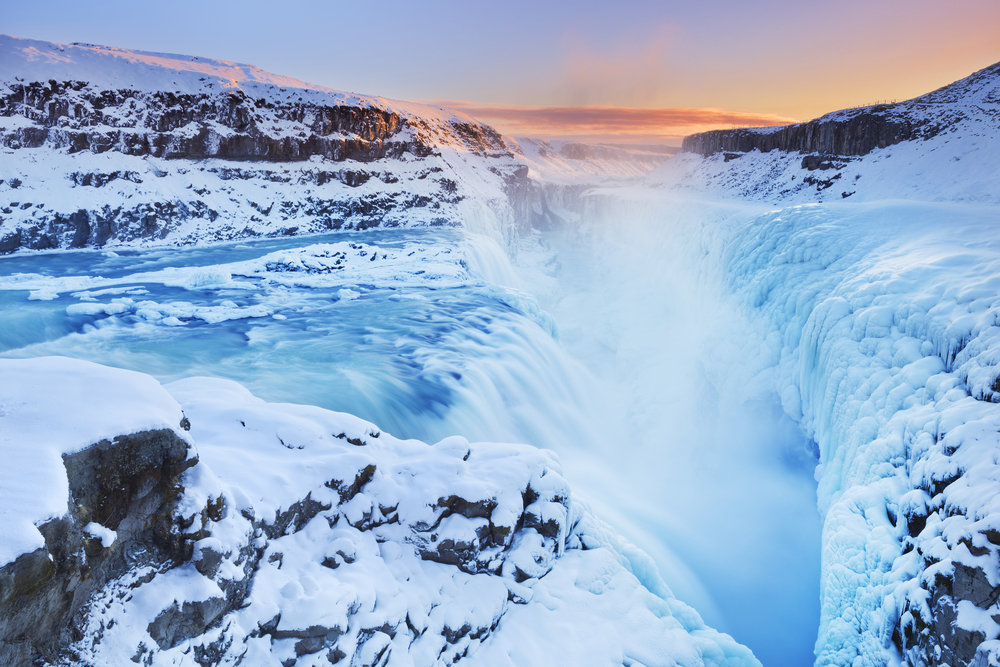 From the lower viewpoint, you will see a gate that will be blocked off during icy conditions or inclement weather. This gate leads to a pathway that brings you right next to Gullfoss Waterfall Iceland. It is an impressive view and allows you to get up close and personal with Gullfoss.
If you hope to see the traditional Gullfoss Waterfall view, you will always have the chance from the safety of the visitor center and nearby viewing platforms.
If you hope to stand right next to Gullfoss and shoot downstream, you may or may not be able to depend on what time of year you visit. We visited Gullfoss during the dead of winter at the beginning of March and this pathway was open. Another time, we visited during November in no snow and the pathway was closed. If you want to ensure you will get an up-close view of Gullfoss, plan your drive in Iceland during the warmer months.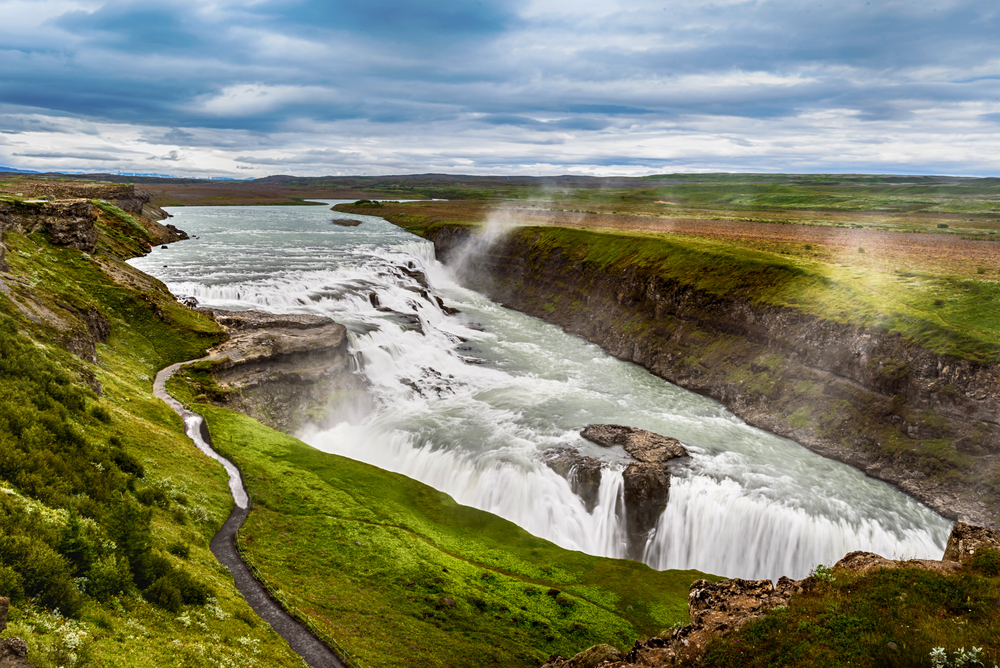 #4. Using The Restroom At Gullfoss Waterfall Costs Money…..But There Is A Hack!
In case you didn't know, many bathrooms in Iceland cost money to use! This is a super foreign concept to those of us from North America, but quite usual in Europe so be prepared! When visiting Gullfoss in Iceland, there are very nice and modern bathroom facilities in the Gullfoss Visitor Center parking lot.
They are quite prominent, clean, and often busy as Gullfoss Waterfall is a popular stop when driving in Iceland. These restrooms cost money to use and many people don't know that until it is too late and they don't have any spare change which is especially inconvenient if you are trying to visit Iceland on a budget.
That being said, if you simply go inside the Gullfoss Visitor Center you will be able to use the restroom 100% for free! There is a shop and lunch cafe-style restaurant inside and nearby there is a warm and free bathroom! The majority of people don't know about this free option and are stuck having to pay for the outdoor facility or not go at all! If you plan to visit, simply park your car and head inside for a free restroom experience!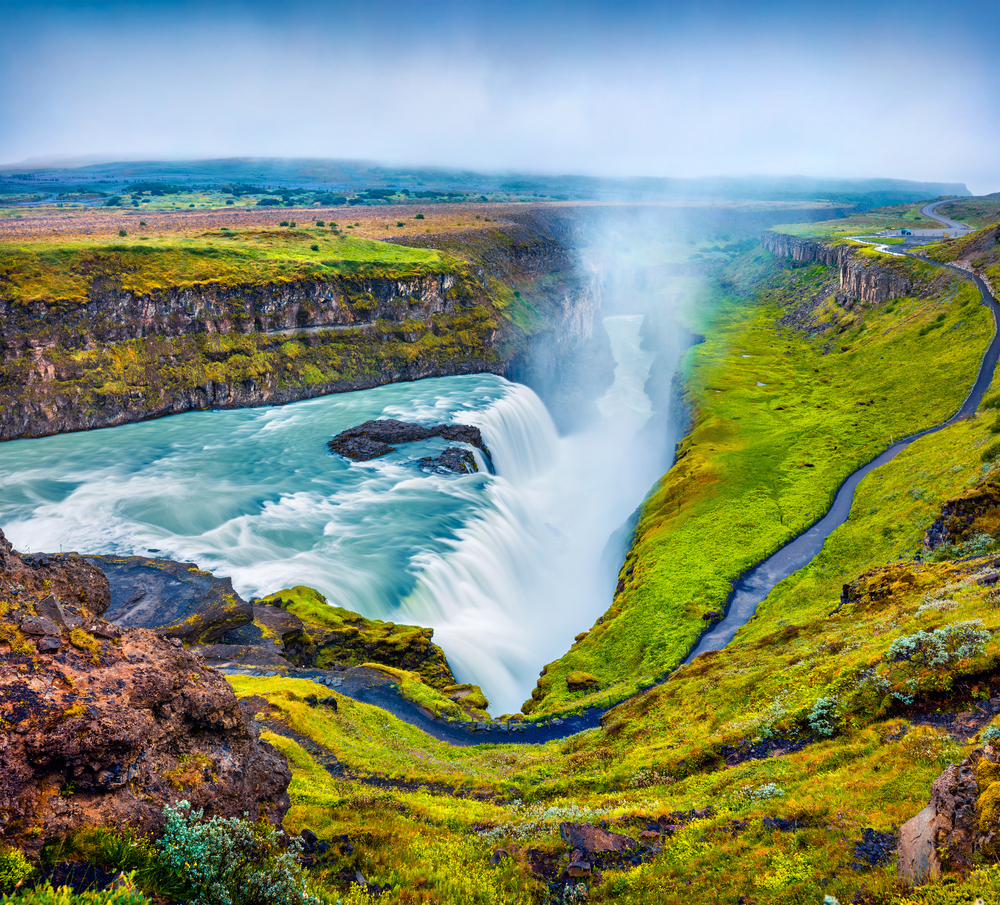 #5. Gullfoss Literally Translates To "Golden Falls" And It May Be Marked As Such On Your GPS
In Icelandic, Gull means Golden, and Foss means falls/waterfall. When you hear Gullfoss, that literally translates to Golden Falls. The rushing water of Gullfoss Iceland looks like a golden waterfall when the sun hits the water on a sunny day.
This name translation is worth noting because sometimes your GPS will call the location "Golden Falls" instead of Gullfoss Waterfall. Apple Maps vs Google Maps also have different markings depending on what you put in. You want to be sure you are heading to the correct location and not to some random part of the country!
If you don't know the translation, you could get very frustrated with your GPS for not bringing up the exact address or for taking you somewhere else. If you begin to type in Gullfoss into your GPS and "Golden Falls" comes up first with an address on Iceland's Golden Circle, you are good to go and well on your way to Gullfoss Iceland!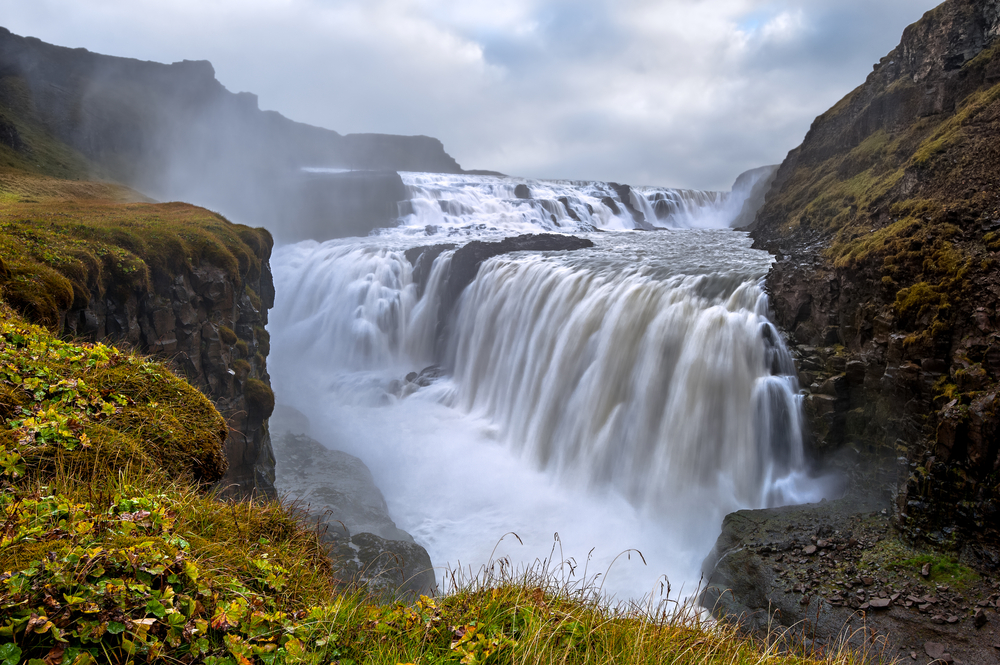 Quick Tips For Visiting Gullfoss Waterfall
-Any Time Of Day Is Perfect For Visting Gullfoss Waterfall. Gullfoss Waterfall is great to visit any time of day. Whenever you have time, you should go! There is truly no optimal time and the way the falls are situated means that you can easily photograph them without people being in your way!
There is no need to get here very early in the morning. If you are looking to photograph Gullfoss Waterfall, make sure to check the weather for the day you are looking to visit. If it is going to be cloudy, you are set to visit at any time of the day. If there won't be a cloud in the sky, it will be better to go during "golden hour" which is during sunrise and sunset.
-Stay On The Approved Trails And Walkways. When visiting Gullfoss, we highly recommend following caution signs and staying on the approved trails. It can be tempting to go off trail to get the perfect photo, but that photo isn't worth your life!
Gullfoss Waterfall is very powerful and the ground may be unstable or uneven. This is especially true during the winter because snow may look safe but may end up being deceiving. Tourist deaths have sadly become more common in Iceland and the trails can get very slipperty. You don't want to put yourselves or the Icelandic rescue team in danger so make sure to practice safety and caution.
-Dress Appropriately When Visiting Gullfoss Waterfall. You are going to want to enjoy your visit to Gullfoss Waterfall in Iceland so be sure to wear the proper clothing! During the summer, the surrounding areas can be slippery and wet and during the winter, they will be icy or slushy. We have seen many people walking around Gullfoss Waterfall wearing wet Converse shoes or sneakers and we don't want this to be you! Check out the best jackets for Iceland and the best shoes for Iceland for our tried and true recommendations!
-Leave No Trace. While this may sound obvious, it begs to be said. The more popular Iceland gets the more trash people leave behind. This is thoughtless and damages the environment. When visiting Gullfoss Waterfall Iceland, make sure to leave no trace. Out on a hike? Don't litter, and this includes cigarettes. If you are eating a candy bar or finish a plastic bottle of water, keep it with you until you reach a trash or recycle bin. Only you can help keep Gullfoss Waterfall trash free and beautiful!
-You Don't Have To Drive To Visit Gullfoss Waterfall. If you are planning a trip to Iceland and don't want to drive, you can still totally visit Gullfoss Waterfall! Many people visit Iceland on a stopover or aren't comfortable renting a car or shelling out extra money and that is okay!
Many tours in Iceland will take you to Gullfoss Waterfall and these tours are actually the most affordable tours you can go on in Iceland! So if you want to see Gullfoss Waterfall Iceland and you don't want to deal with driving, simply find a "Golden Circle Tour" and you will be all set! Check out Golden Circle Tours Here!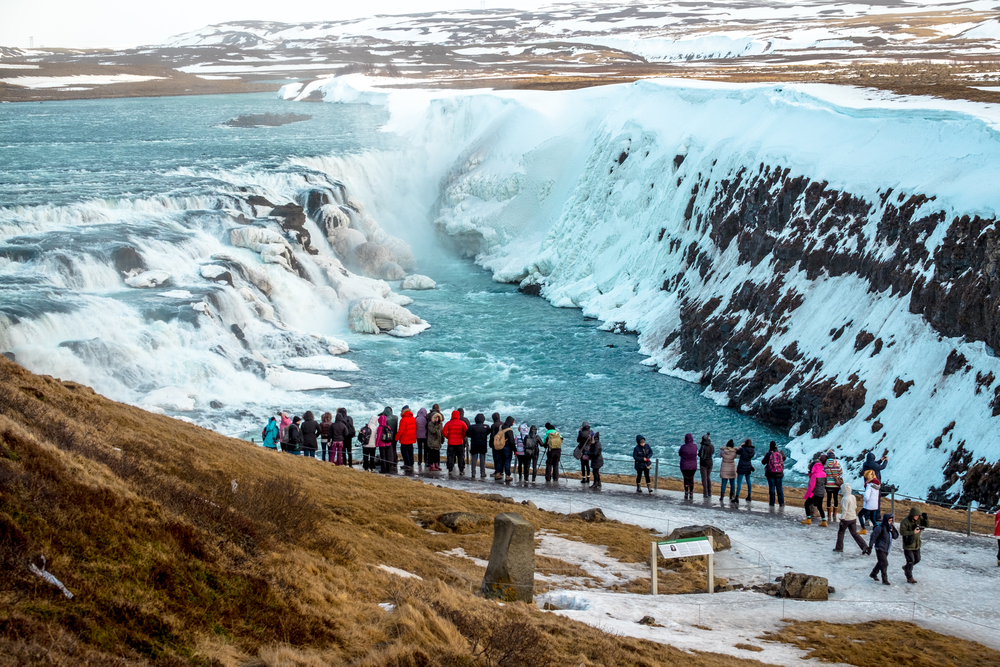 Tips For Photographing Gullfoss Waterfall
If you are visiting Gullfoss Waterfall as a photographer or you just want to capture some beautiful images of this stunning place, here are some tips for you! First of all, sunrise or sunset will provide the best lighting. That being said, if you visit on a moody day when it is cloudy or there is weather in the area you are in luck because you can photograph it at any time of day.
No matter what time of day you visit, the waterfall is stunning and a great photography location. Our favorite time of day to photograph Gullfoss Waterfall is when it is cloudy/moody because you get to take great photos at any time of day and for as long as you want without rushing around early in the morning or later in the evening.
If you are looking to capture a long exposure image of Gullfoss Waterfall where the waterfall looks silky smooth in your image, you are going to want to bring a tripod. We use this Benro Travel Angel tripod and love it for shooting in Iceland.
When choosing a tripod for your trip to Iceland, make sure to choose one that is very sturdy and reliable because Iceland can get quite windy and you don't want your camera to fall over and get damaged. In order to get the silky smooth look, you are going to want to take a long exposure at Gullfoss Waterfall.
Put your camera on a tripod and then you are going to want to make sure that the shutter is open for 0.5-2 seconds [or more] depending on the lighting and time of day you are shooting Gullfoss Waterfall.
When photographing Gullfoss Waterfall, there are multiple viewpoints you can shoot from as well! You can take photos from an overlook by the visitor center which is a great overall view of the waterfall. If you walk down the nearby stairs you will see a "lower" version of the same view.
If you visit during the winter, some viewpoints will be closed, but the waterfall makes for a stunning photographic centerpiece in the winter! If you visit during the warmer months, you are able to walk to a viewpoint which puts you right on top of the waterfall. This is such a great and unique viewpoint for shooting Gullfoss Waterfall. This is truly one of the best photography locations in Iceland!