Driving in Iceland is absolutely doable, and not something that should hold you back when you visit. We totally understand though that it can be a cause for concern.
After all, rules just work differently in other places. When you are dealing with another country and its culture, you cannot expect it to be just like what you are used to.
Besides, wherever you go, there are different rules for different roads. Speed limits, tolls, and lanes change all over the place. Add in construction and you have a whole new ball game.
However, most countries are generally good about having signs to help keep you on track. And if you go in with some basic knowledge beforehand, you will be much better prepared.
Iceland does have some rules that are specific to Iceland. Keep on reading to learn what kind of license you will need, how to drive through one-way tunnels (yes, those are a thing!), and how to get around Iceland in the winter.
By the end of this article, you will be an expert on everything you need to know about driving in Iceland!
Get a FREE printable "Hidden Gems In Iceland" E-book by joining our private Iceland Facebook Group and share your photos and ask for tips and tricks.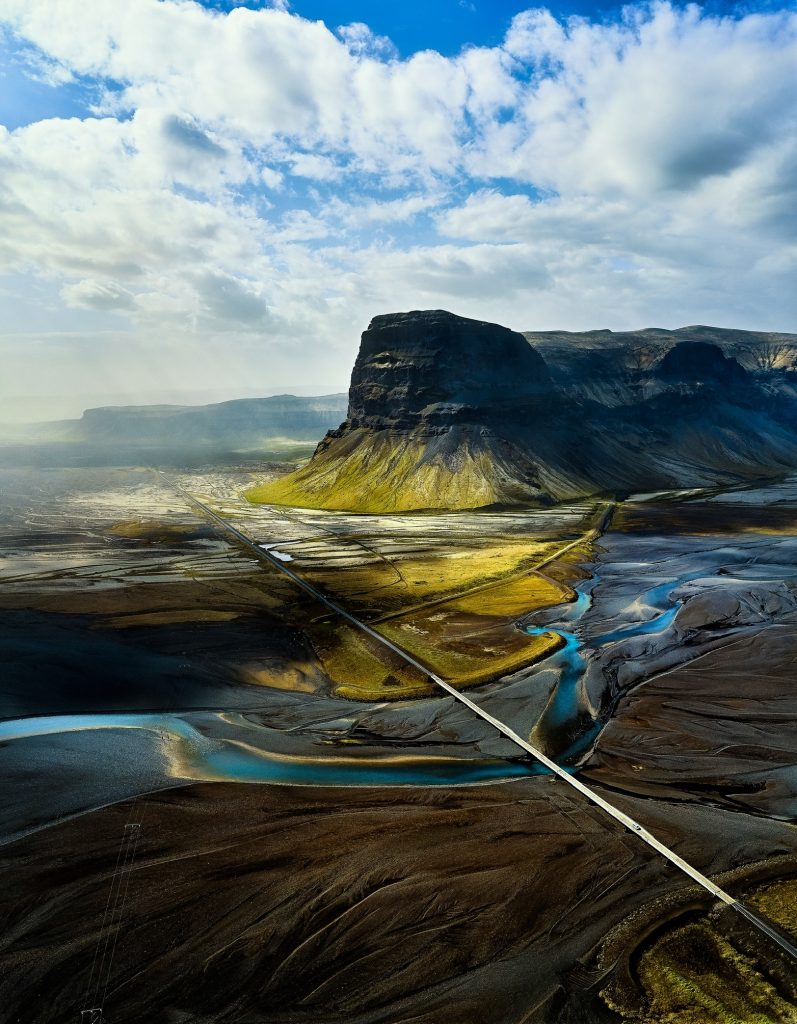 Should You Drive in Iceland?
Just because you can do something does not necessarily mean you should do something. Trust us, you can absolutely drive in Iceland! You just do not have to.
Tourism is a big deal in Iceland, and the country has some pretty great options for bus and train tours. If you are not too excited to be driving in another country, this is a great alternative.
Just keep in mind that if you are traveling with a tour then your schedule will be pretty rigid. Tours also tend to be more expensive than just driving yourself around.
However, they are a good way to see the country if you have never been there before and want some guidance on where to go and what to see to get the most out of your trip to Iceland. Driving in Iceland is an option but not a must.
The biggest reason to do your own driving around Iceland is to have more flexibility in where you go and what you do. Avoiding crowds is a good second reason. You can bet your hiney that if your tour bus is going to a specific destination, all the other tour buses are probably going there too.
Whether or not you drive in Iceland also depends on what your goals are for your Iceland trip.
We always do our own driving in Iceland. In part because we have some pretty specific places we want to go and do not want to conform to a schedule. Also because renting a car will save you a ton of money over taking a tour.
Now that we have gone to Iceland a few times, we have learned a lot about driving there. All our secrets to successful Iceland driving are below!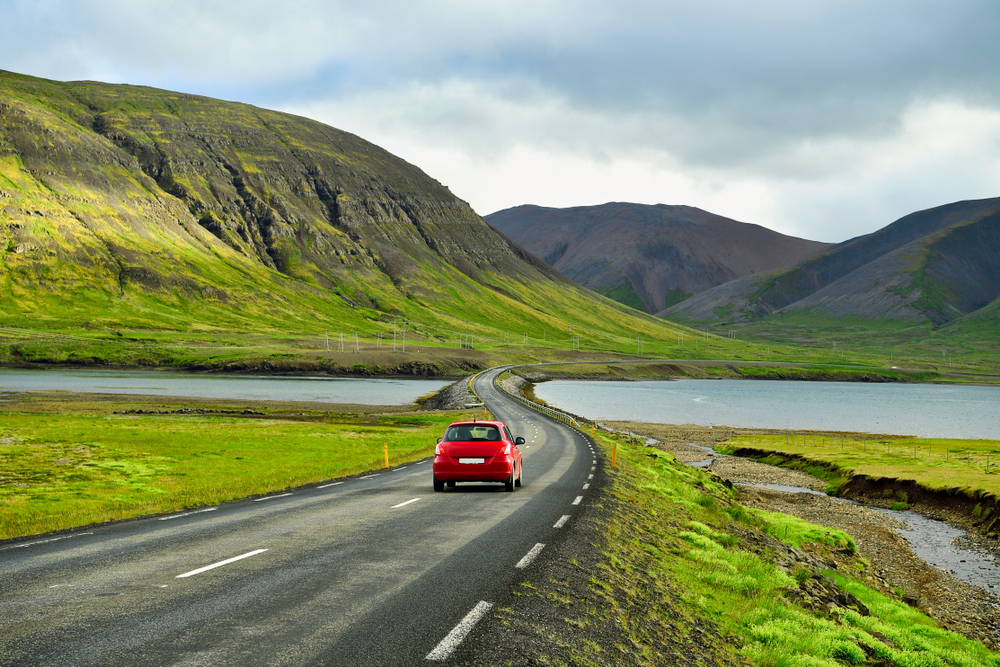 Where to Rent Your Car in Iceland
If you are here trying to learn how to drive in Iceland, chances are basically 100% that you are planning to fly into Iceland. Save yourself all the headaches and rent your car from a place near the Keflavik International Airport.
This includes renting from a rental place in Reykjavik, even though it is about 45 minutes away from Keflavik. It is the closest big city, and you can sometimes find better deals by going to the city to rent instead of the airport.
If you decide to do this, check to see if the company you are renting from offers free shuttling from the airport to the city. A lot of rental companies do this, and it is another way to cut down on Iceland driving costs.
Also make sure that you find out where you are supposed to pick up your rental before you arrive. You do not want to shuttle all the way to Reykjavik just to learn that your company had your car at the airport for you.
When you are choosing your rental, get the company's address, the pickup location, and the cost of their airport shuttle if you need to use it. We recommend figuring all this stuff out before you fly to Iceland, not after!
We even have a post on 7 Big Mistakes To Avoid When Renting A Car In Iceland if you want to check it out!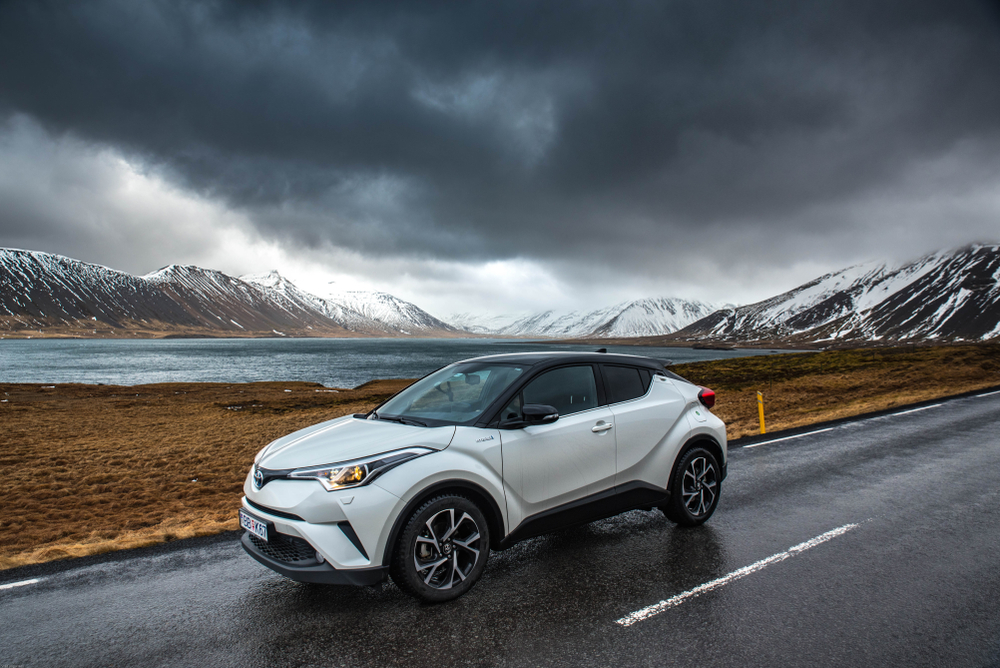 What Kind of Car Do You Need in Iceland
While some people will tell you that you have to have a 4X4 all-terrain vehicle to drive in Iceland, we have not found this to be the case. It depends on where you plan on driving in Iceland!
If you are planning to stick to the basics and will be keeping to main roads during your Iceland itinerary, a good old 2-wheel drive vehicle will be fine. This is also the least expensive option.
However, if you are planning to drive on Iceland's F-roads (more on these later), or to do any back-road driving, 4-wheel drive is the way to go. Some of these roads can get pretty rough, and getting stuck somewhere in the wilderness is a sure-fire way to put a damper on your vacation.
Expect to pay somewhere between about $50 and $130 a day to rent a vehicle in Iceland. Generally the more days you rent it for, the less it will cost per day.
Studded tires are a given when driving in Iceland in winter. Rental companies know this, and will generally supply you with the tires you need regardless of whether you are getting a 2 wheel drive or a 4X4.
Also, you HAVE to check whether you are renting an automatic or manual vehicle. This is not as big of a deal if you can drive manual (stick-shift). But it is a huge deal if you need an automatic car.
A lot of the rental companies offer both options, so an automatic car is not hard to find. Manual cars are just a lot more popular in Europe, and therefore more readily available. If you cannot drive a manual, CHECK WHICH ONE IT IS before renting your car.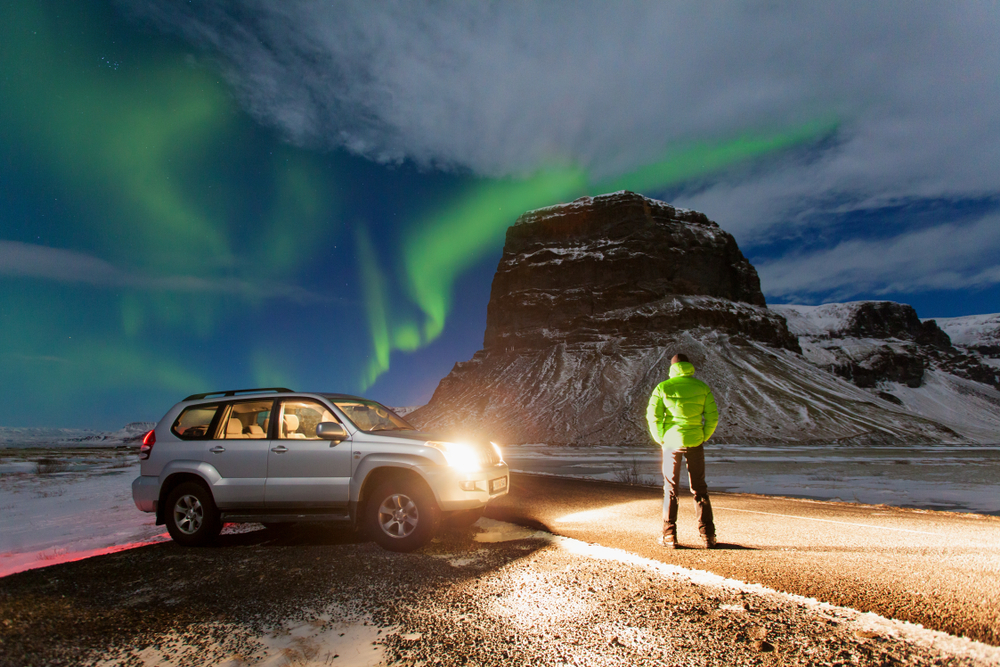 Do You Need an International Drivers License to Drive in Iceland?
If you had a cold chill run down your spine when you realized you might have to pass another driving test, relax. Iceland does not require an international drivers license!
We actually went through all the hassle of getting an international drivers license for our first trip to Iceland. Imagine our surprise when we realized it did not matter!
Driving around Iceland just requires you to have a drivers license in the country you are from. No more driving tests necessary here!
A couple of things to keep in mind are that you do have to be 21 to rent a car in Iceland, and you actually have to be 23 years old to rent a 4X4 vehicle. You will need to bring your passport and your driver's license with you to rent a car.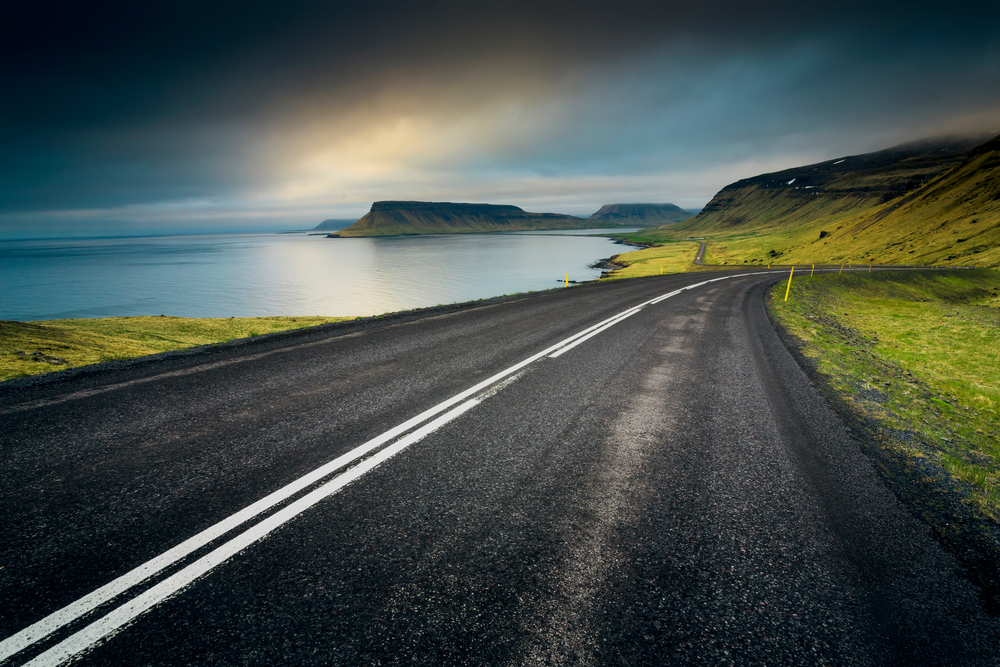 What is the Speed Limit in Iceland?
Iceland's speed limits tend to be pretty standard. Like most countries, they have a set limit for public, highway, residential, and back roads.
Unlike some other countries though, all of Iceland's speed limits are relatively low. You will very rarely see any speed limits over 90 km/h. This is about 56 m/h for all the USA folks.
Generally, Iceland speed limits are lower. For urban roads, the set limit is 50 km/h. Gravel rural roads are set at 80 km/h, and paved rural roads are 90 km/h.
Residential areas are even lower, at 30 km/h. This is about 19 m/h.
Of course, these lower limits all make sense when you remember that winter lasts half the year in Iceland! There are plenty of Apps For Iceland you can download that help you with the rules!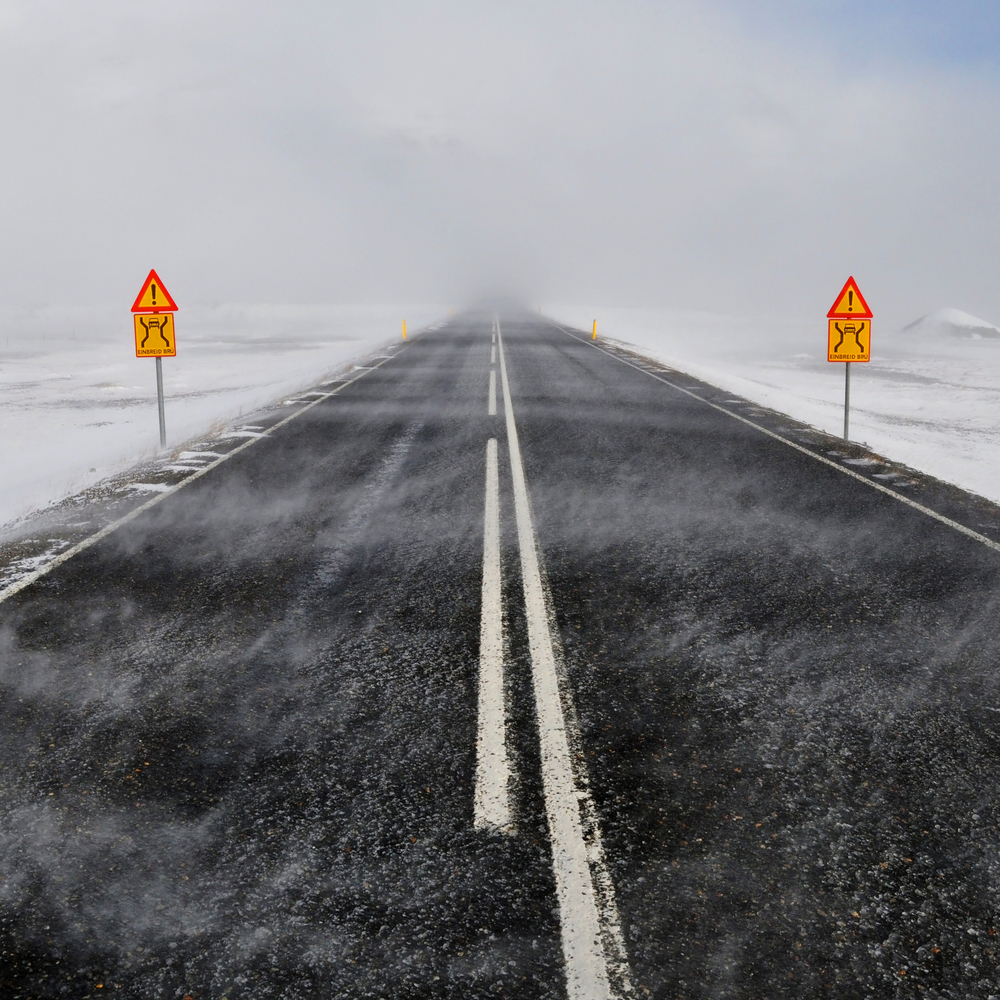 Different Types of Roads in Iceland
Iceland has a few different types of roads. Successful Iceland driving depends, in part, on knowing what kind of road you are driving on.
Which kind of road also depends on where in Iceland you are driving. F-roads tend to be more rural, H-roads are also rural but better maintained, and circling most of the country is the famous Ring Road.
You can have a perfectly fantastic trip to Iceland without having to drive on any F- or H-roads, but they can certainly add to the trip. F-roads are the only ones you really need a 4X4 vehicle for.
F-roads and H-roads are more accessible in the summer and tend to be closed in the winter. The Ring Road is pretty much open all year around. So keep in mind that you will not be able to drive as many rural roads if you are visiting in the winter.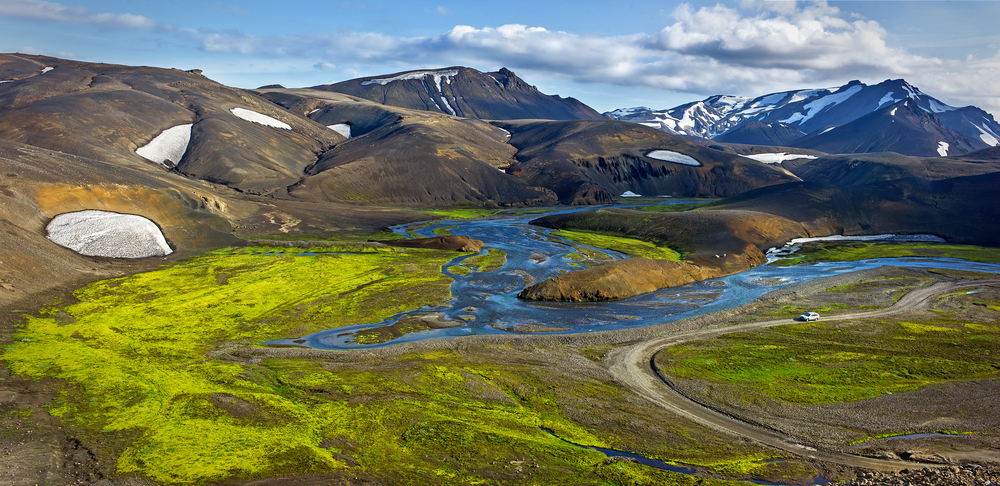 Speed Cameras in Iceland
Iceland has very few traffic police keeping order on the Iceland streets. Instead, they have utilized speed cameras to keep traffic going at a safe rate.
Not to worry, these cameras are pretty easy to see. Even though they are not super obvious in their standard black casings, there are warning signs before each one. These warning signs give you plenty of time to slow down before the camera.
Of course, we recommend sticking to the speed limit! Fines range between about $200 and $500.
Even if safety is not a concern (and it should be!), throwing your money away for an expensive fine is never worth the extra speed. Play it safe and adhere to the posted speed limits.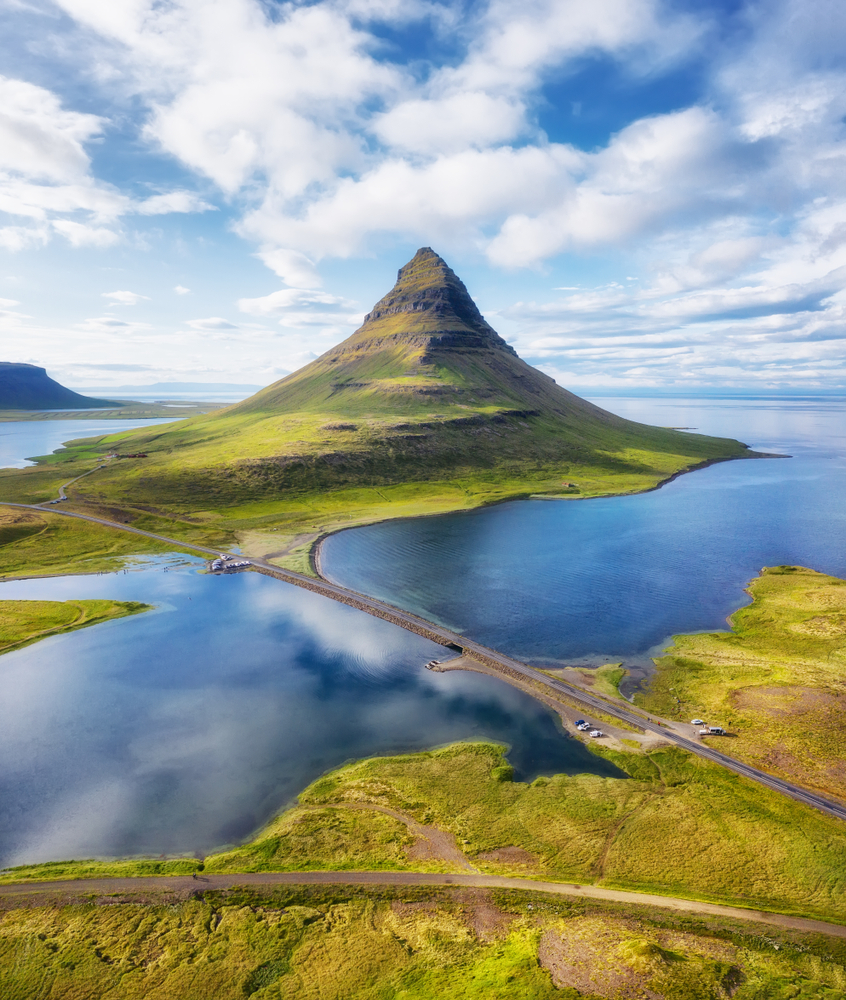 What Side of the Road do You Drive on in Iceland?
Good news if you are traveling to Iceland from the USA! The official Iceland driving side is the right side of the road!
Fun fact: Iceland used to be a left-side-of-the-road driving country, but switched to the right side in 1968. They did this because the majority of the cars being imported into the country were built for driving on the right side of the road, not on the left.
If you are traveling to Iceland from another country that drives on the left side of the road, do not worry! Iceland roads tend to be pretty straightforward. Literally!
Iceland terrain is often flat, so the roads do not get very twisty. They are rarely congested. You will not have to contend with a ton of other drivers while driving in Iceland.
Basically, what we are saying is that this is the perfect place to practice driving on the right side of the road!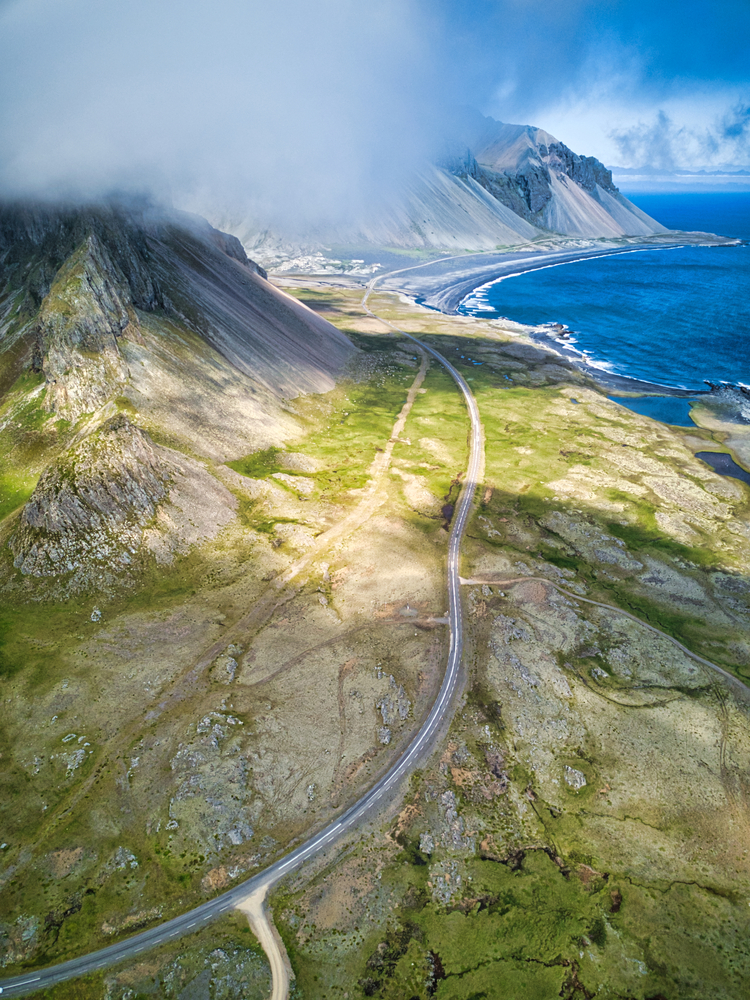 Should You Get Car Insurance When Driving in Iceland?
Whether or not to get insurance is a very personal decision. Iceland does not require you to get insurance when you rent a car. It does not automatically come with your rental.
While driving in Iceland is totally doable, driving conditions are not always ideal. Roads can get icy, and as we mentioned above, the F-roads can be a little tricky.
A lot of people recommend getting insurance for driving in Iceland because of this. Damage being done to your rental is definitely a possibility.
This being said, we have been to Iceland quite a few times and have not ever gotten insurance for our rentals. We fully own that this is a little irresponsible. Insurance is a great tool for preventing huge expense if something goes wrong.
We just try to drive super carefully, follow the speed limits, and pay attention to weather warnings.
That being said, as we said above, we do acknowledge that this is a little irresponsible and not necessarily what you should do. We just want to be up from with you on what we do when we drive in Iceland.
Keep in mind that sometimes credit card companies offer better insurance for rental cars than rental companies do. If you put your car rental on your credit card, definitely check to see if they offer a good deal on insurance.
Also keep in mind that there is a deductible for car insurance, and that if you pay $2000 for your insurance you will still have to pay up to $2000 on any damage before the insurance kicks in.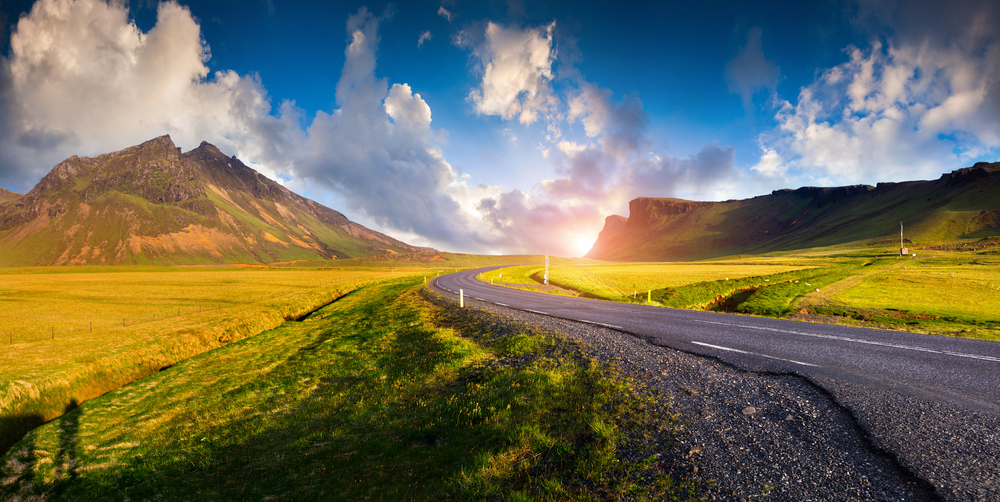 How to Drive on Iceland's F-Roads
As promised, here is everything you need to know about F-roads in Iceland! These are the only roads that you definitely need a 4X4 vehicle for. You are actually not allowed to drive them without a 4X4 vehicle!
Iceland's F-roads are found in the more rural areas. While they are certainly more rugged, they are still roads.
This is important because it is very illegal to go off-roading in Iceland. You must stick to the actual roads.
Driving the F-roads allows you to travel in some pretty remote areas without worrying about going off-roading. There is no reason to go off-roading in Iceland!
Now, with all of this in mind, you do not need to drive any F-roads to have a wonderful trip in Iceland. Most of the most amazing attractions can be found off of main roads and can be accessed with 2 wheel vehicles.
If this is your first visit to Iceland, you can truly stick to the main roads and have a fantastic trip. Honestly, if it is your 100th trip, you can still stick to the main roads!
The F-roads are fun for accessing the back country, and totally an option. But you can still have a great trip without them.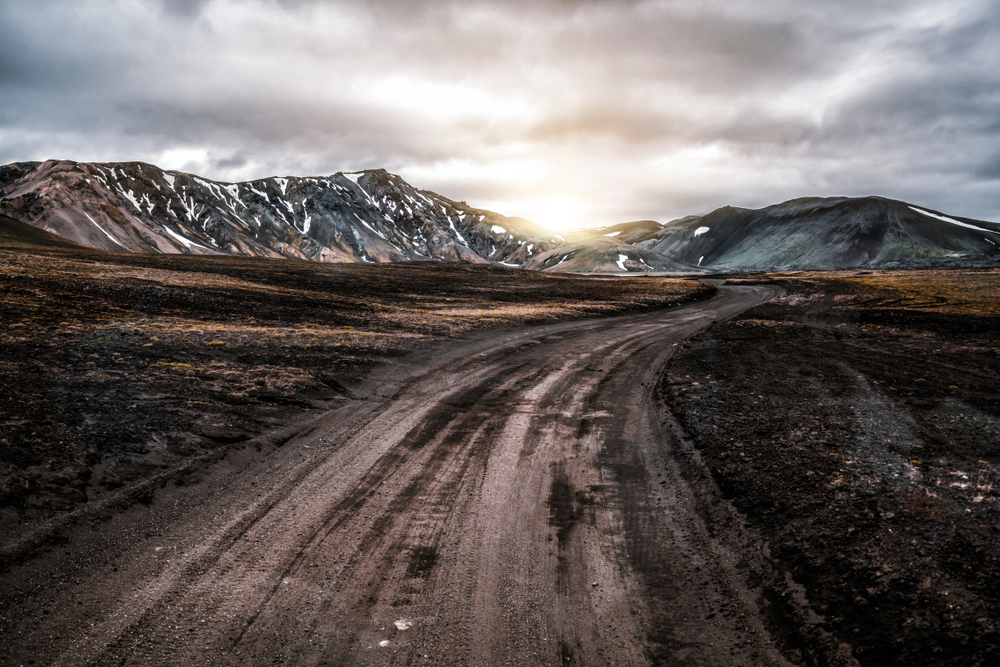 How to Get Gas in Iceland
The biggest rule of getting gas in Iceland is to do it whenever you get the opportunity. Even if your tank is only a quarter of the way down, get gas.
Iceland gas stations tend to be pretty spread out once you get out of Reykjavik. There are enough to get from one to the next, but you do not want to wait for the next one after that.
After you leave the city, fill up the next time you see a gas station. Iceland leans more toward cooler temperatures than warm, and you do not want to get stuck on the side of the road.
If you are planning to spend time in the back country, driving the F-roads, it is wise to bring some extra gas with you. The further you get away from Reykjavik, the fewer gas stations there are.
This is especially true in North Iceland, the West Fjords, and the East Fjords. Plan accordingly and you will do fine while driving in Iceland!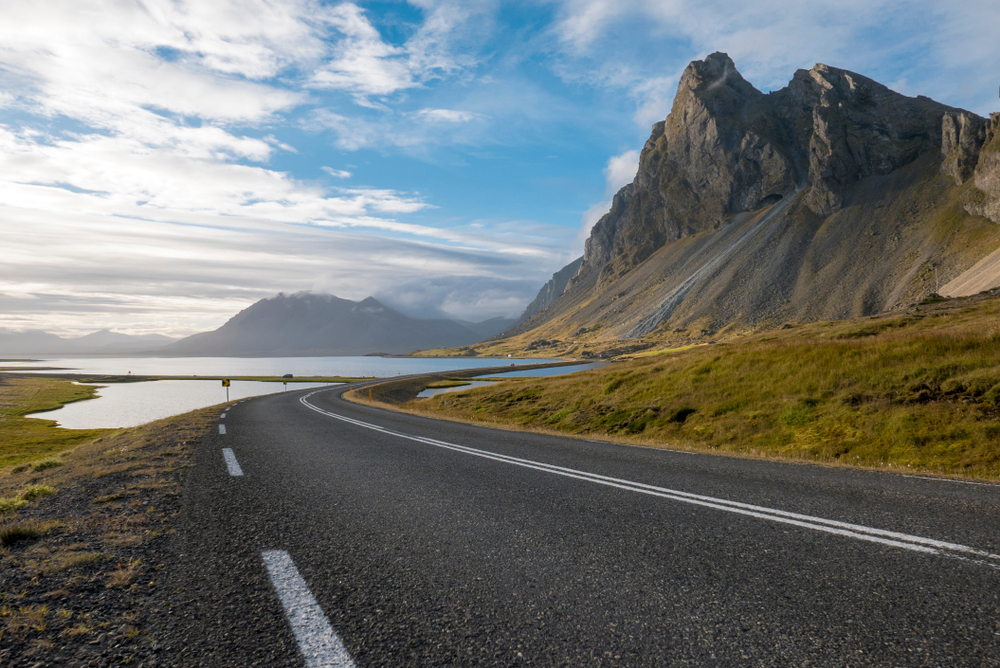 Common Driving Laws in Iceland
We have already told you one of the driving laws in Iceland–no off-roading! Seriously, do not do it. It is illegal, there are big fines, and it is a bad idea.
Another law is to keep your headlights on all day every day. And all night every night. Even if you are checking out the midnight sun and it is bright as daylight, you headlights have to be on.
Safety is important in Iceland (and most places, really). It is also illegal to drive with a cellphone in your hand, and to drive without a seat belt.
If you are traveling with kids under the age of 11, keep in mind that they are not allowed to ride in the front seat.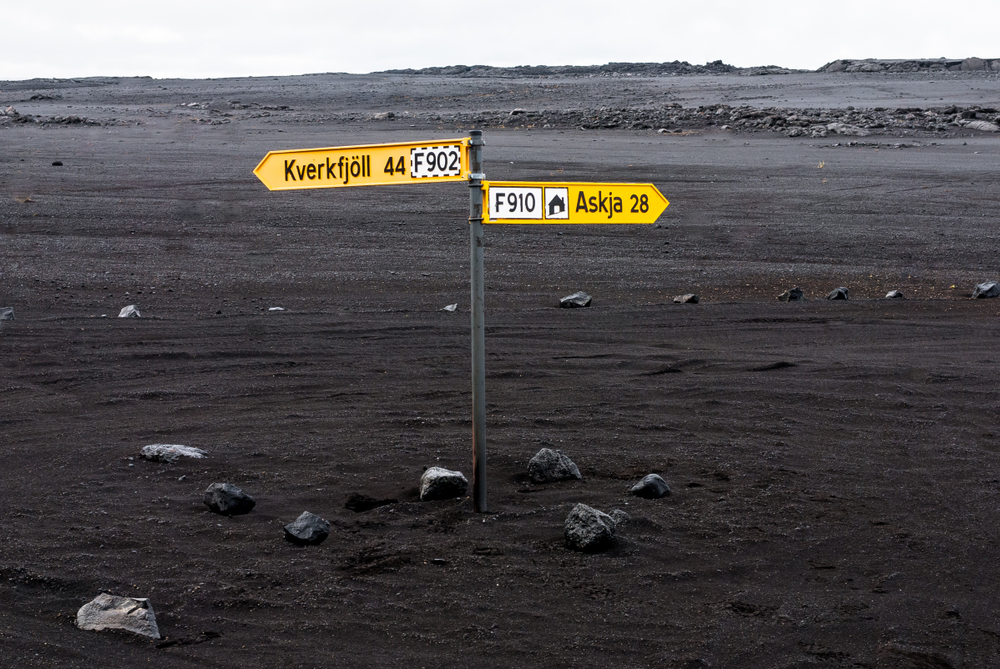 Is it Safe to Drive in Iceland in the Winter?
Winter is a great time to visit Iceland because it is the low season for tourism. Just keep in mind that if you are visiting Iceland during winter or one of the shoulder seasons, chances are that you will experience some winter driving conditions.
Because of those conditions, Iceland does close some roads during the cold season. Before going road tripping in the winter, check to make sure the roads you want to travel will actually be open. The popular Ring Road is still pretty accessible though!
While you are checking the roads, check the weather. If you have no experience driving in snow, your visit to Iceland is not the time to learn. Just because your rental has snow tires does not mean that you will not go off the side of the road.
That being said, we are from Florida and we have visited Iceland (and driven in Iceland) twice during the winter. Driving in Iceland in winter is totally doable. You just have to be smart about it.
Pay attention to road closures, watch the forecast, and take it slow in inclement weather. You do not even need a 4X4 for driving in Iceland in winter–just some patience and attention to detail.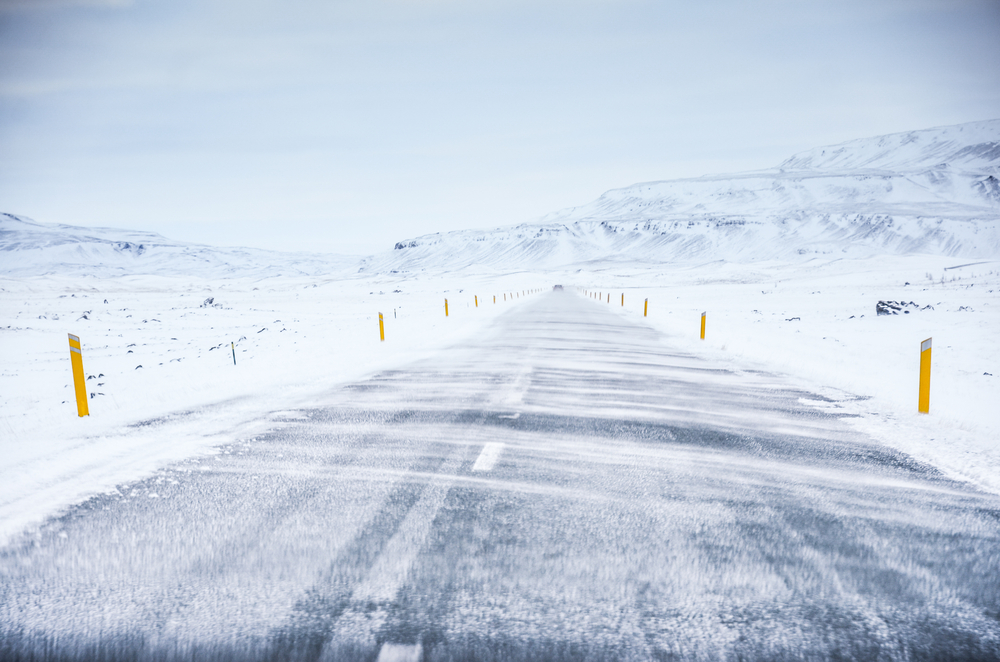 Can You Drive Off-Road in Iceland?
The short answer? NO. No you cannot drive off-road in Iceland.
Like, you can, because choices, but it is highly illegal and you should not do it.
Iceland's ecosystem is fragile. The country spends half its time in summer with near all-day sunshine and the other half in winter in near all-day darkness.
The things that grow in Iceland do so through sheer tenacity and good luck. It is not a place to go wreaking havoc by going for a little frolic off the road in your 4X4.
Do not do it. Seriously. Please. Respect the beautiful landscape and the time it has taken to grow, and do not go driving anywhere where there is not a road.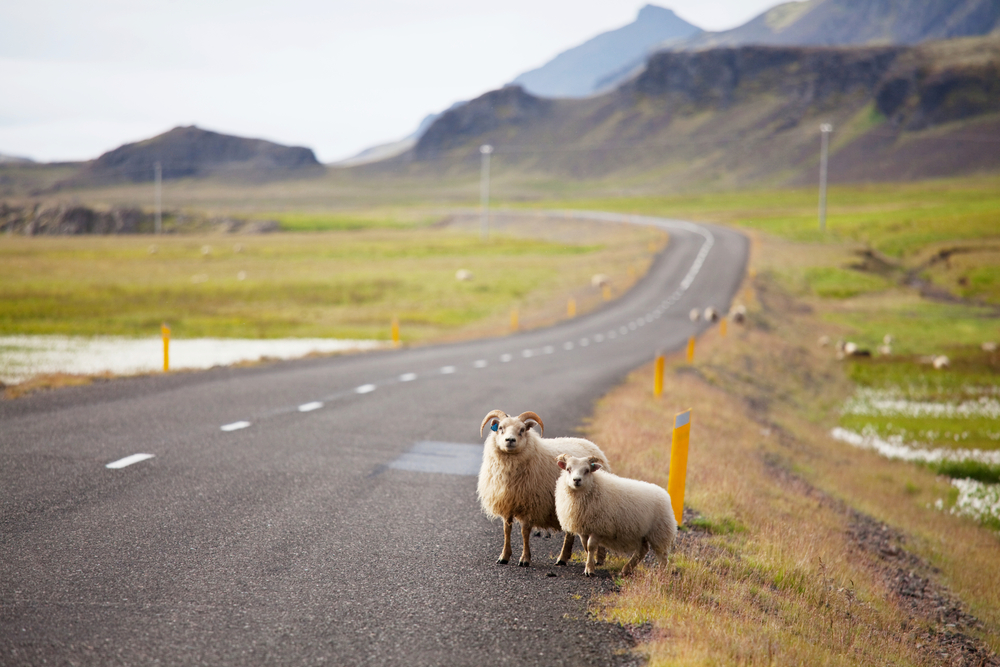 What to Do if You Break Down in Iceland
112 is Iceland's emergency line. Call it if you break down, get in an accident, or need help.
You can use 112 for any emergency, whether it happens while you are driving in Iceland, hiking, swimming, or doing whatever else you plan to do while adventuring in Iceland.
Now, if it is just your vehicle that has been injured, do not call 112. It is for emergencies that endanger human lives. In this case, call your rental company.
Most rental companies have a roadside assistance number that they will give you when you rent your vehicle. Keep this handy and bring it with you when you drive in Iceland.
You can also use Iceland's 112 app. When you check in with this app, it will save your location so that it is easier for emergency services to reach you if you need help.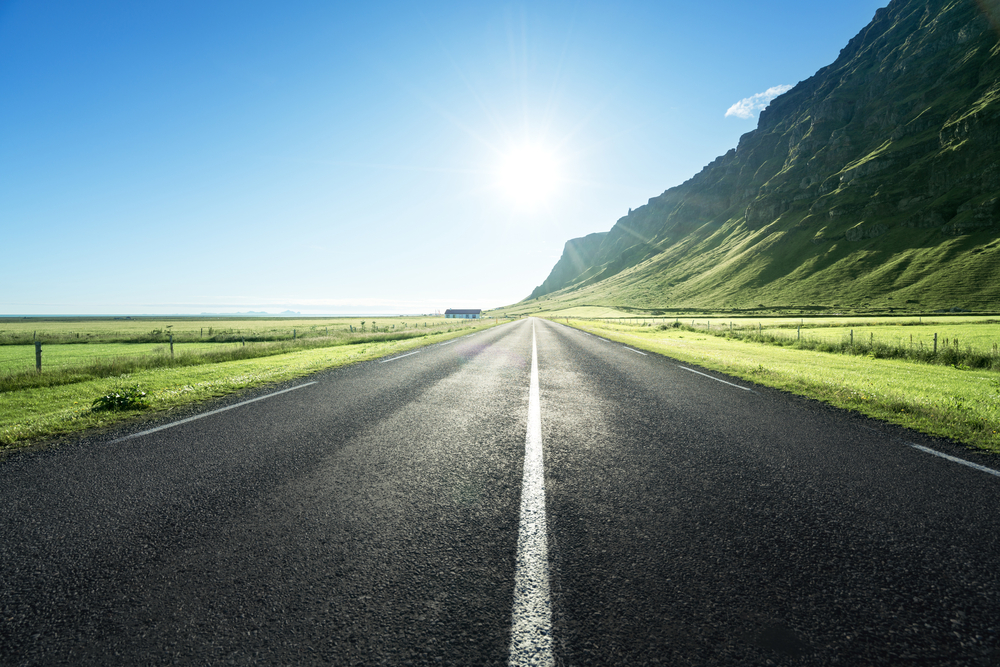 Do You Need a GPS in Iceland?
If you have a smart phone, skip the overpriced GPS that your rental company will try to sell you on. Almost every rental company will try to convince you that you need to rent a GPS along with your vehicle.
This is not such a bad idea if you do not have international cell service, or if you do not have a smart phone. It is definitely a good idea if you do not have another option for finding your way around.
But if you do have another option, we recommend using it. In our opinion, your money is better spent on purchasing international cell service than on your rental company's GPS.
These GPS's are generally outdated. While they will definitely get the job done, they almost certainly predate your cell phone.
Google and Apple maps work great in Iceland! If your phone does not already have them, just download them before you start your road trip.
And if you have an old GPS that you purchased before smart phones were all the rage, you can always bring that with you to Iceland!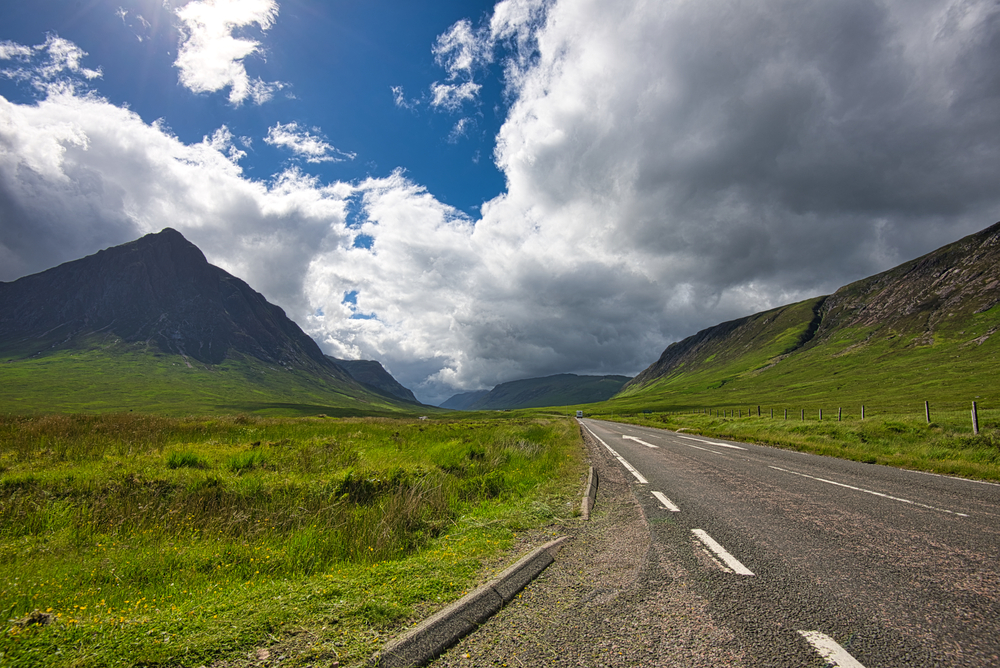 One Lane Roads, Bridges, and Tunnels
You have heard of one-lane roads and one-lane bridges, but have you heard of one-lane tunnels?
Because Iceland has all of those. One-lane meaning that there is only enough room for one vehicle and people drive down it in both directions. Maybe you have heard of them before and you are not experiencing some serious internal dismay.
But when we first heard about them it kind of blew our mind. Not to worry though–all one-lane roads, whether they go over bridges or through tunnels, have places where you can pull off and let oncoming traffic pass.
These roads are relatively common on Iceland's classic Ring Road. Watch the road ahead of you, and if you see someone else coming, pull off to the side at the nearest spot where you can.
Driving in Iceland has its challenges, but you can do it. Even when there are one-lane tunnels.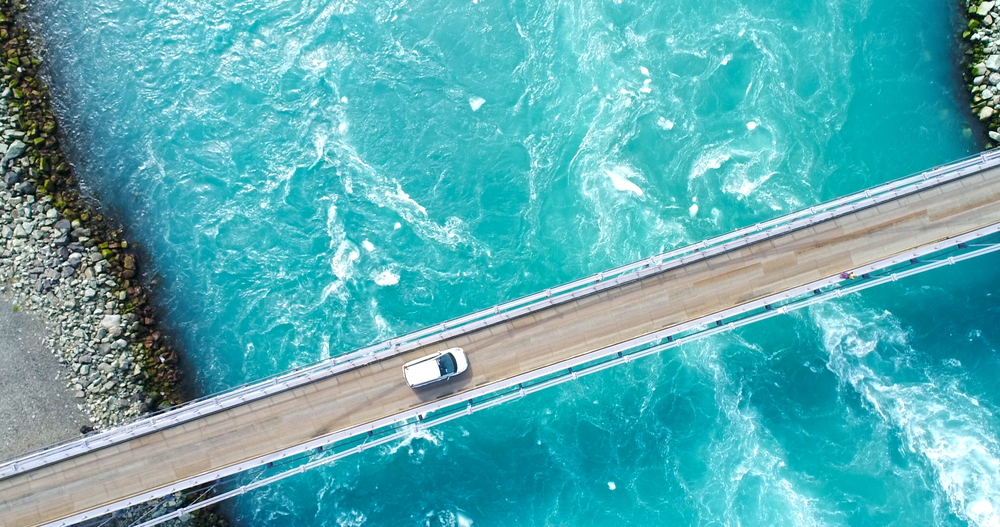 Do You Really Need to Drive in Iceland?
So you have read about driving in Iceland in winter, F-roads, and one-lane tunnels. We have complete confidence that you can drive in Iceland successfully! After all, we have done it many times.
However, if you have reached this point and really are not so sure that you want to, that is perfectly reasonable too. You have a ton of options if you do not want to drive. We even have an entire post on the best tours in Iceland!
Reykjavik Day Tours
Because you will be flying into the Keflavik airport, you will most likely be starting your Iceland adventures in Reykjavik. This puts you in the perfect place to take advantage of all the Reykjavik day tours!
Instead of driving in Iceland, do a day tour instead! Or just add one to your driving plans. There are some great tours that do not take more than a day and show you some amazing places!
Check out this four hour Northern Lights Tour for an awesome, very short day tour. If you want to see the Northern Lights but do not want to spend a ton of time doing it, this is the tour for you.
Or you can check out the countryside with this South Iceland Tour. You do not have to drive the F-roads to see some of Iceland's unique and breathtaking landscapes.
We love Get Your Guide for finding tours that fit your schedule and budget. There are a ton of options for day tours out of Reykjavik.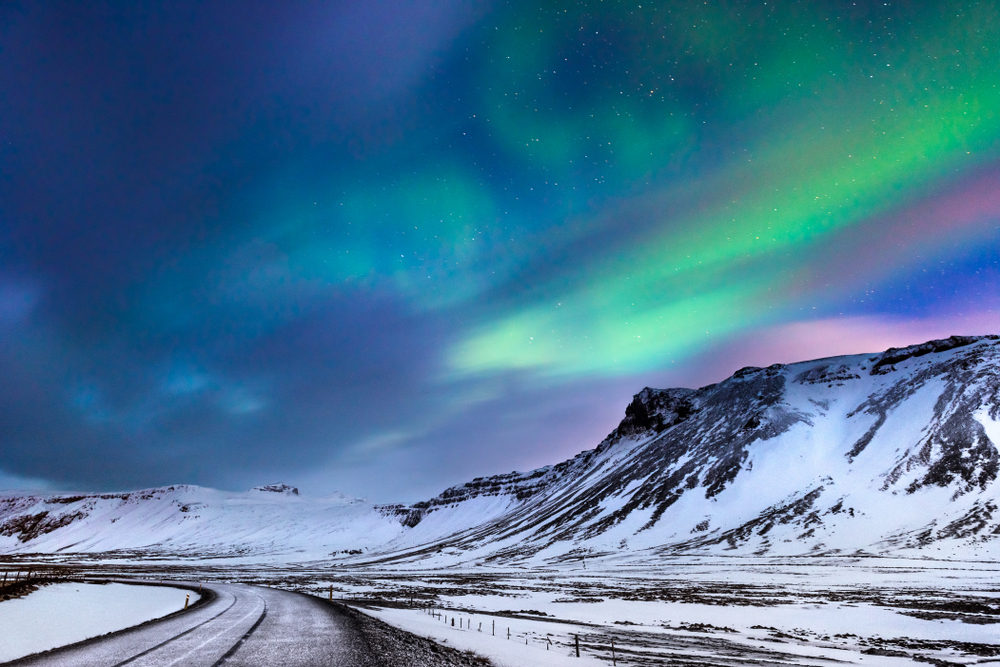 Multi-Day Group Tours
Day trips are great for short vacations or quick adventures. However, you still have options if you are planning to take a long vacation without driving in Iceland.
One of those options is a multi-day group tour! This is a fantastic way to have a wonderful vacation without having to stress about planning everything.
Flexibility is not everything, especially when it is your first time visiting a new country. You do not have to worry about knowing all the rules or getting the most out of your trip if you do a multi-day group tour. Someone else takes care of all of that for you.
This Winter Tour has all the beauty of an Icelandic winter without all the nerves of driving in Iceland in winter.
And this six-day Ring Road Tour gives you the classic sights of Iceland without having to figure out how to get to them.
Bus Passports
While Iceland does not have the most amazing bus system, they still have buses. If you are interested in traveling Iceland by bus, we recommend getting a bus passport.
Even though the bus system is not the best, it is the most budget friendly way to get around Iceland. You do no have to worry about all the extra fees associated with driving in Iceland, like the daily rental cost or insurance.
Using the bus is a great way to save money. It is also a great way to see the most popular sites without having to drive yourself to them.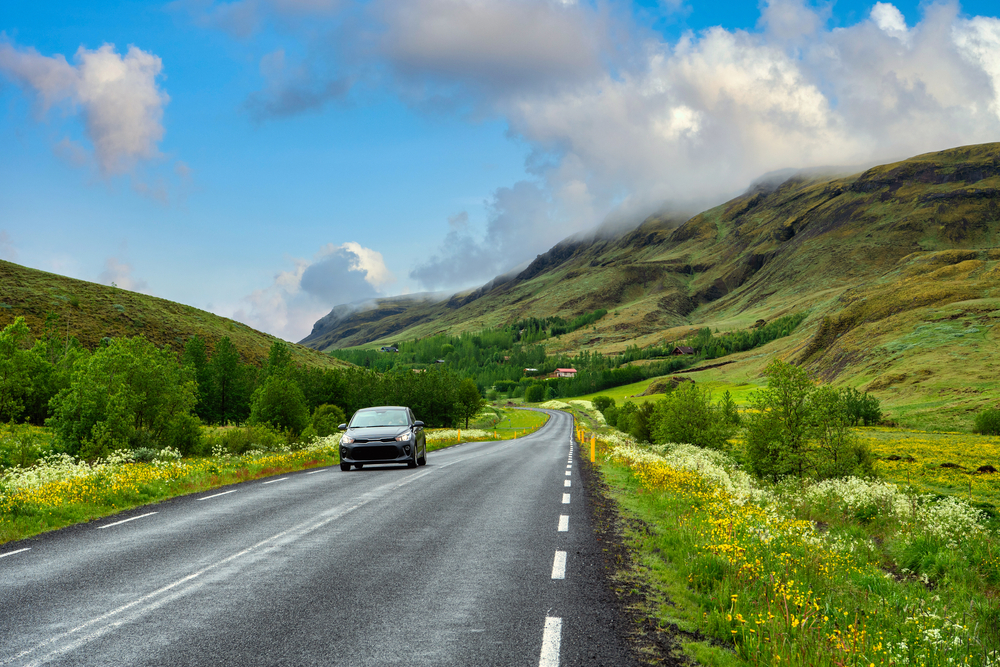 We hope that you have learned everything you need to know about driving in Iceland! It is our favorite country to visit. Whether you are driving yourself, taking a bus, or using a tour, you are going to love it!