North Iceland has no shortage of stunning and breathtaking landscapes to take in! If you are driving the whole Ring Road In Iceland, you are in for a real treat.
The scenery is vast and ever-changing. From craters of bright blue water to powerfully thundering waterfalls to towns that revert you to the beginnings of civilization.
North Iceland has endless adventure and is steeped in rich cultural history that permeates in almost every structure and attraction you will visit!
Some of the attractions may be far apart, or a relatively long hike, but if you are interested in seeing some unforgettable landscapes, or the panoramic view from the Island of Birds it is worth adding to your Iceland Itinerary!

Get a FREE printable "Hidden Gems In Iceland" E-book by joining our private Iceland Facebook Group and share your photos and ask for tips and tricks.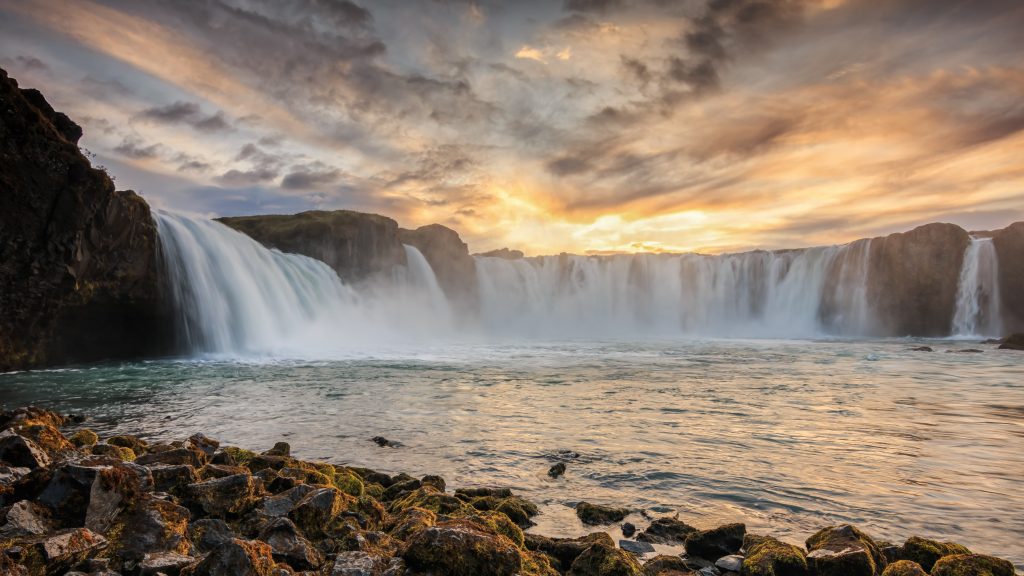 Detifoss and Selfoss
Detifoss and Selfoss are two stunningly impressive waterfalls in North Iceland. Fed by the Jökulsá á Fjöllum River, these waterfalls are two you do not want to skip on your next trip. They are located in one of the more remote National Parks in Iceland!
The power and majesty of Detifoss is unmatched. The thundering of this magnificent natural force will captivate you. It is said to be the most powerful waterfall in iceland and you will undertamd why once you are standing near its raging waters.
Selfoss is just s short half mile walk from Detifoss. When it comes to power, there is no comparison between the two, however, Selfoss is a beatufil majestic waterfall that deserves to been seen.
It's peaceful to see the horse shoe shaped waterfall plunge from both sides into the canyon.
When visiting Detifoss you will find that there are two parking lots to choose from, East and West. Each has its on distinct view of the waterfall.
With Detifoss being such a large and powerful waterfall, it makes sense that the parking lots are relatively far from each other. They are about an hour apart, so sticking to one before you start out will save a lot of time.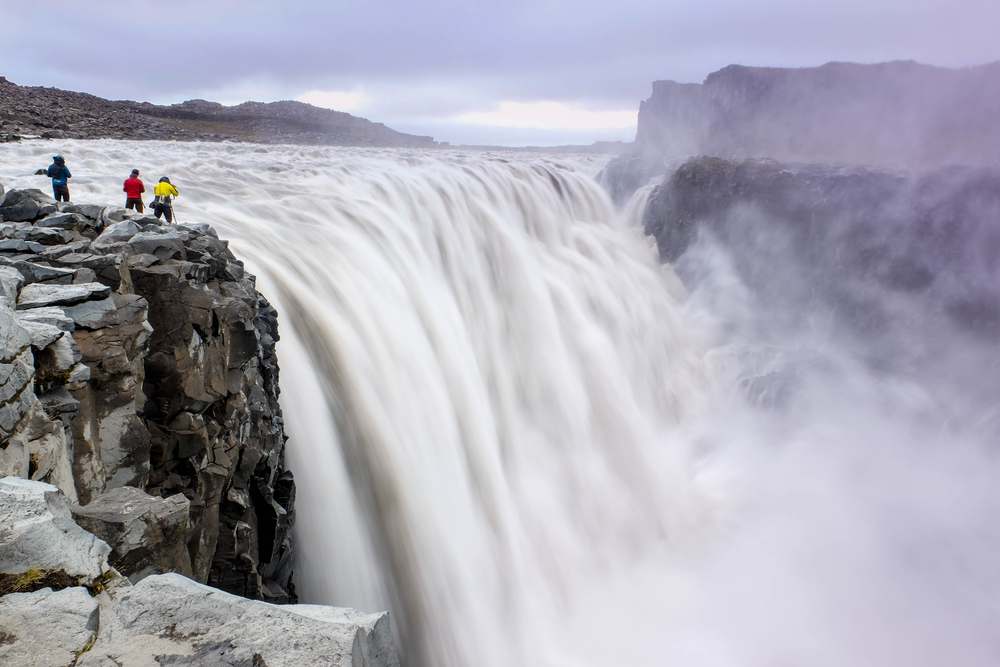 Rim of Viti Crater
Viti Crater is one of those stops in North Iceland that don't seem real. This is the site of an ancient crater that is filled with brilliantly blue water that is in beautiful contrast of the landscape around it.
This crater was formed by the volcanic eruption of Krafla.
The best views of Viti Crater are by walking the rim of the crater. This is a nice light walk that will take about 20 minutes to make it around the whole crater. Keep and eye out though, because there is often construction on the path to fortify the walkway. When the walkways are partially closed there is still a good chance of seeing the great views this crater has to offer.
When visiting this site, you'll see that there are some smaller lakes near by. Some of the small lakes are geothermal and you can even see some lava fields nearby as well!
Be sure to add Viti Crater and its astounding surroundings to your next itinerary.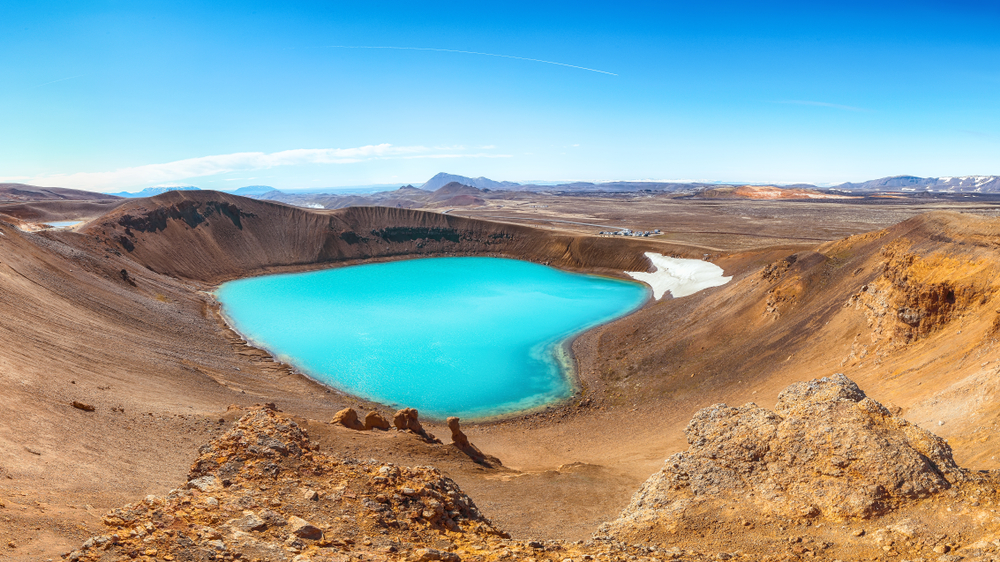 Myvatn Nature Baths
Essentially, the Myvatn Nature baths are the Blue Lagoon of the North. These geothermal springs make for the perfect place to relax and take in the beauty of Iceland all year round. It is truly one of the best things to do in Iceland!
These springs sit around 36ºC to 40º C making the steamy warmth of the water perfect for gazing out at the northern lights if you are there at the right time.
While the Myvatn Nature Baths are not as pricey as the blue lagoon, they are becoming more of a tourists attraction and are not inexpensive. The views and the esthetic are worth it, though. It's also a bonus that there are steam rooms on the premisis.
One thing to keep in mind is the water does attribute some of its warmth to sulfer so be wary of bringin jewlery in the water with you.
The cold Iceland days can definetly take a toll during your visit. So why not warm up and catch some beauitful views at the blue lagoon of the North?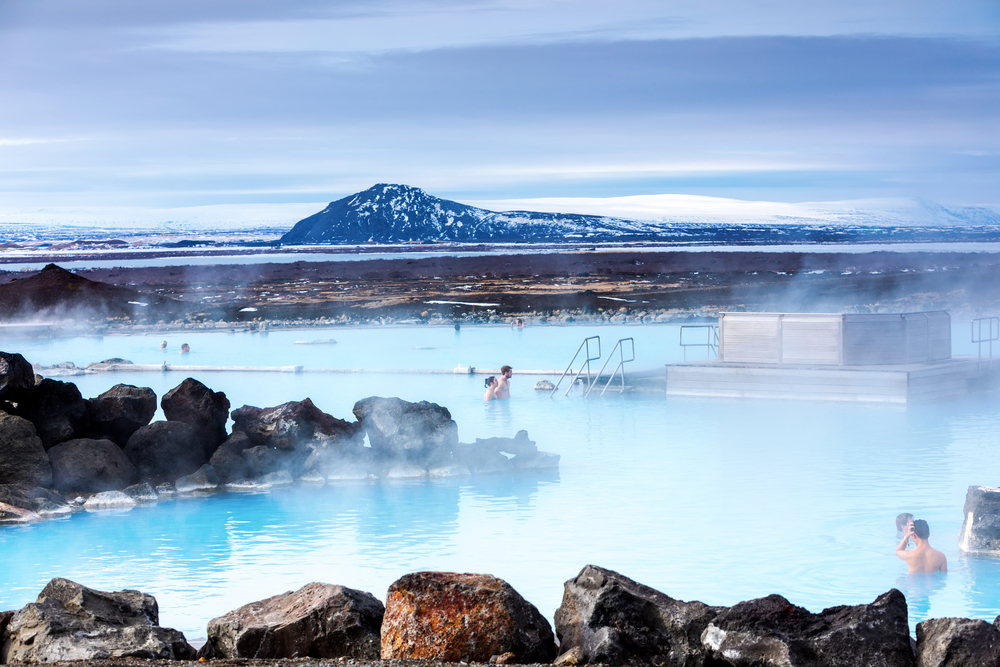 Grjotagja Cave
Underground cave filled with a beautiful pool of water? Count me in! Grjotahja Cave is a specitcal to see and it can be a nice short stop on your journey around Iceland!
As you enter the cave through the narrow passageway and see the underground lake canopied by stunning rock formations, you may be tempted to stick your hand in the water. Please don't.
While the water used to be safe to swin in, due to volcanic activity the temperature has a tendency to fluctuate so it's been deemed unsafe.
If you just want to visit this cave for the sole reason that it was used in Game of Thrones Season 3, we don't blame you. But you also won't be disappointed in the natural beauty this underground cave has to offer.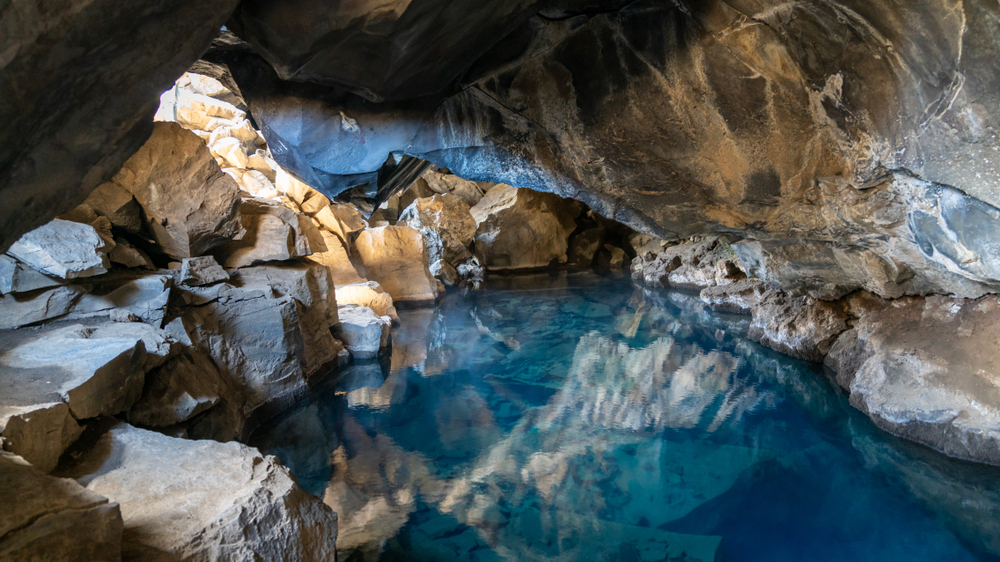 Godafoss Waterfall
Godafoss Waterfall is another stunning waterfall the merges beauty and power effortlessly. It is one of the best waterfalls in Iceland and the most popular in the north.
This waterfall is a near perfect half circle that is split down the center by a rock formation. This formation has a smaller thinner waterfall that runs down its rockface creating a truly amazing view.
It is truly amazing to witness natures beauty at Godafoss waterfall. You are able to decend to the bottom and stand near the green-blue pool of water that forms beneath the falls.
If you don't want to venture to the bottom of the falls, staying up top offers great views and gift shop at the East entrance. Pick a nice dry spot on the edge and spend time soaking up some North Iceland beauty at Godafoss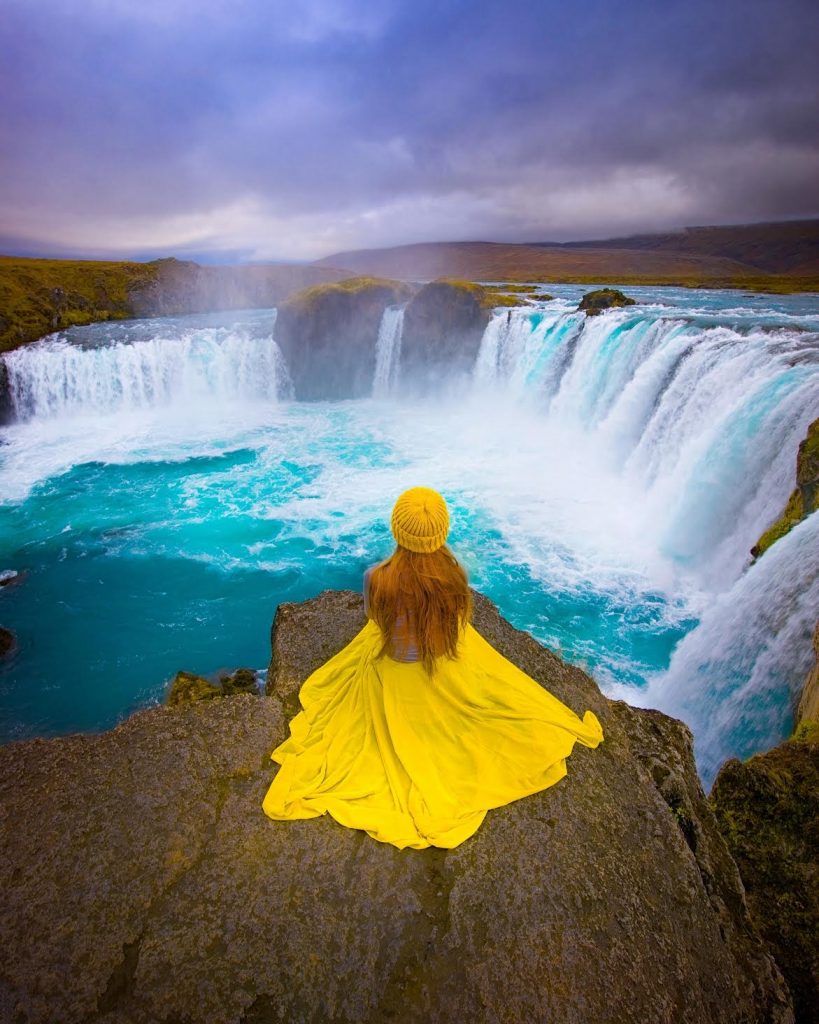 Aldeyjarfoss
When it comes to strake and memorable imagery, Aldeyjarfoss does not disappoint.
Iceland is known for is basalt rock faces and waterfalls, and Aldeyjarfoss is one of the many ways to see these natural wonders. What makes this waterfall unique is that it looks like the falls have burst through the walls making for an unforgettable sight.
It is not one of the tallest waterfalls, measuring in at just about 65 meters, but it's power and majesty are captivating.
Unfortunately, none of the pools surrounding Aldeyjarfoss are not geothermal. The waterfall's roots come from the Vatnajokull Glacier, the largest glacier in Europe.
These falls are accessible all year round, but they are easier to access during the summer months.
In Summer you can drive right up to the falls. In winter, however, the parking lot is farther away making it about a 40 minute walk to the falls. It is still very much worth it if you don't mind a nice brisk walk to a scenic waterfall.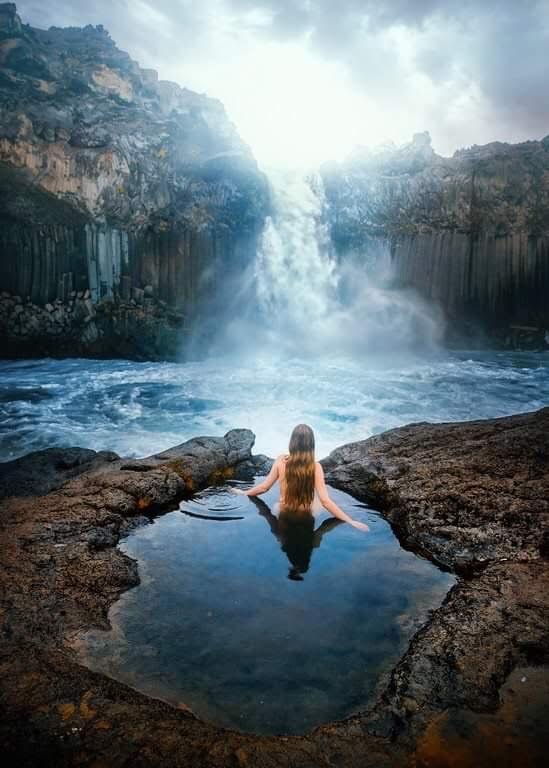 Husavik
Husavik a charming town in north Iceland that has plenty of attractions in the surrounding areas!
This small town is the whale watching capital of Europe! Even from shore you are more likely to see a whale than anywhere else in the world! There are many amazing Whale Watching Tours you can take to see them up close.
The bay that Husavik sits on is flush with minerals that wash in naturally from the melting ice caps. The whales are provided a flourishing ecosystem in which they thrive!
Take a tour with any of the many whale watching tours in Husavik and get a glimpse of some of nature's most mesmerizing creatures. Some whale watching companies will even take you to Bird Island where you can hike, and see the adorable Puffins in their natural habitat.
Once back on shore there are plenty of attractions nearby this northern Iceland gem! In town you will find a few muesums including history, exploration, and a spectacular whale museum!
Venturing outside of town you will also find horseback riding and geothermal pools that will have you totally relaxed!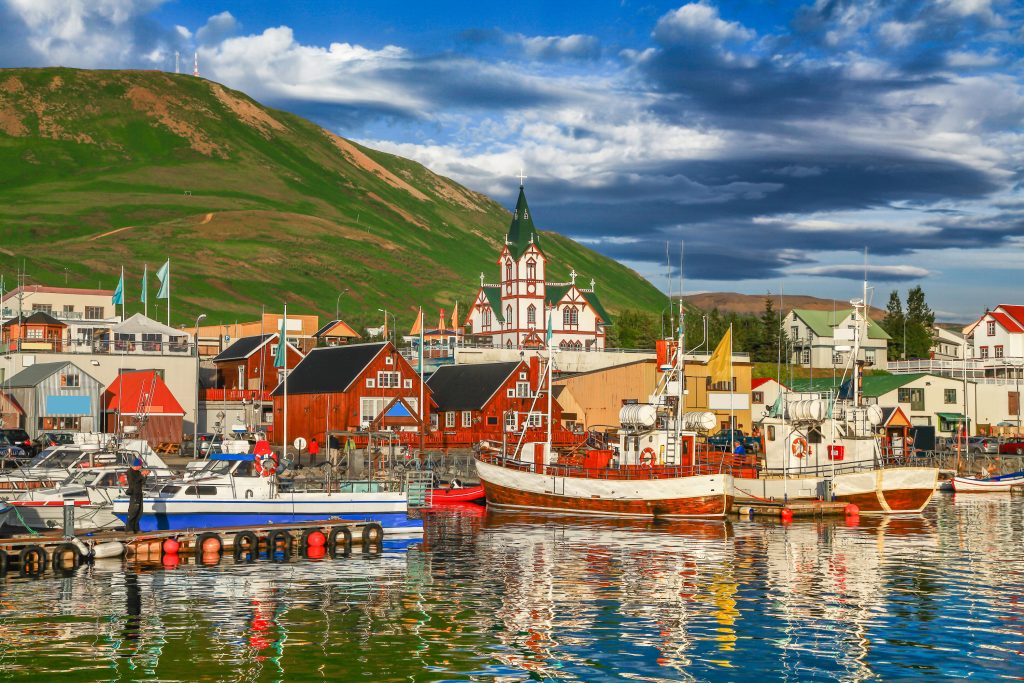 Geosea Spa
As we mentioned, Husavik has some of the best geothermal pools. Geosea Spa is the perfect way to wind down after a long day on the water.
Geosea spa is a geothermal infinity pool looking over the ocean. With this being such a beautiful spot, the number of visitors continues to increase. It is definitely worth it to make a reservation, then spend however much time you like in the warm, mineral waters at Geosea Spa.
This infinity pool overlooks the same waters where whale watching takes place. So there's a possibility you may see some whales while you warm up on shore!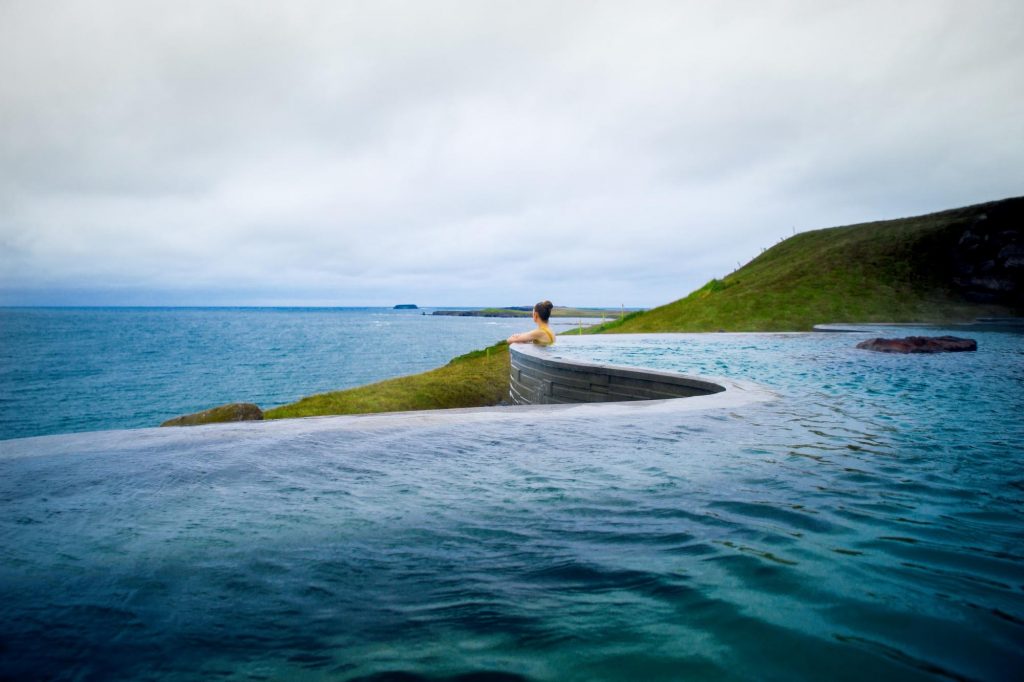 Akureyri
Considered to be the capitol of the North, Akureyri is the biggest city outside of Reykjavik. This town is filled with attractions for the whole family and is filled with history.
One of the main attractions of this town is Akureyrarkirkja Church. It is a beautiful structure that has a sprawling staircase leading to the entrance which is great for photos!
One of the most fun and interesting stops to take is the year-round Christmas house! There's just something about Iceland that makes the idea of Christmas more magical, and this house delivers 365 days a year!
If you're visiting in the summer, drop by the intricate Botanical Garden that offers views of the beautiful foliage. Another great summer itinerary place holder can be the city swimming pools, or stopping by an ice cream shop; which we don't discourage from any time of year.
This is also a great place to stock up on goodies and gas before you hit the roads again! If you are interested, check out our list of the Best Hotels And Hostels In Akureyri!
The Infinity Pool In The Town Of Hofsos
There is no shortage of heated swimming pools in Northern Iceland. You can take your pick of locations where you can take a relaxing heated swim.
The infinity pool in Hofsos is one of the prettiest and most scenic infinity pools. Hofsos is a small fishing town which is definitely not bustling. However, the infinity pool looking over the bay gives a great reason to stop by for a bit.
The heated pool is accompanied by a warmer hot tub and has a small museum of emigration nearby!
While basking in the pool, you look over the water and have an impressive view of the island of Drangey. The pool blends effortlessly with the body of water below, making for a great way to take in the beauty of Iceland for a couple of hours.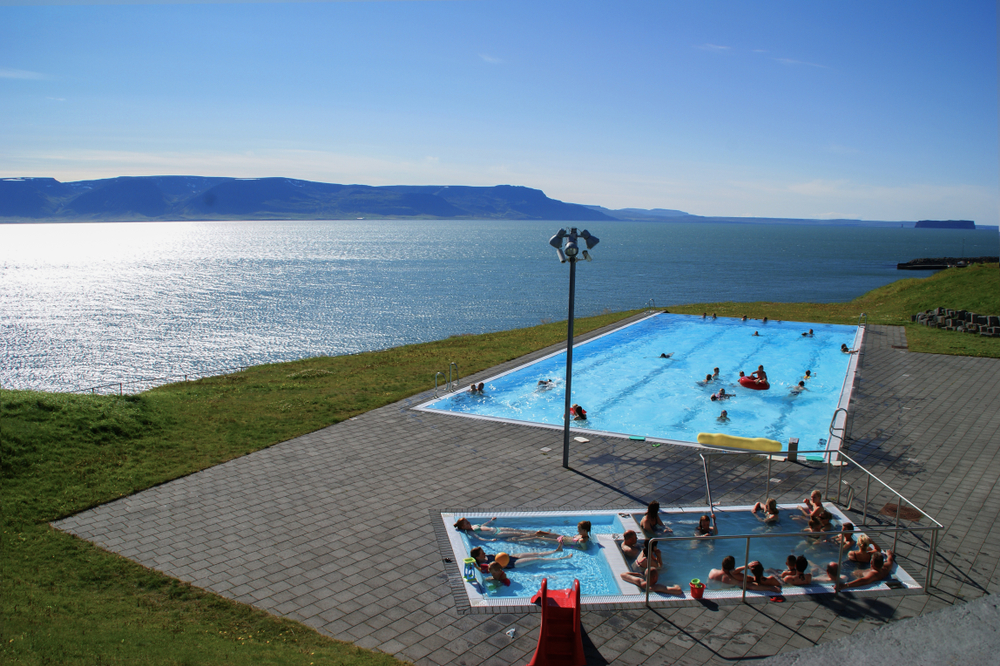 Hvitserkur
The astonishing rock formation at Hvitserkur is a must see in North Iceland.
The formation appears on the beach and rises from beneath the water, towering above everything in the vicinity.
This stunning formation resembles many creatures Common identifications are an elephant, a rhino, and even a dragon. Local legend says it is actually a troll that was turned to stone as first light rose. However you interpret it, this almost 50 ft formation is beyond impressive.
During low tide, you can walk right up to and feel absolutely dwarfed by this mammoth monolith!
Over time the tide has eroded the rock. It has to be reinforced at the base, but that has just preserved this magnificent structure for years to come.
Asbyrgi Canyon
Vatnajokull National Park is full of beautiful sprawling landscapes and Asbyrgi Canyon is one that should be on the list to be explored.
This horseshoe-shaped canyon was believed, by Vikings, to have been formed by a Sleipnir which is a mythical flying horse. It's easy to see how this myth came about because the shape and size of this canyon are truly magical.
Take a hike through the canyon and you'll find Eyjan, a phenomenal rock formation that splits the canyon in two. It runs for about half the canyon's length. Beyond Eyjan, you will be surrounded by the 100-meter canyon walls. At the end of the trail, you'll find yourself face to face with a peaceful pond nestled in the birch forest.
If you are looking for a great spot to settle down and camp for the night Asbyrgi has a campsite right near the entrance! Feel free to get cozy near these magical cliffs in North Iceland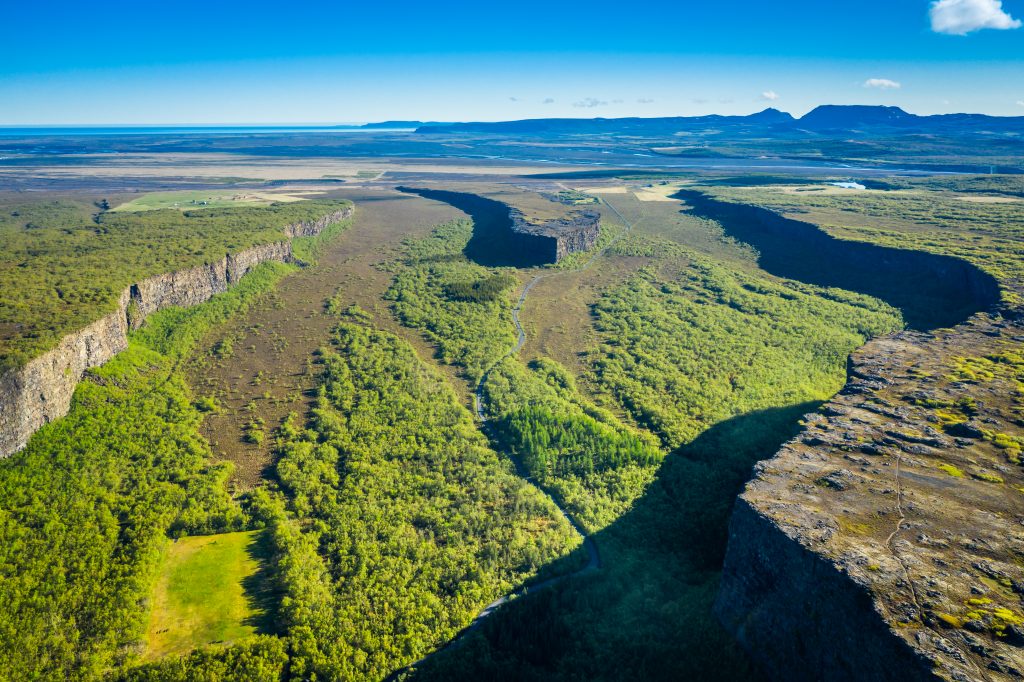 Laufas
The ancient town of Laufas looks like something out of a fairytale.
The old turf homes seem to rise from the ground in the ancient farming village. These homes from another time were built with turf roofs to reinforce them through Iceland's harsh weather conditions.
Just a stone's throw from the turf houses is a church that is equally as exquisite. It is now a museum where tourists can get a glimpse of what life was like on this early farm.
Laufas was originally built between 874-940. It was destroyed by a powerful storm and rebuilt in the mid-1800s. The turf homes provided housing for everyone who worked on this successful farm.
Take in the farm from another era while being surrounded by scenic views of the towering nearby mountains. There is a gift shop and the museum provides information on the origins of this settlement.
If you have at least an hour to spend, take a short scenic trip down to Laufas. You won't regret it!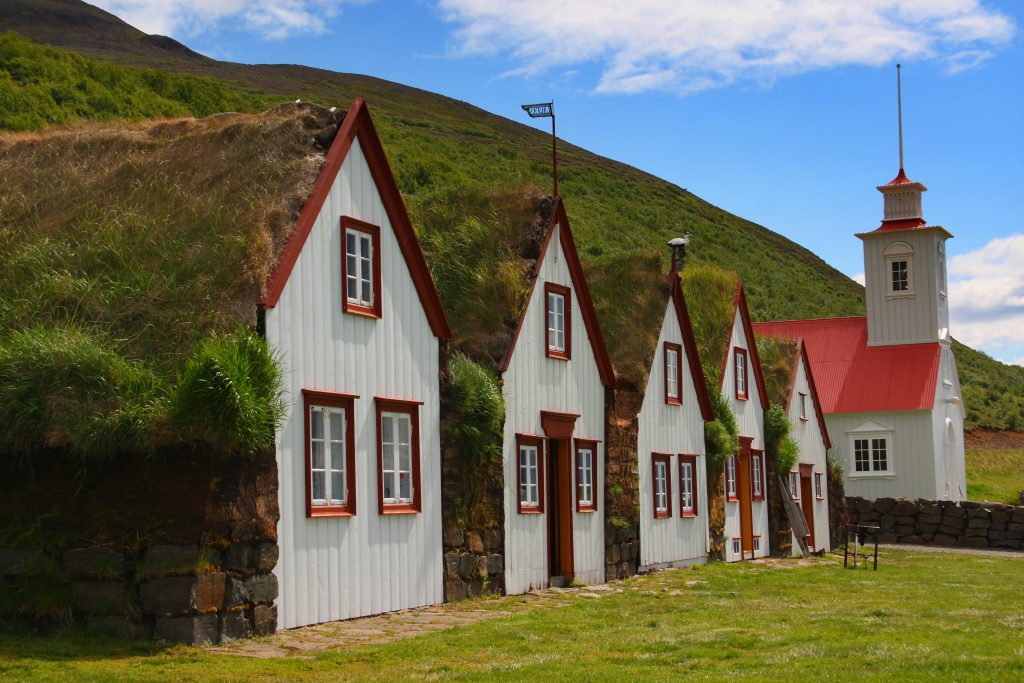 Arctic henge
Constructed to be the sun dial for North Iceland, Arctic henge is a fasicnating structure that is steeped in astrology and lore.
When the construction is finished. the aligned gateways at Arctic Henge will capture sunlight and cast shadows precisely into the structure.
The plan is for it to be a modern version of Stone Henge that will capture the rays of the midnight sun that shines during the summer months in Iceland.
Stepping into Arctic Henge will encapsulate Icelandic history and lore. The entire location is based on the eddic poem Völuspá, and the Dwarf's names from this poem will be instrumental to the structure.
When Arctic Henge is complete, the names of the72 dwarfs will be etched in the stone of the structure in a circle, representing the year. Five days will be dedicated to each dwarf. Following the calendar, visitors will be able to find their birthday Dwarf!
This will be a spectacular location for tourists to take in all the beauties of Iceland from the midnight sun, to the northern lights.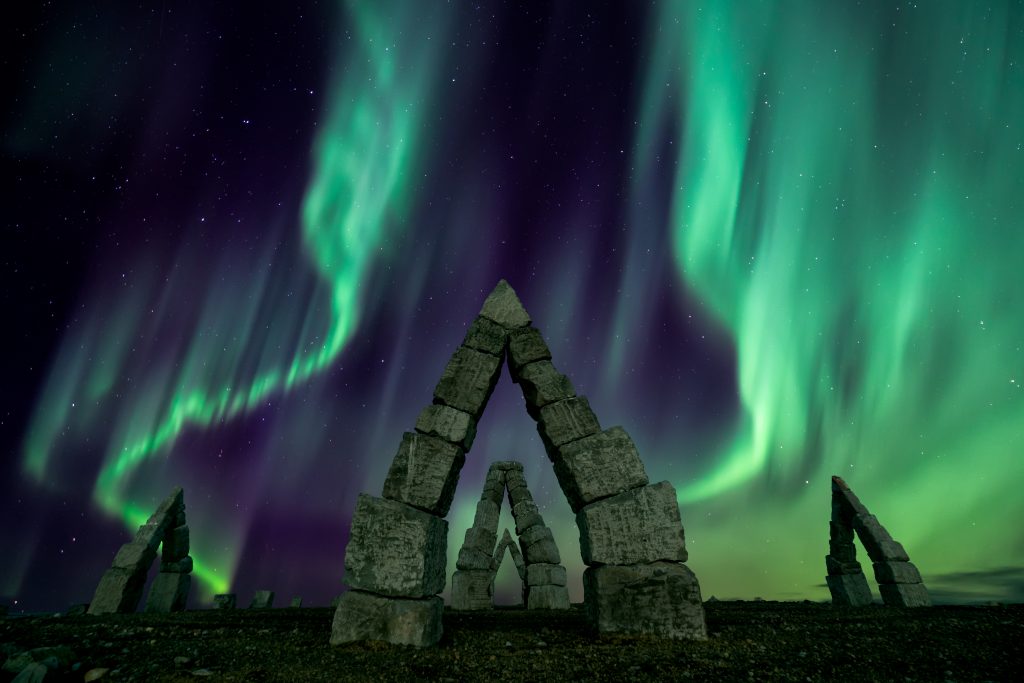 Hljodaklettar
If you haven't noticed yet, Iceland is known for its unique rock formations. However, not many of them are famous for their acoustics and echos.
Hljodaklettar is a cluster of basalt columns that are arranged in no particular order. They are uniquely in disarray and form interesting rock faces and caves!
What is most interesting about these formations is they have a tendency to produce eerie and intriguing echoes.
To get a good look at the formation near the entrance Vesturdalur, in the Vatnajökull National Park, there a few paths you can take. There is an easy short path that is maked in blue that will take about 30 minutes.
The more intense path is marked in red and will take about 2 hours to complete. This one, however, has some great views of this North Iceland attraction and leads in a circle around the area.
The circular path leads to three equally interesting rock formations that are nearby. The formations are called the castle, the troll, and the church. Each of the basalt formations resembles their name with the same rugged rock faces seen throughout the cluster.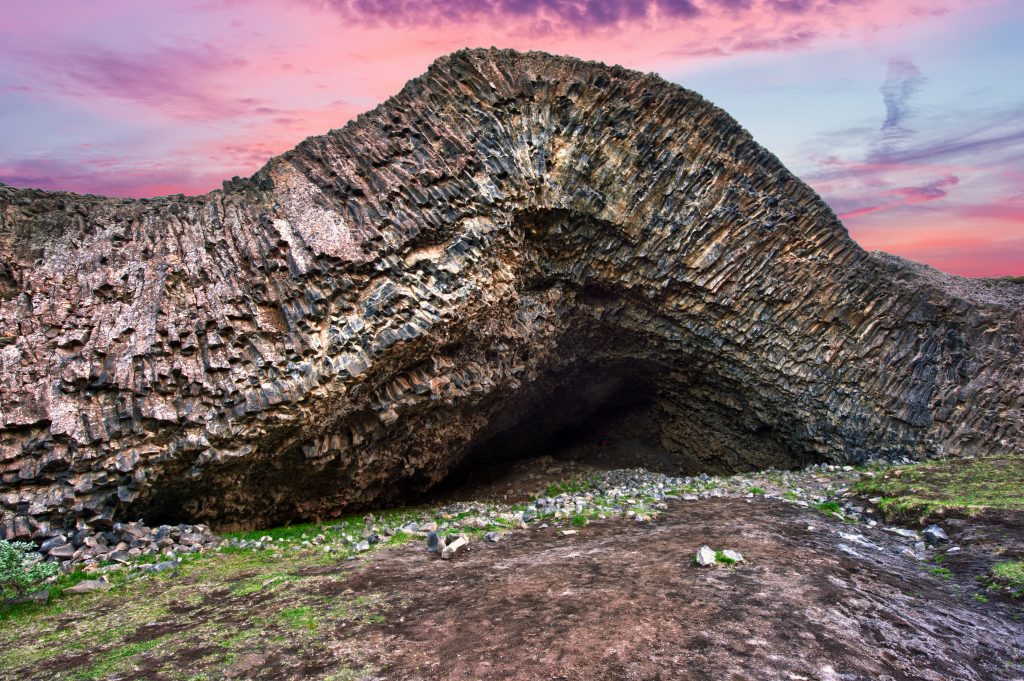 Grettislaug Hot Springs
Located just north or Saudarkrokur in Skagafjordur fjord, Grettislaug Hot Springs are the perfect place to sit back and take in the natural beauty of North Iceland!
What makes Grettislaug Hot Springs unique is they have. a much more rustic and natural look than some other hot springs in Iceland.
They feel more like they are part of the natural surroundings instead of being a way to view them.
These natural hot springs are around 39º C all year round making for a wonderful way to relax outdoors!
The springs are near the edge of the peninsula. They have a great view of Drangey and there are even some quaint turf houses nearby!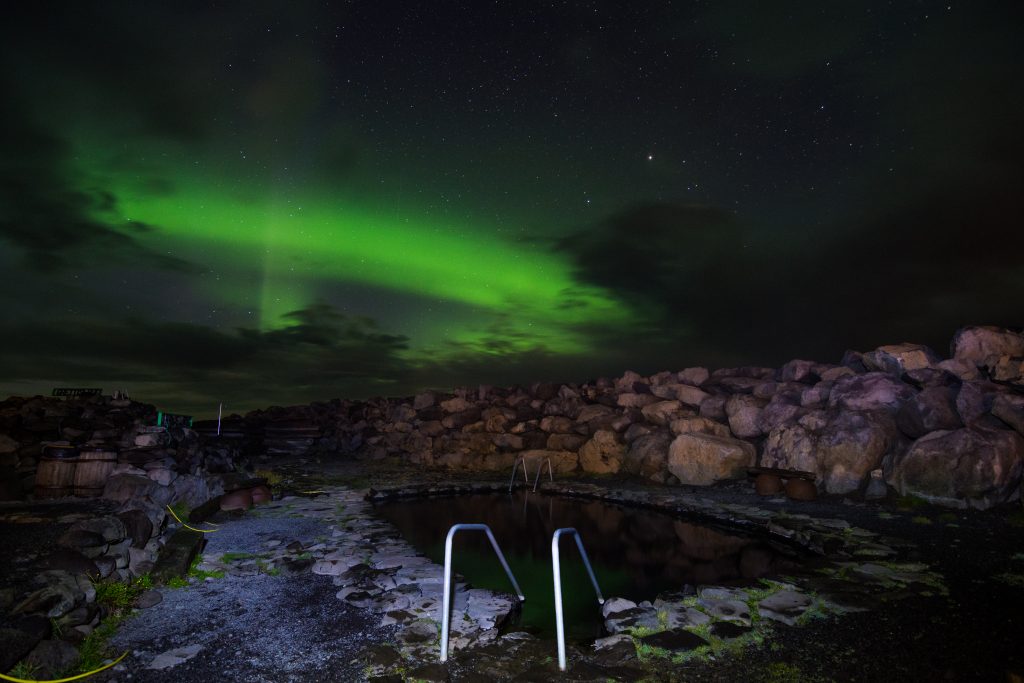 Drangey
One of the most known attractions in North Iceland is Drangey, or Bird Island.
This island is home to thousands of birds that live undisturbed on the giant island, including corky puffins!
The only way to the island is through one of the guided boat tours. On these tours you have a good chance of seeing whales. Drangey is near Husavik which is popular for all of its whale watching tours.
Do you want a glimpse of the rare birds that inhabit this ancient island? Then you better be prepared for a bit of a hike!
Once you land on Drangey the only way on the island is up. A 180-meter climb up rope ladders is the only way to find yourself on top of this remarkable island. Don't worry though, you are more than welcome to stay near the boat if you don't want to make the climb.
Once on top, it is a sensational view of the surrounding landscapes and the ocean. You will not regret making the trip up to the beautiful bird island of Drangey!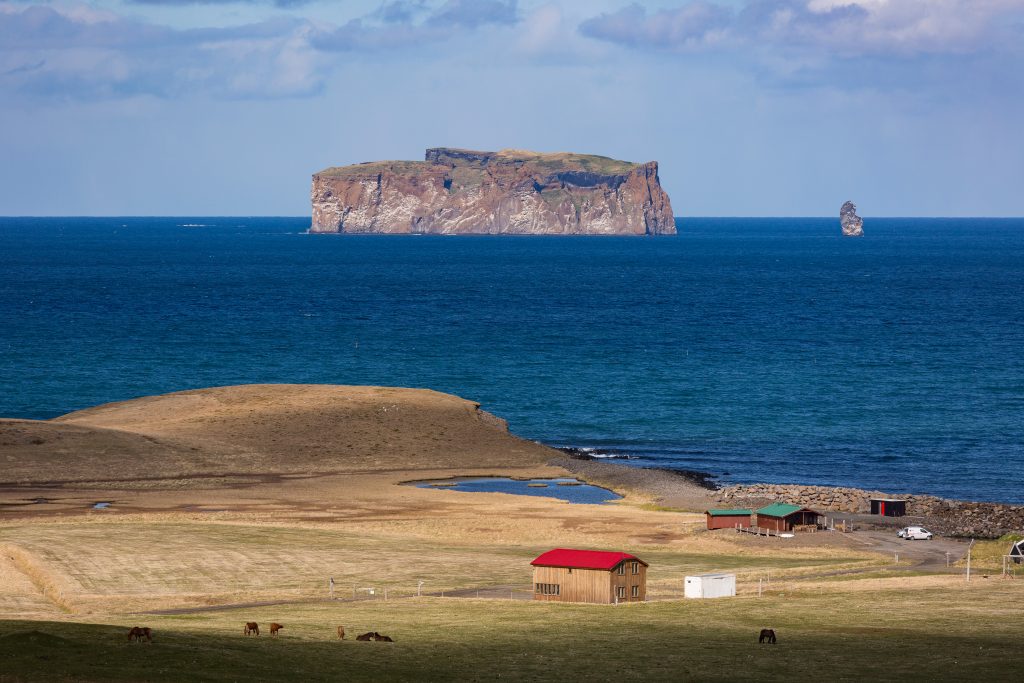 Kolugljufur Canyon
North Iceland is just the place to have a gorgeous canyon and waterfall right off the main road.
Kolugljufur is home to a serene river that quickly falls off into Kolufoss. This waterfall is mesmerizing and unique due to the layers and ridges that make up the face of the falls.
Take the time for a short trip off of Ring Road, to watch the river wind through the deep green canyon. There is a viewing platform on site to help you take in the views, and it will barely cost any time!
If you want to walk the path alongside the canyon, you will find gorgeous waterfalls! However, taking in the views right off the road on the viewing platform will be something you won't forget!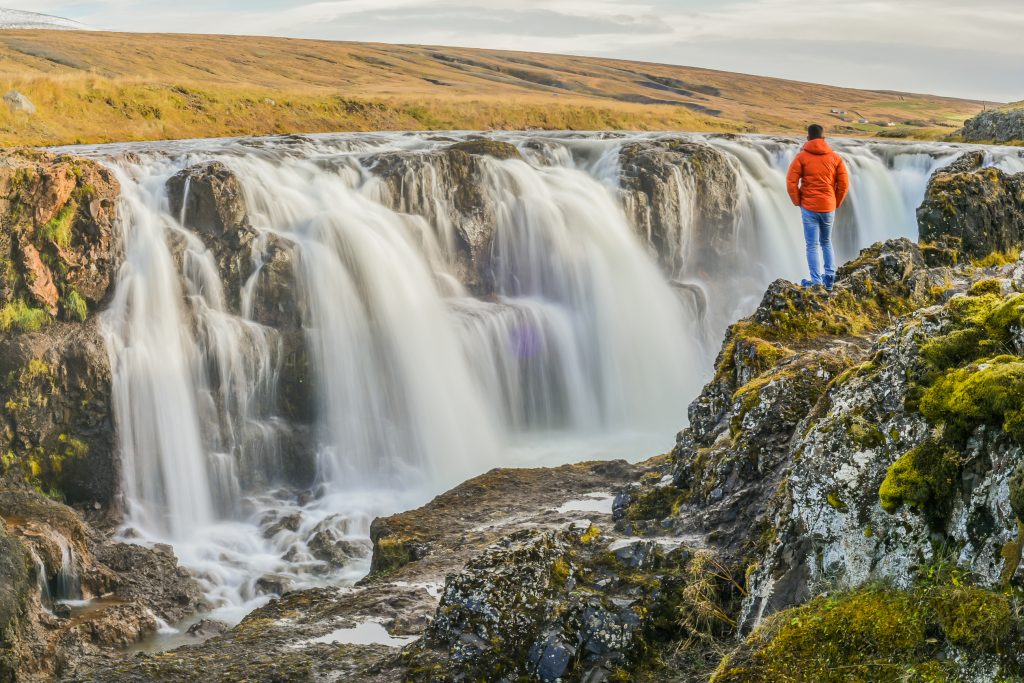 The beauty of North Iceland is unmatched. Not many places in the world offer so many natural wonders in one spot. It is filled with charming towns steeped in lore.
There are geothermal pools where you can gaze upon wild whales. There are even waterfalls you won't believe with your own eyes. North Iceland's natural beauty is something that cannot be ignored. When you see these wonders on your next trip to northern Iceland, it's fair to say you will be in awe.