National parks in Iceland are some of the most beautiful in the world. With stunning waterfalls, scenic mountain views, and fantastic glaciers, it's no wonder that national parks in Iceland are some of the most popular in the world. 
The Iceland national parks are protected areas, allowing the landscapes to be largely untouched which provides ideal conditions for wildlife to flourish.
National parks in Iceland are hugely popular amongst hikers, campers, and photographers – they are a perfect adventurers' playground with national parks covering 13.7% of of the country. Here is a list of some of our favorites that you should see during your trip!
Get a FREE printable "Hidden Gems In Iceland" E-book by joining our private Iceland Facebook Group and share your photos and ask for tips and tricks.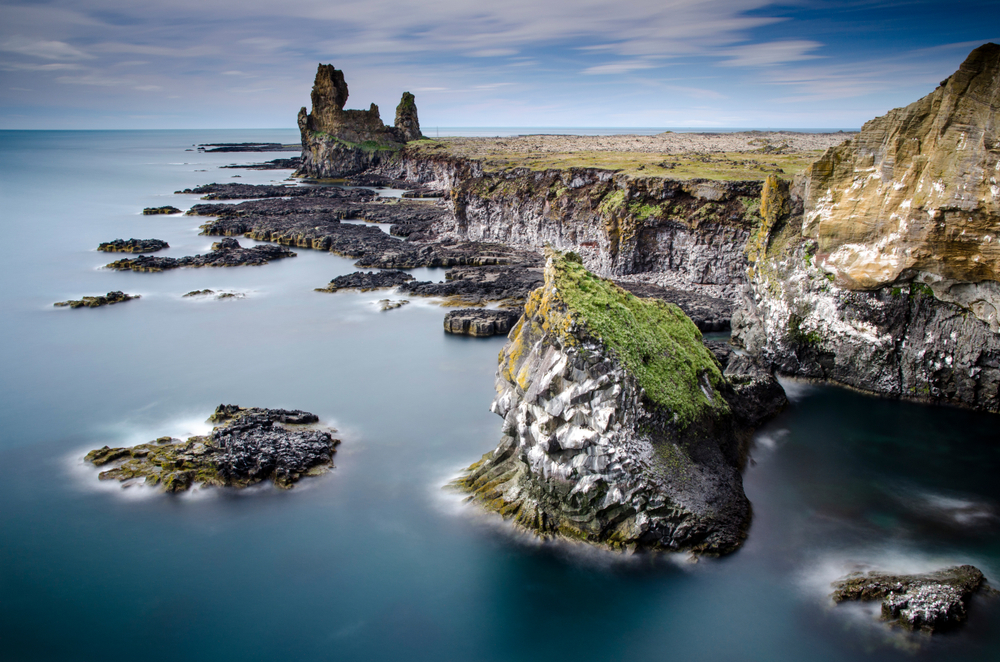 8 Amazing National Parks in Iceland
Skaftafell National Park
Skaftafell is located in southeastern Iceland and is often called the crown jewel of Vatnajökull National Park and truly is one of the most spectacular national parks in Iceland.
There is something to see for everyone in this Iceland national park as it is surrounded by glaciers, sands, waterfalls, and volcanoes. Skaftafell, Iceland is also home to around 250 different kinds of plants and 30 different species of birds – one of the highest out of the national parks in Iceland!
Skaftafell national park in Iceland is the adventure lovers' dream, with a variety of different activities to suit every outdoor lover's needs. It is included in our 5 Days in Iceland Road Trip Itinerary and is the perfect stop for your road trip!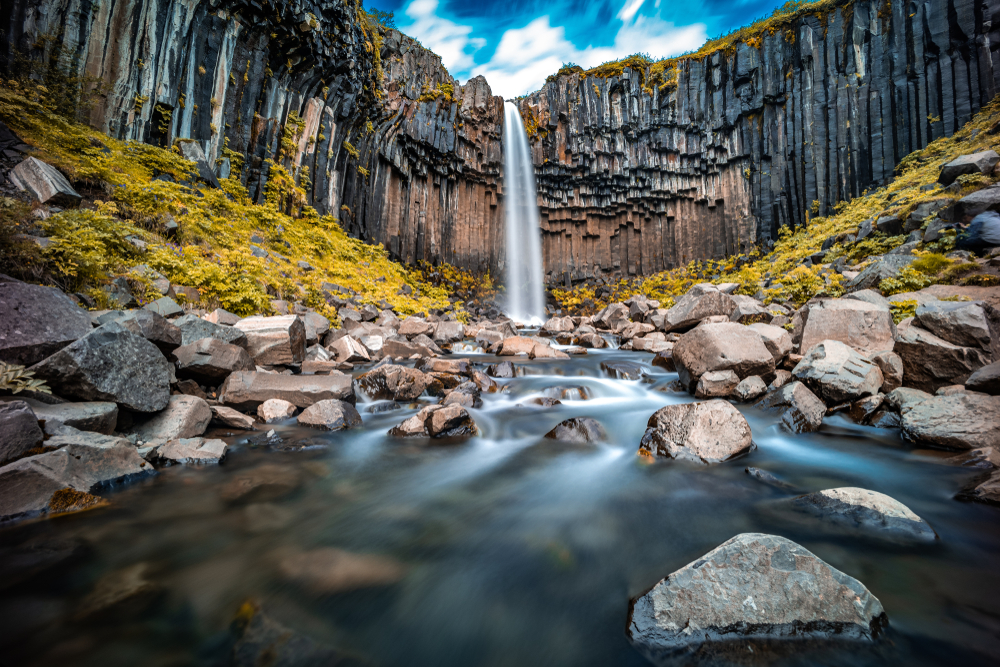 Best Things To Do In Skaftafell National Park
Hike the Stunning Glaciers of Skaftafell
Skaftafell national park is home to the largest Glacier in Iceland. The Vatnajökull. But there are many stunning glacial tongues for you to see that has been shaped by ice and the fires of volcanoes over the years.
Other glaciers you can see are Falljökull glacier, Breiðamerkurjökull glacier, and Svínafellsjökull glacier. If you are an animal lover, you can find ravens, mink, and arctic foxes hidden away amongst the mountains of Skaftafell.
You can choose to hike the glaciers in your own group, but alternatively, there are many different types of tours you can take in this Iceland national park. Whether you fancy a short walk or a full-on adventure, the staff at
Glacier Hiking Booking Centers are more than happy to accommodate your needs. Don't worry if you haven't got the right equipment, you can rent them out! You can book tours in Skaftafell Iceland for the Falljokull glacier, Svinafellsjokull, and the Breidamerkurjokul.
Hike to Svartifoss Waterfall
Glaciers aren't the only natural wonders you can find in Skaftafell, Iceland. The Svartifoss Waterfall is one of the most breathtaking views in Iceland, and one of the most popular sights. The waterfall stands at 20m high (80 feet) and is surrounded by dark lava columns that were formed by lava flows that cool down very slowly, allowing these unique hexagonal shapes to form.
The Hike to Svartifoss waterfall in Skaftafell is one of the shorter hikes, lasting around 45 minutes one way depending on your hiking experience. The hike starts at the visitors center and you'll see three other waterfalls on your way; Þjofafoss (Thieves' Fall), Hundafoss (Dogs' Fall), and Magnusarfoss (the Falls of Magnus).
This is one of the best stops around Iceland's Ring Road. If you happen to be driving in Iceland, you will want to ensure that you make time to see it!
Ice Cave tours
During the winter months, you can go on Ice Cave tours in Skaftafell, Iceland. One of the most popular tours you can take is The Crystal Ice Cave, where you'll get the opportunity to head inside the ice caves and witness the stunning beauty of these temporary structures.
There truly is nothing like them and they provide amazing photographic opportunities due to the blue light passing through the glacier. An ice cave tour is definitely a must if you're visiting any of the national parks in Iceland that provide them!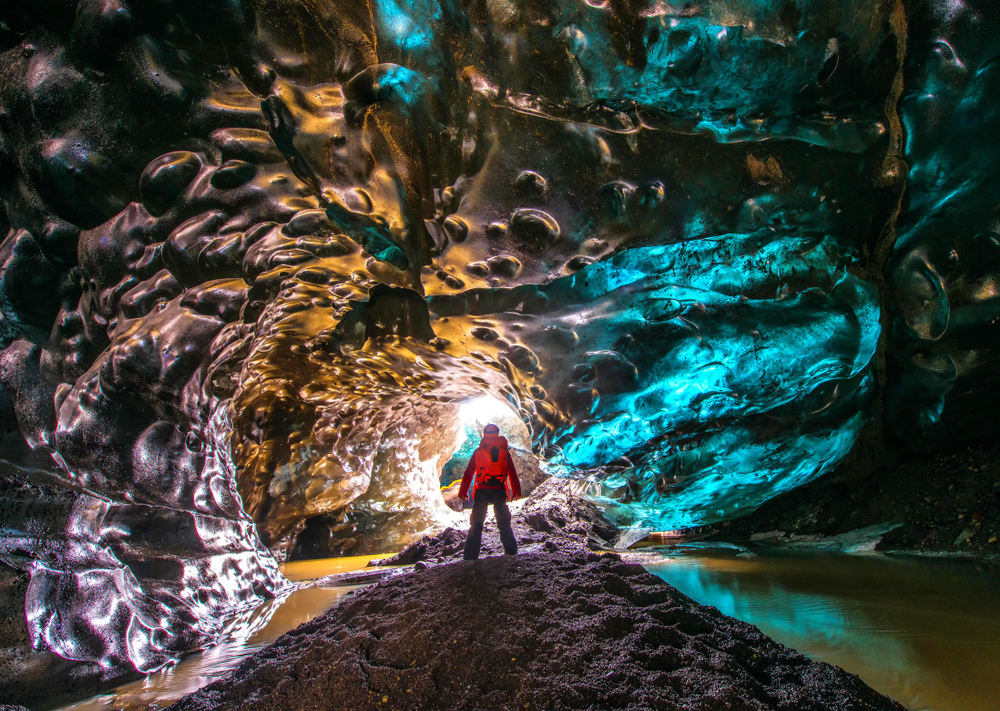 Jökulsárgljúfur National Park
Jökulsárgljúfur is the most northern part of Vatnajökull National Park and became part of it when it was established in 2008. But we thought it deserved its own little section because this national park in Iceland is home to some iconic locations!
Jökulsárgljúfur is one of the more unique Iceland national parks because it's home to the largest river canyon in all of the national parks in Iceland, which is thought to have been created by catastrophic glacial flooding that cut into the bedrock. This flooding is what changed this landscape forever, and what draws hikers in during the summer year after year!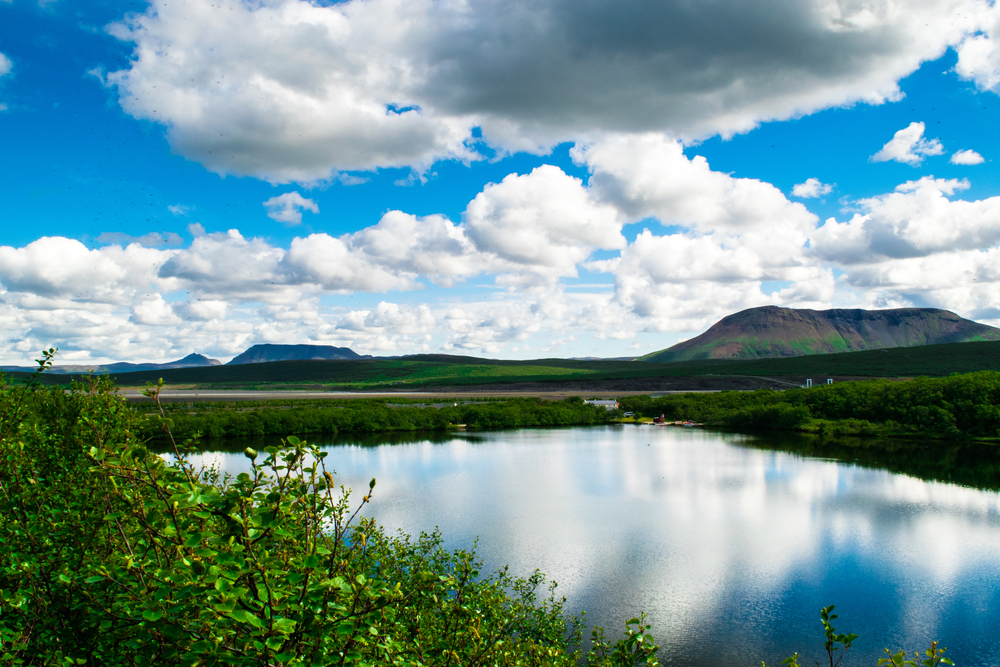 What to Do in Jökulsárgljúfur National Park
See the Legendary Dettifoss Waterfall
Dettifoss waterfall is the most powerful waterfall in not only any of the national parks in Iceland but the whole of Europe! The water gushes at 6816 cubic feet per second and stands at 45m high! You may recognize Dettifoss waterfall from the film 'Prometheus'.
Dettifoss is pretty easy to get to, it is about a 10-minute walk from the parking lot – but remember to take some sturdy boots with you! There are also two other waterfalls in Jökulsárgljúfur that you can visit; Selfoss and Hafragilsfoss, which are just as impressive. It is one of the best places to see on your Iceland Itinerary!
Visit the Ásbyrgi Canyon
The Ásbyrgi Canyon is a huge canyon that curves into a U-shape, with a forested valley at the base and a rock island in the middle. The canyon is likely to have been created by glacial flooding, but folklore states that the canyon was created by one of Odin's eight-legged horse's hooves. We like that explanation better – it's much more magical!
Take a Hike!
Iceland national parks are some of the best places for beautiful hikes, and Jökulsárgljúfur is no exception! There are so many hikes to take in Jökulsárgljúfur National Park that it's recommended you stay for a number of days.
There are numerous hikes for beginners such as The Waterfall Hike which is around 4.3 miles and Á-2 Eyjan Hill in Ásbyrgi which is slightly shorter at 3 miles. If you want something longer and love the idea of camping, the Two-Day Trek from Asbyrgi to Dettifoss provides beautiful panoramic views and is 12 miles long.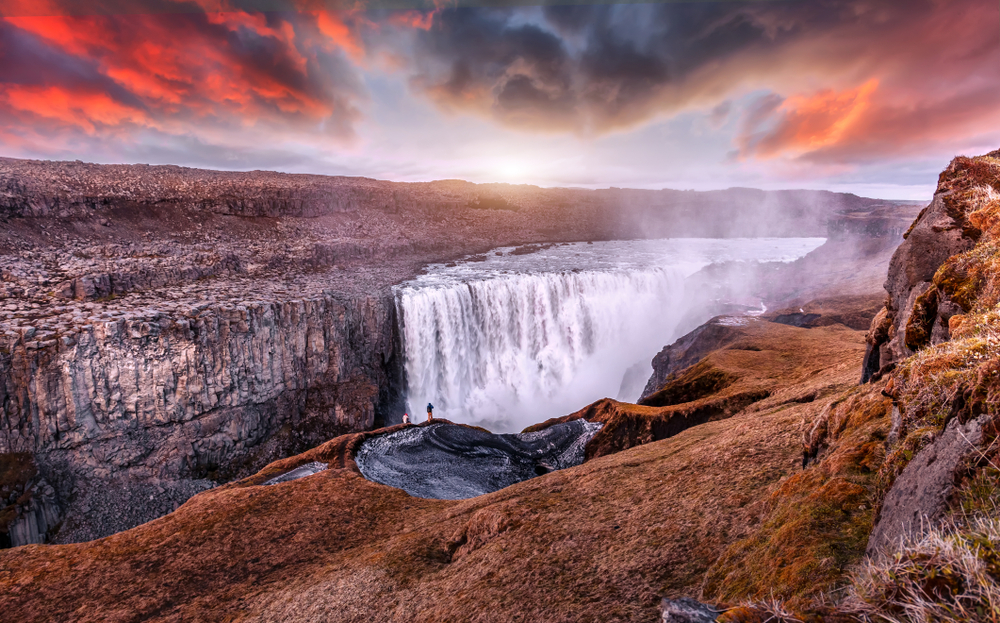 Thingvellir National Park
The separation of two tectonic plates makes this Iceland national park an incredible place to visit. Thingvellir is located just 25 miles away from Iceland's capital, Reykjavík. Thingvellir National Park is a UNESCO World Heritage Site renowned for its historical, cultural and geological significance.
It is also one of the Game Of Thrones Filming Locations in Iceland!
When the Vikings arrived in the 10th century, Thingvellir, Iceland was where they chose as the meeting place of Althingi, the world's oldest parliament. For that reason and there are so many outdoor activities to do, Thingvellir has become one of the most popular National parks in Iceland and one of the best stops on the Golden Circle!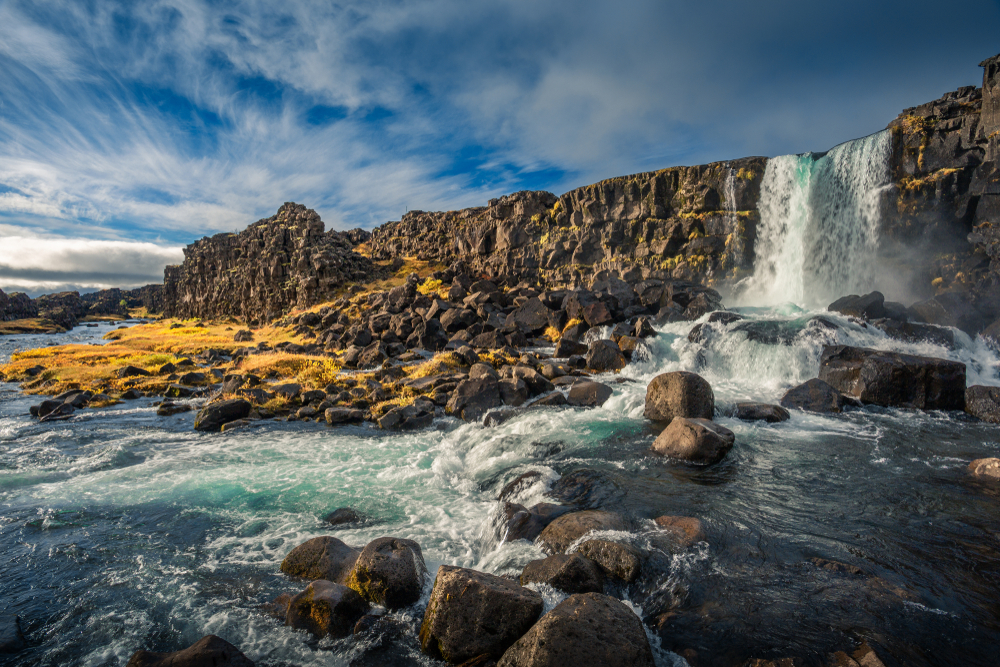 Things to Do in Thingvellir National Park
Visit Thingvellir Church
This church is incredibly popular amongst photographers visiting Iceland national parks, especially during the winter months when the snow makes the location more atmospheric. The church is open between 09:00 and 17:00 from mid-May to early September.
Its popularity stems from it's a stark contrast to the surrounding natural area and its historical significance; it's one of the first churches built in Iceland! If you love the look of Icelandic churches, you can read our blog post about the prettiest churches in Iceland here.
Take a Dive at Silfra Fissure
There is nowhere else in the world where you can go diving or snorkeling between two tectonic plates other than this Iceland national park! Silfra is rated one of the top 10 diving locations in the world, and is truly a special experience for beginners and experienced divers alike! There are multiple diving and snorkeling tours for you to choose from, from 3 hours snorkeling tours to 13-hour long day experiences!
Explore the Icelandic Scenery on Horseback!
Fancy giving your feet a little rest from all of your hiking? You can take a horseback tour of the outskirts of Reykjavík as well as Thingvellir National Park. There are two different trails for you to choose from, as well as an Icelandic experience where you can go snorkeling too!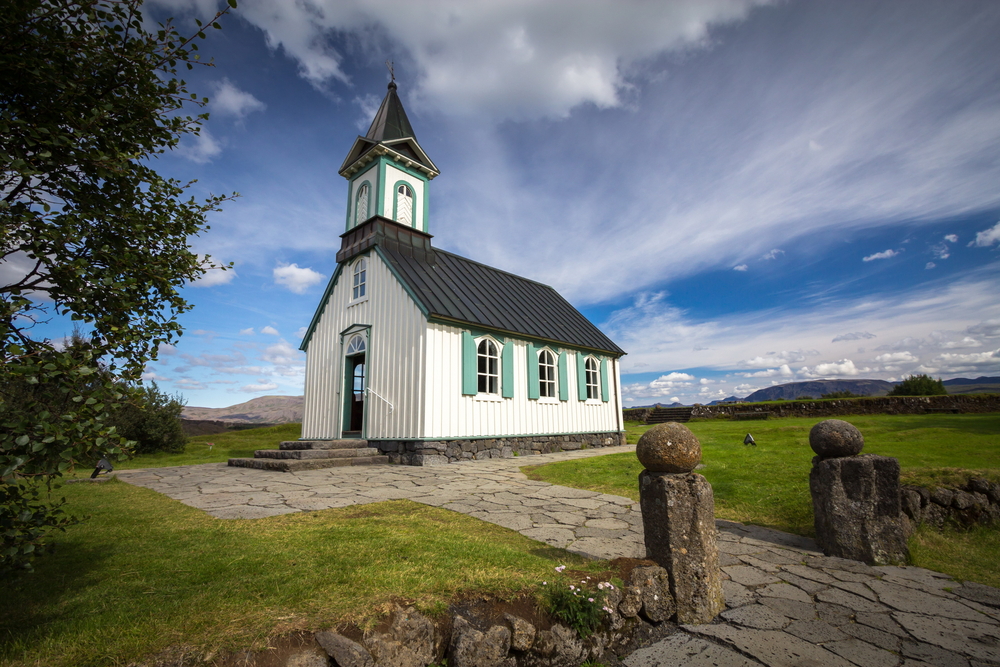 Snæfellsjökull National Park
Snæfellsjökull National Park is a 700,000-year-old glacier-capped stratovolcano national park in Iceland. It's in the most western part of Snæfellsnes peninsula.
Whilst Snæfellsjökull isn't the largest or the oldest of the national parks in Iceland, there is still plenty for visitors to enjoy. It is the only one of the Iceland national parks to stretch to the sea and is home to some pretty famous locations, from the Instagram famous Budirkirkja church and Lóndrangar, which provided the background for the stone towers seen on 'Game of Thrones'.
This stop is in a great area and actually on our list of Best Places To Stay In Iceland. In this post, we offer suggestions for where to stay around the Ring Road!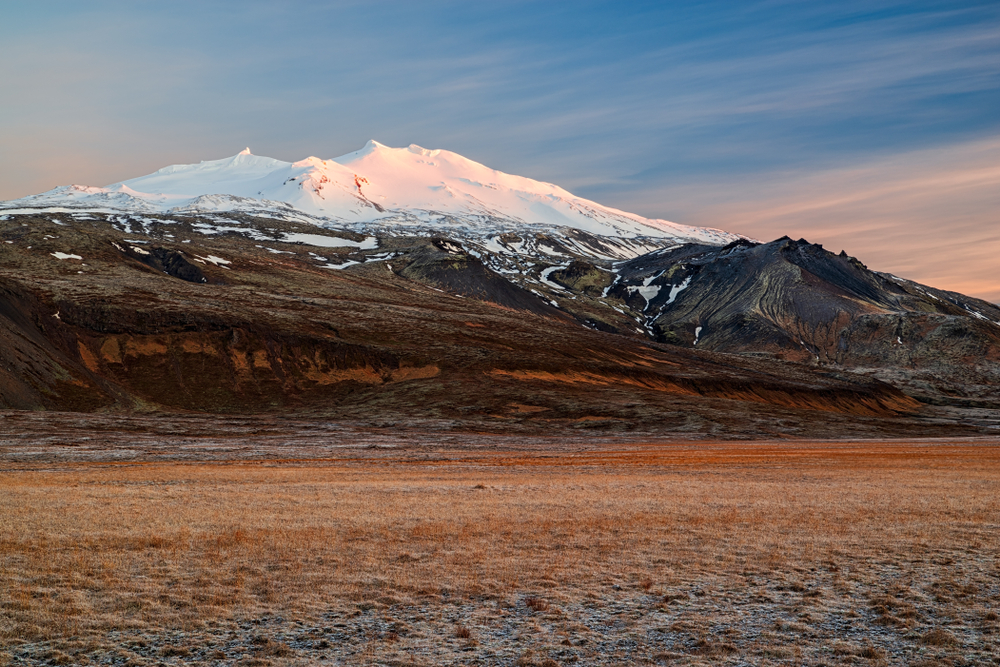 Things to Do in Snæfellsjökull National Park
Take In the Breathtaking Snæfellsjökull Glacier
You can't visit Snæfellsjökull National Park without seeing the Snæfellsjökull Glacier, can you!? The Glacier can be seen from Reykjavik with its peak reaching more than 1446m! There are multiple tours and hikes you can take, and this is one you definitely will not want to miss out on!
See the Black Sand Djúpalónssandur Beach
We regard black sand beaches as one of the most incredible sites in Iceland, and Djúpalónssandur Beach is no exception. It's particularly stunning due to its coastal lava formations. On the beach, you will notice iron pieces from the shipwrecked British trawler, The Epine GY7.
Whilst Djúpalónssandur Beach is a beautiful location with many photographic opportunities, you must be careful of the waters as the Atlantic Ocean suction can easily pull you out to sea, especially if the weather is stormy.
Visit the Popular Black Church in Iceland, Búðakirkja
Búðakirkja is a popular wedding location in Iceland national parks and we can sure see why! Búðakirkja is a striking black wooden church that is situated in a lava field. It's in a village in the middle of nowhere consisting of Búðakirkja and one hotel, which makes the church look particularly lonely and isolated. This stop is perfect for photography lovers as its truly one of a kind.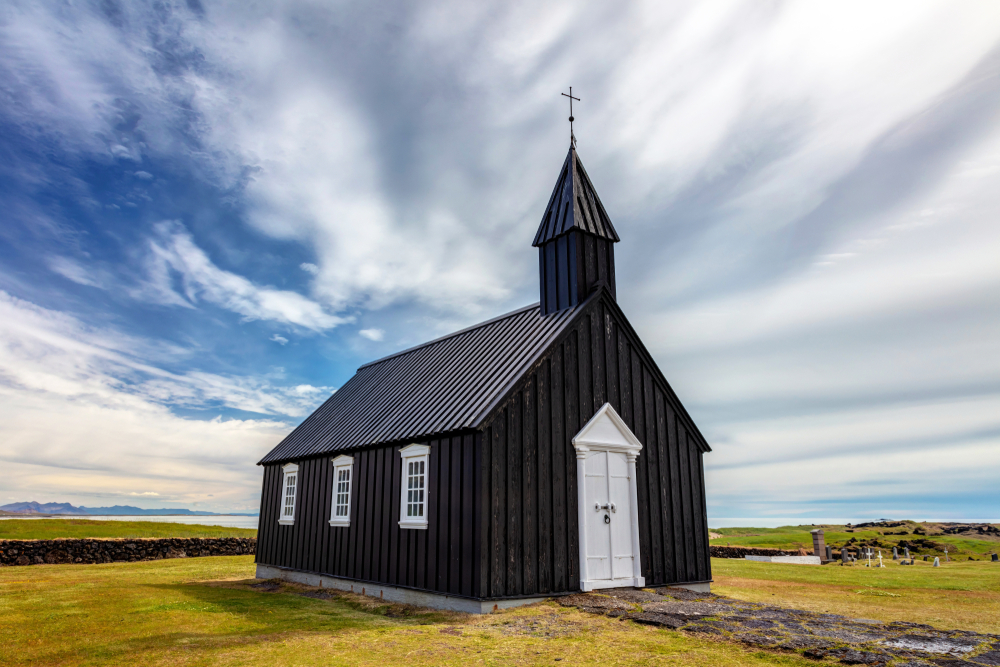 Hvalnes Nature Reserve
Hvalnes Nature Reserve is a fantastic photo spot in our picks of Iceland National Parks. There are many panoramic views for you to take in, from the stunning black pebble beach to the distinctive peaks of the mountains. Hvalnes Nature Reserve is quite a desolate location, which makes it ideal for visitors to see seabirds.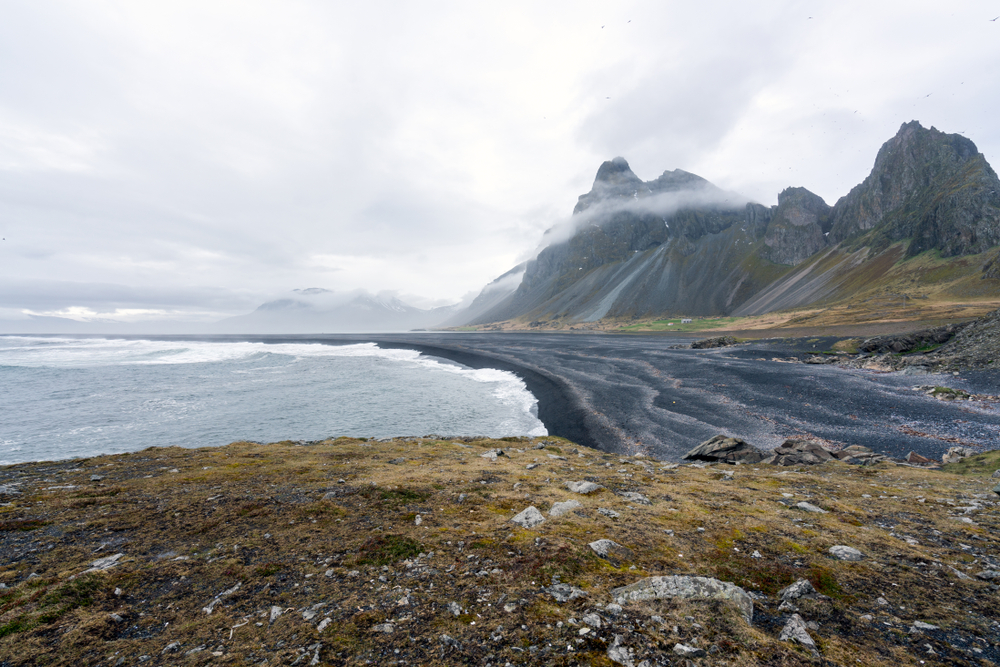 Things to Do in Hvalnes Nature Reserve
Get a Shot of Hvalnes Lighthouse
30 minutes east past the village of Höfn, you'll come across an orange lighthouse which is the perfect stop to stretch your legs and get that perfect Instagram shot of the lighthouse which looks like it should be in a Wes Anderson movie!
Take a Stroll on the Black Sand Beach
Black sand beaches are a staple amongst Iceland, and this is one of the more quieter ones to take a walk along the shore with the gorgeous mountains as your backdrop. The distant views of the Vestrahorn and Brunnhorn are particularly beautiful from this location. You can walk to the lighthouse from the beach, or you can sit on the shore and do some bird watching.
Take a Walk on This Lonely Coastal Area
If you prefer to go off the beaten track, then this Iceland Nation Parks walk is the one for you. Walking is pretty easy in this area, so is great if you're driving to your next location and want to stop off for an hour to have some lunch and get some exercise.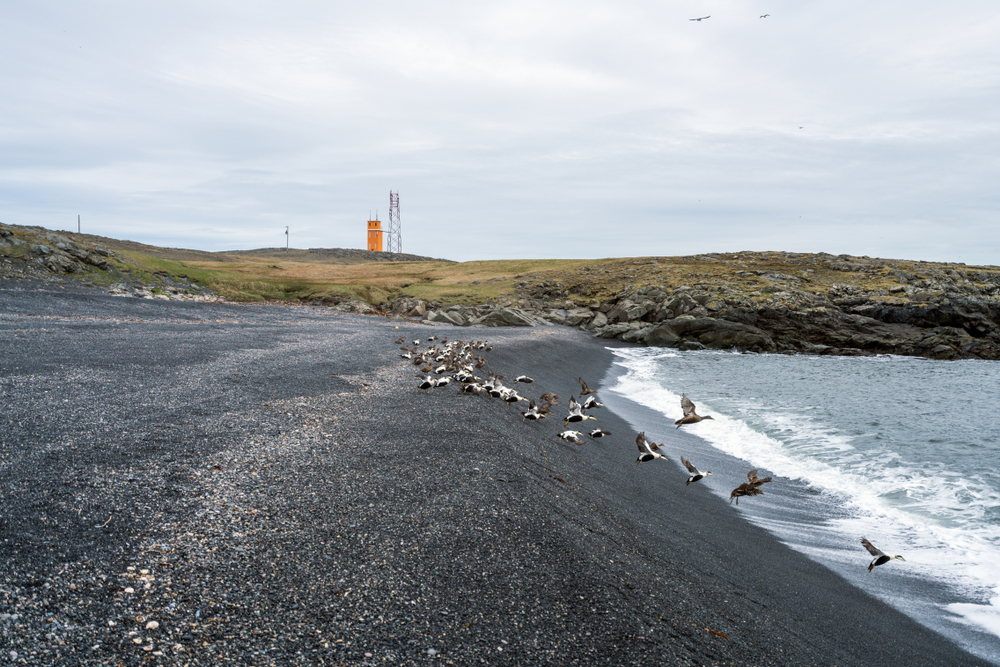 Thorsmork Nature Reserve
Thorsmork is a valley named after the Norse God Thor and is one of the most popular hiking locations in Iceland. Due to it being situation between the glaciers Tindafjallajokull, Myrdalsjokull, and Eyjafjallajokull, it provides some of the most picturesque backdrops in any of the Iceland National Parks.
Thorsmork has been a protected site since 1921 and is famous for having a wide variety of features. Thorsmork provides many different green valleys, clear creeks and rivers as well as mountains for visitors to enjoy in this Iceland National Park.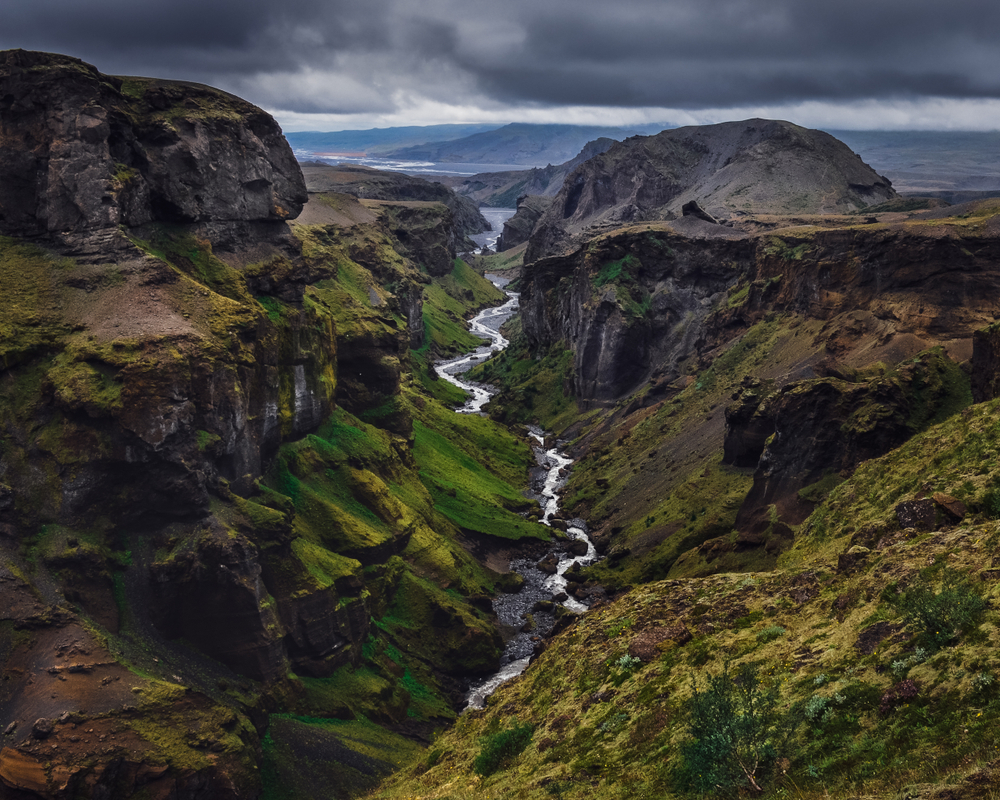 Things to Do in Thorsmork Nature Reserve
Hike one of Iceland's Most Popular Treks, Laugavegur or Fimmvörduáls
Walk one of the most popular trails in National Parks in Iceland! Both of these trails run into the valley but from opposite directions. The Laugavegur trail is world-famous and runs for 34 miles. This trail starts in Landmannalaugar and will take you through the Rhyolite Mountains before ending in Thorsmork.
The alternative hike is Fimmvörduáls which is slightly shorter at 15.5 miles. Starting in Skógar, this hike takes you between the Eyjafjallajökull and Myrdalsjökull glaciers before finishing in Thorsmork.
Go Camping!
Thorsmork is a great place to camp in Iceland National Parks, offering two different camping sites on either side of River Krossa. The campsites are open from May/June to October and offer stunning views of Thorsmork to wake up to or to watch the sun set.
Don't Fancy Hiking? Take a Super-Jeep Tour!
Thorsmork is a great place for a 4×4, and even better when you're not the one driving! Super-Jeep tours are a great way to see this Iceland National Park. The tours generally last around 8 hours and are a lot of fun as you have to cross glacial rivers! It's the perfect way to get some great photo locations without having to hike to them yourself.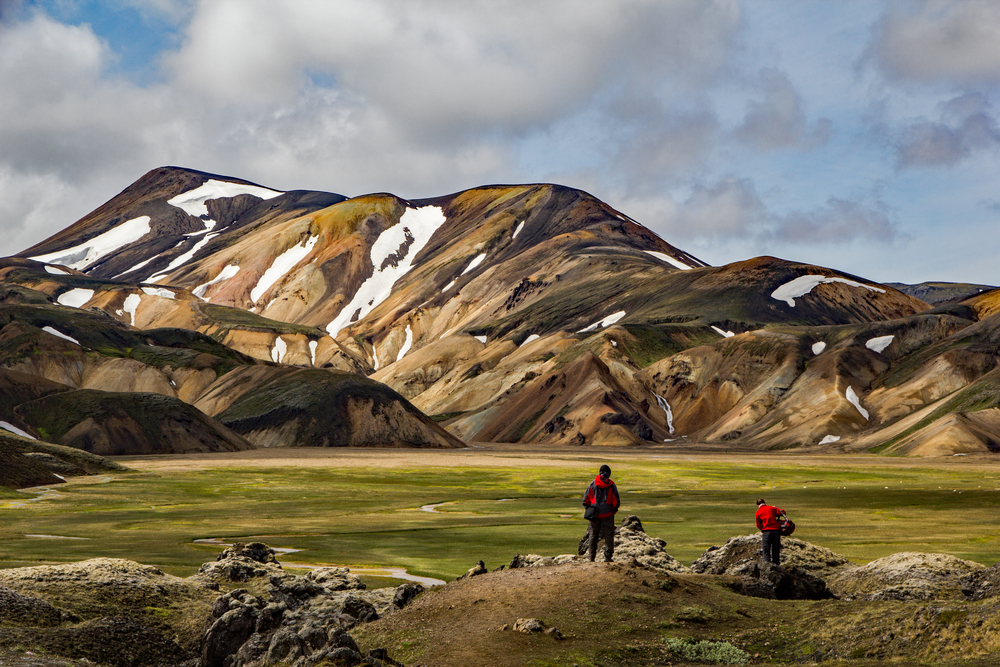 Breiðafjörður Nature Reserve
Breiðafjörður is a nature reserve between Snæfellsnes Peninsula and the Westfjords. It's best known for its myriad islands, islet, and skerries which are the nesting grounds for wildlife.
Within this Iceland National Park, there are many mountainous and volcanic backdrops that make Breiðafjörður the ideal place for adventurous explorers! Whether you want panoramic mountain views, shallow seas, small fjords, or beautiful bays, you will never get tired of exploring this beautiful Iceland national park landscape.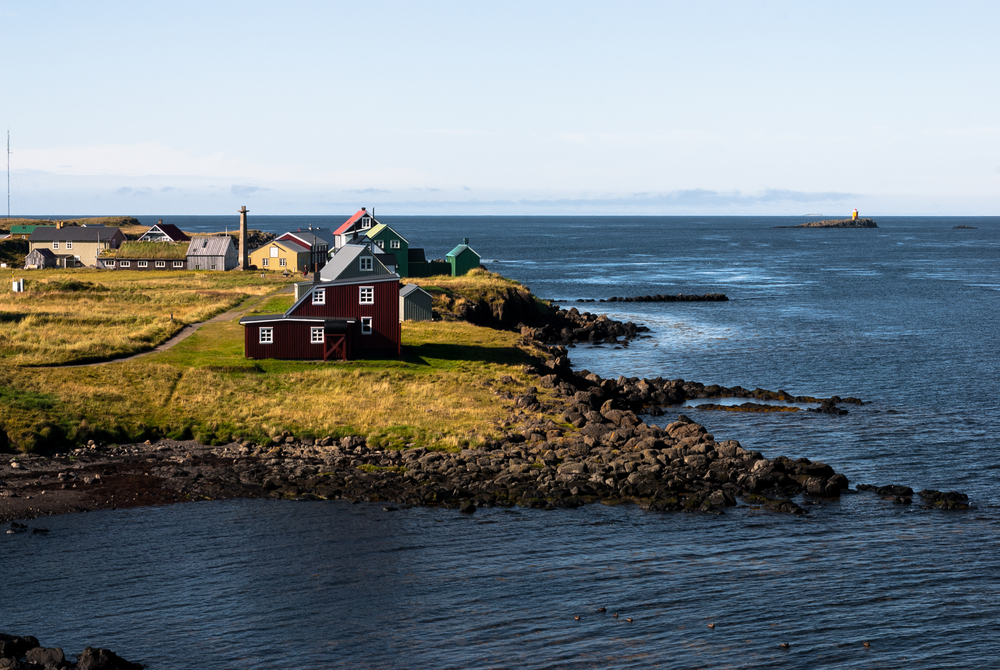 Things to Do in Breiðafjörður Nature Reserve
Take a Tour to Puffin Paradise
Breiðafjörður is the perfect place to see birds nesting and settling, including the gorgeous puffins! This experience may really be once in a lifetime when you're visiting Iceland National Parks so make sure to go during bird watching season in the Westfjords which runs from April to June.
Have a Day trip to Flatey Island
In the Breiðafjörður Bay, there are around 50 islands, but the only inhabited one is Flatey Island. The island is only 2km long and 1km wide and can be reached by ferry. There are no cars allowed on the island, and on your visit, you will be greeted by an old village containing traditional Icelandic colorful houses. There's a wide variety of birds that inhabit Flatey, including the rare red phalarope.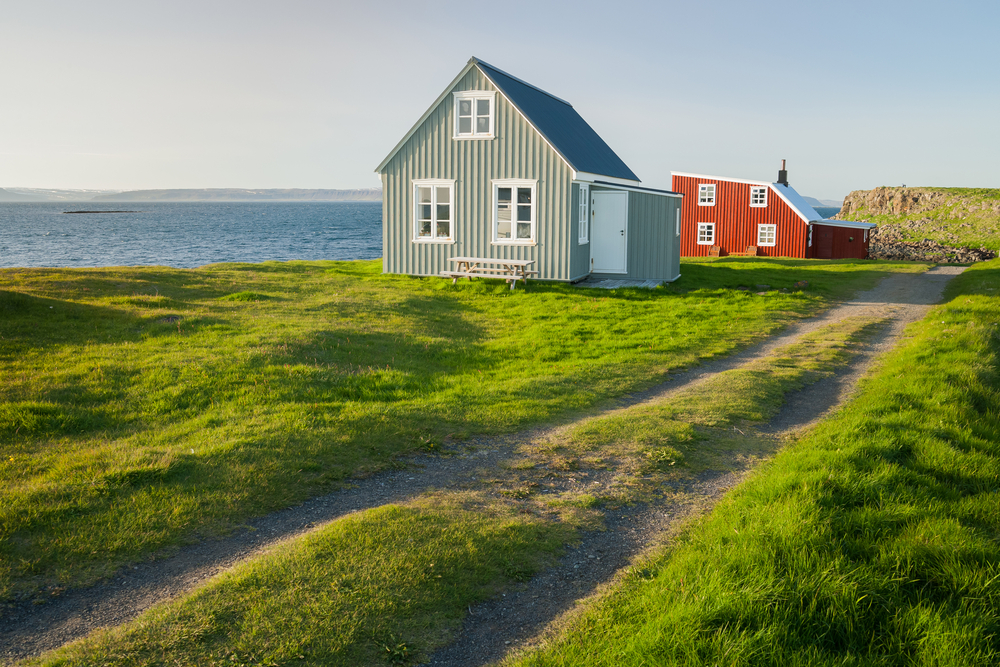 Fjallabak Nature Reserve
'Fjallabak' translates to 'The back of the mountains' or 'mountain back' and it isn't hard to see why! Fjallabak Nature Reserve is one of the most mountainous of our picks for Iceland National Parks. The 47,000 hectares nature reserve has been sculpted by volcanoes and geothermal activity which is covered by lakes, sands, lakes, and rivers.
The Fjallabak nature reserve is home to the Torfajokull, an active volcanic system and is a direct result of the region being the largest rhyolite area in any National Park in Iceland.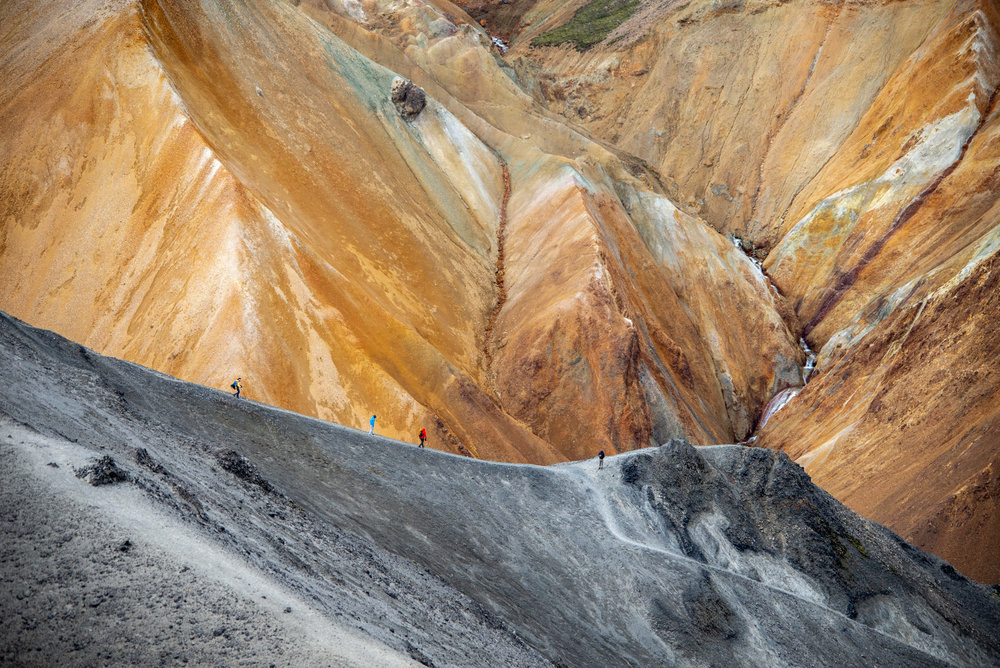 Things to Do in Fjallabak Nature Reserve
Take a Dip in the Hot Spring Pools in Landmannalaugar
There's nothing quite like a dip in a natural hot spring pool! Landmannalaugar is the perfect place for tired hikers to relax and unwind after a hike in this Iceland National Park. The pools are free, but you do need to pay for restroom use where you can change into your bathing suit.
Stay Overnight in a Mountain Hut
Landmannalaugar marks the beginning and the end of many hikes in Fjallabak Nature reserve, and it offers great camping facilities. Alternatively, you can choose to stay in a hut. it accommodates 78 people on two floors and consists of gas stoves, hot and cold water, bunk beds and utensils. The hut also offers dorm rooms upstairs. It's a great way to meet fellow travelers!
Go Trekking in the Most Beautiful, Remote Place in the World
Many regard the treks of Fjallabak some of the most gorgeous treks they've ever done. There are many different hikes for you to choose from and they are known to be on the harder side. As mentioned previously in this post, you can take the iconic Laugavegur Trail which starts in Landmannalaugar and ends in Thorsmork.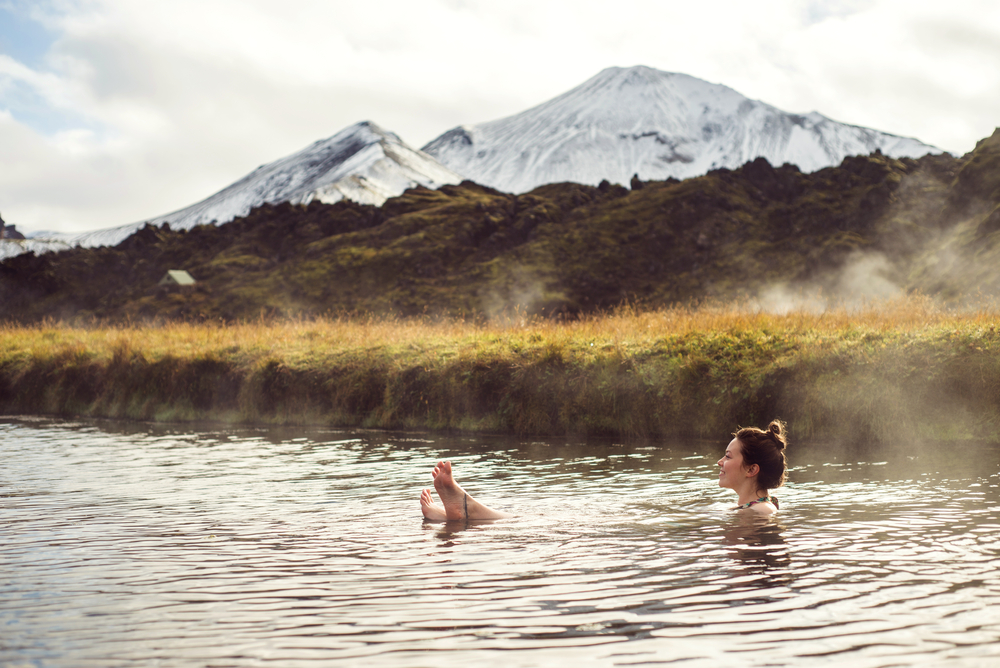 And there you have it! There are so many different national parks in Iceland, you really are spoilt for choice! No national park in Iceland is the same, and you will be in awe of the landscapes in whichever national park you decide to visit. We hope you have found your next destination from our picks!