Bruarfoss Waterfall in Iceland is one of the most beautiful and colorful attractions the country has to offer. If you love scenic hikes with a huge payoff at the end, then make sure to add this waterfall to your Iceland itinerary. You won't regret going, but you might regret missing out on this attraction!
This article will walk you through everything you need to know before visiting Bruarfoss Waterfall. We cover where to park, the hike's terrain, what to expect when you get there, and more. With all of your questions answered, your trip to this natural wonder will be stress free.
Are you ready to discover one of the best waterfalls in Iceland?!
Get a FREE printable "Hidden Gems In Iceland" E-book by joining our private Iceland Facebook Group and share your photos and ask for tips and tricks.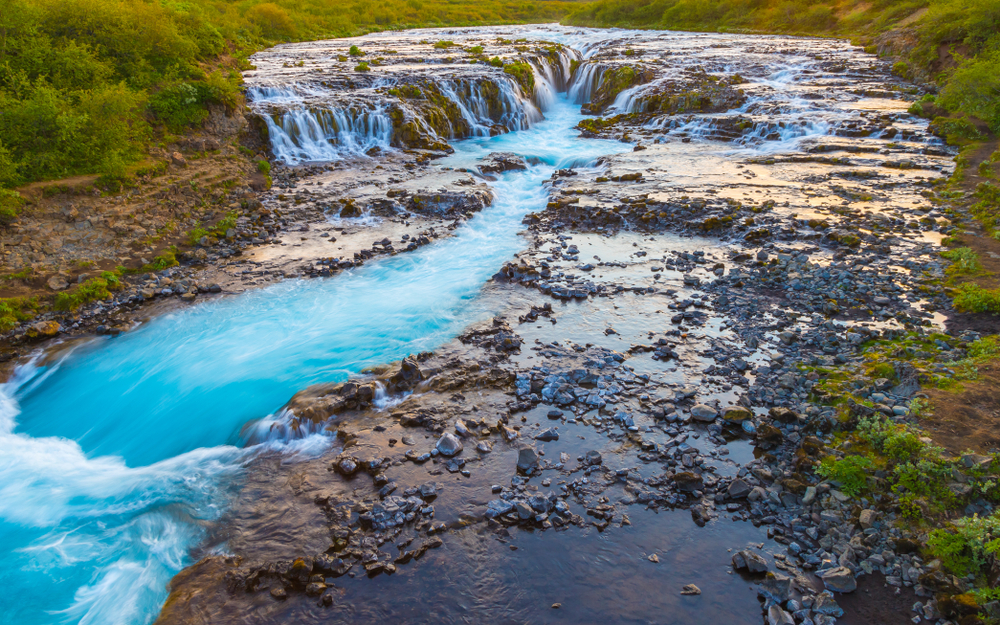 What is Bruarfoss Waterfall?
Bruarfoss is a glacier-fed waterfall known best for its striking, bright blue color. It is almost hard to believe this color can occur in nature. It looks like Gatorade! The color comes from the Langjokull glacier which feds the Bruara River where this waterfall is located.
The name of this waterfall translates to "bridge waterfall" because of an old, stone archway that once stood over it. While that fell many years ago, there is a footbridge over the river near the falls. This is the best place to see the waterfall in all its glory and snap some epic photos.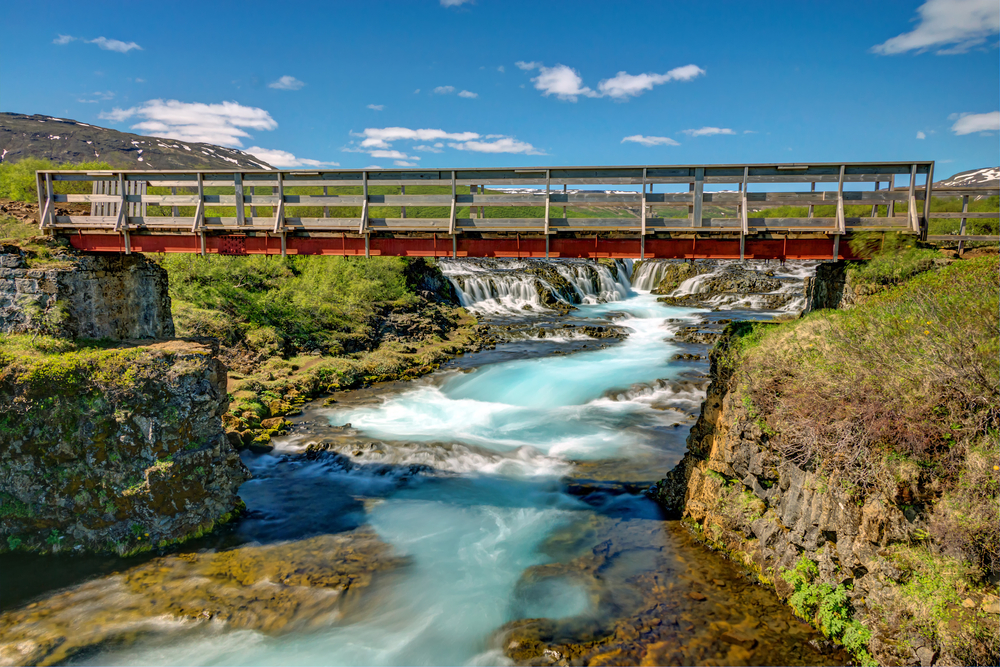 Where Is Bruarfoss Waterfall Located?
Bruarfoss is found about an hour and a half from Reykjavik, just off the Golden Circle route. It is also close to other popular Golden Circle stops. It is about twenty minutes from Gullfoss Waterfall and twelve minutes from Geysir. Despite this premium location, it is still a bit of a hidden gem in Iceland.
Bruarfoss makes a great day trip from Reykjavik since it is so close to the city and you can see other things nearby. If you are driving the Golden Circle, then stopping here is a great idea.
To find this waterfall, you have to use a GPS. Type in "Bruarfoss Waterfall official parking" in order to arrive at the right parking lot. It is a small parking area next to the river.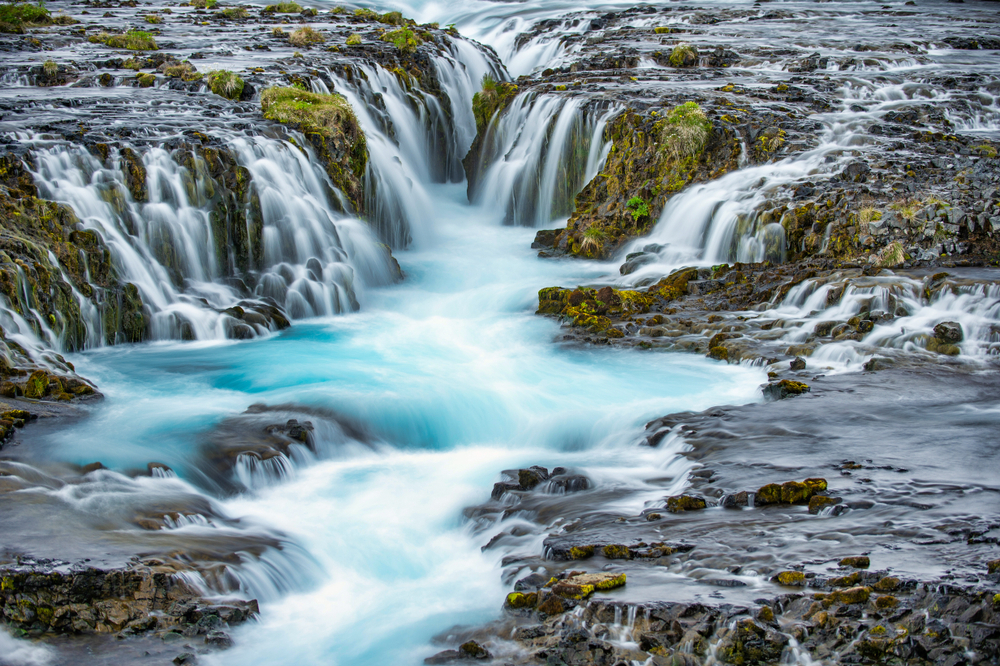 Isn't Bruarfoss Waterfall in Iceland Closed?
Bruarfoss Waterfall is NOT closed, so do not worry! However, the shortcut version of the trail is now closed to the public. This shorter trail went through private land but the owner put up a gate after visitors left behind trash and became a nuisance to residents in the area. They wanted people to stop damaging the vegetation as well by walking wherever they liked.
A new, longer trail to the waterfall is now an option, however. While the original trail was shorter and more convenient, the new one is actually better because it is more scenic. It follows the river, allowing you to see more nature. This path also avoids going onto as much private property and allows the residents here to live more peacefully without so many tourists bothering them.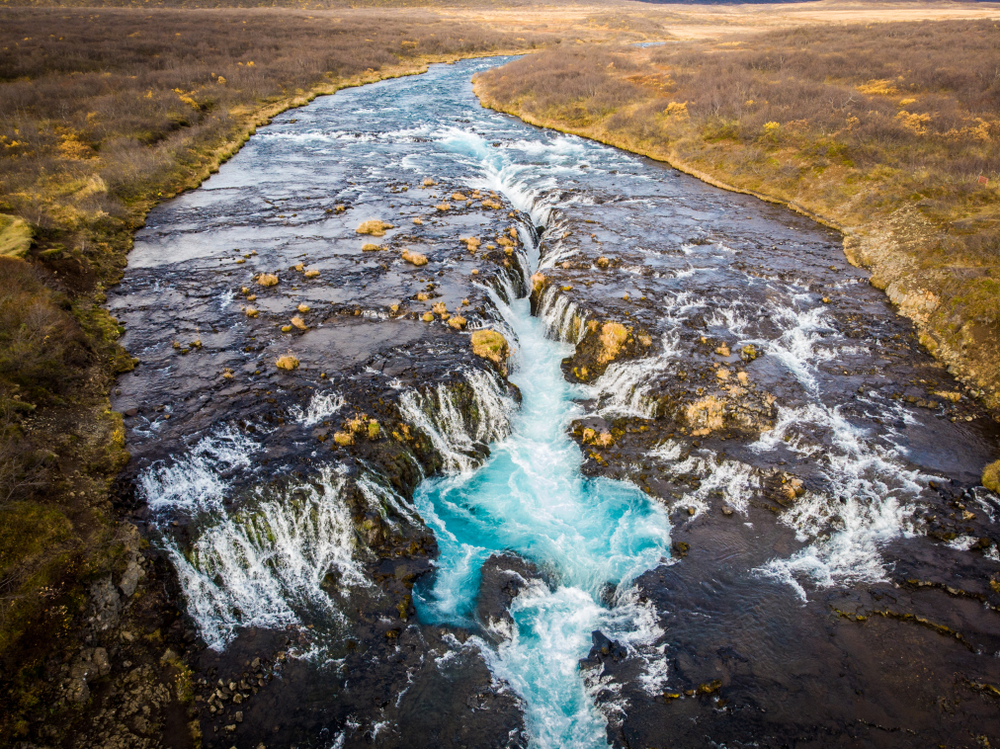 How Long is the Hike to Bruarfoss Waterfall?
The trail to Bruarfoss waterfall is about 3.5 km, or 2.2 miles. It takes about an hour each way. Be sure to schedule enough time for the hike as well as time to sit and admire the waterfall once you get there. You will be taking so many photos of Iceland's bluest waterfall that you might lose track of time.
Where to Park When Visiting Bruarfoss Waterfall
Knowing where to park when visiting Bruarfoss Waterfall is important. After following your GPS directions to the Bruarfoss Waterfall official parking lot, you will find a small parking area right next to the river. It is just off Route 37 where the river intersects the road. To ensure you get a parking spot, arrive early.
The map below shows where the parking lot is in comparison to Bruarfoss. The new, longer trail ensures you bypass the residential area to the right of the river.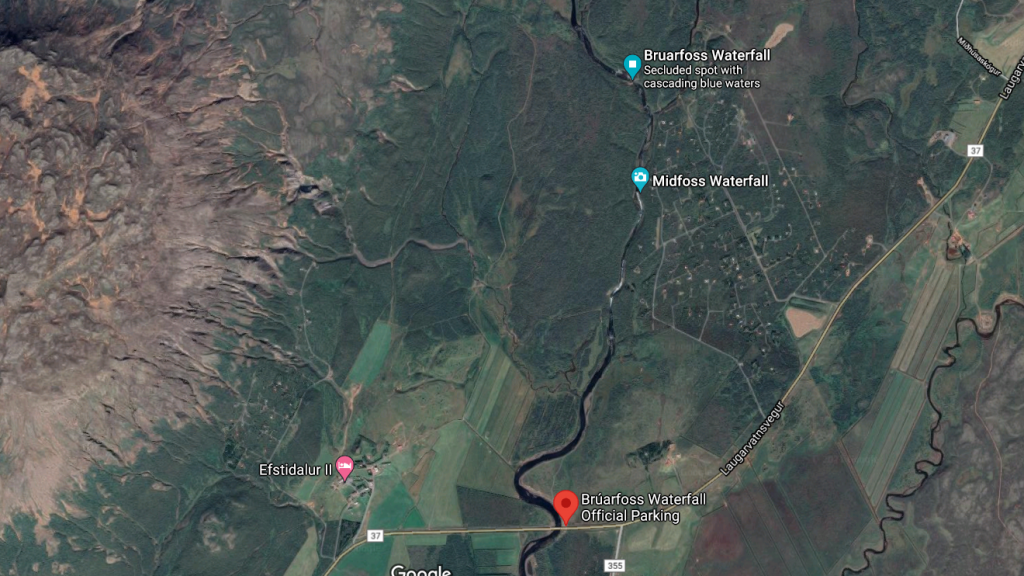 Hiking to Bruarfoss Waterfall
The hike to Bruarfoss Waterfall is a relatively easy hike through farmland and along the Bruara River. You will start the hike by climbing a short ladder over a fence which keeps the farm animals secure. From there, the path starts off graveled and is easy to follow. There are plenty of signs to show the way. You will love seeing the mountains in the distance.
The path then gets narrower and a little rougher, but is still fairly flat. Overall this is the perfect Iceland hike for travelers of all ages and skill levels. There are some small bridges to cross and soon the water will begin to turn its iconic blue color.
Before you reach Bruarfoss, there are two other waterfalls you will come across. The first is Hlauptungufoss and then Midfoss. Both of these are also blue, but not as big as the final waterfall.
When you reach Bruarfoss, you will be caught off guard by its beauty. You will be able to climb right down to the water and get a closer look at the gushing water. Get ready to take a ton of photos of this pretty blue waterfall in Iceland!
The hike is doable in all seasons. In the winter, expect a lot of snow and ice. The waterfall will still be flowing though and the blue will really pop against the pale snow.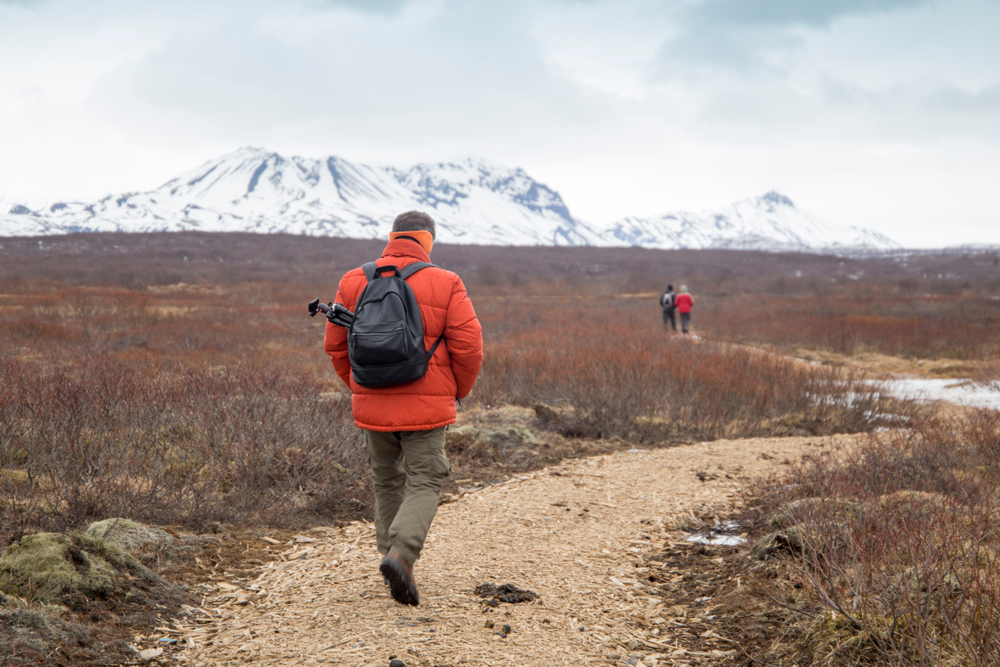 Quick Tips for Visiting Bruarfoss Waterfall
Here are a few quick tips to make your trip to Bruarfoss Waterfall easier and safer. If you come prepared, you will leave with an even greater memories.
First and foremost, always respect nature and the trail. Stay on the marked path to avoid damaging the fragile ecosystem. Do not leave behind any trash or food waste. Keep the water pure by not polluting it.
Do not try to take the closed shortcut and make sure to avoid trespassing. Respect the local landowners by staying on the official trail. Many of the houses near here are vacation homes and the people that stay there in the summer do not want to be bothered by rowdy tourists.
Wearing appropriate clothing will keep you comfortable and safe on your hike. You will want to wear good, waterproof hiking boots. Parts of the trail can get muddy and slick, so you want something with a good grip. A trekking pole can also be helpful. Iceland weather can be unpredictable, so consider wearing layers.
Bring along plenty of water and snacks. Even though the trail is not super long or difficult, you need to make sure to stay hydrated. Pack enough water for everyone in your group. A protein-filled snack can be eaten on the banks of the river at Bruarfoss and give you energy for the hike back to the parking lot.
If you want to avoid crowds, then try to arrive early in the morning before anyone else or later in the evening when most day trippers have returned to Reykjavik. This will assure you don't have to share the falls with as many other tourists.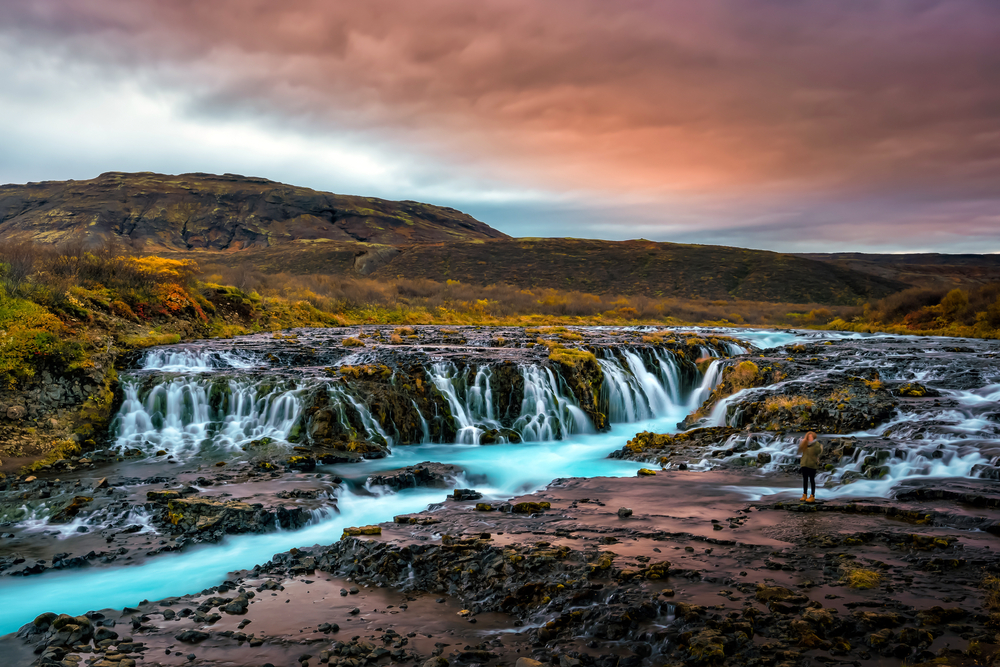 Is Bruarfoss Waterfall Worth It?
Bruarfoss Waterfall is 100% worth it! You should not skip visiting this amazing blue waterfall in Iceland. The bright blue water is epic and unique. When you share photos with friends back home, they will think it is Photoshopped!
As far as Iceland waterfalls go, this one is not super tall or big, but the color makes it an incredible sight. While the hike is a little longer than some other waterfall hikes in Iceland, it is an easy and flat trek. The hike is definitely worth it if you love to see amazing nature in remote and moody settings.
This is also a place photographers dream to shoot! Make sure you charge your camera and drone batteries before coming. Bring a tripod to get long exposure shots of the flowing water. You will love checking off this bucket list photo destination.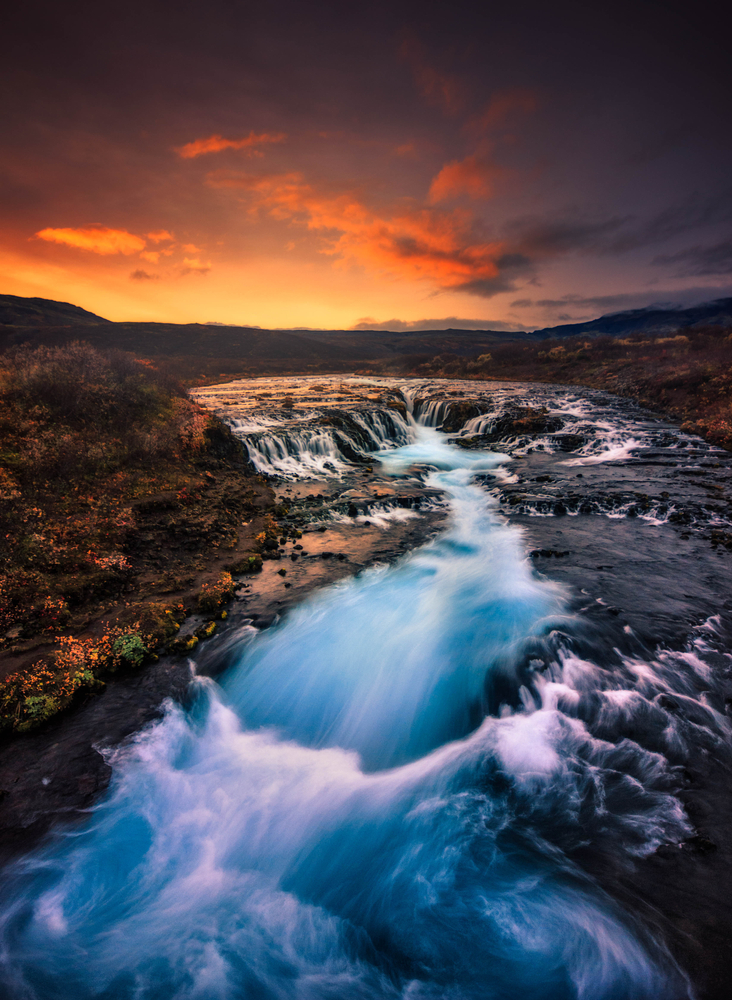 Where to Stay Near Bruarfoss Waterfall
If you are planning on staying the night near Bruarfoss, there are plenty of choices from cute cottages to unique farm stays. There are a couple of small towns nearby too with hotels you can book. If you are camping your way through Iceland, you can set up camp at one of the close by campgrounds. Even though it is a remote area, there are numerous accommodations to choose from for all budgets.
Where to Stay Near Bruarfoss:
Austurey Cottages has amazing views. Check Rates: Booking.com
Blue View Cabin is cute and comes with a hot tub. Check Rates: Booking.com
Farmhotel Efstidalur is a unique place to stay. Check Rates: Booking.com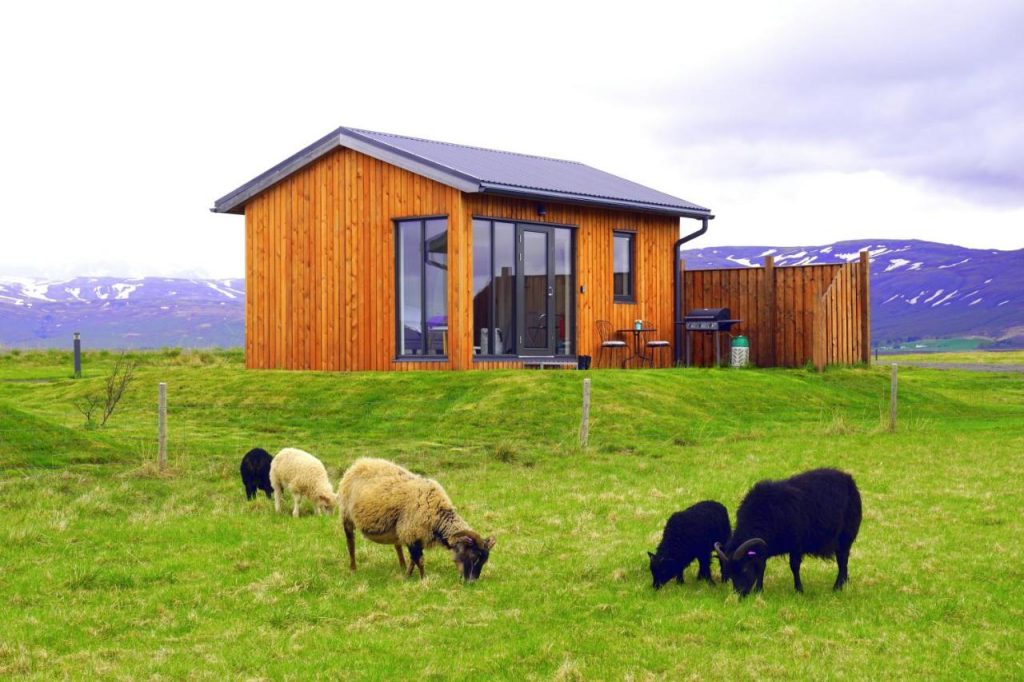 Overall, Bruarfoss Waterfall in Iceland is a must visit location. The vividly blue water is an amazing thing to see in person and makes it one of the best waterfalls in Iceland. Since the hike to the falls is so easy and scenic, everyone will enjoy the walk. You will definitely want to add this magical location to your Iceland itinerary!