It might not be for the completely faint of heart, but camping in Iceland ranks high on the bucket list of anyone who loves roughing it in drop-dead-gorgeous locales. If you are interested in saving money while truly becoming one with nature, then camping during your trip to Iceland might be a good option for you.
Of course, hopping into an Iceland camping trip with no research is inadvisable due to all the information you need to know beforehand. So, to help you plan your trip down to the smallest details, we are here to walk you through some of the most common frequently asked questions. Soon you will be an expert at camping in Iceland's beautifully rugged landscapes!
Get a FREE printable "Hidden Gems In Iceland" E-book by joining our private Iceland Facebook Group and share your photos and ask for tips and tricks.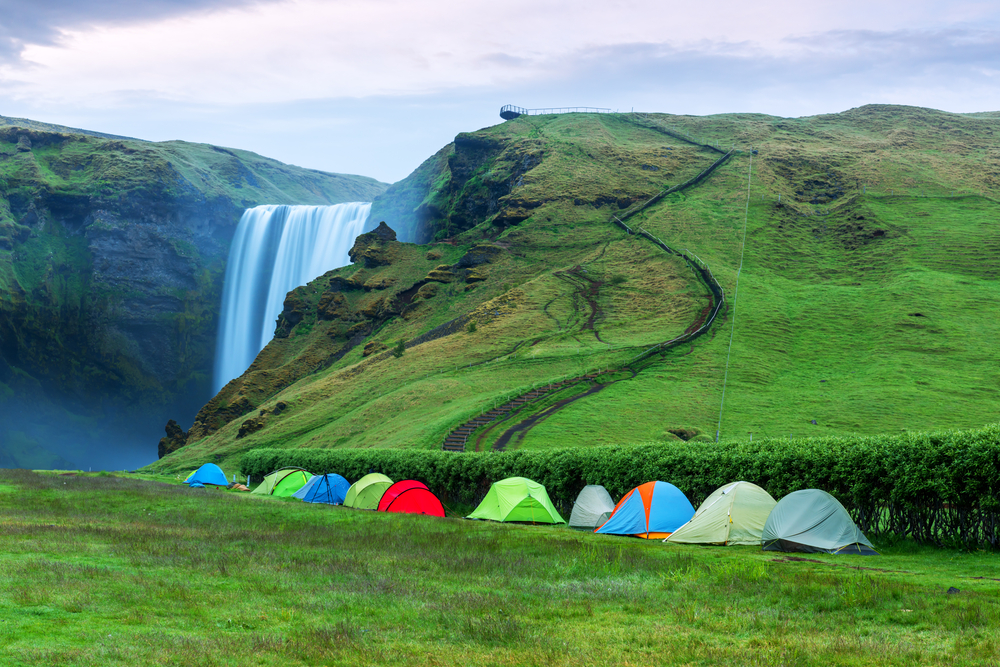 The Ultimate Guide to Camping in Iceland
Why Camp In Iceland?
There are many reasons why camping in Iceland is so popular and a choice for you to consider. First of all, it is a budget-friendly option that can save you some money in a country that can be expensive in other areas, such as food and gas. Campsites in Iceland are cheaper and in some ways are less hassle than staying in a hotel.
Camping in Iceland is also an incredibly unique and a once-in-a-lifetime experience. How many people do you personally know who have done this? You will be sure to regale you friends with stories of your trip without boring them.
Camping also give you more freedom to explore the island your own way instead of sticking to day trips or tours. You can often find campsites closer to many of the main attractions than staying in a hotel would allow.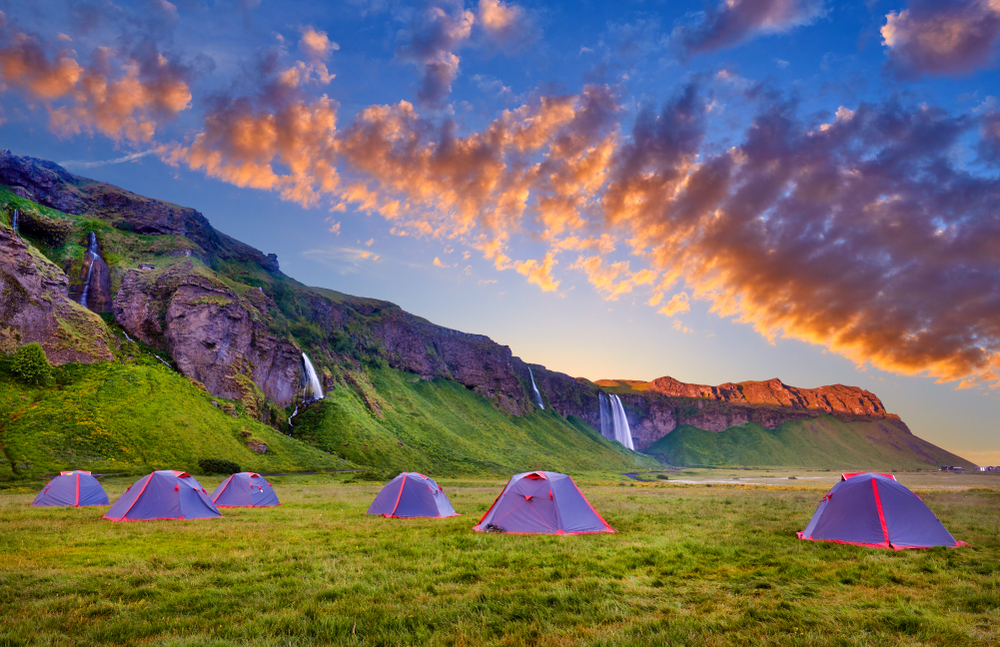 Types Of Camping In Iceland
There are a few ways to take on your camping trip, each with a varying level of cost and comfort. You should weigh the pros and cons of each type of camping in Iceland before you chose the option best for you.
The first option is to rent a camper van. This is the most luxurious and comfortable way to camp in Iceland. However, it is also the most expensive. But the cost could be outweighed by the positive points that come with having a van.
With camper vans, you have more room and more secure shelter. Many amenities, such as actual beds, stove tops for cooking, heaters, coolers, and more, are included in the price of the rental.
Next, you can rent a smaller vehicle and simply sleep in your car at night. This is the cheapest option, but obviously the lest comfortable. Though it is a great choice for those really wanting to save money or are traveling solo.
Another option is to use tents. You can bring your own equipment, or it is possible to rent tents and other supplies once you arrive in Reykjavik. Finding a place to set up will be easy, since most campsites have perfect spots for tents. There are some downsides to using tents, though, such as being more exposed to the weather.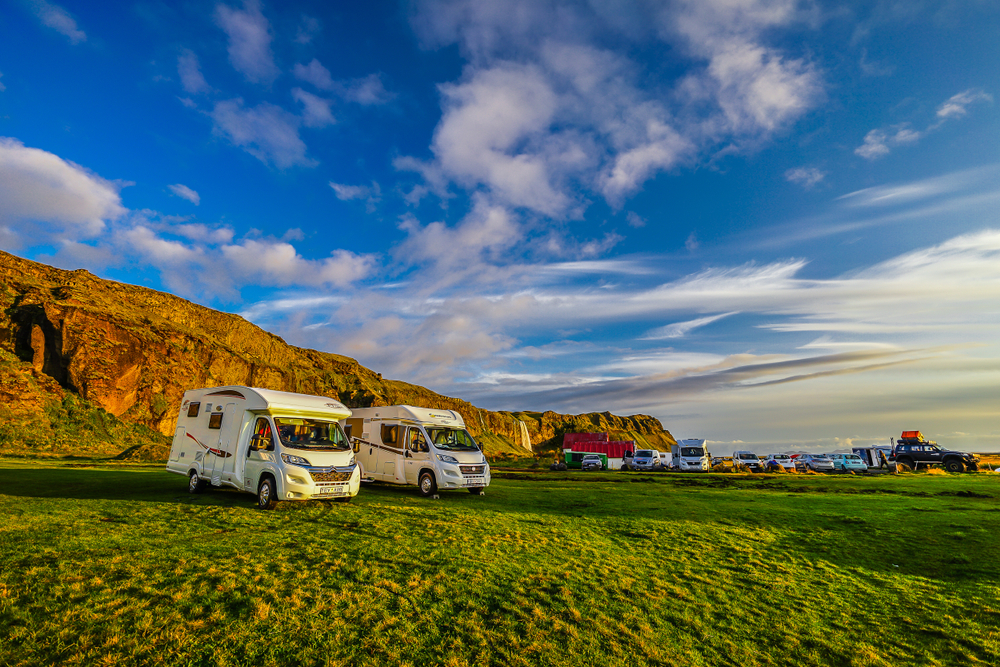 When Is The Best Time For Camping In Iceland?
Overall, the best time to camp in Iceland is from late spring to early fall. This is when the weather is the best and you are less likely to deal with snow, though, no matter when you go, the weather can be unpredictable. Know that many campsites are only open from June through August, which can limit your options if you go at another time.
Also keep in mind that the cost of vehicle rentals, especially camper vans, is dependent on whether it is high-, mid-, or low-season. If you go in the shoulder months, when there are less tourists, you can save money on your rental.
Though, really, no matter when you chose to visit Iceland, you will be in for a fantastic treat! Every season has it's own gorgeous features so you may want to keep coming back to experience each.
Check out our detailed guide on Choosing The Best Time To Visit Iceland to try and figure out when camping is best for you!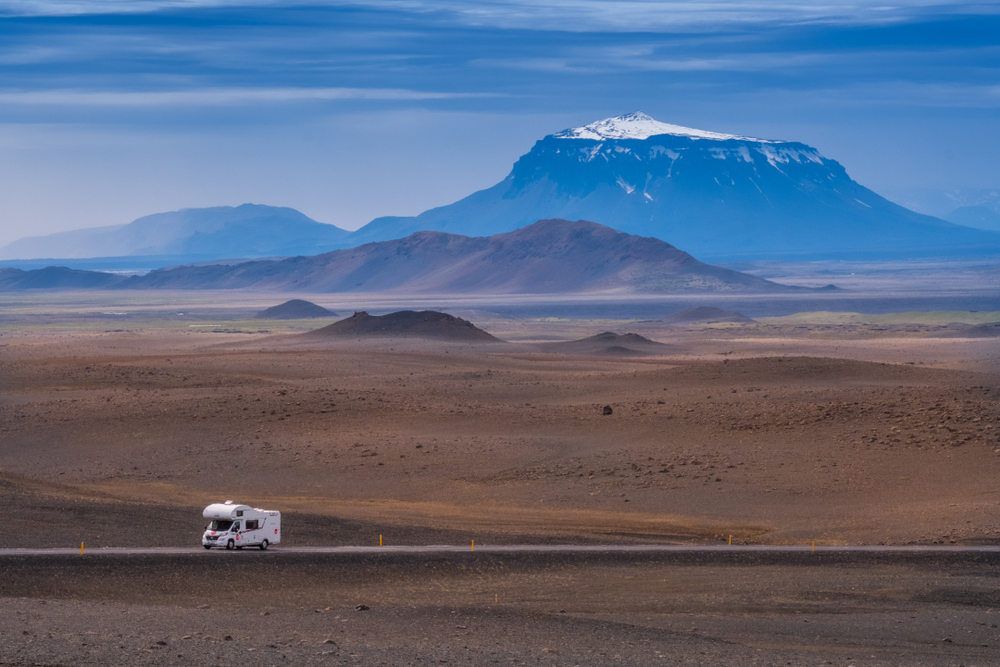 How To Camp In Iceland During The Winter
If you are willing to take on Iceland in the winter and chose to camp as well, there is a whole other list of tips and information you need. Camping in Iceland during the winter is only for the bravest people. This season is the coldest and most dangerous time to see Iceland.
However, there are far less tourists, so you can have the place more to yourself. Plus, you have a higher chance of seeing the Northern Lights, an awe-inspiring sight that will make all the shivering worth it!
When you travel during the winter in such a harsh climate, you need to be prepared. You will have to rent a 4×4 vehicle with a good heater so you can stay warm while traversing the snowy, icy, or muddy roads.
Remember that only a few Iceland campsites are open this time of year, so plan in advance where you are going to stop for the night. Also, keep in mind that the days are much shorter in winter, so it will be dark a good portion of the time.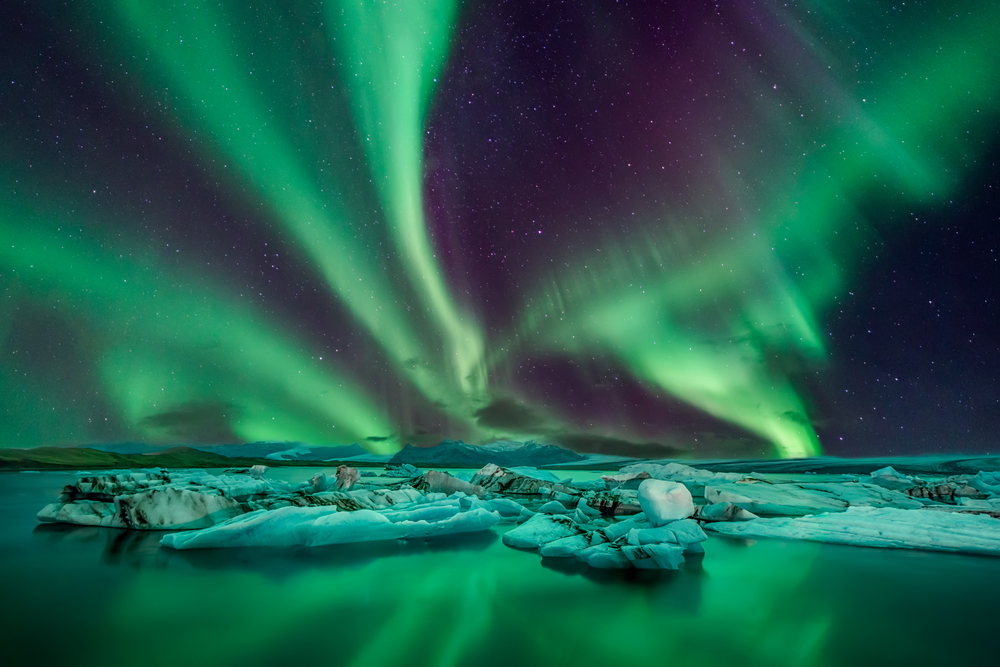 Where You Can Camp In Iceland
Finding a campsite in Iceland is super easy since they dot the countryside and are usually not too far from the main attractions and larger towns. Just follow the road signs and you will find some campsites quickly when you are ready to set up for the night.
It is important to know that wild camping is NOT allowed in Iceland. Wild camping is when you pull off on the side of the road and set up camp anywhere you please. This is now illegal in Iceland. There are plenty of designated campgrounds in Iceland to chose from to avoid this.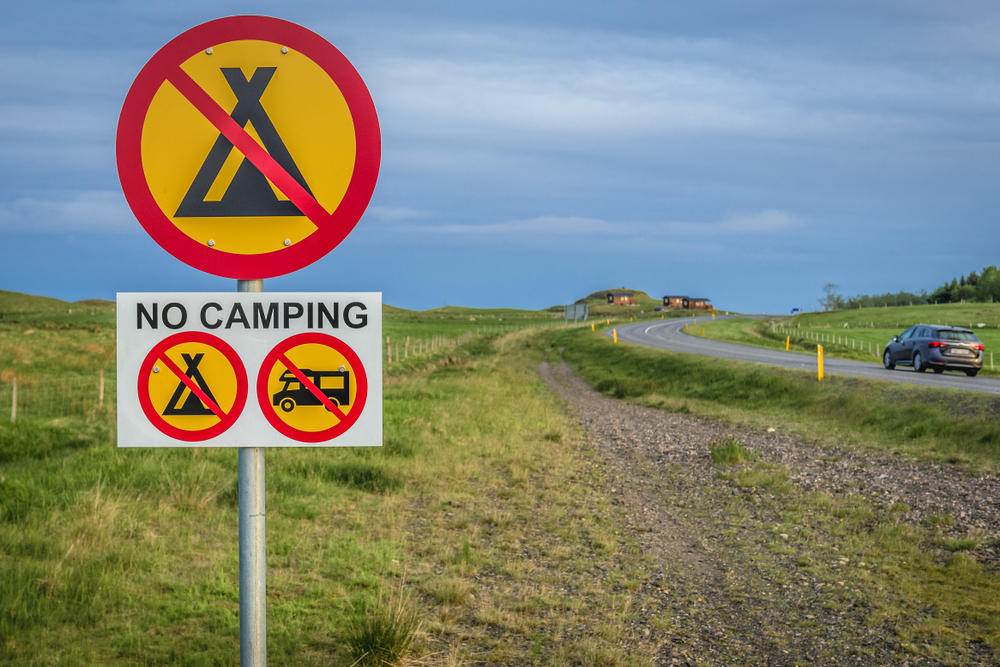 How Much Do Campsites In Iceland Cost?
While some people prefer the comfort, safety, and knowledge of what to expect from staying in a more traditional accommodation while traveling, it is going to be more expensive to stay in a hotel rather than camping. Besides, if you are reading this article, you have probably already chosen the divergent path of camping in Iceland!
Sometimes adventure and saving money outweigh luxurious hotel rooms! Plus, you can't beat the views!
As mentioned, camping in Iceland is one of the cheapest ways to see the country and part of that is because of the cost to stay in a campsite versus a hotel, Airbnb, or other accommodation.
Per person, campsites cost anywhere from $8 to $18 each night, plus tax. Sometimes there will be a small fee, up to $4, to use the shower or other amenities. This is a great cost considering it would be more than double or triple this to stay elsewhere.
Most campsites accept credit cards or cash, making it easy to pay. If you plan on using the showers, make sure to bring along some Iceland krona coins since that is how most are operated.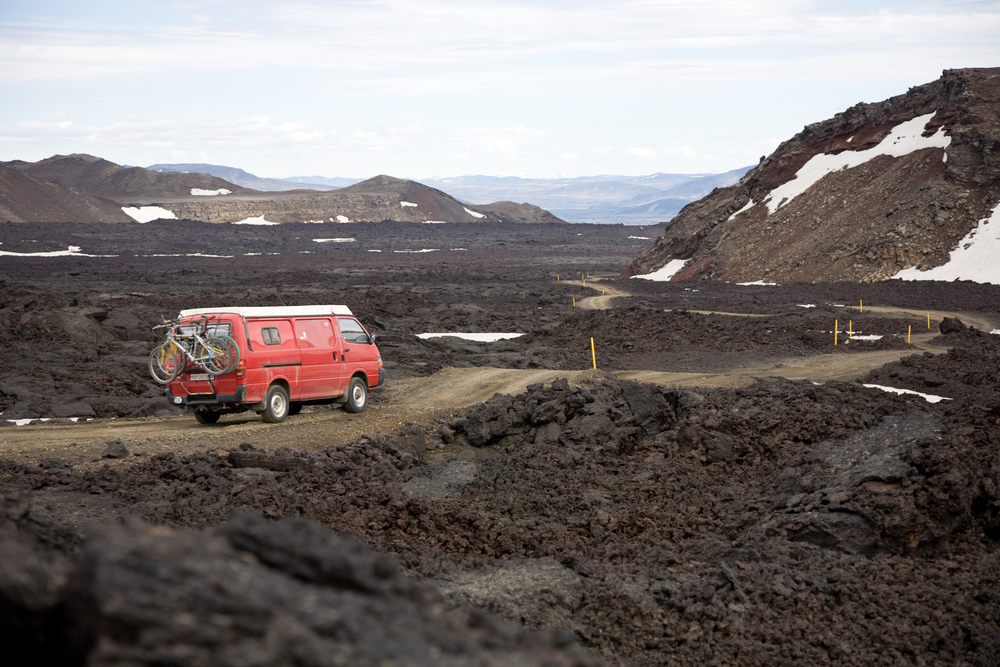 What Are Icelandic Campsites Like?
Campsites in Iceland vary so it won't feel as if you are staying in the same place each night. Most of the campsites are found in a sprawling, open field where you can park your camper van or set up your tent anywhere. As mentioned, they tend not to be far from beautiful landscapes, such as Skogafoss. Because of this, you will almost always find amazing views through your window or open tent flap, creating the perfect Instagram-worthy shot!
The main difference at each site is based on the level of amenities available. Most of them have a mix of either restrooms, showers, picnic tables, and laundry or cooking facilities. Many also have water and electricity for you to use. However, be prepared to come across some that are bare except for a restroom. You'll quickly learn that "roughing it" and Iceland go hand-in-hand.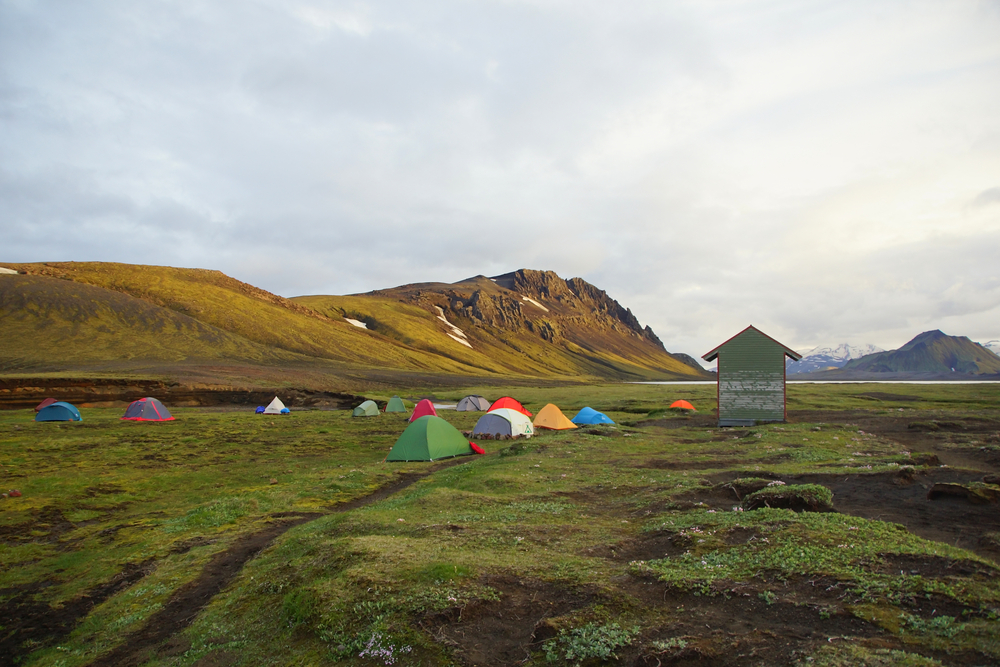 How To Reserve Campsites In Iceland
There is no need to reserve a spot at Iceland campsites, and it usually isn't possible anyway. While the sites are first-come, first-served, they are rarely so full you will not find a spot to set up. Because of this, campsites are much more hassle-free than dealing with booking and checking in at a hotel.
Even though you do not have to reserve campsites, you should try to plan ahead which campsites you want to stay in each night. This will make it easier for you in the long run so you don't have to do a ton of research at the last minute. Maps showing each campsite can be found online, especially on the websites of some camper van rental companies.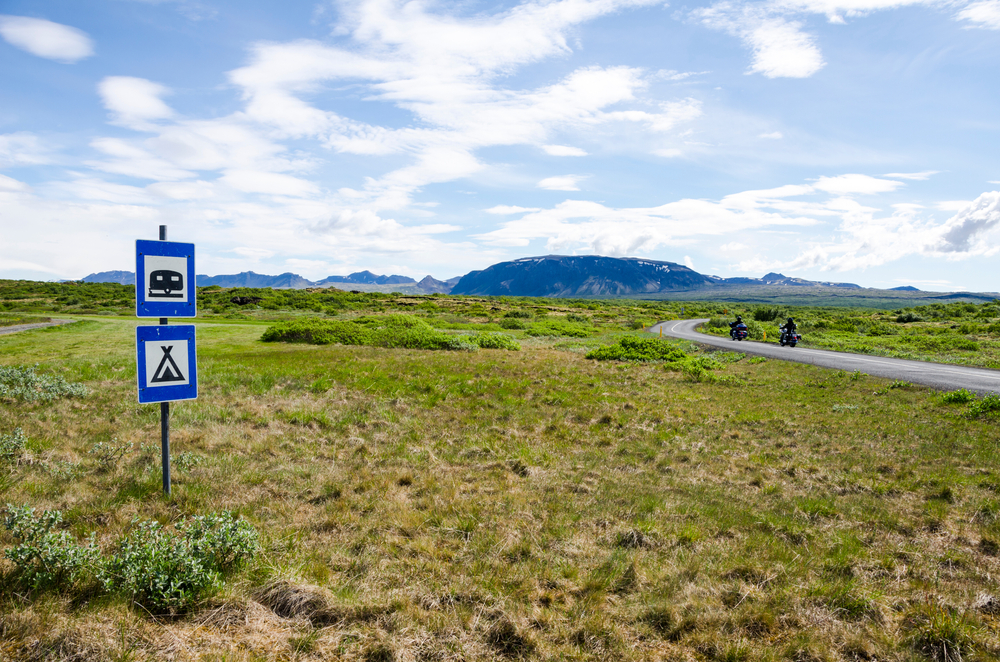 What To Pack For Camping In Iceland
Along with all the usual things you need to pack for Iceland, there are extra things you will need specifically for camping. Make sure to look into waterproof equipment and warm clothes to keep yourself safe and comfortable. Here is a list with more detailed ideas of what to pack:
A cooler and food. Of course, food should be at the top of your packing list. While you can eat at restaurants, that route is more expensive, and they can be few and far between in some parts of the country. Instead, stock up on food at the grocery store, especially non-perishable items. To keep your food fresh, consider bringing a cooler. This cooler rolls up when empty for easy travel.
A waterproof and windproof tent. The weather in Iceland can range anywhere from calm to crazy. Because of that, if you plan on using a tent, you need a waterproof and windproof tent like this one. Make sure that the rain cover completely covers the tent so your tent doesn't go sailing away in the inevitable wind!
A sleeping pad. Another thing you will need for tent camping is an affordable sleeping pad. The ground in Iceland is frozen pretty much all year round which means it is hard as a piece of ice…literally! This pad will make it much more comfortable to sleep. The pad rolls up pretty small and makes camping in Iceland a more enjoyable experience.
A cold-certified sleeping bag. You don't want to bring any old sleeping bag when camping in Iceland. You need one that is certified to keep you warm. Choosing a down sleeping bag is a great idea and will help keep you toasty in freezing temperatures.
A microfiber travel towel. Microfiber towels are a lifesaver for travelers and athletes alike. They are the perfect thing to pack for camping in Iceland because they dry quickly and don't take up much space. Buying one on Amazon in advance will save you from having to rent one every time you take a shower.
A waterproof bag. A waterproof bag will give you a place to store all your extra changes of clothes or anything not in your backpack or car when you are camping in Iceland. They are a minimal investment and you will be glad you had them during your Iceland camping trip.
A camp stove. If you aren't renting a camper van in Iceland, you need to bring a camp stove with you to cook since fires are not allowed. You can buy one from Amazon for under $10 and they pack up light. A stove allows you a way to enjoy a wider variety of food.
A spork. If you are planning to eat anything that involves cutting, scooping, or spreading, you better invest in a spork if you don't already have one. Sporks are plastic, easily make it through airport security, and are reusable.
A camping pillow. You can pack a regular pillow if you want, but those tend to take up a lot of space! If you are trying to save space, consider a camping pillow like this one that easily folds up. This is another item that will help with your comfort level.
A balaclava. Balaclavas are the perfect camping accessory because they don't take up a lot of space yet they keep you super warm! Make sure to throw one in your backpack or suitcase and thank us later!
A filtered water bottle. We swear by our Bobble Water Bottles and they have seen multiple trips to Iceland. If you plan to drink the water in Iceland, it is safe to drink it straight from the tap, but we suggest a filtered water bottle because everyone reacts to new bacteria differently. Plus, they don't cost all that much and are reusable!
A flashlight. Unless you are visiting Iceland during the height of summer when the sun never sets, you are going to want to pack a flashlight. If you arrive at your campsite in Iceland after dark or need to grab something from your car or take a late-night bathroom run, you are going to want to have a flashlight handy!
A sleep mask. Speaking of the midnight sun, if you are camping in the summer, you may want a sleep mask to keep the light out of your eyes while you sleep. Most camper vans will have curtained windows, but if you like it pitch dark when you sleep, make sure to bring a mask!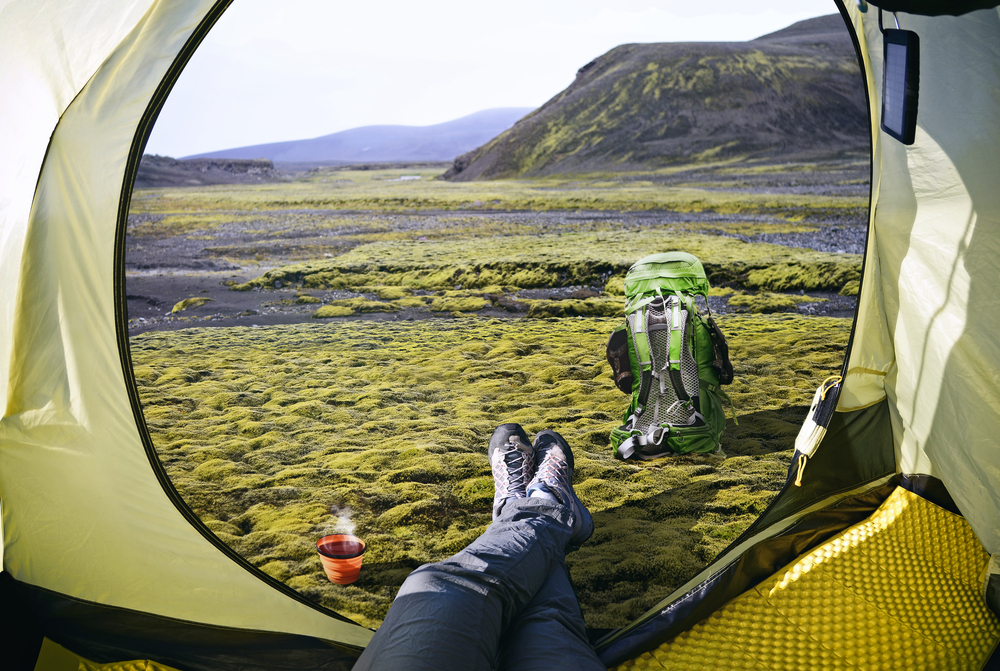 Consider The Iceland Camping Card
If you plan on staying at many campgrounds in Iceland, you may want to invest in the Iceland Camping Card. This card is accepted at about 40 campgrounds around the country and covers up to 28 days of camping for two adults and up to four children.
The cost of the card is $180, or possibly cheaper if bought through a camper van rental company. This cost does not include taxes or extra fees, such as for the shower. If this seems worth it in terms of your trip's needs, then you can buy the Iceland Camping Card at camper van rentals, post offices, participating campsites, or in advance online.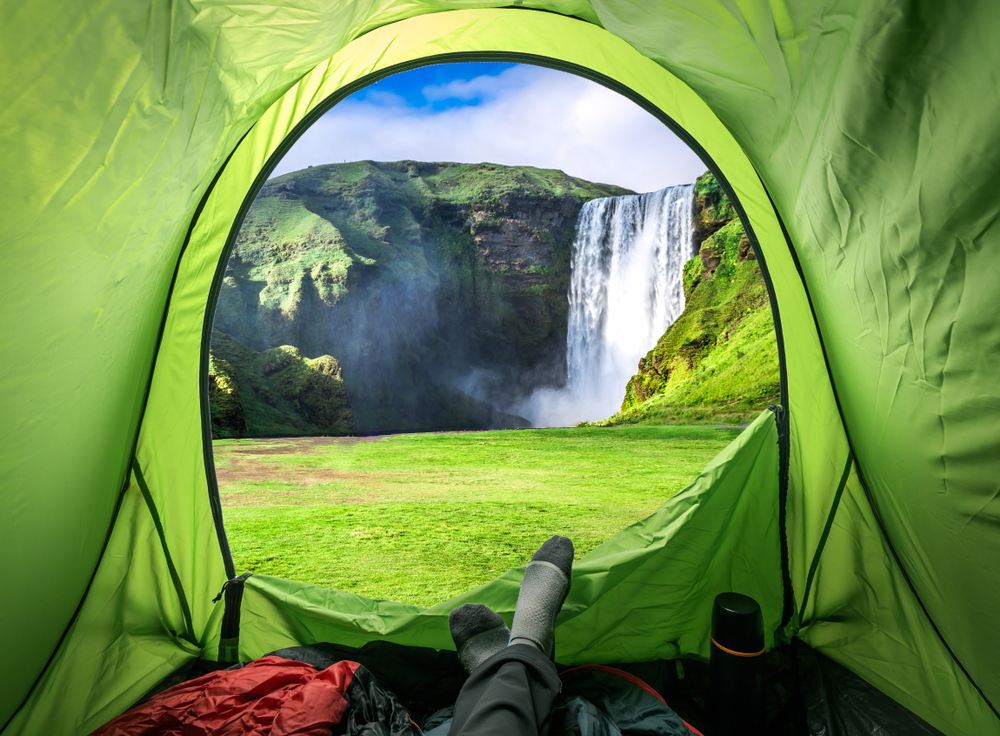 NO Campfires In Iceland
Campfires are NOT allowed in Iceland, so keep that in mind when considering how you will cook your food. As mentioned above, a camp stove can be helpful for this. Iceland is a country with few trees and a delicate ecosystem, so while campfires are often an image that comes to mind when you think of camping, you will not find any here.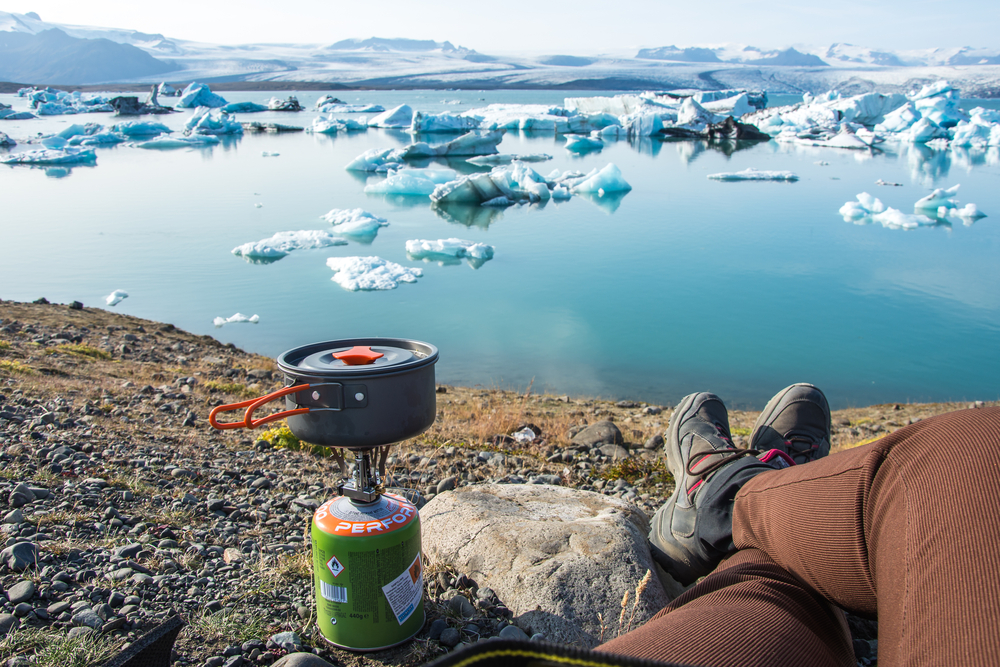 How To Get Around While Camping In Iceland
Most likely, you will be driving around Iceland in a rented vehicle. There are many rental places near the Keflavik Airport, so you will not have to travel far to find what you need.
Driving in Iceland might sound like a great feat, but don't worry! The roads are well maintained and tend to be straight and flat, stretching for miles. In winter, they can be a little more treacherous, but as long as you know what you are doing, you should be fine. Some more rural roads, called f-roads, require 4×4 vehicles to avoid getting stuck.
Like anywhere, you should drive safely and go the speed limit. There are speed cameras in Iceland which will land you a hefty fine if you drive too fast.
An important thing to factor into your budget is the price of gas. It can cost up to $80 to fill up a tank. It is a good thing you will be saving money elsewhere by sleeping at campgrounds and cooking your own meals.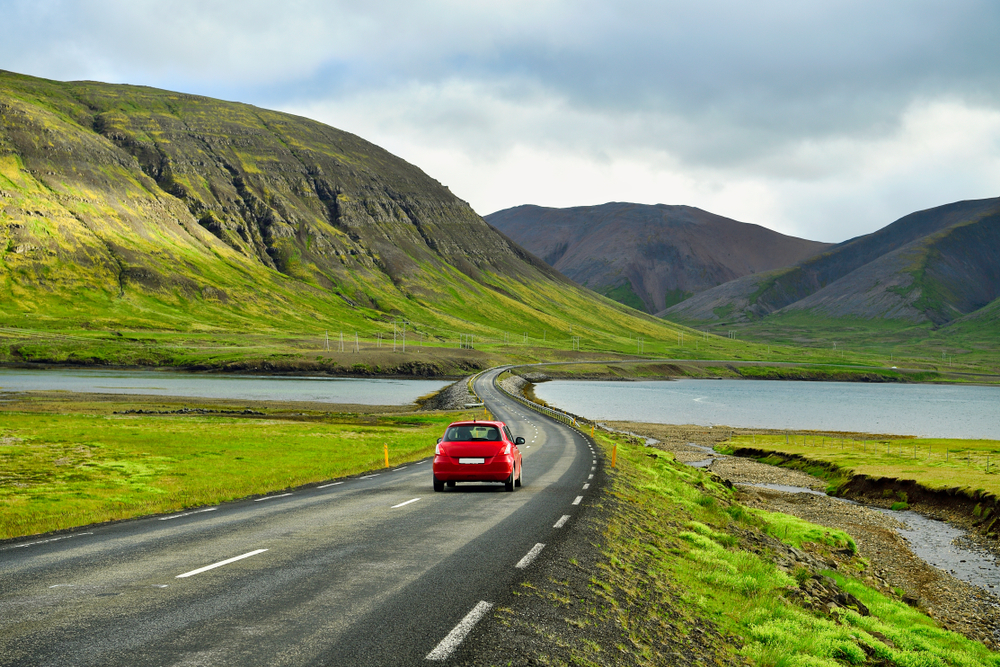 Okay, now you know all the basics of camping in Iceland so you can enjoy your trip responsibly while having fun! As long as you come prepared and follow Iceland's camping and driving regulations, you are sure to have the trip of a lifetime!
It is obvious why so many people love to travel Iceland by camper van or equipped with a tent. As a cheaper and more unique alternative, you should consider staying in Iceland campgrounds on your next trip to the Land of Fire and Ice. You won't regret it!