Are you looking for the best campsites in Iceland? Look no further. We have all the campgrounds in Iceland that you will want to stay at including the best campervan sites in Iceland too.
Sleeping under the stars in a new country can be such an exhilarating experience, especially if you are an avid outdoor enthusiast. Camping in Iceland does not disappoint either. There are beautiful campsites in Iceland just about everywhere, which makes traveling to see the whole country easy to do. Even more, the campgrounds in Iceland are really nice too!
From our experience camping in Iceland, the campgrounds were always exactly what we needed. The facilities were always very good and we felt super safe staying the night. The campsites in Iceland always had very warm showers, clean facilities, and most had shared areas with kitchenettes so we could cook if we wanted to. We were pleasantly surprised to find that most campgrounds in Iceland even had WiFi and charging stations too.
One of the biggest advantages to camping in Iceland is the flexibility that it allows in your schedule. Without being tied down to hotels or BnB's, you can explore the country at your leisure.
So if you enjoy immersing yourself in the great outdoors, you should consider camping in Iceland. Whether you plan to bring a tent to camp in, or plan to just park a camper van rental, this guide will be a good resource for finding the best campsites in Iceland.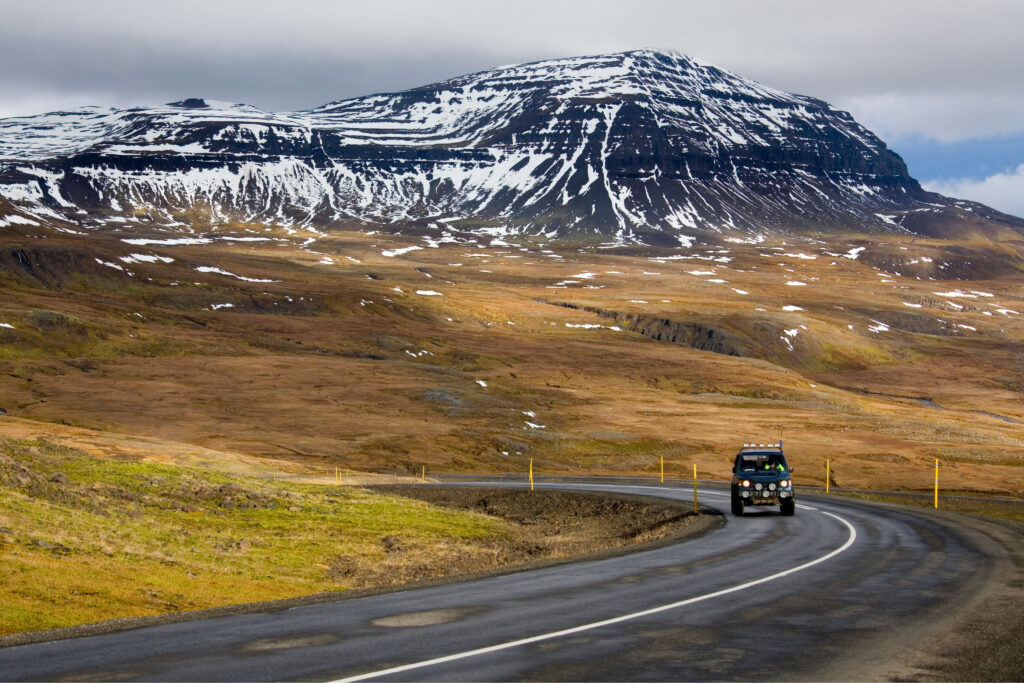 Can You Camp Anywhere in Iceland?
There are many options to choose from when selecting where to camp in Iceland; However, you cannot just camp anywhere. Wild camping is strictly prohibited in Iceland, which is why there is a great system for campgrounds around the whole country. In fact, most towns will have a campground nearby. Lucky us!
Iceland has many, many campsites to choose from. In fact, there are 170 registered campgrounds in Iceland. While some campsites in Iceland are open only from June until mid-September, others are open year round. With so many to choose from, camping in Iceland can be a breeze.
Although you cannot just camp anywhere, the best Iceland campgrounds are close by some of the greatest attractions in Iceland, making camping a convenient option. Many campgrounds in Iceland can be found near all the best stops along the Ring Road, or Route 1, which is easily accessed by all vehicles. Campgrounds found in the highlands are absolutely beautiful and are among some of our favorite places to camp. However, campgrounds in the Iceland highlands are also harder to-get-to because they require a 4×4 drive vehicle.
When traveling in Iceland, please be sure to respect the local laws regarding camping. Wild camping is illegal because they do not like it. It is up to us travelers to stay only in the designated campgrounds in Iceland and pick up after we leave. In this way, we can show our love to the locals and do our part in keeping their country beautiful for generations to come.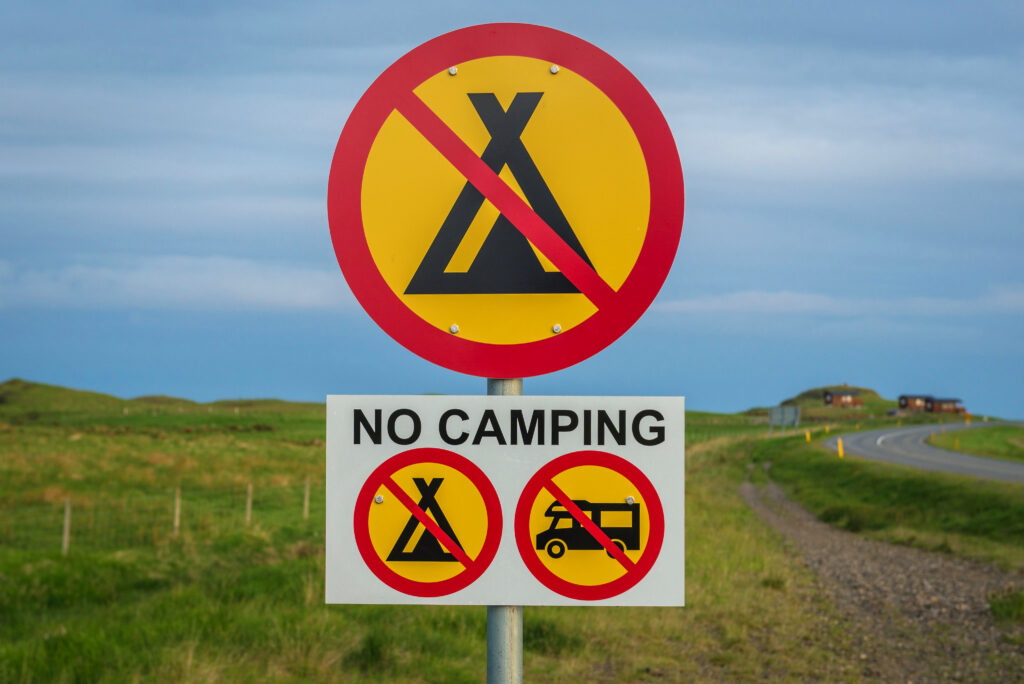 How Much Do Campsites In Iceland Cost?
If you are traveling to Iceland on a budget, camping is a great way to cut costs. Staying at campsites in Iceland rather than hotels or AirBnB's can actually save hundreds. While campsites in Iceland are convenient and super affordable, they do charge fees a bit differently.
Fees for the campsites in Iceland are actually priced per person, not per campsite. The price will typically range between $8- $20 USD per person, along with a small tax on top. Having the Camping Card sadly does not exclude you from having to pay the extra tax. If you are traveling to Iceland with kids, rest easy knowing that campers under 15 years old are typically free.
So then, what is the so-called Camping Card? The Iceland Camping Card allows access to 40 different campsites with locations all over the country within a 28 day period for a single fee. Again, campsites may still charge a small tax fee.
Another awesome feature of the Camping card is that it covers up to 2 persons and 4 children up to 16 years of age. It is important to know that although having a camping card will save you money when camping in Iceland, it does not guarantee you a campsite.
Are There Free Campsites In Iceland?
As far as we know, there are no free campsites in Iceland. Specifically, this means that tent-camping, RVs, camper vans, and those sleeping in their rental vehicles need to go to a registered campground to stay overnight.
As part of the newer legislation created in 2015 which prohibits wild camping, or boon-docking, registered campgrounds do charge a fee. Thankfully, that fee is super affordable.
Campground fees in Iceland cover the cost of the restroom facilities and sometimes use of the showers too. Campgrounds that are a bit more expensive may include use of a sauna, or geothermal pool, as well as WiFi. Cheaper campsites may offer showers as an additional fee around $4-$6 USD. You can pay in Icelandic currency, Krona, or use a credit card.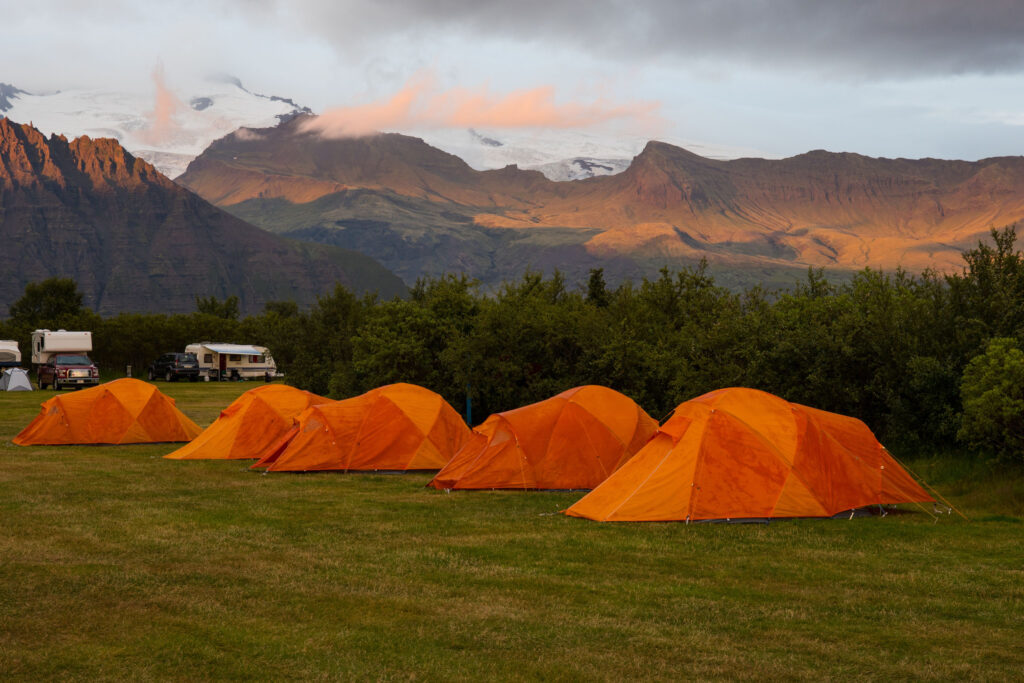 Do I Have to Book Iceland Campgrounds in Advance?
There is no need to book Iceland campgrounds in advance. Campsites in Iceland are first come first served, so all you need to do is get there in order to get a spot.
It is important to note that many campgrounds in Iceland do not have set camping sites. The campgrounds are often large fields in which people can park their camper van, or pitch their tent wherever they find space.
No need to find the white lines to fit your vehicle in; just find a cozy spot somewhere that makes sense in the field. While it is a bit different than most campgrounds within the States, just trust the process and go with the flow.
Best Campsites In Iceland
So where are the best campsites in Iceland? Let's get down to it. Here are some amazing campgrounds in Iceland, along with some tips for each site. We have great places to camp all over the country, along with some near popular driving routes like the Ring Road and the Golden Circle.
Skogar Campsite
We highly recommend the Skogar Campsite as it is located near one of Iceland's best waterfalls, Skogafoss. Camping at Skogar Campsite gives you a rare opportunity to see the Skogafoss waterfall without a crowd.
If you use the hours of the midnight summer sun to your advantage, you can have the opportunity to get the falls all to yourself. You don't have to be a night owl to enjoy this campsite though, like we said, the views are incredible and it is located right off the Ring Road making it a great spot to stay the night.
The downfall of Skogar Campsite is that the facilities are bare minimum as it only has restroom facilities. However, with a few minutes walk, you can also visit and dine at the Skogar Hotel.
The reasons to stay here is the ease of access, camping in front of one of Iceland's greatest waterfalls, and it is located fairly centrally to many of the best places to visit in South Iceland. Skogar Campsite is only a two hour drive from Reykjavik and a 30-minute drive to the charming fishing village of Vik.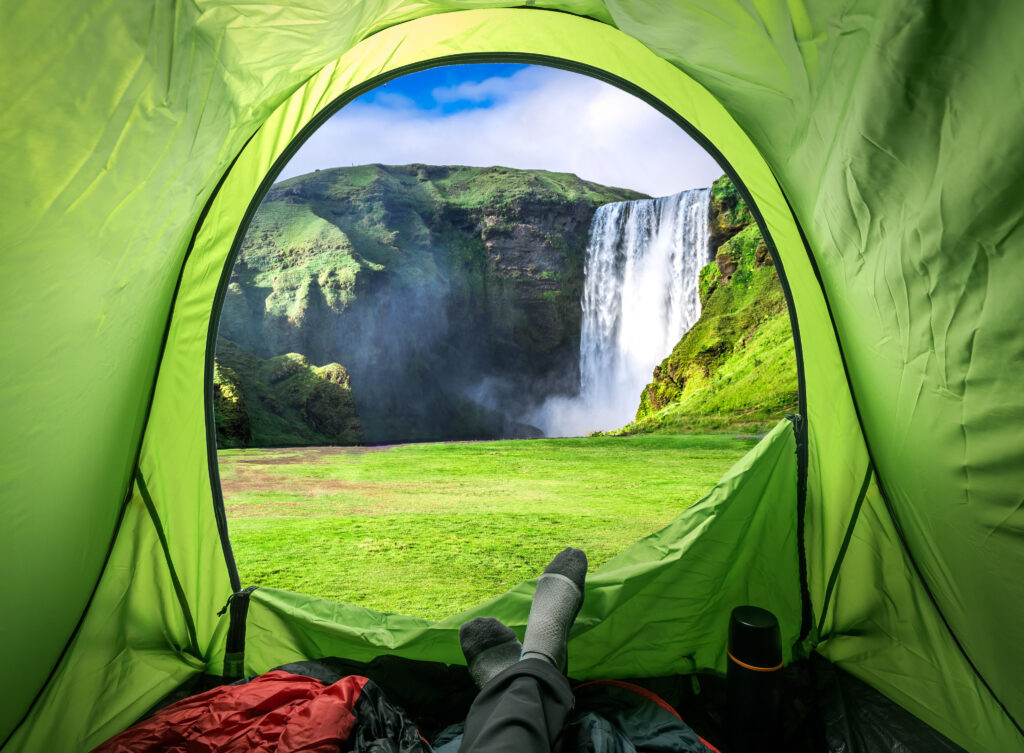 Thakgil Campground
This epic little campground in Iceland is just so perfect for those looking for a hidden gem hide-away in South Iceland. Tall moss covered mountains surround the campgrounds to create a remote oasis for weary travelers.
One of the most unique features of Thakgil campground in Iceland is the cave dinning hall. Yes, a cave dinning hall. You can literally have a picnic from inside the shelter of a cave lit by wall-fastened candles. Other awesome features of Thakgil include a waterfall, small lagoon, and awesome walking trails.
We recommend staying at the Thakgil campsites for definitely one, but maybe two nights just to see everything in Thakgil Canyon. Showers and restrooms are included at your stay here; However, this is one of the remote campsites that does not have WiFi.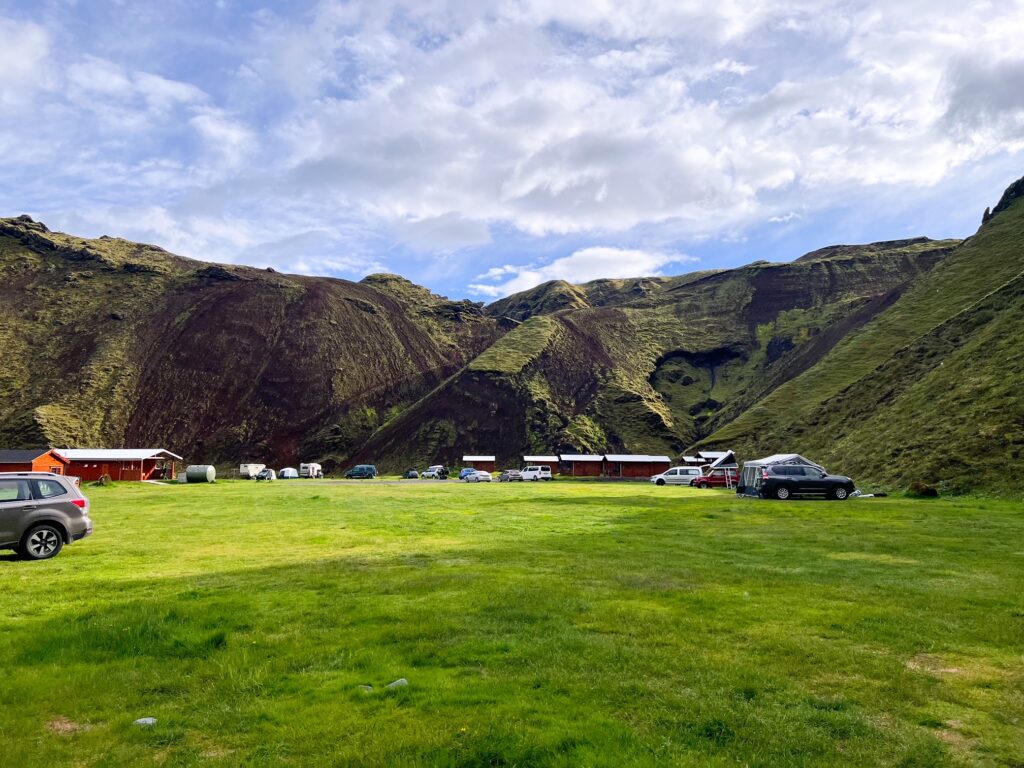 Seljalandsfoss Campsite
Seljanlandsfoss Campsite is another great option for those traveling to the best things to see in South Iceland. We highly recommend this campground next to Seljalandsfoss, the waterfall that you can walk behind.
With Seljanlandsfoss campsites in Iceland, you get a two-for-one deal. Here, you can camp and wake up right in front of two of Iceland's best waterfalls- Seljalandsfoss and Gljufrabui. Seljanlandsfoss campground in Iceland is totally set up for tent campers and camper vans alike. Just pick a spot in the field and soak in the incredible beauty.
Seljalandsfoss Campsite fee includes hot showers, WiFi, and even a kitchen area to make dinner. A small food cart sells snacks and coffee for Seljalandsfoss visitors, so you can even make use of that after setting up camp too.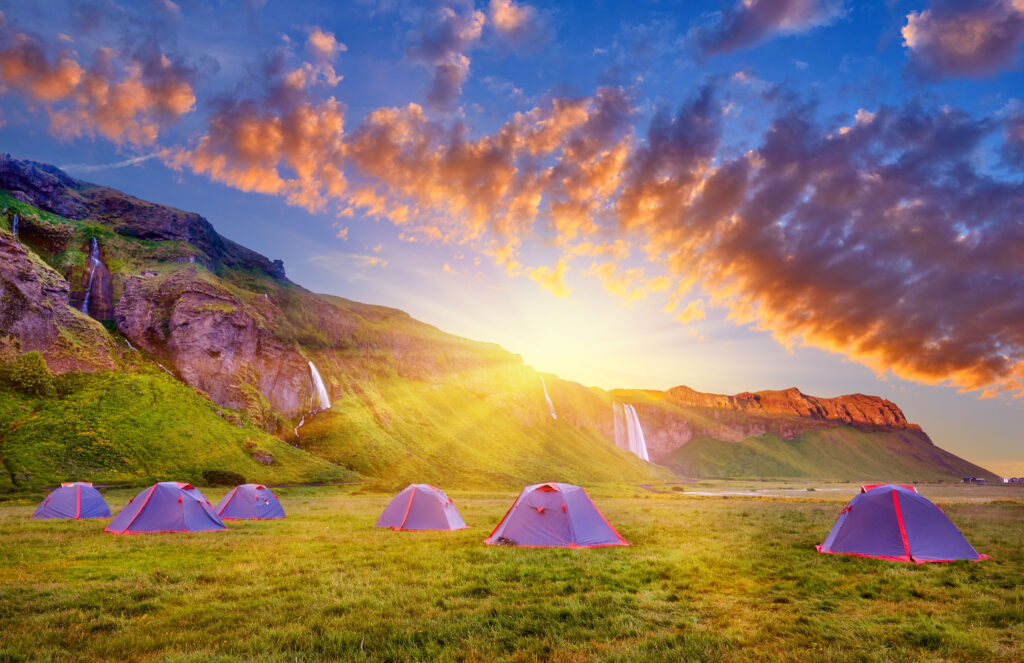 Reykjavik Eco Campsite
When you visit Reykjavik, go to the Eco Campsite. This is an awesome place to use as basecamp when exploring the best things to do in Reykjavik. Despite the campsites being so close to everything, they are still quiet enough to give excited travelers great rest.
Enjoy how close the Reykjavik Eco Campsites in Iceland are from the heart of downtown, very close to iconic places like Hallgrimskirkja Church.
The Reykjavik Campground is open all year and can accommodate 900 people between tents, camper vans, and those sleeping out of their cars. This is one of the best camper van campsites in Iceland because electricity is available, and you can even rent adapters if you need. Hot showers are included in the stay along with heated restrooms, places to cook, rooms to hang out in, and a nearby geothermal pool. It is one of Reykjavik's most popular campsites because it is so good.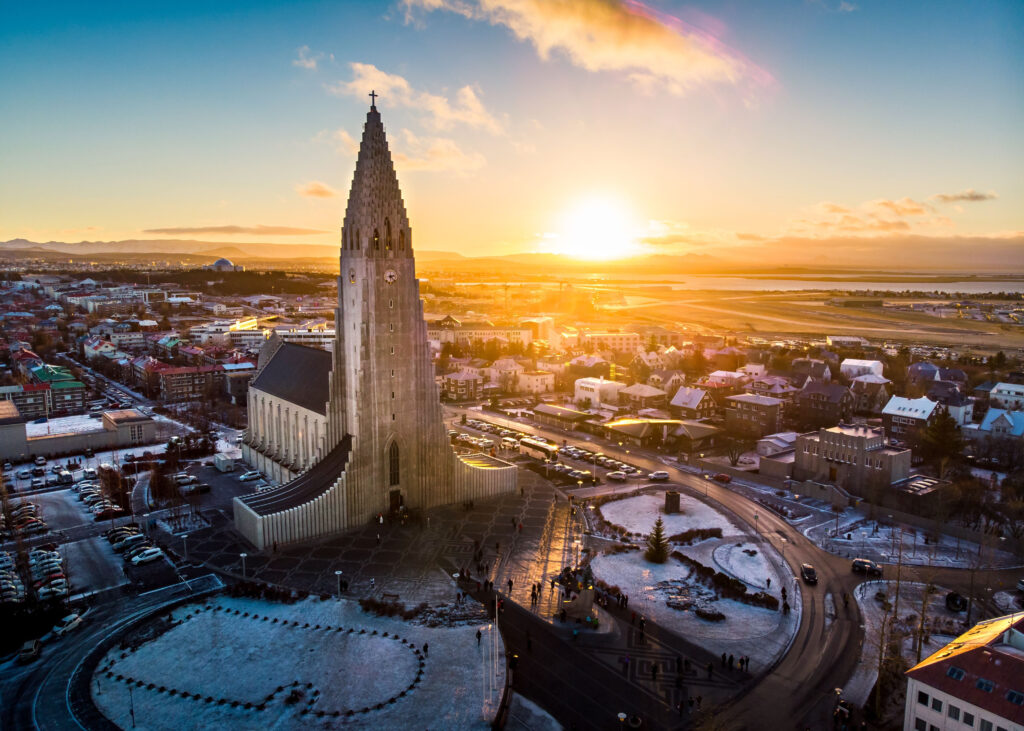 Thingvellir National Park Campground
If you are looking for campsites along the Golden Circle, pitch a tent at Thingvellir National Park Campground. Wake up among the rugged beauty of one of Iceland's incredible national parks. The location of this campground is superb. Here, you'll be next to incredible walking trails, lakes, a waterfall, and the place where the American and European tectonic plates split.
While Thingvellir Campground is open year-round, it is important to know that during the winter, some of the facilities are closed. In the summer, you will have access to the Thingvellirs visitor center which offers food, maps, and restrooms.
There are 4 campgrounds within the Thingvellir park, and not all have the same amenities. The Nyrdri Leirar campsite within Thingvellir National Park has the best facilities in our opinion. These campsites in Iceland offer showers, restrooms, and an outdoor area for cooking and washing dishes.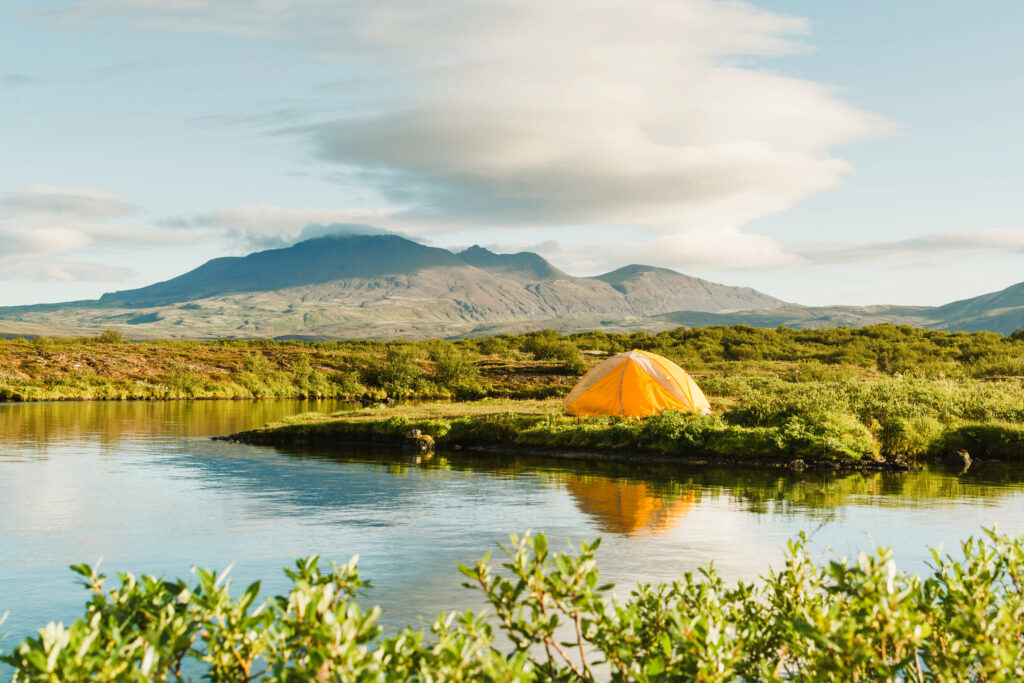 Svinafell Campground
If you are wishing to camp near Jokulsarlon Glacier Lagoon for some awesome guided glacier tours in Iceland, check out Svinafell Campground. This campground is kept immaculately clean with a gorgeous mountain panorama right behind the campsites! Svinafell Campground is complete with a small cooking facility and electric stoves.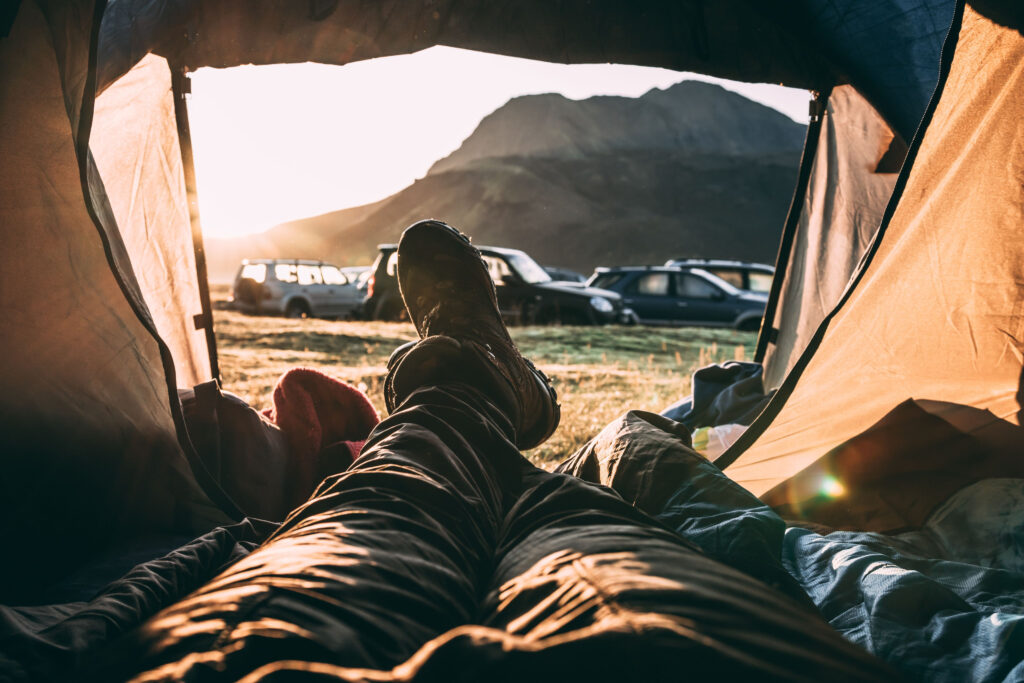 Landmannalaugar Campgrounds
If you are traveling to see the best parts of the Iceland Highlands, make a stop at the Landmannalaugar Campgrounds. Hands down, this is one of the best experiences that you won't want to miss. Not only are the roads to get here beautiful, but because you have to traverse the F-Roads and river crossings, the Landmannalaugar campsites are not very touristy. Instead, you'll find locals and avid hikers.
The best part about camping at Landmannalaugar is the incredible natural hot spring. This shallow, but steamy hot spring is the perfect thing for weary travelers to unwind in. The campsites are only a few minutes walk away too. The facilities are pretty good too! You won't want to miss this spot if you rent a 4×4 drive vehicle.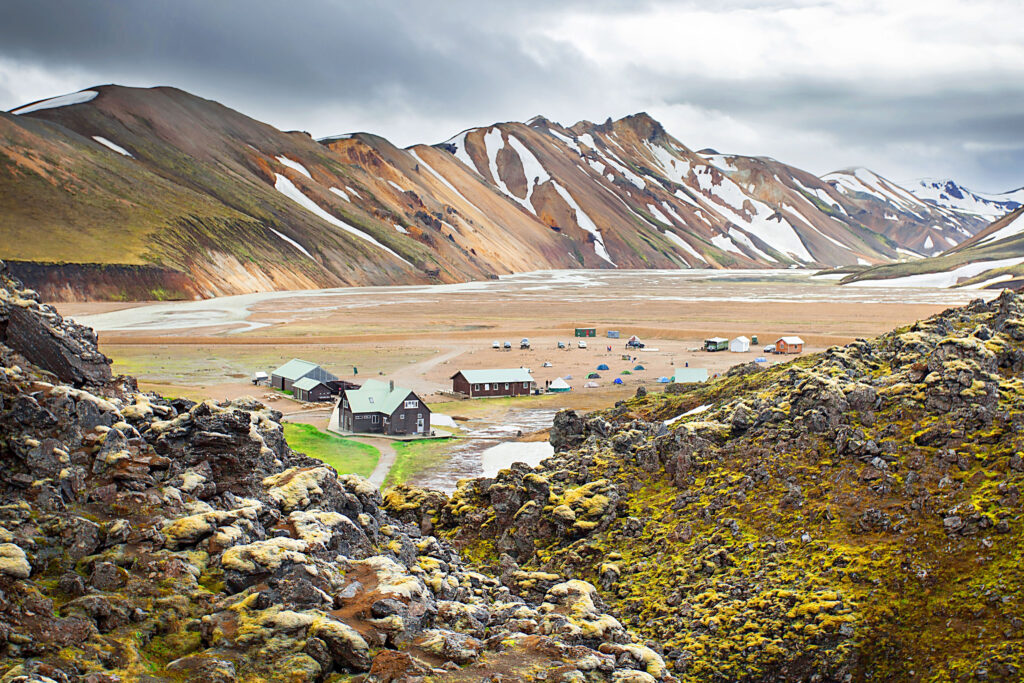 Djupivogur Camping
For those headed to the small coastal village of Djupivogur, nestle yourself a spot at the Djupivogur Campsite. We love how this campground has a small levy nearby which helps shield tent campers from wind, while still giving an awesome overlook of the harbor. Within a few minutes walk, you can be at one of Iceland's great lighthouses, the famous orange Djupivogur lighthouse.
Showers are unfortunately not included in the campsite fee, but can be purchased for an additional charge. Laundry works the same way. As for other amenities, there is a small market on-site, a shared kitchen, and bathrooms. Campers can access Wifi within the main building.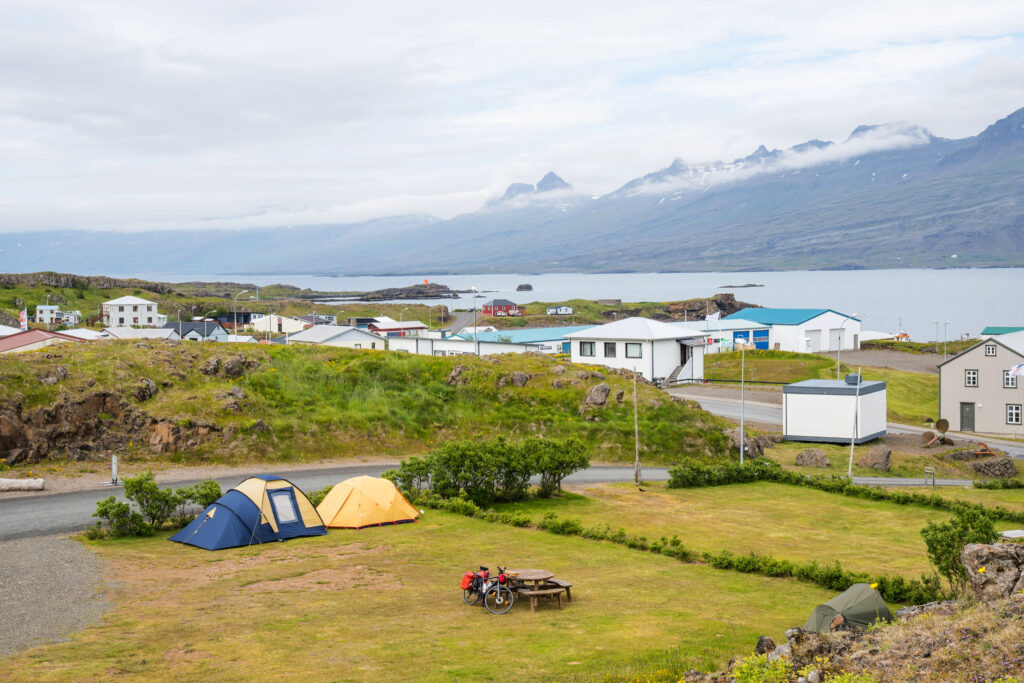 Hveragerdi Campsites
We often stay at Hveragerdi Campsites often when we travel around the Golden Circle. This place is loaded with amenities such as electricity, waste disposal for RVs, a swimming pool, showers, and restrooms. Make use of the shared kitchen and barbecues for all your cooking needs. Hveragerdi campgrounds in Iceland also allow dogs in case you are traveling with your pet!
Not only are there plenty of Iceland camper van campsites here, but there is plenty of space for tents too. With town being a short distance away, you'll have everything you need for a great stay.
Seydisfjordur Camping
If you are visiting some of Iceland's best photography locations like Seydisfjordurkirkja Church, or are making your way to the Djupavogskorin Hot Springs, then pitch your tent at Seydisfjordur Campsites. This convenient campground is right in the middle of town and is a central location for some of the best things to do in East Iceland. Even more, Seydisfjordur Campground is a great spot to stay if you intent to catch the ferry to Denmark or the Faroe Islands.
Surrounded by trees, this pretty little campground is the perfect place to park a camper van. With plenty of spots and all amenities included in the camping fee, Seydisfjordur Campsites in Iceland can't be beat. The best part is, your adventure dog is invited to stay the night here too!
A good tip for Seydisfjordur Campsites is to plan around their busy times in the summer. Tuesdays and Wednesdays are the busiest days to stay here when the ferry is on the summer schedule. We suggest avoiding these days, as spots are limited.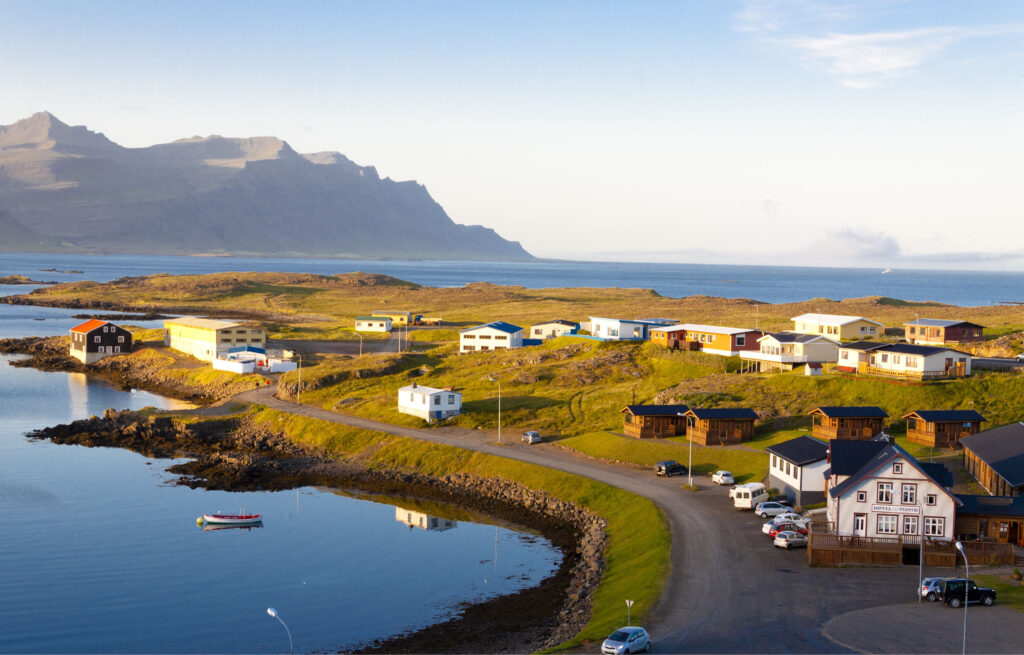 Melanes Campsite
One of the best campsites in Westfjords, Iceland is the small campground of Melanes. From the Iceland campground, you can see the famous -and rare- red sand beaches of Raudasandur as well as the craggy Latrabjarg birdcliffs. You can also watch adorable seals from the beach, explore the sands during low tide, or grab some delicious chocolate cake nearby from the French Coffee House at Kirkjuhvammur.
Melanes Campsite in Iceland have a shared kitchen, water closet, and showers included in the campground fee. These campgrounds are also camper van friendly and have electric hook ups for an additional fee. Those who are through-hiking will enjoy the option to use the sleeping huts as well.
Drive to Europe's westernmost point for this gorgeous campground. Although it is only open mid May- mid September, the Melanes Campsite should not be missed as you discover the best things to do along the Westfjords.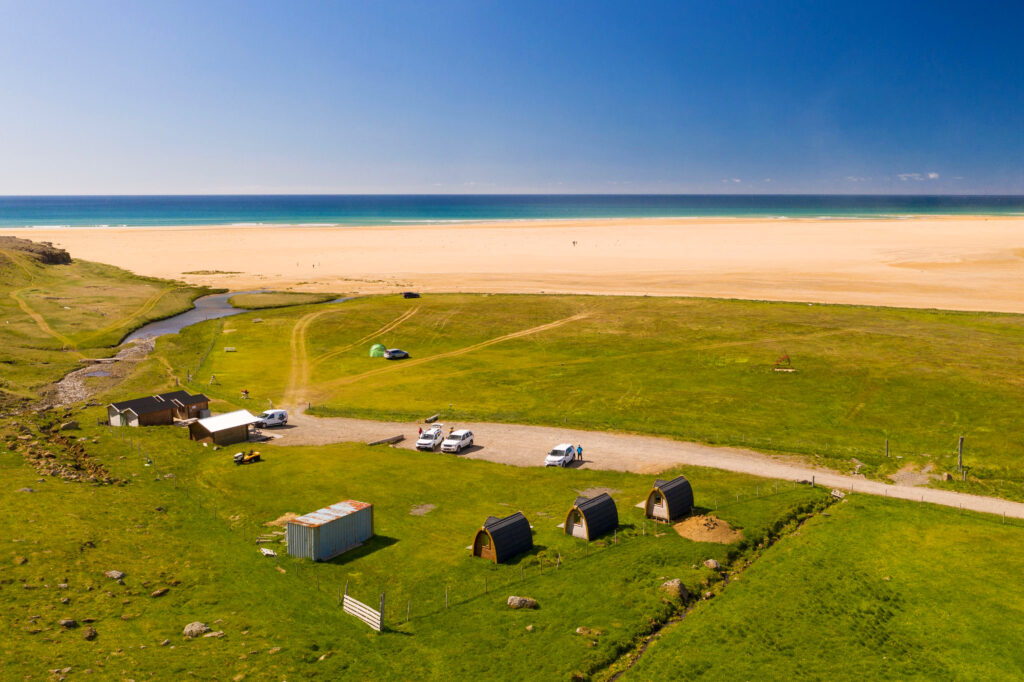 Camping 66.12 North
As for places to camp in North Iceland, go sleep on the coast at Camping 66.12 North. The campgrounds are set up with everything you need like hot showers, heated restrooms, and kitchens. This is one of the best places for camper van camping in Iceland, as you can open the doors to a gorgeous view on the water. Within a short drive, you can catch one of the best whale watching tours from Husavik.
We hope this list of great campsites in Iceland help you plan for the best-ever vacation around this beautiful country. With great campgrounds all over the country, there is no shortage for awesome places to park a camper van, RV, or tent.
Because some of the most incredible Iceland do campsites exist in the highlands, we highly recommend reading over our article, "Do You Need A 2wd Or 4×4 In Iceland?". We will give you tips and insights on how to select which car rental is right for you.
If you still have questions about how to prepare for sleeping under the Iceland skies, check out our ultimate guide to camping in Iceland. We will help you decide what to bring and supply you with a great packing list.