Are you stuck trying to choose between a 2×2 and a 4×4 car in Iceland? Choosing the right type of vehicle can be critical to making your trip a success. 
Both types of vehicles have their pros and cons. A 2×2 is less expensive but more limited in where it can take you. A 4 wheel drive in Iceland (especially a high clearance one) will allow you full reign of the country but will cost you more.
In a country that's expensive on all accounts, saving money on a rental car could be a huge benefit to you. But if you're looking to explore the highlands or want to play it safe in the winter, then a 4wd in Iceland is the way to go.
We're here to help you make this decision, however whichever vehicle type you choose, you'll have more options for adventures at your fingertips than you'll know what to do with.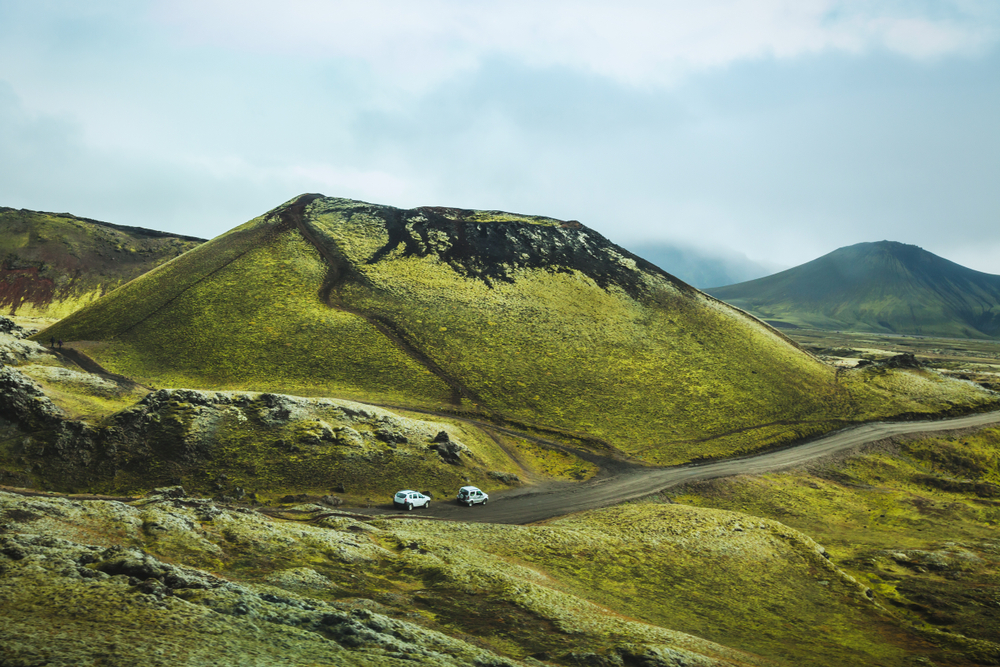 What Is The Difference Between A 2wd and 4×4 Vehicle?
Knowing the difference between a 2wd and 4×4 vehicle will be crucial as you decide which one best fits the needs of your specific trip. In its simplest terms, a 2wd vehicle has an engine that powers only two of its wheels whereas a 4×4 engine powers all 4 wheels simultaneously.
Driving a 2×2 in Iceland usually means paying less for the car and for gas as the vehicle is lighter and uses less energy. Though renting a 4×4 in Iceland will be more expensive, it will also allow you to explore areas that require driving over uneven terrain.
4×4's are designed to offer extra traction making them perfect for Iceland's F-roads into the highlands. Knowing your budget and where you'd like to go within Iceland ahead of time will help you choose which car to rent. Don't forget to check out our Tips For Traveling Iceland On A Budget!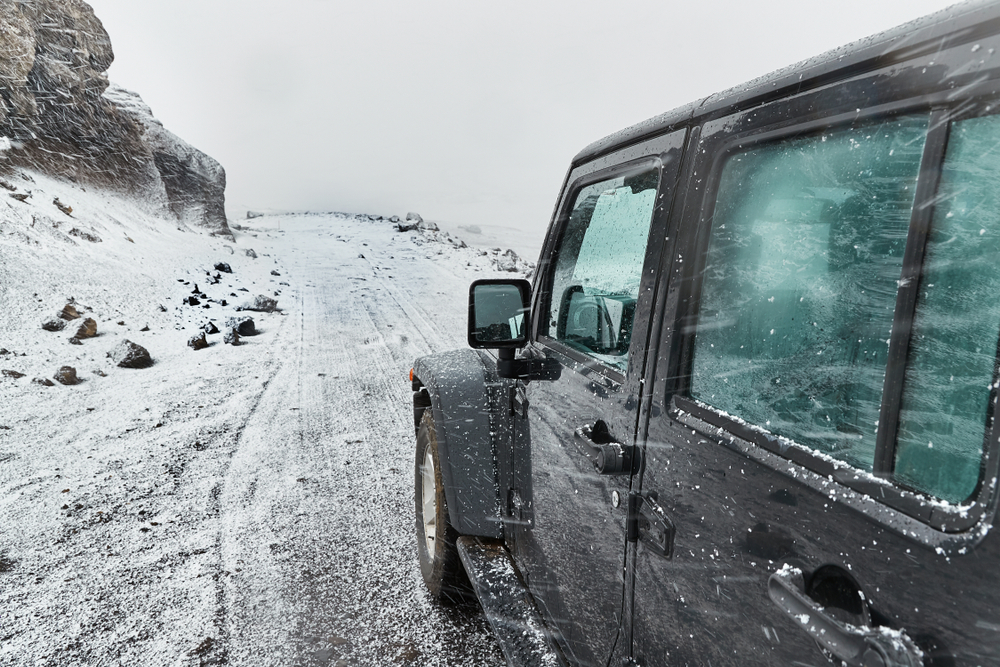 Can You Drive Off Road In Iceland?
No! Off-road driving in Iceland is not just discouraged, it is illegal. In large part thanks to the dramatic shifts between seasons from nearly 24-hour sunlight in the summer, to dark, cold winters, Iceland's natural landscape is incredibly fragile and slow to revive itself.
Tourists hiking off the path is enough to cause damage much less driving a car off-road. For example, the moss you see all over the country carpeting the lava fields grows only 1cm per year. This means that even minimal damage is catastrophic.
We understand that when you rent a 4×4 in Iceland with the capacity to navigate tricky terrain, the appeal to off-road and explore the jaw-dropping beauty around the country is great. But please refrain from driving anywhere that there isn't a road, as this beauty can only be preserved if it's treated with the care and respect it deserves.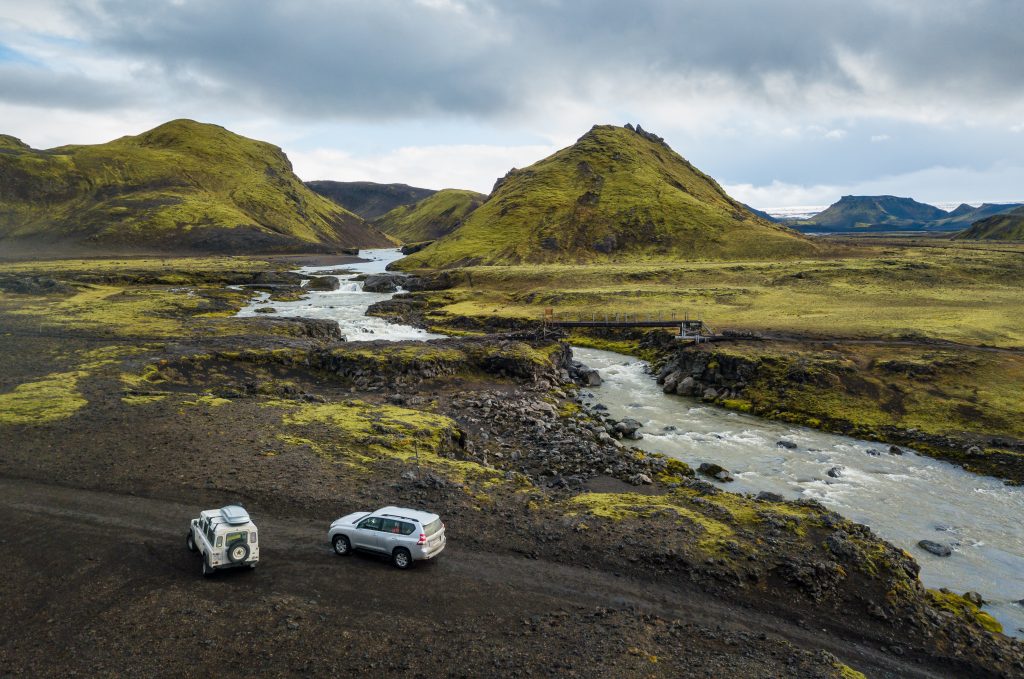 If I Can't Afford A 4×4 In Iceland, Will I Be Severely Limited?
Not having a 4×4 in Iceland will limit your plans, but not severely. The F-roads into the highlands are off-limits for 2wd vehicles due to the uneven, rocky terrain. But if you don't have plans to travel into the highlands, you can easily have a jam-packed, adventure-filled trip in a 2wd.
Iceland's major tourist routes are well maintained with mostly paved roads throughout. If cutting down on costs is important to you, then a 2×2 is the way to go to save money and still have a fulfilling trip.
Walk behind the towering Seljalandsfoss Waterfall, watch a rainbow arch in the sun over Gulfoss Waterfall, take a hike to and soak in the Reykjadalur Hot River, stand on the basalt columns at the Reynisfjara Black Sand Beach, and so much more. All of this can be done by renting a 2×2 in Iceland.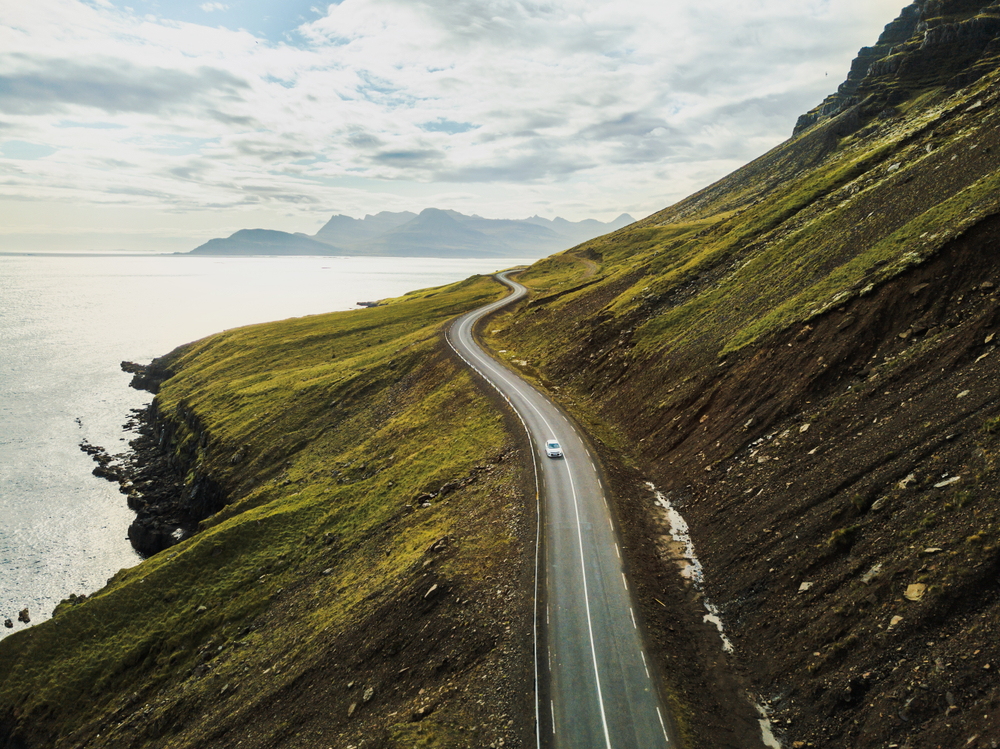 Where You Can Drive With A 2wd In Iceland
Are you hoping to catch all the major tourist attractions? Renting a 2 wheel drive in Iceland will get you there whether you're sticking to day trips around Reykjavik or heading up north.
With a 2wd in Iceland, you can hit the three most iconic stops on the Golden Circle. You can also travel Iceland's Ring Road (even the handful of gravel sections should be navigable in a 2wd). You can venture to the thundering waterfalls and black sand beaches of the south coast as well as to the basalt columns and volcanic craters of the Snaefellsnes Peninsula.
All of these routes are either entirely or mostly paved, and in the summer in particular, they're pretty straightforward to navigate. There are plenty of adventures to be had in a 2×2 vehicle, so if you're looking to save money or don't have plans to take Iceland's F roads into the highlands, a 2×2 might just be the perfect choice.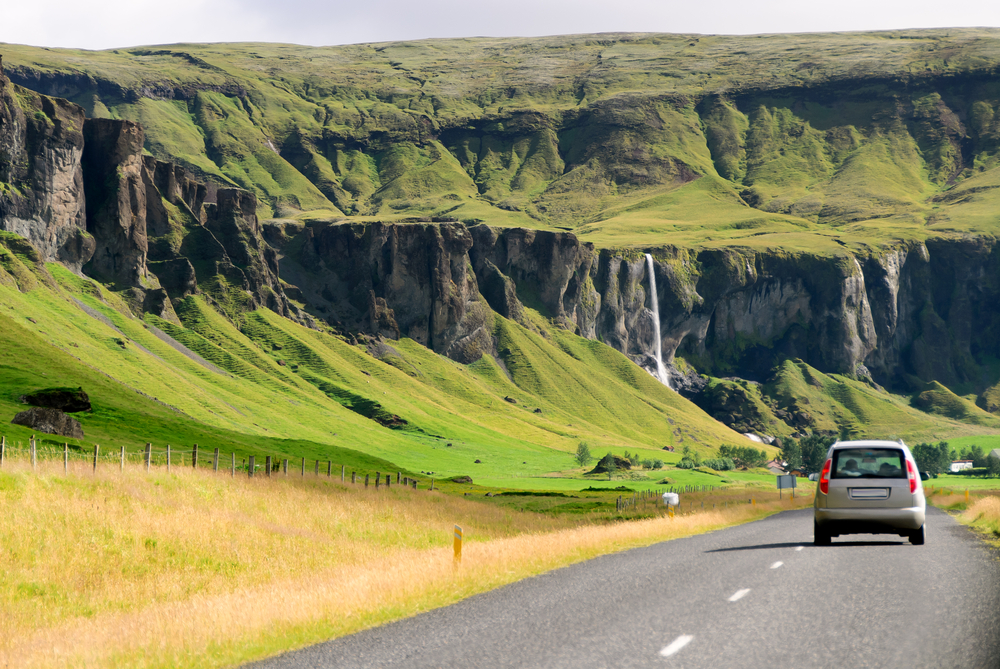 Where You Can Drive With A 4×4 In Iceland
A 4 wheel drive rental in Iceland will get you everywhere from the highlands to the Westfjords and everything in between.
Iceland's F-roads into the highlands are only navigable if you have a high clearance 4×4 vehicle. These are gravel roads often full of potholes and river crossings. They're tricky roads to navigate even in the best of circumstances so the more help (traction) you have, the better.
Though the major tourist routes are largely navigable in a 2×2 car, some nearby detours such as a visit to the stunning waterfall Haifoss will require a 4wd. Many sections of the Westfjords are also navigable in a 2wd, however in order to make the most of your adventure to this more remote section of Iceland, a 4wd will be either necessary or extremely helpful.
4×4 vehicles are also big assets in the winter when the roads are icy and more dangerous. Regardless of the time of year however, it's important that you exercise caution, use common sense, and pay attention to road conditions, even if you're driving a 4wd.
Do You Need A 4×4 In Iceland In The Winter?
Having a 4×4 in Iceland in the winter is not necessary, but it definitely helps. Iceland's winter weather is harsh and unpredictable and the roads are often icy and/or snowy.
If you're visiting in the winter, your rental car (both 2wd and 4wd) should come equipped with winter tires to help navigate these icy road conditions. That being said, the additional stability of a 4wd can be extremely helpful.
If your itinerary keeps you close to Reykjavik you can get by with a 2wd in Iceland. Even in bad weather, the roads closest to the capital tend to be well maintained as they see a lot of traffic. The Golden Circle route and much of South Iceland remain well maintained as well.
Most of the highland roads become impassable in the winter as well as some sections of the Ring Road so some adventures that required a 4wd in the summer aren't even options in the winter anyway.
If you want to play it safe and make sure you're in a car most suited to Iceland's winter conditions then you'll want a 4wd. If cost and Iceland's major tourist attractions take priority then a 2wd will get the job done.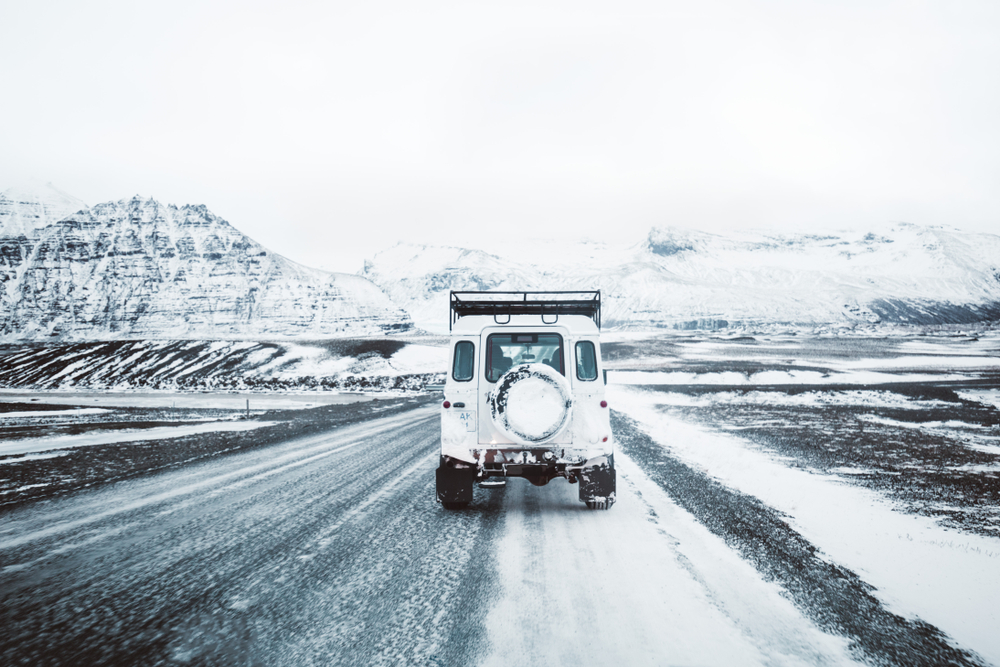 Do You Need A 4×4 For The Golden Circle?
Good news! If you've decided to rent a 2wd in Iceland with plans to travel the Golden Circle route, you can absolutely stick to your plans. Gulfoss Waterfall, Geyser, and Thingvellir National Park are the most iconic stops along the Golden Circle, and all three can be easily reached in a 2wd.
The Golden Circle is full of additional bonus stops as well such as Bruarfoss Waterfall, Kerid Crater, and the Secret Lagoon. These can all be reached in a 2×2 vehicle as well. However, Haifoss, a powerful waterfall, and the neighboring valley Gjáin are only reached by taking a rocky path in a high clearance 4wd.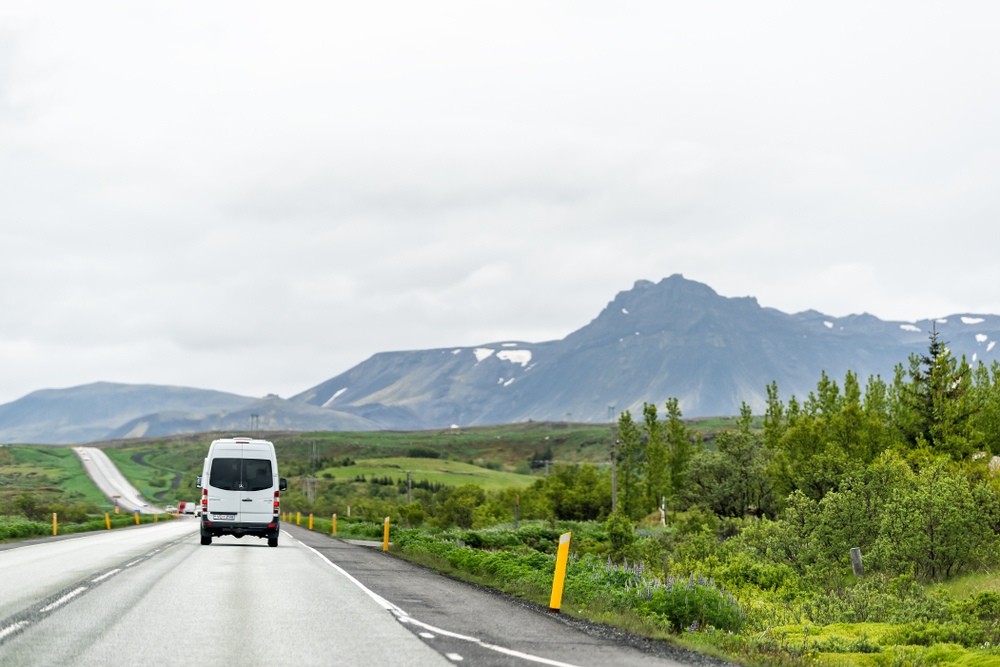 Is It Worth Getting A 4×4 In Iceland?
Deciding whether it's worth it to get a 4×4 rental in Iceland all depends on your budget and itinerary. For those looking to adventure into the highlands or explore the more remote corners of the Westfjords, then yes, you'll absolutely want and need a 4×4. If neither of those locations is on your list then a 2wd might be the way to go.
If you're traveling on a budget we highly suggest renting a 2×2 in Iceland. It will give you plenty of freedom to explore while keeping costs both for renting the car and for gas a little bit lower. Regardless of which type of vehicle you choose, you'll be in for a trip that's well worth writing home about.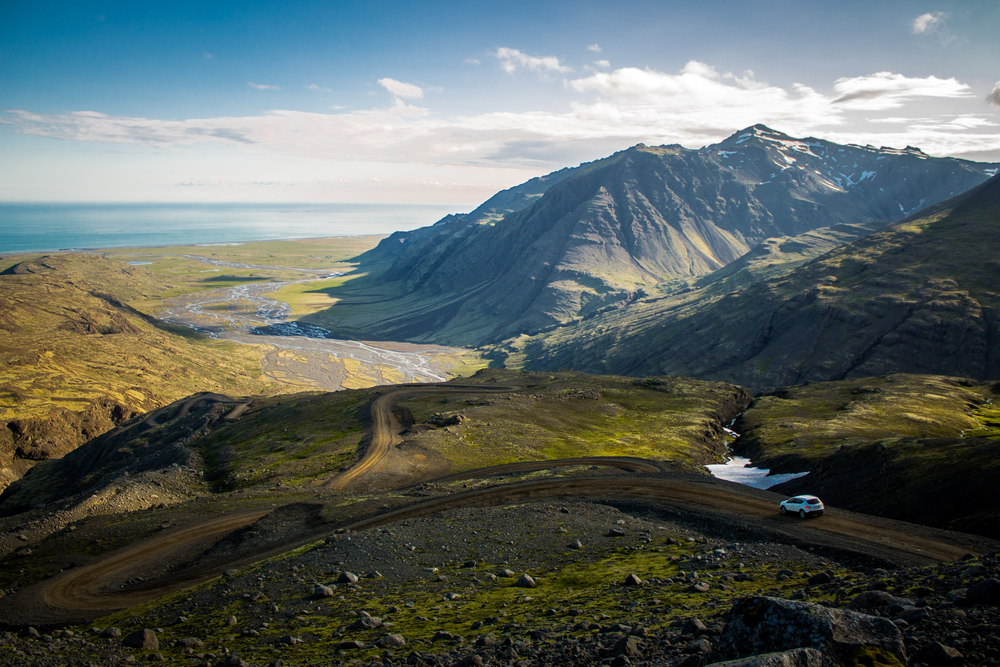 We're thrilled you've chosen to venture to the land of fire and ice. Choosing between an off road car rental in Iceland that can take you on Iceland's tricky F-roads versus a 2wd that forces you to stick largely to paved roads can be a daunting task. We hope this guide has helped you navigate that decision.
If you have any questions or comments as you go about choosing the ideal car for your Iceland adventures, please let us know in the comments section below.