If you are on the internet these days, then you have probably seen a photo of Skogafoss Waterfall in Iceland! This stunning Iceland waterfall is unforgettable and one of the most popular places to visit in Iceland. Those rainbows you see in all the photos of Skogafoss? 100% real and easily visible to the naked eye!
When standing at the base of Skogafoss, you will really feel your own humanity as you face off against this giant of nature! The waterfall tosses over millions of gallons of water and has been doing so for thousands and thousands of years. Seeing Skogafoss Waterfall in person is an extremely moving experience. Once you visit, you will want to return again and again!
Get a FREE printable "Hidden Gems In Iceland" E-book by joining our private Iceland Facebook Group and share your photos and ask for tips and tricks.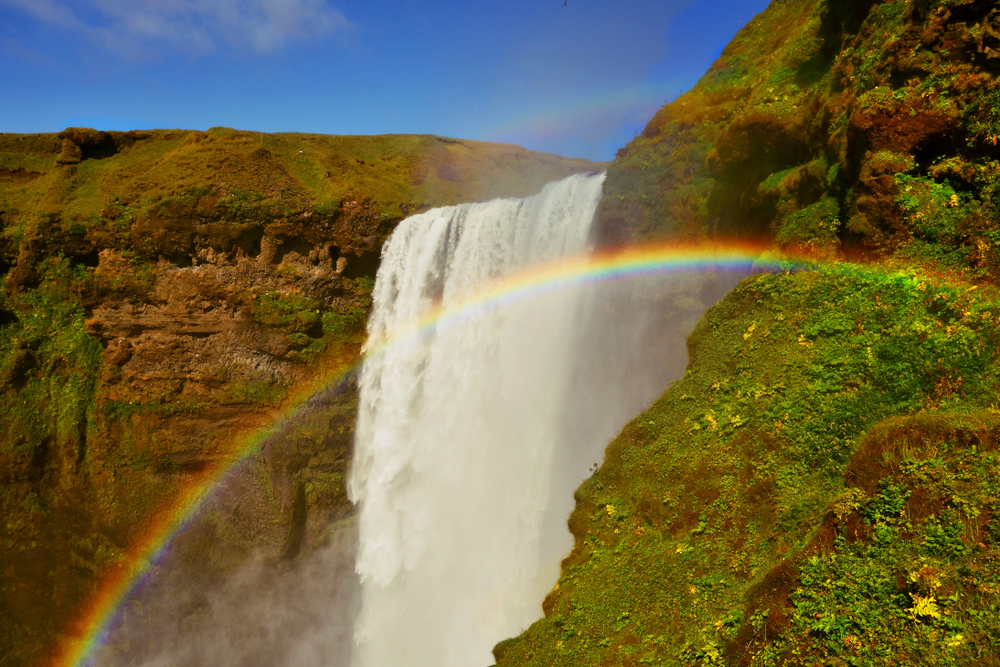 5 Things To Know About Skogafoss Waterfall Iceland
#1 You Can Drive From Reykjavik To Skogafoss In Under Two Hours
Believe it or not, Skogafoss Waterfall is actually closer to Reykjavik than you might think! Many people choose to visit Gullfoss Waterfall along Iceland's Golden Circle but it takes only about 20-30 minutes more to visit Skogafoss Waterfall on Iceland's south coast!
The drive from Reykjavik to Skogafoss Iceland is 97 miles long and takes about 1 hour and 54 minutes depending on weather conditions and how many stops you make along the way. The drive to Skogafoss Waterfall is easy and direct as you will be on Iceland's Ring Road heading east the entire time!
You can see Skogafoss from the Ring Road and most GPS's recognize the location so it is quite easy to navigate and find your way to this waterfall. If you are driving in Iceland, you are going to want to make this one of your stops around the Ring Road!
Skogafoss Iceland makes a great day trip from Reykjavik, or if you are doing an Iceland road trip and have more time, you can stay the night! We recommend spending the night in Vik or Selfoss, depending on which way you are headed and how long you are looking to explore the area surrounding Skogafoss.
Read next: Tips For Driving In Iceland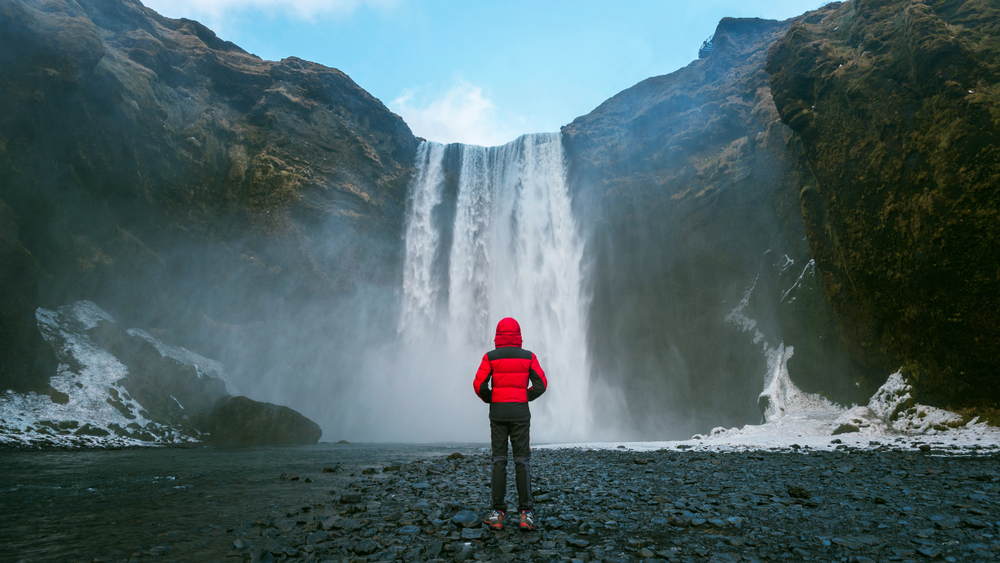 #2 You Can Actually Climb To The Top Of Skogafoss Iceland For A Unique View
People either visit Skogafoss Waterfall on one of Iceland's many tours or on their own self-drive trip around the island. They will walk around the waterfall for a few minutes and get back in the car or bus and depart.
We recommend staying longer so you really have time to soak in all that Skogafoss has to offer. Once you are done marveling at the waterfall from below, head to your right where you will find steep steps/a trail. There are almost 500 steps and the climb is pretty steep.
You can climb these steps to the very top of the waterfall for a unique perspective from above. Compared to the number of people that admire Skogafoss Waterfall from below, not as many choose to venture to the top of the waterfall.
While you are up there, make sure to turn completely around and enjoy the expansive view of the south Iceland coast as you watch the river from the base of Skogafoss Waterfall flow out to meet the ocean.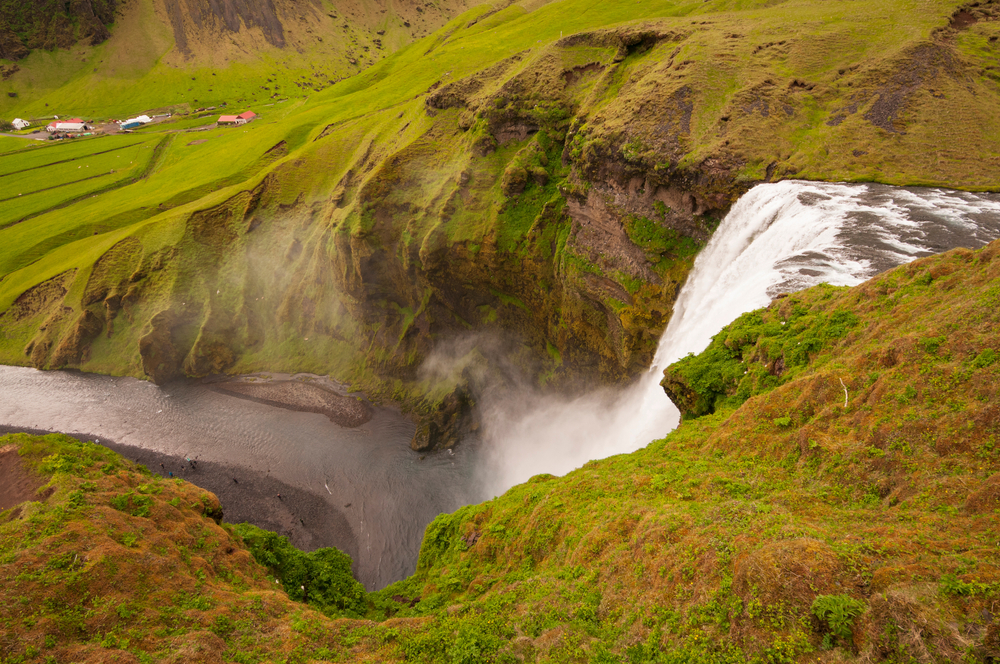 #3 The Bathrooms At Skogafoss Waterfall Cost Money To Use…..Sometimes
Yep, like many other bathrooms in Iceland, the toilets at Skogafoss cost money to use. The restrooms are located at the entrance to the parking lot on the right-hand side. They are nothing to be proud of and are not the cleanest. Think of them more like a bathroom you might see at a state or national park as far as cleanliness goes, except it is a bathroom that you have to pay for.
One time we went the payment station was working and the next time we visited the payment station was completely and utterly broken so the bathrooms were free.
Unfortunately, when visiting Skogafoss you have probably been driving for quite a while so you will most likely pay these bathrooms a visit. Make sure you have some money on hand in the event it is a true emergency and you really need to use the restroom. The pay box may or may not be active so it will be a surprise when you arrive!
#4. You Can Visit Skogafoss Anytime Of The Year But Be Very Careful When You Visit During Winter
Skogafoss Waterfall is open 24/7/365 so no matter what time of year you visit Iceland, you can pay this famous waterfall a visit! We have actually visited twice when it was snowy ourselves and on one trip the waterfall was green and the next day it was snowed in! When visiting Skogafoss Iceland in Winter, you must be extremely careful.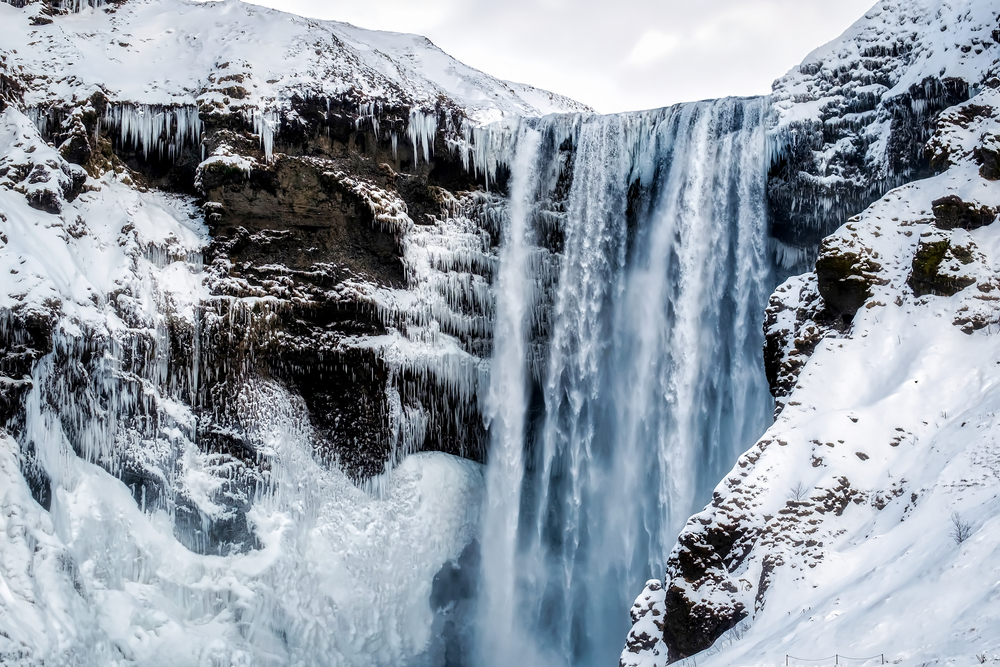 The combination of the water, snow, and cold coat the rocks at the base of Skogafoss Waterfall with dangerously slippery ice. It is still possible to walk on the ice to reach the base of the waterfall, but you must be aware and be super careful.
When packing for Iceland, especially if you know it will be snowy/icy, make sure to bring crampons or a walking stick to help you navigate the ice. If you didn't have time to grab these items before you left, tread with care. Many people take spills when visiting Skogafoss and we can attest to just how slippery and unsuspecting the icy rocks and ground can be!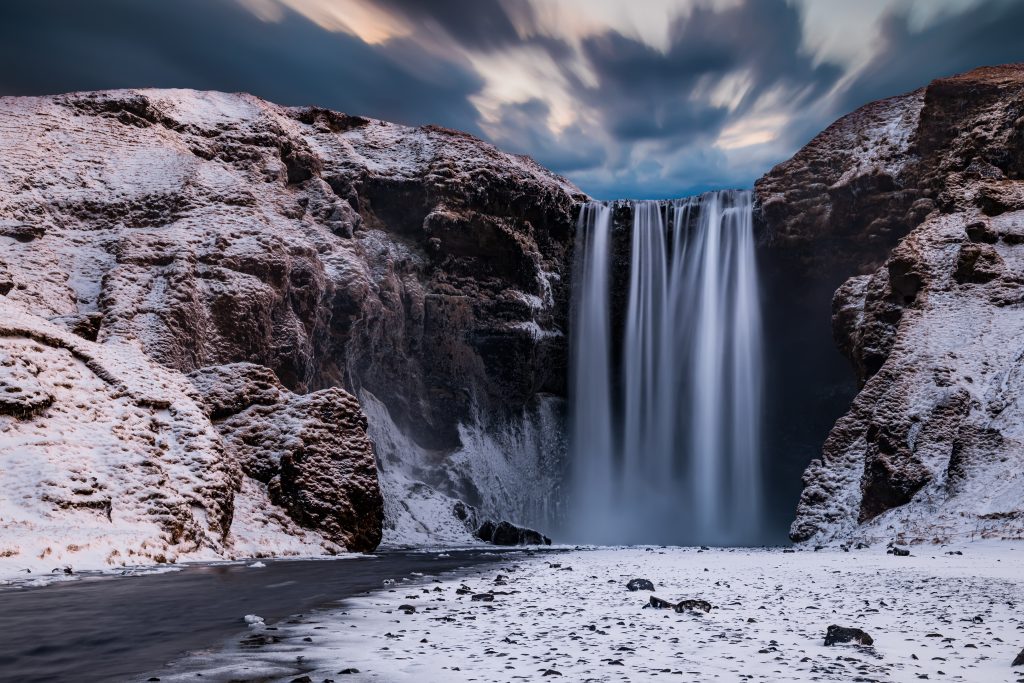 #5 There Are Food And Lodging Options At Skogafoss Iceland, But They Are Very Expensive
Everything in Iceland is expensive. That being said, some things in Iceland are extra expensive and the food and lodging right by Skogafoss Waterfall fall into the second category!
When you turn off the ring road you will go down a road and then will make a left to the Skogafoss parking lot. Off that first road, you turned onto there will be a variety of food and lodging options but be warned that they are on the pricey side so if you are trying to visit Iceland on a budget, it is probably best to skip staying or eating here!
We always suggest heading to one of the grocery stores in Iceland and stocking up on snacks and lunch food which ends up being much cheaper than eating at the most expensive places around like the ones nearby Skogafoss Waterfall. As mentioned above, if you are looking for somewhere more affordable to stay, try heading to Vik or Selfoss, or even driving back to Reykjavik for the night!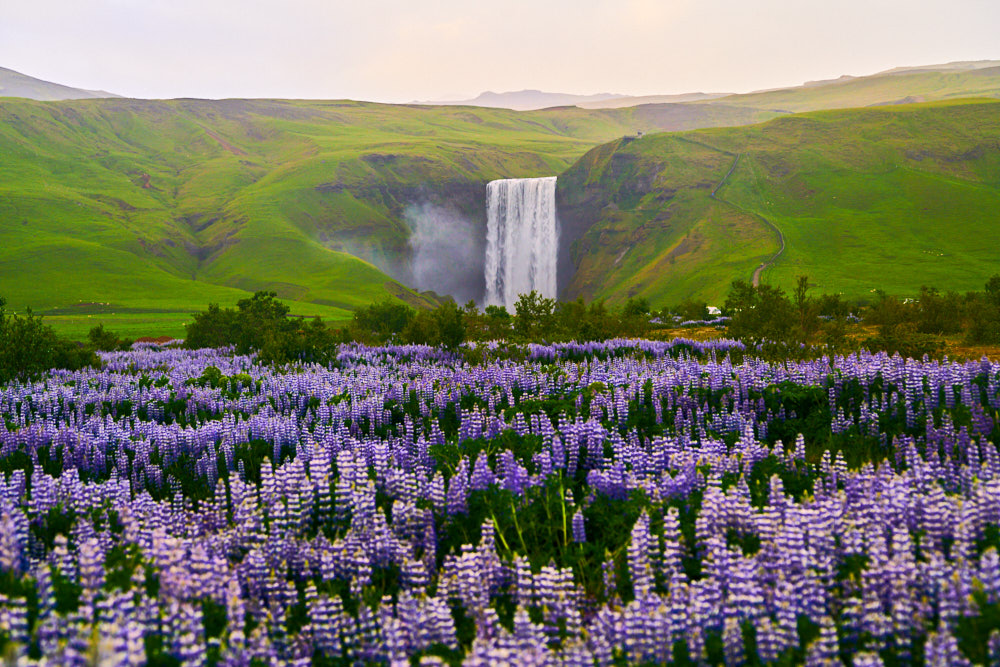 Quick Tips For Visiting Skogafoss Waterfall Iceland
-Dress Appropriately When Visiting Skogafoss Waterfall. No matter what time of year you travel to Skogafoss Waterfall Iceland, you are going to want to wear the proper clothing. We have seen so many people at Skogafoss wearing completely inappropriate clothing.
These people are either cold, wet, or both and certainly complaining about it! Save yourself the trouble by wearing great shoes and a warm coat!
-Visit Skogafoss Early Or Late If You Want To Avoid Crowds. If you are looking to have Skoagfoss Waterfall all to yourself you are going to want to visit first thing in the morning or right around sunset.
We have visited around sunset and have been the only people there! If you are a photographer and are looking to take some awesome shots of Skogafoss, we recommend going early or late! You can even visit Skogafoss Waterfall after dark if you want to get some great astrophotography or watch the Northern Lights dance over the waterfall!
-You Don't Have To Drive To Visit Skogafoss Waterfall. If you are traveling to Iceland but you don't want to rent a car, no worries! There are many affordable tours in Iceland that will take you to Iceland's south coast and all of these tours stop at Skogafoss Waterfall.
There are many reasons why people don't want to drive in Iceland and whatever your reason, that is totally okay and there are options for you if you want to see the magnificent Skogafoss Waterfall.
Just make sure to book a south Iceland tour to ensure you stop at Skogafoss. We recommend this south Iceland tour from Reykjavik!
-Budget Enough Time To Really Enjoy Skogafoss. Many people visit Skogafoss Waterfall and only stay for 10-15 minutes. This certainly isn't enough to take in the majesty that this stunning Icelandic waterfall has to offer.
When visiting Skogafoss Waterfall, we highly recommend that you stay for at least an hour if not more! Walk around the river that comes from the base of the falls.
Walk up close to the base of Skogafoss. Climb the stairs to the top of Skogafoss and walk around and enjoy the view. There is so much to see and do and so many ways to enjoy Skogafoss Waterfall Iceland! We highly recommend spending a little longer than just 10-15 minutes at this wonderful stop!
-Leave No Trace When Exploring Skogafoss. While this may sound like a silly thing to include, it must be said! Skogafoss Waterfall is a very popular destination in Iceland and many people visit every day and millions visit per year. Some people have no respect for nature and litter and damage the environment.
Do not throw anything in the water or on the ground that isn't naturally there. If you smoke, extinguish your cigarettes and throw them in the trash. Do not, under any circumstances, throw cigarette butts on the ground when visiting Skogafoss Waterfall. There are plenty of garbage and recycling bins around so use them and save the beautiful waterfall.
Make sure to check out our itineraries for 3 days in Iceland, 4 days in Iceland, and 5 days in Iceland as well as our suggestions on Where To Stay In Iceland!
Have you visited Skogafoss in Iceland? Do you think we covered everything or did we miss something? Let us know why you are most excited to travel to Skogafoss Waterfall Iceland.