Iceland in spring is one of the best times of year to travel to this stunning Arctic country! Spring in Iceland is a short but sweet season and showcases all the best that Iceland has to offer. You may hear a lot about winter in Iceland and a whole ton about traveling during the summer, but there isn't much information out there about visiting in the spring and we want to change that.
The weather is better, prices are still more affordable, and the snow is melting so you are going to see Iceland's true splendor emerge from behind the cloak of winter!
With proper planning and research, you will truly enjoy Iceland in spring. From stunning waterfalls, black sand beaches, and glacier lagoons, to baby lambs being born and Icelandic horses running beside the road, you are in for a real treat! Before you pack your balaclava and start planning your Iceland itinerary, there are a few things you need to know so you can be better prepared for what to expect from Iceland in Spring.
Get a FREE printable "Hidden Gems In Iceland" E-book by joining our private Iceland Facebook Group and share your photos and ask for tips and tricks.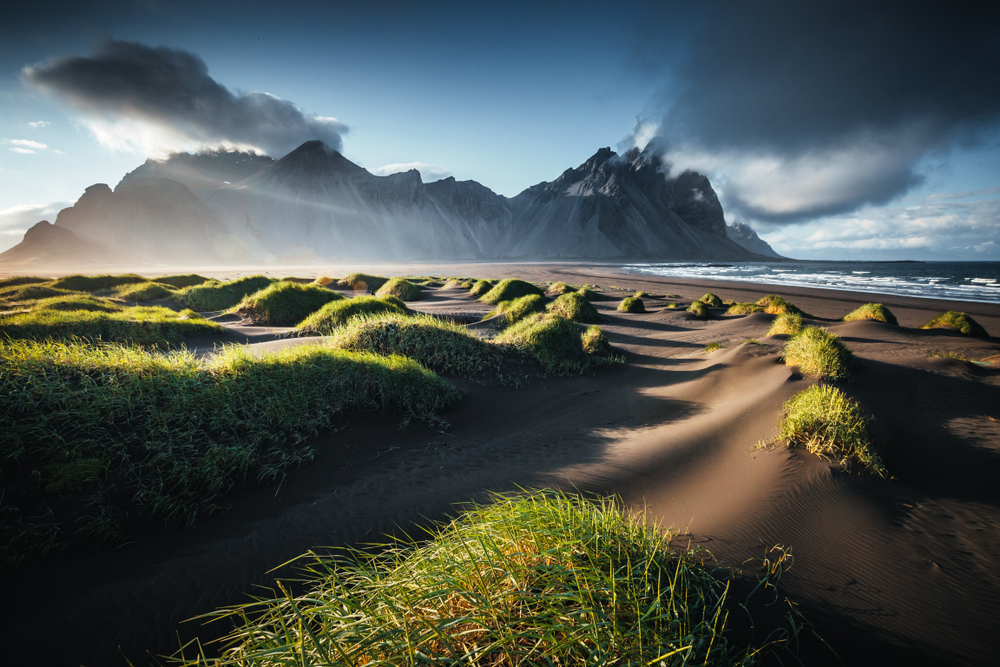 5 Things To Know Before Visiting Iceland In Spring
#1. Not All Roads Will Be Open During Spring In Iceland
Depending on when in spring you plan to visit Iceland, not all roads may be open. In fact, some roads in Iceland aren't even open until June or July, depending on the weather! If you are spending March in Iceland, many roads will be closed, but this won't impact your trip if you want to drive the main sights such as the Golden Circle and South Coast.
If you are spending March in Iceland, we highly recommend sticking to the main southern sights, especially if this is your first time to Iceland. Roads close at any given moment in Iceland during any time of the year but are even more susceptible to closure when traveling Iceland in spring.
If you are driving in Iceland, you are going to want to make to check to see if the stops around the Ring Road are safe to drive to! They are certainly not all safe during this time of the year!
On the other hand, if you are spending April or May in Iceland, there will be a higher chance that more roads will be open. If you want to drive the entire Ring Road, April in Iceland onward is a good bet that the whole road will usually be open and in business.
April in Iceland is still cold and usually snowy, but the Ring Road is accessible at this time. Loads of people drive the entire Ring Road, even during winter, but you must watch carefully for closures because some areas do close. If you want to avoid them, stick to the southern area of Iceland where it is a bit warmer.
Finally, if you are looking to visit the Icelandic Highlands or drive down any F-Roads, that probably won't happen during spring in Iceland. F-Roads are dirt roads that you are legally required to have a 4×4 to go down.
They are very rugged and take you into the "middle" of Iceland, also known as the Highlands. These roads are closed during much of spring in Iceland and won't be fully open until June or July. If you are dying to visit the Highlands, we recommend a summer or early fall trip.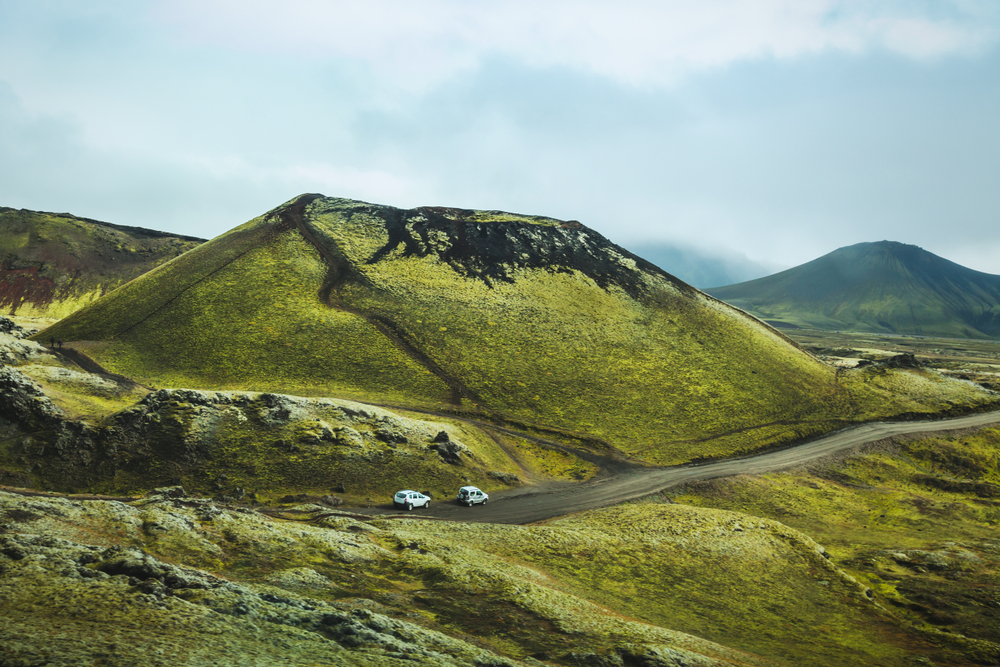 #2. The Waterfalls Will Be Raging Because Of All The Snow Melting
You are in for a real treat if you are visiting Iceland in spring! During this time, the snow will melt and will feed all of the beautiful waterfalls. Now, the waterfalls are fabulous any time of year, but during the spring they are at their best!
When we visited Iceland in November, the waterfalls were very "thin" and light but when we visited during the spring in Iceland, they were thundering and overflowing. Of course, the waterfalls will still be impressive any time of year, but if you are truly looking to see them at their best, go to Iceland in spring!
Even as early as March in Iceland, the waterfalls will be raging a bit more than during the winter months because it is starting to warm up. April in Iceland and May in Iceland are the best times to travel if you are looking for the waterfalls to be at their splendid best. We really cannot overstate how impressive the Icelandic waterfalls can be in spring!
Every waterfall in Iceland will be more "full" during the spring, but we highly recommend visiting Skogafoss Waterfall during this time if you can. The waterfall slows down a lot during the winter months, but as soon as it cools and the snow melts, Skogafoss once again becomes a raging giant!
If you are hoping to photograph the waterfalls during your time in Iceland, we highly recommend bringing a waterproof cover for your camera. Our camera was destroyed in Iceland because of the mist from the waterfall. The mist can be so heavy at times that it feels like you were just drenched in a rainstorm and it will be even worse during spring in Iceland. Just be sure to be prepared! And yes, our camera was weather sealed! It is that crazy!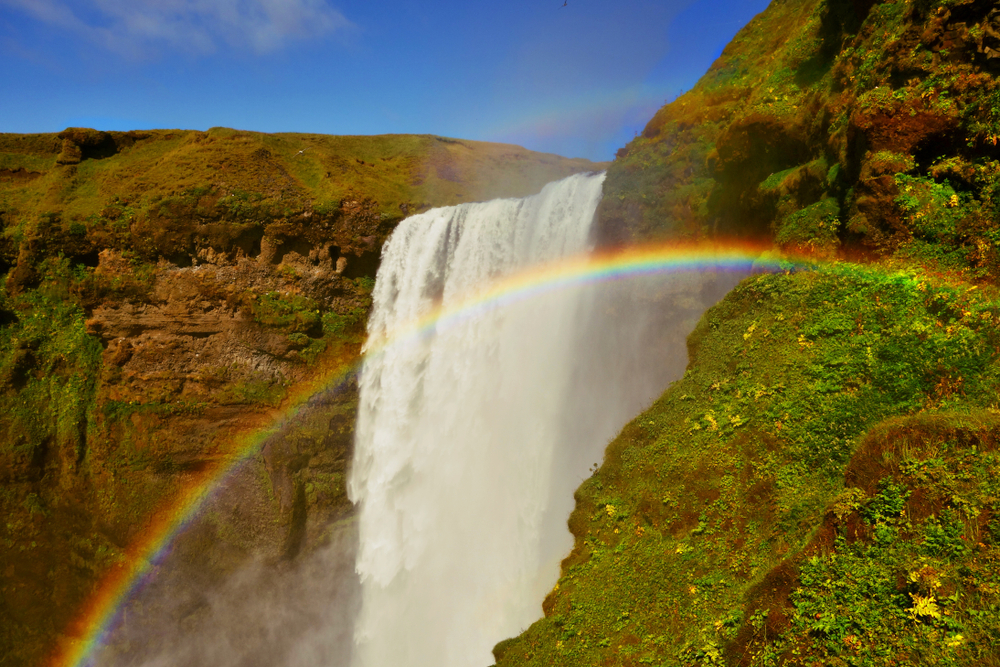 #3. Dress Appropriately Because The Spring Weather Is Unpredictable
The weather in Iceland is unpredictable at any time of year. That is the beauty of the country. It is even crazier during the Spring as the country is split in-between winter and summer.
When traveling Iceland in spring, you are going to want to pack appropriate clothing or you will be sorry. Trust us on this one! We have been to Iceland many times, during all times of the year, and the amount of improperly dressed, wet, and freezing people we have seen is incredible.
There is still a chance for snow during March in Iceland and it can even happen well into April and May, especially if you want to visit the far-flung Westfjords or hope to visit Northern Iceland.
There are no rules for the weather in Iceland and if you are visiting Iceland in spring, you must be prepared for weather that may be colder, windier, snowier, and rainier than you are used to on a normal spring vacation.
At the minimum, you are going to have to pack a waterproof and windproof coat, a waterproof and windproof pair of pants, and waterproof and cold-proof shoes. If you don't come from a cold climate or don't already have good winter gear, we highly recommend investing money for your trip to Iceland in spring. Iceland spring weather is no joke and you must plan and pack accordingly.
If you don't want to spend a ton of money, a good pair of $40 rain boots with wool socks make a great waterproof shoe on the cheap. We have even bought rainboots at Walmart and have worn them in Iceland with no issues. If you want to save money on waterproof pants, wear the same pair of base layers underneath a waterproof shell. A waterproof shell pant should cost around $40-$50 on Amazon. That being said, we do not recommend skimping on a coat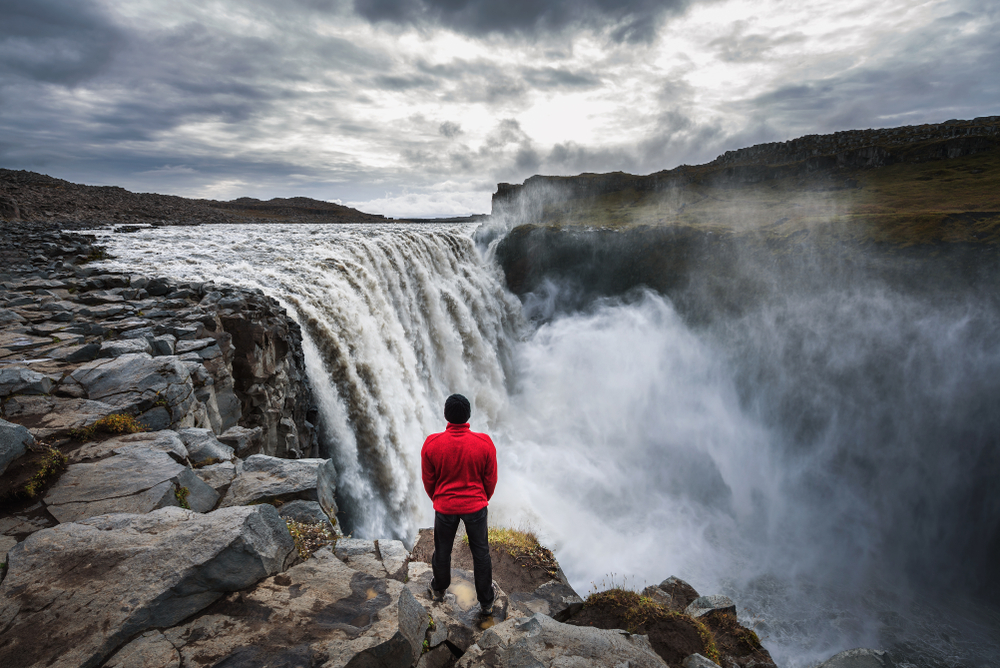 #4. There Is So Much More Daylight During Spring In Iceland
After winter solstice in December, the days start getting longer fast in Iceland! It may sound weird to go to Iceland in the beginning of Spring and there be plenty of daylight for exploring, but it is true!
When we visited Iceland during the end of March, the sun was already setting at 7:45 pm and the days were getting longer every day. If you are avoiding the winter season because of limited daylight hours but still don't want to pay the hefty prices of visiting in summer, Iceland in spring is the perfect happy medium for you!
If you travel to Iceland near the beginning of Spring, the days will still be long, but there will be plenty of darkness to go around. If you want that true "midnight sun" feeling that the summer brings, consider booking a late spring trip to Iceland and traveling around the end of May. Once you reach mid-May, the sun won't set until quite late at night which will allow you to enjoy the best of both worlds!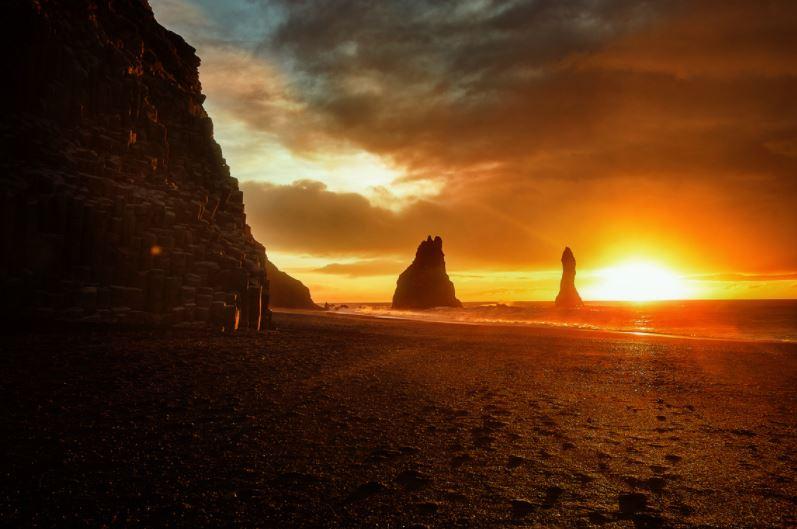 #5. Prices Will Be Cheaper And There Will Be Fewer Tourists Than Summer
Okay, we have to be straight! Iceland is a beautiful country and there are tons of tourists who visit all year round [including us, and probably you!] That being said, there are times of the year where tourism is lighter and Iceland in spring is one of those times. If you compare spring, fall, or winter to the number of people who visit Iceland in summer, you will understand what we are talking about and why there are fewer tourists than other times of the year.
If you are looking for the least crowds and the cheapest prices when traveling Iceland in spring, we recommend visiting Iceland in March or April to get the best deal. Prices are going to start to rise from around May 25 and won't fall again until the beginning of September.
May in Iceland is a tricky time of year to visit because the weather is almost like summer, but people don't decide to travel until the end of the month. If you want the warmest weather, most light, and cheapest prices, go to Iceland in May but be sure to book during the beginning of the month for the best deal and least tourists.
Make sure to check out our itineraries for 3 days in Iceland, 4 days in Iceland, and 5 days in Iceland as well as our suggestions on Where To Stay In Iceland!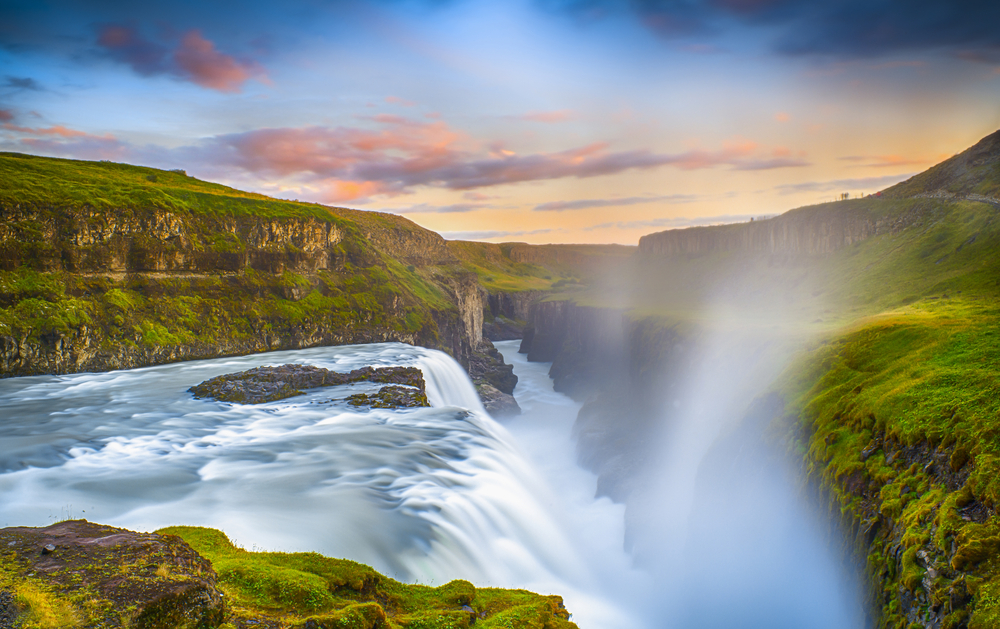 Average Spring Weather In Iceland
Spring weather in Iceland can range from freezing to pleasant, depending on what month you travel. Always make sure to plan ahead, watch the weather apps, and wear proper clothing when visiting Iceland in spring so that you have a safe and enjoyable trip! Wind storms in Iceland are no joke and can happen quickly and suddenly, with wind speeds up to 75mph gusts and worse! Make sure to be prepared!
The average spring weather in Iceland also depends on what part of the country you are looking to visit. If you are looking at the spring weather for Reykjavik or the south coast, that is going to differ greatly when compared to the Westfjords or North Iceland.
For the sake of this post, we are going to concentrate on the average spring weather for the main tourist areas which include the South Coast of Iceland the Golden Circle, Reykjavik, and the surrounding southern region. Below is what to expect when visiting Iceland in spring.
Average Weather For March In Iceland
Average temperatures for March in Iceland range from 37°F high and 31°F low. This doesn't take into account wind chill and the spring weather in Iceland may feel much colder. When traveling Iceland in March, expect to see snow on the ground everywhere.
The Spring days are getting longer, as mentioned above, and you will experience 9-10 hours of daylight which gives you plenty of time for exploring Iceland in March. We highly recommend dressing as if you were going on a winter trip when spending March in Iceland.
Average Weather For April In Iceland
April in Iceland is when there is a noticeable shift in warmth, especially in south Iceland! The average April temperature in Iceland is 40-45°F which is a whole lot warmer than the low 30's! Most parts of Iceland are still covered in snow, but you will begin to see it melting along the South Coast and in Reykjavik. This is also when the waterfalls start to rage more than other times of the year! For the month of April in Iceland, you will begin to see 12-14 hours of daylight.
Average Weather For May In Iceland
May in Iceland is a weird month for the weather! The temperature during May in Iceland can range from 37°F to 57°F! This is why it is always important to dress for all seasons when visiting Iceland in spring! The snow will finally be melted along the south coast, but the Highlands will still be under their winter blanket until mid-June.
May in Iceland is when the wildflowers are at their best so you are in for a real treat! Finally, you will experience over 17 hours of daylight during May in Iceland! May is the perfect time to visit if you want mild weather and endless sun all without as many crowds.