Have you heard of the highlands in Iceland? This rugged and untamed region of the country is often overlooked by tourists, but it is truly one of the best-hidden gems in Iceland.
If you are interested in embarking on a journey into the highlands, we have listed some of the best places to visit. We will also share some tips to make your trip easier. If you plan ahead and are prepared, then you will have a memorable time in Iceland's highlands.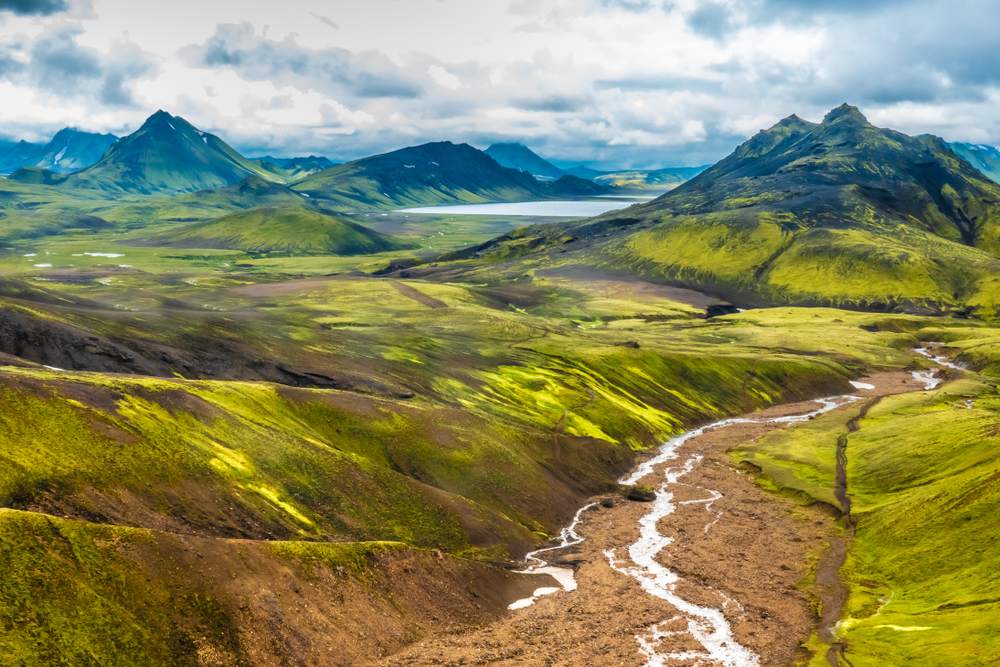 Where Are The Iceland Highlands Located?
The highlands in Iceland are found in the center of the country and form the largest portion of the landmass. This area is very remote and mostly uninhabited.
Cut through by canyons and formed by volcanoes, this is a place of natural beauty. The highlands can be reached from any direction.
Driving In The Highlands In Iceland
The highlands are bypassed by the Ring Road and other well-maintained roads because they are so mountainous. Instead, you must drive the infamous Iceland f-roads.
The unpaved and rugged terrain of f-roads can only be driven with a 4×4 vehicle. If you are driving your way through Iceland, make sure to rent a 4×4 vehicle. As long as you drive safely and know your limitations, you should have no trouble.
If you are unsure of driving yourself, you can book guided tours to this landlocked area of Iceland. The Iceland highlands are closed in winter unless you take a specialized tour.
Best Iceland Highlands Tours
Landmannalaugar Hot Springs and Hike in the Highlands
This tour is a great day trip from Reykjavik. You will get the chance to see volcanoes, waterfalls, and hot springs. From your own driver to a scenic soak, this is a relaxing tour through the Landmannalauger region.
Book Here: Viator.com
Kerlingarfjoll Highlands Day Tour in a 4X4 from Akureyri
An informative guide will lead this tour through the Kerlingarfjoll highlands as you admire rhyolite mountains and geothermal areas. This is a small-group tour so you are guaranteed a personalized experience.
Book Here: Viator.com
Snowmobile Adventure on Langjokull Glacier from Gullfoss
If you want to see the Iceland highlands in winter, then book a snowmobiling tour to Langjokull Glacier. This is the second-largest glacier in Iceland and is a sight to see covered in an expanse of snow. Transportation and the gear you need is provided.
Book Here: Viator.com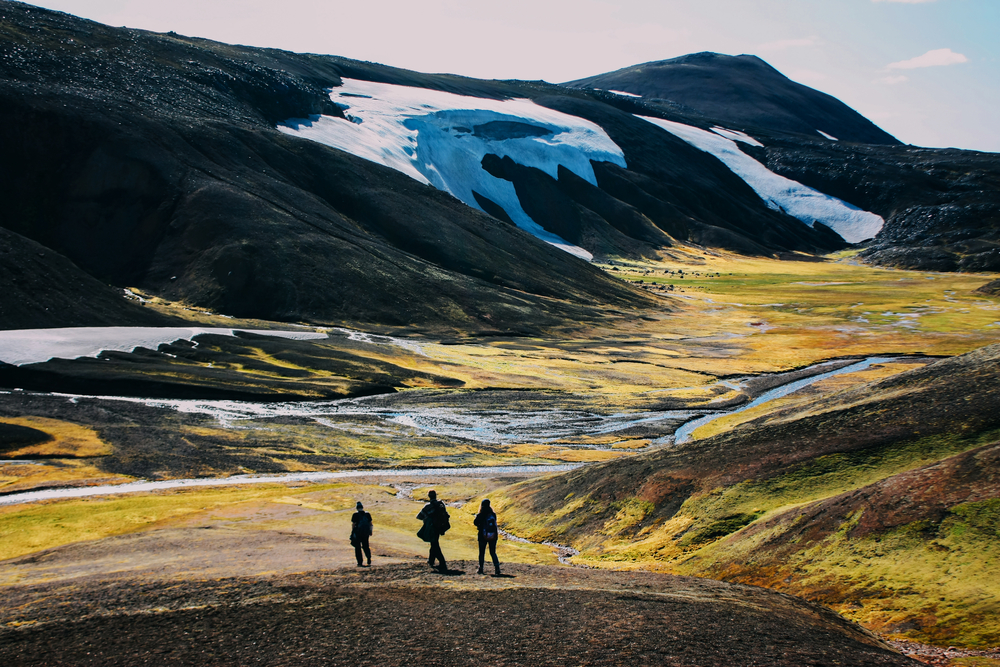 Best Things to do in the Highlands in Iceland
Aldeyjarfoss
Aldeyjarfoss is a gorgeous waterfall on the Skjalfandafljot River. This 65-foot waterfall is popular among photographers and kayakers. It was once the site of the longest free fall in a kayak, though many people are injured trying to replicate this.
For photographers, it is a beautiful place for photos for a few reasons. The falls are encircled by basalt columns and the water tumbles into a large pool, creating a classicly epic Iceland scene.
From Godafoss Waterfall, it is about a forty-five-minute drive to Aldeyjarfoss. You have to walk only ten minutes from the parking lot to the viewpoint where you can see the waterfall in all its glory.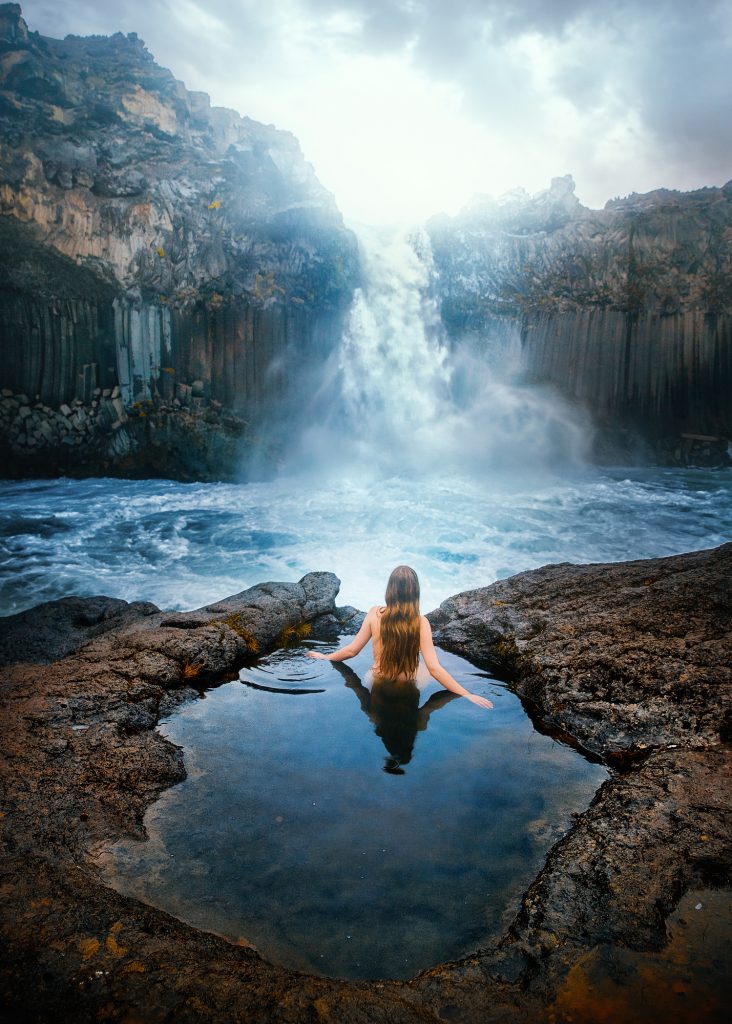 Langjokull Glacier
Langjokull is the "Long Glacier" found in the highlands of Iceland. At 361 square miles, this is the second-largest glacier in Iceland.
The best and safest way to explore this natural wonder is by booking a tour. Hiking, snowmobiling, and riding in a super Jeep are all great ways to experience Langjokull.
If you visit in winter, then you have the opportunity to go inside natural ice caves which have fantastic colors and formations. You can also experience the largest man-made ice tunnel in the world. It goes 500-meters into the ice.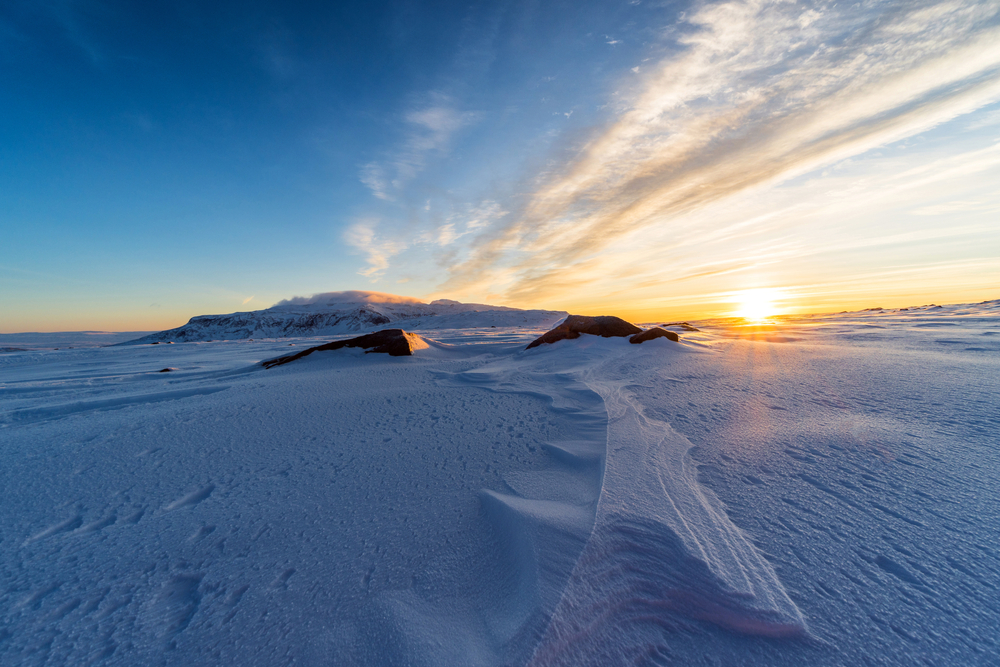 Landmannalaugar
Landmannalaugar is an absolutely gorgeous area in Iceland's highlands known for its stunning colors, scenic hiking trails, and relaxing hot springs.
The rhyolite in the mountains causes the rocks to be a variety of colors from blue to red to yellow. The colors paired with lava fields create a wonderful landscape perfect for hiking.
Landmannalaugar means the "People's Pools" and refers to the many hot springs found here. If you are looking for some off-the-beaten-path hot springs in Iceland, then this is the place to go. You'll be able to relax after tiring hikes.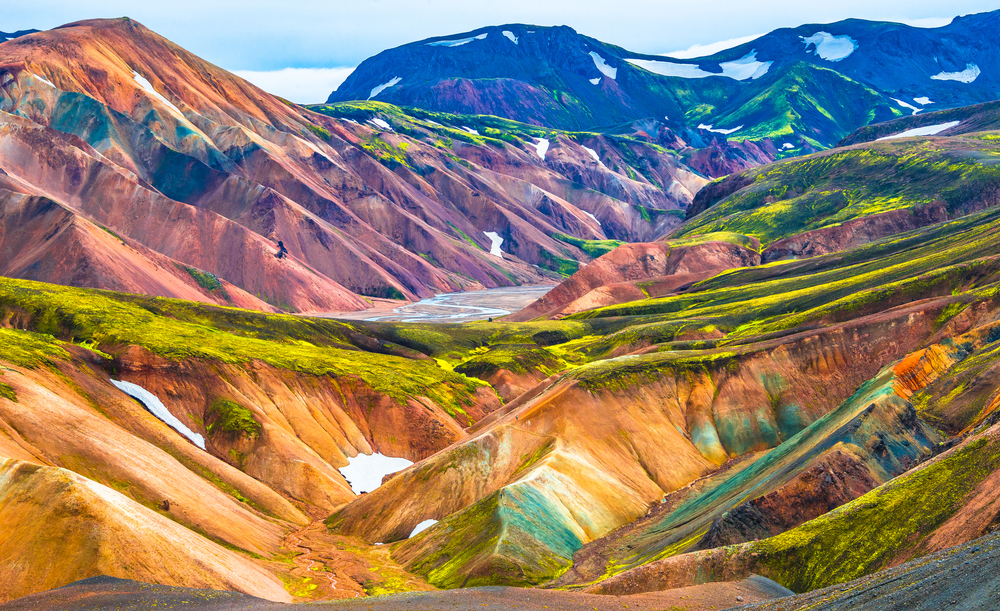 Hnausapollur
Hnausapollur, also known as Blahylur, is a crater with a beautiful blue lake inside. If you have a drone, this is a great place to fly and get epic photos since the vivid blue stands out starkly against the rest of the landscape.
You can drive right up to the edge of the crater so this is an easy and fast activity to add to your Iceland highlands itinerary. Interestingly, there are fish in the lake and some people like to climb down to catch some.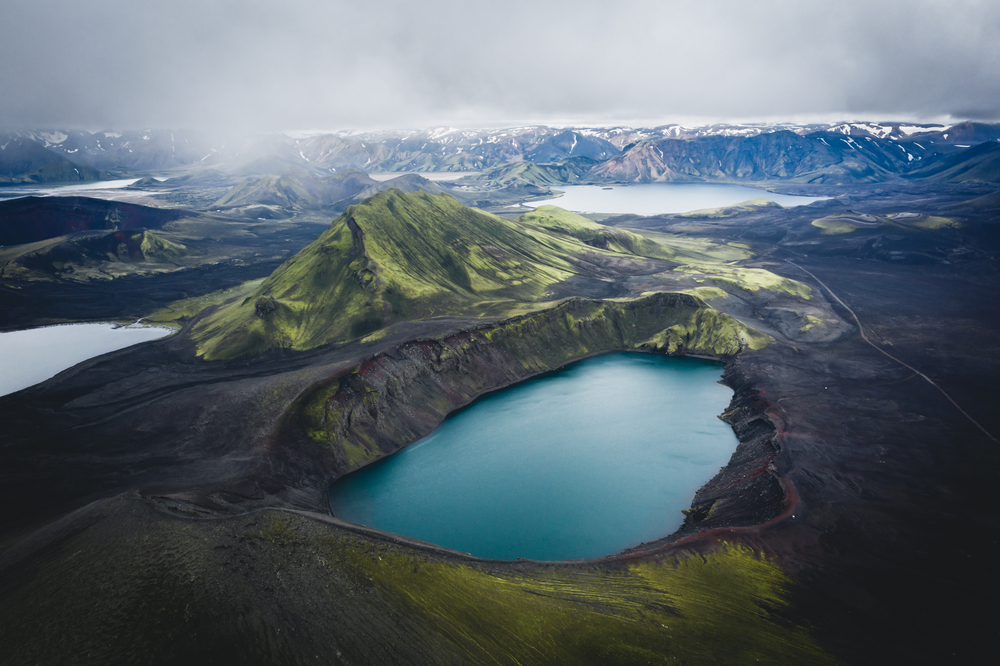 Sigoldugljufur
Known as the Valley of Tears because of all the waterfalls, Sigoldugljufur is a must-see place in Iceland. Walking along the cliff of this epic canyon will make you feel as if you have stepped into a high fantasy novel.
This is a great place for photography since its hidden gem status keeps the crowds low. You will be taken aback by the beauty of the bright blue, glacial water and the many waterfalls running down the cliffside.
Sigoldugljufur is only accessible in the summer, so plan accordingly. There is also a short hike over uneven ground to make it to the canyon.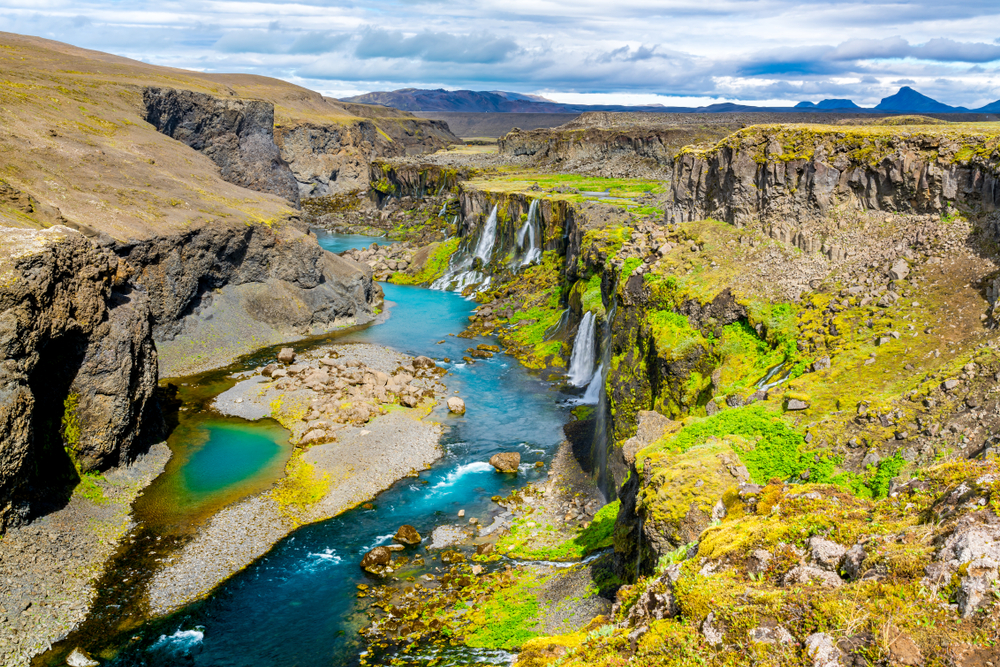 Lakagigar
Lakagigar is a series of craters that were formed by eruptions in the 1780s. This was one of the biggest and most damaging eruptions in written history and is known as the "Fires of the River Skafta."
This is an important event in Icelandic history since it caused the Haze Famine and lead to a quarter of the country's population dying. Visit this area to see how much nature can affect human life.
There are 130 craters stretching over a seventeen-mile fissure. The land is covered in lava fields and moss creating a dynamic landscape. You can visit on your own in the summer or join a super Jeep tour in the winter.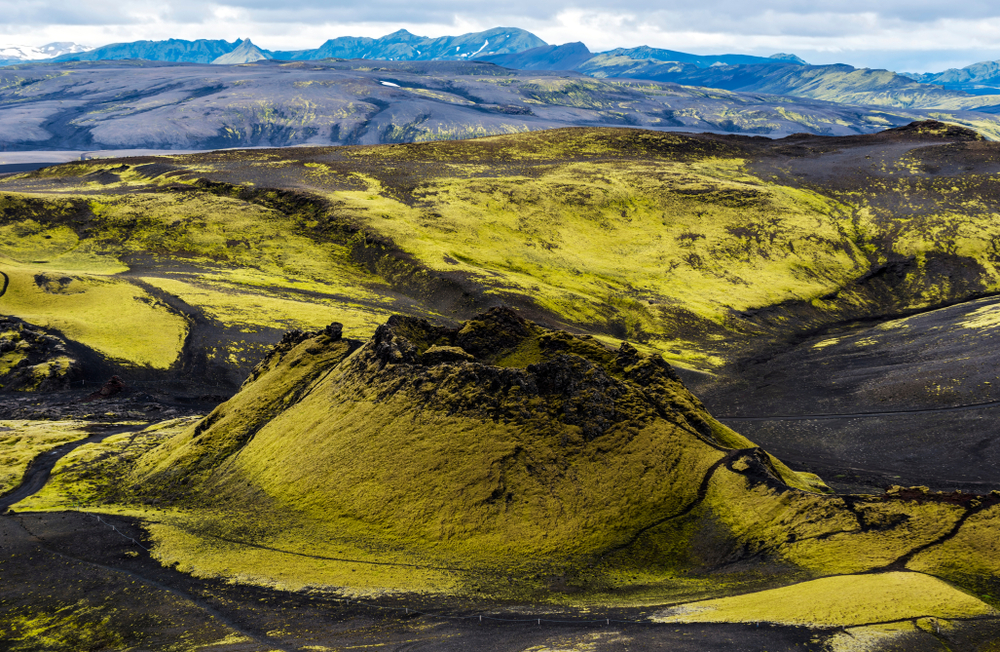 Laugavallalaug Hot Springs
Along with being one of the best hot springs in Iceland, Laugavallalaug is also one of the country's best hidden gems. Found in the eastern highlands is beautiful and scenic, natural thermal pool is worth the visit.
Because of its location, not many travelers come to this hot spring, but their loss is your gain! You will have a memorable and peaceful soak here. The hot spring is only a few minute's walk from a nearby campsite.
The water is usually around a toasty 100 degrees Fahrenheit. Small waterfalls flowing into the pool from the stream above add to the magic.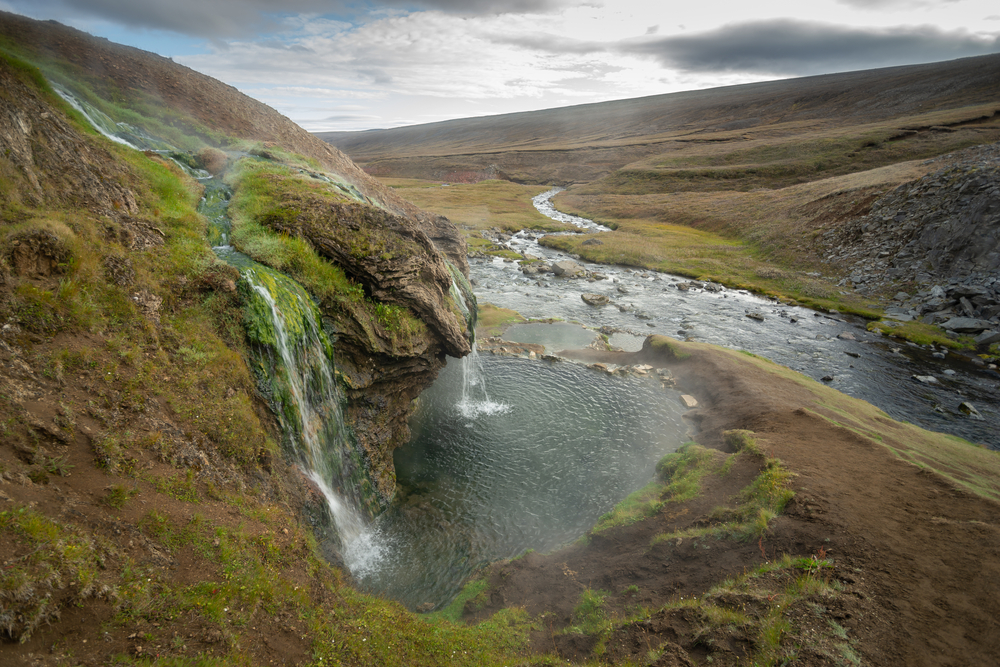 Thorsmork
Thorsmork is the "Valley of Thor," a beautiful nature reserve in the southern highlands. This region of the country is made up of rivers and mountains. This area also has a warmer and wetter climate than much of Iceland, which creates a lush and green landscape.
Hiking is the best way to experience Thorsmork. There are a ton of trails that will lead you along mountain ridges and down into valleys. There are trails of varying lengths and difficulties, so there is something for all levels of hikers.
It is only possible to visit Thorsmork in the summer and driving here can be tough. If you do not want to drive yourself, there is a mountain bus that leaves from Reykjavik.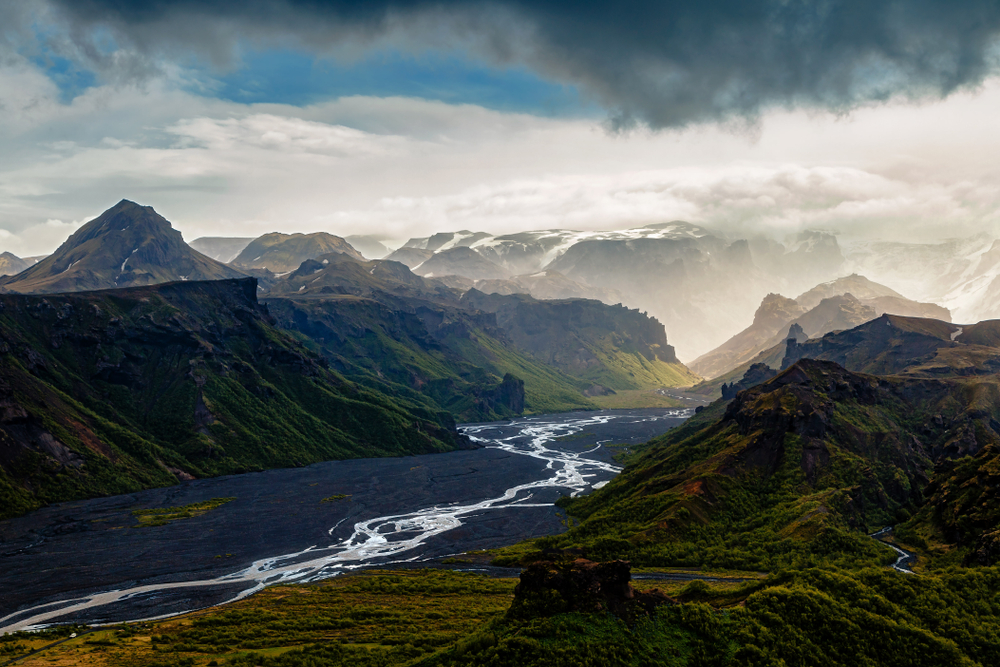 Maelifell Volcano
There are a ton of volcanoes in the highlands of Iceland, so you should definitely visit some while you are there. Maelifell stands out like a 2600-foot green thumbs above the black sand and rivers that surround it.
Interestingly, there are a few mountains in Iceland named Maelifell because it means "Measuring Hill," and Icelanders once used them to navigate.
You can only hike at Maelifell during the summer when the mountainside becomes green. You will fall in love with the views from this volcano. It is so striking that it has even been featured in movies and the TV show Game of Thrones.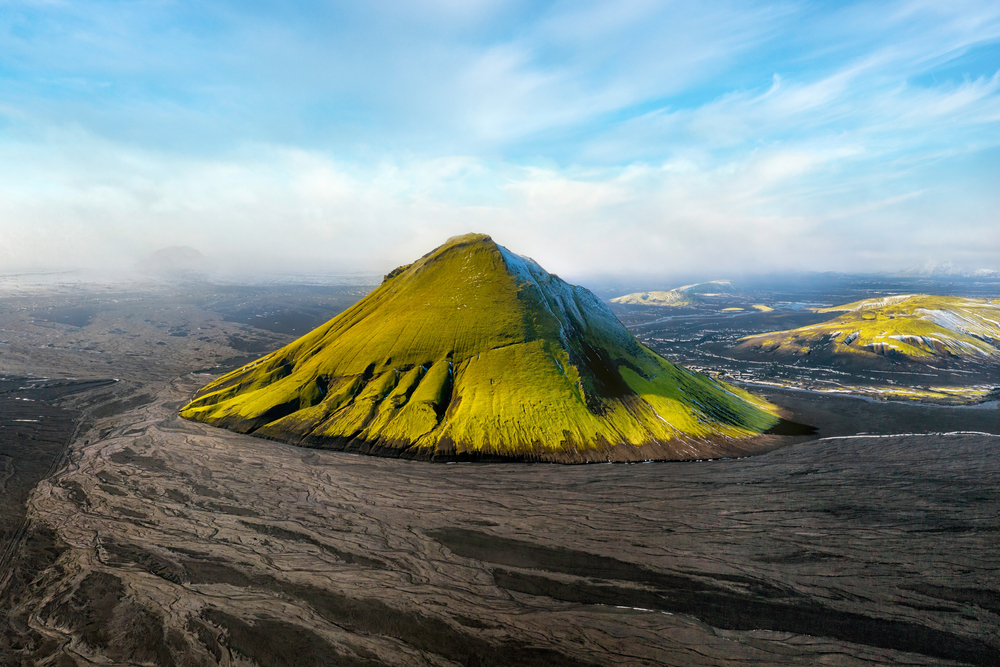 Kerlingarfjoll
Kerlingarfjoll in the central highlands is a beautiful mountain range that holds the geothermal area Hveradalir. The colorful mountains are often covered in steam, creating a magical landscape waiting to be explored.
If you come to these mountains in the summer, you will have a great time hiking and taking gorgeous photos. In winter, this is a great place to go snowmobiling.
Hveradalir means "Valley of Hot Springs" so you definitely want to check this area out if you want a calming soak away from tourist crowds. Stay at the Kerlingarfjöll Mountain Resort or the campsite nearby for one of the coolest Iceland accommodations.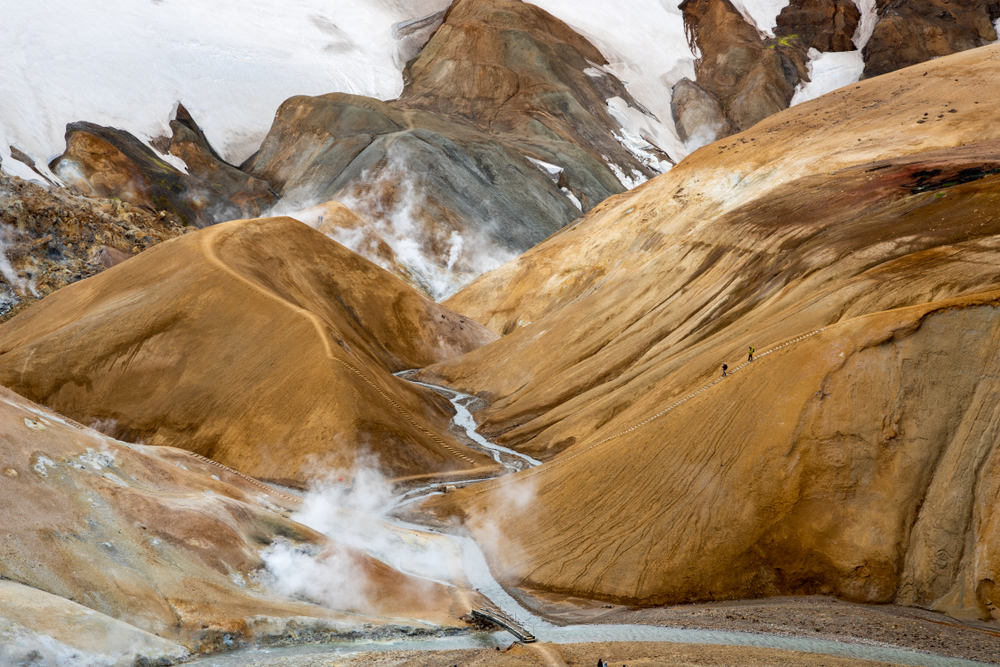 Fagrifoss
Fagrifoss Waterfall is one of the best things to do in the highlands in Iceland. This waterfall is known for the segmented way it falls over the cliff into the Geirlandsa River.
At about 262 feet and nestled among rugged cliffs, this waterfall can only be described as epic. Getting to this awesome spot is a little tricky. Of course, you do have to drive an f-road plus it does have river crossings. Once you park, it is a short walk to the viewing platform.
Askja
Askja is a caldera, or volcanic crater, in the central highlands. This volcano last erupted in 1961, but it is still active and occasionally rumbles.
The crater is home to Oskjuvatn Lake. This is one of the biggest and deepest lakes in Iceland with a surface area of four square miles and a depth of 722 feet.
Near the lake is Viti, another volcano crater. This one has a geothermal pool inside that is almost 200 feet deep. It can get up to 72 degrees Fahrenheit, and it is possible to swim in the bright, blue water.
To visit the Askja area, you have to drive through rivers and even in the summer, there is sometimes snow. From the trailhead, the hike is about forty-five minutes each way.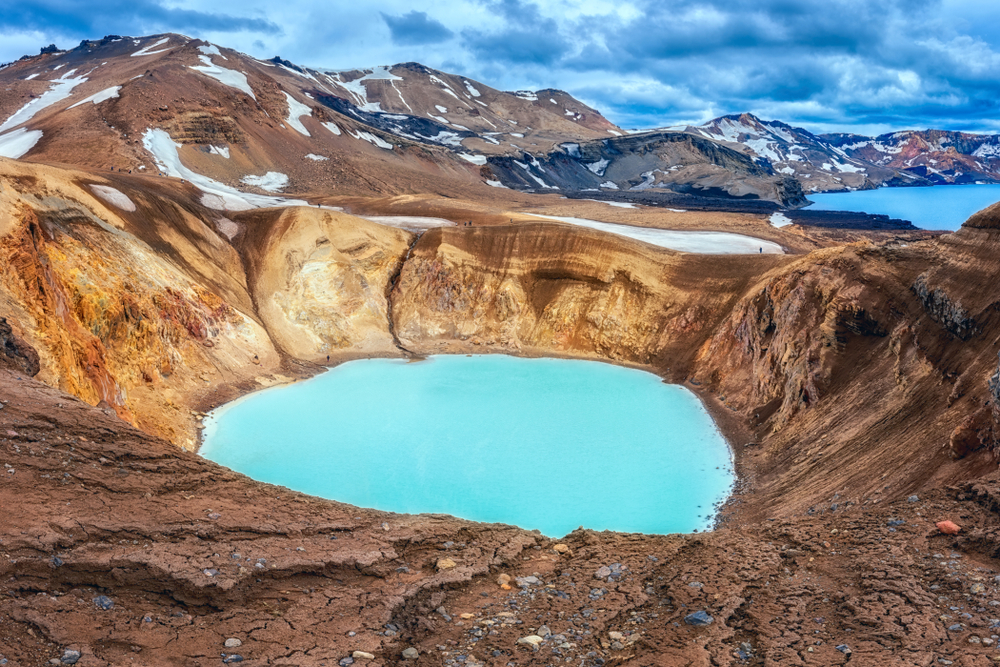 Tips For Visiting The Highlands In Iceland
Be Prepared to Drive the F-roads With 4×4 Cars
When you visit the highlands in Iceland, you must be ready to drive the rocky and uneven f-roads in a 4×4 vehicle. These mountainous roads are not for the weak of heart, but if you are confident and safe, you will be fine.
Do NOT try to traverse the highlands without a 4×4 because you will get stuck. Needing to be rescued might not be as bad as paying the damage fees for your rental car.
Make sure to check for road closures ahead of time.
Cross Rivers With Caution or Hire an Experienced Guide
Some of the f-roads involve crossing rivers since there are few bridges. This can be a daunting experience, but it is a fun thrill, too. Safety is the key to a good river crossing.
When you make it to a river, you must check the depth and look for any boulders. If the water is higher than your knees, it is time to turn back. As long as it is not too deep, you can move ahead but go slowly.
If you do not want to risk paying for water damage or are not ready to conquer a river, then head into the highlands with a guided tour.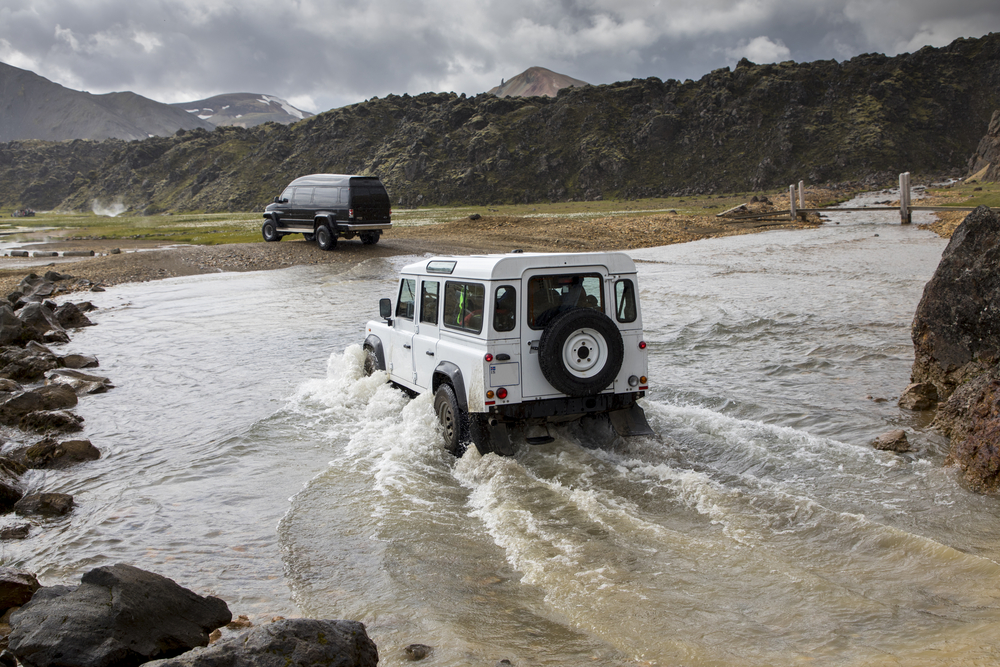 Fill Your Gas Tank Before Going to the Highlands
You have to fill your gas tank before heading into the highlands of Iceland. There are only a few gas stations on the very edge of the region. Fill up when you can or risk running out of gas.
Always Have Enough Food and Water When Hiking
It is important you bring plenty of food and water when you hike in the highlands. Staying hydrated is a huge safety tip. Even though it is cold, and you might not feel as thirsty, you need to drink water!
Eating protein-rich foods will keep you energized as you burn calories hiking the mountainous area. Like with gas, make sure you stock up on provisions before heading into the highlands.
Wear Proper Clothing for the Elements
Like the rest of Iceland, the weather can be harsh and unpredictable in the highlands so you must wear proper clothing to combat this. It usually does not reach 50 degrees Fahrenheit and is often very windy. At night, it gets down to below zero.
To protect yourself from the cold, wear layers. Bring a scarf, gloves, and a hat to avoid frostbite. You will also want good hiking boots with a lot of traction.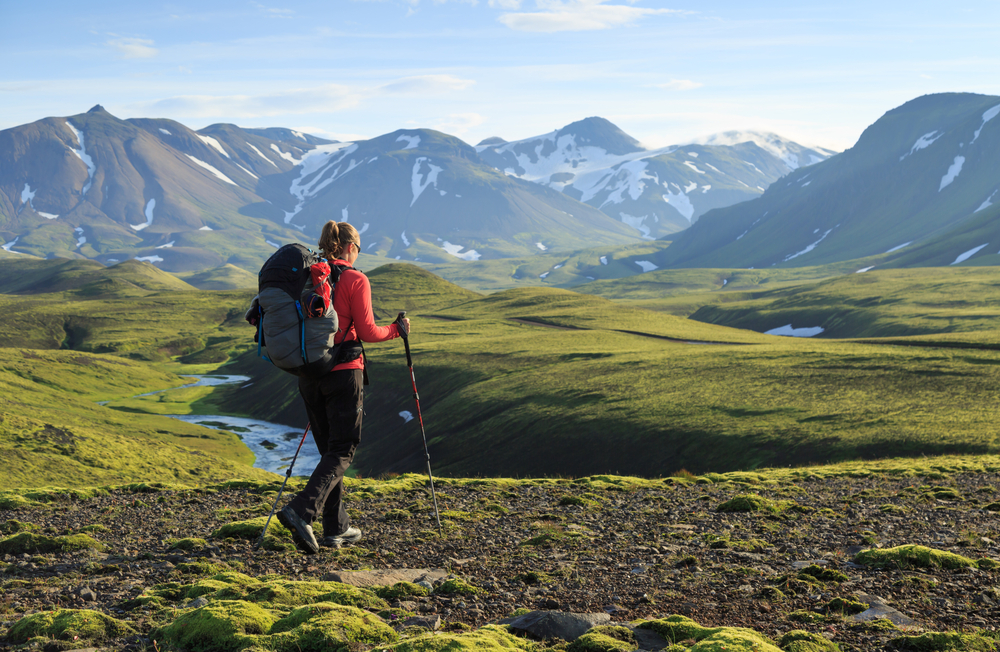 Do not sleep on the highlands of Iceland! You need to add this epic and dynamic region of the country to your Iceland itinerary. This is the best place to escape tourist crowds and see some of the most beautiful, untouched landscapes in the world.