If you are planning to drive in Iceland, you are going to be paying one of the many gas stations in Iceland a visit! While everyone loves to talk about how insanely high the gas price in Iceland is, people rarely talk about Iceland gas stations.
Gas stations in Iceland do operate a bit differently than people may be used to, especially if you are from the USA, which is why we put together this helpful guide so you know what to expect before you are freezing in an Icelandic windstorm confused about what to do!
The first and most important rule of getting gas in Iceland is to remember that if you are at half a tank and are passing a gas station, to pull over and fill up! We always preach this and didn't listen to our own advice on our last trip and were really sorry and had to cut the day short to go get gas so we wouldn't be stranded! Get gas in Iceland early and often!
All things considered, pumping gas in Iceland is pretty straightforward once you know what to expect. From the number of gas stations in Iceland to what kind of money to use, this article will prepare you for your upcoming trip to Iceland!
Get a FREE printable "Hidden Gems In Iceland" E-book by joining our private Iceland Facebook Group and share your photos and ask for tips and tricks.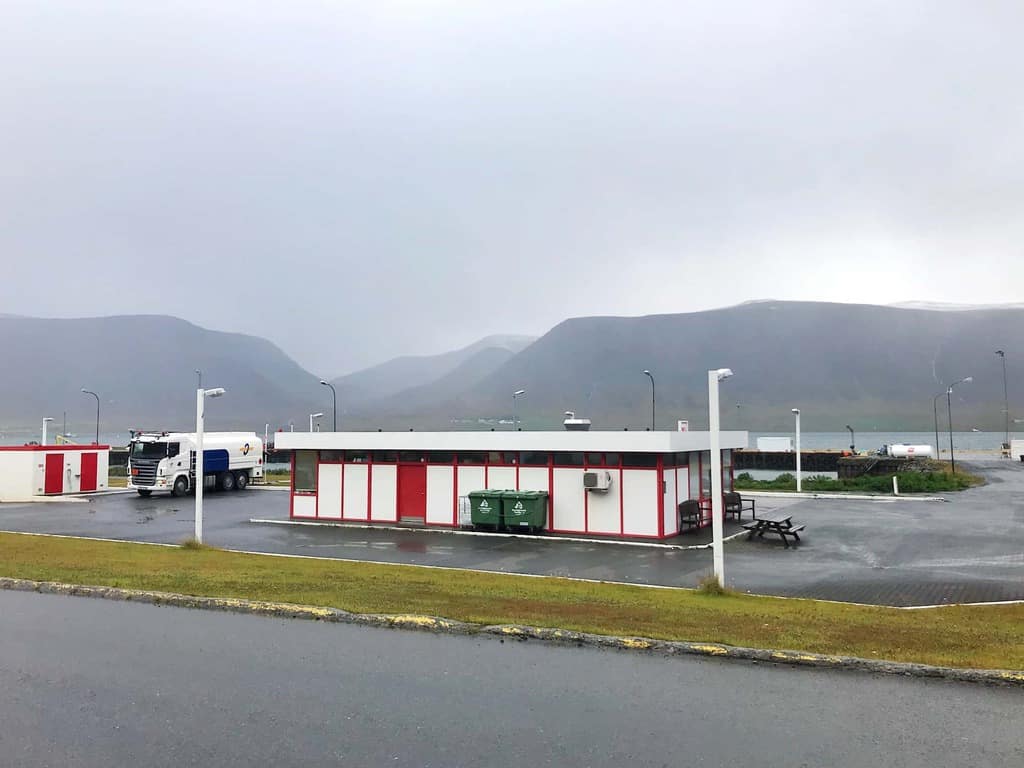 5 Things To Know About Gas Stations In Iceland
#1. You Will Need A Card With A Pin In Order To Pump Gas In Iceland
We made this mistake on our first trip to Iceland and want to save you the trouble when you visit an Iceland petrol station. Gas stations in Iceland require you to have a card with a pin number. Most credit cards do not automatically come with a pin number, only your zip code, and you will be declined.
This can be very frustrating if you don't know about the pin number rule, as you may try to pump gas in Iceland multiple times without ever knowing why your card is being declined. If you take that same credit card into the actual Iceland gas station to an employee, they can use it to ring you up at the cash register with no problems.
That being said, if the convenience store is closed and everyone has gone home, you are out of luck and won't be able to get gas in Iceland. Save yourself this trouble by simply bringing a debit or bank card which already comes with a pin! Your debit card will work like a charm in any Iceland gas station and will save you the trouble and hassle of getting your credit card declined.
Remember that the zip code you put in for your credit card is not considered a pin number when visiting gas stations in Iceland and you must have an actual pin. We have heard you can call your credit card company and request a pin number, but we don't recommend chancing it! Bring a debit/bank card for getting gas in Iceland and you should be good to go.
If you are driving in Iceland, you are going to want sure you have a card with a pin if you are making many stops around the Ring Road!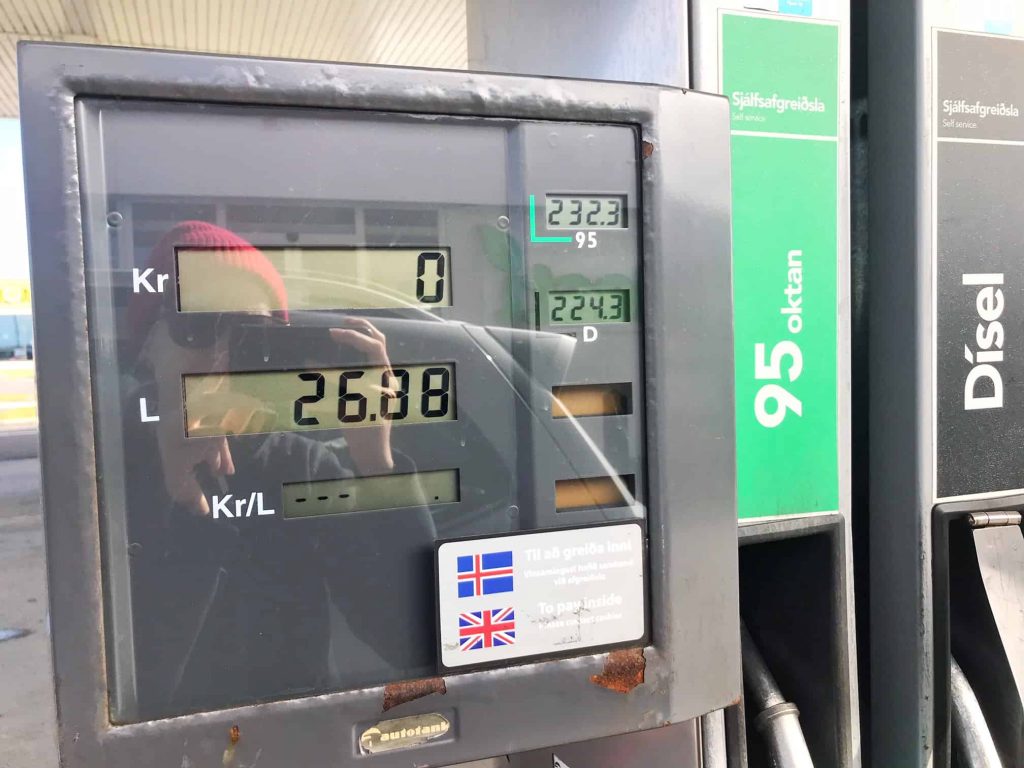 #2. Many Gas Stations In Iceland Are Self-Serve Where You Pump Your Own Gas
As a Floridian, self-serve gas stations are totally normal to us! But in some countries around the world and states in the USA, you do not pump your own gas, a gas station employee does it for you! Some people have never pumped their own gas before so if this is you and you are heading to Iceland, get ready for your first experience pumping gas at an Iceland gas station.
During all of our travels to Iceland, we have only ever experienced one full-service gas station in Iceland where there was an employee to pump the gas for us. This Iceland gas station was located on the main highway near Reykjavik and was an Olis brand station with lots of trucks.
If you are driving anywhere out of the Reykjavik area, the gas stations in Iceland are usually a lot more minimalistic and are certainly not full-service. If you are wondering how to fill gas in Iceland, it is pretty simple! You simply pay with your debit card [or card with a pin] and then tell the machine which pump is yours. Open the fuel tank in your vehicle and pull the lever and begin filling.
Diesel pumps have a black handle while regular gas pumps have a green handle. We decided that the fact that gas stations in Iceland are self-serve is necessary to add to this list as many people around the world aren't used to doing it themselves and we want to let you know exactly how to pump gas in Iceland.
Make sure to check out our itineraries for 3 days in Iceland, 4 days in Iceland, and 5 days in Iceland as well as our suggestions on Where To Stay In Iceland!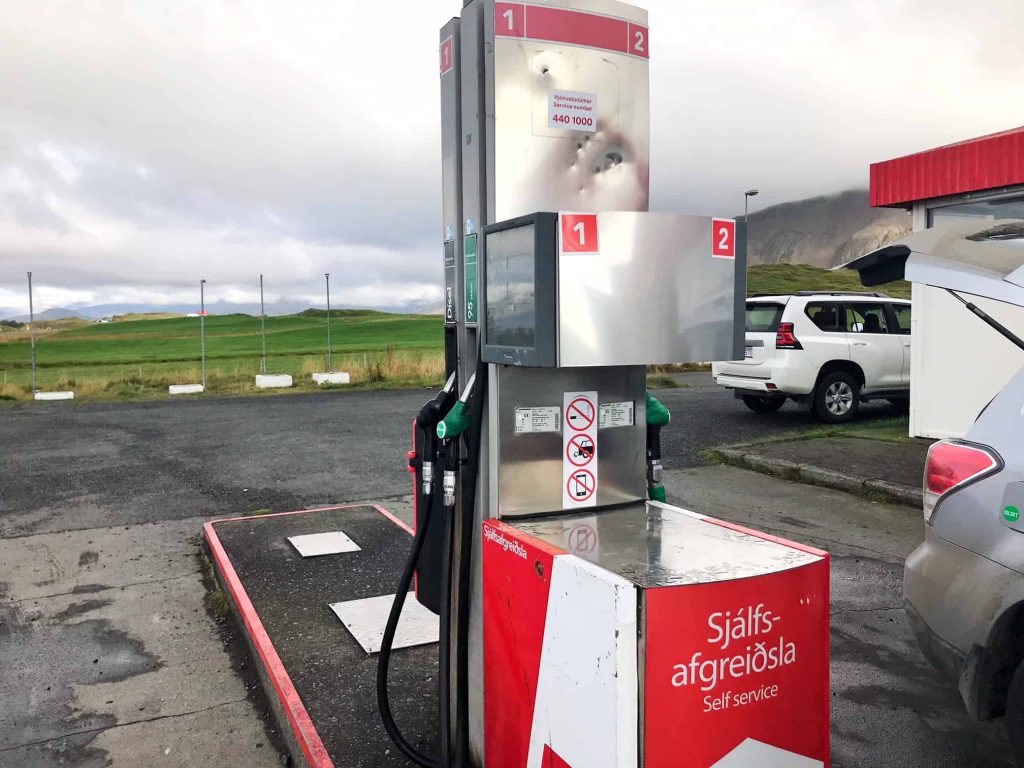 #3. Iceland Gas Stations Offer Fresh Food And Groceries
Iceland gas station food is totally a thing and tourists rave about Icelandic hot dogs. While we always recommend visiting the grocery stores in Iceland to save money on your trip, if you want to grab a bite to eat during your road trip, gas stations in Iceland come to the rescue!
The vast majority of gas stations in Iceland offer some sort of food option and some even offer a full-service sit-down restaurant! The offerings are mainly Icelandic soup, burgers, and hot dogs as well as coffee and a pastry of some sort.
Iceland gas stations also double as small grocery and hardware stores. You are able to find things to grab like cups of noodles, pasta sauce, drinks, snacks, and more. If you are looking for toilet paper or hardware such as fishing gear or something for your vehicle, chances are the Iceland gas station will have that too.
While all gas stations in Iceland are not created equal and some are larger than others, you can be pretty sure you will always find a bite of fresh food and a small grocery section along your journey.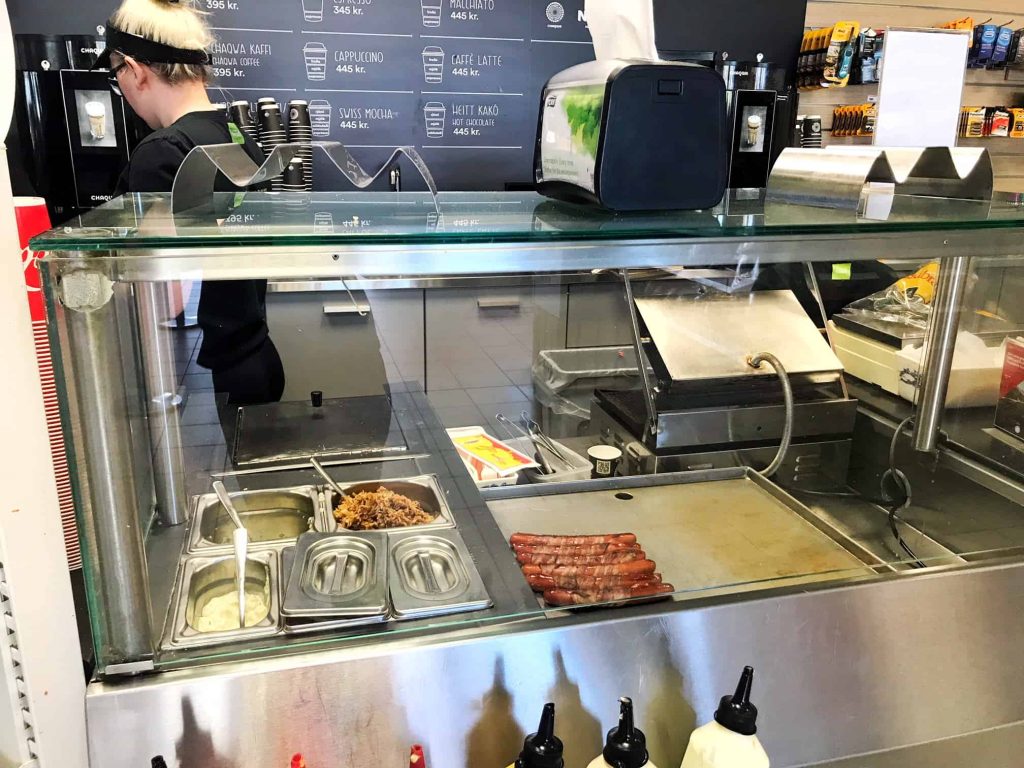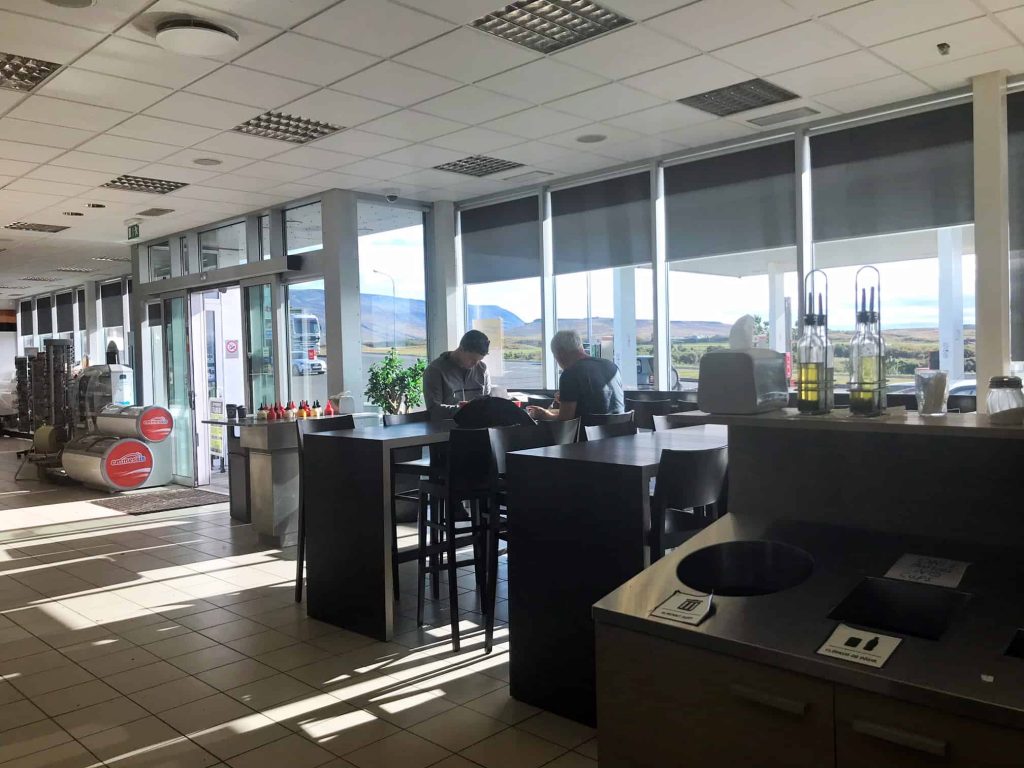 #4. Yes, Gas Prices In Iceland Really Are Extremely High
You have probably heard that the gas prices in Iceland are really high and we are here to tell you that the cost of gas in Iceland really is no myth!
Due to the strength of the kroner against other money in the world and the fact that Iceland is an island in the middle of nowhere, gas prices in Iceland are astronomical. When visiting gas stations in Iceland, you can expect to pay between $8-$10 USD per gallon of gas [as of Sept 2018].
It cost us between $90-$100 or roughly 10,000 Icelandic Kroner to fill up the tank of our 4×4 Subaru. On past trips, we have also rented economy 2×2 cars and the gas mileage was a bit better but we still racked up about $70-$80 per tank!
When planning for your trip to Iceland, make sure to budget for the gas prices in Iceland and set money aside to fill up your tank, depending on your itinerary.
We find that the best strategy going into the trip is to mentally prepare yourself and know that the gasoline price in Iceland will be much higher than you are used to and come to terms that there is nothing you can do about it while you are there!
Don't fret or stress over the gas prices in Iceland until you get home and have to pay your card, but leave room in the budget for the cost!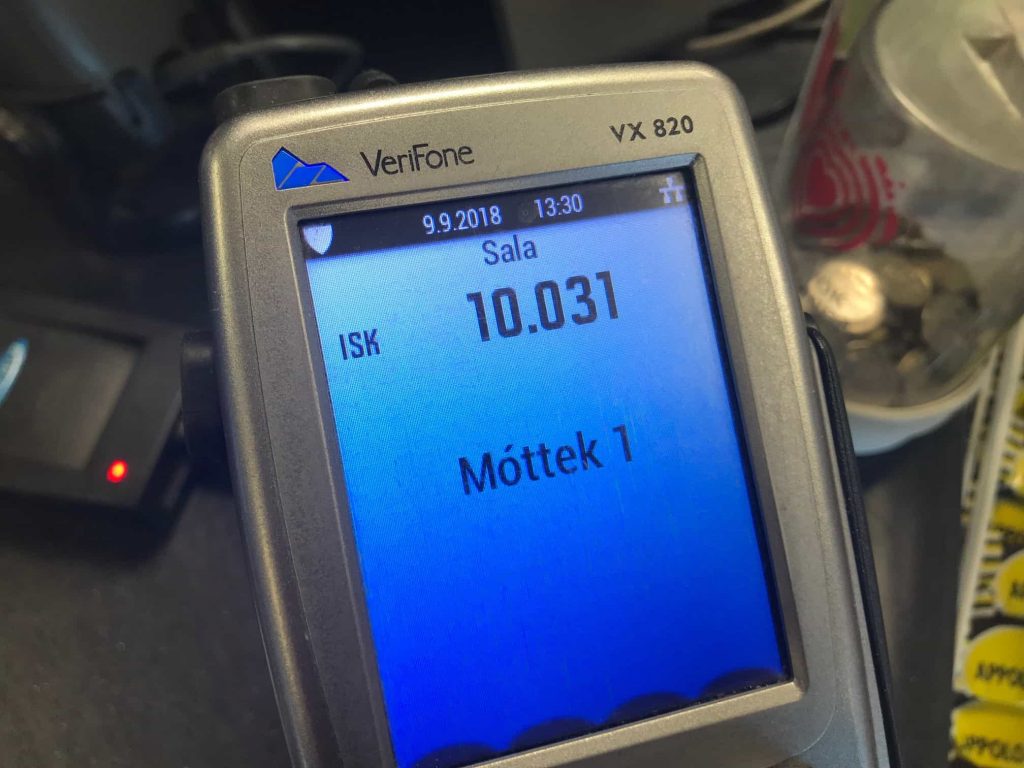 #5. Many Gas Stations In Iceland Offer Free Self-Service Car Wash Stations
When driving in Iceland, there is a pretty high chance your car is going to get dirty. If you even drive once on a dirt road or if you are driving in the dirty snow, your car will be covered in grime. Enter the FREE self-service car wash stations found at many Iceland gas stations!
As Americans, nothing is free and car washes certainly aren't free! We were shocked to find that many gas stations in Iceland offer a self-serve car wash station complete with brushes and hoses where you can wash off your nasty car for free!
This is such a wonderful thing to offer, especially considering the high cost of everything in Iceland. If you rent a 4×4 and are driving on F-roads or any dirt roads, your car will be filthy and you may not even be able to see out of the windows after the mud and dirt dry on and harden.
Once you are finished driving on a dirt road, we highly recommend stopping by one of the gas stations in Iceland with a free car wash station and giving your car a bath. Not all Iceland gas stations have car washes, so if you come across one that does, take a break and clean your vehicle!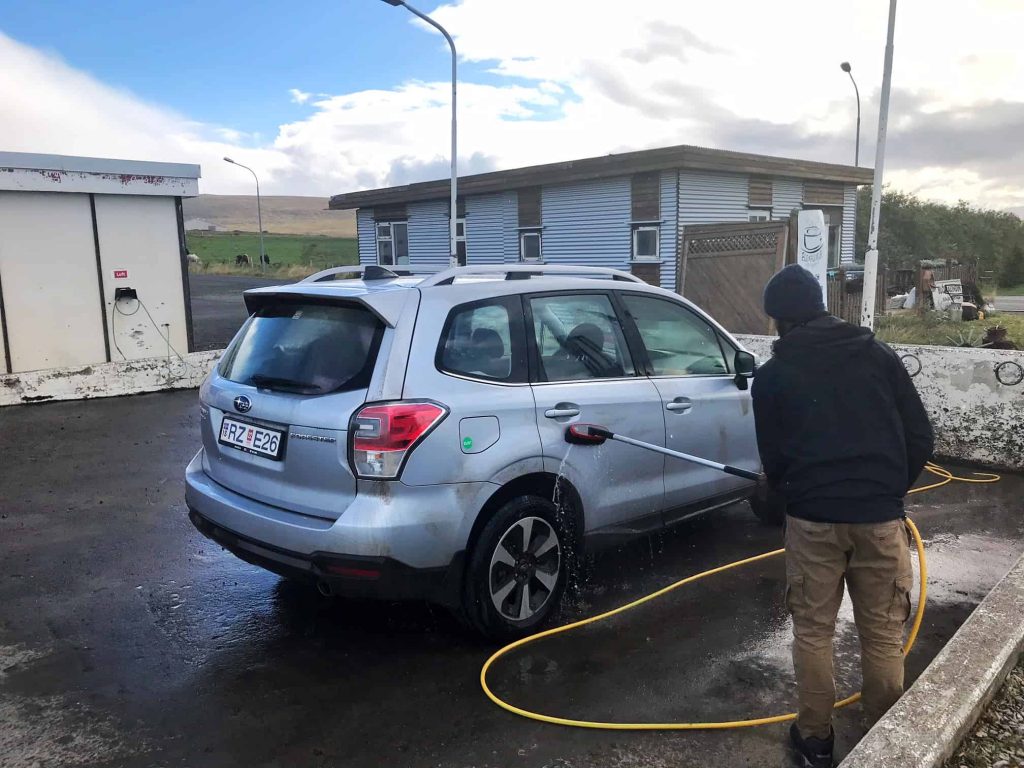 Gas Station Brands In Iceland
During your time in Iceland, you will come across many different brands of Iceland gas stations. There are a variety of companies that provide gas to Icelanders and tourists but some are more popular than others!
N1 Gas Stations In Iceland
N1 is one of the most popular types of Iceland gas station brands. You will find N1 gas stations in Iceland everywhere from big cities to super rural areas. N1 Iceland gas stations are often found in far-flung towns and villages and you can pump gas 24/7, although the gas station store will not always be open. Make sure you have a card with a pin on it as you may visit an N1 gas station in Iceland after hours and you want to be prepared.
Olis Gas Stations In Iceland
After driving the entire Ring Road and the Westfjords, it is safe to say that Olis gas stations are probably the second most popular gas station brand in Iceland.
Olis also has a sister brand named OB but they are from the same company. While N1 Iceland gas stations appear to be more locally owned and operated as a franchise, Olis gas stations in Iceland are a bit larger and more commercial. Many Olis gas stations in Iceland also offer free wifi and discounts with their card.
Orkan Gas Stations In Iceland
Orkan has 56 automatic Iceland gas stations all around the country. The Orkan gas stations are open 24/7 because you pay at the pump, but again, don't expect the store to always be open. Make sure you are prepared with a pin so you can pay at the pump on demand! You can even download the Orkan app to show you if there is one of these gas stations in Iceland near you!
Costco Gas In Iceland
Costco is relatively new to Iceland but offers the best gas prices by far. Gas prices in Iceland are the cheapest when you fill up at Costco [same as here in the USA!] The downside is that you have to be a Costco member in order to use their gas [we are here in the USA and our membership translates to Iceland too!].
There is also only one Costco in Iceland and it is in the Reykjavik area. Nonetheless, if you are looking for great gas prices in Iceland, Costco has your back when you are in the metropolitan area!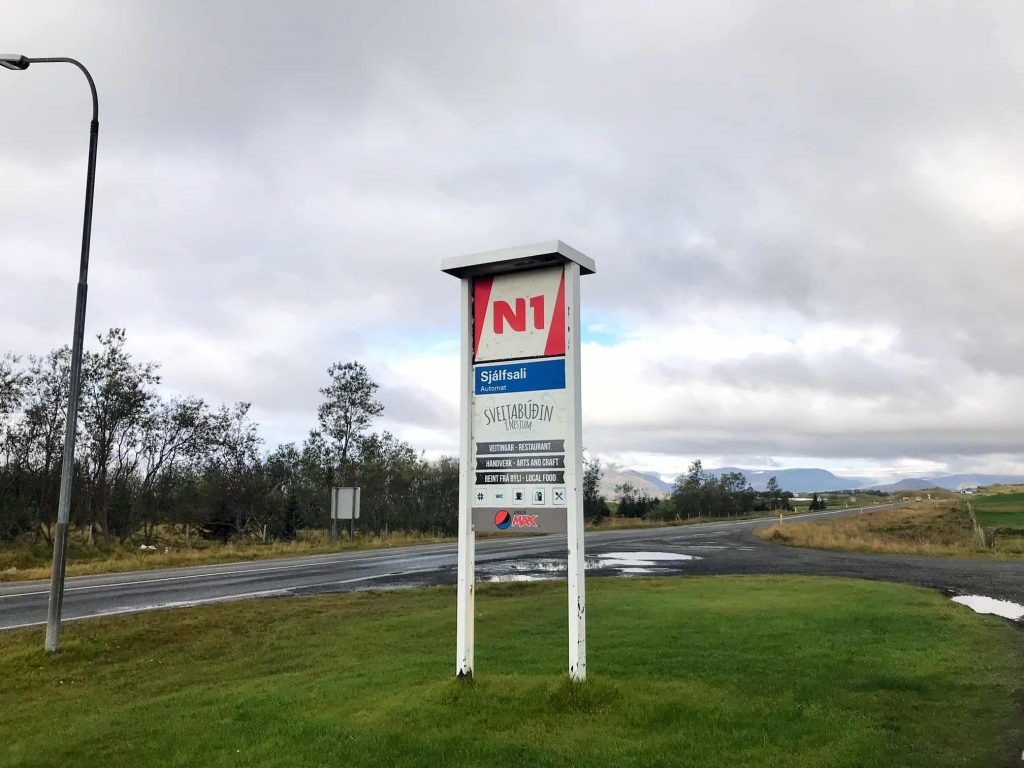 Map Of Gas Stations In Iceland

Some of you are more visual which is why we created this handy Iceland gas stations map! Feel free to screenshot this image or visit the active Google Map where you can simply click on the Iceland gas station you want to visit and the navigation will pop up! Don't forget to fill up early and often when driving in Iceland! This map of gas stations in Iceland will give you an idea of where they are located around the country so you can plan ahead.
Map Of Gas Stations In Iceland