If you are thinking about booking an Iceland glacier tour, then you are in for a real treat! Seeing glaciers in Iceland is one of the best parts about traveling to the country.
The landscapes are incredible and will take your breath away. Even if you live somewhere like Alaska or Western Canada and are in close proximity to glaciers, there is still something unique about being so close to the ones in Iceland!
There are many Iceland glacier tour options to choose from and not every tour is one-size-fits-all! When you are planning your trip to Iceland, it is important to consider all of the different glacier tours in Iceland that are out there and then choose the best type for you and your group.
Whether you want to walk on, climb, or even go into a glacier, there is a tour option that is perfect for you!
Get a FREE printable "Hidden Gems In Iceland" E-book by joining our private Iceland Facebook Group and share your photos and ask for tips and tricks.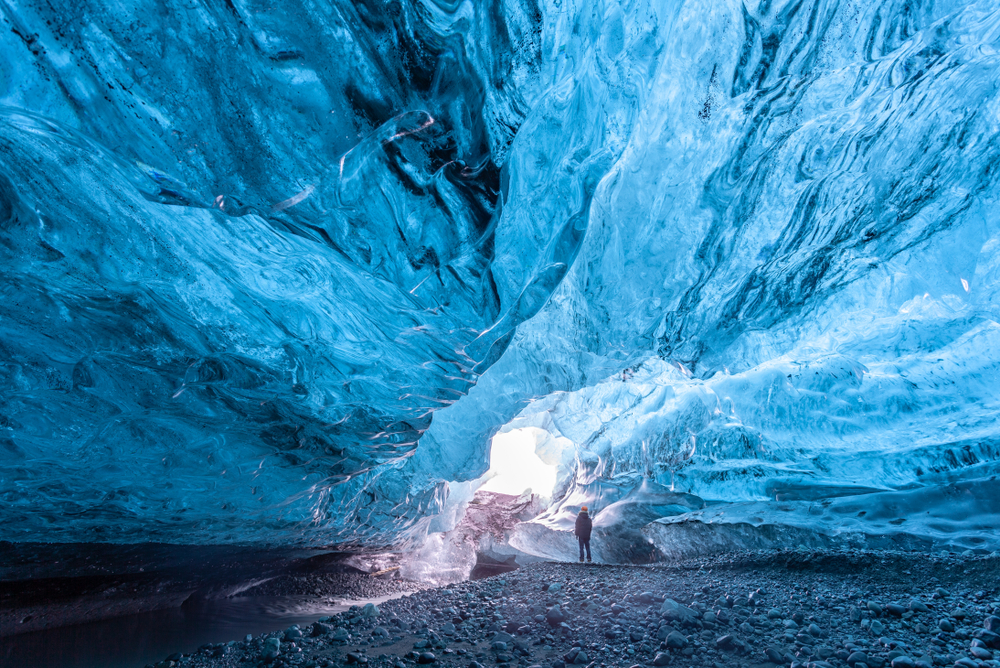 10 Epic Iceland Glacier Tours Worth Your Money
#1. Crystal Ice Cave Tour In Iceland (3 Hours)
Ice cave tours in Iceland are one of the most popular types of glacier tours and that is not surprising! Going in a crystal ice cave in Iceland is a mindblowing experience and will meet and exceed your every expectation! Don't forget to check out our list of the best Ice caves in Iceland!
Ice cave tours only happen in Iceland during certain times of the year, so if you have your heart set on one of these Iceland glacier tours, make sure to book your trip during the winter.
If the crystal cave hasn't been frozen solid for a certain period of time, the tours are not run for the safety of all. You wouldn't want the ice cave to collapse while you are on the tour so it is better to be safe than sorry!
When choosing your ice cave tour in Iceland, be sure to look at exactly which glacier you are going to go explore. This way, you won't book a tour at a glacier that is four hours away when you could have booked a similar ice cave tour right down the street from where you are staying!
Book Here: Vatnajökull Glacier Blue Ice Cave Tour (3 Hours)
Get Your Tickets Here: Crystal Ice Cave Tour from Jökulsárlón Glacier Lagoon (3 Hours)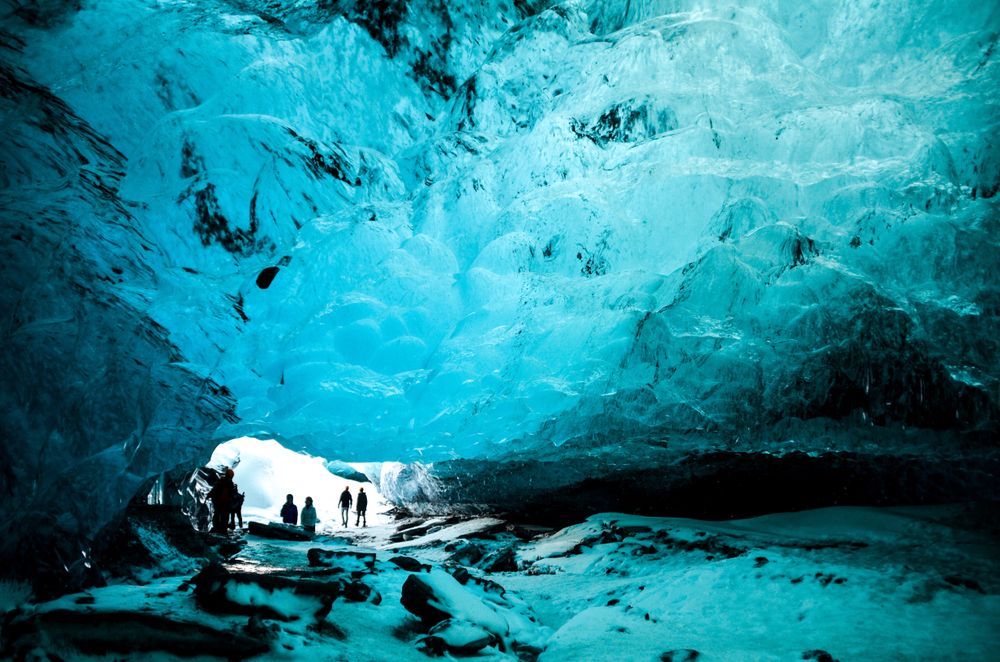 #2. Snowmobiling On A Glacier Full-Day Tour From Reykjavik (8-12 Hours)
If you are looking for a fun and unique Iceland glacier tour, why not ride a snowmobile on top of a glacier? This is fun for the whole family, but kids particularly love this snowmobile tour from Reykjavik.
Pretty much every snowmobile tour in Iceland begins and ends in Reykjavik which makes it easy to book and enjoy. That being said, there are a few snowmobile tours like this one that just includes the snowmobiling where you will have to drive and meet your group.
If you want to choose to snowmobile as your Iceland glacier tour, make sure that you pack very warm clothing as you will be exposed to the elements! Although they do give you warmer clothes when you take a snowmobiling tour in Iceland, you will want to dress in your own warm layers as well.
Most Iceland glacier tours that provide snowmobiling also include an entire day of fun! That is why these tours are usually 8-12 hours in length. While snowmobiling on a glacier is a huge part of this tour, it isn't the only part.
You can be prepared to see waterfalls, lava fields, and geysers on top of snowmobiling, depending on which Iceland glacier tour package you choose!
Book here: Golden Circle, Super Truck and Snowmobiling Small Group Tour (10 Hours)
Reserve Tickets Now: Golden Circle and Snowmobiling from Reykjavik (9 Hours)
Pick This If You Want A Shorter Tour: Snowmobiling on Eyjafjallajökull (2 Hours)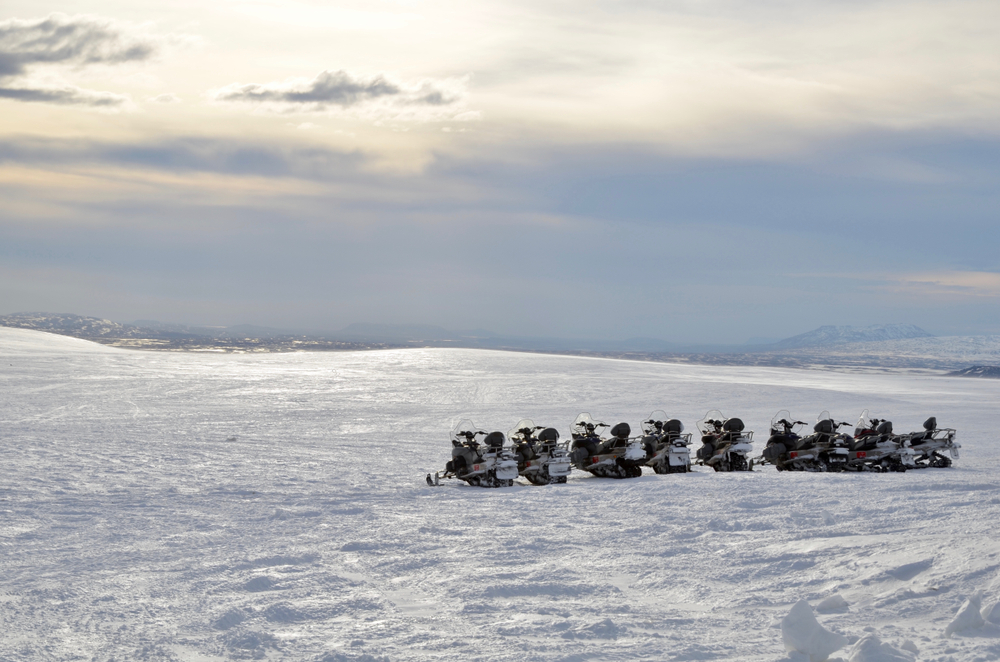 #3. Subterranean Church And Tunnels Iceland Glacier Tour (3-10 Hours)
This is one of the more unique Iceland glacier tours on this list. Unlike the first option where you will see some crystal blue ice caves on the surface of the glacier, this exciting Iceland glacier tour takes you inside the actual glacier itself! You will head to west Iceland to Langjokull Glacier and part of many tours will include seeing hot springs and beautiful Icelandic wilderness.
Once you have arrived, you will descend down 1600 feet into the glacier to visit the worlds largest man-made ice tunnel.
Once you are literally inside the glacier and deep under the surface of the ice, you will get to explore the blue and white tunnels and you will be completely surrounded by thick ice. If you aren't good in tight spaces, this may not be the right Iceland glacier tour choice for you!
The coolest part of this Iceland glacier tour is that there is an actual church hidden away below the ice and you get to see it on this tour. It is one of the best places to see on your Iceland Itinerary!
The chapel can be rented out for actual weddings and there are even little benches for guests to sit on with little blankets for them to use during your big day. Even if you aren't getting married, seeing this church buried deep below the ice is a highlight of this Iceland glacier tour.
Book Here: Into the Glacier and Fjords Excursion from Reykjavík (10 Hours)
Reserve Tickets: Langjökull Glacier Ice Cave Classic Tour (3.5 Hours)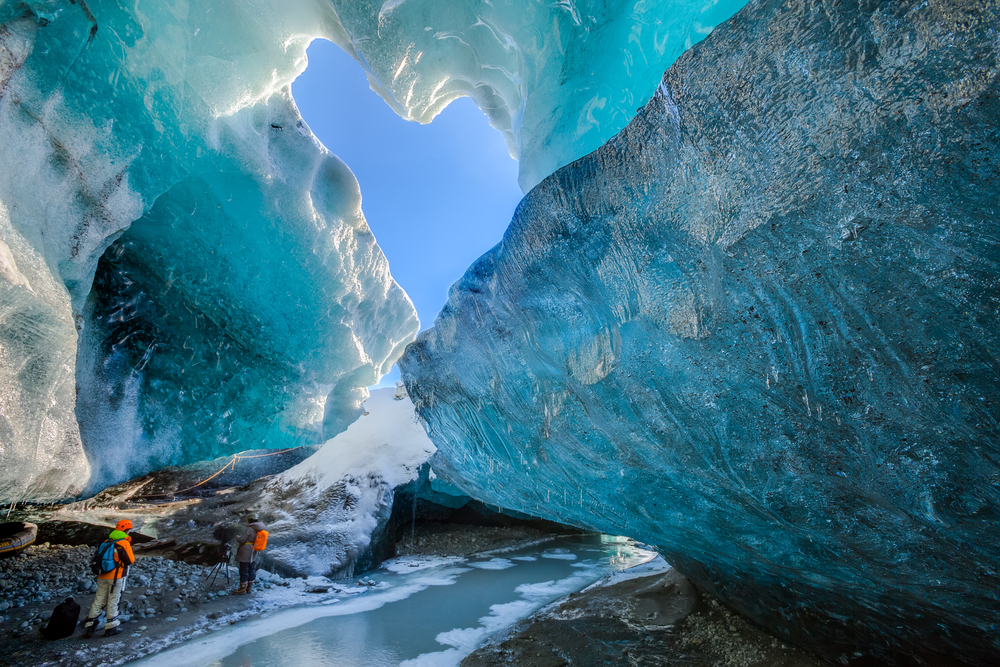 #4. Glacier Ice Climbing Tour (4-5 Hours)
This Iceland glacier tour is Victoria's favorite and you will not be let down by choosing to go ice climbing during your trip. Of course, deciding if this glacier tour is the right one for you is completely up to you and you alone.
Glacier climbing tours in Iceland are meant for newbies [unless you book otherwise] so you don't have to be an ice climbing pro to book them. That being said, you should be in good physical fitness, have decent upper body strength, and a good sense of adventure.
Many glacier climbing tours are family-friendly but be sure to ask if there is a minimum age requirement for your kid. There are multiple glaciers in Iceland, but the most popular tours run in Skaftafell National Park which is home to Europe's largest glacier. If you aren't heading up to east Iceland near the Skaftafell area, don't worry, there are other Ice climbing tour options for you!
Book Here: Skaftafell Ice Climbing (4 Hours)
Reserve Now: Ice Climbing From Reykjavik (10 Hours)
If You Like To Be Alone: Private Ice Climbing at Sólheimajökull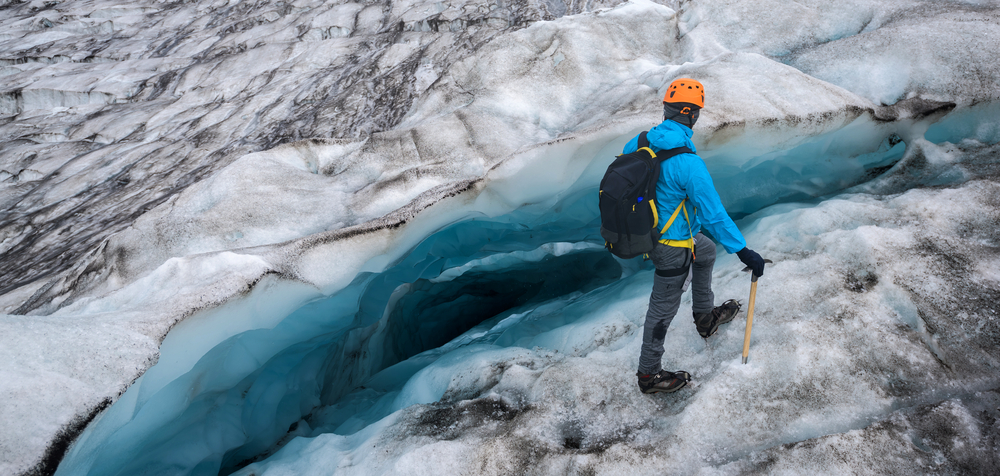 #5. Glacier Hiking And Walking Tour (5-10 Hours)
If you want a more active Iceland glacier tour but don't really want to put on a harness and climb up the side of the ice like the option listed above, why not consider a glacier hike?
Glacier hikes in Iceland are perfect for those looking to get up close with a glacier without doing anything too crazy. If you don't like the word hiking [like us heehee], then there are even options for glacier walking tours!
Glacier walking tours take you on top of one of Iceland's impressive glaciers but you go at a slower and more enjoyable speed. The glacier walks may also be coupled with other beautiful destinations in Iceland so you are getting more bang for your buck.
Glacier hiking in Iceland is a bit more involved than a simple walking tour and may last longer and be slightly more difficult. Either way, both walking and hiking are usually great options for families and larger groups looking for the perfect Iceland glacier tour.
Book Now: Sólheimajökull Glacier Guided Hike
Reserve Now: Full Day Glacier Walking Tour (10 Hours)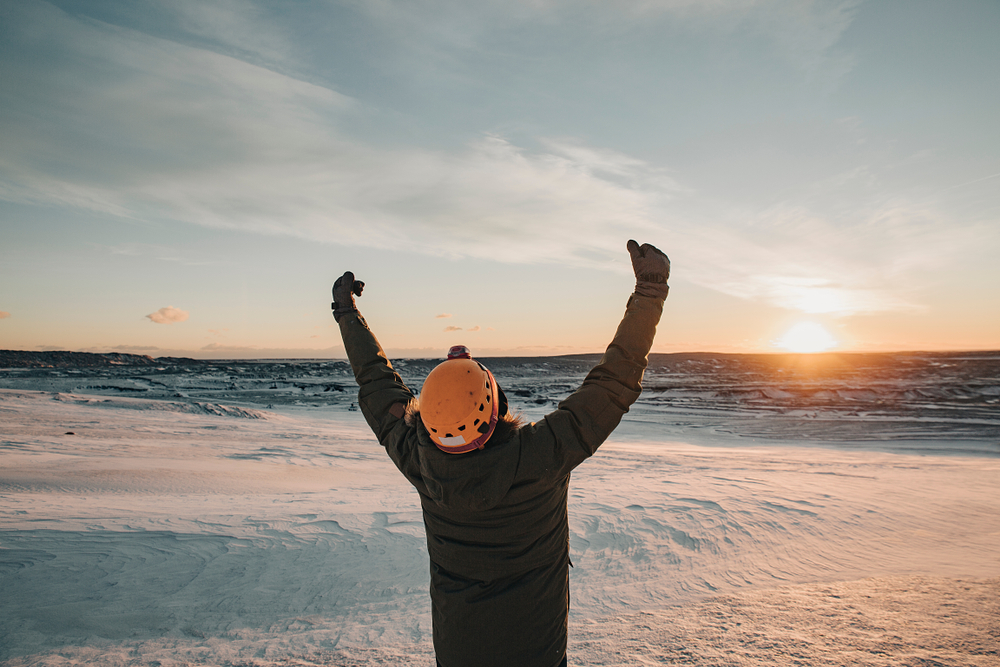 #6 South Coast & Jokulsarlon Glacier Lagoon 2 Day Tour (2 Days)
If you're looking for an Iceland glacier tour that is packed with sights and adventure, you must check out the South Coast tour. Not only is this tour filled to the brim with iconic views such as a glacier's edge, and some waterfalls, but this tour is 2 days in length, making it one of the best overnight Iceland glacier tours around!
On the first day, you'll get to encounter lush farmlands, volcanos, waterfalls, and more before moving to the Jokulsarlon Glacier Lagoon. You'll stay overnight at the Geroi Country Hotel, where you can rest, relax and even marvel at the majestic mountain region close by.
Your second day starts with breakfast and then you will take a locally guided tour to an area near Prong, which is close to the edge of the glacier. This specific tour offers you the opportunity to see a beautiful but lesser travel to place– meaning there are great landscapes, views, and less people and tourist vibes!
On the way back to Reykjavik you will then stop by the Selkalandsfoss waterfall, which is one of the most iconic falls on the South Coast. You can walk up this falls footpath, and then settle back into the bus as the tour returns to Reykjavik around 10 pm.
This long tour is totally worth it, and the glacier lagoon is beautiful– sea water flows into the lagoon as huge blocks of ice break off the glacier. It is a must see!
Book Here: South Coast & Jokulsarlon Glacier Lagoon 2 Day Tour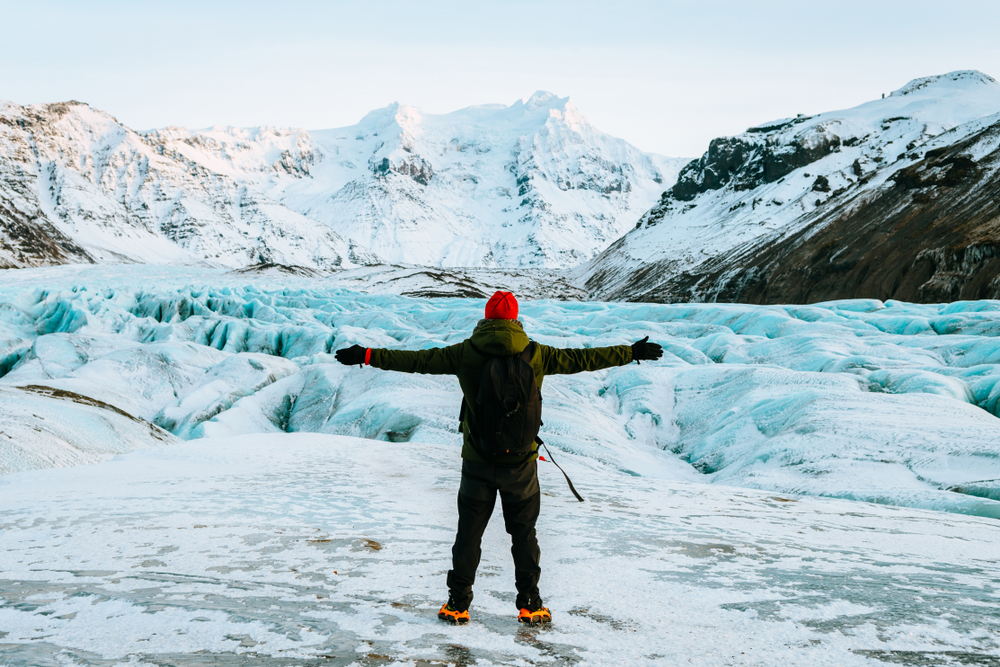 #7 Ice Cave Tour and Glacier Hike (4 Hours)
The Skatefell Ice Cave Tour and Glacier Hike is a life-changing experience. This Iceland glacier tour allows for you to step inside a natural blue ice cave and walk on Vatnajokull, which is Europe's largest glacier in Skaftafell National Park.
Explore the breathtaking ice formations and glacier mills, knowing that this naturally-formed blue cave is of the Earth, and talk with your informed guide to learn how this cave and glaciers were specifically formed.
This same guide will take you to the base of Falljokull, an outlier glacier of the Vatnajokull ice cap, where they will then lead you up to the cave. Just a warning: this glacier is the highest peak of Iceland's tallest moutian range, so be prepared for some heights!
And know that on a clear day, you should be able to see Hvannadalshnukur in the distance– so keep an eye out! This small group experience is life changing, as it is a tour that offers information, a good hike, and spectacular views you won't soon forget.
Book Here: Skaftafell: Ice Cave Tour and Glacier Hike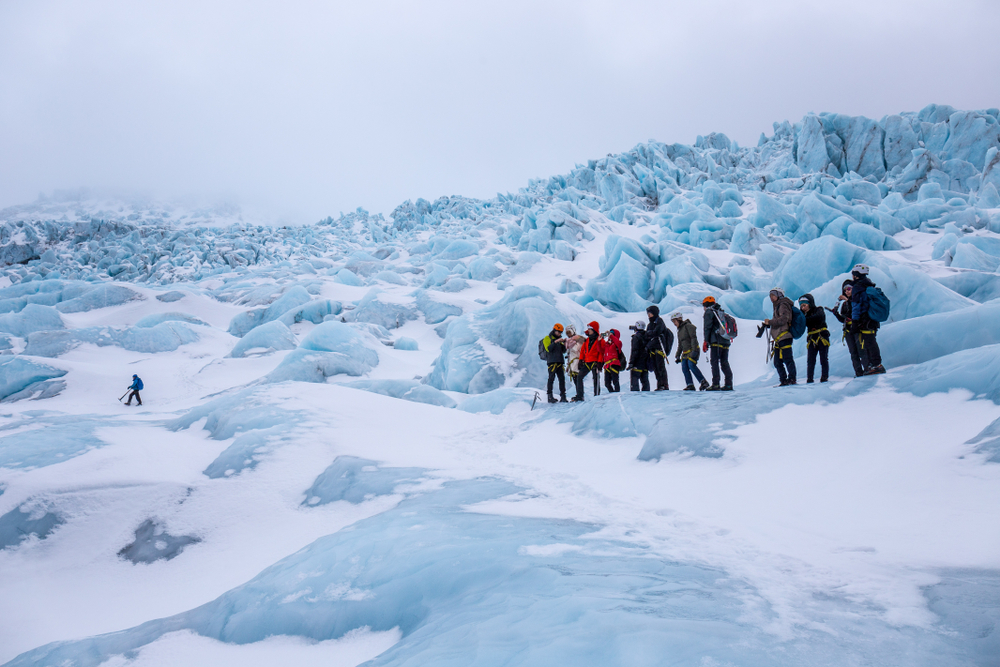 #8 Skalafellsjokull Glacier Super Jeep Tour (4 Hours)
If you are looking for a Iceland glacier tour to expand your horizons, you might want to check out the small group tour that takes you to Skalafellsjokull Glacier in a jeep! This jeep tour takes you beyond the limits of what a typical tourist can see, surpassing road F985, and allows you to witness some of the most breathtaking views of one of the biggest glaciers in Europe.
While driven up the Glacier Valley Sultarungnaigil, this tour is one of the Iceland glacier tours that allows for you to sit back and relax, enjoying the views of a glacier from the top while staying safe in a luxury super jeep.
Since this tour is "off the beaten track," it is a unique experience that allows for you to stay away from crowds AND you get the best Icelandic nature experience. Ascending through the valley, these natural views are iconic and breathtaking. You must not miss it!
Book Now: 4 Hour Small-Group Skalafellsjokull Glacier Super Jeep Tour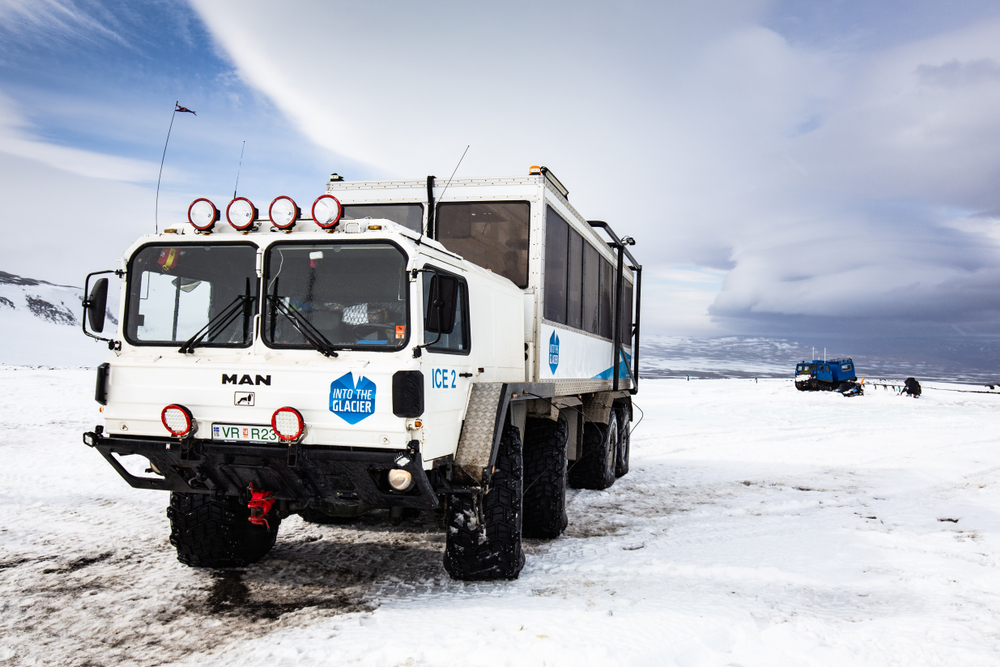 #9 Tour of the Golden Circle, Glacier Lagoon, & Ice Cave (3 days)
Because there are so many glaciers and wonders to witness in Iceland, you may want to consider spending a lot of time (and maybe some money?) on your Iceland glacier tours!
During your first day of this 3-day tour, you will explore the Golden Circle with Thingvellir, Geysir and Gullfoss. From stopping at the UNESCO and Thinvellir National Park, this first day is filled with must-see destinations that are rich with history and geology.
During your second day you get to explore the South Coast with stops at Reynisfjara, Glacier Lagoon and an Ice Cave visit. Between the icebergs and Diamond beach, you'll want to bring a camera for pictures! And during the winter months, you can also see the Northern Lights here too!
On your last day of the trip, day three is all focused on the glaciers. This glacier hiking adventure allows for you to explore one of Vatnajokull's outlet glaciers with the help of a certified guide.
The unique ice formations and crevices and falls are always changing, so each group will experience something new! After your hike, you will be dropped off in Reykjavik, but not before you can conclude your trip with a scenic journey back to the capital. These stops are magical, frozen, and stunning, so you really should consider spending the time to explore them!
Book Here: Iceland 3-Day Tour Golden Circle, Glacier Lagoon, & Ice Cave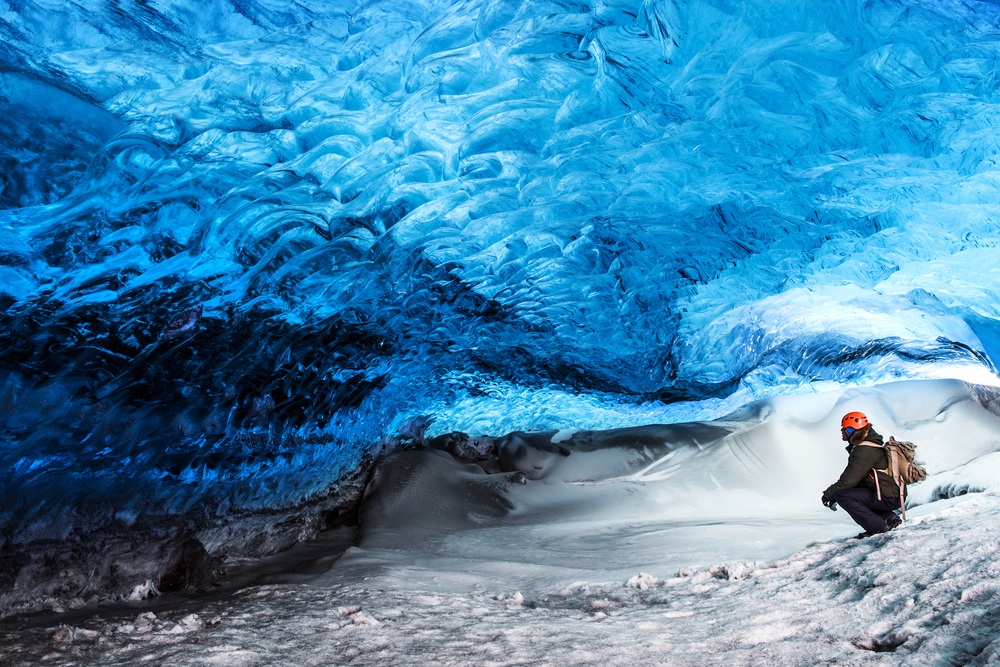 #10 Ice Caving and Glacier Hiking at Vatnajokull (4 Hours)
Vatnajokull is Europe's largest glacier, and many of Iceland's glacier tours offer a fantastic look at this frozen icon, but the ice caving and glacier hiking tours to Vatnajokull is probably one of the best opportunities to visit this phenomenon. In this tour, you have the opportunity to gear up and follow a guide to set foot on the ice of Vatnajokull and trek through the magnificent scenery.
In this opportunity, guests also have a fantastic chance to go inside an ice cave. Ice caves are only accessible during winter when the temperature drops below zero and the water from rivers underneath freeze, leaving space for you to explore.
Each year new caves are formed, so if you take this tour more than once, you will never see the same thing twice! Hiking back over the glacier through this landscape of rugged ice is fantastic. And although we mentioned another ice cave tour at the beginning of this article, no tours are ever the same!
So make sure to consider your options depending on expedition length, guide information, location and more! You don't want to miss the unique experiences they all can offer.
Book Here: Vatnajokull Glacier: Ice Caving and Glacier Hiking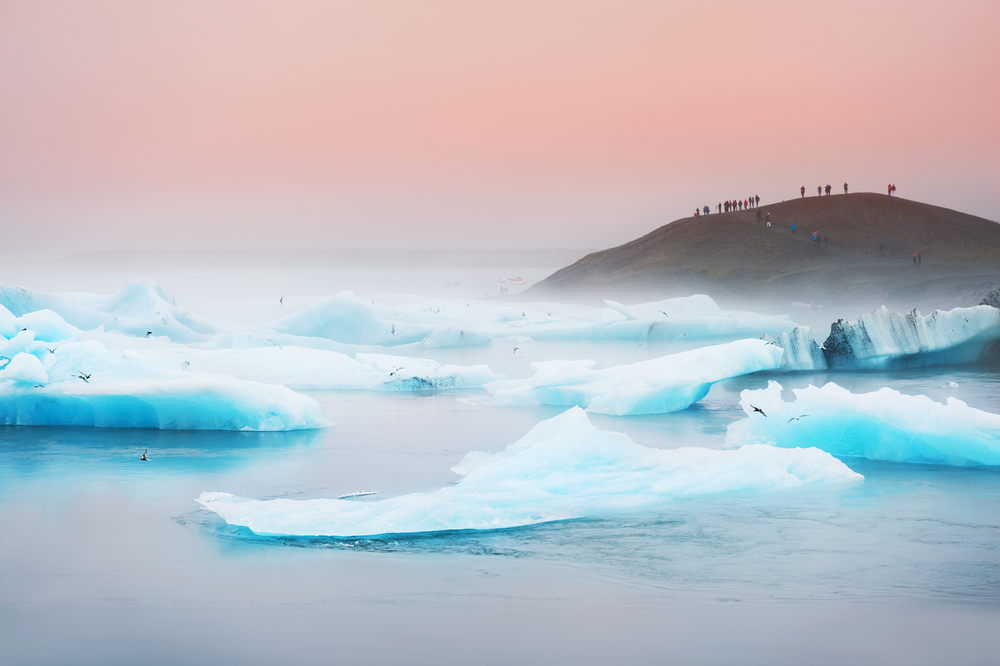 What To Pack For Your Iceland Glacier Tour
When you are taking a glacier tour in Iceland, you are going to want to wear the proper clothing and be prepared. The weather in Iceland is no joke and changes quickly so dressing in warm waterproof clothing is key.
Some tours may provide you with cleats for walking on the ice or a suit for snowmobiling, but that is it. It is up to you to dress correctly for the environment. Proper shoes, hats, gloves, jackets, and pants should be worn at the very minimum.
Recommended clothes to wear on your Iceland glacier tour:
Cold-Certified Waterproof Boots. Boots and shoes that are cold-certified are a must when taking tours in Iceland. If your feet are wet and cold the rest of your body won't have any fun! We recommend these Columbia Heavenly Omni-Heat Mid Calf Boot but proper shoes are so important to use that we wrote this entire post about the best boots to wear in Iceland during both the winter and summer!
Fleece Lined Leggings. Fleece lined leggings are our secret weapon to staying warm in Iceland. When you go on an Iceland glacier tour, you are going to literally be either on top of or inside a giant chunk of ice. Dressing in layers and wearing a fleece-lined base is important if you want to stay warm.
Omi-Heat Winter Jacket. We recommend a great winter jacket no matter what time you visit Iceland. If you are going on a glacier tour, a good winter jacket is even more important. We recommend a jacket with omni-heat technology. This technology reflects your body heat and keeps you even warmer. We like this Columbia Omni-Heat Morning Light II Jacket. Since we know jackets are important, we have this entire post about choosing the right jacket for Iceland!
Waterproof Gloves. Waterproof gloves are so important as you will most likely be touching the sides of the wet ice. Some Iceland glacier tour operators provide you with gloves, but we have found them to all be pretty terrible in quality. If you want to safeguard your hands, it is best to buy some online like these waterproof suede gloves so that you ensure that you have a good quality pair before you arrive.
Balaclava. If you have never heard of a Balaclava, you are in for a real treat! A balaclava is the perfect thing to keep you warm when on an Icelandic glacier. A balaclava is better than a scarf because it still keeps your neck warm without flying away in the wind. This is important because Iceland is so windy and you need to close the gap between your neck and your jacket when on a glacier tour in Iceland.
Granola Bars. Most of these tours in Iceland do not include snacks so that is up to you to bring. If you are going on one of the longer tours of Iceland that are 10-13 hours long, you are going to want to be prepared with food! We love these Quaker Granola Bars and always bring food to Iceland since it is such an expensive country. You can easily buy bars in advance so you can save time and money once you are in Iceland.
Portable Power Bank. When taking glacier tours of Iceland, you will be gone from your hotel for a very long time. You are going to want to have your phone charged so you can document your wonderful experience in Iceland which is why we always recommend taking a portable power bank like this one! These portable chargers are good for multiple charges and will keep your phone ready for photos and calls if necessary.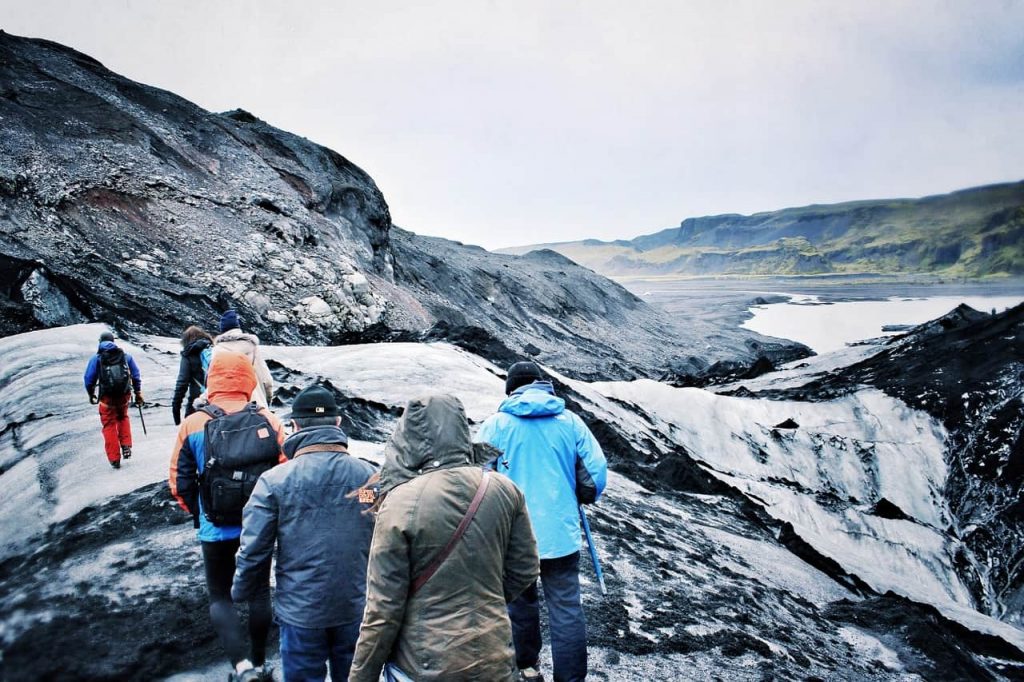 Whether you choose to climb on ice, ride on top of, or go inside, there is an Iceland glacier tour for everyone.
The crystal Ice cave tour is on many people's bucket lists and we can tell you that you will not be disappointed? Have littles or don't want anything too crazy? A glacier walk is perfect for you!
These best glacier tours in Iceland will have you packing your bags and planning your trip! Just don't forget to wear the right clothing and you will be good to go!