Are you looking to visit the best ice caves in Iceland? We have been to Iceland many times throughout the years. We love this beautiful country and the wild lands crafted by fire and ice. Because Iceland is our favorite place to travel to, we know a lot about it. We have found some of the best things to do including the best ice cave tours in Iceland.
As you may guess, ice caves are found within glaciers. What you may not know though is that glaciers are actually formed by fallen snow rather than from frozen water.
Over time, the weight of snow and gravity compresses the snowy layers. In doing so, air is expelled from the snowmaking sheets of smooth ice. The smooth, pure glacier ice is then able to absorb every other color in the spectrum except for blue. In turn, the ice is marbled with a shockingly bright range of blue hues.
We highly recommend taking an ice cave tour to experience the magic within. Stepping inside of an ice cave almost feels like stepping into a dream. The icy hallways are marbled with blue and black. Over years, the icy hallways shape and shift into wondrous sculptures. Above, below, and all around ice becomes a painting all around as you step into a glassy blue cavern. We couldn't keep from our jaws from dropping in wonderment the whole time.
It's no wonder that you want to visit the amazing ice caves in Iceland. And right about now, you probably want to get to the point. Where are the best ice cave tours in Iceland? Let us delay no further. We'll include all of our favorite blue ice caves in Iceland along with the best crystal cave tours too.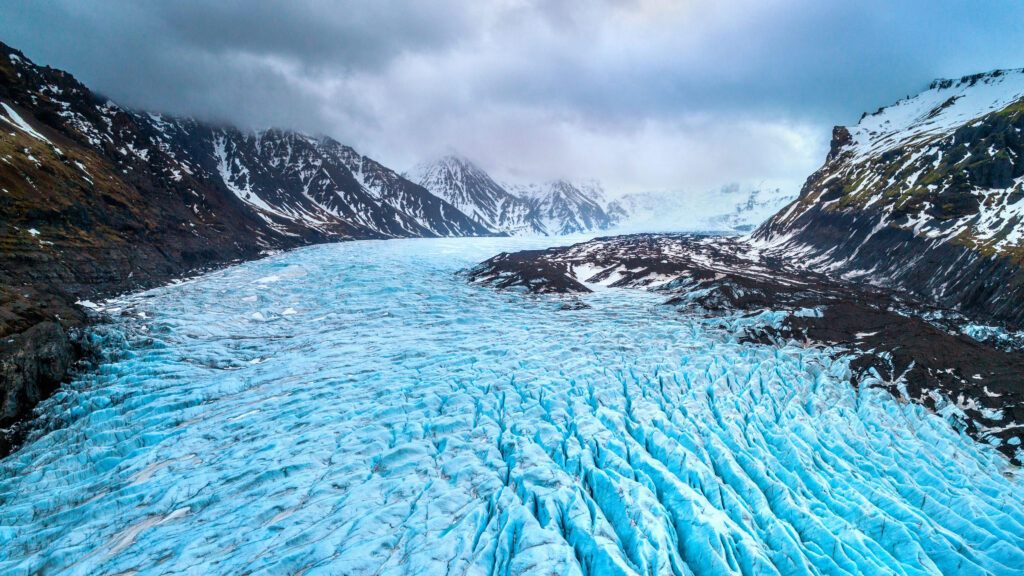 Best Time of Year to Visit Ice Caves in Iceland
Hands down, the best time of year to visit ice caves in Iceland is in the winter. From mid-November until mid-March, the caves in Iceland can be explored with the helpful use of a guide. And trust us, these icy passages are totally worth the effort.
Can you visit Iceland caves in the summer? Nope! There are not any ice cave tours in Iceland during the summer because ultimately, it is not safe.
Ice caves are found within Iceland's ancient glaciers. In summer when the temperatures are much warmer, these glaciers melt! Icy rivers begin to flow in, under, and around the large ice caps. Even more, warmer temperatures cause glaciers to crack, fissure and calve. With so much heat, the glaciers become unpredictable causing unsafe conditions. You wouldn't want to be caught inside an ice cave in the summer!
However, exploring ice caves in the winter is an amazing experience. During those cold months when the icy temperatures return, the ice becomes very compact and stable, making it perfectly safe to explore an ice cave with a tour guide.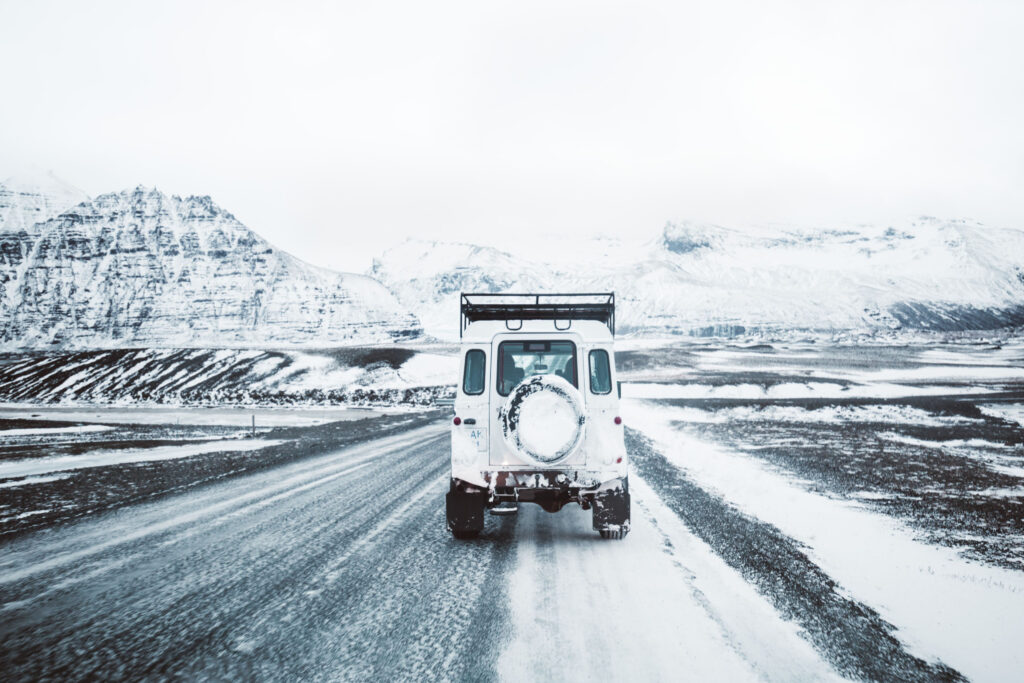 Can You Visit Ice Caves in Iceland on Your Own?
As cool as exploring an ice cave in Iceland on your own sounds, it is never advised. In fact, it is quite dangerous.
Like we said before, glaciers are melting! Due to global warming and the changing temperatures of the season, the glaciers are not always in a solid state. That is why ice caving in Iceland should only be done with a guide.
The guides have training and knowledge allowing them to handle any unpredictable happenstances that occur on the ice. Careful precautions should always be taken while exploring Iceland caves. That is why tours will also provide you with the necessary safety gear needed to walk into an ice cave, such as crampons, ice axes, and helmets.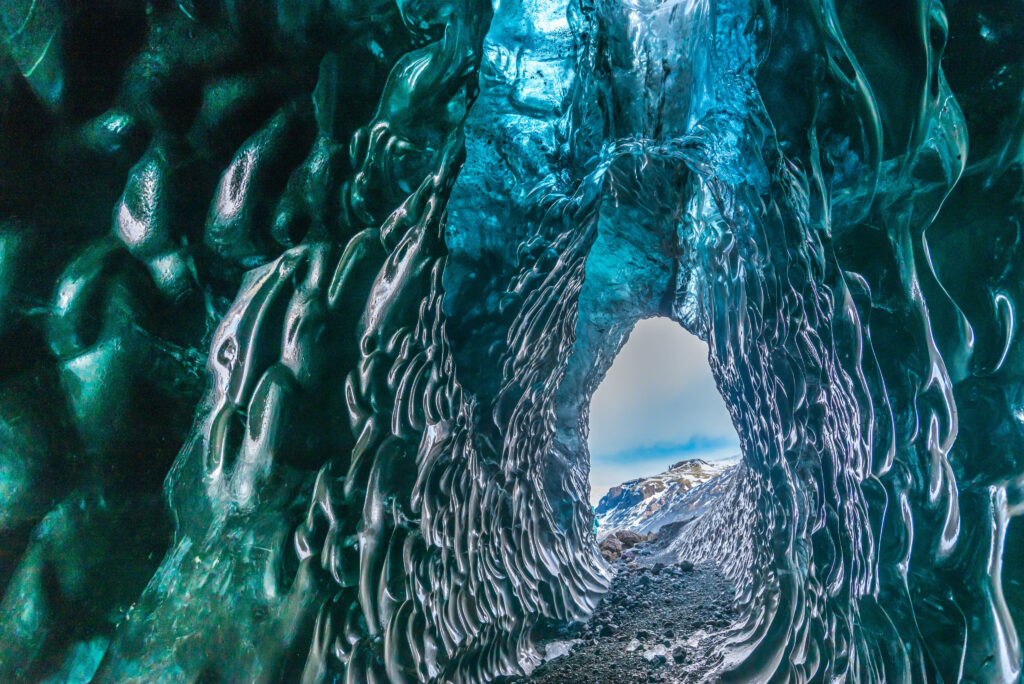 Manmade vs Natural Ice Caves in Iceland
There aren't many manmade ice caves in Iceland. In fact, currently, only one exists. This famous manmade ice cave is located a bit closer to Reykjavik in Langjokull of South West Iceland.
After 4 years of work, Iceland opened its first ever manmade ice cave. The smoothly cut icy hallways range from cloudy colors of white to shockingly bright colors of blue. This manmade ice cave isn't just for exploring though, you can rent it as a party venue too. Lined with wooden beams and LED-lit ice, a small room within the ice cave hosts weddings, parties, and sometimes even concerts.
Although you can visit manmade ice caves in Iceland, they aren't quite like the real thing. These crafted ice passages look more like a rectangular hallway of ice.
Although we much prefer to see the natural sculptures crafted by time, water, and the freezing cold; there is no doubt that the manmade ice caves in Iceland are an awesome feat.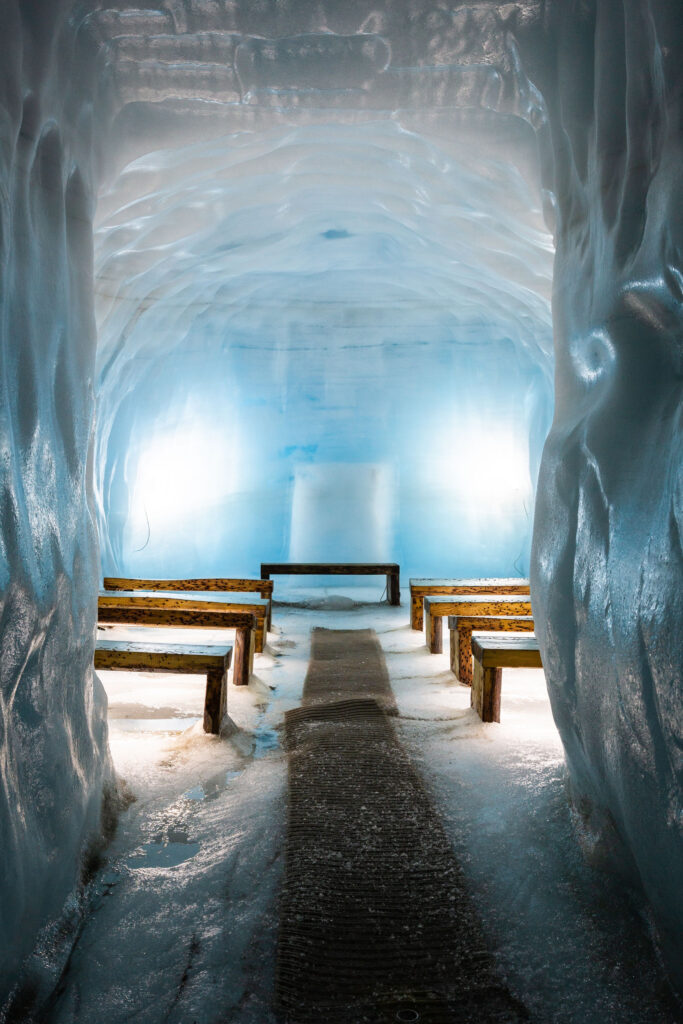 Best Ice Cave Tours in Iceland
The best ice cave tours in Iceland exist mostly in the south end of the country. Although ice caves can be visited on a day trip from Reykjavik, we highly suggest doing ice cave exploring as part of a larger trip to the South coast. The main ice cave tours in Iceland are offered in the Vatnajokull National Park, one of Iceland's three national parks.
Seeking out an ice cave tour will bring you to Iceland's diverse south coast, a land shaped by fire and ice. Because a few of the best blue ice caves in Iceland are a little bit further away from Reykjavik and Vik, we recommend they be visited as part of a road trip around Iceland's Ring Road, Route 1.
The best place to stay in the South coast near Iceland ice caves will be the small fishing village of Vik. Amazing waterfalls, black sand beaches, enchanting geothermal hot springs, and glaciers are all within a 5 hour drive from Reykjavik. There are plenty of things to see and do on the Reykjavik to Vik drive which makes the drive worth all the effort it takes to get there.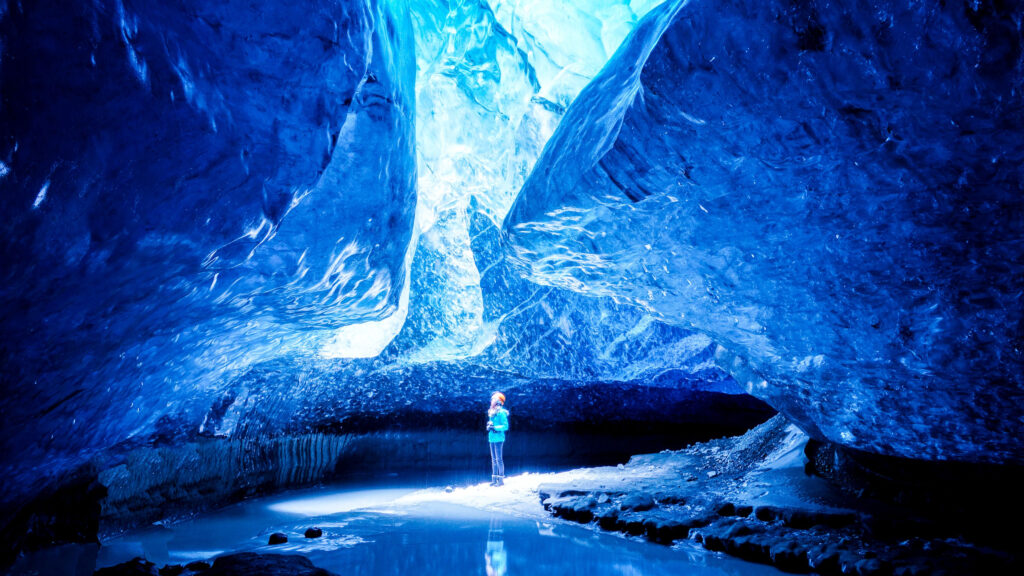 Katla Ice Cave Jeep Tour and Glacier Walk
One of the best ice cave tours worth the money in the southeast of Iceland is the Katla ice cave tour and glacier walk from Troll Expeditions. In a fun and exciting journey, this tour will guide you over the ice cap that rests over the mighty Katla volcano.
First, start the morning in the fishing village of Vik. Grab a cup of Skool Beans coffee then, board a jeep to an epic blue glacier tour in Iceland. We love the jeep ride through the beautiful mountain scenery to the base of the Myrdalsjokull Glacier. It was so much fun and was the perfect way to get hyped up for the adventure.
Once you arrive at the glacier, that is when you strap the crampons to your feet and helmet to your head. After that, a knowledgeable guide will take a small group to explore the ice cave.
The whole tour only takes about 3 hours and can be done as a larger trip to Iceland's south coast. We also have more great tips on fun things to do in Vik.
Click here to Book: From Vik: Katla Ice Cave Jeep Tour and Glacier Walk by TrollExpeditions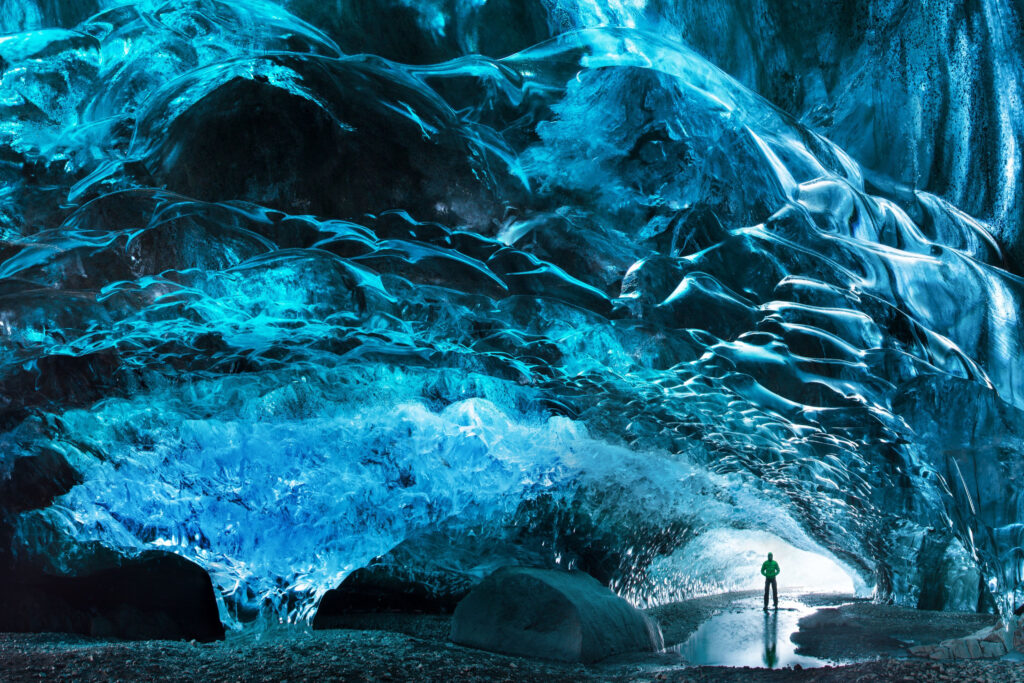 Skaftafell: Ice Cave Tour and Glacier Hike
The best ice cave tour in Iceland near Skaftafell is the Troll Expedition led, Skaftfell Ice Cave Tour and Glacier Hike. Located in the Vatnajokull National Park, this is a great tour for anyone looking for great stops along Iceland's Ring Road, Route 1.
Walk over Europe's largest glacier, Vatnajokull on this tour. Glacial hiking experts will take you on a short journey from the base of Falljokull up to one of the blue caves in Iceland.
We loved marveling at the breathtaking ice formations found within these glass-like blue ice caves near Hof. They are so beautiful and so, so undeniably dreamy.
There are great accommodations in the nearby town of Hof, just a 15-minute drive away from the Vatnajokull National Park. The whole tour takes about 4 hours, leaving plenty of time to visit the nearby glacial lagoon of Jokulsarlon. So bundle up and get ready for one of the best ice cave tours in Iceland.
Click here to book: Skaftfell Ice Cave Tour and Glacier Hike from TrollExpeditions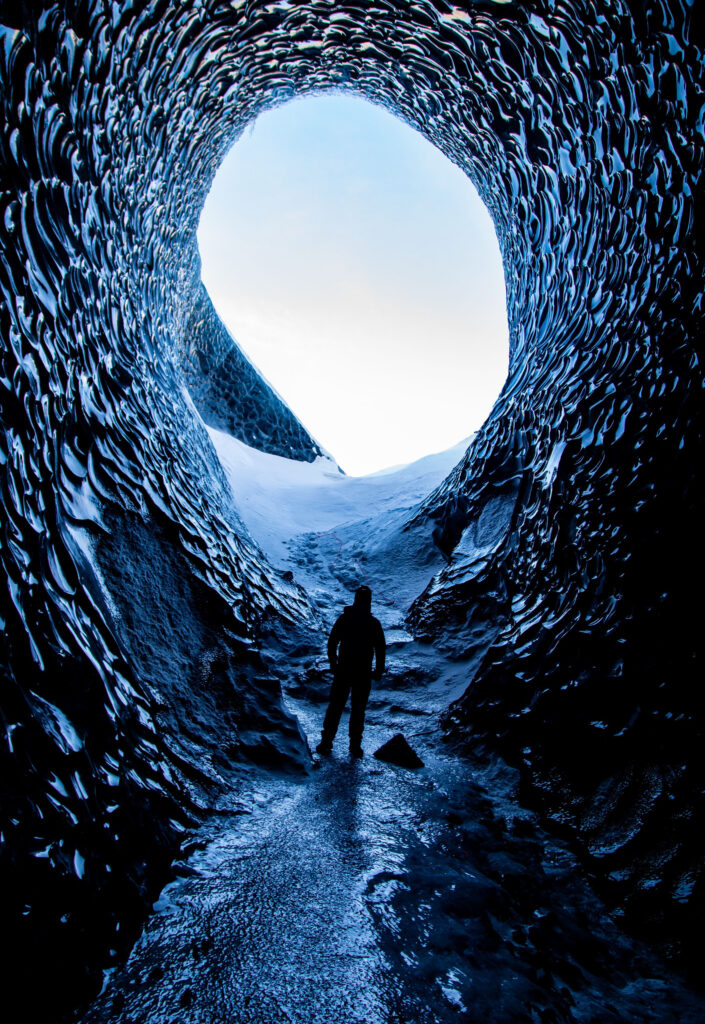 From Jökulsárlón: Crystal Ice Cave Day Tour
Another one of the great blue ice cave tours in South Iceland is the Crystal Ice Cave Day Tour from Arctic Adventures. Local guides search for new ice caves to explore every fall, bringing you to the best glacier caves in Iceland.
Start the day by meeting at the Cafe by Jokulsarlon Glacier Lagoon, just 40 minutes east of Skaftafell. At Jokulsarlon you'll see an epic glacier lagoon.
Here at Jokulsarlon, giant icebergs drift lazily across the lagoon until they meet the rough waters of the Atlantic sea. Icebergs are then churned into ice chips that cover Diamond Beach. Seals call this place home, and on a good day, you'll even see them playing in the waters. Jokulsaron is known for its incredible reflections of the rugged ice of the Vatnajokull glacier.
From the Jokulsarlon meeting point, a well-trained guide will outfit everyone with glacial gear to explore Iceland's nearby crystal caves within Europe's largest glacier. A small group is then transported a short distance away to begin the icy journey on Vatnajokull Glacier.
With only a short 15-minute walk, the tour will reach the mouth of the miraculous glassy blue caves. There is about 40 minutes allotted to explore, feel the magic of the crystal ice caves and take epic photos. The total experience lasts about 3 hours.
Click here to book: From Jokulsarlon: Crystal Ice Cave Day Tour by Arctic Adventures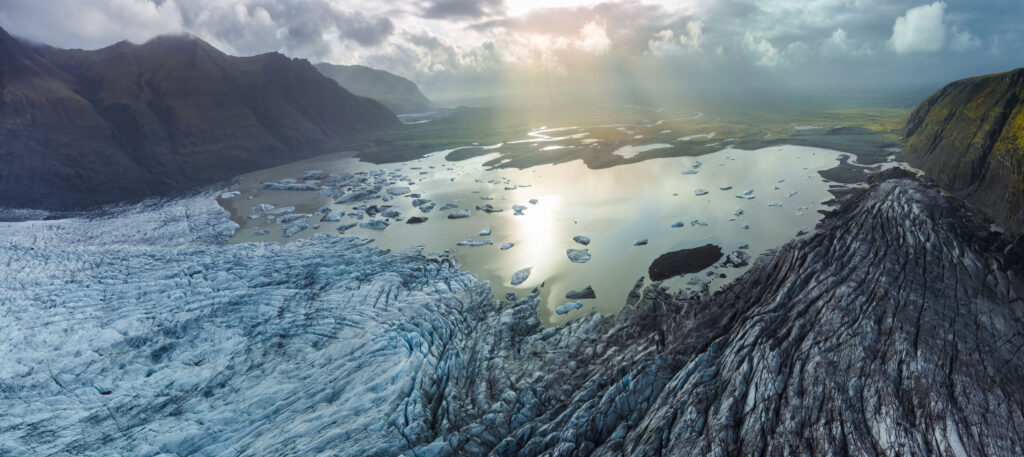 Húsafell: Langjökulll Glacier Ice Cave Tour
Finally, it is time to talk about the best tour for visiting the manmade ice caves in Iceland. Book the Langjokull Glacier Ice Cave Tour led by Arctic Adventures to explore Iceland's handmade glacial caves.
This tour will depart from the town of Husafell in South Iceland. From there, you will be transported via shuttle bus to the Glacier Base Camp of Klaki. Then, a specially-modified truck will take passengers over the rugged glacier to the cave entrance.
Walk through the handcrafted hallways and be amazed at the bright blue ice all around. Pass through the 'Tunnel of Love' to reach the chapel room. It is lined with wood accents and chunky blocks of ice lit from behind with glowing LEDs.
Stay in Husafell at Hotel Husafell for great nearby accommodations. After the tour, check out other things to do in Husafell like horseback riding, the Krauma hot springs, hiking, and cycling. Stay for the incredible light show in the sky. We think Husafell is one of the great places to see the Northern Lights from!
Click Here to Book: Husafell: Langjokull Glacier Ice Cave Tour led by Arctic Adventures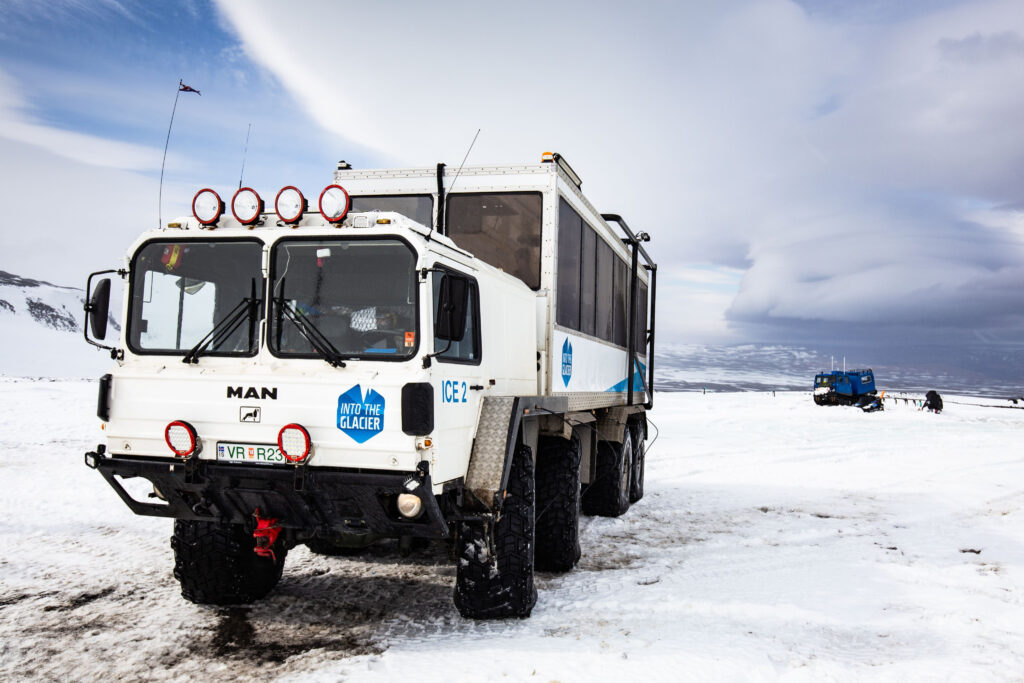 Make the trip to Iceland in the winter to experience the magic of Iceland's snow-covered months. Witness the awe-inspiring Northern Lights dancing in the sky, wander through incredible crystal blue ice caves, and dip in the hot geothermal waters of Iceland's enchanting hot springs. There is so much beauty to see in Iceland's winter tundra.
Don't worry; if you haven't visited Iceland in the winter we have some great tips for you. We've even included an Icelandic winter bucket list too.
Now, it is time to have your own amazing trip to the land of fire and ice. We hope these tips on how to visit Iceland's blue ice caves help make a perfect adventure. So pack the bags, grab a warm coat and go on the ultimate holiday to Iceland. Be safe and have fun!