Are you looking for the best tours in Reykjavik? We have you covered with all the best tours worth you hard-earned money that leaves from the capital city!
Planning your trip to Reykjavik last minute?
Make sure to book ahead! Hotels and tours often sell out the closer you get to your trip. Here are our top picks for Reykjavik!
Top Experiences And Tours In Reykjavik:
Top Hotels In Reykjavik:
Reykjavik is often time a visitor's first stop when landing in Iceland. This capital city is a great place to start your journey though Iceland, or as a home base as you take day trips from Reykjavik to see all the best Iceland has to offer!
On these amazing and exciting tours in Reykjavik, you will explore local food, the Blue Lagoon or Sky Lagoon Geothermal spas, the breathtaking Northern lights, outdoor adventure tours with ATV's, hoses and helicopters! Or explore the waterfalls, National Parks, glaciers, whale watching, and Golden Circle tours!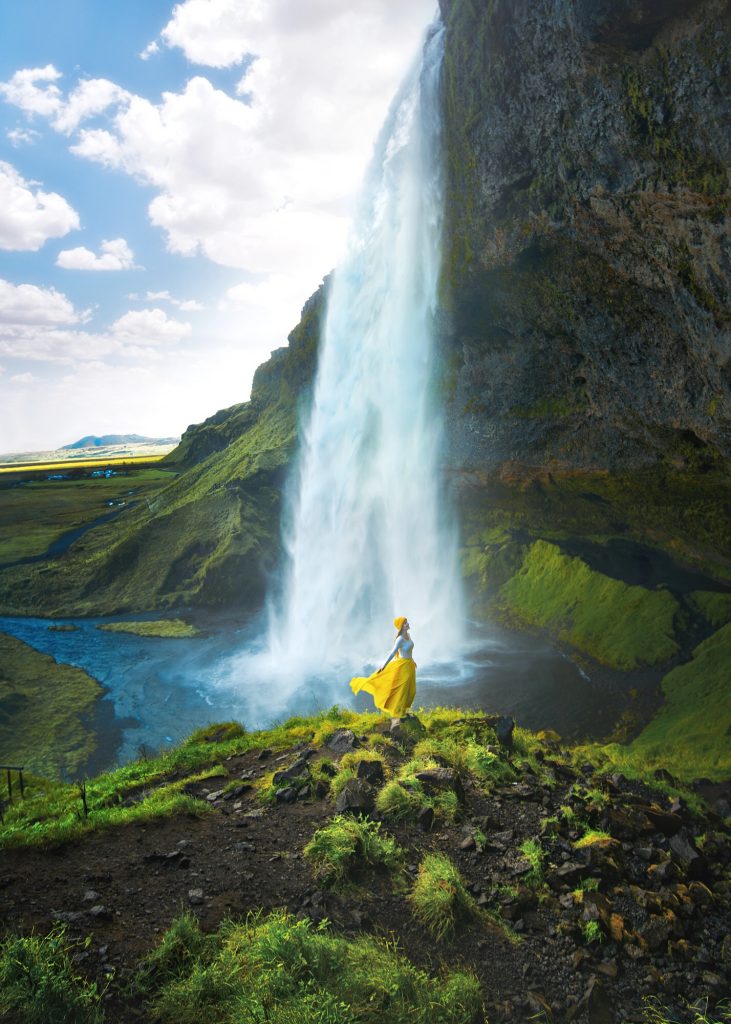 15 Best Tours In Reykjavik Worth The Money
Half-Day Food Tasting Tour ( 3 Hours)
If you are unsure of Icelandic cuisine, why not take one of the food tours in Reykjavik. During this three-hour half-day food tasting tour, your guide will pair sightseeing with all the best eats in Reykjavik. The tour includes stops at 6 different restaurants that tourists seldom ever visit as well as famous eats where you will get to try 8 different dishes! Best of all the group is kept small!
On the menu try Icelandic dishes like lamb soup, homemade ice cream, and a typical Icelandic dessert, lobster soup, local cheeses and meats, skyr yogurt, and the most famous hot dog in Iceland. On your walk around downtown, the guide will also give you the history and fun tips on the history of the capital city!
Book your Half-Day Food Tasting Tour : Here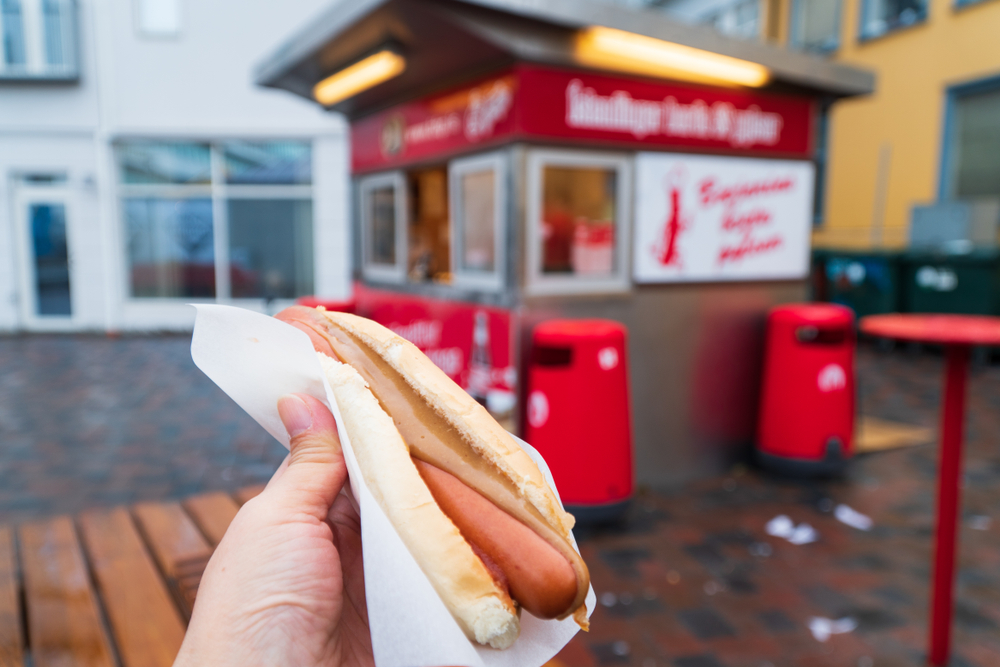 Fissure Snorkeling Tour with Underwater Photos (3 Hours)
The Silfra Fissure Snorkeling Tour with Underwater Photos has to be one of the coolest tours from Reykjavik you can take! It is one of the few tours from Reykjavik that require you to have your own car, as the meeting point is at Thingvellir National Park.
As one of the top dive and snorkeling sites in the world, and with only six participants in a tour group, you will be more than ready to snorkel and pose for photos (plus they take professional photos that you can purchase as a souvenir) . Don't forget to smile under the neoprene hoods, thermal under-suit, dry suit, mask, snorkel, and fins all of which are provided to you.
Explore the Silfra Fissure with a padi-certified guide and don't forget to warm up with a complimentary cup of hot chocolate after you get out of the water! These pure glacial meltwaters are a bucket list experience and this is one of the best Silfra Fissure snorkeling tours from Reykjavik you can do!
Book your Silfra Fissure Snorkeling Tour with Underwater Photos: Here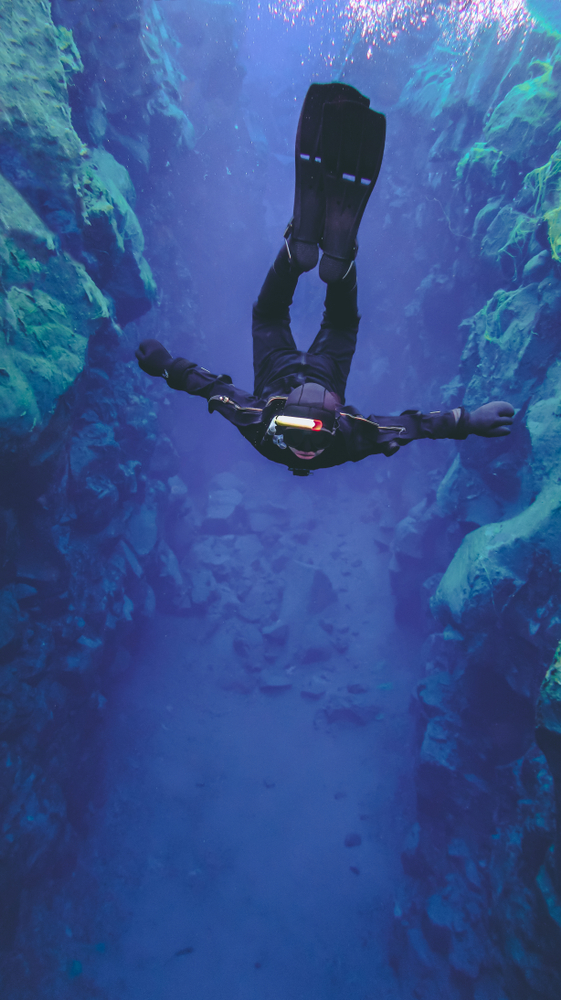 Northern Lights Bus Tour (4 Hours)
One of the most popular Reykjavik Northern Lights tours from done via a bus tour. They are far more affordable than some of the more adventurous transportation alternatives on this list, but take you to the same spots with a comfy ride in a motorcoach. Pickup is either at 8:30 or 9:30 pm depending on the season.
As with all of the Northern Lights tours in Reykjavik it leaves from the downtown area. The tour guides on this Northern Lights bus tour follow the meteorologists' predictions for the best views of the Aurora Borealis each night, so the location can change.
After watching the magical turquoise lights snake through the sky, this tour also includes admission to the Aurora Museum in Reykjavik! Plus if you do not see the northern lights on this tour, you can go for free the next night!
Book your Northern Lights Bus Tour: Here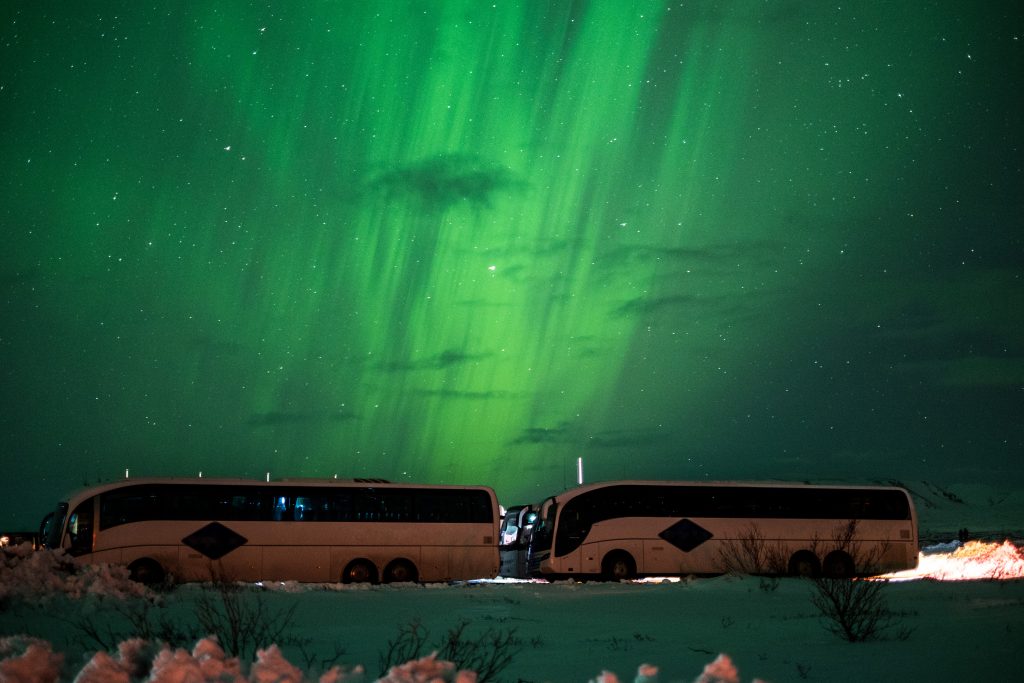 Blue Lagoon Admission with Transfers (5 Hours )
No visit to Iceland is complete with a visit to the geothermal hot spring. The most popular is the Blue Lagoon, and on this excursion from Reykjavik, why not book the Blue Lagoon with transfers tour! This tour includes everything you could think of!
Included is transportation to and from the Blue Lagoon from the BSI Bus Terminal in Reykjavik. Choose between two packages, a basic that is anything but! It includes admission to the Blue Lagoon, towels, a drink at the swim-up bar, and a mud mask. While the premium option includes a towel, slippers, and robe as well as additional algae mask.
Best of all, there is no waiting in lines. You get your wristband on the bus and walk right in, unlike those who choose not to book a tour! There are numerous pickup and drop-off times so you can choose to stay as little or long as you want at the Blue Lagoon. Make sure to read all our tips on Blue Lagoon.
Book your Blue Lagoon Admission with Transfers: Here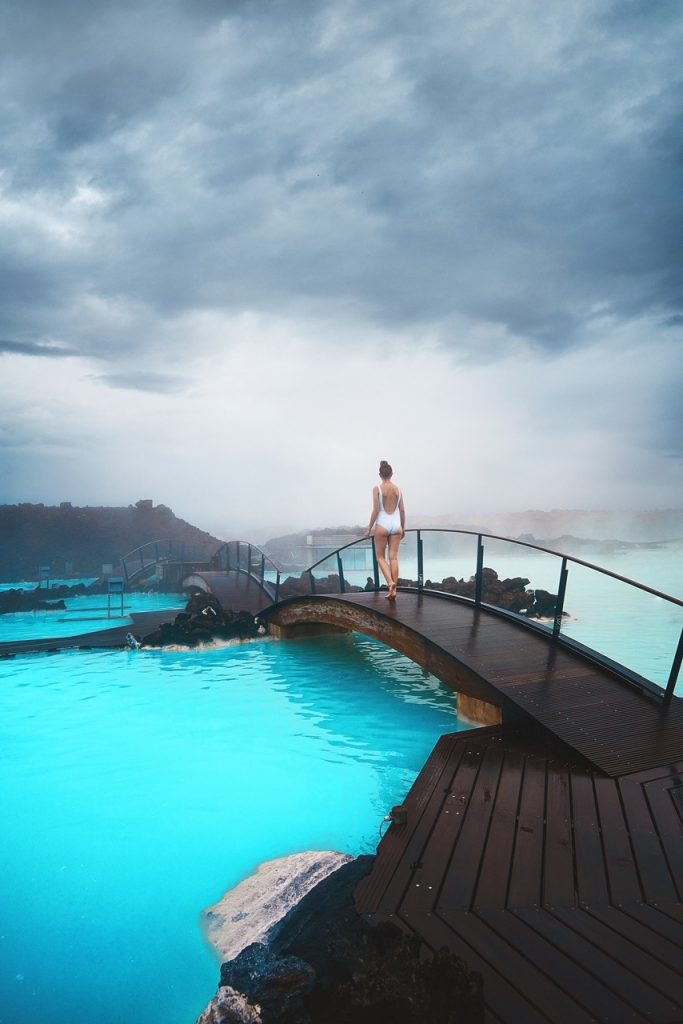 Whale Watching from a Luxury Yacht (3 Hours)
Why battle other tourists for the best spot on a viewing deck for whale watching, instead book this intimate small-group experience on a luxury yacht? This is one of the best whale-watching tours in Reykjavik done aboard the Amelia Rose.
You will depart from Reykjavík's Old Harbor and sail along the small islands in Faxaflói Bay. When the guides spot a whale or other wildlife you can venture outside to any one of three deck areas for the ultimate views.
Make sure you bring a camera along because with minimal guests aboard the ship you'll have unobstructed views of the wildlife which makes for perfect photography conditions. Stay warm and cozy inside the lounge or bar onboard the ship. Blankets are provided to help keep you warm but it is important that you come prepared with warm clothes and suitable footwear to maximize your experience.
Book your Whale Watching from a Luxury Yacht : Here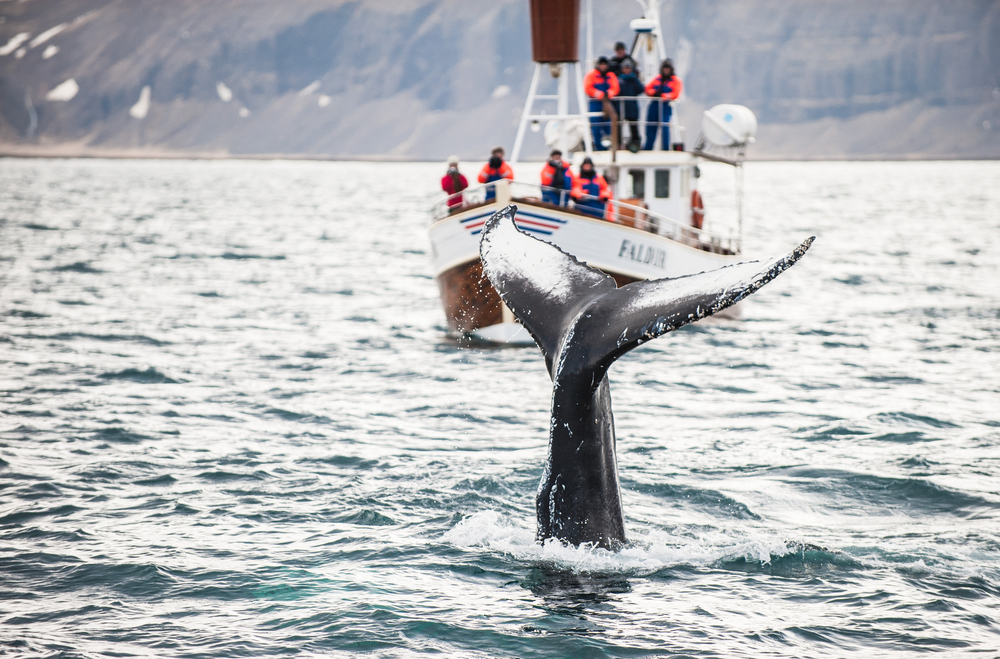 Golden Circle Full-Day Tour with Kerid Crater (8 Hours)
For those with a 3 day Reykjavik Itinerary or longer, we suggest taking one of the Golden Circle Full-Day Tours from Reykjavik. We chose this specific tour as it includes a trip to the Kerid Crater, we consider it one of the best day trips from Reykjavik!
The tour starts with pickups around Reykjavik direct from your hotel, and then over 8 hours on an air-conditioned or heated bus your guide will explain everything there is to know about the sites you will be visiting. So sit back, relax, and have your camera ready for the amazing landscapes of Iceland!
Snæfellsnes peninsula you will visit the spectacular Geysir area, explore the breathtaking Gullfoss Waterfall, see the glacial River Hvita and visit Thingvellir National Park where the tectonic plates meet of Europe and Eurasia meet.
Next, you will get to explore the active hot spring of Strokkur where every 8 minutes water is shot over 30 meters into the air. Finally, you will head to the volcanic crater at Lake Kerio and pass through the Icelandic farms of the south on your drive back from the Golden Circle. We have a list of all the best Golden Circles tours as well!
Book your Golden Circle Full-Day Tour with Kerid Crater : Here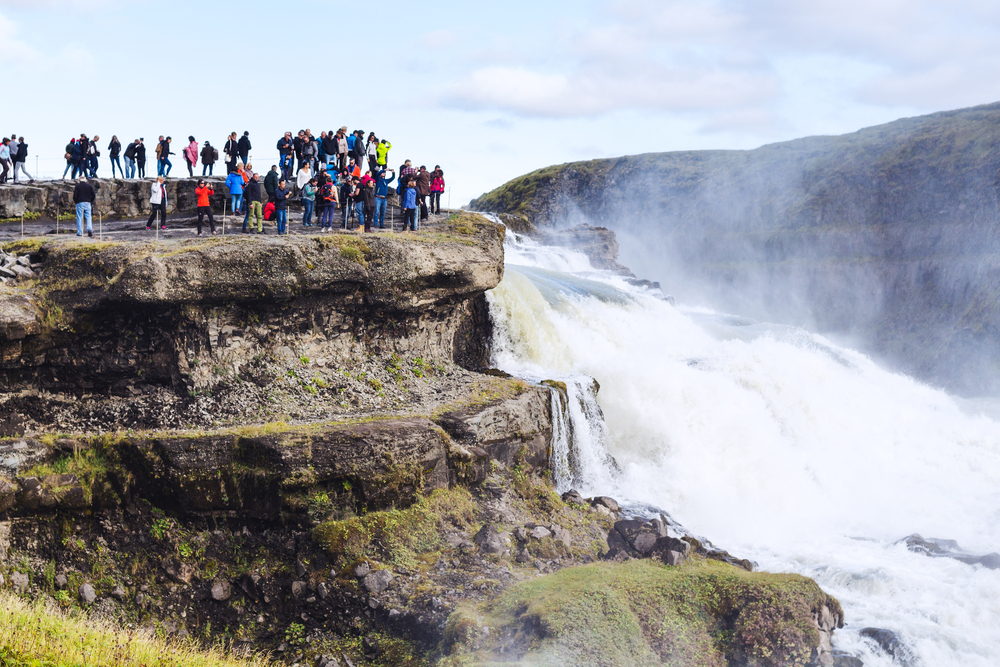 Inside the Thrihnukagigur Volcano (6 Hours)
Inside the Thrihnukagigur Volcano is one of the exciting and adventurous day tours from Reykjavik that made our list. Pickup from your hotel or guesthouse is included in the tour! Also, this tour does require hiking, and hiking boots are required as sneakers are not suitable! Dress warm as the weather can be brutally cold on the hike during certain times of the year.
After your bus ride, you will being your hike on the dormant Thrihnukagigur Volcano. Your guide will lead you on a moderate 45 minute uphill (and uneven) hike from Bláfjöll mountain cabin to Thrihnukagigur Volcano. There will be plenty of opportunities to enjoy the lava scenery and snap some pictures.
After arriving at the crater the guide will help you with your harness and helmet to prepare you for the 400 feet descent inside the volcano. Each group is split into a smaller party of 4-5 people for safety! The 10-minute descent provides opportunities to experience the amazing views where you will have the chance to spend up to an hour inside the volcano.
Finish the day with a traditional Icelandic meat soup ( or a vegetarian option), coffee/tea, and some sweets
Book your Inside the Thrihnukagigur Volcano Tour: Here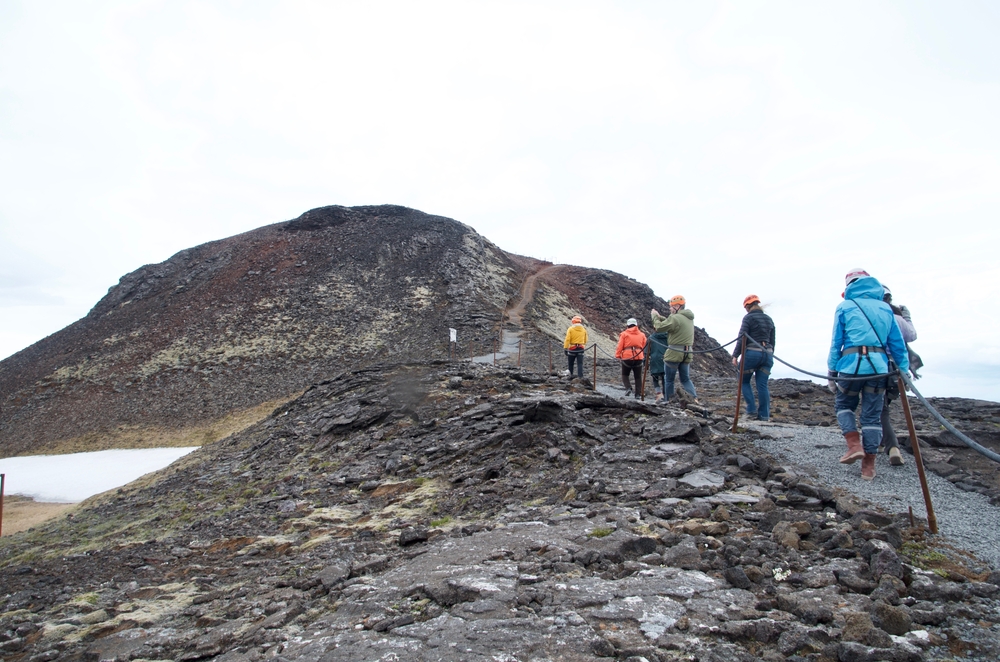 Golden Circle and Glacier Snowmobile Tour (11 Hours)
For those looking for full-day Iceland tours from Reykjavik and craving adventure take the Golden Circle and Glacier Snowmobile Tour. The tour departs between 7:30 and 8 am. And like pretty much every snowmobile tour in Iceland begins and ends in Reykjavik!
After departing Reykjavík, listen to the in-bus audio guide ( in 10 languages) to learn more about the sights you will see, or stay connected with the onboard Wi-Fi. Visit Thingvellir National Park, Geysir Hot Springs , Strokkur geyser, and Gulfross waterfall.
Now for the exciting part, climb aboard the custom-made super truck and drive across the rough and snowy terrain of the central highlands. The drive ends at the snowmobile base camp at the foot of Langjokull Glacier, where your guides will give you a safety briefing, and finally you will begin your ride across the frozen snow and ice fields of one of the biggest glaciers in the world!
This is fun for the whole family, but kids particularly love this snowmobile tour from Reykjavik.
Book your Golden Circle and Glacier Snowmobile Tour: here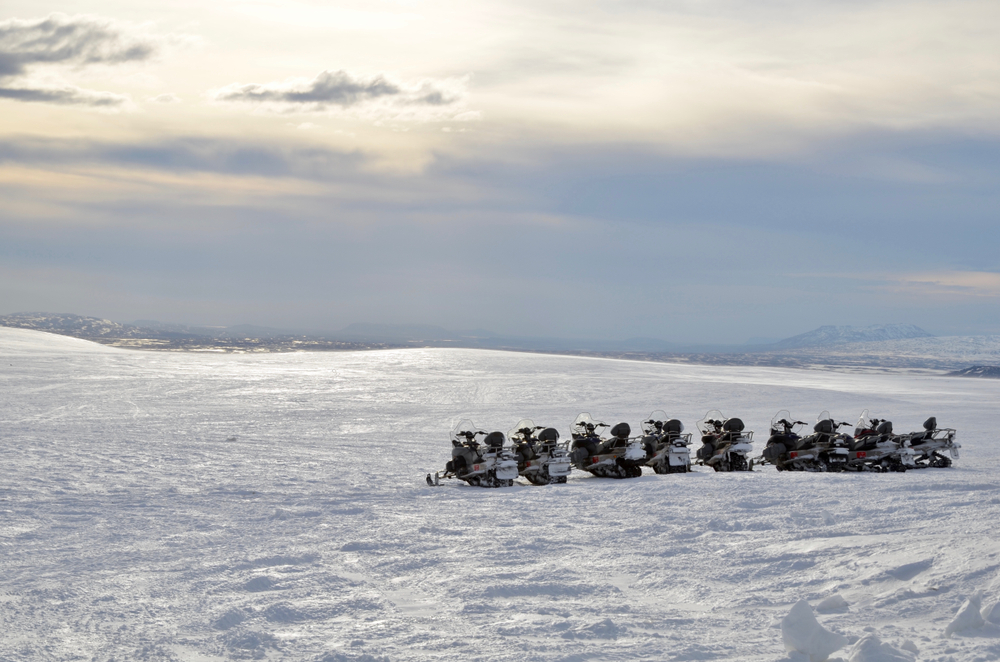 Reykjavik Hop-On Hop-Off Tour ( 1 day)
This hop on hop off Reykjavik tour is a great way to experience all the city has to offer! Choose between a 24 or 48-Hour Ticket option, perfect for those who are only in town for a short time.
The 24 or 48-hour ticket gives you access to explore the city hop-on-hop-off style at your own pace with commentary in 8 different languages. Tours run from 9:30 AM – 4:15 PM, every 45 minutes!
The tour stops along the route are as follows: Harpa Concert Hall, The Old Harbor, Viking Maritime Museum, Whales of Iceland, National Museum, Laekjargata, Laugavegur Shopping Street, Reykjavik Art Museum, Hallgrimskirkja, BSI Bus Terminal, Perlan, Kringlan Shopping Centre, Hilton Reykjavik Nordica, Laugardalur Valley, Skarfabakki Harbor, and Hofdi House.
Book your Hop on Hop Off Tour : here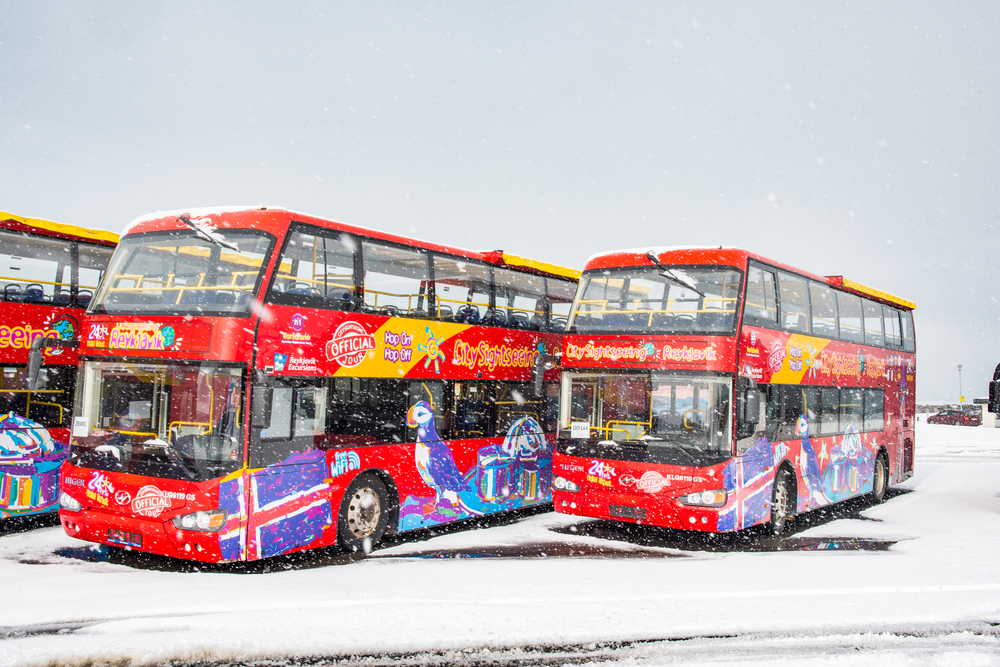 Icelandic Horse Riding Tour in Lava Fields (2-4 Hours)
We have picked the Icelandic Horse Riding Tour in Lava Fields as one of the fun excursions from Reykjavik you should look at! This tour departs downtown Reykjavik every day at 10:00 AM, 02:00 PM and 04:00 PM (July and August only), the pickup occurs one hour prior to your tour.
Don't forget to check out our list of the best horse riding tours in Iceland!
You will be shuttled in a bus to Íshestar Stables in Hafnarfjörður, where you will be provided a helmet, warm overalls, rain gear, and riding boots. Throughout your 1.5 to 2-hour Icelandic horse riding excursion, you will be on maintained paths through the countryside and lava fields. It is worth noting this tour is for those 8 years and older!
Book your Icelandic Horse Riding Tour: Here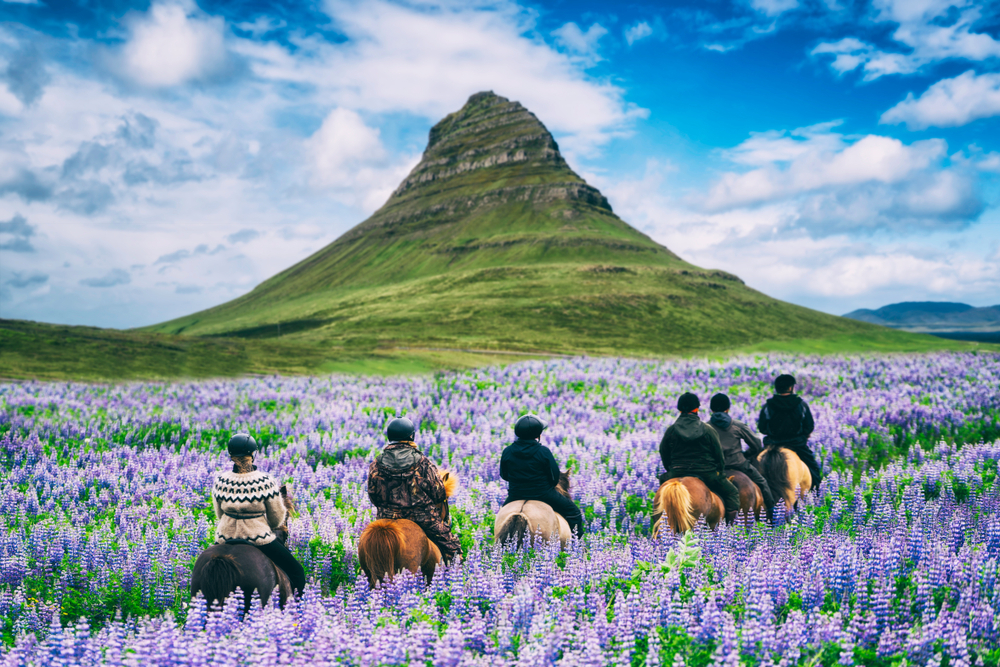 FlyOver Iceland Experience (1 Hour)
The FlyOver Iceland experience is one of the excursions in Reykjavik, that will let you see the most amazing sights from around the country without leaving the capital city! On this tour, you will have a realistic feeling of flying and enjoy the complete view of Iceland on this interactive ride.
You will board the right, where your feet hang in the air suspended in front of a 20-meter screen where a film plays while you enjoy an exhilarating journey all over Iceland. You will be soaring over glaciers, and rivers, experiencing arctic winds, mists, and smells alongside motions that keep you moving!
While the ride itself is only about 10 minutes long before you take flight you will be led on two interactive films that give you adventure options in Iceland. You can catch the ride every 15-20 minutes!
Book your FlyOver Iceland Experience: Here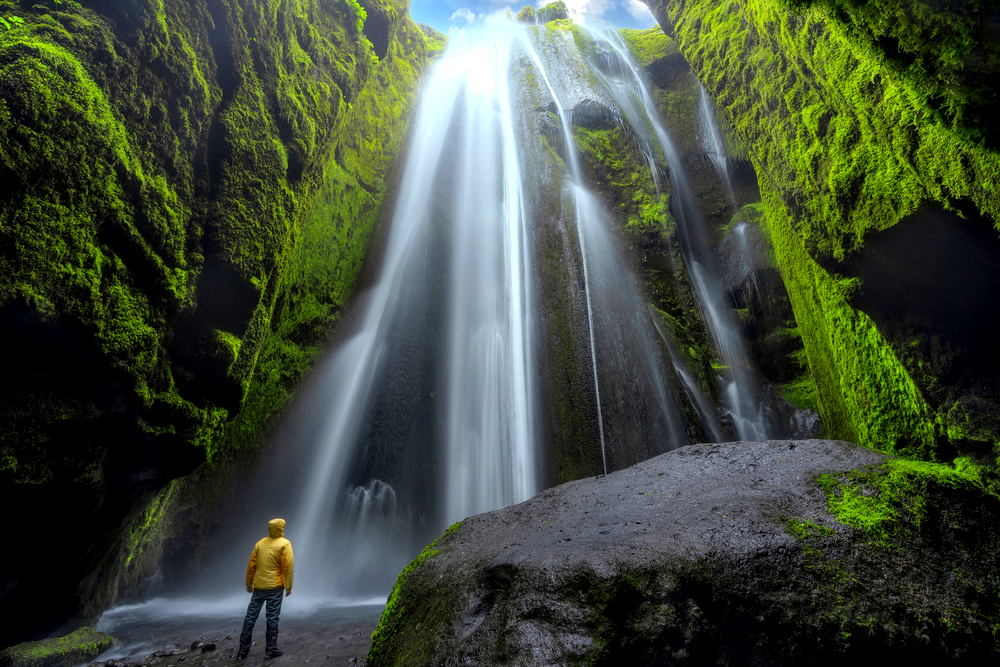 Half–Day Whales and Puffins Combo Tour (4 hours)
This is one of the tours in Reykjavik that lets your get up close with the animals of Iceland. On this half-day whales and puffins combo tour, you will first board the largest boat in Iceland (Andrea boat) for a whale watching tour. There are warm seats indoors to relax as well as a cafeteria, and your guide will give you educational and informative facts on whales and Iceland.
Next, you will board a much smaller shallows boat called Old Skúli, which allows visitors to get up close to the puffins, and they also provide binoculars to help see the puffins in their natural environment.
Book your Half-day Whales and Puffins Combo Tour : Here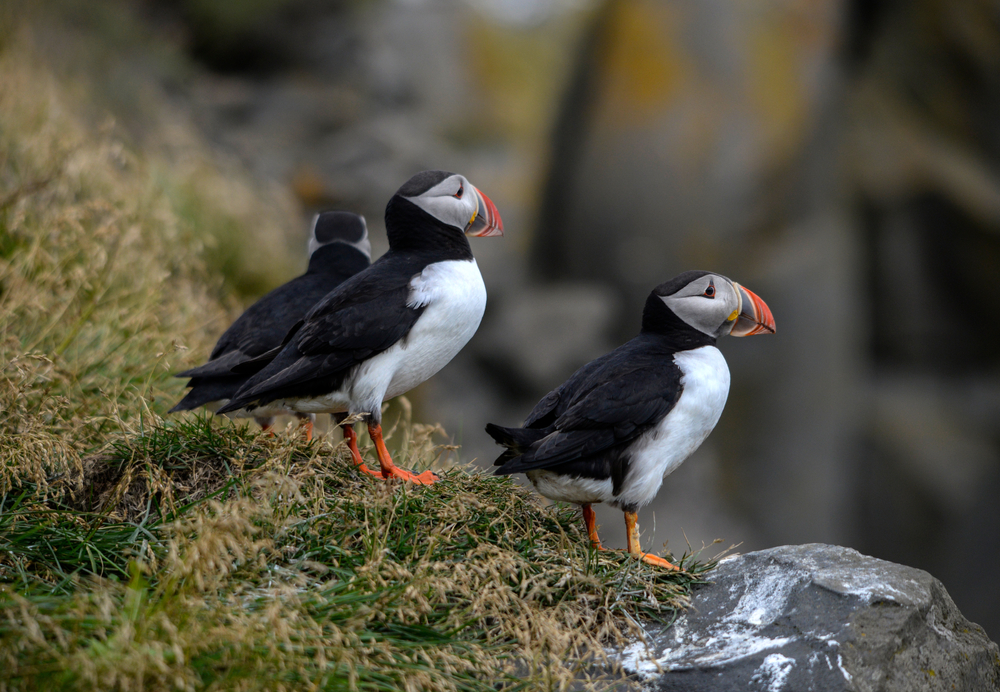 Panoramic Helicopter Flight with Summit Landing (1 Hour)
Want to see Reykjavík from an aerial view, then you will want to take this Panoramic Helicopter tour that is complete with its own summit landing on a mountain. You will head just 5 minutes outside the city to board your helicopter that will take you on a 30 to 45-minute flight over Reykjavik's landmark sights! See waterfalls, rivers, all with an amazing pilot and guide!
After seeing the city from the air, and taking some amazing pictures, you will get the chance to experience a once-in-a-lifetime summit mountain landing. Once there you will have the opportunity to pose for pictures with a gorgeous backdrop of the city.
Book your Panoramic Helicopter Flight with Summit Landing: Here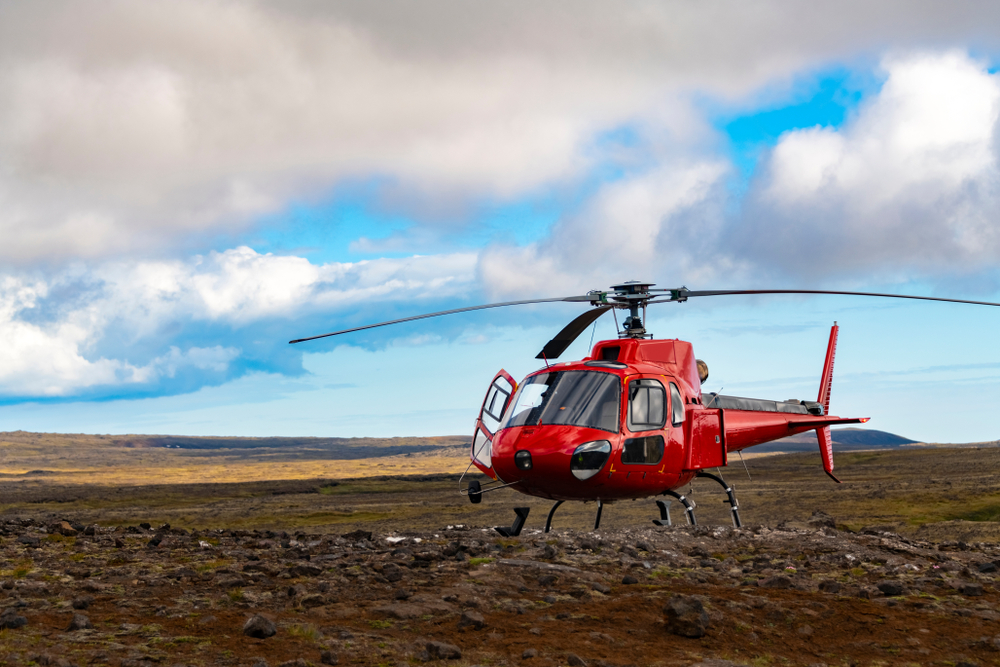 Sky Lagoon Pure Pass With 7-Step Spa Ritual
After spending all day exploring downtown Reykjavik, what better way to reset than taking one of the tours in Reykjavik to another popular geothermal spa. Located just 15 minutes from the city center, New Sky Lagoon opened in 2021 and became one of the most luxurious and relaxing spas to visit.
On this Sky Lagoon Pure Pass with 7 Step Ritual, your admission and towels are included as are the 7-step rituals! Start with the relaxing geothermal lagoon, followed by a glacier cold pool, saunas, cold mist, scrub, steam, and end with a shower. You will not be disappointed in the amazing surroundings ending with an infinity pool.
Book your Sky Lagoon Pure Pass: Here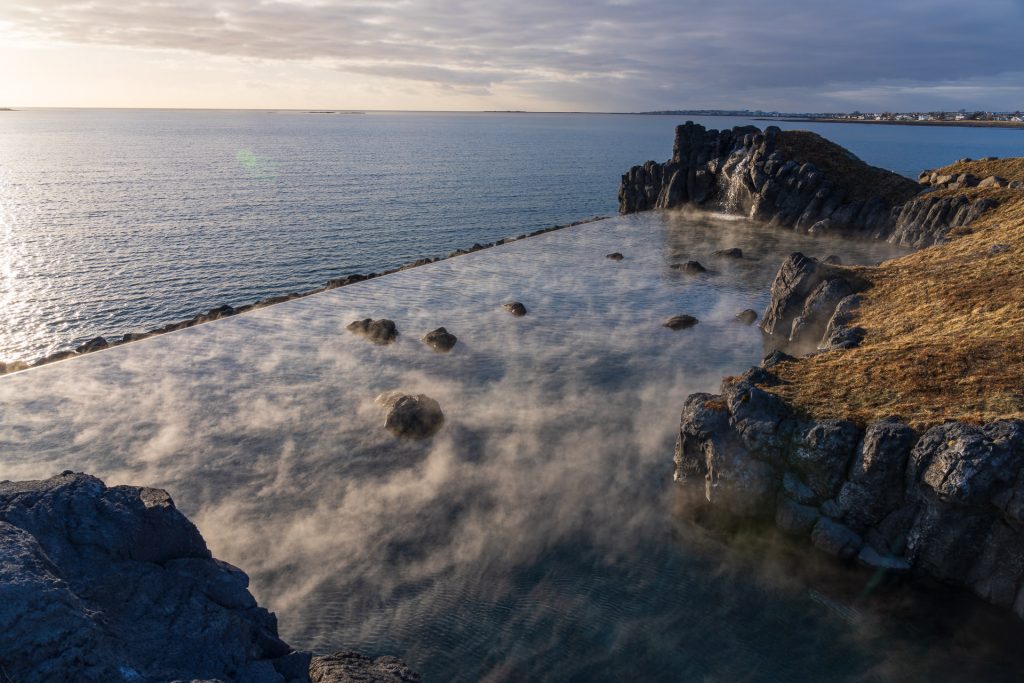 Wild South Waterfalls, Black Beach & Glacier (12 Hours)
On this full-day Wild South Waterfalls, Black Beach, and Glacier tour, you will experience the best that the south coast of Iceland has to offer. This is the tour for any nature and adventure lover, and what a more beautiful country to experience than Iceland!
From walking along the stunning black beach in Reynisfjara to exploring the Eyjafjallajokull glacier volcano, exploring and photographing 5 well-known and secret waterfalls, and an hour hike along Blue Ice Glacier Hike on Solheimajokull! Best of all your guide will take you to all of these hot spots in the south of Iceland! Don't forget to check out our tips for Solheimajokull Glacier!
Book your Wild South Waterfalls, Black Beach & Glacier : Here