If you are planning an epic adventure trip to Iceland, then you won't want to miss out on visiting Solheimajokull glacier. Here, you'll get the chance to walk on top of an ancient ice field and climb a body of constantly moving ice. The Solheimajokull glacier walk is one of our favorite guided tours in Iceland. It is one of the best things to do on the south coast of Iceland!
Have you ever wanted to walk on top of blue and black ice? This is your chance. The Solheimajokull Glacier is not only one of the easiest glacier exits to visit, but you can hike it too! You'll be met with incredible views from the top of the Shrinking Glacier, and possibly get the chance to explore an ice cave.
Although there are many glaciers in Iceland, Solheimajokull glacier is special for a few reasons. First, it is easy to access from Iceland's ring road, and near is located near other great things to see on Route 1. Secondly, there are awesome Solheimajokull glacier tours which allow travelers the chance to safely kayak, hike, and climb the ancient ice cap. The best part is- these tours operate all year round, so you don't have to wait for a specific season to visit Iceland. Finally, the surrounding mountains are low enough to give an amazing view, though high enough to protect the outlet from harsh winds.
Solheimajokull outlet glacier is one of the best things to do in south coast Iceland that you won't want to miss. Stand amongst the mighty Solheimajokull glacier and marvel at the vivid electric blue and volcanic ash black ice caps. Stay nearby in the town of Vik or, visit as a day trip from Reykjavik.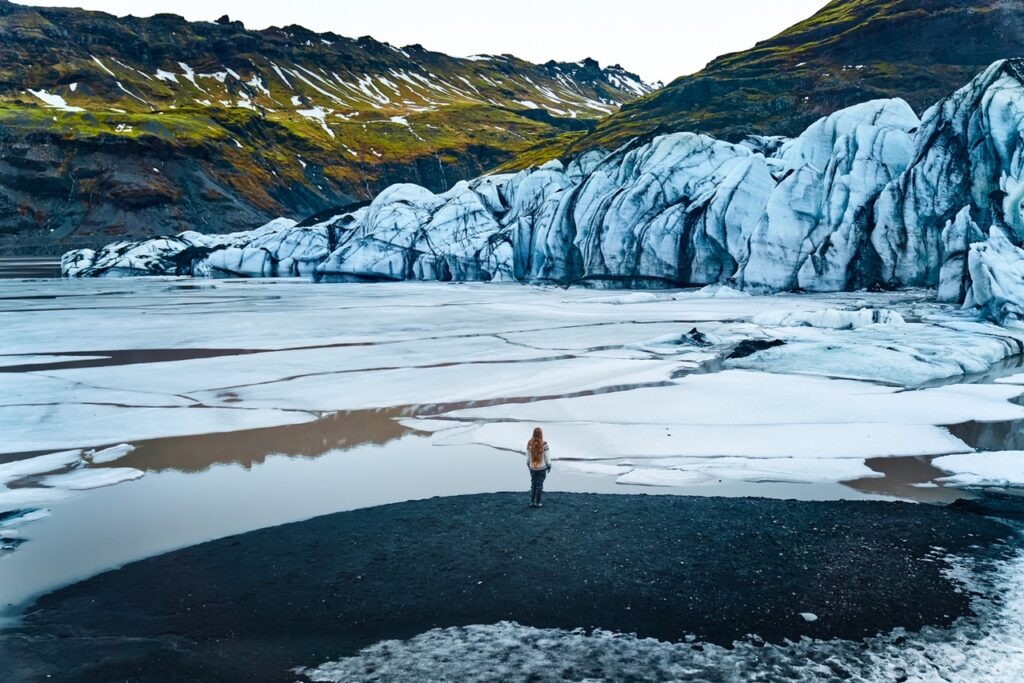 What is Solheimajokull Glacier?
Solheimajokull glacier is one of the two largest glaciers closest to Reykjavik, Iceland. Solheimajokull sits along Iceland's south coast between two active volcanoes, Katla and Eyjafjallajokull.
The massive tongue of ice spills over from the immense Myrdalsjokull ice cap. Bright blue ice fissures and crevasses of Solheimajokull glacier stretch a distance of 8 km (about 5 miles) long and 2 km (roughly 1 mile) wide. However, because there is no distinct line that separates Solheimajokull from Myrdalsjokull, the glacier appears much, much larger.
Solheimajokull is also known by another name, "The Shrinking Glacier". The unfortunate truth is that due to global warming, Solheimajokull is receding by an alarming rate. Can you believe that every year the glacier melts by an average of 40 meters (130 feet)? By 2007, so much ice melted that the Solheimajokull glacier lagoon was created.
With a disappearing glacier on the line, more and more people have come to visit this icy stretch. Not only does everyone love walking across the ice, but they also love exploring ice caves and kayaking around the lagoon. Witness the mighty Solheimajokull glacier before it's gone. After all, within a century's time, this place may not exist anymore.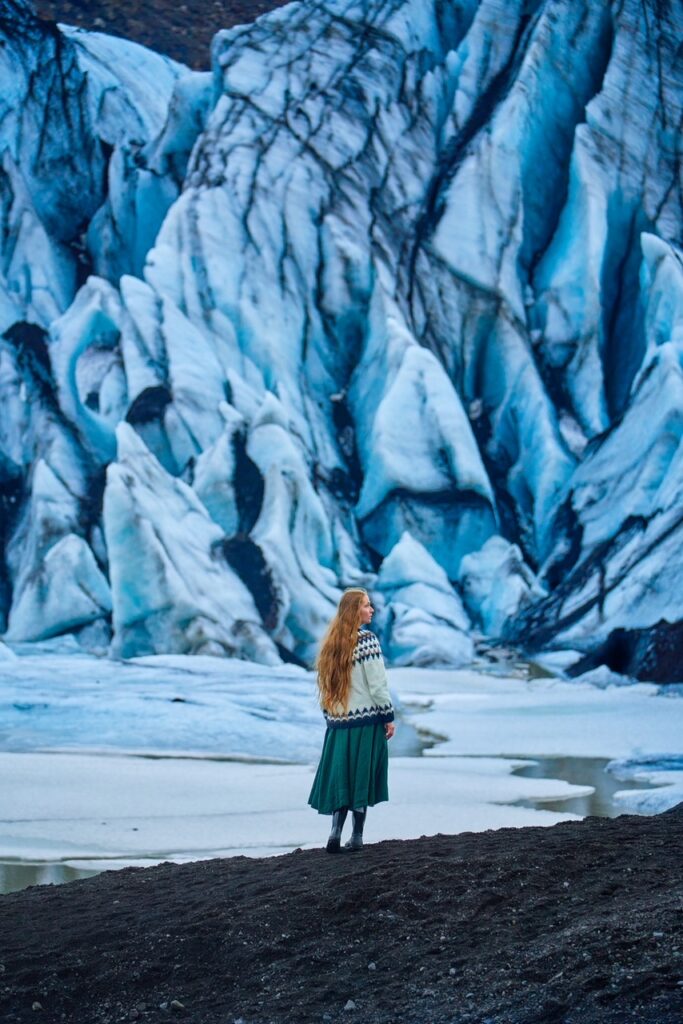 What does "Solheimajokull" mean?
Learning some of the Icelandic names can be pretty tricky. So, here is a useful trick; Icelandic names that end with 'jokull' will always refer to a glacier. The middle part of the name, 'heima' means 'at home' in the Icelandic language. Finally, the word 'sol' directly translates to 'sun'. Thus, the mighty Solheimajokull means 'home of the sun glacier'.
Solheimajokull earned its name from the very commonly mild conditions present on the glacier. In fact, Solheimajokull regularly has more mild conditions than most other parts of the country. Here, low-laying mountains surrounding the outlet create a protective barrier. Luckily for us, that means the mountains are able to cut harsh winds that are common to Iceland.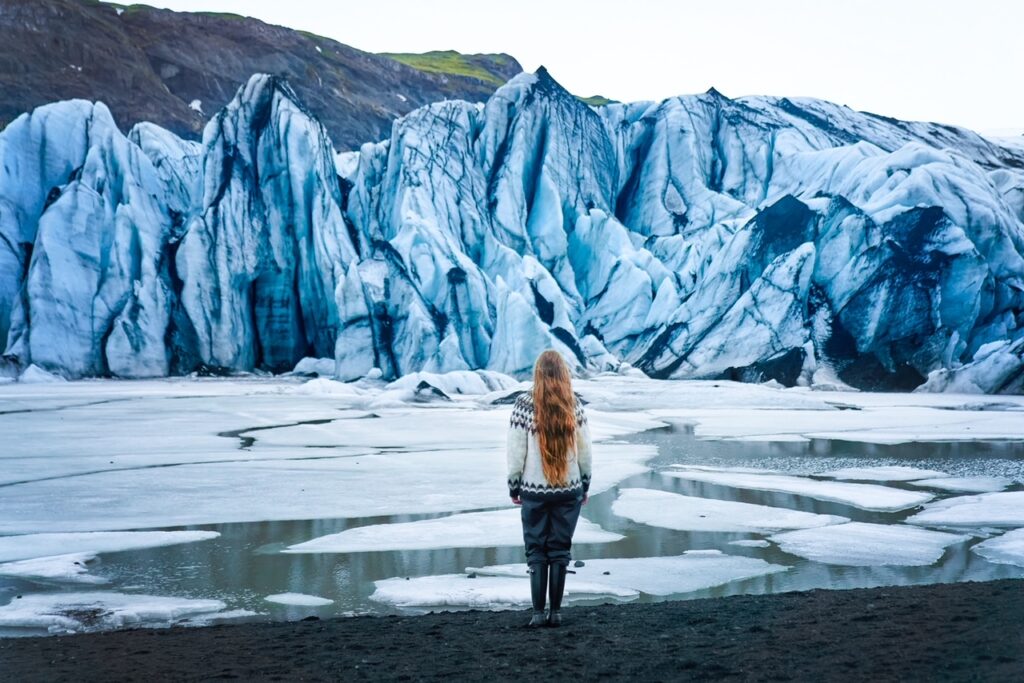 Where is Solheimajokull located?
Solheimajokull is located about 2 hour's drive (158 km) from Iceland's capital, Reykjavik. The glacier is conveniently close to other popular attractions in south Iceland such as Skogafoss and Seljalandsfoss waterfalls.
Because Solheimajokull glacier tours are located right off the ring road, Route 1, visiting is very easy to do. Although Solheimajokull can be visited as day trips from Reykjavik, we prefer to stay overnight in nearby rentals. This is truly one of the best things to do in Vik!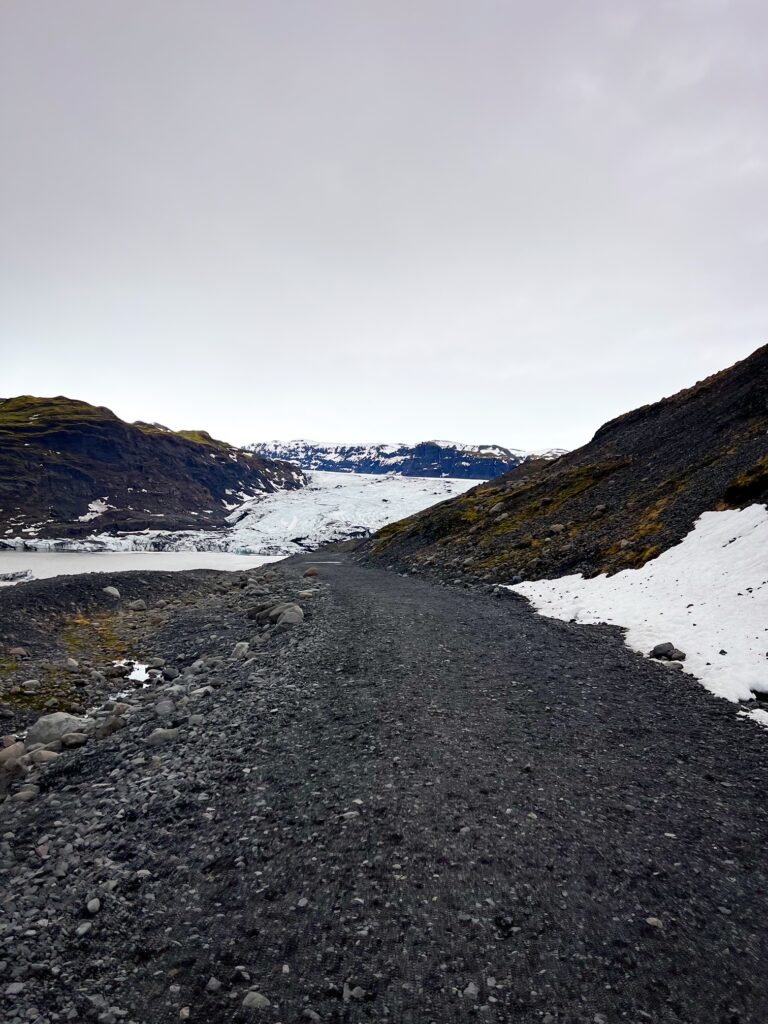 WARNING: Safety at Solheimajokull Glacier
Let's talk safety. While visiting Solheimajokull glacier is an amazing opportunity, there are precautions that need to be taken. Under no circumstance should anyone attempt to walk Solheimajokull glacier without a guide.
As previously stated, this ice cap is melting. Due to the melting nature of the ice, glacier conditions can be dangerous. Glaciers can break, or calve, completely without warning. The forward slide of the glacier also causes random surface cracks and upper crust changes create fissures and deep crevasses, something you don't want to fall down into. Other dangers include quicksand, unstable ice caves, and flood waves. This is why everyone should be careful when visiting and not hike Solheimajokull without a guide.
To walk on the ice special equipment is needed. Ice axes, helmets, and crampons are special tools used to walk across and climb the mighty ice. Thankfully, Solhiemajokull glacier tours come with the necessary tools as well as very knowledgeable guides. These highly trained guides are not only informative, but they are also prepared to handle any unforeseen events caused by the glacier.
Solheimajokull glacier tours are easy to access and run all year long. We prefer tours with small groups for a more intimate and personalized experience; however, there are many tours to choose from. Some tours run as day trips from Reykjavik, while other tours out of the south give travelers more time on the ice. There are so many options, you can find one that fits in with whatever your epic Iceland itinerary has in store!
Best Solheimajokull Tours
Knowing which of the Solheimajokull tours to take can be tricky. We found that there are a variety of tours offered for just about any type of traveler you are. So here are just a few of the best Iceland south coast tours worth the money.
Arctic Adventures Tour
One of the best Solheimajokull glacier tours is from Arctic Adventures, the Solheimajokull Guided Glacier Hike. This is best tour for those looking to spend a half day exploring the glacier. Short and sweet, this tour across the ice lasts just 3 hours. After being equipped with ice axes, helmets, and crampons the tour hits the ice for an hour. Another great part about Arctic Adventure tours is that the group size is kept to about 6 people.
Click here to book: Arctic Adventures, the Solheimajokull Guided Glacier Hike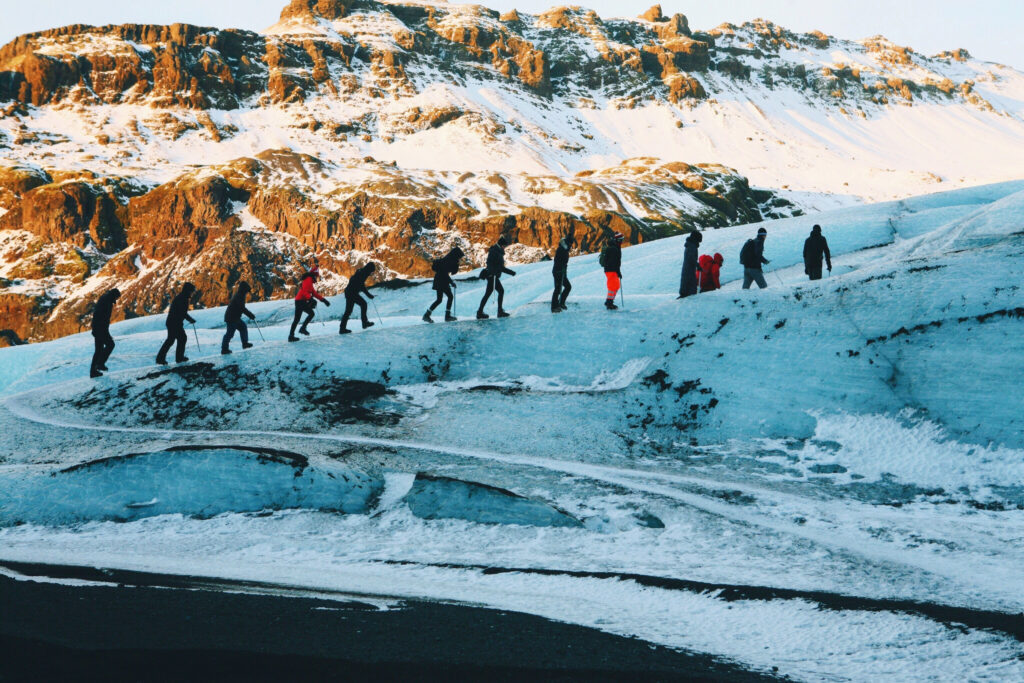 Troll Expeditions
For any adventurers who want to scale an ice wall, book a tour with Troll Expeditions. With a small group of up to 6 persons, the tour will set off to hike and climb a body of constantly moving ice. Don't forget to check out our list of the best Ice caves in Iceland!
This tour is for anyone looking for a workout as you will get the chance to scale the frozen glacier. See formations, crevasses, and ice caves up close on this 4-hour-long guided Solheimajokull glacier hike.
Click here to book: Troll Expeditions, Solheimajokull Ice Climb and Glacier Hike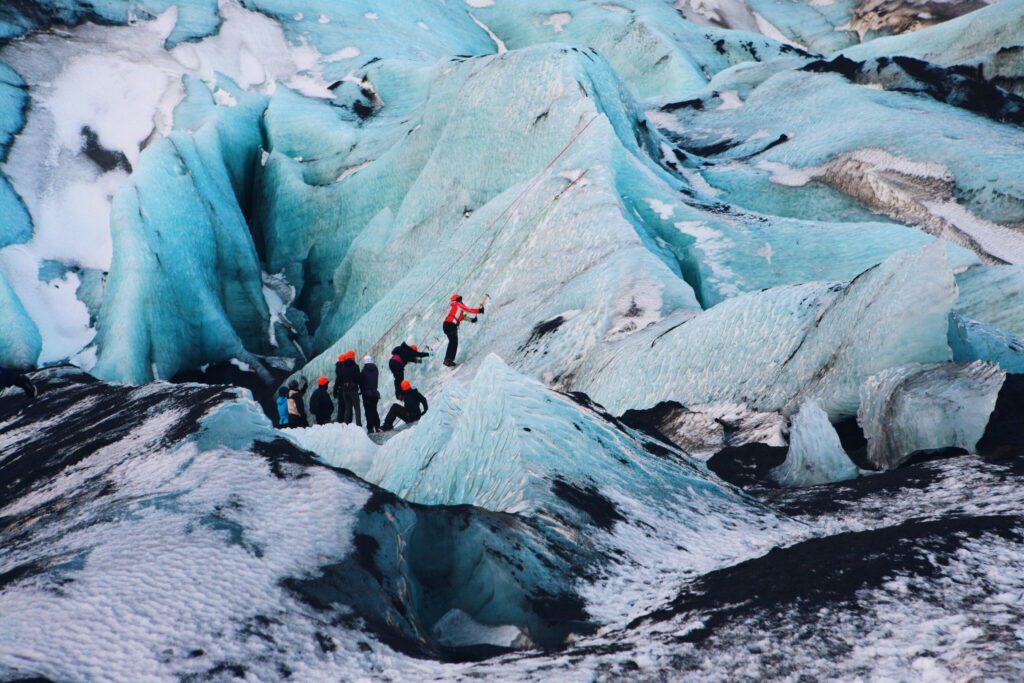 Rvk Sightseeing
For anyone who did not rent a car in Iceland and are staying in Reykjavik, Rvk Sightseeing South Coast Classic tour is the best option. This full-day tour will follow the coastline from Reykjavik into Iceland's south coast.
The mighty Solheimajokull glacier will be the first stop on this itinerary. Next, the tour will stop at the waterfall you can walk behind, Seljalandsfoss. Walk to the top of Skogar waterfall and look for rainbows before seeing the magical black sand beaches of Reynisfjara. Last, the tour will take you to the charming coastal town of Vik.
The total experience lasts 6.5 hours with 30 minutes at each stop. A knowledgeable guide will drive the comfortable coach bus to the destinations, with pick up and drop off from Iceland's capital, Reykjavik.
Click here to book: Rvk Sightseeing, South Coast Classic: Full-Day Tour from Reykjavik
Solheimajokull Glacier Parking Lot and Amenities
Solheimajokull glacier parking lot does not have many amenities at all, including the absence of any on-site washrooms. In fact, the lot is pretty basic; it is just a gravel road with plenty of room for parking.
Most of the Solheimajokull glacier tour buildings are located within this parking lot. Be warned: this car park can get busy! Because the glacier hike is one of the best things to do in south Iceland, tour buses and cars full of travelers tend to fill the lot regularly.
To find the Solheimajokull glacier parking lot, just follow the gravel road 221 from the ring road. To get there, just type in "Solheimajokull glacier parking lot" into the GPS. From Route 1, the parking lot is just 4 km away. Once you reach the parking lot, the glacier viewpoint is just a 15-minute walk away.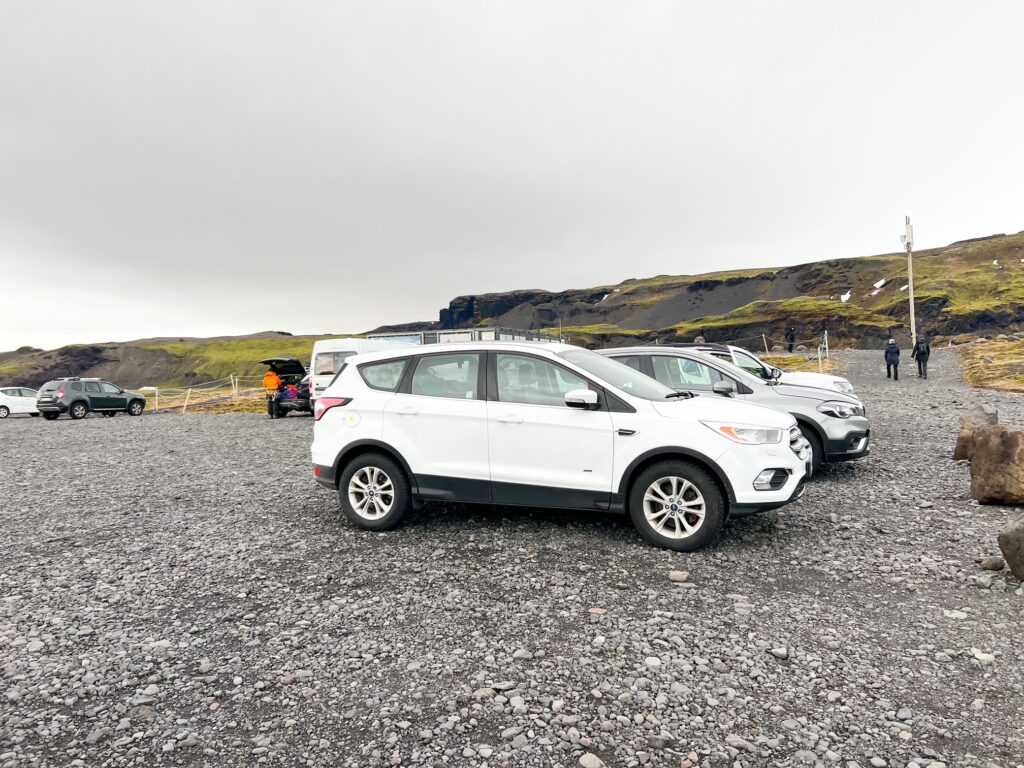 How Long to Spend at Solheimajokull Iceland?
Knowing how long to spend at Solheimajokull Iceland mostly depends on the tour that you are on. Tours will list how long the experience lasts on their web page. Most tours range from short 30-minute trips to 6-hour long excursions; however, there are multi-day tour options available.
We suggest that anyone who plans to visit and just walk around the glacier base, leave 1-2 hours to explore. Solheimajokull is a great spot to take pictures, stretch your legs, and sightseeing.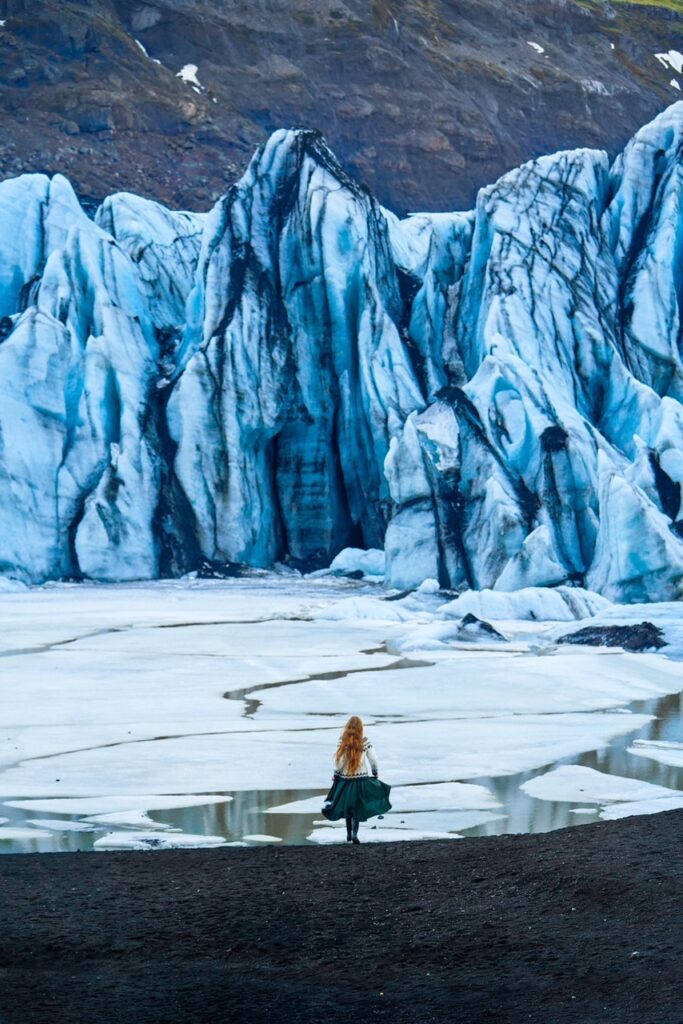 Where to Stay Near Solheimajokull Glacier
Solheimajokull glacier is located near other great things to do in South Iceland. Iceland's southernmost village, Vik, is the closest town and has plenty of accommodations to choose from. You will love the Reykjavik to Vik drive, and the cool things Vik has to offer like the iconic Skool Beans coffee shop bus.
The sophisticated and modern Umi Hotel is a great place to stay. Luxurious accommodations here will give any traveler the rest and relaxation they need after a long day of exploration. Solheimajokull glacier hikes are just a short 20-minute drive away.
For those looking to have a kitchenette in their suite, Vik Apartments are some of the best places to stay near Solheimajokull glacier. These modern apartments have awesome balcony views and is only a 12-minute walk to the black sand beaches. Wake up and grab a coffee from Skool Beans coffee bus before making the 30-minute drive to Solheimajokull Iceland.
Finally, another one of our favorite places to stay near Solheimajokull glacier is the Solheimahjaleiga Guesthouse. The farm-style hotel is comfortable and quaint with epic views of the mountains. Conveniently, Solheimajokull is only 12-minutes away.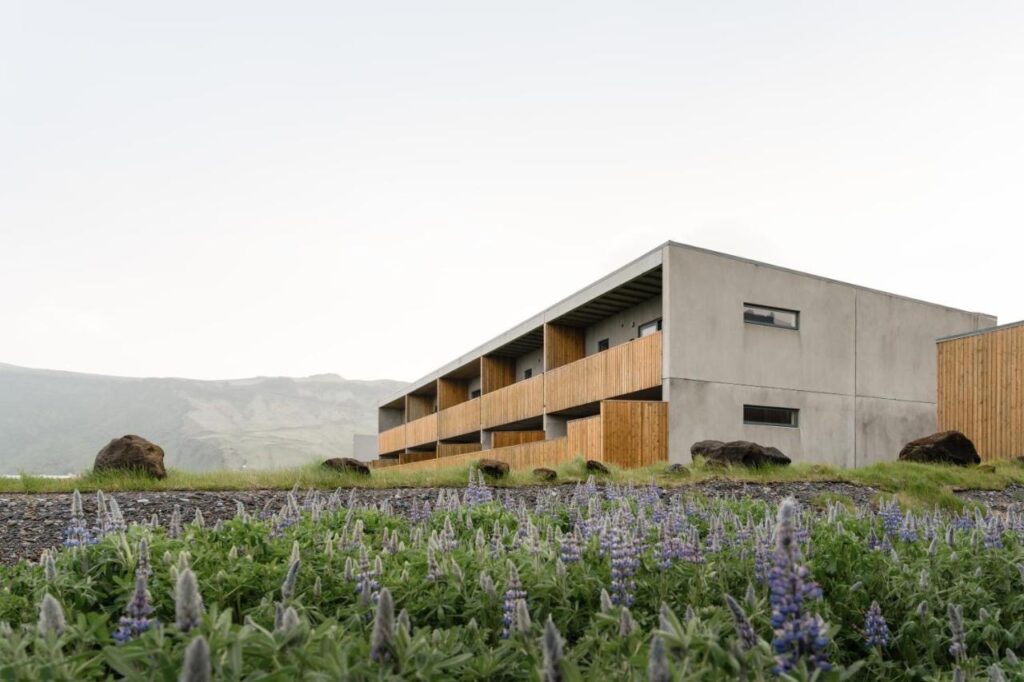 Visit the Shrinking Glacier of Solheimjokull Iceland before it is gone. Add the Solheimajokull guided glacier hike to your ring road itinerary and witness the mighty ice on your way to the south coast of Iceland. The best part is, Solheimajokull glacier tours are offered year-round so you don't have to wait for a special season to visit!
We hope these Solheimajokull tips, tricks, and more help you to plan the most epic trip ever to Iceland. Make the stop at Solheimajokull glacier to hike, kayak the lagoon, or even climb the ice with a special guide. It is truly an experience that you won't want to miss.