We have some great tips for Reynisfjara black sand beach right here. Look no further for all the best things to know before heading to Iceland's basalt beach.
Located close to the town of Vík, a trip around the famous Ring Road wouldn't be complete without a visit to the black sand beach in Iceland.
Reynisfjara is one of the best beaches in Iceland for a few reasons.
First of all, picturesque volcanic basalt columns are found on this beach!
Secondly, it has beautiful rocky sea stacks right off the shore. The Reynisdragnar sea stacks make perfect nesting grounds for seabirds such as Icelandic puffins, a cute penguin-colored bird.
It's not just us that think this beach is totally awesome either. Icelanders really love this beach too! Featured on many postcards throughout the country, Iceland's basalt beach is well known for its iconic beauty and unique rock formations which sit just off the shoreline. National Geographic loved this beach so much that they called it one of the 'top 10 non-tropical beaches to visit on the planet'.
Finally, the black beach on Iceland's south coast sits right off route 1, or the famous Ring Road. For many, the ultimate sightseeing trip in Iceland is a drive along the ring road. Whether you are on a trip to the South Coast or driving the full ring road, we highly suggest a stop a Reynisfjara Beach. Stretch the legs and take an easy walk along the black sands to see unique sea caves and cool rock formations.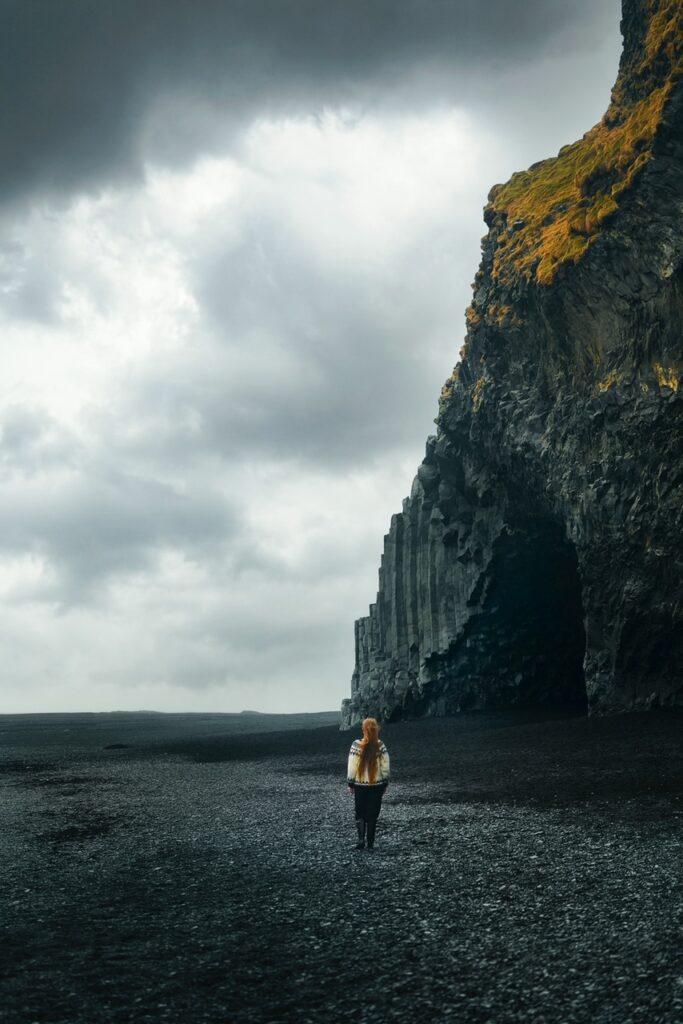 What is Reynisfjara Black Sand Beach?
Reynisfjara black sand beach in Iceland is one of the 'top 10 non-tropical beaches on the planet' to visit. Undeniably, the stark black shoreline on the south coast here is sought out by those who have an Icelandic bucket list.
Reynisfjara is a long stretch of shoreline on the North Atlantic composed of a mix of volcanic black sands and smooth pebbles. The sands maintain a raven-black color because they never dry out. Reynisfjara is known for its ever-changing tides that keep the volcanic shoreline wet causing a moody, pitch-black color to persist. The nearby sea rock formations and white-capped crashing waves make this destination absolutely picturesque.
This is the beach to go to see the Hálsanefshellir sea cave and the Garðar cliff, which are both composed entirely of basalt columns. From the shore, you can see the 200-foot (66 meters) high Reynisdrangar Sea Stacks as well, which according to legend are made of petrified trolls. Also seen from Reynisfjara beach is Dyrhólaey's arched cliff looming over the sea. Together all these things make Reynisfjara one of the most unique black sand beaches in Iceland.
What Does Reynisfjara Mean?
In the 18th century, a wealthy Norwegian Viking named Reynir settled this part of Iceland's south coast. The area was hence named after Reynir. He called the sea rock formations Reynisdragnar and the nearby mountain Reynisfjall. To the shoreline, he gave the name Reynisfjara. Because the Icelandic word for beach is 'fjara', the name literally translates to 'Reynir's beach'.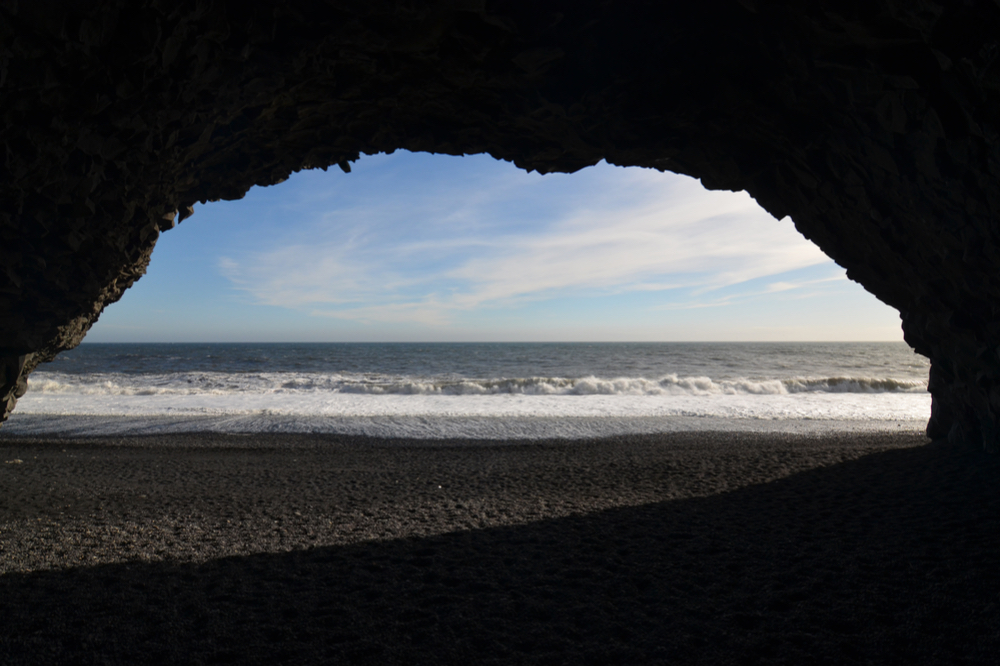 Where is Reynisfjara Beach Located?
Located off the Ring Road, Reynisfjara Beach is a relatively popular spot for guided tours of the south coast. The distance from Reykjavik to Reynisfjara Beach is 112 miles (180 kilometers). The drive is very relaxing and only takes about two and a half hours to get to the capital.
The closest town to Reynisfjara is Vík í Mýrdal. From Reynisfjara to Vík, the drive is only 6 miles and should take about 10 minutes to drive to. This is truly one of the best things to do in Vik!
One of the most photographic churches in Iceland sit on a hill overlooking the small fishing village of Vík. You won't want to miss seeing it on your way into town. Vík is a great place to find lodging nearby as well as plenty of great places to eat or find coffee.
We suggest a visit as a stop on the ultimate Reykjavik tour or as part of a larger ring road tour. On the drive to get to Reynisfjara, you'll pass by Seljalandsfoss- the waterfall that you can walk behind. To help plan an epic Iceland bucket list full of fantastical sightseeing, we found all the best places to visit in Iceland including hidden gems too.
Sometimes it is difficult to know what kind of vehicle you need in order to access some of the amazing hidden gems in Iceland. That is why we made an easy guide on whether you should rent a 2wd or 4wd for the trip. Luckily, Reynisfjara beach can be accessed with a simple 2wd drive vehicle. Just make the turn when you see the sign.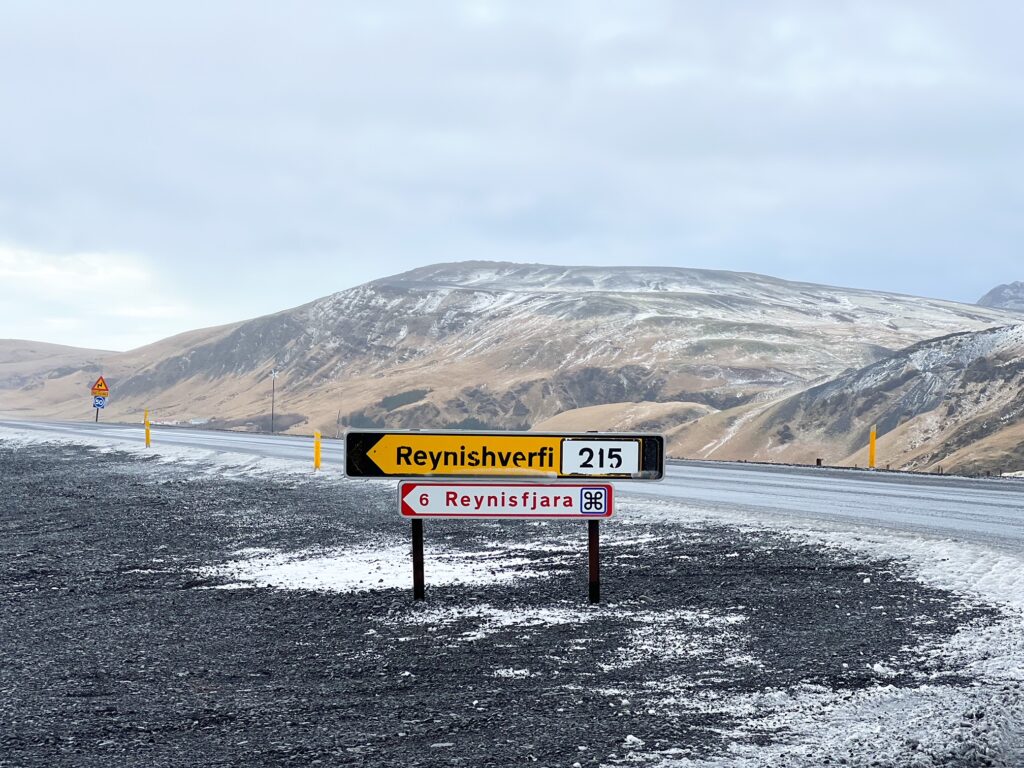 WARNING: Sneaker Waves at Reynisfjara Beach
Every time we go to Reynisfjara beach, we see people underestimate the sneaker waves. The technical way to define sneaker waves is to say they are disproportionately large coastal waves that can appear in a wave without warning. More easily put, they are unpredictable waves that can sneak up without forewarning.
Reynisfjara beach has many sneaker waves. This is due to a lack of a significant landmass between its shores and Antarctica's. This leaves thousands of kilometers for waves to build as they head toward Iceland's south coast.
Sneaker waves should be taken seriously! Not only do they have the power to knock people over, but they are very powerful and have the ability to drag you out with the current. Sneaker waves have claimed lives in the past on this very beach. No kidding! Please do not underestimate them when you visit.
When you go to Reynisfjara Beach, make sure to never turn your back on the waves. A good rule of thumb is to stay at least 100 feet (30 meters) from the shoreline in order to avoid the sudden and dramatic shifts in the tide. Keep a towel in the car just in case a sneaker wave or any ocean spray happens to get you.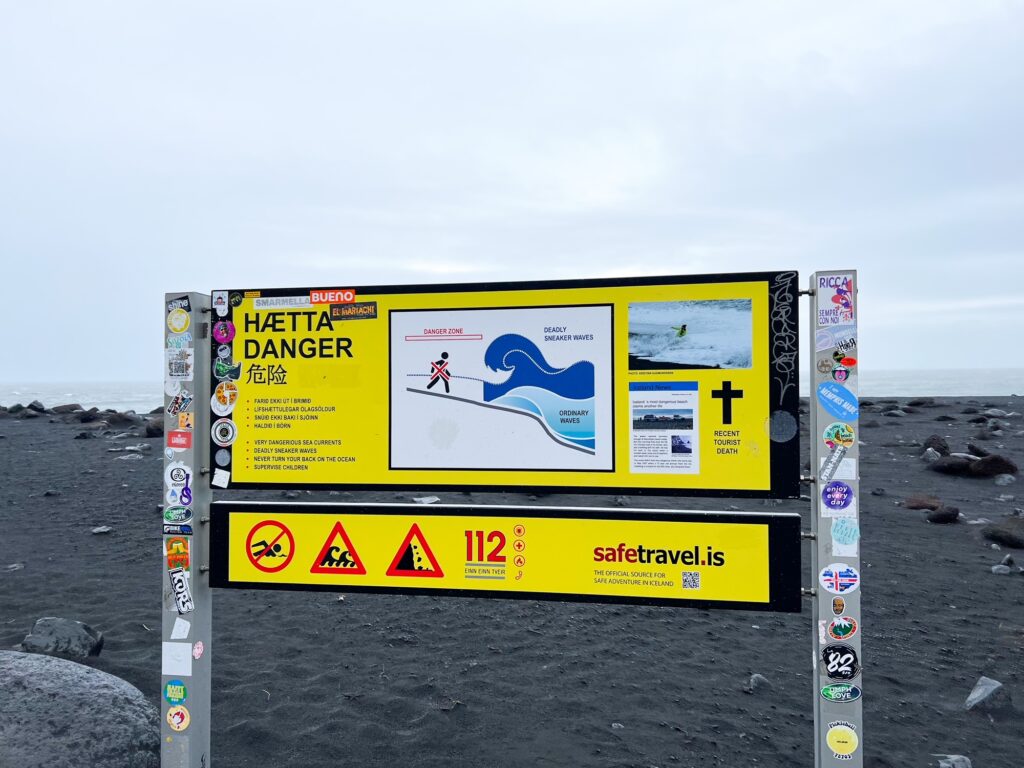 Wind at Reynisfjara Black Sand Beach
Another great thing to know about before visiting Reynisfjara is that the coast happens to be incredibly windy. Sometimes even unbearably so.
Winds at this beach can kick up at any minute and have been known to boost gale-force winds. However, the weather at Reynisfara beach could also be totally calm. It could very well be either. Icelandic weather is known to change within an instant. We suggest checking local weather reports before you go as you may need to pack a windbreaker for the visit.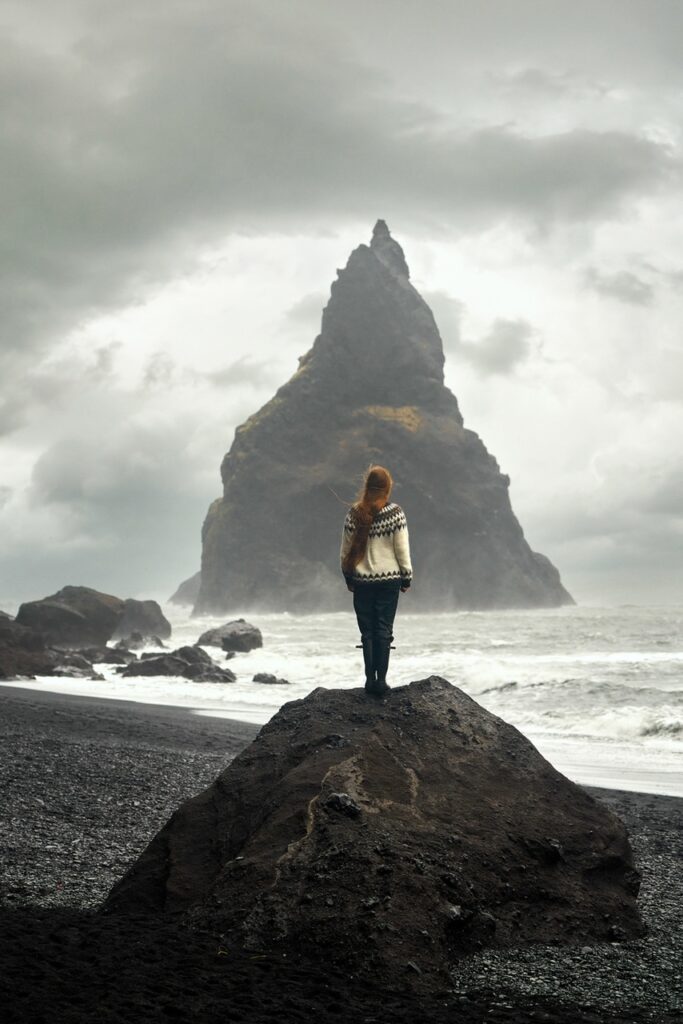 Basalt Rocks on the Beach at Reynisfjara
Reynisfjara beach is one of the most magical spots in Iceland where you can see basalt rock columns. The ones at Reynisfjara Beach are so iconic they were even featured in Game of Thrones and Star Wars.
Formed long ago, the basalt columns are the result of the rapid cooling of magma. Centuries ago when the dangerous Katla volcano erupted, the molten lava spread toward the North Atlantic Ocean. As the lava met with cool temperatures, a rapid cooling effect took over. Specifically, as the rocks hardened and cooled the hot volcanic rock began to shrink, pulling itself toward its center. Volcanic rock thus began to crack into regular geometric shapes. The process allowed the rock to harden into hexagonal rock formations.
The basalt columns at this black beach in Iceland are a sight to behold. Referred to as the Garðar Cliffs, Reynisfjara beach is the perfect place to capture great pictures of Iceland's unique south coast.
The basalt rock columns on the beach can be reached with a short trek. Just walk toward the Reynisdragnar sea rocks and you will reach them in no time. Remember, be careful of the tide as you go as well as those unpredictable sneaker waves. You won't want to be caught in the cave when the tides rise.
Keep walking along the Garðar Cliffs to reach the Hálsanefshellir sea cave too!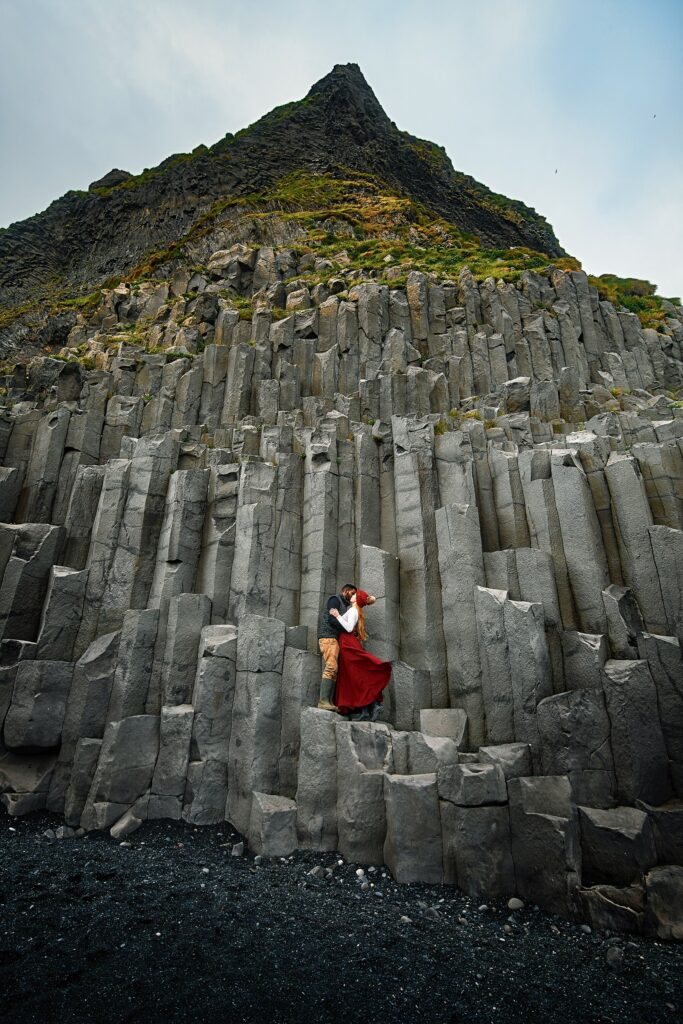 Amenities at Reynisfjara
As we have mentioned, a visit to Reynisfjara Beach is easy. The car park is a quick one-minute walk from the beach. There is a small beachside cafe called Black Beach Restaurant which serves fantastic refreshments. Also onsite are washroom facilities though they are for cafe patrons only.
We highly recommend a stop at the Black Beach Restaurant cafe after exploring Reynisdrangar Sea Stacks, the Garðar Cliffs, and Hálsanefshellir Sea Cave. Try out one of the yummy treats from the cafe at Reynisfjara beach. One of the best parts of our visit was warming up with a hot cup of Icelandic coffee after playing on the beach. The cafe also serves incredibly scrumptious cake which pairs so well with such a great day.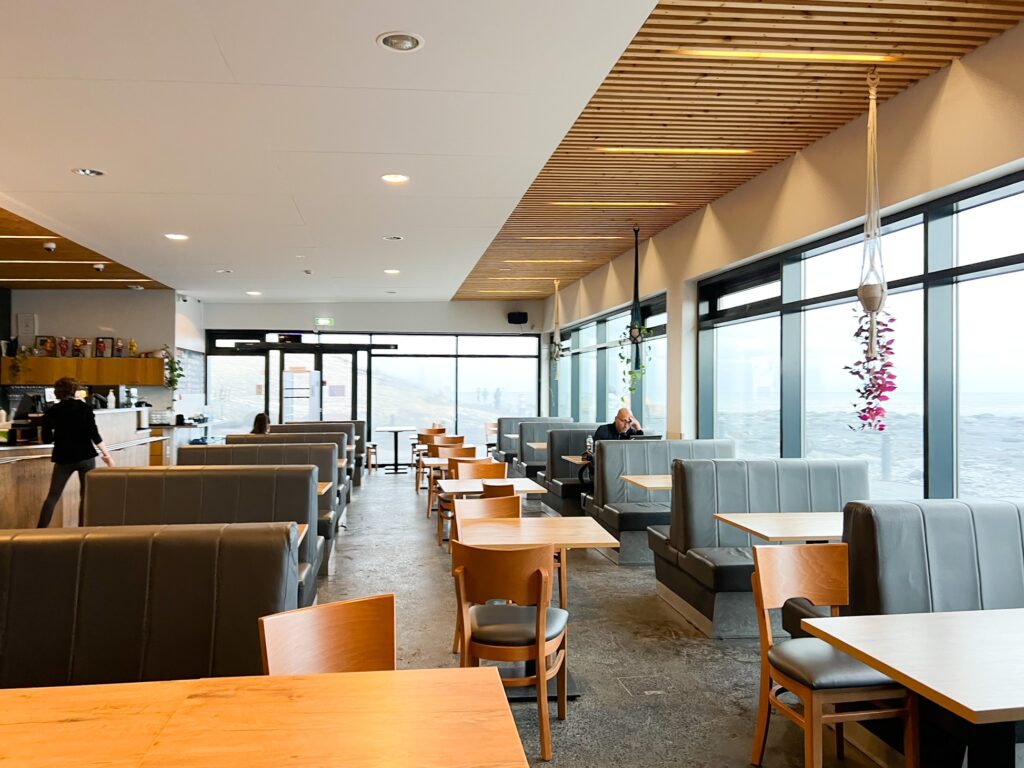 How Long to Spend at Reynisfjara Black Sand Beach in Iceland
An awesome trip to Reynisfjara won't take the whole day. To explore the beach and cave, budget between 30 minutes and a full hour. Although the black beach can be seen rather quickly, you may just need to capture an incredible shot with your camera here. For anyone wanting to take photos, give some more leeway to the plan and prepare to spend about 90 minutes here.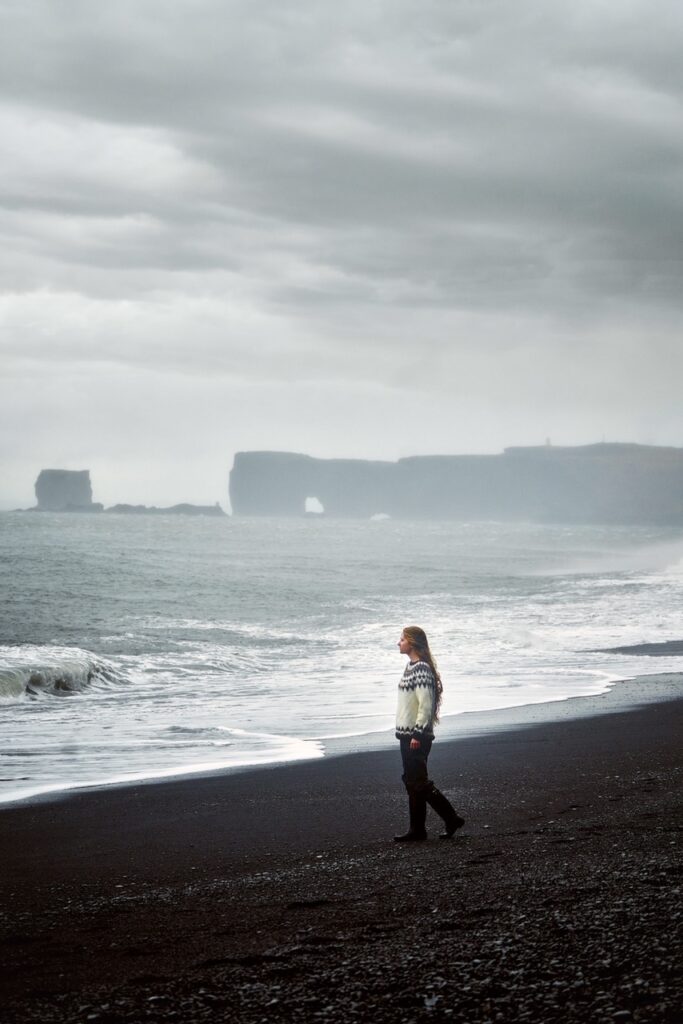 Where to Stay Near the Black Sand Beaches of Reynisfjara
Although visiting Reynisfjara will not take all day, you may want to end your day by watching the sunset over the Dyrhólaey peninsula. The town of Vík is near the black sand beaches of Reynisfjara and has plenty of accommodations to choose from.
Black Beach Suites offer endless views of the sea and include a sun terrace, wifi, and a small kitchenette. For those seeking a more cozy stay with great views, book a room at Vík Cottages. Breakfast is offered in the morning and an onsite restaurant offers lunch and dinner. For single travelers, we suggest using The Barn hostel as it has great amenities including a hostel bar. Check out these hotels and more best spots to stay near Vík.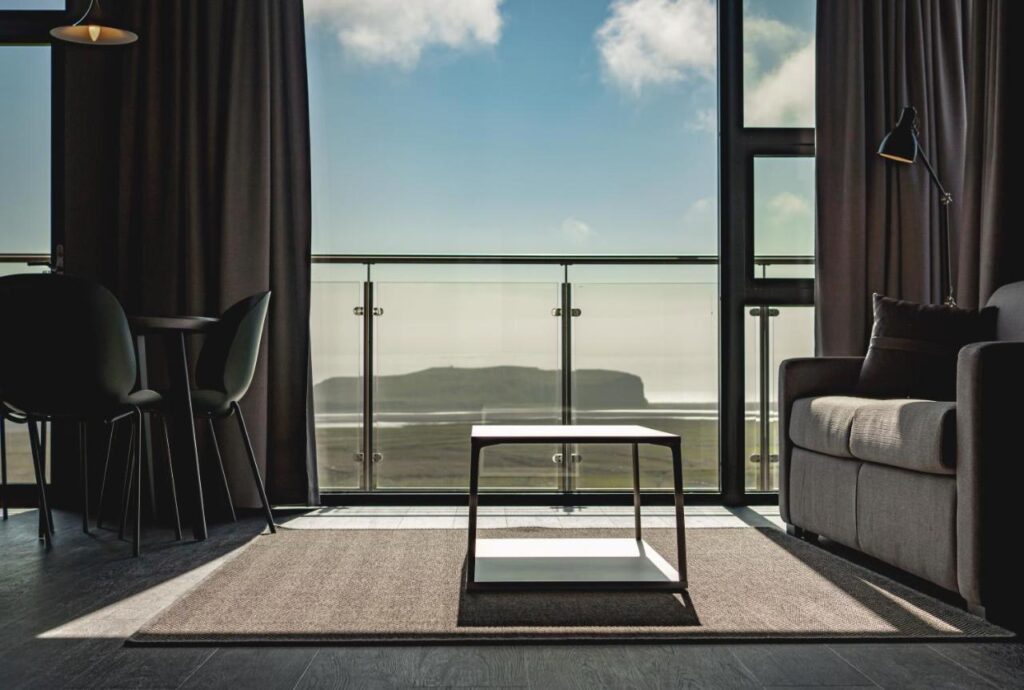 Reynisfjara beach is such a beautiful place on the south coast of Iceland. No matter what time of year, this is a fun place to visit. Make the short hike to the basalt columns right off of the Ring Road and stretch your travel bug legs. Walk inside the Hálsanefshellir Sea Cave for a spectacular view before the tide rolls in. Watch birds curling around the distant Reynisdragnar Sea Stacks during golden hour.
You will have so much fun along Iceland's southern coast. When you visit Vik, explore the nearby Reynisfjara black sand beach with caution. Watch out for sneaker waves, quickly changing tides, and intense sudden winds. It is always a good idea to check the weather first and be prepared. Hopefully, these tips have given you the confidence to tackle your Iceland Ring Road itinerary and bucket list.