Are you wondering where you can find the best coffee in Iceland? Look no further, in this article we will walk you through the best coffee shops in Iceland, Reykjavik coffee shops, and all you need to know about Icelandic coffee.
One of the first things we do when we go away is scope the area for the best coffee. Epic locations, breathtaking scenery, waterfalls, and lagoons are all high on our list but nothing beats exploring with a great cup of coffee in your hand.
Cafes in Iceland often provide a great rest stop to get warm and catch up with social media. Coffee shops are also great places to meet locals and get the inside information on places you want to visit.
Often at the heart of a city Reykjavik coffee shops provide an insight into local life and offer something familiar and comforting in an area we don't know well. If it wasn't for all the amazing things to do in Icleand we could spend ages people-watching in one of the coffee shops in Iceland.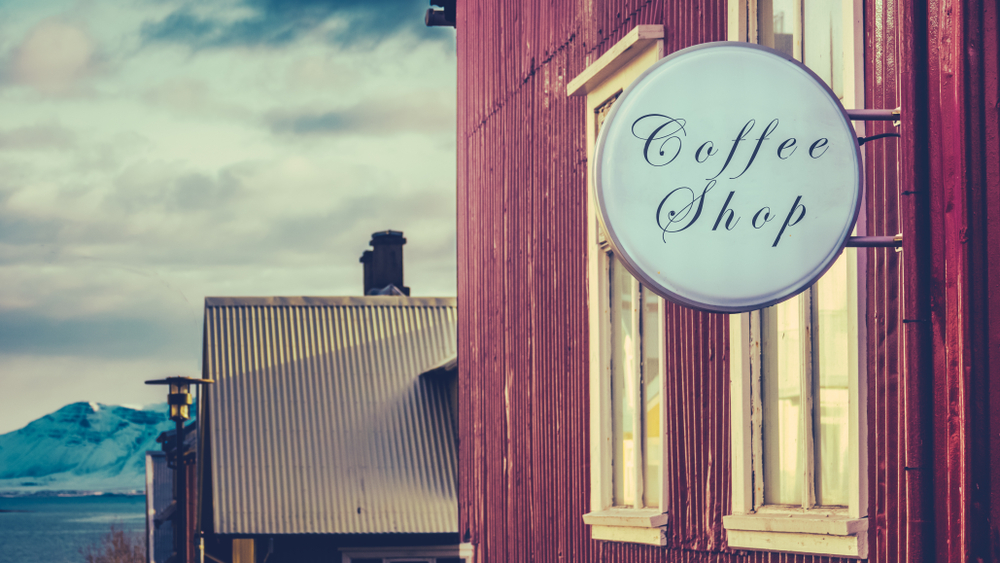 Is Coffee Popular In Iceland?
In short, yes Icelanders are huge coffee drinkers, in fact, the average Icelander consumes 8.3 kilograms of coffee beans per year. They are actually the fourth largest coffee consumers per capita.
For a nation that drinks so much coffee as you would expect they are passionate about it. Most Icelandic people think their coffee is some of the best in the world.
Most of the beans in the Iceland coffee shops are roasted in-house or are purchased from Iceland's two leading specialty roasteries, Te & Kaffi and Kaffitár. Most coffee is made according to traditional Italian techniques with latté, cappuccino, macchiato, and espresso tending to be most popular.
The coffee community is close-knit, friendly, and competitive this all makes for a great cup of coffee. Here the focus really is on quality over quantity.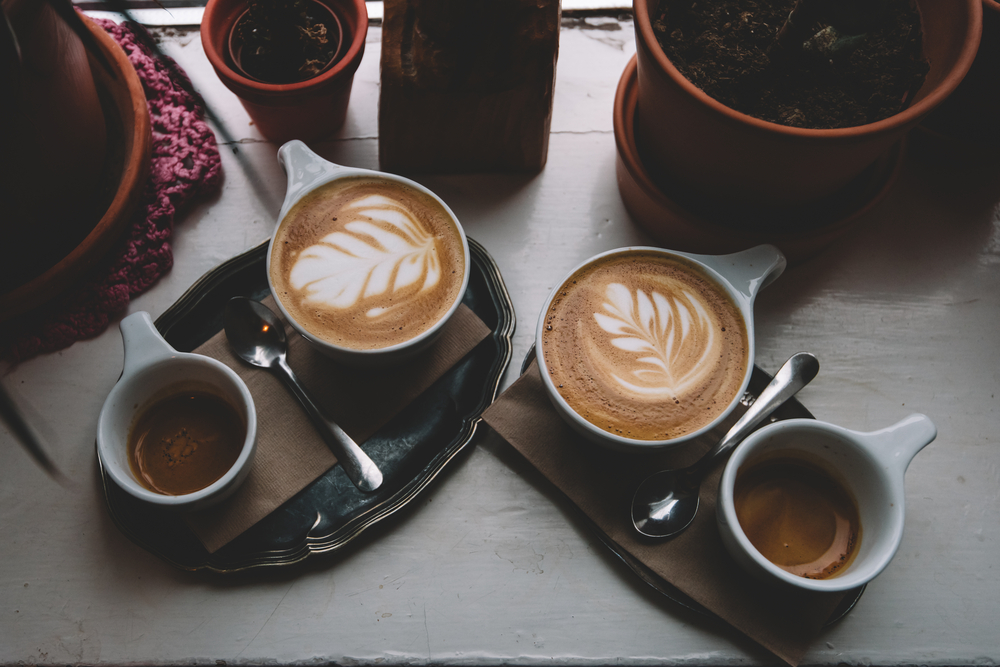 Is There Starbucks Coffee In Iceland?
While it might be hard to believe since most places have a Starbucks on every corner the answer is no. Iceland tends to be a country that champions independent establishments over big commercial brands.
And we feel this is a good thing as it generally makes us leave our comfort zone and try something different. You will get to experience some of the best coffee in the world and have an authentic Icelandic coffee drinking experience.
Small independent coffee shops have had a chance to flourish especially in the capital city. In Reykjavik, you will find a great local coffee shop on every corner. Don't forget to also try out the local breakfast cafes and the great restaurants.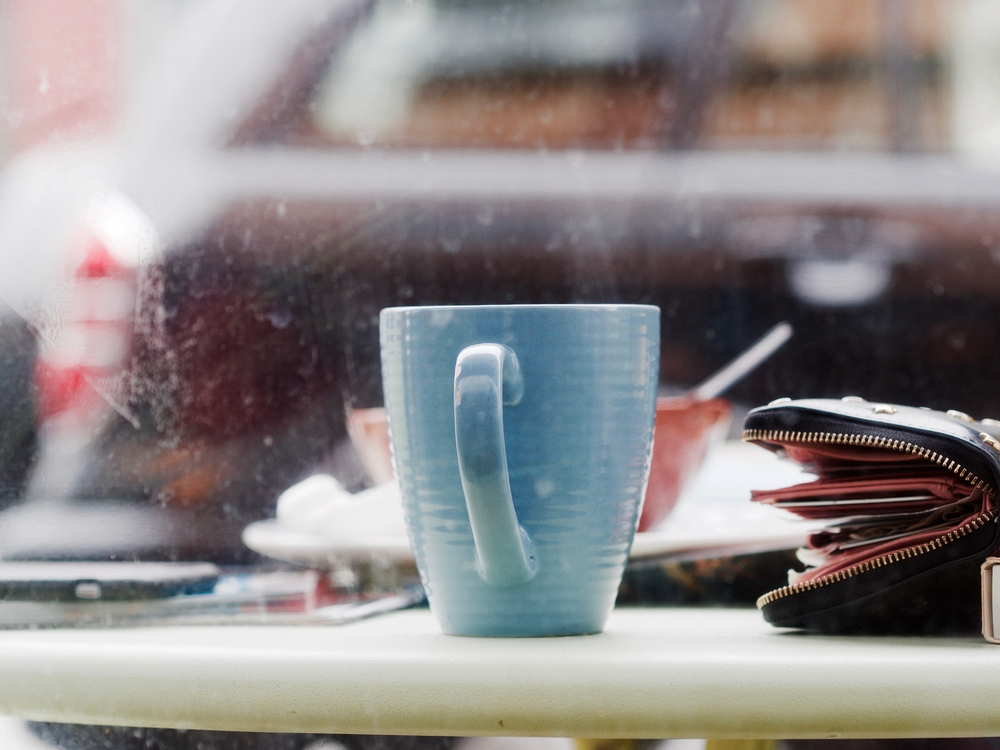 14 Best Cafes To Try Coffee In Iceland
Mokka Café – Reykjavik
One of Reykjavik's oldest cafés, Mokka Cafe is still run by the same family who opened it in 1958. It was the first Iceland cafe to buy a coffee machine and serve espresso, cappuccino, and café latte.
There is a very retro vibe here with the decor almost identical to the day it opened. Don't expect Wi-Fi here or background music this place takes its authentic roots seriously with the only mod cons being the coffee equipment.
The locals love this place and are very loyal and it. Mokka is nearly always busy. The coffee is great and the atmosphere relaxing and laid back. This is one of the really authentic coffee shops in Reykjavik.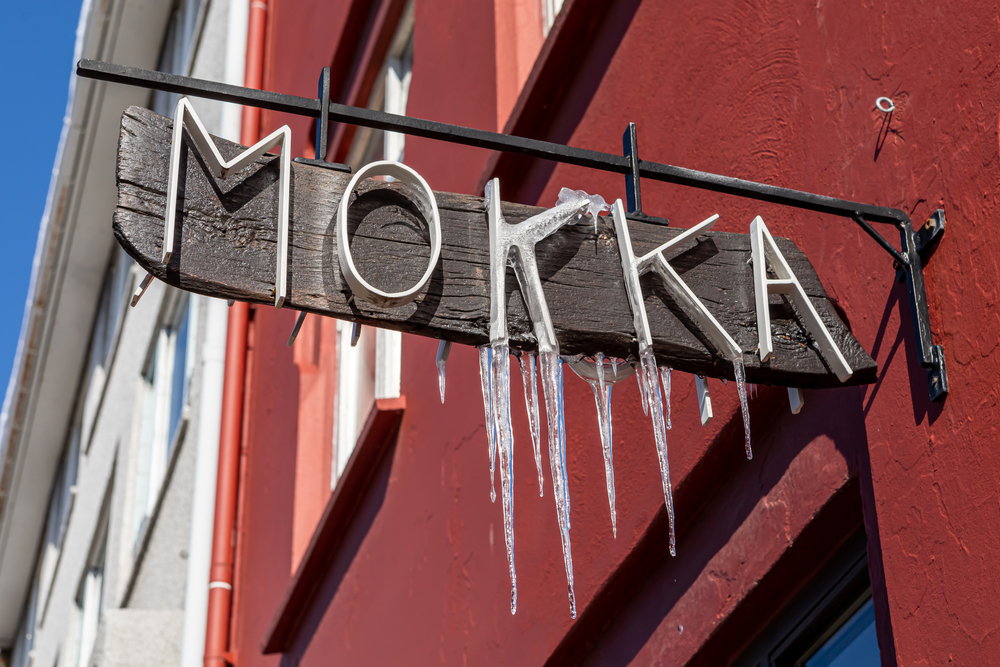 Viking Cafe – Hofn
In east Iceland, the Viking Cafe is so much more than just a cafe. It's also a guesthouse, horse rental, and Viking village.
If you are exploring the remarkable scenery of east Iceland then pay this place a visit. It's close to Vatnajökull glacier, Stokksnes, and Vestrahorn.
The cafe is family-owned and operated and serves great Icelandic coffee in a welcoming atmosphere. Please note there is a charge to get into the complex where the cafe is situated.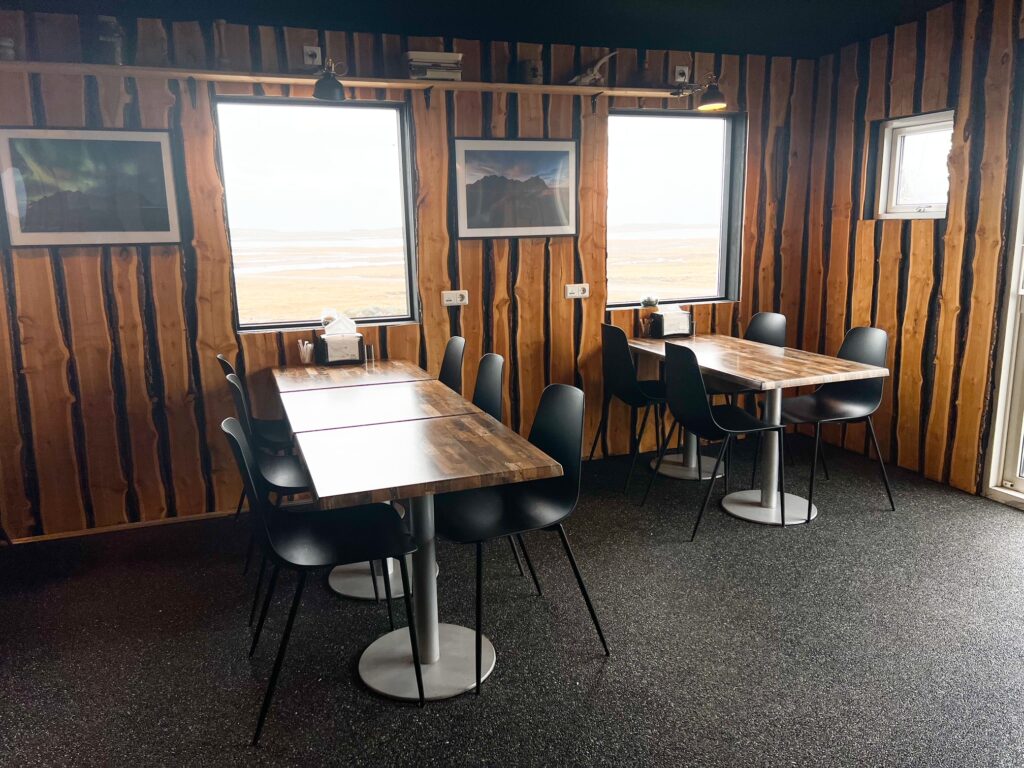 Reykjavik Roasters – Reykjavik
Some feel this is the best Icelandic coffee in the area and it is certainly a popular spot. They import their own beans and roast them themselves making for a great cup of coffee.
It's a modern hipster kind of vibe that you just can't help but feel part of. This is a cafe with an ethos behind it, for example, they only import from growers who meet certain ecological and humanitarian criteria.
You can take a bag of their coffee away with you or learn more about coffee at one of their workshops. They have become somewhat of an educator locally on good coffee.
Put this one on top of your list of Reykjavik cafes to visit.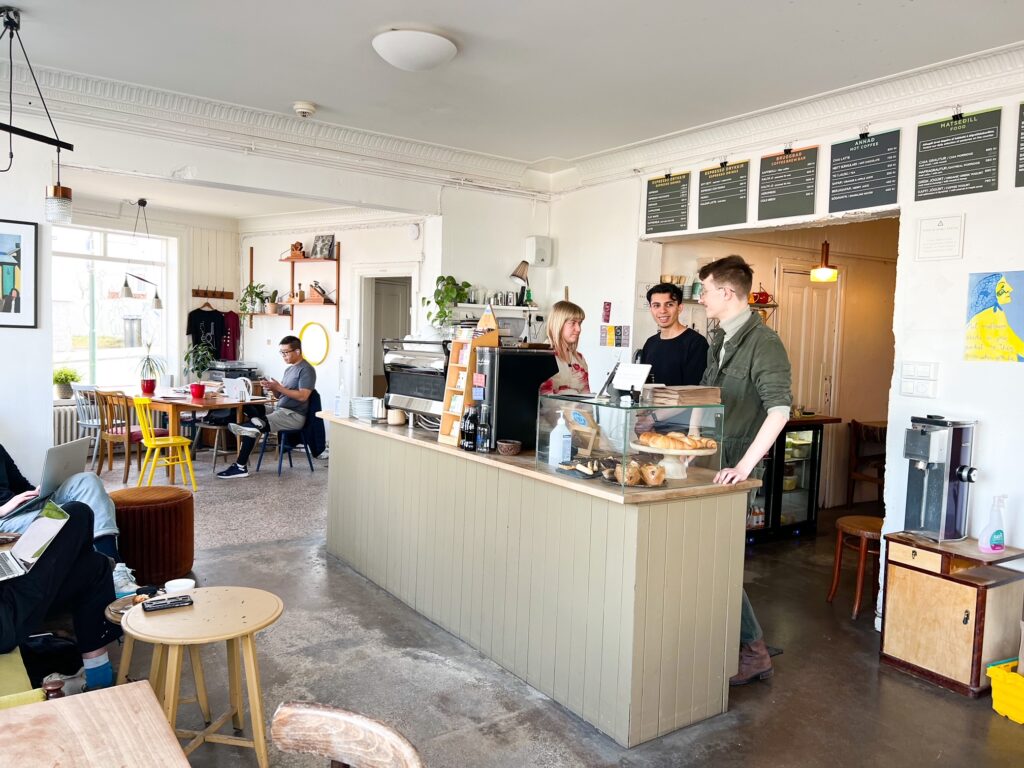 Sky Café -Kópavogur
Located in the Sky Lagoon this cafe is a must-visit if you are in the area. This is a place to relax and refuel.
If you are not familiar with the Sky Lagoon it's definitely worth checking out. Here you take place in a seven-step Icelandic bathing ritual in an incredible location.
The Sky Cafe is all about rustic and wholesome food and the coffee lives up to that ethos too. The atmosphere is warm and welcoming and we guarantee you will spend longer here than you expected.
Kattakaffihusid -Cat Café -Reykjavik
If there is one thing the people of Iceland love as much as the coffee it is cats. So a cat cafe was bound to hit the capital at some time. This place is warm, cozy, and very hard to leave.
It's an aesthetic little pink cat oasis that serves great coffee and vegan pastries among other things. This place pleases the eye as much as it warms the heart.
The owners work with local shelters and the cats here are all up for adoption so you might leave this Reykjavik cafe with more than you bargained for.
If cats and coffee sound like your perfect combination then you are in for a treat.
Skool Beans – Vik
Located along the southern coast in Vik is Iceland's first micro-roaster and tea lab coffee bus. Yes, you heard right this is coffee in an old School Bus.
The coffee is some of the best coffee in Iceland and the location is truly unique. The sweet and savory snacks accompanying the coffee are also well worth a mention. They serve great bagels and freshly made sweet treats.
You can either sit at the coffee bar and watch the people passing by or cozy up by the log-burning stove. If you are in the area then this is one of the Iceland cafes that is a must-visit. This is truly one of the best things to do in Vik!
Braud -Reykjavik
In downtown Reykjavik, while this place is more of a bakery than a coffee shop it is in our mind a must-visit. If you want coffee on the go then this is the place for you.
When Braud initially opened in 2016 they found themselves having to close early and people bought them out of all their stock. They now make sure this doesn't happen but the product is still just as good.
The cinnamon rolls here are some of the best you will have ever tasted and accompanied with a great coffee this breakfast on the go will set you up for the day.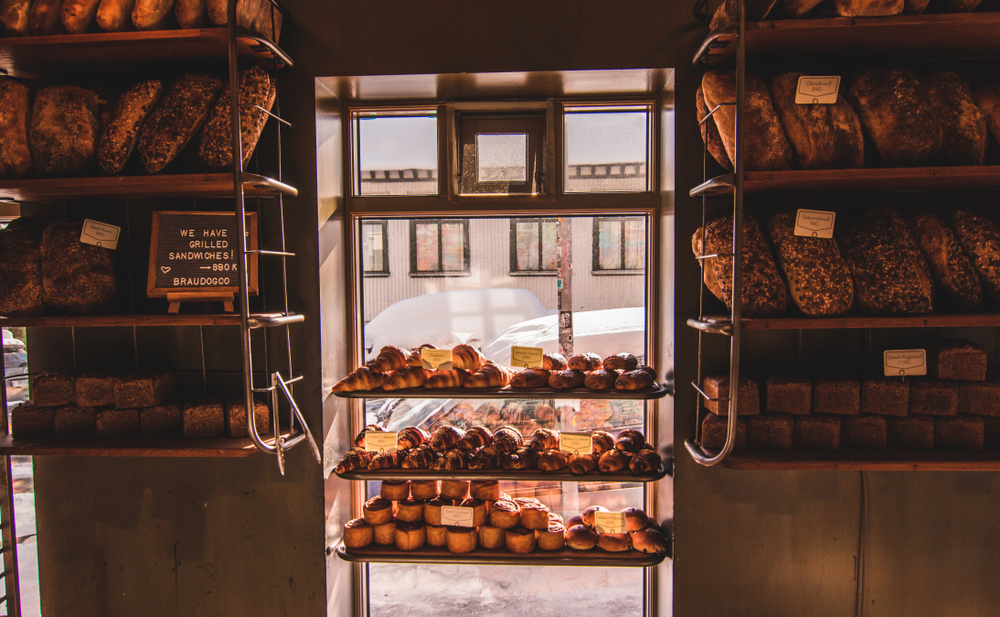 Black Beach Restaurant – Reynisfjara
If you are visiting the black beach and you totally should then a stop here is a must. Not only will it warm you up and provide a welcome seat but the coffee is great too.
It's a short walking distance from the basalt formations and the cave Hálsanefshellir and offers some incredible views of the ocean and Dyrhólaey.
Rocks from the beach were used as a building material for the walls and it's an architectural gem blending seamlessly into the natural environment.
You will find hot soup, cakes sandwiches, and or coarse coffee here. It's a great place to stop in a beautiful location.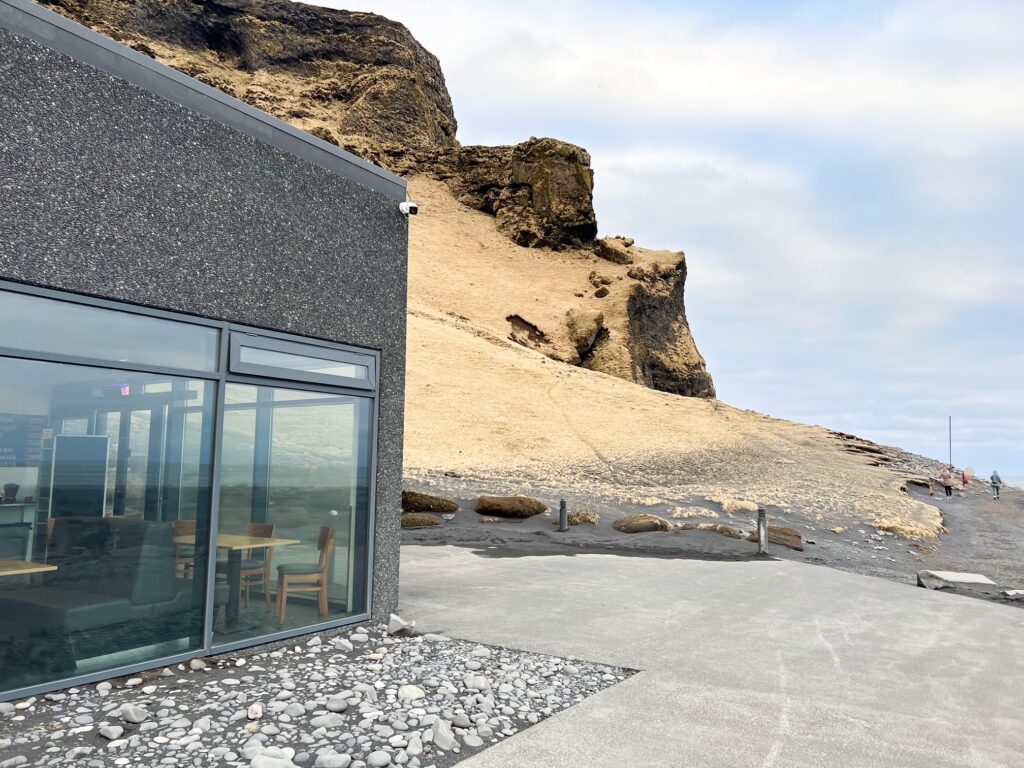 Cafe Babalu -Reykjavik
Located on the boutique studded street Skólavörðustígur in downtown Reykjavik this coffee shop can't be missed. The bright orange exterior beckons you into one of the most eclectic and unique cafes in Reykjavik.
This place has a personality all of its own. It's vintage, colorful, cozy, and homely if your home is full of electric pieces. It somehow feels like a giant hug in a building.
This place is joyful and serves great coffee are well as some great food if you find yourself not wanting to leave. One of the best coffee shops in Reykjavik if you are looking for something a little different.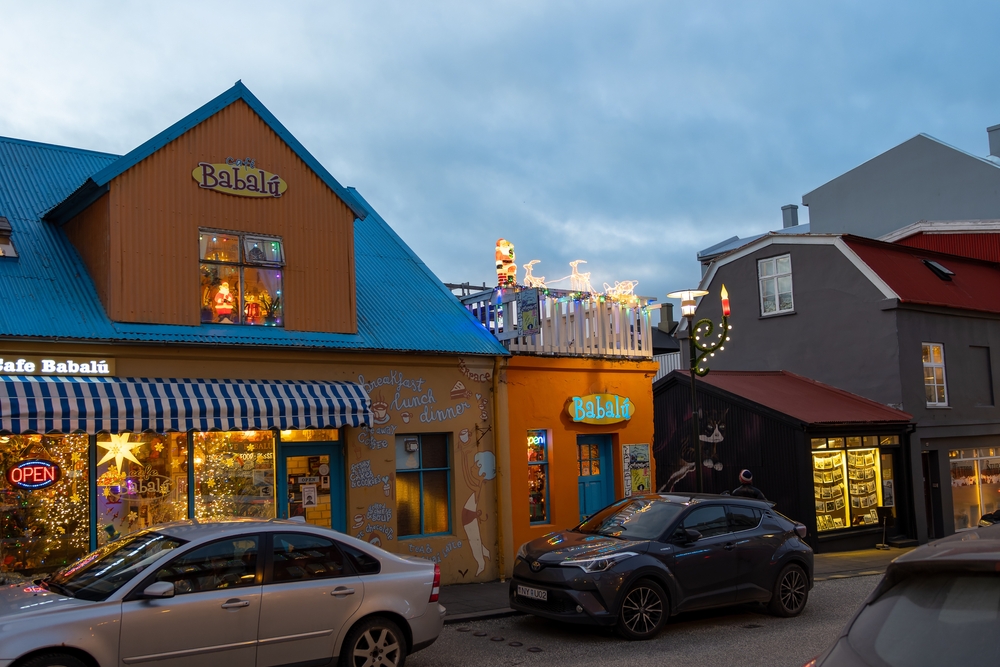 Kaffitar At Perlan -Reykjavik
If you are after great coffee then one of the five cafés or two bakeries run by Kaffitar is a must-visit. They are all about specialty coffee and artisan bread, pastries, and cakes served in a cozy atmosphere.
Kaffitar import and roast their own coffee beans trading directly with the farmers. They work with farmers who share their values on environmental issues and social responsibility.
Kaffitár is an Icelandic coffee roaster and operates five cafés and two bakeries. You can expect a cozy atmosphere and direct trade specialty coffees.
The location we feel is best is the Perlan coffee shop. The coffee house is situated on the top floor of this building in the glass dome which you can see from most locations in Reykjavik.
Having coffee in this landmark affords you a 360° view of Reykjavik which is just spectacular. Great coffee and a brilliant view what more could you ask for in a Reykjavik coffee shop.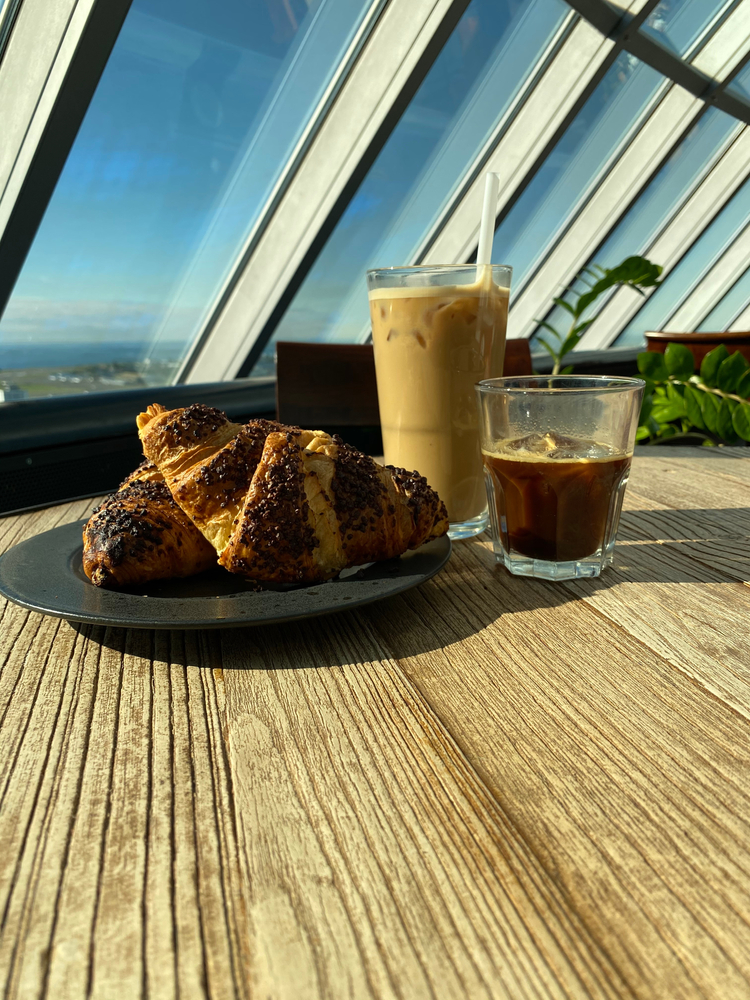 Kaffi Krús – Selfoss
In a charming old orange house on the main road is Kaffi Krús or the 'Coffee Jar'. While the coffee here is great the food is fantastic too.
They serve a large selection of Icelandic and international dishes and the food is said to be as exceptional as the coffee. So stop by if you are in the area and sample the great coffee and stay for some outstanding food.
Te & Kaffi -Reykjavik
Named after the product it sells tea and coffee, Te & Kaffi is Iceland's largest coffee chain with thirteen different cafes across Iceland. They stay true to their main purpose here which is to bring customers the best coffee on the market.
They operate their own roastery and pretty much know everything there is to know about coffee even offering in-house training courses for baristas.
The coffee shops are sleek and modern and also serve a variety of food. When it comes to Reykjavik coffee shops they don't get much better than this one.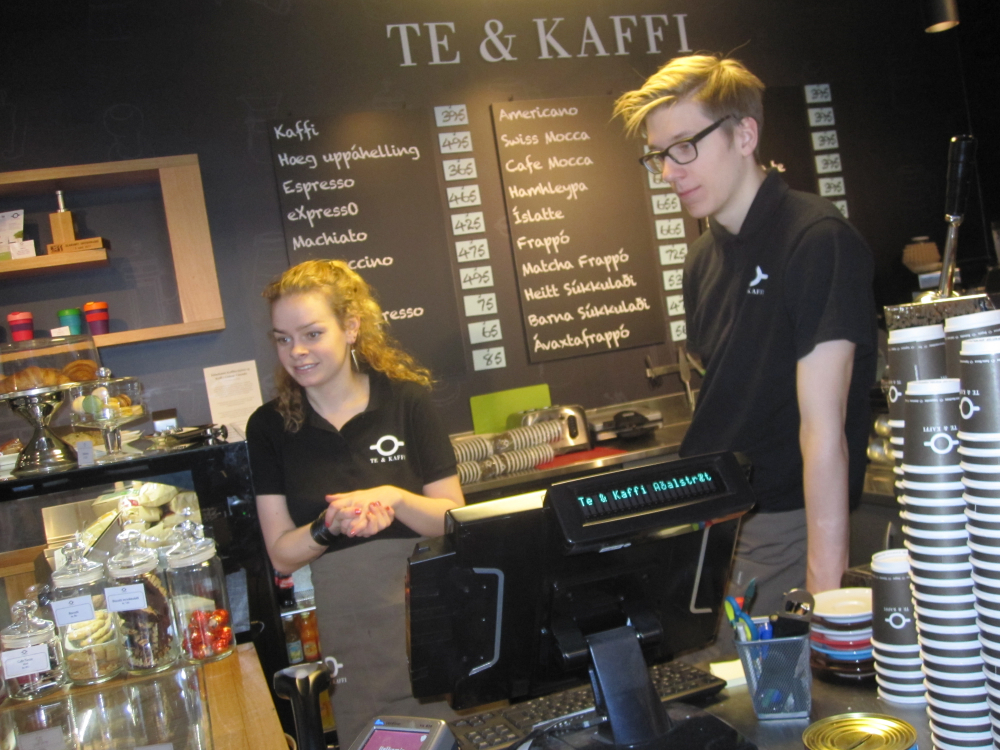 Bókakaffi Books And Coffee – Selfoss
Located in an old bookstore by Lagarfljót Bridge this cafe in Iceland offers you great coffee with a selection of old books and magazines to read.
The offering here is simple, coffee, the internet, and books. They are open most days with lunch specials on Wednesday and Thursday. They also offer cake buffets on Friday and Saturday which sound delightful.
Stofan Café – Reykjavik
In the center of Reykjavik Stofan is a perfect setting to enjoy a coffee while meeting with friends or discussing your day's adventures.
This cafe manages to bring together great coffee, comfortable seating, and a fantastic atmosphere. And if run out of conversation there is plenty of reading material and board games.
It's an incredibly popular place and finding a seat can sometimes be tricky so pop by at a less busy time if you can. This coffee shop really supports the local community by offering swap shops, performances from local musicians, and DJs, there is always something happening.
One of the best coffee shops in Reykjavik for just enjoying the atmosphere.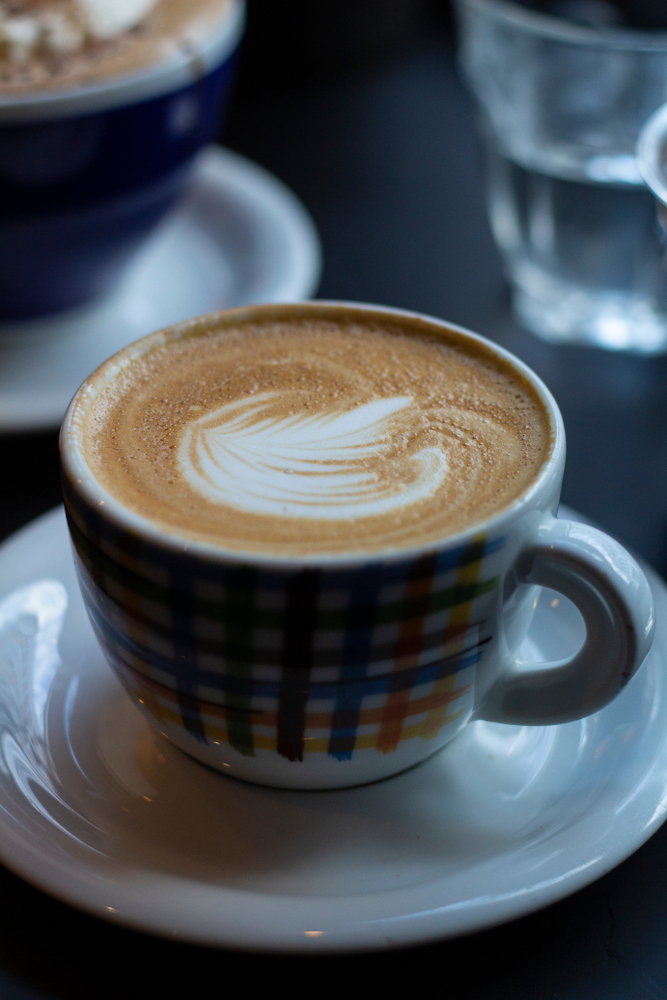 As you can see when it comes to sampling coffee in Iceland, there are so many places to choose from. These are the places where we feel you can get the best Icelandic coffee and the best coffee shops in Iceland.
Whether you choose one of the coffee shops in Reykjavik or one of the cafes in Iceland that is further afield we know you will have a great time. Please come back and tell us all about your experience we would love to hear it.