West Iceland has no shortage of beautiful and diverse landscapes, meaning if you decide to visit, you are in for a major treat!
West Iceland is famous for being one of Iceland's most geographically diverse regions. Visiting West Iceland ensures that you will have a fantastic sampling of all this country has to offer: from waterfalls to small towns to monthly events and more, the scenery is vast, ever-changing, and exciting.
Steeped in culture and with limitless adventure, West Iceland offers a variety of different opportunities to see unforgettable landscapes, national parks, villages, and more. West Iceland is only one of the eight traditional regions of Iceland, so you don't want to miss this!
And if you are having trouble deciding about where to go or how to plan your visit to West Iceland, don't be afraid to stop by our Iceland Itinerary to get some ideas and help! Keep reading to learn about 15 of the best places to see in West Iceland!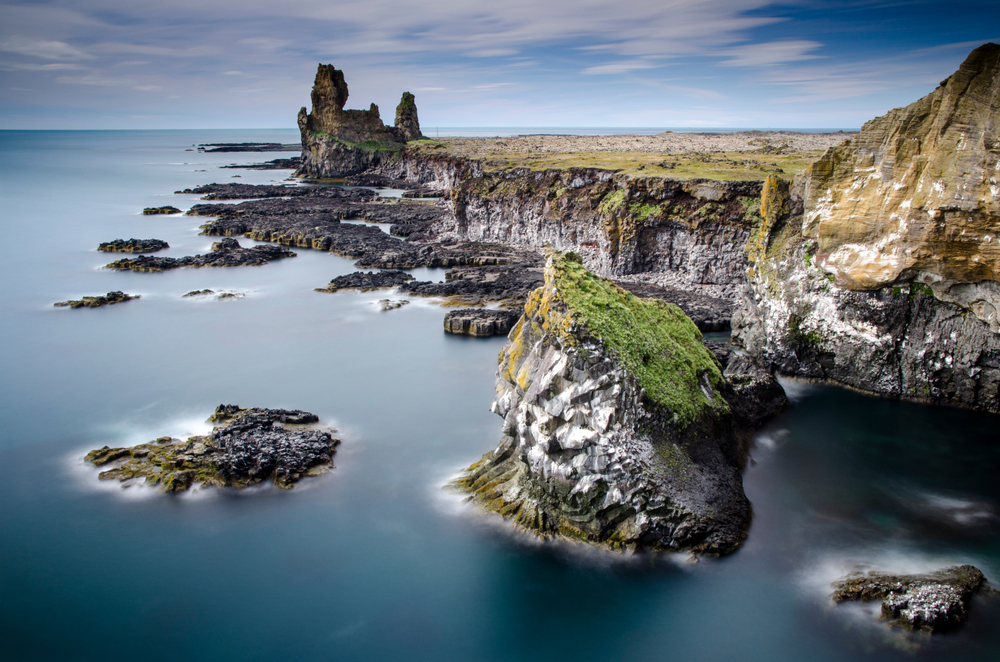 Visit Glymur Waterfall
Glymur Waterfall is the second-highest waterfall in Iceland, reaching a cascade of 198 meters (around 650 feet). It was long regarded as being the tallest fall in the region, until a newly measured waterfall near Morsajokull outreached it.
This waterfall can be a little difficult to get to, as it involves grabbing onto chains for assistance in steep sections on your hike there. And the hike itself also features some river crossings, so be careful!
But if you are up for this West Iceland Adventure, you will hike for about an hour before you get to see this gorgeous view. This fall appears to be falling into a moss-covered canyon. We promise it doesn't disappoint, and that the river wading is half of the fun. If you're interested in seeing more waterfalls on your trip, check out our article on the 30 Best Iceland Waterfalls!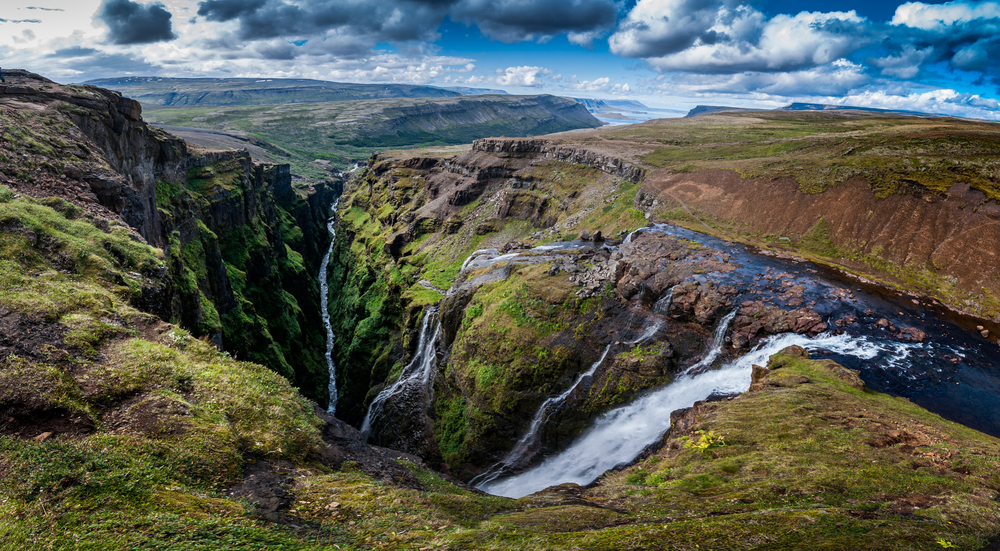 Witness Kirkjufell Mountain
If you are visiting West Iceland, you must add the iconic Kirkjufell to your West Iceland itinerary. This 463-meter mountain is on the north coast of Iceland's Snaefellsnes Peninsula and is claimed to be the most photographed mountain in the country.
This mountain stands tall above the small fishing town of Grundarfordur and has been voted as being one of the top 10 most beautiful mountains in the world. It is also commonly recognized as "Arrow Head Mountain" from Game of Thrones!
This mountain is sometimes referred to as "Church Mountain" for its distinctly shaped peak and visitors love the dramatic formation and perfect coastal location. If you are interested in visiting here, do make sure to also check out our other recommendations for the Snaefellsnes Peninsula and its epic stops! And if you want, check out an Snaefellsnes Peninsula all day tour that will feature this mountain!
Book Here: Snaefellsness Peninsula Full-Day Tour.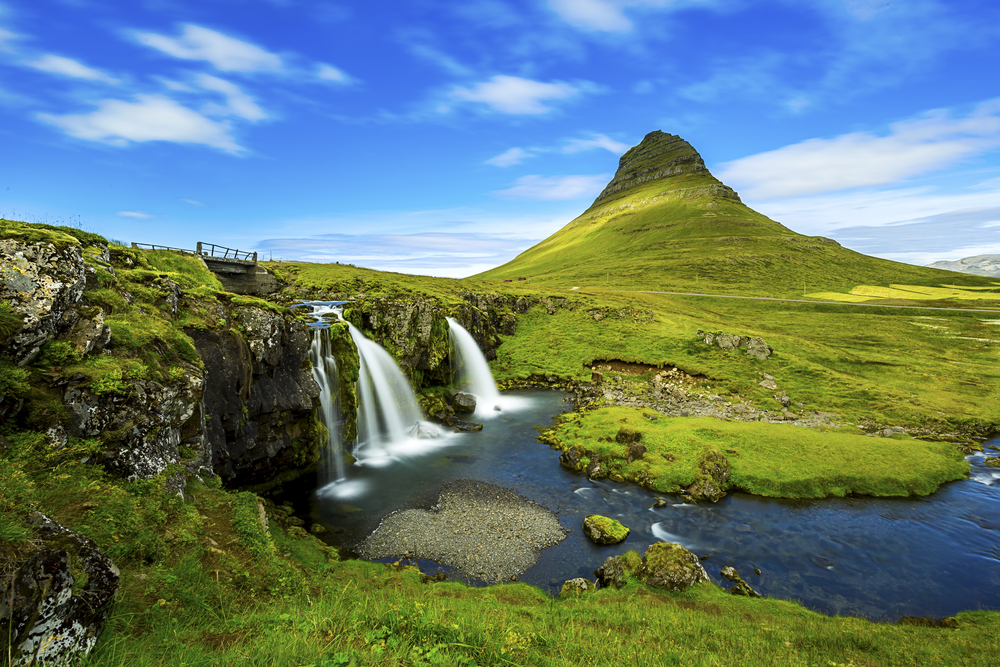 Dip in Krauma Spa
Krauma Spa asks visitors to experience nature from its core, so of course, we recommend it when we suggest things to do in West Iceland! These natural geothermal baths and spas are the most powerful hot springs around. It is open all year, which means you can rest and relax at any time!
Krauma has a total of six baths, five warm and one cold. There are no chemicals needed to keep the pools clean, as the water is constantly replaced with the rapid natural flow rate of the springs itself. This spa also features a changing room, separate lockers, and a restaurant so you can really enjoy your time here.
So please come visit this calm atmosphere in West Iceland. Enjoy the outdoors, some yummy traditional cuisine, and give yourself options with what pools you want to soak and relax in. Unwind and enjoy the mountain views in steaming (or maybe cool!) water.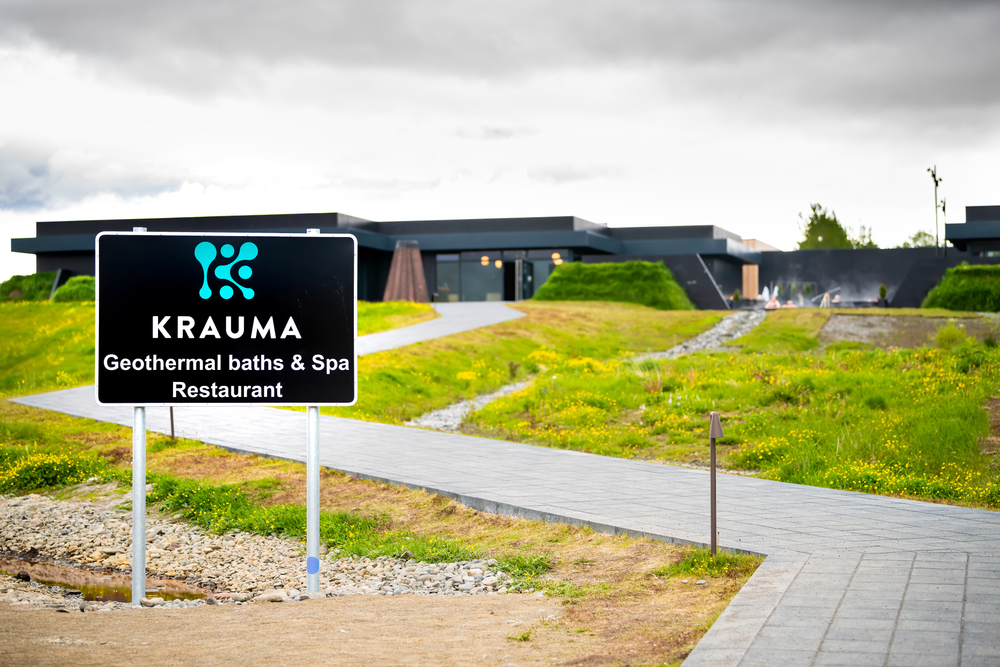 Gaze Upon Londrangar
The Londragnar are a pair of rocks in West Iceland that are volcanic plugs composed of basalt. They have naturally been carved out from softer surroundings and due to erosion, now stand as towers by the shore near Hellnar.
These two pillars rise above their surroundings and are a great photo op and place to enjoy nature at its finest. These towers have sustained wind, ocean, and even eruptions for over tens of thousands of years. They have been carved and eroded with time and are worth seeing for the sheer chance to witness natural creation and destruction.
This is a place that has always captivated West Iceland visitors throughout time. The higher pillar reaches 75 meters in height and the shorter one is 61 meters at its tallets. Local lore claims that a troll once sat on the larger pillar and helped humans understand that these pillars were to always be a big part of those who lived in the area.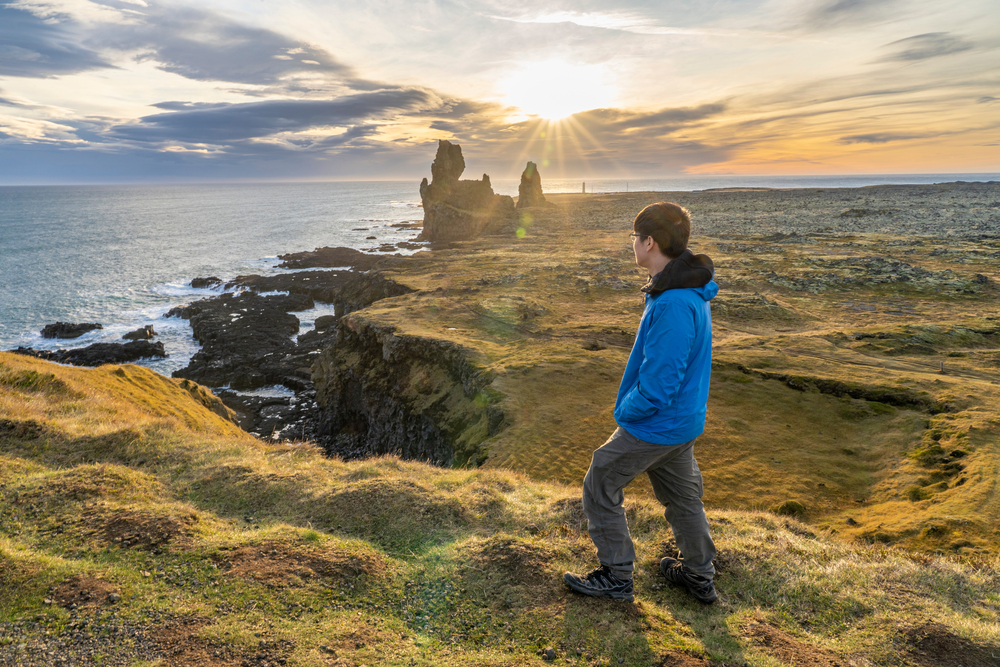 Rest and Relax at Gudrunarlaug
Gudrunarlaug is a thermal bath in West Iceland. Exploring the amount of hot pools in Iceland could take forever, so we are only recommending the best of course. Gudrunalaug is named after one of the great heroines of the Icelandic Sagas. She is the main protagonist in local lore.
Unlike most natural geothermal pools in Iceland, the changing room is close to this pool. It is just a couple of meters away. It is also a fairly warm pool. The temperatures reach roughly 100 degrees!
This geothermal pool is also free! And it is clean! If you see some algae on the top of the water, don't worry. This is good for your skin. And better yet? There are many locations around the pool that make this trip worth it. From local ice cream shops to the birthplace of Leif the Lucky, this is a place to explore. And if you decide you love hot springs, make sure to visit our article about hot springs!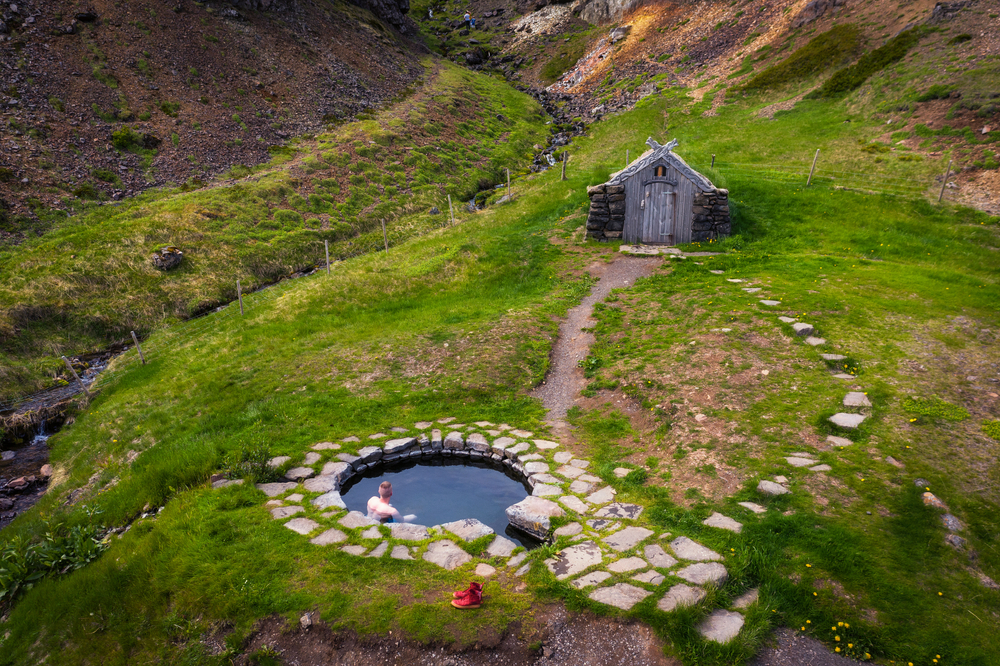 Stop to Visit the Budir Black Church
The Black Church of Budir has become a very popular object and destination in West Iceland. Many photographers love to come here. The small, distinct church is a beautiful, minimalistic object. It is contrasted with the rough nature of Iceland. And the black color is another strong contrast against the cloudy mountains in the background.
Most churches in Iceland are painted black with pitch, like the hull of a boat. This protects it from the harsh Icelandic elements. However, it also makes it a great spot to take photos at.
This church is rather easy to find because it can be seen from far away. From road 54 just keep driving into road 578. This West Iceland location is gorgeous, and don't forget to check out the graves, stonewall, and tall grass that are featured around the church too. And if you are interested in seeing more Icelandic churches, go beyond West Iceland! Check out our article on the 11 Prettiest Churches in Iceland for more details.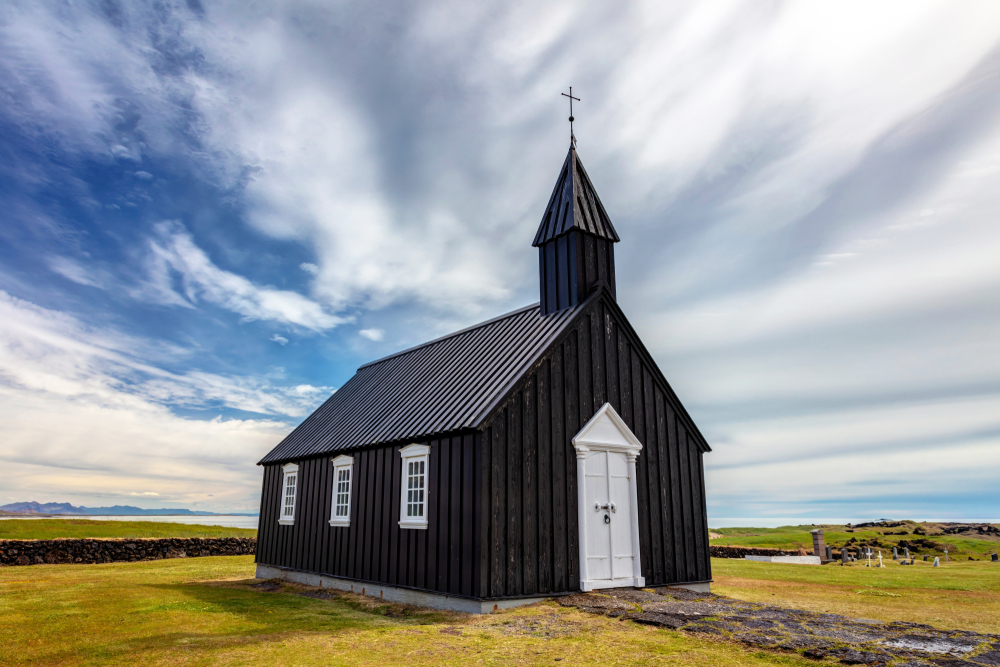 Marvel at Deildartunguhver
We told you there were many hot springs in Iceland! Here is another one in West Iceland! Deildartunghver is a hot spring that is known for its high flow rate and hot water. Temperatures reach about 97 degrees Celsius here. This hot spring is famous for being the highest-flow hot spring in Europe.
The rapid flow rate here is 180 liters per second. Because of this, this is one of West Iceland's most popular destinations. The water rises with ferocity. It also heats many Icelandic homes in the area.
But please make sure to pay attention– that constant 97 degrees Celsius is too hot. It is dangerous for those who venture too close. You cannot bathe in this spring. Thankfully, though, there are a number of wooden walkways and observation decks for you. And if you are interested, it is possible to book a saga tour that takes you through waterfalls, hot springs, baths and more!
Book Here: Silver Circle, Canyon Bath and Waterfalls Tour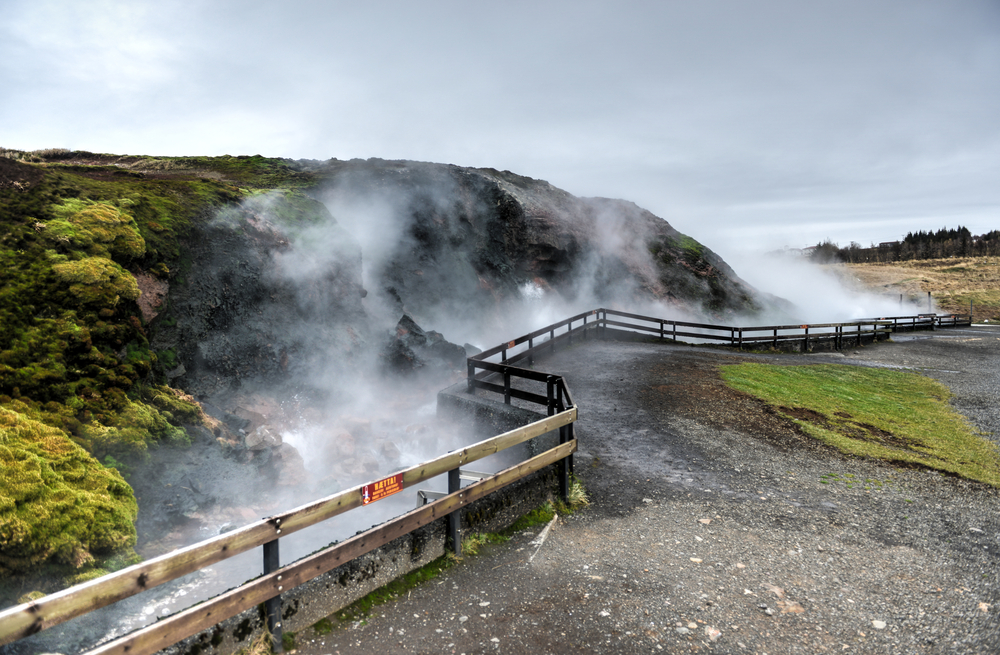 Visit Both Hraunfossar and Barnafoss
The waterfalls of Hraunfossar in West Iceland are a real treasure. This collection of waterfalls cascade down and into countless creeks. The streams fall and stretch across 900 meters. From this location, you can see glaciers. But what most visitors love is the color of the water. This West Iceland treasure can be a dazzling turquoise or milky white. Contrasted with the lava flow, it is worth seeing.
Barnafoss is located above the Hraunfossar. This name translates into Children's fall. According to legend, it takes its name because two children once fell into the fall itself. Some travelers are surprised to find that Iceland has countless stories like this that really only can make your itinerary and visit more interesting when you are aware of them.
Despite the sad history and lore behind the falls, the combination of the Hraunfossar and Barnafoss falls feature water, lava, and hiking trails. It is a beautiful spot you don't want to miss!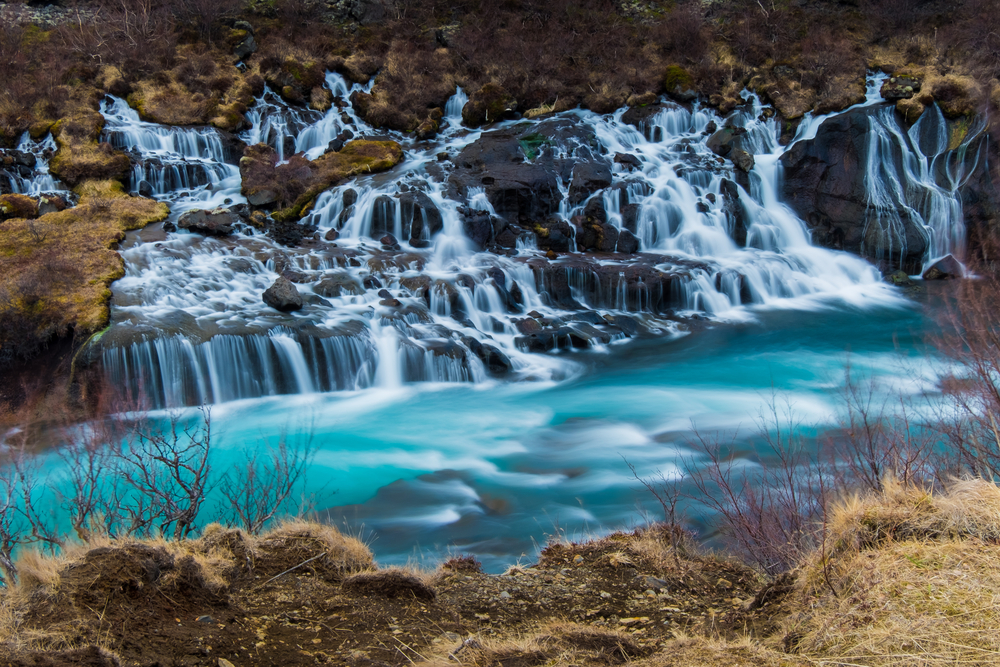 Walk Across the Natural Bridge at Arnarstapi
If you are looking for another stop to add to your West Iceland itinerary, you must add the natural bridge at Arnarstapi to your list! This gorgeous natural bridge is a part of the Snaefellsnes Peninsula in West Iceland. It is composed of columnar basalt and its surrounding cliff formations are breathtaking.
Most people love to stop here for a photo op. This natural bridge in West Iceland has become a popular destination as it is one of Iceland's most beautiful natural harbors. This bridge has stood for thousands of years. Now you have the chance to stand on it, take in the view, snap a few photos, and just drink in the wonder of the nature of West Iceland!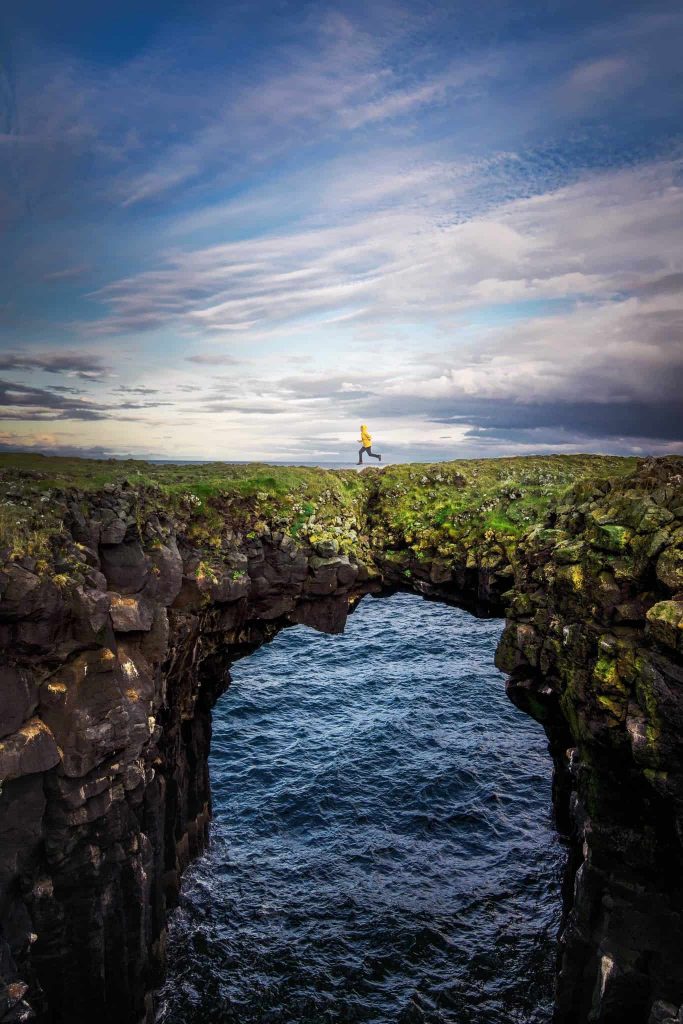 Try to go find Landbrotalaug
Landbrotalaug Hot Springs is a must-see in West Iceland, but that doesn't mean they are easy to find! Located in the Snaefellsness Peninsula, this small pond of hot water is the perfect place to relax. Only two to three people can go into the spring at once, which makes it intimate and romantic.
Most view this hot spring as a secret now and love to either visit alone or in the company of a few close people. Getting to it involves a true rugged experience, but we promise, the concrete stones and medieval vibes of the area are something you don't want to miss.
Whether you are alone or with a small group, sit back and soak. Enjoy the pond that is surrounded by long stretches of plains, open skies, mountains, and even wild trails. All of these are visible in the distance, and the horizon is a view you don't want to forget while enjoying West Iceland!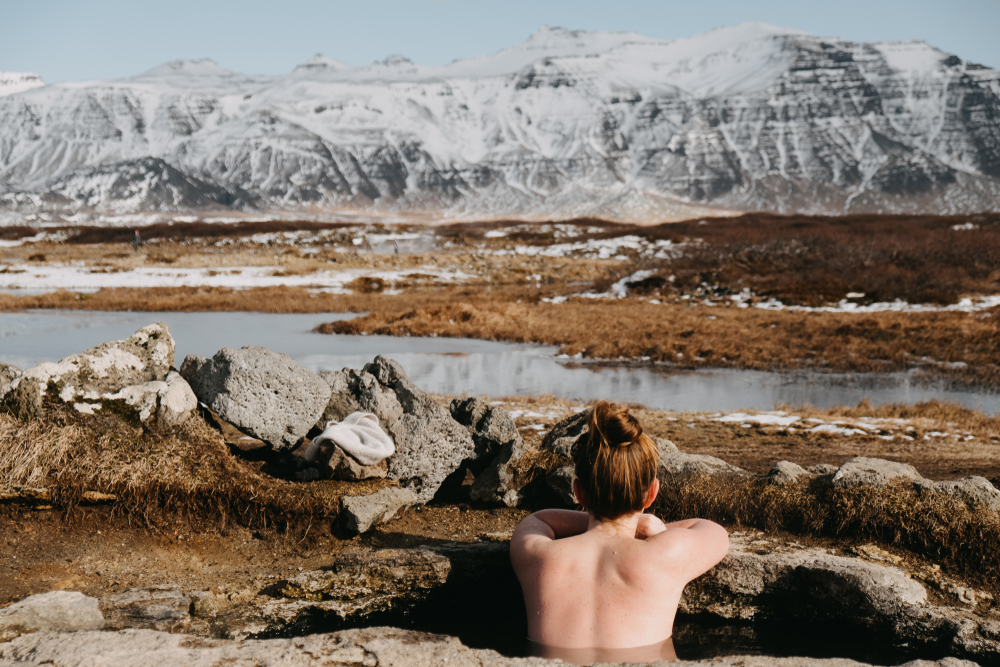 Stop and See the Snaefellsjokull Glacier
The Snaefellsjokull Glaciar sits atop an active volcano and is a must-see for your West Iceland trip. This glacier looks over the entire peninsula like a watchman. It can be seen from National parks or even the inland roads of the peninsula.
Fun fact: this glacier inspired the setting for the book "Journey to the Center of the Earth!" This is also the only glacier on the Snaefellsnes Peninsula, so you have to go visit it! Although it is considered small by Iceland standards, it is worth the stop.
The view is unique and if you have the opportunity to check it out– do it! Marvel at nature and all it has to offer when visiting West Iceland! And if you want a personal, private experience, consider the Journey to the Center of the Earth Tour!
Book Here: Journey to the Center of the Earth Tour.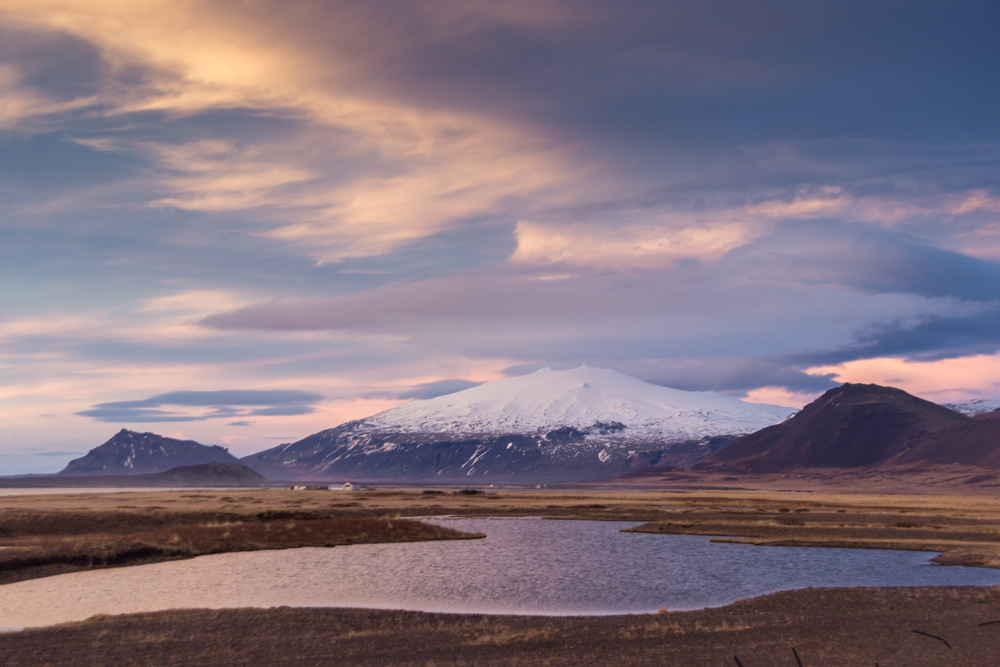 Take a Tour of Vatnshellir Lava Cave
The entrance to the Vatnshellir Lava Cave is another perfect place to see the Snaefellsjokul glacier. This means if you visit here, you can see two sights at once! Or get two different perspectives in West Iceland! This Lava Cave is located in Snaefellsjokull National Park.
This location is over 8000 years old and if you love nature and history, you have to see it! During the summer, guided tours are offered between 10 am and 6 pm to explore the underground tubes of this cave. But you cannot visit this cave without proper safety gear!
This means you must make sure you have a guide. So if this interests you, check out times for tours so you can be well prepared! Make sure to book your tour for these lava caves today!
Book Here: Lava Cave, Hot springs, and Waterfalls Tour.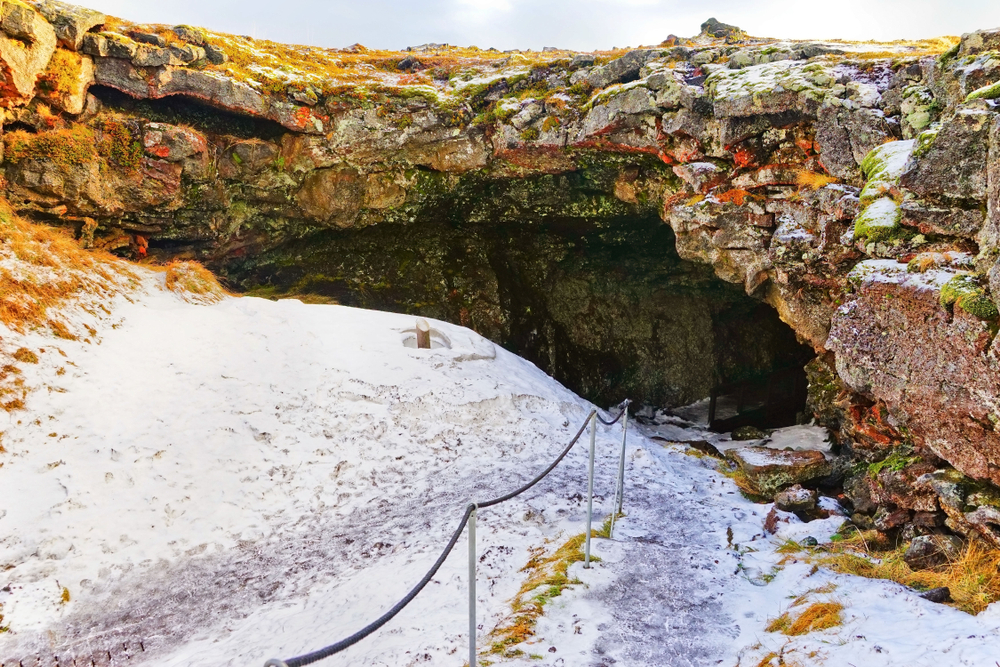 Take a Photo With the Svortuloft Lighthouse
The Svortufloft Lighthouse is a great place to visit in West Iceland. First, it is easy fo find: just follow main road 574 to the edge of the peninsula and head south to the lighthouse! From there, you can simply walk across a wooden boardwalk to visit the lighthouse.
This lighthouse sits atop jet-black basalt cliffs. It makes this stop so picturesque! The orange color of the lighthouse itself contrasts nicely with the backdrop.
This stop is perfect for a quick photograph, or if you're interested, a stop to learn more about the area! There are interpretive panels along the lighthouse that provide information about the history of this gorgeous location. So snap a photo, learn a bit, and enjoy the beauty!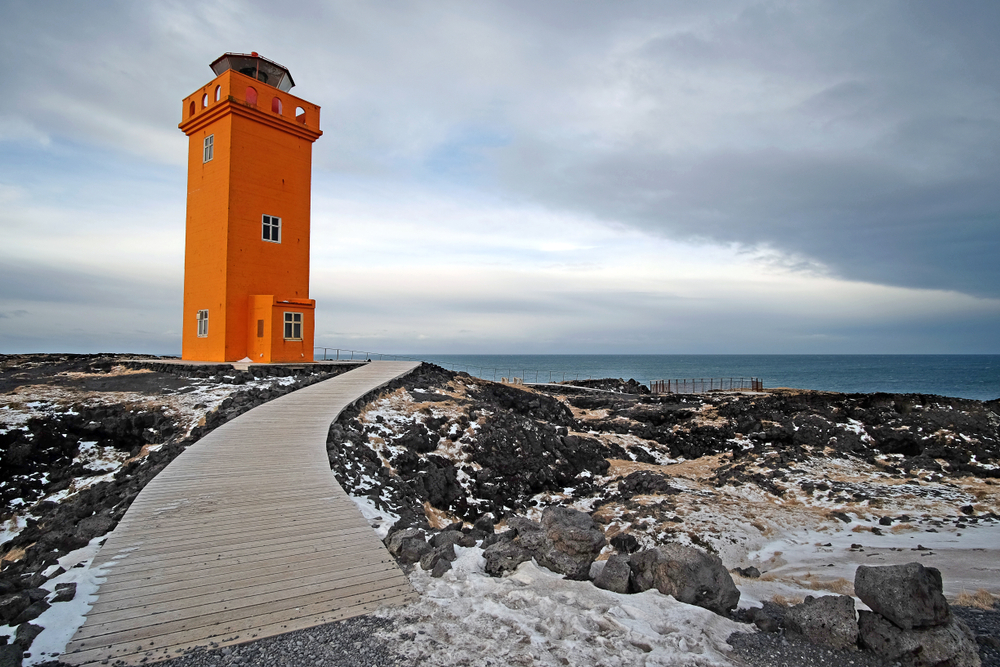 Walk Through the Raudfeldsja Gorge
This gorge is a lesser-known thing to do on the Snaefellsnes Peninsula in West Iceland. It is in the prime location, though, as if you visit the Budir Black Church, the gorge is close by!
This distinctive-looking gorge is easy to spot from the road. But be warned! It is only accessible in the warmer months. Because of the snow in winter, the gorge isn't easily accessible in the harsh weather, so it isn't worth it to try and visit it during that time frame.
When visiting, you can park your car and just a short walk away is an opening. Follow that path and walk in along a narrow pathway to a stream. You will eventually come to a small waterfall, but getting in and walking through the gorge is worth the adventure in West Iceland! Just be careful with the water– it can be slippery!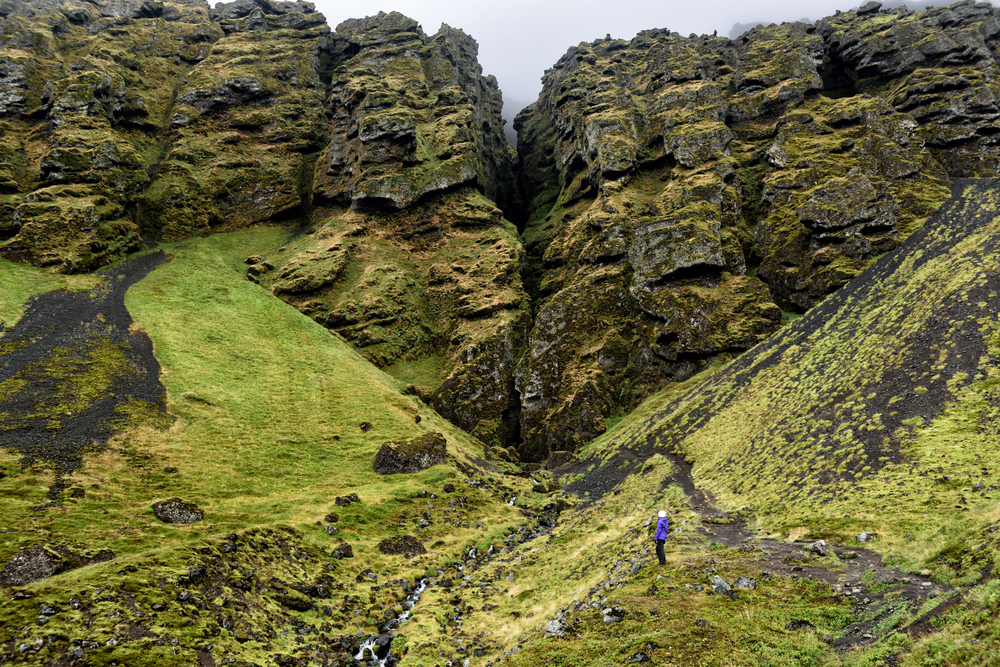 Stroll through Borgarfjordur West Iceland
Brojarfjordur is a fertile valley in West Iceland. It is home to the most powerful hot spring in Europe but is truly a geothermal utopia. This town is known for its waters that appear clam but have significant undercurrents and shallows. Many of the islands in the fjord are uninhabitable.
This town is rich with history and is popular as it is the setting for most Icelandic sagas. The landscape, nature, and culture reflect this heritage everywhere.
From little town vibes and places to explore to untold possibilities for outdoor recreation, everyone will find something they love to do in this town! It is truly a natural paradise in West Iceland!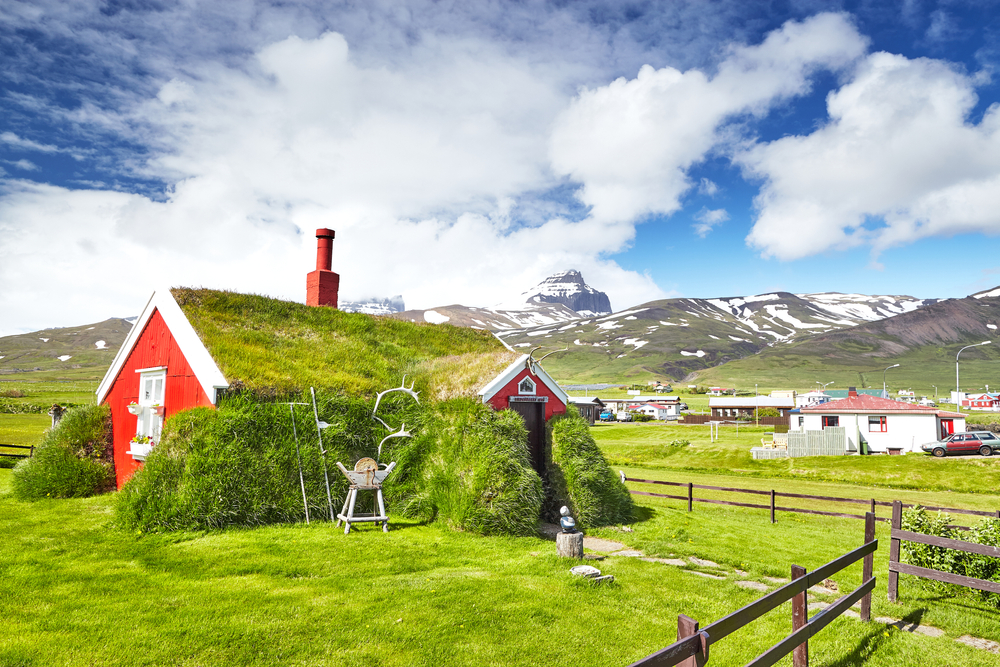 And there you have it! 15 of the best stops to visit in West Iceland. Iceland in general has so much to see and do, but if you are in West Iceland, we highly recommend these stops! We promise you won't be disappointed in the stunning views, the unique attractions, and more.
So pack, plan, and enjoy! Don't forget to take some photos and have a blast while exploring West Iceland!