Churches in Iceland are so unique and pretty and you must put them on your list of things to see! Unlike many other websites that talk about planning a trip to Iceland but are very vague about where the pretty locations are, we are going to give you the exact google map location of each and every picturesque church in Iceland!
Sure there is the famous church in Downtown Reykjavik, but there are so many other cute and beautiful churches to see!
These churches in Iceland are spread all around the country, from the popular south to the far-flung Westfjods and the chilly North. The one thing that we ask of you is that you be respectful when visiting these churches in Iceland.
We are telling you the locations and that is our contribution. Your contribution is to be respectful of the church, nature, locals, and fellow tourists during your visit.
Be quiet, don't hog the view, and don't take too long in one place or be crazy or loud. We are revealing the location and names of these beautiful churches in Iceland and we encourage you to visit them with respect and dignity.
Don't throw trash or use the outdoors as a bathroom [yes feces are commonly found in Iceland!] Feel free to visit these pretty churches in Iceland, but make sure you are respectful when doing it!
Get a FREE printable "Hidden Gems In Iceland" E-book by joining our private Iceland Facebook Group and share your photos and ask for tips and tricks.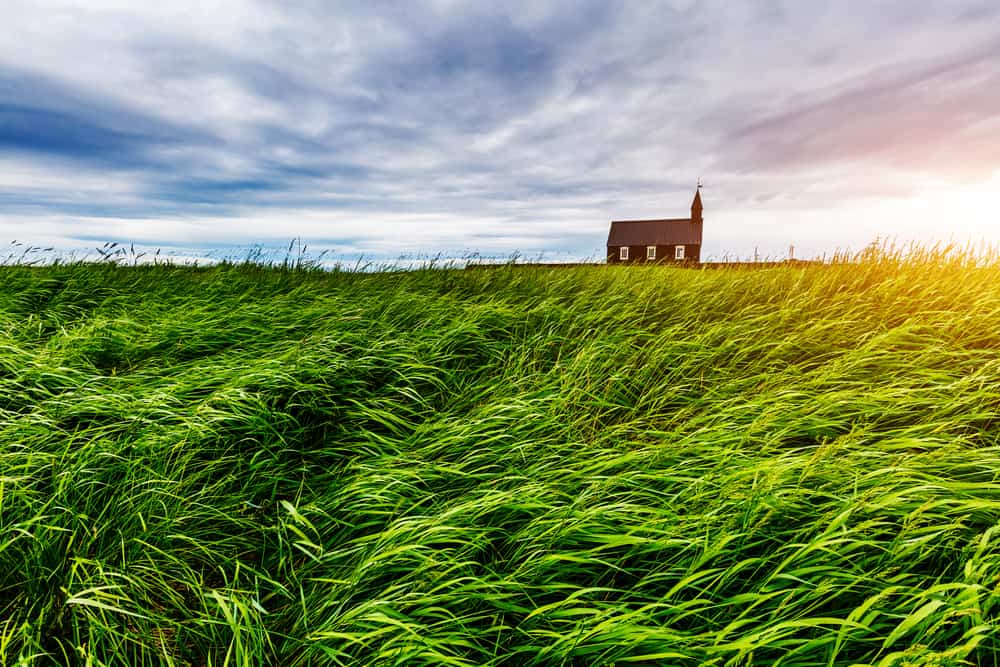 Prettiest Churches In Iceland + Map To Find Them
Thingvalla Kirkja Church
Thingvalla Kirkja is one of the oldest churches in Iceland! It was consecrated in the 11th century. For being so old, it is still quite pretty and we love the white building rimmed with green detail.
Thingvalla Kirkja is easily accessible from Reykjavik as it is located in the nearby Thingvellir National Park. This national park is home to Iceland's Golden Circle drive so if you are looking for an additional stop along the way, make sure to visit one of the oldest churches in Iceland!
Thingvalla Kirkja is accessible in both the winter and the summer so no matter what time of year you are visiting Iceland, you can stop by this pretty church for a photograph.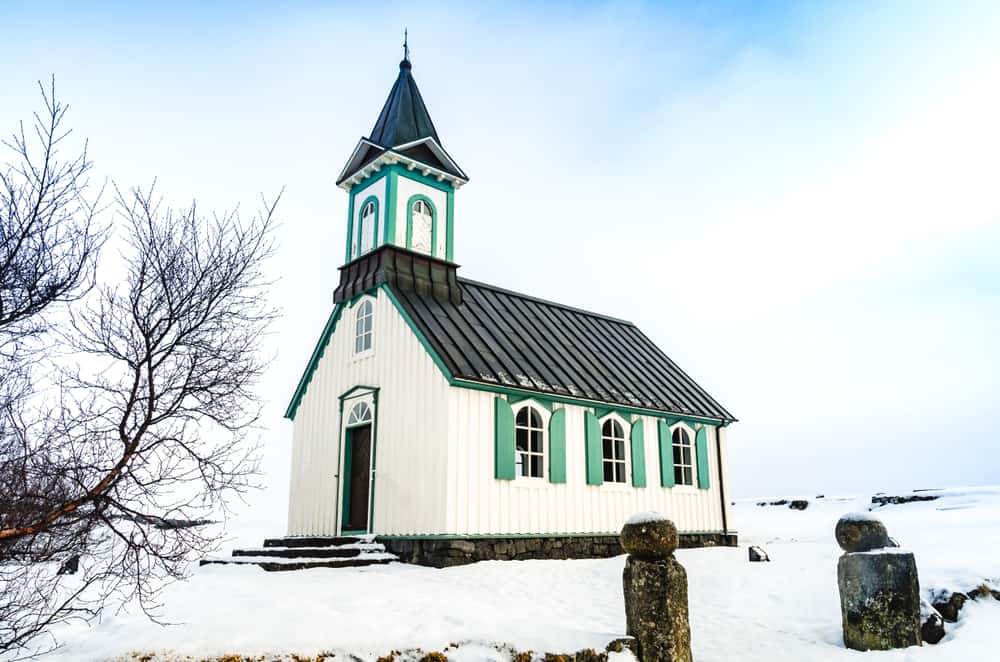 Búdakirkja Church
Call us boring or typical, but our favorite pretty church in Iceland is Búdakirkja which is one of Iceland's few black churches!
Also known as the Budir Black Church [in English and by tourists], this small wooden structure is located on the Snaefellsnes Peninsula's southern end.
It is also one of the most popular churches for hosting Your Wedding In Iceland!
This church is incredibly picturesque and can be accessed during both the summer and the winter. It looks beautiful during the sunset and makes for a striking foreground when capturing the Northern Lights in the winter. This is easily one of the cutest churches in Iceland because the black color stands out against the Icelandic landscape.
This church is very popular for photography and with tourists, so if you visit, make sure to get your shots and get out and respect others who are visiting and photographing it too!
You don't want to hog the view. If there is a wedding, come back at a different time because this means the wedding party rented out the church for the occasion.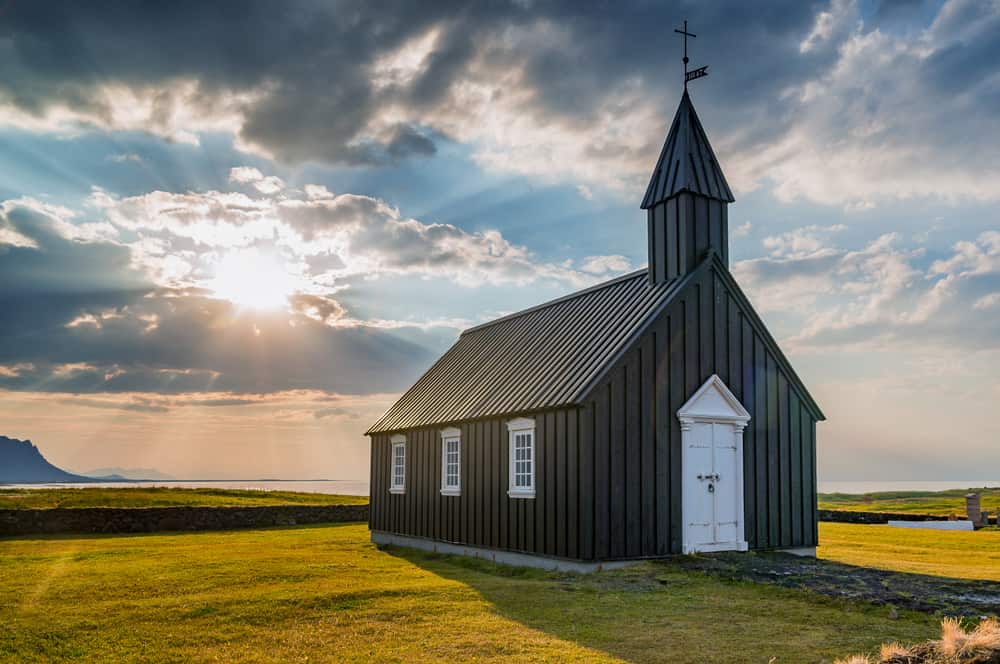 Kirkjubaer Church
When we were driving along the Ring Road through Iceland's East Fjords, we were immediately struck by how pretty Kirkjubaer Church was. We could see it from the road and knew we had to pull over and stop for a photo. Kirkjubaer Church is one of the prettiest churches in Iceland and is located in the old fishing village of Stodvarfjordur in the East Fjords.
The East Fjords of Iceland don't get a lot of love, and there aren't as many things to see and do there when compared to other parts of Iceland, but they sure are home to quite a few lovely churches in Iceland including Kirkjubaer Church.
Kirkjubaer Church is well worth the stop if you are driving through the East Fjords because it is so picturesque and because it will really break up your driving and give you time to stretch your legs and walk around and learn about this small fishing village.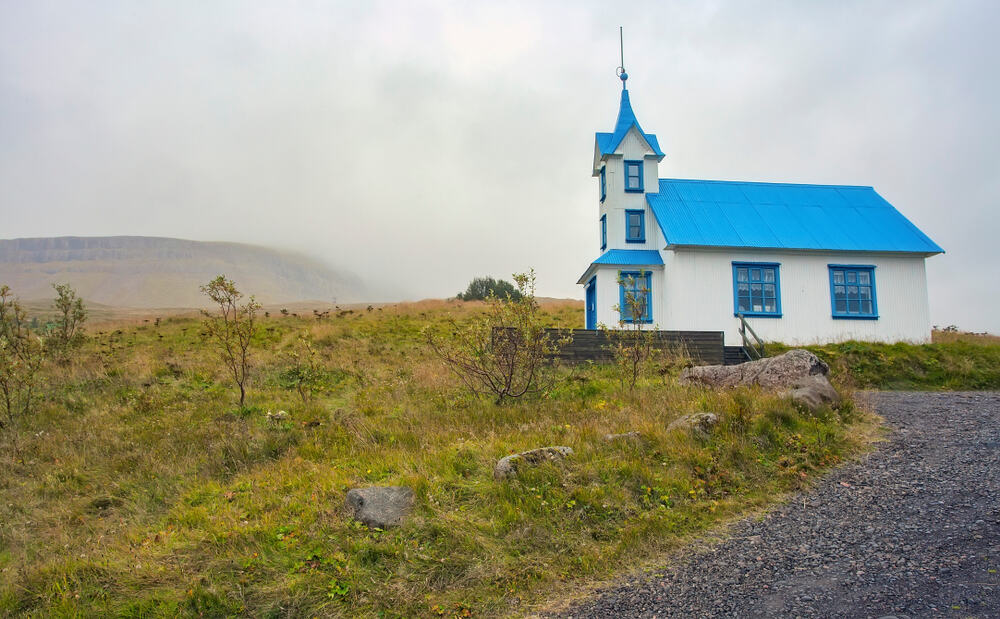 Husavikurkirkja Church
Husavikurkirkja Church is located in the high North of Iceland in the town of Husavik. When we first visited Husavik we didn't know what to expect, but the town is actually larger compared to other tiny villages in Iceland, and Husavikurkirkja Church really stood out!
This is one of the larger churches in Iceland and isn't quite as teeny tiny as some others around the island. Husavikurkirkja Church looks like a real-life gingerbread house and is well worth the stop if you are on the hunt for the best churches in Iceland.
Although Husavik is technically accessible all year round, it can get quite snowy and brutal in the winter with tons of snow. When we visited Husavikurkirkja Church it was in the fall and the weather was great, but just a month later this Icelandic church was buried in snow. If you want to visit Husavikurkirkja Church, it is best to plan your trip to Iceland during the warmer months.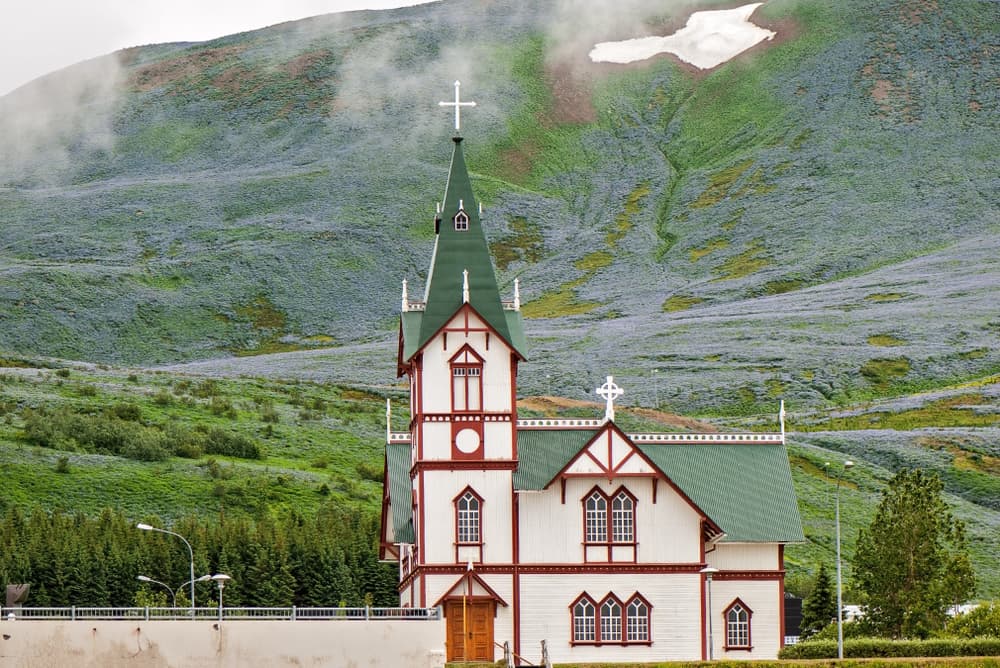 Vik i Myrdal Church
Vik i Myrdal Church is easily the most popular and most photographed church in Iceland. It is located high on a hill overlooking the town of Vik, and if you are going to be driving the Ring Road through southern Iceland, you will surely see it.
It is one of the best iconic places in South Iceland!
We have passed by Vik i Myrdal Church countless times both in winter, fall, and spring and it is accessible all year round. Although it is one of the most photographed churches in Iceland, it is very picturesque and worth a stop. It is one of the best places to see on your Iceland Itinerary!
If you are looking to visit Vik i Myrdal Church at its very best, consider visiting during summer or the warmer months. You will see purple flowers blooming all around the hillside that this Icelandic church is perched atop and it makes for some magical photos and meditation if you are interested.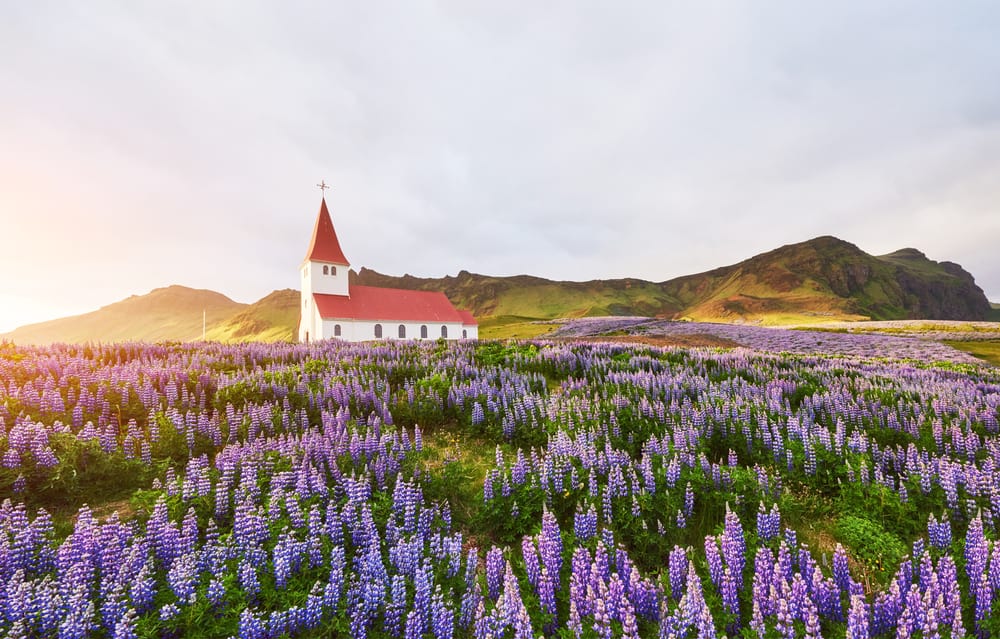 Raudisandur Church
Most people never know that there are more than one black churches in Iceland! They will visit the Budir church listed above and will never think to visit Raudisandur Black Church located in the remote Westfjords of Iceland.
This church is simply called "old church with the adjacent graveyard" on Google Maps so make sure you are heading to the right place and not to a turf church by a similar name in North Iceland! The Westfjords are such a stunning part of the country to visit but do require a few days to really even begin to scratch the surface.
Although it is not entirely 100% black like the Budir Church, Raudisandur Church is black with red and white trim which makes it entirely unique!
Raudisandur Church is located in Raudisandur in the southern Westfjords. It is located right on what is lovingly referred to as the "red sand beach" so simply put the town of Raudisandur into your GPS and you can't miss the church!
We don't recommend heading out to the Westfjords strictly to see this one church, but putting multiple interesting things on your list to see and including this church along in your discovery of this remote part of Iceland.
Read this post before planning your trip to the Westfjords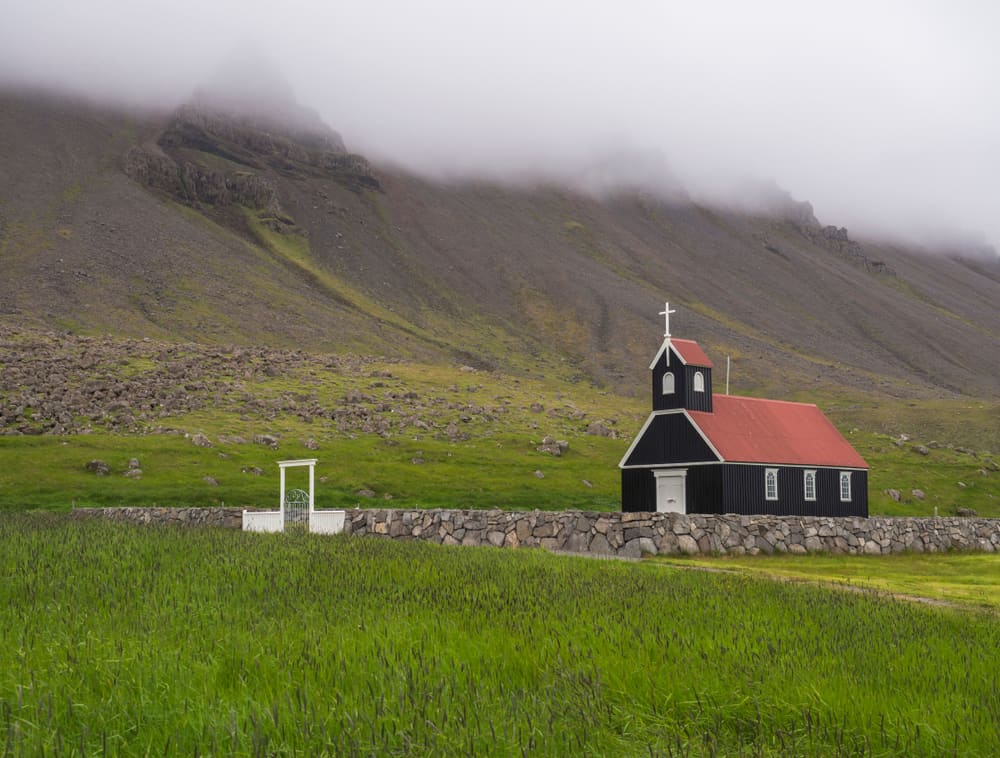 Hofskirkja Church
Hofskirkja Church is one of the most unique churches in Iceland because it is wooden and turf. The roof is made out of turf that blends into the earth below it making it incredibly pretty.
In fact, Hofskirkja is easily one of the prettiest churches in Iceland for this single reason. Hofskirkja is located near Hof Iceland and Skaftafell National Park. This turf church in Iceland has a cemetery around it and should 100% be respected.
When visiting Hofskirkja do not climb on the church or walk near or on the surrounding graves. Be quiet and treat this pretty turf church in Iceland with the utmost respect. It is well worth the stop and is located in South Eastern Iceland and is a great way to break up your drive along the Ring Road with a unique stop.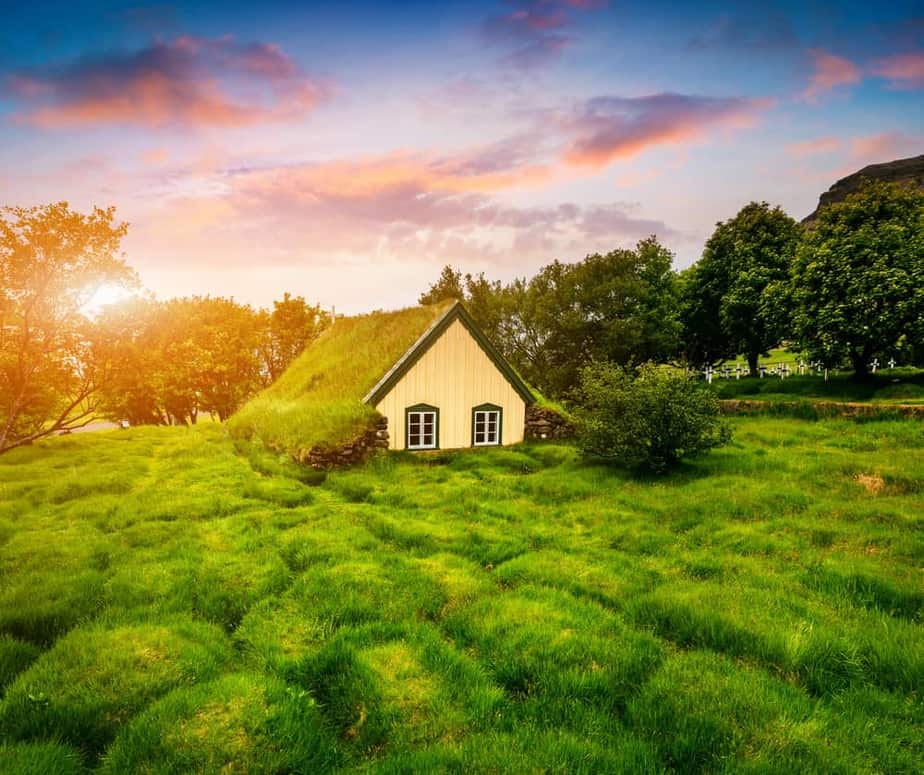 Seydisfjordurkirkja Church
Seydisfjordurkirkja Church is located in the town of Seydisfjordur which is in the Eastfjords of Iceland. The town of Seydisfjordur is at least a 30-45 minute drive each way off of the Ring Road but the drive is well worth it.
You drive up a mountain and then wind down the other side until you come to Seydisfjordur nestled right along a fjord. Seydisfjordurkirkja Church is one of the prettiest churches in Iceland because it is a soft powder blue that stands out among the moody town.
But the best part? This powder blue church is accented by a rainbow pathway that leads up to it! Seydisfjordurkirkja Church is located in the center of town and there is a rainbow walkway that winds through the small shops and ends up at the foot of the church.
Although it was off the Ring Road and took a little longer to drive to than we had anticipated, visiting Seydisfjordurkirkja Church was well worth it. If you are looking for one of the prettiest churches in Iceland, build in some extra time to your itinerary for a visit to this colorful place of worship!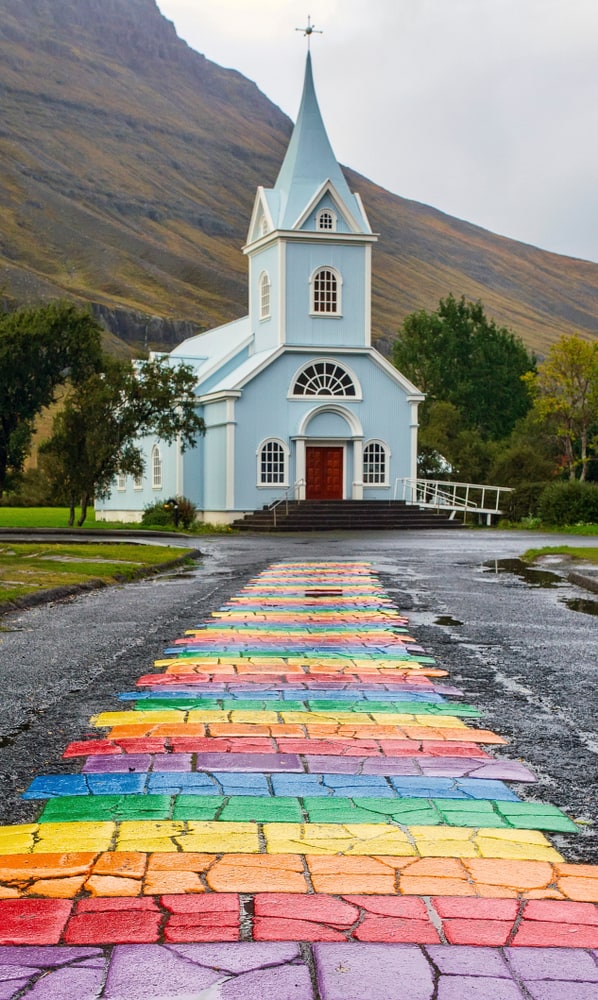 Heimaey Stave Church
If you are looking for something different in your churches in Iceland, then get off the main island and head to Heimaey in the Westman Islands. The Westman Islands are located off the south coast of Iceland and can be seen from the mainland.
They are also home to the Heimaey Stave Church. This incredibly picturesque church in Iceland was actually a gift from Norway [where stave churches are quite popular] to Iceland to commemorate Iceland's 1000 year anniversary of Christianity. Isn't that just such a unique fact?
Heimaey Stave Church is, of course, one of the more remote churches in Iceland to visit as it is located on an island and can not be accessed by driving, but it is totally picturesque and well worth a visit if you happen to be heading to the Westman Islands.
Read our Guide On Visiting The Westman Islands
Hvalsneskirkja Church
Hvalsneskirkja Church is one of the closest small and pretty churches in Iceland that is located right near Reykjavik. Hvalsneskirkja Church is right on the Reykjanes Peninsula which is where Keflavik Airport is located which is 99.9% the airport you will be flying into and out of on your trip to Iceland.
This is one of the few churches in Iceland that is made out of stone instead of wood which is what you usually see driving around the country. This church was built in 1887 and the inside is decorated using driftwood collected from nearby beaches.
Hvalsneskirkja Chuch makes for a great stop when you are arriving or departing from Iceland because it allows you to get a quick look at one of the prettiest churches in Iceland from the second you arrive in town! Make sure to pay close attention to the colorful steeple.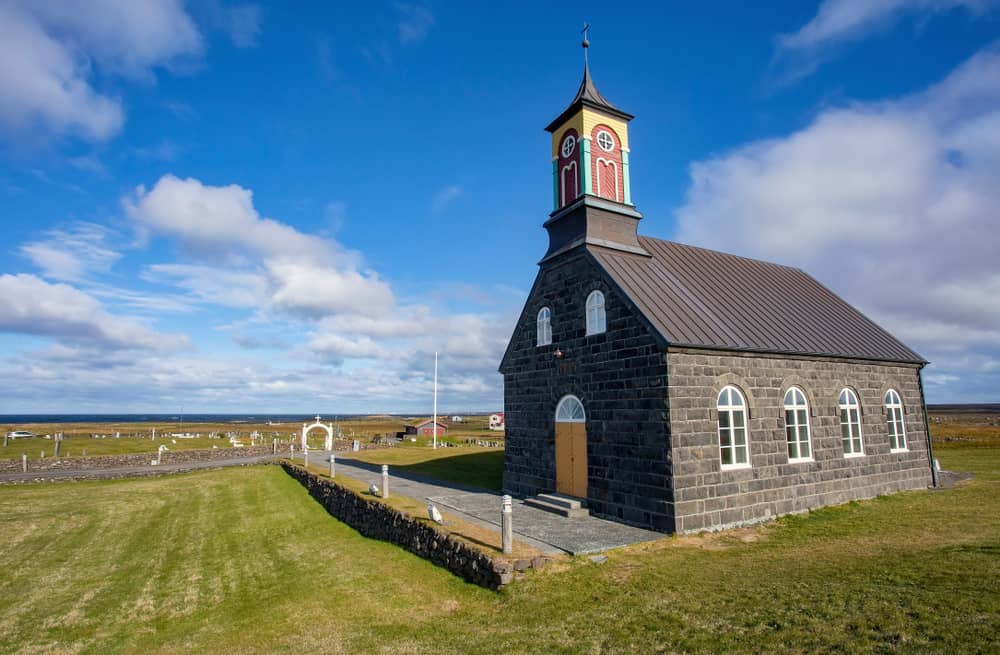 Grafarkirkja Church
Can't get enough of the magical turf churches? Grafarkirkja Church is one of the oldest turf churches in Iceland and a photographers dream! The church sits in the middle of a turf wall and there is a cemetery in between the turf wall and the turf church.
It is remote but stunning and certainly one of the lesser known places to see in Iceland that you must respect and protect. If you go to Grafarkirkja Church and disrespect it, we will be forced to take the more remote suggestions down off of our list. We really think you should see this location and hope you respect the oldest turf church in Iceland during your visit.
The church is located near Hofsos in North Iceland and was built in the late 17th century. Stick to the outskirts of the church property when visiting and photographing it and don't walk on any graves or climb on the church or turf walls. This is one of the prettiest churches in Iceland that you must see and we know you will love it.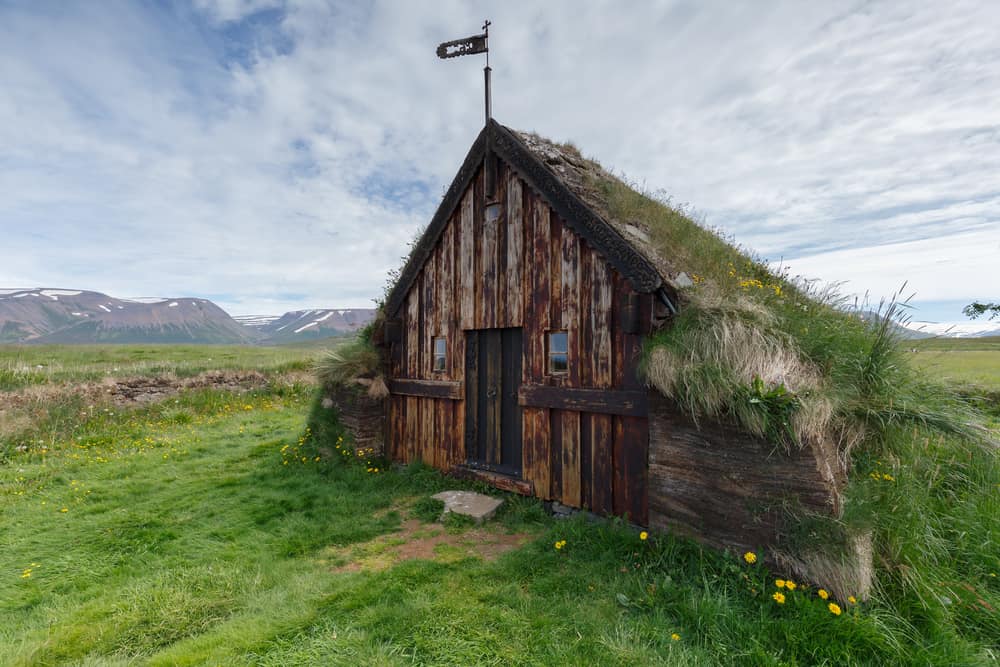 Map Of The Prettiest Churches In Iceland
To make your planning easier, we created a map of the prettiest churches in Iceland. This way, you can see which churches will be nearby where you will be traveling in Iceland so that you can make a stop to see one of these picturesque places of worship.
If you aren't sure where you are going to be, consider taking a peek at this map and then making your way to one of these churches in Iceland during your travels! You are going to love seeing all the pretty Icelandic churches during your trip.
Click Here For Google Maps Locations Of The Icelandic Churches