Are you looking for the ultimate guide to planning your dream Iceland wedding? This guide has everything that you need to know for your special day.
You really can't go wrong with an Iceland wedding. Iceland is one of the most beautiful countries in the world, making it the perfect place for an Iceland wedding, Iceland proposal, or Iceland elopement.
Each year hundreds of foreigners have Iceland destination weddings, making this special day even more memorable.
Get a FREE printable "Hidden Gems In Iceland" E-book by joining our private Iceland Facebook Group and share your photos and ask for tips and tricks.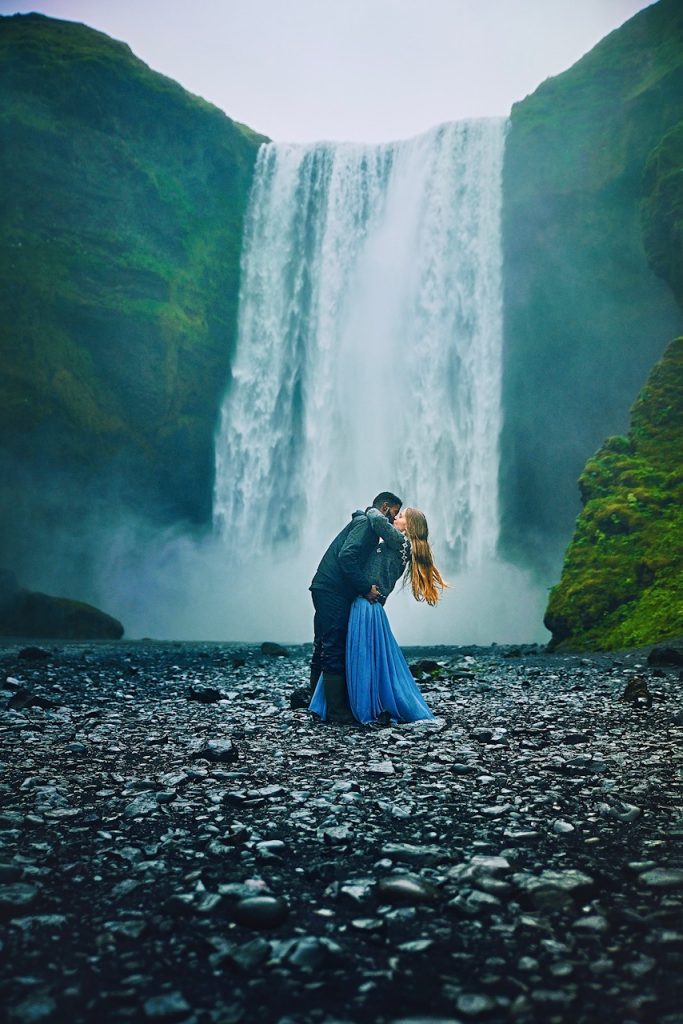 Why Get Married Or Elope In Iceland?
There are so many reasons to get married in Iceland. First of all, the entire country is absolutely stunning. Whether you want your wedding to be at a magical church, a cascading waterfall, or a breathtaking black sand beach, Iceland has all of these options and more!
You're basically guaranteed to have stunning wedding photos! As a matter of fact, the country is so beautiful that many couples opt to have an Iceland destination wedding and spend their honeymoon exploring what the rest of the country has to offer.
In addition to the unparalleled natural landscapes, Iceland also has straightforward wedding requirements, which is very appealing. Regardless of what religion you practice (or don't practice), you can get married in Iceland. Gay marriage in Iceland is legal as well.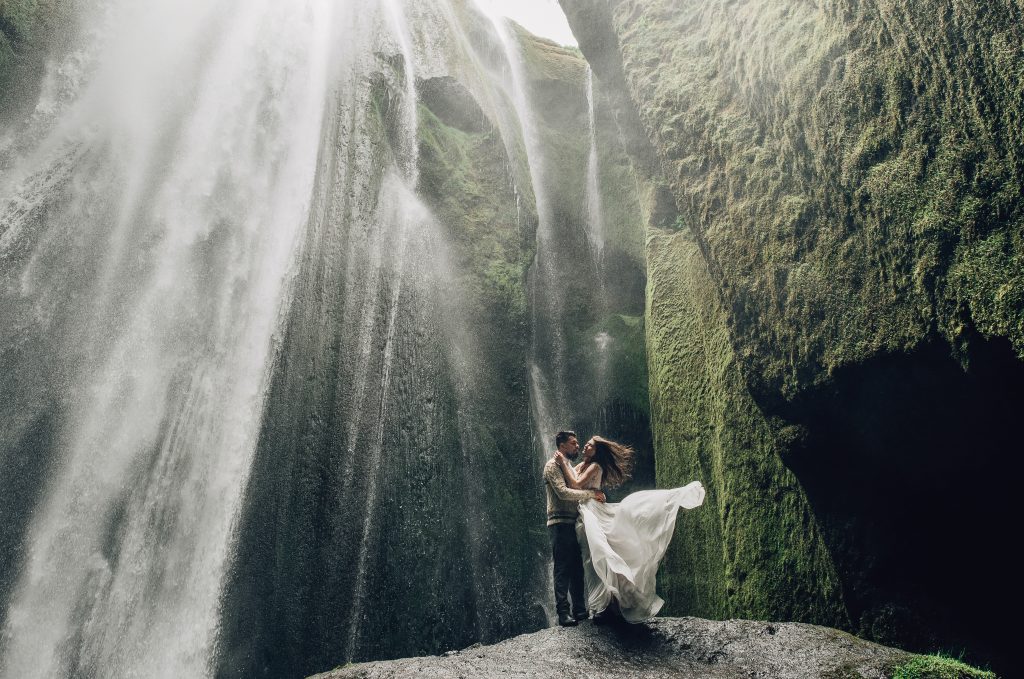 Marriage Laws In Iceland
Although it's easy for people to get married in Iceland, there are still a few marriage laws and documents that need to be taken care of in order for the marriage to be official. First of all, both parties need to be at least 18 years old and not currently married. If either party is divorced or widowed, they will need to present official documents to verify their status.
These are all of the documents you'll need for your Iceland wedding:
Birth certificates of both parties
Passports of both parties
Certificate of marital status, which must be issued eight weeks before the Iceland wedding date
If either party has been divorced, official divorce documents must be presented
If either party has been widowed, official documents regarding the estate or collected assets of the deceased partner must be presented
An application form from the office of the District Magistrate of Reykjavik, filled out by two witnesses
All of these documents must be presented at least 3 weeks before the Iceland wedding date, although some documents (as indicated above) need to be presented up to eight weeks in advance. To make the process a bit easier, you may email the documents to meet these deadlines and then present the original documents in person at least five days before the Iceland wedding date.
If the documents are not in English, Norwegian, Swedish, or Danish, they will need to be sent in with an accompanying translation, as translated by a certified translator and notarized.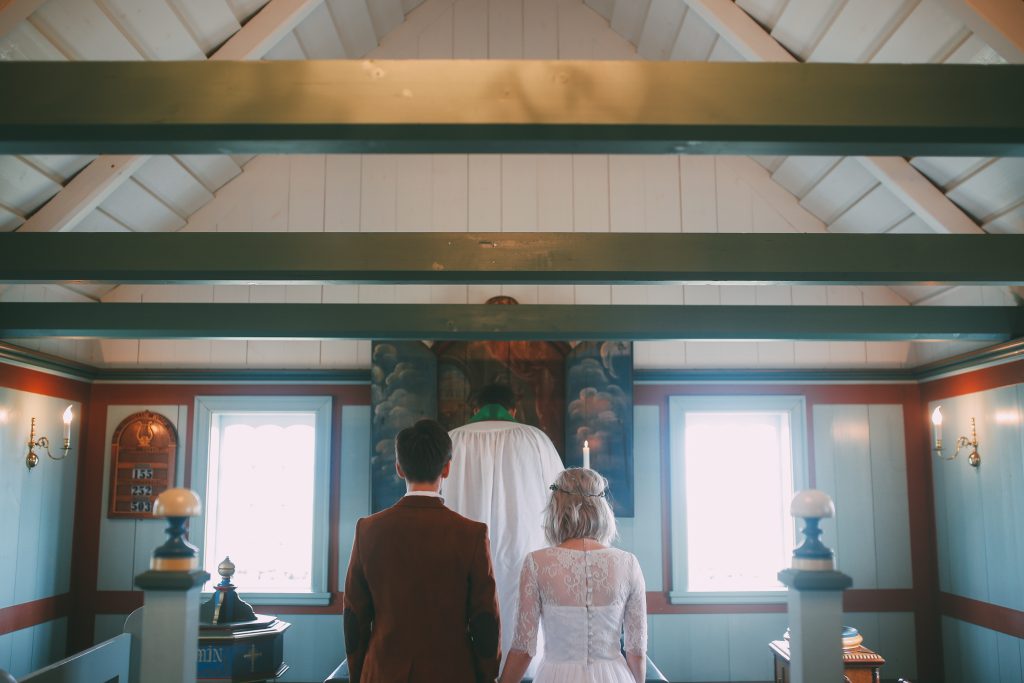 Best Time Of Year To Plan Your Iceland Wedding
Every season in Iceland has something to offer. As expected, the more desirable seasons are more expensive. Overall, choosing the best time to visit Iceland is all about your personal preference.
Spring Weddings In Iceland
Spring weddings in Iceland boast bright greenery, blooming florals, and comfortably chilly weather. The days aren't too long or too short, making spring a wonderful time for your Iceland wedding.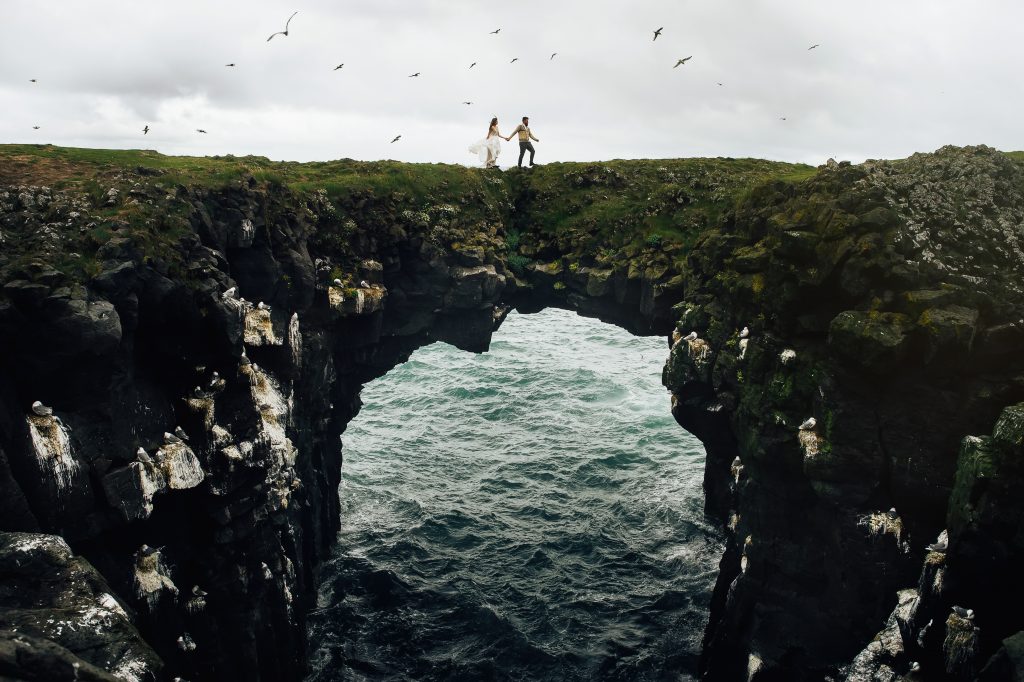 Summer Weddings In Iceland
With warm weather, completely open roads, and extra hours of sunlight, Iceland weddings are most popular in the summer. Some people even opt to have their summer Iceland weddings under the midnight sun at their favorite Iceland location. That'll guarantee that there will be no other visitors at your venue of choice. Because of all of these perks, summer weddings are also the most expensive in Iceland.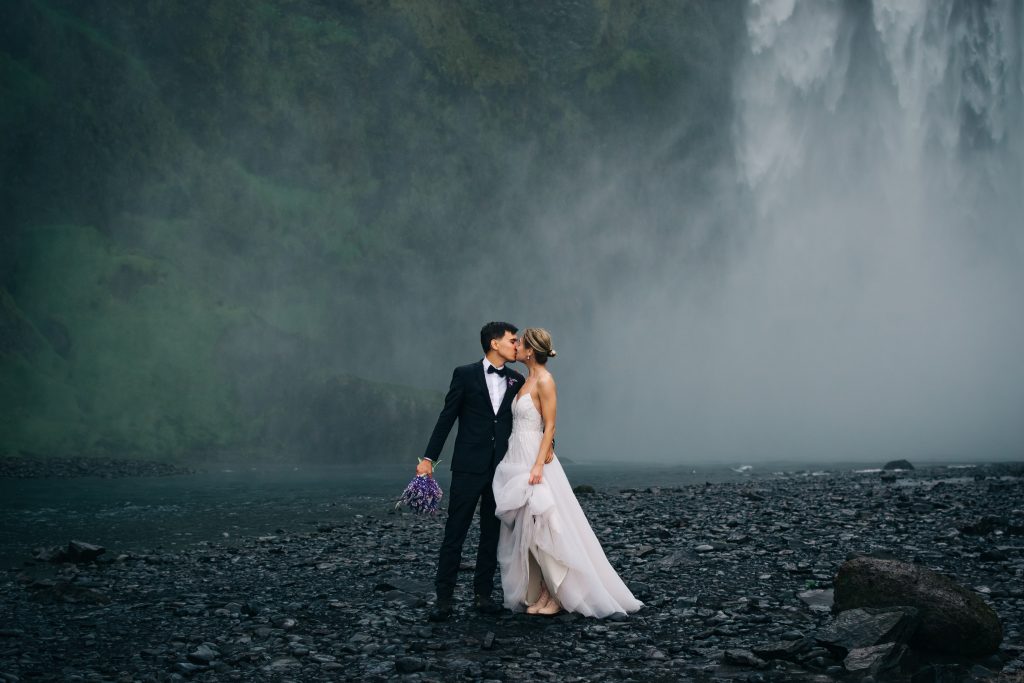 Fall Weddings In Iceland
By the time fall rolls around, the bright greens of spring and summer fade into the signature color warm oranges and red. Just like spring, the days aren't too long or too short, making fall another wonderful time for an Iceland wedding.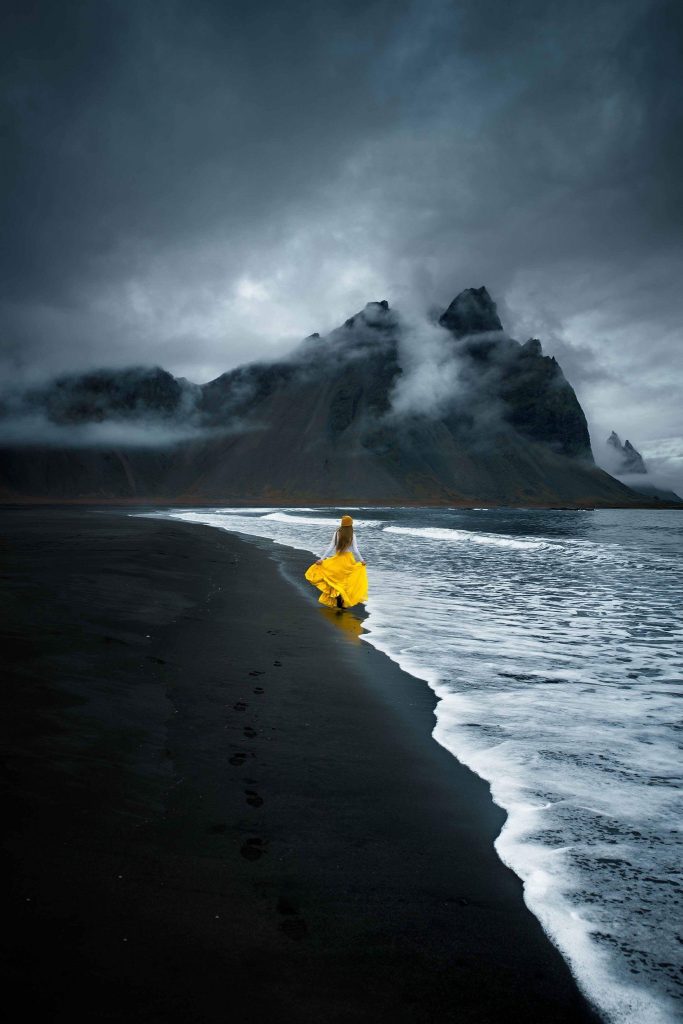 Winter Weddings In Iceland
With snowcapped mountains, magical ice caves, and the Northern Lights, winter is a dream-like time to get married in Iceland. Do know that it may be a little harder to plan an Iceland wedding in the winter, due to road closures, inclement weather conditions, and the limited number of daylight hours.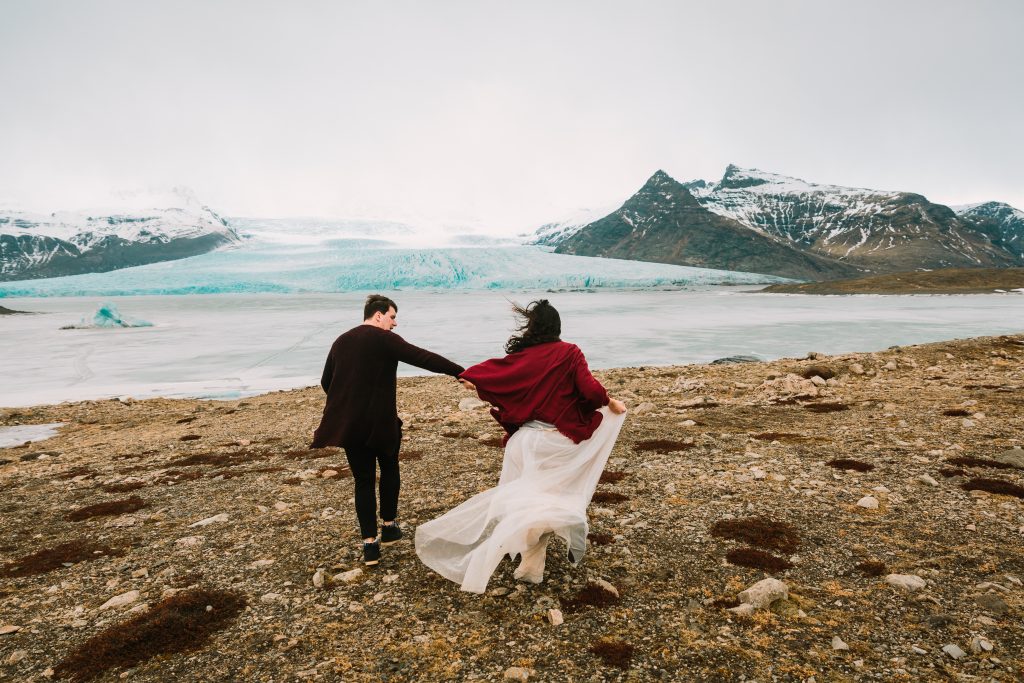 How Do You Elope In Iceland
To elope in Iceland, you'll need the same documents for an Iceland wedding ceremony (listed above). Then, simply select a beautiful place in Iceland (or a slew of beautiful places in Iceland) where you can elope.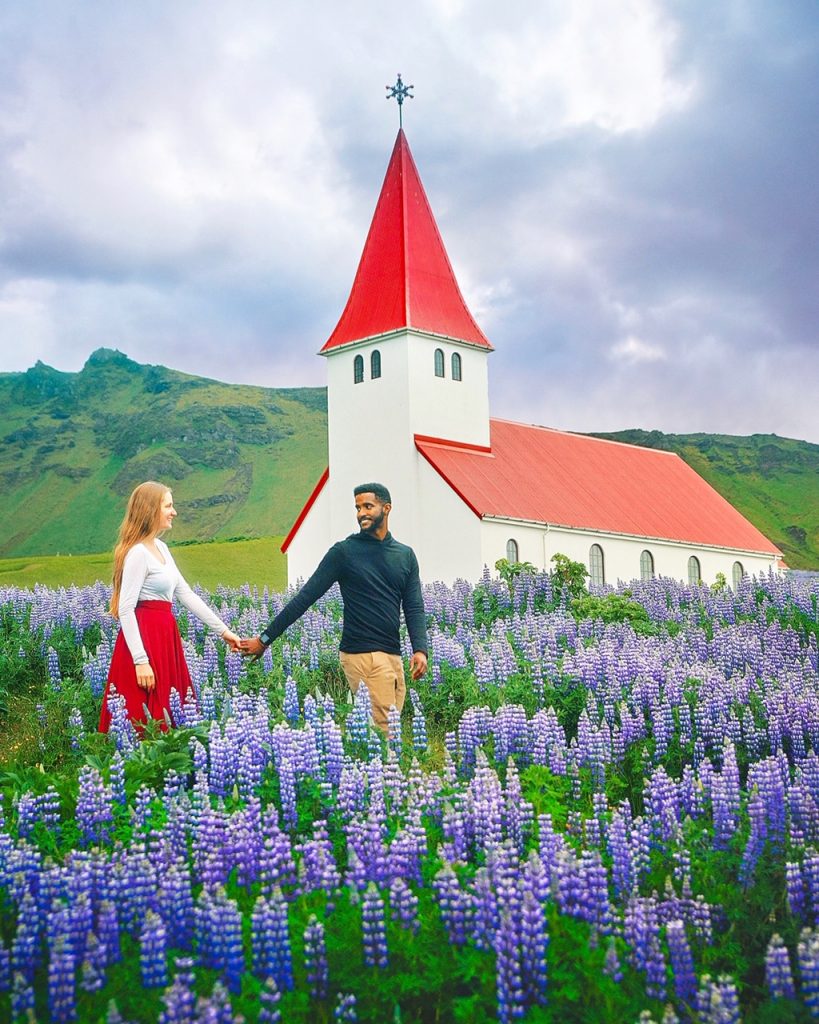 What To Wear For A Wedding In Iceland
The simple answer: LAYERS! While this, of course, depends on the time of year, Iceland is always a little bit chilly, with the average high temperature in July being just 58 degrees Fahrenheit. So, if necessary, put on those leg warmers and a nice toasty coat! You don't want to be freezing on your wedding day!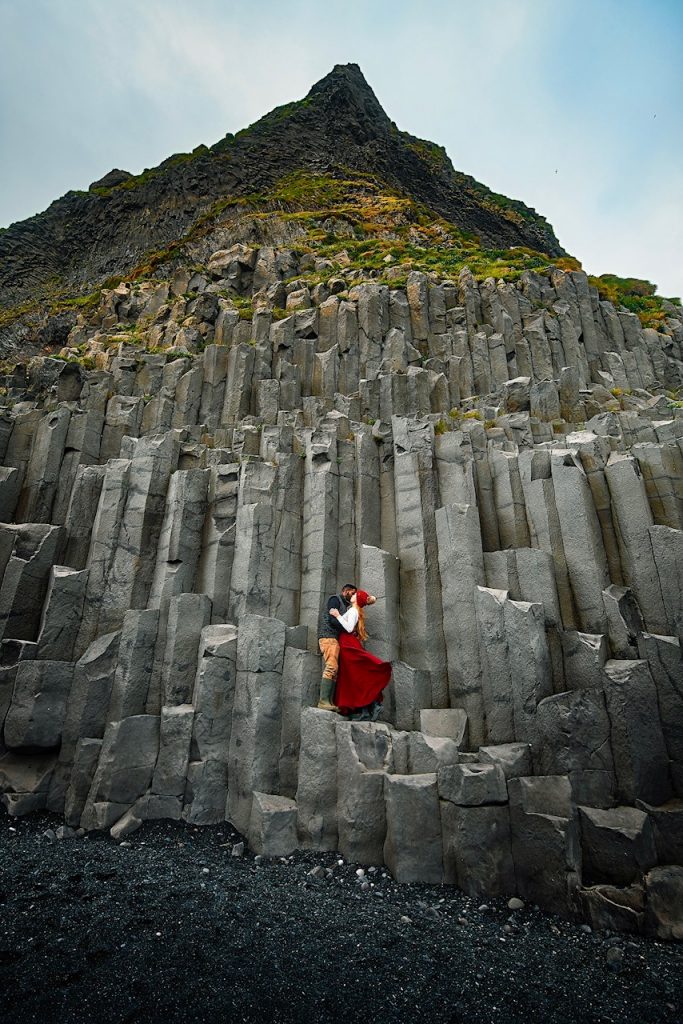 Do You Need A Priest Or Minister To Get Married In Iceland?
While you do need a wedding officiant, this person does not need to be a minister or a priest. While you can, of course, have a priest officiate your wedding, you can also have a figure from another religion or a humanist or judge overseer if you prefer to have a non-religious ceremony.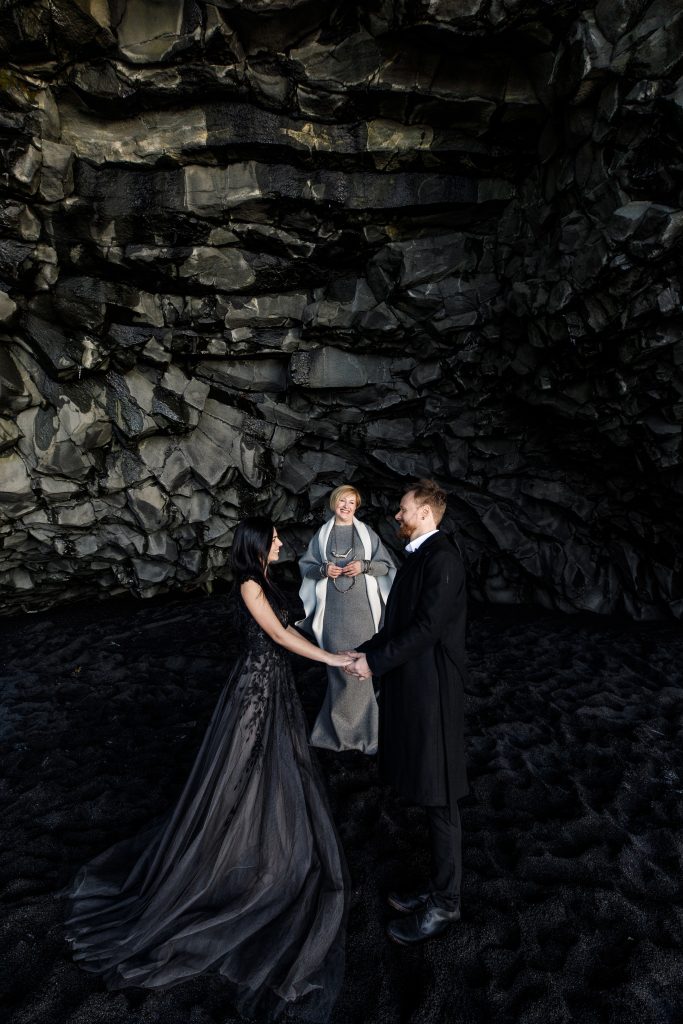 Same Sex Marriage In Iceland
Same-sex marriage has been legal in Iceland since 2010 after the unanimous vote in support of it. As a matter of fact, Iceland is one of the most popular wedding destinations for same-sex couples!
Overall, Iceland is one of the most LGBTQ+-friendly countries in the world. It has long been one of the most progressive countries on the planet in terms of gay rights, so people in same-sex relationships are sure to be welcomed in Iceland.
Hiring Your Iceland Elopement Or Wedding Photographer
There are many moving parts that you'll need to balance when getting married in Iceland, and one of those is hiring your Iceland elopement or wedding photographer.
After all, you want someone to beautifully capture your special day and the stunning location you've chosen.
Luckily for you, we're here to make the process of hiring a wedding photographer and choosing a location easier for you! How, you may ask? You can hire us, Terrence Drysdale and Victoria Yore.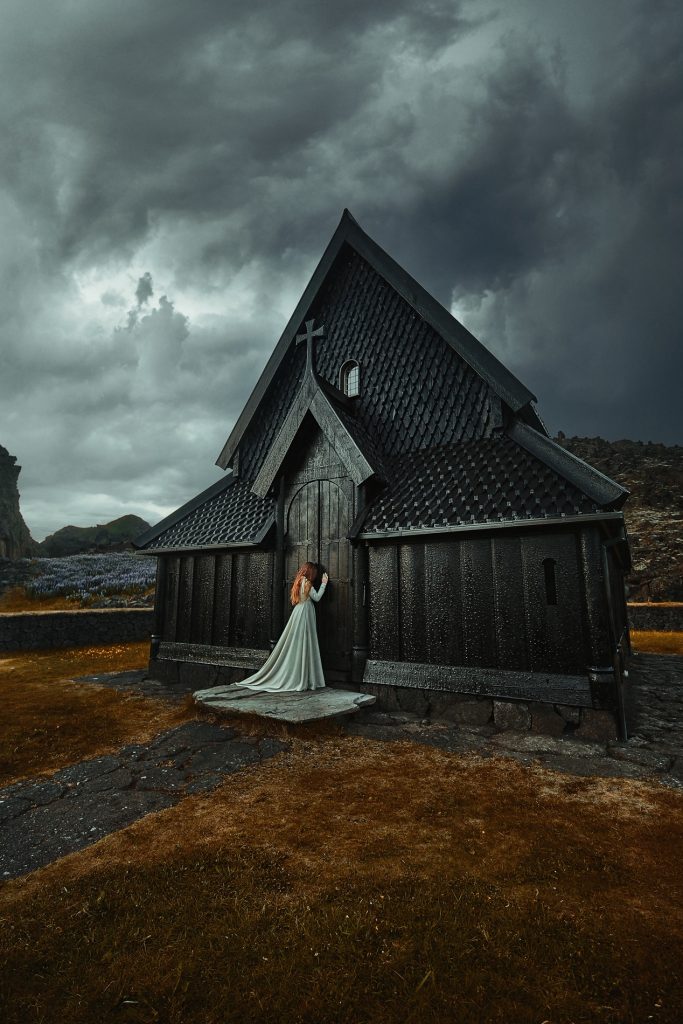 Terrence has shot weddings in the U.S. for 10+ years. Between the two of us, we have developed local connections and gathered knowledge of many of Iceland's hidden gems. We also have a unique photography style that you simply can't find anywhere else.
If you would like to hire us as your Iceland elopement or wedding photographer, send us an email at victoriayore@gmail.com. From there, we will work with you to develop a mood board, choose your location, and even style the clothes that you would like to wear on your special day.
If you aren't a fan of our style that is totally okay! There are tons of amazing local Icelandic photographers with unique and different styles that you can support!
We are confident that you will be able to find the Icelandic wedding photographer of your dreams that fits your style and budget, you may just have to do a little digging.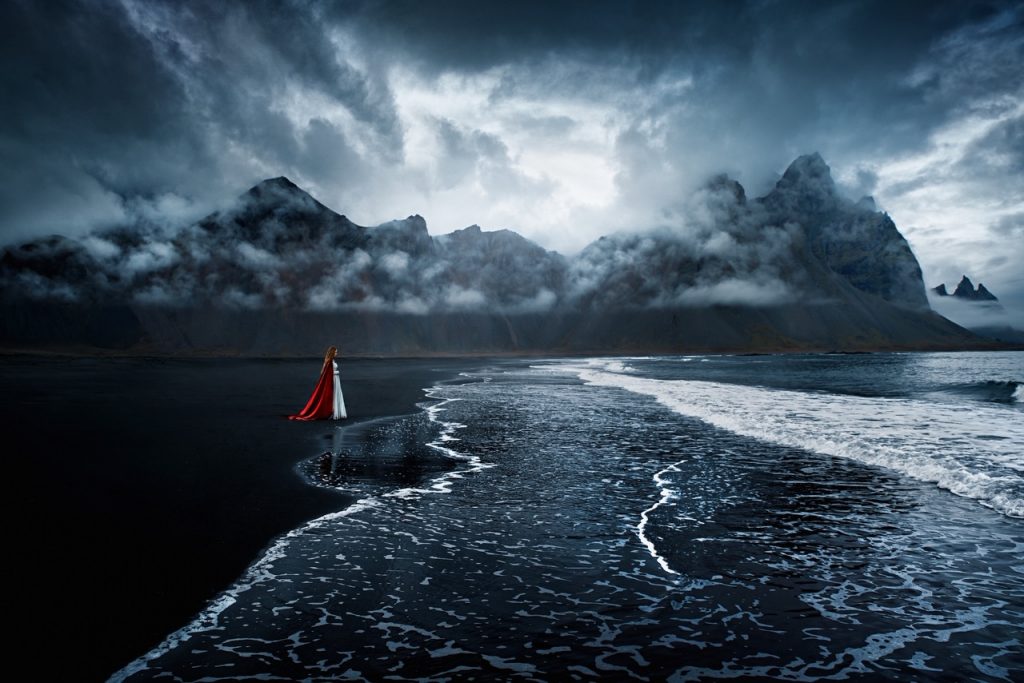 Hiring Your Iceland Adventure Proposal Photographer
If you'd like to do an Iceland proposal instead of an Iceland wedding, we can work with you on that as well! The process will be fairly similar, but, to keep the proposal a secret, we will style it as a fun "travel" session to remember your trip!
Once again, if you would like to hire us, send us an email at victoriayore@gmail.com.
As we mentioned above, if our style isn't for you, that is okay! There are plenty of Icelandic proposal photographers to hire or you can hire your own from your home country!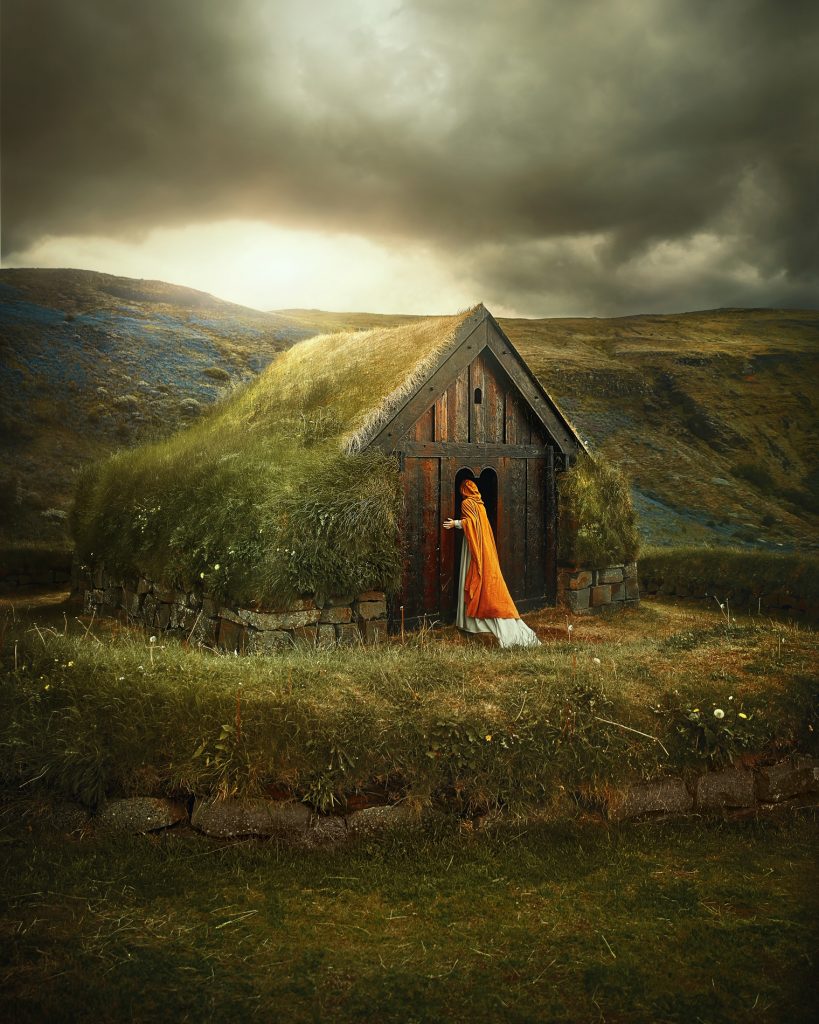 Who Should I Invite To My Icelandic Wedding?
The short answer is simply whoever you truly want to invite to your Iceland wedding. You're already taking an unconventional route by having an Iceland destination wedding.
Don't let any of those other rules dictate who you should and should not invite! Simply think about who you would enjoy having at your wedding. Remember, your wedding day is about you and your partner. It's your special day, not a day when you are meant to fulfill a bunch of silly obligations by inviting certain people. Invite people who will support the two of you!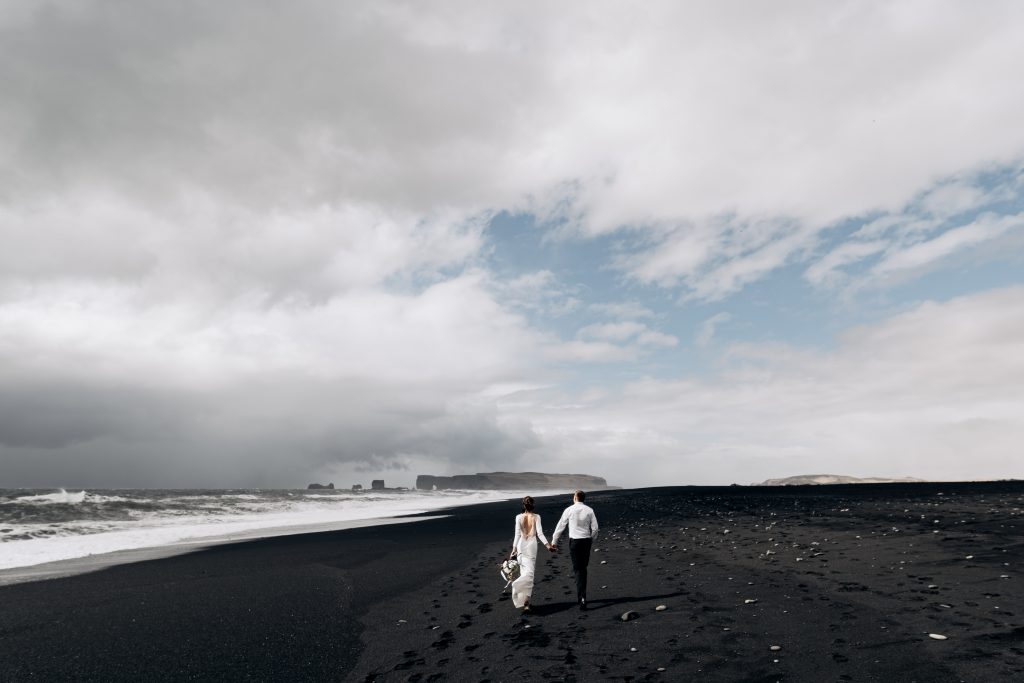 Best Iceland Wedding Venues
There are so many stunning venues in Iceland. From natural landscapes to adorable churches, there are tons of options. Do know that, while there are quite a few notable Lutheran Christian and Catholic churches, the practicing populations of other religions in Iceland are quite small.
Consequently, there are only small venues for Buddhist, Muslim, Jewish, Hindu, and Pagan services. That said, there are plans to erect both a mosque and a pagan temple in Reykjavik in the upcoming years.
Budir Black Church
The Budir Black Church is one of the most adorable churches in Iceland and one of the most popular Iceland wedding venues. Situated in an isolated lava field on the Snaefellsnes Peninsula, this obsidian-colored church also boasts a background of snow-covered mountains, captivating glaciers, and the shining northern lights.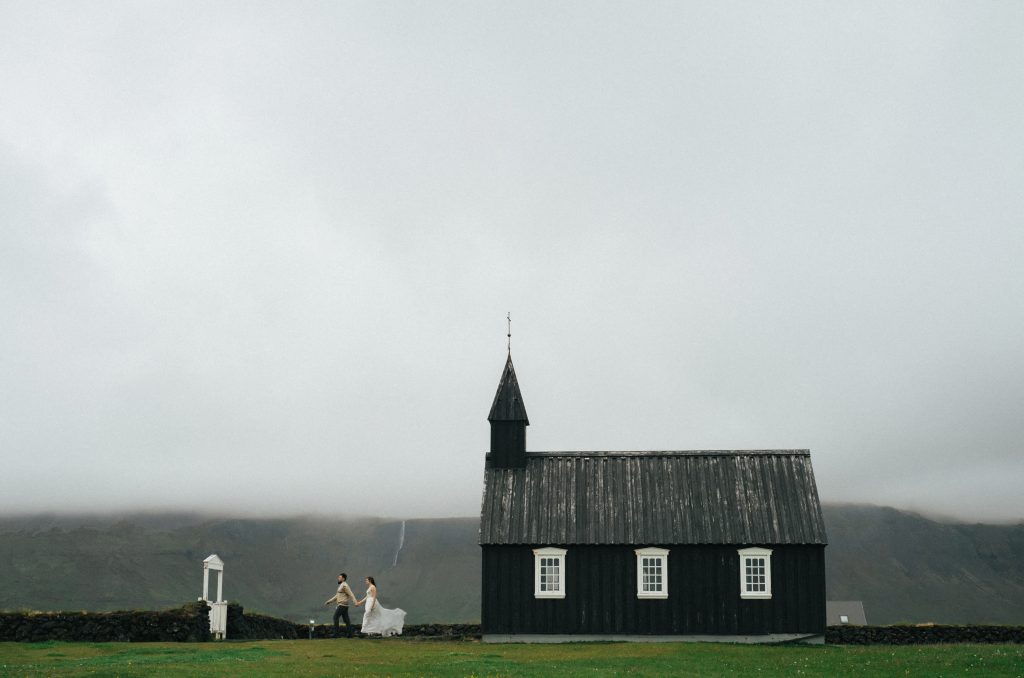 Heimaey Stave Church
To get to the Heimaey Stave Church, you have to do a little bit of extra traveling. But you've already come from abroad to get to Iceland, so what's a quick additional boat ride over to the Westman Islands? Especially when these islands offer the strikingly black, highly recommended Heimaey Stave Church.
While the Budir Black Church is mostly black, it does have white windows and a white door. The Heimaey Stave Church, however, is entirely black – with not a lick of any other color to be seen!
This Nordic Stave-style church was actually a gift from Norway to commemorate the anniversary of Christianity being in Iceland for 1,000 years. So if you'd like to get married in a Christian church in Iceland, the Heimaey Stave Church is definitely a great option.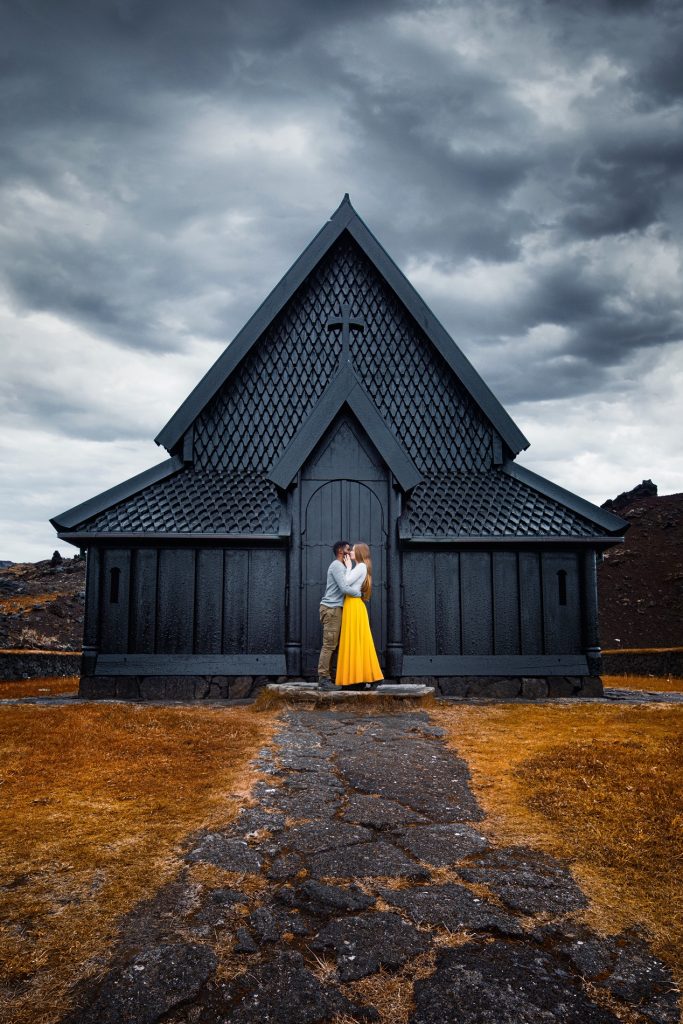 Skogafoss Waterfall
If indoor weddings aren't your thing, consider an outdoor venue, like Skogafoss Waterfall, for your wedding in Iceland. This wide, powerful waterfall falls nearly 200 feet, making it one of the best waterfalls in Iceland and a stunning wedding venue. Basically, if you want to be surrounded by the beauty of nature on your wedding day, consider Skogafoss Waterfall.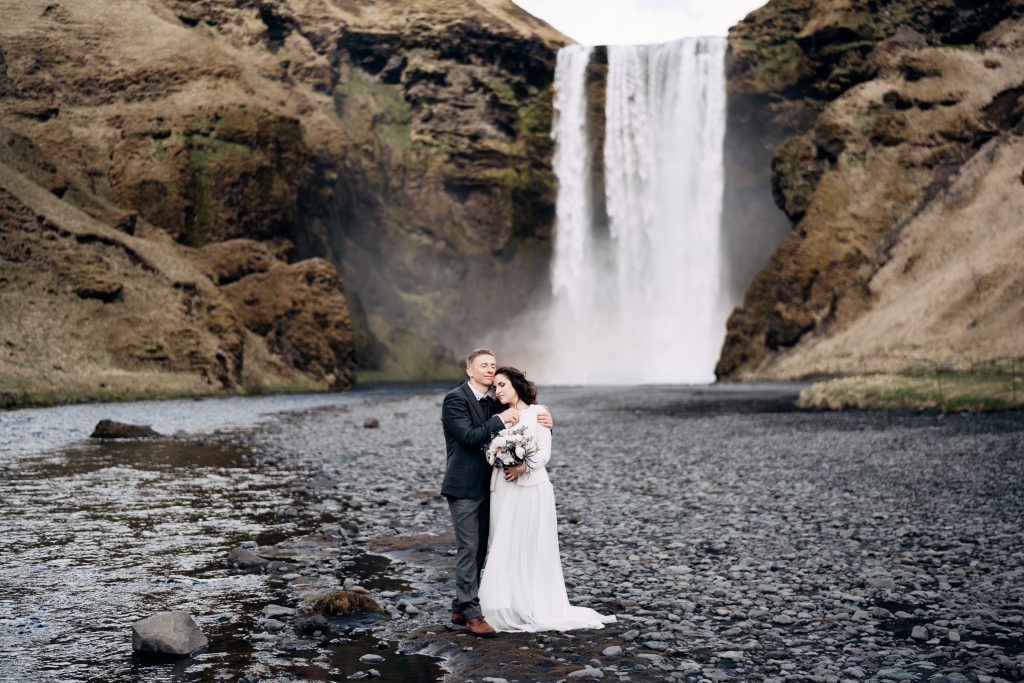 Reynisfjara Black Sand Beach
Another great venue for an outdoor Iceland wedding is Reynisfjara Black Sand Beach. Between the obsidian-colored specks of sand and the three spire-like rock formations shooting out of the ocean, there truly isn't a wedding venue quite like Reynisfjara Black Sand Beach anywhere in the world.
Do know that this Iceland black sand beach has strong riptides, so be sure to check the tide before heading out to the beach. Safety first!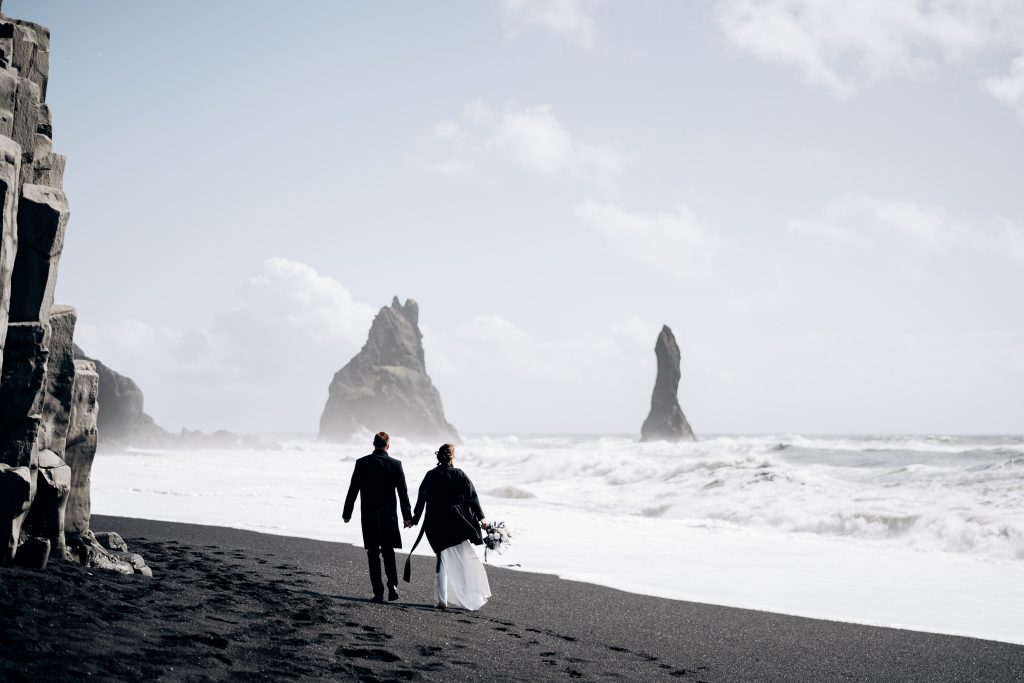 Stokksnes
Stokknes Peninsula is high up on the list of the most breathtaking landscapes, thanks to the towering Vestrahorn Mountain. Framed by the Vestrahorn black sand beach, the Vestrahorn Mountain and Stokksness are beautiful at all times of day.
But at sunset, when the warm hues paint the mountain side and the waves along the black sand begin to glow, it's particularly beautiful, especially for an Iceland wedding venue.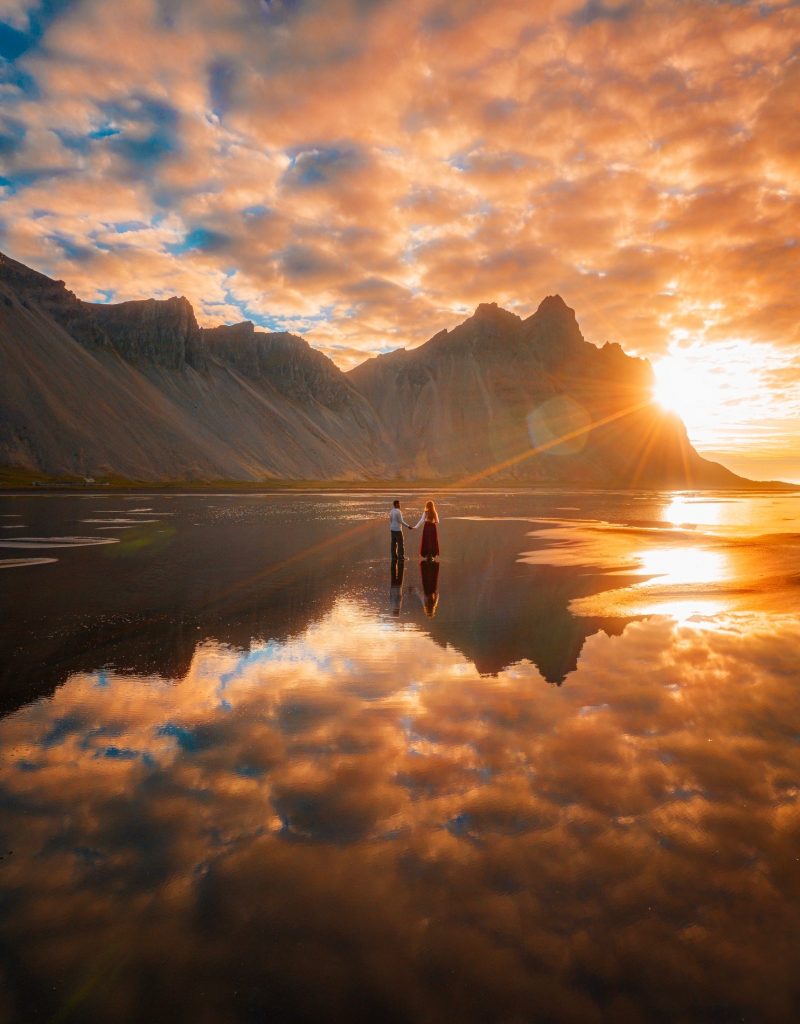 Hidden Kvernufoss Waterfall
Many of the outdoor wedding venues in Iceland share one particular problem: the swarms of other visitors.
Places like the Skogafoss Waterfall and Reynisfjara Black Sand Beach are filled with tourists, making it difficult to find a time where these locations would be empty enough for a wedding. However, the hidden Kvernufoss Waterfall has no such issue.
Nestled just ten minutes behind the famous Skogafoss Waterfall, the Kvenufoss Waterfall has managed to remain relatively untouched. This nearly-100-foot waterfall is surrounded by a stunning green canyon – a beautiful hidden gem.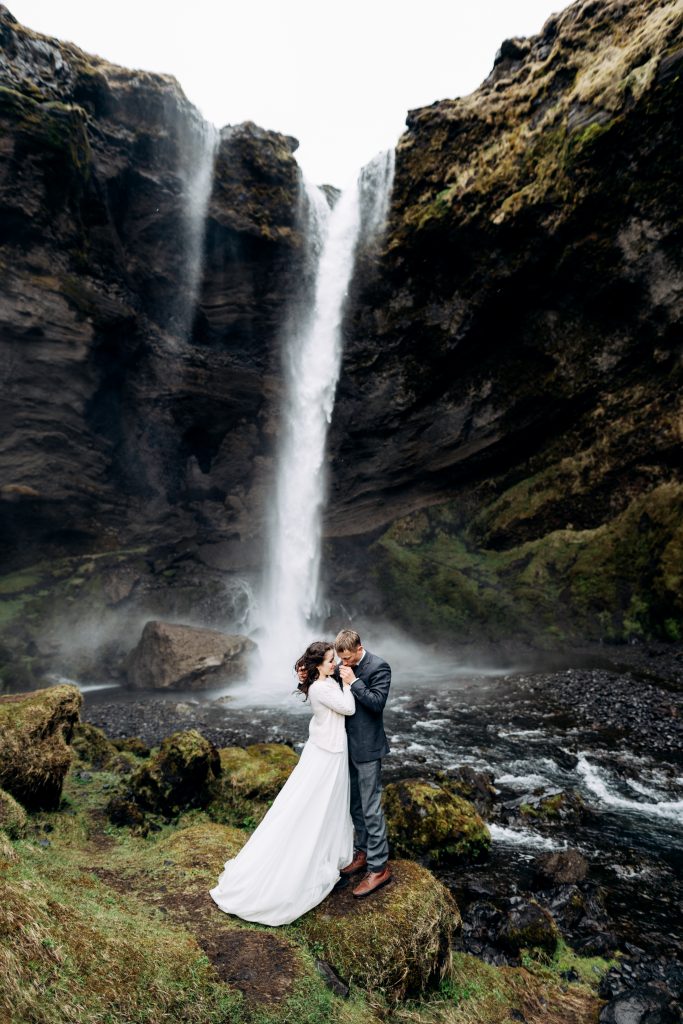 Vik Church
Situated in the small Icelandic town of Vik, the red-roofed Vik Church, also known as Vikukirkja, is another great spot for an Iceland wedding. Between the lively green grass, stark black sand beach, and blooming lupine fields, this Vik Church looks like it was plucked straight out of a fairytale!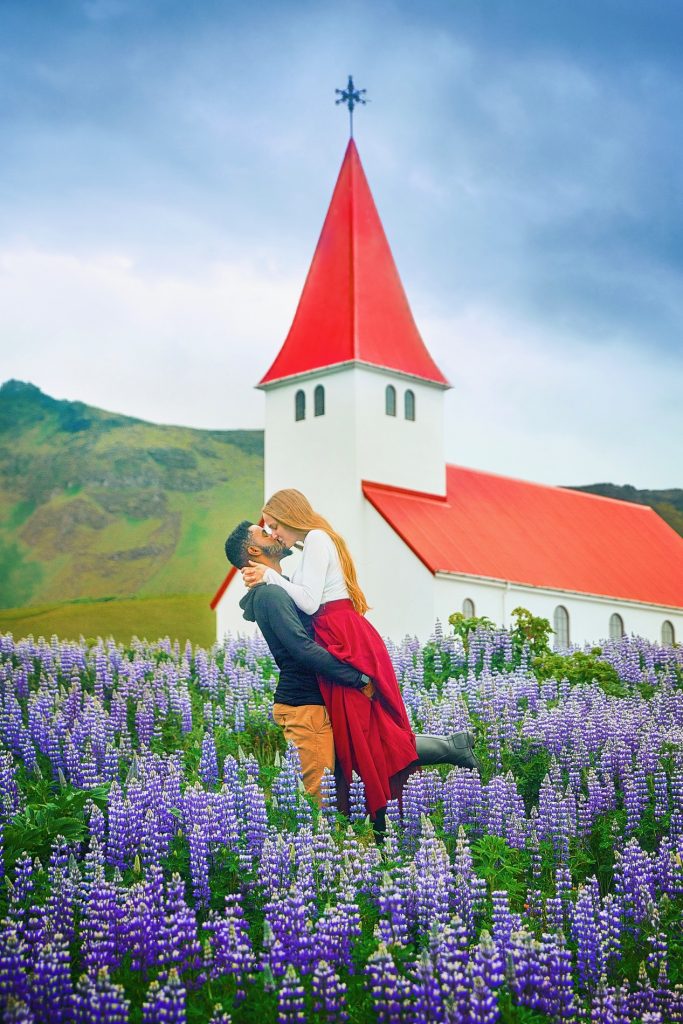 Hjorleifshofdi Promontory And Inside The Yoda Cave
Situated just off of the famous Iceland Ring Road, the Hjorleifshofdi Promontory is a beautiful promontory jutting above the nearby area. It takes about two hours to hike to the top of the promontory, but the views from the top are breathtaking. While there, you can also enter into Gygagja, also known as the Yoda Cave, due to the shape of the cave entrance.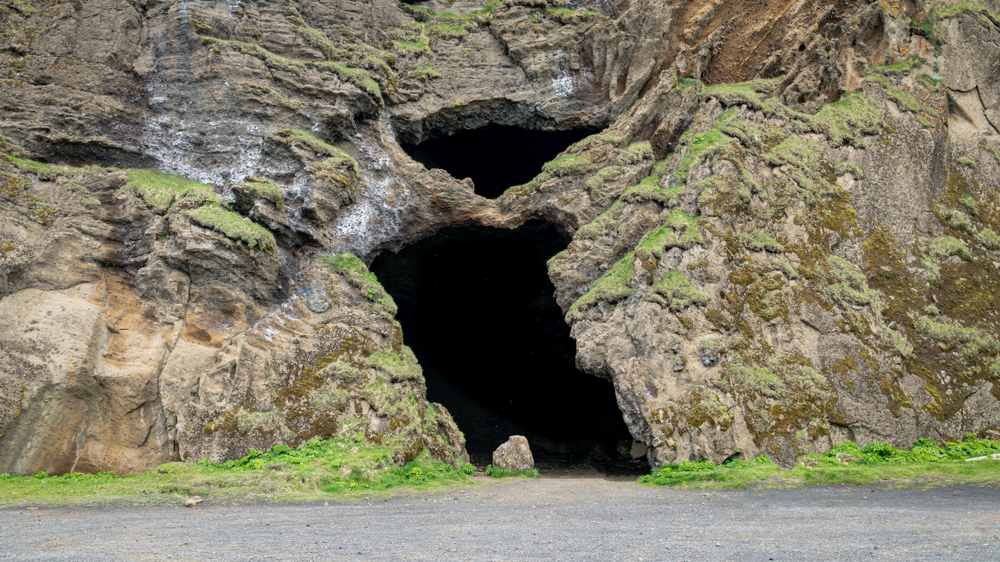 Hofskirkja Church
So far, the churches on this list of Iceland wedding venues have aimed to stand out. Between pitch black exteriors and red-roofed buildings, those churches are wonderfully stark in comparison to the landscapes around them. The same, however, cannot be said of the Hofskirkja Church.
Covered by a grass roof, the Hofskirkja Church blends into the grasses and greenery surrounding it. While you can no longer enter the inside of this unique church, you can still enjoy the grounds and the view from the outside.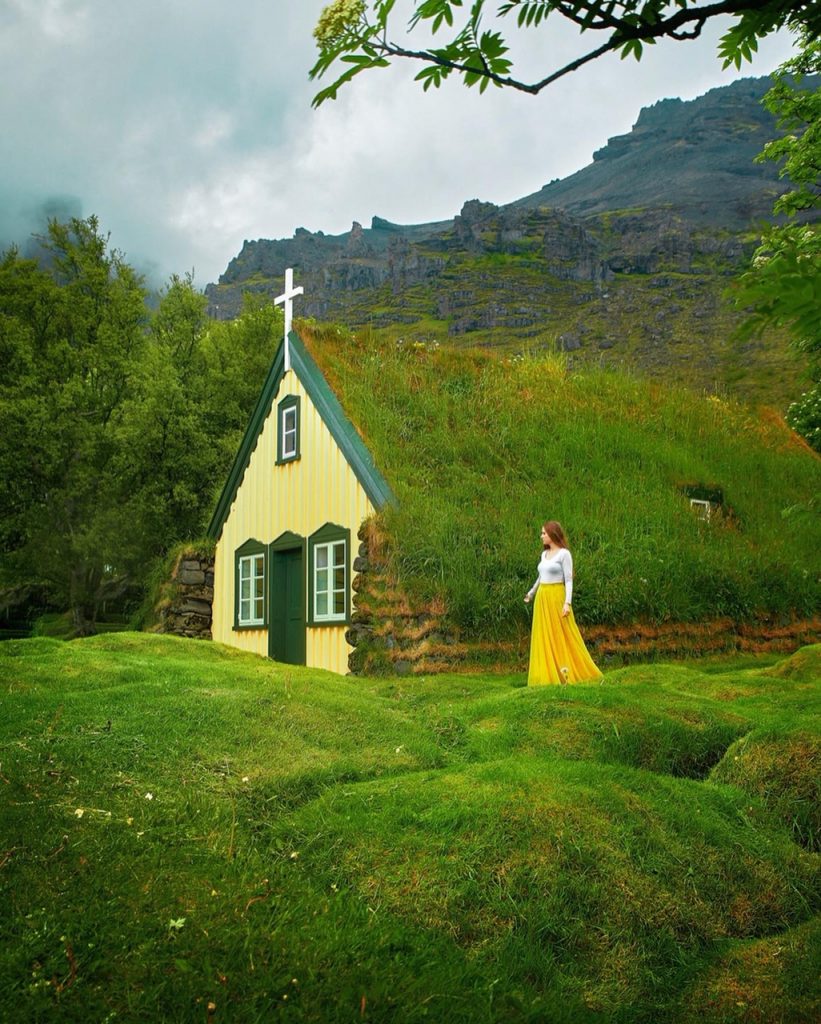 At a Glacier Lagoon
Glacier lagoons are some of the coolest natural phenomena, and Iceland is home to two of them: Fjallsarlon Glacier Lagoon and Jokulsarlon Glacier Lagoon.
At one point in time, these glacier lagoons were solid glaciers. Over time, they have melted to become lakes brimming with life. Of course, depending on the time of year, these glacier lagoons will freeze or melt, which means the lagoons will never look the same twice.
These glacier lagoons are a beautiful spot for an Iceland wedding. These landscapes are unlike any other! If you're looking to avoid crowds, consider the Fjallsarlon Glacier Lagoon. But if you're looking for the largest glacier lagoon, pick Jokulsarlon Glacier Lagoon and the accompanying, ice-littered Diamond Beach.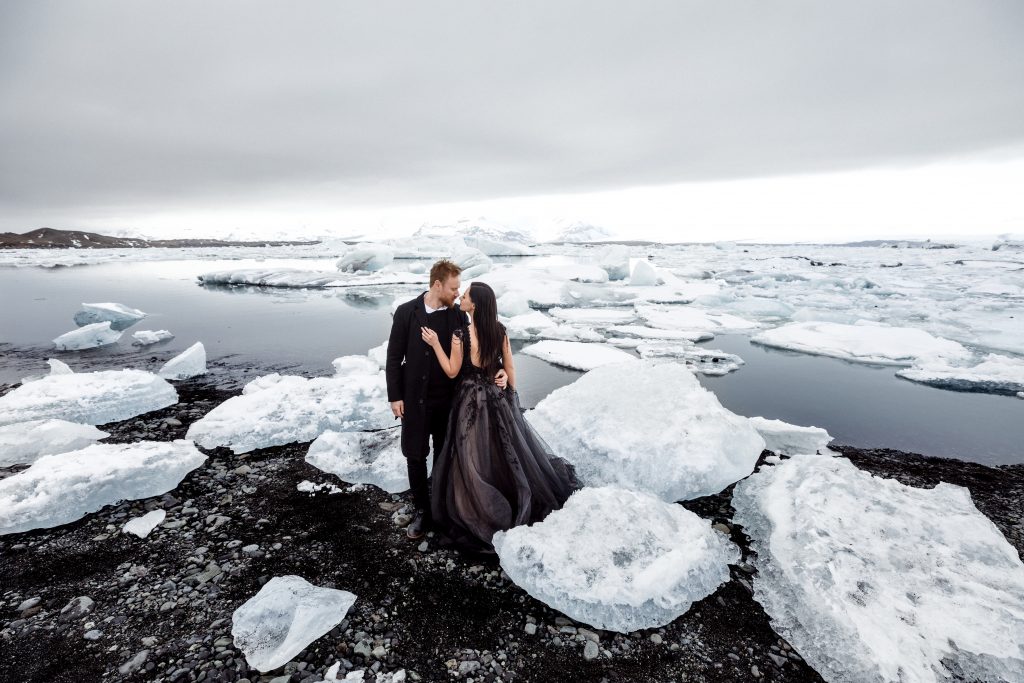 Blue Church In Seydisfjordur
The tiny town of Seydisfjordur is home to one of the cutest churches in Iceland: the Seydisfjordurkirkja Church. This sky blue church is most famous for the rainbow path that winds through Seydisfjordur before reaching the steps of this adorable church.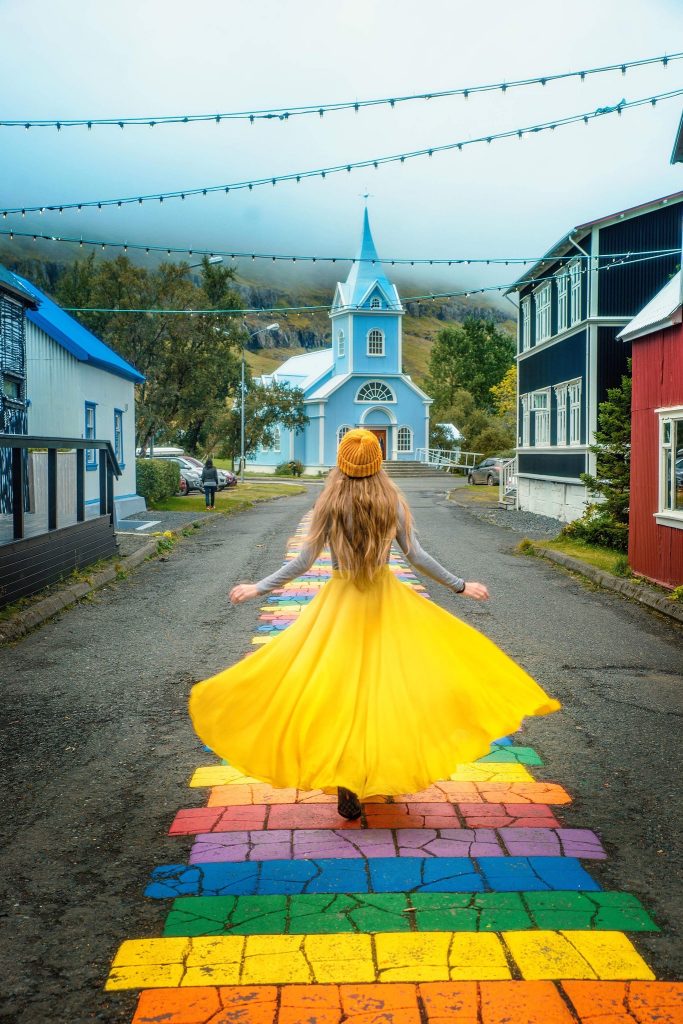 On A Mountain In Thorsmork
If you and your future spouse are adventurers at heart, Thorsmork might be the Iceland wedding venue for you! Filled with lush greenery, cascading rivers, and breathtaking wildlife, Thorsmork is a beautiful sight to behold. But getting there is quite difficult.
While you can do a multi-day hike or drive a 4×4 to Thorsmork, we highly recommend hiring a local guide with a superjeep to take you to Thorsmork. Bottom line: You should definitely consider transportation if you are considering Thorsmork for your Iceland wedding.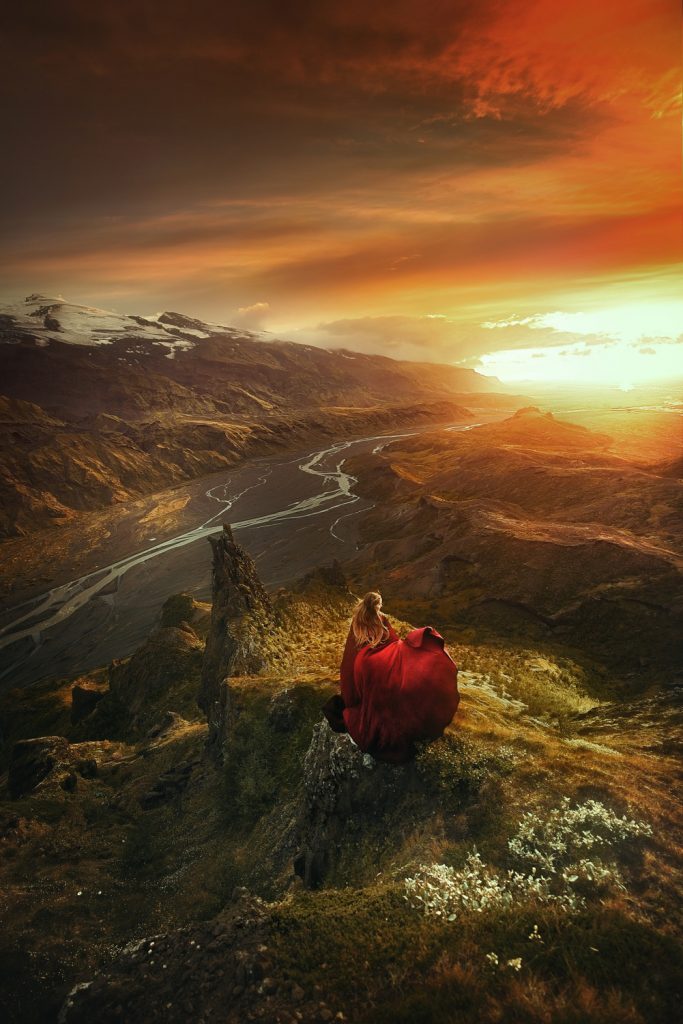 In An Icelandic Lupine Field
Often mistaken for lavender fields, Iceland is home to many lupine fields. While lupine flowers exist in several colors, including yellow, blue, red, pink and white, Iceland is home to mostly purple lupines.
These purple flowers cover huge swaths of this rugged country during the summer months and create an utterly magical landscape – one that may be perfect for your Iceland wedding.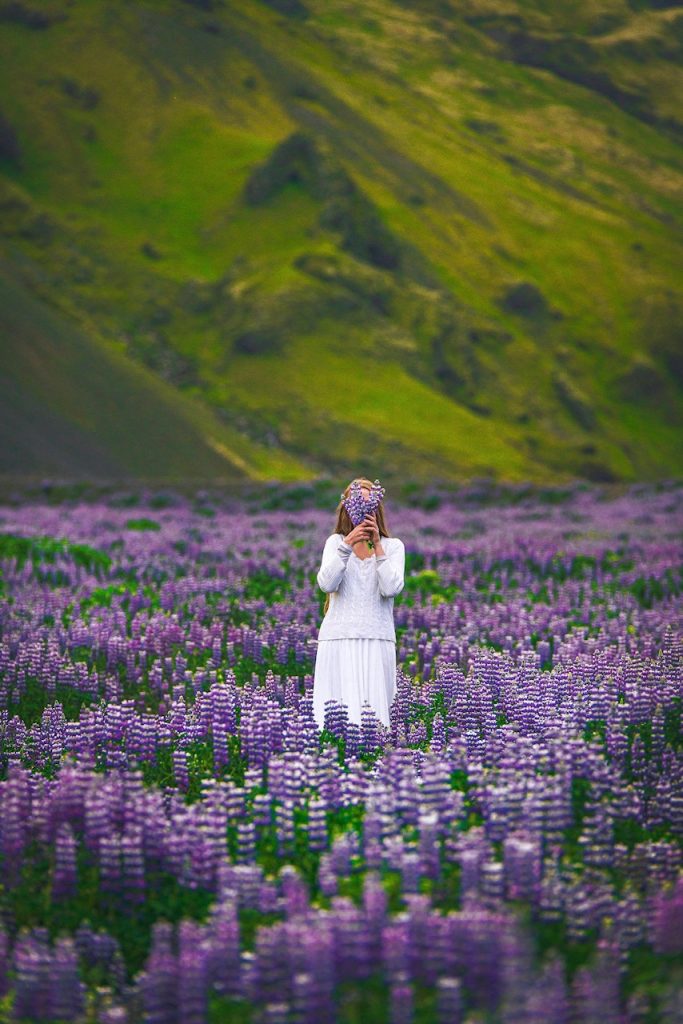 One Of Iceland's Many Lesser-Known Hidden Gems
There are so many hidden gems in Iceland. If you'd prefer an Iceland wedding venue that's more under-the-radar, that is totally possible! Simply work with your wedding planner or photographer – or us, if you choose – to choose the perfect location for you on your special day!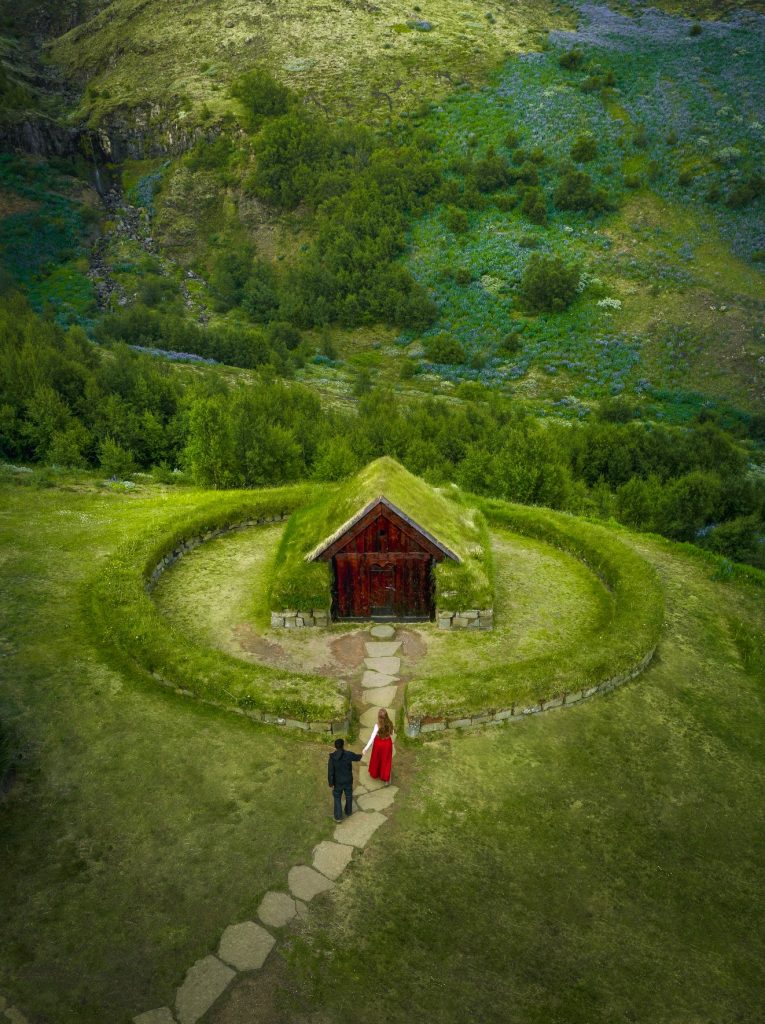 We hope that this guide to Iceland weddings answers all of the questions that you may have about getting married in Iceland. This beautiful country is the perfect place for your special day.
Once again, if you would like to hire us as your Iceland wedding or proposal photographer, simply contact us at victoriayore@gmail.com. Please let us know in the comments section if you have any questions or just want to share your own Iceland wedding story!