Deciding on the best time to visit Iceland for your needs is one of the most important parts of planning an Iceland trip. If you are unsure where to start, we have made it super easy for you by explaining what you can expect month by month.
This complete guide to the months and seasons of Iceland will fully prepare you for your trip. All of the most common questions are answered, such as when to see special things like the Northern Lights, lupine flowers, and puffins.
Iceland is amazing, but it is also a country that must be taken seriously. Winter in Iceland is beautiful, but you must plan accordingly if that is when you are planning to visit. However, even summer has its drawbacks.
Not to worry, we have all the information you need to check off all of your Iceland dreams. The best months to visit Iceland might depend a little bit on the season, but it depends the most on you!
Get a FREE printable "Hidden Gems In Iceland" E-book by joining our private Iceland Facebook Group and sharing your photos and asking for tips and tricks.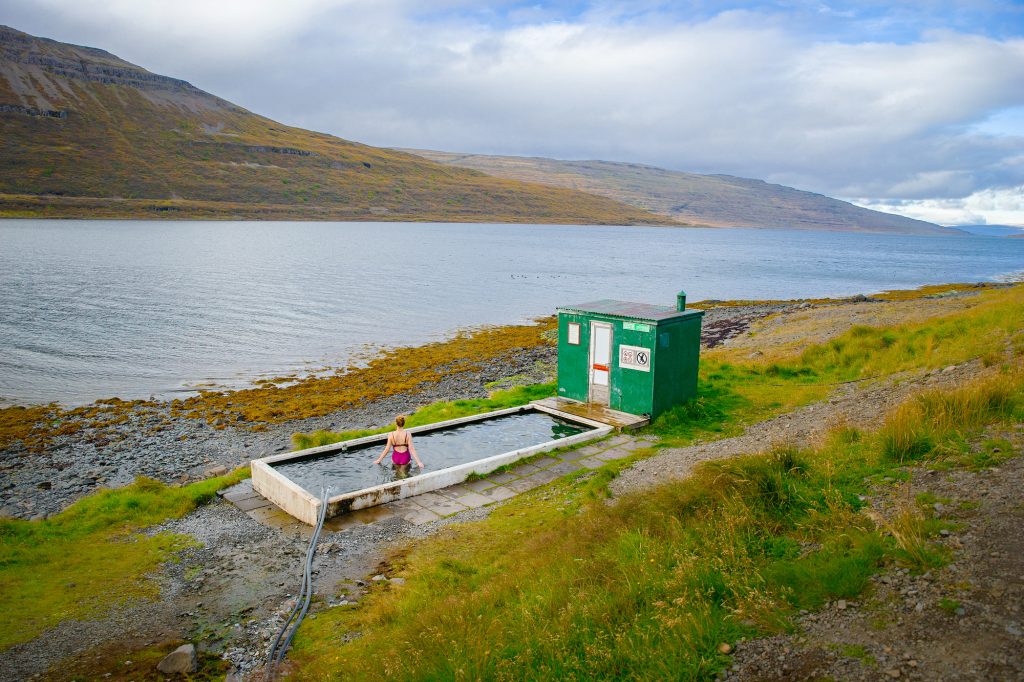 High and Low Seasons for Visiting Iceland
Like any popular tourist destination, Iceland has an "on" season and an "off" season. These times are otherwise referred to as high and low seasons (with the in-betweens being called shoulders).
The high season is when the majority of the tourists come to visit. This is generally due to the nice weather and ease of access. This is when most people plan their Iceland itinerary!
But just because the weather is colder in the low season does not mean you should not visit! Many people enjoy the low and shoulder seasons more because there are fewer crowds and it is cheaper, making it the best time to travel to Iceland for a lot of people.
You might be surprised to learn that there are indoor and outdoor activities for all of the seasons. Iceland is beautiful inside and out no matter when you visit.
High Season: June-August
Summer, summer, summer! This is the high season in Iceland for the obvious reasons: weather and temperature. It is undeniably the best weather to visit Iceland with much more sun and higher temperatures.
However, this is also by far the most expensive time to visit Iceland. Airfare, hotel fees, food prices–everything costs a pretty penny during the summer.
Not to mention the crowds. The high season is high season because it is when most people visit Iceland.
While the cost and the crowds are pretty big negatives, the high season has phenomenal positives as well. Especially if you are wanting to go to Iceland for the great outdoors. Most roads will be open during this time as well.
At the end of the day, it is all about your priorities. If weather and being able to spend the maximum time outside every day is your top priority, you are going to want to come to Iceland during the high season.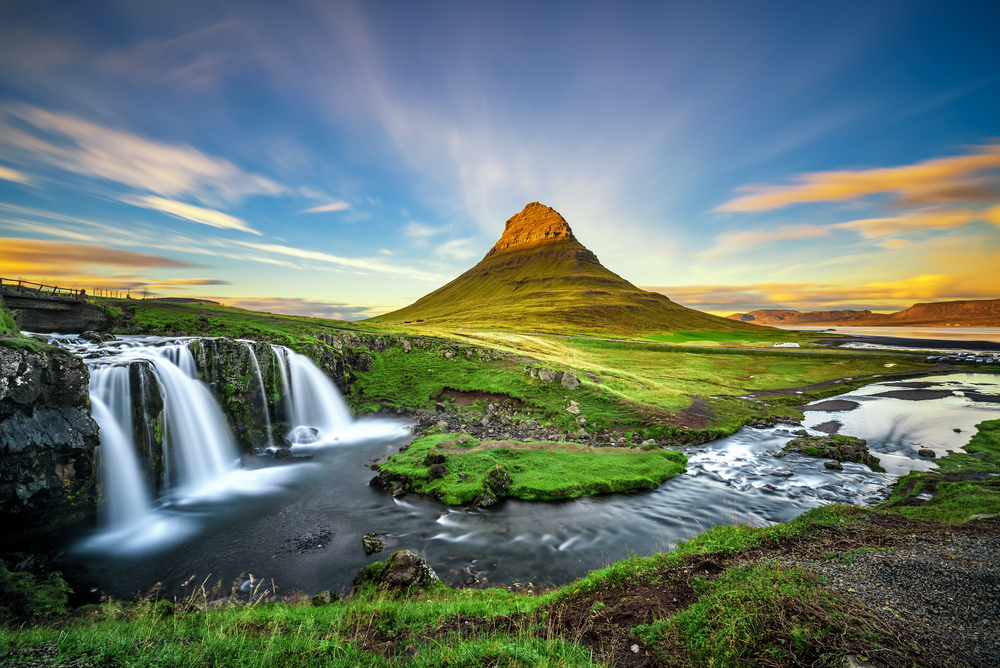 Shoulder Season: Sept-Oct & April-May
Shoulder seasons are the traveling industry's best-kept secret. Okay, so it is not super-secret, but it still is not something people talk about as much as they should.
We hear about the high and low seasons all the time, but not so much about the shoulder seasons. They are the very beginning and the very ending of the classic tourism season.
This means that there are still more people than in the low season, but not the huge crowds of the high season. Prices are a little higher too, but still generally reasonable.
The best part of the shoulder season is that the weather is still reasonable. It may not be as great as the high season, but still totally tolerable!
Low Season: November-March
The low season in Iceland is during the typical winter months. For a country named after ice, Iceland's winters are not that bad!
While there are some road closures, the country is still quite explorable and traversable during the cold months. And if you are coming to see the Northern Lights, this is the time to do it!
This is also the time to come if you are on a serious budget and need to take advantage of the low season prices. Traveling does not have to empty out your bank account.
The lack of crowds makes it the best season to visit Iceland on a budget! There are some trade-offs for coming during the off-season in Iceland, but there are some definite benefits too. This is actually our favorite time to go!
As we said above, the best time to visit Iceland depends on your Iceland priorities!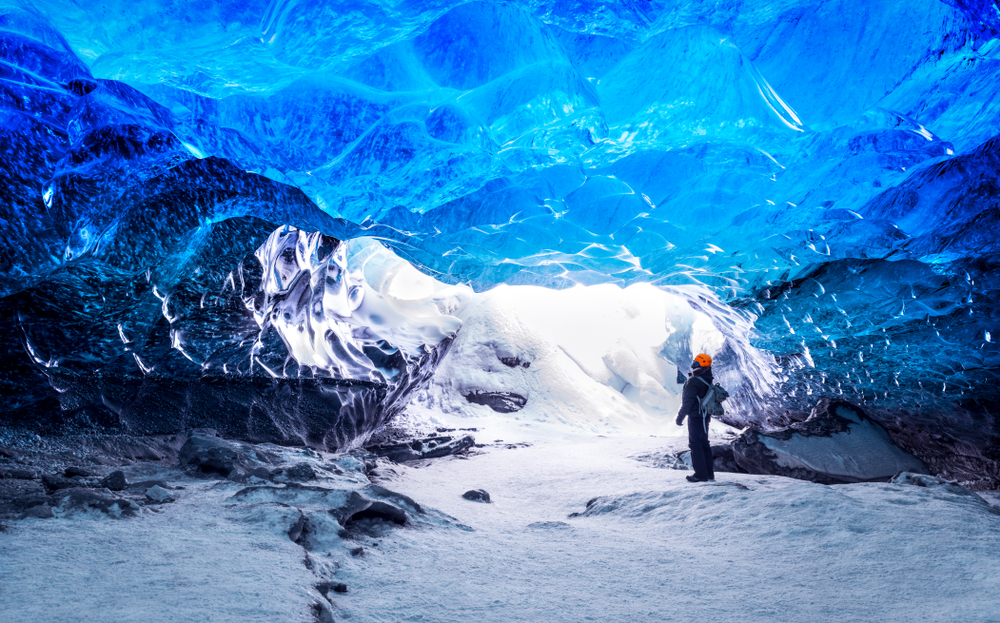 Visit Iceland in Summer if You:
-Love the idea of 24-hour sunshine. Ah, the midnight sun–you are not alone if this is on your bucket list! If you have dreamt of Iceland's 24-hour daylight, the summer might be the best time for you to visit.
-Are enamored with the brilliant green of summer. Iceland starts greening back up in the spring, but summer is the best time to visit Iceland if you want to see green everywhere.
The iconic lupine flowers bloom in June and July as well, creating swatches of purple across the landscape. If you want to photograph these flowers make sure to time your trip right.
-Want the best chance to spot whales. Whale watching is a popular tour in Iceland. The magnificent beasts can be spotted offshore from April through October, but the peak time to see them is in the summer.
In summer, more species are in the area and boat tours are less likely to get canceled because of weather.
-Plan on camping. Since the weather is calmer and less unpredictable during the summer, camping in Iceland is a better option for this season. You will have the least rainfall and less wind. This is especially good if you are tent camping.
-Are not bothered by crowds. Everyone loves the gorgeous, summer Iceland scenery. And we mean everyone. Iceland is a super crowded place in summer so keep that in mind.
If you hate crowds, you can still do alright coming in the summer. You will just want to visit the less popular places in the country. They may be less popular, but Iceland is amazing no matter where you go.
-Are totally invested in the traditional sense (read: financially). If you are not concerned about how much your trip to Iceland is going to cost, that saves you a lot of seasonal concerns.
Iceland is stunning in the summer, and we cannot blame you for wanting to visit when everything is so vibrant.
Just keep in mind that it is already expensive to travel to Iceland, let alone during the summer. During the high season, top tourist destinations and locations charge top dollar for everything.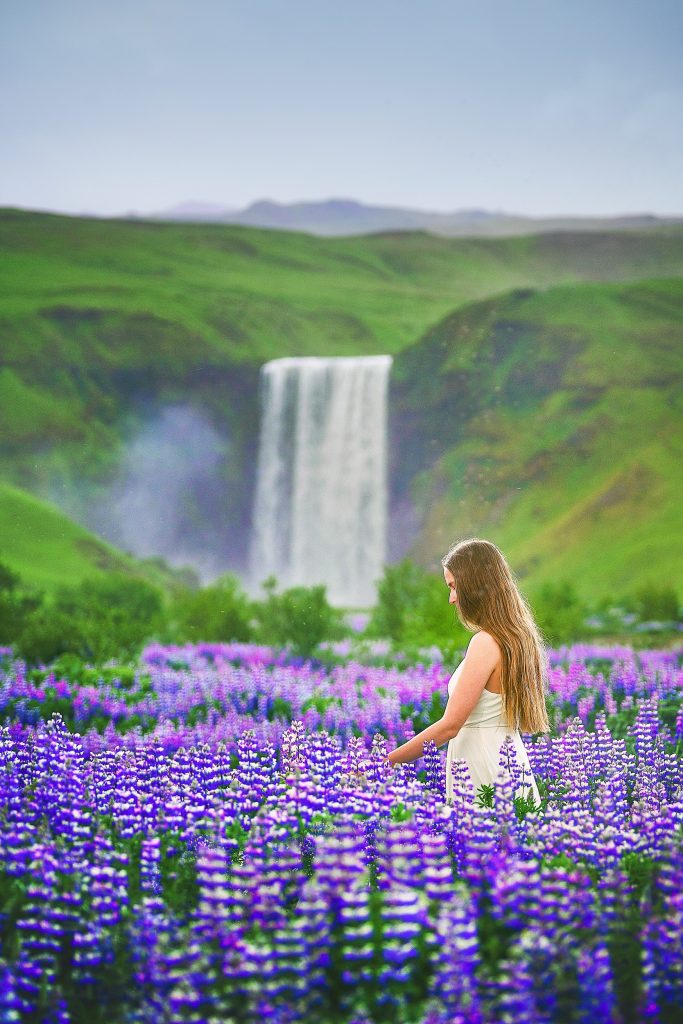 Visit Iceland in Winter if You:
-Want to spot the Northern Lights. You can see the Northern Lights in the fall, but there is a caveat. You will have to stay up until around 2 am. If staying up all night is not your vibe, then winter is the best time to go to Iceland to see the Northern Lights!
In winter, there are not many daylight hours. The sun is only up from around 11 am to 3 pm. However, the increased darkness means a better chance of spotting the Northern Lights. Around midnight is the best time to spot them, but earlier or later is possible too.
-Want to visit an ice cave. The incredibly-formed ice caves are some of the best natural features in Iceland and can only be visited in the winter. Tours are lead from November to March.
-Love a good winter wonderland. There is just something magical about the way snow completely changes Iceland's landscape. Many people absolutely love coming to Iceland during this time of year because of this.
If you love the beauty of winter, then it is the best time to visit Iceland! Keep in mind that snow has drawbacks since some roads will be closed.
-Want to stand out from the crowd. While a lot of people enjoy Iceland in the winter, the number of people who go is nothing compared to the summer.
If you are looking to do something a little different and unique, winter just might be the best time for your visit to Iceland. It certainly is not a bad time!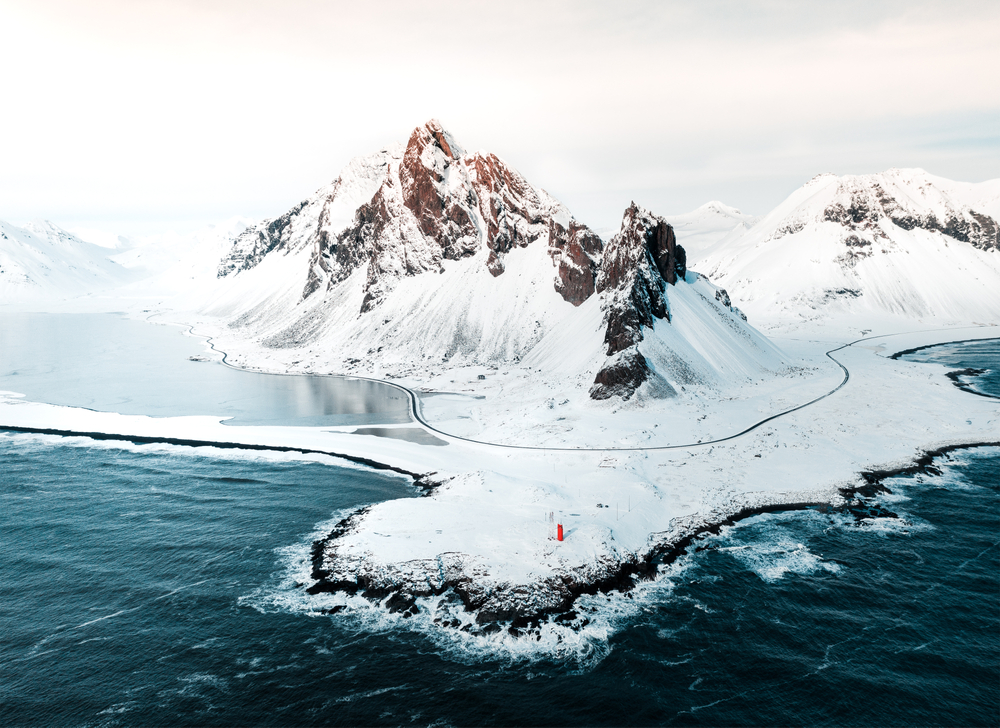 Visit Iceland in Fall if You:
-Do not like crowds but still want to see the Northern Lights. Even though this is the off-season, it is prime viewing time for the Northern Lights.
This is because the weather is so nice! You do not have to freeze to see the Northern Lights, just come during the fall.
An extra bonus is that there are really not very many tourists during this time. Fall is the best time of the year to visit Iceland if you want to miss the crowds and do not mind coming when it is a little colder.
-Love fall colors. Iceland is not a country that is typically praised for its fall foliage, mostly because there are not many trees. However, what trees there are turn golden along with the grasses, to create a beautiful landscape.
-Want to experience the Iceland Airwaves music festival. If you have not already heard about it then you might not know what a big deal the Iceland Airwaves music festival is. But if you have heard of it then you already know that it is a must-see!
It is a super popular music festival that happens each fall in Iceland. Usually, it is held sometime in November, but do an internet search to find the exact date.
If you love music, this festival is a great addition to your Iceland plans! Fall is the best time to go to Iceland to check it out!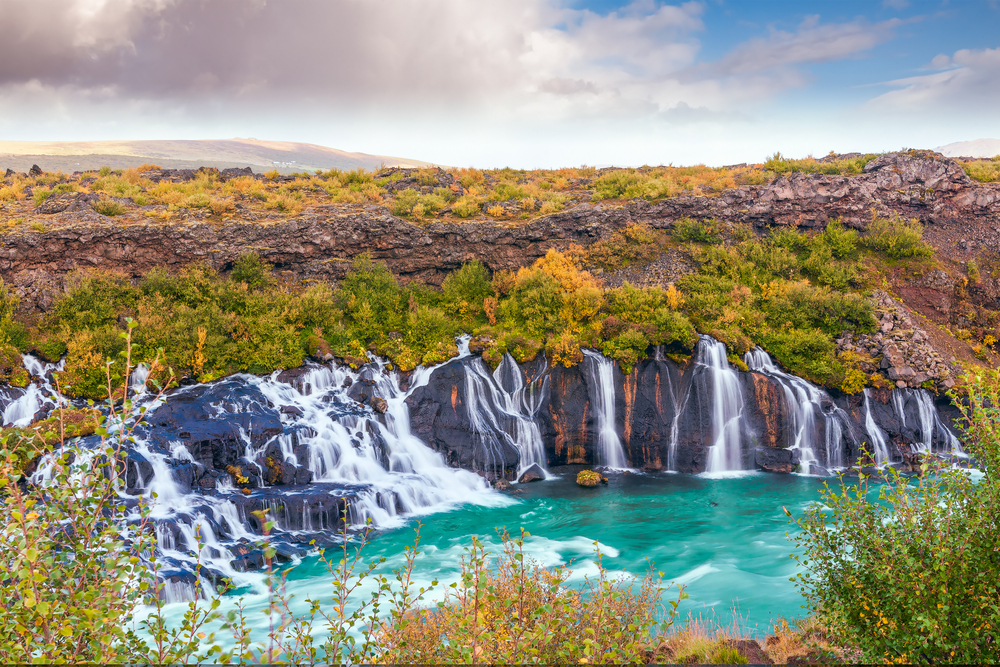 Visit Iceland in Spring if You:
-Love puffins! Spring is the best time to visit Iceland if you want to see puffins. These adorable birds start arriving around April for their yearly nesting.
Puffins are some of the cutest birds out there, and you can find them all over! If you are coming to catch sight of or photograph them, just check in advance to make sure they will be in the area where you are going.
-Want to road trip without snow. As we said above, some of the roads can close in the winter. Spring is the best time to come to Iceland for better weather and open roads. That melting snow also helps to make the waterfalls flow stronger.
Not to mention that the world is coming back to life in the most beautiful way! There is something about the colorful bursts of color against the gray of winter that makes spring like no other season.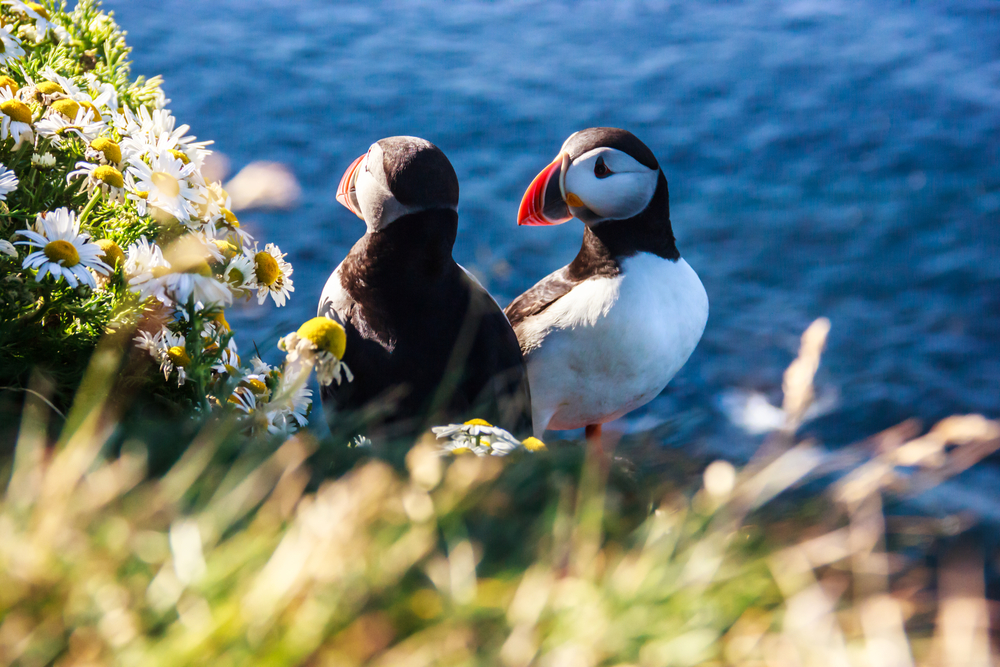 Best Time to See Northern Lights in Iceland
If you are interested in the Northern Lights, you are interested in Iceland! While there are many different places to see the Northern Lights in the world, Iceland is hard to beat.
Especially considering that there are places where you can watch them from a hot tub! The Northern Lights In Iceland are a huge draw, and if they are the reason you are coming you are not alone!
If you are wondering what is the best month to see the Northern Lights in Iceland, there are a few choices. It is possible to see the Northern Lights any month between the end of September and the end of March.
Just like the sun is out all night during summer, the nights are very long in the winter. The closer to mid-winter you visit, the longer the night and thus the higher chance of seeing the lights.
You definitely will not be able to see them during the summer! Winter is when you should book your Iceland trip if the Northern Lights are a priority.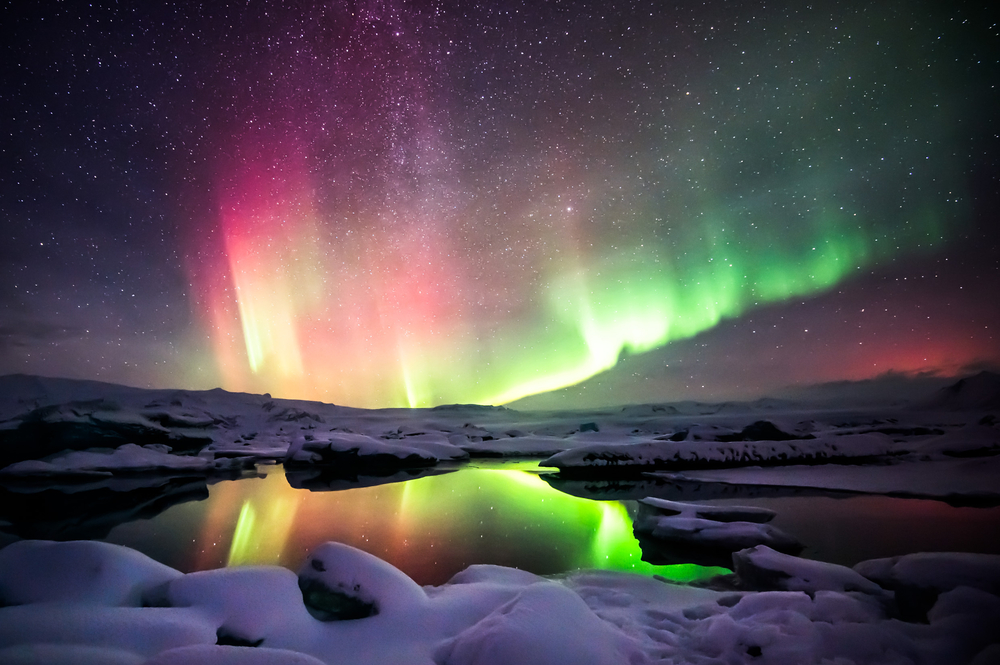 Cheapest Time to Visit Iceland
Unfortunately, Iceland is one of the more expensive countries to visit. We have gone over and over because we believe the experience is worth the money.
However, there are things you can do to make your trip much less expensive. One of those things is visiting during the Iceland off-season.
If it is your goal to do Iceland without dumping a ton of cash, we absolutely recommend the shoulder seasons or winter. Visiting right before or right after the high season of summer can save you a lot of money.
If saving money is a high priority, winter is absolutely the best time to visit Iceland. And pro tip: use grocery stores to cut down on costs even more!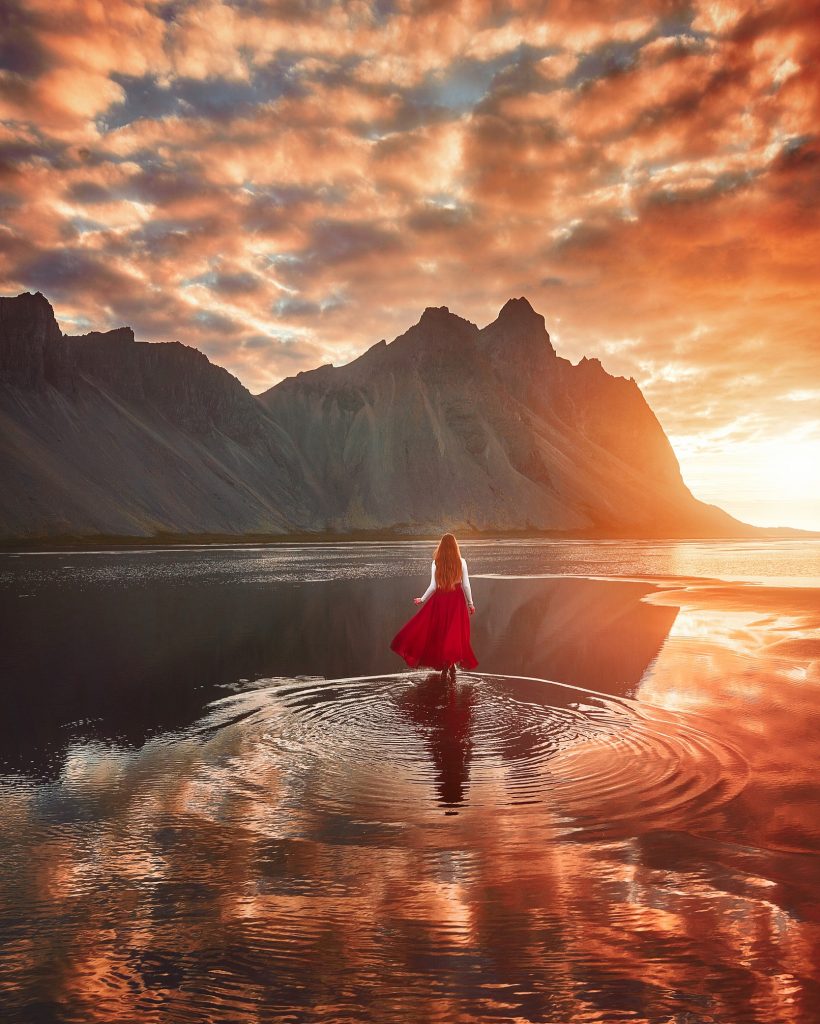 Iceland Weather Breakdown by Month
So far we have been referring to entire seasons, but we know that is kind of broad. Especially when you are planning the trip of a lifetime!
That is why we are going to break everything about Iceland Weather down month by month. This way you can know exactly what to expect.
After all, sometimes the best time to visit Iceland is simply when it best fits into your life. Whenever you make the trip, our month-by-month breakdown will help you make the most of it.
Iceland Weather in January
Happy New Year! January is a great time to visit Iceland. During this time of year you will find highs of about 36°F and lows of about 27°F.
Is that warmer than you expected? For a country named after ice, Iceland's winters are actually quite moderate when compared with a lot of other places in the world!
That being said, January in Iceland is the coldest and windiest month. You will want to bring warm clothing and dress appropriately! Expect lots of snow and ice.
Iceland Weather in February
Honestly, the temperatures do not change much in February. What does change is the hours of daylight!
At the beginning of January, you will only get about 4 hours of daylight a day. By the end of February, this increases to about 10 hours.
February is a great month to come because there is more daylight but the crowds and costs are still at a minimum. Check out our post on things to know before you visit Iceland in February!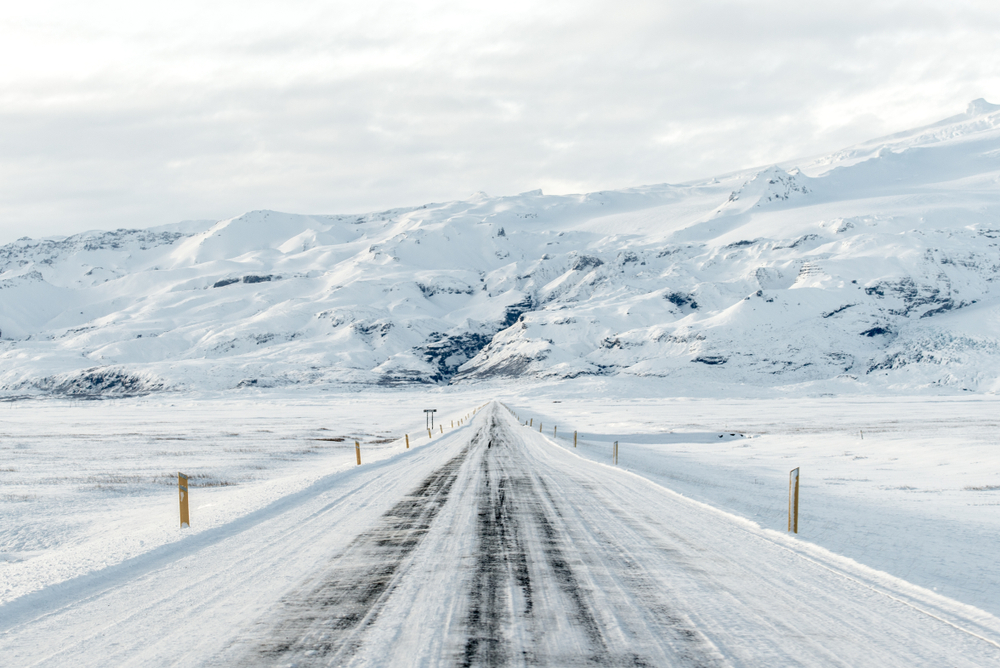 Iceland Weather in March
March continues with the increase in daylight hours, with about 13 hours of sunshine a day by the end of the month.
Winter weather continues in Iceland in March, although it starts sticking more to the mountaintops and less to the streets. As with most places, the weather is also better in southern Iceland than in northern Iceland.
However, it is still cold pretty much everywhere. We are getting closer to spring, but you would not really know it yet. The temperatures are still averaging between 27°F and 36°F.
Iceland Weather in April
The weather finally begins to make a bit of a change in April. Temperatures range between 32°F and 41°F during this warmer month.
What is more, there is a lot less snow! Spring starts to show its face about this time, with the country beginning to green back up again. Migratory birds start to return, including puffins.
We are also looking at around 17 hours of daylight in April as we officially move out of the low season and into the shoulder season. Don't forget to check out this post about visiting Iceland in April!
Iceland Weather in May
May is seriously one of the best times to visit Iceland! Especially if you love the sun! The days have 20 hours or more of sunlight. It is also the driest month, with the least rainfall.
The highs are also much closer to 50°F, which means you almost do not even need a jacket depending on where you are from.
Of course, you will still want to bring your jackets. While the weather is much more temperate, there will still be some cold days. However, it is totally livable and the country is also becoming so much more green!
Iceland in May is also still shoulder season, which means you will not have to try so hard to find your own space while enjoying the sunshine.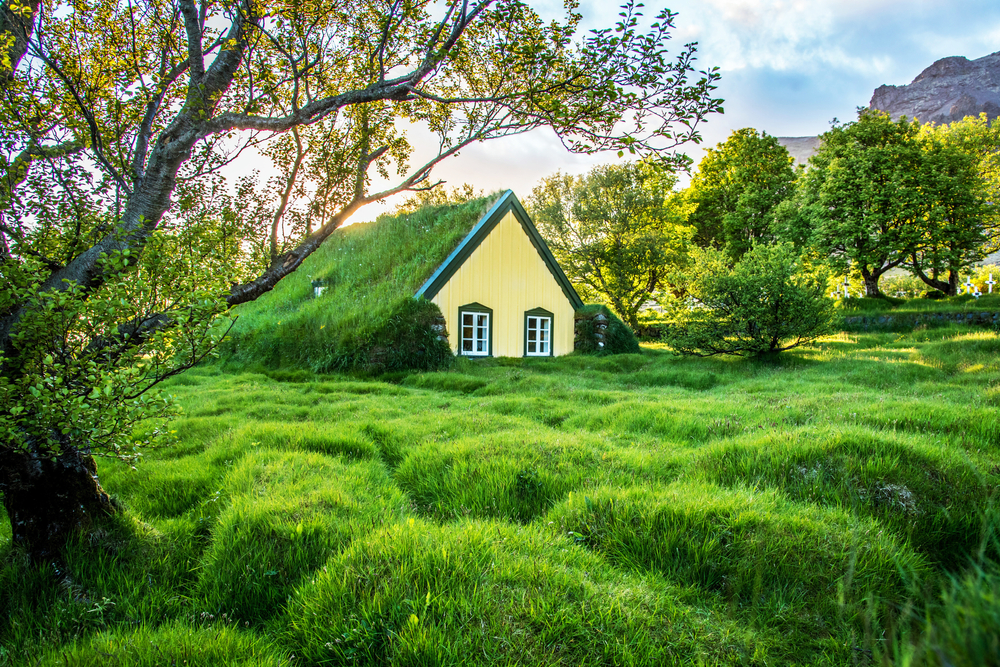 Iceland Weather in June
Welcome to high season! While it is called the high season because it is most popular among tourists, June in Iceland is also the high season for the longest days.
If getting the most out of each day is important to you, then June is the best month to visit Iceland. You can explore for many more hours in daylight.
June nights only last for about 3 hours, beginning around 11:30 PM! Yeah, blackout curtains are a big thing in Iceland summers!
While the highs average around 52°F, they can get much higher than that. June is the beginning of summer, and also the beginning of real warmth.
Iceland Weather in July
Now, if you are interested in heat rather than warmth, July might be a better time to visit Iceland. It is the best time of year to visit Iceland for heat, as the hottest month of the year. It is also the least windy month.
The weather in Iceland in July is generally extremely pleasant during this time of the year. While the nights are a little longer, at about 4 hours long, they do not increase by much!
Keep in mind that "hot" does not mean the same thing in Iceland as it does in other places. The average highs are around 56°F. That is part of why it is one of the most popular times to visit because it does not get any warmer than this.
Iceland Weather in August
August is the last month of the high season. While the beginning of the month is still as warm as July, temperatures start to go down by the end of the month.
August is the best time to go to Iceland if you do not mind the crowds due to the fairly standard daylight hours. The sun sets around 9 PM and rises around 5 AM. August has the least cloudy days as well.
Do keep in mind that August in Iceland goes quickly from summer to fall. By the end of the month, the slight bite to the air will have you wishing for warm pumpkin pie and spiced apple cider.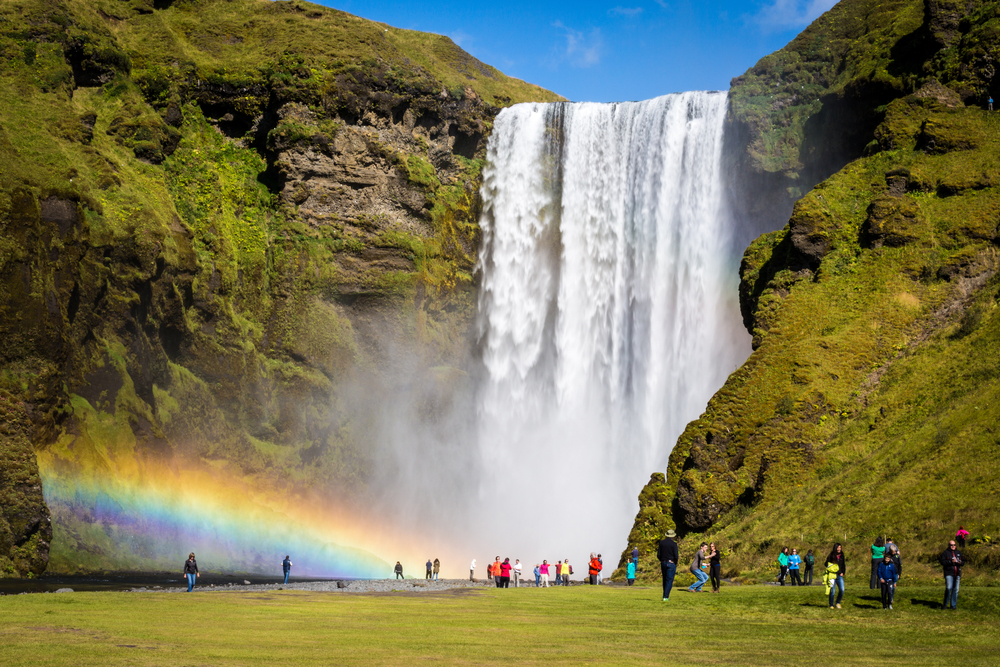 Iceland Weather in September
September still has great sunshine for Iceland, but it does go down to just below 12 hours by the end of the month. It is the warmest month with a chance to see the Northern Lights.
Temperatures are still quite nice, and we are back in shoulder season. This means that you can enjoy the nice weather and decent daylight hours without all the crowds of summer.
By the end of the month the likelihood of snow increases. If you visit Iceland in September, you will want to pack your warm clothing!
Iceland Weather in October
October in Iceland is still technically part of the shoulder season, but it is starting to feel much more like the low season of winter. Daylight is down to about 8 hours a day.
In addition, the average temperature is dropping back down to about 41°F. While it is not absolute winter yet, the weather should be taken into consideration at this point.
Bring warm clothes and waterproof ponchos. October is the wettest month in Iceland with an average of 14 days with precipitation.
Although it is colder, October is the best time to visit Iceland if you want to explore with as few crowds as possible. The roads are still open and you can still go pretty much everywhere you want.
Iceland Weather in November
Welcome to winter and the off-season in Iceland. November begins the coldest time of the year, although December and January are colder. This is when the snow starts to fully cover the island.
The average temperature is 38°F, but it can get much colder. Daylight only lasts about six hours.
We love to visit Iceland in the low season, and really do think it is one of the best times to visit Iceland. You just have to be prepared for the lower temperatures and the weather.
Iceland Weather in December
The last month of the year is one of the coldest months, second only to January. Temperature highs only reach about 39°F. It gets as cold as 21°F.
In addition, Iceland in December sees quite a lot of precipitation and snow. Daylight hours are generally pretty short.
However, this does make it and January the best time to visit Iceland for the Northern Lights! However, it is also the cloudiest month, meaning the lights can get obstructed.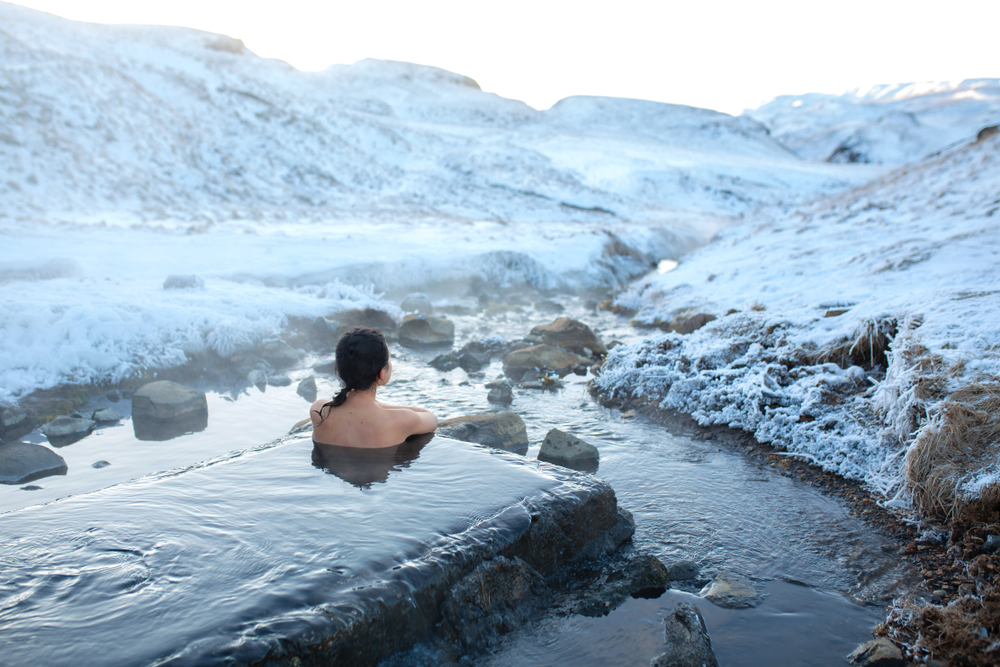 Iceland Events and Activities by Month
While the weather is a big deal, sometimes it is not as important as what you can do. After all, most weather is survivable if you plan and dress accordingly.
If you are more curious about what is going on than what temperature it will be, we have you covered! We have broken down the events and activities you can do during each month of the year.
You might be surprised by some of your options, especially during the winter!
Iceland in January
Can you even go wrong with New Year's Eve when you are celebrating in a different country? Especially Iceland!
The country takes this holiday seriously with partying on New Year's Eve, sleeping on the first, and shopping on the second.
And then there is Christmas–that is right, Christmas extends into January in Iceland, with the last day being on the 6th. If Christmas is your favorite holiday, then the end of December and the beginning of January is definitely the best time to visit Iceland.
Another great January tradition in Iceland is Thorrablot. This pagan celebration was canceled when Iceland went Christian but has had a resurgence in the last couple of centuries.
It is a week-long celebration of an Icelandic tradition that will not disappoint. If you want to feel like a local, prepare yourself for some things you have never eaten before, like rotten shark meat, boiled sheep's head, and congealed sheep's blood.
Iceland in February
February is beloved for the Winter Lights Festival. As a celebration of bright and happy things, you will love the way they light the streets with brilliant fluorescence to chase the darkness of winter away.
Öskudagur is basically Icelandic Halloween. The kids dress up in great costumes, and instead of the "trick or treat" chant, sing for their candy.
The Icelandic Food and Fun Festival is a fantastic festival that celebrates Icelandic cooking. And not even the kind that uses blood and rotten shark meat! It is all about using ingredients native to Iceland and enjoying all the culinary joys the country has to offer.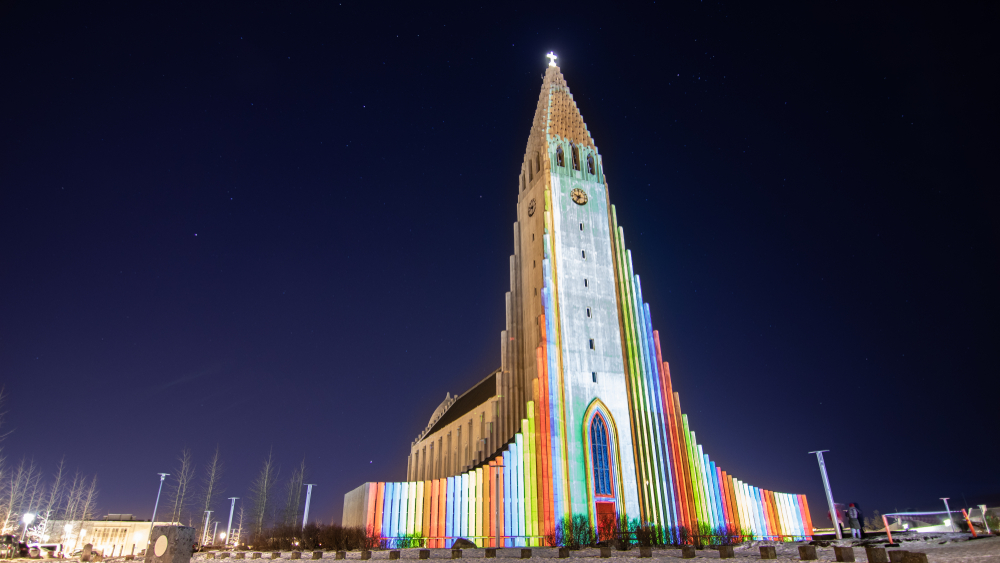 Iceland in March
Did you know that Iceland had its own prohibition period? Beer with an alcohol level of over 2.2% was banned for the majority of the 1900s but legalized again in 1990.
Iceland celebrates this legalization with the unofficial holiday, Beer Day, on the first of March every year! We think you can probably guess what the main activities are. (Drinking beer.)
DesignMarch is similar to the Food and Fun Festival in that it is a celebration of Icelandic creativity. The event features purely Icelandic products and goods.
Continuing in a similar fashion, the Reykjavik Folk Festival honors centuries of traditional music and song.
Iceland in April
Iceland celebrates Easter for days just like Christmas. Honestly, we do not know why more countries do not do holidays like this! Celebrating with just one day is so minimal!
Easter lasts from Holy Thursday to Easter Monday in Iceland. It is generally spent with family, rather than with huge parties.
April's other holiday is the first day of summer. Given the dark of winter and the light of summer, and the very small in-betweens, Iceland actually does not traditionally recognize spring and autumn as seasons. So summer starts in April!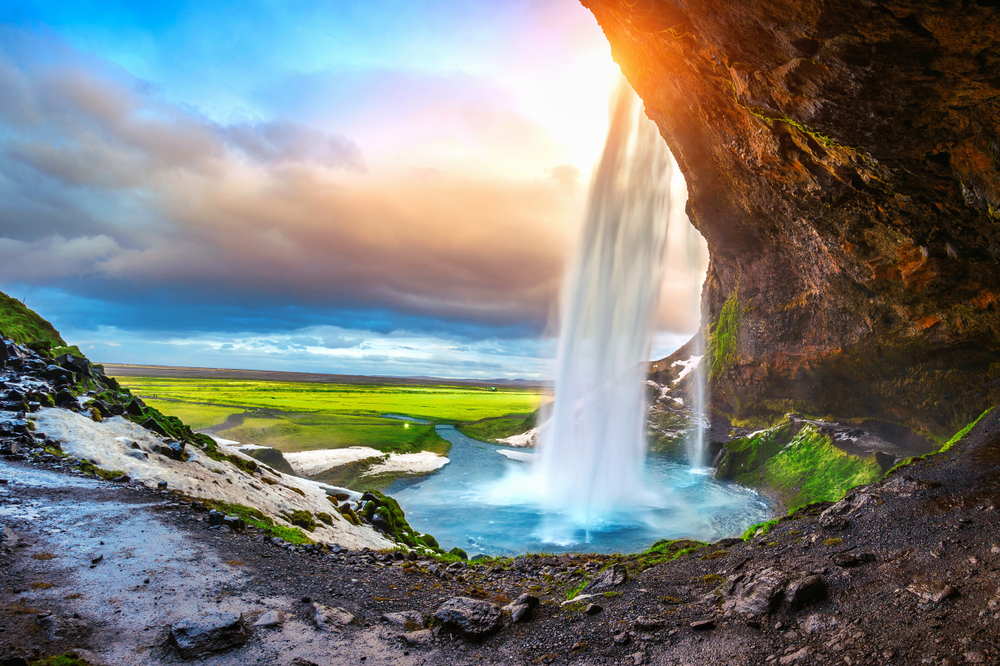 Iceland in May
The Reykjavik Art Festival is a big deal in May! People come from all over the world to participate in and experience creativity and fun.
If art is not your thing, May still might be the best time to visit Iceland with the Rite of Spring Festival. We know, we know, we just told you there is no spring in Iceland.
But when Iceland gave up its traditional calendar, they adopted spring and autumn into their new calendar. And they like to welcome spring with heartfelt jazz and folk music!
Iceland in June
It should come as no surprise that a country that willingly eats rotten shark meat celebrates the sea! Iceland's Festival of the Sea happens in June, and it honors the country's long tradition of seafaring.
Iceland also celebrates its independence from Denmark every June 17th. Like the 4th of July in the United States, Iceland National Day is a country-wide affair filled with parades, concerts, and general enjoyment of Icelandic culture.
Summer Solstice takes advantage of the Midnight Sun with all-night rock concerts. You can also join the locals in watching the sun set and rise all within the course of 2-3 hours.
Another unique Iceland festival is the International Viking Festival. It is a days-long holiday event that pays tribute to Iceland's fierce Viking history.
Iceland in July
Innipukinn Festival is another music festival that happens in July. If you are not already getting the sense that you can hit up a music festival basically anytime you visit Iceland, well, you can. Icelandic people really love their music, okay?
They mix things up a bit with LungA, a festival specific to the Icelandic town of Seyðisfjörður. This festival still has music (as any good festival does) as well as art!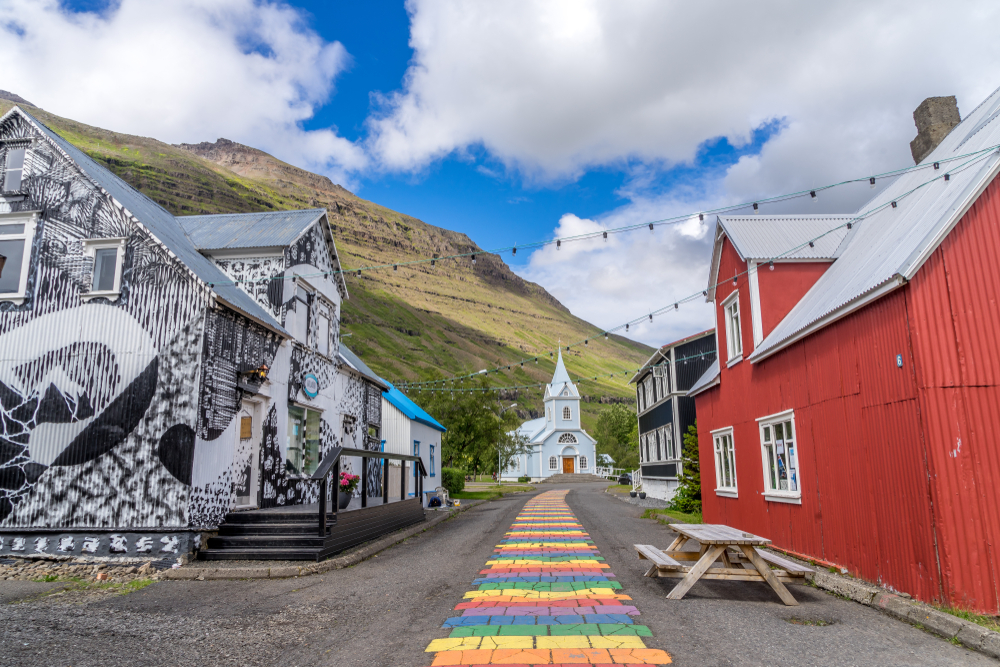 Iceland in August
Verslunarmannahelgi–say that five times fast, we dare you! Honestly, if you can pronounce it once we will be impressed. Verslunarmannahelgi happens the first weekend of August and is a quick bank holiday (kind of like Labor Day in the US). People generally celebrate by going camping.
Gay Pride comes the second weekend of August, and nowhere celebrates it as Reykjavik does! With parades, parties, and concerts, this is truly a vibrant and fantastic event.
If you like running, (like, really like) then the third weekend of August is the best time to visit Iceland! This is when the Reykjavik Marathon occurs, and it is another event that attracts people from all over the world!
The marathon wraps up with Menningarnott, a fantastic cultural celebration with cultural events, fireworks, and you guessed it, great music!
Iceland in September
The capital city of Reykjavik has two festivals in September, making it the best time to visit Reykjavik if you are wanting to have some fun during the shoulder season.
First is the Reykjavik International Literary Festival. This one is not just a big deal to Iceland, it is actually the biggest literary festival in Northern Europe!
Next is the Reykjavik International Film Festival. There is just something about literature and film that make them go hand in hand. Both of these festivals draw people from all over the world, but especially the film festival!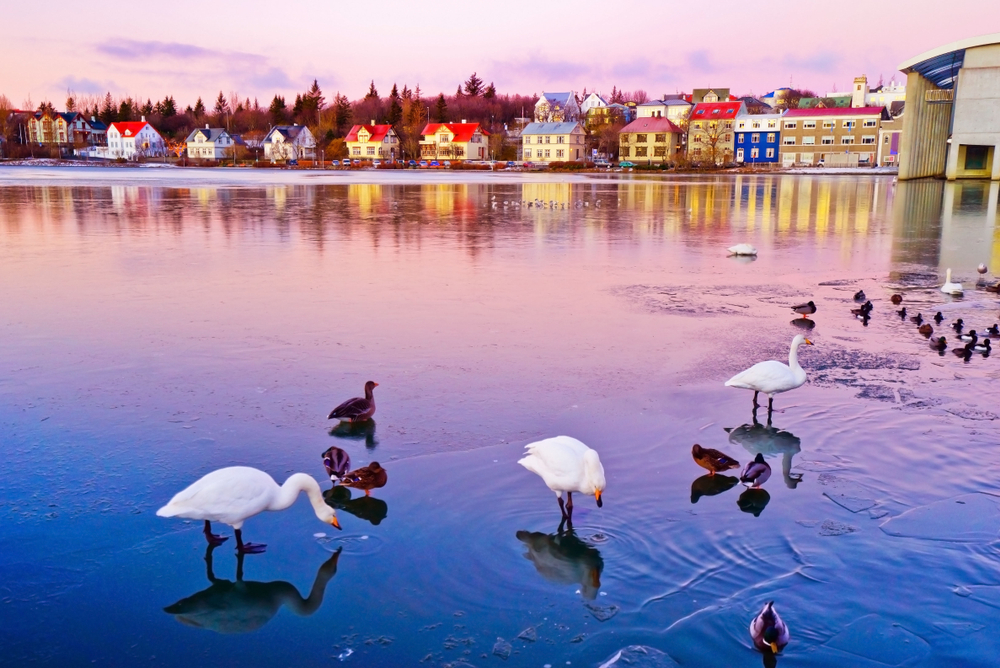 Iceland in October
Iceland Airwaves is another music festival but centers on indie and alternative music rather than the traditional folk and rock music of so many other festivals. Of course, folk and rock music still abound!
Iceland also celebrates Halloween in October, although they have not been celebrating it as long as other countries and do it a little differently. It is more of an adult holiday, but still features costumes!
Iceland in November
November does not have a whole lot going on in the realm of festivals and events. What it does have, though, it makes sure to do well.
Frostbiter is Iceland's Horror Film Festival. So while Iceland does not have much going on in November, it is still the best time to visit Iceland if you love horror!
Iceland in December
Sorry not sorry, but Iceland has the best Christmas lights. Seriously, you have to check them out! Because the country is so dark all the time in December, they go all out with the Christmas lights.
And the way they make such a contrast against the dark? Unbeatable.
Everything about Iceland Christmas is simply unbeatable. From the concerts to the food to the country's own unique and fun traditions, you will absolutely love it.
New Year's Eve is filled with fireworks, bonfires, and singing. There are even costumes!
And they do not wrap things up and go to bed at midnight. Iceland New Year partying lasts long into the early hours of the next day.
December is the best time of year to travel to Iceland if you love all the December holidays!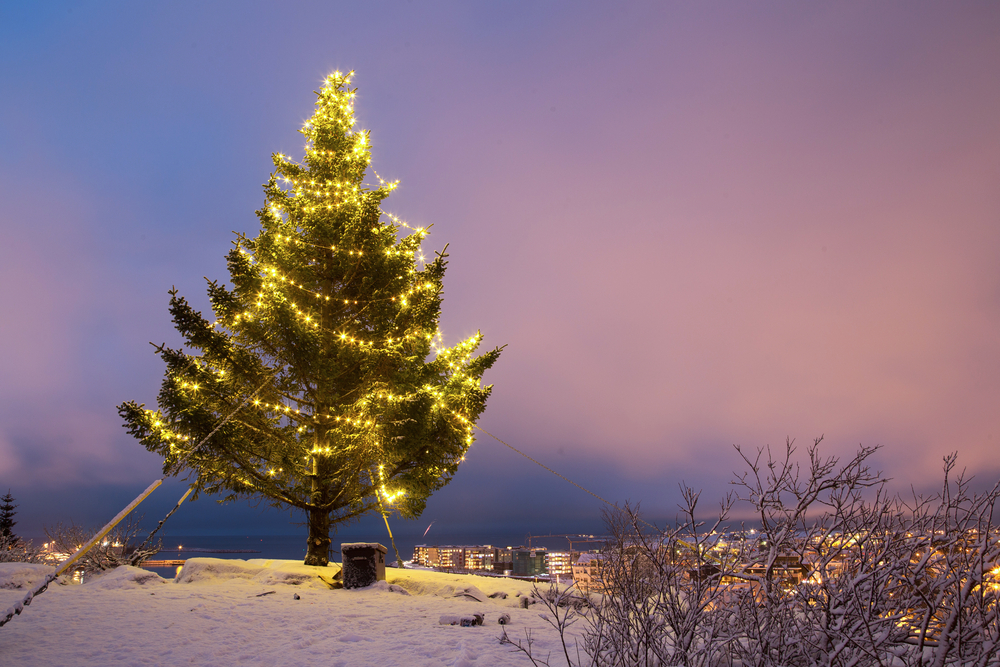 When is the Worst Time to Visit Iceland?
Honestly, there is really no bad time of year to visit Iceland as long as you plan accordingly. After reading this article, you should have a good idea of what each month has to offer in terms of weather, natural events, and festivals.
As long as you visit when you want to and pack according to the season, you will be in Iceland at the right time.
If you want to see the Northern Lights, summer is the worst time to visit Iceland. But, if you want clear roads for your rental car and warm weather, then winter is the worst time to visit.
So, When is the Best Time to Visit Iceland?
At the end of the day, the best time to visit Iceland is 100% up to you! Whatever your interests are and your budget will determine when you should visit this amazing country.
After all, this is your trip to Iceland. Plan it around what you want to see and do.
Do you want the midnight sun and purple, lupine flowers? Come during summer. Hate crowds and overpaying, but want decent weather? Give shoulder season a try. Does your Iceland bucket list involve the Nothern Lights or ice caves? Winter is your best bet!
Iceland is gorgeous year-round, and you really cannot go wrong no matter when you visit!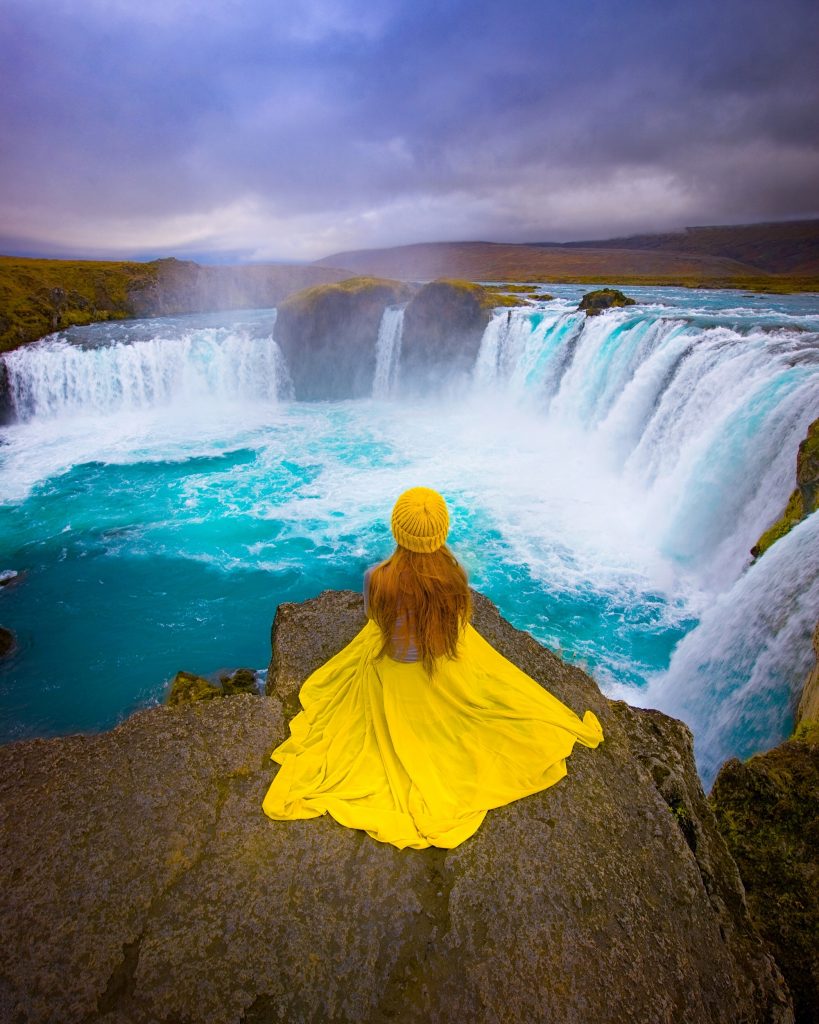 We hope our guide to the best time to visit Iceland has been helpful! Feel free to let us know when you decide to go in the comments below. What is your favorite time to travel to Iceland?