Iceland in August is a fun-filled time of year when Icelanders are in good spirits and are still riding the summer high. Milder temperatures and plenty of daylight hours make for optimal adventure conditions.
August in Iceland is one festival after the next. From wild island parties on Vestmannaeyjar to the annual pride and culture festivals, you'll find a jam-packed month full of intensely fun scheduled events.
In between partying you'll have more than enough time to explore Iceland's unmatched natural wonders. You might try exploring a section of the Ring Road while road conditions are favorable.
Though there may be some competition from other tourists for the more famous attractions, it's hardly enough to put a dent in what's sure to be a spectacular trip.
So pack your suitcase filled with clothes for every weather scenario and head to this fascinating, enchanting country.
Get a FREE printable "Hidden Gems In Iceland" E-book by joining our private Iceland Facebook Group and share your photos and ask for tips and tricks.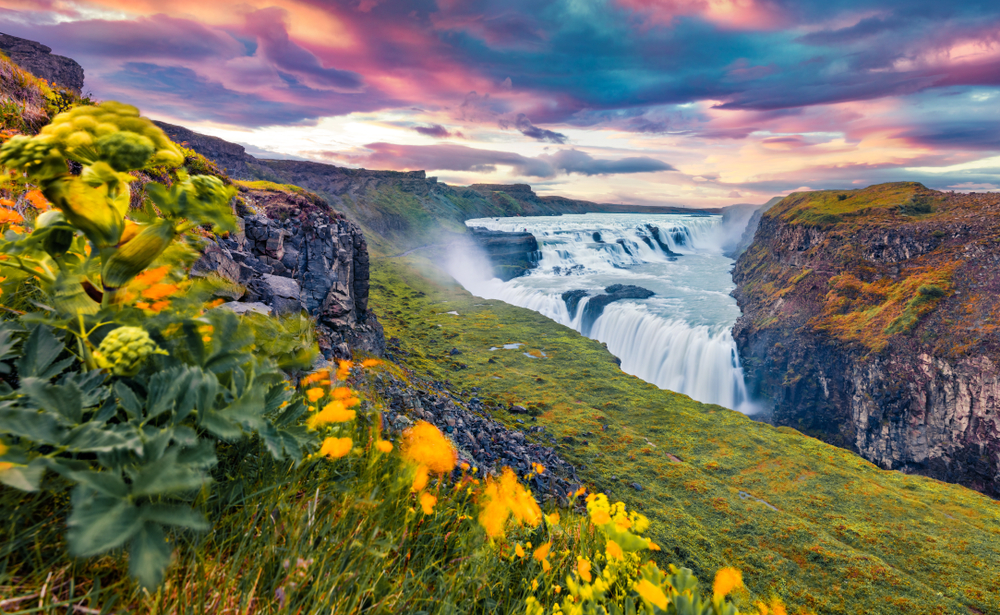 7 Things To Know Before Visiting Iceland In August
#1. The Þjóðhátið Music Festival Requires Advanced Planning And A Party Spirit
Þjóðhátið is the festival of the year in Iceland. It takes place over the first weekend in August which coincides with a shopkeeper's holiday in Iceland. Though there are parties and celebrations around the country, none compare to the 3-day party marathon that is Þjóðhátið.
Þjóðhátið takes place on Vestmannaeyjar, a beautiful island off of mainland Iceland. While technically Þjóðhátið is a music festival, the festival is more about the camaraderie that forms from having thousands of people in back to back tents in a gorgeous valley, drinking, singing and generally just having a fantastic time.
This is the type of festival where it helps to know what you're getting into ahead of time. If the idea of a wild potentially rainy outdoor party with very little sleep involved doesn't quite match your idea of fun, this might not be for you. But if you decide to give it a go, you'll be in for an unforgettable weekend celebrating with some of the kindest people in the world.
Ensuring you can both get to the island and get into the festival requires some advanced planning. Many Icelanders spend all year looking forward to this event. For many people, going to the festival is a family tradition so you'll be battling a host of Icelanders to get a ticket for the event.
Tickets go on sale at the beginning of March. As soon as you know you'll be visiting Iceland in August, we suggest booking your tickets for both the festival and the ferry as soon as possible. Both sets of tickets can be bought on dalurinn.is. You can also buy your ferry tickets at herjolfur.is.
Þjóðhátið is a full weekend of tent camping. If bringing your own tent is not an option, you can rent a tent from rentatent.is or try to book a cabin on the island, but those fill up quickly. After you've secured accommodations, you'll want to make sure you bring food and plenty to drink (alcohol or otherwise). Get a good night's sleep before the festival begins and most importantly, come ready to have a great time.
Though the heart of the festival takes place Friday-Sunday many people will arrive on Thursday and leave Monday so they get the most out of the 3 middle days. Besides the music, each evening is marked by another event as well.
Friday includes a massive bonfire, Saturday has fireworks, and Sunday will find you sitting on a hill having a sing-a-long, followed by the lighting of red torches in spectacular fashion, meant to replicate the look of an exploding volcano.
At the end of the three days you're sure to leave the island desperately needing a nap but feeling high on life and warmed by the kindness and party capacity of your fellow festival-goers.
If however you prefer peace and quiet, this weekend is also an excellent time to road trip around the country. With the majority of people attending some kind of festival or celebration during this time, the rest of the country is far less crowded giving you the perfect opportunity to see some of the country's highlights without competing with people for the best views.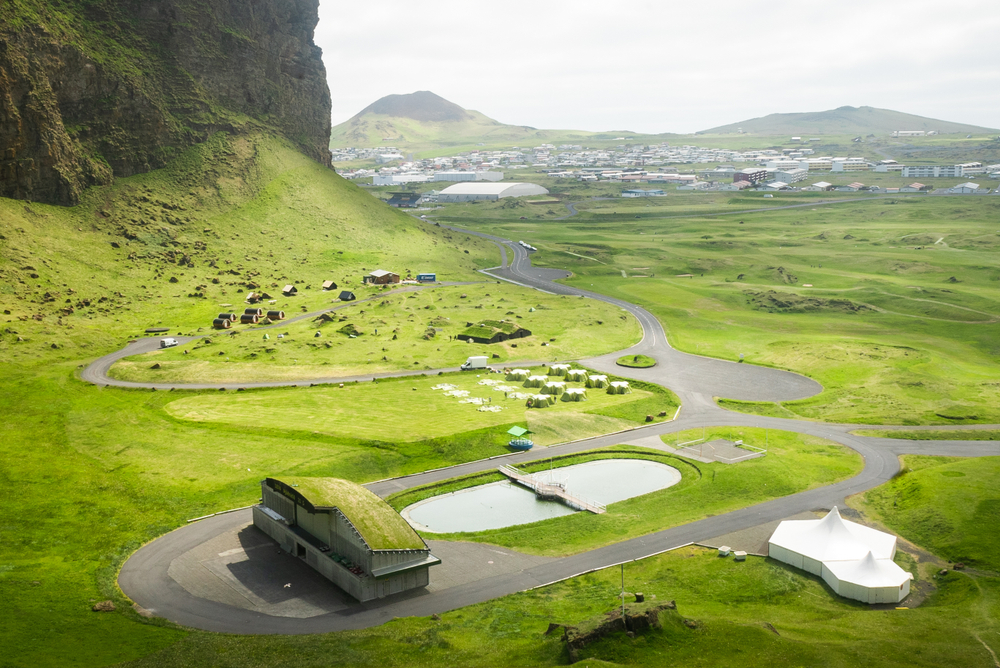 #2. Innipúkin In Reykjavik Is The Less Rowdy Festival Alternative
Þjóðhátið is a hoot to be sure, but it's not the only festival happening around the country. Maybe you're not up for a big travel weekend, or perhaps touching tents with rowdy Icelanders drunkenly singing off-key is not your ideal celebratory atmosphere.
If either of these ring true for you, you might want to consider attending the Innipúkin Music Festival in Reykjavik. It's designed for those who like to "stay in" as the name of the festival suggests. Though it's certainly a toned-down version of a festival when compared to Þjóðhátið, there's still plenty of fun to be had.
As you might suspect, Innipúkinn is all about the music. Iceland is full of talented singers and musicians and this festival provides the perfect stage for them to showcase their talents while giving you an up-close experience with Icelandic music.
Be prepared for a wide variety of music genres and styles. There are two different venues you can bounce between, seeking out and hopefully finding artists you truly connect with. Check out the event website for the festival line up as well as ticket information.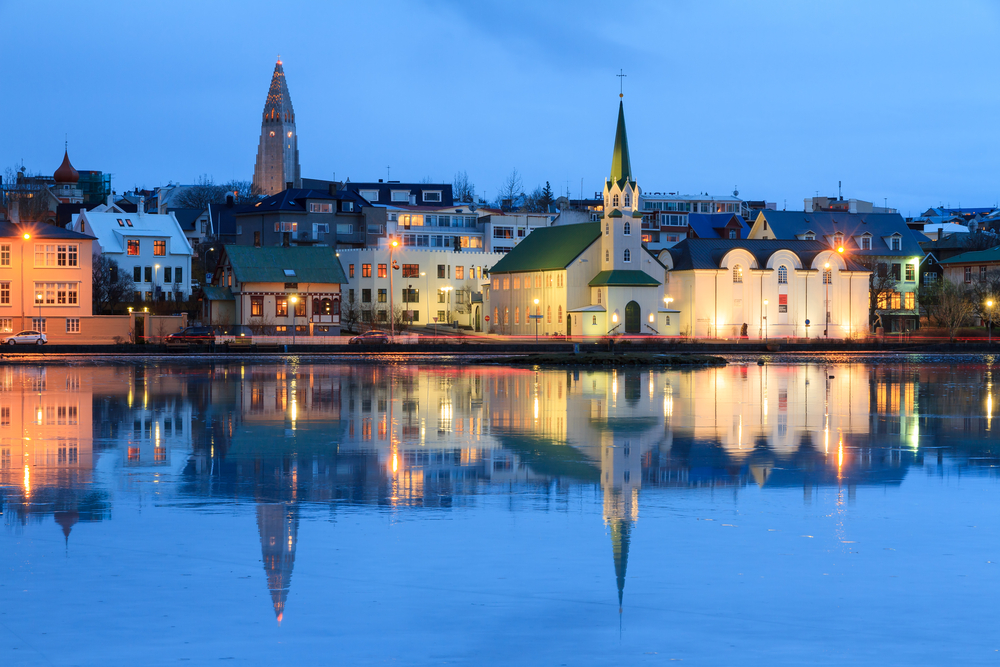 #3. Menningarnótt Is One Of The Largest Events Held In The Capital City
Menningarnótt is Iceland's culture night bringing you a fantastic line up of celebratory events throughout the day. This festival, that continues to grow in size and popularity, occurs on the first Saturday after August 18, is entirely free, and welcomes locals and visitors alike.
The art world opens its doors, and if you're in Iceland in August you'll be one of the lucky bunch swept up in the cultural event. You'll find Icelanders as a whole are extremely hospitable people who on this night are particularly anxious to show off the art, music, and history of the country of which they're so proud.
Events of the day include the Reykjavik marathon, museum tours, coloring and book reading stations for relaxation, street food, garden parties, improv comedy shows, salsa dancing, workshop activities for kids, plenty of musical performances and so much more.
The night culminates in outdoor concerts at Arnarhóll followed by a spectacular fireworks display that begins at 11 pm. Many people find the ideal spot to view the fireworks is from Arnarhóll, a large hill downtown, but for a more peaceful, solitary experience, we suggest driving to the other side of the harbor and watching the fireworks from a distance.
From the other side of the harbor, you can see all the lights of the city reflected brilliantly on the water with the famous Hallgrimskirkja church rising out of the downtown buildings. You'll be able to see the fireworks display perfectly from here as you sit on the rocks along the water's edge reflecting on all you learned and enjoyed throughout the day.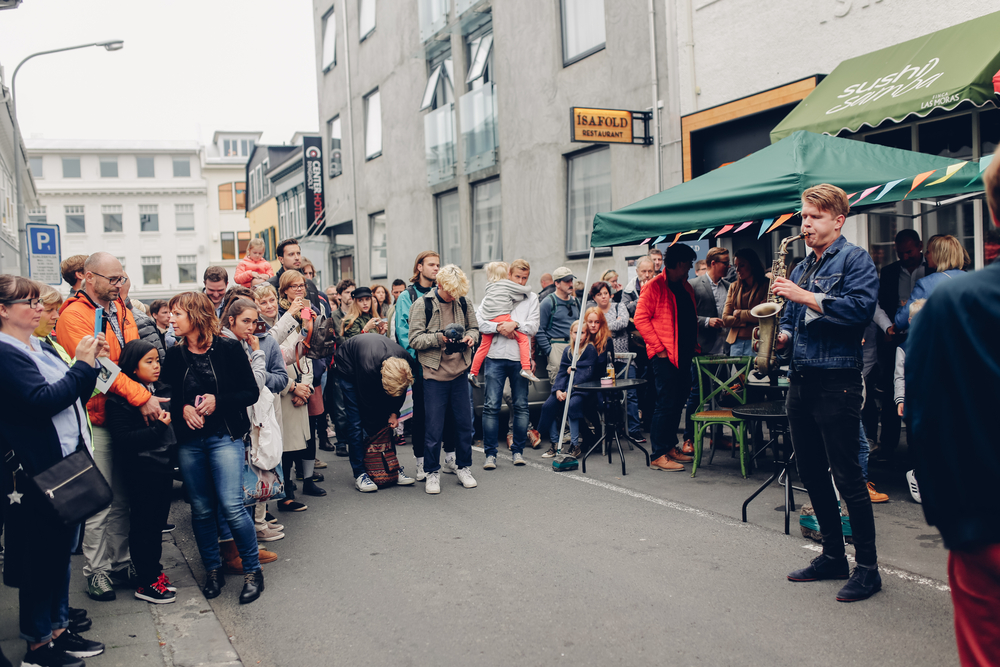 #4. The Weather And Daylight Hours Make August In Iceland The Perfect Time To Hike
August in Iceland is the perfect time to tackle any of Iceland's spectacular hikes. In fact, it is one of the Best Times To Visit Iceland for hiking! The weather is mild, the daylight hours are long and the trails are easily navigable.
There are a couple of hikes, in particular, we suggest you try. The first hike is to the Reykjadalur Hot Springs. The hike to the hot springs is roughly 45 minutes-1 hour and is easy to moderately difficult. The well-maintained, clearly marked path starts with a steep uphill climb before leveling out.
Your hike will take you through a steam-filled valley, past a cascading waterfall and many grazing sheep followed by the distinct smell of rotten eggs from the sulfur indicating you are close to the hot spring. Don't touch the boiling water. The water you've come to enjoy is mere steps away.
You'll change on a wood platform with partitions. Privacy is lacking, but no one cares. Everyone is there to relax and have a good time.
For the deepest pockets of water, sit by the rock piles dividing the river into sections. In summer, the water in this section of the river resembles that of a Jacuzzi. Plan to arrive in the early morning or late evening to avoid the biggest crowds.
Glymur is another hike well worth your time. The 650-foot waterfall is the second highest in Iceland. Reaching the waterfall is moderately difficult and involves grabbing onto chains for assistance in steep sections and potential river crossings.
The first river crossing occurs fairly early on in the hike. There should be a log provided for you to walk across with a rope to steady your balance.
The other river crossing happens halfway through the hike where you can choose to either hike back down the way you came, or continue hiking back up behind the waterfall and cross the river before hiking back down using the trail on the opposite side of the waterfall.
If you're up for the upper river crossing (be aware that the water is very cold and the river bottom is rocky), we recommend hiking back down on the other side for a different view and perspective of the waterfall.
The full hike will likely take you a few hours taking you past beautiful views for much of the way. And of course the ultimate payoff is Glymur itself falling majestically in the middle of moss covered canyon walls.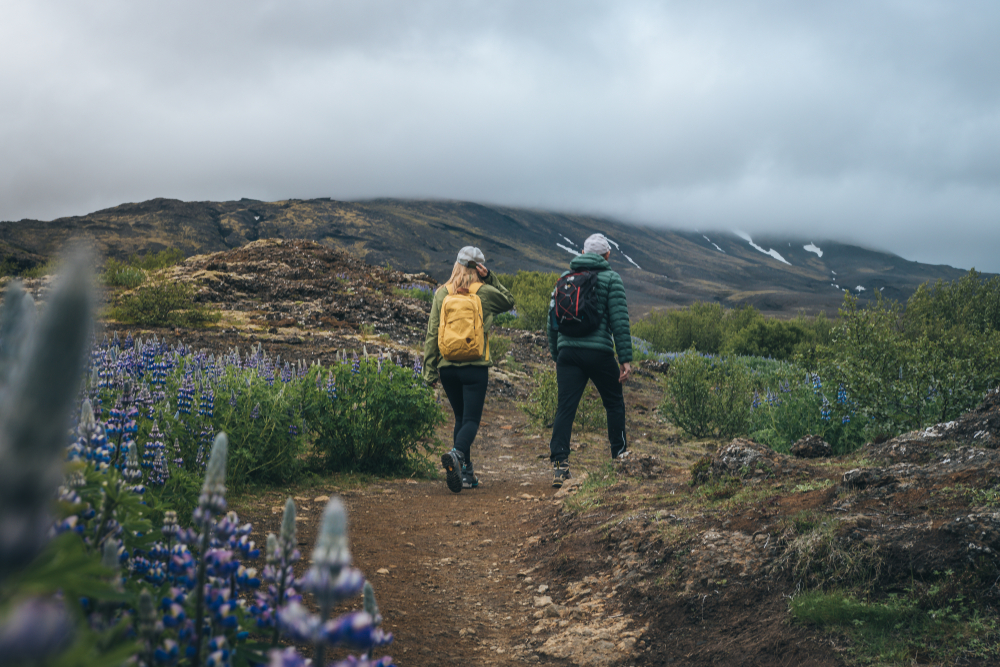 #5. Reykjavik Pride Festival Is An Extremely Inclusive Event That Welcomes Both Locals and Tourists
The Reykjavik Pride Festival along with Menningarnótt is one of the biggest festivals in Reykjavik with roughly 1/3 of the country attending. The event is colorful, wildly entertaining, joyful, and extremely inclusive. This is an important event for many locals and continues to include more and more tourists each year.
A major downtown location is painted every year in rainbow colors. Skólavörðustígur, the street leading up to the famous Hallgrimskirkja church, is one of the most notable decorated locations.
The schedule is packed with activities. Past years' schedules have included a Rocky Horror Picture Show Sing-along at the movie theater, a drag competition, a Zumba party, educational events, comedy shows, hikes, and silent discos.
One of the largest events of the festival, besides the opening ceremony, is the Pride Parade taking place on the second Saturday of the festival followed by an outdoor concert that is sure to have you grooving to the music in no time. Check the event's website for a detailed schedule.
Take note that some activities are free whereas others have tickets or an entry fee. Find the events that appeal to you and join the locals in their multi-week celebration of love, inclusivity and so much more.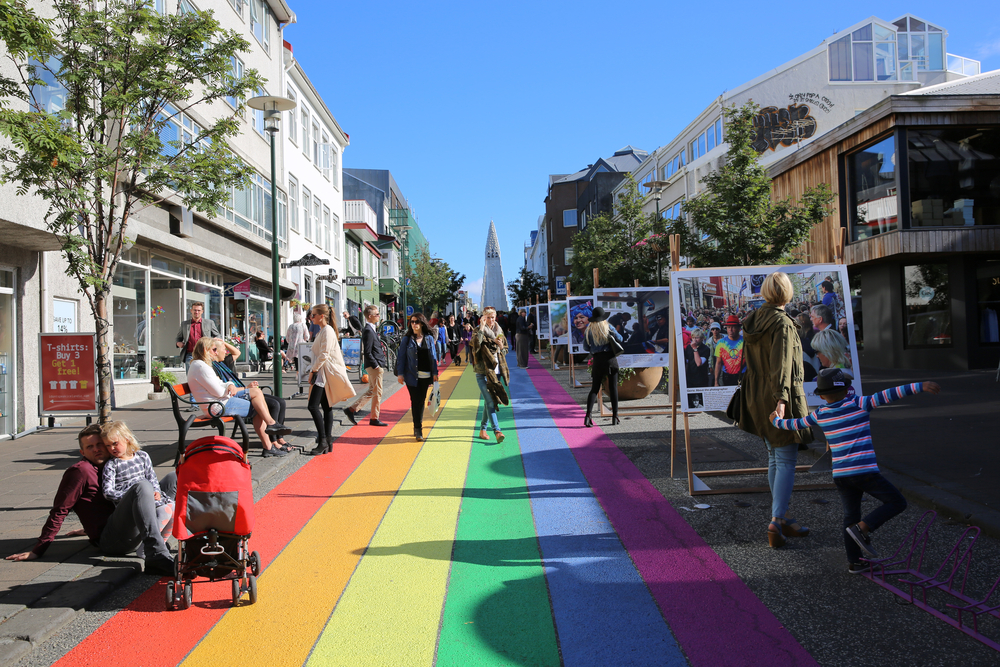 #6. Weather And Road Conditions In Iceland In August Are Conducive To Driving The Ring Road
If you've decided to visit Iceland in August, you've chosen an optimal time to explore the country. The average temperature hovers between 50-59°F. Though wind and rain are always present at any time of year, the Iceland weather in August tends to be milder.
Though you won't experience the midnight sun of June and July, the daylight hours are still long giving you plenty of time for adventures and exploration.
The abundance of daylight hours at your disposal along with the generally more favorable weather makes driving the Iceland Ring Road one of the ideal things to do in Iceland in August. Or if you're limited on time you can drive a portion of the Ring Road.
Driving the Ring Road is a magical experience passing from one spectacular landscape to the next as the scenes before you change wildly from location to location.
One minute you might be hiking on a glacier, and the next you're warming yourself up in the relaxing waters of a natural hot spring. There are mountains and valleys, thundering waterfalls and calm streams. And the best part is, they should all be accessible in August in Iceland!
Though the roads should be easy to navigate in August, you should always keep an eye on the road conditions regardless. Iceland's weather, even in its nicest months, is a bit bipolar and takes pleasure in throwing curveballs. It's better to be prepared than to be completely taken by surprise.
As you road trip around the country you should always be careful when driving the highland roads (F roads). These roads require a 4-wheel drive car and a healthy dose of caution at any time of year.
F roads are gravel roads and usually result in a rough driving experience. They are definitely not designed for fast driving. Because the weather is milder in August in Iceland, the highland roads should be open during your trip.
The Ring Road and its astounding attractions await you. So hop in your car with a healthy dose of driving caution and an adventurous spirit, and you'll be in for a trip worth writing home about.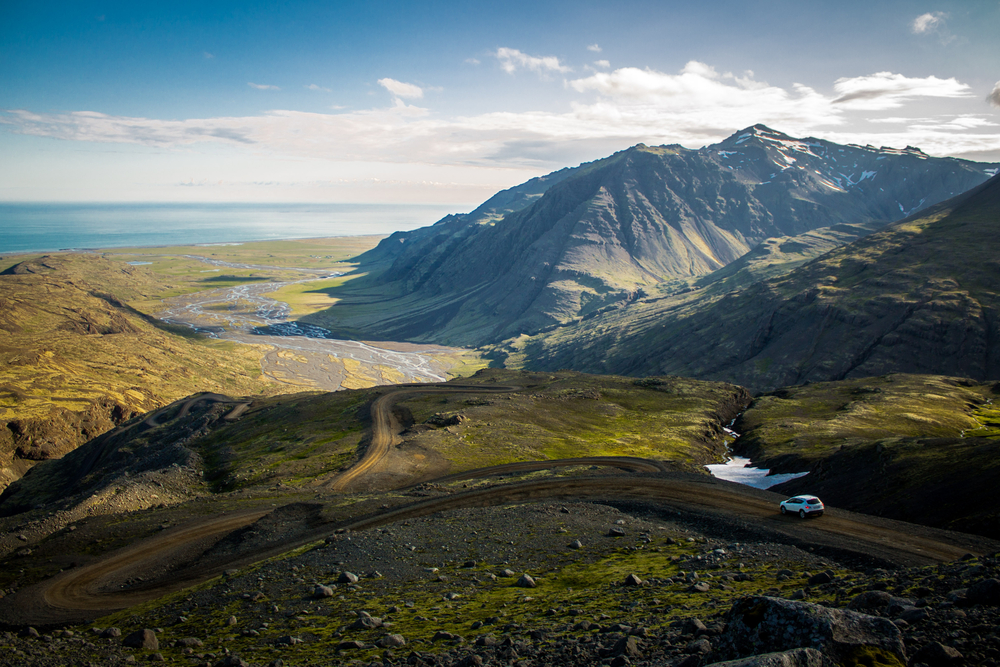 #7. Iceland In August Is The Perfect Time For Hot Pots And Hot Tubs
Bring your swimsuit! We cannot stress this enough. Any time of year in Iceland is always a good time of year for hot pots and hot tubs. And because it's summertime the heated pools become quite appealing as well. Imagine visiting Iceland in August, sitting in a steaming hot pot in the middle of nature, soaking up the long daylight hours. Sounds pretty perfect, doesn't it?
Understandably, it does seem counterintuitive to bring a swimsuit to a country called Iceland, but we guarantee you there will be plenty of opportunities to wear it. Every town in Iceland has at least one swimming pool complex (Reykjavik has many).
These complexes often include a heated lap swimming pool, a heated kiddie pool, and multiple hot tubs of differing temperatures. Laugardalslaug, the main pool in Reykjavik, even has a salt-water hot tub.
Soaking after a long day doesn't have to be reserved for man-made pool complexes. If bathing in the middle of nature while gazing at glaciers, imposing mountains, or thundering waterfalls is more your style, Iceland has a remarkable number of hot pots (pool/river of geothermally heated spring water mixed with cold spring water) throughout the country for your enjoyment.
The views from these hot pots are always stunning. Though some of the more popular hot pots like Seljavallalaug, Hrunalaug, or the Reykjadalur Hot Springs have the potential to be congested with visitors (unless you visit in the early morning or late evening), you'll often find the hot pots offer more peace and solitude than the swimming pool complexes. They often take more commitment and energy to get to therefore deterring certain crowds.
You should be aware that the natural geothermal heated water of the hot pots is less regulated than the swimming pools, so the water temperature varies and may not always be at a desirable temperature. Nature works wonders, but it's not always keeping your best wishes and interests in mind.
Places like Seljavallalaug tend to remain closer to the temperature of a heated pool rather than a Jacuzzi. And higher upriver, the Reykjadalur Hot Springs can get scalding hot. However, many of the hot pots remain at comfortable temperatures, and if you've ever wanted to bathe among Iceland's most impressive natural features, why not give it a go!
If you've begun planning a trip to Iceland in August, you've no doubt heard of the extremely popular Blue Lagoon, or its northern counterpart, the Myvatn Nature Baths. Both of these are great alternatives to the hot tubs and hot pots albeit much more expensive.
They are both impressive, relaxing and often healing experiences, however the increase in tourism has made them overcrowded. August is a high season month so you'll definitely need to book in advance at the Blue Lagoon to reserve a time slot, and it's highly encouraged to arrive at the Myvatn Nature Baths right when they open. Despite their crowds and hefty prices, both experiences are worthy of a visit at least once.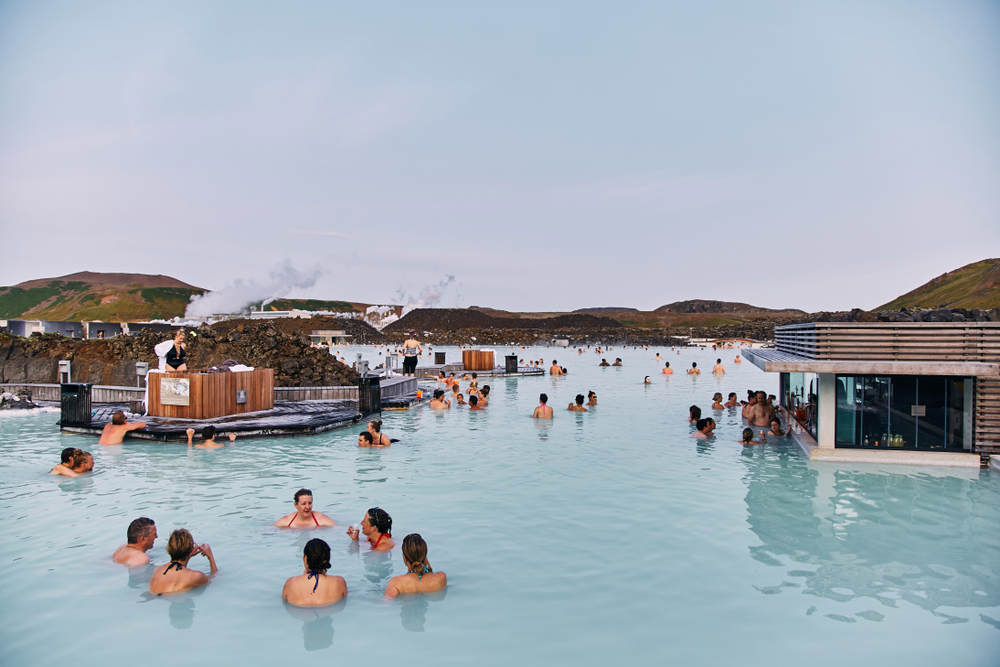 We're so glad you've chosen to visit Iceland in August. It's a fantastic time of year with so much to offer. Though you may have to occasionally battle other tourists who've found August to be as enchanting a time in Iceland as you have, it's worth the extra crowds for the temperatures, daylight hours, festivals, and general good spirits.
You can't help but fall in love with the land of fire and ice and the welcoming people you'll interact with upon arrival. Let us know if you have any questions or stories of your own to tell in the comments section below.