Iceland in January buzzes with the excitement and potential that a new year brings in a special country. The Christmas and New Year's festivities linger, the snow still glistens on streets and mountaintops, and at night, eyes turn upwards in hopes of catching a glimpse of the spectacular, but elusive Northern Lights.
There are fireworks, potent food choices, and all kinds of uniquely Icelandic experiences just waiting to be had. Though the sunlight hours are short, there's still plenty to do, and so many of Iceland's spectacular natural wonders to see in all their winter glory.
Imagine sitting in a hot pot or hot tub with the crisp air blowing around you, or standing at the base of a waterfall while it both thunders down and drips with icicles. Maybe you step inside the clear, sparkling walls of an ice cave. If any of this sounds appealing to you, we suggest you consider paying the land of fire and ice a winter visit.
Though the month of January in Iceland still attracts many tourists, the numbers are lower than the popular summer months. So take advantage of the smaller crowds, grab your cold-weather gear, and get ready for a remarkable experience.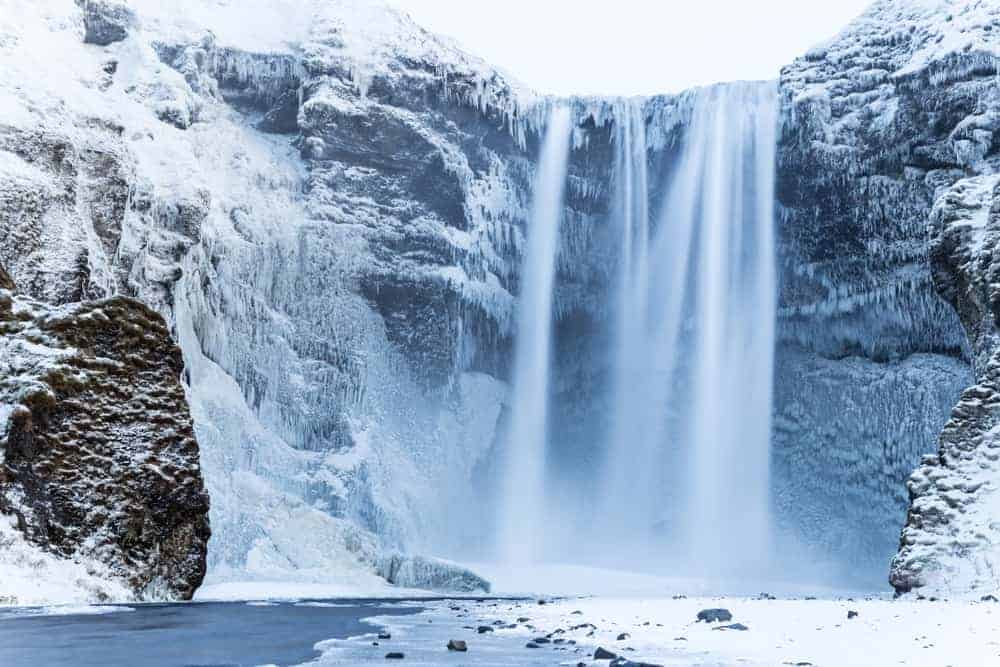 6 Things To Know Before Visiting Iceland In January
#1. The Dark Music Days Festival Is A Source Of Light In Iceland In January
Despite its foreboding title, the Dark Music Days Festival (Myrkir Músíkdagar in Icelandic) is actually meant to be a source of light, entertainment, and pure enjoyment in the dark, long days of winter.
The actual music being performed is a collection of all different sorts that you can expect to be contemporary and often experimental. In 1980, the Iceland Composers' Society founded the Dark Music Days Festival. It was started in an attempt to both showcase Icelandic compositions and performers as well as bring international performances and audiences to Reykjavik.
Harpa Concert Hall, the beautiful building in downtown Reykjavik with honeycomb-like glass panels, is the main venue for this annual festival. Some of the performances however occur at smaller venues in the area. The festival has continued to grow in size and reach and receives hundreds of applications from around the world through its open call.
If you're visiting Iceland in January towards the end of the month, and you are interested in escaping the dark, cold outdoors by listening to new music in a beautiful venue, check out the Dark Music Days Festival website for a festival program and tickets.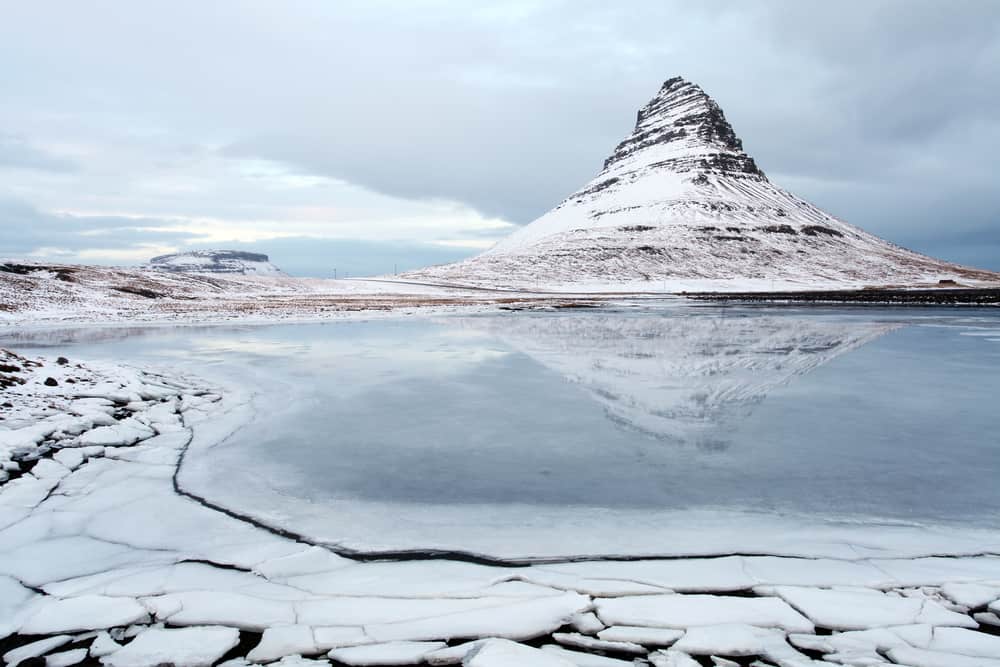 #2. An Invitation To A Thorrablot Party Will Have You Eating And Drinking Like A Viking
Thorrablot refers to the celebrations during the month of Thorri. They occur from mid-January to mid-February and begin on a Friday in the thirteenth week of winter.
This was based off the old Norse calendar. When visiting Iceland in January, you'll want to try to score an invite to a Thorrablot celebration…that is if you can stomach the food and drink. There is still speculation about whether the festival is named after the Norwegian King, Thorri Snaersson, or Thor, the God of Thunder. Either way the celebrations began long ago as a sacrifice to Thorri.
Eventually, the sacrificial practices stopped and were put on hold until the 19thcentury, when the festival resumed purely as a celebration of food, drink, and all things truly Icelandic.
Attending a Thorrablot celebration takes a strong stomach. The food menu is meant to replicate what the Vikings might have been forced to eat midwinter and includes rotten shark meat, boiled sheep's head, and congealed sheep's blood wrapped in a ram's stomach.
Essentially, if it's salted, fermented or rotten, you'll likely find it on the table. The smell in the room can be pungent. Even the cheeses are stinkier this time of year. For those less adventurous souls, the food options usually also include mashed or boiled potatoes, smoked lamb, boiled-salted meat, peas, and rye bread. All of this food is washed down with strong Icelandic liquor called Brennivín, which is commonly referred to as the "Black Death."
If this doesn't sound like a real party yet, the evenings are also filled with speeches and poems in remembrance of the old times. And as the liquor continues to flow, Icelander's party like Vikings into the early morning hours.
Though Thorrablot is often a feast among families or coworkers, if you ask around, there's often a town-wide Thorrablot festival that you might be able to join in. Or perhaps you'll become good enough friends with a local to get an invite to their family affair.
Whether you eat the most potent of the foods or not, Thorrablot is a great way to experience Icelandic culture, let loose and have fun. If you're not able to secure an invite to a Thorrablot celebration, the local restaurants often add Thorrablot related items to their menus.
So if you find yourself out in the countryside of Iceland in January, expand your palate with a whole host of bizarre foods and maybe burn your clothes to leave the smell behind before you return home.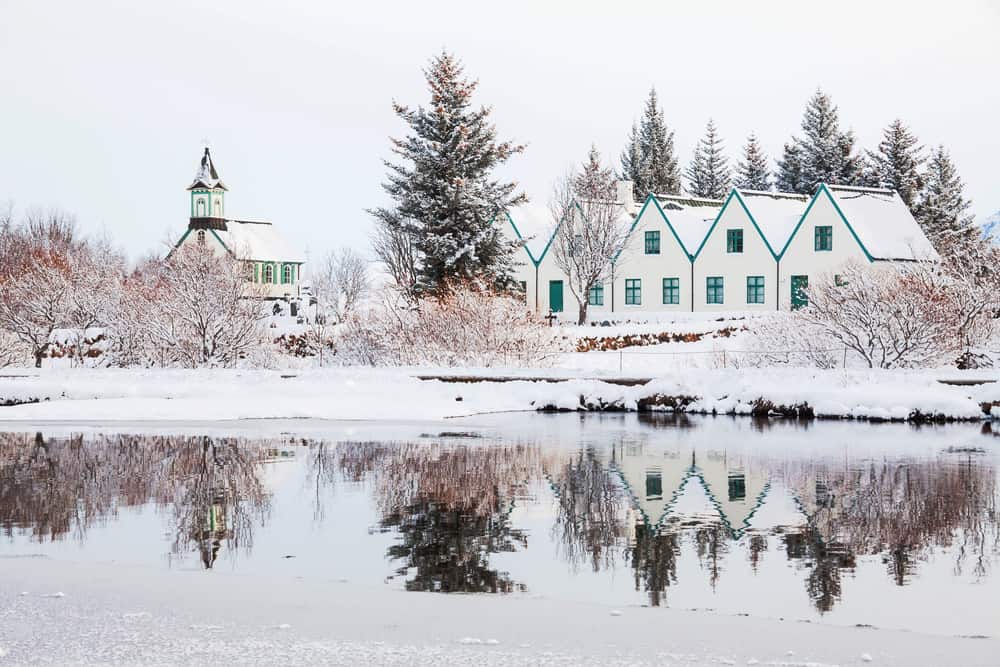 #3. Threttandinn Is The End Of Christmas Party You Won't Want To Miss
If you are visiting Iceland in January, Threttandinn is a party you won't want to miss. Threttandinn translates to "the thirteenth" and marks the final day of Christmas and the end of Christmas celebrations. Icelanders take their Christmas and New Year's celebrations very seriously.
Christmas is full of delicious food, family, and folklore, and New Year's is an explosion of fireworks and bonfires. Threttandinn combines all of these holiday traditions and celebrations into one big "go out with a bang" party to wrap up the holiday season.
The Icelandic Yule Lads are a big part of the Christmas traditions and in a sense replace the jolly, plump, bearded fellow that Americans know and love. Yule Lads are mischievous characters that come down from the mountains one by one in the days leading up to Christmas, and they slam doors, lick pots, and steal meat among other things.
Icelanders celebrate 13 days of Christmas beginning December 24th, and during these 13 days, the Yule Lads return to the mountains one by one. On Threttandinn, the final Yule Lad to leave is the Candle Beggar, "Kertasníkir."
There are endless folktales about the unusual happenings that occur on Threttandinn. One such story says that cows can speak on this day. Another says that seals shed their skin and become humans. Yet another says that those who sit at crossroads are tempted by elves with gifts of gold, food, or second sight.
If you don't accept the gifts you'll be granted them in the end, but if you can't hold out you go mad. Water becomes wine on this day and even the dew is potent. It is a truly strange and mysterious time of year when Icelander's come to expect the unexpected.
In between storytelling and saying goodbye to the Candle Beggar, Icelanders light bonfires and in some cases nominate a Fairy Queen and King who dance around the fire. The last of the New Year's fireworks are also lit, as it's the last day that it's legal to set them off.
Newly cooked food and holiday leftovers are consumed in copious amounts, and candles are burned while games are played late into the night and early morning. Threttandinn is also the time when all Christmas decorations must come down. Though it's sad to watch the sparkling lights come off the trees, and the figurines placed back in their boxes, this second New Year's of sorts also comes with all kinds of joyful anticipation for the upcoming year.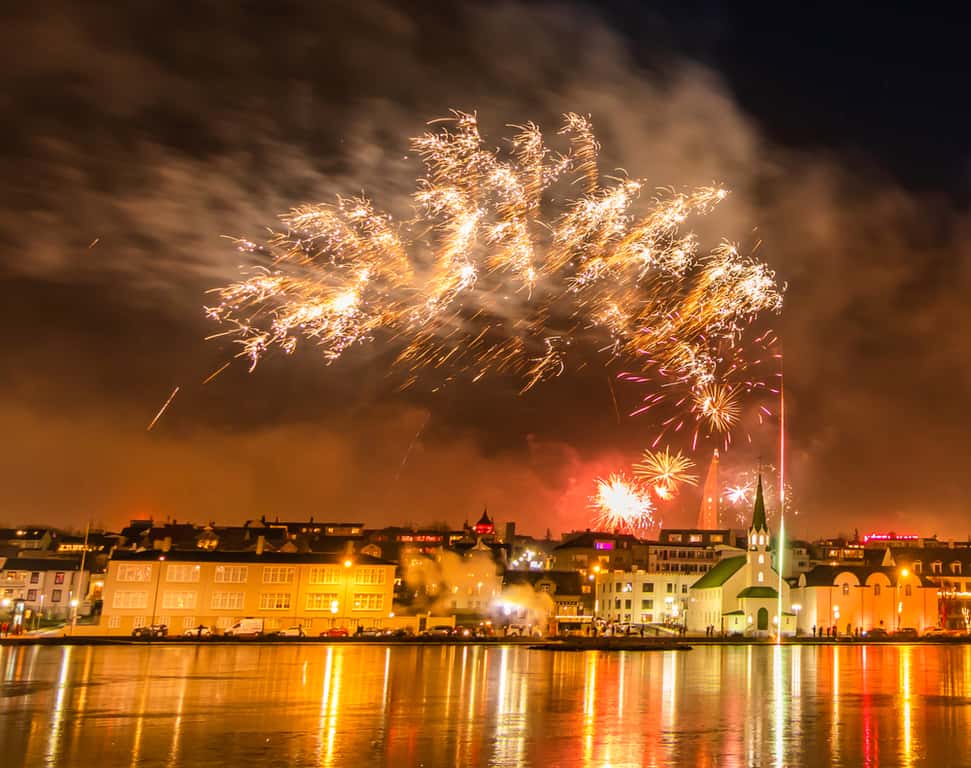 #4. If Conditions Are Favorable, You Might Catch The Elusive Northern Lights
If you've chosen to come to Iceland in January you've considerably increased your chances of seeing the Northern Lights. The brilliant natural light show is strictly a winter phenomenon and is one that people from all over the world flock to Iceland to see. We have an extensive guide on How To See The Northern Lights with tons of tips and tricks!
The long, dark days in January are extremely conducive to spotting the elusive lights. Though they can potentially be seen from September-April, the mid-winter months of December and January are prime viewing times. You can venture out early in the evening without having to wait until the middle of the night for darkness to fall.
If you've ever been fortunate enough to see the Northern Lights in person, you know that they are remarkable. They make your heart want to leap out of your chest with excitement. Your eyes get wide, your mouth opens, and you can't imagine how it's possible that the sky seems to be dancing around you. Nature can produce the most wonderful things, but it's also fickle. One minute you're surrounded by the most brilliant hues of green and purple, and the next, clouds are obscuring anything and everything in the sky.
Unfortunately, Iceland's weather is often rainy or snowy, and these conditions do not bode well for Northern Lights viewing. More often than not, at least part of the night will be overcast and cloudy. You may know there's solar activity, and yet sometimes you won't be able to see a thing.
Patience is key, and perhaps if you wait long enough, you'll be rewarded with a brilliantly colorful night sky. Understand though that you're equally likely to be among the many tourists that leave the country having never even caught a glimpse of the faintest hint of green.
If you're visiting Iceland in January and are trying to maximize your chances of seeing the Northern Lights, here are two options. Your first option is paying to take a guided Northern Lights tour. This is a popular option because the tour guides are incredibly knowledgeable and chase the lights for a living. They know the go-to places to wait and watch.
Despite their extensive knowledge and their desire to give you the best possible shot of seeing the lights, they do not control the lights. Nature may decide for itself to hide its spectacular display, and at that point, you're really just out of luck. However, most tour companies do allow you to rebook a second trip at no extra charge if the lights were not visible during your tour.
You can also take your own rental car and drive away from the city to search for the lights yourself. The farther you are from the city light pollution, the darker the skies and the better chance you have of seeing anything. We suggest you track the aurora strength and visibility and continue checking it throughout the night.
The forecasts change frequently, sometimes by the hour or minute. Though Northern Lights viewing takes some preparation and a whole lot of luck, it's a remarkable sight and one worth taking a chance on!
#5. Iceland in January Is The Time To Take Advantage Of Hot Pots and Hot Tubs
Bring your swimsuit! We cannot stress this enough. There is nothing quite like sitting in a steaming hot tub or hot pot in the middle of winter, surrounded by snow while reflecting on the adventures of your day.
Understandably, it does seem counterintuitive to bring a swimsuit to a country called Iceland during the coldest time of the year, and yet there are so many opportunities to wear it. There are so many Hot Springs in Iceland to visit!
Every town in Iceland has at least one swimming pool complex (Reykjavik has many). These complexes often included a heated lap swimming pool, a heated kiddie pool, and multiple hot tubs of differing temperatures. Laugardalslaug, the main pool in Reykjavik, even has a salt-water hot tub. There are hot tubs all around Iceland's Ring Road so make sure to take advantage!
Soaking after a long day doesn't have to be reserved for man-made pool complexes. January in Iceland can be a winter wonderland. If bathing in the middle of nature while gazing at glaciers, snow-capped mountains, or waterfalls is more your style, Iceland has a remarkable number of hot pots throughout the country for your enjoyment. The views from these hot pots are always stunning, and in January you'll most likely be lucky enough to see the landscape draped in snow.
Though some of the more popular hot pots like Selljavallalaug, Hrunalaug, or the Reykjadalur Hot Springs have the potential to be congested with visitors, you'll often find the hot pots offer more peace and solitude than the swimming pool complexes. They often take more commitment and energy to get to therefore deterring certain crowds.
You should be aware that the natural geothermal heated water of the hot pots is less regulated than the swimming pools, so the water temperature varies and may not always be at a desirable temperature. Again, nature works wonders, but it's not always keeping your best wishes and interests in mind.
Places like Selljavallalaug tend to remain closer to the temperature of a heated pool rather than a Jacuzzi. And higher upriver, the Reykjadalur Hot Springs can get scalding hot. However, many of the hot pots remain at comfortable temperatures, and if you've ever wanted to bathe amongst Iceland's most impressive natural features, why not give it a go!
If you've begun planning a trip to Iceland in January, you've no doubt heard of the extremely popular Blue Lagoon, or its northern counterpart, the Myvatn Nature Baths. Both of these are great alternatives to the hot tubs and hot pots albeit much more expensive.
The Blue Lagoon is in a great area and is actually on our list of Best Places To Stay In Iceland. In this post, we offer suggestions for where to stay around the Ring Road!
They are both impressive, relaxing, and often healing experiences, however, the increase in tourism has made them overcrowded. Even in January, the Blue Lagoon requires advanced booking in order to guarantee a time slot, and you're encouraged to arrive at the Myvatn Nature Baths right when they open. Despite their crowds and hefty prices, both experiences are worthy of a visit at least once.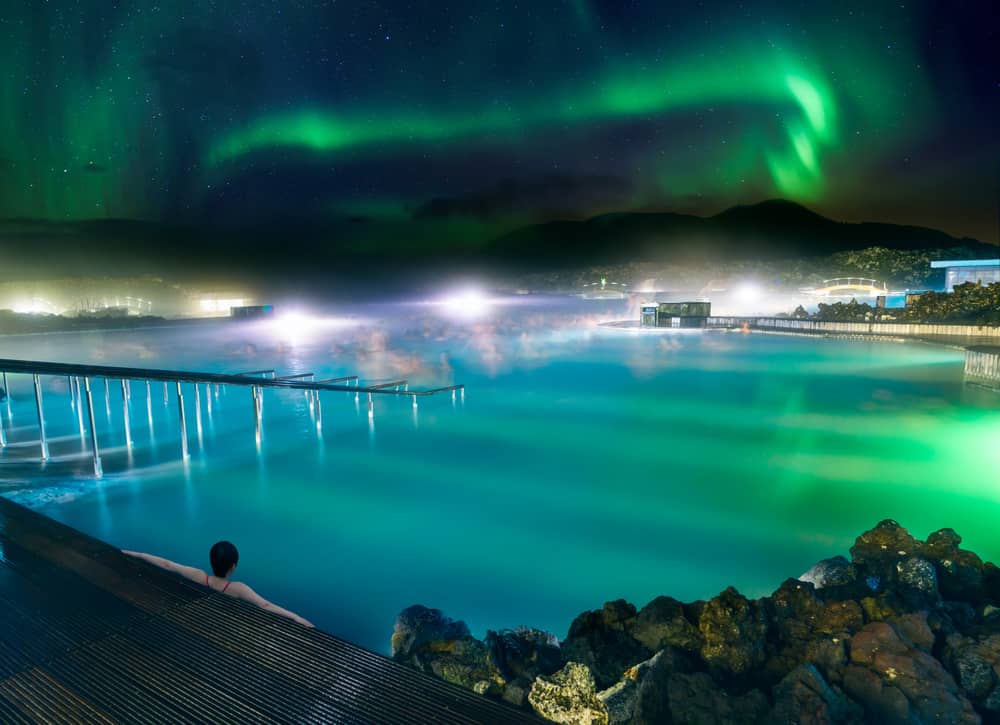 #6. Checking Road Conditions Is Critical When Driving In Iceland In January
If you're visiting Iceland in January, you're likely to experience all that comes with midwinter in a cold country, and that includes snow on the roads. If you're staying around Reykjavik you won't need to worry, because the roads around the capital region are very well maintained.
Many of the main tourist attractions are also almost always still accessible. No matter where you drive though it's important to keep an eye on the road conditions as they're constantly changing. Use common sense when deciding whether it's safe to be out driving, and if you don't have experience with driving in harsh winter conditions, be extra careful and err on the side of caution.
Let the experts do their job, and when it's safe, enjoy all the beauty that accompanies Iceland in January.
Though you hope you'll never be in a situation to use them, Iceland has search and rescue teams that will come to your aid if you find yourself in a bind. Please use them only as a last resort, and don't enter into a risky situation purely because you think you have the search and rescue team as a crutch to fall back on.
It's usually tourists they have to rescue who get themselves into dangerous situations as a result of overconfidence and/or a lack of preparation. If you choose to rent a car in Iceland in January, your car will come equipped with winter tires that are designed to be safer when driving on ice.
Though they are certainly helpful, they are not fool-proof, so exercise caution and don't speed. Salt and snowplows are used on the main roads, but the farther you venture from the capital region, the less the roads are maintained.
You should always be careful when driving the highland roads (F roads). Though they will usually be closed in January, if you happen to find yourself driving on one, you should exercise a healthy dose of caution. Even in the summer, they require a 4×4 to drive through.
F roads are gravel roads and usually result in a rough driving experience. They are not designed for fast driving or winter driving. It's harder to tell what kind of ice is lying on these unpaved roads, and water puddles may be deeper than you initially think.
If you're ever unsure whether a section of road in safe or not, don't chance it and turn around. It's not worth risking your life to see a waterfall. Snow and ice are particularly reflective surfaces, and on sunny days they can blind a driver.
On the rare occasion that the sun comes out during the few hours of daylight, wear sunglasses and spray the antifreeze liquid on your windshields to keep them clean and keep your vision as sharp as possible. These are warnings but are not meant to scare you. Common sense goes a long way, and so much of Iceland can be explored safely in January.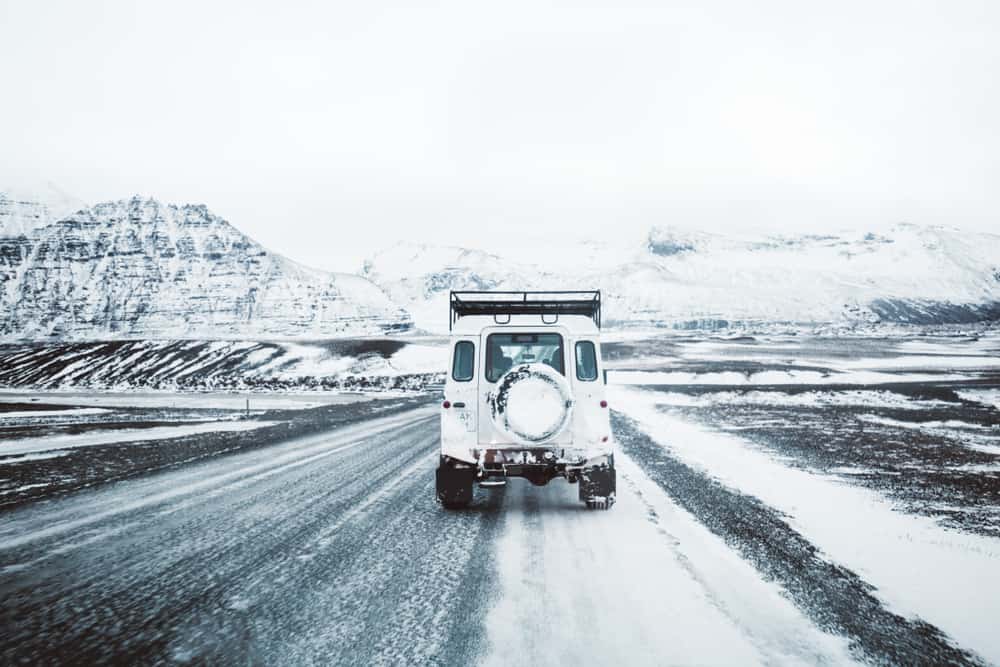 If you've been considering traveling to Iceland in January, go ahead and book your trip! It has the potential to be a beautiful time of year with snow and Northern Lights, and Iceland has proved itself to be a country worth exploring any time of year.
Be careful and pay attention to the winter weather conditions, but have fun, listen to inspiring music, and party like a Viking! If you have any questions about how to maximize your trip, please let us know in the comments.