Are you traveling to Iceland in April? We've got you covered with seven things you should know before beginning your adventures. From Northern Lights to whale watching and festivals galore, you're in for a truly memorable trip. 
Iceland weather in April includes ample rainy days and lots of wind, but the long, dark days of winter are over and that is certainly a reason to celebrate. In April in Iceland, the snowy days subside and the Ring Road starts to open up for driving.
Whether you're looking for things to do in Reykjavik in April or are hoping to venture beyond the capital region, the adventures to be had are endless. So lace up your waterproof boots, throw on a raincoat, and see what joy and good times April in Iceland can offer you.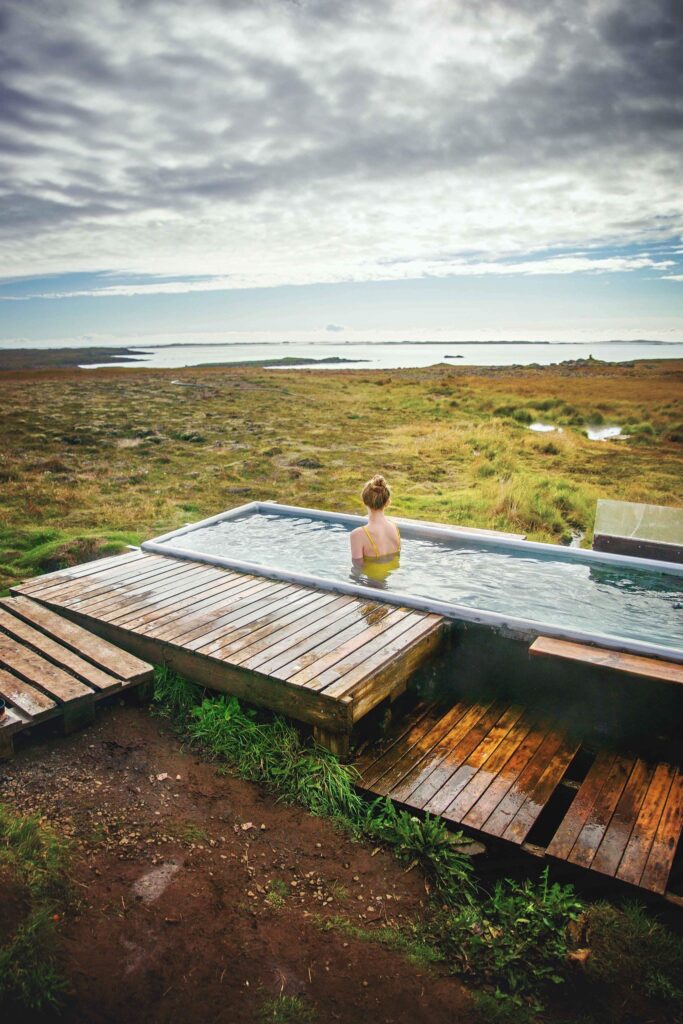 7 Things To Know Before Visiting Iceland In April
April In Iceland Is The Last Opportunity To Catch The Northern Lights
If you're headed to Iceland in April with the intention of chasing the Northern Lights, you might just be in luck. The Northern Lights season in Iceland runs roughly from September to April after which long hours of daylight prevent the lights from being visible.
Before you embark on your adventures to chase the Northern Lights in Iceland in April, there are a handful of things you should know. The Northern Lights are an unpredictable natural phenomenon. They require very specific conditions to be seen including clear skies which are far from a guarantee in a country that experiences approximately 300 days of precipitation a year.
If you'd prefer to rely on an expert to guide you to the best viewing spots, you'll want to book a spot on a Northern Lights tour. If you don't see any lights during your tour, most companies will allow you to rebook another tour at no extra cost.
If you'd rather chase the lights on your own terms, you can drive your rental car away from the city lights of Reykjavik and track the aurora strength throughout the night. If you're fortunate enough to glimpse these elusive lights you're in for a real one in a lifetime treat as the ribbons of green and purple dance across the sky.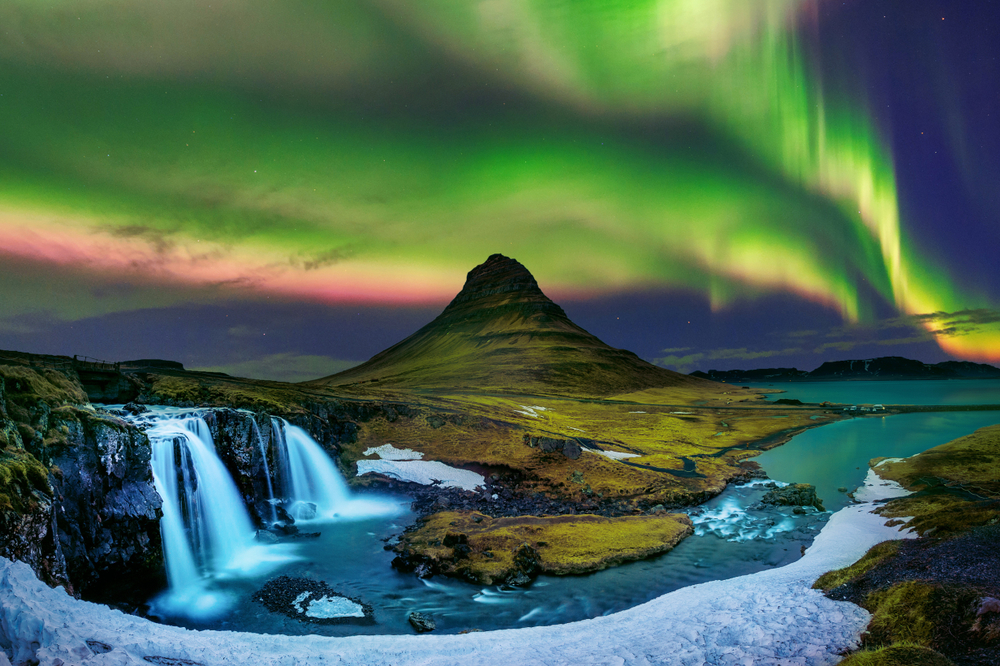 Prepare For a Mix Of Weather Including Plenty Of Spring Rains
The average temperature in Iceland in April hovers around 40F as the country starts to break out of its winter chill. April falls between the height of the Northern Lights season and the height of the midnight sun which means you'll experience more normal daylight hours during your visit. This is a refreshing change of pace for the locals after the long winter nights.
We suggest you come prepared for any type of weather in Iceland in April. Snowfall is limited, while rainfall occupies roughly half the month.
Be sure to pack waterproof clothing including boots so you can continue to adventure through the jaw-dropping Icelandic landscapes rain or shine. The more reasonable summer weather is still a couple of months away, so while April in Iceland brings less snow and rain than March, you'll still have plenty of precipitation to contend with.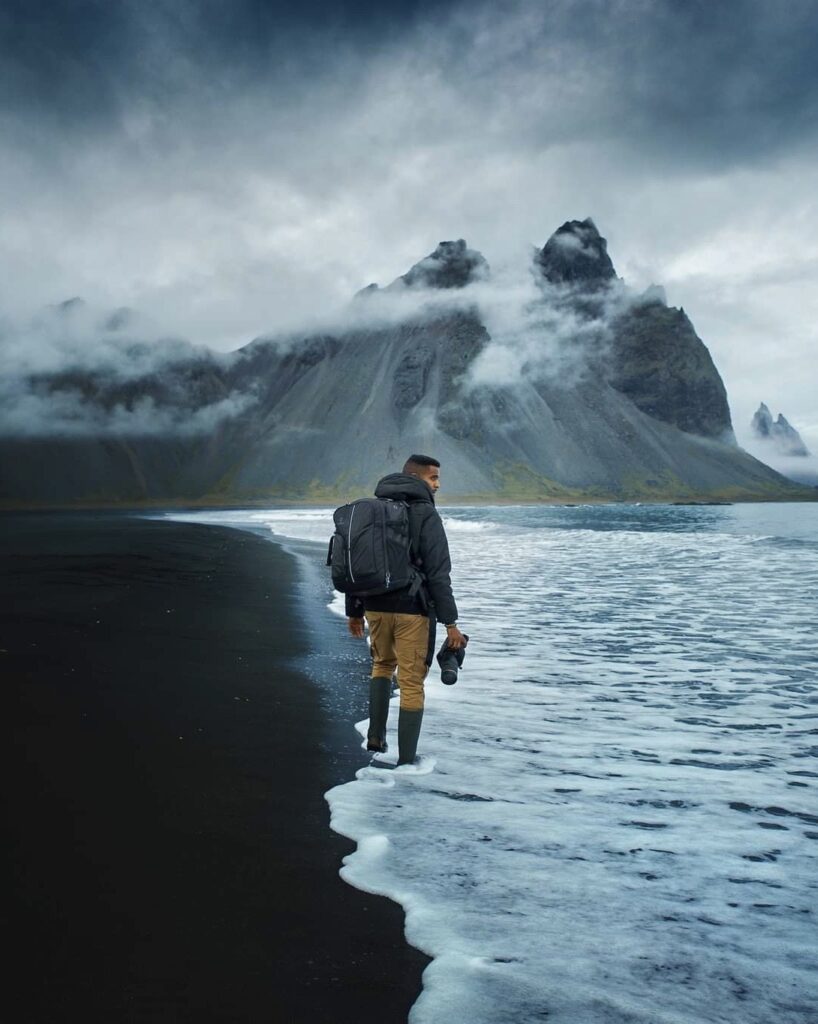 The First Day Of Summer In Iceland Occurs In April
Yes, you read that right! Though you may be bundled up and getting wind-whipped on a crisp April day, you might just simultaneously be celebrating the first day of summer with a group of locals thankful to be free of the long winter days.
The timing of these celebrations may seem odd, but the holiday was born back when Icelanders followed the Old Norse calendar, a calendar that only recognizes the two seasons of winter and summer with each lasting for six months.
If you're visiting Iceland in April today, it will be clear to you that summer has indeed not arrived, but Icelanders have clung to the tradition of celebrating in April anyway. After all, who is going to turn down a public holiday and a chance for festivities? It may not be summer yet, but the end of winter is certainly worth celebrating.
If you're looking to join in the festivities, most towns will have parades, games, live music, face painting, and more. This can be a particularly fun holiday for families as the activities tend to cater to children.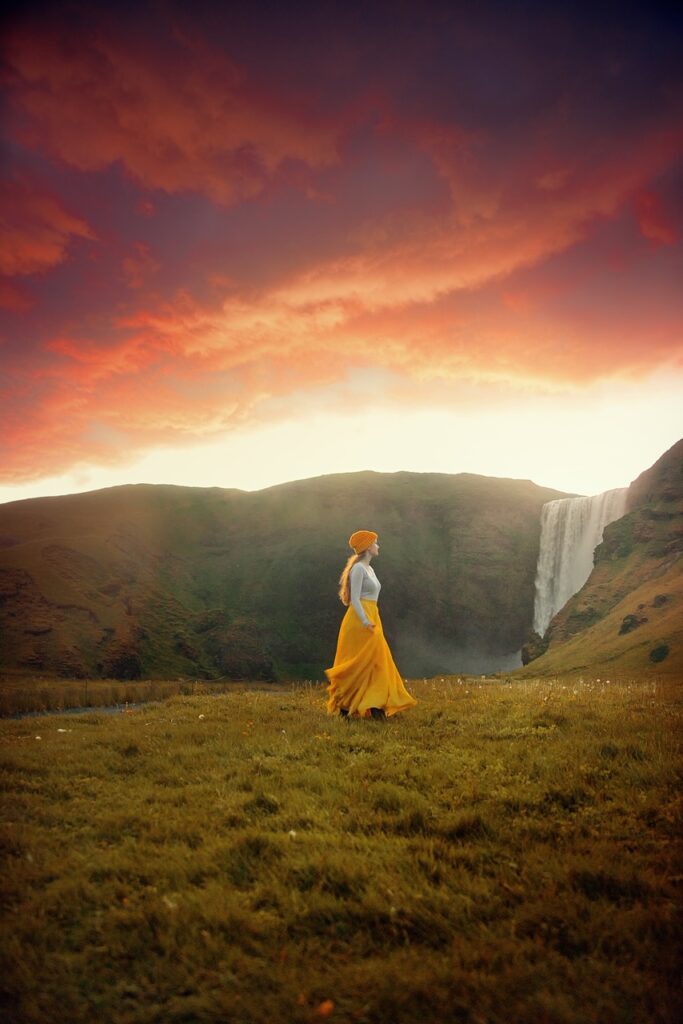 Reykjavik Children's Culture Festival Promotes Youth Involvement In The Arts
The Reykjavik Children's Culture Festival, a week-long festival in April, celebrates children and art. If you're traveling to Iceland in April as a family and looking for a way to keep your children entertained and immersed in Icelandic culture, you should definitely join in the festival activities.
Activities take place all across the city with schools, libraries, museums, concert halls, and more participating. From arts and crafts and puppetry to experimental concerts with audience participation, there's a wide variety of activities available.
Though this festival is largely attended by Icelandic children, it's free for tourists as well and is designed for children age 16 and under. While some activities will include English translations, the beauty of the arts is that there's often a universal understanding and appreciation that transcends language, which makes interactive group activities accessible to everyone.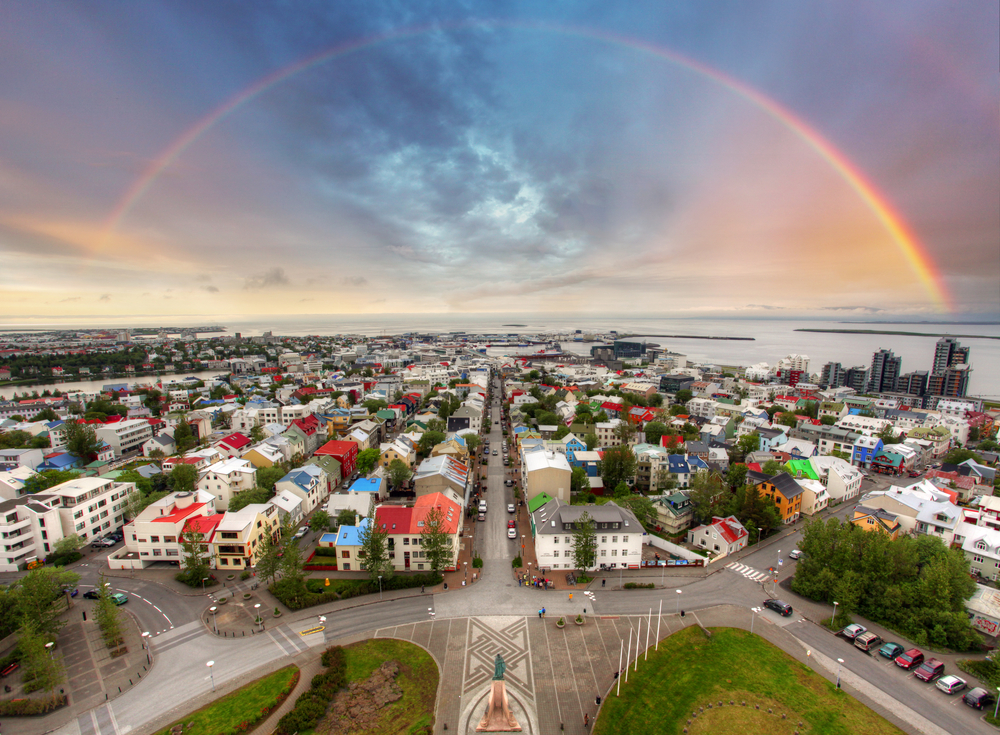 The Aldrei Fór Ég Suður Rock Concert Embraces And Celebrates Community
Every year during Easter, good times are had by all at the multi-day Aldrei Fór Ég Suður (I Never Went South) rock music festival in Isafjorður. This is a music festival that promotes community and the pure enjoyment of music. Entrance is free and all acts are welcomed with equal enthusiasm regardless of their level of popularity beyond the Westfjords.
The trick to Aldrei Fór Ég Suður is getting there. Roughly five and a half hours from downtown Reykjavik, Isafjorður enjoys smaller tourist crowds all year round thanks to its more remote location. Outside of the capital however, driving in Iceland In April can be tricky with snow often making it difficult or near impossible to make it to Isafjorður. As a result, this festival is heavily attended by locals.
If the weather clears enough over Easter and you're up for the drive, you'll be met with stunning natural landscapes, Ski Week in full swing, and a high-spirited group of people eager to ignore the cold, rock out, celebrate their small but thriving town, and let the good times roll.
Epic Snowboarding, Music, And Parties Await You At AK Extreme
Snowboarding aficionados unite! If you're looking for things to do in Iceland in April, head up to Akureyri, the capital of the north, for some wild, often precarious displays of snowboarding talent. Anytime flaming trash bins are involved you know you're in for pure entertainment.
AK Extreme is a four-day snowboarding festival featuring professional snowboarders competing for the AK title in a series of events taking place on Mt Hlíðarfjall and downtown in the heart of Akureyri. A narrow, man-made ramp down the face of stacked shipping containers helps create one of the most thrilling events of the festival, the Big Jump.
Locals come out in droves to witness the sometimes terrifying but always exciting contests. The party doesn't end with the snowboarding however. If you head to the Green Hat, you'll find DJs and bands ready to bring out your best dance moves well into the night.
You Could Spot Whales And Puffins As Early As April In Iceland
Despite being on the very early end of the whale watching season, if you're visiting Iceland in April with the intention of embarking on a whale watching tour, you'll certainly get the opportunity.
Whether you'd prefer to stick to the waters off of Reykjavik, search for orcas on the Snaefellsnes Peninsula, or venture north to Husavik, the whale-watching capital of Iceland, there are plenty of excellent tours offered to increase your chances of spotting these majestic animals. During your tours, you're most likely to spot Minke whales, Humpback whales, Orcas, White-beaked dolphins, and Harbour Porpoises.
Most tour companies offer a few different tour options. Some will take you out under the midnight sun, some involve beautiful traditional, wooden sailing ships, and others include both whale watching and trips to Puffin Island.
If you're on the search for puffins outside of a whale-watching/puffin tour you'll find an abundance of these quirky and adorable orange-beaked birds on the Látrabjarg cliffs in the Westfjords and on Vestmannaeyjar, an island off of mainland Iceland and home to the world's largest puffin colony.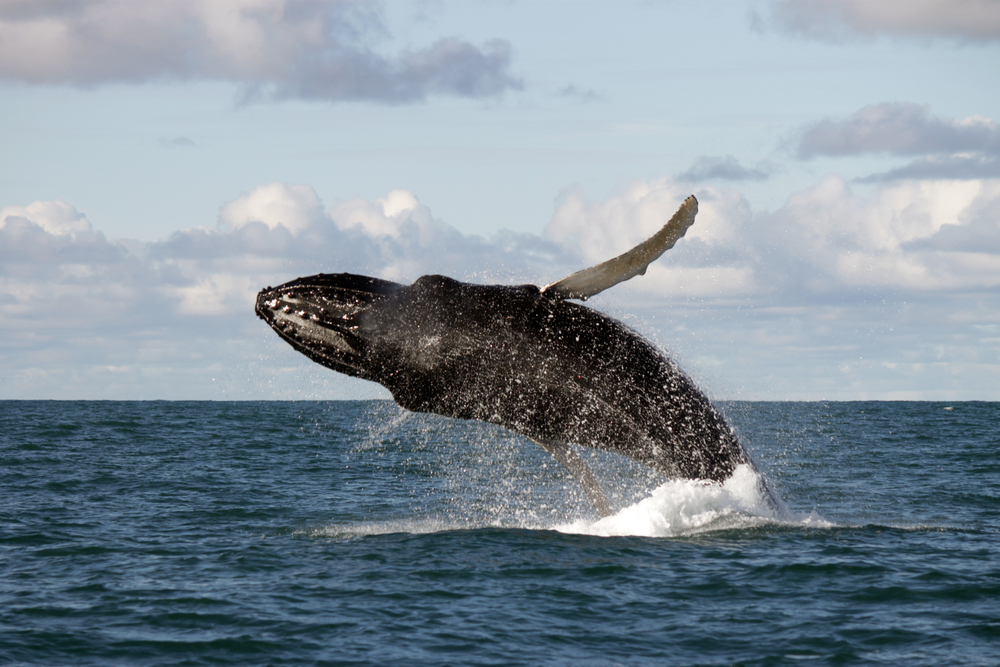 We're thrilled you've chosen to plan a trip to Iceland in April. With slightly smaller tourist crowds and weather that's beginning to warm, it can be an ideal time to visit the land of fire and ice.
Whether you're hiking in Iceland in April or are immersing yourself in Icelandic culture at one of the many April festivals, there's something for everyone and you're sure to be entertained and inspired during your trip. Let us know in the comments if you have any questions as you begin planning your trip and deciding which things to see in Iceland in April.