Are you looking to visit Seljavallalaug pool in Iceland? You may have seen photos of this swimming pool around Instagram or the web, as it is a swimming pool hidden away in the mountains of south Iceland. Seljavallalaug swimming pool is one of the sites on the south coast that many people miss when rushing to visit popular sites such as Skogafoss Waterfall. Make sure to bring your own towel [add one to your Iceland packing list!] and maybe even a pair of flip-flops for changing.
While Seljavallalaug hot spring may look magical, it isn't without its problems and we want you to know what you are getting into upfront so you can make the choice to go or skip it in lieu of doing something else on your Iceland itinerary.
If you are driving in Iceland, you are going to want to make this one of your stops around the Ring Road! But before you do, we want you to know the truth about this beautiful yet dirty pool ruined by tourists!
Get a FREE printable "Hidden Gems In Iceland" E-book by joining our private Iceland Facebook Group and share your photos and ask for tips and tricks.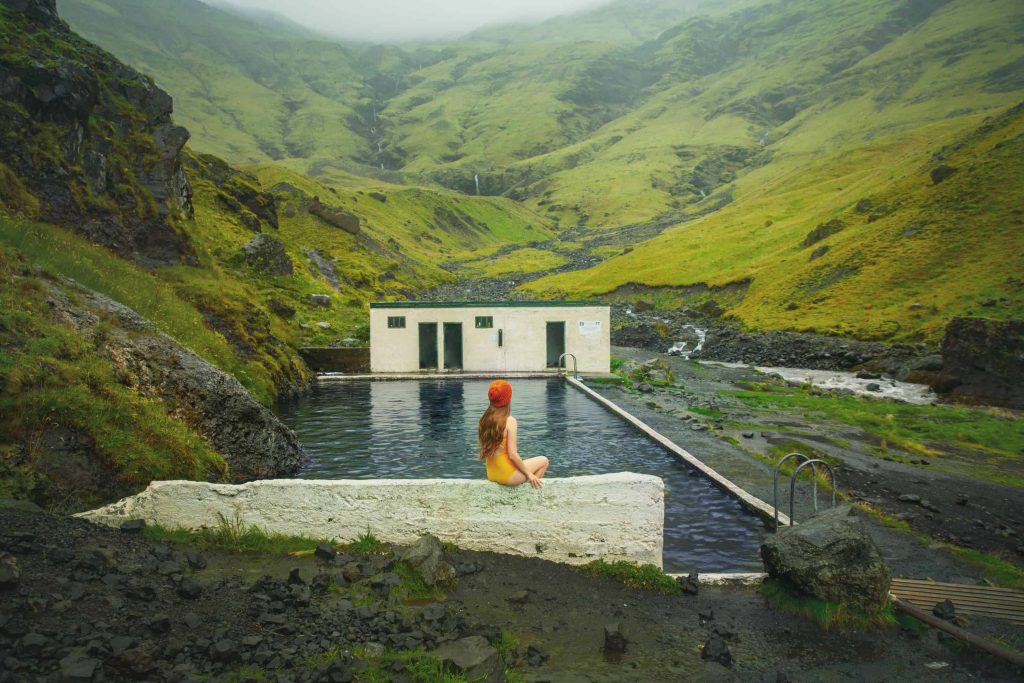 5 Things To Know Before Visiting Seljavallalaug Pool In Iceland
Seljavallalaug Pool Is The Oldest Swimming Pool In Iceland
Seljavallalaug swimming pool is the oldest pool in Iceland [despite what some people say, it is NOT the secret lagoon!]. It was built in 1923 by a local man and the purpose was to teach the Icelandic people how to swim! Now, Icelanders must know how to swim before they can graduate school [how cool is that?] but back in the 1920s this wasn't a law, and Seljavallalaug swimming pool was born!
It was created at the foot of a mountain in south Iceland and is fed naturally by hot water [as are most pools in Iceland!] When you visit Seljavallalaug pool, it is like stepping back in time and you can just imagine people in the 1920's learning to swim tucked among the mountains!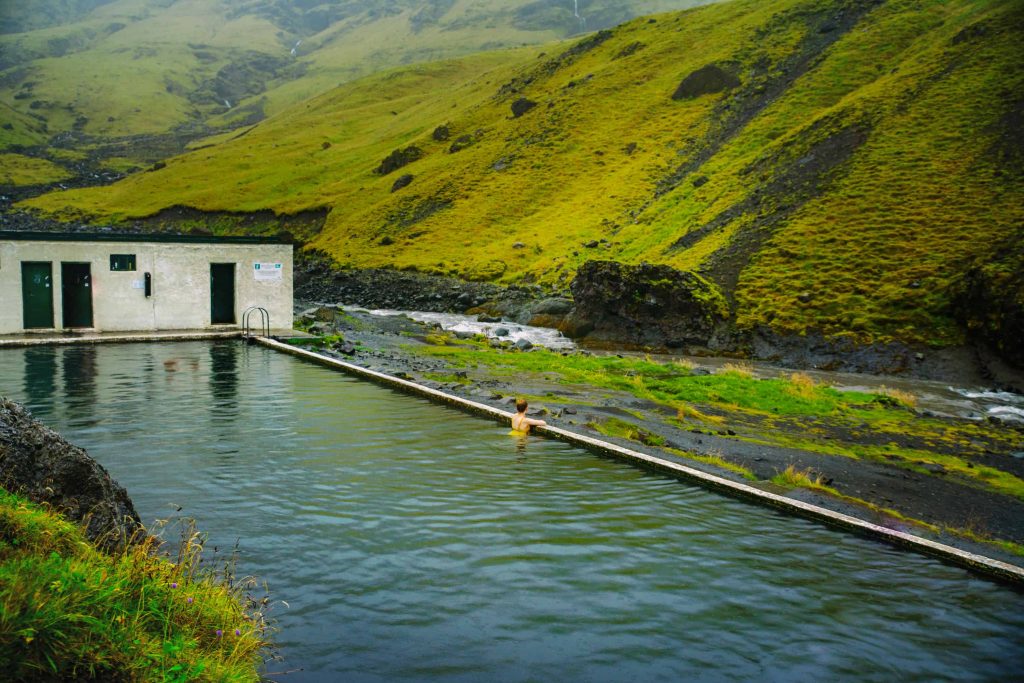 The Hike To Seljavallalaug Pool Takes About 20 Minutes Each Way
In order to reach Seljavallalaug Swimming Pool, you have to take a short but easy hike. Once you park your car at the Seljavallalaug parking lot, gather your things and prepare for a hike into the mountains. When we visited, there were tons of other visitors there too so the walk was easy to follow, even though it is unmarked.
The distance is around 2 miles round trip 1.8K each way, and takes around 20 minutes each way, depending on how fast you are. The hike to Seljavallalaug Pool is flat the whole time, but it goes along a very rocky river bed so you have to walk slowly so as not to twist your ankle.
If there aren't a lot of people hiking to Seljavallalaug pool when you visit, don't worry! Simply park your car in the parking lot and follow the dry river bed/valley back into the mountains, opposite the road from where you came. You will hop over a river or two and then you will have arrived!
Don't get discouraged as you won't see Seljavallalaug Swimming Pool until you are at the very end of the walk. Once you hop over the little river, you will know that you are close! Either way, the hike is very easy and the views are very pretty along the way!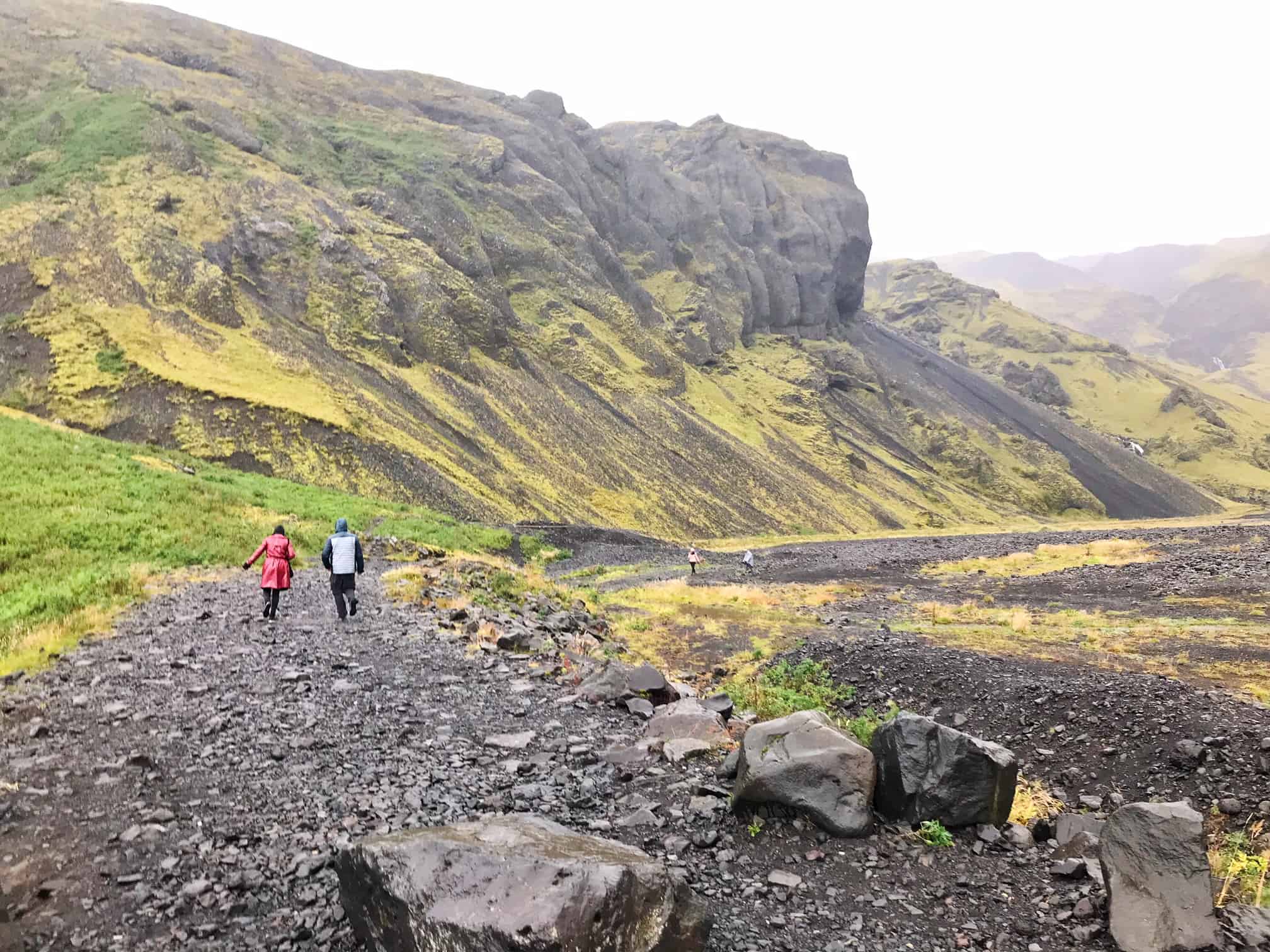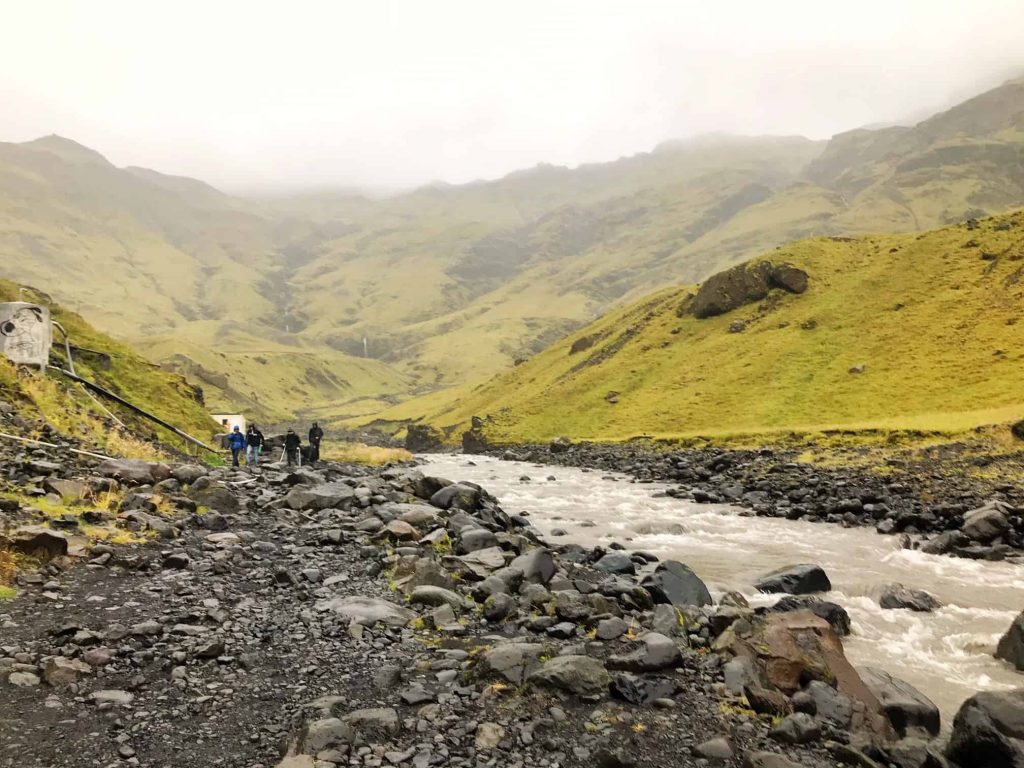 The Seljavallalaug Changing Rooms Are Absolutely Disgusting
Before we visited Seljavallalaug Pool, we had seen nothing but pretty photos and fun things. That is NOT the case. After you hike for 20 minutes you are going to have to change. Even if you wore your swimsuit under your clothing, you are going to have to take your clothes off and put it somewhere.
The changing rooms at Seljavallalaug Pool are absolutely disgusting like you have never seen before. There are piles of old rotting wet clothing that people left behind. Piles of garbage. Mud caked on every possible piece of the floor.
It is impossible to find a dry and safe spot to even put your clothes. The place is in shambles and is just terrible. The changing facility is also co-ed with no rhyme of reason so you will be getting naked next to the opposite sex unless you shut the door and hope no one opens it.
Why is the Seljavallalaug changing room an atrocious mess? Because of TOURISTS plain and simple. Tourists have ruined the oldest swimming pool in Iceland for local Icelanders by being dirty and gross. The changing rooms are now only cleaned once per year and it shows.
Back before the tourism boom, local people would come together to maintain the place Seljavallalaug pool but now that doesn't happen anymore, and really, what is the point when tourists will go destroy their hard work. This is a damn shame and makes us very angry.
If you visit Seljavallalaug Pool during your time in Iceland, do NOT leave any trash or junk lying around. If a piece of clothing gets wet and you are say, camping, and you have nowhere to dry it, take it anyway and throw it away in a waste bin, don't leave it to rot in a heap with other items of wet clothing.
Take your trash and leave no trace when you visit Seljavallalaug. Go in being prepared that the changing facilities are in worse shape than you could imagine and leave by making them better than when you arrived. Have some respect for Iceland and the local people who used to swim here.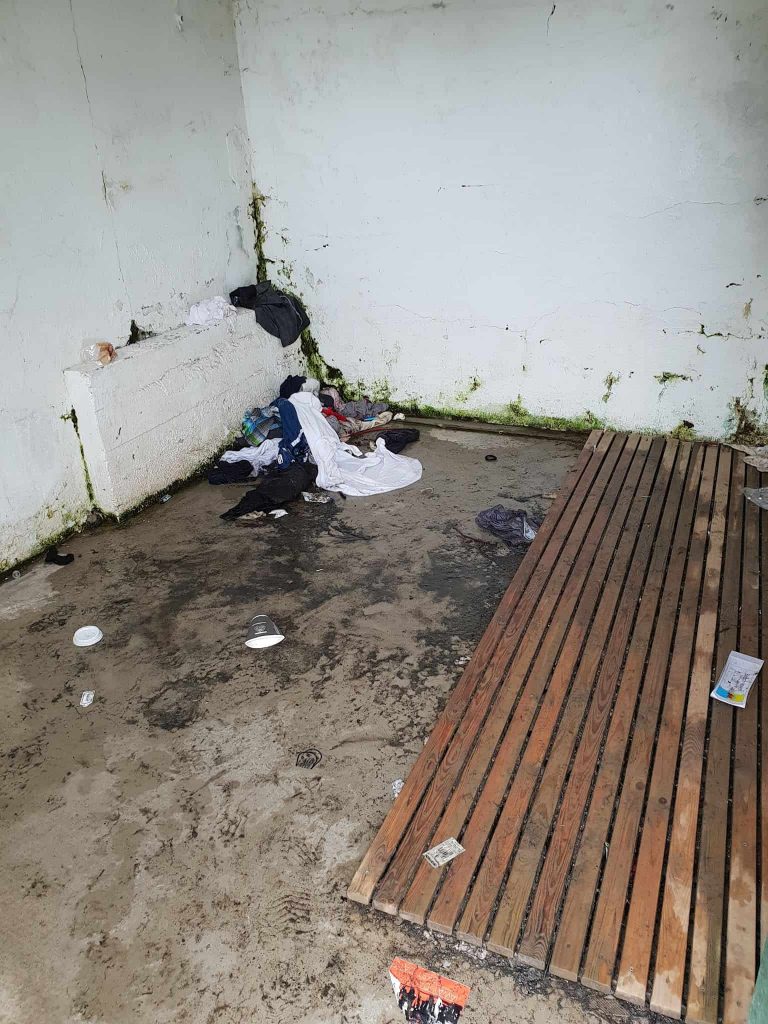 The Water Is Filled With Alge And The Temperature Is Warm At Best
Many people mistakenly call Seljavallalaug Pool a hot springs. Heck, we even included it on our list of best hot springs in Iceland! Seljavallalaug is indeed fed naturally by geothermal hot water, BUT the pool is in no way what one would consider HOT.
The temperature of Seljavallalaug is between 20° to 30°C or 68 to 86°F. Think of Seljavallalaug as a heated swimming pool more than a hot tub. This may sound obvious to an Icelander reading this, but we had only ever seen Seljavallalaug called a hot spring so we assumed the water would be hot. We went on a rainy day and were freezing the entire time in the pool. We want you to go in prepared so you know what you are getting into!
As mentioned above, Seljavallalaug Pool is only cleaned once a year and it shows by the quality of the water. The entire bottom of the pool is coated in a 1-2cm thick layer of algae and the water is black with floating clumps of algae. Again, this is NOT Iceland's fault and we don't blame the country or locals in any way for not keeping up something that tourists so willingly destroy.
We are just reporting the facts plain and simple so you can choose to swim or simply photograph from the outside. The chunks of floating algae got stuck in our swimsuits, bodies, and hair. We made the mistake of putting our heads underwater and we do not recommend doing this as there are surely tons of bacteria growing in the water.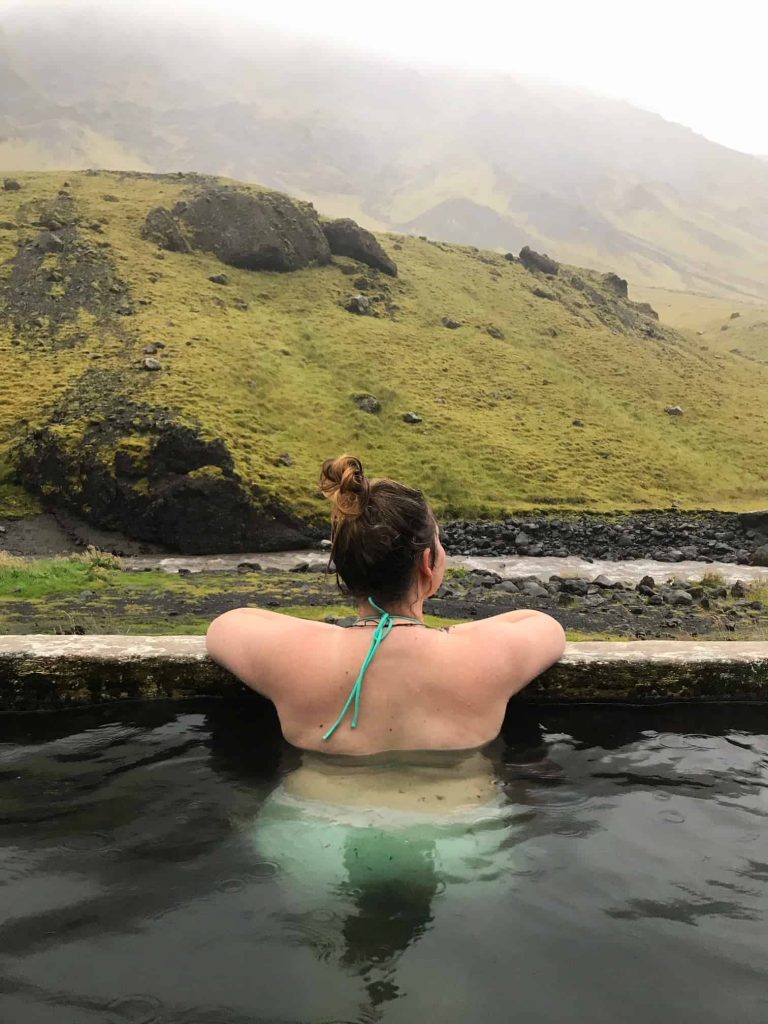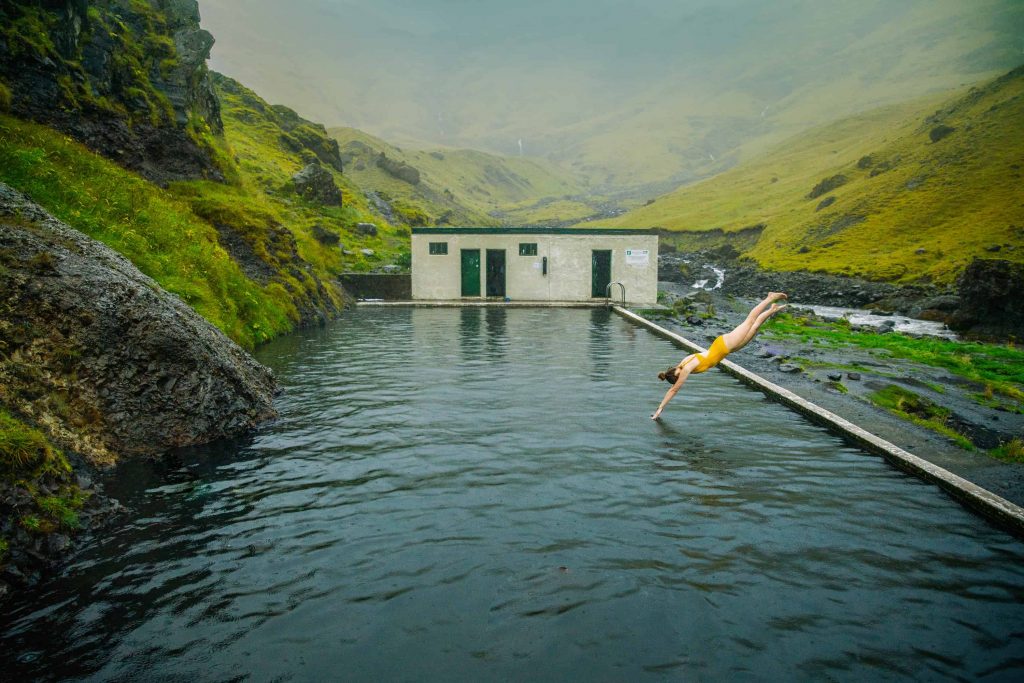 There Is No Charge To Swim At Seljavallalaug Pool
It is free to swim at Seljavallalaug Swimming Pool, so you can leave your cash in the car. That being said, maybe if there was a fee people would be more willing to keep the place in better shape.
Since there is no cost to swim at Seljavallalaug Pool, we highly recommend bringing a plastic bag for all of your waste especially if you are going to be eating snacks and maybe picking up some trash from others on your way out. Together, we can help make this free hidden gem tucked away in Iceland's mountains better than when we arrived and help fix it back up for locals to enjoy once again.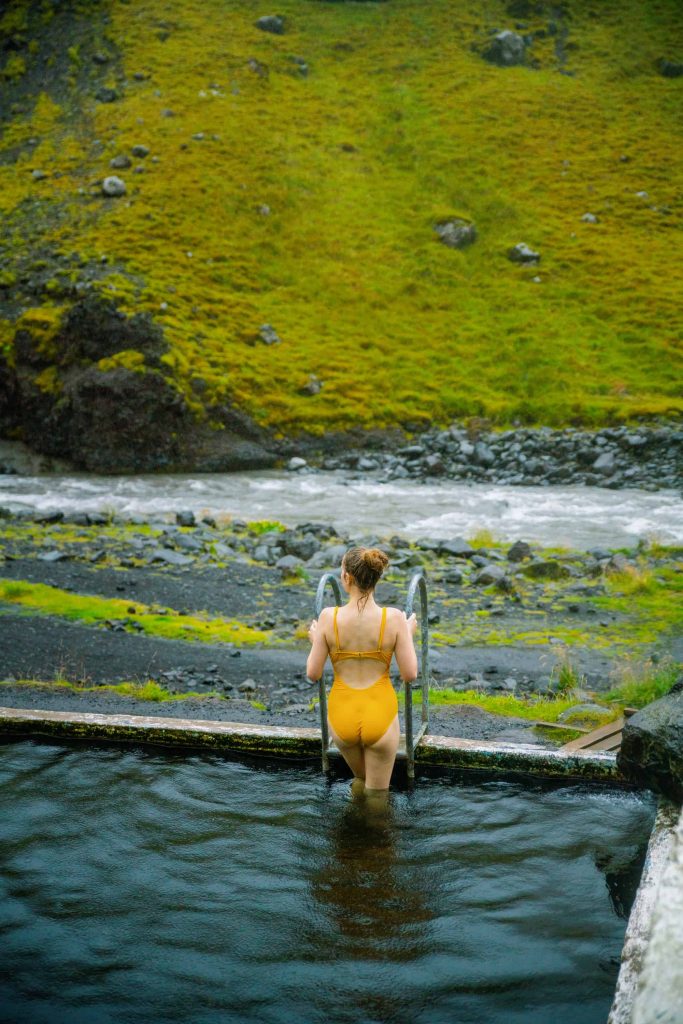 Seljavallalaug Pool Map: How To Get To Seljavallalaug Swimming Pool
Seljavallalaug Pool is located on Iceland's south coast, relatively near Skogafoss Waterfall. It is easy to find if you simply put "Seljavallalaug Parking Lot" in your GPS Google Maps. We have provided you with two maps below as well as a Google Maps link to the exact location coordinates to help you more easily find Seljavallalaug Pool during your trip to Iceland.
When driving along the Ring Road, you will turn onto Road 242 which is marked Raufarfell. The road is right near Þorvaldseyri [Iceland Erupts museum] so make sure to keep an eye out as you may have gone too far/not far enough depending on your direction. Continue driving until you see a sign for Seljavellir. There is a parking lot there but you can also drive a few hundred feet further to another, slightly closer parking lot.
Here are the exact coordinates if you prefer for your GPS: 63.5655° N, 19.6079° W
See Google Maps For Seljavallaug Pool And Parking Lot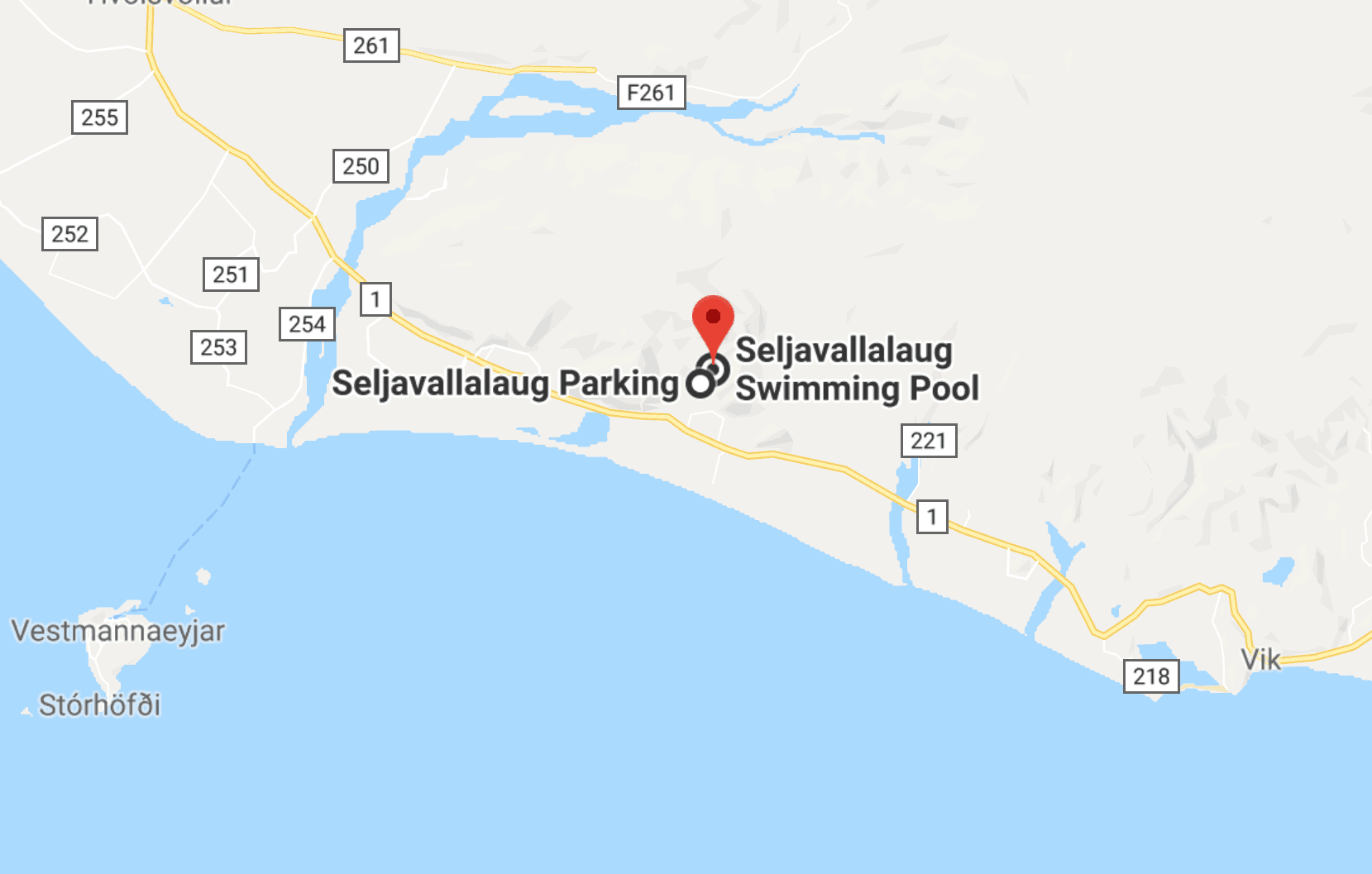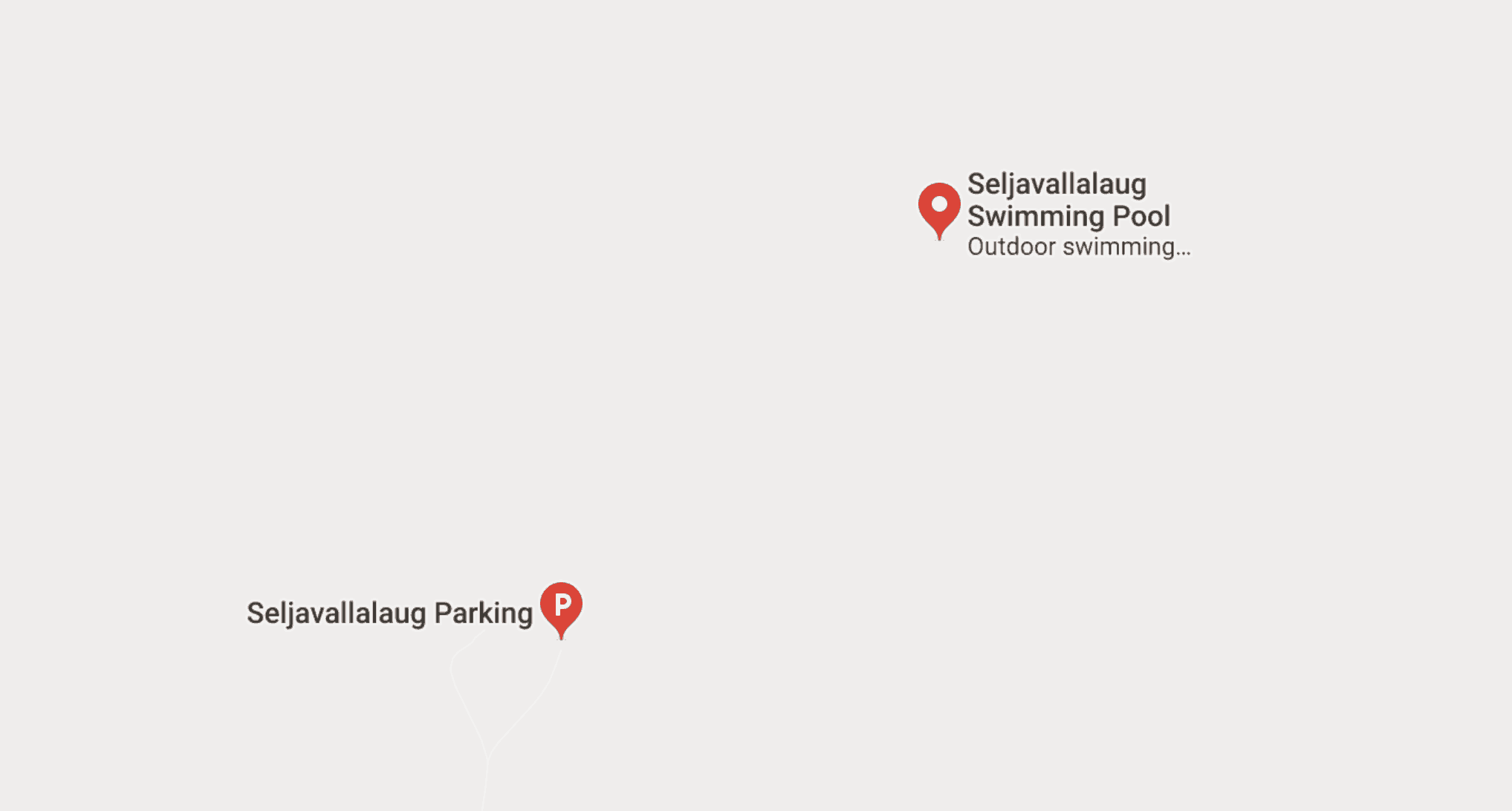 We want to present you with honest and straightforward information about what to expect when visiting Seljavallalaug Pool in Iceland so you know what you are getting into. Based on our experience, we would not return to swim as the water is too cold for us Floridians especially when it is so cold out and the place was not kept well.
If you still want to see Seljavallalaug Pool, we recommend taking the hike as it is beautiful and exploring the area and simply taking photos of the oldest pool in Iceland from outside of the water. If you do swim, make sure to leave no trace and take everything you brought when you leave!
Make sure to check out our itineraries for 3 days in Iceland, 4 days in Iceland, and 5 days in Iceland as well as our suggestions on Where To Stay In Iceland!